Going for a calming and serene look? Light green paint colors will work wonders at giving any space tranquility. If a relaxing vibe isn't what you're after, but you'd still like to stay in the green color family, try a moody dark green hue to create drama and provide depth to a room.
On the hunt for the perfect green paint color to complement your bedroom, kitchen or bathroom? Here are my favorite green hues.
Light green paint colors
Oyster Bay by Sherwin Williams

I'm a huge fan of green paint colors that have a grey undertone, as it tends to the paint color a creaminess to it that I just love when searching for a lighter green paint color. Oyster Bay is simply stunning and has a tinge of blue in addition to the gray undertones.
I've also exclusively reviewed green paints that have more of a greyish green vibe, if you're interested.
Ancient marble by Sherwin Williams

At first blush, Ancient Marble looks like a beige, greige or even a brown paint color. Don't let the color chip fool you– this is actually a very light green paint color.
I fell in love with Ancient Marble when searching for the perfect color choice for the vanity in our kids' bathroom makeover. I couldn't be happier with how it turned out and think it's simply beautiful–especially when paired with gold hardware.
Silver Sage by Benjamin Moore
The lightest green paint color on this list, Silver Sage is the perfect choice if you're looking for a green paint color in a room that doesn't get much light. I've recommended Silver Sage many times, as I feel its a perfect neutral paint color, and it happens to be the paint choice I opted to use in my daughter's room.
Silver sage is a warm green tone with a grey undertone that works to significantly lighten up the hue.
Pigeon by Farrow and Ball
Pigeon is a very popular light green paint color with gray undertones and just a hint of blue. Skyrocketed to popularity lately thanks to the hordes of interior designers recommending it for cabinetry, powder rooms and bedrooms, Pigeon is a stunning color choice.
Pigeon was originally the color I was going to go with for our kids' bathroom revamp, but since we don't have any windows in the room, it was a bit too dark for the look I was going for.
Depending on your lighting situation Pigeon will either read more green or blue, so make sure you view the color throughout the day to ensure you're picking the right hue for your space.
Mineral Green by Magnolia Home
Mineral Green reminds me of everyone's favorite color– Sea Salt by Sherwin Williams. A member of Joanna Gaines' paint collection, Mineral Green is nearly a perfect blend of blue, green and frosty gray.
Depending on your lighting, sometimes this color can reed more of an eggshell blue than green, so it's worth testing out a sample first before making your final decision.
Magnolia Green by Magnolia Home
Closer to the traditional green hue, Magnolia Green is a great paint choice. A slight gray undertone works to turn down the green and soften up the color a bit, but despite its bold appearance, Magnolia Green is still neutral enough for most spaces.
Sea Salt by Sherwin Williams
If you've red my other post where I highlighted some of my favorite farmhouse colors, you know I've recommended Sea Salt before, as I think it works beautifully in most homes.
Depending on the natural light you receive in your room, Sea Salt either looks like a pretty aqua marine or more of a blue/gray color.
Dark green paint colors
Green Smoke by Farrow and Ball
Just like the name implies, Green Smoke is a beautiful rich green that gives off a "smoky" vibe thanks to its frosty gray-blue undertones. This hue really shines next to wooden tones and looks exquisite when used in offices or on cabinetry.
In rooms with ample natural light, Green Smoke reads more green, but in situations with little to no natural light, the color will appear more blue.
Tarrytown Green by Benjamin Moore
A beautiful dark teal green, Tarrytown Green has undertones of blue and gray. Working well paired with traditional decor and modern spaces alike, Tarrytown Green is often a go-to when designers are looking to add dramatic flair in a space.
Just like some of the lighter green colors on this list, Terrytown Green pairs beautifully with gold finishes. If you like the look of Terrytown Green but want a little more blue in it, check out my review on Aegean Teal.
Enchanted Forest by Benjamin Moore
Looking for the perfect army green color? Enchanted Forest is a perfect pick! Working perfectly for accent walls, offices or even powder rooms, Enchanted Forest has just a tinge of a gray undertone.
Isle of Pines by Sherwin Williams

Isle of Pines is one of designers' top picks for a statement making choice–whether used on front doors, on an accent wall or on built in cabinetry, you can't go wrong with this stunning hue.
Billiard Green by Sherwin Williams
Similar in color to Isle of Pines, Billiard Green is a rich green color, softened just a bit by a grey undertone. Dark, moody kitchen cabinets are in, and designers and homeowners are flocking to this Billiard Green to use on their cabinetry.
Psst! Looking for even more greenish colors? Here I've reviewed some of my favorite greens that fall into the pewter color family.You might also check out the 2022 paint color of the year, Sherwin Williams Evergreen Fog.
Other paint colors you may be interested in
Neutral paint that works well in any home
Revere Pewter by Benjamin Moore
Accessible Beige
Sours: https://homelikeyoumeanit.com/green-paint-colors/
Bathrooms are the smallest rooms in our homes and sometimes they can be smaller than most closets. Your bathroom color should be influenced by not only the size of your room but whether or not you have windows in there since that will impact the lighting in the room. If your lighting is sufficient, you can get away with darker colors. The first step in decorating your bathroom is to make sure that your lighting is perfect before you choose your paint colors to sample. The right lighting for your bathroom can give you many more color options, and help you eliminate the wrong ones quickly. 
Here are six awesome paint colors for a small bathroom. Choose from a warm or cool bathroom paint color for a relaxing retreat. Each one was chosen with a tiny space in mind.
1. Vintage Velvet by Behr
A small bathroom and a bold color? Yes! This can work. A gorgeous deep color like Behr's Vintage Velvet works well in a powder room, where glamor is often more important than size. Powder rooms are the one room where a bit of drama is expected, so go for it! 
You can also choose a deep color for your small bathroom if you have the right lighting available. The right lighting could be lots of natural light or strategically placed sconces by the mirror and fabulous overhead lights. Don't let the size of your bathroom keep you from sampling some adventurous colors, that's what the samples are for. Click here for an example.
---
2. Aqua-Sphere by Sherwin-Williams
Spa blue paint hues are a favorite for small bathrooms. The airiness of pale blue or aqua seems to light up the walls. Sherwin-Williams Aqua-Sphere seems to bounce light around a small bathroom. Choose shiny metal accents and fixtures, fully white towels, and crisp white trim to complete the look. If you're painting your small bathroom with a light and bright blue or green, consider painting the ceiling as well. A painted ceiling in a light color can make your small bathroom look limitless. Click here for an example.
---
3. Neutral Ground by Sherwin-Williams
Neutral beige and taupe are natural choices for small bathrooms. With a simple color backdrop, you have unlimited options for accessories and linens. The warmth of Sherwin-Williams Neutral Ground strikes a nice balance with cool white and silver fixtures in most baths. The balance between warm and cool colors give your small bathroom a bigger look. Click here for an example.
---
4. Requisite Gray by Sherwin-Williams
Sherwin-Wiliams Requisite Gray is one of the most popular gray paint colors on the market. The fine line between gray and beige in this soft greige makes it a great choice as either a bathroom or bedroom color. Greige paint is soothing because it's just the right amount of coolness and warmth. Gray can be a wonderful color for small bathrooms, but you'll want to look for a warm gray or greige to balance out the cool white and silver found in most bathroom fixtures. Pale pink, blue, or green linens with white accents create a larger-than-life classic style. Click here for an example.
---
5. Charming Pink by Sherwin-Williams
Pink, like Sherwin-Williams Charming Pink, is a small bathroom indulgence without the bonbon silliness of other pink paint colors. The slightly muted pink hue gives Charming Pink a more grown-up appeal for your walls. Pink is a light and airy wall color for a small bathroom with our without windows. Pair soft pink walls with deep brown or charcoal gray for a sophisticated vibe. Click here for an example.
---
6. Ancient Marble by Sherwin-Williams
Sherwin-Williams Ancient Marble is the perfect green for people who aren't sure they want green. This rock-like neutral has a touch of gray and green, allowing it to defy labels. A cool green-gray like Ancient Marble gives a natural style to a small bathroom, without being too light. Ancient Marble is perfect for a guest bathroom as it can be dressed up in a variety of ways with colorful accents, while still staying quite neutral. Click here for an example.
Ready to get started now? Just call Us: 330.467.2227 or Contact us for a FREE quote!


Sours: https://www.creativebathsystems.com/blog2.php?pid=814&p=17&search=
10 Classic Paint Colors Inspired by Nature From Sherwin-Williams
Sherwin-Williams' Pura Vida paint collection is not new, but it is enduring. Its remarkable staying power has everything to do with its soothing and engaging palette of neutrals inspired by the purest elements in nature. "The home is now the ultimate retreat from the world, and color is an easy and effective way to create a personal haven," says Sue Wadden, director of color marketing at Sherwin-Williams, about the resilience of the Pura Vida line.
The color collection forgoes bright colors in favor of hues that speak to nature's elements. Sherwin-Williams Pura Vida takes inspiration from natural elements, such as stone, alabaster, and sand, as well as natural fibers, such as cotton and jute. These elements remind us to live well, be well, and stay well.
Color Family: Neutrals in honed and sheered tones, marble hues, warm grays, khaki tones, blushed neutrals
Complementary Colors: Look to the undertone of each neutral to find the complementary colors
Pairs Well With: Soft tones with deep natural woods and dark metallic accents
Mood: Balanced and grounded
Where to Use: Walls, accent walls, cabinets
Here are the 10 shades of nature's essence found in the Pura Vida color palette. 
Sours: https://www.thespruce.com/sherwin-williams-pura-vida-palette-797957
Top 5 Coastal Colors For Your Walls
Sherwin Williams Ancient Marble Color SW 6162 – The Serene Green
If you are planning to specify SW Ancient Marble for your next design project, this article will be extremely helpful for you. I have some exciting color details to share that you would absolutely want to know about.
Excited already? Well, I am too!
When we design a space, and it's time to decide upon a cooler-hued color palette, the first colors that pop to mind are blues and greens.
And it's true, hues in these colors do provide us some pretty cool cool colors!
But what happens is an inevitable dilemma of choosing the perfect cool-colored hue.
Should it be green or blue? And within these, light-toned or dark-toned?
If you're here, you might be narrowing your choice down to a green. Whew, we got that far. And, if you love plants and love elements associated with biophilia and more natural-toned colors, green is possibly the best option for you.
Greens of all tints and shades are soothing, smooth and happen to unintentionally tranquilize your mind.
And when you talk about serenity, the Sherwin-Williams Ancient Marble color is one of the leaders in the game.
The subtleness of the color is highly preached by designers and homeowners around the world, and its easy to why when you look at all the possibilities this color offers.
You'll find this one in: Residential, Cultural, Spas, Hotels, Healthcare and many more applications.
There are various advantages that this color plays to – but before that, let's jump in to some basic color details and specifications.
Sherwin Williams Ancient Marble SW 6162 – Details and Specifications
Painted on a wall with natural light. You can see the effects of light here.
Ancient Marble comes from Sherwin-Williams' 2016 Pura Vida color collection. It has been widely popular ever since.
Falling on the lighter end of the color wheel, the Light Reflectance Value (LRV) of this green is 60. This makes this green especially great for smaller spaces.
If you're not quite sure how this color will work in your home, you should definitely try it on for size by ordering a peel-and-stick sample from Samplize.
Ancient Marble is ideal for smaller apartments and tiny lofts – an amazing space-enhancing trick!
This color holds a hint of green without any blue undertones. Because of this, this paint color can also be counted as a subtle neutral.
Diving further into the details, the RGB and HEX Values are as follows.
R (Red) = 209, G (Green) = 204, B (Blue) = 185
HEX Values = #d1ccb9
Effects of Light on Ancient Marble
Laurel from SoPo Cottage shares her journey with this paint color. The sample on the right is Ancient Marble
Choosing a perfect color for your prized space can be a daunting task.
I highly recommend considering the size of your rooms, the compass directions for sunlight considerations, the size of the windows, and the function of that space.
You wouldn't want to be stuck in a darker-hued room with smaller windows with limited to no sunlight.
Despite that not being an attractive sounding space, we all have at least one spot in the house like this.
Ancient Marble would be fine here but with an LRV of 60, it's right at about the limit. You wouldn't want to go any darker.
Alternatively, a huge room with massive windows and plenty of sunlight gives you various dark-shaded color options to make the space feel cozier and smaller.
This paint color would work well painted in areas like this as well.
Chas over at A Woman's Haven, used Ancient Marble on her living room. It's clearly the best part of the room!
Once you apply Ancient Marble on a wall, you'll see the magic for yourself – the crispness adds what I'd call a bit of a "glam" factor.
But only in the sense of it making it feel like a high-end place like spa resort or natural history museum. We're not talking loud "glam" here.
It is important to know that a color may appear to seem different in the day and night. And the same is the case for Ancient Marble.
Daylight offers brightness and makes your walls painted in this color come alive. At night time, darker light sources make your Ancient Marble walls smoother and darker.
So, remember to use appropriate artificial lighting – wall scones and pendant lighting to further enhance the color and celebrate the beauty it brings.
One way to help find out how this color looks in your home is to buy some temporary wall samples and put them up wherever you want to paint. You can get these easily from Samplize.
Beautiful Ancient Marble on the walls of a Renovated Home – As shared from Heather at Objective: Home.
Ancient Marble Vs. Similar Colors
I understand it might get really confusing when choosing Ancient Marble from its similar-looking counterparts.
However, don't let the guard down!
With the right amount of information and details, you will be able to easily classify the colors and their specifications for your home.
One such sample that I get asked most of the times is the difference between Sherwin Williams Ancient Marble and Simple Stone (SW 9521).
SW Ancient Marble Vs. SW Simple Stone
Wow, these are pretty close right?
Frankly, I too get confused between these two! Their similarity majorly lays in undertones – but you know what makes them different?
The brightness levels!
Simple Stone has an LRV of 57 which is lesser than Ancient Marble that is 60. Even though it doesn't differ much in numbers, but with ample lighting – it really will look different!
I highly recommend you order the color swatches and compare the two colors. You will see the magic for yourself!
To see how these look in your home, get some large square samples and try on your walls with different lighting sources.
SW Ancient Marble Vs. Sedate Gray
Moving on to the next, Sedate Gray (SW 6169) is another competitor in the line.
As the name suggests, Sedate Gray is more inclined towards the neutrals with gray highlights.
Hence, it is a cool neutral!
Even though it highly reflects the green tone, the color somehow seems to look neutral when embellished on walls.
Sharing a similar Light Reflectance Value of 60, you might not have to worry about the particular brightness values. Instead, focus on the functions and uses.
Yes, I understand they look the same and that's why I suggest visiting the nearest Sherwin Williams Store to have a real-time look.
However, there is a singular similarity that both the hues share – utter sophistication and elegance.
To truly experience and compare these colors in real-time be sure to buy some stick-on samples and test them in your home.
What are the Coordinating Colors for SW Ancient Marble?
Now if you plan to use this timeless shade, it is important to understand the colors that best complement it.
All cool neutrals with a warm accent are what we are looking for here.
Whites and Off-whites are the best to go! I highly recommend using Dover White (SW 6385) for trims, Nonchalant White (SW 6161) as a base and Sun-Bleached Ochre (SW 9011) as the accents.
If you want a bold and bespoke look – add darker tones like Eclipse (SW 6166) as an accent to create a monochromatic feel.
Say a big no to other cooler hues like midnight blues and charcoals!
Where Should You Use this Color?
The crispness and smoothness of Ancient Stone give us ample reasons to use this color.
I highly recommend using this shade on all the walls if you plan to use it in a room. It has stylish seamlessness that makes your room classier.
Whitetail (SW 7103) and Dover White (SW 6385) is a great option to be used in the trims and moldings.
It complements well with the Ancient Marble!
This elegant color makes a flexible way through your bedrooms, dining areas, family rooms, kitchens and even hallways!
Don't believe it?
Yes, the variety of applications are simply unimaginable.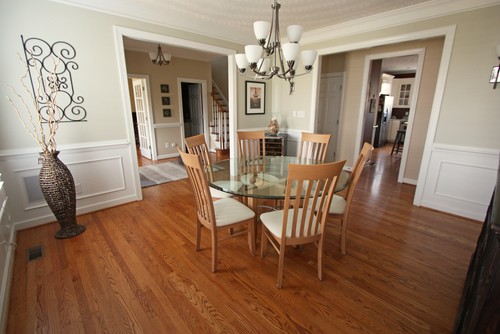 You could paint your indoor doors and even exterior facades with Ancient Marble without any disappointment.
This color has a soothing effect that tends to play a positive role in the interiors of your home.
With a fresh wholesome vibe and utter tranquility, greens have proved to play with humans' minds – in a positive manner, of course!
Little Cottage that Couldshows how Ancient Marble on the façade creates a Vintage Look!
Best Way to Try Out This Color?

I have to share one of my favorite tips when testing out colors like Ancient Marble – go and order a peel-and-stick sample from Samplize.

This company has an amazing way to sample colors super conveniently with real paint.

Simply stick up a temporary square sample of it and avoid the whole paint and roller mess (at least until you're ready!).

For a small amount of money you get a giant "sticker" you can place up in the space you're painting. You can also try out coordinating colors as well. It's great!
And the results have always been great – with people more satisfied with their lives, leading a happy and healthy life!
Greens have that magic to it – and you wouldn't know until you see it!
Filed Under: BlogTagged With: paint review, sherwin-williams, sw greige
Warning: 6 Health Hazards of Improper Waste ManagementAbstract Sea Paintings for a Peaceful Powder RoomSours: https://knockoffdecor.com/sherwin-williams-ancient-marble/
Williams bathroom marble sherwin ancient
Abruptly getting up from her chair, the boss quickly approached the guy, clattering on high-heeled shoes and standing in front. Of him, pierced him with her gaze. - Quiet, quiet. No excesses, please. - Stas abruptly grabbed the boss from the bottom by the chin, squeezing her cheeks, making her mouth look like a fish, with large lips and.
Designers Favorite Paint Colors! - Interior Design Secrets
Grabbing my penis, she pulled me towards herself and inserted it into her bosom. I smoothly take my time. Small movements began to penetrate inside. It was so narrow. And so hot.
You will also be interested:
" Julia - that was the name of this fairy - turned out to. Be a pretty, tall and slender girl of 25 years old, not vulgar, and not stupid enough. I explained to her that this is almost the first time for my wife - about diameter. Now Katya had to look for clients herself. Many, seeing her huge hole in the ass, refused to fuck her and agreed only to suck, and they paid very little for it.
1965
1966
1967
1968
1969