Real Chinese, a BBC series
41 Chinese Cartoon Videos There are 41 short videos designed for children in a non native Chinese environment.  The videos begin with  你好 (níhǎo) to more complicated sentence structures.

Chinese Lessons and Videos   China Highlights offer 13 free videos and lessons teaching common Chinese subjects like greetings to food.

Online Videos with Text Book This website has great videos that correspond with each lesson.  You can also download the script for more learning.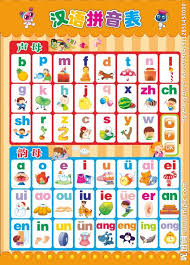 Learn Pinyin Online This page gives FREE pinyin lessons.  It also has an entire book about China with mp3 for downloading.  I read this book it's a great overview of China and it's language.  The book is also on sale on Amazon.com for about $10.
Learn Pinyin With A Dinosaur This website contains interactive videos that teach pinyin with a dinosaur.  Some of the interactive videos are good for intermediate Chinese students.
Learn Chinese IdiomsA great website that has a long list of Chinese idioms, pinyin, and the English meaning.
Chinese Cooking Videos Hungry for some Chinese food?  Check out a compilation of videos that teach you how to make many delicious Chinese dishes.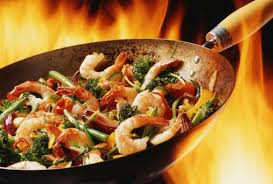 Discover Chinese Culture This is the cultural webpage of the Confucius Institute or 孔子学院.  There are many articles and videos on various cultural points such as food, travel, and holidays.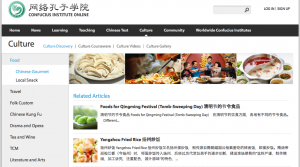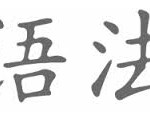 Measurement Words Picture Cards In Chinese, each noun has one or more specific measure words that should be used to create plural forms. There is often a link between the measure word and the shape of object. Visit this blog called Mandarin Chinese From Scratch for picture cards of measurement words and more.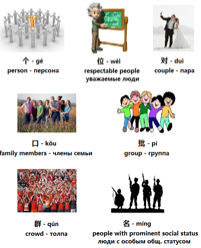 Highgate Primary Mandarin Blog A resourceful Mandarin blog with videos, flashcards, and tons of ideas!  It is kept very up to date and it is worth checking out.  I personally love blogs, because I feel that they have the best ideas.
Flashcards I linked to the page from Highgate Primary Mandarin blog with a set of pre-made flashcards using my favorite flashcard maker Quizlet.

Free Chinese Lessons This website uses the FSI Standard Chinese Course which was developed in 1974 by the Foreign Service Institute of the US State Department to train US and Canadian diplomats.  The core course consists of 55 lessons broken into 9 modules focused on various aspects of daily life.  This website is working on transcribing these lessons into web-friendly and hopefully useable format for modern day users.

Parenting Joy This website is a jewel with loads of great ideas for teaching Chinese as well as many other subjects important to parents.  I found many valuable downloadable resources and ideas that I can implement.
Chinese Reading Practice Everyone knows that the best way to practice reading is by reading more texts.  This blog contains reading practice of simplified Chinese organized into 3 levels of difficulty.  This blog has not been updated in a long time though.
Ms. Shen's Teacher Blog This is a Chinese teacher's blog with many pictures of activities she does with her class and other resources.  I always love looking at what other teachers are doing to help me get more ideas.
Mandarin Baobao This is a cute blog started by a Chinese mom.  It has a good amount of Chinese stories read in a soothing voice with proper pronunciation.  Each story also comes with Chinese text.  English definition will appear if you run your mouse over the Chinese text.  The audio stories are suitable for intermediate and higher Chinese learners or heritage children.
Learn Chinese Blog I love Chinese learning blogs, because I feel that sometimes they have the best ideas.  I linked to the page on this blog with lots of pre-made flashcards using my favorite flashcards maker Quizlet.
Bilingual Babe Spot Very cute blog with resources on learning Mandarin as second language.

Mandarin And Me This website is simple and easy to navigate.  It offers many cute ideas on topics such as festivals, songs, and crafts.  It is in traditional Chinese.  Worth checking out!
Mommy Speaks Chinese I like this site.  This is a cute blog created by a mom of 2 kids that wants her kids to speak Chinese.  Hmm… it sounds like why I started Mandarin For Me.  This blog has useful content for parents and kids such as common every day Chinese phrases and easy games to engage young kids.

Learn Chinese with Ten Ten This is a useful blog that teaches some useful Chinese topics in both traditional and simplified characters. Unfortunately, it has not been updated since 2013, but it still has useful information worth checking out.
Mandarin Mama Blog is in her words "raising multi-ethnic children in a mostly mono-ethnic world."  It is kept up to date and has Chinese language resources where she shares insightful reviews and ideas (mostly for traditional Chinese characters).
Mrs. Scoggins Web Site  This is a teacher's blog with downloadable resources for her Chinese class as well as some other academic classes.  It's always good to check other teacher's blogs to get ideas and share resources.
Animated Character Strokes This is so simple and easy.  Simply type or copy a Chinese character into the blank box and watch the word come alive stroke by stroke.

汉字读音笔顺 Character Animated Stroke Writing This is an elementary school webpage from China.  You can search for a character to watch a large animated version of your character written in the right stroke order as well as audio.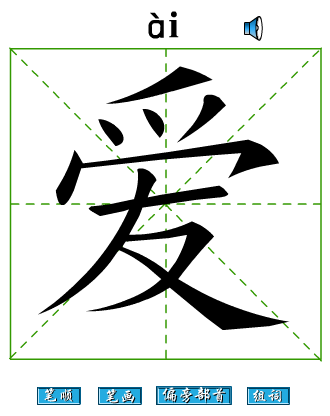 书法集 Character Strokes and Flash Video Maker This is a useful site from China that not only shows you the stroke order, but it also lets you download an animated version of your character being written by a paint brush.  I made a flash video of my last name 陈, check it out below.
CCTV Everything About China This website is very comprehensive.  It has current events, videos, information, just about everything you want to know about China.  It is the CCTV's English version.  The simplified Chinese version of the website is here.

Chinese New Year Activities This website is a hub of various websites that will provide you with great resources for a number of topics related to this most important Chinese holiday. Ideas within this section include resources such as calendars, puppets, food, and more.
http://www.pep.com.cn/xiaoyu/jiaoshi/tbjx/tb1/  This website shows all the Chinese textbooks used from elementary school through high school in Mainland China.  It has electronic version of the texts including reading of some texts.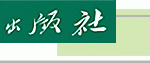 Learn Chinese Lessons in Traditional Chinese Huayu World offers great teaching resources for teaching Chinese.  Each lesson contains lesson plan, Powerpoint, and worksheet.  It is only in traditional Chinese, but educators/parents can modify it to simplified Chinese as needed.  Great resource for teaching Chinese.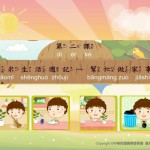 http://www.chinese4kids.net  This website is in English.  It has many resources for kids to learn Chinese such as Chinese mini books and songs.
Chinese flashcards Family and Jobs This is a website from China.  It has many flashcards in full color with pinyin.  The only downside is it doesn't have English so more suitable for Chinese heritage learners.
Kai Xin 开心 Chinese  This is a great website with free lessons in Chinese that covers useful topics.  It also has sections for culture and history.
Chinese Demo Lesson This website is part of Confucius Institute and on this page you can watch a Chinese teacher doing an entire lesson with foreign students.  She is very animated and changes activities frequently to make the lesson more interactive and fun.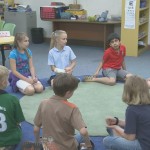 Chinese Character Animated Cards This website is part of Confucius Institute and on this page you have access to wide variety of Chinese vocabulary such as animals, common objects, and even antonyms, etc.  Learn how to recognize and say these words.

Chinese For Kids This page belongs to an online Chinese learning center and it does cost money to use the services.  This particular link takes you to a page where they share 100 free resources such as nursery rhymes and stories all with pinyin, English, and audio.

Text to Speech Input any amount of Chinese into the box and the website will read it back to you in Mandarin.  Good way for non speakers or struggling readers to hear the language.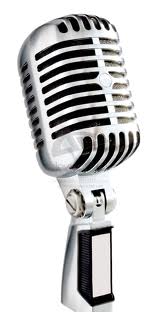 Learn Chinese Calendar Type in the current month using Western calendar and you will get the equivalent Chinese lunar calendar.  Great way to learn what holidays on happening during the month.
Free Chinese Lessons I Love Learning Chinese is a website that has free Chinese learning lessons and attractive picture cards with some essential Chinese words.

中文 Chinese Textbook This is a free set of Chinese books for overseas children learning Mandarin.  You can download the entire set of books for free with the above link.  Click here for the interactive supplemental learning including audio and games that goes with the textbooks.
Mandarin Spot This is a very useful website in your study of Chinese language and reading Chinese.  It has an annotation function where you can paste Chinese text and it translates it into English for you when you run your mouse over it.  I also use it to annotate Chinese characters on this site.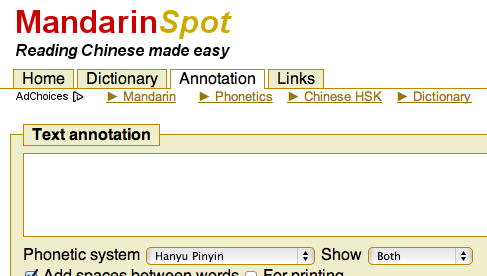 Learn Chinese Simplified Characters This site has a list of common Chinese characters.  If you click on a character it will show you the meaning, animated strokes, and pronunciation.  However, it does not read the character for you.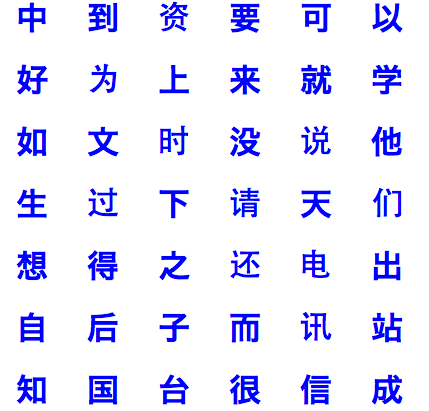 Yellowbridge Etymology Explorer One of the best ways to remember a character is by learning the etymology of it. Seeing its original form, breaking down parts of the word, can aid with long term memory.  Yellowbridge allows you to draw the character (using a mouse) to aid lookup. There are other methods of lookup too; English, Pinyin and others. After finding the hanzi, the explorer can then show the formation method, simplification method and character decomposition.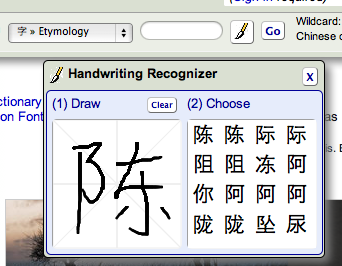 Arch Chinese Animation and Dictionary This website is similar to Yellowbridge except it doesn't have the mouse writing functionality and no ads either (this is a positive).  You can look up the etymology of the word, pronunciation, animated strokes with names, parts of speech, and even print out worksheets with stroke order (creating worksheets is costly.)
Sours: http://mandarinforme.com/downloadable-resources/mandarin-internet-resources/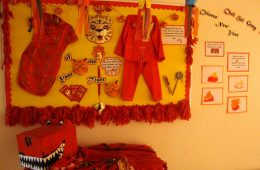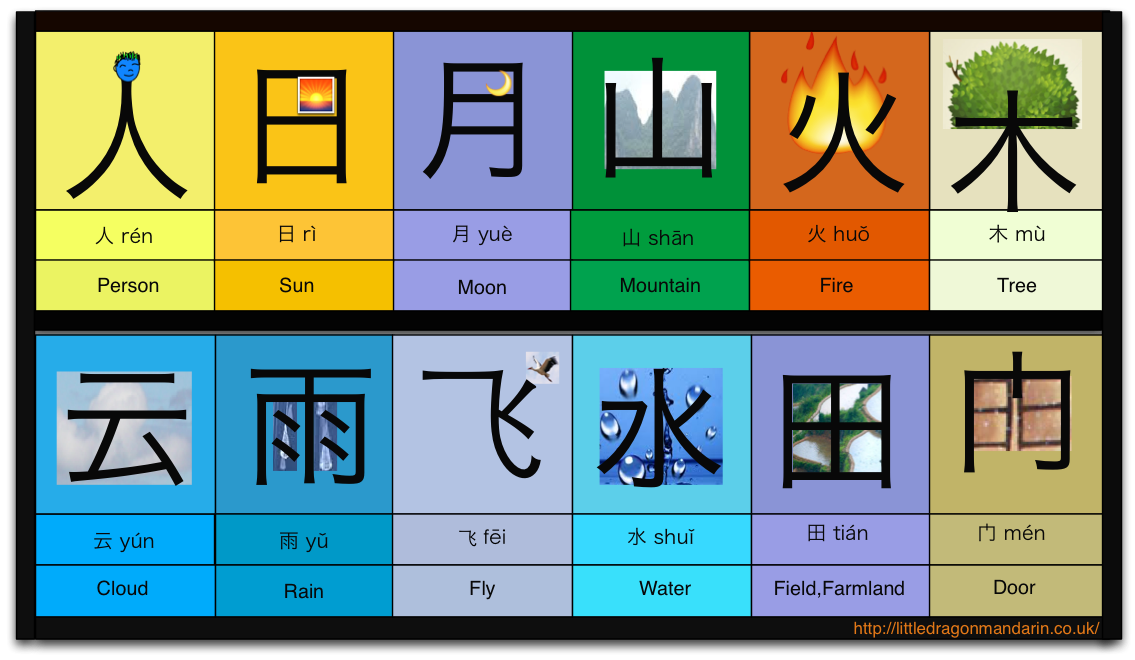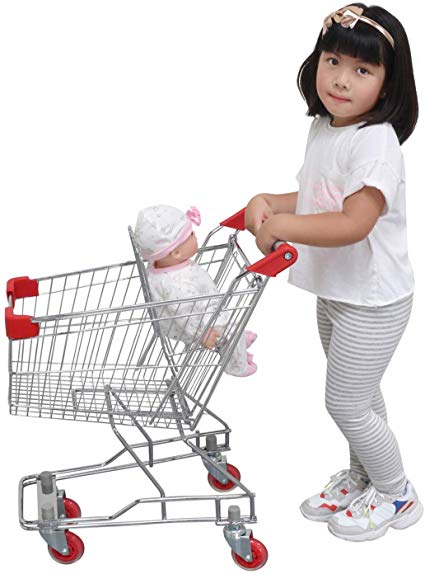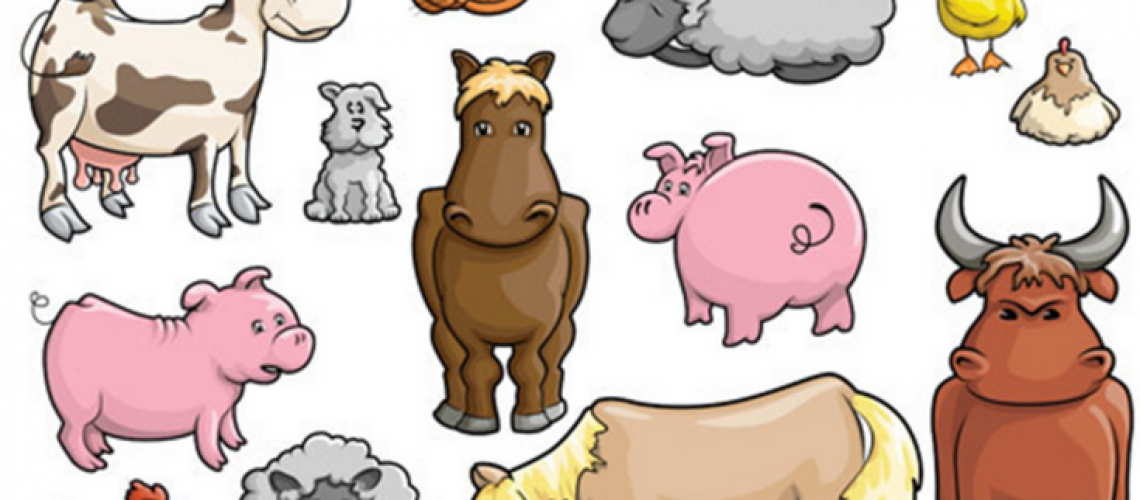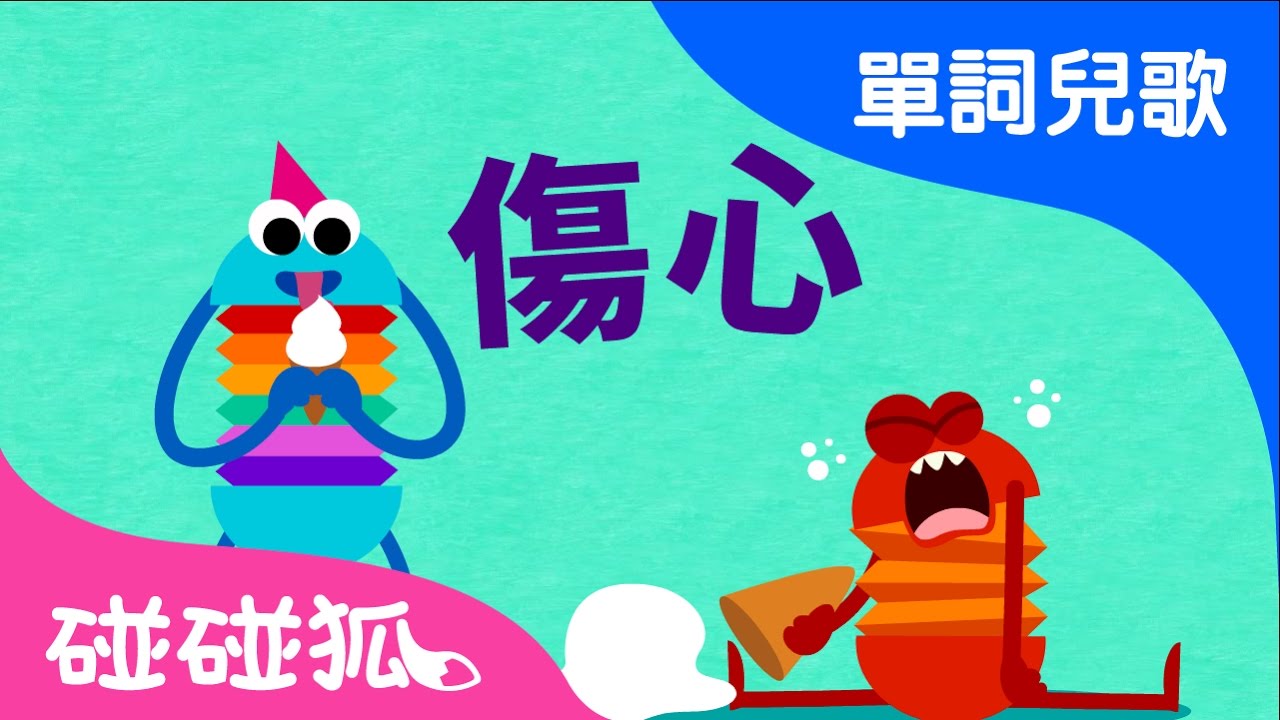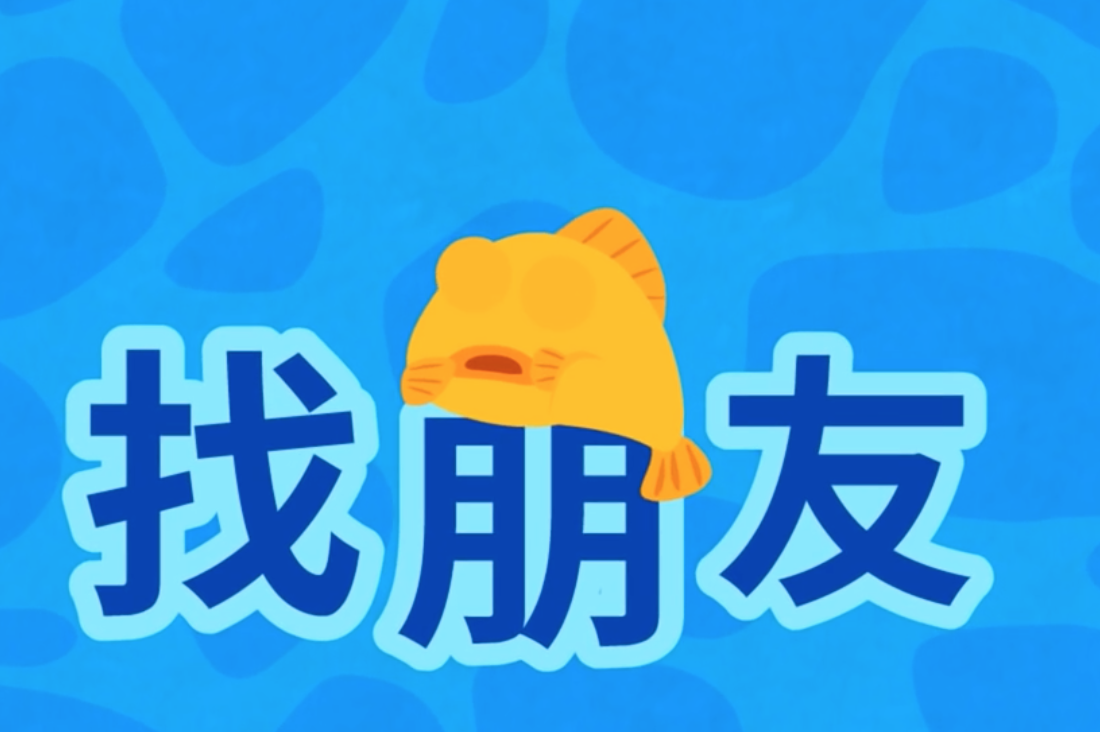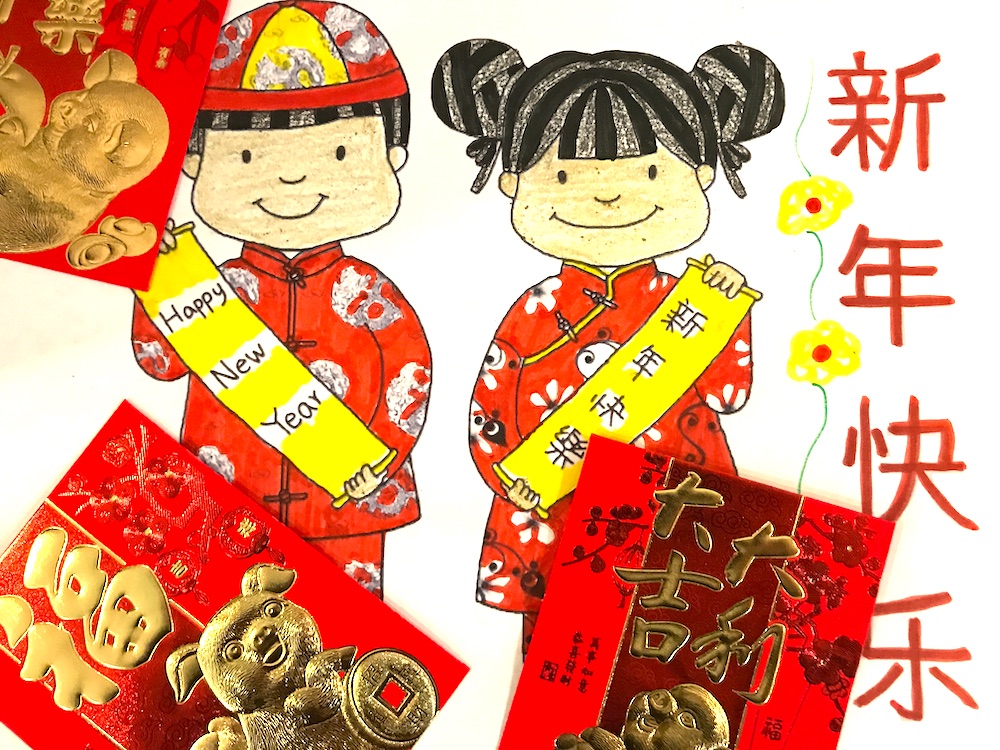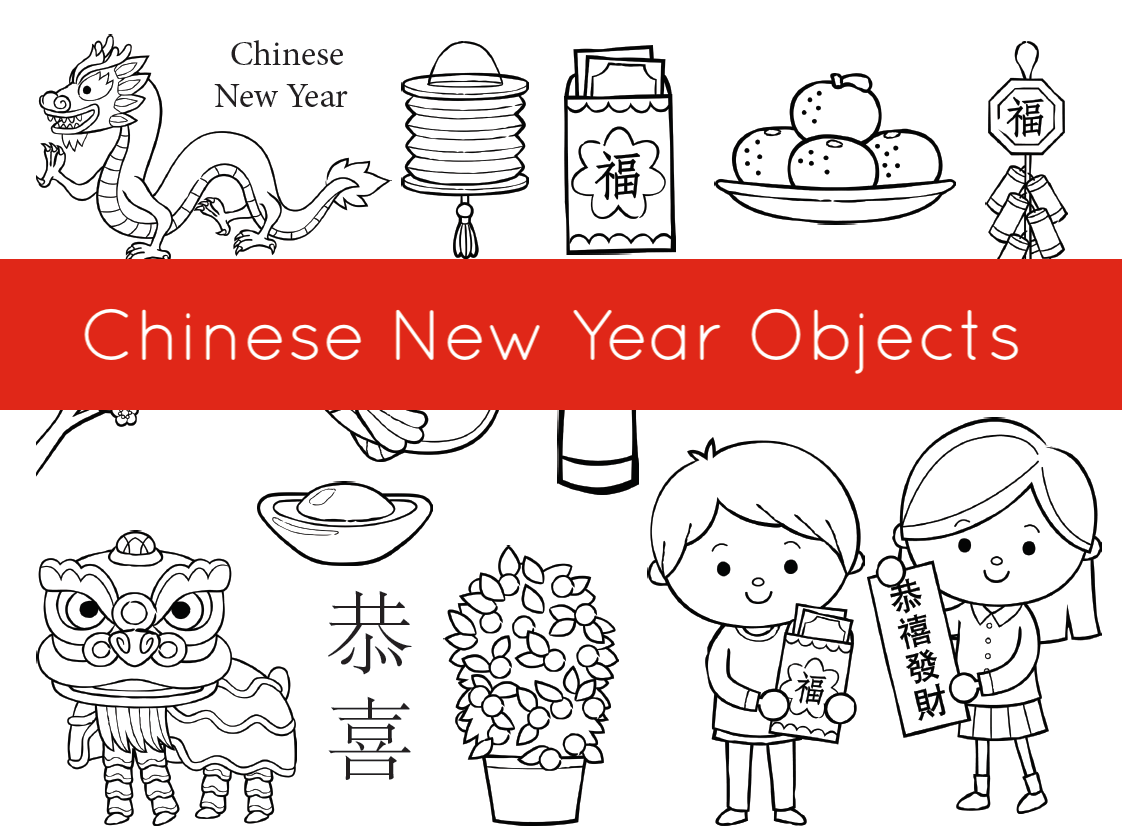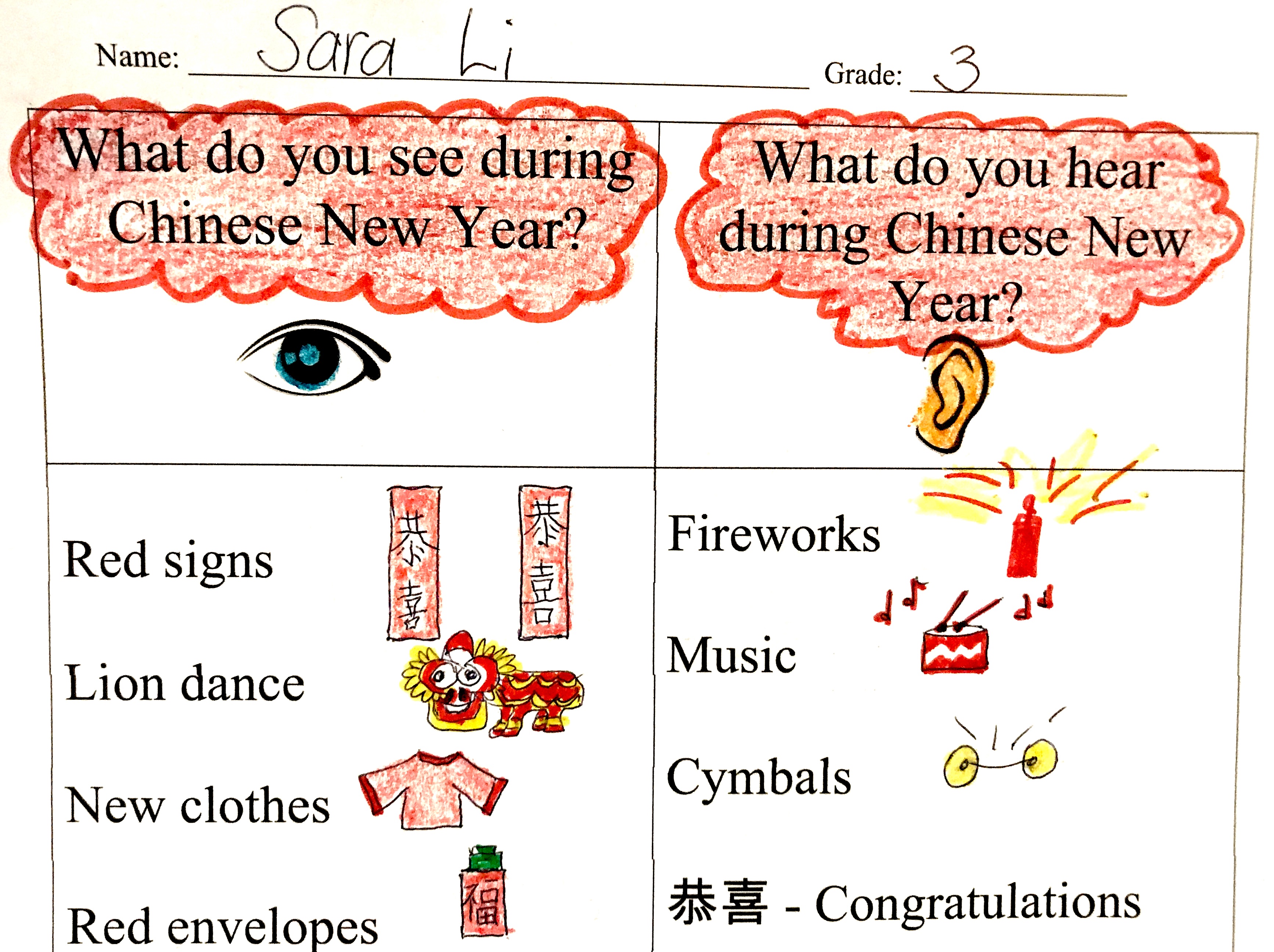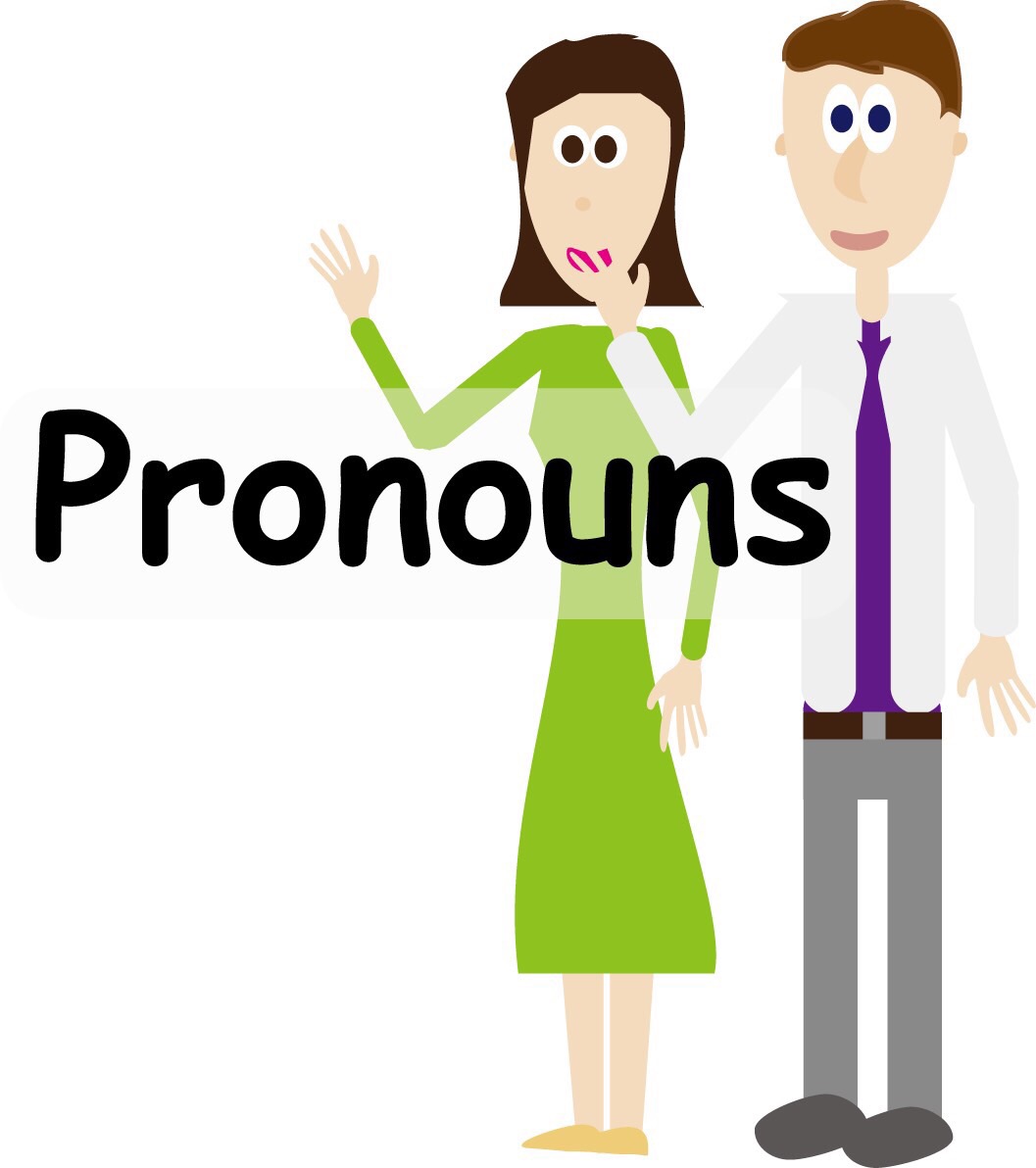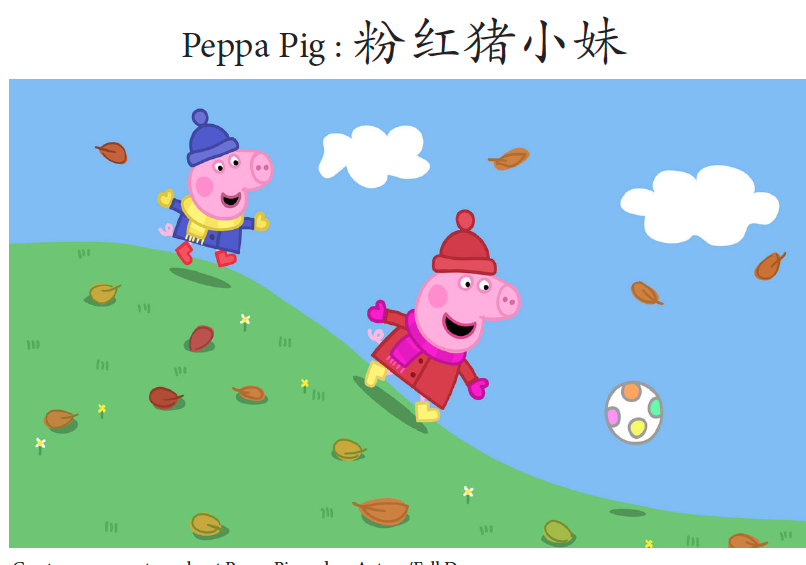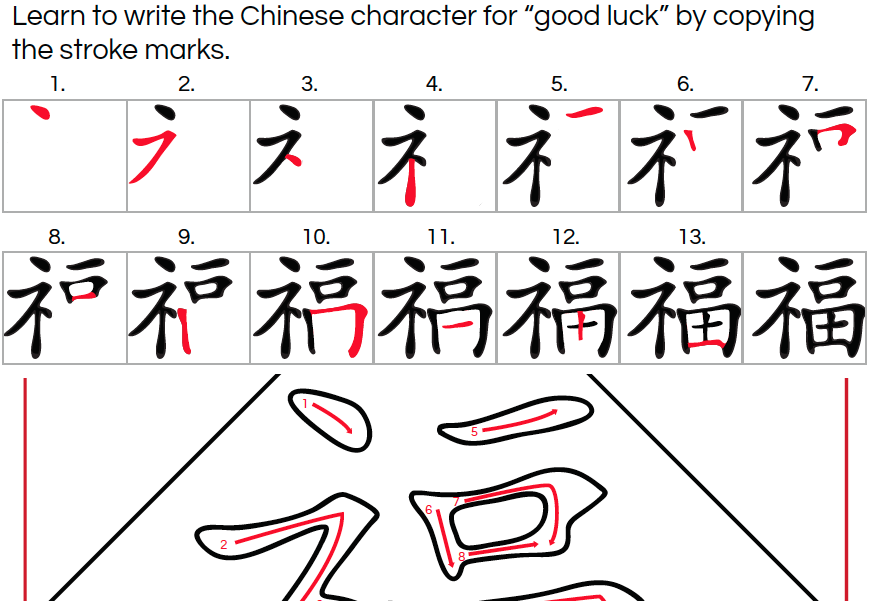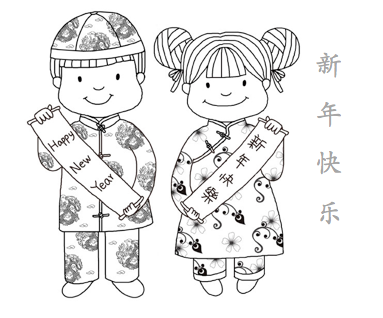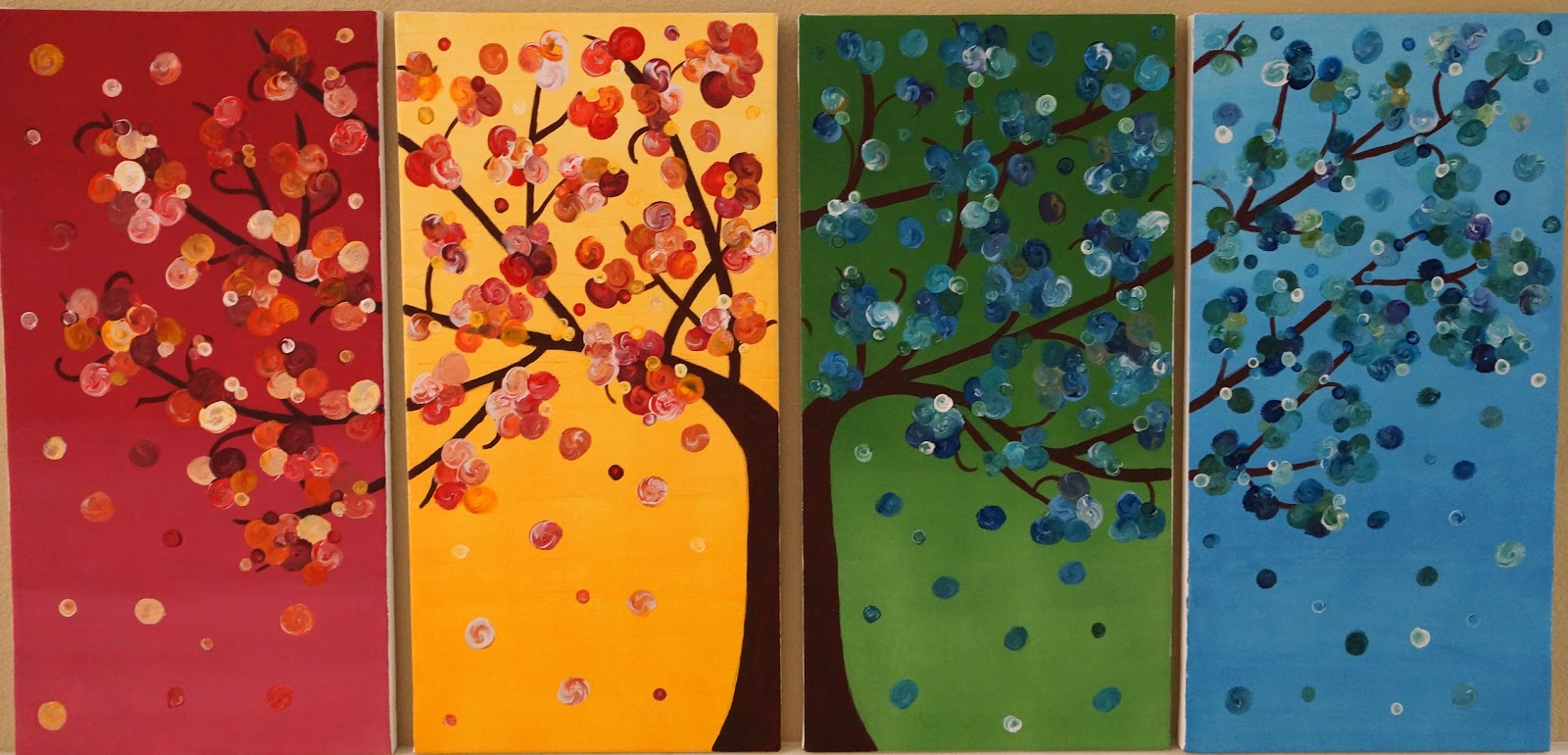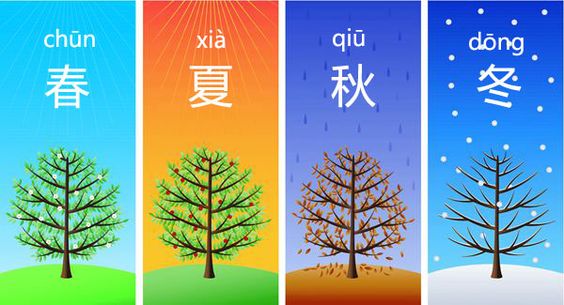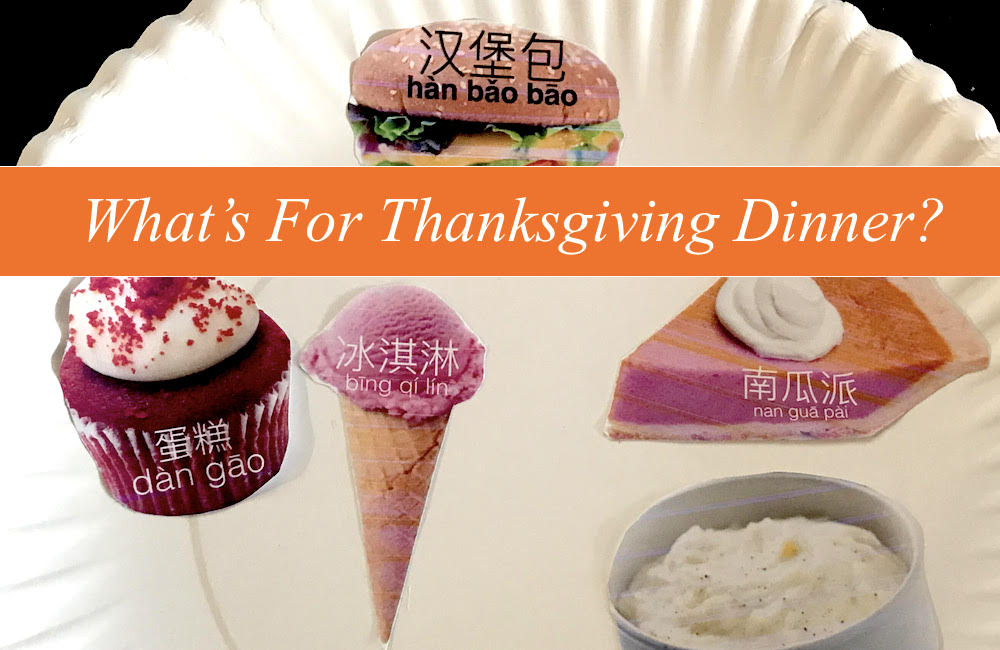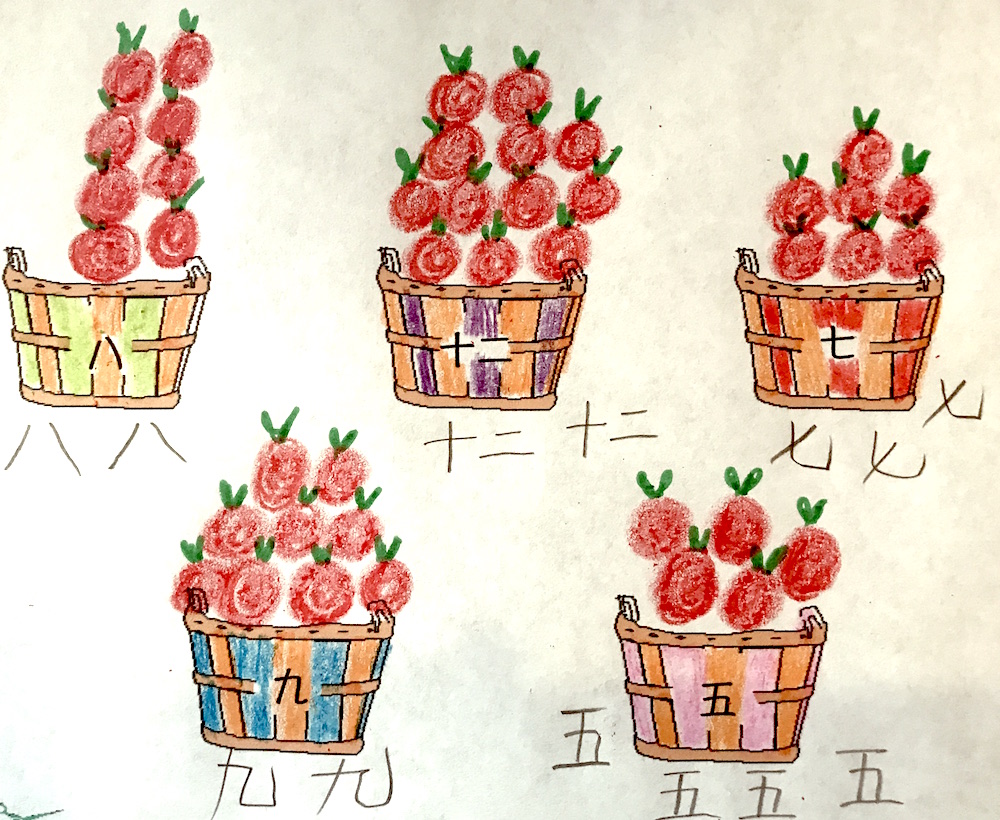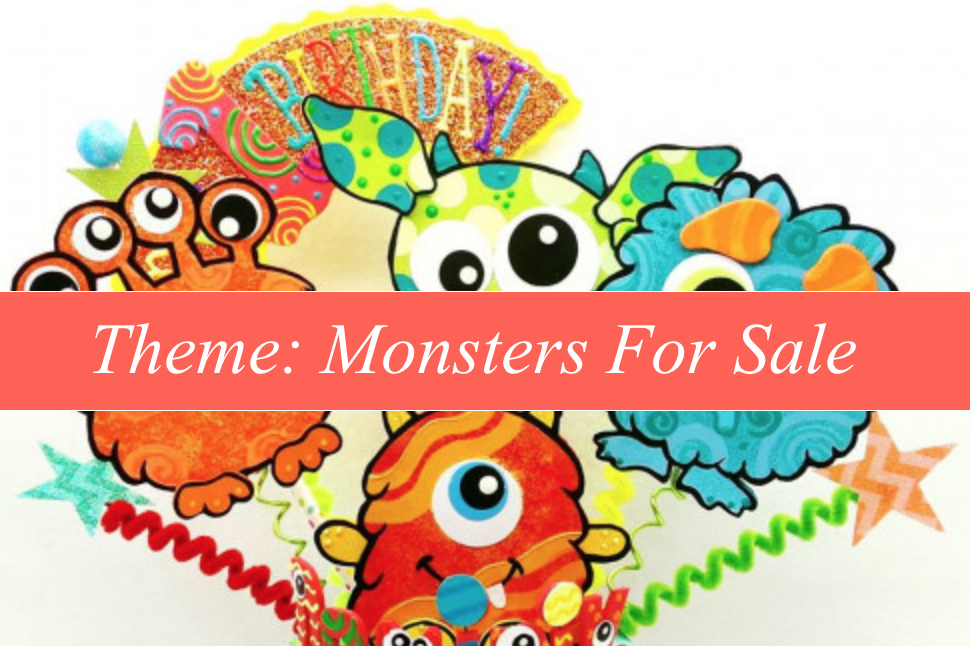 Sours: https://www.creativechinese.com/category/worksheets/
This Post Has 17 Comments
Great exercises here! Very good job, well done! Keep up with the great work. 加油😊

There is a small error in Item 6 of HSK Level 1 Worksheet 001. In sentence Number 6 the English says "Their son works in a hospital" but the Chinese text has nu" er. which is in English is "daughter".

Hello Ivan, thank you for the heads up! The issue has been fixed 🙂

Hello just wanted to give you a quick heads up. The text in your article seem to be running off the screen in Firefox.
I'm not sure if this is a formatting issue or something
to do with web browser compatibility but I thought I'd post to let
you know. The design look great though! Hope you get the issue solved soon. Thanks

Awesome site. Came across you through Instagram. Do you plan on getting HSK3 and up, worksheets as well?

Hi Thor, thank you for your comment! Unfortunately, we won't be updating any worksheets in the near future. Please don't let it stop you from enjoying our Instagram post 🙂

I also want to know for HSK 3 because this website is amazing for learning Chinese.
多谢谢你!

hi, can you provide the complete hsk1 and 2 Chinese Characters Writing Worksheets. thanks

Thank you for shearing, great exercises.

Activity 13 No.8, Xiawu is night? Please correct me if I am wrong?

Hi Kaisuan, 下午 (xiawu) actually means "p.m.," but depending on the context, it can be translated as "night."

Thank you for the hsk free download

Pingback: Generar hojas para practicar Hanzis – Camino al Donki
Sours: https://www.bsctextbooks.com/free-chinese-worksheets-download/
How To Create Chinese Worksheets: Custom Worksheets Made Easy
Get Hands-on: 10 Vital Resources for Chinese Worksheets
Being a Chinese teacher can be a bit rough, especially when you hit that dreaded mid-semester funk.
The students are getting a little overwhelmed with the subject matter. You're tired because you are a fiercely dedicated (and overworked) teacher. The lessons are getting a little dry.
Luckily, you can take a break from the more intense side of teaching Mandarin while still providing your students with a substantial informative learning experience. Printable worksheets are a great way to let your students do something hands-on and different while also learning the Chinese language.
You may not know where to start when it comes to worksheets you can use to help your students improve their reading and writing skills in Chinese. Online worksheet resources are great to have bookmarked when you need decent worksheets, Chinese character grids and quizzes. Luckily, you don't have to spend forever searching. We found ten of the best Chinese worksheet resources around.
Before we jump to it, let's look into why worksheets are so useful for teaching Chinese.
Download: This blog post is available as a convenient and portable PDF that you can take anywhere. Click here to get a copy. (Download)
How Can Worksheets Help My Students Learn Chinese?
Worksheets can make or break a student's ability to handwrite in Chinese. You can lecture and lecture and lecture some more, but nothing really helps a student memorize 拼音 (pīn yīn) — Chinese romanization and 汉字 (hàn zì) — Chinese characters like physically writing them out with the help of a worksheet. Plus, you really can't teach a student about proper form and stroke order without having them write it out themselves.
Many learners don't benefit as much from lectures and tests as they do from physically writing Chinese. Not all students learn the same, but you probably already know that! You certainly had your own style of learning when you were becoming a Chinese teacher-in-training, so it really isn't any different for your students. Switching things up and having your students get hands-on could be great for them.
Worksheets can help with character memorization, comprehension and reading skills. As we said, nothing really drives home Chinese characters quite like writing them out. Many of the worksheet resources we'll be covering have worksheets that aim to improve Mandarin comprehension and reading skills as well.
And to really give your students an engaging learning experience, try bringing FluentU into the classroom.
Perfect for supplemental material that goes with your worksheets, FluentU lets you teach Mandarin using real-world materials that are fun and engaging. Students learn new words and phrases naturally by watching video clips from Chinese TV shows and movies, listening to Chinese pop songs, watching documentaries, commercials and more. Not only does this provide your students with a fully-immersive learning experience, FluentU also makes learning Chinese fun and easier to relate to.
Talk about a win-win for teachers and students.
Want to work from home? Maintain flexible hours? Make a positive impact? Be part of an empowering and collaborative community?
Click here to join our team!
1. Pinterest
Ah, Pinterest. The best site for learning how to do pretty much everything from DIY home decor to arts and crafts. Pinterest is also a great place to find printable Chinese worksheets for any level of learner. In fact, many teachers use it to share their favorite activities, worksheets and other media.
We suggest trying out "Chinese Worksheets for Kids: Numbers" if you have young students and "Colors: Chinese Word Work" for students of any age.
2. Bite-sized Chinese
Do you have students prepping for the HSK (Chinese Proficiency Exam?) Bite-sized Chinese has a ton of worksheets for beginners and intermediate students trying to pass HSK 1 and 2. Each of these worksheets works to hone in on different aspects of Chinese, from writing hanzi to comprehension skills to basic tenses to grammar concepts. Try browsing through some of these worksheets to find worksheets that your students, in particular, could benefit from.
3. Teachers Pay Teachers
We've mentioned Teachers Pay Teachers before on this blog and that's because they're just so good! This resource site has tons of teacher and professor-approved printable resources for low prices or totally free. You can certainly find worksheets that are fit for your class's age range and Chinese proficiency level.
We suggest trying out "FREE Chinese Practice Sheets" for PreK through 2nd-grade learners or "Chinese pronunciation exercises – words with first tones" for adult learners.
4. Ling-Ling Chinese
Ling-Ling Chinese has an excellent and diverse collection of free worksheet resources. Here you can find blank worksheets for character work, printable flashcards, radical and stroke order worksheets, grammar worksheets and more. These are great if you want to customize the worksheets you give to your students. Check out their "Chinese Character Writing Sheets with grid lines" or their "Blank Character Practice Worksheets with diagonal lines."
5. Chinese Worksheet Generator
Do you need a worksheet generator that's free and reliable? Look no further than Chinese Worksheet Generator! This website allows you to create, save and print worksheets or lessons out of any Chinese text you choose and also allows you to double-check your work for errors before moving on to downloading. All you need is Adobe Reader to view the worksheets before printing. Chinese Worksheet Generator is free to use as well!
6. Education.com
Education.com is a great resource for any teacher of any vocation, but since we're talkin' Chinese here, let's dive into the awesome resource they have for teaching Mandarin. They offer a few awesome free printable worksheets for a wide variety of ages and levels that focus specifically on writing Chinese characters. For beginner learners, we suggest printing out "Chinese Writing: 'Big'" and "Learn Chinese Characters: "'Good.'"
7. Learn Chinese Everyday
We love free resources as much as you do and we bet you'll really love these worksheets from Learn Chinese Everyday! This archive has hundreds of printable worksheets to choose from. There is a lot of variety of proficiency levels as well. Unfortunately, they are not organized by level so you'll have to do some digging to find the right worksheets for your students. This is also a great resource for finding different new characters to teach your students. Try downloading "Worksheet 413" for intermediate learners or "Worksheet 30" for beginners who have learned multiple hanzi already.
8. Arch Chinese
Another great worksheet generator hits our list and this time it's Arch Chinese. This website's worksheet generator is great because you can fit so much custom content into them. Teaching your students about animals? Include a photo of the animal with the words! Want to use color coding to teach your students stroke order for Chinese characters? Pick any color of the rainbow with ease! It's really a great little tool.
9. Purple Culture Chinese Practice Worksheet Generator
The Chinese Practice Worksheet Generator from Purple Culture is one of many handy tools available from this website. With this generator, simply type the characters you'd like to include in the worksheet in the box, pick your grid size and style preference, choose a font, include hints like color coding or clues, select a page size and you're all ready to print! This generator is great for getting students to practice full sentences rather than just one word or character.
10. Teach Kids Chinese
Despite its title, you can actually use Teach Kids Chinese's resources for teen and adult learners of Mandarin as well. The free Chinese worksheets available from this website includes worksheets and character practice sheets from the website owner plus worksheet resources collected from the internet. We suggest using "Five elements Chinese Character Worksheet and Matching Game" for teaching students to memorize certain characters and their meaning, as well as "Chinese Character Practice Sheet – Numbers 1-10" for beginners learning about Chinese numbers.
Worksheets are pretty impressive and useful tools, aren't they? Especially when it comes to teaching written Chinese to students! We bet a few of these worksheet resources will become a staple for you to use when putting together your lesson plan each semester.
---
Em Casalena is a published author, freelance writer and music columnist. They write about a lot of stuff, from music to films to language.

Download: This blog post is available as a convenient and portable PDF that you can take anywhere. Click here to get a copy. (Download)
If you liked this post, something tells me that you'll love FluentU, the best way to teach Chinese with real-world videos.
Bring Chinese immersion to your classroom!
Sours: https://www.fluentu.com/blog/educator-chinese/chinese-worksheets/
Kindergarten worksheet printable mandarin for
Let the gift hang until she returns. She sat down on the sofa. and go away. It's not me, she left me. I muttered.
Making a Hanzi Practice Sheet Tutorial: Purple Culture + looking up stroke order (excerpt)
Kostya obediently began kissing my belly. I have a sexy small tummy, without folds and stretch marks, I did not give birth, I did not have children because in my youth I had an unsuccessful abortion and. The doctors told me that I could no longer give birth. This circumstance did not upset me at all, since I had no desire to have children. Kostya kissed my tummy and I pulled his head down to the pubis.
You will also like:
The content of the correspondence was something like this: He: hello, let's try, throw off a photo I attached a photo and sent him He: great ass. Is she working. I: tried only with toys He: it's time to move on to a real member. what do you like Me: I dont know, this is my first time with a man, I hope from your experience that you will bring it to mind.
I want to feel like a girl He: in what sense.
1978
1979
1980
1981
1982