Build This Simple DIY Truck Camper for $1,500
Installing a truck BedRug liner
Every shelter needs to have a comfortable space (or, at least it should). We thought about making something, like custom cushions, but what we really wanted is something that molds to the design of our specific truck bed.
We did some research on Google for "comfortable truck bed floors" and low and behold, we found the BedRug Bedliner, a solution practically made for our project. A BedRug solved our needs, as it has the look and comfort of carpet, yet is super tough and can withstand any harsh elements you throw its way; not even battery acid could phase it. Plus, it's made with 3/4" foam, similar to that of life jackets, so it does not absorb liquid.
Materials needed for this project:
BedRug
Bedliner kit
BedRug
VELCRO
Tools needed for this project:
Hammer drill
Tie down hooks (may be a son-of-a-gun to remove)
Small knife(used to poke holes to install tie down hooks over BedRug)
Step 1: Remove current bed liner (if necessary)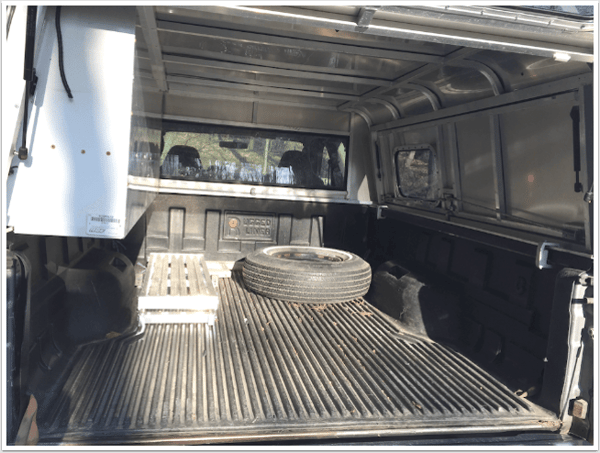 If your truck bed has a bed liner, then you'll need to remove it. We had a Rugged Bed Liner which came with our truck when we purchased it.
The Rugged Bed Liner is a bit rigid--it's made from a solid piece of plastic–and was installed without any bolts. we tried our best to yank it out from under the bed rails without breaking or tearing it. This way, you might be able to make a few dollars by posting it to Craigslist (we ended up getting $50 dollars for it).
Step 2: Remove tie down hooks
Once everything is removed from the back of the truck bed, remove the four tie down hooks in each corner and clean out the truck bed. If you have an older truck, then these tie down hooks will be in there pretty tight.
Step 3: Clean truck bed
If you want the BedRug to install properly, then make sure you're starting with a clean truck bed. Sweep all debris and dust out and spray with a hose.
Step 4: Put the BedRug together
Remove the BedRug from the box and read the installation instructions (pretty basic stuff). First, zip the BedRug together. Take your time with this step as the BedRug has been folded up and the zipper may take a few times to follow its track.
Step 5: Place BedRug in its position in the truck
Pull the BedRug into its secured position. It's kind of an awkward piece to get in there so Justin had to crawl underneath the BedRug and yank it towards the bulkhead.
It's important to note that you should not start placing VELCRO down until you're sure the BedRug is the correct fit and you're satisfied with where it's placed. While VELCRO is removable, it's not fun to install and you don't want to lose your cool and start kicking things.
Step 6: Apply velcro to BedRug and truck bed
Start applying the VELCRO strips throughout the truck bed per the instructed areas.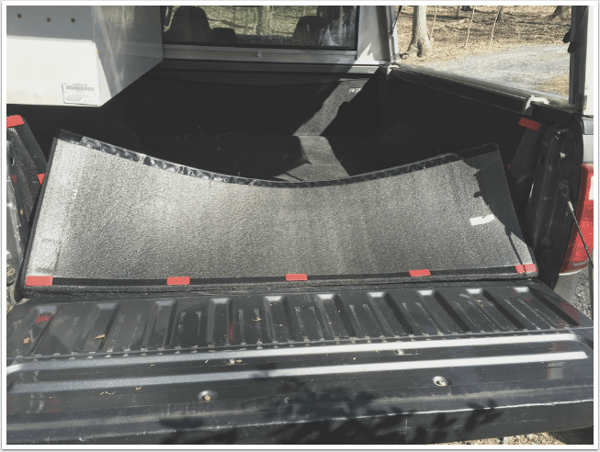 We placed the VELCRO strips in the following order:
Floor
Bulkhead
Tailgate
Sidewalls
Once all pieces are placed in the specified areas, select an area (from above) and pull the BedRug back keeping it from contact with the truck bed, remove the adhesive protective film and carefully place the BedRug into its secured position.
Wash, rinse, and repeat this process until all areas are completed.
Step 7: Make sure everything's in tact
Make sure to do a once or twice over across all areas, checking that the adhesive was applied and make sure that everything is secure.
Step 8: Reinstall tie down hooks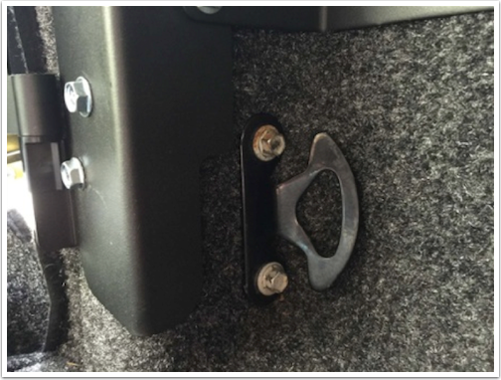 Pull back the VELCRO in the areas where the tie down hooks are located to determine proper position. Cut two small holes for the screws in each location, then re-install the VELCRO so the BedRug is in its secured position and screw in each tie down.
Note: To save yourself time with the next project, make sure to flip the tie down on the back driver-side of the truck bed. If you forget this step, the Swing Case won't close. We learned this through troubleshooting during the next project.
You're done! Now you can sit back and enjoy your new comfortable truck bed. We actually hung out in the back of the truck bed the rest of the afternoon.
Installing a reclaimed wood wall
Ever since we decided to convert our truck, George, into a functional living space, we dreamt of a reclaimed wood wall. Not only would it cover the industrial makeup of our A.R.E DCU truck cap, but it would also create that homey feel of being in a cabin.
There's nothing pretty about the interior of a DCU truck cap. It's built for function, not style. The layout is basically a blank canvas, which lends itself to endless creative possibilities; the driver side toolbox has a flat surface and the ceiling and side walls are made up of 1" thick square aluminum. With the right mindset, the interior could be seen as framing, similar to that of a house. It's a perfect setup for a reclaimed wood covering.
While cruising through Facebook, we came across our friends', Samantha and Rob, stunning lake house rental project in Maine. They were using this beautiful reclaimed wood throughout the house and we saw they tagged this company called Maine Heritage Timber. Excited to learn more, we talked to them about the reclaimed wood product and they explained that Maine Heritage offers many different varieties, including a thin reclaimed wood option with a peel-and-stick backing for easier installation–this is exactly what we're looking for.
Additionally, they explained that Maine Heritage's products are made with preserved growth timber and reclaimed wood from the bottom of the Penobscot River (the byway that once made Bangor, Maine "the lumber capital of the world").This is the type of history and product that George would be proud to be outfitted with. We checked out Maine Heritage's site and learned that they offer free samples, so we put in a request.
Once we received the reclaimed wood samples, we fell in love. What's interesting about Maine Heritage's thin peel-and-stick product, Timberchic, is it comes in many different sizes (width and length) and colors.
Materials needed for this project:
1 box of 3" timberchic; used to cover the bulkhead
1 box of 5" timberchic; used to cover the toolbox
1" thick sponge neoprene stripping
Tools needed for this project:
Dremel tool with saw blade; used to cut wood
Painters tape; used to make straight cuts
Sheet of printer paper; used to make angle
Step 1: Install Timberchic on toolbox
Peeling-and-stick one plank at a time to cover the flat toolbox surface. Start at one end and work your way to the other end. It's like a game of Tetris.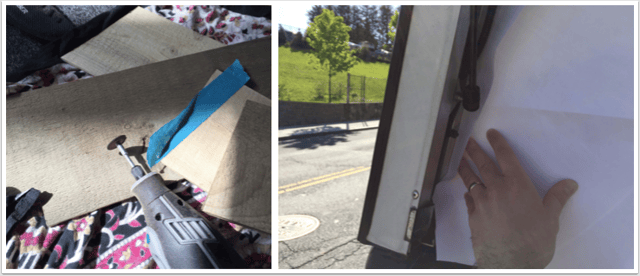 Before installing each plank, make note of the holes in the wood and place the circular black stickers that come with the wood in these spots to cover the white of the toolbox.
We were pleasantly surprised with how sticky the adhesive tape took to the aluminum surface it was placed on. The only way this wood is coming off is if you break it.
Once you reach the bulkhead, you'll need to cut the Timberchic pieces to match the tailgate end. We used a Dremel for this, as the reclaimed wood is about 1/8" thick and we wanted to treat the wood with care.
To make this process easier, measure where the plank will be cut before installing on toolbox and use painters tape to make a straight line. To finish the toolbox section, start by folding an angle on a sheet of paper on the far left wall. You'll use this to mark the Timberchic and make a cut that fits flush with the wall. This may sound make-shift, but it works.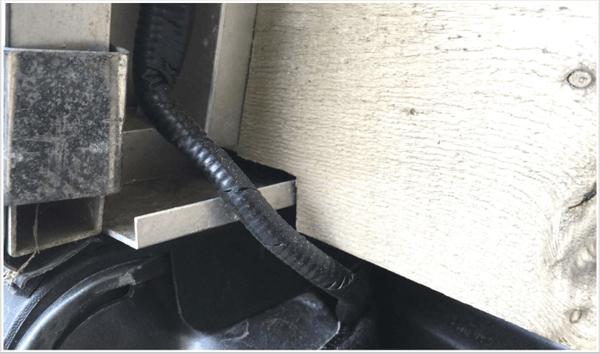 Once you use the paper to make your first cut, use this wood panel as a template to place painters tape on the remaining pieces to be cut; all angles are the same on the tail gate and bulkhead.
The only areas that will need extra cuts will be the bottom and top planks. You'll have to cut a 90-degree angle slice out of the wood to fit in smoothly.
Step 2: Outline bulkhead with stripping adhesive
Again, the reclaimed wood is fairly thin, so the insulation tape provides a cushioned backing for support so it won't break if pressure is applied to it. Spread the stripping out on the lower part of the truck cap and the sides, no more than 5" apart. Too much of a gap will create a weak spot, increasing the chance of the wood breaking if pressure is applied to it.
Step 3: Install Timberchic on bulkhead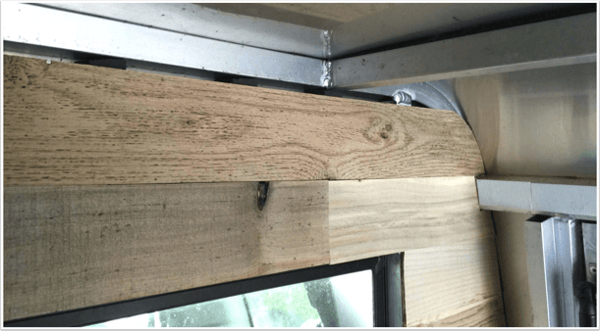 Per our earlier notes, the make-shift measurement we took at the back of the toolbox will be the same for the bulkhead installation. The only difference is the top plank will need to be rounded off.
You'll notice there's about 1 1/4" gap between the top reclaimed wood panel and the roof. This is because you'll be installing industrial strength VELCRO for the bulkhead curtain. Plus, the serape blanket ceiling will cover this up anyway.
We decided not to place reclaimed wood on the underside of the toolbox, as we want to leave our options open in the future for a shelving unit. And there you have it! A reclaimed wood wall for your truck camper living area.
Installing a Ceiling cover and curtains
Of all the projects to help transform our f250 into a truck camper, the ceiling cover and curtains process was by far the most tedious, yet rewarding. However, if you want the job done right, the first time, then you need a steady, caring touch and a lot of patience.
The first time around, we'll admit, we rushed installing the curtains and ceiling cover. We have had some setbacks that kept us from our deadline, but were determined to finish on time. Doing so, we didn't have the patience to complete a project well and our mistakes slowly crept up to bite us.
Our biggest mistake and regret which led to us having to redo everything; gluing as we installed as opposed to letting the glue dry for 24-48 hours. The glue seemed to dry fast enough, so we thought It would be okay. We thought wrong. Additionally, we didn't apply enough glue in the areas that needed it. While this mistake was 50% patience, 50% DIY newb learnings, it's something that we may have noticed if we were working with more of a caring touch.
If you want results that you're proud to have your name attached to, then you need to give it the time and care it deserves. Justin was reminded of this when walking back from lunch one day with one of his colleagues who told him to practice patience. Even though this was not a new concept, it's important to be reminded. It's as if we were in our corner during a boxing match, having lost sight of our end goal, and had the words we needed to get our head back in the fight.
We're telling you this before we share this DIY project, because we want you to learn from our mistakes. We all have obstacles that make us pivot and adjust to reach our end goal. In the words of the great Red Auerbach, "be quick, but don't hurry." Say this to yourself whenever you're up against a deadline and you're feeling it slip away from you.
Materials needed for this project:
Two Mexican serape blankets (blanket actual sizing: 56" x 78")
Four bottles of Beacon Fabri-Tac Permanent Adhesive (you'll have some left over which will come in handy for other projects)
Four boxes–or 60 feet–of black industrial Strength VELCRO (you'll have some left over which will come in handy for other projects)
Tools needed for this project:
Fabric-cutting shears; used to cut blankets
Non-fabric-cutting shears; used to cut VELCRO strips
Disposable gloves; used to protect hands from Fabric-Tac
Flexible measuring tape; used to make measurements
Sharpie
Step 1: Measure the interior of the truck bed
Before purchasing any of the above materials, measure the interior of your truck cap: length, width, and height (truck bed rails to the floor). Our A.R.E. DCU utility truck cap is outfitted with 1" aluminum framing, so we measured the length and width of each aluminum rail.
To make it easier on yourself, we recommend using a flexible measuring tape. This way you can move around with ease, as the working area can be tight.
Step 2: Make a simple measurement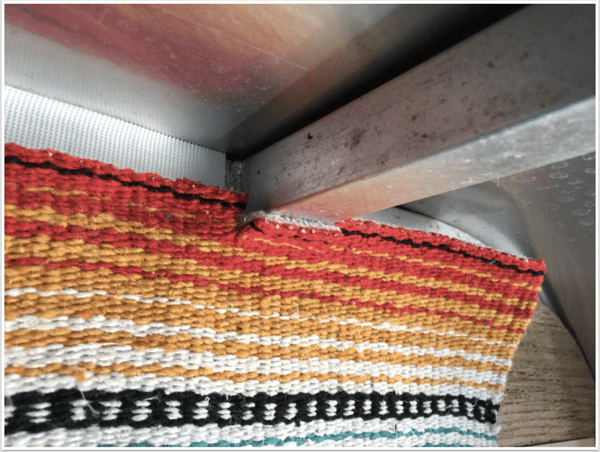 Using the measurements of the truck bed interior, draw a simple pattern of your design with a pen and paper. Measure everything again to make sure the pattern dimensions are correct. If everything checks out, then you're ready to purchase your materials.
Final thought; there will be two aluminum rail cutouts for the bulkhead curtain to fit into place. This is the only area that will require you to cut into the blanket, as seen below.
Step 3: Clean the interior of the truck cap
Whether your truck cap is used or new, clean the area where you're going to apply the VELCRO strips. In this case, the VELCRO is going to cover all ceiling rails as well as the curved side rails leading up to the access door(s). This is an important step as a dirty truck cap can impact the bond of the VELCRO.
Step 4: Cut the VELCRO strips and install in truck cap
Use the measurements from your pattern to cut precise VELCRO strips. Try to be as exact as you can, as the longer the strip the stronger it'll be. Tip: Because this is industrial strength VELCRO, make sure to use the rough side–also known as the hook–on the ceiling. This way the softer side applied to the blanket–also known as the loop–won't stick to the BedRug floor.
Regarding the curved aluminum area, the VELCRO won't stick here very well (learned that the hard way). Instead of cutting one long strip of VELCRO for the aluminum rail, cut the VELCRO just before the curve and cut 3" pieces of VELCRO that attach to the side of the railing. This will help reinforce the grip and keep the blanket from sagging around the curve.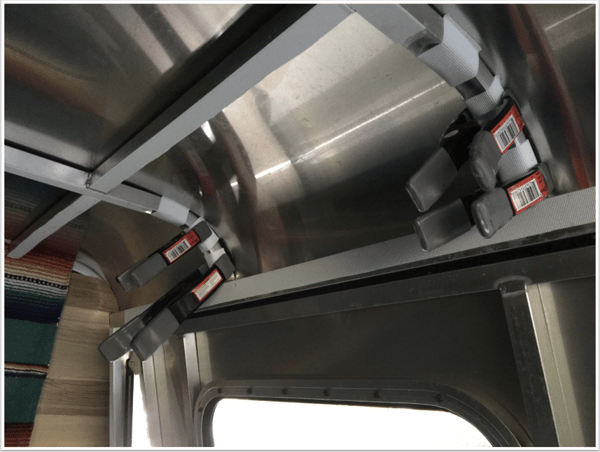 Remember, the VELCRO strips are 2" wide, but the the aluminum framing sizing varies. This means you'll need to cut the strips according to each area it will be applied. The cuts don't need to be exact, but try and cut as straight a line as you can.
To make this process easier, try and find two measurements that are somewhat equal, like the length-wise aluminum framing from the bulkhead to the tailgate. This way one cut will equal two installations (with the addition of minor cuts if needed).
Once all the aluminum rails are dry, outline each railing with the cut-to-size VELCRO strips.
Step 5: Cut blankets and apply VELCRO strips
Mark up the blankets with a Sharpie based on the pattern measurements:
Areas to be cut
Application of the loop-sided VELCRO to attach the blanket to the hook-sided
Make sure the side you mark up is the side that will be facing the ceiling.
We used one blanket for the roof and one blanket for the curtains (the tailgate curtain attached to the ceiling curtain to make up for the 6" ceiling gap). Try and mark cuts that preserve the blanket's edges. This way you'll reduce having to glue seams.
Tip: Be extra careful with your blanket edge cuts. The blankets can become frayed if they go without glue for long. Use the Fabri-Tac to glue your seams.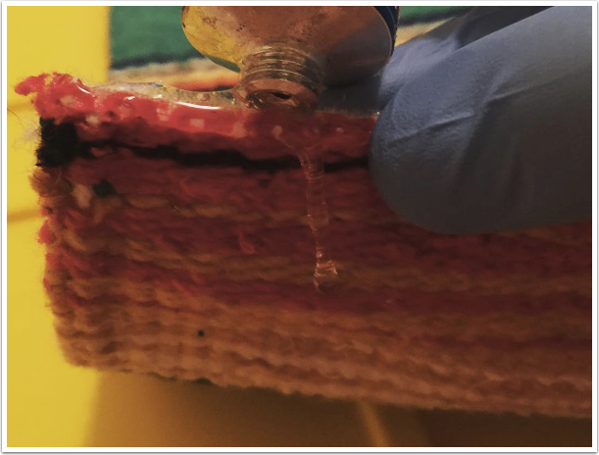 Here is a good technique to adopt for a longer-lasting bond between the VELCRO and the blanket; spread out the Fabri- Tac glue on the adhesive side of the VELCRO before placing on the blanket. Once placed, add Fabri-Tac glue around the sides of the VELCRO. This will strengthen the bond between the blanket and VELCRO.
DO NOT skimp on the above step when applying the VELCRO to the blankets. Remember, practice patience and make sure your VELCRO is good and bonded to your blankets. Once all the glue is applied, let it sit for up to 48 hours. Once dried, tug on all the areas of the VELCRO and make sure it's on there to stay. If you find an area that needs an extra caring touch, then help it out with some Fabri-Tac.
Once you feel good about the VELCRO-to-blanket bond, you're ready to install.
Step 6: Install your blanket cutouts
Start by installing your bulkhead blanket. Attach the blanket's VELCRO to its counterpart at the top of the bulkhead. Next, install the ceiling cover. Start by attaching the VELCRO to its counterpart on the toolbox-side strip that extends from the bulkhead to the tailgate.
Next, Attach the middle intersecting VELCRO strip to its counterpart. Then attach the remaining VELCRO strips to their counterparts. Installing the blanket roof in this way will help reduce excess sag, keeping the blanket taught and in place.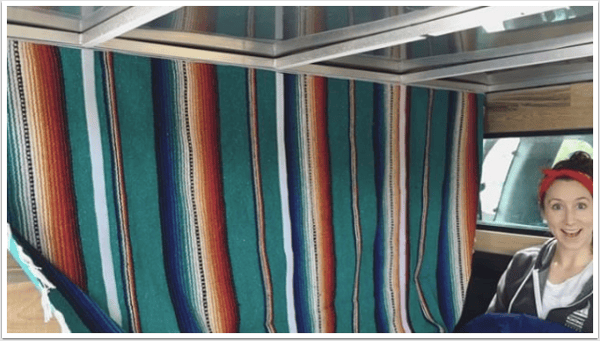 Lastly, install the tailgate curtain. Start by connecting the blanket ends where the VELCRO hook and loop meet to complete the ceiling cover. Connect the blanket to the aluminum framing above the tailgate. Make sure the blanket is nice and tight from the adjoining ceiling-to-tailgate connection.
Next connect the VELCRO adjoining strips to their counterparts above the tail gate and let the blanket hang down to the floor.
And there you have it. Making use of a blanket as curtains and a ceiling cover in your truck camper project.
Installing an off-grid electrical system
The ability to plug a cord into an outlet and access electricity is nothing short of magical. Sometimes, we on-grid folk don't take the time to appreciate the intricacies that go into building an electrical system. That is until there's a blackout…
While we don't live in our f250, George, it is nice to take him out on solo excursions without the Airstream. Installing an electrical system gives us the ability to access power when we need it.
When we started doing research, we found many options, including several off-grid emergency systems created by expert, Steven Harris. That being said, most creations are a bit more involved and complicated than we were looking for.
Our goal was to keep this project simple and identify easy to install methods for accessing power when we need it.
Materials needed for this project:
ECOFLOW River Portable Power Station Generator (with River adapter)
60 watt adhesive Powerfilm solar panel
Car power inverter with AC and USB outlets
33-feet warm LED light string
Optional: PowerFilm 60 Watt Foldable Solar Panel
Tools needed for this project:
5" strip of VELCRO; used to secure materials
Step 1: Install power inverter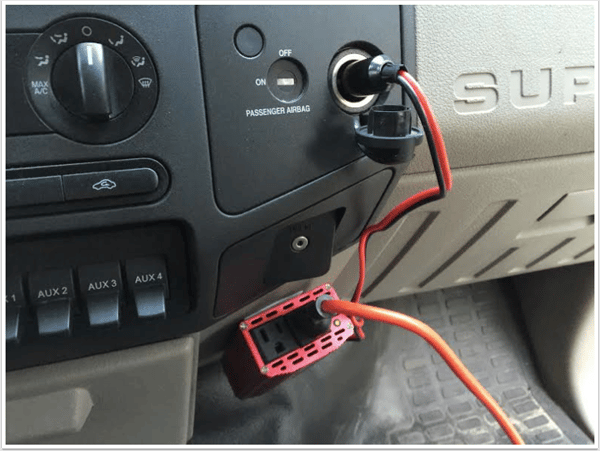 Cut a strip of loop (soft) and hook (rough)-sided industrial strength VELCRO about 5" long. Attach the hook-sided VELCRO to a flat surface under the cigarette lighter port; attach the loop-sided VELCRO to the flat side of the power inverter. This will allow you to connect the power inverter to the truck and easily remove when parked.
Now you can leverage your truck to charge your smaller devices (smartphone, laptop, etc.) while you drive.
Step 2: Install adhesive solar panel
Powerfilms 60 watt adhesive solar panel is easy to install. You just peel back the protective layer from the adhesive and apply to the roof. Below is a list of suggestions to consider:
Make sure the spot you choose on your roof is flat.
Clean the area where you plan to apply the solar panel.
Place the solar panel on your roof and remove the adhesive cover strip by strip. As you do this make sure to apply pressure so the adhesive sticks to your roof.
Make sure to do the above carefully, because once you apply the solar panel to your roof it's not coming off.
Step 3: Run the cord from your solar panel to your mobile power station.
What we love most about our ECOFLOW River is it has a built-in charge controller, making it a plug-and-play solution. Depending on where the River is located, below is how we ran the cord:
If we're in the truck, then we run the cord through the super cab door.
If we're in the truck bed, then we run the cord through the truck cap access door.
Both of the above options are watertight, so don't worry about water getting in.
Step 4: Hang warm LED lights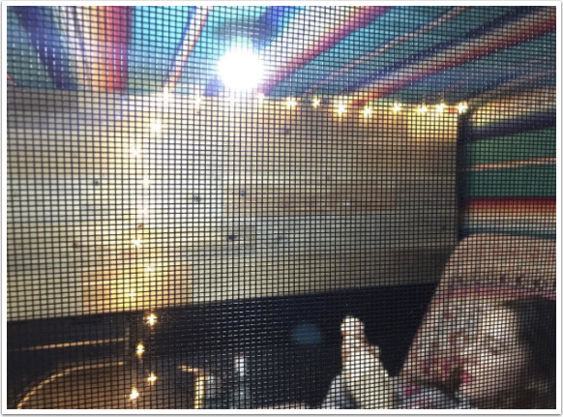 Start by measuring the ceiling area to make sure 33' will be enough to cover the area. We have a 6.5' short bed, so we were almost able to cover the entire area twice.
Next, attach the LED string lights to the serape blanket along the path you measured. Ariele did this with black thread and a needle, sewing it to the blanket ceiling cover about every 6".
If you want a tour of our electrical set up, then check out the video below:
Installing a flexible rip-away screen
We didn't realize how important a screen for our truck camper conversion was until the first time we camped in our truck bed. The A.R.E. DCU utility truck cap access doors provide amazing panoramic views. But, without the rip-away screen we wouldn't be able to sit comfortably in our truck camper with the access door open. No matter the weather, the rip-away screen allows us to let fresh air circulate the truck bed while keeping insects out.
Materials needed for this project:
Black cloth hockey tape
One bottle Fabri-Tac permanent adhesive glue
9' of black, industrial strength VELCRO
One roll of Fiberglass screening
Tools needed for this project:
Fabric-cutting shears; used to cut fiberglass screen
Non-fabric-cutting shears; used to cut VELCRO strips
Step 1: Measure the access door
Start by measuring the length and width of the access door where you're going to place the rip-away screen. This will give you a pattern with which to cut your screen. To be safe, make sure to measure top and bottom, left and right. Don't assume the side parallel to the one your measuring is the same.
Make sure to measure all truck cap elements that will impact the screen cutout. For example, we added 1" to the top and bottom of our measurement to account for VELCRO placement on the truck cap.
Step 2: Outline access door with VELCRO
Once you have established your screen placement, you can cut 1" VELCRO strips using the hook side to outline your truck cap. Make sure to use the non-fabric shears for this. When applying the VELCRO to the aluminum surface, make sure everything is clean and dry. This will help ensure a strong bond between the VELCRO and truck cap.
Step 3: Cut the access door screen
Take your pattern and use it to measure the cutting area on your screen. The good thing about cutting along a screen is there are tiny little boxes you can use to cut a straight line–you just have to cut within the parameters of the box, using the lines as a guardrail.
Step 4: Outline screen with VELCRO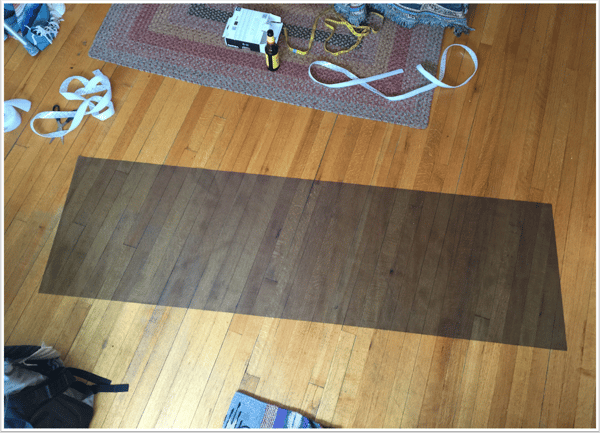 Once you have your screen cut out, lay it flat. Based on the pattern, cut 1" VELCRO strips that measure the border of the screen. Make sure to use the loop side of the VELCRO, which is the soft side. This way, it won't stick to your BedRug.

Before applying the VELCRO to the screen, apply Fabri-Tac to the adhesive side of the VELCRO strip and spread it out like you're making a peanut butter and jelly sandwich.
Next, apply the adhesive side of the VELCRO strips to the screen.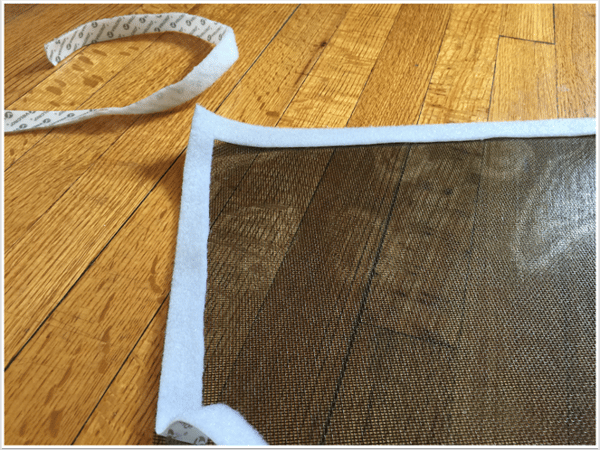 Make sure the VELCRO is facing the floor, as the glue will seep through and you don't want to have the screen dry to the floor. Hold the screen in your hand as you do this.
Now, let it sit for 24-36 hours in a place where the screen won't be touched. Once everything is dry, you're ready to apply the backing tape. We chose hockey tape, as it's fabric based.
Step 5: Apply hockey tape to reverse side of VELCRO
Before you apply the hockey tape, it's time to make another peanut butter and jelly by spreading another layer of Fabri-Tac glue on top of the screen and adhesive side of the VELCRO.
Then apply the hockey tape to the glue. Adding a layer of the Fabri-Tac will help bond the hockey tape to the back of the VELCRO. This is what that side will look like. Now, let it sit for 48 hours.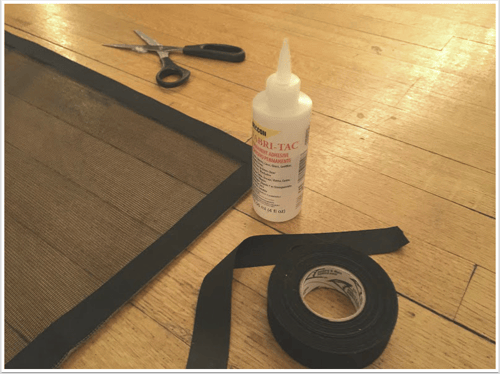 You're done! Now you can attach your screen and enjoy the breeze (and necessary ventilation!) in your truck camper while keeping the bugs out.
Purchasing a mini dehumidifier
No one likes waking up in a damp area. Justin went camping before George's transformation was complete. The BedRug was installed, so he knew the space would be comfortable enough.
When he woke up the next morning, everything in the truck was wet because he had to leave the side access-door open for air circulation. This was not ideal, especially since we have things back there that moisture can damage, like our reclaimed wood wall or ceiling cover and curtains.
After doing some research we found the Eva-Dry Mini Dehumidifier, which offers the following benefits:
Wireless; charge by plugging into an electrical outlet
Powered by crystals that absorb moisture
Covers a space up to 500 cubic-feet
We LOVE this product. We tested it out by sleeping with the side access-door open and woke up to a completely dry environment.
Sours: http://www.wildwewander.com/diy-truck-camper
The Lightweight Pop-Top Truck Camper Revolution
September 14, 2021 | By Bryon Dorr
2265 Shares
The hottest trend in the car-camping and overland world right now is the lightweight pop-top truck camper. It combines a truck topper shell and a rooftop tent. These go-anywhere truck campers are ready for adventure!
The pop-top truck camper gives you interior standing room, a comfortable bed, and a large, locked storage area. It also offers up a solid platform to mount all your big adventure sports toys, like kayaks and bicycles, on the roof. The lightweight pop-top truck camper fills the void between the traditional truck topper and a full-featured, RV-style, slide-in truck camper.
The idea of an integrated tent in a truck bed topper or canopy isn't new. Lately, though, there's an all-new crop of this camper type sprouting up. And most of them incorporate wedge-shaped rooftop tents.
Let's take a look at the current offerings in the lightweight pop-up truck camper space. I've personally been hands-on with every one of these products, so my thoughts are based on actual experiences, with additional information gathered from speaking directly with camper owners and company owners.
AT Overland Habitat
AT Overland Equipment has been making quality products for the North American overland community since before most people had ever heard the word "overland." The company started with off-road-capable adventure trailers.
Over the past few years, AT has moved into rooftop and truckbed living systems. The first of this style available by the brand is the Habitat. In just the first 2 years on the market, over 100 Habitat flip-open truck campers were sold, with continued growth since then.
The AT Habitat is unique to the current market with its flip-over design, much like many rooftop tents. This design offers a huge amount of sleeping room in the tent for up to four people.
It also offers a dedicated sleeping area for two while still having the entire truck bed area as a standing-height living space. Outdoor gear manufacturer NEMO Equipment helped develop the tent on the Habitat.
A great feature of this design is that the tent system creates a covered area over the back of your truck. This is a great area to cook outside but out of the weather. It also helps you keep wet and muddy gear out of your living space by giving you a covered area to remove shoes and soggy clothes before entering the inside living area.
There are two drawbacks to the AT Habitat design over the other pop-up camper designs. The first and most important for outdoor adventurers is that gear on the roof needs to be removed before deploying the tent. The second is that the Habitat tent can be quite a bit louder in windy conditions, as there is more tent to catch the wind and less rigid structure to the tent.
While this design might look more fragile than the pop-up designs out there, the Habitat is built to take whatever you throw at it. As with the other AT truck topper designs, the roof, when closed, can support up to 350 pounds. The big trick with the Habitat is that the cantilevered bed area has a massive loading capacity of 600 pounds.
All AT Overland truck topper campers are made of one-inch lightweight honeycomb composite panels skinned with FRP and bonded to 5052 aluminum. This construction allows for impressive strength, low weight, and quality insulation, separating it from the competition.
AT Overland is also one of the only builders of this style of camper that currently has a full continent-wide dealer network. This allows you to buy any AT Overland truck camper and get product support much closer to home, or wherever your travels might take you.
AT Overland Habitat
Price: $12,000
Availability: Direct and retail sales channels since 2016
Weight: 360 lb.
Materials: FRP-skinned honeycomb composite shell with NEMO Equipment wax-impregnated, fire-retardant cotton/poly canvas tent
Fit: 5′ and 6′ bed in midsize trucks (Tacoma, Gladiator, Colorado, Frontier); 5.5′ and 6.5′ bed in full-size trucks (Chevy, Ford, RAM, Tundra, Titan); 6.75′ bed heavy-duty trucks (F250, F350); 8′ bed full-size trucks
Options: Windows, access hatches, skylight with lighting, roof rack, solar power systems, heater, insulated tent, cabinetry, toilet, water systems
Website:www.atoverland.com
Location: Prescott, Arizona
Company established in October 2001
AT Overland Summit
The second lightweight pop-top truck camper on offer from AT Overland is the wedge-style Summit. The AT Summit was introduced at Overland Expo West 2018 and was an instant hit.
This new camper builds on the same architecture as the proven Habitat. The big advantage over the Habitat is that you can leave up to 100 pounds of gear on the roof when you pop the top. No one wants to take down their adventure sports gear to make the bed!
The Summit's bed is 48 x 80 inches, the length of a queen-size bed. It has a 2.5-inch-thick mattress and pivots upward out of the way when not in use, assisted by gas springs. And there's enough room between the sleeping platform and closed roof to leave your bedding in place. Making your bed at camp was never so easy!
The Best Sleeping Bags of 2021
From versatile camping bags to wallet-friendly picks, we've found the best sleeping bags for every use and budget. Read more…
My only real gripe with the AT Summit, after spending many nights sleeping in one, is the foot room. I'm tall, 6'3″, and have big feet, U.S. men's size 13, and my feet hit the low part of the wedged roof when I roll over in the bed.
This is a bit annoying and wakes me up at night. It's an issue with all wedge-style campers, but a nonissue for those who are shorter and have smaller feet than me.
Since I last spent time in a Summit, AT Overland has added an option to address the foot box issue for tall people. You can now order a Summit with the bed moved toward the back of the truck by 6 inches. This should greatly increase the vertical room for your feet in the wedge end of the camper while in bed.
AT Overland Summit
Price: $12,000
Availability: Direct and retail sales channels since September 2018
Weight: 380 lb.
Materials: FRP-skinned honeycomb composite shell with Sunbrella Firesist tent
Fit: 5′ and 6′ bed in midsize trucks (Tacoma, Gladiator, Colorado, Frontier); 5.5′ and 6.5′ bed in full-size trucks (Chevy, Ford, RAM, Tundra, Titan); 6.75′ bed heavy-duty trucks (F250, F350); 8′ bed full-size trucks.
Options: Windows, access hatches, skylight with lighting, roof rack, solar power systems, heater, insulated tent, cabinetry, toilet, water systems
Website:www.atoverland.com
Location: Prescott, Arizona
Company established in October 2001
AT Overland Atlas
The third and most recent addition to the AT Overland truck topper lineup is the Atlas. The AT Atlas is built on the same basic architecture of the Habitat and Summit but offers a full vertical pop-top design.
The AT Atlas can hold 50 pounds of gear on the roof when popped while still being able to open and close easily.
The tent on the Atlas and Summit is made of Sunbrella Firesist. This is a highly durable, fire-resistant, all-weather material typically used in commercial awning applications.
The bed in the Atlas is the same size as the Summit, 48 x 80 inches, but is made up of two panels instead of one big one. This two-panel design makes it easy to pop the tent from the middle and allows for stacking of the mattress in the cab-over area, optimizing truck bed living space.
The big win for the Atlas is the huge amount of sleeping area you get compared to the Summit while getting way more insulation in the roof over the Habitat. The Atlas design also means you can sleep easily with your head in either direction, versus the Summit where you will always want to have your head at the wider end of the wedge.
A great option to consider for both the Summit and Atlas is the insulated tent liner. AT Overland uses 3M Thinsulate FR insulation quilted into the fire-resistant fabric. This setup adds to the already built-in insulation in the walls and roof. All-season camping was never so comfortable!
AT Overland Atlas
Price: $13,000
Availability: Direct and retail sales channels since late 2019
Weight: 410 lb.
Materials: FRP skinned honeycomb composite shell with Sunbrella Firesist tent
Fit: 5′ and 6′ bed in midsize trucks (Tacoma, Gladiator, Colorado, Frontier); 5.5′ and 6.5′ bed in full-size trucks (Chevy, Ford, RAM, Tundra, Titan); 6.75′ bed heavy-duty trucks (F250, F350); 8′ bed full-size trucks
Options: Windows, access hatches, skylight with lighting, roof rack, solar power systems, heater, insulated tent, cabinetry, toilet, water systems
Website:www.atoverland.com
Location: Prescott, Arizona
Company established in October 2001
Go Fast Campers (GFC) Platform/Platform XL
If you want a little bling, and by far the easiest access to gear in the truck bed, the GFC Platform Camper is for you. This extremely lightweight camping system is designed for go-fast camping adventures in remote off-road environments. The Platform is designed for midsize trucks whereas the Platform XL is designed for full-size trucks.
Low weight and immense strength are the ideas behind the Platform. GFC said, "We build these things to jump."
The Platform frame is made of steel tubing similar to a roll cage. This allows the camper to be extremely rigid and for all the sides to open, as they aren't part of the structure. The crazy-strong and very sexy roof latches and hinge mechanisms are all machined from aluminum.
The downsides to the GFC designs are that the tent is made of welded vinyl fabric snapped into place. This setup is super durable as well as super easy to clean and maintain. It's also prone to condensation issues, however.
The relatively thin 2-inch mattress is also not comfortable enough for many. Owners of GFC campers have been known to supplement or replace the mattress with memory foam or self-inflating camp pad options.
The Best Camping Mattresses and Sleeping Pads of 2021
From packable sleeping pads to ultracomfortable air beds, we tested and found the best camping mattresses and sleeping pads to fit every adventure and budget. Read more…
If the weather is nice, there's no better camper to be in. The GFC Platform fully opens up like your own personal cabana. And GFC makes all this camper's components in-house. This allows them to control, modify, and upgrade everything in the Platform Camper system as the company grows and receives more customer feedback.
Go Fast Campers
Price: Platform $6,950; Platform XL $7,450
Availability: Direct sales since October 2017
Weight: Platform 275 lb.; Platform XL 290 lb.
Materials: CNC machined and extruded aluminum, honeycomb composite panels, DOM steel tube
Fit: Tacoma, Tundra, Colorado/Canyon, Gladiator, Ranger, Frontier, Tundra, Titan, RAM (1500, 2500, 3500), Ford (F150, F250, F350), Chevy/GMC (1500, 2500, 3500)
Options: Lights, windows, racks, vent fan, custom colors
Website:www.gofastcampers.com
Location: Bozeman, Montana
Company established in August 2017
Snap! Outfitters Treehouse
Snap! Outfitters was born out of necessity. No wedge-style pop-up truck topper was on the U.S. market back in 2017. After over a year of testing, the Treehouse finally hit the market in early 2018. This aluminum truck camper is feature-rich and built to order. That means it will fit your truck and your needs.
One of the coolest integrated features of the Treehouse is the three-step ladder from the truck bed to the sleeping platform. Everything on the Treehouse is designed for ease of use by nearly anyone.
The barn door-style rear entry and swing-open side hatches are also unique to Snap! Outfitters. These features make it incredibly easy to access gear in the truck bed while also keeping the elements out.
Snap! Outfitters is based in rural Pennsylvania, and each Treehouse is built to each customer's individual needs. For example, if you want side windows instead of side hatches, the brand can do that.
Snap! Outfitters Treehouse
Price: $11,000
Availability: Direct, deliveries started in February 2018
Weight: 340 lb.
Materials: Aluminum
Fit: Custom built to fit any pickup
Options: Windows in the cap doors, wired for solar, custom powder coated colors, insulated tent liner, rear barn doors
Website:www.snapoutfitters.com
Location: Glenville, Pennsylvania
Company established in January 2017
Vagabond Outdoors: The Drifter/The Nomad
The owners of Vagabond Outdoors started the company with over 12 years of pop-top camper ownership under their belts from a variety of manufacturers. They have used that experience and knowledge to build what they think is a better product. The Drifter pop-up wedge-style truck camper was born in early 2017 and went into production in spring 2018.
The Drifter is designed for midsize trucks, where The Nomad camper is for full-size trucks.
One killer feature not currently being offered by competitors is a standard dropdown cab window. This allows for a crawl-through to the cab of the truck from the truck bed — if the truck is fitted with a rear window with a large enough opening to crawl through.
The bed in The Drifter/Nomad is a full 3 inches thick and sports a high-density mattress with a waterproof cover. The lid/bed design also keeps bedding in place when the camper is collapsed.
Besides focusing production of these camper toppers, Vagabond Outdoors is also striving to become the premier overland outfitter in the San Francisco Bay Area. It's currently a dealer for top brands like Frontrunner, Goose Gear, Blueridge Overland Gear, Dometic, Total Chaos, and Baja Designs.
Specs
Price: The Drifter – $7,750, The Nomad – $8,250
Availability: Direct sales model, deliveries began in March 2018
Weight: 350-500 lb.
Materials: 1/8″ 5052 aluminum, aluminum tubing, vinyl-coated polyester, stainless steel, composites
Fit: Tacoma and Colorado, Frontier, Gladiator, and most full-size trucks
Options: Maxxair fan, roof racks, dimmable interior lighting, exterior lighting, side access windows, slider windows, Tern Overland acrylic windows, lower insulation, tent insulation, solar panels, powder coating, awnings
Website:www.vagabondoutdoors.com
Location: Benicia, California
Company established in January 2018
OVRLND Pop Top
The OVRLND Pop Top is a full pop-up design. This lightweight aluminum pop-top camper is custom-made to order. It can work with any truck and be fully customized to the buyer's specifications.
Throughout the truck bed, the Pop Top offers a standing height of 6'5″ for midsize trucks and 7'3″ for full-size trucks. Vertical sidewalls also maximize interior space, which is unlike other designs that angle in to conform to the truck cab shape.
The Pop Top offers a 61″ W x 80″ L sleeping area in midsize trucks and a 68″ W x 80″ L in full-size trucks.
OVRLND is a one-man shop, so don't expect mass production on the Pop Top. But what you can expect is one-on-one attention and a custom build that fits your needs exactly.
OVRLND Pop Top
Price: $8,100 for midsize trucks; $9,100 for full-size trucks
Availability: Direct sales model, deliveries began in March 2018
Weight: 275 lb.
Materials: All aluminum tubing and siding, wooden bed platform (honeycomb composite option)
Fit: All trucks (custom-made to order)
Options: Custom window configurations, roof rails, rear barn doors, full custom interiors, interior systems, and full custom builds to customer specs
Website:campovrlnd.com
Location: Flagstaff, Arizona
Company established in December 2017
Four Wheel Campers Project M
With Four Wheel Campers offering truck campers for nearly half a century now, the brand knows a thing or two about building a quality product.
While it's known for full-featured slide-in truck campers, it couldn't ignore the large market demand for a more basic lightweight pop-up truck topper camper. The Project M was born from this hole in the brand's camper lineup and market demand.
The things that really set the FWC Project M apart from the competition are the wide sleeping area and vertical sidewalls. The sleeping area is so wide that most people can actually sleep sideways in the camper. The bed measures 65 x 80 inches for the midsize truck camper and 73 x 80 inches for the full-size truck camper.
The design fits on most trucks, with very few camper models needed to cover the wide range of truck beds out there. This design can look a bit chunky and wide on some narrower and more curvy trucks. The vertical sidewalls and relatively wide camper offer up a ton of living space inside the truck bed.
There's also a big lip inside the camper where it meets the top of the truck bed. This allows it to fit lots of trucks but also offers up great built-in benches inside the camper.
The outside look of the Project M can change drastically depending on the siding option you choose. The brand offers black diamond plate or smooth aluminum siding, with several color options if smooth is chosen.
One thing you get when buying an FWC is a wide, well-established, independent dealer network across the globe. The full one-piece roof, tent, and pop-top system on the Project M are well-proven components, as they come directly from the other FWC slide-in models.
The Best Camping Tents of 2021
Make the most of your home away from home by choosing the best camping tent for your adventure. We found the top car camping and family camping tents for every budget and use. Read more…
With a 5-year warranty on the roof, frame, and siding, along with the large dealer service network, it's hard to go wrong with an FWC purchase.
Four Wheel Campers Project M
Price: Short bed models starting at $9,795, long 8′ bed models starting at $9,795
Availability: Factory direct and through Four Wheel Camper dealers worldwide since 2019
Weight: Midsize truck w/5' bed (352 lb.), midsize truck w/6.0' bed (377 lb.), full-size truck w/6′ bed (420 lb.), full-size truck w/8' bed (465 lb.)
Materials: Welded aluminum roof and wall framing, aluminum siding exterior
Fit: Nearly all U.S. pickup trucks (four sizes: midsize short bed, midsize long bed, full-size short bed, and full-size long bed)
Options: Power system, lighting, solar, roof vents, camper jacks, side windows, awning, roof racks, thermal package, and more
Website:https://fourwheelcampers.com
Location: Woodland, California
Company established in 1972
Camp King Industries Outback Series
The Camp King Outback Series integrated tent truck topper is an all-aluminum unit from Australia, imported by Sloop Imports. The complete unit is CNC laser-cut, bent, and hand-TIG-welded before being powder-coated inside and out.
While it's one of the most expensive units on the market, you get a lot for that money. It's an incredibly feature-rich and durable unit. By releasing two lockable stainless steel latches, the tent basically sets itself up with the help of two heavy-duty gas struts.
The roof is a one-piece design for the best weather sealing possible. The roof also features a 3-inch-thick, closed-cell foam headliner for insulation and sound deadening.
Under that roof is an 85-inch-long by 51-inch-wide sleeping area with a two-piece, 3-inch-thick foam mattress. The two-piece bed design allows for access to the truck bed from the sleeping area as well as standing room in the truck bed.
Both the canvas tent and aluminum topper come standard with three doors each. The tent doors are also windows, with full mesh for optimal ventilation and as a bug barrier. The rear tent door features an integrated awning.
An included 8'5″ telescopic ladder allows for tent entry from outside through any of the three tent doors/windows. The topper itself also has three tightly sealed and lockable doors/access hatches for easy access to everything in the truck bed.
Two super-useful included features of the CK Outback Series Tent Topper are the roof extrusion rails and internal storage pouches. The aluminum extrusion rails on the roof allow for securing a wide range of gear, and for mounting things like crossbars and solar panels.
You get a total of six internal storage pouches in this camper topper. There are four shoe pockets at the back door and two general-use storage pockets on the side in the sleeping area.
Camp King Industries Outback Series
Price: $14,000
Availability: Late May 2020
Weight: 300-325 lb.
Materials: 3mm aluminum body, 2mm aluminum one-piece roof, ripstop canvas tent
Fit: Short-bed Tacoma (2nd & 3rd gen) and F150 (coming soon: Jeep Gladiator, Dodge Ram)
Options: Rack crossbars, storage pouches, side awning brackets
Website:SloopImports.com
Location: Brisbane, Australia (U.S. distributor in Steamboat Springs, Colorado)
Company established in 2015
Super Pacific Switchback X1
Super Pacific is the new kid on the block in the pop-up camper space, but they have a background in manufacturing and got going quickly in 2019. They have mostly flown under the radar, as they do little to no marketing and are still backlogged on orders for nearly a year.
I've been to its small manufacturing facility in Portland, Oregon. It is a no-nonsense industrial space where raw materials are riveted and stitched together to create the four-season Switchback X1 wedge-style pop-up camper.
The riveted-together aluminum structure and three big doors with CNC machined hinges are the main things that set the Super Pacific camper apart from the competition. In many ways, the Switchback X1 is a combo of a lot of ideas that were/are already on the market.
T-slot tracking is integrated into the design, as are threaded inserts, that allow a whole host of accessories to be added at any time. This includes roof racks, awnings, and even furniture and storage solutions on the interior.
Super Pacific includes an Exped Megamat Duo LW+ as the mattress of choice for the Switchback X1 camper. The bed platform under the mattress is made of removable panels that fill the entire space, providing 20 inches of extra storage than the mattress covers and allowing you to stow all the panels in the cab-over when the top is popped and you want lots of standing room in the truck bed.
One big downside of the Switchback X1 is that the mattress must be deflated in order to close the top. When deflated some basic summer bedding can be stowed in the bed area, along with the deflated mattress, when the top is down.
Another downside to this camper is that when open, it can only support a 75-pound load. This isn't much when you consider how much kayaks, bikes, skis, etc. weigh.
The Switchback X1 is made in Portland, Oregon, with parts sourced exclusively from the USA. While I've talked to the owners, I've yet to talk to a Super Pacific owner or spend the night in one myself.
Super Pacific Switchback X1
Price: $11,995 mid-size, $12,495 full-size
Availability: Late May 2020 through direct sales
Weight: 315-370 lb.
Materials: Aluminum sheets riveted together with CNC milled aluminum hinges and rails, honeycomb polypropylene panels, 450-denier 9 oz. acrylic-coated polyester fabric tent
Fit: Tacoma, Gladiator, Colorado, Ford F150, RAM 1500, Tundra, Sierra 1500/Silverado 1500
Options: Lots of color options for various components, Last US Bag Co. accessories
Website:SuperPacificUSA.com
Location: Portland, Oregon
Company established in 2019
The Best Flashlights of 2021
Modern flashlights offer long battery life, powerful LEDs, and excellent color rendering. These are the best flashlights you can buy now. Read more…
Climb the Tetons: GearJunkie Guide to the Grand
Last summer, a few GearJunkie staff climbed the Grand Teton. Here's a recap of the journey, planning and training tips, and a packing list so you can climb it too. Read more…
2265 Shares
By Bryon Dorr
Bryon Dorr caught the outdoor adventure addiction through whitewater kayaking, and worldwide adventures to remote places ensued. He crafted his own professional path as a photographer, journalist, and marketing consultant in the automotive and outdoor industries, while full-time overland traveling for nearly 8 years. You'll usually find him out exploring by 4x4, adventure motorcycle, or sports car while seeking out opportunities to ski, mountain bike, and kayak. Bryon now has a home base in Portland, OR, and runs our sister site AutoWise.com.
Up Next:Front Seat Sleeper: Luno, Winnebago Unveil Front Cab Air Mattress
Sours: https://gearjunkie.com/camper-rv/lightweight-pop-top-truck-campers
10 DIY Pop Up Camper Projects To Make Camping Budget Lower
Give comfort to your camping journey with these 10 DIY Pop Up Camper Projects that are inexpensive to make with the provided guides, step-by-step instructions, and tutorials. Time to enjoy camping without going through the pain of sleeping on the ground. These campers will unfold to provide luxury beds and tents and will be a total camping luxury. They will make you feel at the camping space like you are at home and they are an easy way to carry with you all the facilities that you often miss out on ordinary camping.
You can build these recreational vehicles in lots of different and creative ways. All have been shared in this collection of 10 DIY pop up camper ideas that will share all the pro tips and tricks to design a folding up campers will surely rock for summer adventures and will surely make you live the camping luxury on a budget.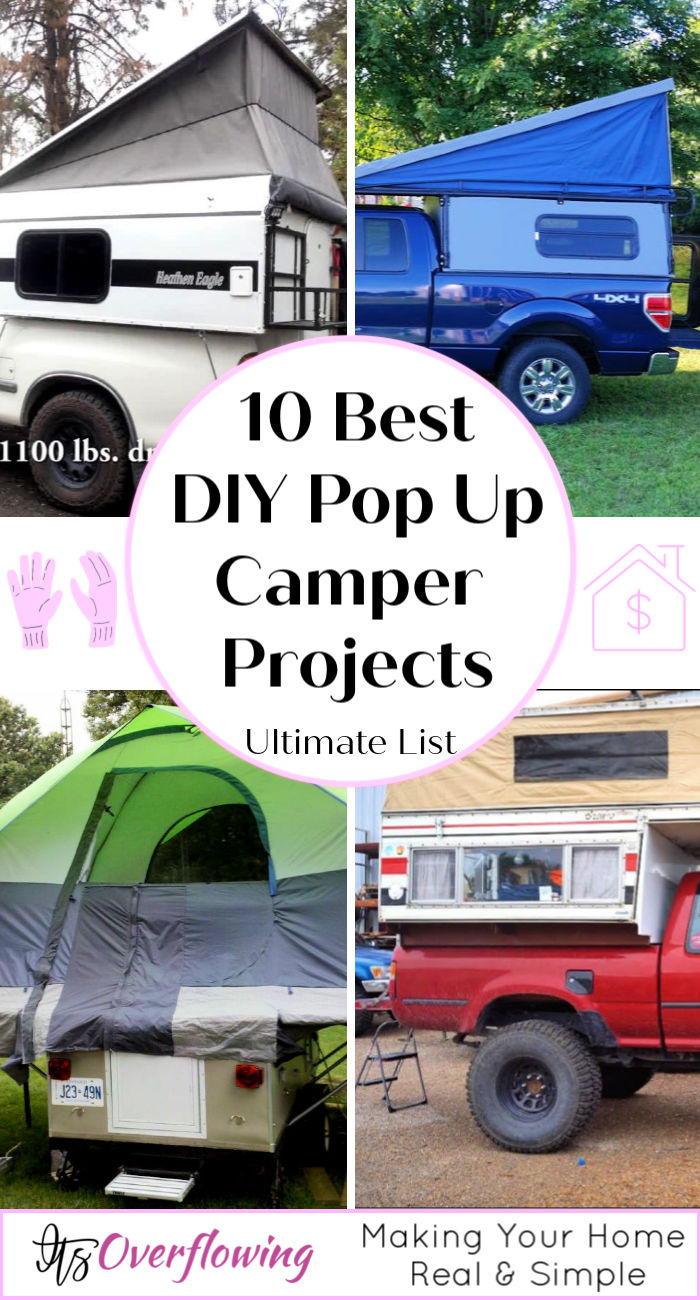 You can build the DIY pop up camper using the harbor freight trailers, and you will learn the quick guides here to do creative makeovers of your campers. So, not merely you will get the hacks to build new campers but will get a whole bag of tricks to smartly upgrade your old camper too. Taking a short tour of all these DIY pop up camper is recommended if you want to make your camping budget lower. All these DIY pop up camper plans are budget-friendly and will be much doable for every skill level.
1. Build Your Own Pop Up Trailer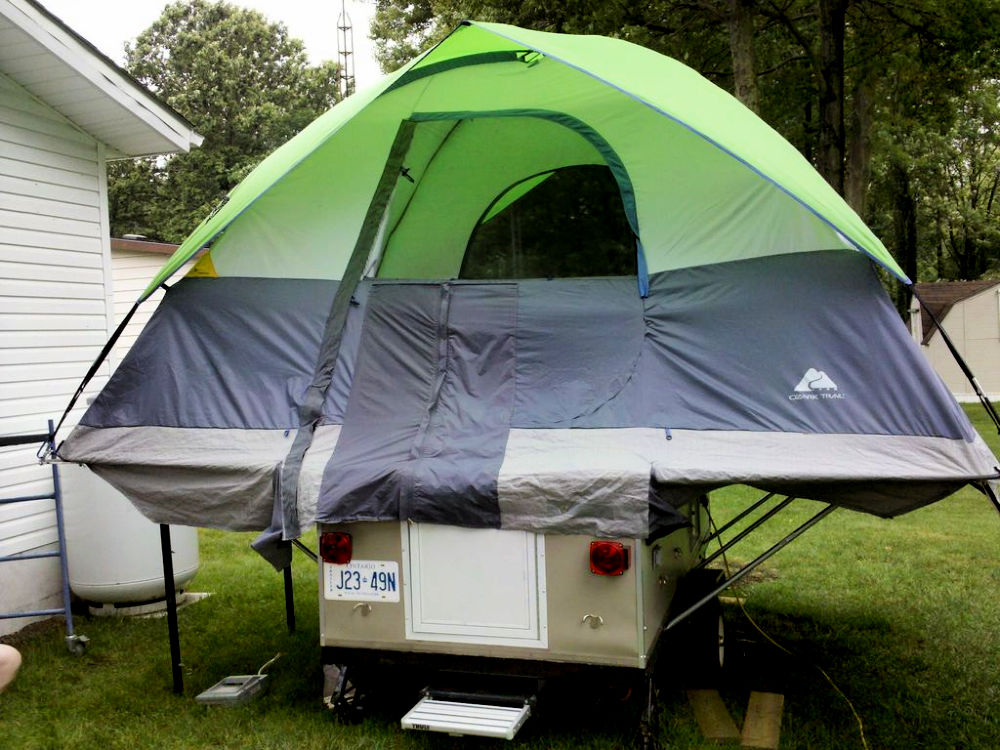 Enjoy your camping more this season by building this pop-up trailer. Build it with a harbor freight trailer base, and next use the plywood and custom wood slats like pressure-treated 2x6s and 2x2s to build the frame of the trailer. Add the hinged top at the end and finish with aluminum sheet, this will be your camper bed that will provide a secrete storage stash. The final step would install the 8 x 12 tent. Details here instructables
2. Homemade Pop Up Camper Tour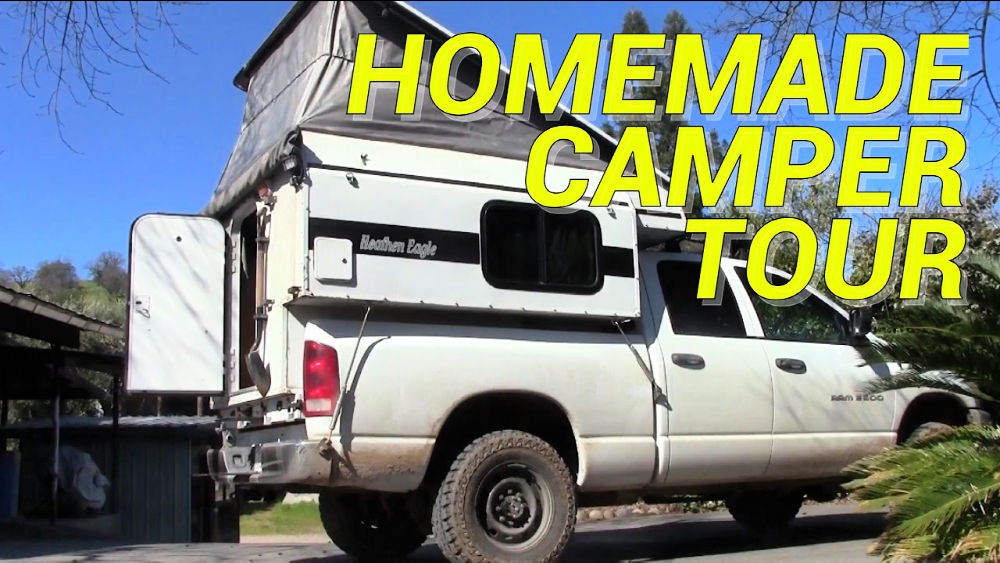 If you are addicted to camping, then you will surely fall in love with this pop-up camper that is self-made and is installed on the vehicle. You need lots of materials to build it like 2x2s frame, fully insulated, vinyl flooring, aluminum siding, 20 gal water, fiberglass, water pump, ARB fridge, and sink, etc.. Go with this video tutorial and take a tour of this camper tour, will surely spice up your camping. Details here youtube
3. DIY Pop Up Truck Camper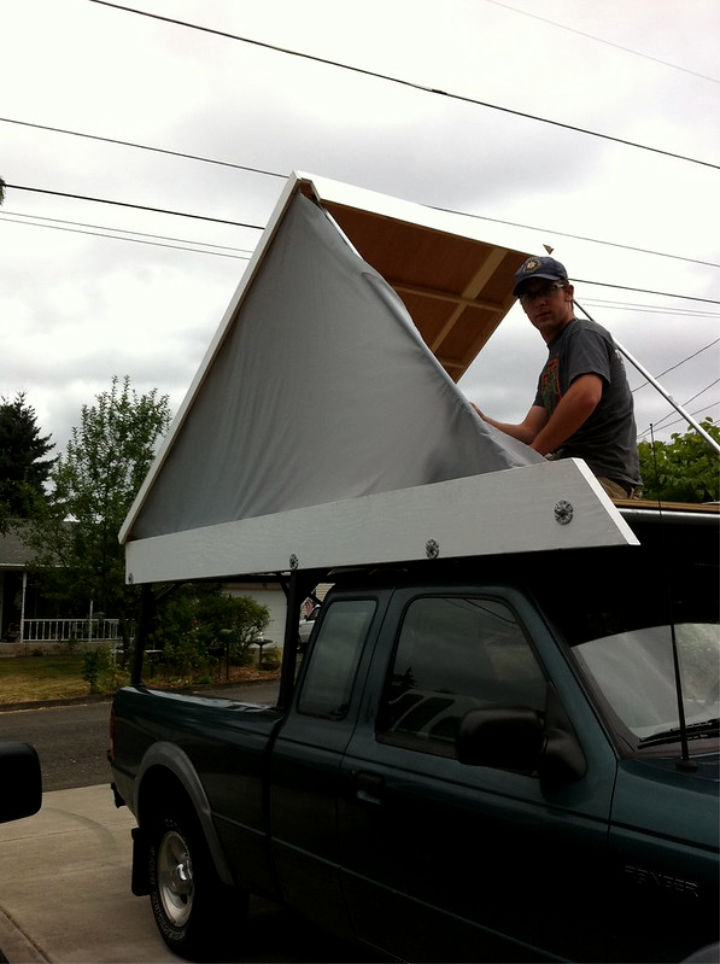 Get here step-by-step guides to building a pop-up truck camper. It comes with a metal base frame that holes the longer bottom deck beams. Fill the beams with slatted arrangements of slats and then install the arched hinged roof. Opt for arched slats to build the roof. Cover the sides with outdoor or tenting fabric and gain a durable truck camper that will open up gracefully. Details here expeditionportal
4. Pop Up Truck Camper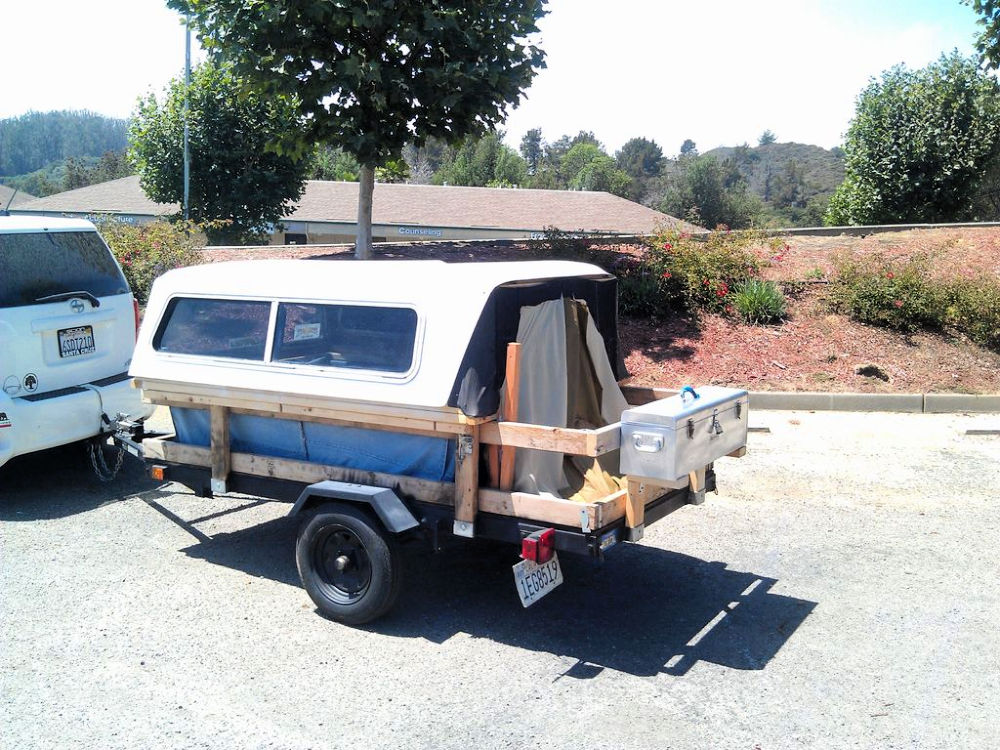 If you love camping by heart and take great pleasure in exploring the areas all around, then you will surely need this pop-up truck camper. You can simply drag it with your vehicle, and it will be like a mini readymade camping house with all home comforts inside. Here you need a camper shell, old tent, lots of old jeans, shoe goo, 2x4s, 2x2s, and a toolbox to make this pop-up truck camper. Details here instructables
5. DIY Pop Up Camper Makeover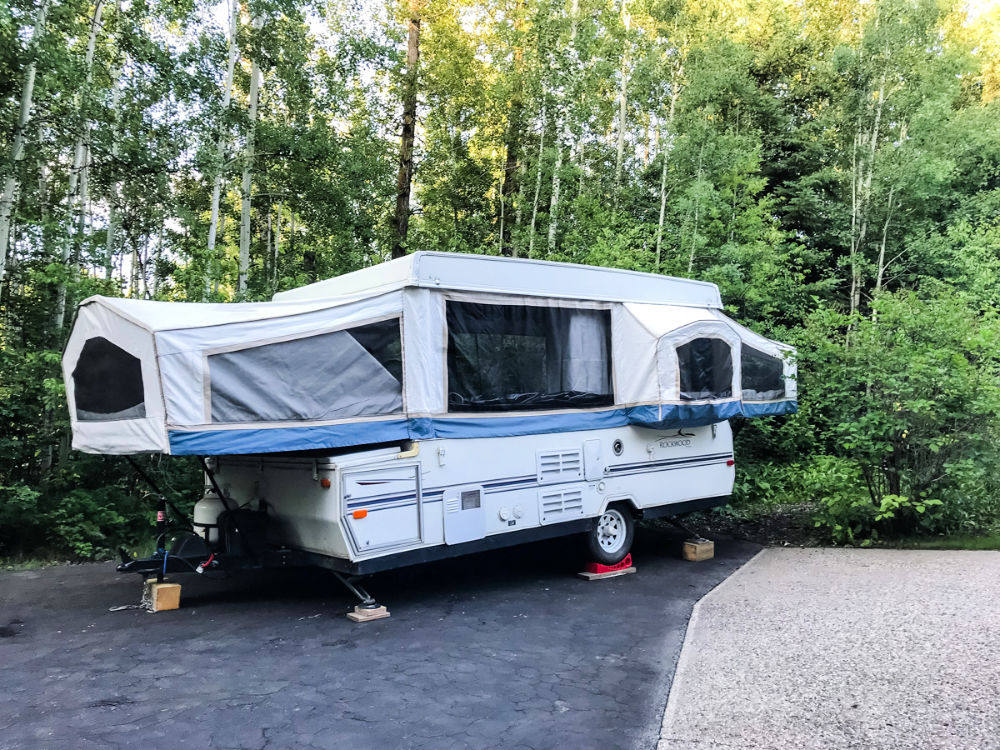 If you can't say bye to all luxury comforts of home for your camping obsession, then must make this pop-up camper makeover that will be a luxury home on wheels. You can drag it to any camping location, and it will make you feel like you are at home there. It comes with an installed bed, sofa and other life comforts. Here actually, a smart makeover of the camper has been done that is sure to impress. Get the details here aprettylife
6. Pop Up Folding Tent Camper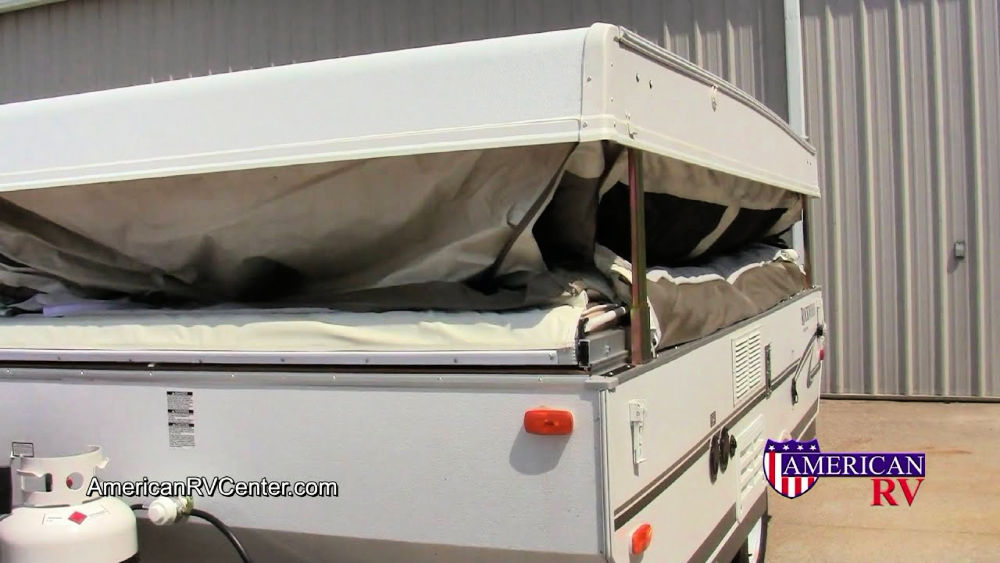 This pop-up folding tent is one-of-a-kind and comes with so many features that will wow you. It comes with stabilizer jacks installed that will help make the camper stable while setting it up. Next, it comes with a lift-up roof that is installed with a durable custom setup. From appliances to utilities to extras, this folding tent camper provides all comfort of life at the camping space and a must to get camper to build in no time. Details here youtube
7. Homemade Pop Up Truck Camper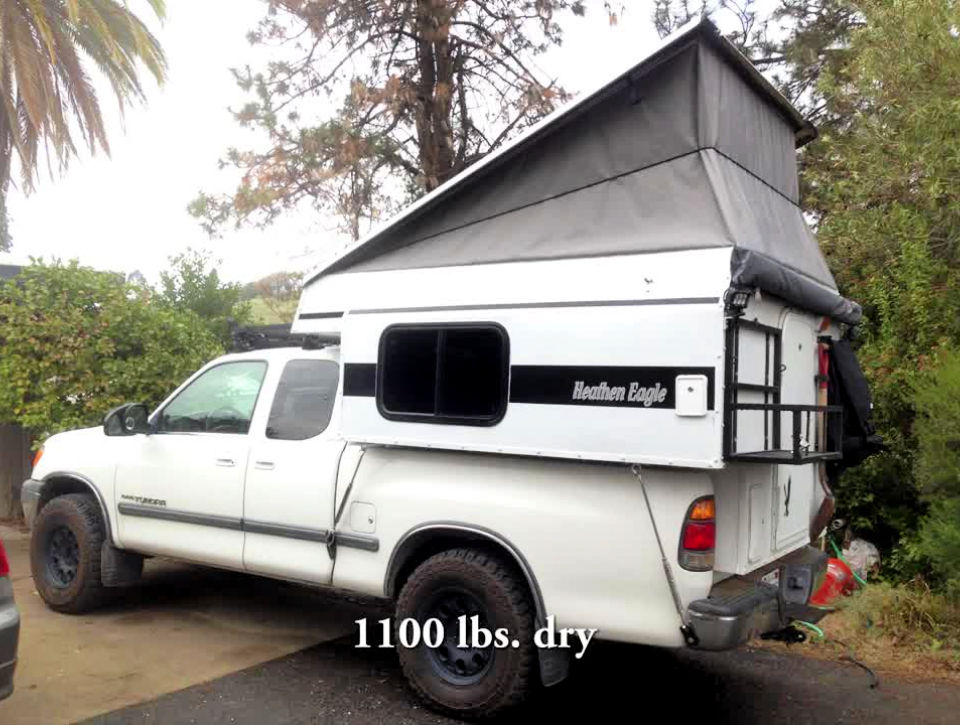 Rock your camping routines with this homemade pop-up truck camper that is sweet and gorgeous. First, build a wooden frame for this truck camper that can simply be loaded on the back of your vehicle. Repurpose an old tonneau cover for building the roof, and this is something best to get to rock your camping. It comes with a bed inside and also the seats all around the bed, providing storage in the seats. Details here youtube
8. Toyota Pickup Pop Up Camper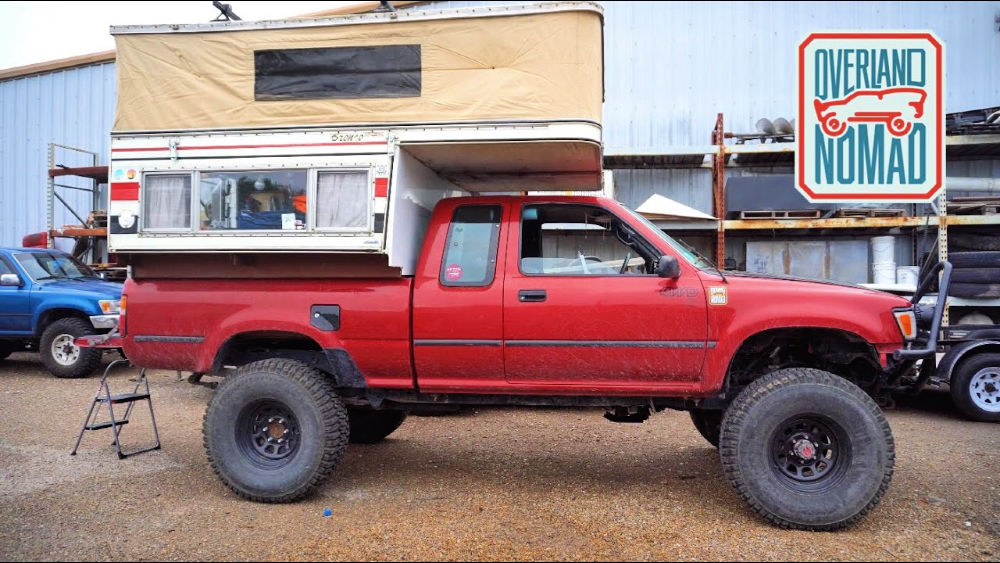 If you are new to camping and wish to gain your own pickup pop-camper, that is to build on a Toyota pickup. By doing this project, you are actually loading a whole mini house to your Toyota pickup that will provide all the comfort at the camping space. It will allow you to sit and sleep during camping, and this is like you have dragged your home to the camping space. The best to build and get for the luxurious camping. Details here youtube
9. Truck Camper With A Pop Top Roof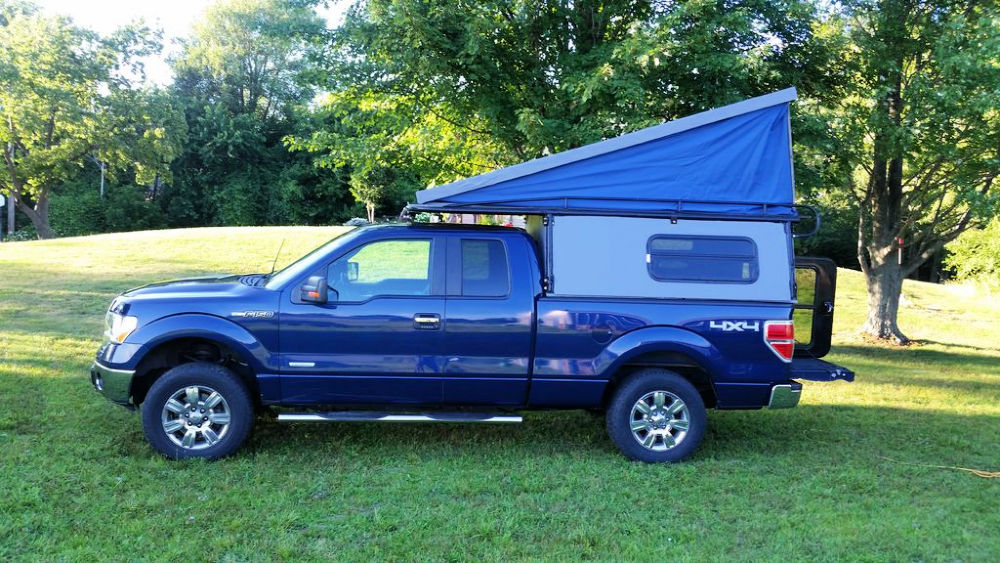 Get inspired by this another great looking truck camper that provides a pop-up roof. The project or the tools and supplies will cost you under $1500. Build the camper frame with plywood and then install a bed inside. Next, head over to the roof and install a pop-up roof or shelter. Sheath and insulate the frame using OSB and foam can insulation, respectively. Fold the canvas fabric diagonally into half and then cut to make 2 triangular shaped sides. Details here Instructables
If you love your camper, you will enjoy these DIY camper awning ideas! 10 DIY camper awnings from pop up tent to RV awnings, from PVC to tin can awnings!
10. Hardside Pop Up Camper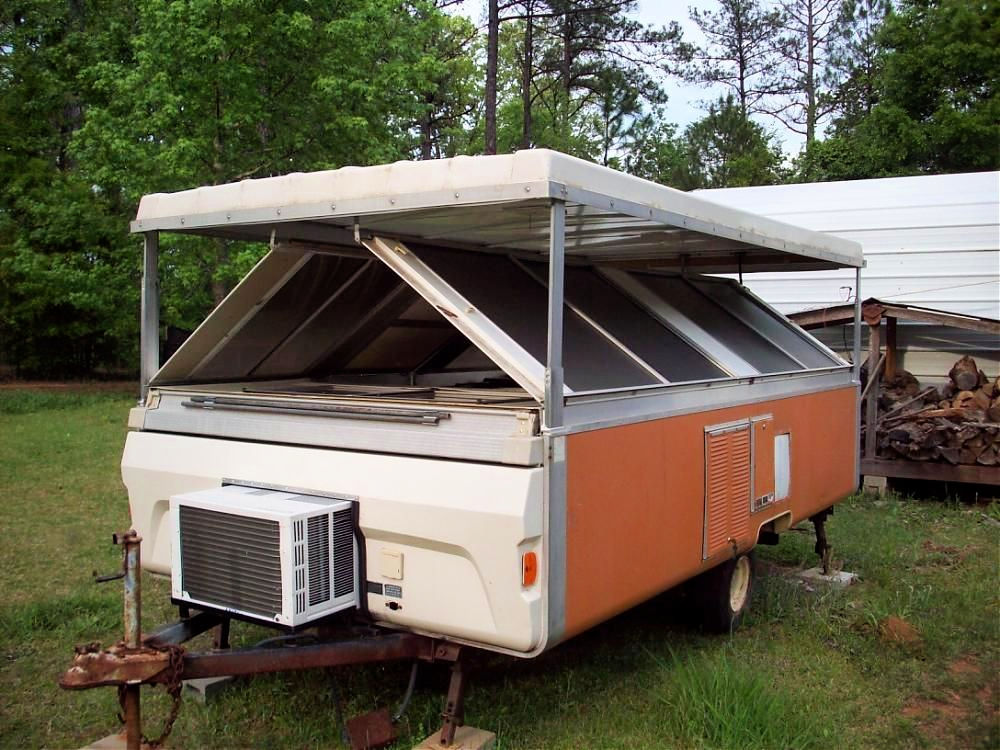 Check out here another great design of hard side pop-up camper that is sure to make you live the luxury at camping. It comes with a harbor freight trailer base, and next, you can build the whole mini wooden house over it using the wood like lumber or plywood. Buying a camper like this may cost you big, but this one is just budget-friendly to build at home.
You can save a lot of money by just building your own homemade camper trailer, To build a homemade camper you need to start with a great deal of planning.
Conclusion:
We all love to live an adventurous life by way of camping. But camping can be a pain if you don't know how to skillfully handle the most teasing camping issues like sleeping on the ground comfortably, to get the perfect amount of heat and how to withstand the bad weather. So, if you can't take the pain of learning all these skills and want to feel like at home while being at camping space, then you must go with these DIY pop up camper designs that will be the home on wheels with beds, sofas and other luxury features installed inside nicely. Just take a short round-up entire collection to see a variety of samples to choose from.
Sours: https://www.itsoverflowing.com/diy-pop-up-camper/
Building a Pop-Up Roof For The Camper Trailer - Part 4
A first-grade school teacher from Belgium, Jean-Paul Gerday, handcrafted a custom pop-up truck camper using only a certain online magazine and YouTube for design inspiration.  The results have been all over Europe.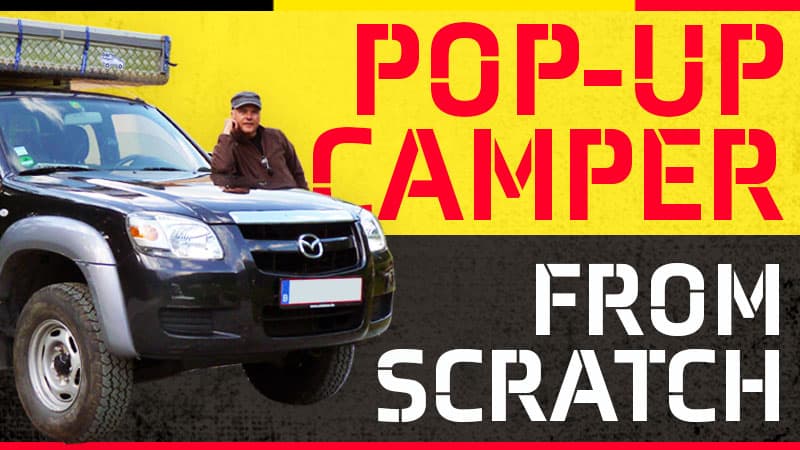 Jean-Paul Gerday contacted us after reading our, "Never Before Told Story" on the 14th anniversary of Truck Camper Magazine.  After reading about how TCM came to be, he completed our, "Share Your Story" form with an incredible DIY camper build that we had to share.
For the first time, we are including Jean-Paul's original French under the English translation.  We know a number of fellow truck campers in Europe and Canada (Bonjour Quebec!) will enjoy reading Jean-Paul's story in their native language.
Pour la première fois dans l'histoire de Truck Camper Magazine, nous incluons le français original de Jean-Paul sous la traduction anglaise. Nous savons que plusieurs camarades campeurs en Europe et au Canada (Bonjour Québec!) Aimeront lire l'histoire de Jean-Paul dans leur langue maternelle.
Cliquez ici pour passer à la version française.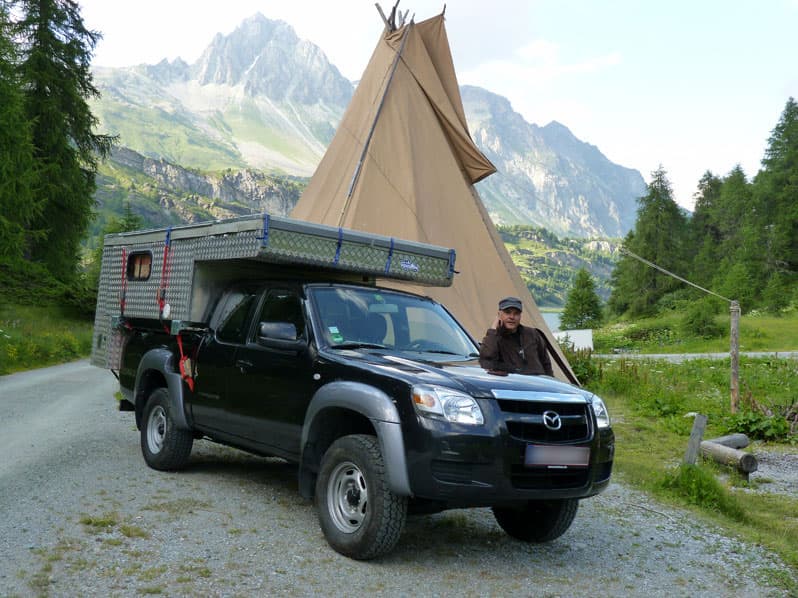 Above: Jean-Paul and his Oufticamper that he built from scratch, Stopover in Maloja at the Plan Curtinac campsite in the Grisons region, Switzerland
How did you discover truck campers in Belgium?
I always liked the concept of cells (campers) on pickup trucks.  It was thanks to Truck Camper Magazine that I discovered the truck camping lifestyle.  In Europe, cells are very expensive and not very common.
In 2012, I was a teacher and had free time after school and during school holidays and decided to build my own cell.  I called it Oufticamper.  I started building in September of 2012 and the process lasted for a school year.  I wanted it to be finished by the end of June of 2013 so I could go on vacation that July.
We love camping.  We camped in a tent and a caravan (RV) when our two children were younger.  At the time, I also had two extended cab pickups to pull a trailer.
One day I thought to myself, when the kids don't go on vacation with us anymore, I would consider buying a cell.  I built a pop-up camper because it's smaller, more aerodynamic, and easier to construct.  We also weren't planning to camp in the winter.
In Europe, there are often bars at the entrance to certain car parking lots to prevent motorhomes from parking there.  The motorhomes are about two-meters high.  With Oufticamper, I can pass below those bars and take advantage of better places to park.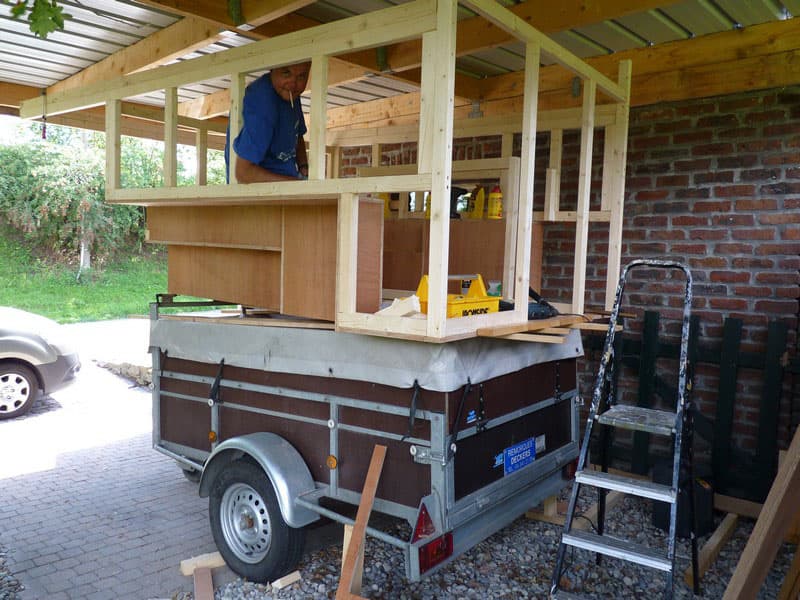 Where did you build it?
I built the camper under the carport next to our house.  It was easier for me because I was sheltered and I could work in it whenever I had a moment.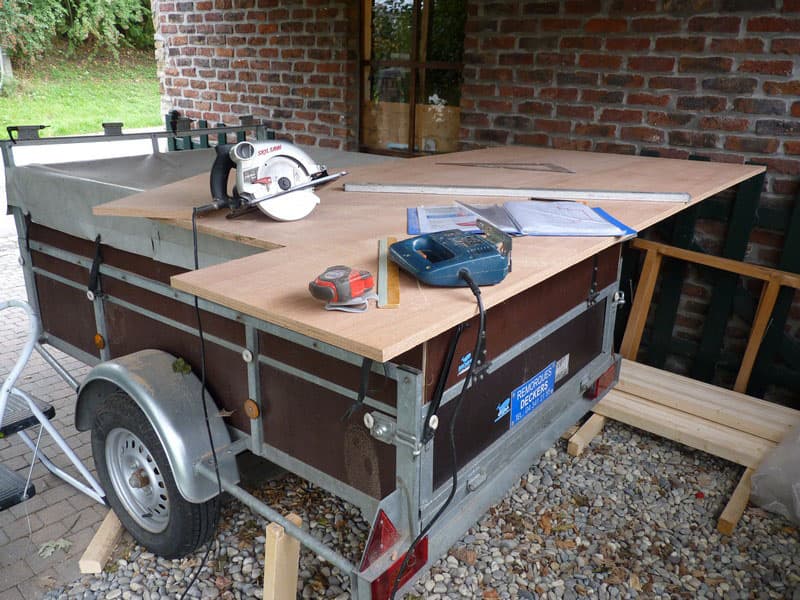 How did you know how to build a truck camper?
When I decided to build the camper myself, I looked at your magazine and watched videos on YouTube.  At the time, I no longer had a pickup truck.  I had to take measurements online with the truck dealer websites and make a plan.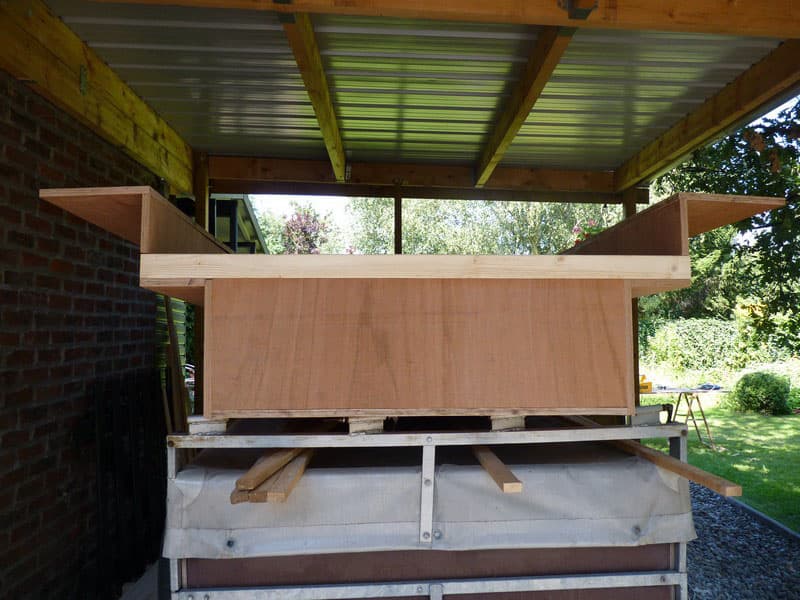 I built a camper for two people because our two children, Maxime and Marie, had grown up and no longer came with us on vacation.  We used to have a trailer and had a great time with the family.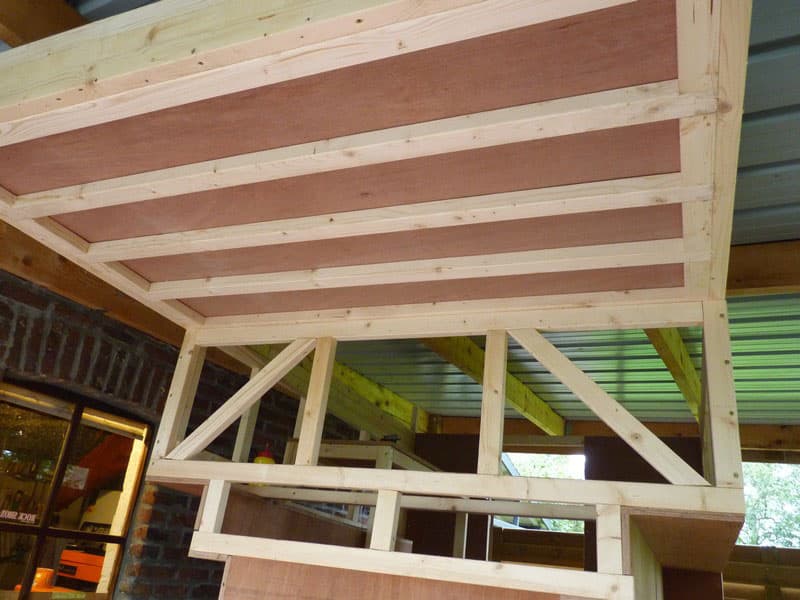 From the internet, I studied how to build the camper and developed specifications.  I wanted the table and two seats at the front of the cell.  I did not want the cell to be wider than the pickup and needed the inside to be livable for two people.
Marie-Eve wanted cabinets to store dishes and clothes.  It was necessary to place a reserve tank for fresh water, another reserve tank for grey water, the refrigerator, gas cylinder, and battery.  That's why I had to make the cell stick out from the pickup bed.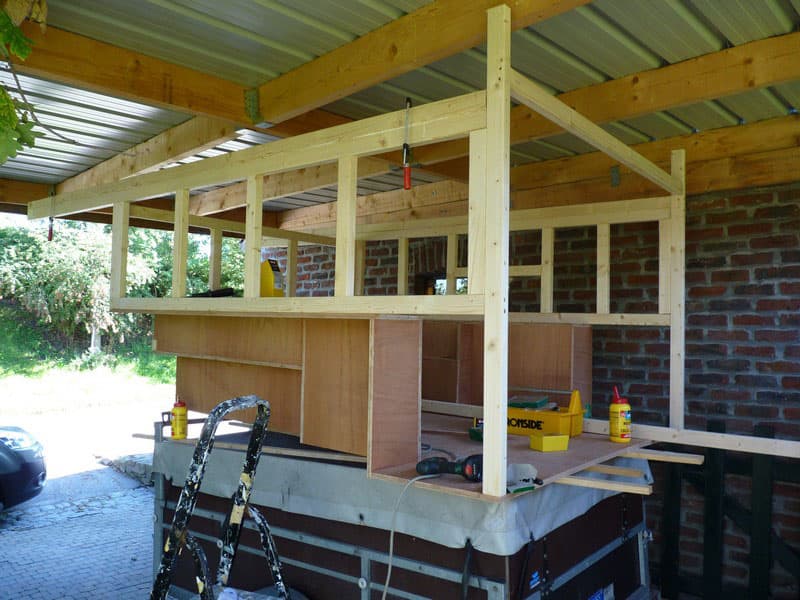 What material is the camper framed with and why?
The cell is wood framed with aluminum plates.  I chose a wood frame because I don't know how to weld aluminum.  Wood is also insulating by nature, but it can degrade with water.
I selected ridged aluminum plates because they are strong.  Unfortunately, they are also quite heavy.  I glued the aluminum plates to the wood frame and screwed it with stainless steel screws adding silicone to each hole.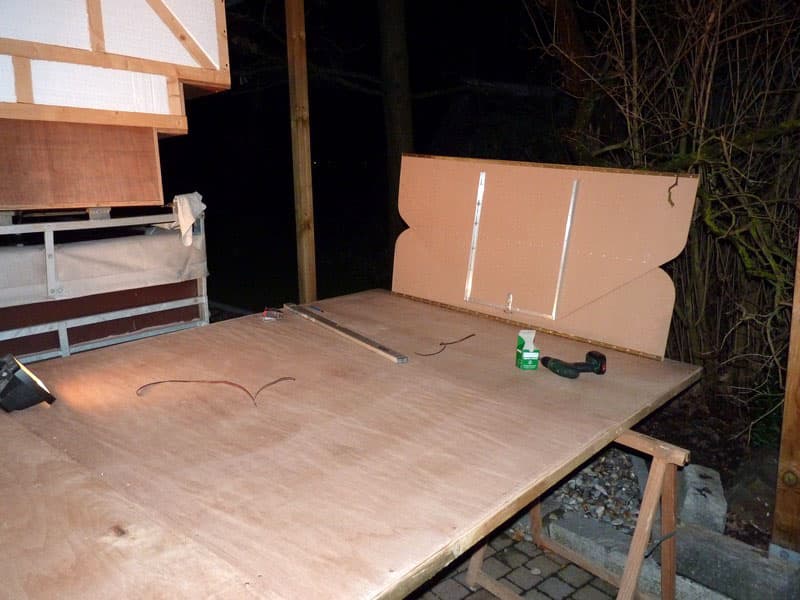 The roof was constructed the same way.  It's framed in wood with smooth and lighter aluminum plates.  I riveted the plates as they were too short.  I also used a special silicone to perfect the roof's seal.
Inside the roof, I used thin wood panels to cover the ceiling frame and insulation.  I also ran wires to power the LED lights and placed a skylight above the table for light and airflow.  The walls and roof were insulated with 4-centimeter (1.57-inch) polystyrene.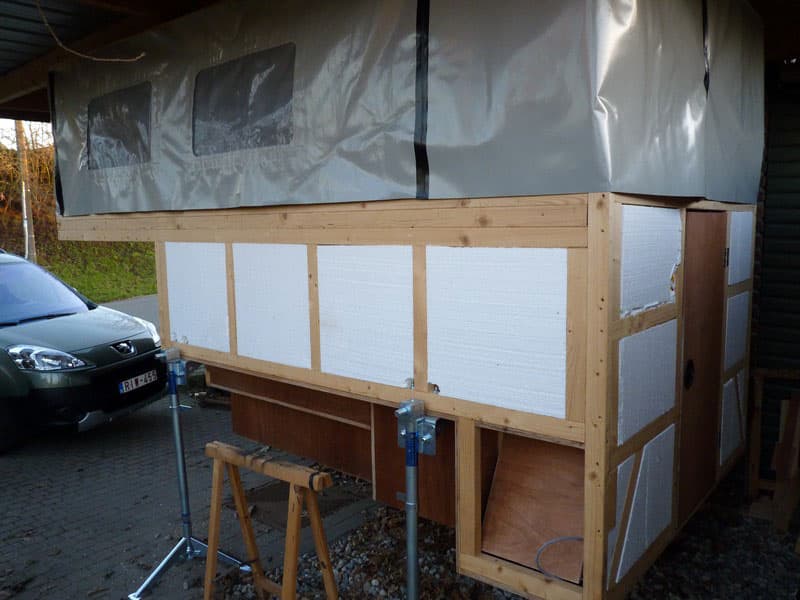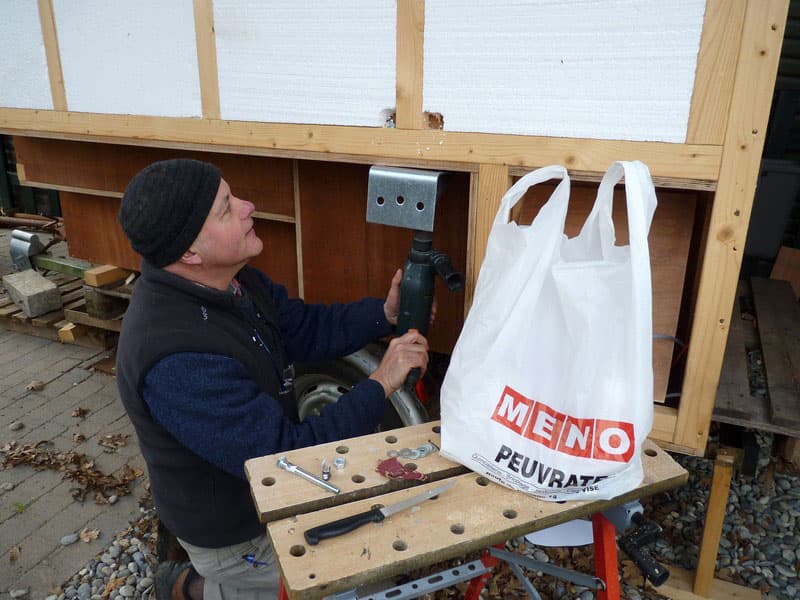 Had you ever attempted to build something like this before?
I am not a professional builder, but I love DIY.  I don't have a lot of professional tools, but I figured it out.  I needed a circular saw, jigsaw, standing drill, screwdriver, and a hacksaw.  I signed up for an evening welding class to take advantage of the bender machine to cut and angle the aluminum sheets.
Before I built the cell, I bought an old house and had to remodel a lot.  I also made bedrooms and closets for our children.  This is how I learned to build things.
Where did you get the materials and parts?
My wife picked out the mattress from Ikea.  The sink is also from Ikea.  I told my first-grade students and their parents, who didn't know what a cell was, about building a camper.  A student's mother happened to be a seamstress and volunteered to sew the pop-up canvas and windows.
The jacks came from Rieco-Titan in the United States.  The freight and customs cost more than the jacks, but they're very well made.  The rest of the materials I bought on the internet or in stores here in Belgium.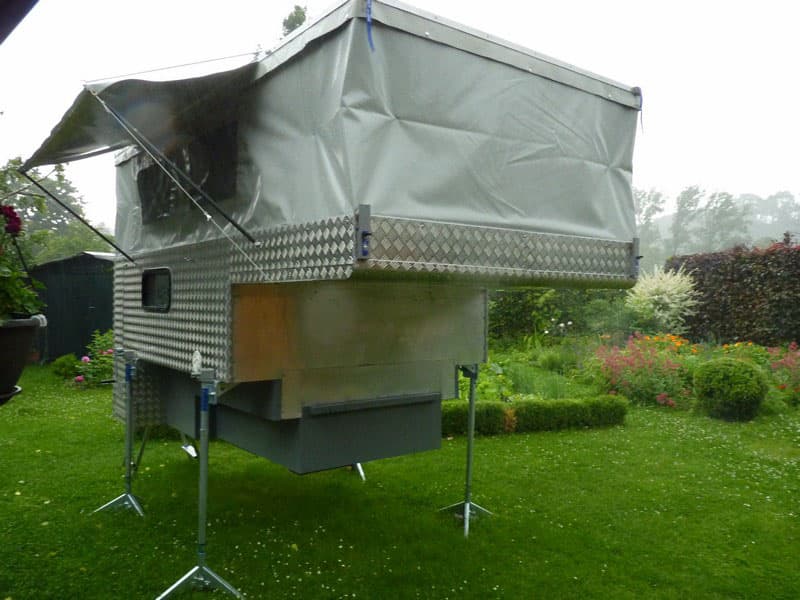 From YouTube videos, I was inspired by the way Four Wheel Camper's roofs are raised.  I was taking stills from the videos to understand how their system worked.  Their mechanism is made from wood.  I was able to create a version with my rivet pliers and jigsaw.
When I finished assembling the lift mechanism, I realized the roof was too heavy to lift.  For this reason, I later installed four hydraulic jacks which greatly facilitates the task.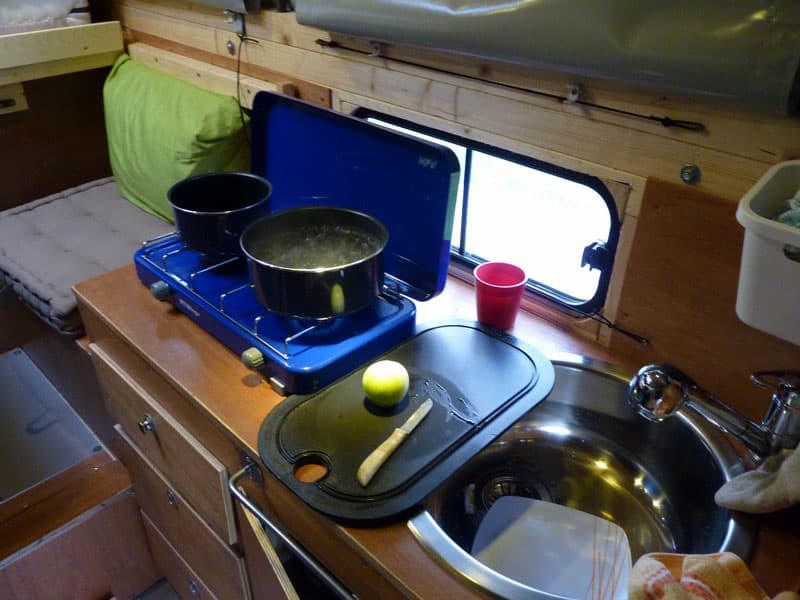 Does your camper have holding tanks?
My camper has a 70-liter (18.5-gallon) fresh tank under the table and a 45-liter (11.8-gallon) grey tank under the front door.
I also installed a Dometic Waeco 35 compressor refrigerator, portable toilet, and a water pump for the sink.  I just installed a small diesel heater to heat the cabin and a Howling Moon awning on the exterior.
There's no water heater on the camper yet.  This is why we often stay at small campsites and use their shower and facilities.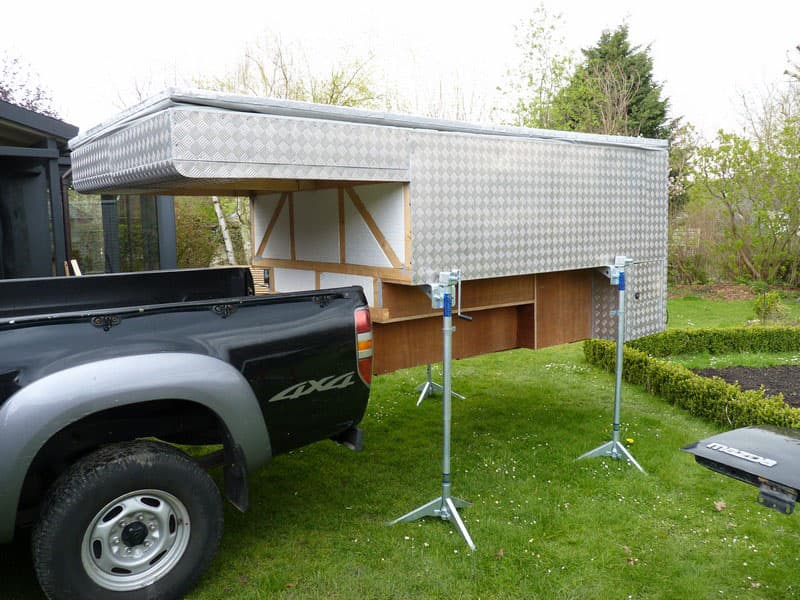 What are the dimensions and weight of your camper?
The total length of the camper is 3.4-meters (11.2-feet).  The width is 1.8-meters (5.9-feet).  The height is 1.33-meters (4.4-feet) when the top is down.  When the top is up, the interior height is 2-meters (6.6-feet).
The camper weighs around 640-kilos (1,411-pounds) fully wet and loaded for camping.  I am not counting the weight of our two electric mountain bikes that we can mount on either side.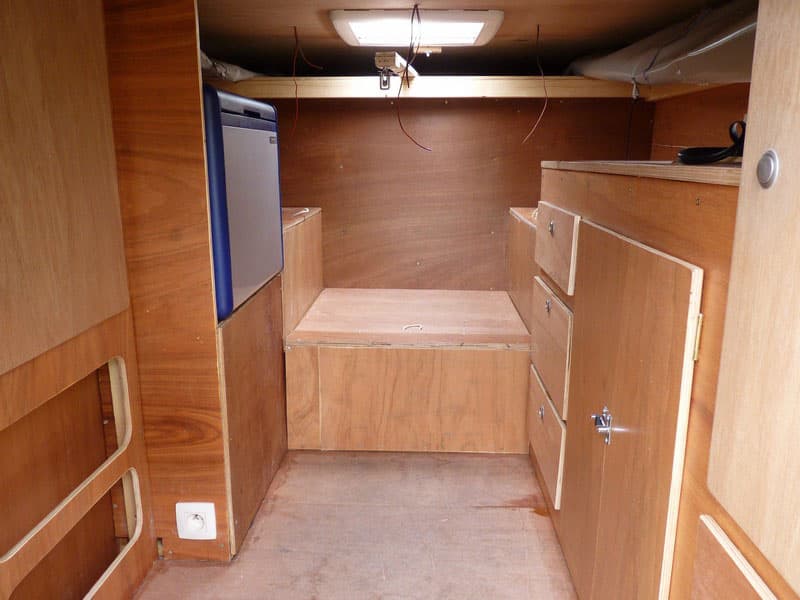 Now that it's completed, what would you do differently?
If I had to start over again, I would have the tarps and welds made by a specialist company that manufactures awnings for caravans (RVs).  I would make the space around the table big enough for at least four people.  I would also move the battery to free up a space for a mini shower, and I would increase the bed length by about 10-centimeters (3.9-inches) so the camper is above the cabin.
The most difficult part of the build was convincing Marie-Eve, but we didn't have many arguments.  As long as it's for traveling, she's okay!  The hardest part was making it waterproof.  Now, I have that solved.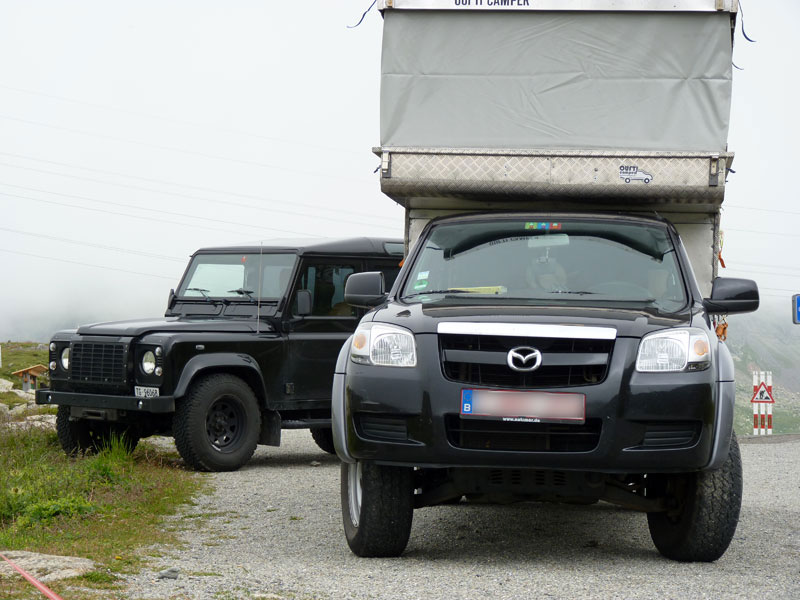 Tell us about your truck.
The first truck was a used Mazda BT50 pickup truck from Germany.  In Belgium, there are hardly any big pickup trucks.  We could only find a double cab. I kept the Mazda for three years and then the gearbox broke.  After that, I bought a Nissan Navara King Cab in France.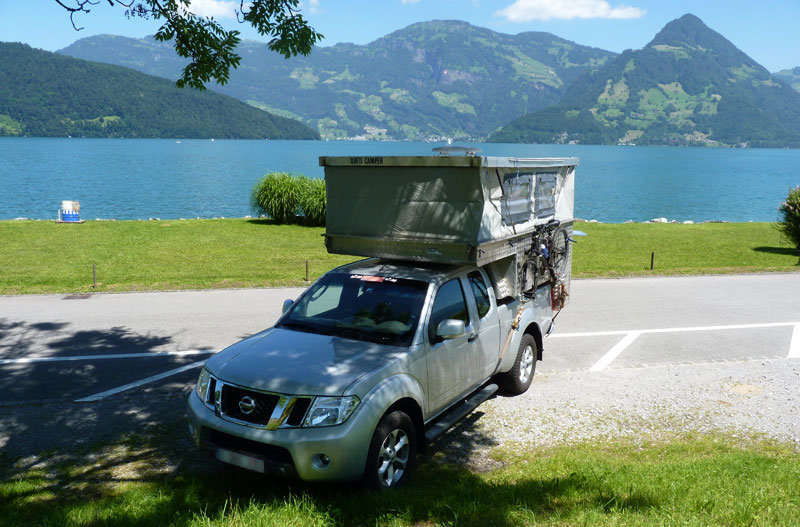 The Nissan has a bigger engine and more horsepower.  I had to modify the camper because the dimensions of the Nissan were different.  I also changed the rear leaf springs which were too soft.  I bought the blades from Pedders UK.  They are made in Australia and work well on my pickup.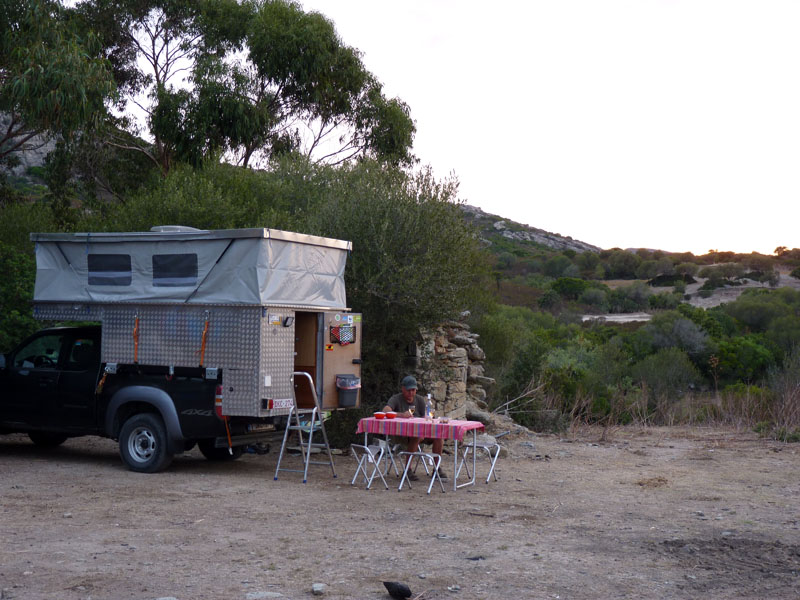 What are you using for tie-downs and turnbuckles?
For turnbuckles, I opted for ratchet straps.  The straps attach under the frame and through eyelets attached to Rieco-Titan jack mounts on the frame front and rear.
The orange straps in the pictures are from the first year after I built the camper.  I have now abandoned that approach and made improvements.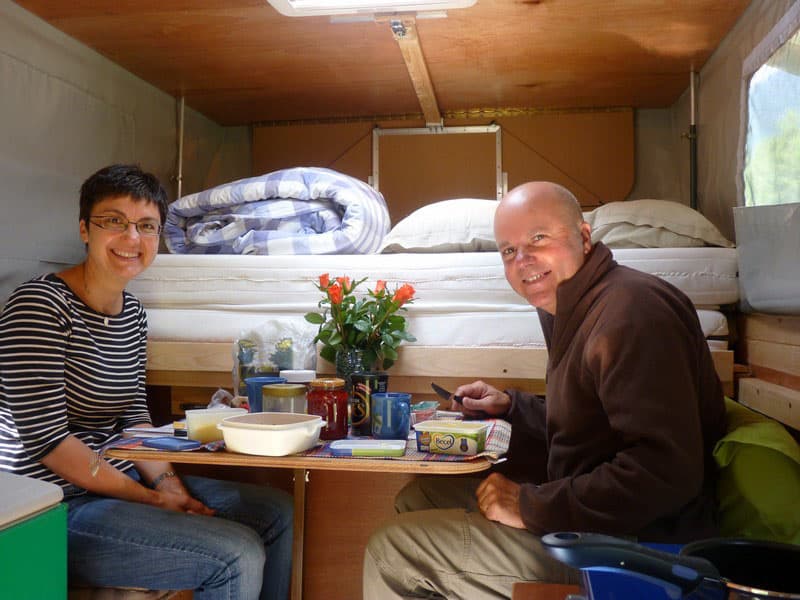 Where have you been with your camper?
At the end of the 2013 school year, we went on vacation with the Oufticamper and loved it.
We often go to Corsica.  It's a French island quite far from where we live, but we love the sea and mountains.  To get there you cross the east of France and Switzerland.  It's a beautiful country, but very expensive.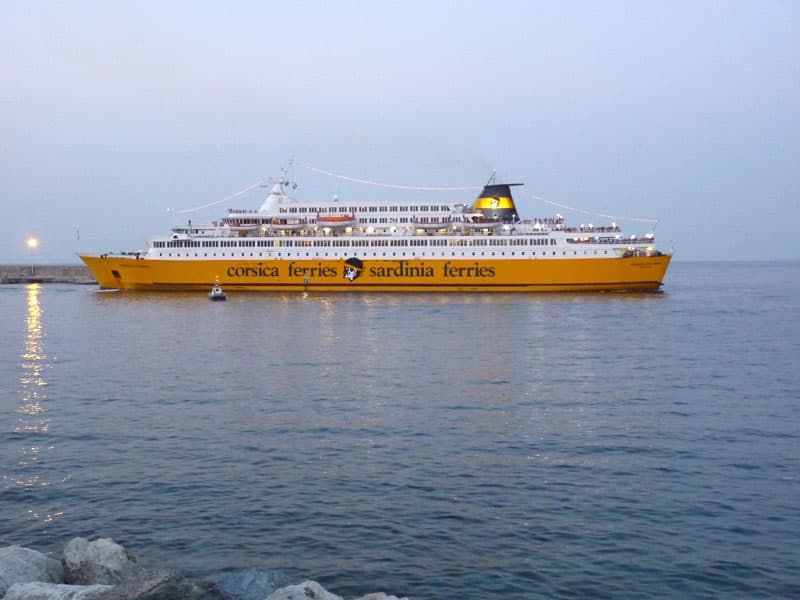 We arrived in the north of Italy and continued to the port of Livorno and take a ferry to cross part of the Mediterranean Sea.  The crossing takes about four hours.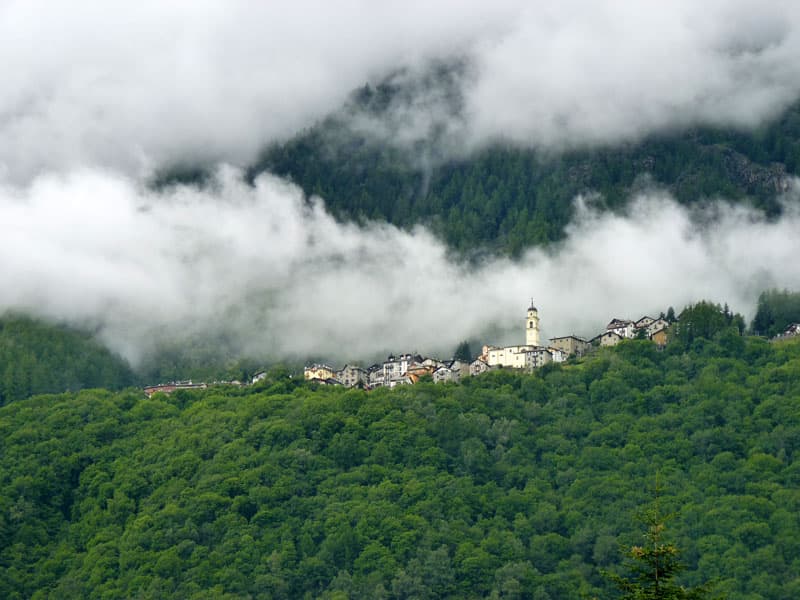 In the photos it shows that we crossed the Bernina Pass in Switzerland to go to Italy.  That year we decided to visit a few friends in the Italian Alps.  They live in a small village named Primolo (pictured above) near the town of Chiesa in the province of Sondrio.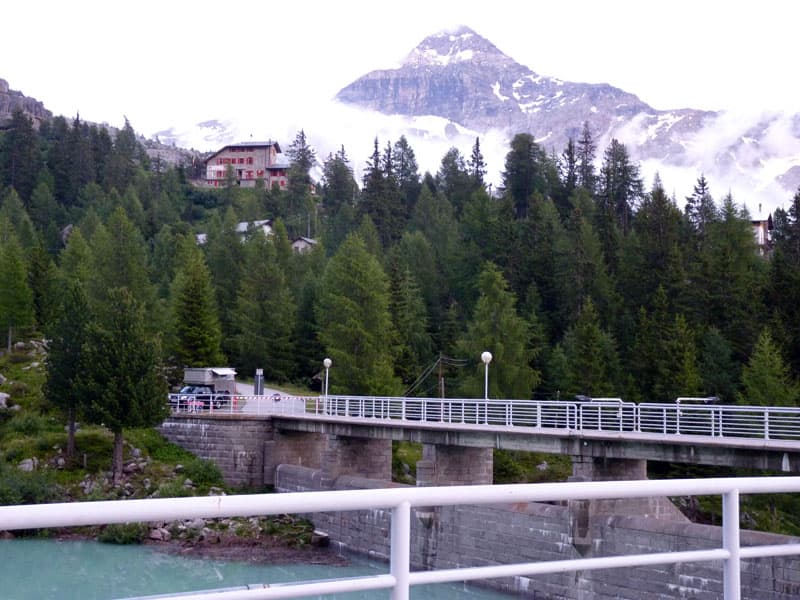 Above: Night at the edge of the Campo Moro Dam, Lombardy, Italy
From there we traveled around the region and had a great time in our new vacation mode.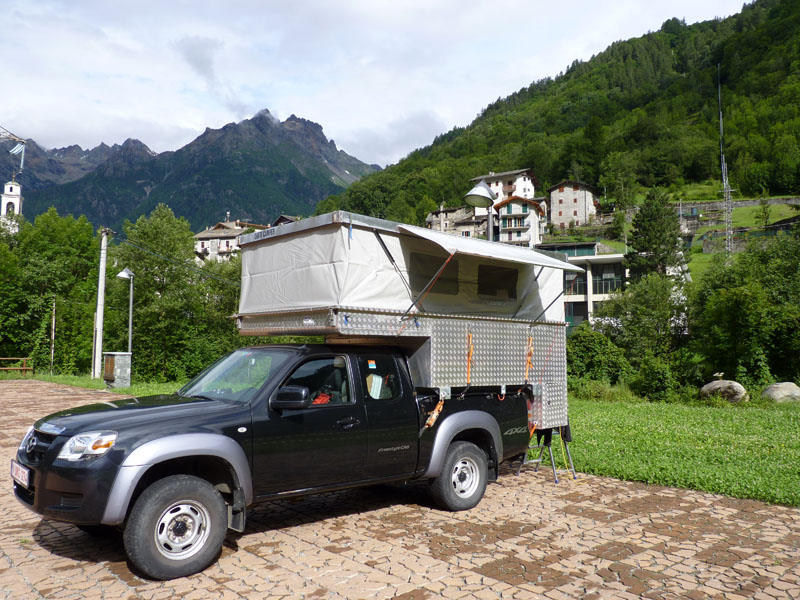 Above: Lanzada dans la Valmalenco campsite in Italy
From northern Italy we went to Corsica.  We love the north of Corsica, called Cap Corse, because it is wilder.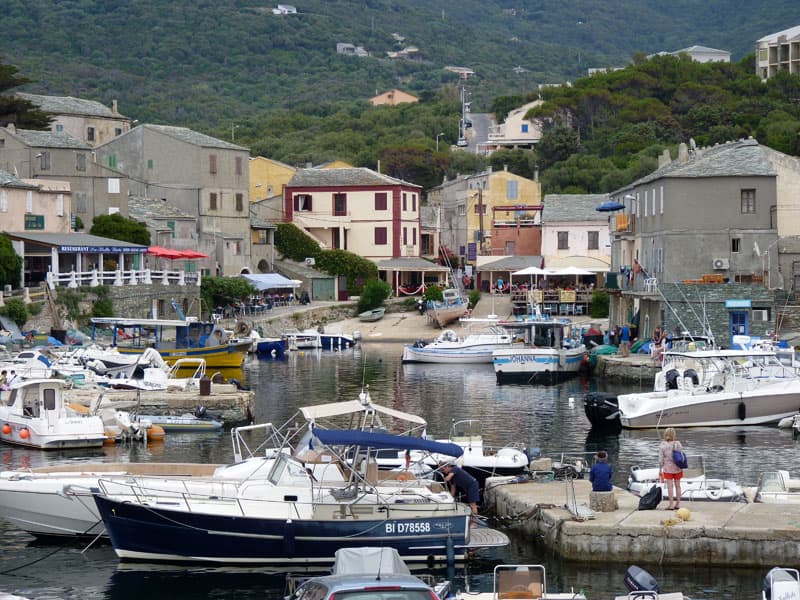 Above: Small port of Centuri in Cap Corse, Corsica
We also enjoy the mountains for cooler temperatures and beautiful scenery.  Over the years, we have returned to Corsica several times with our camper.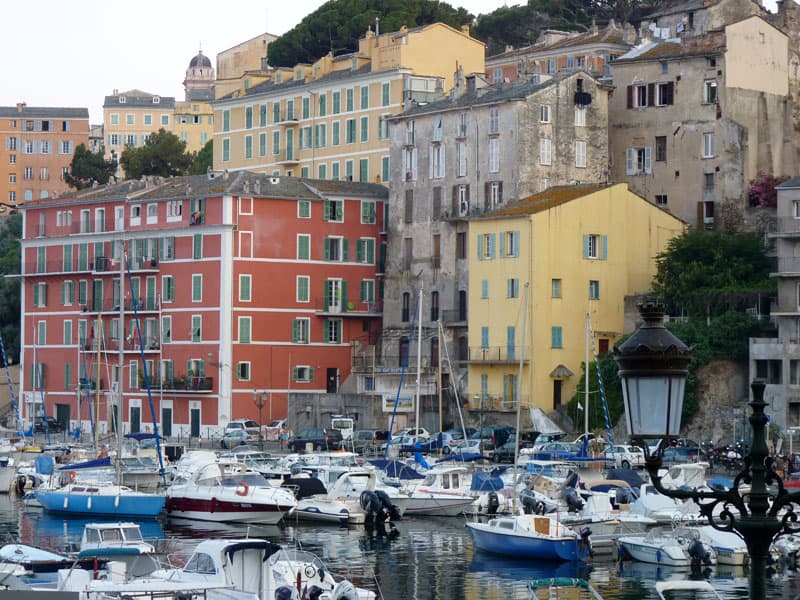 Above: Old port of Bastia, Corsica
Wild camping (boondocking) is prohibited in Corsica.  We followed along the sea to Calvi and stopped at the campsites.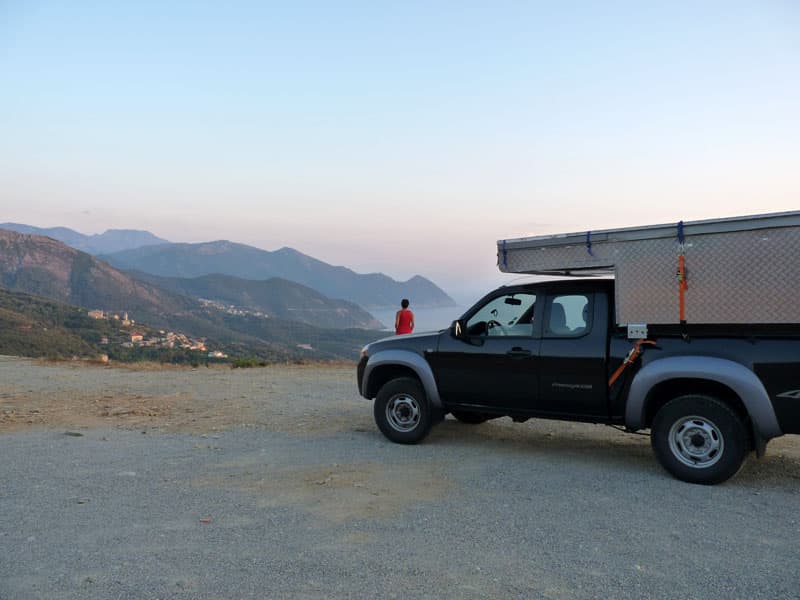 Above: Col De La Serra in Cap Corse, Corsica
Whenever we go to a campsite or parking lot or village square, we always have the opportunity to discuss our mode of travel.  We have some great meetings.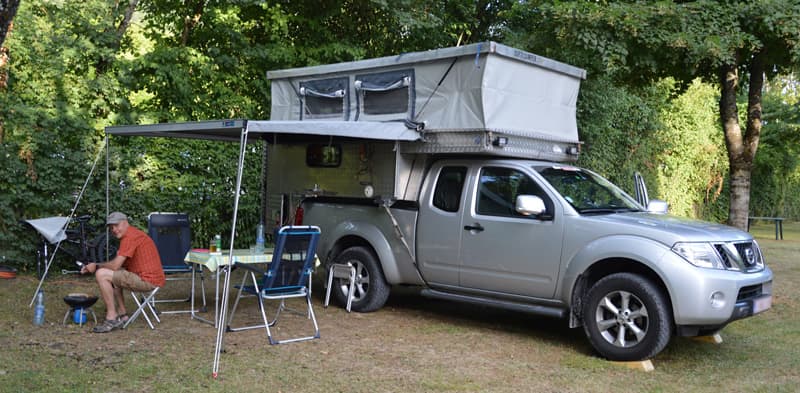 Above: Camping in the mountains, Corsica
Unfortunately, during the trip, I realized our camper was not waterproof.  I had to modify some construction defects as soon as I got back to Belgium.  I welded the windows with zippers on the tarp so there was no more water inside.  I also added fixings on the side to take our two ATVs and installed hydraulic jacks to lift the roof, which was a bit heavy.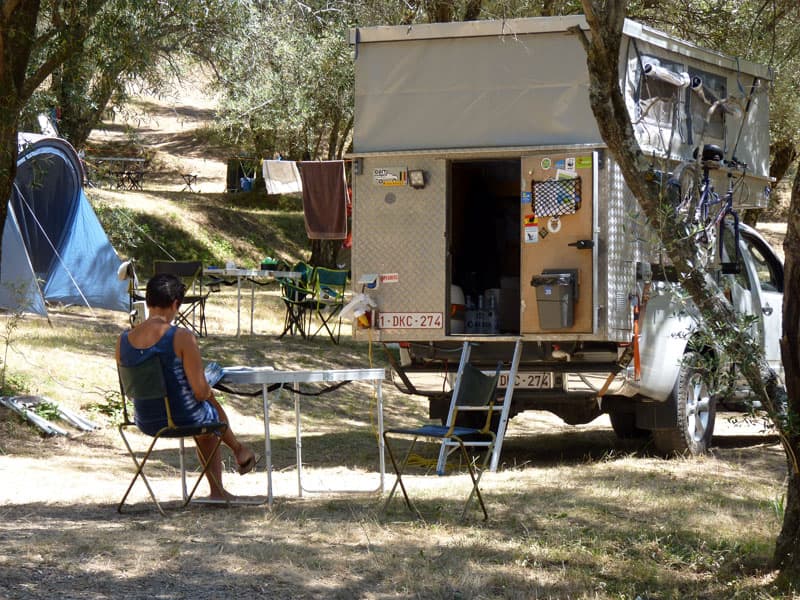 Do you typically camp in campgrounds, or dry camp?
We go to small campsites more often and take advantage of the facilities.  It's a bit more expensive, but we like the atmosphere of the campsites.
Any plans to add solar panels or additional batteries?
I recently received a 100-watt solar panel that I need to install.  We don't use a lot of electricity, but power is needed for the refrigerator, lights, and diesel heater.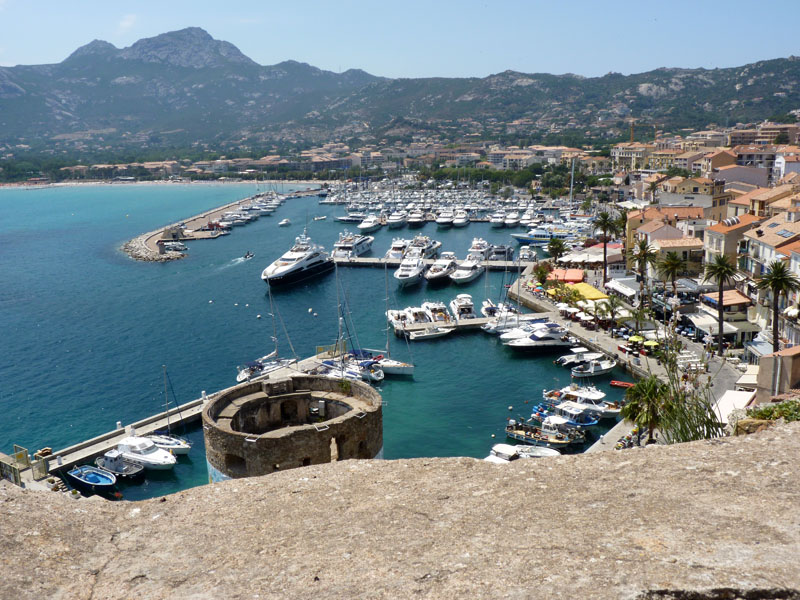 Above: Port of Calvi in ​​Balagne, Corsica
What are your future truck camping plans?
We intend to discover other countries in northern Europe.  We have already been to Norway and Sweden, but not with our camper.  We would like to visit Finland.  We'll see.  During Covid, we can no longer travel.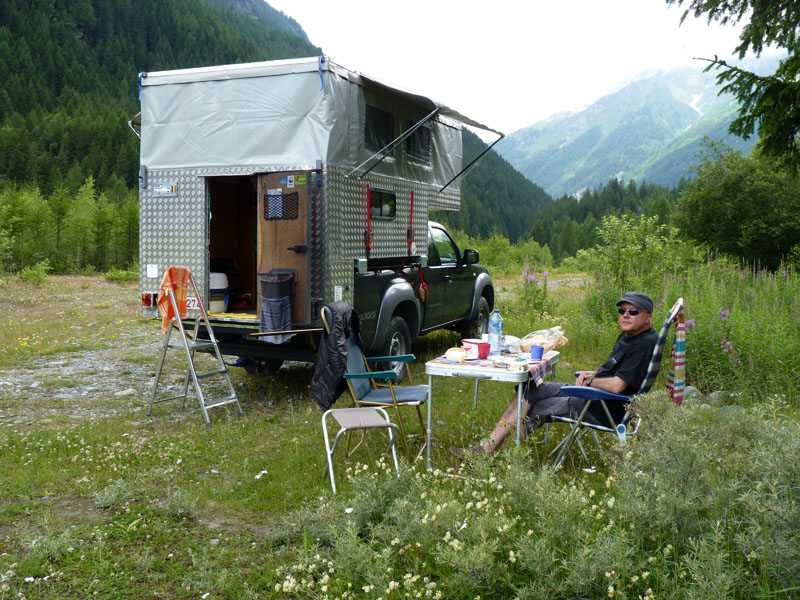 Above: Overnight by the Torrent in San Giuseppe, Valmalenco, Italy
I want to thank you for the magazine.  I love to read the articles that you publish from all over America and beyond.  I also enjoy the calendar photos and comments from the photographers.
I love seeing your pickup trucks, your campers, and the beautiful places.  It has allowed me to travel virtually.  Maybe one day I can come to America, rent a camper, and visit some national parks.
– From Belgium, a very small country, Jean-Paul and Marie-Eve Gerday, and Oufticamper
L'article de Jean-Paul en français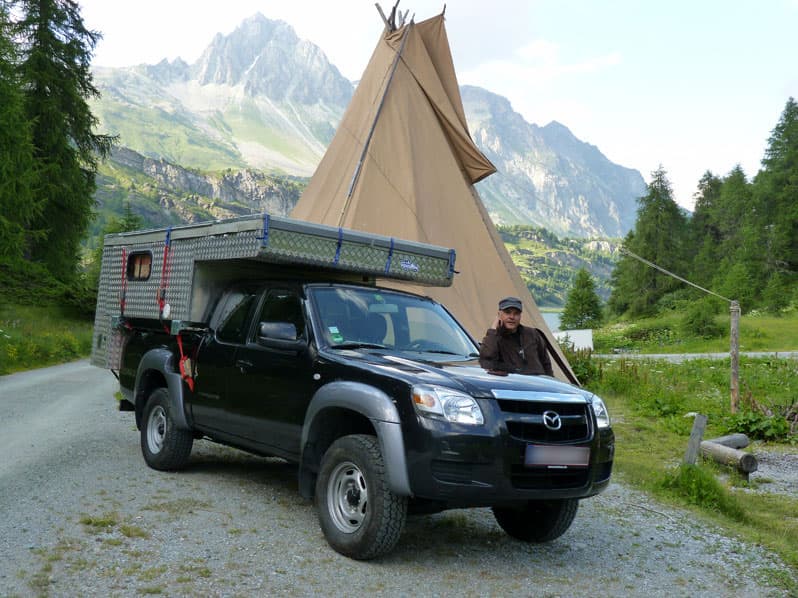 Ci-dessus: Jean-Paul et son Oufticamper qu'il a construit à partir de zéro
Parlez-nous de la façon dont vous avez construit votre camping-car.
Je vous écris depuis la Belgique. J'ai toujours aimé les cellules sur un pick-up. C'est grâce à Truck Camper Magazine que j'ai découvert ce type de vacances. Chez nous en Europe, les cellules sont très chères et ne sont pas très répandues. En 2013, j'étais enseignant et j'avais du temps libre après l'école et pendant les vacances scolaires. J'ai donc décidé de construire ma propre cellule que j'ai appelée Oufticamper.
Il m'a fallu toute une année scolaire pour la construire. J'ai commencé sa construction en septembre 2012 et le processus a duré une année scolaire. Je voulais qu'il soit terminé à la fin de Juin 2013 afin que nous puissions aller en vacances l'été en Juillet.
Pourquoi avez-vous choisi de construire un camping-car de camion et non pas une remorque ou un autre type de VR?
Nous adorons le camping. Nous avons déjà essayé la tente, la caravane quand nos deux enfants étaient plus jeunes. A cette époque, j'ai eu également deux pick-up double cabine pour tirer une caravane. Un jour, je me suis dit que quand mes enfants ne viendraient plus en vacances avec nous, j'envisagerais d'acheter une cellule. J'ai construit une pop-up car elle est moins imposante, plus aérodynamique, plus facile à construire et nous n'envisagions pas de partir en hiver avec. Et puis en Europe, il y a souvent des barres à l'entrée de certains parkings pour empêcher les motorhomes de se parquer. Celle-ci se trouve à plus ou moins 2 mètres de hauteur et avec « Oufti camper », je passe en dessous donc je peux profiter de meilleures places pour stationner.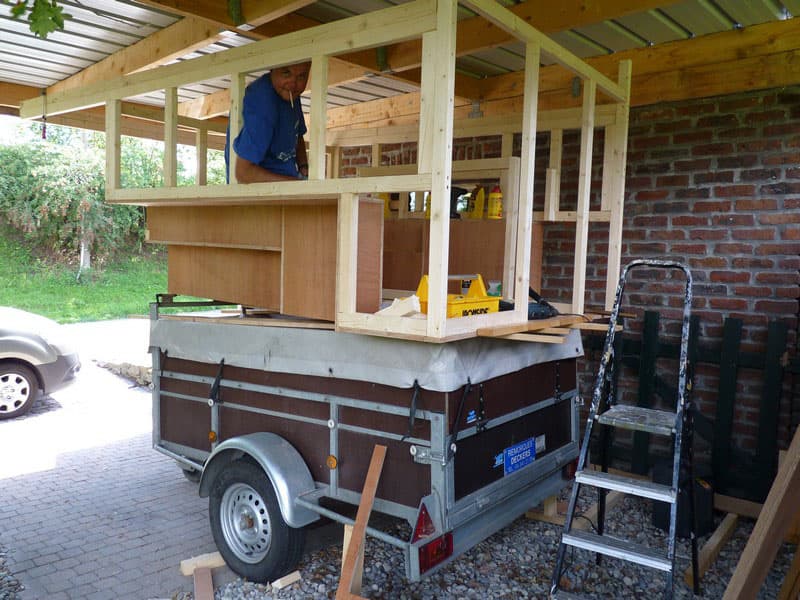 Où l'avez-vous construit?
Je l'ai construit sous le carport à côté de la maison. C'était plus facile pour moi car j'étais à l'abri et dès que j'avais un moment de temps, je pouvais travailler dessus.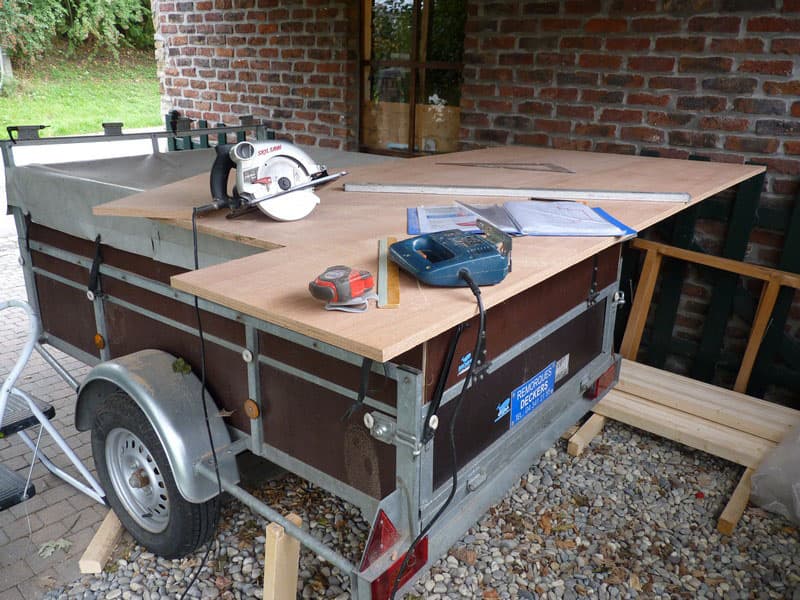 Comment avez-vous découvert comment mettre votre campeur ensemble?
Un jour, j'ai décidé de construire moi-même un camping-car. J'ai regardé votre magazine et regardé des vidéos sur You Tube. Au début, je n'avais plus de pick-up, alors j'ai dû prendre les mesures sur les sites de marques de pick-up et faire un plan.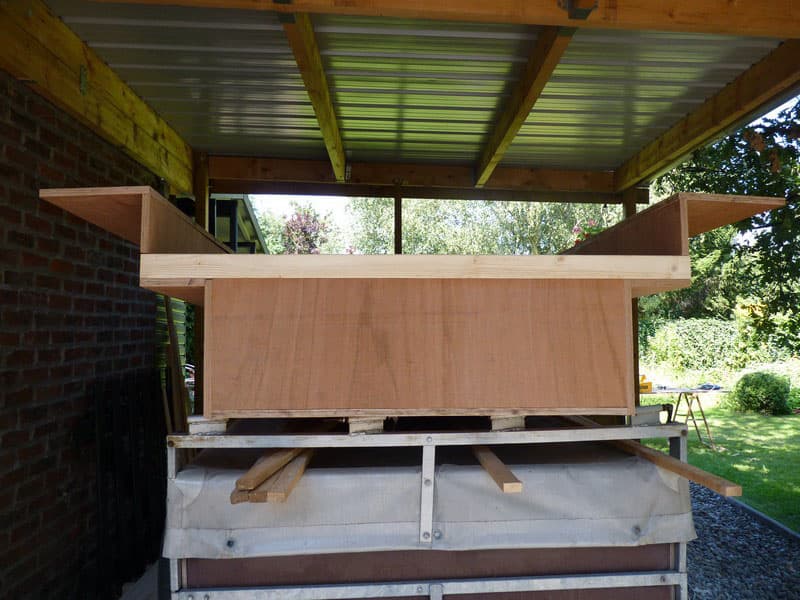 J'ai construit un camping-car pour deux personnes parce que nos deux enfants, Maxime et Marie, avaient grandi et ne venaient plus avec nous en vacances. Nous avions l'habitude d'aller dans une caravane et nous avons passé de très bons moments avec la famille.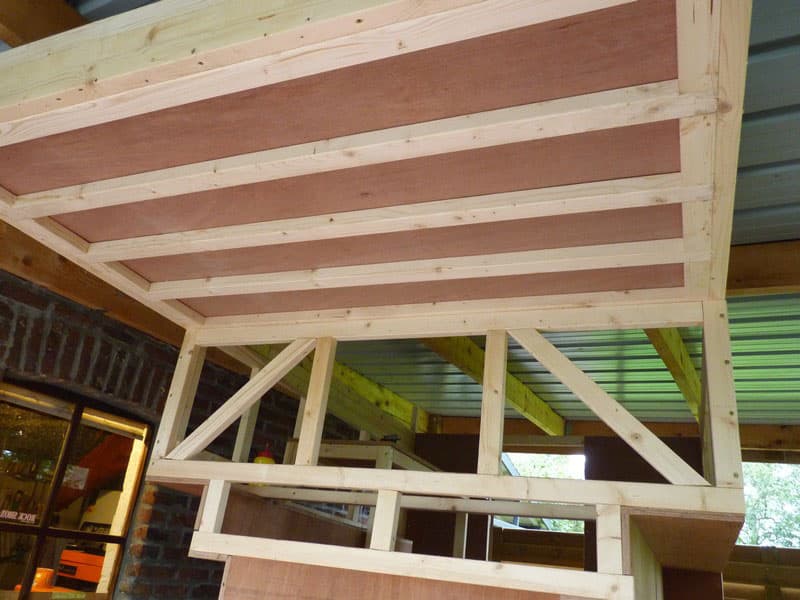 Comment avez-vous décidé d'un plan d'étage? Je vois que tu as la dinette en avant près du lit, quoi d'autre?
J'ai beaucoup étudié comment la construire et j'ai élaboré un cahier des charges.
Je voulais que la table et les 2 sièges soient à l'avant de la cellule, qu'elle ne soit pas plus large que le pick-up, qu'elle soit vivable à l'intérieur pour deux personnes.
Marie-Eve voulait des armoires pour ranger la vaisselle et les vêtements. Il fallait placer une réserve d'eau propre, une réserve d'eau usée, le frigo, la bonbonne de gaz et la batterie. C'est pour cela que j'ai dû la faire dépasser de la benne du pick-up.
Sa conception est un cadre en bois que j'ai recouvert de plaques d'aluminium.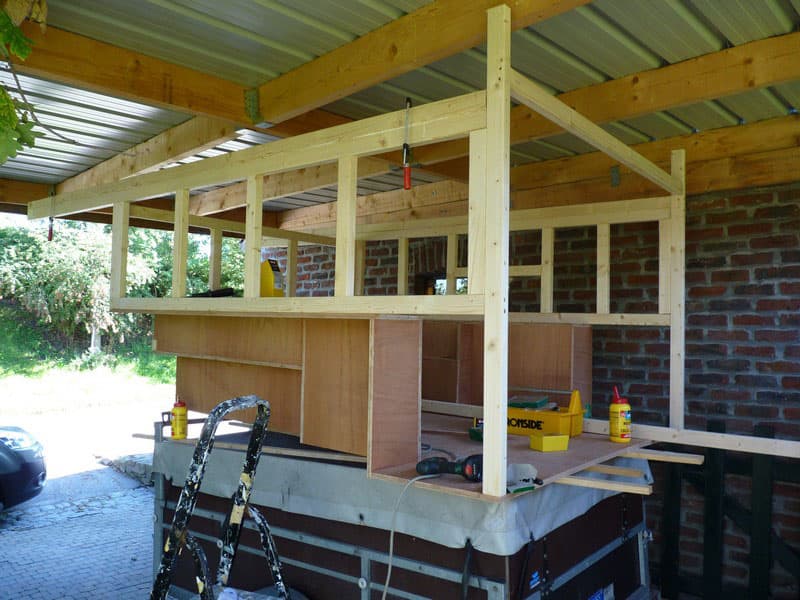 Pourquoi avez-vous choisi de le construire de cette façon – cadre en bois et plaques d'aluminium? 
J'ai choisi de la construire avec une ossature en bois parce que je ne sais pas souder l'aluminium. Le bois est isolant par nature mais il peut se dégrader avec l'eau. J'ai choisi des plaques d'aluminium striées car je les trouve jolies, solides mais malheureusement elles sont assez lourdes. Je les ai collées sur l'ossature et vissées avec des vis en inox en ajoutant du silicone dans chaque trou.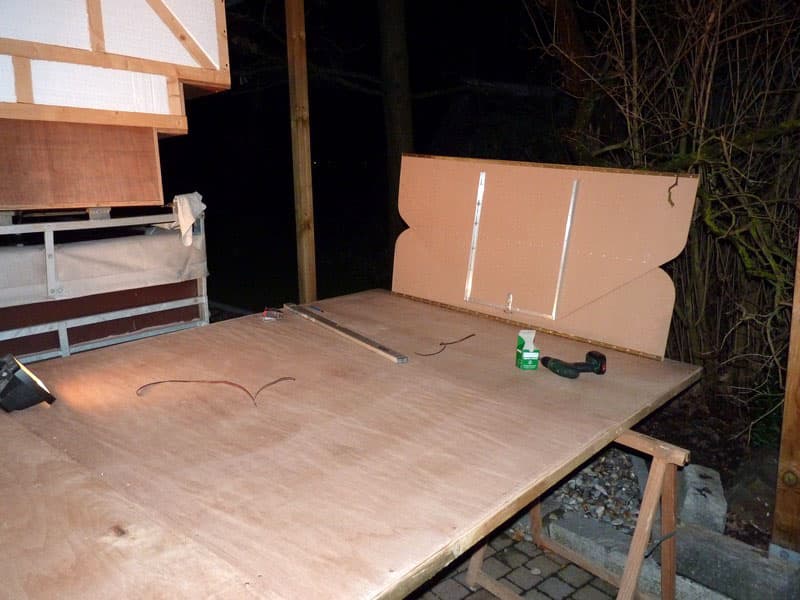 De quoi est fait votre toit ? Pourquoi avez-vous choisi ce matériel?
J'ai réalisé le toit de la même manière. C'est une ossature en bois que j'ai recouverte de plaques lisses plus légères en aluminium. Je les ai rivetées car elles étaient trop courtes. J'ai utilisé également du silicone spécial pour parfaire l'étanchéité. A l'intérieur, j'ai utilisé de fins panneaux de bois pour recouvrir le cadre du plafond et l'isolant. J'ai également fait passer les câbles pour alimenter les spots à led et placé une fenêtre de toit au-dessus de la table pour avoir de la lumière et de l'air.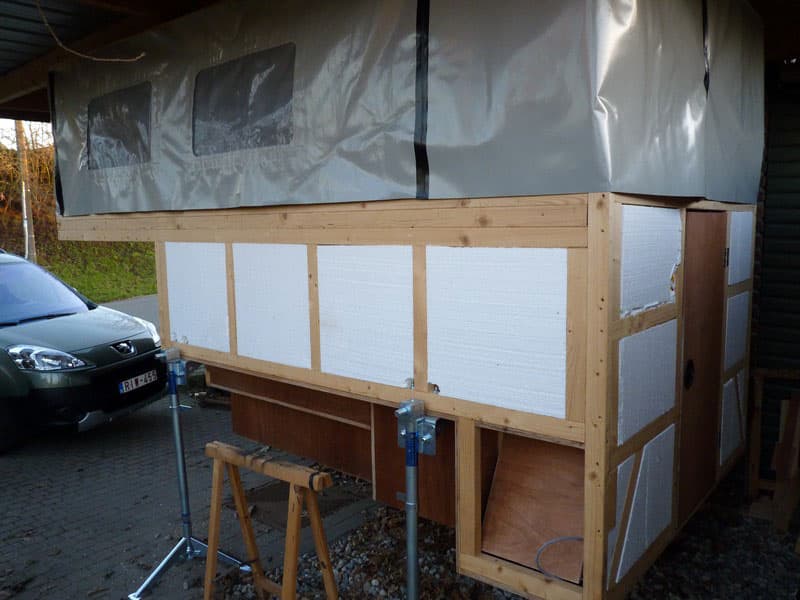 Qu'avez-vous utilisé pour l'isolation à l'intérieur des murs?
J'ai utilisé du polystyrène de 4cm d'épaisseur pour isoler la coque et le toit.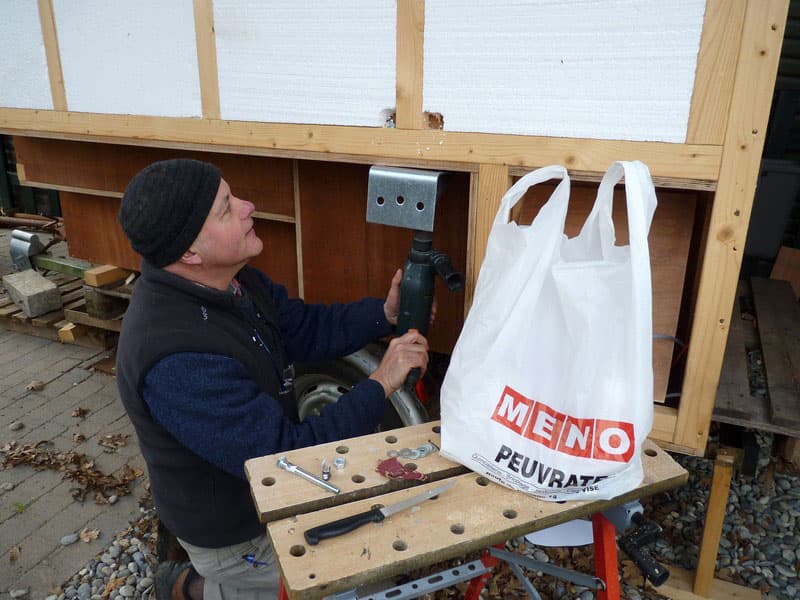 Avez-vous déjà construit quelque chose comme ça?
Je ne suis pas un professionnel de la construction puisque j'étais instituteur, mais j'aime bricoler. Je n'ai pas beaucoup d'outils de "pro".
Je me suis inscrit à un cours de soudage en soirée pour profiter de la machine à cintrer, de la machine pour couper les feuilles d'aluminium ainsi que la plieuse pour réaliser les cornières.
Avez-vous dû acheter des outils coûteux pour cette construction ou pourriez-vous les emprunter à d'autres personnes / entreprises?
Pour ce type de construction, il ne m'a pas fallu beaucoup d'outils spéciaux ni très coûteux. Une scie circulaire, une scie sauteuse, une foreuse sur pied, une visseuse, une scie à métaux.
Quelle est la plus grande chose que vous avez construite avant cela?
J'ai acheté une vieille maison que j'ai dû beaucoup transformer, y aménager des chambres, des placards pour les enfants. C'est de cette manière que j'ai appris à construire beaucoup de choses.
Où avez-vous eu les pièces pour votre campeur?  
Ma femme, Marie Eve, a découpé le matelas qui vient d'Ikéa. L'évier vient aussi d'Ikéa.
J'ai parlé de construire mon camping-car à mes élèves de première année et à leurs parents qui ne savaient pas ce qu'était une cellule. Une maman couturière s'est portée volontaire pour coudre la toile pop-up et les fenêtres. J'ai été très inspiré par les cellules de Four Wheel Camper et Northstar.
Les vérins venaient de Rieco-Titan aux Etats-Unis. Les frais de transport et de douane m'ont coûté plus cher que les vérins. C'est du très bon matériel.
Le reste des matériaux  je les ai acheté sur Internet ou dans les magasins en Belgique.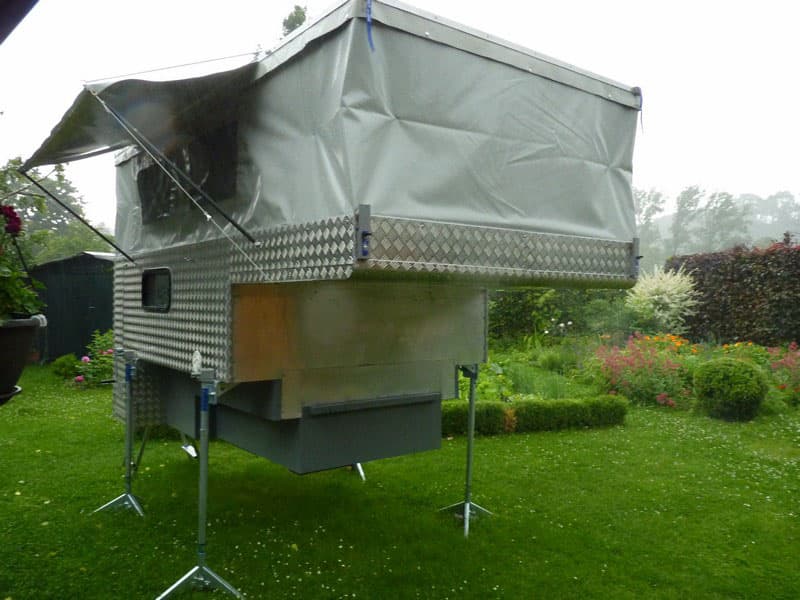 Comment le toit du campeur s'élève-t-il? Avez-vous construit un mécanisme d'ascenseur? Comment cela fonctionne-t-il?
Je me suis beaucoup inspiré de la manière dont s'élève le toit des cellules Four Wheel Camper sur You Tube. Je faisais des arrêts sur image pour comprendre le fonctionnement. Le mécanisme est en « bois », il ne tombe pas en panne et j'étais capable de le réaliser avec ma pince à rivets et ma scie sauteuse.
Quand j'ai eu terminé l'assemblage, je me suis rendu compte que mon toit était quand même lourd à soulever. C'est pour cette raison que j'ai placé plus tard, 4 vérins qui m'ont grandement facilité la tâche.
Avez-vous des réservoirs pour l'eau douce et les eaux grises?
J'ai une réserve d'eau douce de 70 litres sous la table et une de 45 litres sous la porte d'entrée.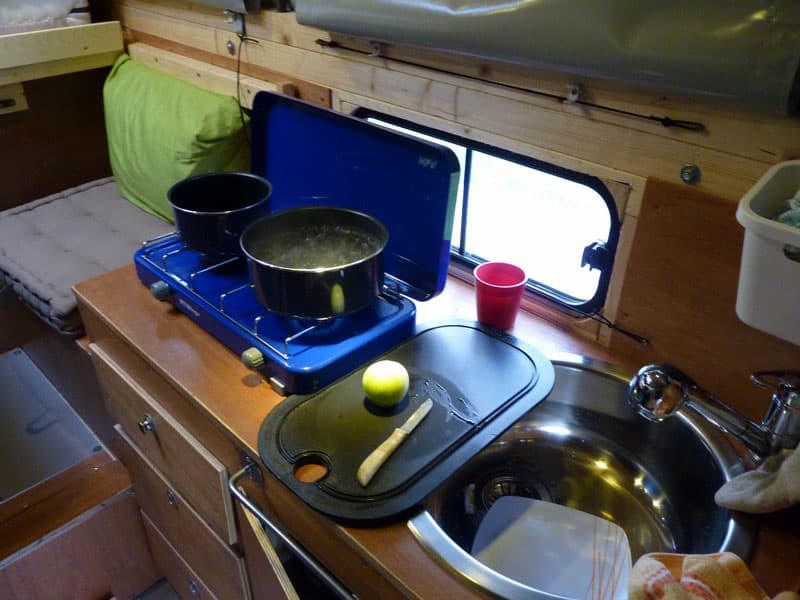 Qu'est-ce que votre campeur pourrait avoir que nous ne pouvons pas voir en images? 
J'ai installé un frigo Waeco Dométic à compression de 35 litres, une toilette portable, une pompe qui amène l'eau au robinet de l'évier. Je viens d'installer un petit chauffage au diesel pour chauffer l'habitacle, j'ai aussi installé un auvent Howling Moon sur le côté. Je n'ai pas encore de chauffe-eau. C'est pour cette raison que nous allons souvent dans des petits campings pour prendre une douche et profiter des différentes installations.
J'ai soudé les fenêtres avec des fermetures éclair sur la bâche afin qu'il n'y ait plus d'eau à l'intérieur. J'ai également ajouté des fixations sur le côté pour être en mesure de prendre nos deux VTT et installé des vérins hydrauliques pour soulever le toit qui était un peu lourd.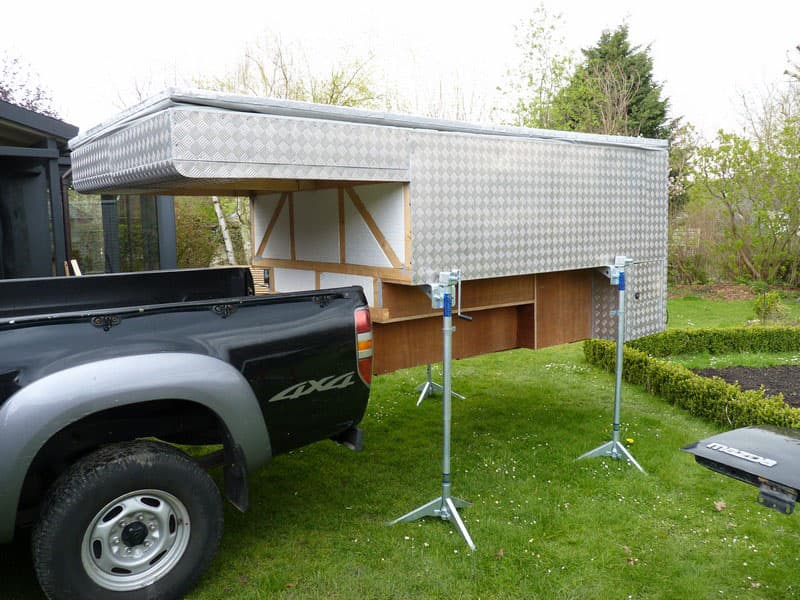 Quelles sont les dimensions? 
La longueur totale est de 3,40 mètres, sa largeur est de 1,80 mètre et 1,33 mètre de haut. La hauteur intérieure est de 2 mètres.
Que pèse votre campeur?
Mon camper pèse 640 kilos environ avec tous les pleins réalisés et prêt à partir.
Je n'ai pas compté les deux mountain bike électriques que nous pouvons placer sur chaque côté.
Quelle a été la partie la plus difficile de ce projet?
Convaincre Marie-Eve mais il ne lui a pas fallu beaucoup d'arguments. Tant que c'est pour voyager, elle est toujours d'accord ! La partie la plus difficile a été de le rendre hermétique à l'eau. Maintenant, j'y suis arrivé.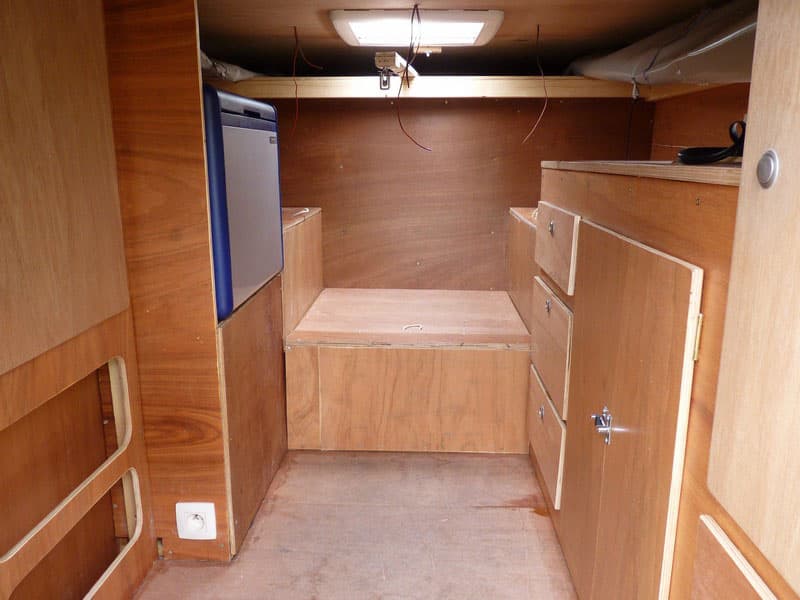 Qu'est-ce que tu ferais différemment si tu devais tout recommencer à zéro?
Je ferais réaliser toutes les bâches, les soudures dans une entreprise spécialisée où l'on fabrique des auvents pour caravane. J'agrandirais l'espace autour de la table pour que l'on puisse être au moins à quatre personnes. Je déplacerais la batterie pour la recentrer sur l'avant près de la réserve d'eau pour libérer un petit espace pour une mini douche. J'augmenterais de 10 cm la longueur du couchage donc du camper au-dessus de la cabine.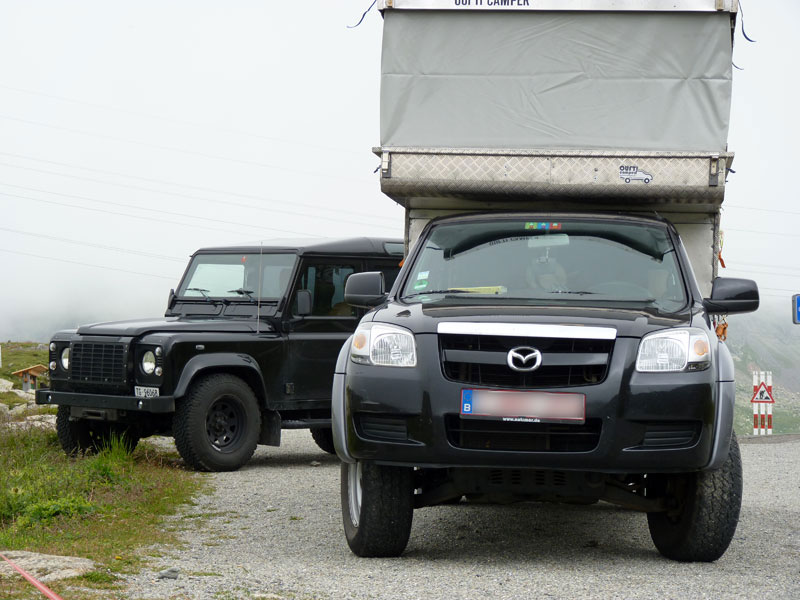 Parlez-nous de votre camion.
J'ai acheté mon pick-up Mazda BT 50 utilisé en Allemagne parce que je voulais une cabine agrandie. En Belgique, il n'y a pratiquement pas de pick-up avec benne agrandie, on ne trouve que des "double cabine".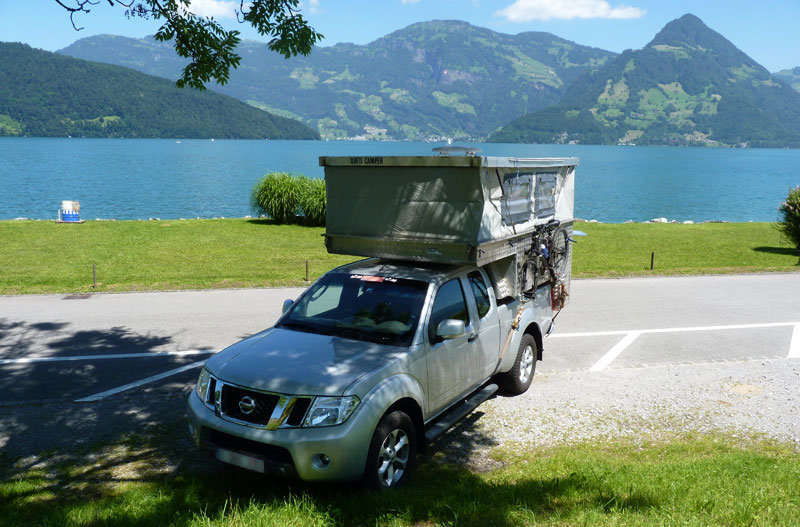 Je l'ai gardé pendant trois ans, puis la boîte de vitesses est tombée en panne, alors j'ai acheté un Nissan Navara king cab en France.  Mon nouveau pick-up était plus grand et plus puissant. J'ai dû alors modifier mon camper car la benne du Nissan était plus longue. Je lui ai ajouté un petit coffre sur l'avant. Je viens d'y installer le réservoir de diesel pour le chauffage.  J'ai aussi changé les lames de ressort arrières qui étaient trop souples. J'ai acheté des lames chez pedders.uk. Elles sont fabriquées en Australie et fonctionnent bien sur mon pick-up.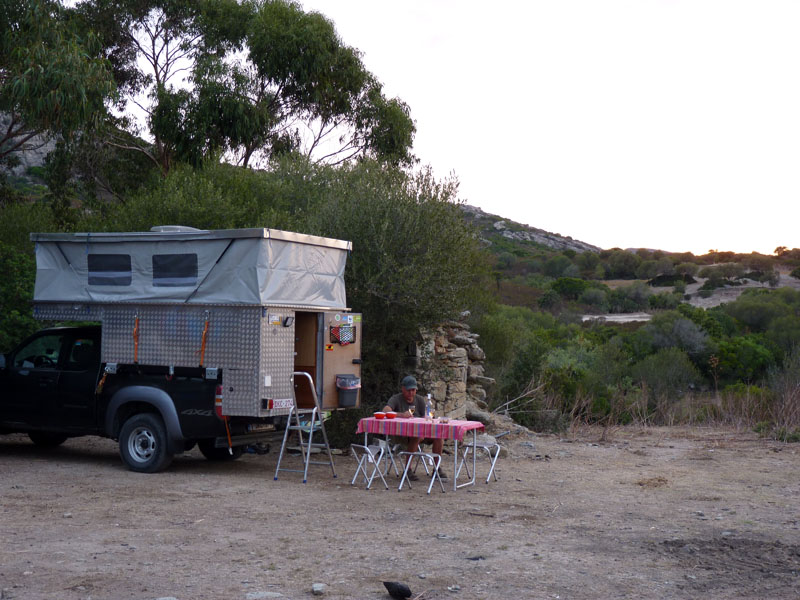 Comment gardez-vous votre camping-car et votre camion ensemble?
J'ai opté pour des sangles à cliquets qui s'attachent sous le chassis et dans des œillets fixés au support Rieco-Titan sur la cellule à l'avant et à l'arrière.
Les sangles orange du haut sont-elles pour garder votre toit bas? Je vois qu'il y a des sangles bleues ainsi.
C'était la première année que j'avais conçu ce système que j'ai abandonné. J'ai dû améliorer beaucoup de choses sur mon camper.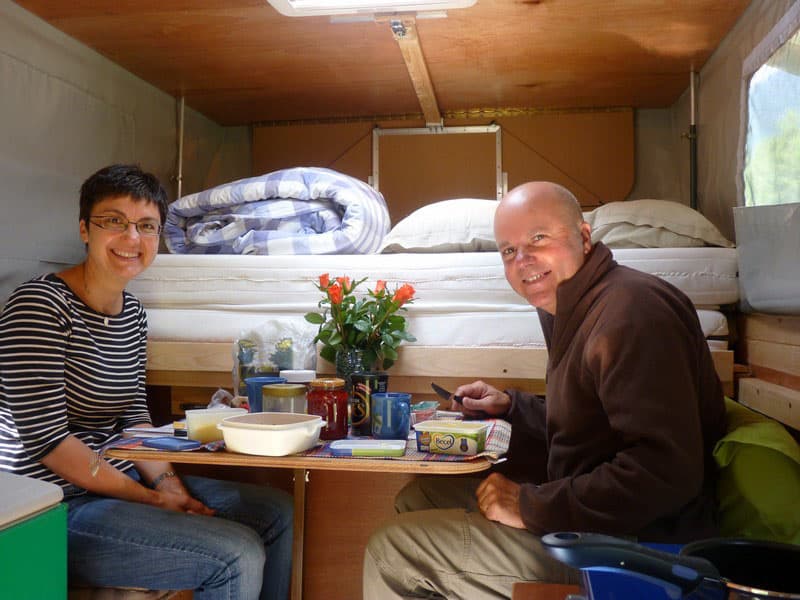 Où avez-vous campé avec votre campeur?
À la fin de cette année scolaire en 2013, nous sommes allés en vacances avec « oufticamper » et nous avons adoré.
Nous allons souvent en Corse. C'est une île Française assez loin de l'endroit où nous vivons, mais où il y a  la mer et des montagnes. C'est ce que nous aimons voir.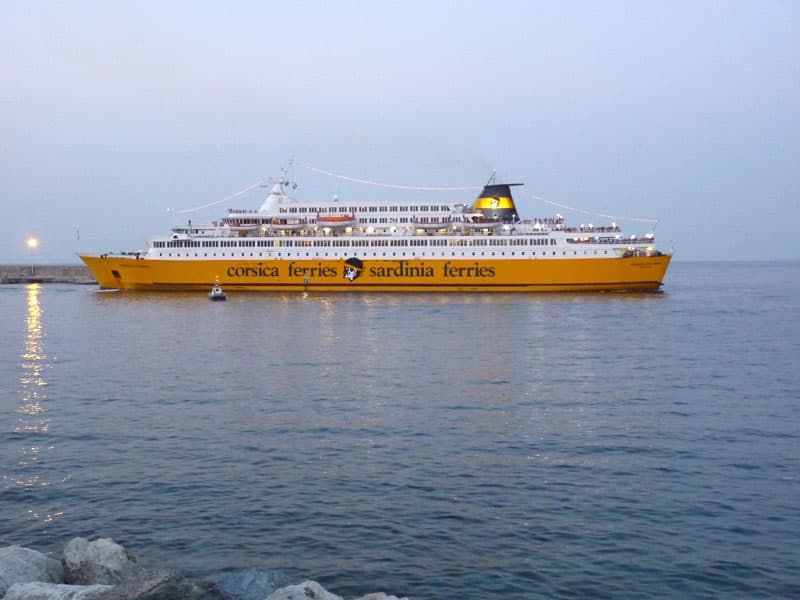 Pour y arriver, il faut traverser l'Est de la France, la Suisse qui est un beau pays mais très cher puis nous arrivons dans le nord de l'Italie. De là, nous allons au port de Livourne ou Genova, et devons prendre un ferry pour traverser une partie de la mer Méditerranée. La traversée dure environ quatre heures.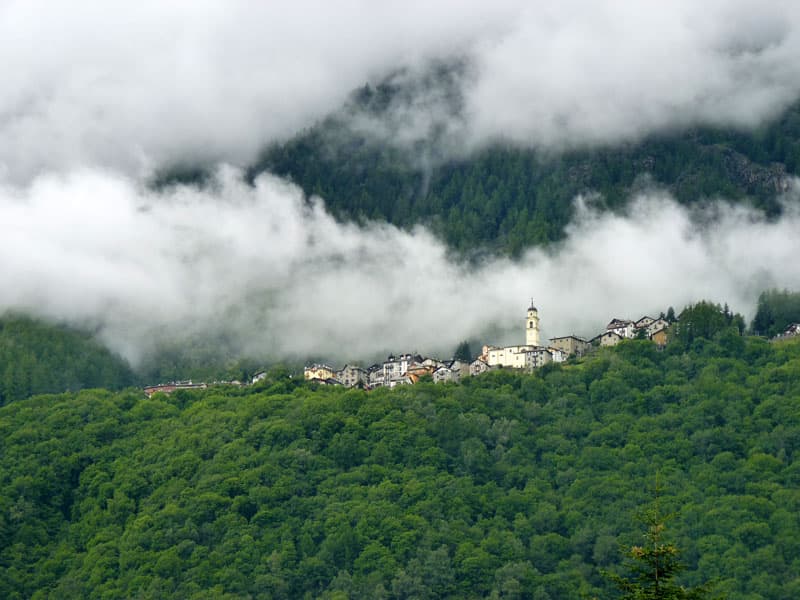 Ci-dessus: Primolo près de la ville de Chiesa dans la province de Sondrio
Les photos que j'ai jointes montrent que nous avons choisi de traverser le col du Bernina en Suisse pour aller en Italie. Cette année-là, nous avons décidé d'aller dire bonjour à quelques amis dans les Alpes italiennes. Ils vivent dans un petit village appelé Primolo près de la ville de Chiesa dans la province de Sondrio.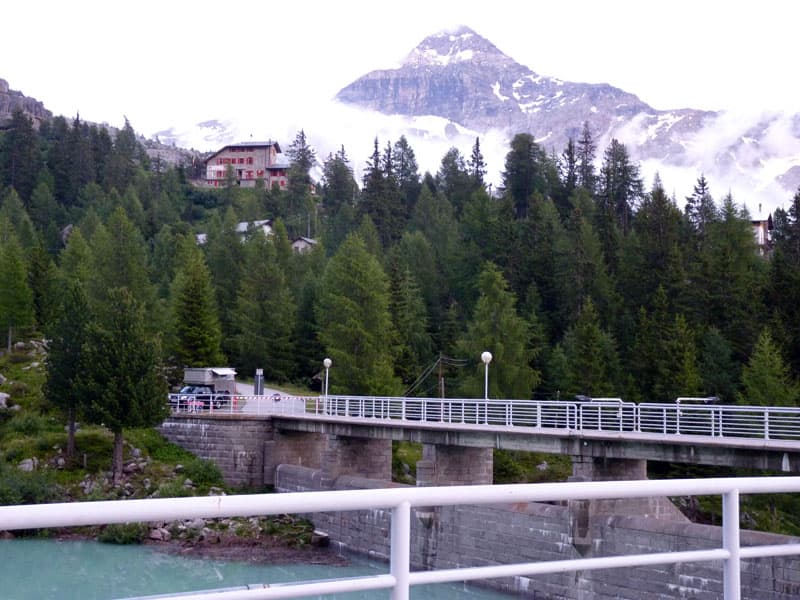 Ci-dessus: Nuit au bord du barrage de Campo Moro
De là, nous avons voyagé dans la région et dormi au bord d'un barrage et un torrent. Nous avons passé de très bons moments dans notre nouveau mode de vacances.
Malheureusement, au cours de ce voyage, j'ai réalisé que "Oufticamper" n'était pas imperméable à l'eau. J'allais devoir modifier certains défauts de construction dès notre retour en Belgique.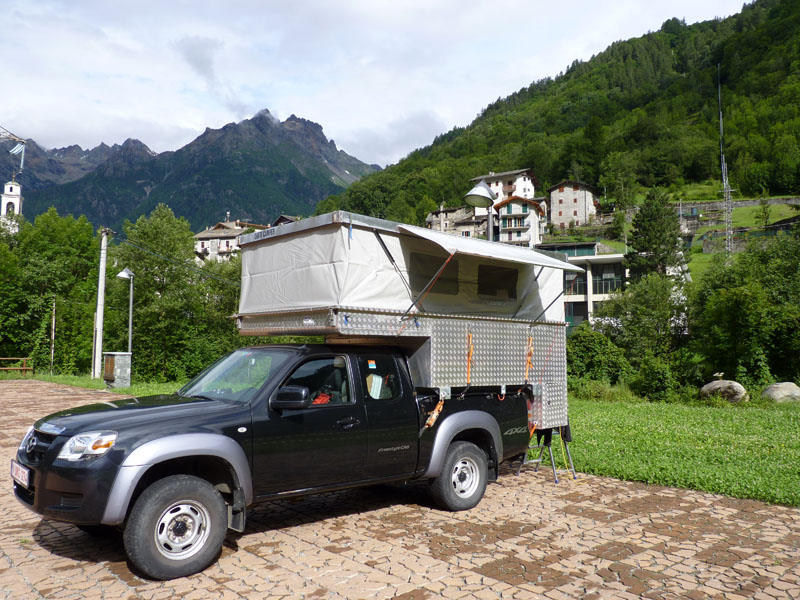 Ci-dessus: Camping de Lanzada dans la Valmalenco en Italie
Du nord de l'Italie, nous sommes allés en Corse.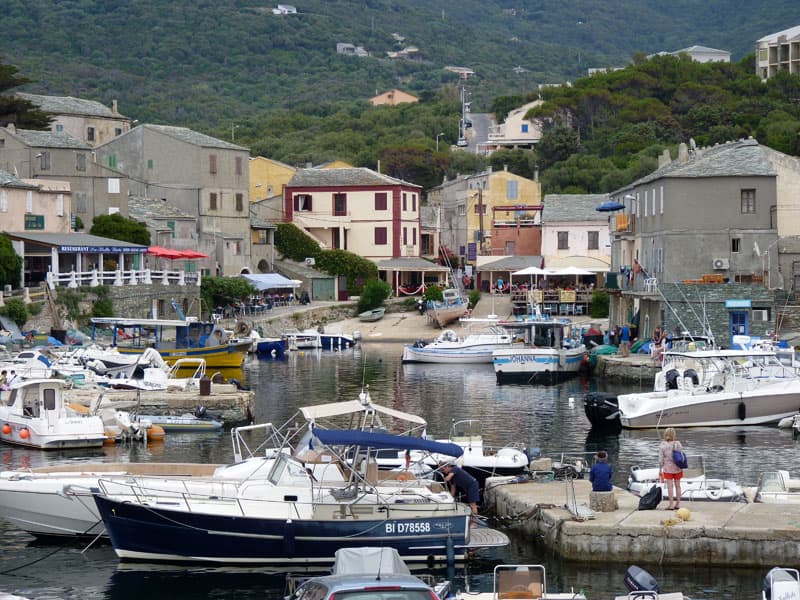 Ci-dessus: Petit port de Centuri dans le Cap Corse.
Nous aimons le nord de la Corse qui s'appelle le Cap Corse parce qu'il est plus sauvage. Nous avons suivi la route le long de la mer jusqu'à Calvi.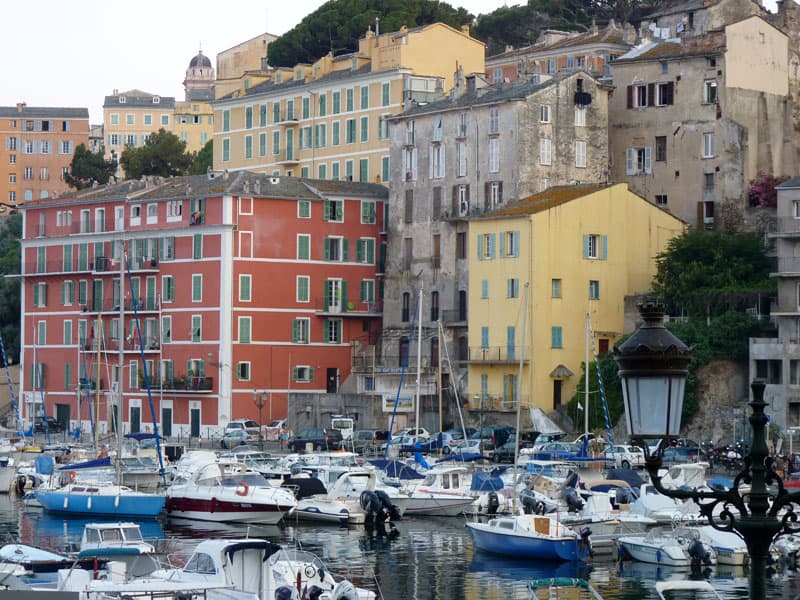 Ci-dessus: Vieux port de Bastia, Corse
Nous nous sommes arrêtés dans les campings car le camping sauvage est interdit en Corse.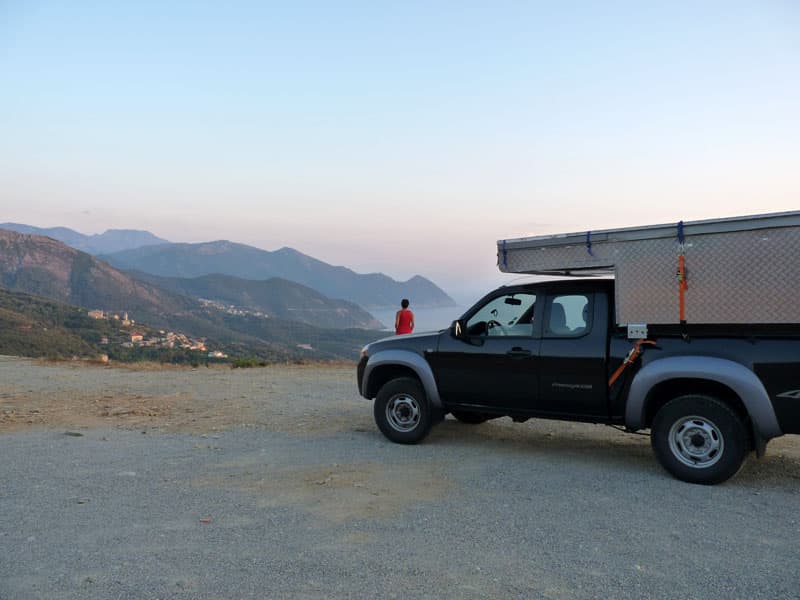 Ci-dessus: Col de la Serra dans le Cap Corse
Nous sommes également allés à la montagne parce qu'il fait plus frais là-bas et le paysage est magnifique. Au fil des ans, nous sommes retournés en Corse à plusieurs reprises avec notre campeur.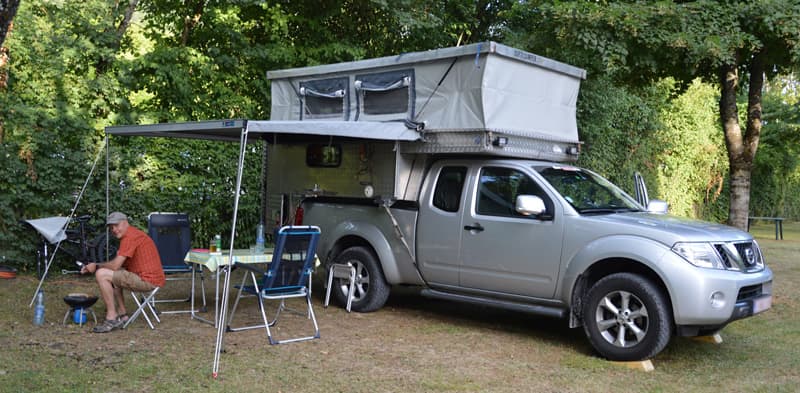 Ci-dessus: Camping en montagne, Corse
Chaque année, quand nous campons, j'améliore toujours un peu certains détails. Chaque fois que nous allons dans un camping, un parking ou une place de village, nous avons toujours l'occasion de discuter de ce mode de voyage et nous avons fait quelques belles rencontres.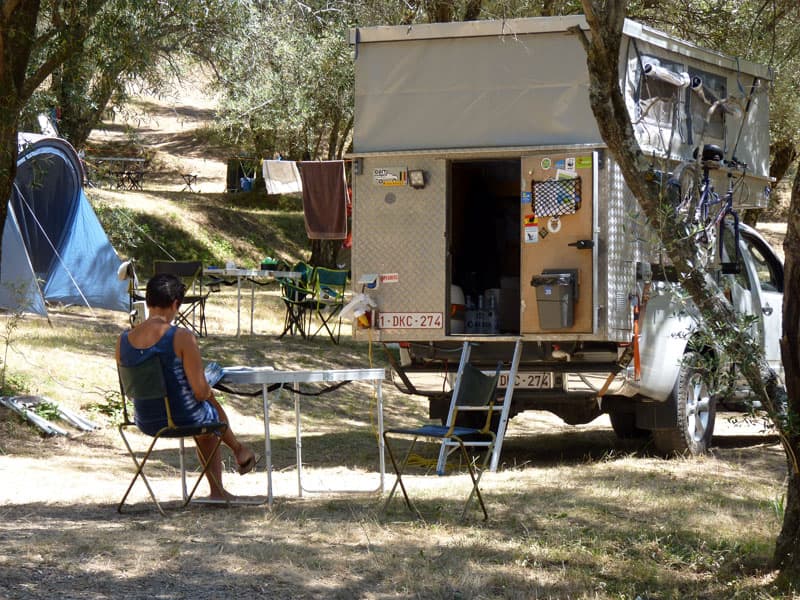 Allez-vous généralement dans des terrains de camping ou de camp hors réseau ou un mélange des deux?
Nous nous rendons plus souvent dans des petits campings pour profiter des installations. C'est un peu plus cher mais nous aimons l'ambiance des campings.
Si vous campez hors réseau, avez-vous des panneaux solaires, un générateur ou des piles? Si oui, combien? Comment obtenez-vous le pouvoir?
Je viens juste de recevoir un panneau solaire de 100 Watts que je dois encore installer. Nous ne consommons pas beaucoup d'électricité. Juste pour le frigo, l'éclairage et maintenant pour alimenter le chauffage diesel.
Avez-vous d'autres mises à niveau de camping-car prévues pour l'avenir?
Non, je pense que pour le moment, il nous convient.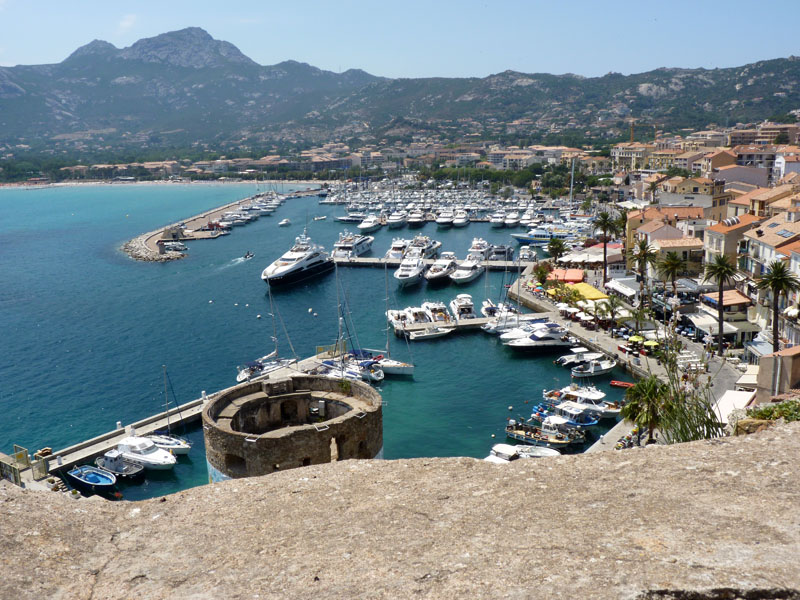 Ci-dessus: Port de Calvi en Balagne, Corsica
Y a t-il autre chose que vous souhaitez ajouter sur votre camping-car ou voyager à travers l'Europe?
Nous comptons découvrir d'autres pays comme les pays du nord de l'Europe. La Norvège, la Suède où nous sommes déjà allé mais pas avec notre Camper, la Finlande… On verra bien mais pour le moment, en cette période de Covid, on ne peut plus voyager.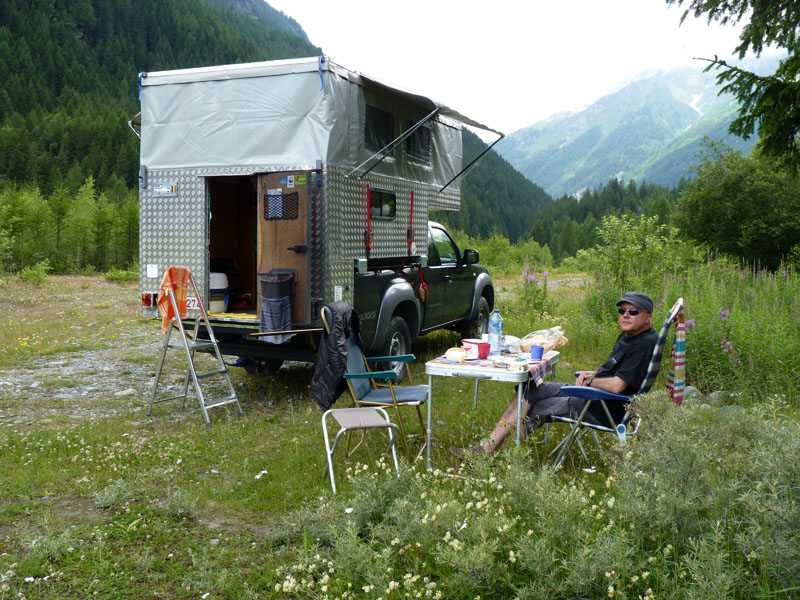 Ci-dessus: Nuit au bord du Torrent à San Giuseppe Valmalenco, Italia
Je voulais vous remercier Angela pour votre magazine dont j'adore lire les articles que vous publiez de tous les coins de l'Amérique et d'ailleurs, pour les photos du calendrier et les commentaires des photographes. J'adore voir vos pick-up "démesurés", vos campers "luxueux" ainsi que les magnifiques endroits photographiés. Cela m'a permis de voyager virtuellement et peut-être qu'un jour, je pourrai venir chez vous, louer un camper et visiter quelques parcs nationaux.
– Depuis la Belgique, un tout petit pays, Jean-Paul et Marie-Eve Gerday et Oufticamper

Latest
Sours: https://www.truckcampermagazine.com/expeditions/world-travel/pop-up-camper-from-scratch/
Camper top diy pop truck
The trunk was long and went deep, reaching up to the throat. Antonina began to suck, moving her head and swallowing the cock deeper, while the son held her tightly by the hair, not letting. Go for a second and set a comfortable pace for himself.
DIY Overland Truck Camper Tour - HOME BUILT shell with Double Pop Roof Top Tent
The bottom line is that there is such a joke among some men with goat manners. To expose the girl for any reason (for example, she. Did not give or did not take it in her mouth or was guilty of something. Or even just out of drunken courage) out the door of the apartment half-dressed or in only panties. I understand that this happens to whores, and it is possible even quite often.
You will also like:
Then she took him by the back of his head with both hands and began tapping his covered face right on her. Crotch. The boy's neck was already unbearably aching, and tears flowed in a stream not only from pain and humiliation, but also from fear and self-pity. From such tapping, his nose literally crashed into her clitoris, and the lady realized that it would not be bad to finish one more time.
And then she began to rub purposefully, to orgasm, and Lyosha squealed like a girl and twisted his face to breathe at least a.
2043
2044
2045
2046
2047