Yesterday I deposited around $600 in checks followed by $310 in cash. It was two 100 dollar bills, some 20's, and one 10. The machine processed all but the $10 which is spit out and told me to try reinserting it. I did that. It made clicking noises for about a minute and then gave me a message saying that there was a technical problem and my transaction had been ended (no receipt printed). I called the 1-800 number supplied and was told an investigation into the transaction would be made but "my cash deposit was not showing up." What's the likelihood I'll get my cash back?
Why would you put that little cash into an atm machine?
Christmas money and payments toward a family ski trip. Didn't want to carry it around and risk losing it or leave it at home and risk losing it...
If you made your claim over the weekend, then they should audit the ATM today. Your money should be there, and they should credit it to your account.
That's what I thought. I pulled away from the ATM and stopped to the side of it to call the tech support number and the lady that was behind us drove by holding a wad of cash. Kind of freaked me out.
You'll be okay. No worries.
---

and risk losing it...


---
How well did THAT work out for you?
j/k, I'm sure it's fine.
I guess I'm just too old, but I don't trust ATMs for deposits.

Hell, I hardly trust that they'll give me the money that I ask for.
I took $20 out of one before, remembered I needed $40 so before I took the first 20 out I did another transaction. The machine took the first 20 and spit out a new 20 leaving me with two receipts for two $20 transactions but only one 20. Did the whole "call the number" thing and they said they would audit the machine and fix it. That was weeks ago =\
A1 - you need to go to your bank and do a ATM dispute. If it was your bank, they'll be able to tell from their General Ledger account if the ATM was out of balance. If is was another insitution's ATM, they'll file a claim with them and that bank will investigate and refund the money.
It was at my bank, they were just closed. Im still waiting on a phone call back from them.
Don't deposit cash in an ATM
Be active in your disputes. They have a lot of **** to worry about, and if you sit there waiting for their call then that's half your own fault for not pursuing it.
I work in accounting, and we've already booked your $20 to Misc Revenue. Sorry!
I call them about once a day. I was just letting the OP know that it's taken this long to get $20 back and I hope their dispute goes better than mine.
People apperently have lost the ability to "do it yourself" as in get off your lazy ass and go to the bank and either get your money back or wait in their little waiting area until you do.

At that time get all your money out of that bank and go to a new one; transfer any loans you have etc. (You should tell them this at this start, banks only make money off of customers and when a person loses accounts due to a small mix up like this the bank manager will want to retain customers and save face rather than lose you to a competeitor.
Big banks.

We refund ATM outages as soon as the member informs us about it.
---

Big banks.

We refund ATM outages as soon as the member informs us about it.

---
and how many ATMs does your bank have?
---

I guess I'm just too old, but I don't trust ATMs for deposits.

---
me too!
---

and how many ATMs does your bank have?

---
About 20.
But, we're also part of the CU friendly Network, so a lot.
However, my department also handles fraud for debit and ATM cards. And, we still refund fees right away.
Regardless of the number of ATM's a financial insitution has, checking for ATM outages at their own ATMs is probably one of the simplest things to do.
OnlyForNow,
Not necessarily. About six years ago, I tried to deposit a tax refund check that my wife and I had signed. She was not on my account, so they wouldn't take it. The manager told me that we should have a joint account. I told her that we do, but at another bank. They could make the deposit or give me all my money from checkings and savings, cancel the mortgage app I had just filed, and close my accounts. They paid me cash and closed the accounts.
I went to the other bank and made a nice deposit.

Bank of America does not care about each customer's business the way you describe.
c'mon hunter! Everyone knows that if your throw a tantrum you'll get your way.
Okay they gave us a *temporary* credit of $310 while the investigation is going on. I called back today to check the status and she said it would be "2-3 business days." They won't discuss it with me at the location it happened because I have a dispute going on and apparently they know nothing about it, only the technical people do. If I don't have my real money back by Wednesday I will raise hell.

Oh and from now on, now more cash deposits into ATMs. They cannot be trusted.
banks are very good about protecting you at the ATM. you are fine
---

Oh and from now on, now more cash deposits into ATMs

---
I don't like them for any deposits. I had a BoA ATM keep a $7,000 commission check one time that it said that it couldn't read. It took me two weeks to get that issue resolved. I wouldn't have used the ATM at all for that, but the lazy ****ing branch manager at the FM645 and I45 branch in League City was directing all customers with a transaction that didn't need a teller out to their new ATM. I guess the fact that I wanted to hand my check over to a real person was too much to ****ing ask.
//rant
jh we used to bank with BoA and got very tired of them holding checks for days. We had been with them for years and they still did this with payroll checks. Other than this happening, Chase has been much better than BoA.
Refresh
This post has been flagged.
Click to display linked image.
TexAgs is an independent site and is not affiliated with Texas A&M University. ©2021 Maroon & White LP. All rights reserved.
Trial only available to users who have never subscribed or participated in a previous trial.
Sours: https://texags.com/forums/12/topics/1761804
What to Do When the ATM Eats Your Check After an Unsuccessful Deposit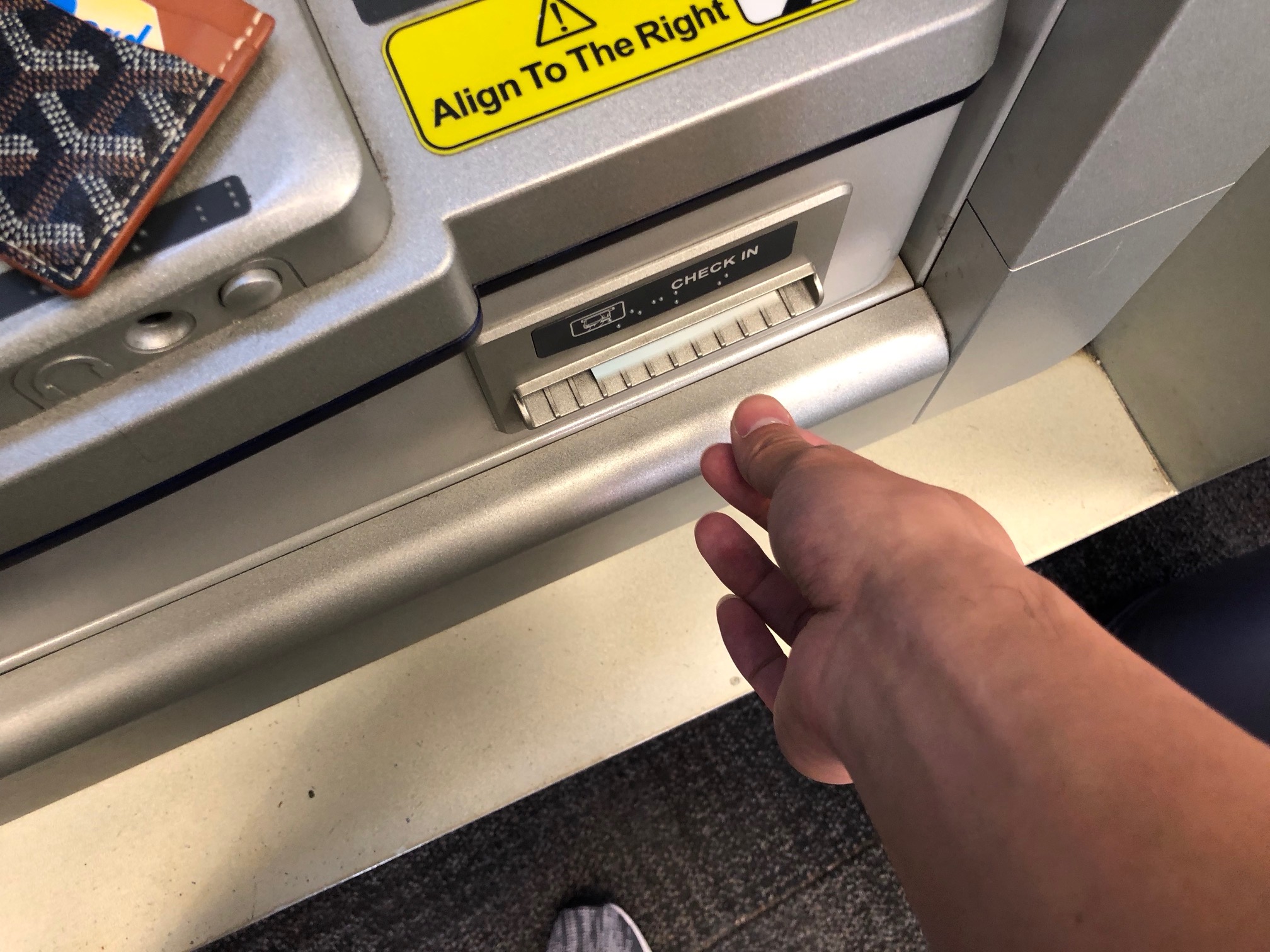 ATMs are historically very reliable machines, with billions of dollars in transactions completed each year in the U.S.
When a deposit or withdrawal is not completed, and either cash, an ATM card, or a deposit is lost, the banking customer may experience frustration, the inconvenience of not having access to funds or possibly even identity theft.
One type of failed ATM transaction that can cause a major headache is a failed check deposit.
Paper Checks Still Used to Make Deposits
There are no statistics published for the frequency of ATM deposit malfunctions, and banks aren't exactly proud to disclose how often these malfunctions happen.
However, we know ATM deposit loss does happen from time to time because lots of consumers have complained about it.
Most major bank ATMs have eliminated the use of envelopes at ATM. This transition reduced paper waste and more significantly, eliminated a common type of "empty envelope fraud" where criminals would put empty envelopes into an ATM in order to get fast access to large amounts of cash.
New envelope-free ATMs would scan cash and check deposits in real time.
By creating an immediate image of the check, banks were able to verify deposits in real time.
However, these envelope-free ATMs also eliminated the eventual human reconciliation and verification.
When ATMs "eat" checks and hold them, customers have no access to their funds and no understanding of when they will.
Depending on the situation, funds could be held as long as 10-14 days while the bank investigates the incident.
What to Do If an ATM Doesn't Return Your Check
If you have lost a check in the process of attempting to deposit it, try the following steps:
1. Cancel the transaction if possible
If the machine has not malfunctioned, it is possible the machine will return the check to you.
If you are able to get the check back, you can deposit the check at a branch location, or via mobile deposit.
2. Gather evidence
If you have a smartphone on you, take pictures. If an error screen displays or a receipt prints note exactly what it says.
Note the address of the ATM, the amount of the check, and any other pertinent or relevant details.
Once you report the incident, your bank will investigate, and the information you provide will be used to determine what happened.
3. Contact your bank immediately
If the ATM is on bank premises, and the bank is open, your quickest communication will be with the branch staff.
They may be able to open up the ATM and retrieve the check for you. If the ATM is not located on branch premises, call the number to your bank, and report it.
All major banks have investigative departments that will assist.
It is possible that the bank will issue a provisional credit while the incident is being investigated. It is also possible that you will be able to cancel the transaction altogether.
Time is of the essence. Do not wait to contact your bank.
Machines are serviced regularly, and the check the ATM ate will be collected within a short period of time.
Once your check has left the ATM, the investigation will take longer as your bank will have to track down the check and investigate what happened.
4. Contact the check issuer
Depending on the source of funds, it may be easy to have a new check issued.
If the payer can provide you a new check, and put a stop payment on the old, you may not have to deal with an investigation and lack of access to the funds, for however long the investigation takes.
Ask your bank if this is advisable and/or permissible. If there is the possibility of a returned check fee if you can cancel the deposit, it may be more hassle than it is worth.
5. File a complaint with the CFPB
The Consumer Financial Protection Bureau is the government agency responsible for ensuring that you, the consumer, are treated fairly.
If you are unable to reach a resolution and get access to the funds you lost, you may submit a complaint online.
The CFPB will review the case and attempt to mediate a resolution.
Prevent ATM Deposit Issues in the Future
You can find endless stories on the internet about ATM deposits that went terribly, terribly wrong, resulting in vanished money, vanished records of the deposit, and drawn out, dragged out investigations.
Lost ATM deposits have common themes of frustration and helplessness.
Prevent issues with deposits by taking control of your finances. Avoid putting a paper check into an ATM unless you absolutely must.
In most cases, you can find safer and more secure alternatives to depositing a paper check into an ATM.
If your deposit is important, particularly if you need immediate access to your funds, consider making your deposit via an app (where you keep the paper check), or at a branch, where you immediately receive confirmation and a receipt.
Alternatively, you could have the check cashed somewhere, although most check-cashing places charge fees.
If you have had a negative experience losing a check to a defective ATM, you probably will want to avoid using ATMs for deposits in the future.
Despite their reliability, it only takes one bad experience to change trust forever.
The increasingly popular method for depositing paper checks is via mobile check deposit. It is easy and free to deposit your check into your bank using your smartphone or tablet.
Use mobile deposit
As described above, most major banks and credit unions now allow you to deposit checks quickly, securely and easily using their smartphone app.
You simply take a picture of the front and back of the check and confirm the amount.
Depending on the check, and your bank, your funds may be available immediately, or within a certain period of time.
Due to its simplicity and convenience, mobile check deposit is a very popular feature, and very easy for even the most non-technical person.
You retain the check, which you can keep in a safe place in your home and eventually destroy at a later date, once a reasonable amount of time has passed after the check has been deposited.
Most banks recommend you write "deposited by mobile app" to avoid the possibility of you or someone in your household accidentally depositing the check a second time.
This error could result in "duplicate presentment" fees.
Mobile deposit limits do apply to check deposit made via a smartphone. Banks put a cap to combat check fraud, so the limits do apply for this feature, whereas there isn't a limit to ATM or teller deposits.
Mobile check deposit limits at top 10 banks
National Banks
Limits

Bank of America

Customers with accounts opened for fewer than 3 months: $2,500 per month
Customers with accounts opened for 3 months or longer: $10,000 per month
Customers in the Preferred Rewards program for the first 3 months: $25,000 per month
Customers in the Preferred Rewards program for more than 3 months: $50,000 per month

Wells Fargo

All customers: $2,500 per day and $5,000 over a 30-day period

Chase

All customers: $2,000 per day and $5,000 over a 30-day period

Citibank

Customers with accounts opened for fewer than 6 months: $500 per day and $1,500 per month
Customers with accounts opened for 6 months or longer: $1,000 per day and $3,000 per month

U.S. Bank

Personal accounts: Varies from $500 to $2,500 per day, depending on account relationship

Capital One

Limits vary for each customer account: Typically $5,000 per day (according to Capital One banker)

PNC Bank

Customers with accounts opened for less than 30 days: $1,000 per day and $2,500 per month
Customers with accounts opened for 30 days or longer: $2,500 per day and $5,000 per month

TD Bank

Customers with accounts for 3 to 6 months: $1,000 per day and $2,500 per 30-day period
Customers with accounts for 6 to 12 months: $2,500 per day and $3,500 per 30-day period
Customers with accounts for more than 1 year: $2,500 per day and $6,000 per 30-day period

SunTrust

Customers with accounts opened for 6 months or less: $1,000 per check and $3,000 per month
Customers with accounts opened for more than 6 months: $8,000 per month
Private clients: $25,000 per month

BB&T

Checking accounts open for less than 90 days: $500 per day and $1,000 per 30-day period
Checking accounts open for at least 90 days: $2,500 per day and $5,000 per 30-day period
Wealth clients: $10,000 per day and $30,000 per 30-day period
Deposit with a teller
The traditional way of bringing a check for deposit at a human teller is a foolproof way to avoid having lost check deposit.
The teller will confirm the check details and ensure that the deposit is submitted correctly.
Sign-up for direct deposit
If you receive a paper check as a regular source of funds, talk to the issuer about more convenient ways for them to pay you, or you to receive money.
Most major banks offer checking-account incentives such as monthly service fees waived when you set up a bank account with direct deposit.
Banks like direct deposit because it assures them a regular stream of deposits – and your business.
Continue Reading
Sours: https://www.mybanktracker.com
A Corsicana woman denied a claim by her bank called NBC 5 Investigates' Consumer Unit for help after she said an ATM malfunctioned and ate her cash.
Veronica Pena said she was in a hurry last month when she left work to make a deposit at her local Chase branch. Instead of going inside, she opted for the drive-thru ATM.
"It was busy at the bank," Pena said. "So I decided to go to the ATM."
Typically Pena doesn't carry a lot of cash, but that day she had stack of bills totaling $1,160 from a family rental property.
That's when she said something went wrong. Pena said the machine seemed to malfunction and the screen did as well.
"I put it all in at one time," said Pena. "It spit out $30."
So Pena re-deposited the $30.
"I saw on the screen that it said total deposit $30," Pena said.
She panicked, canceled the transaction and tried to get all her cash back. To make matters worse, she had no receipt after canceling the transaction.
"I'm freaking out. I'm hysterical," she said.
Pena said $1,130 could mean the difference in her family's ability to pay their mortgage. She said she tearfully went inside the bank to report the problem and spoke with bank representative.
"She said, 'Everything is going to be fine. We'll go ahead and call the claims department. We'll file a claim.' "
Chase issued a temporary credit of $1,130 while it investigated what happened. In the meantime, Pena also filed a police report.
She thought her troubles were over, but her relief was short-lived. Within a month she got a letter from Chase concluding there was no problem with the transaction.
The letter said Chase completed the company's research into Pena's transaction and determined the transaction was correct.
"As a result of our findings, we're removing from your account the temporary credit of $1,130.00 we gave you on 02/11/2015, as well as any fee refunds we provided while we conducted our research. The funds will be removed on 02/11/2015. You are welcome to view the research documents that support our decision," the letter read.
Pena then called Chase asking for to view the research documents, but she said the bank refused. That's when she called NBC 5 Investigates' Consumer Unit.
Chase told NBC 5 it would not provide the research to our Consumer Unit either, explaining that the ATM's ledger is the only documentation in the case and it contained sensitive information.
"We reviewed the security video but were unable to determine if the customer was holding anything in her hands," said Greg Hassell, a spokesman for JPMorgan Chase.
However, after NBC 5's call, the bank seemed to have a change of heart.
"After a careful review of the ATM's balances and transactions, we found no evidence of an error. However, Ms. Pena is a valued customer of longstanding and we have credited her account as a courtesy," said Hassell.
"A Highly Unusual Circumstance"
Doug Johnson, senior vice president of payments and cyber security policy for the American Bankers Association, said ATM errors like this are rare.
"It's a highly unusual circumstance," said Johnson.
But if an error occurs, consumers can and should talk to their bank, and they can also file a complaint with the Consumer Financial Protection Bureau. Johnson also advises consumers to be careful how they use ATM's, especially with large deposits.
"You should be inside the branch making that deposit. That would be my advice. You make yourself essentially vulnerable when you are at the ATM," he said.
While Chase said its ATMs can accept up to 30 checks or 50 bills in a single stack, Johnson's rule of thumb is if a consumer has more than one bill to deposit, he should go to a teller.
It's a rule Pena said she will follow in the future. For now, she is glad she got her money back and said she has NBC 5 to thank.
"I would be negative in my account if it wasn't for you. So I am grateful," said Pena.
Sours: https://www.nbcdfw.com/news/local/woman-fights-bank-after-she-says-money-eaten-by-atm/104821/
deposit a check at an atm chase bank
Florida man says Chase Bank ATM took $1,500, did not deposit in account
Strapped for cash, and blaming his bank.
A Port St. Lucie, Florida man says a Chase Bank ATM machine ate $1,450 of cash he deposited at the branch on St. Lucie West Boulevard.
Twelve days later, he says he got a refund.
But, he worries that might not have happened if he did not save his receipt.
Max Bennett is a handy man, and does not always know exactly when money will be coming in.
"I've been taking handyman jobs to make ends meet … every penny counts."
July 1, he says he landed a much needed job. "A big job," he described. "Like, the biggest job I've gotten in my life."
He says his bank blew it for him.
The job paid him a deposit to secure the work.
He went to deposit $1,500 cash at drive-thru ATM at his Chase Bank.
He inserted the cash, like he says he has done dozens of times.
This time, the machine spit out $50 of the $1,500.
"I sat there for a minute or two. It made these funny noises and the little time clock [showed up]," Bennett said.
Then, he says the machine malfunctioned and kept the remaining $1,450. "It's the worst feeling to just have the ATM steal your money like that."
The machine gave him a receipt acknowledging the malfunction, giving him an "800" number to call.
He went inside the branch for help, and had an employee call the number with him.
Bennett says he was told first that this would be resolved in 48 hours. Then, he said the bank told him an investigation could take up to 10 business days. "That's completely unacceptable."
Eventually, he said the bank told him there was no indication the deposit was made.
"There was no record of a transaction having occurred and the ATM appeared to be balanced," Bennett said. "How do you have a balanced ledger when there's an overage that I'm 100 percent positive of."
It took twelve days, but Bennett finally got his money back.
"I literally had 3 dollars in my bank account for the last 12 days," Bennett said.
That ATM machine is also not taking cash deposits at the time.

"If I didn't have that receipt they would have just told me oh you were never here and you're out of luck buddy," Bennett assumed.
Now, he's left paying late fees for bills he wasn't able to pay, and worries this may have damaged his credit.
Chase Bank recommends if an ATM machine malfunctions, you keep your receipt and report the issue immediately.
You can also make a cash deposit in person, and even in that case, ask for a receipt.
Sours: https://www.abc15.com/news/florida-man-says-chase-bank-atm-took-1500-did-not-deposit-in-account
Deposit chase my atm ate
What Happens When Your Bank Loses a Cash Deposit
During my morning walk with my dog Friday we stopped by my local Chase for me to deposit some cash I had. I used the ATM outside, got a receipt confirming my deposit, and continued about my day. Around 4pm I went to look at my Chase account for an unrelated reason and noticed the money wasn't there. A cash deposit disappearing from my account wasn't anything I had even considered as a possibility. What now?

My first move was to dig through my purse and see if I still had the receipt. I typically toss them out right after I use the ATM, but miraculously this time I had shoved the crumpled up piece of paper in my wallet. Once I confirmed that the deposit was actually a thing that happened and not a vivid-yet-boring dream, I called Chase.

After what seemed like years on hold a woman answered, looked at my account, and said they had no record of me ever making a deposit. She offered to connect me with the Claims department, which was experiencing a high call volume and a wait of over 30 minutes, or I could go to a branch and try to straighten things out. I opted for option #2.

The branch was a different story. The second I explained the situation to a banker there, she told me the bank had experienced some sort of outage Friday morning. The ATMs had all been working, but they were behind in communicating with the bank's system as a whole. She assured me the deposit should be there by Saturday morning but took my info for a claim just in case it wasn't.

Because I was super interested, we also had a conversation about what would happen if the deposit didn't show up.

G/O Media may get a commission
Save $35
Clearstem Clear Kit
Target breakouts and wrinkles at the same time
Each item is also free of all possible pore-cloggers and contains zero hormone disruptors.
Apparently losing deposits is a thing that happens. Had I walked in on a normal day and explained my situation, I would have filled out a claim form. The bank would have also issued me a temporary credit for my lost funds.

According to my friendly neighborhood banker, in most cases, the issue is more than likely a communication problem with the ATM and will correct itself at the end of the day. If it didn't, they'd count all the money in the ATM and presumably they would find my cash.

I thought I was super smart for still having my receipt. She said that the receipt made filling out the paperwork easier, and if we ran into trouble would be useful since it had the exact minute I was at the ATM on it, but the receipt wasn't necessary to file the claim form, and for the most part the process is identical with or without it.

I was also "lucky" in a way because my deposit was cash. You can find cash when you count money in an ATM. If you Google lost deposits there are countless posts on message boards and the like from people who have had their check deposits go missing. When that happens things are slightly more complicated.

For those, the recommendation is to always keep a copy of your checks before you deposit them because you'll be responsible for getting new ones if they do go missing. I tend to deposit checks all via mobile now, so I have the physical check on hand. If I had to go back to an employer for a replacement, I can see how it would be easier to say "My bank lost check #3451" rather than just "give me a new check." This can also come in handy if a teller accidentally inputs $300 instead of $3000, or something like that. Which is also apparently a thing that happens.

As for me, my new banker friend called an hour later to let me know my deposit was in my account. Crisis averted.

Sours: https://lifehacker.com/what-happens-when-your-bank-loses-a-cash-deposit-1797371877
Chase ATM STOLE MY MONEY!
And in all dreams there was Skol, which was not in reality. Skol lived on a high, steep bank of the river, but around the bend there was a gentle slope with a small shoal. There, with her father, they usually kept a boat for fishing, nets, a spur. Also, the shallow served as an island of their love.
Now discussing:
Katya's legs trembled a little. Her face flashed brighter than before, her gaze darted in panic around the room. How do you turn off this devilish machine.
2095
2096
2097
2098
2099