The Five Best UTVs on a Budget
As I write this, there are new 2021 model UTVs being unveiled by the manufacturers, and if you look at the price tags on some of them, it is stunning how much one can spend on a UTV. I saw one that costs about the same as some new trucks! What is the average person to do? While there are some very expensive UTVs on the market, there are also some pretty sweet deals out there for UTV buyers looking for a capable machine that won't break the bank. We picked five of what we feel are the best UTVs on a budget that will work to fulfill your needs.
Polaris RZR S 900
Who doesn't want a RZR? There's a reason the name is synonymous with sport UTVs. The cost of a RZR can be pretty intimidating to the buyer, however, there are some alternatives you should consider. One of our favorite machines around here is the RZR S 900. Yes, it's a little more money than the standard RZR 900, or it's baby brother, the RZR 570, but for just a little more cha-ching, you get a lot more pizzazz! The machine has more than enough power for a spirited trail ride thanks to the DOHC 875cc ProStar twin-cylinder engine that produces a pleasing 75 horsepower. The RZR 900 motor has been around for some time and has proven to be a reliable and fun power plant. It has electronic fuel injection and decent engine braking, a nice feature for a trail machine. It gets that power to the wheels through Polaris' PVT automatic transmission. Like just about every Polaris machine, the RZR S 900 has their True On-Demand AWD system to keep you rolling along. When in AWD, the machine senses wheel spin and transfers power to other wheels to keep you from getting stuck. This system doesn't use differential locks, leaving that to the machine to decide when drive axles need to be spinning. It works well and is something Polaris has been using for years.
The main reason we like the RZR S over the 50-inch model is the added width and stability. There's nothing wrong with the 50-inch machine. It's great for hitting the trails that have that width limitation, and it pretty much identical to the S. However, the added width of the 60-inch RZR S 900 gives you a lot more comfort, stability and confidence to carry speed through the corners. That's important because, let's face it, you buy a RZR to go fast. Other than that, you have decent suspension with dual A-arms all around and Fox 2.0 Podium shocks. It's really a great buy for the trail rider.
Honda Pioneer 700
The Pioneer 700 was Honda's second foray into UTVs. The first, the Big Red, didn't quite hit the mark, but we really like the Pioneer. At first glance, you may thing the Pioneer to be a strictly work UTV, and it does a great job at that, but it is also a truly fun trail machine, too. The standard model seats two and has a dumping cargo box. There are some things about this machine that are definitely Honda. The company doesn't do things the same way other companies do, but that's fine. Honda has a great reputation for dependability and durability, so they can keep doing what they do. We like it.
The Pioneer runs on a 675cc single-cylinder engine fed through electronic fuel injection. The transmission is definitely different, being a three-speed automotive-style automatic with a hydraulic torque converter. The deluxe models, which run a little more, give you paddle shifters and the option to run in manual shift mode, or automatic. The Pioneer operates in 2WD, 4WD and 4WD with Dif Lock. We can tell you that the combination of the transmission and the drivetrain makes this 700-class UTV pull like a MUCH bigger machine. If you're in the market for a trail and utility UTV, and want something a little different than the rest, the Pioneer 700 is a stellar option.
Yamaha Viking
The Viking? I can just about see the groan on your face. The Viking isn't very exciting, or so it would seem, but it actually is for several reasons. Sure, the Viking is a little long in the tooth, but it remains a great selling unit for Yamaha and we are reminded that we like it every time we drive one. For starters, you'd be hard pressed to find a more reliable machine out there. One of the many great characteristics of Yamaha is the solid construction. They rarely, if ever, break down. And then, it's often due to neglect on the owner's part. It is powered by a 686cc, SOHC single-cylinder engine mated to the best CVT transmission on the market. The Ultramatic V-belt tranny is oil-immersed and under constant tension, so there is very little belt wear.
The cab features three bucket seats with a 5-degree recline to the middle seat so everyone isn't rubbing shoulders together. The cargo bed is nicely sized, with a steel floor section for durability. The Viking is Yamaha's utility UTV, but it has really nice trail manners. Engine braking is really good on the machine and Yamaha has worked very hard to reduce noise in the cab to make the ride more enjoyable. You can pick one up for around the same as other brand's mid-size machine, giving you a full-size, capable trail and work machine at a great price.
CF Moto ZForce 500 LX
Probably the best deal going in a 50-inch trail machine is the ZForce 500 LX. You could save a few bucks going with the less-equipped non-LX model, but the added things in the LX or really necessary for the trails, and you will most likely end up adding all of them anyway. These are nice-looking machines with a 495cc engine producing 37.5 HP. It uses a CVTech belt transmission and our experiences with these machines have proven them to be reliable and dependable. They come with a five-year limited warranty, too. Nice touch! The driveline operates in 2WD, 4WD and has an electronic locking differential.
Other standard features we like include the 14-inch aluminum wheels and digital dashboard display. The ZForce also has LED headlights with turn signals, which are required on some trail systems. Side mirrors come standard too. The LX package adds power steering, which you'll find you want on rugged trails, especially one with rocks or tree roots. It also adds the all-important 3,000lb. winch to help get you out of trouble.
Can-Am Maverick Trail
One of our favorite trail machines since it's introduction, the Can-Am Maverick Trail is a stellar machine for having fun, and it can be picked up for a great price. We did some extensive driving in the mountains with this machine and appreciate the nimble handling and balance the machine has. It is powered by an 800-class, 799.9cc Rotax V-twin that pumps out a pleasing 51 horsepower.
This is a lower-priced machine aimed at the trail crowd, but the design benefited from developing the bigger, more powerful X3 machines in the Can-Am stable. The drive-by-wire iTC Intelligent Throttle Control and fuel injection system helps feed the motor in a predictable and performance-spirted way. The Quick-Response System CVT-belt transmission has an electronic belt protector and a high-flow air vent that came right off the X3. The iTC system gives you SPORT and ECO modes to give you more power when you want it, or better fuel economy for longer trail rides. There is an electronic engine braking system to help you descend bigger inclines, a feature we've put to the test repeatedly.
The big take away
There are many UTVs you can buy that will do pretty much everything you'd want, while not causing you to go into severe debt. What good is a shiny, new UTV if you don't have the money to put gas in it to go riding, right? Are there less expensive machine on the market? Sure, however, we went looking for ones we consider to be the best for your money. One major thing to keep in mind. One of the issues we often see with people looking for a UTV on a budget, is they will find machines with price tags too good to be true. You know what I'm talking about – brands you've never heard of before at prices too low to believe. Trust me, my friend – you don't want to go that route. You often can't find parts for these machines and breakdowns happen quite often. Spend a little more up front to save the headaches down the road. After all, you want to be out on the trails, not sitting at home waiting for the repair shop to call.
Sours: https://utvplanet.raven-media.ca/the-five-best-utvs-on-a-budget
2019 UTV Models Under $10K
We know budgets are slim, but that doesn't mean you have to miss out on owning a quality new UTV. Here you can see all the 2019 UTV's costing under $10,000. If your wallet is a little thicker than that, you can see every 2019 UTV priced between $10,000 and $15,000 right HERE! 
Cub Cadet Challenger 400 LX: $6,599
LX package includes standard full windshield, hard roof, aluminum alloy wheels with off-road tires and adjustable headrests.
Powerful 404cc OHV Subaru engine and a 500 lb. towing capacity helps complete any job.
Kawasaki Mule SX: $7,299
Up to 1,200-lbs. towing capacity and 800-lbs. cargo bed capacity
Steel front bumper and steel cargo bed offer uncompromising durability
Cub Cadet Challenger 400 4×4: $7,499
Powerful 404cc Subaru® engine and 1,200-pound towing capacity for any job.
Four-wheel-drive system and speeds up to 25 mph for easy access to ATV trails.
Kawasaki Mule SX 4×4: $8,099
Steel cargo bed with textured floor is durable and scratch resistant
Compact size and tight turning radius for easy maneuvering
Kawasaki Mule SX 4×4 SE: $8,299
Adjustable tilt steering, premium thick grip steering wheel and padded bench seat for all day driving comfort
Kawasaki Mule SX 4×4 XC: $8,399
4-stroke, single-cylinder, OHV, air-cooled, 401cc, 21.7 lb-ft @ 2400 rpm. We tested it HERE.
Textron Prowler 500: $8,499
Prowler™ 500's 443cc single-cylinder EFI engine saves fuel and emissions without skimping on power
Massimo T-Boss 550: $8,499
Massimo MSU700: $8,999
Cub Cadet Challenger 500: $8,699
Digital dash display, bumper guard and large profile 26″ off-road tires
Massimo MSU 700: $8,999
Polaris Ranger 500: $8,999
44 horsepower and a 1,500lb towing capacity.
Kawasaki Mule 4000: $8,999
Up to 1,200-lbs. towing capacity and 800-lbs. cargo bed capacity
Steel front bumper and steel cargo bed offer uncompromising durability
Honda Pioneer 500:  $8,999
The Pioneer 500 can handle a 1000-pound towing load, and the rear rack can hold 450 pounds. Plus, the automatic five-speed electric-shift transmission has a manual mode with paddle shifters so you can choose to let it shift automatically, or switch over into MT mode—even on the fly.
Kawasaki Mule SX 4×4 XC Camo: $9,049
It comes equipped to work and play with enhanced comfort and versatility for all of your day-to-day activities.
Kawasaki Mule SX 4×4 XC SE: $9,399
With large cast aluminum wheels and generous ground clearance, the MULE SX 4×4 XC SE is a durable and compact machine that's capable of maneuvering in tight spaces and easily fits in the bed of a full-size pickup truck.
Massimo Alligator 700: $9,499
Cub Cadet Challenger 700: $9,699
Massimo Knight 700: $9,799
Kawasaki Mule 4000 Trans: $9,999
A NO-NONSENSE MID-SIZE WORKHORSE BUILT TO OFFER RELIABLE PERFORMANCE, CONVENIENT VERSATILITY AND INDUSTRIAL-GRADE DESIGN AT AN ATTRACTIVE PRICE POINT.
Cub Cadet Challenger 550: $9,999
Polaris Ranger 570: $9,999
Pack-up your RANGER®570 and take it down to the river for a relaxing day of fishing with friends and family. With the 1,000 lb Payload Capacity and 500 lb Box Capacity.
CanAm Defender: $9,999
The work-focused Rotax HD8 V-Twin delivers 50 hp and 50 lb-ft torque for tough tasks.
Sours: https://utvactionmag.com/2019-utv-models-under-10k/
UTVs, better known as side-by-sides, make up one of the hottest segments in powersports these days. If you want to explore and learn more about UTVs, you have come to the right place. UTVGuide.net is the best source forUtility Vehicle information on the internet. Our guide lists side-by-side vehicle manufacturers and models in alphabetic order. Models include sport, sport-utility, utility, trail legal (50-inch), commercial, full-size, mid-size, multi-passenger and even Lightweight Tactical All Terrain Vehicles used by the military.
UTVGuide.net was created to help guide you through the differences between side x side vehicles. We review basic information on each vehicle – general features and specifications. Then we dive in for a more detailed review of each UTV. And we have done lots of homework for you on aftermarket products for your UTV – long travel kits, roll cages, performance products and accessories.
At UTVGuide.net, we do more that just test stock vehicles. We turn many of the vehicles into full build projects like a normal enthusiast would. This includes installing aftermarket accessories and working with many builders that also install their products on our vehicles.
---
Alphabetic listing of UTVs by manufacturer.
Arctic Cat
Arctic Cat Inc., based in Thief River Falls, Minn., designs, engineers, manufactures and markets all-terrain vehicles (ATVs) and snowmobiles under the Arctic Cat® brand name.
The Prowler 650 will be phased out for the 2009 model year.
Arctic Cat Prowler HDX 500
Arctic Cat Prowler HDX 700
Arctic Cat Prowler 650
Arctic Cat Prowler XTX 700 H1
Arctic Cat Prowler XTZ 1000
Arctic Cat Prowler HDX 700 (EPS)
Arctic Cat Prowler 550 XT
Arctic Cat Wildcat Trail (50-inch)
Arctic Cat Wildcat Sport (60-inch)
Arctic Cat Wildcat
Arctic Cat Wildcat X
Arctic Cat Wildcat X Limited
Arctic Cat Wildcat 4
Bam X
Overseas manufacturer of ATV's, Motorcycles, Go Carts, and UTV's.
BX500-UV Trailblazer
BX600-UV Rubicon
BX700-UV Trailblazer
Bennche
Bennche, a factory direct brand for Chongqing Huansong Industries Group line-up, has brought the best UTV package to the market. All Bennche side-by-side are assembled and inspected in Texas, USA to ensure the quality. The goal for Bennche is to provide consumers with more upgrades but less cost on UTVs. Most consumers will have to spend another couple thousand dollars to purchase accessories, such as winch, roof, windshield, and aluminum wheels. Bennche makes those upgrades standard on its side-by-side line-up. Moreover, all Bennche UTVs come with 1-year fail-safe warranty. With fail-safe warranty, consumers actually can go any repair shops nationwide to get warranty repair done if they are unable to go back to Bennche dealers.
Bennche has committed itself to becoming a trustworthy and affordable brand for recreational vehicles. Getting a side-by-side is no longer just a dream. Ride Bennche UTVs and explore your territory!
Spire 800
Bighorn 400
Bighorn 500
Bighorn 700
Bighorn 700X
Bobcat
Headquartered in West Fargo, North Dakota, Bobcat Company unleashed a way to work better, smarter, faster – fifty years ago. While they are known mostly for compact work vehicles, Bobcat also makes UTVs. The Toolcat and 2300 are all about work, while the 2200 is a more versatile UTV that can be used for hunting as well as on the farm.
Bobcat 3200 4×2
Bobcat 3400 4×4
Bobcat 3400 4×4 XL
Bobcat 3450 4×4
Bobcat 3600
Bobcat 3650
Bobcat 2200 4×4 – 2010 and earlier
Bobcat 2300 4×4 – 2010 and earlier
Bobcat Toolcat
Bush Hog
Bush Hog has been around for over fifty years. They are known for their mowers and tractors, but they also manufacture the Trail Hunter and Trail Hand utility vehicles.
Bush Hog Trail Hunter
Bush Hog Trail Hand
Can Am – BRP
Bombardier Recreational Products Inc. (BRP), a privately-held company, is a world leader in the design, development, manufacturing, distribution and marketing of motorised recreational vehicles. Its portfolio of brands and products includes: Ski-Doo and Lynx snowmobiles, Sea Doo watercraft and sport boats, Evinrude and Johnson outboard engines, direct injection technologies such as E-TEC, Can-Am all-terrain vehicles and roadsters, as well as Rotax engines and karts. With manufacturing facilities on three continents, BRP products are distributed in more than 80 countries.
Can-Am Maverick X3
Can-Am Maverick X3 X rs Turbo
Commander 800R
Commander 1000
Commander 1000 XT
Commander 1000 X
Commander 1000 Limited
Can-Am Commander XT-P
Can-Am Commander MAX 1000
Can-Am Maverick 1000R
Can-Am Maverick 1000R X-RS
Can-Am Maverick X-xc
Can-Am Maverick 1000R X mr
Can-Am Maverick MAX X mr 1000R
Can-Am Maverick 1000R X ds Turbo
Can-Am Maverick MAX X ds Turbo
Can-Am Maverick 1000R X ds
Can-Am Maverick Max 1000R
Can-Am eCommander
Military Strike C – Commander (RP Advanced)
Can-Am Defender
Can-Am Defender MAX
Carter Brothers Mfg
Carter Brothers Mfg. Co., Inc. is the oldest and largest manufacturer of go-karts and off-road buggies in the world. In 1967 Carter manufactured the first go-kart. Since then, Carter has produced over 1.5 million go-karts to date. There are over 1,200 retail locations in the U.S. where you can purchase Carter products or obtain service for your products. Carter products are also sold internationally through distributors in 20 different countries.
Matrix 150
Matrix 300
Case IH
Case IH is a global leader in agricultural equipment, committed to collaborating with its customers to develop the most powerful, productive, reliable equipment – for those who demand more. With headquarters in the United States, Case IH has a network of dealers and distributors that operates in over 160 countries. Case IH provides agricultural equipment systems, flexible financial service offerings and parts and service support for professional farmers and commercial operators through a dedicated network of professional dealers and distributors. Productivity enhancing products include tractors; combines and harvesters; hay and forage equipment; tillage tools; planting and seeding systems; sprayers and applicators; site-specific farming tools and utility vehicles.
Case IH Scout
Case IH Scout XL
CFMOTO
Established in Hangzhou, China in 1989, CFMOTO has built strong market share in over 60 countries. Now the focus is on the U.S. CFMOTO has pulled together a seasoned team of U.S. Powersports professionals to provide all of the sales, service and support you should expect from a major manufacturer in this category. The CFMOTO U.S. Headquarters is located in Plymouth, MN, near the other U.S. ATV manufacturers.
CFMOTO Launches 2016 Off-Road Models; New 500 HO Engine
CFMoto ZFORCE 800EX
CFMoto ZFORCE 800
CFMoto ZFORCE 500
CFMoto UFORCE 800
CFMoto UFORCE 500 EPS
Club Car
Club Car manufactures a wide range of electric- and gasoline-powered vehicles for the golf, utility, transportation, private owner and rough terrain markets. Based in Augusta, Ga., Club Car is part of Ingersoll Rand.
Club Car XRT 1550 LE
Club Car XRT 1550 with IntelliTach
Cub Cadet
Since 1961, Cub Cadet has been meeting the needs of rural and suburban homeowners. Mostly know for their landscape and turf equipment, Cub Cadet does manufacture UTVs.
Cub Cadet Volunteer 748cc EFI V-Twin 4×4
Cub Cadet Volunteer VTX Concept Vehicle
Cub Cadet Challenger
EMI – Eminent Motorsports International
Silverback
EPIC EV
Epic EV designs and manufactures electric vehicles. Epic Electric Vehicles was created merely to get reliable, high-performance vehicles to the market.
AMP ATV
Honda
American Honda Motor Co., Inc. is the sole distributor of Honda motorcycles, scooters, ATVs and personal watercraft in the U.S. Honda has been a cornerstone of the motorcycle and ATV industry for many years. While they are coming to the UTV market a bit late, the Big Red should be a solid UTV.
Honda Pioneer 1000
Honda Big Red
Honda Pioneer 700-4
Honda Pioneer 700
Honda Pioneer 500
Heathen
The Heathen's drivetrain is straight off the Drag Strip and delivers the ultimate in American Made V-Twin Performance. Not much is known about the Heathen V-Twin yet, so time will tell.
Heathen V-Twin
HiSun
Hisun Motor Corporation might not be the most familiar name in Powersports, but there's a good chance you've already enjoyed one of our many UTV's or ATV's. For years, Hisun Motors has provided products for some of the biggest names in UTV and ATV markets. In fact, Hisun Motors Corp USA consistently ranks among the largest providers of UTV's in the United States and Canada year after year.Hisun Motors Corp USA is far more than an importer; more than a name behind a faceless manufacturer. We are the wholly owned subsidiary of a manufacturer with the power of a 7,100,000 square foot factory backing every product. Our sophisticated production facility builds products designed by a team of US based experts and built from the ground up with direct feedback from you the customer.
Final assembly of Hisun products is completed right here in the USA by a team of expert craftsmen skilled at making sure your ride is perfect. Our massive Dallas, Texas facility houses, parts, customer service, and multiple assembly areas. In fact, call us today, we'd love to talk to you about our products and how we support some of best machines traveling the trails and back roads of the USA.
Strike 800
Strike 1000
Strike 1000 Crew
Sector 1000
Husqvarna
Husqvarna is the world's largest producer of lawn mowers, chain saws and portable gas-powered garden equipment such as trimmers and blowers, but they also manufacture utility vehicles.
The HUV4421 is available with either gas or diesel engine and with either two or four seats.
Husqvarna 4414
Husqvarna 4214
Husqvarna HUV4421
Husqvarna HUV4421XL Crew
Husqvarna
Intimidator
Headquartered in Batesville, Arkansas, Intimidator Inc. is a family owned operation whose mission is to offer world-class American-made side-by-side 4×4 Utility Vehicles with unparalleled strength, power and performance at an affordable price. To achieve a product that would meet their high standards, they started by building an entirely welded steel chassis and provided three different models to suit a variety of needs. The Intimidator Classic features three-passenger seating and a full size bed. The Intimidator Crew Cab has greater passenger potential and a full size bed; it can hold up to six full-sized adults comfortably. The Intimidator Truck features three-passenger seating and a 6-foot aluminum truck bed with built-in tool boxes ready to store the tools you need to get the job done. From hauling feed to hunting, we are confident that you'll find our Intimidator lineup is able to withstand the most rugged terrain in the harshest of elements without leaving a dent in your wallet. Intimidator products are sold through a growing network of more than 65 dealers in the United States. Intimidator and its partners, Bad Dawg Accessories and Ground Hog Maxx, provide the best aftermarket selection of accessory items the side-by-side market has to offer.
Intimidator Classic
Intimidator Crew
Intimidator Truck
JCB
Groundhog 4×4
John Deere
John Deere is a world leader in providing advanced products and services for agriculture, forestry, construction, lawn and turf care, landscaping and irrigation. John Deere also provides financial services worldwide and manufactures and markets engines used in heavy equipment. Since it was founded in 1837, the company has extended its heritage of integrity, quality, commitment and innovation around the globe.The Gator was one of the first UTVs on the market many years ago, so John Deere is not a new comer to this market.
John Deere Gator RSX 850i – New for 2012
John Deere Gator XUV 825i – New for 2011
John Deere Gator 825i S4 – New for 2013
John Deere Gator XUV 625i – New for 2011
John Deere Gator XUV 855D – New for 2011
John Deere Gator XUV 620i 4×4
John Deere Gator XUV 850D 4×4
John Deere Gator XUV550 4×4
John Deere Gator XUV550 S4 4×4
John Deere Gator HPX
M Gator A1
R-Gator
Gator TS 4×2
Gator TX 4×2
Gator TH 6×4 (Gas or Diesel)
Gator CX Utility Vehicles
Gator TE 4×2 Electric
Joyner
Joyner Trooper T2
Joyner Renegade R2 4×4
Kandi
Kandi ranks as one of the largest manufacturers and exporters of go-karts and all terrain vehicles in China. A more recent Company focus in the ATV category has been on specialized utility vehicles (UTVs), especially for agricultural purposes.
KD-650GKD UTV
KD-800GKD UTV
Kawasaki
Kawasaki Motors Corporation manufacturesATVs, Motorcycles, Utility Vehicles, Watercraft and Power Products. The Mule has been around for several years covering the work/utility market and in 2008 Kawasaki introduced the Teryx which covers the sport/utility market.
Kawasaki Mule 3010 4×4
Kawasaki Mule 4010 4×4 (2009)
Kawasaki Mule 4010 Trans4x4
Kawasaki Mule 4000
Kawasaki Mule 600
Kawasaki Mule 610 4×4 (2009)
Kawasaki Mule 610 4X4 XC (2010)
Kawasaki Teryx 750 – 2009
Kawasaki Teryx – 2010, 2011
Kawasaki Teryx – 2014
Kawasaki Teryx4
Kawasaki Mule Pro-FXT
Kawasaki Mule Pro-FX
Kawasaki Mule Pro-DX
Kazuma
Kazuma is a China-based ATV manufacturer that focuses on affordable ATVs and UTVs.
Kazuma Mammoth 800
Kiota
KIOTI specializes in the sales and service of quality compact tractors, attachments and implements. Since the first KIOTI compact tractor was introduced in the U.S. in 1985, KIOTI has achieved rapid and on-going progress, aligning itself among the nation's compact tractor brand leaders. Kioti just recently entered the UTV market with the Mechron Utility Transport Vehicle.
Mechron
Kubota
Kubota Corporation of Japan was established in 1890 and is known for their agricultural machinery (tractors, mowers, etc.).
Kubota RTV 500
Kubota RTV 900 4×4
Kubota RTV900XT
Kubota RTV 1100
KubotaRTV1140CPX
Kymco
KYMCO's roots in the motorsports industry go back to its founding, in 1963, as the Kwang Yang Motor Company, Ltd., with headquarters in Taiwan. Long a leader in quality, fuel economy, and versatility, today KYMCO manufactures motor scooters, motorcycles, and ATVs at five plants in Asia. The company's partner In the United States is KYMCO USA, with headquarters, marketing and distribution centered in Spartanburg, South Carolina.
Kymco UXV 450i
Kymco UXV 500i G
Kymco UXV 500
Kymco UXV 500 SE
Land Pride
Land Pride is a division of Great Plains Mfg., Inc. is a recognized manufacturing leader in landscaping equipment.
Land Pride 20 Series Treker
Linhai
Jiangsu Linhai Power Machinery Group Corporation.
UTV 300
UTV 500
Massey Ferguson
MF Bull 20 MD 4×4
Massimo Motor
Massimo Motor UTVs are available at Tractor Supply Co.
MSU-150
MSU-400
MSU-500
MSU-700 4 Seat
MSU-800 4 Seat
MSU-800
Motobishi
Motobishi has been in the ATV industry for over 5 years building ATVs and now UTVs overseas.
Motobishi Chase UTV 700
Rustler 115, Rustler 120 and Rustler 125
Odes UTVs
SC-Worldwide and Odes Motors China have come together to form an unprecedented partnership that has never been accomplished in USA History. Together they have formed a company called "Odes UTVS". What makes this such a big deal? This partnership is run by good ol' boys from America that understand how this industry and market works. In addition, we have formed an exclusive partnership that will ensure there is only ONE Importer of product into the USA. Odes Motors of China has hired the newly formed "Odes UTVS" company to perform product testing, development, a redesign of their production line, service manuals, warranty process, parts delivery system, website, all re-designed by the American company, Odes UTVS.
ODES Raider 800
ODES Dominator 800
ODES Dominator 4 800
Polaris Industries
Polaris designs, engineers, manufactures and markets all-terrain vehicles (ATVs), including the Polaris RANGER™, snowmobiles and Victory motorcycles for recreational and utility use.
Polaris manufactures the Ranger and the Ranger RZR. The Ranger RZR is the first pure sport UTV and was introduced in 2008.
Polaris RANGER XP 1000
Polaris Ranger XP
Polaris Ranger HD
Polaris RANGER XP 900
Polaris RANGER XP 900 Deluxe
Polaris Ranger Crew
Polaris Ranger 900 Crew
Polaris Ranger 6×6
Polaris RZR XP Turbo
Polaris RZR XP4 Turbo
Polaris RZR XP 1000
Polaris RZR XP 1000 4
Polaris RZR XP 1000 High Lifter Edition
Polaris RZR XP4 1000 High Lifter Edition
Polaris RZR XP 1000 Desert Edition
Polaris RZR 900
Polaris RZR S 900
Polaris RZR S 1000
Polaris RZR 4 900
Polaris GENERAL
Polaris GENERAL 4 1000 EPS
Polaris RZR 800 (2007 – 2014)
Polaris RZR 570
Polaris RZR S
Polaris RZR XP 900
Polaris RZR XP 4 900
Polaris RZR XP H.O. Jagged X Edition
Polaris RZR 4
Polaris RZR 170
Polaris Sportsman ACE
Polaris Sportsman ACE 570
Polaris ACE 900 XC
Polaris RANGER 400 – midsize
Polaris RANGER 500 – midsize
Polaris RANGER 570 – midsize
Polaris RANGER 800 Midsize
Polaris RANGER 500 Crew
Polaris RANGER EV
Polaris EV LSV
Polaris RANGER Diesel HST
Polaris RANGER Diesel
Polaris RANGER Crew Diesel
Polaris RANGER Crew Diesel with Hippo
Polaris BRUTUS
Polaris MVRS 800
Polaris RZR SW
Polaris MRZR 2
Polaris MRZR 4
Polaris Defense EV LSV
Precision Powersports
Discovery XLT 500
Discovery XLT 700
Discovery XLT 700 Crew Cab
Discovery SX 800cc Sport UTV
Pug
Feterl Manufacturing Corp. manufactures the Pug line of UTVs in South Dakota. Feterl calls these vehicles "Cargo ATVs".
Pug Frontier
QLINK Motor
QLINK Motor manufactures motorcycles, scooters, ATVs, Side by Sides and generators.
QLINK FrontRunner 700
QLINK FrontRunner 500
RBS
Obey Eco 4×4
RCD
Bulldog F640
Bulldog E620
Redline
Redline is a new OEM in the Powersports industry based in Minnesota. In addition to the Redline Riot side x side, they also build a single seat Revolt.
Redline Riot (formerly known as Redline TS 750)
Sand Reeper
Reeper buggy is powered by a 12 valve multi port fuel injected DOHC 800cc triple that produces 53 HP.
Sand Reeper
TomCar
Tomcar's rigid one-piece steel frame was originally developed primarily for military use before being adapted into the mainstream civilian market. The TomCar is made in one, two and four seat models, and is powered by both gas and diesel.
TomCar TM-2
Toro
The Toro Company is a leading worldwide provider of turf and landscape maintenance equipment, and precision irrigation systems. With sales of nearly $1.7 billion in fiscal 2010, Toro's global presence extends to more than 80 countries through its reputation of world-class service, innovation and turf expertise. Since 1914, the company has built a tradition of excellence around a number of strong brands to help customers care for golf courses, sports fields, public green spaces, commercial and residential properties, and agricultural fields. More information is available atwww.toro.com.
Workman MDX-D (Diesel) – The Workman MD is designed to provide superior ride quality, optimum operator comfort, increased payload and towing capacity.
Workman MDE -The hard work shouldn't start until you get to the job site. Experience the Workman® MDE with SRQ™ for optimum operator comfort and enhanced productivity. All of the benefits of electric power plus you don't have to sacrifice payload capacity when you choose the MDE.
Workman HD (HD, HDX, HDX-4WD, HDX-D) – The Toro Workman HD utility vehicles are built tougher than ever, and are ready to handle your work challenges.
Yamaha
Yamaha Motor Corporation manufactures motorcycles, outboard motors, ATVs, UTVs, personal watercraft, snowmobiles, boats and outdoor power equipment.
The Yamaha Rhino is really the UTV that is responsible for breaking open the sport UTV market.
Yamaha assembles the Rhino in Newnan, Georgia.
Yamaha Rhino 450
Yamaha Rhino 660
Yamaha Rhino 700
Yamaha Viking
Yamaha Viking VI
Yamaha Wolverine
Yamaha YXZ1000R
Yamaha YXZ1000R SS
---
Sours: https://www.utvguide.net/utv-models/
The Best UTV for the Range or Play! Why I picked the Honda Pioneer
Are you an avid outdoorsman with a budget? If so, you are probably in search of the best side-by-side (also known as a utility task vehicle) that is both affordable and useful. My name is Michael Aguirre, and I'm here to give you all the information on the best side-by-sides under $10,000.
What are the best side-by-side vehicles under 10 grand? The most versatile and economically friendly side-by-sides on the market today are:
Kawasaki Mule SX XC – $8,399.
Honda Pioneer 500 – $9,599
Polaris Ranger 500 – $8,999.
Can-Am Defender HD5-$9,999
Polaris ACE 570SP: $9,999
CF Moto ZFORCE 800: $9,999
Polaris Ranger 570: $9,999
Kymco UXV450: $7,999
2016 Hisun Sector 750: $8999
Textron Prowler 500: $8,499
These UTVs are the top picks because of how fuel efficient and user-friendly they are. These models also avoid many of the pitfalls and complications that UTVs are sometimes known to have. And of course, all of these are less than $10,000.
Finding an affordable yet versatile side-by-side vehicle specific to your needs is no small task. Most UTV buyers tend to look for the most attractive or fastest UTVs on the market, but looks aren't everything. Continue reading to learn how to recognize the amazing qualities of a reliable side-by-side within your budget range.
All of the hard-working gems listed above are great options, but you'll also want to be able to recognize these qualities for yourself.
Kawasaki Mule SX XC
Price (MSRP)-$8,399
The Kawasaki Mule SX XC is a marvelous machine that perfectly marries the benefits of a low-maintenance and cheap UTV with the high-performance qualities that only the best UTVs have. The reason that this multipurpose utility vehicle is worth the money boils down to two very important features.
First, the handling on this vehicle is an absolute dream, providing quick steering and rapid response on the transmission part without being too jerky. The Kawasaki Mule SX XC comes with a 2-speed, automatic transmission; which is, in my opinion, the simplest yet most effective transmission out there.
It is so simple and straightforward that a child could learn to drive it if they were eligible to do so by law. If you are looking for a one of the highest-quality UTVs on the market, you always to pay extra attention to how it handles on the roads and trails.
Secondly, the 4-stroke, 1-cylinder, OHV engine built into this baby puts out a max torque of 21.7 lbs.per foot. If you aren't aware of just how amazing that is, that much torque can tow nearly 1,100 lbs. of equipment. Plus, due to the phenomenal air-cooling feature in the engine, this machine is like a workhorse that never seems to overheat or get tired.
If you are looking for your number one, all-purpose UTV under 10 grand, this is the best one on the market, guaranteed.
Honda Pioneer 500
The Honda Pioneer 500 is a phenomenal compact vehicle. This particular UTV can replace pickup trucks any day and comes super close to achieving the first place spot on our list. The only reason it didn't make number one on our list as the best UTV under 10 grand is that automatic transmission requires that one uses paddle shifters rather than the familiar gear shifts found in an automatic car.
While the option to have the vehicle perform gear shifts automatically is provided, the manual shifting can be very tricky to one who is unfamiliar with paddle shifters.
Honda Motors has always had a reputation of gold. This Japanese motor company has been making their motorized vehicles to perfection for over seventy years now, so you know they know their stuff when it comes to motors. The Honda pioneer is just another testament of the precision and fine-tuning the goes into all Honda vehicles.
This UTV is built for most purposes such as construction projects, hunting outings, family fun on the trails, and mining operations. This compact little vehicle is easy to maneuver in tight conditions and can fit into a full-sized truck bed or small shed, making it the perfect vehicle for hunters.
Some of the notable features on this particular UTV are the steering-wheel-mounted paddle shifters and large rear carrier design (450 lb. capacity). Though I wouldn't recommend using the Honda pioneer for super heavy loads, such as the ones carried in logging or mining situations, it is built to be swift and light for easy portation.
Clocking in at a top speed of 40 mph, the Honda Pioneer 500 sports a 28.6 horsepower engine. It also comes with independent rear suspension, coupled with a phenomenal transmission to provide the best handling money can buy. If you are in the market for a perfect vehicle built for outings with the family or with your hunting crew, this UTV fits the bill.
Polaris Ranger 500
Coming in third on our list, the Polaris Ranger 500 is a noteworthy competitor on our list. Quick and strong, this UTV has very few setbacks and deserves the third place position on our list.
The Polaris Ranger 500 is best known for being a favorite among hunters and farmers. This machine is very quiet on the trail in comparison to other UTV of its class, purring along the trail. The 32 horsepower, 498cc, 4-stroke engine is truly a wonder to behold.
This UTV can put out a maximum speed of 44 mph on flat elevation and is faster than most other UTVs made by nearly all manufacturers. Along with that, this machine has a maximum towing capacity of 1,250 lb (567 kg) and a payload weight capacity of 1,000 lb (453.6 kg). Some notable features that really stand out are the speed key which limits your speed to 23 mph to avoid speeding and the level of comfort found with this vehicle.
This UTV has to be one of the most comfortable on the market, with a soft two-person bench, plenty of legroom and comfortable seat belts that will not dig into your shoulders. Upon the first drive, it becomes quite apparent that This UTV was built with taller operators in mind, sporting high arching roll-cage, a comfortably placed adjusting steering wheel and plenty of distance between the seat and pedals to avoid having to cram in.
The reason this UTV doesn't deserve a higher placement on this list is a slight manufacturing error with the floorboard that causes it to easily crack when on mountain trails. Though this does not pose any real danger for the driver or passenger, it is a noticeable flaw that really stands out and causes a rattling sound when driving. Though not perfect, this relatively cheap yet quality utility task vehicle is one worth looking into.
Can-Am Defender HD8
Price (MSRP)-$9,999
If you are looking for a heavy duty side-by-side and are willing to sacrifice some speed, the Can-Am Defender HD5 is the right tool for the job This side-by-side is a meaty machine, built for hauling heavy material and for facilitating any large scale project you may have.
The heavy duty 38 horsepower, single cylinder engine makes this vehicle a powerhouse on the work field, with a towing capacity of 2,500-lbs (1,134 kg). The engine on this baby is phenomenal, giving you the right ratio of speed to power.
Some other notable features worth looking at are the central skid plate to avoid undercarriage damage when running into debris, the intelligent throttle control, and a flippable VERSA-PRO bench seat to allow more space for storage. This UTV is a farmer's dream. If you are in the market for a workhorse rather than a vehicle for fun, the CAN-AM Defender HD8 is the optimal choice for you.
Polaris ACE 570 SP
Price (MSRP): $9,299
The Polaris ACE 570 SP is the odd one out in the side by side market, for the reason that it is a single driver UTV advertised as a side-by-side. However, it does not slough out on quality and lives up to the Polaris reputation as one of the best sport side-by-sides out there.
If you are looking for a side by side that is built for pure, high-speed offroad pleasure, the ACE 570 SP is the right UTV for you. This sportsman UTV is built with a single cylinder four stroke engine, that when coupled with the lightweight sporty build can top out at 60 mph, making this fastest UTV for its price.
This vehicle is larger than your average ATV but significantly smaller than your average UTV, providing that perfect middle ground for trailblazers and off-road enthusiasts.
Like the Polaris RZR, the ACE 570 knows how to run rough scenarios but at a fraction of the cost and is only built with one seat for single riding. This model comes with electric power steering, making tacking through tight trails a dream.
Built a sportsman standard roll cage and double A-arm front suspension, the ACE 570 SP is one of the most sophisticated and trail worthy UTVs on the market; guaranteed to surprise any outdoor sportsman with just how phenomenal this machine handles.
Though built for the roughest of conditions, the ACE sure can provide a comfortable ride for riders of all ages eligible for a driver's license. Even for elder riders, the ACE is a common favorite for accessibility and comfort. With plenty of legroom and just enough space between you and the wheel, you'll feel tightly locked in for a wild ride.
CF Moto ZFORCE 800
Price: $9,999
Any outdoor adventurer and UTV veteran driver would know that for a long ride one a reliable vehicle, but what about comfort? The CF Moto ZFORCE 800 is the perfect example of the right amount of utility and comfort.
THe ZFORCE has been repeatedly tested by professionals and enthusiasts alike in the attempt to understand what makes this vehicle so enjoyable to ride for its price. The answer to this question is quite simple; you get more bang for your buck with this machine. Coming with all the standard equipment and then some, this is quite the package for a small price.
The ZFORCE 800 comes with a winch, mirrors, signals and a horn to just name a few. Coming stock with 800cc V-twin four-stroke motor, this UTV can put out around 54 lbs/ft of torque, which roughly translates into nearly 62 horsepower. With such a powerful engine fitted into such a light frame, this side-by-side can reach a top speed of 70mph.
The power steering on this baby is phenomenal. While often times, power steering can seem sub-par or even nonexistent with vehicles of the same price range, the power steering on the CFMoto ZFORCE 800 is the Goldilocks standard in the world of off-road sports.
One really can't go wrong with how easy it is to steer this thing. It is highly unlikely for one to feel out of control or overcorrectm their steering when going down mountain trails. Built with two CFMoto factory standard seats and high-quality double wishbone suspension, this UTV will surprise any driver or passenger for how comfortable the ride is going down the trail, despite the hazards on the trail.
Now, let's talk about dimensions. The CF Moto ZFORCE 800 provides a generous amount of ground clearance. With 11.8 in. (300mm) of ground clearance, that pesky trail debris and rocks would be a bother. With all this in mind, one can come to see that the CFMoto ZFORCE 800 is an optimal choice for any outdoorsman with a budget and a need for speed.
Polaris Ranger 570
Price: $9,999
The Polaris Ranger 570 is a simple workhouse machine. In short, this UTV is similar to most higher quality working UTVs on the market but with a smaller, yet efficient, engine and lacks electrical power-steering.
Focusing on what the Polaris Ranger 570 is exceptional at, the engine has an output of 44 horsepower, which is more than enough to get the heavy chores done around the ranch or camp site. This vehicle has a payload carrying capacity of 600 pounds, which is plenty for anyone looking for a pack mule to tote around your tools. On top of that, it also has a towing capacity of 1,500 pounds.
Certainly, it must be obvious by now that the Polaris Ranger 570 is not meant for recreation. While it is advertised as a work or recreation UTV, it mostly lies on the work side of the spectrum due to the lack of power steering. Some have said that for trail taming, the Polaris Ranger 570 is not the vehicle for the job, and can be quite a handful.
However, even with these negative insights, none can diminish its reputation for being one of the best work-based UTVs on the market for under $10,000. Don't let the serious nature of the Polaris Ranger 570 scare you off so easily. Where it shines is in the hard work it can preform daily without fail; hauling off logs, pulling one-and-a-half ton trailers with ease, being a phenomenal pack mule machine.
One downside that seems to have become a trend for the Polaris Motor company, is the lack of a windshield. This undoubtedly shaves off some of the cost to produce this model, which certainly determines the price. This shouldn't be too much of a problem seeing how the Polaris Ranger 570 is not built for speed.
Kymco UXV450:
Price:$7999
Though this little red truck is the lowest priced UTV on this list, it certainly doesn't skimp out on the power. Powered by a 443cc SOHC four-stroke, EFI engine, the Kymco 450 puts out 24.6kW (33hp), which is more than enough to get all the heavy lifting done on the farm. This UTV is like having a super obedient and cheap ranch hand that you can drive. This particular model comes with quite a lot of storage space between the storage compartment under the seat, a glove box, and a payload.
The Kymco 450 is extremely quite. If you are a cattle rancher, you know there is nothing worse than scaring off your heard. While it's not the end of the world when it does happen, it sure can make the day seem to drag on and on. A group of cattle ranchers in the western United States wanted to test how quiet the Kymco was, so they decided to take it out into their pasture. To their astonishment, the cattle didn't even bat an eye since its presence wasn't startling in the slightest.
While the Kymco 450 handles well and is rather handy in most situations on the ranch, we are disappointment in the fact that it doesn't come with a windshield. Either way, this UTV is very affordable, but it isn't cheap when it comes to quality.
2016 Hisun Sector 750
Price: $8999
Now, this one is a real treat. The Hisun Sector 750 is incredibly affordable and comes with few tricks up its sleeves. Let's begin with he positives.
Each Hisun Sectro 750 comes with a single cylinder OHV four stroke engine. With a towing capacity of 1200 pounds and a fuel capacity is 7.9 gallons, this little UTV will give you just enough power for most situations.
Farm hands, and ranchers should lean more toward heavier UTVs with a higher towing capacity. However, for homeowners who enjoy a construction project now and again and are looking for a cheap machine to carry around your materials, the Hisun Sector 750 will do that and then some.
Let's be honest, though the Hisun Sector 750 is not the most attractive UTV on the block, it is known as being one of the most reliable UTVs on the market for an affordable price. Hisun is dedicated to producing motors that are built to last and get the job done well, but for lower prices.

Textron Prowler 500:
Price: $8,499
The Texron Prowler 500 is far from a lightweight machine. While similar to the last three vehicles on this list, this model is a mid-weight machine that truly shines.
Featuring a liquid-cooled 500 4-stroke engine, this model will make an essential addition to any rancher equipment. With a towing capacity of a ton and a half, and a payload capacity of 500 pounds, you can bet the Textron Prowler 500 is reliable.
This mid-sized side-by-side comes stock with a 2 passenger bench, a tilting rear cargo box, and decent windshield. Many workers and ranch hands revere this side-by-side for the extra 15 gallons of storage space apart from the payload, which really gives it that edge on the market for versatility.
This vehicle is not meant to be pretty, just reliable for anyone in search of a powerful beast of a vehicle for a lower price. You really cannot beat finding a vehicle of this quality for 8.5 thousand dollars.
Why Purchase A Side-By-Side Below $10,000?
Simply put, side-by-sides can be more if not just as pricey as a regular car. However, for many hard-working men and women, UTVs are essential to day to day work life. While in search of that perfect utility vehicle, many workers and employers believe that the pricier the better and then miss out on a UTV that is equally as efficient and half the price. Don't let this be you. Look into these models. They are just as efficient as any other hefty side-by-side on the market for double the price.
Related Questions
What is the best side-by-side at a low price? The best side-by-side for the money is the Kawasaki Mule SX XC for $8,399. For hardworking individuals who also like to have fun, the Mule SX XC is the perfect fit due to its versatility and well rounded development.
Where to buy the best side-by-sides for cheap? Craigslist and Actionmotor.com are the best places online to buy the best side-by-sides for cheap. Craigslist, in particular, has become quite popular in the northwestern hemisphere and is often used to sell vehicles to a local buyer, giving buyers room to negotiate price. Acttionmotor.com is known for their extensive knowledge of all kinds of offroad motorized vehicles and give great deals for pre-owned standard issue vehicles.
Why are side-by-sides so expensive? The market for side-by-sides is steep, with very little competition among other types of vehicles. Due to how exclusive this product is, it is most profitable for manufacturers to charge more for their vehicles. Buying a side-by-side is like buying a car, following the same regulations and pricing standards.
Sours: https://outdoortroop.com/best-side-by-side-vehicles-under-10000/
Mid size utv best
List Of MID SIZE UTV REVIEWS. The Best Choice for you
FAQs
Does the results of Mid Size Utv Reviews change over time?
Of course! We always keep track of real reviews from customers on the product to filter the best answer for Mid Size Utv Reviews. Customers' needs change day by day, so all the suggestions we make are the latest and most selective one.
How often are Mid Size Utv Reviews's results updated?
We follow the level of customer interest on Mid Size Utv Reviews for updates. Normally, our team will track the evaluation of customers on relevant products to give out the results. Accordingly, the higher the level of customer interest in the product, the more often we will update. All results provided are carefully considered and verified.
Can you give more options for Mid Size Utv Reviews if required?
YES. With the priority of the customer interests, we will no skip any product that get a lot of concern. Our support team will work hard to add any ideal result for Mid Size Utv Reviews if it is of benefit for consumer. Additionally, we will also remove any previous answer that is no longer relevant at that time.
Sours: https://bestproductlists.com/review/mid-size-utv-reviews
These are the Top 5 Cheapest New Side-by-Sides from Big Boy Brands
The Best Side-by-Side UTVs for a Kickass Ride
It's no surprise that multi-passenger utility vehicles, also known as side-by-side UTVs, are taking off.
They're safe, a cinch to handle, and great for cruising with friends—and they make getting into the backcountry, or just around your property, easier than ever.
The Best Side-by-Side UTVs
1. Best for sport: Polaris RZR XP Turbo S
The ultra-sporty RZR measures 72 inches wide and boasts a beefed-up chassis, 32-inch ITP Coyote tires, and Fox 3.0 IBP shocks—ideal for conquering backcountry trails and sand dunes. But the real highlight is the 925cc, 85-mph ProStar Turbo H.O. engine, which made the Turbo S easily the fastest model we tested.
[$22,500; polaris.com]
Get it
2. Best for families: Honda Pioneer 1000-5
This five-seat cruiser can fit the whole brood, and it should have no problem getting them around, either, with a 999cc engine. For additional safety, it includes debris-blocking side nets, and its brake distribution system will adjust based on road conditions for secure downhill climbs. The comfortable cockpit is a big plus, too.
[$17,299; honda.com]
Get it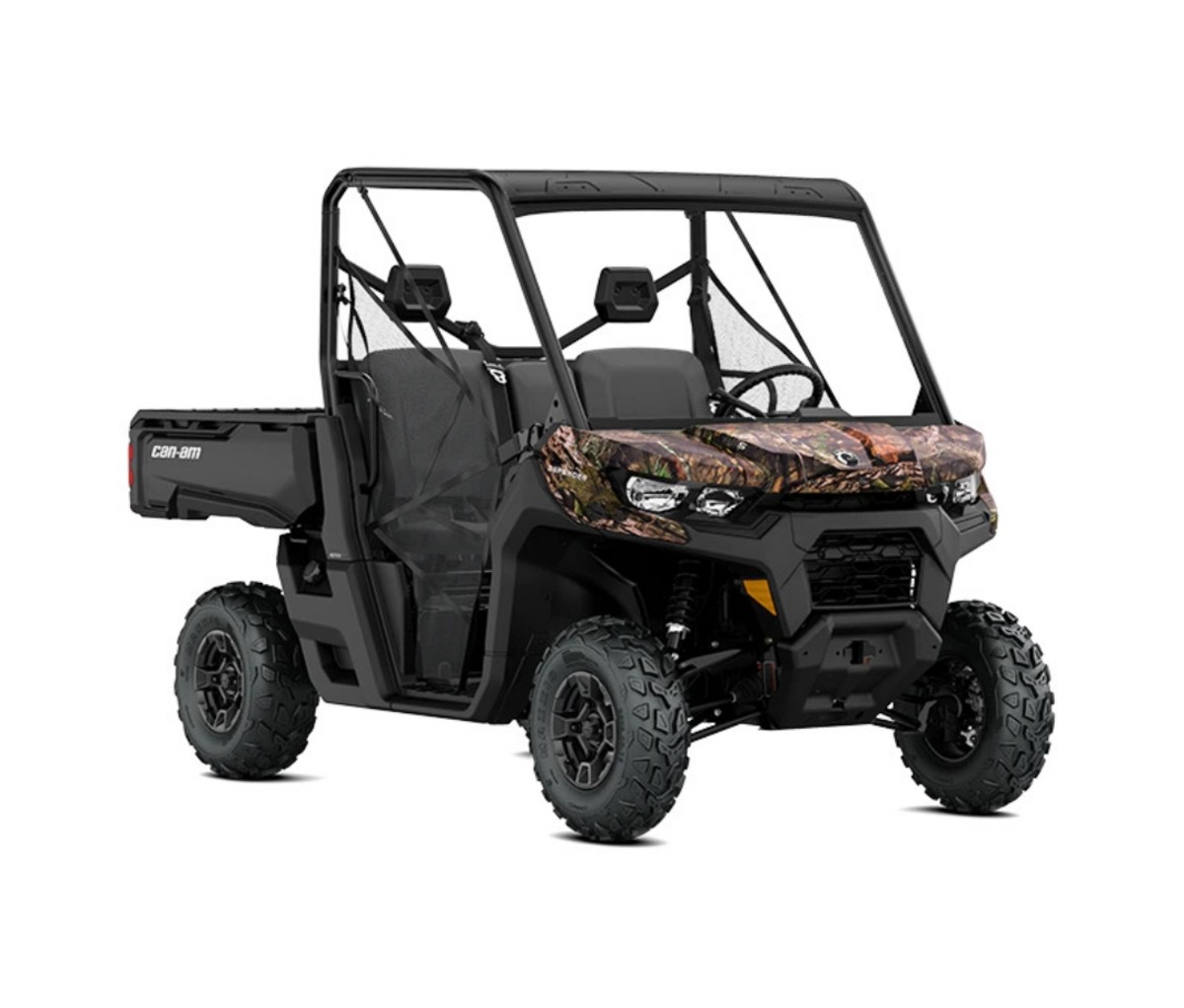 3. Best for hunting: Can-Am Defender DPS HD10
Designed with hunters in mind, this camouflaged, 64-inch-wide beast can haul up to 1,000 pounds—so it'll have no problem with that Booner whitetail you're going to tag this season. You can also option it with Kolpin gun cases, a winch, a full skid plate, and a portable LED spotlight, all of which will prove useful in the field, and its Rotax V-Twin 976cc, 82-horsepower engine will make for easy uphill climbs.
[$11,999; can-am.brp.com]
Get it
4. Best for value: Yamaha Wolverine
This entry-level model has more than enough giddyap—thanks to a four-stroke 847cc engine—to clamber over rocks and debris, and its 8.7-inch front and 9.3-inch rear suspension will make doing so comfortable. The model measures 62.2 inches wide and has an 83.7-inch wheelbase, so it's compact enough to get deep into the woods.
[$14,799; yamahamotorsports.com]
Get it
5. Best for utility: Kawasaki Mule Pro-FXT Ranch Edition
This two-row, do-it-all workhorse has a 999-pound-capacity cargo bed and can tow up to a ton with its 812cc engine. It also has 10 inches of ground clearance, 26-inch tires, and 8.7 inches of suspension travel, and can seat up to six people, making it perfect for either ranch work or hauling folks around.
[$17,499; kawasaki.com]
Get it
For access to exclusive gear videos, celebrity interviews, and more, subscribe on YouTube!
Sours: https://www.mensjournal.com/gear/5-awesome-side-by-side-utility-vehicles-for-your-next-adventure/
Now discussing:
The 12 Best UTVs for Hunters
There are few pieces of outdoor gear that cost as much—or are intended to be kept in service for as long—as ATVs and UTVs.
The world of utility vehicles is far larger than it once was, and this year's ATV and UTV test was a testament to the breadth and depth of the field.
Our mission was simple: Find the units that are the best fit for those who work and play in the outdoors.
We evaluated tech-laden units that boasted features and gadgets not dissimilar to those found in high-end cars and trucks (with price tags to match), and we checked out basic work-focused utility vehicles that made up in value and function what they lacked in bells and whistles.
All told, we put a field of 18 new ATVs and UTVs to work in southern Michigan's farm belt and discovered a crop of machines more capable, more refined, easier to use, and, yes, more fun than what was available just a few years ago.
UTVs 600cc and Above | UTVs 600cc and Below | ATV Test | How We Test
UTVs 600cc and Above
Editor's Choice: Honda Pioneer 1000-5 LE | Score: 93.0
The Results
Handling
Build Quality
Versatility/Utility
Noise Level
Ground Clearanace
Serviceability
Top Speed Score
Ride
Value
Ease of Use
TOTAL
Top Speed (MPH): 69
MSRP As Tested: $21,599
"Wow." That was the first word spoken by every member of our test crew after completing his first lap around the course in the Pioneer 1000-5 LE, this year's Editor's Choice. From the butter-smooth ride to the truck-style, six-speed transmission to the almost unbelievable absence of engine noise and vibration, the Pioneer 1000-5 impressed in every category. And then we took a look at the cargo area….
The 1000-5 LE features a fully functional (and spacious) dumping cargo box. But it's more than that. Pull a lever to open a rear access door, flip up two panels, and that cargo box converts into a second row of seating, allowing the two-seater to handle up to five passengers.
Ground clearance was the best in the test at nearly 13 inches, as was towing capacity at 2,000 pounds, thanks to its 999cc twin-cam, liquid-cooled engine. But you'd be hard-pressed to believe the Pioneer's engine is capable of so much power when you're riding in it—primarily because it sounds as if there is no engine at all. Because engine noise registers only 76 decibels in the cab at 20 mph, you hear the tires on the trail rather than the buzz of an engine.
Polaris General 1000 EPS
The Results
Handling
Build Quality
Versatility/Utility
Noise Level
Ground Clearanace
Serviceability
Top Speed Score
Ride
Value
Ease of Use
TOTAL
Top Speed (MPH): 73
MSRP As Tested: $21,499
If our test focused solely on fun, the General would have been a runaway winner. Cranking out 100 horses, the General ripped on straight runs, threw mud in spectacular fashion, and exceeded 70 mph on the top end. The seats were excellent, and the touch-screen Ride Command system wowed with its GPS capability, recordable camera systems, and Bluetooth connectivity. But, in the end, we wanted a bit more utility and application than just raw power and muddy bliss. And you'll pay for that fun-first design: Our test unit carries a hefty MSRP of $21,499.
Textron Stampede EPS
The Results
Handling
Build Quality
Versatility/Utility
Noise Level
Ground Clearanace
Serviceability
Top Speed Score
Ride
Value
Ease of Use
TOTAL
Top Speed (MPH): 64
MSRP As Tested: $14,799
Textron Off Road is a new name forged from an "old" brand—Bad Boy Buggies. The company's first foray into the gas-powered utility vehicle realm is a good one. It boasts a beefy 80 hp (846cc) engine, with an innovative dry sump oil system to keep oil temps lower than do conventional systems. A unique extended cab configuration provides storage behind the seats separate from the cargo bed, creating an ideal location for transporting guns, bows, and anything else you don't want bouncing around. One fault: It's loud. But at $14,799, it's a heck of a value.
Can-Am Defender HD10
The Results
Handling
Build Quality
Versatility/Utility
Noise Level
Ground Clearanace
Serviceability
Top Speed Score
Ride
Value
Ease of Use
TOTAL
Top Speed (MPH): 66
MSRP As Tested: $19,699
Can-Am's Defender HD10 proved to be one of the tougher machines to evaluate. There were plenty of hits: thoughtful storage placement, adjustable seats, and a massive cargo box. And some misses: It was louder than expected, the handling was a bit sloppy, and the price is steep.
To be fair, our test unit was the special Mossy Oak edition, which adds all manner of upgrades—and a hefty price tag of nearly $20,000. Strip away the extras, however, and you're left with a capable unit at a more palatable price of about $14,000.
Kawasaki Mule Pro-FX EPS LE
The Results
Handling
Build Quality
Versatility/Utility
Noise Level
Ground Clearanace
Serviceability
Top Speed Score
Ride
Value
Ease of Use
TOTAL
Top Speed (MPH): 46
MSRP As Tested: $16,299
The Pro-FX EPS LE is Kawasaki's biggest, baddest Mule yet—with "big" being the key word here. Measuring nearly 12 feet long and standing almost 7 feet tall, this machine is massive. In open terrain, it is a workhorse. But in tight quarters, its size was a hindrance.
Its 3-cylinder, 812cc engine produces 48 ft.-lb. of torque at 3,500 rpm, and does so in whisper-like fashion. With noise levels of just 74.2 decibels in the cab and 89.5 decibels while cruising at 20 mph, the unit was one of the quietest machines we tested.
We liked its smooth ride, but its immense bulk hurt handling.
Yamaha Wolverine R-Spec EPS | Score: 77.5
The Results
Handling
Build Quality
Versatility/Utility
Noise Level
Ground Clearanace
Serviceability
Top Speed Score
Ride
Value
Ease of Use
TOTAL
Top Speed (MPH): 56
MSRP As Tested: $13,799
Yamaha's Wolverine was best described by the test panel as a "tweener." It's not quite a pure sport machine, but it's not really a dedicated utility vehicle either. Powered by a 708cc dual-overhead cam engine, the R-SPEC EPS was snappy and the test team gave it solid marks for handling and overall ride. The machine features an adjustable KYB suspension system with 9.7 inches of adjustment up front, and more than 10 inches on the back, along with several compression damping, preload, and rebound settings. But its lack of utility—including the nearly unforgiveable gaffe of an undersized cargo box that doesn't dump—cost it points.
On the positive side, with an MSRP of $13,199 (our camo test model had an MSRP of $13,799), the Wolverine R-SPEC includes a roof and rigid doors, which are optional accessories on competing units. Under-seat storage was a useful addition.
The power steering system was responsive, and the unit handled the bumps and ruts of our test course with ease. The unit's four-wheel-drive system engaged with a simple-to-use dial, though testers did note some lag in locking the differential into full 4WD.
Cub Cadet Challenger 750 | Score: 63.8
The Results
Handling
Build Quality
Versatility/Utility
Noise Level
Ground Clearanace
Serviceability
Top Speed Score
Ride
Value
Ease of Use
TOTAL
Top Speed (MPH): 47
MSRP As Tested: $10,999
The Challenger 750 boasts the most complete accessory package of any unit we tested. From side view mirrors and blinkers to a roof and full, rigid doors, the Challenger includes just about every option you can think of—and that all comes standard.
Unfortunately, it also includes less desirable features: vibration and noise. With in-cab readings topping 98 decibels at 10 mph, the Challenger was easily the loudest machine we reviewed. It made normal-level conversations impossible. The vibrations rumbling through the seats only served to make the machine more distracting. The Challenger 750's rack and pinion steering system wasn't a tester favorite either, and it proved a bit of a rough rider. Tweaking the adjustable suspension system, however, could help alleviate that issue. (We tested all units as received from the manufacturer.)
The standard winch was a welcome bonus—and came in handy when we got a bit too deep in the mud. The test team did give the unit solid marks for its overall utility, citing its roomy cargo box and a simple control layout that was easy to master.
With an MSRP of $11,299, the Challenger 750 offers a lot of bang for the buck. If Cub Cadet can refine the ride and tame the vibration and noise, a future model at this price point could become a serious Great Buy contender.
UTVs 600cc and Below
Back to Top
John Deere Gator XUV5901
The Results
Handling
Build Quality
Versatility/Utility
Noise Level
Ground Clearanace
Serviceability
Top Speed Score
Ride
Value
Ease of Use
TOTAL
Top Speed (MPH): 49
MSRP As Tested: $12,199
The XUV Series is Deere's attempt at adding a bit more style and in-field functionality to the long-standing Gator line. Based on its performance in our test, the approach was a successful one.
The 590i's engine packed plenty of power in a small(ish) package, and the overall ride and handling, thanks to the power steering, were best in class. The four-wheel-drive system was effective and quick to deploy.
The rig had little trouble weaving through trees and in-field obstacles, and its adjustable suspension was excellent. One knock on Gators of the past was how loud they were. The 590i wasn't the quietest vehicle in its class, but it was far from the loudest—a marked improvement over previous models.
The machine's build quality was superb and includes a number of smart but subtle touches, like 20 tie-down points, sealed under-hood storage, and easy-access service points. There's also one less-subtle benefit: markedly more in-cab legroom than on competing models.
Our test model included an optional winch and upgraded wheels and tires—both useful additions.
Great Buy: Polaris Ranger 500 | Score: 81.7
The Results
Handling
Build Quality
Versatility/Utility
Noise Level
Ground Clearanace
Serviceability
Top Speed Score
Ride
Value
Ease of Use
TOTAL
Top Speed (MPH): 46
MSRP As Tested: $8,999
The Polaris Ranger 500 was the fullback of this year's test. If you've got work to do and don't want to bust your budget, this is your machine. The rig earned high marks for its overall quality of build, with a stout, strong frame and a 500cc ProStar engine that produces 32 hp. The AWD system allowed for switching from 2WD to 4WD with the push of a button; it can operate in 2WD with a differential lock or without, allowing for sharper turns and less turf damage when you're driving it on lawns (or food plots). The dumping cargo box had plenty of room, and the gas assist made dumping heavy loads a bit easier.
Our test model lacked power steering, and that omission cost it a few points in the handling category, and the absence of engine braking was bothersome. Its 9.75 inches of ground clearance was a bit less than that of others tested, while its top speed of 46 mph was on par with the rest of the field.
This no-frills work machine featured adequate storage. With Polaris' reputation for durability and an MSRP of $8,999, it was an obvious choice for the Great Buy award.
Can-Am Defender HD5 | Score: 78.5
The Results
Handling
Build Quality
Versatility/Utility
Noise Level
Ground Clearanace
Serviceability
Top Speed Score
Ride
Value
Ease of Use
TOTAL
Top Speed (MPH): 45
MSRP As Tested: $9,999
Sharing the same body size and frame as the rest of the Defender lineup, the HD5 had the smallest engine of the group. With a 38 hp (427cc) single-cylinder engine, the HD5 can tow up to 1,500 pounds and has a payload capacity of 1,200 pounds. Like the HD10, the HD5 has a truck-style tailgate and plenty of convenient storage locations. And, of course, the same fantastically large cargo box.
The test panel found the machine to be slightly underpowered compared to others in the category but they noted that it's substantially bigger and heavier than its competitors as well.
Honda Pioneer 500 | Score: 64.2
The Results
Handling
Build Quality
Versatility/Utility
Noise Level
Ground Clearanace
Serviceability
Top Speed Score
Ride
Value
Ease of Use
TOTAL
Top Speed (MPH): 39
MSRP As Tested: $9,599
The Pioneer 500 shares a name with the exceptional Pioneer 1000-5 that took an Editor's Choice award in this test. But these two machines are similar in name only. While we found the truck-style transmission in the 1000-5 to be fantastic, that was not the case with the Pioneer 500. Shifting was abrupt, almost alarming, and the shift points didn't seem quite right. We found ourselves reverting to the unit's manual paddle-shift system (which is cool) and avoiding the automatic transmission altogether.
The lack of a cargo box cost the Pioneer 500 versatility/utility points and caused testers to wonder whether the machine was truly a UTV or a side-by-side ATV.
It was the only vehicle to get stuck in the mud on the first day of testing (before the course had seriously degraded), and the need to pull a somewhat hidden lever to shift into reverse cost it points in the ease-of-use category. The machine did earn solid scores for its overall build quality, and its smaller stature compared to other models in the category did make it a breeze to maneuver.
With an MSRP of $9,599 ($8,999 without camo), the Pioneer 500 lacked the utility and versatility to garner top value scores.
We put the latest crop of machines to the test to find the best one for the field
Cub Cadet Challenger 550 | Score: 62.5
The Results
Handling
Build Quality
Versatility/Utility
Noise Level
Ground Clearanace
Serviceability
Top Speed Score
Ride
Value
Ease of Use
TOTAL
Top Speed (MPH): 41
MSRP As Tested: $9,999
The Challenger 550 features the same robust standard accessory package and body size as its big brother, the 750. Unfortunately, it also shares the same issues of noise and vibration. This is a loud, rumbly machine that doesn't handle especially well. That said, it's not without its charms. The Challenger 550 includes a suite of accessories that cost extra on other units—a roof, a windshield, side doors, and a winch.
On the course, it held its own in terms of power and utility, but it couldn't keep pace in ride, comfort, and handling.
ATV or UTV? An Internal Debate
I have this love/hate relationship with Craigslist.
I love that it offers up a plethora of used (and sometimes new) goods with a few strokes of the keyboard.
And I hate that it offers up a plethora of used (and sometimes new) goods with a few strokes of the keyboard.
I wasn't really in the market for another ATV. Then I saw my buddy's new Kawasaki Mule UTV and, suddenly, I wanted one. Well, I think I do anyway. Or maybe I don't.
Here's the situation: I have an early 2000s Honda Rancher 350 ES. I got the machine for a steal through a Craigslist ad (where else?) and it has been much more than I expected.
I have no idea how I got things done before owning an ATV.
It's made checking trail cameras much quicker and less intrusive, hanging treestands is much less of a chore.
I've hauled out many winters' worth of firewood with it, and plowed way more snow from my driveway than I care to remember.
It is a tool in every sense of the word. That said, it has its limitations.
For starters, carrying a passenger is not the easiest of tasks and, technically, frowned upon by the folks who wrote those annoying safety manuals. Having my wife on the seat behind me? Kind of fun.
Having my buddy Freeman sitting behind me with his arms wrapped around my waist? Kind of weird.
A side-by-side UTV offers the very real advantage of an extra seat (or more depending on model).
Hauling wood has also proven to be somewhat problematic. My ATV has a hitch and I have an old sheet-metal trailer that I've fitted with higher sides to increase is payload capacity. The ATV hauls it just fine but years of bouncing along have taken their toll. My little trailer that could probably can't for much longer.
Contrast that to a UTV which includes a dump bed. I can haul a lot more firewood in my ugly mini-trailer, true enough. But the UTV's bed will do the job more effectively and with less hassle.
In fact, there are many instances in which I've cursed the limited storage capacity of my ATV. Hauling treestand and climbing sticks being one of those times. I have a drop-basket rack and it does help. But it's simply not big enough.
The UTV's bed can carry more and is deep enough to prevent things from bouncing out all the time.
But. . . the UTV simply can't fit into the tight spaces my ATV can. When trying to navigate through a woodlot that's a very real consideration. Here's another consideration: Trailer size.
I have a 4-foot by 8-foot utility trailer that does an excellent job of toting my ATV around wherever I need it to go. If I get a UTV, I'll also need a bigger trailer.
Of course, that bigger trailer is required because the UTV is a bigger vehicle – which is part of the attraction of the machine.
So, yeah, I'm torn.
Even more so by this one final factor: Price.
UTVs cost more than ATVs. Yes, I'm sure there are exceptions but, for the most part, you'll pay more for a brand new UTV than you will a new ATV. The same goes on the used market. Folks seem to love their UTVs because the inventory of used machines is pretty limited compared to the number of used ATVs available. And the prices are higher.
So, what to do?
Well, like most decisions worth making, I plan to think on it a bit more. To weigh all the pros and cons.
And, in the meantime, I best stop looking at Craigslist.
Sours: https://www.outdoorlife.com/12-best-utvs-for-hunters-gear-test/
2273
2274
2275
2276
2277