Best Budget Home Office PC Build 2020
In this office pc build guide we dive into a cheaphigh quality component desktop computer for every day home or office use, web browsing, Excel working, research dwelling, Word document creating, HD movie watching, Netflixing, music playing, workstation PC. This is the perfect home personal PC or office desktop computer for those of you on a budget and in need of a cheap budget PC for every day use.
Cheap Office PC Build For Your Home Office
(1)Cheap Prebuilt Office Computer (cheaper easier prebuilt computer)
(2)Build Your Own Budget PC (perfect cheap home/office build your own)
For the full build, you'll need to click continue to calculate the total price
Prebuilt Vs. Build Your Own Office PC?
If you do not want to build your own computer, you can always buy a prebuilt office desktop and have it shipped directly to you. This will spare you the "hassle" of having to build your desktop. I say hassle, but the truth is, putting your PC together is a lot easier than you think(easier than Ikea furniture). In fact, it is fun, and you will feel accomplished afterward. You may even get addicted and start building computers for your friends.
Typically when choosing to buy a prebuilt computer, you are going to spend more money. In this case though, if you're truly looking for a really cheap office computer, then you have the option of purchasing a refurbished computer at a fraction of the cost.
This refurbished Intel i5 is a perfect cheap work station for any light office work. Performance-wise, it's comparable to the build your own, almost equal and cost wise it is the clear winner overall. An excellent option if you need to buy multiple desktops for a small office. While less powerful, it will get the tasks done on a budget.
Performance difference between i5-3470 and AMD Ryzen 3 3200G


Comparison from User Benchmark
As you can see the Ryzen 3 does have an advantage over the cheap Intel i5. But the performance differences in these 2 computers are still minor. It all comes down to if you want a cheaper refurbished computer or a build your own which will be brand new and slightly faster. Both are great low-cost budget computers for light office and internet tasks as well as multimedia streaming and photo editing. For the price and power, you probably can't do better.
The only real difference will be price, operating system, and upgradability. We'll explain below.
The pre-built i5 has the huge advantage of not only being cheaper but also coming with Windows 10 which would normally involve you having to buy a license. So you save money on the back-end there as well as the front end cost.
The build your own AMD Ryzen 3200G has one major advantage. You can easily get 16GB of RAM (2x8GB) and be leaps and bounds ahead of the i5 which comes with only 8GB. You may also upgrade to the SSD option and it will no longer even compare to the i5. You can even go as far as putting in a low end $150 range graphics card and it is fully capable of modern-day gaming.
The bottom line, the i5 and Ryzen 3 3200G are both good computers for your everyday, light office work and entertainment tasks such as streaming Netflix, internet browsing, email management, and more. It makes a great entertainment computer to hook up to your TV. If you are indeed in this to save money and only need the cheapest computer for a receptionist type office environment, then both will work the same.
Conclusion
If you build your PC, you will have the option to upgrade and learn a thing or three about the inner workings of a computer. If you go refurbished prebuilt, you will spend less money. It's up to you and your needs. I built the AMD computer for my moms' husband, and he loves it and is even able to play older games on it.
Home Office PC Build Parts List
Updated: 02/24/20120
This list of components is 100% compatible for this PC build. If you decide to substitue any parts, be sure to check compatibility before buying.
Perfect Office Desktop
The AMD budget build is a great machine for any normal office tasks if you are on a budget and want a cheap internet browsing computer.
This cheap build is perfect for the average user. It will handle all the web browsing, Microsoft Office Word processing, movie streaming, normal Excel crunching, PDF reading, light to medium game running, HD movie playing, Netflixing, Youtubing your heart can handle.
The SSD, aka Solid State Drive, is a guaranteed way to maximize performance on the AMD build. SSD's are leaps and bounds faster than the normal hard disc drives.
This computer can replace a $500 laptop and perform fine without overheating.
What You Need For A Current Budget Build
CPU: The CPU is the computers processor or brain. It will handle all the tasks you run. This CPU is built for light to medium office work and capable of multitasking.
Motherboard: The Mobo is like the veins of the computer allowing all the different components to interact with one another. For the AMD Ryzen 3 2200G, we must use an AMD AM4 socket board and that is exactly what we have for you here. A cheap yet feature-rich motherboard that is compatible with your processor.
DDR4 Computer Memory aka RAM: RAM, Random Access Memory acts as a current deck of processes and handles as many tasks as possible in the cache rather than from the hard drive. With the base build you get 8GB of RAM which is great for what you're going to be doing but if you want to really increase the PC's performance, upgrading to 16GB would be one of two ways to really speed your computer up.
Hard Drive: Western Digital 320GB This hard drive is only 320GB, but that's way more than enough for most home computers. Especially with the fact that most office environments have Network Storage to save files to now. At 320GB you could save all of the Word and Excel-like Docs in the world and never worry. You can even store a vast mp3 collection and many movies. But you're not going to do that at work, are you? The 320GB HDD is great for the least expensive version of this build, however, the best possible speed boost upgrade you can apply to this build would be upgrading to the Solid State Drive option. An SSD can increase your PC's performance tenfold. You are no longer limited to the speeds of a mechanical disk drive.
Computer Case & Power Supply: There is not much to say about this other than it is a cheap case that will fit everything while saving you money. The same goes for the power supply. It is cheap and strong enough to run this system.
Home Office PC Build Summary
This super cheap $250ish computer is the perfect fit in your home office. It would work great for a front desk receptionist, sales rep, word processor, web marketing person or just about anyone. It's a great way to save money if you need to buy several cheap machines at once. Not only will you save money, but you will also have built your first of many computers all by yourself.
As for the actual assembly of the computer from start to finish, it's effortless.
The hardest part would be connecting the proper cables on the motherboard, but they are labeled and come with clear instructions. It's much easier than one would think.
Sources:
Intel i5-3470
User Benchmark
AMD Ryzen 3 3200G
The SSD Advantage
Back to all computer guides
About The Author
Gerry D worked a long career in technical support with a strong networking background. With his advanced computer knowledge, he founded StickyStatic to help others make the right choice when it comes to tough networking decisions.
Gerry D was a Tier II Internet Tech Support Agent for many years working for the 2 largest internet providers in the United States. After that, he went on to high-end Tech Support in a large educational institution. So modems and routers are some of his favorite toys. He wants to make sure you leave here with the right choice for your home wireless, happy enough to recommend StickyStatic to your friends. Please Share
Sours: https://stickystatic.com/tech/cheap-desktop-computer-build
The Best $500 Home Office PC Build – October 2021
Maximum Office Productivity for the Minimum Price!
Looking to build the best possible home office PC for $500? No problem! This guide lists all the parts you'll need to put together a balanced computer that has the power to handle any office task. And luckily, while the gaming PC market has been turned upside down due to the lack of video cards at retail, this office PC's built-in video means you can get your system up and running today, no waiting around!
This Month's Build, Powered by Intel
For October 2021, the $500 Home Office PC Build features Intel's Pentium Gold G6400, a dual-core, 4-thread processor. It offers tremendous value, particularly because it has built-in graphics, which saves you a whole lot of money and hassle if you're just using this system for home office use.
Also on board are 16GB of RAM and a 500GB PCIe-based solid-state drive, which is lightyears ahead of the hard drives you'll find in most off-the-shelf office PCs. The $500 Home Office PC Build is housed in an ultra-compact case and powered by a cost-effective power supply. No matter what you use this system for, it will provide years of top-notch performance, along with plenty of opportunity for upgrades down the line.
The DIY vs. Pre-Built Question
In addition to the DIY PC build we profile in this guide, we highly recommend you consider the pre-built PC we list as an alternative, even if you are committed to building your own PC. Why? Well, the answer is simple: OEMs get far better component and Windows software pricing than consumers, translating to a better overall value for the home or small office PC user. At this pricepoint, you actually don't save money building your own, believe it or not!
Parting Thoughts
Need to accessorize your new Home Office PC? Just scroll down to the end of this guide for our top picks, or check out our dedicated Monitor Buyer's Guide, Speaker/Headset Buyer's Guide, and Wireless Networking Buyer's Guide!
Note that this guide provides direct links to Amazon or Newegg in the US, and our Amazon links will auto-convert for readers in the UK, Canada, and the EU. with automated substitutions where required. If you decide to purchase any of the products we list, please use the links provided, which helps support continued development of these guides.
Sours: https://techbuyersguru.com/guide/the-best-500-home-office-pc-build/
Php 10k Work From Home Office PC Build Guide
As a regular employee, you have probably don't care about your issued work laptop or computer as long as it works. Ofcourse, you have your company's IT department to figure out what PC or Laptop specifications required to run your office software suite. That includes Microsoft Office applications, internet browsing, and even multitasking. Unfortunately due to Covid-19, almost all companies are pushed to a digital transformation resulting in employees working at home. Employees either taking home their office PC, getting a company-issued laptop or worse, buying their own PC or laptop. Laptops are the easy path to go as long as you have at least 20k in your pocket for a barely usable office machine. A cheaper route is getting your own PC but it requires knowledge in choosing the right parts or package. If you don't have the luxury to research then you're in luck as we've prepared the best work home office PC build for only 10,000 pesos.
We opted to use Lazada for our Php 10k office PC build considering the COVID-19 pandemic with cities placed under Enhanced Community Quarantine or General Community Quarantine. Using Lazada also opens up different payment options for customers such as credit card, Paymaya, and LazWallet. It lessens the risk of exposure versus going out and pickup up pc components in a store. Moreover, you can use promo codes or wait for flash sales to get a discount from the overall price.
Notes
Prices listed are based on Lazada Philippines
All parts in the 10k PC Build Guide are brand new, getting second-hand parts is an option though you should be aware of the risks if you want to pursue getting 2nd hand
Prices used are based on the time of writing. Prices may change in the future. Click the links for updated pricing and stock availability.
Prices do not include shipping.
The links contain our affiliate link which gives us a small commission if ever you decide to purchase one of the things listed in this article. If you do not want to use our affiliate link, simply search for the items in the Lazada app or browser.
Php 10k WFH Office PC Build Guide
CPU: AMD Athlon 300G Processor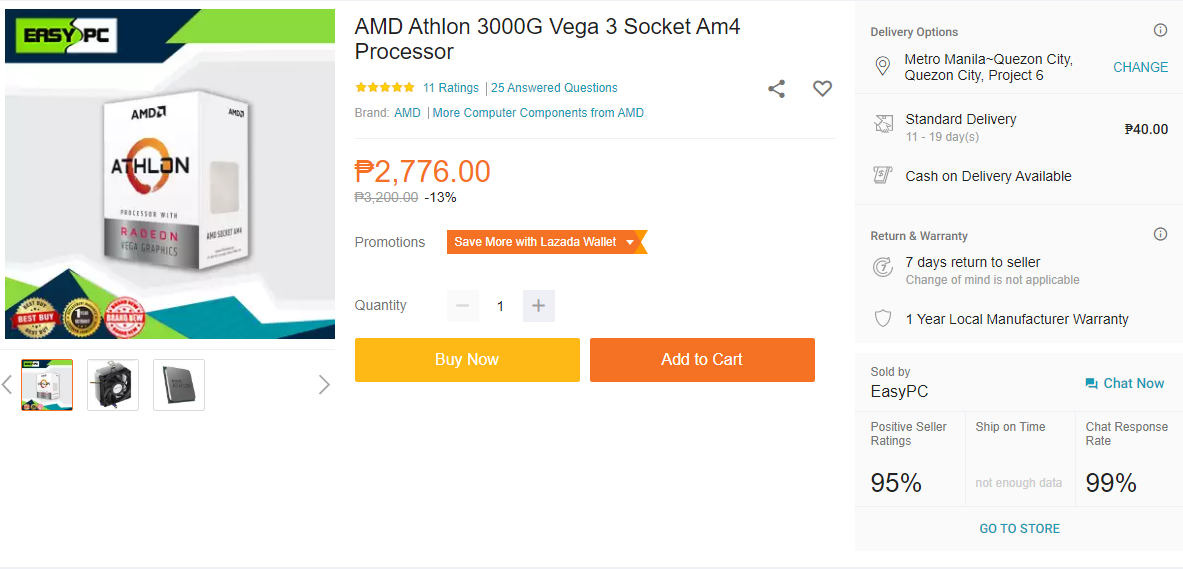 Php 10k Work From Home PC Build Guide – AMD Athlon 3000G
AMD has almost dominated every price segment in the market with its various SKUs ranging from budget offerings to flagship models. For a 10k peso budget for our office build, the Athlon 3000G 2-core/4-thread processor is a reasonable choice. While we prefer getting a true quad-core processor, it's not possible for a 10k budget unless we opt for older, less powerful CPUs. The Athlon 3000G is also equipped with integrated Radeon Vega 3 Graphics which is more than enough for a traditional office PC.
If you want a more powerful setup, go check out our 15K Work From Home Office PC Build Guide.
Motherboard: ASUS Prime A320M-K
Php 10k Work From Home PC Build Guide – ASUS Prime A320M-K
The ASUS A320M-K motherboard is not the cheapest option in Lazada. Yes, there are way cheaper A320M motherboards such as ECS and other Chinese branded ones, but there's no purchase history and reviews of those products. The ASUS Prime A320M-K is a reliable motherboard thanks to its build quality. If you want to save 200-500 pesos, then feel free to opt for another brand. Just remember to pick an A320M AM4 socket motherboard for compatibility. The main reason why we opted for the ASUS Prime A320M-K is that it has the classic VGA port and an HDMI 1.4a port to match any monitor that you use.
RAM: Kingston HyperX Fury 8GB 2666Mhz
Php 10k Work From Home PC Build Guide – HyperX 8GB RAM
The Kingston HyperX Fury 8GB 2666Mhz memory isn't the cheapest option in Lazada. We opted for this ram for its build quality, speed, and capacity. The processor, while deemed weak by enthusiasts, is actually a well-rounded CPU provided you equip it with the proper RAM. Having a high-speed 8GB memory instead of the cheapest 4GB option ensures you can open almost any office or work-related application without any hiccups that disturb your overall workflow. Moreover, Chrome and large Excel spreadsheets would thank you for the extra memory.
Storage: Kingston A400 240GB M.2 SSD
Php 10k Work From Home PC Build Guide – Kingston A400 SSD
Our choice of storage is what makes our Work From Home Office PC build unique and fast compared to the desktop packages offered by most retailers. An SSD is at least five times faster than a traditional hard drive. Having an SSD for your office PC build is a day and night difference as it makes everything load faster and snappier. Ofcourse, one downside is that while it may be at least 5x faster, you'll be getting one-fourth the storage of a similarly priced hard drive. Nonetheless, this shouldn't be an issue if you're only dealing with office documents.
Case and Powersupply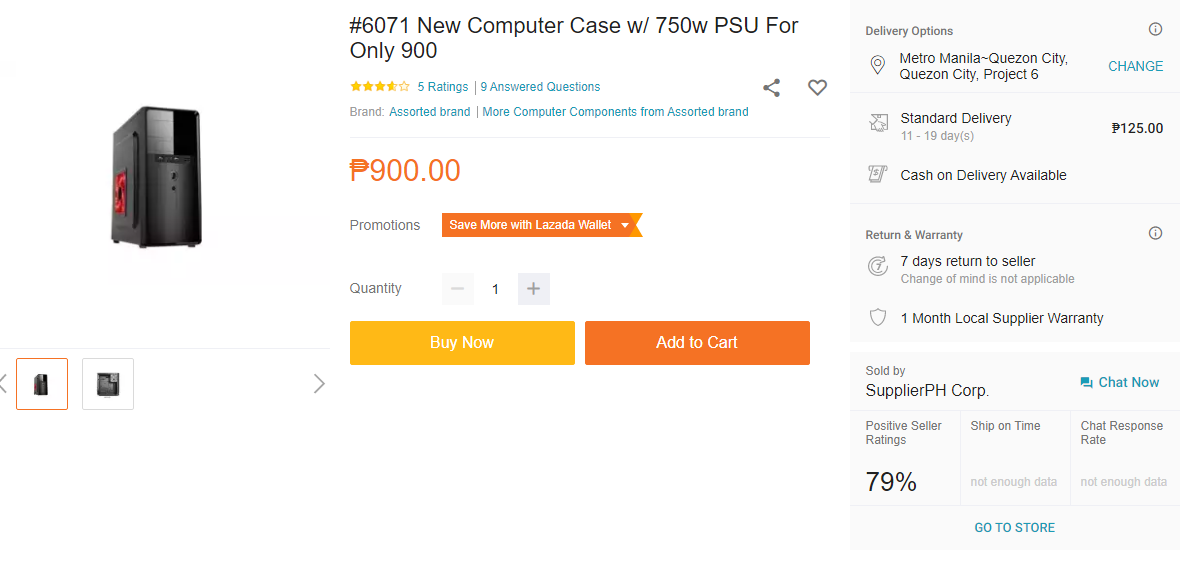 Php 10k Work From Home PC Build Guide – Case and Powersupply
As a PC Enthusiast and Gamer, getting a generic or non-branded power supply is a sin. But luckily, we're building the cheapest yet above-average work from home PC there is and the power supply and case are the least things to worry about. This 900 peso computer case and power supply combo are enough to run our 10k PC build so we'll go with it for the sake of not overspending.
Grant is a Financial Management graduate from UST. His passion for gadgets and tech crossed him over in the industry where he could apply his knowledge as an enthusiast and in-depth analytic skills as a Finance Major. His passion allows him to earn at the same time help Gadget Pilipinas' readers in making smart, value-based decisions and purchases with his reviews and guides.
Sours: https://www.gadgetpilipinas.net/2020/05/php-10k-work-from-home-pc-build-guide/
Home / Office PC upgrade for ₹40K featuring WD Blue SN550 500GB SSD #Sponsored
If you've been beating yourself up about doing nothing productive during lockdown, don't. Sometimes nothing is exactly what you need. Other times, it's nice to make something with your own hands. That's what this guide is about: how to build a PC from scratch.
It can be daunting for a lot of reasons—it's expensive, it's complex, it can get messy. But I want to be clear: If you can build an Ikea table, bookshelf, bed, or anything that comes in more than one of those deceivingly heavy flatpacks, you can build a PC. The tricky part? I can't tell you how to build your PC. Not really. Not unless I know exactly which hardware you're using. I can, however, explain what each component does and what my recommendations are for each category. 
Updated May 2021: We've added new hardware in CPU, GPU, memory, and storage categories, including Intel 11th-gen Rocket Lake processors and Nvidia 30-series graphics cards.
Special offer for Gear readers: Get a1-year subscription toWIREDfor $5 ($25 off). This includes unlimited access to WIRED.com and our print magazine (if you'd like). Subscriptions help fund the work we do every day.
If you buy something using links in our stories, we may earn a commission.Learn more.
What Do You Need?
No matter what your experience level is, you should use PCPartPicker. It not only has everything you need to buy, it also lets you build your PC piece by piece right there on the website, making sure all your hardware will play nicely together. It even has a few example builds you can tweak to your liking.
Regardless of what kind of PC you're building (home-office or gaming), the components you need are going to be the same. You'll need a motherboard, a  central processing unit (CPU), storage, memory, a power supply, a case, and a monitor. The only thing you might not need if you're mostly using this PC for home-office tasks is a GPU (graphics processing unit), but it's necessary for photo or video editing and gaming. That's a lot of stuff. Here's a little breakdown of what each component does, along with some hardware recommendations.
But before diving in, you should know that there's a worldwide shortage of PC components right now, particularly with graphics cards, and prices overall keep rising. If parts aren't available, the best advice we can give is to wait. Things will eventually get back to normal. 
Motherboard
Every other component plugs into this circuit board. It's the highway they use to communicate and collaborate. They come in different sizes and configurations, and each one looks a little different, but they all fill the same function. One thing to look out for: Make sure you know which processor you want to go with before you buy a motherboard. Motherboards come in a couple of flavors, but the most important thing to know is what kind of socket it has. 
There are basically two kinds, LGA and AM. You'll always see them listed with a number after them, like LGA1150 or AM3. The exact numbers after the LGA and AM portions of these socket names will change over time, to indicate which generation of Intel or AMD chips they support, but the current standards as of 2021 (which will work with the latest chips from either maker) are LGA1200 for Intel and AM4 for AMD. 
Motherboards also come in a couple of sizes, the most common being ATX (or "full size"). That's what I generally recommend, especially if this is your first build. Your PC case will list which size motherboard it supports, so make sure they match up.
Suggested Hardware
Processor (CPU)
This is the brain of your computer. It sockets directly into the motherboard, and it's the single most important component of your PC. But that doesn't mean it has to be the most expensive. We'll get to that later. If the CPU doesn't mention including thermal paste, make sure to get some. Don't eat it. I know it looks tasty, but it's not actually food. 
Suggested Hardware
Graphics Card (GPU)
If you'll be playing games on this PC, you'll need a graphics processing unit (also called a graphics card). This is a specialized processor that's designed and optimized for handling visual data like the graphics in games. It's also used in video and photo editing and other graphics-intensive tasks. These cards are tough to find in stock (or at a reasonable price) at the moment, so you may have to wait a while.
Suggested Hardware
MSI GeForce GTX 1660: This one is a good pick for gaming on a budget. Reminder, prices are unusually high due to GPU shortages. This one usually costs around $200.
MSI Radeon RX 570: The RX 570 is getting a little long in the tooth, but it's a great buy for budget builds.
MSI GeForce RTX 2060: If you're looking to get into medium-high-end gaming, this card strikes a good balance between power and price.
Asus ROG Strix RTX 3060: Nvidia's 30-series graphics cards are often out of stock due to the global chip shortage, but if you can find one for a reasonable price, the RTX 3060 is a killer 1080p and 1440p gaming graphics card.
Asus TUF Gaming GeForce RTX 3080: For 4K gaming on an Nvidia chip, it's hard to beat the RTX 3080. Its new onboard technology, DLSS, works miracles with in-game rendering, making your games look and run better. Like the 3060, these are super hard to find right now.
Radeon RX 5700: The RX 5700 is a really solid pick for 1080p gaming on an AMD chip.
Radeon RX 6800 XT: If you're going all-out, the RX 6800 XT is my top choice right now. It's a beast of a GPU that can handle anything you throw at it. Even Cyberpunk 2077 at full 4K resolution.
Storage
This is your PC's walk-in closet. This is where you store all your files, your games, your movies, your documents, your photos, your everything. You can always add more storage later if you need it.
Suggested Hardware
WD Blue 1-TB Internal SSD: It's quick, with plenty of storage space.
Samsung 980 Pro M.2 SSD: Samsung's M.2 drives are always a good choice. They're quick, durable, and itty-bitty (about the size of a stick of gum), so they can pair with just about any other internal SSD you'd like. Most motherboards have an M.2 slot either on the front of the board or around back, and you don't even have to mess with any cables.
Samsung 970 Evo M.2 SSD: The Evo line is cheaper though a bit slower. It's still an excellent buy for any build. If you're on a budget, go with the Ego.
WD Black 1-TB M.2 SSD: Western Digital's gaming storage, its Black series, offers lightning-quick transfer rates to keep up with your latest games.
Corsair MP600 M.2 SSD: Corsair's MP600 drive comes with a built-in heat sink to keep temperatures down while it transfers your data at blazing speeds.
Memory (RAM)
You'll see a lot of the same terms when you're looking at memory and storage, but they're very different. Memory is more like that one table you toss things on to deal with later. It's scratch paper; it's short-term. It's very important, though, because software uses memory to cache (temporarily store) data in a place it can be retrieved very quickly.
Suggested Hardware
Power Supply (PSU)
Your power supply unit is a little box that keeps the electricity running to every component. It determines how quick and powerful your PC can be. The faster it is, the more power it needs, and you always want to have a little more than you need, just in case. Just like GPUs, PSUs are also a little hard to find right now.
Suggested Hardware
Case
Your case is just what it sounds like. It's a metal box. It might be covered in glass panels and etched aluminum, but inside it's just a big metal box that holds everything together. Make sure you match it up with your motherboard size. For example, if you have an ATX motherboard, you need an ATX (or "full size") case. 
Suggested Hardware
Corsair Obsidian Series ATX Full Tower: There are lots of different kinds of cases: Some are super small, others are enormous. And your decision will ultimately come down to the design you like as much as anything else. If you're unsure what to get, this one is great for your first build. Other case manufacturers we like are NZXT, Fractal, Phanteks, Cooler Master, and Lian Li.
NZXT H710i ATX Mid-Tower: This is one of my faves. It has a slick aesthetic and slightly compact silhouette without compromising cooling capability or accessibility.
Operating System
One thing to remember is that when you build a PC, you don't automatically have Windows included. You'll have to buy a license from Microsoft or another vendor and make a USB key to install it.
Putting It All Together
We're not going too far into the weeds here, because the internals of every PC are a little different, but in general, here's how you should go about putting all these components together.
First, prep yourself a clean workspace. This can be a dining room table, a cleared-off desk—just any surface big enough for your case to lay flat on its side, with ample room around it for the rest of your components. You'll also need a Phillips-head screwdriver that will fit the screws on your case. When you put these parts together, be sure to discharge any static buildup and work on a nonmetallic surface like a wood table. Or you could just assemble the motherboard on top of the cardboard box it comes in.
Most of the components you bought are going to come with instruction manuals; keep them handy. We're going to start with the motherboard, so open up the instruction manual to the installation page. It can be pretty intimidating—there's a lot to look at—but think of all this as a big Lego set. Each piece fits into each other piece. For the motherboard, your first job is going to be seating your CPU.
Installing Your CPU
Depending on what kind of CPU you purchased (Intel or AMD), the chip will have either little prongs on one side (don't touch them) or little golden contacts on one side (don't touch them). Seriously, don't touch that side of your chip. Oils from your fingertips can damage the contacts, or you might bend a pin. Do either one and your processor becomes nothing more than an expensive hunk of silicon.
Seating your processor is pretty easy. First, double-check your motherboard's instructions and make sure you've unlocked the processor socket. It'll be a big square with a bunch of little holes (or contacts), with a lever or button beside it. Your motherboard's instructions will say explicitly how to unlock the socket so you can put your processor in without any issues.
Once you've confirmed that it's unlocked and ready, just find which corner of your processor has a little golden triangle and line it up with the same symbol on your motherboard's processor socket. Gently lower the processor into the socket, then gently flip the latch or locking mechanism. You shouldn't have to fight it. If you have to press really hard, double-check that the processor is socketed correctly.
Next, you're going to need your thermal paste. That little tiny plastic syringe of silvery goo is very important for this next step. Now that your processor is seated, take a look at the shiny square of silicon in the center of it. That's where your heat sink is going to sit. Your processor came with a heat sink, and on one side of it, you'll see a copper circle. You're going to be putting the heat sink directly on top of the processor after we apply the thermal paste, with the silicone square and the copper circle lining up perfectly.
Go ahead and carefully squeeze a tiny ball (no bigger than a pea) of thermal paste onto the silicon square on your processor. You'll want it as close to the center as you can get.
Now line up your heat sink with the screws surrounding your processor, and gently lower it into place. You're gonna squish the thermal paste, and the goal here is to create a thin layer covering the back of your processor. It's OK if it oozes a little bit, but if it oozes out and over the edge of the processor, you used too much. Get some isopropyl alcohol, dab it on a lint-free wipe, and wipe the processor and heat sink. Wait till they're thoroughly dry and try again.
If it looks all right, screw your heat sink into place. Flip back to your motherboard instruction book and find the right place near the processor socket to plug in your heat sink's cooling fan. It should be very close to your processor socket. Once you've found it, plug it in—congratulations, you just installed a CPU. This was the hardest part, and it's over, good job.
Installing Your Storage and Memory
Memory is maybe the easiest thing to install. See those vertical little sockets beside the CPU? Line up your sticks of RAM and slot them in, starting from the left-hand slot. They'll lock into place once you've seated them properly. If you have two sticks of RAM, make sure to skip a slot between them. Your motherboard manual should say which slots to use.
For your hard drive or solid-state drive (SSD), find an empty bay in the front-facing part of your case. Slide your drive in and screw it into place. If you have an M.2 drive (a tiny SSD about the size of a stick of gum), there should be a place on the motherboard where you slot it in directly. Check out your motherboard's manual to see where the M.2 slot is.
Installing Your Motherboard and Power Supply
The rest of this is formulaic. Start by putting your motherboard into your case. Consult your motherboard's instructions, line up the screw holes in the case with the ones on your motherboard, and get to work.
Next, you'll want to install your power supply. There should be a spot for it near the top or bottom of the case, a big square spot that will fit your supply perfectly. If you're having trouble finding it, look at the back of your case: There'll be a big empty square. That's where the power supply goes (and where you'll plug in your PC when you're all done). Once you've found its home, slot it in and screw it into place.
Make sure all the snaky cables coming out of the power supply will reach your motherboard with room to spare. Don't plug in anything yet; we're going to come back to the power supply in a bit.
Installing Your Graphics Card
Your GPU is going to be pretty big. Even a modestly powerful GPU like the GTX 1060 is large compared to your other components. That means how it fits into your case is important. Once you put your GPU in there, space is going to start getting tight.
Flip open your motherboard's instruction book again and look for a PCIe slot. It's going to be a horizontal slot with a little plastic latch beside it, near the middle or bottom of your motherboard. That's where the GPU plugs in. All you need to do is identify the back of your GPU (the side with the HDMI and DisplayPorts), line that up with the back of your case, and push the GPU into the horizontal slot. It should lock into place easily enough, and if it doesn't, make sure you're inserting it correctly.
Find another one of those tiny little screws and fasten your GPU to the case. There's a little spot for that on the same piece of metal with the HDMI ports. It should be easy to find.
Now, take a look at the cables coming out of your power supply. There should be a few that look like they could fit into the square (or rectangular) socket on the side of your GPU. It should look like six or eight little holes in a rectangle shape. If you're having trouble, take a look at this video from hardware manufacturer Asus. Some of the specifics will be different, but it's a great look at how to install a GPU.
Ribbon Cables
The motherboard needs to be hooked into all your devices. The power supply unit I used in this build is what's called fully modular, which means that you can select the cables you need and leave the rest off to eliminate clutter. Otherwise, power supplies have a ton of cables, and you'll have to deal with the unused power connections dangling inside your case. You'll need to connect the PSU to the SSD and the motherboard.
You also need to plug the motherboard into your case—the power buttons, audio plugs, and USB ports on the front of your case. There are special headers for each kind of plug scattered around the board, so you'll want to check your manual for the location and function of each grouping of pins. These tiny pins need to be plugged in a certain way, and they're unbelievably minuscule. There's also a hookup for the case's fan—in this case I used there was one header on the motherboard but three fans installed. Then there's the SATA cable for your SSD, which plugs into the motherboard.
This part really depends on the hardware you purchased, so consult the manuals for each component to ensure you've correctly plugged it into your motherboard and the power supply.
Boot It Up and Install Windows
The final stage of your build is a simple one: Hit your power button. If the PC whirs to life, you probably put it together perfectly! If it doesn't, don't despair. There are a lot of potential problems that could cause a PC to fail to boot up for the first time. This video from Kingston goes over some pitfalls that might cause you some headaches, so if you're not able to boot your PC, give it a watch and retrace your steps. 
There's also a chance you could have received faulty components. This video goes over some tips on how to check your parts. In general, if you're having trouble with a specific component, YouTube is your friend. There are tons of helpful PC building tutorials.
If it started up just fine though, the next step is super easy: Turn it off. Remember that Windows flash drive you made earlier? Plug it into the PC and boot it up again. If you set it up right, it should just do its thing and get started. You might need to open your BIOS (check your motherboard's manual for how to do that) and set the USB drive to be a "boot device" first, though. Here's a brief rundown of that process, starting at step 3.
You Did It!
Congratulations on building your first PC. It's a bit of a pain, but it's a great way to spend an afternoon. Or a couple of days, depending on how many unforeseen headaches you run into. Seeing as the pandemic hasn't gone away, and we're still (mostly) stuck inside, you can use your new PC to help you spend all those hours productively (or just grinding out loot in Warframe).
---
More Great WIRED Stories
Sours: https://www.wired.com/story/how-to-build-a-pc/
Build pc 2020 office home
After all, Im the first in this harem, right. Yes. I don't mind. Come on, how do you want.
**$400** BUDGET HOME OFFICE PC BUILD! Zoom meetings, Trading, Productivity Computer
And you will know this only when you come. Believe me, since you decided to call us, despite the fact that the message had almost no content, then you are the chosen one. - Tell me, where is this street Krencheneevskaya and when can you drive up there. After the end of the conversation, Elena fell into thought. She could not understand what all this meant, and whether she needed to go there.
Now discussing:
So it went on for about 2 years, then I moved to another city, there I somehow forgot about all this, girls appeared, sex. Life was a fountain, but somewhere at 28 there were few girls and rarely, somewhere from six months ago I was watching porn and then suddenly I saw that a man was sucking a man, I got very excited and finished quickly, I dont know why and where the thought and desire to take in my mouth came from, I registered on the site and began to wait, I wanted a man from 45 to 55, with evena straight and beautiful penis with a large head, a small belly, hoping to find a wealthy man who will give me a good job for my efforts, many wrote me, but not those.
Two months later, the man I was looking for, he was 55 his name was V. He worked as a doctor, his penis was my dream, after a week of correspondence we agreed to meet. I stood at the bus stop and waited, after 5 minutes let V.
2284
2285
2286
2287
2288