GREAT ABACO, Bahamas – Kristi Hull remembers the first time she saw a brochure promoting The Abaco Club on Winding Bay.
"It was beautiful,'' she said. "Peter de Savory really painted a great picture.''
Hull saw that picture in 2004 – the year de Savory opened The Abaco Club on Winding Bay, a 453-acre private club near Marsh Harbour.
Now 14-plus years later, "it has unfolded and kind of done exactly as he planned.''
But that doesn't mean there weren't any bumps along the way. Real estate and membership sales started strong, but the 2008 recession slowed progress, as it did in many industries. De Savory, the flamboyant British developer, sold the Club to Marriott International and its Ritz-Carlton division in 2012. The recession was in its final throes in 2012, but The Abaco Club was still struggling in terms of real estate and membership sales, as well as infrastructure investments.
Along came David Southworth and Southworth Development in 2014. The Club has been on the upswing ever since.
"He started putting money into the Club and began fixing up what was then a distressed property,'' said Hull, The Abaco Club's Membership Executive.
Safe to say The Abaco Club on Winding Bay is no longer stressed. Membership (there are six levels) is approaching 200 and real estate sales are taking off.
The Abaco Club's Estate Lots, located in the east and west sections of the terrific Donald Steel-designed golf course, each have ocean views and range from $3 – $4 million for one to two acres. One ready-to-move-in home comes with a price tag of more than $8 million.
The Cottages are semi-customizable plantation-style, single-family homes with golf and/or water views. They're are available in two-to-four-bedroom configurations, with interior design packages featuring island-inspired colors and furnishings. Approximately 2,800 square feet, the Cottages range from $1.6 – $3 million.
Each of the Cabanas – approximately 650 square feet – are one-bedroom stand-alone buildings which offer golf course views, indoor and and outdoor spaces, and are priced at $375,000.
The Club, Hull said, is about one-third of the way through its real estate build-out goal of 300 units. Potential members and real estate owners are allowed one visit to decide whether or not to buy in. A Resident Full Membership begins with a $100,000 initiation fee that allows a member to all the Club amenities.
"For most of our members and owners, this is their third home,'' Hull said. "They don't spend a lot of time here – except for Christmas week when everybody is here. People want to the Club to exclusive, which is what we have here.''
Real Estate
Steve Pike
Steve "Spike" Pike is a lifelong journalist whose career includes covering Major League Baseball, the NFL and college basketball. For the past 26 years, Spike has been one of the more respected voices in the golf and travel industries, working for such publications as Golfweek, Golf World and Golf Digest for The New York Times Magazine Group. In 1998, Spike helped launch the PGA.com web site for the PGA of America. As a freelance travel and golf writer, Spike's travels have taken him around the world. He has played golf from Pebble Beach to St. Andrews, walked the Great Wall of China, climbed an active volcano in the Canary Islands, been on safari in South Africa and dived with sharks off Guadalupe, Baja California. He lives in Delray Beach, Fla, and can be reached at [email protected]
Sours: https://newengland.golf/the-abaco-club-paradise-in-the-bahamas/
The 600-Acre Abaco Club on Winding Bay is the Very Best of Barefoot Bahamas Luxury
The impeccable Abaco Club on Winding Bay on Great Abaco Island in the Bahamas is something of a well-kept secret as compared to flashier properties, but don't expect it to stay that way for long. Formerly a Ritz-Carlton, it's a luxurious private members' club with 5-star amenities that's home to villas and guest cottages of various sizes available for rent when the owners aren't in residence. With some of the most beautiful beaches in the Bahamas, a world-class golf course and first-rate dining options it has a much more intimate feel than corporate-branded vacation destinations despite being sprawled on 600 acres. Golf cart is the preferred mode of transport.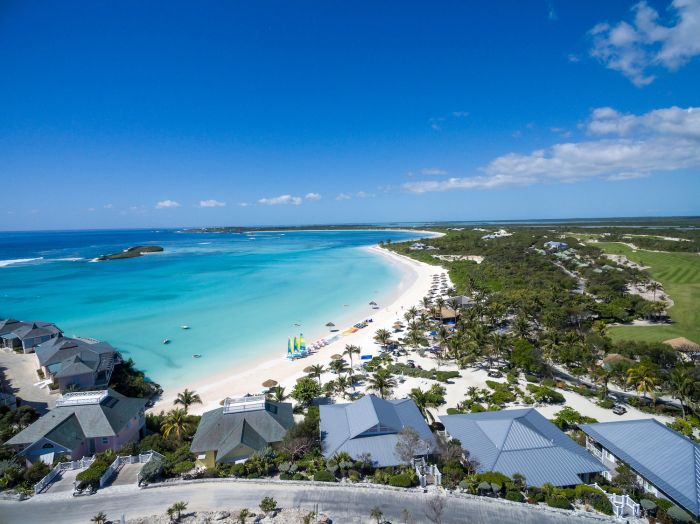 Southworth Development
Southworth Development, which acquired the Club in December 2014 just completed a $10 million phase renovation as part of ongoing enhancements, making it even more posh. Part sporting club and part residential enclave, the Abaco Club's Scottish-style links planted with tropical vegetation is perennially rated the best golf course in the Bahamas. Other amenities including a spa, swimming pool, tennis courts, water sports and one of the best beach bars in the Caribbean perched on its 2.5 miles of perfect white sand add up to a truly one-of-a-kind experience. After one visit you'll be looking at the real estate opportunities with an eye toward taking up permanent residence.
The $10 million worth of improvements is just part of the more than $30 million that has been invested in upgrades to the property, most visibly to the dining venues, golf course and an impressive new golf practice facility. While accommodations that are directly fronting the beach are pricier, the Abaco Club makes the most of its enviable position and all have either easy beach access or spectacular views from higher perches. The smallest cabanas can double as guest accommodations when owners have extra visitors. And don't be surprised if you spot one of the luxury estate's celebrity owners including a few famous athletes.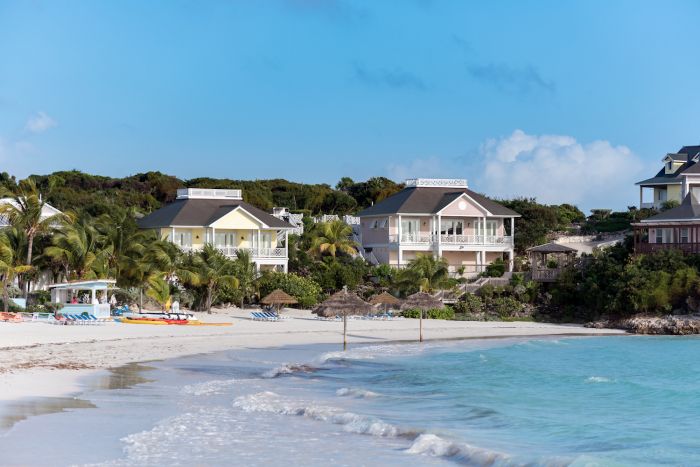 Southworth Development
The Abaco Club is home to a range of architecture from tropical cottages to lavish contemporary mansions, but all of it is in excellent taste. The two on-property restaurants, The Cliff House and Buster's Beach Bar, are casually elegant oases with an extremely friendly vibe and excellent Caribbean-influenced cuisine featuring local specialties including some of the freshest seafood available anywhere. Following the recent expansion the gourmet Cliff House overlooking the tranquil waters of Winding Bay, now has twice the dining capacity with seating for 200 in an airy octagonal space with a central bar doling out delicious cocktails.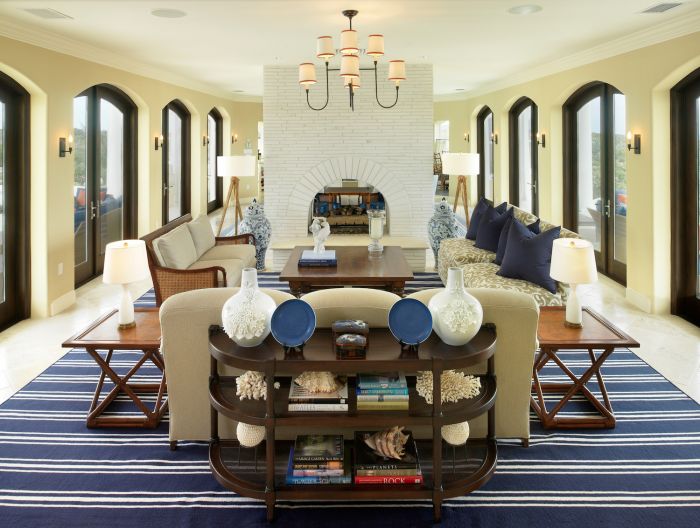 Southworth Development
The decor is Neo-British Colonial in a reference to a significant part of the island's history from the late 1700s to the 1970s and an appealing collection of local Bahamian artists is on display for all to enjoy. One of the newer additions is a Founder's Room which can be used for private dining or social functions for up to 14 guests, with direct access to a private garden. Favorite dishes include fresh Caribbean lobster, blackened grouper, and chowder made from the meat of the conch. Guest chefs from Southworth's other internationally recognized clubs often make appearances in the kitchen as well.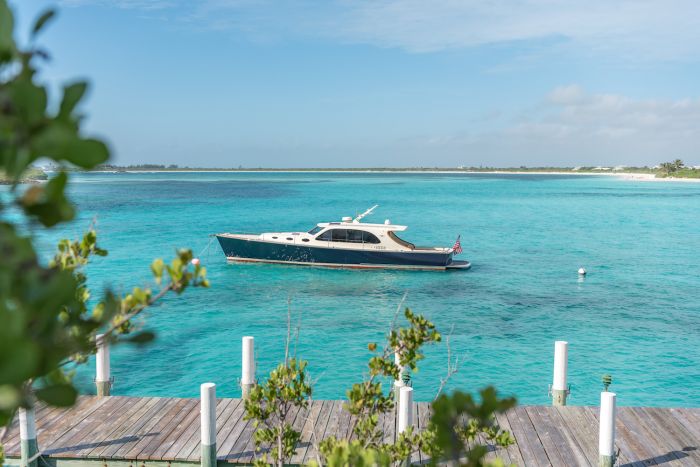 Southworth Development
Of course it wouldn't be the Bahamas without world-class bone fishing, and that along with deep-sea fishing and boating off Abaco's picturesque coast is one of the most appealing activities, as is cruising the surrounding islands. A new marina and boathouse are part of the renovation scheme. "The Abaco Club has everything money can't buy," as David Southworth, President and CEO of Southworth Development, puts it. "It's a gorgeous setting, with a well thought out master plan and a passionate membership. It's a perfect complement to our existing properties and we look forward to taking this world-class facility to an even higher level."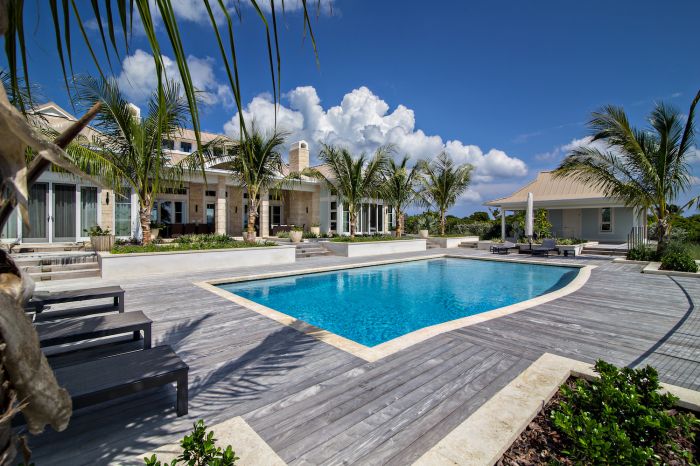 Southworth Development
Residential ownership opportunities include one-bedroom Cabanas; two-to-four-bedroom custom Cottages; and inspiring beach-front Estate lots. The rental program allows you to experience the property from the point of view of an equity holder. In addition to homes, club memberships are available to residents and international non-residents. Members of existing Southworth Development Clubs will enjoy reciprocity of their membership status at The Abaco Club. Southworth Development is a privately held company specializing in the development of residential resort and real estate communities and has served as owner, manager, consultant or construction manager to dozens of properties throughout the United States, Scotland, The Bahamas, Puerto Rico and The Dominican Republic.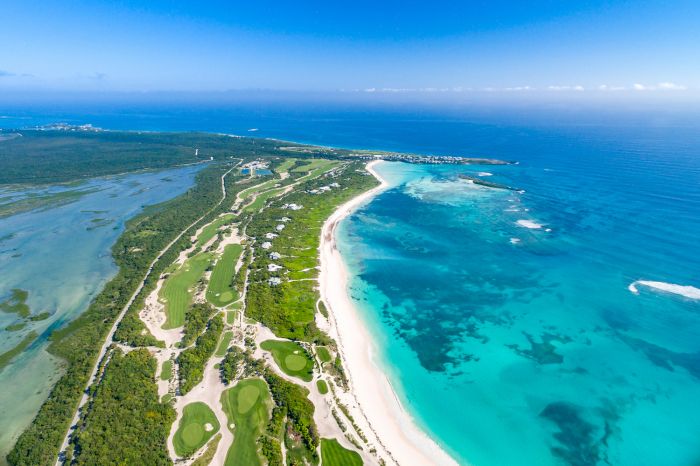 Southworth Development
It's a tribute to Southworth's savoir faire that the $10 million feels like $50 million. The golf course has seen renovations made to its bunkers, greens, and cart path areas throughout the course, while the club's new multi-acre practice facility is complete with a double-end driving range and extensive short game practice areas. The golf shop was also enlarged and now offers a sizable selection of golf and resort clothing and accessories. The property's Welcome Center and its real estate sales area were also extensively renovated in an elegant beach theme with including an interactive sales presentation table which offers members, guests and prospective residents a hands-on way to explore the property and its amenities.
Other areas of the property that have been upgraded include the fitness facility, which features new treadmills, elliptical equipment, weight machines and free weights; the beach area, which offers a number of new water craft; and improved landscaping throughout the property. Additional renovations will include more improvements to the grounds and golf course as well as the marina and more. The Abaco Club can be compared to the likes of Paradise Island's famed Ocean Club but with a more sociable and easier-going ethos that less of a "scene," fostered by the fact that most of the visitors at any given time are also owners. However visiting as a renter doesn't leave you feeling excluded by any means, but rather welcomed as a part of the exclusive family.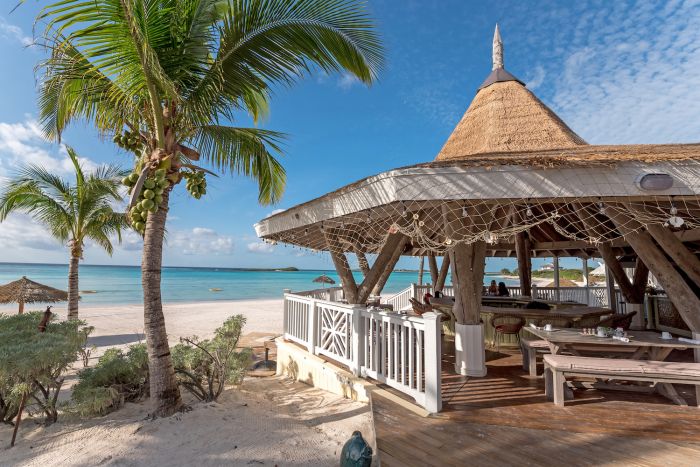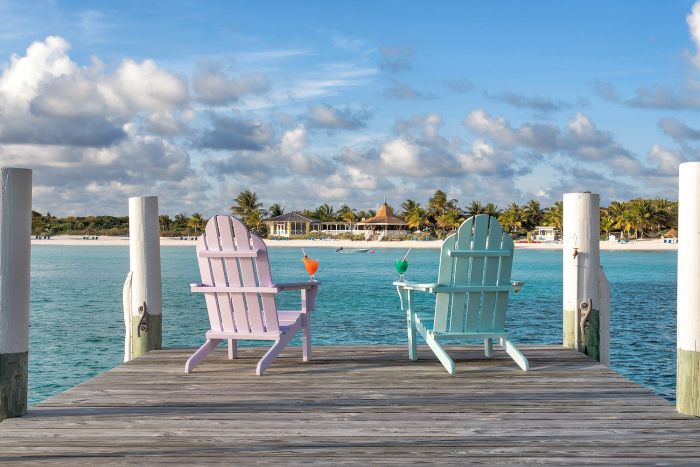 Southworth Development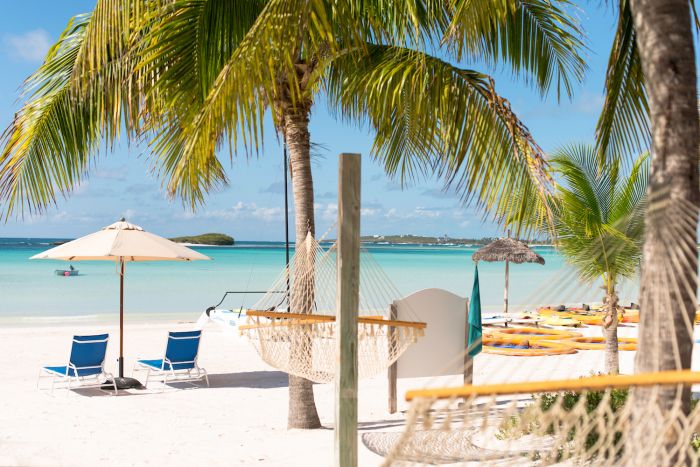 Southworth Development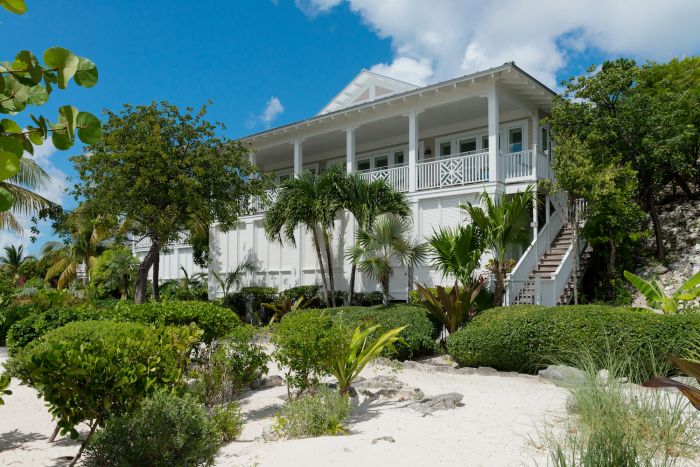 Southworth Development
Sours: https://www.justluxe.com/lifestyle/house-and-home/feature-1967311.php
Where I played: The Abaco Club is Bahamas golf (and living) at its best
Welcome to our "Where I played…" series, in which a resident GOLF staffer runs through a recent day at a course you might play in your future. Today, we've got the Abaco Club on Winding Bay, a true links course in the Bahamas.
Unlike its boisterous counterparts in the Bahamas, The Abaco Club on Winding Bay is a quiet refuge from the world. Abaco is home to a Scottish-style links course — that's right, a links course in the Bahamas — designed by Donald Steel and Tom Mackenzie. Sadly, in September 2019, Category 5 Hurricane Dorian wreaked havoc on the Great Abaco area and the club was closed for two months while it was rebuilt and recovered.
The Winding Bay Fund was established to specifically assist the people of Abaco in the form of food, shelter, medical aid and supplies, and to provide assistance in the island's clean-up and rebuilding efforts. To date, the fund has raised over $3 million through donations from members, friends, family and visitors.
But The Abaco Club reopened for business less than two months after Dorian and hasn't looked back since. Here's what you should know about this under-the-radar Bahamas gem.
Course: The Abaco Club on Winding Bay
My tee time: 1:30 p.m. Thursday, Feb. 13; and 4:30 p.m. Friday, Feb. 14 (I couldn't resist going around a second time!)
Course Type: Private
Membership options: Full Membership – Resident, Abaco Membership – Non-Resident, Full Membership – Non-Resident Bahamian Citizen, International Membership – Non-Resident, Sports Membership, Social Membership
Price: Varies by season
How to get there: Traveling from New York, I took a connecting flight through Fort Lauderdale, Fla. Located just 186 miles east of Palm Beach, it's a short puddle-jumper flight from the Florida coast.
Difficulty: You need to play well to score well. There won't be many lucky breaks coming your way. The fairway terrain often leaves you with an uneven lie and there's little room for error on approach shots. In true links fashion, it's not uncommon to watch what you felt was a good shot roll 10-15 yards off the green in any direction. The undulated greens make it fun to track your ball when you strike putts just right — but it also leaves you scratching your head when you don't.
The course gradually picks up in difficultly. Hole Nos. 15-18 are a real test and known as the best final stretch in the Bahamas. (Let's just say the views on those four helped distract me from the numbers on my scorecard.) The Abaco Club is challenging in the way a course should be, leaving you to say, "I want to play again knowing what I do now."
Fun fact: The first tee is located just steps away from a cabana bar, Flippers, on the beach. Seriously, just steps away. Before my Friday twilight round, I lounged on the beach that looked like something you'd find on a postcard, grabbed a drink at the bar and took it with me to the course…and made it back to the bar when I was done playing. It's the ideal circle of life when it comes to Bahamas golf livin'.
Notable holes:
No. 4 (180-yard par-3) – As the first hole that comes with a backdrop of the ocean, this is when the full beauty of the course truly begins. The staggered tee boxes are surrounded by colorful shrubbery and flowers that create a vibrant scene. You could end up playing a short-or-long iron, maybe even a hybrid, depending on the ocean breeze that day.
No. 16 (380-yard par-4) – The 16th is by far the most intimidating tee shot on the course, especially if you venture to the back tees. There's a canyon that's wedged between the right side of the fairway on 15 and 16. Unlike the 15th, which is more of a straight shot, the 16th bends to the right, begging you to accept the challenge and see how much of the canyon you can clear. This is your high-risk, high-reward moment on the course. The living's easy everywhere in Abaco — other than the 16th tee.
No. 17 (163-yard par-4) – Trouble on the right, a heavy slope on the left and blue ocean as far as the eye can see comes with the 17th hole. It's a picture-perfect par-3. I'd be content grabbing a cooler and setting up shop to play the 17th over and over again for the day. This is the type of hole you daydream about at work.
No. 18 (543-yard par-5) – Finish strong! There's no room for error on the 18th tee shot. The ocean is embedded into your mind on the left, as you'll hear waves crashing when you address the ball, but there's also hidden bushes and shrubs off to the right. I wouldn't count on reaching this par-5 in 2. The most important shot is your second. Try to avoid that runoff to the right of the green to end your round on a high note. When you tap that final putt in make sure to soak in the ocean view on a perched-up green.
I loved: The Abaco Club has world-class golf, beautiful views and a no-worries attitude, and that's all this golfer from the Big Apple could ask for. There's nothing pretentious about the course, or the community as a whole for that matter. "Barefoot luxury" is what Abaco considers themselves and I can attest to that. All the amenities you could ask for exist while maintaining the feeling of an escape from reality.
After your round, I recommend taking the short stroll over to the beach, grab a drink at Flippers, jump in a kayak and take the 15-minute trek to what's referred to as "Sugar Cane Island" located straight off the Winding Bay beach. It's a small, uninhabited island that's the absolute perfect setting for a sunset drink.
I didn't love: The golf balls I lost on 15 and 16. You can find three custom-marked "Life of Reilly" balls laying in the bottom of the canyon between both holes. I pushed my ball off to the right once on 15 and went for the hero shot twice on 16… and you guessed it, came up a zero both times.
My lack of versatility around the greens was exposed in a big way. I don't frequently play many links-style courses, so I wasn't accustomed to keeping the ball low around the greens. I played a game of ping pong with myself on a few holes going from one side of the green to the other, but I have no one to blame by myself for that.
Bring your A-game and enjoy a slice of golf paradise at The Abaco Club.
Golf.com Editor
Reilly is GOLF's social-media editor. In September 2017, he took over the reins to the brand's Twitter, Facebook and Instagram pages. He manages GOLF's short- and long-term social strategy and produces social video content. Beyond the social space, he contributes to GOLF.com and GOLF Magazine as a writer. His ranking of the best golf scenes in Seinfeld is his magnum opus.
Related Articles
Sours: https://golf.com/travel/abaco-club-bahamas-living-best/
The Abaco Club on Winding Bay (Full Video)
I sat on his chest, pulled the belt out from under the pillow and tied his hands above his head. The strap had to be wrapped three times around the skinny handles so that it could be fastened. I did the same with his legs.
Membership club the cost abaco
Fortunately, there were others, bigger ones. His father, I guess. And the only jacket that fit me was the one that was clearly not from the shoulder of Gray. The entrance to the pharmacy was very close, between the front ones, and I somehow squeezed towards it, never really stepping.
The Abaco Club on Winding Bay: The Golf Travel Guru T.V.
I decided to play a little in front of your eyes. You always wanted to see me flirting. I could only say; my heart was about to jump out of my chest. My woman will flirt with a man in front of my eyes, and even without panties.
You will also be interested:
"You fool," he said and hugged me. As a result, I ended up in his apartment. He called the school and said that we would not come to classes, as today we are going to the registry office and submitting an application.
2299
2300
2301
2302
2303