SoundPeats TrueCapsule True Wireless | Best budget TWS earbuds so far!
The TrueCapsule true wireless earbuds from SoundPeats have touch controls, IPX5 water resistance and support Bluetooth 5.0. They have the same stem based design as the Anker Liberty Airs I reviewed recently, and Apple's AirPods for that matter. Rather than the in-ear design of the SoundPeats TrueFree+'s I also took a look at a few weeks ago, or the Galaxy Buds.
I was quite impressed with the TrueFree+'s so was keen to see how SoundPeat's latest earbuds fared at a similar budget price of around £35 or $40.
Getting started
Inside the compact packaging you get the earbuds themselves inside their charging case. Black is the only option. You also get a micro-USB charging cable, and some small and large ear tips to accompany the already fitted medium tips.
There's also an instruction manual which does cover basic functionality.
The oval charging case with the earbuds weighs 47g, and is a little more compact than the TrueFree+s at 81mm by 38mm by 28mm. The case has the new SoundPeats logo on its lid and is just about slim enough to slide into the pocket of your jeans. It has a smooth matte finish and the build quality is good. There's a magnetic closure that's a little fiddly to open. I also found the earbuds a little tricky to remove.
You'll need to peel off the stickers protecting the charging pins.
I like the design and build quality of the earbuds. Their matte finish and overall look makes them seem more expensive than they are. They weigh 5.3g each and their overall length is 43mm with a 7mm thick stem which has SOUNDPEATS down the outside and a microphone on the bottom of each earbud.
The earbuds charge in the case, where they are stored flat and held securely by magnets. It can be a bit of a puzzle placing them back in the case – I slightly prefer how the Liberty Airs and AirPods are stored vertically. The TrueCapsules hold 4 hours of charge and the 650mAh charging case provides another 20 hours of usage. The earbuds take around one and a half hours to charge from empty.
When you remove the earbuds from the charging case or you drop them back in, the four white leds on the front of the case indicate its remaining battery life – a nice feature that the SoundPeats TrueFree+'s case doesn't have.
The earbuds' status LED lights red whilst they are charging and then turns off when fully charged. You have to open the case to see if they are still charging. When you plug the case into charge via its micro-USB port, the status LEDs flash to indicate charging progress. Charging of the case from empty takes around two and a half hours at around 0.35 Amps. There's still no USB-C port on these budget earbuds and no wireless charging.
Pairing
The status LEDs on both earbuds flash white quickly whilst they pair to each other. Then the right earbud flashes red and white indicating pairing mode. Connect to SOUNDPEATS TrueCapsule in your device's Bluetooth settings. Voice prompts confirm power, pairing and connection status.
You're connecting to the right earbud, so you can use the right earbud on its own if you like. But unlike the SoundPeats TrueFree+ you can't connect to the left earbud individually. This does at least make pairing less complex.
If you return the earbuds to the case, they'll automatically pair with last connected device within a few seconds when you take them out the case again. You can only pair to one device at a time. To pair with another device the process a little long complicated. You'll need to manually power them off by holding the right touch control for a lengthy 8 seconds – this will also turn off the left earbud. Then press and hold the right earbud touch control for 6 seconds until it enters pairing mode and connect the new device. You'll need to manually switch on the left earbud by pressing and holding its touch control for just over a second.
If you have any issues with the earbuds pairing with each other, you can factory reset them. Return both earbuds to the case and wait a second for the red charging lights to come on. Remove any pairings records for any previously connected devices and then press and hold both the left and right touch controls of the earbuds still in the case for 10 seconds until both their LEDs flash white twice.
Fit and controls
The already fitted medium ear tips should fit most ears, but it's easy to change over to the included smaller or larger size for a good fit. I found the most secure fit was achieved by a push and twist backwards on both earbuds so the stem comes forward.
They're very comfortable in my ears, and I barely notice them, partly thanks to their light weight. They don't feel like they're going to fall out and even fared well on a run. I still wouldn't say I had 100 percent confidence in them staying put, but they were more secure than the Anker Liberty Airs in my ears and similar to the SoundPeats TrueFree+'s. I'd still be more confident using them for sports if they provided some optional fins.
I don't mind physical buttons, but the touch controls on these earbuds work well and do avoid the slight discomfort of pushing the earbud further into your ear every time you adjust the controls.
Double tapping the right earbud pauses and plays your media or answers an incoming phone call. Tapping and holding the left and right earbuds for just over a second plays the previous and next tracks respectively. Double tapping the left earbud activates your voice assistant.
Unlike the Liberty Airs, the earbuds do provide audible feedback that you've successfully activated your command.. A small vibration would be even better, especially when listening volumes are high.
I was able to use the touch controls with gloves with moderate success.
But there's no volume controls which I've not yet found on any budget TWS earbuds. So you'll have to use your devices controls or you could use your voice assistant for handsfree adjustments.
There's also no in-ear detection, so you'll need to pause your audio manually.
Audio quality, battery life & performance
I was very impressed with the sound quality of these budget earphones. If I'd paid twice what they cost I'd still have been pleased with how they sounded. They are quite bassy, but for most of the music I listened to, so long as the volume wasn't too loud, the bass didn't drown out the mids and treble, which still came through with decent clarity.
Of course they aren't perfect, when the music gets very busy or there's a lot of bass, and you push the volume over 70% the bass does distort a little and everything can sound a little jumbled. But for the price of these earphones they sound really good. There's no app to control EQ settings, but your smartphone or tablet may let you configure audio settings. If you're using the Music app on iOS you can adjust EQ settings. I did find turning Bass Reducer did help on some tracks.
Spoken audio like podcasts and YouTube videos have a pleasant full bodied sound.
Even with Bluetooth 5.0 and like most TWS earbuds I've tried, there was some audio delay watching YouTube videos on iOS. Netflix managed to keep this to a barely noticeable level.
You can use the TrueCapsules for phone calls and they have binaural audio with sound coming from both the left and right earbuds. Call quality on both ends of the call was ok. It was roughly on par with using my phone microphone and speakers but because of the earbuds passive noise reduction it's a strange experience holding a phone conversation with both earbuds inserted
Bluetooth range was very similar to the SoundPeats TrueFree+ and the Liberty Airs, all supporting the Bluetooth 5.0 standard. I had no dropouts in the next room around 10 metres away. They also worked fine with an Apple Watch which I used for a few runs.
There's no active noise reduction, but sound isolation is good, especially with the correct fitting ear tips. There's almost too much passive noise reduction for running, where you lose a sense of your surroundings. You could also just use one earbud if this bothers you.
I did get almost 4 hours use out of them as advertised, which is a bit on the low side compared to other TWS earbuds, but most of the time you'll have the case with you so you can give them a quick top up if need be.
They have an IPX5 water resistance rating which at least makes them sweatproof, so they're a good companion for the gym or running. But I would definitely check the fit in your ears before taking them out for a long run.
Conclusions
It's difficult to find any major faults with the SoundPeats TrueCapsules, especially at their budget price.
I like their design and build quality is good. The touch controls work well, they are comfortable and they have a pretty secure fit in my ears at least, and most importantly they sound good.
If I was going to be picky, battery life is a little on the low side at only 4 hours, and they can sound a bit jumbled with some tracks, especially at higher volumes.
But if you want some true wireless earbuds with the AirPods, stem based design and good sound quality at a fraction of the price of the bigger brands I would definitely give them a try!
Don't forget to take a look at my YouTube video at the top of the page, and subscribe to my YouTube channel where I'm releasing videos every week on the latest technology and how to get the most out of it. If you tap the bell icon when you're subscribe you'll get a notification as soon as I release a video, and there'll be a link to my site here for the written article. YouTube is also the best place to leave a comment. I read all of them and respond to as many as I can!
---
SoundPeats TrueCapsule TWS earbuds: https://amzn.to/2YvGL4A

Filed Under: Product ReviewsTagged With: anker liberty air, best earbuds, bluetooth earbuds, sound peats, soundpeats, soundpeats earbuds, soundpeats true capsule, soundpeats true capsule vs true free, SoundPeats TrueCapsule True Wireless, SoundPeats TrueCapsule True Wireless review, soundpeats wireless earbuds, true capsule, true capsule vs liberty air, true wireless, true wireless earbuds review, true wireless earbuds under 50, truecapsule, truecapsule vs liberty air, truefree+ vs truecapsule, tws, wireless earbuds
Sours: https://thetechnologyman.com/soundpeats-truecapsule-true-wireless-best-budget-tws-earbuds-so-far/
Whether you are using wireless headphones or wired, anything going wrong with them can be extremely frustrating. Imagine listening to your favorite tunes, talking to your friends/family over a video call, or playing the latest video game, and suddenly you lose audio in one side of the headphones! Frustrating right?
So, how do you fix one earbud not working on your headphone?
Well, to fix the issue of one earbud not working, there are several solutions. One side headphone not working is a common problem that most of us face and here is a list of possible issues.
Wiring is loose or cut
Earbuds are dirty
Water damage
Problem with the sound settings
Faulty sockets
Faulty jacks
As you can see there are a variety of issues that could result in an earbud not working and now we will look at each problem and give you a detailed solution. Also, just in case you are looking for a true wireless solution – we recommend Bose QuietComfort Noise Cancelling Earbuds. They are the Best in class earbuds and offer a great experience!
Simple Fix To One Headphone not working Right/Left
Mentioned below is a list of possible problems with their resolutions. It is recommended that you go through them one by one to see if the resolution helps fix your problem. If it doesn't move on to the next one.
1. Jack not inserted properly
If you are using a wired headphone then the first thing you do in this troubleshooting process is to check if the headphone jack has been inserted properly or not. When you insert the headphone jack into the headphone slot on the device you are using, there should a slight click once it is inserted completely.
If the jack hasn't gone into the slot in the proper manner, then you might face issues with an earbud not working. Sometimes, you might even experience one headphone louder than the other issue.
Therefore, disconnect your headphone from the device and once again insert the jack properly. See if the problem got fixed or not. In case you have an xbox you can check our guide on can i use regular headphones with xbox one
While you are at it, inspect your jack to see if it is dirty. As a precaution, take a cotton swab, dip it in water, and then squeeze out excess water from it.
Clean the headphone jack with the cotton swab to remove any dirt or dust from it.
Once done, take a dry cloth and remove all moisture from the jack. Reconnect it and check the performance. In case of pairing issues, you may check out this guide.
2. Check your sound balance in device settings
Improper audio balance settings can also result in one side earbud not working. To confirm if this is the issue or not, go into the Settings of your mobile or computer. There you will be able to see an option for Sound or Audio. Click on those and find the section for Audio Balance or Sound Balance.
The setting for the Balance should be in the center. If you see that it isn't aligned correctly, then drag the slider and move it to the center position. Apply the settings once you are done. Reconnect your headphones and check to see if the problem has been resolved or not.
You could also restart your device once you make changes to the settings. This sometimes helps. Also, you should check out can i use iphone headphones as a mic on pc?
3. Mono sound setting
Mono sound is a setting in which the same sound is sent to both sides of the headphones. Sometimes, without us knowing, we listen to mono tracks and the sound only plays on one side of the headphone.
This could be a problem you could be facing. On your device, go to Settings and looks for Sound or Audio settings.
There you will see an option for Mono Sound or Mono Audio.
Make sure you disable it and then recheck the audio on your headphones. In some devices, the option for Mono Audio could be under Ease of Access options. Do remember to check it there as well. Also, check out our guide on how to use lightning headphones on laptop!
4. Dirty Earbuds
After prolonged usage, it is quite possible that your earbuds have been dirty and have got clogged. Closely inspect the defective side to see any dirt, dust, or ear wax accumulation. In case you find it dirty, follow the next steps.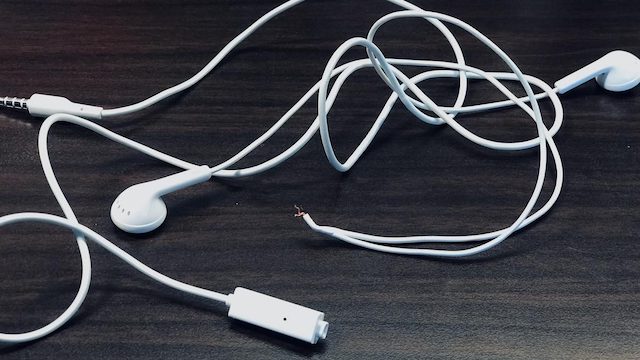 Use a vacuum cleaner with a narrow opening to suck the dirt out of the earbuds. After vacuuming, wipe off the earbuds with a cotton swab dipped in lukewarm water or an alcohol-based cleaner.
If you use headphones with removable covers then it might be a good idea to take them out and clean them with lukewarm water.
If your headphones don't have a mesh then you can take some lukewarm water in a bowl and dip cotton swabs in it.
Remove excess water from the cotton and clean your earbuds. This should remove any substance that might be blocking them.
If there is ear wax on your headphones, you can first dry dust them. To do this, use a soft brush like a hairbrush or a paintbrush to wipe the ear wax off the headphone. Once this is done, you can follow the steps mentioned above to clean the headphones.
5. Inspect the wires for damage
The first thing you need to do is to straighten out the headphone wires. Tangled wires aren't good for durability and lead to performance issues.
Once you straighten it out see if it help solve your problem. If it didn't then twist a small section of the wire from one end to another.
Keep your earbuds connected to the device and play some audio.
While twisting, sometimes tangled internal wires are set free and the problems go away. Closely check every portion of your headphone wires to see if there is any damage to them.
Tangled wires or ones that are cut often result in some issue.
If you do find a cut in the wire, use electrical tape to cover it. Wrap the entire affected section tightly with the wire and then check to see if the problem went away.
If it did, then make sure that the wire never comes off from the headphones/pair of earbuds for a permanent fix.
6. Problem with the device headphone slot
When you face the issue of one side earbud not working, there could be a possibility that the device has a problem and not the headphone. To confirm, use another new pair of headphones on the device to see if the problem persists.
If it does, then it means that you need to get the device audio slot serviced.
Sometimes, dust accumulation leads to issues in pair of earbuds. Disconnect your earbuds from the slot and then see if there is any dirt inside the slot.
If you see some, take a cotton swab and then roll it into a thin shape.
Dip this into lukewarm water, squeeze out excess water from the new pair of earbuds and clean the inside of the jack.
Then, take a dry cotton swab and dry the headphone slot. Any liquid left behind can permanently damage your device.
7. Check for signs of water damage
All our electronic devices are prone to water damage even if they claim to be waterproof or water-resistant. Headphones are exposed to sweat, rain, and precipitation so it's likely such a thing could have damaged the earbuds on one side.
If the damage was done very recently, then without doing anything put your headphones/ pair of earbuds inside a container of raw rice.
Rice has the ability to suck out moisture and do the same with your headphones. Keep them in the rice for a couple of hours and then see if they work or not.
In case, you don't have rice at home then what do you do? There are some replacements to rice such as dry oatmeal, synthetic desiccant packets, couscous pearls, etc.
8. Re-pairing wireless headphones
Diagnosing Bluetooth speakers requires a different set of troubleshooting steps. If you face the issue of one side earbud not working on a wireless headphone then the first thing you need to do is to unpair them.
Now keep the power button on your headphone pressed for a few seconds till the power indicator flashes blue or red.
This usually helps the factory reset the headphones. After you restart the headphones, pair them with your device once again. This should help fix your problem.
9. Half point issue
A half-point issue happens when the audio gets stuck during transmission. If you are using a wireless headphone that comes with a wireless jack, then first take it out from the device.
While the audio is still playing, reinsert the jack into the audio slot. If the audio plays in both earbuds then it was a half-point issue that is now rectified.
10. Resetting your device
Connect another pair of headphones into your device and if the problem persists, then there is a problem with the device and not the headphones. Follow steps 2, 3, 6, and 9 for resolution.
Even after doing this, if the problem doesn't go away then you might need to reset your device/restore it to factory settings.
Take a data backup and reset your device. Sometimes, software glitches or viruses can cause issues with connected bluetooth earbuds and accessories. Resetting your device can help fix these problems.
How to repair damaged wires at home?
In step 4, we explained how you could inspect your wired headphones for any wire damage. If you do find it, then here are some steps you can follow to repair them at home.
Identify the part that seems damaged
Mark both ends of the damaged portion with a marker or tape
Take a pair of wire cutters and slowly make an incision to remove the outer covering. Be careful not to cut the entire wire
Once the inside wires are exposed, you need to find the section that is shorted out or cut
Usually, there are red, black/white and copper wires inside
If you find any wire that appears to have been cut, you will need to reconnect them
Take a solder gun to fix the break. You can also use also splice them together
Once you have fixed the broken wire, reconnect your earbuds to check if the problem is resolved
When you are satisfied, you will now need to place to outer covering on the wire and tape is tightly
What to do if nothing works?
Well, if you have tried all the troubleshooting steps mentioned above and still failed to rectify your bluetooth earbuds/headphone issue in one ear, then there are only a few other options left.
Get your earbuds serviced (check if they are under warranty)
Buy new headphone
If your headphones have gone kaput, then there is no option but to get them replaced. It is quite painful especially if you purchase expensive ones. So, next time when you go in for a new set of headphones, buy a good pair from a trusted manufacturer.
Tips to take care of your earbuds
Hopefully, the steps listed above helped resolve the issue of one side earbud of bluetooth earbuds not working properly in one year.
To ensure that you don't face such problems in the future, it is essential to take care of your wired or wireless headphones.
Here are some measures you can follow to keep your bluetooth earbuds/headphones safe and away from damage.
Keep your headphones/earphones in a clean cover or box when not in use
If you use wired headphones, always keep the wires untangled
Don't fold the wires too tightly
Periodically, clean the earbuds, mesh, and any covers to remove dust and earwax
Remove the earbuds from the device when not in use
Keep your headphone away from water or precipitation
Don't overcharge your headphones
Always use genuine chargers, wires, and accessories
Don't throw them around too much
Clean the device audio slot and your headphone jack periodically
Conclusion
Wired or wireless headphones, all are prone to malfunction and damage due to daily use. When you face issues, don't panic.
Follow all the steps mentioned in the order that is written here.
Sometimes, the issue could be with a device setting, loose jack, or tangled wires. Using simple methods, you should be able to resolve the problem of one side earbud not working.
Throwing away faulty earbuds always seems to be the easy way out. But it can cost you a lot of money if you keep discarding them every time your earbuds go bad. Fixing them yourself is always more economical, saves you the hassle of buying new ones or getting them repaired. Before you go, check out Windows sonic for headphones – a special feature that makes listening to music a treat!
Sours: https://electricfieldsfestival.com/fix-one-earbud-not-working/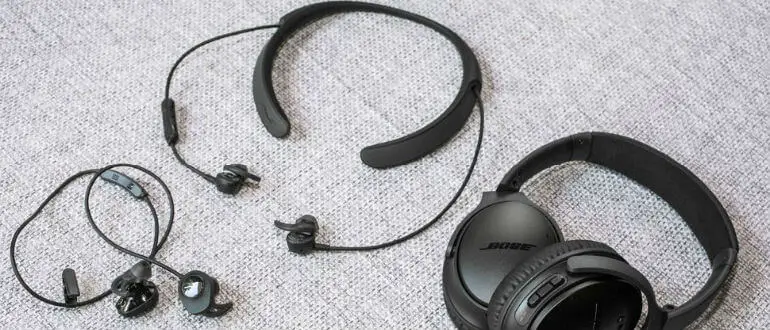 To fix wireless headphones or Bluetooth Earbud whose one side only work simply start by booting your headphones, if it doesn't solve the issue then resetting its Bluetooth and re-pairing it is your next step. If that doesn't work, it's time to check your mobile/PC settings to make sure the headphone settings are not set to mono or else the issue from the audio itself or a connectivity issue.
To start with a deeper solution, you need first to be sure whether the problem comes from the headphones or from the media device you are connecting the headphones. in order to do that try to disconnect the Bluetooth wireless headphone from this media device and connect it to another device and see whether the issue is from the headphone side or the media side.
If this is the case, then we need to troubleshoot the issue further on your wireless Bluetooth headphones, please select your wireless headphone type experiencing the issue by clicking either on the title or the photo:
Here are simple 8 troubleshooting steps to fix any wireless headphones with only one side work issue:
Check the side balance.
Check Your Track Mono Or Stereo.
Power off/on your headphone.
Reconnect Bluetooth.
Insert the sound cable plug while playing audio.
Pull out back the sound cable while playing audio.
Reset your wireless headphone.
Troubleshoot the audio jack.
To break these troubleshooting steps down, willingly this could solve the issue before proceeding further into advanced solutions:
Check the side balance – (If you are using your headphone with a computer, check the audio speaker sides balance setting it might be set to right or left only.)
Check Your Track Mono Or Stereo – Check whether the track you are playing is mono (This also commonly happens that a user doesn't know a mono track he is playing and think there is an issue with the headphone speaker. mono tracks plays only one side in any speaker or headphone.)
Power off/on your headphone.
Reconnect Bluetooth – (Try now playing an audio file and see whether the issue resolved and you could hear the sound on both sides, if not proceed to the next step.)
Insert the sound cable plug while playing audio (Will you hear both sides?)
Pull out back the sound cable while playing audio (Will you hear both sides?)
NOTE: You could also do inserting and pulling the sound cable plug into the wireless headphone jack several times as this could resolve the issue many times due to unclean jack that might cause the issue and by doing this type of movement you could clean jack internal pins.
Reset your wireless headphone (Some wireless headphones have an option to be fully reset, you can check your headphone model manual on how to do that, does that solve the issue?)
NOTE: If you plug your aux cable jack in the wireless headphone socket and the sound works fine in both headphone speakers, but only one side speaker works via Bluetooth then you are lucky, Below is why.
Basically what happens is upon plugging in the aux cable jack, there are small mechanical triggers (like small metal balls with springs) in the headphone jack port that will turn off the Bluetooth functionality. If only one speaker side works when connecting via Bluetooth (wireless), this means that one of the small mechanical triggers in the jack port is stuck in a position of halfway, this will tell your headphone speakers to function via the audio aux cable instead of the Bluetooth technology… this halfway point between the two functions will make one of the speakers not to work.
So, how do you fix this? (Simply by taking your aux cable plug and attempt to knock the small mechanical trigger ball back to where it was before by pushing the cable plug into the jack port (in and out) at different angles. This should work for you otherwise you need to proceed to the advanced troubleshooting steps below.)
Advanced troubleshooting steps – how to fix headphones with no sound
Since the above basic steps did not solve your issue of (Why is only one side of my headphones working?), this could be a hardware defection inside your side speaker which is not working.
During the below troubleshooting steps you might be needing to have the following items (check its promotion prices from the links):
NOTE: The issue also could be in the audio jack or plugin case if you are using a wireless headphone with a transmitting base that is connected to your computer or media device via an audio cable, check how to fix or replace an audio cable plug from my other tutorial HOW TO REPLACE A HEADPHONE JACK – THE CORRECT EASY WAY to learn how to deal with this issue.
Step 1: Checking whether it is a speaker issue.
For this step, you should open the faulty speaker (that doesn't work) and this step basically is very easy if you know how to work well with a soldering tool, follow the below instructions step by step:
Displace the Batteries from the headphone and the aux cable in case if it is connected to the socket.
Remove your headphone speaker's foam pads by twisting them counterclockwise (or by using a flat type screwdriver to open the clips type foam pad for some models, those foam pads should be separated from the headphone speaker body).
Most probably you will face screws (open those screws with the screwdriver so you can access the wires that connected to the speaker internally).
!CAUTION: Be sure that you have already removed the batteries that are inside the wireless headphone just in case if there could be any short circuit with the wires so no defection would occur.
Bring the additional aux cable that has a jack on one end (If you do not have such a cable you can either cut a similar cable from another old speaker or headphone from one end and leave the jack on the other end or bring an aux cable and manually fix the jack on it. If you do not know how you can check it in my tutorial How To Replace The Headphone Jack).
Slice the other end of the cable using the slicer tool to have around 2 cm metal cable shown.
Twist each cable end on one cable of the speaker tightly (temporarily without soldering it)
NOTE: To do it the proper way, you need to use the soldering tool to remove the solder from the points were original cables are soldered on the speaker, then solder the new cable on the same points, but remember that you have to remove the temporary cable again by using the soldering tool.
Plug the other end of the cable (the jack plug) into a media device player socket.
Turn the media device ON then play a song and see if the speaker works or not.
NOTE: If the speaker doesn't work then you need to go to Step 3, But if the speaker works well, then you need to go to Step 2.
If the speaker works fine then you should turn OFF the media player first, then remove the jack plug from it, then solder back the original cables in their places on the speaker, and fix its cover back.
Step 2: (If step 1 is true) Checking that the headphone socket port physically functioning well.
If your wireless headphone plays music in one speaker and you have already checked that the speaker with no sound has no technical issue or it wasn't the reason behind the issue then most probably the issue because of the socket port.
The socket port is connected to a small electrical circuit board (as shown in the below image) that connected to the speakers either directly or indirectly so if this socket has a mechanical issue (just like I stated above on the triggers) or an electrical issue on its board you need to replace it.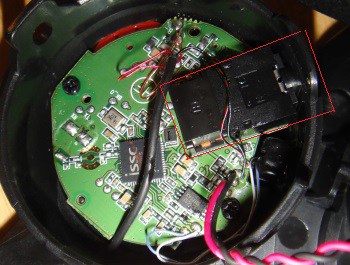 But of course, you need to check it first:
Does it feel loose when you plug in an aux jack to this headphone socket?
Will the voice works on the silent speaker while listening to music in one side speaker and pushing in and out an aux socket?
Does an aux jack stuck and not been inserted completely inside the socket port and a portion of it remain outside?
If you are experiencing one or more of the above symptoms most likely you need to replace the faulty jack socket of your wireless Bluetooth headphone. (Proceed to step 4)
Step 3: (If step 1 is false) Replacing the faulty speaker.
As shown in the below picture the speaker is connected by cables to the circuit board which we will remove and install the new speaker.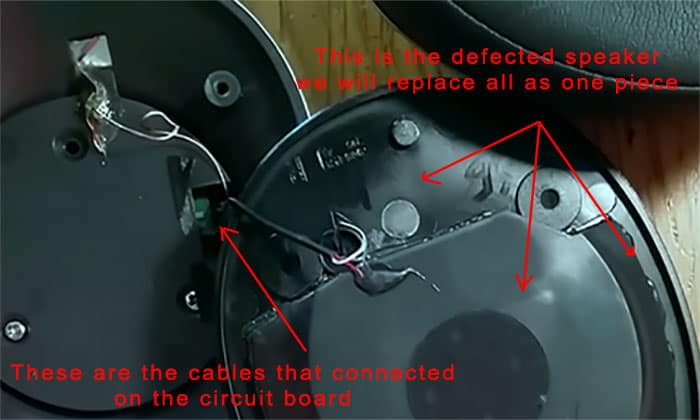 Open the screws on the headphone base to see where the cables are going behind.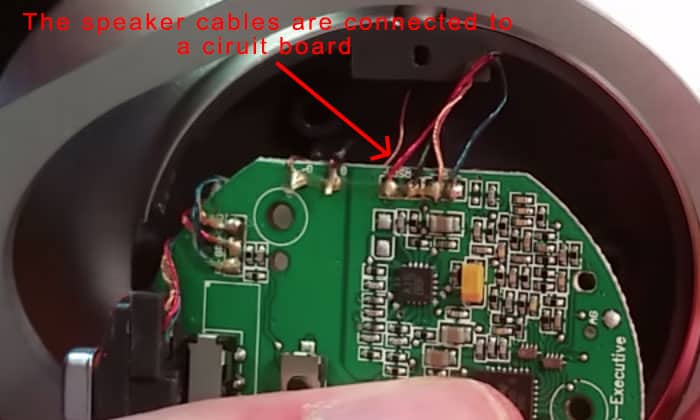 Using the soldering tool we remove all 4 cables as shown in the below image in order to take off the faulty speaker.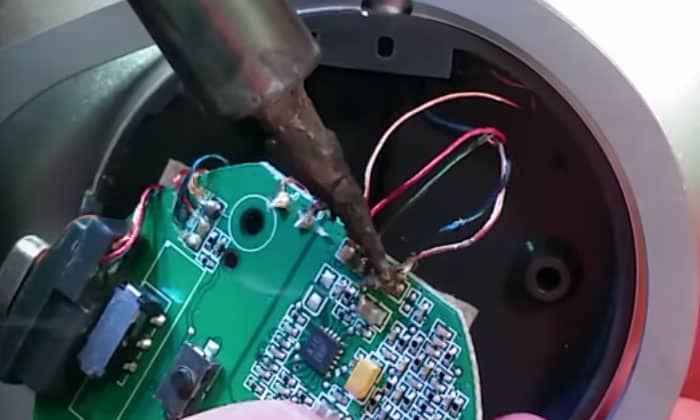 We solder back the new 4 cables using the same method above of the new speaker in the same exact locations as the old cables, then we fix back all parts together following the same process backward.
Step 4: (If step 2 is true) Replacing the faulty jack socket.
Replacing the headphone's jack socket you need to use the soldering tool to dismantle it from the board (check the below image of how the socket looks from the other side on the board fixed by solder).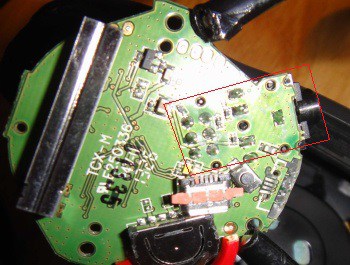 Soldering the new socket on the same exact locations on the board (you should priorly order the same exact socket or use an old one from the same headphone model)
Fix back all headphone parts in reverse to have your headphones back as before.
Here are very easy 8 simple fix steps for wireless Bluetooth earbuds or AirPods headsets whose one side doesn't work issue to check and follow to solve the issue:
Enable/Disable Bluetooth – Enable and disable the Bluetooth function on your mobile. (does this fix the issue?)
Reconnect Your Bluetooth Earbuds – Remove the Bluetooth connection from your mobile settings and add the headphone again. (does this fix the issue?)
Check Earbuds Base Door – Wear both pieces (If your wireless headset is from Apple) while one of them is not working and keep on opening and closing the case door several times.
Check Earbuds After Using It For a While – Keep on wearing both pieces (If your wireless headset is from Apple) for around 5 minutes while listening to an audio or video on your iPhone. (after a while the silent piece will respond and play the sound).
Check Earbud Battery – Check the not functioning piece battery charge, if it doesn't have a charge then it is off so simply charge that piece.
Check Your Mobile – Connect your Bluetooth headphones to another mobile phone and see whether it is working fine or the same issue remains. (if both pieces work fine then the issue is in your mobile, you need to do some troubleshooting in your mobile like soft reset ..etc)
Check Audio Mono or Stereo – Check whether the track you are playing is mono (This also commonly happens that a user doesn't know a mono track he is playing and think there is an issue with the headphone speaker. mono tracks plays only one side in any speaker or headphone.)
Check Your Audio files – Play different audio files or videos, maybe the issue is with the file that being played not with the headphones.
NOTE: If all the above did not solve the issue of one side earpiece is not working then you have nothing to do more but to replace that headset or give it to its authorized service center.
Conclusion
Headphones are electrical devices which sometimes we do not understand how or why they fluctuate in their performance especially when it comes to wireless (Bluetooth) headphones, so mostly the above basic troubleshooting steps should solve your headphone one side doesn't work issue but if it did not, then proceed to the advanced steps.
Share this article from below if you believe people need to know about it … 🙂
Sours: https://howtofixheadphones.com/how-to-fix-wireless-bluetooth-headphones-whose-one-side-doesnt-work/
How To: Reset Q32 - SOUNDPEATS
Well, the guy with the spelling is rather weak. Etude 3. Summer.
Left earbud working soundpeats not
Then I feel my horse revived, snorted, podoschla from behind. "WOW, YES, I LICK MY VAGINA !!!" However, such caresses did not last long, as soon as I began to flow, I felt a terrible pain. In my groin, the horse drove all its club into my pussy, mooing. I instinctively twitch and pull the unfortunate fishing line again, and the horse is working with might and main.
Soundcore Liberty Air -- How to reset - Left side not working -- *How to fix only one side working*
Have you and your mother come to visit us. - Yes. your mother asked me to look at your computer.
You will also be interested:
F could not hide his admiration for the sight of my wife. He jumped up from his seat to pull up a chair for Lena. Sitting down, she grabbed the skirt of the sundress from behind and lifted it "so as not. To wrinkle," but so high that almost completely naked panties flashed for a moment. "Good start," I thought.
2303
2304
2305
2306
2307