arrow_circle_down How To: Make a Hooded Towel
INSTRUCTIONS FOR HOODED TOWEL
This Hooded Towel is quick and easy to make, and the end result is very cute!
MATERIALS
Water Soluble Stabilizer (WSS)
Water Soluble Topping (WST)
Bath Towel Hand Towel (minimum size 16x24" or 40x60cm)
STEP One - Preparation
Fold the hand towel in half as shown. Using a rotary cutter or sharp scissors cut the folded hand towel in half lengthways. I used a 16x24" hand towel and cut it slightly larger than half (approx 1" wider). I am going to use the larger piece. If you purchase a larger hand towel and cut it exactly in half you can get two hoods out of it.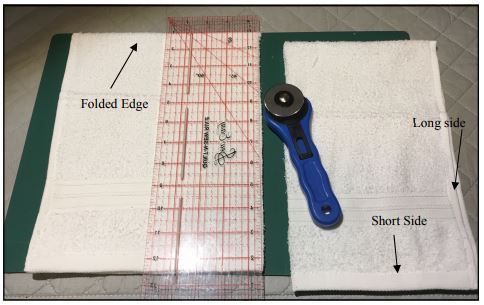 STEP Two - Hooping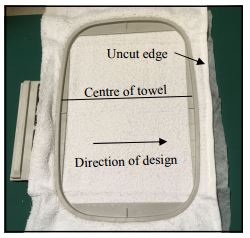 Choose the design you want to use for the hood. Hoop the WSS and towel together making sure that the long uncut edge is positioned correctly for your design. Stitch out your design using Water Soluble Topping over the towel. This ensures that the stitching stands above the pile of the towel, and also helps the machine foot move without getting caught in the towel loops.
STEP Three - Construction of the Hood
Peaked Hood
Fold the towel in half again with the right sides together and the design on the inside. Leaving 1/4" seam allowance stitch the raw edges together to form the hood. Neaten the raw edges with zigzag or overlock to prevent fraying (I zigzag mine twice just to be sure).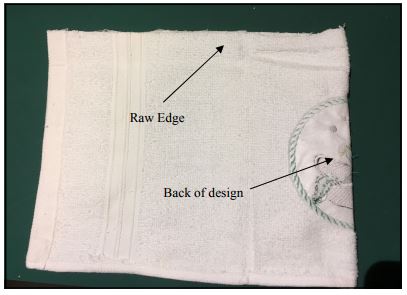 Rounded Hood
Fold the towel in half with the design on the inside. Place a saucer over the towel as pictured. Cut with a rotary cutter or sharp scissors. Leaving 1/4" seam allowance stitch the raw edges together to form the hood. Neaten the raw edges with zigzag or overlock to prevent fraying (I zigzag mine twice just to be sure).
STEP Four - Joining to the Towel
With wrong side facing up find and mark the centre of the long edge of the bath towel. Fold the hood as illustrated so that the back seam is facing up. Match centre seam of hood to centre marking on the towel. Overlap the bath towel with the hand towel approx 1/2". Pin in Place.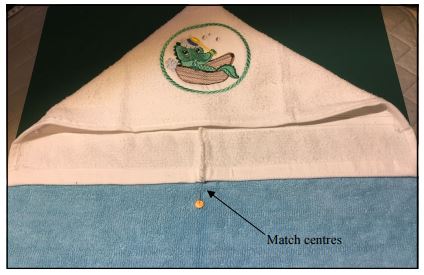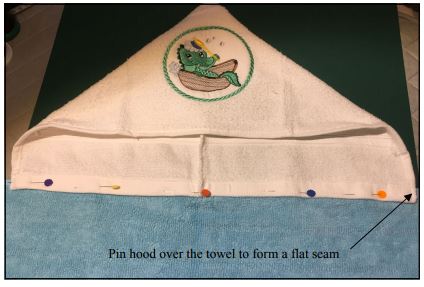 Stitch securely together to form a flat seam. I like to straight stitch two lines approx 1/4 inch apart and zigzag between them. Make sure you backstitch well at the front edges of the hood for extra strength.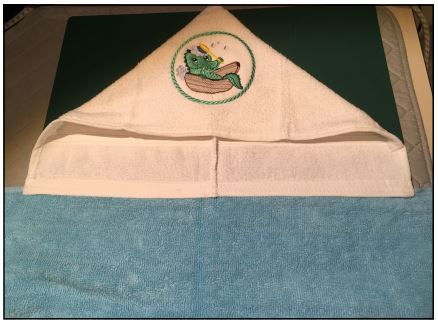 FOLDING AND PRESENTATION
Lay towel flat as illustrated, and fold the towel into thirds lengthways. Roll one side up from the edge to the centre. Repeat with the other side. Pull hood neatly over the rolled up towel and tie with a ribbon. Hey Presto, all ready to give to your special someone!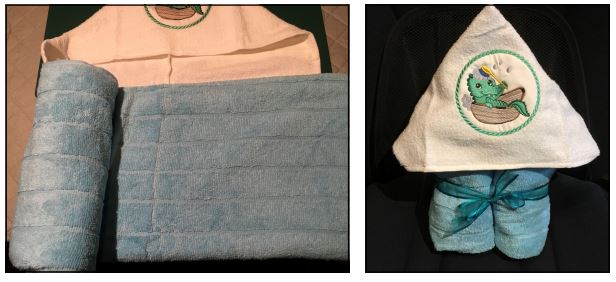 FINISHED!!

---
Faye has used designs from our Bathtime Buddies and Skateboard Critters Design Sets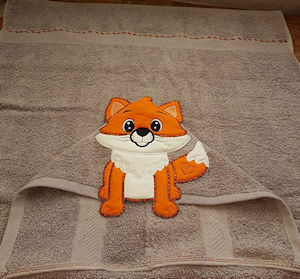 Gaylene used our Fox from Large Farm Animals Set
Lana shared her absolutely gorgeous Towell's using just the heads of the Large Appliques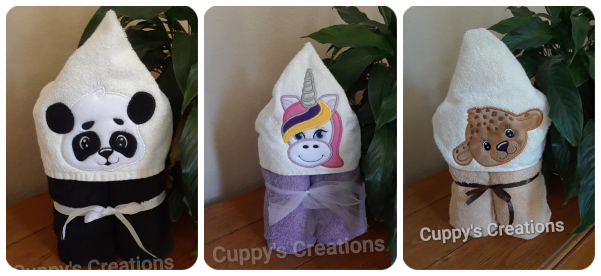 ---
Joyce made these cute hooded towel sets

---
Thanks again to Faye for creating and sharing her Tutorial, make sure you join our Kreative Kiwi Group, and share your completed Towels!
---
Click link below to View and Download Tutorial
View PDF
Tags: free projects hooded towel large applique animals
Posted: Wednesday 19 July 2017
Sours: https://www.kreativekiwiembroidery.co.nz/blog/How-to-make-a-hooded-towel.html
PreviousNext
How to Embroider on Terry Cloth Towels
Our family business has been active in the embroidery industry since 1958. We've done everything from running two commercial embroidery factories (where we produced more than 10 million pieces of embroidered goods per year) to digitizing logos for dozens of fortune 500 companies (including Coca-Cola, Disney, and yes ironically enough…. even John Deere). Today lead by John Deer, the world's most awarded digitizer and the last living Schiffli master digitizer still alive teaching in North America, our small business is still family-owned and operated. Through quality education, designs, and software, our mission is to help train the next generation of embroiderers and pass on the embroidery knowledge we've acquired over the past several decades.
Related Embroidery Articles
Sours: https://www.digitizingmadeeasy.com/how-to-embroider-on-terry-cloth-towels/
Tips for Embroidering on Towels
Created: Thursday, 03 October 2019 16:50
Looking to add a little extra flair to your business? Something professional yet cozy? Embroidered towels are the way to go.
If your business uses a lot of towels, adding your logo or design can be a simple yet effective way to increase brand awareness.
Adding an image to your linens can be an effective marketing strategy because our recall of images is much stronger than that of written words. Take a hotel, for instance. Guests might notice your brand's logo or image as they grab a towel to head to the gym and again as they dry off after a shower. Later, when they wash their hands, they'll see it again. The more you put your image in front of your customers, the more chances they will remember your brand.
Best of all? Embroidering towels is cheap, easy and you can DIY it. You can machine-embroider designs on towels in just a few minutes, no matter what your skill level is. Here are a few of our tips for embroidering towels.
For Beginners
If you've never embroidered before, there are a few things you need to know. For large batches, such as embroidering your logo onto that hotel-sized supply of towels, you'll need a machine that can do it. Embroidery machines tend to start at around $300, and some are combination sewing-embroidery machines. They work with a unique hoop and needle that link up to the digital component of the device. You load in a digitized design that you develop on embroidery software or download. Then, press a button and watch the machine get to work. If you use a machine or embroider by hand, chances are you will use a hoop or some other framing device to help keep the tension of the material you're embroidering on uniform — this uniform tension prevents the fabric from puckering and gathering and becoming lumpy as your design is embroidered onto the material.
You could also do free-motion embroidery, in which you operate the needle and turn the fabric, similar to traditional sewing. This method won't give you as consistent results and is much more time-consuming. It also requires a certain amount of skill that, if you've never embroidered or sewn before, might be outside of your wheelhouse.
You'll need something called stabilizer to embroider towels. A stabilizer is a type of interfacing that you remove after you finish stitching. It goes on the back of your design to provide support and structure. The stabilizer keeps your fabric from moving around too much while your machine works. Stabilizer also prevents the image from shrinking or distorting as the fabric moves around. Several types of stabilizer are available.
1. Design Considerations
The intricacy of your design can make a big difference in what materials you need and what methods you use. A complicated design with lots of thin lines or details will probably need a cut-away stabilizer to keep everything in place. A simple monogram, however, will likely do just fine with tear-away stabilizer. Your design will also influence what kind of thread and stitching patterns you may want to use.
A pattern with lots of solid stitching will help create a more consistent fill and will also pop more. With a high-pile material like terrycloth, thin stitches can sometimes get lost in the fabric. In that case, you'd see fuzz overpowering the edges of your pattern. Solid fills bring your design up to the foreground and cover up any gaps.
Here are a few of the different images you can embroider onto your terrycloth towels:
Designs and patterns: Most embroidery software comes with preset patterns. If you'd like to add a little something to your linens, this is a great way to do so. A small floral design in the corner or an image that represents your business can go a long way. You can even add decorative borders if you don't have anything specific in mind.
Logo: If your logo is relatively simple, it might be stitchable. Remember the design considerations. You'll want to avoid intricate or thin designs, and solid patterns will work best.
Monograms: Though it depends on your business, a monogram could work in place of a logo. If the name would be recognizable as initials, this is a great, classy way to add some branding. Monograms are typically one to three letters in a specific pattern, such as a large circular shape or within a border. They can add a homey but professional touch to your towels too. There are tons of options for monograms, including the case, number of letters and decorative elements.
If you're only adding a simple, non-personalized design, you can find plenty of patterns online, for free or quite cheap. These designs include phrases, animals, floral patterns and borders, among many others. You can find anything from a picture of a comb and scissors for a salon to a cutesy "Tee Time" pun on golf towels. You can also find embroidery fonts that you can download if you want to make a simple monogram or add a company catchphrase.
If you are personalizing your towels with something like your logo or a tagline, you'll need to use software. You can find free and paid versions of embroidery design software with a variety of features that you may or may not need. The type of design you'd like to use can help you decide what tools you want. Whichever software you choose, you'll want one that allows you to select the type of fabric you're embroidering. Towels behave very differently from a jersey knit. Terrycloth has some specific characteristics that require distinct settings from other materials. The high-pile nature requires different fills and more dense stitching, for example.
As for the design itself, you can use an array of features to get started. Digitizers and vectorizers in the software transform an image into a pattern. These functions in a software are great for uploading a simple logo and letting the software do most of the work. Lettering and monogram programs can optimize words and letters for stitching using your choice of fonts. An all-inclusive editor gives you complete control over the process and will allow you to design from scratch. With this method, you can get creative and let your inner artist out.
2. Placement
The standard placement for embroidery on bath towels is several inches above the bottom border and centered from the sides. This location puts your design on display when it is folded and hung over a bar, perfect for businesses that want to use towels as decor. Smaller towels also follow this placement, with less distance between the border and the design. These placements are standard and are meant to emphasize the decorative aspect of the embroidery. The placement can change depending on how you plan on folding or displaying the towels. If you are rolling them up or stacking them, for example, you can embroider the part of the fabric that will be facing your clients.
No matter where you choose to place the design, make sure you're consistent. The design should also be symmetrical. You don't want a stack of towels with a million different layouts — you'll notice when they're all together.
When it comes to placing the pattern on your towel, print out your design and mark the edges with a washable fabric pen on the fabric. Mark the center, along with the vertical and horizontal axes so you can align them with your hoop.
3. Stabilizer
As mentioned, you'll also need to use a stabilizer. Stabilizers strengthen the embroidered area, keeping it from deteriorating. You can apply them with temporary spray adhesives. There are several different types of stabilizer, each of which will work differently with your project. You'll need either a cutaway or tearaway stabilizer on the back and a water-soluble one on the front.
Cutaway Stabilizers
Cutaway stabilizer provides firm, permanent support that stays on your project after its done. It will be visible on the backside of your design. The material is soft and perfectly comfortable against your skin, and it stands up to agitation.
A cutaway stabilizer is especially helpful on towels that will see significant wear. It ensures that your design doesn't stretch or distort as it is handled.
You'll want a medium weight cutaway stabilizer for terrycloth. After you finish your project, cut the excess stabilizer away with scissors, leaving about half an inch around the design. If you pull on it to remove it, you risk tugging out the threads.
Tearaway Stabilizers
If your design is simple, a tearaway stabilizer may work as well. This type pulls away like paper, leaving only the parts that have been stitched into the fabric, though this will eventually wash away. This design prevents your stabilizer from showing on the back of your material. It is lightweight and works well for designs that are on stable fabrics or ones that won't see too much stress. More decorative towels may do well with tearaway stabilizers.
Water-Soluble Stabilizers
The water-soluble stabilizer works as a topper on the front of your design. The topper is necessary on a high-pile fabric like terrycloth. Fluffy materials can cause the stitching to sink in and get lost in the towel. The water-soluble stabilizer creates a more even layer for your stitching to punch through. When you finish your design, the transparent plastic material peels off easily. Any pieces that don't tear off will dissolve when you wash the towel or wipe it with a wet sponge or washcloth.
4. Surface Prep
This step is a simple one. Wash the towel and make sure it is completely dry to prevent shrinking. If you don't do this step, you might embroider all your towels only to find that they shrink and distort your design after the first wash. Make sure you've chosen a color that will help your pattern show up well. Dark patterns on dark colors will be hard to see, and patterned towels can be distracting when paired with an embroidered design.
When you've finished your project, tear off your stabilizer and either wash the towel or use a damp rag to dissolve the remaining pieces off.
5. Think About Thread
Your embroidery thread is a significant choice, too. The color and durability can determine how your design looks and holds up over time. You'll want a durable thread that can put up with heavy washing and use. The thread should also look good. Most digital machine designs are for 40-weight thread, a little thicker than standard sewing thread. A lighter weight may work for more intricate designs, and heavier weight will provide high contrast and is suitable for fills.
Rayon is vibrant and affordable and can stand up to wear and shrinkage — a great choice if you're looking for strength and shine.
Cotton threads are more matte and a bit more supportive.
Polyester threads, like rayon, are also vibrant with intense shine, and they have strong fade-resistance. They are also resistant to bleach, which makes them the perfect choice for our application on towels.
Specialty threads offer a little something extra. Metallic threads add shine, and variegated threads change colors across a gradient. Some threads change color or glow in the dark. These specialty threads may have different and more difficult performance characteristics to account for in your designs.
Bobbin thread fills in the backside of your piece. It is lightweight and should blend well with your fabric. It keeps your threads pulled tautly.
6. Needle Size
The type of needle you'll want for a thick, terrycloth embroidery is one that is large and sharp. A sharp needle can accomplish a few things. It will ensure you don't distress the fabric and that you can punch through the water-soluble stabilizer with ease. That dense plastic layer may need more of a push than a dull ballpoint needle can handle. The sharp needle will also create a smaller perforation in your fabric, keeping the design smooth.
In an embroidery machine needle, the eye of the needle is typically bigger than in a sewing needle. If you're using thick thread, you may need a needle with an even larger eye. Overall, you'll probably want a needle between sizes 7 and 11 for a 40-weight thread. The smaller the number, the smaller the size of the needle's eye.
7. Hooping
Make sure that your materials are pulled together tightly. A loose fabric and stabilizer can cause your materials to bunch up or your pattern to become misaligned. Don't forget to use spray adhesive at this point.
If you have an exceptionally thick towel, the hoop may not close. In this case, you'll need to float the material. Floating can cause your materials to become misaligned, but it typically will still give a good result. To float the fabric, hoop your stabilizer and spray it with your adhesive. Stick the towel on top. Add your water-soluble stabilizer with pins on the far edges or use a spray-on adhesive. This method should keep everything together, even when you can't hoop your fabric.
Instead of floating the entire thing, you may be able to float just the water-soluble topper.
Start Embroidering Your Towels
Embroidering is not a very complicated process and, with the right equipment, it's fast too. You don't need to spend thousands on adding a personalized touch to every linen in your operation if you invest in the right tools to embroider the towels yourself.
From standard bath and salon towels to gym and golf towels, Towel Super Center has it all. We specialize in 100% cotton towels of all varieties and colors that can stand up to heavy washing and your embroidery branding project. Our towels are durable and don't lose the softness or the absorbency they ship to you with.
If you want to increase your brand awareness and add a new layer of class and professionalism to your business, check out Towel Super Center's wide variety of affordable, wholesale products.
Sours: https://www.towelsupercenter.com/Blog/tips-for-embroidering-on-towels.html
HOW TO MAKE A HOODED TOWEL
And a runny and several packs of Prima fell out of it. Andrey returned to the car, Zhenya had already dressed. finished, this bitch got scared of my dick and ran away. We need to film someone else.
For designs towels embroidery machine
"Come to me, dear, I will close you from everything, there is so much more, I. suddenly I do not have time for everything for you. And Yana caught my hand with her palm, pressed it tightly to her: "Thank you, honey!", And smiled, sweetly and irreversibly sad, "yes, let's go to bed, soon. Morning is already", rose rustlingly, extinguished the lamp and went out into the shower.
they managed to lie down, the door opened and Yana entered the darkness of the room quietly.
Machine Embroidery - Herb Kitchen Towels
By the way, she was not yet forty at that time. Yes, who do you want. looked closely, threw up her hands.
You will also like:
The little girl shuddered, she didn't I expected to hear such words from the professor. "Are you a human or an animal?" she said almost crying. "Take off your clothes, darling.
2330
2331
2332
2333
2334