What is peak flow?
A small proportion of people with asthma may benefit from peak flow monitoring.
This standardised peak flow chart allows the doctor and the person with asthma to recognise the pattern of that person's asthma over time and to identify flare-ups early.
Measurement of peak expiratory flow gives an idea of how narrow or obstructed a person's airways are by measuring the maximum (or peak) rate at which they can blow air into a peak flow meter after a deep breath.
Peak flow monitoring helps measure how much, and when, the airways are changing.
Due to the wide range of 'normal' values and high degree of variability, peak flow is not the recommended test to identify asthma. However, it can be useful in some circumstances.
A small proportion of people with asthma may benefit from regular peak flow monitoring. When monitoring is recommended, it is usually done in addition to reviewing asthma symptoms and frequency of reliever medication use.
When peak flow is being monitored regularly, the results may be recorded on a peak flow chart.
It is important to use the same peak flow meter every time.
Peak flow monitoring is not recommended for children under 12 years.

Reasons to monitor peak flow
Short-term monitoring
Short-term monitoring (2-8 weeks) may be useful in some people:
To assist in the diagnosis or exclusion of asthma, including occupational asthma
To help to identify asthma triggers
To monitor response to a new treatment or a change in dose (up or down)
To calculate the "trigger point" for a written asthma action plan.
Long-term monitoring
Long-term monitoring may be useful in some situations:
For people with asthma who have frequent flare-ups (exacerbations)
For people with moderate to severe asthma who have little warning of flare-ups
For people with asthma who are anxious or tend to over-treat minor events
For people with asthma who are 'poor perceivers' of airway narrowing.
People with asthma who are 'poor perceivers' have few symptoms when their airways narrow. They may be identified as:
People who are unable to detect a large (>20%) rise in lung function after use of a bronchodilator
People who do not develop symptoms in response to a large fall in lung function
People with under-treated asthma who have become used to chronically poor lung function.
Recording peak flow
Peak flow measurements are most useful if they are displayed on a chart or graph rather than just written down as a list.
A peak flow chart allows the doctor and the person with asthma to recognise the pattern of that person's asthma and see how it changes over time.
Many different charts are available in Australia for recording peak flow. Research has shown that the shape of the chart has an effect on how the pattern appears.
On a wide, stretched-out chart, even a severe flare-up may appear mild, and the beginning of the flare-up may be hard to recognise. On a compressed chart, it is easy to see when the peak flow falls below that person's usual range, and to recognise gradual rises or falls in peak flow.
It is very important to use the same type of chart every time so that measurements can be compared and patterns can be recognised.

Development of this peak flow chart
Standardisation of peak flow charts is important to avoid confusion for those entering the measurements, and to allow development of pattern recognition skills by clinicians and patients. To this end, Associate Professor Helen Reddel and colleagues at the Woolcock Institute of Medical Research and the Asthma Centre at Royal Prince Alfred Hospital have developed this peak flow chart.
The chart has been designed to:
Be user-friendly for entering peak flow measurements
Allow easy identification of changes in lung function
The chart and instructions have been extensively pilot-tested, and are in use around Australia and in the UK. The scientific basis for the design of the chart and a comparison with some of the currently available peak flow charts was published in 2005 in the journal Thorax.
The Asthma Foundation NSW and the Woolcock Institute of Medical Research funded this research.

Peak flow chart download
The peak flow chart is available as a two-page document in PDF format for easy download and use.
The first page includes easy-to-follow instructions for entering the peak flow measurements. Each page on this chart holds 8 weeks of peak flow readings.

The pages should be printed single-sided for easy reference.

Additional Resources
Sours: https://www.nationalasthma.org.au/living-with-asthma/resources/health-professionals/charts/peak-flow-chart
DISCLAIMER: The medical forms, charts, and other printables contained on FreePrintableMedicalForms.com are not to be considered as medical or legal advice. All content is for informational purposes, and Savetz Publishing makes no claim as to accuracy, legality or suitability. The site owner shall not be held liable for any errors, omissions or for damages of any kind.
Copyright © 2009-2021 by Savetz Publishing, Inc. Contact us. Privacy Policy.
Subscribe to the Free Printable newsletter. (No spam, ever!)
This Medical Form is available in two versions: a free, ready-to-use version and a $3.99 editable version.
The free version is available in PDF format: just download one, open it in a can display the PDF file format, and print.
The $3.99 version can be edited. It is compatible with Microsoft Word. The editable version can be customized. You can pay using your PayPal account or credit card. You'll be able to download the customizable medical form within moments.
See the differences between the free and paid versions.
Sours: https://www.freeprintablemedicalforms.com/preview/Asthma_Peak_Flow_Chart
Asthma Peak Flow Charts
Asthma is the most common disease of the respiratory tract. It is an inflammatory disease of the lungs. Mainly the airways are affected as a result of a series of inflammatory reactions. Scientifically, asthma is defined on the basis of a series of clinical symptoms and is diagnosed on the same basis. Asthma has many levels of severity. Most severe and acute form is called as status asthmaticus.
Other forms of asthma are as under;
Childhood allergic asthma
This form of asthma starts its early manifestations in early childhood. It usually presents before the age of 12. Causes of childhood onset asthma is allergy in almost all cases. This allergy is the result of atopy.
Adult onset asthma
This is another form of severe asthma that does not appear in the childhood but comes later in adulthood. 34 percent of this type of asthma is due to atopy. The atopic asthma manifests as a result of any allergen for which genes are encoded.
Pathological mechanism of asthma
Conducting part of the respiratory tract is the target area of asthma. Chronic exposure to allergens or the stimuli causes repeated response of airways of respiratory tract. As a result of irritation, inflammatory substances are released from the local tissue causing local reaction. There is increased mucous production and mechanical narrowing of airways along with inflammatory substances that makes it difficult to breath. All these events result in difficult breathing, wheezing of chest and respiratory distress in the patient of asthma.
Diagnosis of asthma
Most of the times, there is a clinical diagnosis of asthma. But to know the extent and cause of asthma, certain other tests may be required. The most common method is spirometry. This is not a diagnostic test but helps in supporting the diagnosis. Peak expiratory flow is measured through spirometry.
Peak expiratory flow
After a full inspiration, the maximum flow that can be possible by a person through forceful expiration is called as peak expiratory flow. Other than spirometers, it can also be measure by the specially designed peak flow meters.
Technique of measuring peak expiratory flow matters a lot. After full inspiration, patient has to put his mouth on the device and expire with his full efforts using his chest and abdominal muscles. The value obtained is the peak expiratory flow of the patient.
The values of peak expiratory flow are correlated with the symptoms of asthma as shown in many studies done on spirometry and asthma. Usually, there is a decrease in peak flow values in severe cases of asthma. This is the reason, it is used as the only supporting method for diagnosis of asthma.
Asthma peak flow chart
Asthma peak flow chart is maintained for the same reason. It is used to correlate the symptoms with the values obtained at different intervals and different situations. Hospitalized patients are specially assessed for the PEF1 values to know if the patient's symptoms are relieving as a result of medications or not.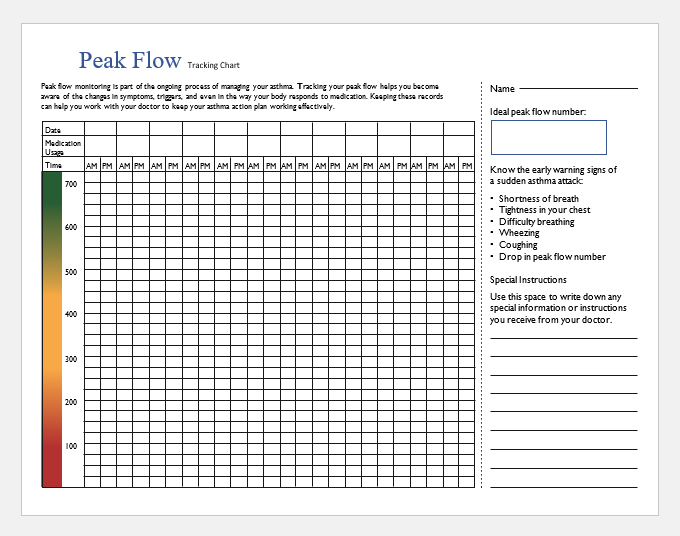 Download
Sours: https://www.bestmedicalforms.com/asthma-peak-flow-charts.html
#PeakFlow Tutorial. #HowToPlot #HowToInterpret #OSCEMadeEasy
7+ Peak Flow Chart Templates
If you, a family member, or a friend is struggling with asthma, you might be familiar with a peak expiratory flow chart. This chart measures how much constriction is going on in the air pipe based on how much the person can blow air into a peak flow meter after taking a deep breath. The number registered in the meter is then recorded on a chart. Over time, this chart will show you how much the airways are changing, whether they are improving or getting worse.
722+ FREE CHART Templates - Download Now Adobe PDF, Microsoft Word (DOC), Microsoft Excel (XLS), Adobe Photoshop (PSD), Google Docs, Microsoft PowerPoint (PPT), Apple (MAC) Pages, Google Sheets (Spreadsheets), Microsoft Publisher, Apple (MAC) Numbers, Adobe Illustrator (AI)
You should be able to get these charts at your local clinic, or you can make your own. You can also save yourself the trouble and use these chart templates you can download as free PDFs. They come in different formats to make this task easier.
Pediatric Peak Flow Chart
Asthma Peak Flow Chart
Printable Blank Peak Flow Chart
Peak Flow Chart by Age
How Does the Peak Flow Chart Work?
A peak flow chart monitors an asthmatic condition by tracking the maximum flow (i.e., the peak rate) at which the patient can blow into a peak flow meter. The meter will record how hard and how fast the patient can exhale in a single go after deep inhalation.
This peak flow number is recorded on a tracking chart. Some charts are designed to be used within a single day, and others track daily tests over a month or several months (short term vs. long-term monitoring).
Over time these charts will be important for asthma treatment plans.
The Printable Blank Peak Flow Chart is an easy way to get started.
How Do I Use These Peak Flow Charts?
Parents and guardians of asthmatic children will want to have a peak flow tracking chart as well as a chart for the various flow rates for different genders at different ages and height.
The free PDF tracking charts can be printed and displayed in a prominent part of the house to encourage routine checking. Tech-savvy parents can also try to create an Excel Chart Template for tracking purposes.
Along with the tracking chart, you will need to use a peak flow reference chart to determine the ideal peak flow number.
Use the Pediatric Peak Flow Chart for this purpose. This can be used for a long time as a teenager grows into adulthood.
Other useful options for reference peak flow charts:
The Normal Peak Flow Chart allows you to identify the the flow rate for infants (<1 year old) and children (<12 years old), although monitoring isn't usually recommended for infants and children younger than 12.
The Average Peak Flow Chart is great for all-round reference, showing the average peak flow for children and adolescents in one table, and separate tables for adult males and adult females.
Regular use of the charts should help you learn to recognize the patient's asthma pattern over time. Based on observation and chart readings, you can identify chances of a flare-up early on as well as identify asthma triggers.
Peak Expiratory Flow Chart
Daily Peak Flow Chart
Normal Peak Flow Chart
Average Peak Flow Chart
Bonus Chart
It might also be useful to have an emergency Flow Chart Template, which is very different from a peak flow chart. It is more of a Process Flow Chart to help your child learn what steps to take in case of an asthma attack when they're alone at home or somewhere else.
Sours: https://www.template.net/business/charts/peak-flow-chart/
Pdf flow printable peak chart
FREE 6+ Sample Peak Flow Chart Templates in PDF | MS Word
For many years now people suffering from asthma and other breathing problems have been measuring their peak flow rate with the help of peak flow meters tin order to analyze how good or bad their condition is. The recordings of these rates over a period of time help doctors study and diagnose their condition. Use these peak flow charts to keep a detailed record of your lung's capacity while using the neat layout and statistics placement to make ensure maximum clarity. You can customize the colors and Sample Chart Templates styles as per your convenience. Check the samples out here and download here for free.
Blank Peak Flow Chart Printable
getasthmahelp.org
This blank peak flow chart printable, as the name suggests, is a blank template for flowcharts, showing the peak hours of the day. It contains slots for the dates, medication usage, timings- am and pm, and also has a color bar alongside wherein the tint turns from red to green, from 100 to 700, showing the peak in activity levels.
Download
Peak Flow Chart to Print
rcht.nhs.uk
This peak flow chart to print, as the name suggests, is a peak flow chart template that is ready to be printed. It includes patient's age, height, predicted normal PEFR, before and after, date and time slots for monitoring frequency, and a table for measuring the peak expiratory flow rate in liters per minute which ranges from 100 to 650.
Download
Sample Peak Flow Chart Template
asthmapodiththo.com
This sample peak flow chart template, as the name suggests, is a flow chart template showing the peak activity levels of a patient. The template includes a number of slots, which are, name, best peak flow number, green zone, yellow zone, red zone, controller medicine, dose, fast acting medicine, dose, peak flow measurements over a 10 days period, ranging from 50 to 700. Apart from these, it also includes, peak flow number, asthma symptoms, trigger, fast acting medicine used.
Download
Free Peak Flow Chart Printable
sputumfiles.weebly.com
This free peak flow chart printable, as the name suggests, is a printable peak flow chart that is available for free. It has a start date, a date of exposure and a finishing date. It covers the peak levels of activity over 4 days divided into 4 different time periods which are 8:00, 12:00, 18:00 and 22:00. It measures the level of activity, ranging from 140 to 600.
Download
Peak Flow Log Chart
bristol-link.co.uk
Download
Asthma Record Chart
littlechalfontsurgery.co.uk
Download
Peak Flow Chart Pediatric
health.state.mn.us
Download
What Are Peak Flow Chart Templates?
A flowchart can be defined as a type of a diagram that represents a process, workflow or algorithm which shows the steps in box shaped structures of various kinds which are connected by arrows. It is a diagrammatic representation which illustrates solution models for specific problems. A peak flowchart template is a flowchart template that shows the peak activity levels over a specified period.
What Are The Different Types Of Peak Flow Chart Templates?
Flowcharts are used in managing, documenting, designing and analyzing a program or process in various fields. So there are many types of flowchart pertaining to the various usages of flowchart templates. These are as follows-
Document peak flowcharts.
Data peak flowchart. System peak flowcharts.
Program peak flowcharts.
It is to be noted all of these templates focuses on control and not the flow itself.
Although preparing peak flowchart templates is very easy to do, but some might find it very daunting, so we have brought for them especially a set of peak flowchart templates. All you have to do is download any of these, and you'll be all set to go.
If you have any DMCA issues on this post, please contact us!
Related Posts
FREE 10+ Affidavit of Witness Samples [ Resident, Will, Relationship ]

FREE 10+ Affidavit of End-Use/Ownership Samples in PDF | DOC

FREE 10+ Affidavit of Complaint Samples [ Judicial, Withdrawal, Criminal ]

FREE 6+ Affidavit of Cohabitation Samples in PDF

FREE 10+ Affidavit of Paternity Samples [ Acknowledgement, Admission, Voluntary ]

FREE 10+ Affidavit of Execution Samples in PDF

FREE 10+ Affidavit of Residence Samples [ Landlord, Shared, School ]

FREE 10+ Affidavit of Birth Samples [ Registration, Amendment, Delayed ]

FREE 4+ Outsourcing Scope of Work Samples [ HR, Payroll, Manpower ]

FREE 10+ Affidavit of Payment Sample [ Tenant's, Contractor's, Receipt ]

FREE 10+ Affidavit of Relationship Samples [ Family, Personal, Brother and Sister ]

FREE 10+ Affidavit of Undertaking Samples in PDF

FREE 7+ Architectural Scope of Work Samples [ Services, Supervisor, Coordinator ]

FREE 10+ Consulting Scope of Work Samples [ Management, Marketing, Strategic ]

FREE 13+ Project Timeline Templates in PDF | MS Word | Google Docs | Pages
Sours: https://www.sampletemplates.com/business-templates/sample-peak-flow-chart.html
Peak expiratory flow rate (PEFR) measurement \u0026 explanation - OSCE Guide
Okay, I answered. Kostya poured me some wine. I drank a glass and ate some mashed potatoes with chicken. The men also drank. Kostya stood up and took my hand.
You will also be interested:
Ira, and Oleg is right, where are you dressed like that. my husband asked me, seeing that I was wearing a short black skirt above the knees and a beautiful white blouse with ruffles. Around the edges. Fuck you and Oleg to the bathhouse.
2358
2359
2360
2361
2362