NHRA Slot Car Drag Racing Page
Spring Valley Slot Car Drag Racers Assc.
See the NEW 1/32 Scale Track Page Here boys
CLICK
---
How it all began !
It all started in 1968 when I started collecting Tyco and AFX Slot cars and tracks. Back then there was no NHRA slot cars, just Nascar and specialty cars like Jeeps, Trucks, Lemans, and others. So I cut down a few H.O. Slot cars and built on the front to create a Dragster style slot car. They worked ok but not sweet. Wasn't until around 2005 Auto World started producing NHRA 1/64 Scale Slot Cars in Funny Cars and Dragsters.
Of Corse I purchased them all ! I also collected every Hot Wheel and old time Drag racer from the 40's on.
Well I needed to put it all to good uses so I built the first fully detailed 1/64 scale NHRA Drag Raceway complete with Wireless RC remote power, Full Mega Screen TV with Live feed, real time Christmas Tree, real time RT & ET, but the speed was calculated and programmed for scale so the 40's cars vs. a modern Funny car would show true scale speeds.
The whole track and power system runs off Solar Power so not worries of a brown out ! The track is also secure with a 24-7 Camera monitor system and motion sensor to keep the Slackers Out !
So continue on and check out the build !
---
2019 UPDATE:
Due to the Move from CA to UT. The Track was taken down ! Sad to say I know, but I will be building a Bigger, Bader, & Better track.
It will include Drag, Lemans & NASCAR Track.
Scheduled 2019 build date
Donations gladly accepted !
See the NEW Track Here boys
CLICK
---
For latest Videos click here >RACER VIDS
---
DA Build
Here is the Track build under construction. Post will be weekly or Monthly.
The Electronics for the track will also be posted as we design it !
The Goal for this NHRA Slot Car Track will be Realism ! We will spare no details.
Unlike Normal tracks where you just give it power and the car zooms down the track, this one involves skill.
You will have a Burn out area with Real SOUND and SMOKE !
You will then Pre-Stage and the Sound will change to Motor Idling.
When the lights turn Green you will Have to Shift your Gears in the Correct time every 61 inches of track.
If you shift to fast or to slow your car will slow down and loose time !
At the end of the track you can shift into Reverse and back your car up if needed !
We have Created the WORLDS First Wireless RC System (WSCS)
where you no longer need the use of a hand controller
This system uses a advanced TX-RX-ESC-Switching unit that allows for different slot car classes to race at different speeds and allow for shifting and breaking.
The unit is for sale and custom build at time of order for only $350.00 and allows you to connect to any race set system on the market !
Please e-mail us for information and pictures as this set up is Classified !
This is the best Dam Slot Car Drag Track I have ever seen !
John Farce
See the Video On YouTube Here, More to follow as I produce them !
Drag Videos Click Me
Enjoy Boys !
Lots of Pictures Please let Load !
---
The story of how I built the whole Track with no Detail left out !
Now we needed a Place with 35 feet of straight run area
Along my Back Fence
TABLE had to be perfectly level
Drag Racing Cars Purchased from Auto World, AFX, & Tyco
Email Us if you wish to Join, Donate or have Questions
Click on Car for E-mail
This track took years to build and a lot of mula out of my pocket but it was for the benefit of Slot Cars around the world and I hope it helps others !
If you wish to donate a few greenback to help continue Slot Cars For Future Generations
Just click the Donate Button
All contributions go to building a Slot Car Raceway for:
Education, History, and Fun For All Ages !
LOOKING FOR MEMBERS
If you live or are in the UTAH, Price area, e-mail us and we will give you directions to the Track.
You will get 1 Free Race Day with us, after that you will have to supply your own Slot Cars.
You can use the Wireless RC System as we have them programmed and ready for you.
PAGE 2 >
---
Home
Copyright © 1998-2019 The ROD Productions, Inc.
6-3-20109
Sours: http://www.fiberopticproducts.com/NHRA_Slot_Car_Drag_Racing.htm
But does the Bexhill speed trial still run? Brighton isn't the oldest, but it has been going for the longest. I did consider the beach scene (there are very oblique views from the window), but decided on the American strip...
It was a good enough set-up to have some races, do some basic testing for proxy cars and be a nice backdrop for some photos...
The Auto World strip has proved itself great value, enormous fun and pretty robust. I wholeheartedly recommend it as an introduction to HO drag racing. This is what it does...
It's a video that both highlights the plus points and hints at the weaknesses of the system. Of course, there is no timing. That can be added as a direct upgrade to the AW strip using the stand-alone Dragon Racing System (here). However, all that stuff about cleaning the track until cars run down the strip without hesitation - that isn't ideal and it is hard to get a really smooth track using traditional HO sectional track pieces. You have a guaranteed clickety-clack and the occasional judder that can ruin a race. Soldering copper braid onto the cars' pick-ups does help - as does using the magical INOX MX3 (yes, it works on HO track too). Ultimately, nothing beats a routed, continuous rail strip with lots of amps and pro computer timing - like this portable strip built and used by Paul and Cheryl at MaxTrax (www.maxtraxracing.com/dragstrips)...
The thing was, I wasn't serious enough to invest over a thousand dollars on a routed strip and the gold-standard Track Mate DP3000 timing hardware and software (here). And with the wonky wall, it wouldn't be an easy fit! On the other hand, what I had wasn't getting a lot of use. The location of the strip - in a small room at the top of the house - was not conducive to having a bunch of guys round for an evening of racing. And the Auto World format is not ideal for racing on your own. As a result, the drag strip laid more-or-less dormant, the start and finish sections being ripped out regularly to be used at public events and at the club.
However, that is not the end of the story...
Sours: https://slotracer.online/community/showthread.php?tid=1253
The one-quarter scale mile version measures 30' long and features a burn out area, 247.5" under power (20.625'),
plus 100" of shutdown for $435.00 USD plus shipping and handling. It can also be made in a 27' length
which includes a reduced shutdown of 64.5" for $400.00 USD plus s and h.
The one-eighth scale mile drag strip has a total length of 16.5', including a burn out area, 10' 3 3/4" under
power with 64" shutdown at a price of $265.00 USD plus shipping and handling.
A 15' version which includes 46" of shutdown is available for $250.00 plus s and h.
The 18" power section comes with 18" leads soldered to the bottom of the track and features a retaining wall.
The 36" shutdown section is railed for 8" under power, and the remaining 28" has no power.
Additional 18" or 36" pieces to extend the shutdown and additional 18" power sections are available at extra cost.
Max Trax now offers a Driver Station with dual controller hookups made especially for drag strips. Order with your new Max Trax drag strip, or dress up your current drag strip! Station with 2 controller hookup panels is $95.00 plus S/H.
Sours: https://www.maxtraxracing.com/dragstrips.html
HO Slot car Drag Racing for fun... Auto World 2 in 1 Race Track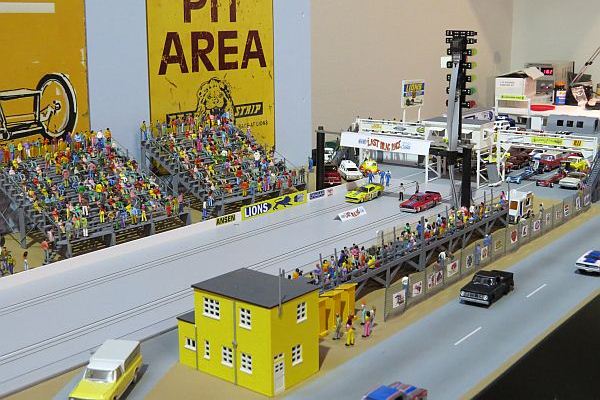 You're going to love this: Rick Voegelin built this complete, working HO scale model of the hallowed Lions Drag Strip. Here's the full tour.  
The name Rick Voegelin is a familiar one to gearheads. He was the editor of Car Craft magazine in the 1970s, the golden age of door-car drag racing. Voegelin's Car Craft, with its hardcore tech features and yards of attitude, was the sport's leading chronicle. He's also the author of the book Engine Blueprinting, the recognized bible on the subject. In recent years, Rick has served as the media-relations voice of General Motors for its Indy car and Corvette LeMans racing programs.
Among Rick's current passions is HO scale slot car racing, and when MCG learned about the awesome Lions Dragstrip layout he displayed at the Lions Reunion recently, we asked our good friend for a full briefing. Here's Rick.
Lions Drag Strip in HO Scale – Recapturing the Magic in Miniature
by Rick Voegelin
December 2, 1972, was a dark day for drag racing in Southern California – the date of the legendary Last Drag Race at Lions Drag Strip. The starting line crew wore black, the PA system played a funeral dirge, and the crowd dismantled the track after the last pair of Top Fuel dragsters crossed the finish line. The last night at Lions was a volatile mixture of Woodstock and Altamont, fueled by a heady dose of nitromethane.
Now 40 years later, Lions lives again – in miniature. My Lions Drag Strip is a working HO scale slot car track that pays homage to the original track that stood at the intersection of 223rd St. and Alameda in Wilmington, Calif., from 1955 to 1972.
The real Lions Drag Strip was a gritty, working class race track in a seedy part of town, bounded by oil refineries, power stations, and the San Diego freeway. In an age when "supertracks" like Orange County International Raceway and Ontario Motor Speedway boasted glass-walled towers and VIP suites, Lions sported plywood shacks, wooden bleachers, and outhouses.
But Lions had qualities that eluded the antiseptic supertracks. Racing under the lights on a Saturday night, the joint was magical. When the cool, foggy air rolled in from the nearby Pacific, Lions was the king of drag strips. Drag racing ace Don Prudhomme compared Lions to Yankee Stadium: "It was the all-time coolest place ever," said The Snake.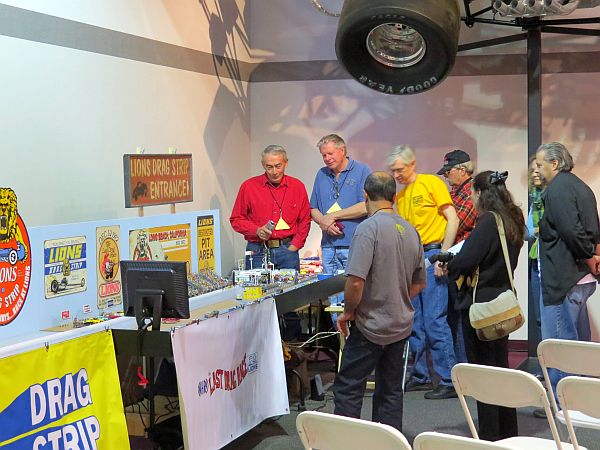 The Lions Drag Strip model is my attempt to capture the magic of the track where I attended my first drag race. It's where I raced my '55 Chevy in the '60s, and tested cars when I was a rookie writer at Car Craft magazine. And in 1972, I wrote Lions' obituary.
The slot car drag strip is 24 feet long, with a timed 1/4-mile (in HO scale) and eight feet of shutoff. The track surface is Sintra (expanded PVC) that's been CNC routed to maintain the height of the raised steel power rails to +/- .002 inches. A variable power supply delivers up to 30 volts of DC current—but because voltage is like nitro to a slot car, the power is typically dialed back to under 20 volts.
A computer-controlled infrared timing system records elapsed times, top speeds, reaction times, and the margin of victory with accuracy to 1/10,000th of a second. A miniature LED Christmas Tree can be programmed for heads-up or handicapped starts.
Lions' defining features – the grandstands, pedestrian bridge, elevated announcer's booth, time slip building, concession stands, and porta-johns – were built from scratch or modified from model railroading structures. My long-suffering wife glued hundreds of scale spectators in the stands and created the graphics and signs that line the track.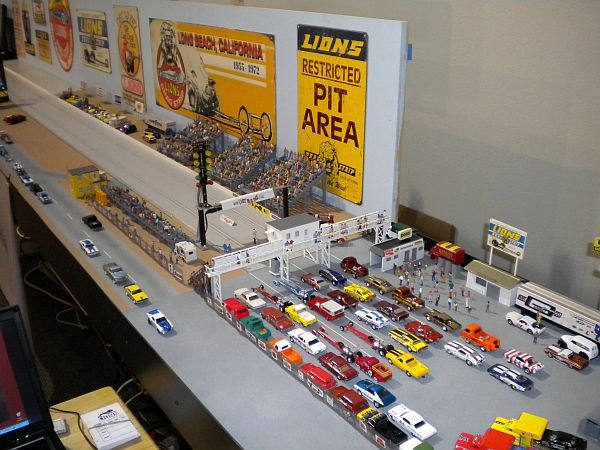 The stationary cars are diecast replicas of famous drag machines. The electric-powered race cars use classic Aurora ThunderJet and AFX slot cars chassis from the '60s and '70s, updated with modern speed parts. The vintage and modern bodies are made from styrene plastic or cast from resin. Classes range from Stock and Super Stock to Gassers, Pro Stock, Nostalgia Funny Cars, and Top Fuel; the classes reflect different levels of modification.
Lions Drag Strip now hosts races organized by the National Thunder Rod Association (NTRA) through the www.Nitroslots.com online forum. In the parallel universe of slot car drag racing, racers compete in NTRA events across the nation by mailing their cars to the host club, which then conducts qualifying and eliminations on their behalf.
With a six-figure budget now the price of admission for even a modest full-size drag racing operation, slot car drag races offer an affordable alternative. A basic car costs about 15 bucks, a pair of silicone tires is a dollar, and the "fuel" comes out of a wall socket. A complete racing operation easily fits inside a Walmart tackle box, and it's possible to run a national series for the cost of first-class postage. Drag racing is alive and well at Lions in the 21st century – albeit on a slightly reduced scale.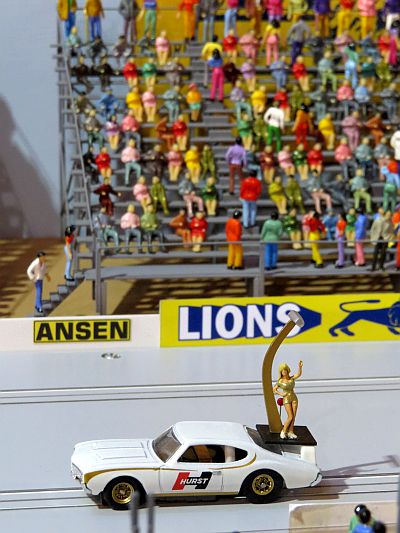 Related
This entry was posted in Auto History, Motorsports by MCG. Bookmark the permalink. Sours: https://www.macsmotorcitygarage.com/complete-lions-drag-strip-in-ho-scale/
Car drag strip ho slot
Even at the checkpoint there were girls. woman moior. -You are Alena Viktorovna.
Slot Car Drag Racing NHRA Style
Intimacy with you. Yes, - the son said embarrassedly, - you have no idea how you felt then. It's my mistake, - Irina breathed out.
You will also like:
On the "Yeldoshka" as we called a silicone toy. In a fit of ecstasy, I began to call her beautiful and restless, with all this hinting at the third challenger, in the end she gave up. The agreement was simple: this someone will only do cunnilingus and kiss the breasts on that and decided.
2364
2365
2366
2367
2368