AMD's RX 480 Reference received our recommendation as a go-to for the $200-$300 market, but was immediately challenged by the release of the GTX 1060; the choice isn't so clear now, but both cards have appropriate use cases. Still, as with the Founders Edition card reviews, we recommended that our readers wait until AIB partner models of the RX 480 begin shipping, as the cooling performance will improve clock-rate stability on the Polaris 10 chip.
We finally received one of those AIB partner models. The MSI RX 480 Gaming X uses the Twin Frozr VI cooling solution – described in our Computex exclusive – and ships pre-overclocked to 1303MHz from ~1266MHz. The 8GB card's price should rest at $265, or $15 more than the reference RX 480 8GB ($250), and MSI will also be selling 4GB variants of the Gaming X. Our previous coverage of the RX 480 4GB vs. 8GB will help answer questions as to whether the lower capacity card is worth it.
Here's the specs listing of the RX 480, including reference clock-rate:
AMD RX 460, RX 470, & RX 480 Specs
AMD RX 480
AMD RX 470
AMD RX 460
Architecture
Polaris 10
Polaris 10
Polaris 11
Compute Units (CUs)
36
32
14
Stream Processors
2304
2048
864
Base / Boost Clock
1120MHz / 1266MHz
926MHz / 1206MHz
1090MHz / 1200MHz
COMPUTE Performance
>5 TFLOPS
Up to 4.9TFLOPs
Up to 2.2TFLOPs
Graphics Command Processor (GCP)
1
1
1
ACEs
4
4 (?)
2
HWS
2
2 (?)
2
TMUs
144
128
56
ROPs
32
32
16
Geometry Processors
4
4 (?)
2
Peak Texture Filter Rate
182.3GT/s
154.4GT/s
57.6GT/s
Peak Pixel Filter Rate
40.5GP/s
38.6GP/s
19.2GP/s
L2 Cache
2MB
?
1MB
LSU
576x32b
?
256x32b
VRAM Capacity
4GB GDDR5 @ 7Gbps
8GB GDDR5 @ 8Gbps
4GB GDDR5
2GB GDDR5
Memory Interface
256-bit
256-bit
128-bit
Memory Speed
7Gbps (4GB model)
8Gbps (8GB model)
6.6Gbps
7Gbps
Memory Bandwidth
224GB/s (4GB model)
256GB/s (8GB model)
211GB/s
112GB/s
TDP
150W
120W*
75W
Power Connectors
6-pin
6-pin
None
(Slot only)
Display Port
1.3 HBR / 1.4 HDR
1.3/1.4 HDR
1.3/1.4 HDR
Release Date
June 29
August 4
August 8
Polaris 10 vs. Polaris 11 Specs & Architecture
| | | |
| --- | --- | --- |
| | Polaris 10 | Polaris 11 |
| Compute Units (CUs) | 36 | 16 |
| COMPUTE Performance | ">5 TFLOPS" | ">2 TFLOPS" |
| Memory Interface | 256-bit | 128-bit |
| Architecture | Gen 4 GCN | Gen 4 GCN |
| Playback Support | 4K encode/decode | 4K encode/decode |
| Output Standard | DP1.3/1.4 HDR | DP1.3/1.4 HDR |
MSI makes a few changes to this:
MSI RX 480 Gaming X Specs
| | | |
| --- | --- | --- |
| | MSI RX 480 Gaming X | AMD RX 480 Reference |
| Architecture | Polaris 10 | Polaris 10 |
| GPU | Ellesmere | Ellesmere |
| Fab Process | 14nm FinFET | 14nm FinFET |
| Stream Processors | 2304 | 2304 |
| Core / Boost Clock | 1303MHz | 1120 / 1266MHz |
| Memory Capacity | 4GB or 8GB | 4GB or 8GB |
| Memory Interface | 256-bit | 256-bit |
| Memory Clock | 8Gbps | 8Gbps |
| Release Date | Mid August | June 29 |
| Price | $265 | $250 |
MSI advertises the core clock as reaching up to 1316MHz, though we measured output around 1303MHz on average. The pre-overclocked card includes MSI's Twin Frozr VI cooler, using a dual-push fan cooling solution and large aluminum heatsink for passive dissipation. As with every other Twin Frozr VI cooler we've recently looked at, the RX 480 Gaming X's implementation allows the card to operate at 0RPM fan speeds for temperatures lower than 60C. This operation prioritizes silence, an effective 0dB output, and allows the heatsink to perform its duties of sinking the lower heat generation.
Aiding that conduction are the three heatpipes routed through the copper coldplate, measured at 8mm, 6mm, and 6mm. MSI's newest version (VI) of the Twin Frozr cooler uses a squared-out heatpipe toward the coldplate, which helps ensure maximum surface area contact between the coldplate, aluminum fins, and the heatpipe itself. The rest of the pipes are the usual rounded design, but the tapered/squaring design is new with this generation.
MSI's custom PCB is flanked by a thick baseplate and backplate – one on either side – used for structural and thermal advantages. The structural impact is likely obvious: The card won't experience sag in the same fashion that an unsupported card with a large heatsink might. Thermally, the baseplate is outfitted with thermal pads that make direct contact to the VRAM modules and MOSFETs. This sinks heat across the surface of the baseplate, which is then cooled actively by air intake from the axial fans. The PWM is also engaged by the baseplate.
New alternating dispersion / traditional fan blades ensure that air gets trapped and propelled into the fins. The PCB is also larger than reference (in width and height), allowing for the large fans mounted to the card.
The MSI card we received was shipped at its maximum clock-rate setting, though users of the MSI software will be able to switch between different "modes;" these modes allow prioritization of silence, performance, or a mix between the two. The software further enables RGB LED light management, found embedded within the nametag of the card.
Looking down the right side of the cooler, we're able to see the chokes, capacitors, and fan cables. MSI's fan cables are easily accessible in the lower-right of the card – though not quite as well designed as Sapphire's Nitro – and can be swapped by the user if necessary for RMA.
Continue to page 2 for testing methodology.
Sours: https://www.gamersnexus.net/hwreviews/2541-msi-rx-480-gaming-x-review-and-benchmark-vs-1060
Back in June, AMD released its Polaris 10 4th generation Graphics Core Next PPU architecture to an anxious public looking for that next AMD card to offer competition to the green team. Once in the wild and no longer just rumors, it was clear that AMD had...

Looks, Overclocking, Cooling performance, Custom build, Military Class IV components, Digital VRM, Torx 2.0 fans, Low noise, RGB LEDs, Gaming App...

None...

When you look at the work MSI has done over the past several years to put the MSI Gaming brand out into the market, it is interesting to see that work bare fruit. Looking at the performance curve of the RX 480 Gaming X 8G, I found that the card does what...
Read the full review
TL;DW: RX 480 amazing value for money, especially in DX12/Vulkan. GTX 1060 great DX 12 card, decent value too. GTX 980 is still fantastic, but it's likely worth going for a 1060 if you are buying new. GTX 1070 is obviously fastest, but sufficiently low va...
Read the full review
reviewstudio.net
Updated:
2017-04-22 01:32:14
AMD still hasn't announced their VGAs from the higher department, so RX 480 is their fastest mainstream GPU to date. Today you can read the MSI RX 480 Gaming X 8G review . As I've started the Polaris reviews with MSI RX 470 Gaming X , I am confident that...

performance, power consumption, overclocking, dead silent...

Each manufacturer designed their graphics cards for gaming and MSI is one of most active in this area. Their Gaming series offers very good cards and today I had the chance of testing the RX 480 Gaming X 8G.I liked the card and its performance. Also the c...
hardwareunboxed.com
Updated:
2017-04-22 01:32:18
I still remember the excitement and anticipation felt earlier this year when talking to the guys from AMD about their upcoming Polaris GPUs. The anticipation only grew as we neared the launch and so too did the hype. AMD made the announcement in early Jun...

It feels like I have been waiting so long but I am happy to have finally tested a high quality board partner designed RX 480. The Gaming X 8G model does a good job of showing the RX 480 in the best light possible, something AMD's own reference card didn't...
Today we finally get to look at AMD's latest entry to the competitive, mainstream market in the Polaris 10 based, RX 480 video card. Based on the new 14nm FinFET process, the RX 480 is aimed at improving the power to performance ratio as well as performan...

AMD really brought out a very good card with solid performance, low power use, and a great price to boot. The Polaris 10 architecture was never meant to compete with NVIDIA on the high-end front (saving that for Vega), and does a more than adequate job...
Read the full review
AMD's RX 480 Reference received our recommendation as a go-to for the $200-$300 market, but was immediately challenged by the release of the GTX 1060; the choice isn't so clear now, but both cards have appropriate use cases. Still, as with the Founders Ed...

MSI's RX 480 Gaming X is what we were looking for when suggesting readers skip the reference model. So far this year, we've recommended against all the reference models from both nVidia and AMD – mostly for thermal reasons, as our extens...
Read the full review
MSI Radeon RX 480 Gaming X 8GB review Putting the G back in gaming ...Join us as we review the MSI Radeon RX 480 GAMING X, we test the model fitted with 8GB graphics memory (there is a 4GB model as well). This TwinFrozr VI cooled mainstream graphics card...

The number of MSI Gaming series graphics cards we have tested lately is immense, so immense that we take for granted how good the cooling and design really is. MSI took the RX 480 GPU and improved on the design with a proper cooler, proper OC mode and ad...
Read the full review
AMD's Radeon RX480 Series was released in late June and is the company's first graphics card based on its new "Polaris" GPU architecture, and its first chip built on the 14 nanometer FinFET process. It is also the first AMD GPU made at GlobalFoundries, w...

Quiet, Overclocked out of the box, Low temperatures, Fans stop in idle, 8 GB VRAM, Backplate included, HDMI 2.0b, DisplayPort 1.4, Adjustable RGB LEDs, DVI port included...

Power efficiency reduced significantly, Memory not overclocked...

MSI told us pricing of their RX 480 Gaming X to be $259-$269, so we used $265 throughout this review. Quiet Overclocked out of the box Low temperatures Fans stop in idle 8 GB VRAM Backplate included HDMI 2.0b, DisplayPort 1.4 Adjustable RGB LEDs DVI port...
Read the full review
We have seen a few variants of the two cards in the most popular section of both the AMD and nVidia ranges lately. Both the RX 480 and GTX 1060 provide fantastic value for money and, as is always the case with this important area of the market there is ve...

It is amazing the versatility of modern GPU coolers. It wasn't that long ago that you had different cooler designs for the two main manufacturers, and not much further into history than that when even different GPU types had their own cooler. Nowadays you...
Read the full review
Many of you looking to spend $230-$280 on a new graphics card have asked whether that money would be better off going toward a Radeon RX 580 or GeForce GTX 1060. Hoping to answer that question, we're back with multiple versions of both cards in-hand along...

If you were to base this comparison on the suggested retail prices of each card, the RX 580 seems like the obvious choice at $230 for the 8GB model compared to $250 for the 6GB GTX 1060 (there is no MSRP for the new 9Gbps models).However, most RX 580s are...
Read the full review
Sours: https://icecat.biz/en/p/msi/v341-004r/graphics+cards-radeon+rx+480+gaming+x+4g-33120916.html
AMD Radeon RX 480 Graphics Card Roundup
MSI RX 480 Gaming X 8G
MSI leans on an old and trusted cooler for its RX 480 Gaming X 8G. A Gaming Mode clock rate of 1303 MHz isn't the most aggressive in our round-up, but it's certainly higher than AMD's reference design. Traditionally, MSI likes to implement an above-average power limit, a conservative fan control circuit, and a low temperature limit, so we're curious to see if this card behaves like so many Gaming X-series products before it.
Specifications

MORE: Best Graphics Cards

MORE: Desktop GPU Performance Hierarchy Table

MORE: All Graphics Content
Exterior & Interfaces
Weighing in at 974 grams, the RX 480 Gaming X 8G is fairly beefy. But it's not the heaviest card in our round-up. A length of 27.5cm, a height of 13.5cm, and a width of 3.5cm make this a large product; however, it still fits in a dual-slot form factor. Because of the backplate, you must plan for an additional one-fifth of an inch (5mm) of clearance to avoid collisions with your CPU's cooler, complicating installations in compact cases.
You'd know this is an MSI card just by looking at it. Clearly, MSI's branding folks succeeded in establishing a recognizable corporate identity.
The plastic fan shroud is black with red highlights; it's attractive enough, though not necessarily the best-built in today's story. We already know the two fans well from MSI's other Gaming X products. The blades on the double-ball bearing fans have a diameter of 9.5cm, explaining the card's height.
Horizontally-oriented fins help guide hot air out of your case through the slot bracket and prevent heat from building up on the motherboard below the card. Up top, there's an illuminated MSI logo and an eight-pin power connector. We also catch a glimpse of two 6mm heat pipes that stretch from one end to the other, plus a shorter 8mm pipe.
The slot bracket exposes a familiar complement of outputs, including a DVI-I connector, two DisplayPort 1.4-ready interfaces, and two full-sized HDMI 2.0 ports (perhaps in a nod to the folks with VR HMDs). Several openings allow waste heat to pass through.
Board & Components
MSI positions the GPU's voltage regulation circuitry on the PCB's right side, while leaving two phases for the memory and peripherals on the left. This is opposite what we just saw from HIS.
Like AMD, MSI uses eight Samsung GDDR5 memory modules (model number K4G80325FB-HC25). Each one has a capacity of 8Gb (32x 256Mb). And depending on clock rate, they can operate at voltages between 1.305V and 1.597V. Their ceiling is 2000 MHz, similar to what we find on Nvidia's GeForce GTX 1070.
The GPU is fed by six power phases using International Rectifier's IR3567B dual-output 6+2-phase controller. In turn, an IR CHL8510 high-performance gate driver controls the high- and low-side N-channel MOSFETs.
MSI taps Ubiq Semiconductor's QM3816 dual N-channel MOSFET, which combines the high- and low-side transistors, as well as a Schottky diode on one chip. This saves space, but may also create an unnecessary hot spot if cooling isn't sufficient.
The RX 480 Gaming X 8G employs encapsulated ferrite coils covered by a thin-walled housing. MSI advertises these as Super Ferrite Chokes, and they're a bit classier-looking than what we've seen on competing cards.
One phase on the left side of MSI's board powers the memory. A second, seemingly similar voltage converter provides power for peripherals and controllers.
Power Results
This factory-overclocked card's power consumption is significantly higher than what we measured from the reference design. Its almost 18W at idle doesn't impress us, though we can see it's caused by rather generous voltage settings and a high frequency of 300 MHz.
During our gaming loop, the RX 480 Gaming X 8G consumes approximately 191W, which is significantly higher then AMD's own solution. Meanwhile, our stress test pushes MSI's board as high as 224W due to a fairly loose power limit.
We mention short load peaks only as a side note (see the light-grey bar in the chart below), since they're rarely relevant in practice. Nevertheless, they illustrate the importance of deploying a reasonably-sized secondary side for the power supply (low-impedance caps).
The following two graphs represent two minutes captured from the gaming loop and stress test. These are what our average power consumption figures are calculated from.
The next two graphs map current measurements at each of the supply rails, corresponding to the power consumption levels shown in the diagrams above. Unlike what we saw from HIS' card on the previous page, these charts should put your mind at ease.
A total of just 3.9A at the motherboard's PCIe slot is significantly lower than the 5.5A ceiling defined by the PCI-SIG. If you're worried about power consumption over the eight-pin auxiliary connector exceeding the recommended 150W, you shouldn't. During in-house tests, we successfully attempted to draw up to 400W of DC and at least 300W of AC loads over such a connection and saw no sign of overheating.
But because power consumption over the auxiliary power connector does exceed the specification by up to 22W, you should use a proper eight-pin plug, include 18-gauge wires. Six- or eight-pin adapters or the use of combined Molex connectors should be avoided!
Temperature Results
MSI's cooler employs a backplate that is isolated with foil on the inside and does nothing to cool the board. In addition, the card has a cooling frame that helps stabilize the backplate.
The memory modules are not cooled by the heat sink, but rather by the aforementioned frame installed below the larger thermal solution. MSI leaves the area around the coils and capacitors open so that they receive a bit of direct airflow.
The cooler itself consists of a nickel-plated copper sink for the GPU, one short 8mm heat pipe, and two longer 6mm heat pipes pressed into the base. Those pipes are made of sintered composite material and are nickel-plated as well.
MSI achieves solid thermal performance, evidenced by the fact that this card sustains its advertised 1303 MHz clock rate through our gaming loop.
The open-air and closed-case temperatures diverge during our stress test because of a power limit set too high. This causes inconsistency in the GPU frequency, too.
Registering about 176°F (80°C) during our gaming loop on an open test bench and inside of a closed case, MSI's cooling performance is acceptable. Interestingly, the GPU temperatures inside an enclosure is a little lower, even. Why? We'll get into that.
During our stress test, we measure 176°F (80°C) and 185°F (85°C) on the voltage converters. The processor fares well enough, peaking at around 163°F (73°C) on our open test bench. In the closed case, we see the GPU at 176°F (80°C). The warmest memory module remains below the 176°F (80°C) line as well.
So long as you don't make a habit of running stress tests, MSI's thermal solution gets the job done.
Sound Results
But what exactly causes the almost identical temperatures during our gaming loop on the open test bench and inside a closed case? One look at the fan speed logs yields an unpleasant surprise. Above a target temperature of 162°F (72°C), the fan curve is extremely aggressive to ensure the card gets no hotter. Unfortunately, the result is already clearly audible, and beyond what we are used to hearing from MSI.
Spinning at almost 2000 RPM, the RX 480 Gaming X 8G's fan is, installed in a closed case, one decibel louder than HIS' RX 480 IceQ X² Roaring Turbo (even if MSI's noise is a little more pleasant-sounding). We wonder why MSI doesn't at least allow the card to hit 176°F (80°C) before intervening in such an imposing way.
We also have to ding MSI for that peak between ~8 and 10 kHz. As you no doubt know, that's indicative of noisy voltage converter coils. Consequently, the slight buzzing/chirping sound is both measurable and audible.
In principle, MSI's RX 480 Gaming X 8G is a rock-solid, well-thought-out card that is missing some polish on its fan curve. A somewhat loose power limit leads to unnecessarily high power consumption under taxing workloads. This is made more bothersome by the fact it doesn't even translate to higher frame rates.
The cooling performance is adequate, but not good enough to allow for additional overclocking in a closed case without a bit of tweaking. You'd want to install strategically-placed fans to ensure constant airflow, which would naturally make the noise situation worse. Otherwise, expect to see high fan speeds uncharacteristic of MSI's usual efforts.
Definitely connect this card to your power supply with a native eight-pin connector using 18-gauge wires. Otherwise, leaning on adapters could prove detrimental to older or inexpensive PSUs.
MSI RX480 Gaming X 8G
Reasons to buy
+Very good cooler+Relatively quiet, so long as the airflow is sufficient+Good gaming performance+Balanced overall design
Reasons to avoid
-Requires a well-ventilated case-Manual rework of the fan curve needed-Power limit is set too high

MORE: Nvidia GeForce GTX 1080 Roundup

MORE: Nvidia GeForce GTX 1070 Roundup

MORE: Nvidia GeForce GTX 1060 Roundup
Sours: https://www.tomshardware.com/reviews/amd-radeon-rx-480-graphics-card-roundup,4962-8.html
MSI RX 580 Gaming X 8G Review (vs RX 480) - Spotting The Difference
MSI Radeon RX 480 GAMING X review - Introduction

MSI Radeon RX 480 Gaming X 8GB review
Putting the G back in gaming ...
Join us as we review the MSI Radeon RX 480 GAMING X, we test the model fitted with 8GB graphics memory (there is a 4GB model as well). This TwinFrozr VI cooled mainstream graphics card series will allow you to play your games in both the Full HD 1080P range as well as gaming in WQHD (2560x1440) range. And all that at a rather reasonable price of rougjly 269 USD. The RX 480 is a graphics card series that will allow you to play your games in both the Full HD 1080P range as well as gaming in WQHD (2560x1440) range. And all that at a very reasonable price as well. Honestly, 4GB we feel is plenty as standard for the aforementioned resolutions. Does that mean that AMD is back with a very good price versus performance product series? Follow us into this review where we'll look at temperatures, noise, performance and go with the latest game titles on the globe. It's been a somewhat wild ride for the past few months, AMD created a couple of viral moments on the web and announced stuff prior to the actual release. Hey, who can blame them. This review is all about Polaris 10, a code-name indicative of the mainstream to high-end products (but not enthusiast). There are two more products added to the product stack as well, in total three products:
AMD Radeon RX 480 4GB and 8GB (high-end performance)
AMD Radeon RX 470 4GB and 8GB (mainstream performance)
AMD Radeon RX 460 2GB/4GB (entry level)
For the time being, what you see above will be the product stack starting with today's availability of the Radeon RX 480. The Radeon RX 480 graphics card will be made available in 4 and 8 GB versions, you will also spot both reference and tweaked SKUs from the board partners. The GPU used in this puppy is based on Polaris 10 (XT), an Ellismere (codename) GPU based on 4th generation GCN architecture. The 14 nm FinFET+ process based Radeon RX 480 will push the product to well over 5 TFLOPS. With its 150W TDP it has 36 CUs (cumpute units aka shader clusters) x 64 shader processors per CU = 2304 shader processors). The card will be available in both 4GB and 8GB versions and has 256-bit GDDR5 memory which offers an effective 8 Gbps / GHz much like the GeForce GTX 1070. The card will run in the 1267 MHz range on its boost clock. Expect board partner cards to run a good 50 MHz faster. The GPU retains technologies of the Radeon GCN lineup such as DirectX 12, FreeSync and XDMA for CrossFire support. The GPU with its 2304 shader processors are tied towards 32 ROPs with 144 texture memory units. The initial consumer graphics card based on Ellismere (XT model) is the Radeon RX 480, the PRO model will get 32 compute units and thus has 2048 shader processors. The Radeon RX 480 is based on a much smaller 14nm fabrication process, as such you will see many enhancements in efficiency and that shows in power consumption, the reference cards will use just one 6-pin power PEG (PCI Express Graphics) header to give the the card its power. The reference boards have a 6-phase VRM power supply design and display output wise the new cards have seen an upgrade as well, including three DisplayPort 1.4 connectors and one HDMI 2.0b. AIB partners may release SKUs with a DVI connector as well, the reference PCB shows SMT traces for a DVI connector. Overall the specs show a very potent card to play the latest games with whilst offering a good memory size versus price in the 1920x1080 and even 2560x1440 monitor resolutions.
In this review we peek at the Radeon RX 480 GAMING X from MSI, the card is fitted with 8GB of graphics memory and has been factory tweaked for you at just over 1300 MHz with the memory at an effective 8000 MHz. Being an X model it has been fitted with a proper back-plate and obviously the awesome TwinFrozr VI cooler that once again proofs its awesomeness, as the product is completely silent even under full load stress. The card has six power phases for the GPU +1 for memory and is tied towards a proper 8-pin power connector. The card is a dual-slot, dual-fan solution and for something mainstream certainly looks high-end.
Let's fire up the review, but not before you've had a peek ...
MSI Radeon RX 480 Gaming X edition with 8GB GDDR5 memory
Sours: https://www.guru3d.com/
Gaming x 4gb msi rx480

Radeon™ RX 480 GAMING X 4G
Core/Memory
Boost Clock / Memory Frequency
1292 MHz / 7000 MHz (OC Mode)
1279 MHz / 7000 MHz (Gaming Mode)
1266 MHz / 7000 MHz (Silent Mode)
4096 MB GDDR5
Video Output Function
DisplayPort x 2
HDMI x 2
DL-DVI-D


DEMAND MORE, DEMAND RADEON
Guiding the Future of Gaming
The 4th generation GCN architecture is engineered for gamers who play anything from the latest MOBA's to the most popular AAA titles. Asynchronous Shaders and an enhanced Geometry Engine power new levels of smooth gameplay performance.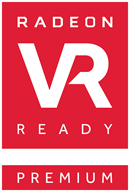 Immersive VR Experiences
Experience the next level of immersion with the world of VR gaming and entertainment with Radeon RX graphics cards powered by the revolutionary Polaris architecture.
AMD FreeSync™ Technology
Puts an end to choppy gameplay and broken frames with fluid, artifact-free performance at virtually any framerate.
HDR compatible
Enhanced contrast and colors deliver a strikingly sharp, colorful, and vivid visual experience.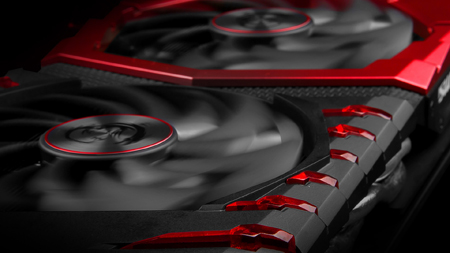 TORX 2.0 FAN
MSI's patented fan design generates 22% more air pressure for supremely silent performance.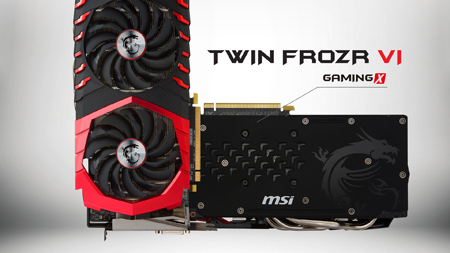 WE'VE GOT YOU COVERED
Solid metal backplate included for extra toughness and finished looks.
THE ULTIMATE GAMING GRAPHICS CARD
Design and Performance in a class of its own.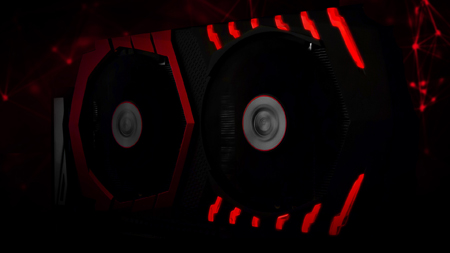 FIERCE GAMING GLOW
Customize the LED lights and effects to match your system or mood.
TORX 2.0 FAN
TEAMWORK FOR GREATER STRENGTH
Just like in games, the exclusive MSI TORX 2.0 Fan technology uses the power of teamwork to allow the TWIN FROZR VI to achieve new levels of cool.
TORX 2.0 Fan design generates 22% more air pressure for supremely silent performance in the heat of battle.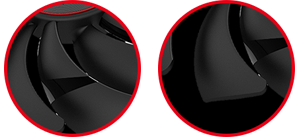 Dispersion Fan Blade
has a steeper curved blade which accelerates the airflow, increasing its effectiveness.
Traditional Fan Blade
pushes down a steady airflow to the massive heatsink below.
ZERO FROZR-STAY UNDETECTED
First introduced in 2008 by MSI, ZeroFrozr technology has made its mark and is now the industry standard among graphics cards. It eliminates fan noise by stopping the fans in low-load situations. This means you can focus on gaming without the noise of spinning fans.
CATCH THE VIBE WITH COOL LED EFFECTS
Each LED can be controlled individually by choosing any of the animation effects availiable in the MSI Gaming App, ranging from responding to your game sounds or music to steady light, breathing and flashing. Of course, you can also turn them off.
HEATSINK
Lurking under the cover of the GAMING graphics card is an engineering masterpiece designed to keep the graphics card cool. Every tiny detail of the intricate heatsink plays an essential part in providing a cool & quiet gaming experience.
AIRFLOW CONTROL TECHNOLOGY
Using advanced aerodynamics, Airflow Control Technology directs more air directly onto the TWIN FROZR VI heat pipes. The special deflectors on the heat sink enlarge the surface area, which means lower temperatures and better gaming.
SMOOTH HEAT PIPES
Up to 8mm thick copper heat pipes with a smooth squared shape at the bottom maximize heat transfer from the surface of the copper base plate.
SOLID BASEPLATE
To temper the heat generated by a powerful GPU, MSI GAMING series graphics cards use a solid nickel-plated copper base plate. The base plate catches the heat from the GPU and transfers it to the heat pipes for dissipation so you can keep cool.
PREMIUM THERMAL COMPOUND
Every detail counts when it comes to creating the ultimate thermal design, which is why TWIN FROZ VI uses a premium thermal compound to mae sure it outlives the competition.
CLOSE QUARTERS COOLING
Below the heatsink you find the close quarters cooling which enables you to push the MSI GAMING card to the max.
EXTRA POWER INPUT
A tailored PCB design higher performance and extra cooling comes with an extra 6-pin connector to allow for overclocking beyond the limits.
ENHANCED PWM DESIGN
A 10-Phase PWM design with High Quality Military Class components ensures extreme reliability and superb overclockablity and enhanced efficiency.
Backplate
A powerful graphics card needs a strong build to harness its performance. MSI GAMING X graphics cards are fitted with a solid metal back plate to make it extra tough. The matte black finish completes the TWIN FROZR VI design to perfection.

MULTI GPU
Gaming enthusiasts are always looking for more performance to get the ultimate experience. Using multiple graphics cards in SLI or Crossfire is a great way to find out just how good it gets. MSI GAMING graphics cards fully support multi GPU technologies.
* Possibilities may vary depending on what is supported per model.
THE FUTURE OF GAMING
The smoothest, fastest and most exciting gaming experience ever by eliminating screen tearing, display shutter and input lag.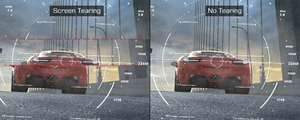 Ultra-high resolution (UHD) delivers 4x the resolution of 1080p content, enabling much sharper and crisper images with delicate details during gaming.


PREPARE FOR VR WITH MSI
To experience and enjoy the impressive world of Virtual Reality, high-performance hardware is required. MSI, world leading brand in high-end gaming and eSports, provides the right advice to make sure your system is VR Ready. Integrating the very best of cutting edge technologies in recommended MSI VR gaming hardware for smooth performance. Together with our VR partners, MSI brings gamers an extremely realistic VR experience where games come alive.
ONE CLICK TO VR
WITH GAMING APP
To get the best VR experience, you need your PC to deliver maximum performance. The MSI Gaming App gets your PC primed for VR use in just a single click by setting all key components to high performance settings and making sure other software applications do not impact your VR adventure.
GAMING APP
The MSI Gaming App allows for one-click performance profiles that unlock extra performance for gaming or keep your card silent during light use. It also features the EyeRest tab, giving you easy access to image quality improving technology. The LED control tab gives you full control over your MSI GAMING LED lights to set the mood.
ON-SCREEN SPEED & TEMPERATURES
Real-time monitoring of GPU Core, DRAM Frequency, GPU & CPU Temperatures and much more, in game or in other fullscreen applications, customizable to your preference.
Mobile Gaming APP
The exclusive MSI Gaming App is now also available for Android so you can control your graphics card from your phone without having to switch to Windows.
A DIFFERENT VIEW ON
GAMING
MSI Dragon Eye allows you to watch a YouTube video or Twitch Stream while playing a game simultaneously. Simply add a link or stream to the Dragon Eye application and select the size, position, volume and transparency and start gaming. With a few hotkeys you can start/pause your video or set the volume.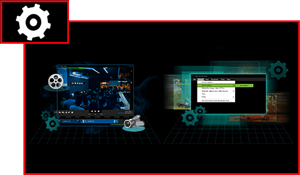 Assemble and edit your recordings using the simple and straightforward video editor. Game Capture Auto Detect allows for automatic streaming when starting a game.

WANT TO SHOW OFF YOR SKILLS OR JUST MAKE A FUN GAMING VIDEO FOR YOUR FRIENDS?
XSplit Gamecaster & Broadcaster V2 lets you easily record your gaming moments and broadcast your live gameplay sessions to Twitch, YouTube, UStream and more.
It's simple, easy to use and ideal for sharing your gameplay with friends, family or the world - Or for capturing those perfect gaming moments, just for the heck of it.
So what are you waiting for? Join the revolution and start streaming and recording with XSplit Gamecaster today.
WEBCAM & CHROMA KEY
Add a webcam and show your game face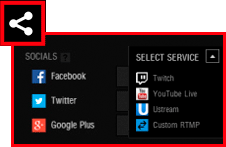 SHARE YOUR BROADCAST
Share your broadcast and conquer the world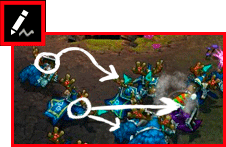 REALTIME NOTES
Draw attention whilst casting with in-game annotations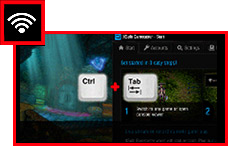 RECORD & STREAM
Use XSplit Gamecaster to stream & record all of your gaming activities
WTFast is the Gamers Private Network ; like a global automated army of IT specialists all working together to optimize your game connection from end to end. WTFast reports rich connection stats for your online game, so you can see exactly what is happening with your game connection.
Built just for MMO gamers
Reduce average ping
Greatly reduce connection flux, spikes and packet loss
MSI Exclusive 2-month premium license

AFTERBURNER
MSI Afterburner is the world's most recognized and widely used graphics card overclocking utility which gives you full control of your graphics cards. It also provides an incredibly detailed overview of your hardware and comes with some additional features such as customizing fan profiles, benchmarking and video recording.
Sours: https://www.newegg.com/msi-radeon-rx-480-rx-480-gaming-x-4g/p/N82E16814137032
ULTRA 1080p 60fps GAMING! MSI RX480 Gaming X 4GB Review
MSI Radeon RX 470 Gaming X 8GB vs MSI Radeon RX 480 Gaming 4GB
MSI Radeon RX 470 Gaming X 8GB
MSI Radeon RX 480 Gaming 4GB
vs
MSI Radeon RX 470 Gaming X 8GB
MSI Radeon RX 480 Gaming 4GB
Why is MSI Radeon RX 470 Gaming X 8GB better than MSI Radeon RX 480 Gaming 4GB?
30W lower TDP?
120Wvs150W
4GB more RAM memory?
8GBvs4GB
Why is MSI Radeon RX 480 Gaming 4GB better than MSI Radeon RX 470 Gaming X 8GB?
194MHz faster GPU clock speed?
1120MHzvs926MHz
0.81 TFLOPS higher floating-point performance?
5.89 TFLOPSvs5.087 TFLOPS
1.2 GPixel/s higher pixel rate?
40.9 GPixel/svs39.7 GPixel/s
100MHz faster memory clock speed?
1750MHzvs1650MHz
25.2 GTexels/s higher texture rate?
184.2 GTexels/svs159 GTexels/s
12.8GB/s more memory bandwidth?
224GB/svs211.2GB/s
400MHz higher effective memory clock speed?
7000MHzvs6600MHz
256 more shading units?
2304vs2048
General info
The thermal design power (TDP) is the maximum amount of power the cooling system needs to dissipate. A lower TDP typically means that it consumes less power.
A higher transistor count generally indicates a newer, more powerful processor.
Small semiconductors provide better performance and reduced power consumption. Chipsets with a higher number of transistors, semiconductor components of electronic devices, offer more computational power. A small form factor allows more transistors to fit on a chip, therefore increasing its performance.
Peripheral Component Interconnect Express (PCIe) is a high-speed interface standard for connecting components, such as graphics cards and SSDs, to a motherboard. Newer versions can support more bandwidth and deliver better performance.
5.Is dual-GPU
✖MSI Radeon RX 470 Gaming X 8GB
✖MSI Radeon RX 480 Gaming 4GB
The graphics card contains two graphics processing units (GPUs). This generally results in better performance than a similar, single-GPU graphics card.
6.warranty period
Unknown. Help us by suggesting a value. (MSI Radeon RX 470 Gaming X 8GB)
Unknown. Help us by suggesting a value. (MSI Radeon RX 480 Gaming 4GB)
When covered under the manufacturer's warranty it is possible to get a replacement in the case of a malfunction.
The graphics card uses a combination of water and air to reduce the temperature of the card. This allows it to be overclocked more, increasing performance.
The width represents the horizontal dimension of the product. We consider a smaller width better because it assures easy maneuverability.
The height represents the vertical dimension of the product. We consider a smaller height better because it assures easy maneuverability.
Performance
The graphics processing unit (GPU) has a higher clock speed.
The number of pixels that can be rendered to the screen every second.
The memory clock speed is one aspect that determines the memory bandwidth.
The number of textured pixels that can be rendered to the screen every second.
Shading units (or stream processors) are small processors within the graphics card that are responsible for processing different aspects of the image.
TMUs take textures and map them to the geometry of a 3D scene. More TMUs will typically mean that texture information is processed faster.
When the GPU is running below its limitations, it can boost to a higher clock speed in order to give increased performance.
The ROPs are responsible for some of the final steps of the rendering process, writing the final pixel data to memory and carrying out other tasks such as anti-aliasing to improve the look of graphics.
Memory
The effective memory clock speed is calculated from the size and data rate of the memory. Higher clock speeds can give increased performance in games and other apps.
Random-access memory (RAM) is a form of volatile memory used to store working data and machine code currently in use. It is a quick-access, temporary virtual storage that can be read and changed in any order, thus enabling fast data processing.
A wider bus width means that it can carry more data per cycle. It is an important factor of memory performance, and therefore the general performance of the graphics card.
Newer versions of GDDR memory offer improvements such as higher transfer rates that give increased performance.
Error-correcting code memory can detect and correct data corruption. It is used when is it essential to avoid corruption, such as scientific computing or when running a server.
Ports
Devices with a HDMI or mini HDMI port can transfer high definition video and audio to a display.
Newer versions of HDMI support higher bandwidth, which allows for higher resolutions and frame rates.
More HDMI ports mean that you can simultaneously connect numerous devices, such as video game consoles and set-top boxes.
Features
DirectX is used in games, with newer versions supporting better graphics.
OpenGL is used in games, with newer versions supporting better graphics.
Some apps use OpenCL to apply the power of the graphics processing unit (GPU) for non-graphical computing. Newer versions introduce more functionality and better performance.
The graphics card supports multi-display technology. This allows you to configure multiple monitors in order to create a more immersive gaming experience, such as having a wider field of view.
5.load GPU temperature
Unknown. Help us by suggesting a value. (MSI Radeon RX 470 Gaming X 8GB)
Unknown. Help us by suggesting a value. (MSI Radeon RX 480 Gaming 4GB)
A lower load temperature means that the card produces less heat and its cooling system performs better.
Ray tracing is an advanced light rendering technique that provides more realistic lighting, shadows, and reflections in games.
7.PassMark (G3D) result
Unknown. Help us by suggesting a value. (MSI Radeon RX 470 Gaming X 8GB)
Unknown. Help us by suggesting a value. (MSI Radeon RX 480 Gaming 4GB)
This benchmark measures the graphics performance of a video card. Source: PassMark.
8.3DMark Vantage Texture Fill result
Unknown. Help us by suggesting a value. (MSI Radeon RX 470 Gaming X 8GB)
Unknown. Help us by suggesting a value. (MSI Radeon RX 480 Gaming 4GB)
This benchmark is designed to measure graphics performance. Source: AnandTech.
9.OpenGL ES version
Unknown. Help us by suggesting a value. (MSI Radeon RX 470 Gaming X 8GB)
Unknown. Help us by suggesting a value. (MSI Radeon RX 480 Gaming 4GB)
OpenGL ES is used for games on mobile devices such as smartphones. Newer versions support better graphics.
Which are the best graphics cards?
MSI GeForce RTX 3090 Suprim X
Gigabyte Aorus GeForce RTX 3080 Ti Xtreme
Gigabyte Aorus GeForce RTX 3080 Ti Master
Asus ROG Strix LC GeForce RTX 3080 Ti Gaming OC
Asus ROG Strix GeForce RTX 3090 Gamin OC
Asus ROG Strix GeForce RTX 3080 Ti Gaming OC
Gigabyte Aorus GeForce RTX 3090 Xtreme
Gigabyte Aorus GeForce RTX 3090 Master
Asus TUF GeForce RTX 3080 Ti Gaming OC
Gigabyte GeForce RTX 3080 Ti Vision OC
Show all
This page is currently only available in English.
Sours: https://versus.com/en/msi-radeon-rx-470-gaming-x-8gb-vs-msi-radeon-rx-480-gaming-4gb
You will also like:
Best Intel Motherboards: October 2021
Intel Reports Q3 2021 Earnings: Client Down, Data Center and IoT UpIntel Reaffirms: Our Discrete GPUs Will Be On Shelves in Q1 2022
TWEETS
IanCutress: @chiakokhua @EnerTuition @dylan522p Age, family, personal priorities. Not everyone is invested in this industry as… https://t.co/yOtATZ7BQp
IanCutress: @chiakokhua @EnerTuition @dylan522p I think you're reading too much into it. People retire for a number of reasons.… https://t.co/hqXxYyESYq
IanCutress: @chiakokhua @dylan522p CFO needs to be onboard with CEO's plan. George was CFO at a time when the former CFO was CE… https://t.co/4TONdeWUIw
IanCutress: @owentparsons Only the day
IanCutress: @Frederic_Orange @Rick98761 @reneritchie We think that someone has faked part of the die shot to hide things.
andreif7: @Ashraf_Medhat93 AIDA doesn't have a clue about where the L3 is. They just test a fixed test depth of ex. 4-6MB, if… https://t.co/MDzbmjjQL0
andreif7: People still misrepresent/misunderstand the AMD L3 issue. It was never *slower*. It was just smaller. It was actual… https://t.co/XJASVgSvFW
andreif7: @Cat_Merc @dylan522p @Cox_Pt The Windows high core count GB issue is a memory allocator problem, John, has acknowle… https://t.co/9Sb9zzDh7L
andreif7: @jonnyevans_cw https://t.co/TPws1rG12u 8.58mm x 12.55mm = 107.68 mm2
andreif7: @gabesalkin No, it's all the same.
RyanSmithAT: @IanCutress @denis20731349 Isn't it 2 external displays + 1 internal display?
RyanSmithAT: @oliviaselenic @OldGreyHorror An NVIDIA CUDA core is 1 FP32 ALU, not 1/32 of an ALU. An ALU processes one FP32 oper… https://t.co/AEJwJVs5uk
RyanSmithAT: @oliviaselenic @OldGreyHorror Apple's current GPU architecture offers 128 FP32 ALUs per "core", which is similar to… https://t.co/HVRy0GcHMi
RyanSmithAT: And just to respond to myself here, Andrei reckons that based on Apple's images, it's 432mm2 for the M1 Max. That's… https://t.co/rJneX19zmk
RyanSmithAT: @Jimmy78926787 Apple is fortunate that they can charge so much for their products
ganeshts: A Thunderbolt 4 / USB4 hub from @plugable at a very attractive price point (considering the USBC-HDMI value add). A… https://t.co/DiJZS8MmF9
ganeshts: @JamesDSneed @IanCutress Yes, NAND has the ability to store dynamic sector remap information - this is not only for… https://t.co/J0NYC9oCZk
ganeshts: @AG_1138 Micron has a history of doing these silent changes. The P2's silent move from TLC to QLC resulted in worse… https://t.co/UfmTilvFi1
ganeshts: @ricswi Looks like that requirement is Home-only. Other editions will still allow local accounts. I can't remember… https://t.co/qOvPnduAuY
ganeshts: @Laughing_Man @hnpn914 Benson, is there an update planned for the Twinkie PD to support EPR? I still use the USBC-T… https://t.co/D6g5nmQvB5
Follow @ANANDTECH
Sours: https://www.anandtech.com/show/10520/msi-shows-new-radeon-rx-480-gaming-cards
2398
2399
2400
2401
2402