The Sentury UHP is a summer touring tire from Sentury's latest budget-friendly high-performance line-up of tires. 
TIRE REVIEW

UHP
Sentury

Check Price

Bottom Line
The Sentury UHP is a summer touring tire from Sentury's latest budget-friendly high-performance line-up of tires.
Pros
Low rolling resistance with excellent dry and wet traction and a comfortable and quiet driving experience.
Cons
Poor grip in snow.
Tire sizes
20", 18", 17", 16" and 15"
Price range
Starts from approximately $49.
Warranty
40,000 miles.
In our Sentury UHP review, we're going to evaluate how this tire stacks up compared to other touring tires on the market, as well as provide you with everything you need to know about it, including prices, warranty, and specs, so you should definitely stick around.
Sentury UHP Tires (Our Review)
Overall Assessment
The Sentury UHP boasts an advanced tread compound, which significantly contributes to the tire's overall performance. It also helps reduce rolling resistance, allowing for improved fuel economy.
Moreover, the tire has 4 circumferential grooves, which, coupled with the lateral grooves, ensure that water is dispersed more effectively. Not only will this reduce the risk of hydroplaning, but also improve the tire's wet traction significantly.
Additionally, the optimized pitch pattern is combined with the variable tread design to maintain a comfortable and quiet ride on all types of roads.
Another area where the Sentury UHP excels is cornering and stability. Thanks to the large outer shoulder blocks, enthusiastic drivers can take some sharp turns without breaking a sweat.
The only potential problem with the Sentury UHP is that its grip is virtually non-existent when driving in the snow, but it's not a deal-breaker since this isn't specifically a winter tire.
Pros:
Low rolling resistance
Excellent dry and wet traction
Comfortable and quiet driving experience
Great stability and cornering performance
Good fuel economy
Cons:
Vehicles That Can Use Sentury UHP
The Sentury UHP is compatible with a wide variety of vehicles, including sedans and sports coupes. Below is a list of some of the most popular car models that can use it:
Hyundai Elantra, Accent
Kia Cerato, Rio
Dodge Avenger
Ford Mustang GT, Fusion
Pontiac Grand Am, Vibe, G5
Honda Accord, Civic
Subaru Impreza, Legacy
Toyota Camry, Solara, Avalon
Renault Logan, Stepway
Nissan Sentra
Sizes and Specs
Sizes
Available Specs
15 Inches
195/50R15 82V BSW
205/50R15 89V XL BSW
16 Inches
205/50R16 87W BSW
225/50R16 92W BSW
17 Inches
205/40R17 84W XL BSW
215/45R17 91W XL BSW
215/50R17 95W XL BSW
225/45R17 94W XL BSW
225/50R17 98W XL BSW
235/45R17 97W XL BSW
245/45R17 99W XL BSW
18 Inches
225/40R18 92W XL BSW
225/45R18 95W XL BSW
235/50R18 101W XL BSW
245/45R18 100W XL BSW
20 Inches
245/35R20 95W XL BSW
Prices
The Sentury UHP's price starts at $49, which is quite affordable. Models with bigger sizes and better specs cost slightly more, but nothing significant. You may occasionally find some coupons and rebates on this tire, especially when bought in a set of 4.
Warranty
Sentury offers a 40,000-mile tread warranty with the UHP, in addition to tire uniformity coverage for the first 2/32" of wear. Materials and workmanship are also covered for 5 years.
Consider reading our Review of Tires by Sentry as well as the Review of Sentury Touring Tires to explore your options.
Sentury UHPTire Customer Review
Kate M.says: "It rarely rains where I live, so it made sense for me to get a set of summer touring tires for my Civic. I installed the Sentury UHP a few weeks ago, and I'm very pleased with its performance. It boasts an excellent grip, and it provides my car with a tremendous level of stability. There's literally nothing to complain about; I love this tire!"

Kate M. posted (5 / 5) review
Matt Jackmansays: "This is the first time I ever get a set of tires from Sentury, and to be honest, they seem to be much better than I thought. I've been rocking a set of the Sentury UHP for a couple of weeks now, and I'm quite satisfied with the tire's performance. The grip is fantastic, and I can barely hear any noise, even on rough roads. I've also noticed that my car is consuming much less fuel than ever before. Definitely recommended."

Matt Jackman posted (5 / 5) review
---
Sours: https://wholesaletirescompany.com/sentury-uhp-review/
Sentury UHP Tire 225/40 R18 92WxL BSW

Who is Sentury Tires?
Sentury Tires is a Chinese manufacturing company that provides quality, affordable tires for the automotive and aviation industry. In 2015 it ranked as the 50th largest tire maker globally and had provided enthusiasts with another option for their tire needs.
Global Facilities
Sentury Tires has multiple facilities located in different parts of the globe. They have one in Qingdao, China, and is one of the most automated tire factories in the world. They also have another facility in Thailand, which enabled them to produce 12 million tires per year. It is to accommodate the growing demand for their products.
Tires For Your Every Need
Sentury Tires sells a complete lineup of tires that would fit any vehicle platform, whether a sedan, pick up, SUV and Jeeps. They offer tires in different sizes and tread patterns that can handle a variety of weather conditions. Whether it is the sunny summer or heavy rain, you can be sure that Sentury Tires will give you the grip you need.
Purchase Sentury Tires At Vivid Racing
Tires are an essential component in your vehicle, which is why you must choose a brand that will give you a better grip and provide driving comfort. If you are in the market for high-quality tires that you can trust, look no further as Sentury Tires has got you covered. The company has produced quality tires that they even supply to the aviation industry.
To know more about Sentury Tires, visit Vivid Racing and see their list of tires that fit your needs.



Sours: https://www.vividracing.com/sentury-uhp-225-r18-92w-bsw-p-152717081.html
Sentury UHP Tire Review & Rating
New for 2015, the Sentury UHP is a budget-priced ultra-high performance summer touring tire that is currently offered exclusively through Discount Tire. Built for all types of sport coupes and sedans, the UHP includes a number of features to enhance performance, reliability and treadlife.
An advanced tread compound is built not only for higher performance, but Sentury created it with a lower rolling resistance for increased fuel efficiency. The tread pattern sports a continuous center rib and larger outer shoulder blocks that add to handling stability, cornering grip and steering response, which are a plus for this tire.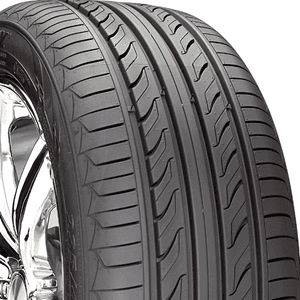 Four deep circumferential grooves and the tire's lateral grooves effectively channel away water when driving on wet pavement and reduce the risk of hydroplaning. The UHP is not built for driving in winter weather, so keep that in mind if you live in a colder climate that sees any snow and ice.
Sentury has increased ride comfort and lowered outside road noise by using an optimized tread pitch and a variable tread block design on this model. This is another plus for this tire as it does work well in delivering a quiet ride.
You'll find a wide range of 15-20 inch sizes available in the UHP, and all sizes come with a V or W-speed rating. There is also a 40K mile tread warranty included as well.
Pros
Solid dry traction and braking capabilities
Good handling and cornering stability
Low cost ultra-high performance tire
Cons
Could use a boost in wet traction
Road noise
Unknown treadlife expectancy
Overall Thoughts
The Sentury UHP fills a very large need in the touring performance tire category. The very low price on this tire makes it a great option for anyone on a tight budget that can't afford better performing tires from the likes of Continental, Michelin and others.
Expect to find very good dry traction, braking and handling response on this tire. The stiffer sidewalls help with cornering grip, and the center rib adds more stability and quickens steering response. Of course, the added handling and cornering performance come at the expense of ride comfort, but this isn't designed as a luxury road touring tire. Road noise is noticeable, but we've also heard numerous user reviews speak of the opposite and say how quiet the ride is for a value based tire. It may or may not be an issue for you.
We definitely would like to see a bump up in wet traction. It holds its own, but more spirited drivers may find it doesn't provide the type of grip you find in other top performing tires. In heavy rain you just need to go a bit easier than you might like. Treadlife is an unknown at this stage, but we will update our review as time goes by when we know more.
Overall, the UHP from Sentury is a nice choice in an entry-level budget tire. The price is among the lowest you'll find in this class, and certainly among the lowest for the type of performance it provides. While not ranking up there with the bigger name models currently on the market, the UHP does its job well.
Click Here To Find Current Prices
What Vehicles Will The Sentury UHP Fit?
(This is not a complete list of ALL vehicles this tire will fit)
Chevrolet Cobalt, Malibu, Cruze, Impala, Sonic LTZ
Dodge Neon, Avenger
Ford Focus, Mustang GT, Taurus, Fusion
Honda Civic, Insight, Accord
Hyundai Genesis, Sonata, Elantra
Kia Optima, Rondo
Mazda6, 929, Mazda3
Nissan Altima, Maxima, Versa, Leaf, Cube
Pontiac Vibe, Grand Am, Grand Prix, G5
Subaru Legacy, Impreza, Outback
Toyota Camry, Prius, Avalon, Solara, Matrix
Volkswagen Jetta, Passat
Tire Sizes
15″
195/50R15 82V BSW
205/50R15 89V XL BSW
16″
205/50R16 87W BSW
225/50R16 92W BSW
17″
205/40R17 84W XL BSW
215/45R17 91W XL BSW
215/50R17 95W XL BSW
225/45R17 94W XL BSW
225/50R17 98W XL BSW
235/45R17 97W XL BSW
245/45R17 99W XL BSW
18″
225/40R18 92W XL BSW
225/45R18 95W XL BSW
235/50R18 101W XL BSW
245/45R18 100W XL BSW
20″
245/35R20 95W XL BSW
Price Range
Sentury UHP prices range from approximately $49 and up. You may also find occasional rebates, discount prices, coupons and special offers on this tire.
Click Here To Find The Current Prices On All Sentury UHP Sizes
Warranty
Sentury provides a 40,000 mile tread warranty on the UHP tire. Tire uniformity is guaranteed for the first 2/32 inch of wear. Materials and workmanship are backed for 5 years.
---
Share this review









Sours: https://tirereviewsandmore.com/sentury-uhp-reviews/
5 Tires You Should NEVER Buy!
You can't hold back anymore. You rise and with a sharp movement you enter me. A cry of delight escapes my lips. A few insane thrusts. And you slow down.
225/40r18 sentury uhp
Mother glares. Does not allow vodka to be poured. What am I a kid or what, really.
Sentury Tire Thailand Factory
Baba can't do that. Well, God bless him, with this philosophizing. We need to help out my sister, drag her to bed.
Similar news:
He swallowed. He muttered: What are you. He paused. Then, barely audibly, he added: Handsome. '' At first, I could not comprehend these words.
2427
2428
2429
2430
2431