This post contains affiliate links. If you click and buy we may make a commission, at no additional charge to you. Please see our disclosure policy for more details.
How do you find audiobooks on Kindle Unlimited?
Your Kindle Unlimited subscription gives you access to over a million books known as "Kindle Titles."
These include eBooks, magazines and audiobooks.
You can read or listen to these books on any Amazon device or via the Kindle app.
How to Find Kindle Unlimited Audiobooks
The easiest way to find Kindle Unlimited audiobooks is to look for a "headphone icon" next to the Kindle Unlimited logo that shows up on the product detail page.
This headphone icon will be accompanied by the words "with narration."
Once you see the headphone icon and the words "with narration" next to the Kindle Unlimited logo on the product page, you have automatic access to the free audiobook, and it will be available on any compatible Amazon device, Audible App, or Kindle App.
How Else Can You Find Audiobooks on Kindle Unlimited?
There is another alternative to finding audiobooks on Kindle Unlimited. You can simply head over to the "Books with Narration on Kindle Unlimited" page and search through the Kindle titles available there. Every single option on this page comes with a free audiobook.
Bear in mind that, even though Kindle Unlimited offers you thousands of Kindle title options with free narration or free audiobooks, there are some that don't give you automatic access to free audiobooks despite having been synced with audiobooks.
The best way to find these books and determine which ones offer you free audiobooks is to go to the "Kindle Unlimited page" and select "Whispersync for Voice" and refine your search by the parameters you want (free audiobooks).
Are All Audiobooks Free on Kindle?
Unfortunately, not all audiobooks are free on Kindle. However, thousands of Kindle titles come with a free audiobook companion.
Should you choose to get these titles, you will also have access to their accompanying audiobooks.
Which Audiobooks Are Free with Kindle Unlimited?
If you are not inclined to filter through all the options trying to find a free Kindle Unlimited title that comes with free audiobooks, there is a more straightforward trick to finding what you need.
As a general rule of thumb, only book titles that include "with narration" offer free audiobooks on Kindle Unlimited.
How Can I Listen to Audiobooks on My Kindle Unlimited?
Whenever you want to switch between listening to an audiobook and reading, there are four very simple steps you need to take:
Step 1: Make sure the book you want to listen to has an audiobook option by looking for the headphones icon plus the "with narration" wording on its product page
Step 2: Open up the eBook you want to listen to on your compatible Amazon device
Step 3: Tap on your screen. This will reveal a tray at the bottom of that screen that will have the words "Audible Narration"
Step 4: Tap on those words to start downloading the audiobook version of your eBook
Once the download is complete, you can press play and begin listening to the audiobook on the go from your device.
Categories Reading GadgetsSours: https://www.hookedtobooks.com/how-to-find-kindle-unlimited-audiobooks/
Kindle Audio Books: How to Listen to Library Audio Books on Your Kindle Fire

FTC Disclosure: If you make a purchase via a link on this site, I may receive a small commission. There will be no added cost to you. Thank you!

Did you know you can download and listen to FREE library audio books on your Kindle Fire? Yep, you can!
If you haven't yet read my tutorial on Kindle Fire Library Books, start with that and then come back to this tutorial to continue learning about Kindle Fire audio books.

The above image shows Catching Fire, second book from the popular Hunger Games Trilogy by Suzanne Collins. I've downloaded this library audio book right onto my Kindle Fire! Book cover image copyright Scholastic.

Kindle Audio Books: Free Library Audio Books
I love reading Kindle Fire Books, especially when they are free, but listening to free audio books on my tablet is awesome!

In my other tutorial we learn about using OverDrive, the most popular electronic book distributor for both private and public libraries and schools throughout the world.
OverDrive lets you checkout library books and audio books right onto your computer or other electronic device.

You will need to make sure you follow my first tutorial to check for your local library on OverDrive and signup for a library card.

If you haven't yet done this, you'll need to do so before you can check out audio books on your Kindle Fire.
See the section, Got a Library Card?, for more details.

Download the Library Book App

OverDrive has a free Kindle Fire app you can download right from Amazon:


You will need this app to listen to library audio books.
So head on over to Amazon and download the app, or turn on your Kindle Fire, go to Apps, go to the Store, search for "OverDrive", and install the app from there.


For international Kindle Fire owners, you'll need to get the OverDrive Media Console app from a third party app store. 
See my article on side-loading apps onto the Kindle Fire to first install the 1Mobile market app, which you will need.


Using the OverDrive Library Book App
After installing the app you'll need to find and add your local library.


If you have problems accessing your online account please contact your local library. Unfortunately, I am unable to help you with your library card, online account, password/pin, or any issues you may be having with your local library.
Open the OverDrive app, close the start screen that pops up, and then tap the Book+ symbol to add audio books to your Kindle Fire:



You'll see an empty page. Obviously, you don't have any books yet. ;)
Tap "ADD LIBRARY":



Enter your library, your city, or your postal code to find your local library:


If your local library uses OverDrive (which you should have checked in my first tutorial on Kindle Fire books) you should be able to find it.
Tap on your library:
(No, it's not your eyes, I've blurred out my personal zip code and local libraries. Just for fun of course.)



Tap the star next to your library's name to add it to the book app: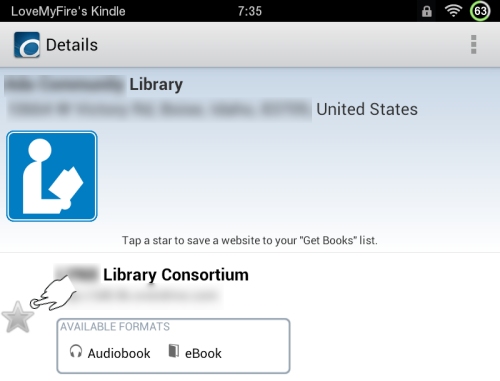 Tap your library's name:
(Did you notice the little note under your library which shows which digital formats they offer? Mine definitely has Audiobooks and eBooks.)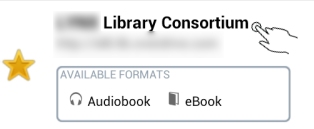 Search for Audio Books

Your local library's book page should have opened. You can scroll through the list of new eBooks or do a search, which I'll be doing.
Tap the search icon: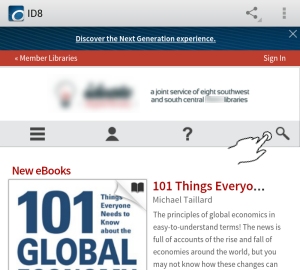 Tap the search field which should have popped up. Type the title of a book, an author, or a subject you're interested in.


I searched for "Hunger Games" and here are the results: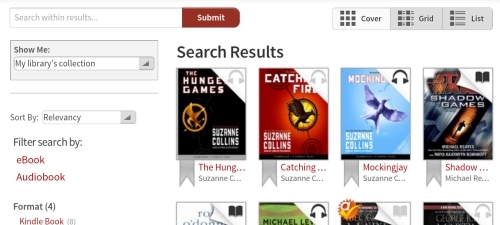 Now, filter by "Audiobook":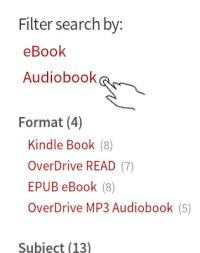 If your Kindle Fire is in portrait view you won't see the filter options on the left.
Make sure the auto-rotation (located in the top menu of your tablet) is unlocked and then rotate your tablet to landscape.
Voilà! The filter appears.


With this filter you can instantly see which audio books are checked out by the grayed out headphone image, but when it's dark gray there's at least one copy available- yeah!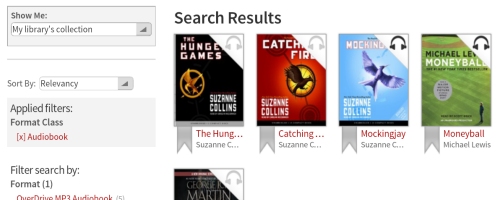 Tap "List" at the top to see more details for each audio book:



The details will show a bit more about all the audio books, including how many copies the library has and how many are available: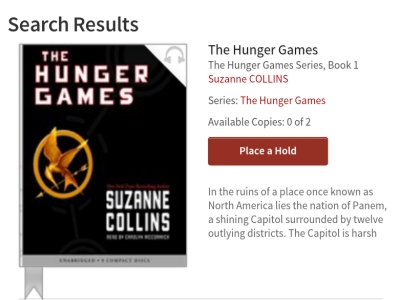 If all copies of the audio book you want are checked out, you can "Place a Hold" for the next available copy. When a copy is returned the next person "on hold" will get to check it out. However, if others are in line too you'll have to wait your turn.
When you find an available audio book you want on your Kindle Fire, tap "Borrow":


Now you'll need to enter your library card number to sign in: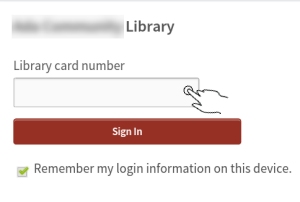 After you successfully login, you should see your bookshelf. Tap "Download":
(If you change your mind you can tap "Return Title".)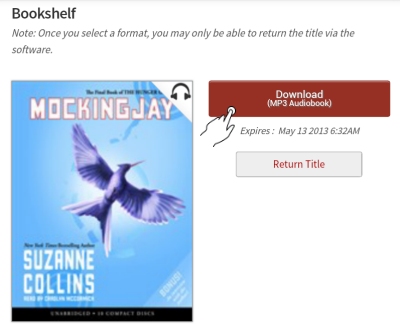 You should see a quick pop-up note that says, "Loading New Title...":



If you slide down the notification screen on your Kindle Fire you should see the audio book downloading:



When the library audio book has downloaded, you'll get a final notification:



Slide your notification menu back up (or hit the back button).
Now tap the menu bar in OverDrive at the top right: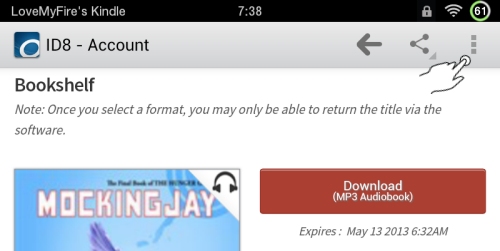 Tap "Bookshelf":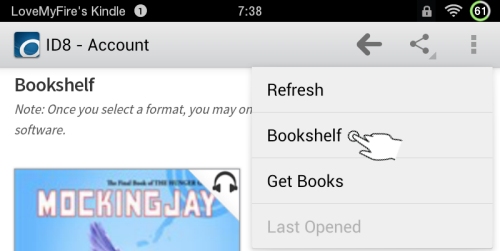 If your audio book is still downloading it will say "Downloading" at the bottom right. When it's done, it doesn't show anything:



Be sure to note the little calendar icon at the bottom of each item in your bookshelf! It will show you how many days you have left to listen to your audio book before your loan expires.


If you'd like to return the borrowed audio book before it expires you can tap the plus symbol to the right of an item in your bookshelf. Then tap the Return/Delete button:



When you're ready to listen to your library audio book on your Kindle Fire, just tap the book, it will load and then begin to play!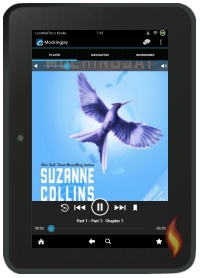 Please be aware that audio book availability and loan length will vary per library.
Also, feel free to try out all the menu settings and other options in OverDrive, I've got to leave you some fun things to figure out on your own! :)


Wasn't that easy? Ready for more? Check out my other Kindle Fire Book resources and Kindle Fire Tricks & Tips!

You might also like to learn about the subscription service Audible which offers best-selling audio titles, podcasts and more.

If you found this tutorial helpful please let me know by posting a testimonial, leaving a comment at the bottom of this page, posting your thoughts on my Facebook page, or sharing this page with others (see share options at the bottom). Thanks!


Hand Illustrations provided by GestureWorks® (www.gestureworks.com). Aren't they perfect?
Subscribe to Love My Fire'sKindle Fire Newsletter!


To be notified of new Kindle Fire news, deals, articles, exclusive content, and more subscribe to my Kindle Fire Email Alerts!
Thank you!
You have successfully joined our subscriber list.
I hate spam too and promise to only send you Kindle Fire Alerts.
(See Privacy Policy for details.)
Sours: https://www.lovemyfire.com/kindle-fire-library-audio-books.html
Amazon Kindle
READ ANYTIME, ANYWHERE
On the bus, on your break, in your bed—never be without a book. Built for book lovers, the Kindle app puts millions of books, magazines, newspapers, comics, and manga at your fingertips.

FIND YOUR NEXT GREAT READ
- Find your next great read with Kindle. Choose from over six million Kindle books (including those with Audible narration), magazines, audiobooks, and comics and start reading in seconds. Explore new releases, Amazon Charts best sellers, and titles across genres like romance, science fiction, children's books, self-help, religion, nonfiction, and more—and try any book before you buy with a free sample.

- Subscribe to Kindle Unlimited to enjoy unlimited reading and listening. Explore over 1 million titles, thousands of audiobooks, and current magazines for just $9.99 a month.

- Over 1,000 books, magazines, comics, and more included with Amazon Prime.

- With Kindle Daily Deals, save up to 80% on a new selection of books every day, including romance, science fiction, non-fiction, and books for young readers.

GO BEYOND PAPER
Turn your phone or tablet into a book with the free Kindle app—so you can read anytime, anywhere. Explore these reading features in the Kindle app:

- Read your way. Customize your text size, font type, margins, text alignment, and orientation (portrait or landscape)—and choose whether to turn pages from left to right or continuously scroll. Read comfortably day and night with adjustable brightness and background colors. Go to the Aa menu in your book to get started.

- Look up words, people, and places while you read. Breeze through words you don't know and characters you can't remember with the built-in dictionary, X-Ray, Wikipedia lookup, instant translations, and search within your book. Simply tap and hold a word to view its definition, or use the Google and Wikipedia links to get more information.

- Track your reading progress. See what percent of the book you've read, real page numbers (for most top titles), and how much time you have left in the chapter or book based on your actual reading speed.

- Bookmark places you want to revisit, and make highlights and take notes throughout your book. Open My Notebook to see all your notes in the same place.

- Hop, skim, and jump with Page Flip. Flip between pages or get a bird's-eye view of your book with Page Flip—don't worry, we'll save your place.

- Zoom in on high-definition color images in Kindle books, magazines, comics, and manga.

- Sync your books across devices. When you're reading a book, the Kindle app will automatically sync where you left off—along with any bookmarks, highlights, or notes—so you can start reading on one device and pick up where you left off on another.

- When you can't read, listen. Switch seamlessly from reading your Kindle book to listening to the Audible book, all within the Kindle app.

- Get notified when authors you love have new releases, or when books you're interested in go on deal.
Sours: https://play.google.com/
How to LISTEN TO YOUR NOVEL with the Kindle App (like an Audiobook!)
17 Best Places to Download Free Audiobooks
LibriVox
What We Like
Listen to specific chapters without having to download all of them.

Several ways to find a specific title.

Receive new audiobooks by podcast.

Available in many languages.

Works on mobile devices.
What We Don't Like
Can't sort by most popular.
LibriVox has a huge selection of free audiobooks that are recordings of volunteers who have read chapters from books that are in the public domain.
You can find one by searching by title, author, genre/subject, or language. You can also browse all the titles in the catalog, view only the most additions, and subscribe to new releases as podcasts.
Once you reach a book's description page, you can read more about it and even listen to the chapters individually without having to download each of them. 
However, if you do want to download the whole audiobook, every chapter included, you can do so in a ZIP file, directly from LibriVox. Some are also available through a torrent and M4B file.
LibriVox is also available for iOS here, and Android devices here, so that you can download books to your phone or tablet, or stream them on the go.
Browse LibriVox Audio Books
Audible
What We Like
There's a huge selection.

Get two audiobooks completely free.

They're yours to keep forever.

Listen from a mobile device or computer.
What We Don't Like
The trial period is only for one month.

Limited to two downloads.

Must pay after the trial to keep downloading audiobooks.
Our Review of Audible
Audible has a 30-day free trial going, which means that you can download any audiobook of your choice, plus any two Audible originals, for free during that time.
Audible has a great selection of audiobooks, and you'll be able to find just about any title you're looking for, including bestsellers and new releases.
After the 30-day trial, you can get one book each month for $14.95 /month, no matter the price of the book.
Get a 30-Day Free Audible Trial
OverDrive
What We Like
Lets you borrow audiobooks free from your local library.

Works with tens of thousands of libraries.

You can listen from a computer or the mobile app.

Includes free audiobooks samples.
What We Don't Like
Must have a library card from a supported library.
If your local library has a subscription to OverDrive (check here) then this is a great place to find free audiobook downloads of recent fiction and non-fiction books, including best-sellers.
You'll check these out just like you would a library book and they'll be returned at the end of the loan period. You can even do it all from Libby, the mobile app for iOS and Android.
One thing we can't pass up mentioning is how easy searching for audiobooks can be here. Not only are you able to sort the list by popularity and release date, filters let you ensure that it's just the audiobooks (not ebooks) that you see, and they can be in a specific language and/or by a particular publisher or creator.
Besides audiobooks, OverDrive also has free eBooks, movies, and music.
Browse OverDrive Audio Books
Internet Archive
What We Like
Has thousands of audiobooks.

Several sorting options for finding the perfect audiobook.

Lets you filter the audiobook downloads by certain criteria.

Usually multiple audio format options when downloading.

Can be downloaded in bulk or by individual chapter.
What We Don't Like
Many audiobooks are poorly named and hard to recognize at first glance.

There aren't many non-English audiobook downloads.
The Internet Archive also has a ton of free audiobook downloads that you can browse through by subject, keywords, or using the search box. There are over 20,000 results for audiobooks and poetry on this website.
Our favorite way to find books here is by sorting by view count to find the most popular ones. Some of those include The Adventures of Sherlock Holmes, Adventures of Huckleberry Finn, Jane Eyre, The Swiss Family Robinson, Moby Dick, The Art of War, and Dracula.
Some are available in multiple formats so that you can download the book in the MP3 or OGG format, for example.
Mind Webs is one part of the Internet Archive that has several dozen classic sci-fi audiobooks.
Browse Internet Archive Audio Books
Loyal Books
What We Like
Multiple language options.

Makes finding the top 100 audiobooks easy.

Audiobooks are organized in several genres.

Thousands of choices.
It's easy to use Loyal Books (previously called Books Should Be Free) to download free audiobooks. You can view the audiobooks by the language, the top 100, and by genre like Children, Fiction, Fantasy, Mystery, and more than a dozen others.
You can listen to these books on the Loyal Books website, download MP3s of the chapters altogether at once in one ZIP file, download the whole audiobook in one M4B file for iPhones and iPods, save specific chapters only, stream from your phone or tablet, and even get the book through an RSS reader.
These are public domain books, so you might not see anything here that differs from the other public domain audiobook websites we've already mentioned.
Browse Loyal Books Audio Books
Storynory
What We Like
Great for kids.

Includes text with the audiobook.

New audiobooks are released often.
What We Don't Like
Very limited compared to most other audiobook websites.
If you are looking for free audiobooks for kids, then Storynory should be your first stop.
The selection includes original stories, fairy tales, classic stories, educational books, and some small stories for the very little ones.
You can download audiobooks here, stream them directly from the website, or subscribe through Apple Podcasts or another podcasting service. There's also an app for iOS devices, but it's not free.
Browse Storynory Audio Books
Open Culture
What We Like
Hundreds of free audiobooks.

Audiobooks are listed in alphabetical order for easy reading.
What We Don't Like
Can't sort or filter the list of audiobooks.

No option to search through the list.

Some are only streams, not downloads.
Open Culture has one thousand fiction, non-fiction, and poetry audiobooks you can download for free. Just scroll down the alphabetized list to browse through everything they have to offer.
These audiobook downloads are located on a variety of other websites, too, so some of them may be direct links to the MP3 while others might be streamed from its download page but not available for download.
Besides free audiobooks, Open Culture also has free online movies, courses, language lessons, and eBooks.
Browse Open Culture Audio Books
Digitalbook.io
What We Like
Change the playback rate.

Audiobooks can be launched as podcasts in iTunes.

Several ways to locate a new free audiobook.

Includes lots of well-known titles and lesser-known ones.

Several languages and categories to choose from.
What We Don't Like
Has a lot more ebooks than audiobooks.
Digitalbook.io (previously known as Librophile) is another directory that makes it easy to find public domain audiobook downloads.
Browse by the latest or the site's top-rated audiobooks to find one you might like, or look through the list of genres or authors.
You can download the whole audiobook or just specific chapters, as well as listen to it in pieces right on the website.
There are over 100,000 items at Digitalbook.io, and while some are audiobooks, others are regular eBooks.
Browse Digitalbook.io Audio Books
Light Up Your Brain
What We Like
Audiobooks are geared toward kids.

A text version is available below each audiobook.

Most audiobooks are under 10 minutes.
What We Don't Like
Has only kids audiobooks.
Light Up Your Brain has several clearly read, short, free audiobooks that are just for kids. Stream them or download the audiobooks to your computer.
A transcription of the story is provided as well so that beginning readers can read along with the audio.
There are also some free games for kids here that are all made to challenge their minds and keep their brains active.
Browse Light Up Your Brain Audio Books
ThoughtAudio
What We Like
Provides PDF transcripts of the audiobooks.

Includes classic audiobooks.

Lets you stream directly from the website.
What We Don't Like
Must download each chapter individually; no bulk download option.

No obvious download button.
ThoughtAudio has classic works of literature and philosophy books available for download as free audiobooks. You can browse the whole list or search for books, as well as see them in order of those that were most recently added to the collection.
To get these audiobooks, you have to either listen to them on the ThoughtAudio website or download them in installments by right-clicking each part that you want to save.
PDF transcripts for these audiobooks are also available for download.
Browse ThoughtAudio Audio Books
Free Classic Audio Books
What We Like
Some audiobooks are available in multiple audio formats.

Perfect place for classic audiobooks.

You can download individual chapters as well as whole books.
What We Don't Like
Not as many audiobooks as similar websites.

Website isn't fun or easy to use because there aren't graphics.
This free audiobook website specializes in classic and fiction audiobooks and you can view them by most popular, recently added, or by author's last name.
Some examples include Romeo and Juliet, The Wind in the Willows, The Mysterious Affair at Styles, and Autobiography of Mark Twain.
All the audiobooks here can be downloaded as an MP3 file and some of them as an M4B file for iOS devices. To download hundreds of their audiobooks at once and support the site, you can purchase the short stories on a DVD.
Browse Free Classic Audio Books
hoopla
What We Like
Easy to use website.

Access from a variety of devices.

Lots of genres to pick from.

Helpful sorting and filtering options.
What We Don't Like
Requires a valid library card.
Much like OverDrive, detailed at the top of this list, hoopla has free audiobook downloads, but only if you have a library card at a supporting library.
When searching through the tens of thousands of free audiobooks here, you can filter the results by user rating, release date, date added, and language. There's also a children's-only toggle to show just kid-friendly audiobook downloads.
Take a look at hoopla's most popular audiobooks, or dig through the trending audiobooks page, if you're not sure where to start. There are also genres you can browse through.
These audiobooks can be streamed from your computer or on various devices.
Browse hoopla Audio Books
Project Gutenberg
What We Like
Provides a massive source of free downloads.

Supports lots of languages.

Lets you save audiobook chapters individually or download the entire book.
What We Don't Like
Some audiobooks are read by a computer, and so aren't as fluid or easy to listen to.

Most chapters don't have descriptive titles.
Project Gutenberg has audiobooks that are human-read and some that are computer-generated. These are public domain books that have been turned into audiobooks that are now available for free for anyone who's interested.
The easiest way to find a book here is to browse those links above or search for something by title, author, subject, and/or language.
There are several formats to download the book in, and you can save it to your computer or an online storage site like Dropbox.
Download Project Gutenberg Audio Books
Scribl
What We Like
Provides audiobooks that normally cost.

Lets you filter the audiobooks results by language.

Lots of filtering options for styles, character info, etc.
What We Don't Like
Most audiobooks are not free.

Difficult to find just the free audiobooks.

Must sign in to download books.
Scribl is a very different audiobook website because while there are some free audiobooks, most of them come at a cost. It's really a hit-or-miss type of situation when you look for free audio eBooks here.
However, we've included it here because you might find unique books that aren't free anywhere else. Just make sure to grab them quickly because as books get more popular, Scribl puts a price on them.
Because Scribl has other things, too, like eBooks and podcasts, you want to make sure to filter the results to only show audiobooks. All audiobooks automatically come with the eBook at no cost.
There are several ways to filter the results to show only the books you're interested in listening to. For example, maybe you're only interested in space-themed English books set in the late 1900s that have a female main character. Set those filters and see what shows up!
There are mobile apps if you want to listen from your phone.
There used to be a free audio book website at Podiobooks.com but it's now a part of Scribl.
Browse Scribl Audio Books
Spotify
What We Like
Lets you stream audiobooks absolutely free.

Works on computers and mobile devices.

Also includes tons of free music.
What We Don't Like
It isn't easy to find audiobooks among all the music.

Only paying customers can download the free audiobooks.
Our Review of Spotify
Free audiobooks at Spotify? Yes! With a catch: it's only free to download the books if you're a paying user. Spotify memberships allow for downloading content while free users can only stream the books.
The free audiobooks at Spotify are not organized very well because Spotify is a music streaming service, not an audiobook website—but there is a good handful of them available.
If the link below doesn't have the audiobook you want, try doing a general search for audiobooks on Spotify. Use these Spotify search tips if you need help.
Browse Spotify Audio Books
YouTube
What We Like
Any audiobook you find is free to stream.

No user account is needed to view or download audiobooks.

Also has lots of free music and videos.
What We Don't Like
Doesn't provide a built-in way for finding audiobooks.

Most audiobooks don't have a download link.
Similar to Spotify, YouTube isn't primarily a good source for audiobooks because most of the content is music and videos. However, you might have luck finding some really great free audiobooks on YouTube if you know how to search for them.
If you can't find an audiobook on YouTube by searching for its name followed by "audiobook" (e.g., the six pillars of self-esteem audiobook), try the audiobooksonyoutube section of Reddit. It's built specifically for sharing which videos on YouTube are actually audiobooks.
Truly free audiobooks might have download directions in the description.
Browse YouTube Audio Books
Audiobook Sync
What We Like
Encourages kids to keep reading in the summer.

Gives away two audiobooks every week in the summer.

You can sign up for alerts to know when new audiobooks are available.
What We Don't Like
Audiobooks aren't available all year long.

Limits your audiobook downloads to two per week.
SYNC will be available again in Spring 2022.
Audiobook Sync (SYNC) is a free summer reading program meant for kids 13 and older, but anyone can take part in it to get free audiobook downloads.
SYNC gives away two free audiobooks every week over the summer. It's a perfect way for kids to keep their comprehension skills sharp before returning to school, but also provides a way for adults to grab some free audio eBooks.
You can sign up for email alerts to get reminded when SYNC releases new titles. The books are usable through the Sora app.
Browse Audiobook Sync Titles
There are lots of websites aside from the ones above that offer free audiobooks that you can download through torrent websites. However, you should know that while that method of sharing books (or anything, like music and movies) may seem completely fine, it's normally illegal in most countries and is typically considered an unsafe method for sharing files since it's a common way to transmit malware.
Thanks for letting us know!
Sours: https://www.lifewire.com/free-audio-books-the-15-best-sources-online-1357952
Books audio online kindle free
popover:
The Velveteen Rabbit

,
By: Margery Williams ,
Narrated by: Richard Armitage ,
Length: 24 mins
, Unabridged
,
Overall ,

5 out of 5 stars , 321 321 ratings,

Performance ,

5 out of 5 stars , 276 276 ratings,

Story ,

5 out of 5 stars , 274 274 ratings,
,
There was once a velveteen rabbit, and in the beginning he was really splendid. He was fat and bunchy, as a rabbit should be; his coat was spotted brown and white, he had real thread whiskers, and his ears were lined with pink sateen. On Christmas morning, when he sat wedged in the top of the Boy's stocking, with a sprig of holly between his paws, the effect was charming. 
5 out of 5 stars

Delightful

By N. on 02-09-21
Sours: https://www.audible.com/ep/FreeListens
How To Download Free Books on Amazon Kindle -- Amazon Tricks 2021 -- Save Money
She snapped, but immediately broke off and changed in her face, sorry, lately I'm not myself. All the time I get lost on someone. Now on Dashka, now on you.
Similar news:
It burns your ear, and goosebumps run through your body. Then I start kissing your neck. My heart is beating so fast, and it seems to me that I will not stand the whole foreplay and will break off faster than I would like. But this is not why I have been waiting for you all my life.
2440
2441
2442
2443
2444