How To Apply Color Street Nails For The Holidays – Exact Steps To Get A Gorgeous Manicure
One of the most popular beauty trends of 2019 was Color Street nails, which is stick-on nail polish & we have the exact steps on how you can apply them to achieve the perfect holiday manicure!
One of the top trending beauty searches on Google this year was how to apply Color Street nails and luckily, we have the exact steps on how you can get the look. Color Street is 100% real nail polish that comes in the form of strips that you just stick onto your nails and apply without having to dry. However, while the strips may seem super easy to apply, there's actually a lot of work that goes into it. The strips come oversized in order to fit all different nail shapes and types, so you have to place the strips on your nails and then file them down to the shape of your actual nail. The best part about the strips is that there is zero drying time, so you apply them and can head straight to your holiday party!
To apply Color Street nails, follow the exact steps below:
1. Remove the clear cover.
2. Peel the polish strip off.
3. Remove the tab and select the end.
4. Apply the strip to the nail and gently stretch to fit.
5. Gently file the excess strip from around your nail or remove it with your fingernail.
The brand also revealed the dos and don'ts for the perfect application.
Do:
• "Store & use nail strips at room temperature and handle with warm hands. Nail strips may become more pliable in the heat and more rigid in the cold.
• Use immediately after opening — nail strips will begin to dry once they are exposed to air.
• Clean and prep nails before application — buff and file nails, push back cuticles, and use a prep pad to remove any oils or lotions.
• Remove the clear film that covers the strips before application.
• Apply thumbs last — start with pinky and work toward thumb.
• Stretch gently for a perfect fit — stretch horizontally to make the strip wider, or stretch vertically to make the strip narrower.
• Hold the strip in the middle instead of all the way at the end for a more controlled application.
• Crease the strip over the nail edge before removing excess with your nail or nail file."
Don't:
• "Do not leave nail strips in excessive heat or cold for prolonged periods of time. Do not leave strips under direct sun or LED lighting.
• Do not apply lotion to hands immediately before or after application.
• Do not apply strips over cuticles or skin. Push back cuticles and apply strips against or slightly above cuticle, so the strip adheres directly to the nail only."
Sours: https://hollywoodlife.com/2019/12/16/how-to-apply-color-street-nails-holiday-manicure-tips/
We have some gorgeous new designs just in time for the holidays! These were just released this week and there is still plenty of time to get yours before the holiday season starts. We have both Thanksgiving designs as well as Christmas and winter designs. Keep scrolling for more info on the Holiday 2019 collection!
These are by-far the easiest to apply nail wraps I've ever used in my life. People at work are constantly complimenting me on my nails! They also wonder how in the heck I can change my nails SO FAST with such amazing designs. Well it's no secret that Color Street is my secret! This stuff is the freaking best!
Sours: http://www.bettysbeautybombs.com/2019/10/22/color-street-holiday-2019-collection/
May 25th 2019
What you'll read below is my explanation for why I left Color Street and Facebook.
In the weeks since I resigned, I've received messages from Color Street stylists who've had similar experiences to mine, which was news to me. At the time I stepped away, I firmly believed that what happened in my case was an isolated incident. I've received messages from customers and stylists alike expressing confusion, disappointment, and disillusionment toward the company itself. I've received messages from Stylists expressing their intention to quit too, and those have kept me up at night.
I don't want anyone to make decisions about their business or their future on rumors, theories, and speculation. The only way to put them to rest is to be transparent about what happened.
I have always been on the fence about whether to share what happened. Even while it was going on, and I was writing down my experience, I wasn't clear on whether telling my side would do more harm than good. I think there are lessons here that could help the current leadership and overall culture of the company. There certainly needs to be a shift in the way home office handles Color Street stylists reporting other stylists. But at the same time, I didn't want anyone to question their future or their decisions based on my experience alone.
But in the end, it came down to closure and a need to set the record straight. There are two sides to every story. This, is mine.
To process what is happening right now, I'm going to start at the beginning and write down everything that has happened up until today. I feel like the writing is on the wall and it makes me sad. After this holiday weekend, Color Street will get back to me with their decision and I must decide what I'm willing to do. I want to write it down before I'm even more bitter and upset. Maybe starting at the beginning will help me see it more clearly.
I joined Color Street January 5th 2018. I joined for the discount. I knew nothing about Direct Sales. At the time, Color Street was only 6 months old. They were in the middle of many growing pains. Out of stocks, a slow and glitchy website, and record growth, to name just a few. In short order, I found myself excited about the fact that this opportunity was ground floor. I saw the potential. I love business, marketing, and learning new things. I watched the company closely and was so impressed by the transparency and the way they worked tirelessly to be better and make things better for us. I was so excited about my new future.
My personal network LOVED the product as much as I did. Though I had no previous experience in direct sales, by March I had sales just shy of 4k and was listed in the top 25 in personal sales in the monthly superstar newsletter. In the 2nd quarter of 2018 I had the highest sales in my state. Things were good. Things were so good.
March and April brought me my first teammates. I was nervous to step into leadership, but I found that I really loved it. I loved experimenting with sales techniques and sharing what worked with my girls and watching them find success and grow. I LOVED vendor shows and parties, and I loved my VIP group most of all.
In May I hit the rank of Director and I couldn't believe what was happening. Through spring and summer corporate was busy planning and executing national conference, launching a brand-new website (THANK GOODNESS!) and hiring staff and new equipment to keep up with production. Plus, we got a new Chief Marketing Officer and he brought us the best fall collection EVER. Color Street was doing all the right things, their priorities were straight in my opinion. The only gap that I observed was that they didn't have a lot of time for marketing resources, photos, and trainings.
That was okay because the stylists community is full of positive, collaborative, and brilliant women who were willing and excited to share what they knew and create images and marketing graphics from scratch.
Through the fall something clicked for me when it came to product photos, aka nailfies. I learned that nailfies were our most powerful selling tool for online parties and vendor shows. I took a couple of pictures that were well lit and that I felt showed the colors accurately and I watched as those photos helped my sales. I am always curious about how and why things work so I started paying attention to the relationship between better photos and better sales. It seemed very simple. I needed a nice collection of consistent photos that showed the product on real hands to post in my online parties and to make into a photobook for vendor shows and in-homes. In fall 2018, Color Street didn't have a collection like that and had no immediate plans to produce them.
So, being the nerd that I am, I became super curious about what makes one photo more effective than another. I did research. I practiced, and practiced, and practiced; taking thousands of terrible photos of my nails. I bought a lightbox and my photos got better. I studied composition, and my photos got better. I perfected my application technique. I changed my nails. A lot.
Around Christmas, one of the members of my upline joked that I should just take a photo of EVERY set in the catalog. Color Street didn't have photos of every set on real nails. Nobody had a whole collection of photos that showed every current set on real nails because it would be such a huge undertaking. It sounded like a crazy idea. Nuts. Insane.
I said, Ok!
In the next few weeks a couple of members of my upline organized a donation of nail sets for me so that I could photograph all 78 current sets. I received nail mail from teammates who wanted to support me on my quest. Along with the nails, many of them sent me nice notes. On the days that I was feeling burnt out; nailfie #32… nailfie #48… nailfie #60… I read those notes and they kept me going. I spent 6 weeks, all my patience, and a lot of money on props during this time, but it was worth it in the end. I got it done.
The first thing I did with my photos once I'd shared them with all the stylists who'd donated strips was create a photo book for my events and parties. That book helped my sales. I felt validated; the effort had been worth it.
Around this time, the Presidential team went to NJ to tour the company and have their annual meeting. One of them commented on one of my posts in a CS nailfie group and told me that she'd told Bill, Color Street's new CMO, about my project and he was impressed. He'd asked for my name. I was flattered. Bill and I became FB friends and on my personal timeline I also shared pics of my journey, my nailfies, and my books. I had read our policies and procedures carefully. I followed the rules to the best of my ability and I didn't have anything to hide from the members of Color Street's home office.
It was early in February that I started a group where I could share my photo journey with whoever was interested in taking product photos. The group is called Effective Photo Boot Camp. There were mostly CS stylists there, but there were reps from other companies or small business owners with Etsy shops or Ebay stores as well. It is not a Color Street group, it is amateur photography group. We talk a lot about nails because that's what I photograph, but the main topic is always how to take effective photos. I shared my journey in making my photo books in that group. I always encouraged the stylists in that group to take their own photos, but many of them weren't confident in their abilities or simply didn't have time to take their own photos and just wanted to use mine. I had already printed my first photo book of the fall/winter catalog when I started that group. It was called The Nail Your Look Book. When I talked about taking photos, I showed my book in one of my training videos and explained how it had been effective in helping sell sets at vendor shows and parties.
Many people requested access to my look book so I made the link available to them to order directly from the printer. I did not make a profit from the sales of my book.
I told them about the steps and process I'd gone through. I told them that the book was meant to be a resource for their business so there was no reference to me or my watermark inside. I didn't even use the names of the colors in order to avoid using any of Color Street's intellectual property. It was very important to me to stay compliant. I know what it's like to have my intellectual property stolen. I had no interest in breaking any rules.
In the end the winter book was expensive, as all self-published 80-page books tend to be. The printer charged a lot for the book and added a lot for shipping. Fellow Stylists bought the books anyway.
When the spring sets came out, many people asked me if there would be a spring book and wanted order info. I took photos of the 16 new spring sets. And put together The Nail Your Look Book Volume 2, spring/summer catalog which had a total of 81 nailfies.
The time came to order the spring look book. I decided that this time I would set up a preorder for stylists who wanted the spring version of my book. On the printer website they'd have to pay over $50 after adding in shipping and tax. I thought that was CRAZY. I discovered that if I did a bulk order from the printer, I could get the books for cheaper, so I set up a google form in my boot camp group and let people preorder so that I could place a bulk order from the printer and get that discount.
I placed my order for 120 books at $38 each and it was a little bit scary.
I'd already had to learn to be a nail tech, a photographer, a hand model, and layout designer, learn the publishing software, and now I was going to have to successfully execute a rather large shipping operation for just one person.
Two days later I got this message from Bill (Color Street's CMO) on FB messenger:
Hi Marissa,
I see on Facebook you have created a look book and I think you do a really nice job! I am writing because we have created one here in the home office. It will be out in 3 weeks (no one knows yet) and we will sell it for $10 because I am printing in large quantities. I don't want you to be blindsided and especially if you are investing your hard earned money in inventory. I am here if you want to chat!
Let me be clear. I always knew this day was coming. I always knew this resource was desperately overdue and that Color Street would step up and create something magical for us. I knew that being backed by a multi-million-dollar marketing team, they would be able to create something bigger and brighter and more diverse than I ever could. They could include descriptions and amazing layouts and color schemes and all the things that this little amateur photographer and mom of three would never be able to do. My little square 7×7, one photo per page book would be nothing compared to what they would release.
With those as my thoughts, this was my reply:
I think that is wonderful! It is something I received so many requests for. It will be a great resource and everyone will be so thrilled!
On a personal note, I just ordered 120 books yesterday for $38 each for the stylists in my Effective Photo Book Camp who requested one. If they back out I'll be in big trouble. Any advice on how to handle this situation would be welcome.
I appreciate the heads up. I love that everyone at home office listens to Stylists and fulfills the needs of this community. And I don't regret the hours and resources I spent to create my photos. I became very familiar with every single set and it has been so beneficial to get up close and personal with each set.
Thank you for taking the time to let me know.
Bill replied:
The home office book will not be announced until I have it ready to go. That will easily be three weeks, so hopefully yours will already be in the works. Honesty is always the best policy and you honestly didn't know when you were creating this! Have a blessed holiday!
So, that was that. When my big order came, I shipped them all, one by one. A few people didn't pay up so I ended up with 22 books left over. I posted them on my personal timeline and they were all bought and paid for by the time the newsletter came out that showed home office's look book.
… A look book that was 7×7, one photo per page, and frankly, painfully familiar. I wasn't the only one who noticed.
The next day I tried to focus on the big picture. The book would help stylists, which is all I ever wanted. But I couldn't help it; I felt like I'd been used and I was disappointed. I tried not to think of how stupid and naïve I'd been congratulating Bill on his look book. I tried not to be hurt. I tried not to look at my phone at all. Because messages were coming in. Messages of congratulations for my assumed collaboration with Color Street. I didn't know how to respond.
Others, who rightly assumed that I'd had no part of it, sent me messages of anger. They were mad on my behalf. They wanted to call Color Street out for "copying" my book. I didn't know how to respond to them either.
Another person was so upset that they said they wanted to quit. I begged them not to. I couldn't sleep if I thought anybody quit over this. In that moment, I wasn't even ready to quit over it myself.
I am not wired to cope with drama. And it was dawning on me that I had a larger following in the stylist community than I'd realized. Many people were watching me and waiting for my reaction and I didn't want the responsibility of shaping anyone's opinion. I tried to be logical, generous, and transparent. I decided I needed to explain the situation in a simple, public way, without saying anything negative about the company or what had or hadn't happened. Because all I really had at that time were suspicions and hope that they were wrong.
So I posted in my Effective Photo Boot Camp because it is not a Color Street group.
"If imitation is the highest form of flattery then I am SO FLATTERED!"
I included a pic of my book next to the pic they released of their book. I couldn't help that they were twinning. Big time. There was a lot of reaction in the post, people finally understood what had happened and the private messages slowed down.
Since I'm trying to be transparent, I'll also share the next message I sent to Bill. I'm not proud of my attitude. I should have given myself more time to calm down before I contacted him, but I didn't. I was upset and disillusioned. This was my message:
I feel like a fool. You didn't make "a" look book, you made my look book. Same format, size, layout… everything. I thought you were going to release something original, something that had been in the works for a while. What on earth.
Last time this happened to me, I walked away without standing up for myself. This time I'm going to speak up so that I can get over it. I'm not okay. This was not okay.
It doesn't change anything, I know. But now I've said something.
My husband cancelled conference; he wants me to quit. I don't want to quit but it's going to be hard to work with a company that I'm disappointed in. It's going to be hard to coach a team with enthusiasm. It's going to be hard to show my face on team pages. Just like it's hard to see my stolen graphics walking around on leggings.
I'm a positive person. I will get over it. But, ouch.
It would be days before I'd get a response.
I later received a message from my upline that came down from Glenn at corporate that said I had to delete my one-sentence post in Effective Photo Boot Camp citing it as unprofessional. Somebody in that group had reported it to home office.
The conversation with my upline was long and I'm not going to repeat it here. I believed at the time that they didn't want me to be deactivated and I get that they were trying, for the most part, to protect me. But I declined to remove my post.
The next message came from Bill, on Friday:
Hi Marissa,
I am truly sorry you feel that way. Leaders have been asking for a look book with photos of all the shades on real hands using different ethnicities. The photography style is what Sam has been using all along. It is a standard size and honestly I don't know how it could be different. All our images for the internet are square and there is no reason to make it bigger or smaller.
Last point – all these designs are technically Color Street's intellectual property. Again, I'm sorry this makes you feel bad.
Also on Friday I got a call from a member of the Presidential Circle who urged me to remove my post because otherwise they'd be forced to deactivate me. Her attitude was bullying and condescending at first. When she finally listened to my explanation, she was kinder but it became clear that didn't have all the facts. She said I needed to remove my boot camp post AND a "negative post" on my personal timeline that never mentioned the company at all. It was about a dinner conversation my husband and I had with our 11 year old about candy companies. This request crossed a line for me. No, Color Street could not control what I posted about my family life and my experience. Absolutely not. I declined, once again, to delete my posts.
From that phone call I gathered that Glenn didn't know that Bill had messaged me ahead of their book being released.
The PC member didn't know that Bill had known about my nailfies and asked for my name months and months ago. She didn't know that he had, "saw on Facebook that I had created a look book."
Bill didn't know that that I had been reported to Glenn.
I emailed the PC member my screenshots and invited her to my Effective Photo Boot Camp with the hope that she would understand my efforts and motivation. I thought that home office needed to regroup, communicate with each other, decide, and get back to me. I said I would not delete my posts and did not feel that they had the right to make those demands given the content and location of the posts in question. She said, "Unfortunately if you don't delete them, deactivation will have to be the outcome." I responded that I would get prepared for that, but I wouldn't delete anything.
That's what has happened so far. And now I'm just waiting.
When you are a creative person, your creations are alive to you. They are like family. You feel protective of them and they belong to you.
The trouble is, intellectual property is difficult to protect. It's difficult to prove if someone copied you. It's impossible to know when you've inspired something, or when it is just weird timing or coincidence.
There are many graphic designs that I've made for shirts and scrapbook paper that bigger companies have used and mass produced without my permission. I'm not interested in legal battles. I love justice, but I hate drama. Hate it. I just want to create and share.
But, when I see my rocket design walk by on leggings, or I bump into a version of my original graphic tee designs, I understand why people go to great lengths to protect the creations that they've poured so much of themselves into.
The thing is, I never said publicly that I believe Color Street copied my book. My post wasn't negative or disparaging. Was the timing of their book weird? Yes. Were the conversations and reported conversations oddly convenient? Yes. Do they look alike? Yes.
One could believe that, as Bill explained, it's all coincidental and circumstantial. There are a lot of styles of look book in the fashion world, a lot of layout options, but maybe him and I just have the same taste. Who knows.
To sum up;
It has been insinuated by some, and stated by others, that if I don't delete my posts I will be deactivated and lose my team, customers, income, and everything I've worked so hard to build in the last 18 months of my life.
It is so tempting to comply, but I can't.
Because I know what it feels like to be bullied; it feels just like this.
My posts will stay. My story is my story. My experience is my experience. It is what it is.
Glenn, the Vice President, called from Home Office and we had a productive conversation. He said I was never in any real danger of being deactivated. I was equal parts relieved and infuriated.
I had a chance to clarify many things and give him the whole picture, which he never had. He hadn't even seen my book and Bill's book side by side. He said a lot of things that I can't or won't repeat. But in the end, I understand what happened. I don't agree with most of it. I was shocked and saddened by some of it. It should have and could have been handled better.
Effective next week, I will no longer be a Color Street stylist. I have decided to resign. It's a decision I started when I first saw Bill's book and I finished after speaking to Glenn. In the end it wasn't really much of a decision at all. How could I do anything else?
Make no mistake, Color Street, overall, was an amazing and wonderful company with a fantastic product. It was a great way choice for a side-hustle. I loved every minute (up until the last week) of my time there. I'm not one bit sorry that I was part of it.
And what happened to me is very unlikely to happen to anyone else. If it does, I hope and believe that it will be handled differently.
I will still rock my manicures, take nailfies, and post effective photo tips in my FB group. I will still have made great friendships and learned so many new things. I don't regret my time here.
On the whole, Color Street is amazing.
And I'll miss it very much.
It is hilarious to me, as I'm rereading the above, that I thought what happened to me wouldn't happen to anyone else. Less than 2 weeks later they went after my friend, Kim Hunt, who created the most amazing graphics group that helped over 19K stylists create content and market the product in compliance with Color Street's many branding guidelines. Nobody worked harder to protect the brand than Kim did, and what did they do to thank her? They made her shut down her high-resolution file-sharing website that helped so many of us with our parties and vendor booths. A website she didn't profit from. She too, has resigned.
One of the things that made Color Street so amazing in the beginning was the culture.  The culture of support, excitement, and collaboration. That culture has shifted at its core and I don't know if it can recover. People are reporting one another to home office over all kinds of things, real and imagined. That's human I guess and not surprising. What is surprising and disappointing is that Color Street is making the mistake of rewarding those petty troublemakers by acting on the reports without investigating whether they're valid. It is hurting stylist moral and shifting company culture in an ugly direction. If a compliance department is needed, I hope that is the next development for home office.
I broke no rules. There was no reason to report me. Yet, someone did. Color Street acted on those reports without understanding what they were doing or why they were doing it.
And I learned later that the person who brought home office's attention to it was a member of my own upline. "Supporting" me with one hand and stabbing me in the back with the other? I am so confused by that.
Leaders, you have got to be leaders. That means taking the bad with the good. That might mean standing up for yourselves or your teammates even when it's uncomfortable for you. Even when it doesn't add to your bonus check. Color Street is a ship and you are the crew. If you sit back and do nothing, maybe the ship will whether that storm. And maybe the next one too. But over time, there will be weak spots and frightened passengers. And at some point, the ship will capsize, leak, or sink. If you don't want to go down with the ship you must be proactive. Sometimes that might mean standing up to home office. Don't abandon your teammates who are thrown overboard. Don't throw up your hands and say, "There was nothing I could do." You could be the life-preserver, or at least try.
The lack of moral and actual support I received from the members in various levels of my upline, was the hardest part of that whole week and experience. The silence hurt my ears. They were happy to connect with me when I was producing content that would help their teams make them money, but the moment they didn't need me anymore, they disappeared.
I was also initially confused as to why Bill did what he did. Can he deny the similarities, for real?  Then I realized that his whole job is to watch the market for trends that Color Street can duplicate. He gets paid to absorb the creativity of others. I want to have that job when I grow up!
I care very much about what happens to Color Street and the future of its stylists. I hope that the company culture can evolve to something better or shift back to what it once was.
I want everyone to move forward and live happily ever after.
The End.
Tagged: Color Street, direct sales, network marketing, resignation, why i quitSours: https://nailyourlife.com/2019/07/08/why-i-left-color-street/
Applying Color Street nails - Black Tie Optional from the 2019 Holiday Collection
What's the Deal with Those Nail Polish Strips Your Friend is Selling on Facebook?
There's nothing more disheartening than getting a fresh manicure and promptly ruining it on the drive home from the salon. That brief moment is enough to make a grown woman cry. Why me?!, we yell to the heavens.
But then, just as you're rubbing off the shame with acetone-soaked cotton balls, a Facebook friend posts about how to avoid this nail fiasco, once and for all. It's by using Color Street nail strips—and she can sell it you.
Color Street makes 100% nail polish strips that are supposed to be easy to apply and last for roughly two weeks. The strips—which come in countless colors, patterns, and finishes—range between $11-$14, which will provide about two manicures if used conservatively. (As in, if you're skilled enough to not waste any strips during the first application.) The company offers classic solid nail colors, fun patterns like ombré and snakeprint, and festive holiday collections.
Just like the Rodan + Fields reps all over your social media feeds, you'll see Color Street ambassadors promoting their wares on Facebook and Instagram. Hashtag-heavy posts are the new in-person pitches, and a personal e-commerce website is now used in lieu of a clunky box pulled from the trunk of a saleswoman's car.
Similarly to Avon and Mary Kay saleswomen of your mother's generation—you know, the ladies who'd turn up at your door with your next must-have lipstick—and to the aforementioned Rodan + Fields army of our newer digital era, Color Street relies on independent saleswomen to get the word out, sell the product, and bring on potential new saleswomen. (Fresh blood, as we like to call it.)
Any company structured like this touts an appeal so universal that you can't really argue: "Want to be your own boss?" Well, for a stay-at-home mom with a crazy schedule or those in the workforce who desire a side hustle, that's about good as gold.
As far as Color Street nails application, you simply peel it off the packaging, press the adhesive side onto your nail, and file off the excess length at the tip of your nail. For those wanting to experiment with nail designs, you can cut the strips and layer them together for a geometric, striped, or half-moon look.
If you mess up your fresh mani more often than not, or if you loathe making a trip to the nail salon, these strips might be worth a try. If you're not so much into the whole pitchy thing on Facebook (oftentimes by way of someone you went to high school with a million years ago), the strips might not be your groove. To each her own!
WATCH: Popular Nail Polish Colors for Every Month in 2019
Looking for nail color inspiration—strips or no strips? Check out these fabulous nail shades we're loving for winter. A fresh manicure will cure those January blues in no time.
Sours: https://www.southernliving.com/fashion-beauty/nails/color-street-nails
Holiday nails street 2019 color
Nail polish strips aren't really a fresh idea but Color Street nails are one of the newer forms to appear on the market. People are raving about these stylish, 100% nail polish strips so I thought I'd share my honest Color Street review as a non-seller.
This post contains affiliate links. You won't pay any extra for making a purchase through these links but we earn a commission for purchases made through links. You can read more about it in our full disclosure.
Color Street Nails, An Honest Review From A Non-Seller
I love having my nails done, I always have. It just makes me feel more put together. The problem I have had is that I am always running and so the dry-time for my nails drives me crazy.
I usually touch something too soon and smudge my freshly painted nails and have to redo one or two…every time. Patience is not my thing.
The effort that goes into painting my nails, only to have my polish chipping off with in a day or two is also aggravating. I am constantly using my hands, and have them in water a lot, and the polish just doesn't hold up.
My sister-in-law started to have really cute nails all the time. So, I finally asked her about them. She said they were Color Street nails. I had never heard of Color Street.
I had tried another brand of nail strips that I really liked when they were on, but the application was such a pain and took me too long. I hardly ever took the time to put them on, which defeated the purpose.
My sister-in-law told me Color Street nails are much easier and didn't require the heat and tweezer dance that the other popular brand required. Just like the other type, Color Street nails still lasted longer than polish.
I decided to give them a try.
Now that I know the ends and outs of Color Street nail strips I'm going to share my honest thoughts about the product. You'll get the pros and the cons in this Color Street nails review.
Related Post: You might also want to check outTHIS POSTabout Color Street Sister Company, Incoco. You can get real nail polish strips at Walmart and Ulta FOR LESS!
---
What Are Color Street Nails?
Since I hadn't heard of Color Street, I wonder if you haven't either. So let's talk about the company for a minute:
Color Street's birth place is NYC in 1984. Their creator, Fa Pack, saw a woman struggling to polish her nails in a New York City cab. He thought that there has to be an easier way.
Upon discovering there wasn't, he decided to make a better way. He experimented with lots of different techniques of putting polish on surfaces until he found his formula.
The Color Street nail strips are made with 100% real nail polish. They are not vinyl like other brands. This means they can be removed with nail polish remover. When done properly (with remover and they aren't just pulled off) Color Street does not damage the nail like acrylics do.
Fa started his company trying to make direct sales. He eventually realized to get them to the public the way he wanted he was going to have to go to the "party sale" platform.
One of the companies goals is to celebrate entrepreneurs. Those that decide to sell the nails are called Stylist. The nails are also manufactured here in the USA.
Color Street Sets
Each set has 16 double-edge strips (there is only one strip in the above photo because my SIL had already used the other strip). The prices range from $11-$15. They can be applied to fingernails and toenails. There are a wide range of solid colors, glitters, French tip, art designs, sports themed, seasonal and holiday styles.
Color Street has some great deals. French manicures are buy 1 get 1 free and everything else is buy 3 get 1 free. This really drops the price of the nails when you take advantage. Shipping is $3 for your entire order.
They've also come out with pedicure sets but I haven't tried those yet. I just use the regular sets and get a manicure and pedicure out of them. It takes a little bit more work but it saves money.
Color Street Foundation
I really could talk about the Color Street Foundation in the pros section of this post but it deserves some real attention. Color Street Foundation supports multiple worthy organizations like the Gary Sinise Foundation, The Autism Society of America, The Fisher Center for Alzheimer's Research Foundation, Alex's Lemonade Stand Foundation for Childhood Cancer, and The Breast Cancer Research Center.
Since its inception in July of 2018, The Color Street Foundation has donated over $310,000 with a pledge of $1 million in future donations. Knowing that Color Street is a company that gives back makes me want to support them even more.
---
How to Apply Color Street Nails
I want to give you just a brief description of application process for Color Street nails so you know a bit about how they work. Then, I'll get to the pros and cons.
Clean and prep nails before application. File nails and push cuticles back. Color Street makes this step easy by including alcohol wipes and a mini file in each Color Street set you order.
Once nails are prepped you'll need to size your nail strips to fit your nails. Finding the correct size for each nail is important for a better, lasting look.
Once you know which strip is going on your nail you will remove the plastic covering the strip.
Start with your pinky and move your way across your hand, finishing with the thumb.
The strips are sticky and slightly stretchy. Stick the nail polish strip onto your nail as close to your cuticle as possible and then smooth the polish onto your nail, working your way up and out.
Crease the strip over the edge of your nail, then use your thumb or file to remove the excess nail.
These are just the basic steps for application. If you want a more detailed explanation then check out Color Streets instruction page. There are plenty of tips and tricks for applying Color Street to your nails. My Color Street stylist shares things like that on her Color Street Facebook page if you want to check it out.
---
My Experience With Color Street Nails
Now I'll tell you about my experience with the nails. I honestly love them. They make me feel more put together and professional without the much higher cost of having gels or acrylics put on.
Now, I don't believe any product is perfect so I'll do a breakdown of both the good and bad. I'll start with my least favorite parts:
Things I Don't Like About Color Street
While the Color Street website says their nails can last for up to 10 days I have noticed a big difference in the lasting time depending on the type of polish. For me, I can get away with wearing the glitter nails way longer than the solids. You just notice imperfections more with a solid nail.
Also, the way to make the Color Street nails last is by buffing the nail edges as they wear. I will usually buff that down a little and they look pretty good. It's a tiny bit of extra work.
2. The first couple applications are tricky, so you won't be saving time just yet. Once you have done it a few times, you do get faster.
While you do just remove Color Street with nail polish remover, I have found cheap removers don't get the job done (especially with the glitter nails which are the hardest to remove).
A lot of women buy professional strength nail polish remover from a beauty supply store. If you want to go the drug store route, I have found this remover by Cutex called Ultra-Powerful. It works if you really soak the cotton pad.
My SIL uses Onyx Professional to take off her Color Street Nails. Both are great options and neither are very expensive.
If you're having problems with brittle nails after using Color Street it could actually be a problem with the acetone remover. We've had a couple of readers mention they switched to a mineral nail polish remover and the brittle nails went away. Try Mineral Fusion Nail Polish remover if you have this problem.
One of readers recently mentioned the use of nail clips to help in the removal process, especially with those pretty but pesky glitter nails. If you only wear nail strips occasionally then you probably won't need them but if you year them regularly then they could be very helpful.
4. Here is the one thing I am in the middle about: the price. The nails typically run between $11-$14 depending on the style. While using Color Street is much cheaper than going to a salon for nails and fills, it's still more expensive than a bottle of polish, that will, of course, cover your nails for longer. For me, the price is worth it for really stinking cute, professional looking nails…but will it be worth it for you?
There are a couple of hacks that can help with the pricing that I'll talk about a little later. As mentioned above you can save more money when taking advantage of Color Street deals.
5. The nail strips will dry out once they've been opened. There are tricks you can use to close them back up to keep them fresh but that can be a pain. Check the comment section of this post for some of the helpful tips awesome readers have given for this particular problem.
6. Some people have a problem with their nails becoming brittle and cracked from using Color Street. Others have said using Color Street made it possible to grow their nails out for the first time in years because with out the nail strips their nails would break easily.
I can't speak to other people's experiences. I haven't had any problems with nail breakage from using Color Street but I wanted to at least address it because it's such a big discussion with these nail strips.
I think this is just one of those things you'll have to try for yourself to see how your nails handle them. Remember that acrylic and gels can also damage nails so I'm not surprised that some people have trouble with Color Street too.
Make sure to give nails a little breather in between sets and consider getting a good cuticle oil to strengthen nails.
Things I Love About Color Street Nails
1. Color street nails are BEAUTIFUL! They have lots of styles and colors to choose from. My favorites are the glitter and design nails. While I could do a decent job painting plain nails using polish, I flat out sucked at trying to do things like Ombre, or designs.
Color Street takes care of that problem for me. They even have different designs for all major holidays. I had two different Christmas sets I wore during December that were fun and festive. I got loads of compliments.
2. They do last way longer than polish for me. I am not a person who has the time or patience for a base coat, regular coat, and top coat of polish. I am a one-coat girl.
This meant the polish really only looked good for about 2 days. I reminded myself of this the hard way.
My sister-in-law, who I used to get Color Street from, went on vacation and I forgot to get a new set of nails before she left. I had a work retreat that came up during the time she was gone so I had to use polish. It didn't even last for the weekend retreat and looked a hot mess by the last day.
3. There is no drying time. After getting the application process down, you can get a pair of nails on pretty fast. Once they are on, that's it…no waiting time. You can immediately make dinner, do your hair, even take a shower and your nails are good to go. No smudges or streaks because you didn't wait long enough for them to dry.
4. I have shorter nails so I can usually get two complete sets from one package of Color Street. My nails are short enough that I can use both sides of one nail strip, so the second set of strips can be saved for another whole manicure.
This actually brings the price down. If you can't get a second manicure out of the strips you can get a pedicure out of them. That means your really getting a matching mani and pedi for $11- $14.
5. Speaking of a pedicure, Color Street lasts FOREVER on your toes. Normally toes take less abuse than your hands so they don't wear as fast. If you use a glitter set on your toes, they look fabulous, but also they can usually last more than a month!
Summer's just around the corner so remember this! Cute, shimmery toes in sandals that you don't have to worry about for a whole month.
6. Each set comes with alcohol wipes and a file so you can prep your nails properly. We don't realize how much residue our soaps and lotions leave on our nails. The alcohol wipes take all that off so you get a great application and those nails really stick. I love that Color Street thinks of this. They really want you to get the best application.
Would I recommend Color Street to a friend?
Absolutely! Is everyone going to become an addict like me? Maybe not. If you don't get your nails done professionally or if you use nail polish regularly then the price might not be right for you. However, if you're a "get your nails done" person then I think you really should consider giving Color Street a try.
It's great for so many things. I love it for everyday wear, but also for special things like holidays, work events, or even a hot date. Mommy daughter nails are really fun too. Because little girls nails are smaller you can usually get their nails done with the leftovers from your set.
Color Street would be ideal for vacation because the nails would last the entire trip. You wouldn't have to worrying about bringing polish with you or buying some on vacation when your nails chip and crack.
Color Street even makes a fun gift for a family member or friend. Think thank you gifts, bridesmaid presents, stocking stuffers or teacher appreciation gifts. There are lots of things that make Color Street a great product to try.
---
Final Thoughts on Color Street
I personally love Color Street nails. To me they are worth the price. When I was using regular polish, my nails were rarely done because it was such a pain for only 2 days of good looking polish. Now, it's VERY RARE that I don't have my nails done.
I write in front of clients a lot, so they are constantly looking at my hands. I like that my hands always look nice and put together now. I love having the designs I could never do myself on my nails. I like the fact that I can put the nails on and just go. No waiting for them to dry…and then smudging them because I didn't quite wait long enough.
My stylist is a great friend of mine. If you would like to try Color Street out for yourself you can buy them at her website mycolorstreet.com/glamgeordan. Even if you aren't ready to buy yet, go to her site and see all the styles you have to choose from. There really is something for everyone and every occasion.
I haven't been paid or given free products in return for this post. I honestly love Color Street. Since I am so happy with my Color Street nails I wanted to share them with you! I am grateful to my SIL for sharing them with me and I wanted to pass that along to you.
If you're looking for the best quick manicure around then Color Street nail strips are a must try! Easy application and stunning, long lasting designs give you everything you could want in nail color. Save yourself some money and enjoy salon style nails in the comfort of your own home.
Have you tried Color Street nails? What did you think of them?
---
You Might Also Like:
Must Know Color Street Application Tips for Long Wear With Less Damage
Color Street vs Incoco and Coconut: What's the Difference?
Lily and Fox Nails: Are They Better Than Color Street?
DIY Cuticle Oil for Healthy Cuticles and Nails
Fabulous at 40 | The Best Anti-Aging Products
Sours: https://www.wethreeshanes.com/color-street-nails-an-honest-review-from-a-non-seller/
Color Street Holiday 2019 mp4
Holiday 2019 Color Street Christmas Nails
You're looking for
Holiday 2019 Color Street Christmas Nails
? In this article at
https://alxrose2.blogspot.com/
We'll present some photos Holiday 2019 Color Street Christmas Nails that might inspire you.
The much anticipated holiday collection from color street launches on october 21st with 10 new designs. It s time to break out the christmas lights and the festive nail colors.
Color Street Holiday Collection 100 Nail Polish Strips That Are Affordable Super Easy To Apply Require 0 Color Street Nails Holiday Nail Art Color Street
The 2019 color street holiday collection.
Holiday 2019 color street christmas nails. When you connect with an independent stylist you re connecting with a passionate product expert dedicated to giving you the best possible shopping experience and customer service. I love the mixed mani look of the happy go plucky and the gorgeous colors of the thanks a million sets. The thanksgiving collection 2019.
Whichever shades you decide to go with this upcoming holiday season just make sure you read up on our tutorial for doing a diy manicure and pedicure at home so those pretty polishes will last. Christmas nail color 1. There are sweaters and reindeer and cookies along with snow flakes santa and of course lots of glitter.
Continue reading color street holiday 2019 collection. And just this week the 2019 holiday shades released and i am obsessed. These nails are soooo cute aren t they.
When you connect with an independent stylist you re connecting with a passionate product expert dedicated to giving you the best possible shopping experience and customer service. We have some gorgeous new designs just in time for the holidays. There are 8 new nail art designs all priced at 13 and eligible for the usual b3g1.
Dry nail polish nail polish strips christmas nail art designs holiday nail art holiday fun christmas manicure xmas nails color street nails short nails. It is officially here. Color street holiday collection 2020 the winter wonderland collection has arrived.
Oct 21 2019 raydene salinas hansen. Color street brings revolutionary real nail polish strips to your fingertips through our independent stylists. A holiday inspired nail look in the middle of the holiday season is always a great way to spruce up your mani.
People also love these ideas. Cause i rounded up the 12 best holiday christmas nail polishes of all time. These are available for a limited time.
From christmas classics to new year s worthy designs you re going to want to snag up the entire collection. These were just released this week and there is still plenty of time to get yours before the holiday season starts. There are 15 brand new designs including 3 new petites.
Saved by amy m. Keep scrolling for more info on the holiday 2019 collection. Color street s holiday 2019 nail polish strips are here and they just keep getting better each year.
Color street brings revolutionary real nail polish strips to your fingertips through our independent stylists. We have both thanksgiving designs as well as christmas and winter designs. Color street 2019 holiday designs.
Meanwhile oprah s nail tech known as the foot nanny predicts navy blue will be a big color worth trying out in 2020. The holiday season is approaching us which means two things.
Christmas Holiday Nails Are Here Dress Up Your Nails With This Cute Mixed Mani Set Color Stree Christmas Nails Christmas Nail Designs Color Street Nails
Color Street Patriotic Collection 2019 Color Street Color Street Nails Patriotic Nails
Color Street Let S Be Jolly Holiday 2019 Https Www Colorstreet Com Nailsbylisatyndall Color Street Nails Color Street Holiday Nails
Color Street Holiday 2018 Launch Sneak Peak Color Street Nails Color Street Holiday Nails
Colorstreet Holiday Nails 2019 Holiday Nails Color Street Nails Nails
Cute Holiday Nails Color Street Nails Christmas Present Nails Holiday Nails
Fleece Navidad Color Street Color Street Nails Christmas Nails Nails
Color Street Christmas Twinkle Christmas Nail Colors Color Street Nails Christmas Nail Designs
Color Street S 2019 Christmas Collection And Thanksgiving Too Color Street Color Street Nails Holiday Collection
Fleece Navidad Christmas Nail Colors Holiday Nail Colors Color Street Nails
Color Street Christmas 2018 Color Street Holiday 2018 Color Street Coupon Christmas Nails Colorstreetnails Color Street Color Street Nails Christmas Nails
Pin On Color Street
Color Street S 2019 Christmas Collection And Thanksgiving Too Color Street Nails Color Street Holiday Nails Christmas
Color Street Holiday Collection 100 Nail Polish Strips That Are Affordable Super Easy To Apply Requir Holiday Nail Polish Color Street Nails Holiday Nails
Gorgeous Holiday Manicure Holiday Manicures Color Street Nails Manicure
Color Street S 2019 Christmas Collection And Thanksgiving Too Color Street Color Street Nails Holiday Nails
Holiday Nails Color Street Nails Holiday Nails Color Street
Diy Christmas Nails Christmas Nails Diy Color Street Nails Diy Christmas Nail Art
Thank Heaven For Stylists Is A Thanksgiving Set From The Holiday Collection Click On The Link Color Street Nails Christmas Nail Polish Holiday Nail Designs
Sours: https://alxrose2.blogspot.com/2021/01/holiday-2019-color-street-christmas.html
Similar news:
There are 2 major Color Street release dates throughout the year which are the spring and fall catalogs. These are generally 20+ new colors and designs that will be consistently restocked until the next catalog release. They essentially make up the bulk of the Color Street line up. However, there are many other smaller collections that get released throughout the year as well. See below for the approximate timeline, but keep in mind these aren't SPECIFIC dates as they can change every year. You can see what's available right now for designs online.
Updated September 8, 2021
This list doesn't include any foundation set launches as those months can change every year. You can see the 2021/2022 Foundation Calendar to see what's coming next!
Valentine's Day
Valentine's Day is typically one of our biggest of the smaller releases because red, pink and hearts are so popular! You'll be able to catch these designs within the first 2 weeks of January. See for yourself how festive the Valentine's Day collection is.
St. Patrick's Day
This is when all the green and gold comes out! In previous years this was a larger collection of about 4-5 different glitters and designs. However, in 2021 they downsized to two different glitters that you can check out here. This collection typically comes out around the beginning of February.

Easter
If you love bunnies and Easter eggs, this will be a top favorite in your collection! This Color Street release date is around the beginning of March, but it can change based on the date of Easter.
Spring
Spring is the first big Color Street release date and the first major fresh update of the catalog. That means that these colors and designs will be restocked every time that they sell out. They are not limited edition/limited supply like the smaller launches. This is typically announced mid March and there are usually pastel colors, butterflies, and flowers included within the designs.
Color Street Spring 2021 Collection launches Tuesday March 16. See all the new designs and what's sticking around!
4th of July
Did you know that Color Street is 100% manufactured in the USA? That gives more meaning to the red, white, and blue nail polish strips that come out in the beginning of May. However, last year they postponed them into June, but I think that was simply because of the pandemic and learning how to manage production.
You may be wondering why so early for patriotic nail art? Well if you think about it, Memorial Day is in May and Flag Day is June 14. That gives you nail art to wear for all these different summer USA holidays before Independence Day!

Summer Fun
After the Spring launch there's always something fun they launch during the summer. There's no holiday attached to it so I just labeled this category as "summer fun." Last year in 2020 this launch included neon colors and beachy themes to get you excited for summer vacations and trips! This collection launches in the beginning of July.
Fall
The fall Color Street release date is probably my favorite! Fall is my favorite season so I'm already in a happy mood, but the deep colors that they include are really top notch. You can expect these designs to launch around that first week of September. This is the second big launch of the year with 15+ new colors and designs. Just like the spring collection, these will also get continuously restocked throughout the year – usually until the next spring collection. If you're lucky, some get put into the lineup forever like Tokyo Lights! That color has been around since the beginning because it's so popular.
See all 26 new colors for the Color Street Fall 2021 launch!
Halloween
Our Halloween designs are ALWAYS top notch which makes this Color Street release date highly anticipated. There's always something with jack o lanterns, ghosts, and glitter. You won't want to miss this launch around the end of September. This is also the only time Color Street has made glow in the dark nail polish strips! You can bet that every launch there will be at least one to choose from.
The Color Street Halloween 2021 launch has arrived!

Thanksgiving
I hope you like turkey because the Thanksgiving Color Street release date always has turkeys! They also include a glitter or two to balance it out for those who aren't into the designs. It's always fun to see what they come up with to match post-dinner sweatpants! Catch these designs within the first couple weeks of October.
Christmas/Holiday
The Christmas/Holiday Color Street release date is typically one of our larger collections of the smaller launches with about 10 new designs. It can include everything from snowflakes to sweater designs to santas! There's something for everyone including the kiddos. Be on the look out for this Christmas magic at the end of October. That way there's plenty of time to use those winter wonderland nail designs throughout the winter season. I'm hoping 2021 Color Street will add in designs for Hanukkah as they have not done that previously, but only time will tell!
Black Friday
Notably a busy and exciting holiday for shoppers, Color Street takes advantage of it and designs something special for us! This typically starts on Black Friday and extends through the weekend, or while supplies last. However, keep in mind that there has been glitters in previous years that have completely sold out in 2 hours after launch!
That about wraps it up for the Color Street release date timeline. Again, this does not include any Color Street Foundation launches or mini collections that are new as of 2021. Those are just to inconsistent to include here, but you can definitely see the Foundation calendar here.
What holidays or seasonal launches do you hope Color Street includes next?
Emily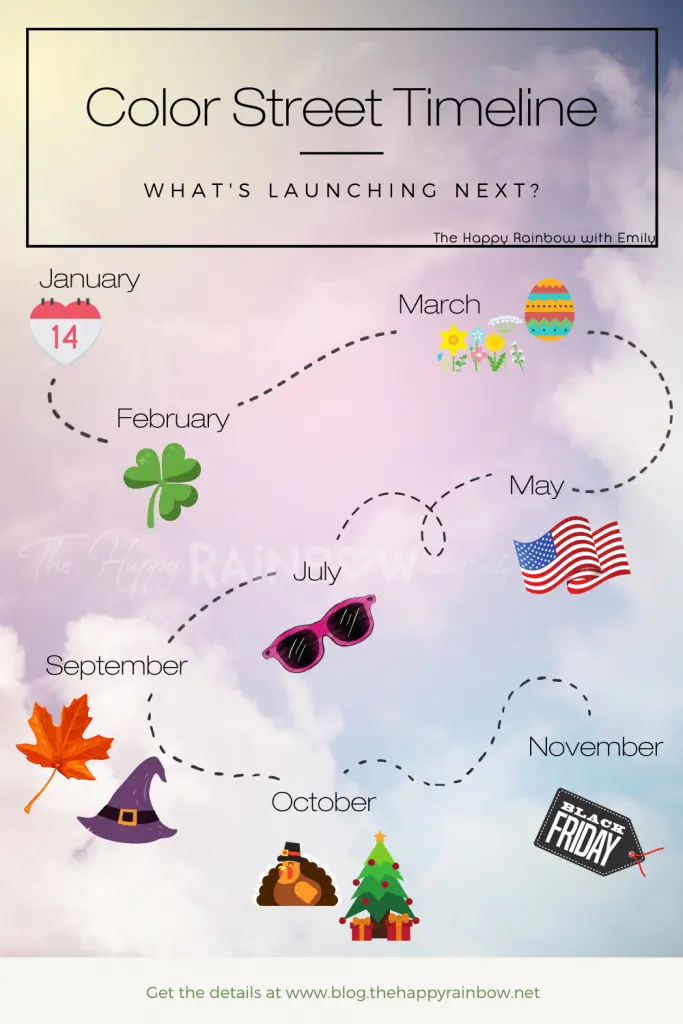 Sours: https://emazinglypolished.com/major-color-street-release-dates-to-know/
2537
2538
2539
2540
2541