Buying Advice
Buy
Buy: This price is a good deal based on past prices for the app.
Details
Categorized Under: Productivity, Education
Download Size: 350MB
Description
Transform your iPad into smart digital paper. Take handwritten notes in digital notebooks, on imported PDF, PowerPoint, and Word documents, or on images and photos. All notes are searchable and you'll never have to worry about losing or misplacing... Read More
Transform your iPad into smart digital paper. Take handwritten notes in digital notebooks, on imported PDF, PowerPoint, and Word documents, or on images and photos. All notes are searchable and you'll never have to worry about losing or misplacing them again. GoodNotes is one of the top paid iPad apps worldwide and is frequently featured on the App Store, making it a must-have for your iPad.


WRITE NATURALLY - LIKE ON REAL PAPER
* Fluent, precise, and completely natural writing experience thanks to GoodNotes pioneering vector ink engine
* Write with the Apple Pencil, Logitech Crayon, or with many capacitive styluses and even your finger
* Select and customize your pen color, thickness, and style (fountain pen, ballpoint, brush pen)
* Easily switch between pen, highlighter, and eraser

ALWAYS FIND WHAT YOU WROTE
* Everything is indexed: Search your handwritten notes, typed text, PDF text, document outlines, folder titles, and document titles
* Convert your handwriting to text to share it with other apps or add it to the page as a text box to continue typing with your keyboard

NEVER LOSE YOUR NOTES AGAIN
* All your notes with you at all times thanks to iCloud Sync

VIEW DOCUMENTS SIDE BY SIDE (requires iPadOS)
* open GoodNotes in multiple windows to view two documents or two pages side by side
* use tabs to quickly switch between open documents

ESCAPE THE LIMITS OF ANALOG PAPER
* Move, resize, and rotate your handwriting or change colors
* Draw perfect shapes and lines with the Shapes Tool
* unlimited undo & redo including gesture control for faster corrections
* powerful & smart eraser tool: Choose to erase the entire stroke or only parts of it. Set it to "Erase Highlighter Only" to leave the ink intact
* Pinch to zoom and write more precisely
* Navigate through imported PDFs with existing hyperlinks

CUSTOMIZE YOUR NOTEBOOKS
* Choose from a large set of beautiful covers and paper templates: Essentials, writing paper, Cornell paper, dark paper, checklists, planners, and more
* Import any PDF or image as a custom template for more customization

GO PAPERLESS
* import PDF, PowerPoint, Word, images, photos and more to annotate them right on your iPad
* export documents and share them with others for a fully digital workflow
* scan your paper documents and recognize the text

EFFORTLESS DOCUMENT MANAGEMENT
* Organize your documents in folders and create unlimited subfolders
* Mark your most important documents, pages, and folders as Favorites to access them quickly
* Create custom outlines for easier navigation through your documents

CONVERT YOUR IPAD INTO A DISTRACTION-FREE DIGITAL WHITEBOARD
* Keep your audience focused on what's important: Presentation mode lets you hide all distractions on an external screen when you connect your device via HDMI or AirPlay
* Use all of GoodNotes' tools, including the Laser Pointer on the iPad, while your audience only sees the page and the content
* GoodNotes empowers you to give more engaging presentations, lectures, and lessons. You can move around freely and interact with the audience while adding new information to the digital whiteboard for everyone to see

Visit our website at goodnotes.com for more information, or follow us on Twitter and Instagram as @goodnotesapp. Collapse
Sours: https://appsliced.co/app?n=goodnotes-5
GoodNotes 5 Now a Universal Purchase for Mac, iPad, and iPhone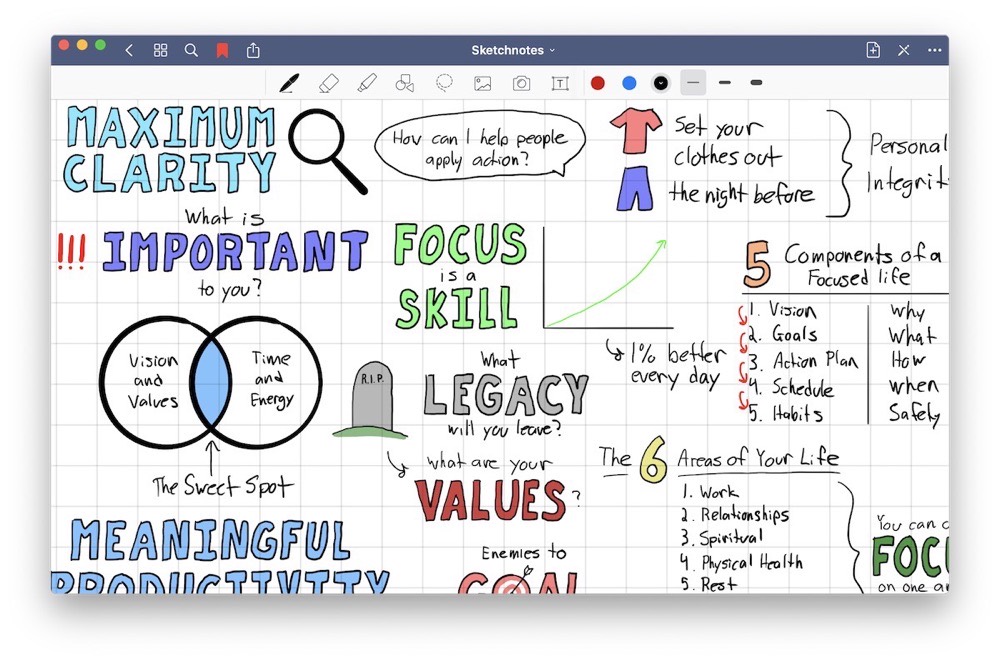 Perhaps caught in the weeds of worldwide news, Apple began offering universal purchases for Mac, iPad, and iPhone apps back on March 23. We haven't seen too many apps jump aboard the new pricing structure just yet, but one of our favorites is making the conversion this week.
GoodNotes 5 is now a universal purchase for Mac, iPad, and iPhone. Formerly, you could purchase the universal iPad and iPhone app and purchase the accompanying Mac app for $7.99 on the Mac App Store. Now, the previously paid Mac app will be discontinued and the universal iOS app will have an additional Mac app available for download.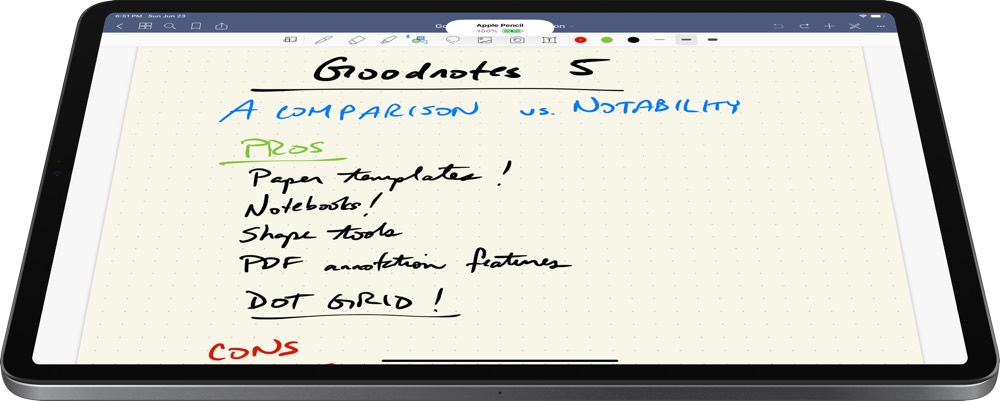 Because GoodNotes is at its best on the iPad, it's likely that those who purchased the Mac app already own the iOS version. For those folks, the legacy version of GoodNotes 5 for Mac will receive one last update before being discontinued.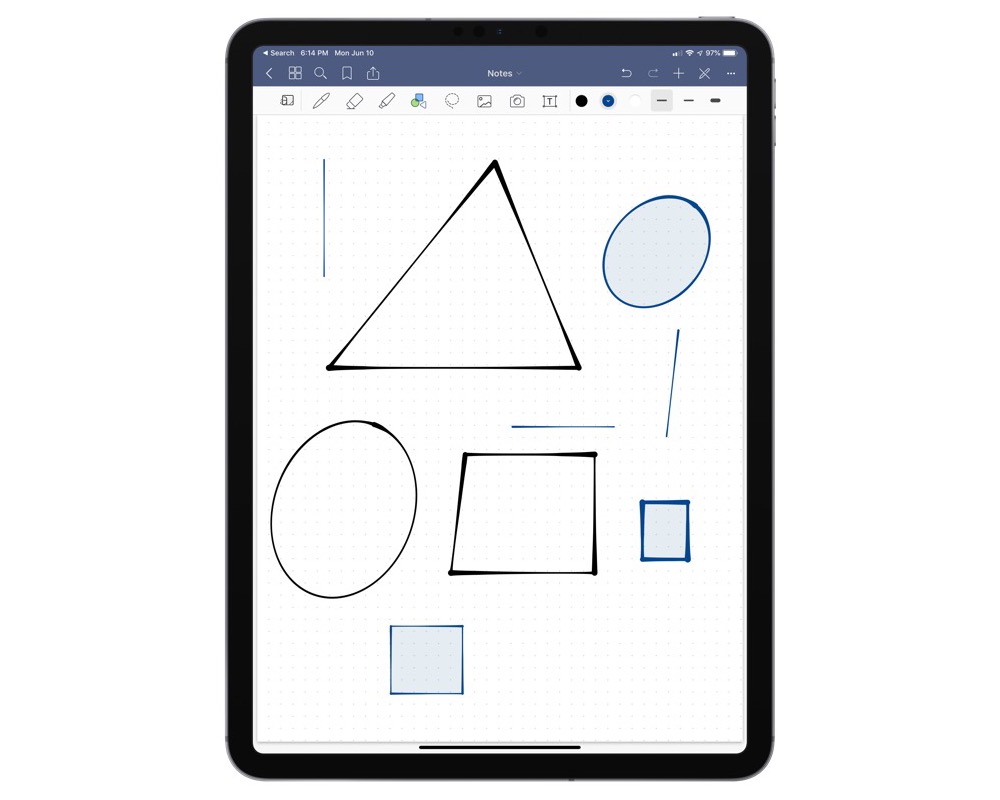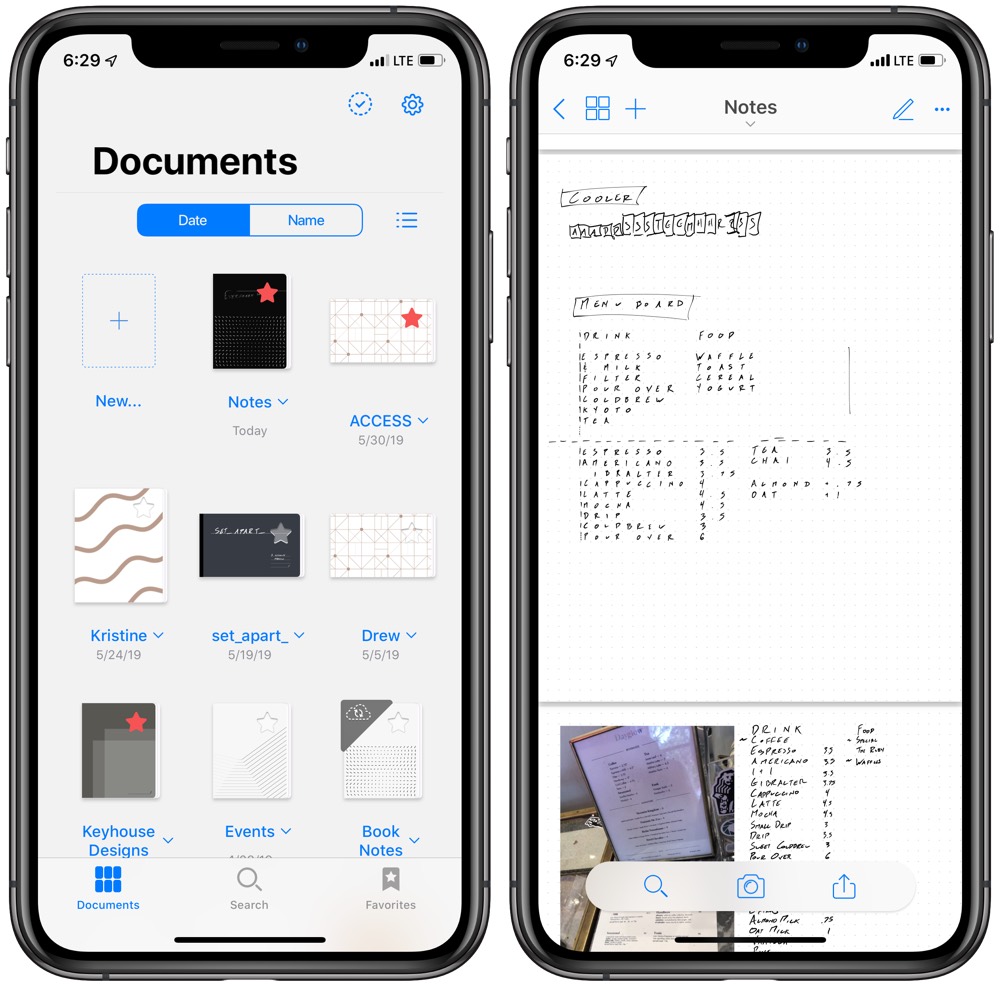 For those who have the iOS version of GoodNotes, you should head to the Mac App Store and give the updated app a download.
As a whole, we think the Mac app is probably best used as a reference or research sidekick tool alongside the iPad app. The move to include the Mac app alongside the iPad app makes a lot of sense.
That said, having access to all your written notes in their purest form on the Mac could be a boon for note-takers of all kind.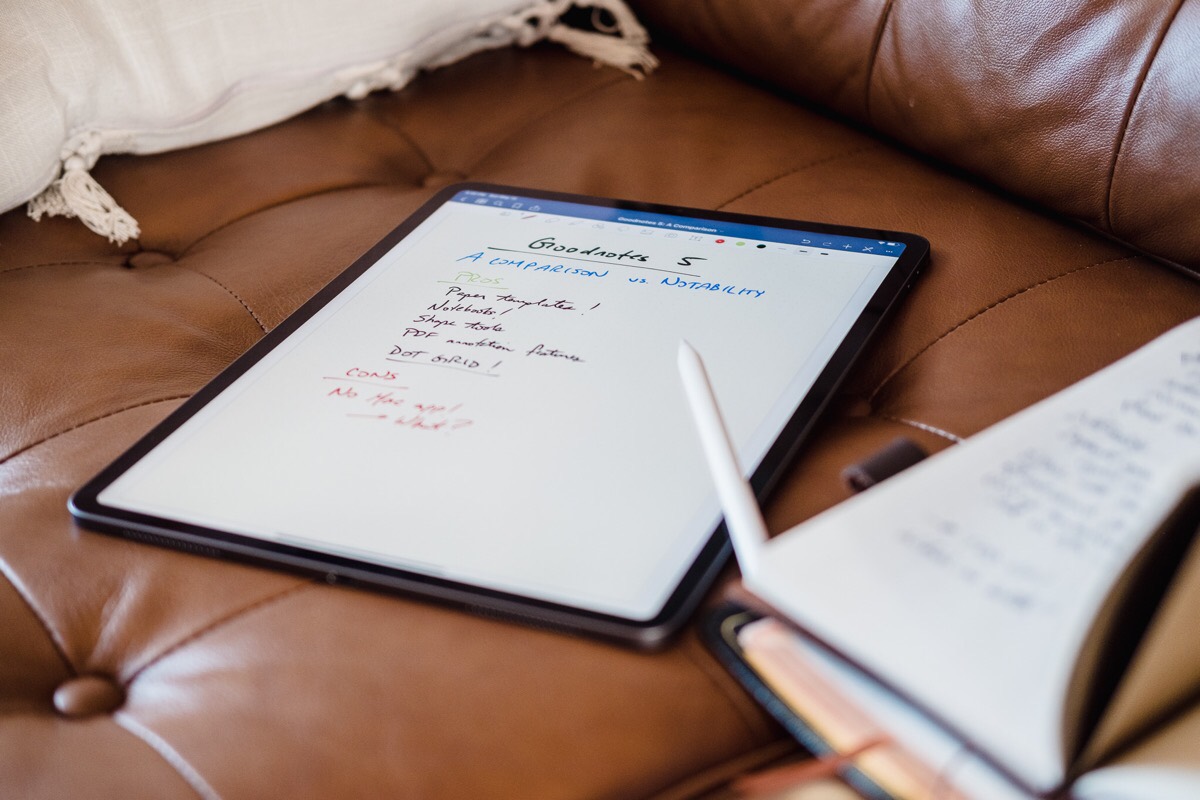 If you're looking to get more out of GoodNotes and how to implement the new universal Mac app into your workflow, our full review of the app (and its competitors) and our in-depth Learn GoodNotes course have a few tips and tricks for you.
Sours: https://thesweetsetup.com/goodnotes-5-now-a-universal-purchase-for-mac-ipad-and-iphone/
GoodNotes is one of the most popular notes app on iOS, and the Mac. and with good reason. It combines a great PDF viewer with a free form notes app, and mixes the two together. This week, GoodNotes 5 launched, an entirely new app (with upgrade pricing for users of the old app) that blows out the dust, and the olde-timey app UI in favor of a clean and organized view.
GoodNotes was always good for notes
I used GoodNotes for quite a while. I really like that you can take a PDF and add to it. A user manual can become a personal guide, complete with notes, pictures, and whole new pages. I also dig its handwriting recognition, although I never liked that handwriting search was limited to the current notebook.
I stopped using it after it kept locking up on me, and failing to sync. I also got sick of the clunky interface, which felt like I was always tapping around without actually finding anything.
GoodNotes 5
All that is fixed in GoodNotes 5. To start with, it's a whole lot cleaner. You can organize by folders, and nest as many folders as you like. You also view everything in a list view. In fact, it looks a lot like the native iOS Files app.
Even better, you can now search across your entire collection of documents and folders, including your handwritten notes. That's worth the upgrade right there. And speaking of upgrades, GoodNotes 5 has a nice take on it. The app costs $7.99, but it also comes in a bundle with the previous version. If you purchased GoodNotes 4, then you can buy this bundle for as little as $0, depending on how much you paid for the precious version. I paid $1 for the bundle.
A great upgrade
There's a lot more in this release — a redesigned toolbar, and overall a much nicer look. In short, if the old version frustrated you in any way, those frustrations are probably fixed now. You may as well try it out. After all, for existing users, it will only cost you a buck or less to do it.
GoodNotes 5
Price: $7.99
Download: GoodNotes 5 from the App Store (iOS)
Sours: https://www.cultofmac.com/601266/goodnotes-5-notes-app/
GoodNotes 5 Tutorial + Walkthrough // iPad Pro
The infrastructure to support universal apps has only been available for a couple of weeks, but some app developers are wasting no time linking their iPhone, iPad, and Mac apps as a single purchase. Fans of GoodNotes, the popular iPad notetaking app, is among the first to benefit from the change. A new, universal version of GoodNotes 5 is rolling out today for iPhone, iPad, and Mac. The app costs $7.99 in the US app store for use across all three platforms.
There's a bit of a wrinkle in this process, however. GoodNotes said Apple hasn't made it possible to merge existing versions of the app, meaning there's no way to bundle the existing macOS app with its iOS/iPadOS counterparts. So to make a universal app, GoodNotes had to launch a new macOS version for users to download.
This only affects people who purchased the Mac version, but not the iPadOS/iOS versions. That's because if you have the mobile apps, it's easy to delete your Mac app and re-download the new version at no cost. Simple enough.
However, if you only purchased the macOS app, it will continue working for you but won't receive any software updates. Otherwise, you'll need to purchase the macOS version a second time. GoodNotes assures us, though, that only a tiny fraction of customers used the Mac app on its own, without the iPad/iPhone versions.
GoodNotes is notifying customers of its Mac app about the change and is even leaving the "Legacy Version" in the Mac App Store for a few days to make sure all customers are aware of the update. After that, the "Legacy Version" will be pulled entirely. GoodNotes admits this isn't ideal, but there is no existing way to migrate Mac-only GoodNotes customers or offer a discount.
GoodNotes continues to be among the most popular notetaking apps in the App Store. Version 5, a big update that was released just over a year ago, included a new design, folder structure, improved search and more.
GoodNotes was also among the first apps to utilize Catalyst, a new framework that makes it easier to port iPad apps to the Mac.
FTC: We use income earning auto affiliate links.More.
---
Check out 9to5Mac on YouTube for more Apple news:
You're reading 9to5Mac — experts who break news about Apple and its surrounding ecosystem, day after day. Be sure to check out our homepage for all the latest news, and follow 9to5Mac on Twitter, Facebook, and LinkedIn to stay in the loop. Don't know where to start? Check out our exclusive stories, reviews, how-tos, and subscribe to our YouTube channel
Sours: https://9to5mac.com/2020/04/14/goodnotes-univerisal-app-iphone-ipad-mac/
Goodnotes 5 much is how
Why Notability
Uses less storage
More stable
Better text tool
Has audio recording
Auto backup to Box and WebDAV
Add stickers, GIFs, sticky notes and web clips to notes
Price
Notability is a few dollars more expensive than GoodNotes. It costs $8.99 while GoodNotes costs $7.99. For Notability, iOS/iPadOS and macOS versions are separate purchases. For GoodNotes, all versions now fall under one universal purchase. Notability sells the handwriting recognition feature in their Notability shop, which is a must-have in 2021, bringing the total price for the app to $11.98 on the iPad. The macOS version costs $1.99. Notability now releases free and paid updates. In the long run, Notability costs more.
Both apps:
are a one-time purchase
don't have a Windows version
Creating Digital Notes
Notability creates new notebooks in a single tap. GoodNotes has a similar QuickNote option. You can also take more time to create new notebooks in GoodNotes, customising your cover and pagetemplates.
Notability Has Terrible Page Customisation
Notability supports one paper size: A4. It supports only four paper templates: plain, squared, lined and dotted, each with four line-spacing options (where applicable). All your paper templates in Notability are in portrait mode and you can't rotate them. Notability supports a lot of paper colours though (15), but unfortunately, all the pages in one notebook use the same template down to the colour. You can't have different page templates in one notebook in Notability.
Notability has the worst paper templates options we have seen in any note-taking app. They've ignored this for years and we are curious to see how much longer they'll keep getting away with it. You can't even select multiple pages for editing in Notability. Second only to handwriting experience, paper templates are the most important feature in a note-taking app. If they can't give us the paper templates we need, they should at least let us add custom paper templates to the app's library. No, that my fellow humans, they have made almost impossible. Adding custom paper templates in Notability is extremely difficult.
GoodNotes Is Better With Page Customisation
GoodNotes has great paper templates options. It supports many page sizes (A7-A3, GoodNotes Standard, Letter and Tabloid) and plenty of paper templates, twenty-two in total! Your pages can either be in portrait or landscape mode. In case you change your mind about their orientation a bit later, you can select multiple pages to rotate or edit them (copy or move them around). GoodNotes supports fewer colours for your paper templates though (yellow, white and dark). That doesn't even matter because you can save custom page templates to the app's template library. Talk about convenience! You can also have different paper templates in one notebook; different colours, sizes, grid lines or colours.
Page customisation
Notability
GoodNotes
Page sizes
A4 only
A7 (iPhone)-A3
Letter
Tabloid
GoodNotes Standard
Page orientation
Portrait only
Portrait & landscape
Page colours
15
White, dark & yellow
Number of paper templates
4
22
Adding custom paper templates to the app's library
–
✔
Selectmultiple pages
–
✔
Different page templates in one notebook
–
✔
Page rotation
–
✔
Pen Tool
Notability and GoodNotes are primarily handwritten note-taking apps. In these apps, you mostly hand-write your notes with an active stylus. Notability has four pen tools (ballpoint, fountain, dashed and dotted pens). It has twelve fixed pen sizes, 32 default colours and the ability to add 32 more custom colours to your colour palette. You also get a favourites toolbar in Notability for saving your most used pens, highlighters and erasers. It's mobile, so you can put on any side of the screen to keep it out of the way.
GoodNotes has three pen tools: ballpoint, fountain and brush pens. It has a millimetre-pen sized system. You can choose the exact thickness you want for your pen, between 0.1-2mm. On your toolbar, however, you can only save three pen sizes and colours at a time. Notability and GoodNotes have different approaches to their pen tools but they both function.
In 2021, GoodNotes has improved its handwriting experience so much that it is better than the one in Notability. GoodNotes has added the ability to adjust pressure sensitivity for its fountain and brush pens, which makes the handwriting experience more pleasant in GoodNotes than in Notability. In GoodNotes you can also adjust the pen tip for your fountain pen, which improves how your handwriting looks in the app. The handwriting experience in Notability is also great and feels like you're writing on paper.
| | | |
| --- | --- | --- |
| Pen Tool | Notability | GoodNotes |
| Pen types | Ballpoint, fountain, dashed & dotted | Ballpoint, fountain, brush |
| Pen size | 12 fixed options | 0.1-2mm variable, save three at a time |
| Pen tip sharpness | – | ✔ |
| Pressure sensitivity | – | ✔ |
| Colours | 32 defaults, add custom | 3 saved on toolbar, add custom |
| Favourites toolbar | ✔ | – |
Zoom Tool
The zoom tool in Notability is very basic. It has your writing tools on the left side of its toolbar and navigation tools on the right side. You can avoid using auto-advanceby minimising this blue section and not writing on it.
Auto-advance in GoodNotes is better than the one in Notability, once you understand how it works. In GoodNotes, the toolbar doesn't have writing tools on it, but has margin tools instead. Then navigation tools on the right.
| | | |
| --- | --- | --- |
| Zoom Tool | Notability | GoodNotes |
| Pen tools on toolbar | ✔ | – |
| Auto-advance | ✔ | ✔ |
| Margin tool | – | ✔ |
| Navigation tools | ✔ | ✔ |
Text Tool
In Notability, you can type directly on the page or use text boxes. In GoodNotes, while typing, a text box appears around your text. It disappears when you stop writing. GoodNotes uses the text box approach only. We do not recommend adding text directly on the page in Notability when mixing your handwriting with text.
Since both apps have text box options, we'll look at that first. In Notability, you can use your Apple Pencil to draw a text box when your text tool is selected. You can also add it from the plus icon on the toolbar. In GoodNotes, you just start typing.
In Notability, your text box can be made from Papers or Colours. In GoodNotes, you can do more with your text boxes:
Change Background Colour
Change Border Colour
Determine border thickness and Padding.
Save as Default one text box style.
Notability doesn't have borders for your text boxes, which makes the feature feel a bit incomplete. Borders are necessary to create boxes and if you want them in Notability, you'll probably have to draw them in. Both apps let you rotate your text boxes. It's more cumbersome in GoodNotes because you have to rely on the lasso tool.
In Notability, you can save three favourite text formats. These preset your font, its style (bold, italic or underline), size and colour. For example, you can save presets for headings, paragraphs and emphasis. When typing notes during a meeting or lecture, you don't have time to customise your text. Tapping on a favourite changes your text format immediately. GoodNotes only offers you three saved colour templates and one text box style, which is clearly not enough. In Notability you can create:
interactive checklists
unnumbered lists
numbered lists
The interactive list tool in Notability is one of the best on the market. Notability checks off, dims and strikes out your completed tasks, making them easier to differentiate from incomplete tasks. Notability has an indentation tool to help with your lists, while GoodNotes does not. Both apps can align your text, but text alignment works better in GoodNotes than in Notability. GoodNotes has also added the ability to adjust line spacing for your text under your text alignment tool.
You can access the notes in your currently opened folder from within Notability's workspace when using the text tool. This has nothing to do with the text tool, but it's a useful feature to have. You can even customise the tools on your keyboard toolbar.
Notability has the superior text tool. Even after putting so much effort on the text tool, GoodNotes still lags behind on this feature, but they are headed in the right direction.
| | | |
| --- | --- | --- |
| Text Tool | Notability | GoodNotes |
| Text input options | Keyboard, Scribble | Keyboard, Scribble |
| Text box customisation | ★★★ | ★★★★★ |
| Text box rotation | ✔ | ✔ |
| Support for custom fonts | ✔ | ✔ |
| Save favourite text formats | ✔ | – |
| Interactive lists | ✔ | – |
| Lists (numbered & unnumbered) | ✔ | – |
| Indentation tool | ✔ | – |
| Text alignment | ★★★ | ★★★★★ |
| Line Spacing | – | ✔ |
| Customise the tools on the keyboard toolbar | ✔ | – |
Highlighter
For both apps, the highlighter goes to the back of your ink. Notability still has the option to bring the highlighter to the front for users that prefer that. You have to do this for each notebook though since the app doesn't have a universal setting for it at the moment. In both apps, the highlighter tool has customisation options that are similar to those you get for your pen tool.
Eraser
The eraser in both apps can erase per stroke &pixel. They can both selectively erase the highlighter only. Notability has twelve fixed sizes for your eraser, while GoodNotes only has three. GoodNotes can auto-deselect the eraser when you finish using it. After erasing something, the app automatically switches back to the tool you were using before. Notability doesn't have this feature. A lot of users love the auto-deselect feature.
| | | |
| --- | --- | --- |
| Eraser | Notability | GoodNotes |
| Per pixel/stroke | ✔ | ✔ |
| Eraser sizes | 12 | 3 |
| Erase highlighter Only | ✔ | ✔ |
| Auto-deselect | – | ✔ |
Lasso Tool
Notability has two types of lasso tools in the app: freehand and rectangular. The freehand lasso tool lets you move items on the page. You can resize and rotate your selection simultaneously using the two-finger gesture.
The rectangular lasso tool lets you resize and rotate your selection independently. You can do one or the other at a time. The lasso tool can change the thickness of your notes. It only picks up your handwriting though. You can't select everything on your page in Notability, which is fine since you don't need the lasso tool to select text boxes and images. Just tap on them. However, if you ever want to move everything on your page at once, you can't do that in Notability. The lasso tool in Notability can duplicate your content.
In GoodNotes, you can take ascreenshot of your selection for exporting out of the app. You can selectively pick your Handwriting, Text Boxes, Images or everything. The lasso tool in GoodNotes can't move objects across pages of the same notebook though. If you want to move items to the next page, you have to cut & paste.
In both apps, you can resize, cut, copy, delete, change the colour of your selected notes. You can also drag & drop items out of the apps.
| | | |
| --- | --- | --- |
| Lasso Tool | Notability | GoodNotes |
| Resize section, cut, copy, delete, change colour, rotate | ✔ | ✔ |
| Change pen thickness | ✔ | – |
| Select handwriting only | ✔ | ✔ |
| Select text box only | Tap on text | ✔ |
| Select images only | Tap image | ✔ |
| Select everything (handwriting, text boxes and images) | – | ✔ |
| Take a screenshot of selection | – | ✔ |
| Convert to text | ✔ | ✔ |
| Drag & drop | ✔ | ✔ |
| Move selection across pages in the same notebook | ✔ | – |
| Duplicate | ✔ | – |
Adding Things To Your Notes
For both apps, you can add images, scans, and import documents. In Notability, you can also add audio recordings, GIFs, sticky notes, stickers,weblinks and web clips. In iPadOS, both apps support scanning documents into your notes and searching through them.
| | | |
| --- | --- | --- |
| Items You Can Add: | Notability | GoodNotes |
| Images | ✔ | ✔ |
| Scans | ✔ | ✔ |
| Import PDFs | ✔ | ✔ |
| Audio recordings | ✔ | – |
| GIFs | ✔ | – |
| Sticky notes | ✔ | – |
| Stickers | ✔ | – |
| Weblinks | ✔ | – |
| Web clips | ✔ | – |
| Videos | – | – |
Scanning Documents
When you scan a document in Notability, you can insert it to your notes as a scan or an image. Images will take up a smaller section of your page and thus will create smaller documents. If you're concerned about saving space, you can save the scan as a photo. You can search through your scans.
GoodNotes uses the same iPadOS scanning tool, but it only saves scans as PDFs. You can search your documents only if you do not rotate them. Avoid rotating your scans in the app.
Shapes tool
Notability and GoodNotes can both draw regular, irregular shapes, arrows and curved lines. Both apps can auto-fill your shapes and your shape border can have a different colour from its fill. In GoodNotes, however, your circle border and fill are the same. The auto-fill in GoodNotes is translucent, while the one in Notability can be opaque (if you use the pen tool) and translucent (when you use the highlighter). For both apps, you can't adjust the auto-fill opacity.
In Notability, you can adjust the thickness of your shapes border and its shape after you've already drawn it. This works most effectively for irregular shapes, it allows you to completely change them.
Both apps support snap to other strokes for automatically snapping edges of your shapes together. In GoodNotes, the app recognises the shape as one stroke when you use multiple strokes to draw your shape once it's completed . In Notability, the strokes are treated as individuals, even though they snap to each other. GoodNotes has a dedicated shapes icon, but it also works the same way Notability does: long pressing to transform the shape.
Notability's shapes and lines snap to the grids on your paper templates. It makes up for a pleasant shape drawing experience, which you don't get in GoodNotes.
| | | |
| --- | --- | --- |
| Shapes Tool | Notability | GoodNotes |
| Regular shapes | ✔ | ✔ |
| Irregular shapes | ✔ | ✔ |
| Arrows | ★★★★★ | ★★★ |
| Curved lines | ✔ | ✔ |
| Auto-fill similar to border colour | ✔ | ✔ |
| Auto-fill different from border colour | ✔ | Except for circles |
| Adjust auto-fill opacity | – | – |
| Adjust shape after drawing | ✔ | ✔ |
| Duplicate shapes | ✔ | – |
| Snap to other strokes | ★★★★ | ★★★★★ |
| Snap to page lines & grid | ✔ | – |
| Adjust border thickness | ✔ | – |
Photos
Both apps support PNG photos (photos without a background). You can drag & drop images into the apps or add them using the photos icon (both apps can add multiple images). You can crop your images. In GoodNotes, you can crop them with freehand too. For both apps, you can rotate and resize your photos. In GoodNotes you do both simultaneous, but in Notability, you can do one at a time. In Notability, you can add captions, wrap text around your images and round their corners. You can also stretch or shrink your images in GoodNotes.
| | | |
| --- | --- | --- |
| Photos | Notability | GoodNotes |
| PNG | ✔ | ✔ |
| Freehand cropping | – | ✔ |
| Resize & Rotate | ✔ | ✔ |
| Drag & drop | ✔ | ✔ |
| Add captions | ✔ | – |
| Wrap text around photos | ✔ | – |
| Round Corners | ✔ | – |
| Stretch | – | ✔ |
| Shrink | – | ✔ |
Scrolling
Both apps have vertical and horizontal scrolling. Vertical scrolling in Notability is seamless. Pages are like one continuous canvas separated by a thin horizontal line. Your handwriting can overlap across pages, giving you a 'continuous' canvas to write on. Vertical scrolling in GoodNotes is not seamless. A small gap separates the pages in your notebook, so your handwriting can't overlap across pages.
Horizontal scrolling for both apps displays one page at a time. Notability automatically adds a new page when you start writing on the last page in your notebook, while in GoodNotes, you have to add the pages yourself (using gestures or the plus icon on the toolbar).
| | | |
| --- | --- | --- |
| Scrolling | Notability | GoodNotes |
| Vertical & horizontal | ✔ | ✔ |
| Vertical Seamless | ✔ | – |
| Automatically add new pages | ✔ | – |
Multitasking
Notability has in-app split view for opening two different notebooks side by side using the Note Switcher. Both notebooks share the same workspace. Your tools, thus, can only work in one view at a time (the active window). You can activate a window by tapping it before writing. Notability's Note Switcher only shows the ten most recently opened notebooks in your app. However, you can search all your notebooks in the app (universal search) on the Note Switcher and open any result you want. You can also create new notebooks within the workspace without leaving your current notebook and you can decide to open it on the right or left.
GoodNotes supports multiple instances. You can open the app twice side by side and each instance is a fully functional app so you can open the same notebook twice. Both windows are always active and you can access all the documents in the app from any instance (you have to go the homepage). You can also open more notebooks in slide over and multiple tabs in each instance. GoodNotes can open more documents at any given time than Notability.
| | | |
| --- | --- | --- |
| Multitasking | Notability | GoodNotes |
| Type | Note-switcher | Multiple instances |
| Maximum number of notes open at once | 2 | More than 2 |
| Open same note twice | – | ✔ |
| Number of active windows per session | 1 | Both instances |
| Access to other notebooks | 10 most recently opened | All notebooks in the app |
| Slide over windows | – | ✔ |
| Multiple tabs | – | ✔ |
| Create new app from within workspace | ✔ | – |
| Universal search within workspace | ✔ | – |
PDF Annotation
All note-taking apps can annotate your PDFs because they have decent PDF reading tools (pens, highlighters and text boxes). That alone, however, is not enough to make them good PDF readers.
Of the two apps, GoodNotes is a better PDF annotating app. It recognises PDFoutlines, which are contents pages. The last thing you want for a digital workflow is navigating through every page in a document one by one. Contents pages let you skip to the exact part of the PDF you need, which saves a lot of time. Notability doesn't recognise these.
Hyperlinks are another way to ease navigating a PDF. Both GoodNotes and Notability recognise hyperlinks and they can automatically deactivate them when you're using your Apple Pencil.
You can create outlines (custom contents pages) for your PDFs and notebooks in GoodNotes. If you create huge notebooks to have all your information in one place, a simple navigation system is necessary. Otherwise, you're better off just creating small documents, which comes with organisation problems of its own.
For both apps, you can bookmark pages in your PDFs. In Notability, this is one of two ways to simplify your PDF navigation, because you can choose to view only your bookmarked pages. You also have the option to view your annotated pagesonly, which is very handy.
You can export password-protected PDFs out of Notability. Useful when you have sensitive information you don't want falling in the wrong hands. Like those secrets that are better off kept in your head, but you just feel the urge to write them down anyway. And of course, you must share them with your best friend. So you password-protect them.
| | | |
| --- | --- | --- |
| PDF Annotation | Notability | GoodNotes |
| Recognise hyperlinks | ✔ | ✔ |
| Deactivate hyperlinks when using the Apple Pencil | ✔ | ✔ |
| Create outlines | – | ✔ |
| Bookmarks | ✔ | ✔ |
| Tags | – | – |
| View annotated pages only | ✔ | – |
| Password-protect exports | ✔ | – |
OCR
Optical Character Recognition, OCR, in these two note-taking apps has two parts. It has handwriting recognition & conversion and text character recognition (found in PDF readers).
Notability converts your handwriting to twenty-three languages. Text replaces your handwritten section in one tap. GoodNotes supports seventeen languages. After converting your text, you must copy & paste it in your notes, then delete your handwritten section. GoodNotes needs to make this a one-step process.
You can search through your handwriting. Both apps highlight the searched terms in your documents making them easy to find. GoodNotes will organise your search results according to notes and outlines. Outline results are handy for searching through page titles.
The other aspect of OCR for these note-taking apps is searching through scanned documents. Both will search through documents you scan directly into the apps, but Notability also searches through imported scans. It can also search through text in your images.
| | | |
| --- | --- | --- |
| OCR | Notability | GoodNotes |
| Convert handwriting to text | ✔ | ✔ |
| Supported languages | 23 | 17 |
| Replace handwriting in one tap | ✔ | – |
| Search through handwriting | ✔ | ✔ |
| Search through imported scans | ✔ | – |
| Search text on images | ✔ | – |
| Organisation of search results | – | ✔ |
Dark Mode
Both apps have false dark mode that only converts the user interface and not the pages or ink in the app.
Presentation Mode
Presentation mode lets you present your notes without the distracting user interface of the app. In Notability, your screen goes into Dark Mode, giving you a helpful contrast. The dark mode parts represent everything your audience can't see, that is, your user interface.
You have a laser pointer for pointing at what you are talking about. Notability has four colours for it (red, blue, green and yellow). You can use it to draw items during your presentation when a pointer is not enough. You can display parts of your pages or full single pages. The Note Switcher allows you to open notes side by side. You can decide which notes you present and use the other ones for your reference only.
GoodNotes has similar options. Your screen doesn't change dramatically as in Notability though. You only have a red laser pointer. It also points and draws. You can present parts of your pages or full single pages. In split view, you can choose which window you show your audience and you can switch between them very easily. One split view will be for your presentation, while the other one is for your reference just like in Notability.
Both apps have the option to display everything you see as a presenter (including your user interface). It defeats the purpose of doing a presentation in the first place, especially because the laser pointers only work on the pages, not the apps' user interfaces.
| | | |
| --- | --- | --- |
| Presentation Mode | Notability | GoodNotes |
| Hide user interface | ✔ | ✔ |
| Laser pointer | Red, blue, green, yellow | Red |
| Reference window | ✔ | ✔ |
Collaboration
Both apps have added collaboration capabilities, but the one in GoodNotes is more superior. GoodNotes first added collaboration without real-time syncing. We had to wait for 15-30s for changes to update. They have released real-time syncing but are rolling it out slowly to their users.
Both apps create links that you can share, giving anyone with that link access to your notes. Both apps need to add the ability to add individuals via email and give us more control over the permissions we give to the people we collaborate with.
GoodNotes' collaboration is within the app and it, therefore, works amongst GoodNotes users only. You can all work on a document together and you can mark new changes as seen to keep track of your collaboration.
Notability's collaboration is more complex and incomplete. Users are required to create a Notability account to be able to share links with other people. Creating a link in Notability takes a long time; you have to wait for it for a few seconds. Let's hope they can speed this up. The link you share in Notability opens online as a web app with no annotation tools. Your friends can only read your notes (even though they don't use Notability), but can't interact with them. At the moment, you can only share up to 10 notes at a time.
| | | |
| --- | --- | --- |
| Collaboration | Notability | GoodNotes |
| Invite via email | – | – |
| Share a link of your notebook | ✔ | ✔ |
| Create an account to share link | ✔ | – |
| Highlight changed made | – | – |
| Receive notifications when someone changes your document | – | – |
| Collaborate on folders | – | – |
| Limit on number of notes you can share | 10 | Unlimited |
Special Features
Special features make an app stand out amongst others in the same category. These are unique features that define an app in most cases.
GoodNotes has a two-finger selection gesture for quickly selecting and deselecting multiple documents on the homepage.
The audio recording tool remains Notability's trump card. It is an excellent feature for note-taking. The audio files are very small, taking up negligible storage on your iPad.
Notability can lock folders and supports Face/Touch ID depending on the device you are using.
GoodNotes can create outlines to ease navigation through your notes. You can then export them with hyperlinks.
Notability has a Notability shop for in-app purchases of various digital products.
GoodNotes has an experimental feature for flashcards.
Exporting Options
Notability exports four formats: PDF, Note, Images (Jpeg or PNG) and RTF. PDF is the best way to share read-only notes out of any note-taking app. That's what we are going to focus on. You can:
Choose specific pages to export
Keep paper background
Attach audio recordings
Password-protect
Add a margin
Preview the PDF
Export active hyperlinks
A margin gives you extra space around your notes and more room for annotating later. Notability does not zip images when you export them out of the app. GoodNotes exports PDFs, Images and GoodNotes formats. You can:
Choose specific pages for exporting.
Keep page background
Exclude annotations
Export active hyperlinks
The ability to exclude annotations is useful when you want to share the original documents you imported into the app. You don't have to worry about removing all your annotations before exporting. Super useful! GoodNotes has the option to export images as zip files or as individual images. Both apps can export PDFs with active hyperlinks.
| | | |
| --- | --- | --- |
| Exporting Options | Notability | GoodNotes |
| Formats | PDF, Images (jpeg/png), Note, RTF | PDF, Images, GoodNotes |
| Select specific pages | ✔ | ✔ |
| Page background | ✔ | ✔ |
| Attach audio recordings | ✔ | – |
| Password-protect PDF | ✔ | – |
| Add margin around PDF | ✔ | – |
| Exclude annotations | – | ✔ |
| Export hyperlinks | – | ✔ |
| Zip images | – | ✔ |
| Individual images | ✔ | ✔ |
GoodNotes 5 creates and exports hyperlinked PDFs.
User Interface
Even though they come as an in-app purchase, the themes in Notability offer options to customise your user interface. The themes are beautiful. That, plus the minimalist user interface in the app, makes Notability a better-looking app. It looks cleaner and less cluttered. GoodNotes doesn't have any themes. It's two toolbars and tabs that make the app somewhat chunky.
App Size & Storage Consumption
GoodNotes is a bigger app that creates bigger files than Notability, so if you are worried about space on your iPad, it's best to go with Notability.
| | | |
| --- | --- | --- |
| Storage Consumption | Notability | GoodNotes |
| App size | 205.2 MB | 297.3 MB |
| No. of documents | 379 | 20 |
| Documents & data | 166 MB | 531.8 MB |
Organisation
GoodNotes remains the better app for organising your notes. It supports folders within folders, giving you an infinite number of organisational levels. You can also bookmark your favourites and filter them to view your documents, pages or folders only.
Notability has a two-level folder system (dividers and subjects). A divider contains multiple subject folders. The subject folder then contains individual notes. You haven't much control on how you organise your notes in Notability.
You can also see your shared documents that you are collaborating on. Notability has a folder for Shared Notes. In GoodNotes, you have a Shared tab at the bottom of the screen. You can filter to see documents:
Owned by Anyone
Owned by Me
Owned by Others
With Unseen Changes
Universal Search
Both apps support universal search. You can search all your documents (including handwritten notes) on the homepage. GoodNotes organises your searched documents into titles, PDFs, outlines, typed notes and written notes. Notability organises your search results into title and content matches only. Notability can search through specific folders, which GoodNotes cannot.
| | | |
| --- | --- | --- |
| Universal Search | Notability | GoodNotes |
| Search through handwriting | ✔ | ✔ |
| Organise search results | Title and content matches | Titles, PDFs, outlines, typed notes, handwritten notes |
| Search specific folder | ✔ | – |
Settings
Auto Backup
Notability backups up to Dropbox, GoogleDrive, OneDrive, Box and WebDAV. You can decide which subjects to backup and in what format. Note is Notability's native format and therefore the best way to backup your notes.
GoodNotes only backups up to Dropbox, GoogleDrive and OneDrive. You can decide which folders/notes to backup by including/excluding specific words/phrases in the names of your documents. GoodNotes is the native format for the app, therefore the best way to backup your notes. GoodNotes also lets you backup in two formats: GoodNotes and PDF. There's an advantage to having both.
In GoodNotes, you can see the documents queueing for backup and you can pause or cancel your backups.
| | | |
| --- | --- | --- |
| Auto Backup | Notability | GoodNotes |
| Dropbox | ✔ | ✔ |
| Google Drive | ✔ | ✔ |
| OneDrive | ✔ | ✔ |
| Box | ✔ | – |
| WebDAV | ✔ | – |
| Native format | Note | GoodNotes |
| PDF | ✔ | ✔ |
| RTF | ✔ | – |
| Native + PDF | – | ✔ |
| Backup specific folders | ✔ | ✔ |
| Backup specific files | – | ✔ |
| View backup queue | – | ✔ |
| Pause/cancel backup | – | ✔ |
Both Apps Can:
Sync via iCloud
Move the toolbar to the bottom
The battle between Notability and GoodNotes is a never-ending one. Which app do you prefer for your digital note-taking?
Related
Published by
Ropsie
There are a lot of misconceptions about technology that prevent most people from getting the most out of them. I strongly believe that technology can help us achieve so much more than paper. I decided to dedicate my life to educating people about digital tools that can help them do more with their technology.
Sours: https://beingpaperless.com/notability-vs-goodnotes-5/
รีวิว Goodnotes 5 แอพจดโน๊ต ipad ดีที่สุด! +สอนใช้ละเอียด - NoteworthyMF
Popular note-taking and annotation app GoodNotes has received a major update this week. Rather than update the existing GoodNotes 4 application, GoodNotes developers have released a completely new version of the app: GoodNotes 5, which is available for free to existing GoodNotes 4 users.
GoodNotes 5 includes a handful of new features. First off, there's a completely new folder system which allows you to create unlimited levels of folders and subfolders in the app to organize all of your notes.
There's also a new "global search" feature, which allows you to search handwritten notes, typed text, notebook titles, and PDF files all at once.
GoodNotes 5 includes numerous interface enhancements, as well. There's a new favorites view for quickly finding important documents, while the toolbar has been completely rebuilt with easier access to writing tools. The overall design of the app is "fresh and modern," the changelog touts.
One of my favorite new features is "QuickNotes." This allows you to instantly start a new document as soon as you launch the app. This is incredibly useful for quickly jotting things down. Apple Pencil double-tap gesture support is also still great.
In terms of handwriting notes, GoodNotes 5 includes an improved ink algorithm. Details here are sparse, but in my testing, it definitely seems as if writing with the Apple Pencil is even more natural and paper-like. The update also brings a new Brush Pen style, as well as handwriting rotation support.
Upon opening GoodNotes 5 for the first time, you'll be asked if you want to transfer your documents from GoodNotes 4 to the new app. The process was pretty painless and took very little time for me.
Here's the full changelog with everything that's new in GoodNotes 5:
New folder system: Create unlimited levels of folders and subfolders
Text & handwriting search across all documents
Flexible scrolling directions: Horizontal or vertical scrolling
Favorites view: Shortcuts to important pages, documents, or folders.
QuickNotes: The fastest way to start taking notes
Optionally display documents as lists instead of thumbnails
Improved ink algorithm: More precise and natural writing experience
New pen style: Brush Pen for artistic sketches and notes
Improved Shapes tool: Color fill shapes and make lines snap
Rebuilt toolbar: Faster access to all tools and settings
Handwriting rotation: rotate handwriting and sketches with the Lasso Tool
Better rich text editing & more fonts: Use various colors, font sizes, and styles in a single text box
Flexible image resizing
Smarter eraser: Optionally, only erase highlighting strokes
More covers and paper templates
Fresh & modern design, increased stability & performance, and a lot more
GoodNotes 5 is available on the App Store for $7.99. If you purchased GoodNotes 4, you can use this bundle to upgrade to GoodNotes 5 for $7.99 minus the cost you paid for GoodNotes 4. If you paid full price for GoodNotes 4, your upgrade is free. If you got it on sale, your upgrade is $7.99 minus the amount you paid.
If you previously bought GoodNotes 4, you can buy this bundle using "Complete My Bundle" to get the price you paid for GoodNotes 4 as a credit to the bundle price. If you downloaded GoodNotes 4 for less than the full price, you can use "Complete My Bundle" and only pay the price difference to get GoodNotes 5.
---
Subscribe to 9to5Mac on YouTube for more Apple news:
FTC: We use income earning auto affiliate links.More.
---
Check out 9to5Mac on YouTube for more Apple news:
You're reading 9to5Mac — experts who break news about Apple and its surrounding ecosystem, day after day. Be sure to check out our homepage for all the latest news, and follow 9to5Mac on Twitter, Facebook, and LinkedIn to stay in the loop. Don't know where to start? Check out our exclusive stories, reviews, how-tos, and subscribe to our YouTube channel
Sours: https://9to5mac.com/2019/01/16/goodnotes-5-update-features/
You will also be interested:
Final Results
I've been a GoodNotes user for almost a year now and love it, but I have been seeing a lot of love for other note-taking apps such as Noteshelf.
I wanted to test out different options for my digital planners so I recently bought Noteshelf 2 to compare it to.
It is hard to choose the best note taking apps for your tablet, so I want to help you decide which will be best for you.
In this post I will be going over the features of both apps in relation to digital planning. I will be putting a "✅"next to the app that i think won in that category.
I currently have video tutorials for the GoodNotes app, but will be sharing tutorials on Noteshelf very soon.
Be sure to check out my new digital planner here: 7 Reasons You Will Fall in Love with my New 2021 Digital Planners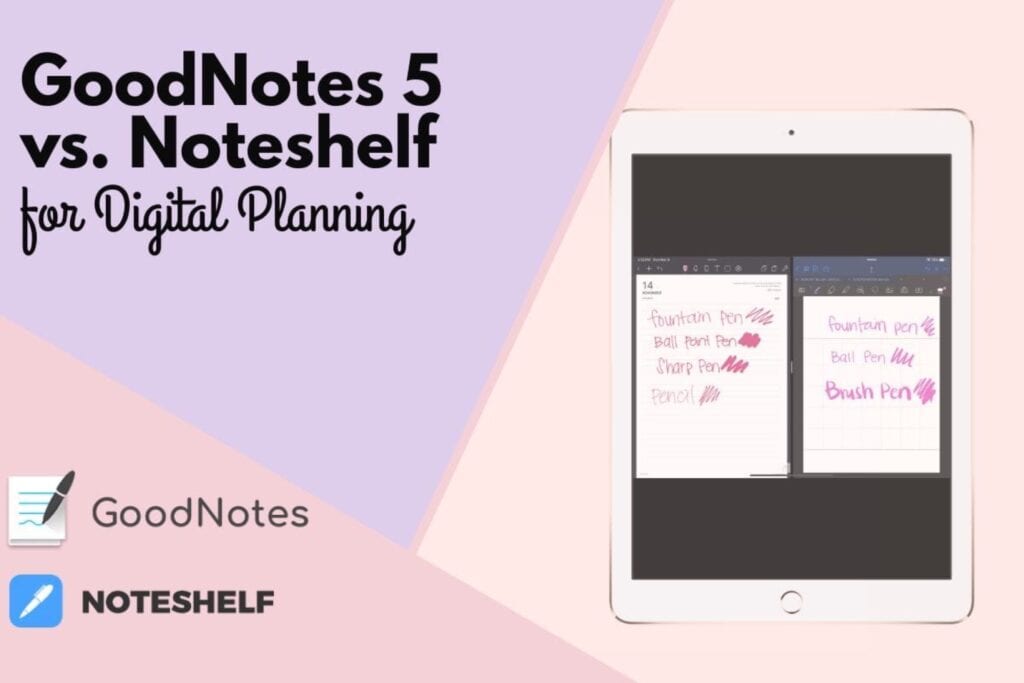 Final Results

Pricing

GoodNotes  ✅

In GoodNotes you only need one purchase for all platforms. GoodNotes 5 is available on the App Store for $7.99. No need to buy it separately on your mac.
Only available on iOS
Get it here: https://www.goodnotes.com/

Noteshelf

Mobile app on iOS is $9.99. But if you want it on your computer, you will need to buy it separately.
The Mac app costs $7.99 USD.
If you are on android, you can get the mobile app for only $4.99 through the Google Play Store
Get it here: http://www.noteshelf.net/

Folders & Documents/Multiple Windows

GoodNotes ✅

Folder system is easy to use and organize.
Multiple tabs can be open, and you can have your planners side by side
Has lots of way to open up multiple windows. Drag and drop, action menu, window icon, tabs, etc. (see my IG reel here)

Noteshelf

Able to open up multiple windows but no tabs, just new windows.
Can add a second window by dock or by holding down a new notebook you want to open and selecting open in new window
Can change color scheme of the app
Can access thumbnail view by swiping from right and can expand it to full screen easily
Has a blue scrolling bar to make scrolling through pages faster and easier

Images/Stickers

GoodNotes

Can change the Lasso options for selecting specific things, like just handwriting or just photos
Resizing is very easy
Only way to move layers around is to cut and paste and make sure last image imported is on top
Has a dedicated photo tool, so you can import photos quickly. This tool also allows you to adjust the width and height of any image you import.
When you import an image you can crop the image with rectangle or freehand, but there is no eraser option.
Can only import one image at a time, can be a hassle having to do it one by one!
Can select images and move or resize them with photo tool.

Noteshelf ✅

Can lock images so you can edit other things like text without moving that image/sticker.
Can select images  easily without needing to click on a separate tool
Can arrange layers by moving it to front or sending it to back
When copying and pasting stickers it doesn't give you the option to resize automatically, instead you have to either click out of it then select it for the image box comes up or use the lasso tool and select resize. And if it's too small you have to zoom in first to resize it, because the rotate button takes over the entire box.
When you paste an image you have to use the lasso tool to paste it and when the lasso tool is selected you aren't able to zoom in and out of your page. You have to hit done before you can zoom in — again this makes it hard to resize stickers.
Add images from photo library, media library, or files.
Has a media library for you to import images,and vectors from pixabay or unsplash!
When you import and image you can click edit, and it has options for you to crop freehand or with rectangle, then allows you to continue editing until you hit done. There is also an eraser tool so you can edit the background more.
Able to import multiple images at once, and select all of them to resize it all evenly.
unable to adjust width and height of images

Search Feature

GoodNotes ✅

Able to search through the notes taken on your own handwriting and even convert them into text.
Can search within a notebook/planner or throughout your entire app

Noteshelf

You can search through the notes taken on your own handwriting and even convert them into text. But it does take a bit longer.

Clicking on links

GoodNotes

Links can only be used if you are on read-only mode. So you have to leave edit mode to click on a tab or link.

Noteshelf ✅

Can write and click links without an extra step. Can sometimes be tricky if you're in pen mode because you can accidentally draw on your links/tabs
But also has an option to disable links and make it read-only mode.

Drag & Drop

GoodNotes ✅

You are able to long-press on an image to copy it or bring it into a new tab easily
Can drag and drop tabs into new windows
Can drag and drop thumbnails into new windows, so you can easily plan on 2 different pages of your planner simultaneously.
Can drag and drop notebooks/planners into new windows
Can drag and drop thumbnails into planner spreads as images

Noteshelf

Unable to drag and drop text into different apps, just have to copy and paste
Can drag and drop thumbnails into planner spreads as images
can drag and drop from different windows apps too

Writing & Text Options

GoodNotes

You can have 3 favourite pen colors in the toolbar which makes it super easy to change pen colors
3 different kinds of pen: Fountain, Ball Point and Brush Pen. The brush pen is great for calligraphy
Scribble doesn't work as good because the textbox automatically is very small, you can still write outside of the text box though.
You can easily move around text box before typing in it
Text box style has more options and you can choose custom colors for the text box background box.
Convert to text requires an extra step to copy it
highlighters has the option to make straight lines
pens can make straight lines if you hold it down

Noteshelf ✅

They have 4 different pen styles: Fountain, Ball Point, Sharp, & Pencil.
The fountain pen works better than the GoodNotes version, and makes your handwriting look gorgeous!
Has styles and formatting options like bulleted/ numbered lists, and checkboxes for your text box
Can save as many different format options as favorites, and have them show up on the text toolbar (size, font styles, color!) makes it so easy to change styles for headers, sub headers, and body text.
Don't like that the text box tool doesn't allow you to move it once you set it. You have to use the lasso tool for that.
Scribble works good in this app, but you do have to write inside the text box. If you write outside of the textbox it will just create a new textbox. However once you do write in the box you can continue writing outside the box.
Text box style background is limited to only the transparent option or the 9 other colors on there.
Much easier to align and indent etc.
Convert to text option makes it easy to copy to clipboard or convert it to text box.
you can make straight lines with the highlighter or pen if you select the tool plus select on the shapes tool too. The highlighter also has a rounded shape as well as a square shape tip.

Paper Styles

GoodNotes

GoodNotes options for paper styles is pretty limited, but they do have planning pages.

Noteshelf ✅

Noteshelf has lots of options for paper styles, and you can even download more!
Their planner option has the ability to select your start and end dates and includes, yearly, monthly, weekly, daily.
They also have a noteshelf store where you can download sample planners and more templates for parents, health and fitness and more.

Other Features

Goodnotes

Able to bookmark and save pages to favorites, but no color code.

Noteshelf ✅

Has audio recording!
Can also select emojis and use it to add it as many times as you want on your page
Can bookmark important pages, name and color them to search with ease.
Apple Watch App – take voice notes on your watch hands free
GoodNotes- ✅ ✅ ✅ ✅
Noteshelf- ✅ ✅ ✅ ✅ ✅
Very close! Now it's all a matter of personal preference. I'm still debating which to use. although Noteshelf does have lots more features, I did find it harder to resize, zoom in and out, and switch between tools. Goodnotes is a lot more fluid and allows multitasking to be easier, and it has the option to resize images and stickers' width and height.
I also love how easy GoodNotes makes it to drag and drop pages, images, text, and more even with Google Calendar.
I'm going to play around with Noteshelf and give it a few weeks before actually deciding which I will be sticking with.
I hope this helped you in choosing which app you will end up with. I may be playing around with both until I finally make a decision. Let me know what you think in the comments below.
After choosing an app, head on over to my shop where you can buy your new 2021 digital planners. Currently there is a sale for 20% off until Sunday Night November 15th! So get it quickly before the price goes up!
SHOP NOW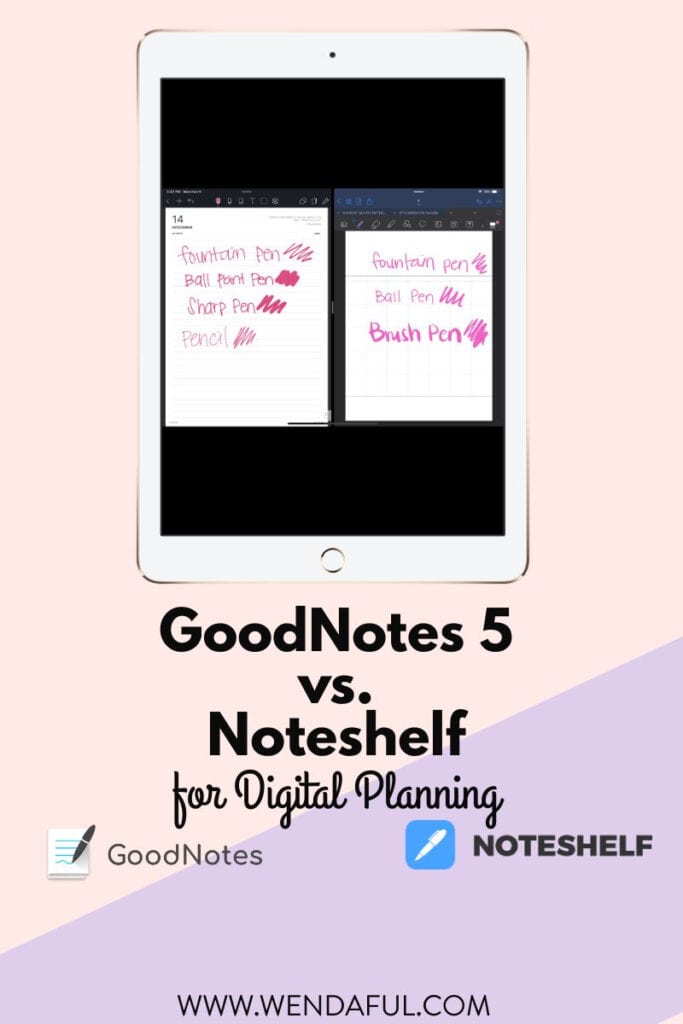 About wendaful
Welcome to the Wendaful planner blog! I'm Wenda, a mom, planner addict, and blogger who shares free planner printables and tips on how to live a happy, productive and organized life!
Sours: https://www.wendaful.com/2020/11/goodnotes-vs-noteshelf/
2634
2635
2636
2637
2638