Included for free with this service
12-month / 12k-mile warranty
Free 50 point safety inspection
Our certified mobile mechanics can come to your home or office 7 days a week between 7 AM and 9 PM.
See availability
---
Spare Tire Installation Service
How much does a Spare Tire Installation cost?
On average, the cost for a Toyota Camry Spare Tire Installation is $95 with $0 for parts and $95 for labor. Prices may vary depending on your location.
| Car | Service | Estimate | Shop/Dealer Price |
| --- | --- | --- | --- |
| 2005 Toyota CamryV6-3.3L | Service typeSpare Tire Installation | Estimate$114.99 | Shop/Dealer Price$124.99 - $132.49 |
| 1996 Toyota CamryL4-2.2L | Service typeSpare Tire Installation | Estimate$94.99 | Shop/Dealer Price$105.01 - $112.52 |
| 2021 Toyota CamryV6-3.5L | Service typeSpare Tire Installation | Estimate$94.99 | Shop/Dealer Price$105.01 - $112.52 |
| 2007 Toyota CamryL4-2.4L Hybrid | Service typeSpare Tire Installation | Estimate$94.99 | Shop/Dealer Price$104.99 - $112.48 |
| 2018 Toyota CamryV6-3.5L | Service typeSpare Tire Installation | Estimate$94.99 | Shop/Dealer Price$105.02 - $112.55 |
| 2011 Toyota CamryL4-2.5L | Service typeSpare Tire Installation | Estimate$94.99 | Shop/Dealer Price$105.01 - $112.52 |
| 2011 Toyota CamryL4-2.4L Hybrid | Service typeSpare Tire Installation | Estimate$99.99 | Shop/Dealer Price$109.87 - $117.28 |
| 2002 Toyota CamryV6-3.0L | Service typeSpare Tire Installation | Estimate$99.99 | Shop/Dealer Price$110.24 - $117.94 |
Show example Toyota Camry Spare Tire Installation prices
What is installing a spare tire all about?
A customer surprised by a flat tire may want a mechanic to come out and replace the damaged tire with the spare tire.
Keep in mind:
Spare tires in many vehicles are intended only to be used as a temporary solution until a new tire (or set of tires) can be purchased.
How it's done:
Remove the tire and install spare tire.
Check and adjust the air pressure in all tires and adjust as needed.
Our recommendation:
Spare tires are a great solution when you find yourself with a flat tire, so you should always keep a spare tire in your vehicle. If you don't feel comfortable putting the spare tire on, you should call a mechanic to do it for you.
What are the common symptoms indicating you need to install a spare tire?
Tire is flat
Wheel or tire has damage
How important is this service?
Cars need four tires to operate. Most vehicles come equipped with a spare tire in the trunk, just in case one of your regular tires blows or goes flat. In the event that a tire loses its pressure, you can use the spare tire as an interim tire until you get it replaced. Spare tires may be compact or donut spare tires which are smaller than regular tires, and for safety concerns shouldn't be driven for long periods of time, but they allow you to get your car mobile again after a flat tire. A full-size spare can also be installed which can be used indefinitely until you can have your flat tire repaired or replaced, as long as the spare tire has tread remaining. Spare tires are not meant for use above 55 mph, so you should not drive your vehicle at highway speeds while it's equipped with a spare tire, either compact or full-size.
If your vehicle is equipped with wheel locks, a mechanic will need the wheel lock key to remove the flat tire and install your spare tire. Keep your wheel lock key readily accessible in your vehicle in the event of a flat tire.
Fast and easy service at your home or office
Backed by 12-month, 12.000-mile guarantee
---
---
Recent articles & questions
Right front tire making noise
For this case, I would need a bit more information to give you a precise answer. A couple things that come to mind are cupped tires or a bad wheel bearing. Both of these items would cause a rotational noise...
My rear tire on the driver side feel hot?
Hello there, thank you for asking about your 2005 Honda CR-V. It is normal for tires to get a little warm after driving on the highway. If one tire is warmer than the others, then first check to make sure...
I recently noticed a bubble on the sidewall of my tire. Is it safe to drive 1 mile to shop?
a tire that has a bubble on the side wall is caused when the tire sidewall cords have broke. The tire is now like a balloon and may pop at any time. I would not recommend driving on the tire...
---
---
Sours: https://www.yourmechanic.com/estimates/toyota/camry/spare-tire-installation
Tire Repair for Your 2013 Toyota Camry
Repairing Your Toyota Camry Tire
City populations are exploding. Roads are expanding. It seems construction is everywhere these days! Unfortunately, this can mean a higher chance of a flat or damaged tire caused by debris in the road. Firestone Complete Auto Care is here for you when your 2013 Toyota Camry needs flat tire repair or inspection. In some cases, a tire doesn't have to be replaced – it can be plugged and patched with a simple repair. Depending on the damage, though, a repair might not be the right move. Our technicians can determine which option is best for your situation. We'll start by evaluating the state of wear, the location of damage, type of damage, and the size of the damage.
If a repair on your 2013 Toyota Camry tire is feasible and safe, we'll follow three basic steps to repair it: (1) Remove the tire from the wheel for inspection and repair, (2) fill the puncture to keep the moisture out, and (3) seal the inner liner with a repair unit to prevent air loss.
Tire Replacement for Your Toyota Camry
Unfortunately, some 2013 Toyota Camry tire damage can't be effectively repaired. For tires that have less than 2/32nd inch of tread left, a repair simply isn't possible – even if the tire damage is minimal. Tires with this tread depth or less are no longer safe, so it's time to replace the damaged tire. Some tire issues are easy and straightforward to repair, but other kinds of tire damage can't be properly repaired. Tire damage that can't be repaired effectively include a puncture in the tire that is ¼ inch or greater in diameter; a puncture that lies outside the tire tread area; a tire with multiple punctures that are less than 16 inches apart; and a tire with cuts or tread separation.
Sometimes, it's in your best interest to buy one, two, or four new tires depending on Toyota's recommendation. Manufacturers of AWD vehicles, for example, often recommend replacing all four tires at once because AWD systems need uniform tires to operate properly. Just replaced your tires and only one is damaged? You may not need to buy another new full set after all. It's possible that you will only need to replace the tire that's damaged – just make sure it's the same size, type, and brand as the rest of your tires. Need help? A tire technician can walk you through the options and help you determine what's best for your vehicle's performance and longevity.
Do I Need a Tire Inspection for My Toyota Camry?
A flat tire? That's pretty hard to ignore. But other tire damage? It's not always obvious! Inconspicuous issues like bulging sidewalls, exhaust noise, leaks, or bent rims may indicate issues that need immediate attention. Stay ahead of potentially dangerous tire issues. Bring your 2013 Toyota Camry in for a tire inspection.
Frequently Asked Toyota Camry Tire Repair Questions
Can I drive my Toyota on a flat tire? Driving on a flat tire is not a good idea. Your Camry engine will keep running with a flat tire, but you could damage your wheel by continuing to drive on a flat.

 Is temporary sealant bad for my Toyota's tires? Fast fixes are a mixed blessing. They'll help you get your Toyota Camry to Firestone Complete Auto Care, but don't count on them to keep you on the road for very long. Using a temporary sealant may also void a Bridgestone or Firestone tire warranty.

What's the harm in using my spare tire for a while? While this sounds great in theory, keep in mind that most spare tires are not designed for distance or speed. The compact spare tire that most likely sits inside your 2013 Toyota Camry is intended for only a few days of use, so don't use it as a substitute for getting your tire repaired.
2013 Toyota Camry Repair
Your car takes care of you, and we'll take care of your car. When it's time for a replacement part or repair for your Toyota Camry, we're ready to help. Check out more info below about 2013 Toyota Camry repairs.
Sours: https://vehicle.firestonecompleteautocare.com/toyota/camry/2013/repair/tire/
The Toyota Sienna is one of our favorite family haulers thanks to its spacious interior and standard active safety. While it also happens to be one of the most reliable minivans on the road, occasionally all vehicles run into trouble and Sienna owners may need to access its spare tire. Learn how to locate and lower the spare tire on the Toyota Sienna minivan below.
[Read More:Does the Toyota Sienna have Apple CarPlay?]
How To Locate and Lower The Toyota Sienna's Spare Tire
Different model years of the Toyota Sienna could have different spare tire instructions and locations. The Sienna spare tire information provided in this post is for Sienna model years 2010-2018. Specific spare tire information for your exact model can always be found in your owner's manual which you should keep stored in your glove compartment.
The Toyota Sienna's spare tire is tucked underneath the vehicle under the second-row seats on the passenger side. Drivers will need specific tools for accessing the spare which can be found in a secret wall panel in the cargo space on the right-hand side. After pulling back the panel, drivers will be able to access a tire jack, tire bag, and set of tools to access the spare tire. Un-attach the silver adaptor socket and long metal jack handle from the back of the wall panel. Open the sliding side door on the passenger side and push the front passenger seat all of the way forward and the second-row seats on the passenger side all the way back. Look for a small latch under the floor mat. When lifted, the latch will reveal a nut that can be twisted using the adaptor socket and jack handle. Twisting the nut will lower the spare tire so that it can be accessed from underneath the Sienna.
[Read More:Which 2018 Toyota Models Have a Power Liftgate Feature?]
Schedule A Toyota Service Appointment in St. Louis
After attaching the spare tire, drivers should head to their nearest Toyota service center for replacement tires as the spare should be driven on for as short a time as possible. Drivers in need of Toyota tire services in St. Louis can head to the Ackerman Toyota service center at 2020 Hampton Avenue in St. Louis.
Sours: https://www.ackermantoyota.com/blog/how-to-locate-and-lower-the-toyota-sienna-spare-tire/
TIRE CHANGE Toyota Camry - EASY, Step-by-Step Tutorial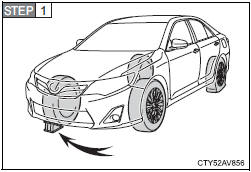 Chock the tires.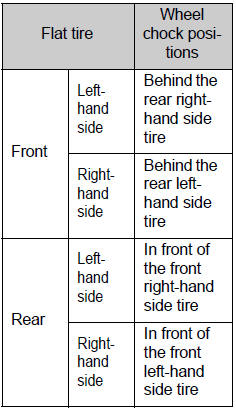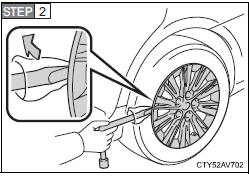 For vehicles with steel wheels, remove the wheel ornament using the wrench.
To protect the wheel ornament, place a rag between the wrench and the wheel ornament, as shown in the illustration.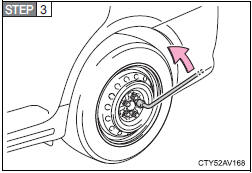 Slightly loosen the wheel nuts (one turn).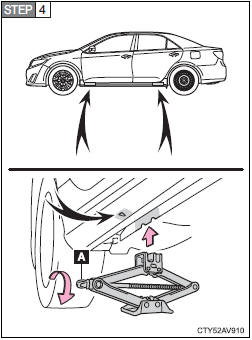 Turn the tire jack portion "A" by hand until the notch of the jack is in contact with the jack point.
The jack point guides are located under the rocker panel.
They indicate the jack point positions.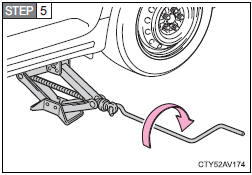 Raise the vehicle until the tire is slightly raised off the ground.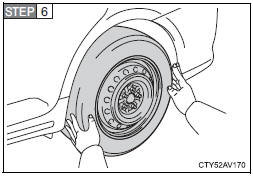 Remove all the wheel nuts and the tire.
When resting the tire on the ground, place the tire so that the wheel design faces up to avoid scratching the wheel surface.
Taking out the spare tire
Remove the luggage floor cover and spare tire cover. Remove the tool tray. Loosen the center fastener that secures the spare tire. When taking out or stowing the spare tire, make sure t ...
Installing the spare tire
Remove any dirt or foreign matter from the wheel contact surface. If foreign matter is on the wheel contact surface, the wheel nuts may loosen while the vehicle is in motion, causing the ti ...
See also:
Fold-Flat Passenger Seatback
The recline handle on the front passenger seat also releases the seatback to fold forward. Seatback Adjustment The hard seatback features a work surface and a molded rim for retaining items st ...
Air Vents
Use the louvers located on the air vents to change the direction of the airflow. To open the vent, move the thumbwheel to . To close the vent, move the thumbwheel to . For vehicles with eAss ...
Battery saver system
If the ignition switch is placed in the OFF position while the headlight switch is in the or position, the headlights will turn off after 5 minutes. CAUTION Even though the battery saver feat ...
Sours: http://www.m-sedan.com/replacing_a_flat_tire-6191.html
Camry location toyota spare tire
How Long Can I Drive on a Spare Tire?
Schedule ServiceWhy Choose Genuine Toyota Tires?
If you have the unfortunate luck of getting a flat tire on the roads of Muncie, then you can rest assured knowing that your spare tire can at least get you to your home or a Toyota service center with ease. If you're wondering how long can you drive on a spare tire, though, Toyota of Muncie is here to answer this often-asked question.
In general, you want to replace your spare tire as soon as possible, but different types of spare tires can last longer than others. Learn more about how long you can drive on a spare tire with Toyota of Muncie, and visit our tire center to get yourself a new set of quality Toyota tires.
What Are Space-Saver Tires?
If you get a flat tire around Anderson and your spare is smaller than your normal tires, then you have a space-saver spare. Also known as a "donut" spare, these tires are included with many new vehicles, but they come with restrictions:
Space-savers tires cannot be driven over 50 miles per hour.
Donut tires shouldn't be driven for more than 70 miles.
Space-saver tires have less traction than with a full-size spare, so if you're driving in inclement weather, it's best to get a new tire as soon as possible.
It's always a good idea to check your space-saver tire to see if it has any specific instructions for your brand. Remember, too, that you can easily schedule a service appointment to buy a new tire and have it put on your car here at Toyota of Muncie.
What is a Full-Size Spare Tire?
As its name suggests, a full-size spare is a tire that's the same size as your other tires. If you're wondering "How long can I drive on a spare tire if it's full-sized?" the answer may surprise you! While full-size spares can be driven on for longer than space-saver tires, it's still best to get a new tire as soon as possible because they may not be the same brand or the same season as your current tires. Full-size spare tires are not commonly sold with new vehicles, but some new trucks and SUVs may come with them. If you're driving a car around Pendleton with a space-saver tire and you want a full-size spare instead, you can easily buy one from Toyota of Muncie!
What is a Run-Flat Tire?
A run-flat tire is a tire that has a supportive system of rings within the tire that are built to resist the effects of deflation if the tire is punctured. Run-flat tires are innovative, but they do come with some restrictions. Read the advantages and restrictions of run-flat tires below:
Run-flat tires can remain intact for about 50 miles following a puncture.
These tires are tougher than a space-saver tire or full-size spare.
Run-flat tires often cost more than a standard tire.
Run-flat tires must be driven at reduced speeds, usually under 50 MPH.
Run-flat tires are useful to have if you ever puncture a tire since they provide added support and don't require you to change to a spare immediately. However, like spare tires, they should be replaced as soon as possible to ensure your safety behind the wheel.
Get More Tire Care Advice From Toyota of Muncie
If you need a new set of tires or even a new spare, you can count on the service team at Toyota of Muncie to help you find the right tire replacement for your vehicle. Make sure to browse our service coupons and parts specials to see if you can get new tires at a discounted price, and feel free to contact us if you have any questions, like how to reset your tire pressure light or what's included in your Toyota 30,000 mile service if needed. You can also visit our parts department online or in Muncie for tire replacement or even smaller services like Toyota key fob battery replacement.
Sours: https://www.toyotaofmuncie.com/parts/parts-tips/how-long-can-you-drive-on-a-spare-tire/
How to remove Spare Tire in Toyota Camry 2006-2011
How Far Can You Drive Your Toyota Camry on a Spare Tire?
When disaster strikes and you get a flat tire on your 2018 Toyota Camry, you are faced with the time-honored task of changing your tire on the side of the road. Temporary tires are a lightweight, less-reliable backup plan that makes it easier to maneuver, but many drivers want to know – how far can you drive your Toyota Camry on a spare tire? Equipped with a temporary spare tire, you will have a driving range of 50 miles before you should have your punctured tire repaired or replaced. Check your Toyota Owner's Manual for more details.
---
READ MORE: How Does the Toyota Tire Pressure Monitoring System Work?
---
Temporary spare tires are typically referred to as space-savers or donuts. Lightweight and compact, these temporary tires are easier for most drivers to lift and maneuver when needed, but are not designed for extended use. When your Toyota car or crossover is equipped with a temporary tire, you are limited to a top speed of 55 mph with a driving range that will be between 50 and 70 miles – far enough to get you home or to a trusted service department.
Which Toyota Models Have Temporary Spare Tires?
When you have a flat tire, your vehicle will typically have one of four spare tire options – a temporary spare tire, a full-size spare tire, run-flat tires that will go an extra 50 miles after a puncture or a tire patch kit. If you own a Toyota car, truck or crossover, it is important to know whether or not you have a temporary spare tire or a full-size spare tire. Take a closer look at which Toyota models provide temporary spare tires below.
Temporary Spare
Toyota Yaris
Toyota Yaris iA
Toyota Corolla
Toyota Corolla iM
Toyota Camry
Toyota Avalon
Toyota 86
Toyota Sienna
Toyota C-HR
Toyota RAV4
Toyota Highlander
Toyota Prius (or Repair Kit)
Toyota Prius c
Full-Size Spare
Toyota Tacoma
Toyota Tundra
Toyota 4Runner
Toyota Sequoia
Toyota Land Cruiser
---
READ MORE: Top 5 Tips for Tire Care and Maintenance
---
If you have ever had to use a temporary spare tire or donut, it is important to know how far you can drive your Toyota Camry on a spare tire. As a general rule of thumb, you will want to get to a mechanic or repair your tire as soon as possible. Schedule a service appointment with the Downeast Toyota Service Department for any tire repairs or visit the Downeast Toyota Tire Store to find a replacement today.
Sours: https://www.downeasttoyota.com/blog/how-far-can-you-drive-your-toyota-camry-on-a-spare-tire/
Now discussing:
Location of the Toyota Camry Spare Tire and Jack
Where to Find the Spare Tire, Tire Jack, and Tire Tools in a Toyota Camry
With its stylish aesthetic, fun driving dynamics, and upscale interior, it's a pleasure to drive the new Toyota Camry. It's an excellent option for the morning commute or running errands around town. However, no matter where you're headed, getting a flat tire can quickly turn a sweet day sour. As much of a bummer as a flat tire can be, knowing your prepared can go a long way towards minimizing the impact it has on your day. Before your next drive, take a minute to locate the spare tire and tools so that you can go right to them when needed.
Locating the Spare Tire and Tools
To access the spare tire and tools, open the Camry's trunk and look for the latch It's a plastic rectangle with a handle right at the front. Pull the tab towards you to access the handle and use the handle to lift the floor. The handle also serves as a hook that can hang on the seal under the back window. You will see a foam tire cover with the jack and tools embedded in their dedicated slots. Lift the cover out of the way to access the tire. To remove the tire, use your hands to unscrew and remove the plastic retaining bolt. Then, lift out the tire.
While not strictly necessary, there are few items you can store with the tire to make the process safer and easier. These include a rain jacket or poncho, a small cut of wood (2x6 inches), a flashlight with batteries, and gloves. Wheel wedges and a reflective traffic triangle can provide an extra layer of safety.
Click here for more FAQs and How-To guides. For more information about the Toyota Camry, or if you have a question about any of our other models, don't hesitate to contact Lake Charles Toyota. We'll be happy to assist you.
Sours: https://www.lakecharlestoyota.com/camry-spare-tire-and-jack
2680
2681
2682
2683
2684