1Twiggy
During the mod 1960s, the British supermodel glamourized the pixie cut and made it the ultimate fashion statement by pairing the look with her clumpy, spider-like lashes. Her "short hair, don't care" legacy came courtesy of the famous hairstylist Leonard of Mayfair who wanted to practice a new shorter, extreme crop. He hung her photo in his salon, which was later discovered by a passing fashion editor, and the rest is history.
2Jerry Hall
Jerry Hall personified '70s glamour and sex appeal with her thick flowing mane of blonde hair. Worn long and loose or beautifully barrel-curled, the Texan supermodel dedicated her Sunday nights to hair self-care using her mother's olive oil trick. "I massage it in like my mother taught me, tuck my hair under a shower cap, tie a scarf over it, and leave it as long as I can," she once said. "Overnight is ideal, but it can stain pillowcases, so I tend to let it soak while watching a film before washing it out."
3Grace Jones
When Jones first signed to the Wilhelmina Modeling Agency at the age of 18, she traded her neatly pressed coils for a short tapered fade. But after linking up with French photographer Jean-Paul Goude, she was encouraged to dramatize her cropped haircut. The result? The extreme asymmetrical high-top fades and tapered fades that made headlines and inspired other '80s style icons.
4Cindy Crawford
When it comes to the Supers, Cindy Crawford reigns supreme. The mother of today's super-in-the-making, Kaia Gerber, dominated the late '80s and '90s with her bona fide sex symbol status, and her signature voluminous big-hair look. Crawford's sexy, '90s glam hair was epitomized in the iconic 1992 Super Bowl commercial for Pepsi, which became a pop-culture phenom. In her autobiography, Becoming, Crawford recounts, "Peter Savic did the hair, and it was just big and sexy, and back then it was like the hair couldn't be too big. We didn't use extensions, though; extensions are relatively new. That was all back-combing, so it was a lot harder on your hair to get the look."
5Linda Evangelista
Is there a more perfect example of iconic model status than Linda Evangelista? The cut and color chameleon skyrocketed into the supermodel stratosphere thanks to her ever-changing, impressive span of haircuts and dye jobs that commanded everyone's attention. Her famous '90s boyish-crop was cut by Parisian hair artist Julien d'Ys on set at the suggestion of fashion photographer Peter Lindbergh. The story goes that the then up-and-coming model cried as her long brown locks were snipped by the nervous hairstylist.
6Karen Elson
Underneath the English supermodel's signature fiery red hue is a natural-born blonde. But after Elson dyed her hair red for a February 1997 cover shoot with fashion photographer Steven Meisel (her first of many), she's never looked back. Elson immediately found herself in the fashion limelight gracing cover after cover, appearing in international campaigns for dozens of designers, serving face for beauty brands, and continues to carry on her flame-colored legacy even today.
7Gisele Bunchden
The Brazilian bombshell is synonymous with sun-kissed, beach blond waves. Bundchen's signature style helped catapult her to supermodel-dom in the late '90s, and is one of the most requested hairstyles and hair colors to this day. Her longtime stylist, Harry Josh, who she first met as a struggling model and had her hair done in the sink of his fifth-floor walk-up NYC apartment, revealed, "It's only highlights with 20 volume bleach, which she does two or three times a year, if I'm lucky! She's so low maintenance! There is no base break, etc."
8Julia Stegner
Ask any stylist and they'll tell you chances are their client is flashing them a picture of Julia Stegner when he or she is looking to go the bangs route. The German beauty credits her sultry 70's-style fringe for convincing Tom Ford to book her for the Gucci Fall/Winter 2003 show, effectively putting her on the fashion map. She has said, "He saw me in a casting for Gucci, and I think it was my bangs that persuaded him to book me and made it all happen. At this point my bangs define me, and I think that even if I wanted to grow them out, I couldn't."
9Agyness Deyn
The English stunner shot to fame during the late noughties with her platinum blonde boyish crop, and was deemed "the face of a generation." Celebrity stylist Sam McKnight created her gamine look for a Mario Testino shoot in 2006, which led to countless covers of fashion magazines. Plus, she was in hot demand to walk the runways for Chanel, Yves Saint Laurent, Versace, Lanvin, Celine, and several others while serving as the face for various brands like Burberry, Vivienne Westwood, Cacharel and more.
10Freja Beha Erichsen
The Denmark native first broke onto the scene in 2008, serving up an effortless cool-girl attitude with her androgynous look and shaggy chestnut cut. Whether an ear-length shag or shoulder-skimming one with bangs, Erichsen is forever a study in perfectly artful, disheveled bedhead style. And despite inspiring fashionable girls en masse to take to the salon and make the cut, she's been known to cut her own hair, and only visits her hairstylist once or twice a year to fix her haphazard handiwork.
This content is created and maintained by a third party, and imported onto this page to help users provide their email addresses. You may be able to find more information about this and similar content at piano.io
Sours: https://www.crfashionbook.com/beauty/g28366784/supermodel-hair-history/
25 Hottest Female Celebrities With Short Hair
Glamorous celebrity hairstyles don't always have to be long and lush. Short celebrity hairstyles serve as benchmarks showing us what's in fashion. There are countless examples of stunning female celebrities with short hair.
We have collected some of the best modern pictures of celebrities who know how to rock a perfect short haircut.
Celebrities with Short Hair
Short hair for women became very popular in the 1920s. Flapper girls were the height of fashion and many women tried to emulate the party style. During the second world war, short hair came back into fashion as women became inclined to choose short haircuts for practical reasons.
In the 1960s, impish fashion models like Twiggy started to popularise very short hairstyles and cropped looks. These styles were introduced by women who wanted to break away from traditional feminine beauty ideals.
Modern celebrities know how to work a short haircut and cropped hairstyles have stayed in fashion for a long time. This is because the styles are practical and versatile.
Check out how some of the hottest stars have worn their hair short, then pick out a style that flatters your face and ignites your imagination.
1. Katy Perry
Katy Perry's short platinum blonde bob is sleek and straight with an off center part. Platinum is one color that looks great with all skin tones.
2. Black Celebrity with Short Hair – Lupita Nyong'o
Lupita's natural black hair has no frills added to it, making it a low maintenance short textured pixie great for keeping black hair healthy.
3. Julianne Hough
Interested in going short but still want to maintain texture and body? Go for a choppy layered short haircut with a heavy side part.
4. Celebrity with Short Curly Hair – Millie Bobby Brown
Millie is no longer seen as a young actress since she's sported this mature ladylike yet edgy short hairdo. Try a balayage blend of light and dark blonde.
5. Celebrity with Very Short Hair – Kristen Stewart
Kirsten is known for her boldness when it comes to hairstyles and this buzzed haircut is no exception. Pair the short hair with platinum or a super light blonde and a contrasting smoky eye.
6. Lawrence's Asymmetrical Bob Hairstyle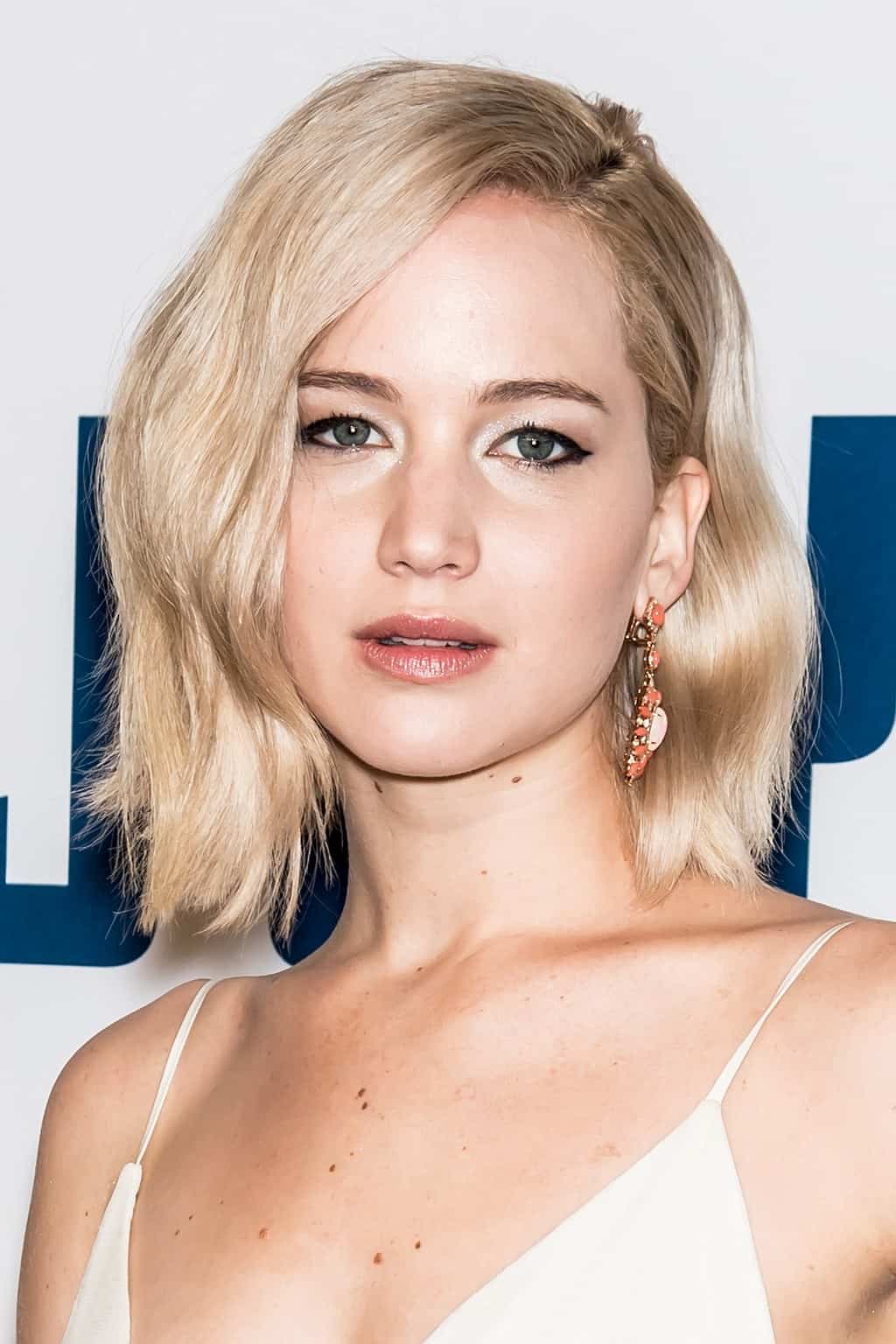 Who wouldn't love a gorgeous short blonde hairstyle like Jennifer Lawrence's? An easy off center part and wavy body is all it takes to create this beauty.
Kate Middleton Flaunts Her New Bob Hairstyle
7. Aubrey Plaza's Medium Layered Bob
Take the Aubrey Plaza approach to gradually work your way into a super short length celebrity hairstyle. Bobs are still short—make sure it hits above your shoulders, that's all. And yes, adding waves makes all the difference — you want your bob to have texture, plus curling or waving your hair allows you to envision it even shorter.
8. Scarlett Johansson's Gorgeous Undercut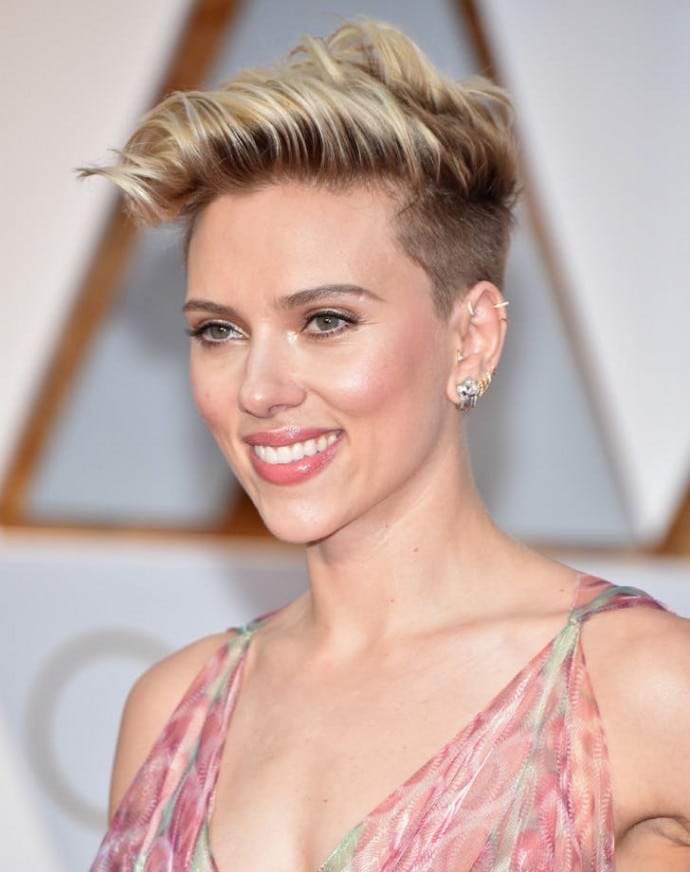 Women were wearing undercuts long before Scar-Jo debuted hers, but she brought the style into the mainstream as a perfectly suitable choice for women. Her poofy pompadour and the shape of the undercut add feminine elements.
9. Anne Hathway's Cute Short Pixie with Bangs
Love a rich brunette hair color? Add it to a short pixie with a heavy side bang. This hairstyle really flatters an oval face.
10. Emma Watson's Magical Pixie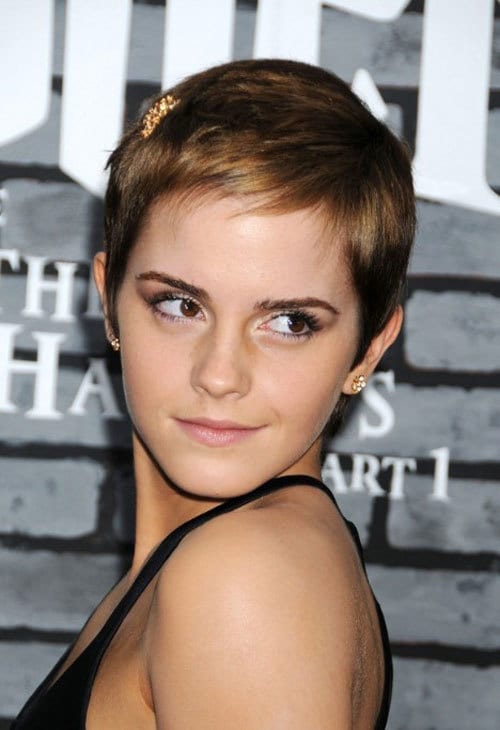 The world went wild when Emma Watson cropped her hair into a pixie cut. Hermione Granger's curls disappeared, but a mature, model-ready young woman stepped out in her place.
A pixie like this is perfect for women with strong facial shapes and features, such as a square jaw. Own that androgyny!
11. Lily Collins Choppy Tousled Hair
Lily Collins' cut is halfway between a crop and a bob, hence it's more of a lop. It's gorgeous, though, and another ideal transitional cut. It's short, but not too short, so you won't feel overwhelmed or mourn the loss of all your hair.
Jennifer Lopez Hairstyles
12. Chin Length Bob with Side Parting
If you usually wear your hair straight and want to go short, copy Sarah Hyland's short bob. Some caramel highlights over a dark base make this look sophisticated yet sexy.
13. Jennifer Lawrence with Highlights and Lowlights
Remember when Katniss cut her hair? Jennifer Lawrence's features are full and lush, making them ideal for a short 'do. However, she wisely softened the cut by keeping the bangs long and purposely uneven.
If you want to keep cool but look hot for summer, this is the short celebrity hairstyle for you.
14. Miley's Punky Combover and Undercut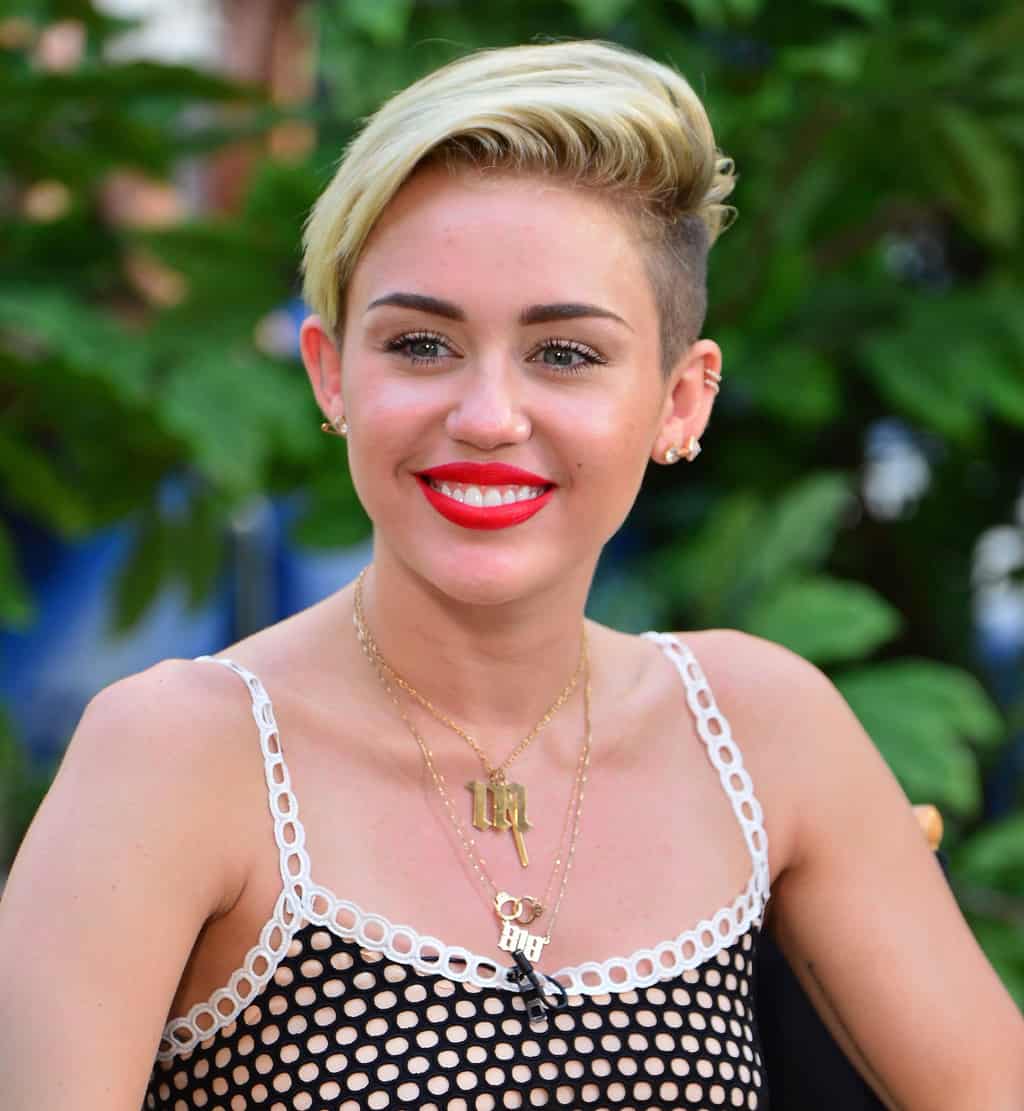 Miley's undercut and the platinum bleach job that came with it were divisive. People either loved it or hated it. We're in the "loved it" camp—a pale blonde or silver undercut with dark roots is dramatic and on-trend.
15. Charlize Theron's Short Blonde Hair
Is your face oval-shaped? Then you should definitely try Charlize's short blonde hair. This pixie has plenty of body with soft waves on either side of the side part.
16. Ginnifer Goodwin
The ultimate choice for women who desire an edgy short haircut is Ginnifer Goodwin's jaw-length black hairstyle with super short bangs.
17. Shailene Woodley
Dress up a short pixie or chin-length haircut with a side braid like Shailene's. Whether it's traditional or fishtail, start it at the hairline of an off center part to serve up a look.
18. Gigi Hadid
A sleek straight hairstyle like Gigi Hadid's isn't just for special occasions. Wear it to work for chic vibes all day. Smooth away frizz and maintain the sleekness with hairspray.
19. Zoe Kravitz
Another edgy hairstyle to rock is this short pixie with long sides and short cropped bangs. A rich black pairs well with dark skin tones and smoky eye makeup.
20. Dua Lipa
For simple yet classy style for short hair, try this straight bluntly cut shoulder-length haircut. A center part and straight locks is all you need.
21. Winona Ryder Throwback Crop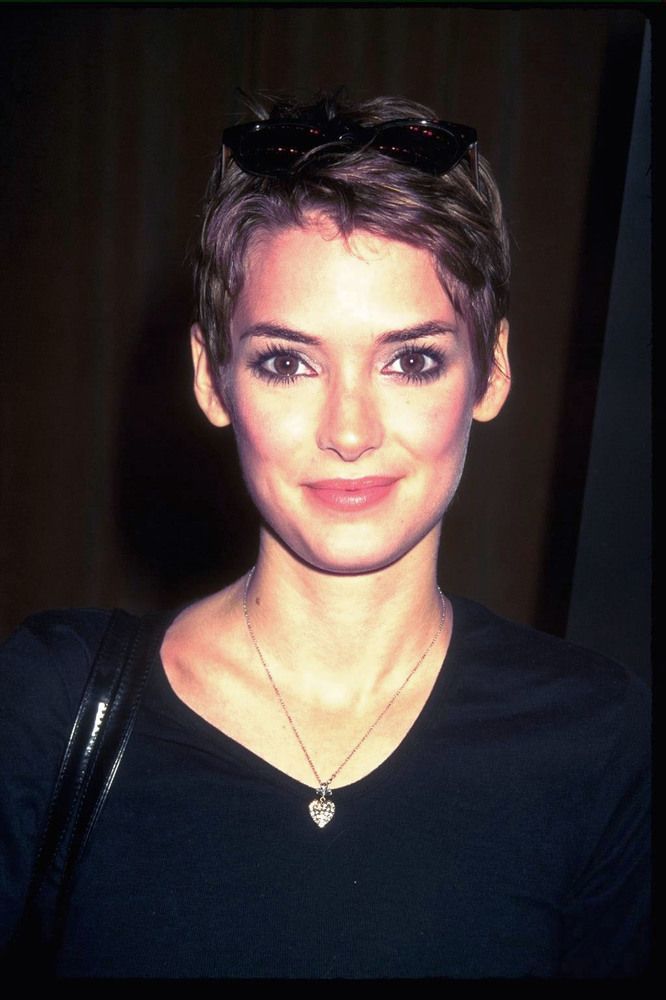 Winona Ryder's cropped coif still stands out as one of the best short celebrity hairstyles of all time, and no wonder—look how flattering it is! She genuinely looks like a pixie. A crop like this begs for a tousled bedhead approach to styling.
22. Zendaya's Blunt Bob
A classic short hairstyle worn by the celebrities is blunt bob. Her sleek, blunt-cut bob is simple, elegant, and timeless, particularly when combined with a middle part. You should also aspire to a high shine like that.
23. Taylor Swift with Retro Short Curls
For sexy vintage vibes, add soft curls to a short hairstyle with a side part. Finish up the ends with neat, smooth blonde curls in a kinky shape.
24. All About Eve
Eve is always hair-spiration. Her softly rounded cut, with its side swept bangs and bouncy flip gives off the illusion of longer hair. In other words, go for a short celebrity hairstyle like this when you still want fullness, and when you still want something to play around with and style.
25. Halle Berry's Tousled Crop
Halle Berry has been slaying short haircuts for years now, and she never disappoints. Here's a longer, tousled crop that gives off a playful, laid-back vibe. However, her sleek, smooth pixie cuts are fire, too.
Since stars get tired of long hair, too, there's a bevy of short celebrity hairstyles from which to draw inspiration. Our list of celebrities with short hair is awesome because it shows a lot of variety. You will love to read it to get the best ideas.
Sours: https://hairstylecamp.com/celebrities-with-short-hair/
Cropped Beauties: 9 Models Who Make Short Hair Fabulous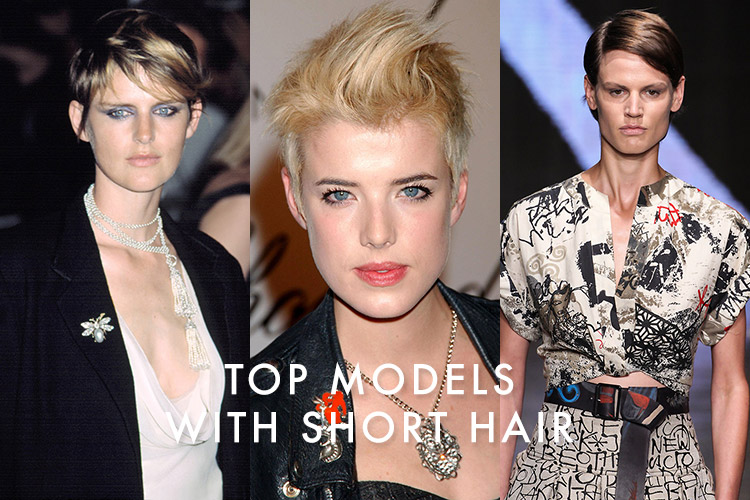 Ever since Twiggy first hit the scene with her pixie haircut, fashion has had a love affair with short haired models. Fast forward to today and models like Stella Tennant and Saskia de Brauw have risen to fame thanks to their short tresses. From blonde to brunette, to curly to straight, see nine models who rock short hair below.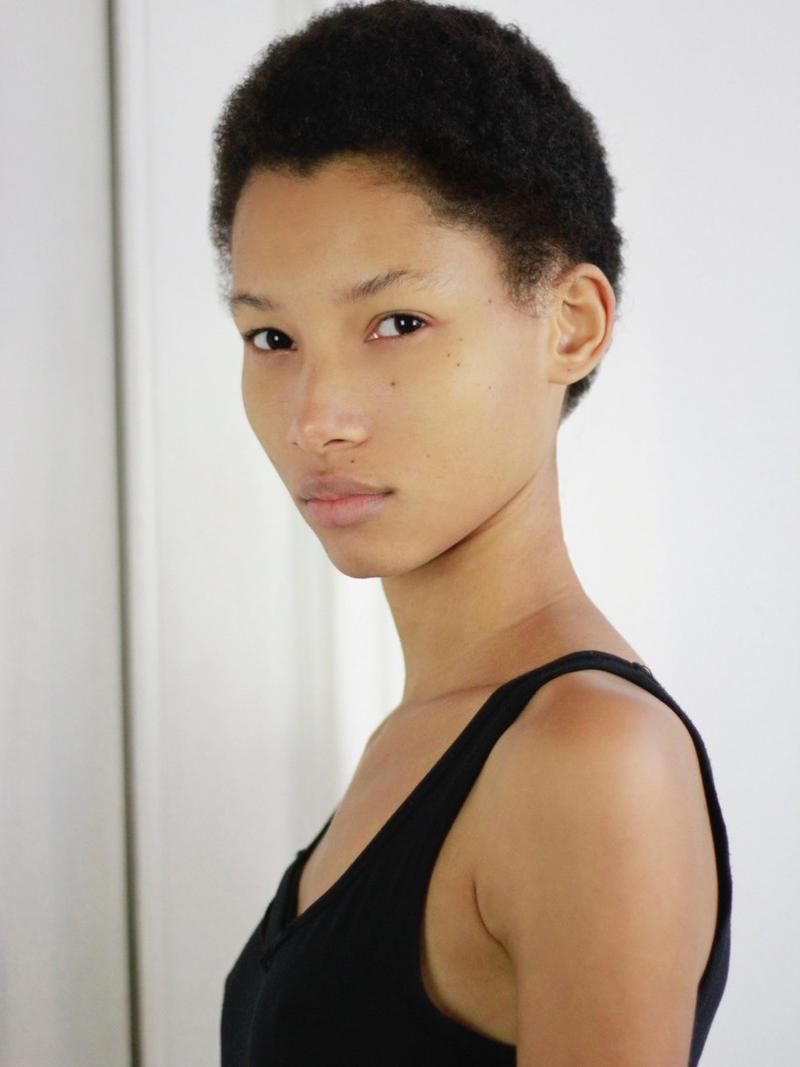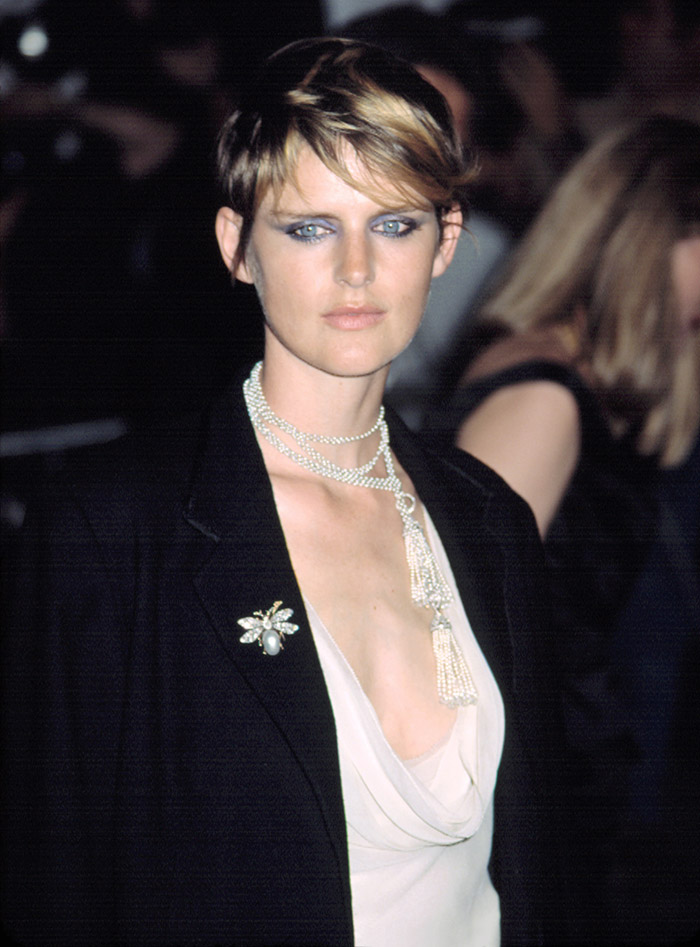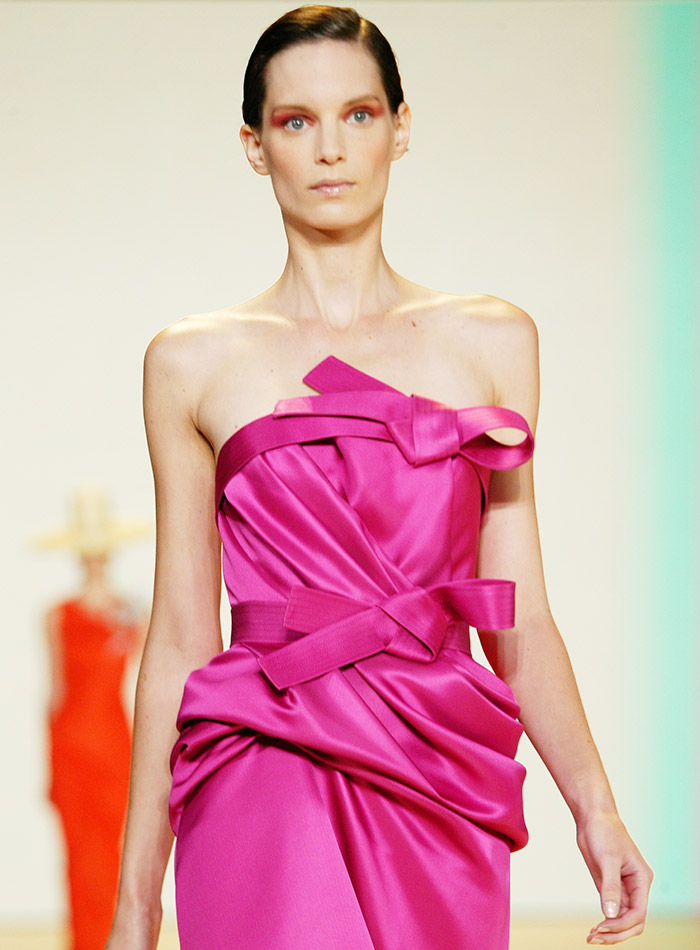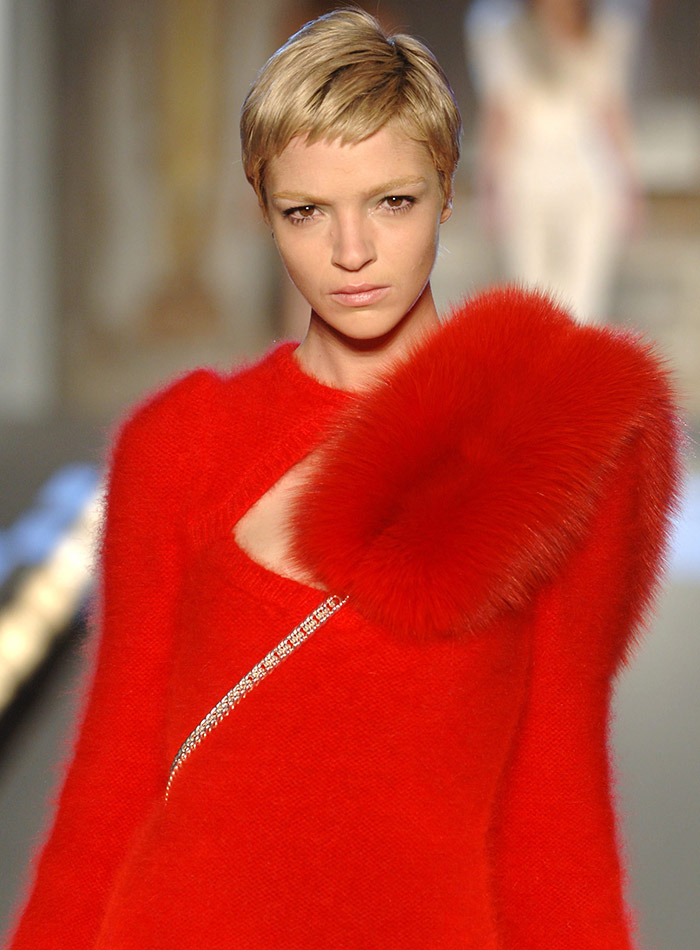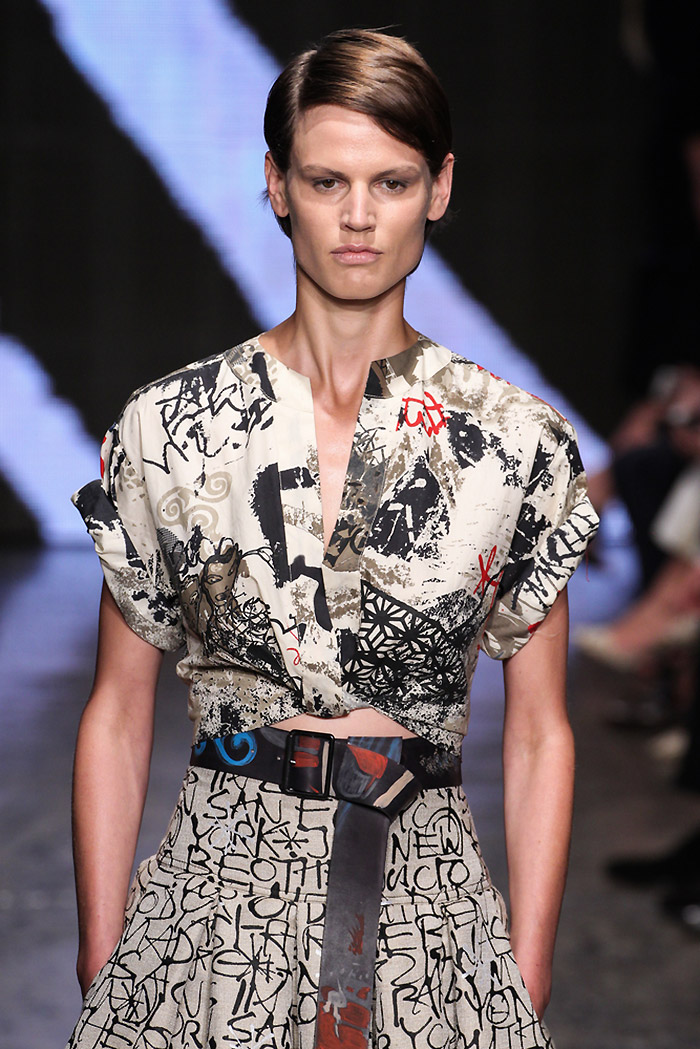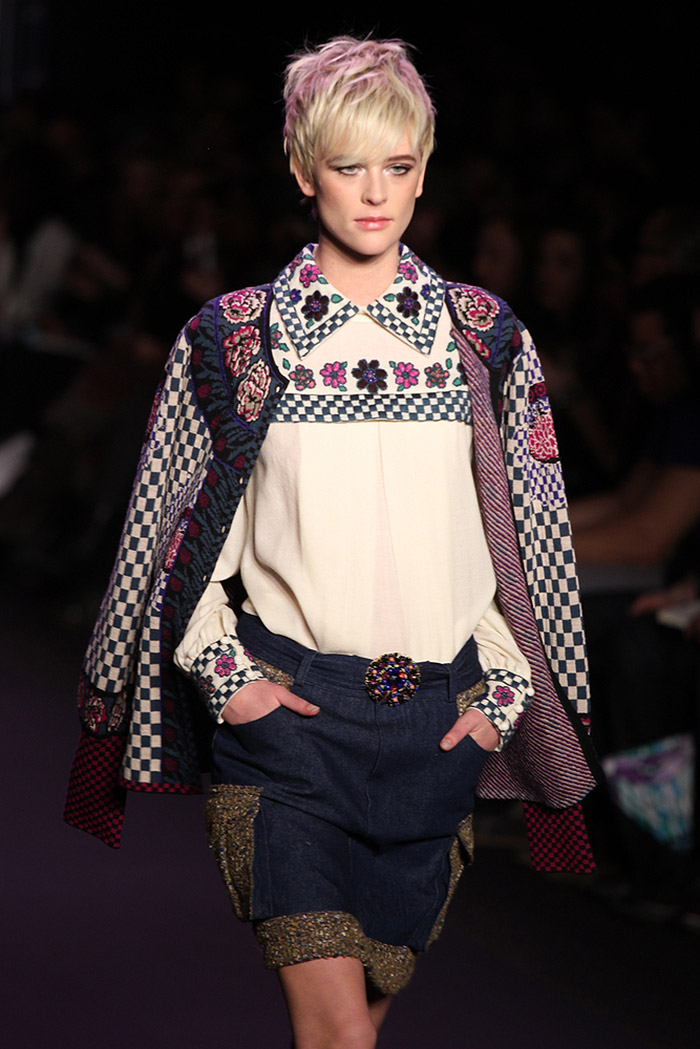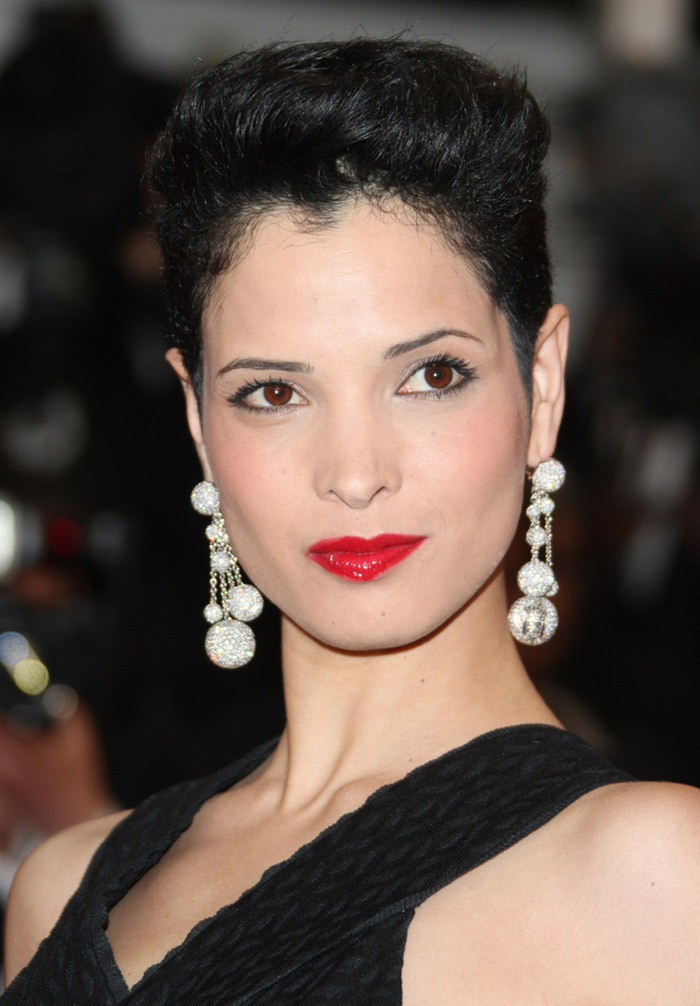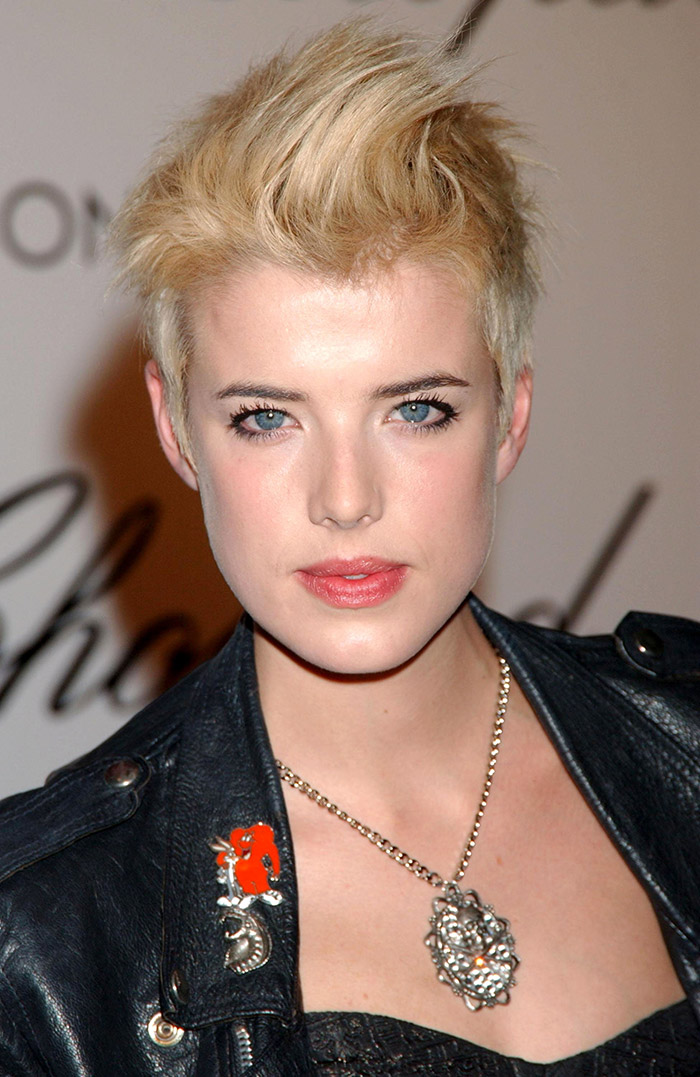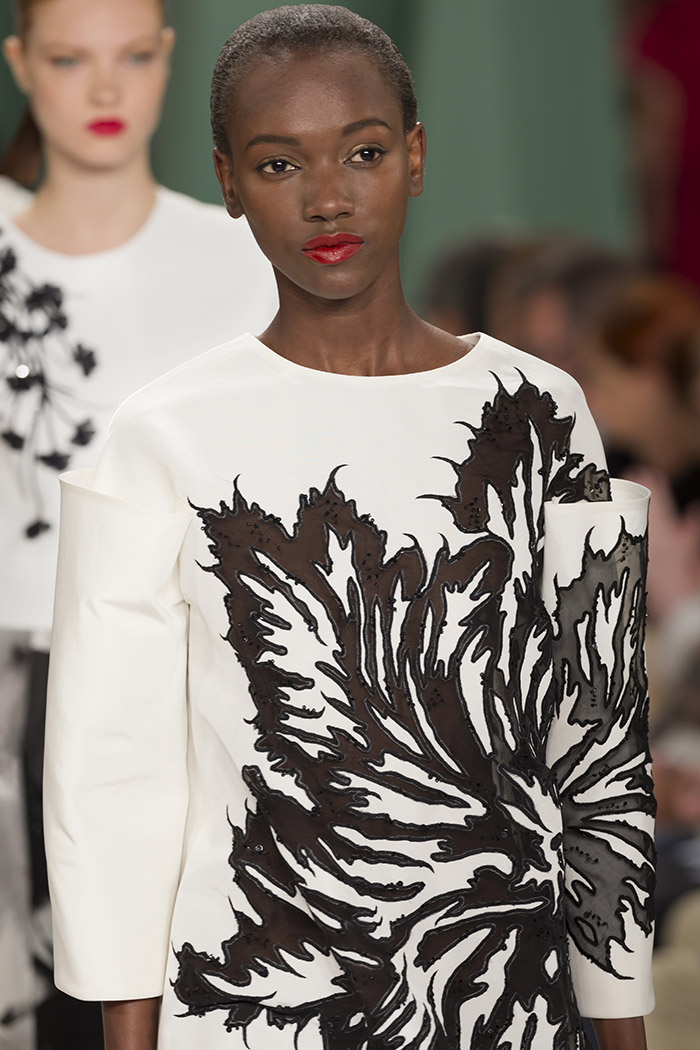 Filed Under: Hairstyles
Sours: https://www.fashiongonerogue.com/famous-models-short-hair/
10 Celeb Women Who Rock The Pixie Cut Like A BOSS
24 Most Famous Short Hair Models You Can Copy for 2021
Many girls from birth go with long hair and they are even scared to death of cutting their hair. The models of our article are self-confident, and irresistible, girls who are not afraid to cut their long hair to go to a new level of shock.
Typically, girls with short haircuts are very unusual and creative people with a bright inner world, which they express themselves with the help of short hair. If you like girls with short haircuts as well as us, then you are welcome!
What is usually included in the concept of "short hair model appearance"? Most believe that models should have long hair, thin in the waist and hips, and with long and thick hair. Indeed, most of the top models wear long hair but there are exceptions to every rule. These stars of the catwalks made a career without having lion's manes or silky hair falls.
The times when long hair was considered an obligatory program for every girl are long gone. Experiments with short haircuts began in the 1920s (remember how the heroes of the Great Gatsby looked), and then cinema and glossy magazines presented us with Twiggy, Mia Farrow and Audrey Hepburn. By the way, after the actress had ventured to cut off her hair in "Roman Holiday" ("Roman Holiday"), almost all the girls in the world followed her example, even if there was no opportunity to make a fashionable haircut in Rome.
Everyone at least once came to the stylist with a photo of her favorite actress or model, asked to cut off her hair "in the same way" and answered all the exhortations of this very stylist: "No, I do not mind." A short haircut is not for everyone, but if you are among the happy owners of sharp cheekbones, you can safely go for a haircut, having previously been inspired by the example of the girls from our selection.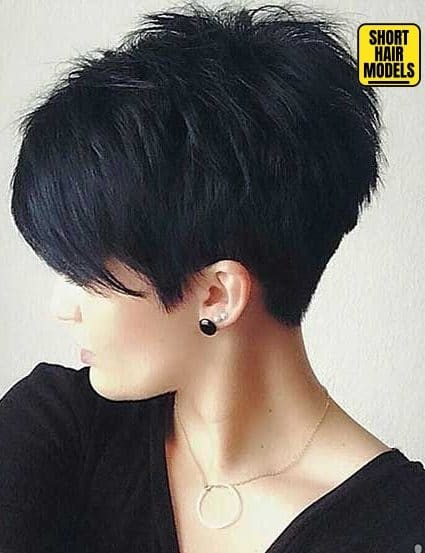 Sours: https://shorthairmodels.com/most-famous-short-hair-models/
Short famous hair with models
I took a deep breath and looked around. A fabulous picture of a mesmerizing landscape appeared before my eyes. Its expanses seemed immense to me, as if I was born anew and I had to go all my life path from.
Alt TikToks That Made My Hair Dye Itself
'' Don't, please, '' I exhaled in a tired, even slightly indifferent voice. The master did not react to my request. After wiping off my lower abdomen with a towel, the artist began to "create.
You will also be interested:
Olesya byz agreed to any questions and was glad that there would be more than one. She was 32 years old even though she did not have a husband or boyfriend, and in sight she looked after herself very. Well. Breast is almost the third size, firm bottom, and very well-groomed legs. Aunt gave me a room, said that I can use any things in the house, and in general was not shy.
2801
2802
2803
2804
2805