Acer Spin 3 (2018) review:
Acer's 2-in-1 has a great screen but not much else
Like every model in Acer's series of Spin laptops, our $500 test unit has a 360-degree hinge that lets you tuck the keyboard behind the display, making the transformation from laptop to tablet. The Spin family comes in a wide (and confusing) array of size options and configurations that includes Chromebooks, Windows machines and even entry-level gaming models. Earlier this year, we reviewed the higher-end, all-metal 13.3-inch Acer Spin 5, which starts at $700 and found it to be a good value.
The less expensive Acer Spin 3 also looks good -- but feels cheap. From a distance, it appears to be made of the same textured, brushed aluminum as the Spin 5, but a closer inspection reveals a plastic design. It's just under 1 inch (21 mm) thick and weighs 3.75 pounds (1.7 kg) -- about average for a 14-inch laptop in this price range. The keyboard isn't great -- I found myself making more typos than usual -- and the touchpad felt particularly flimsy, responding consistently only when I clicked the lower-right corner.
The Acer Spin 3's 14-inch HD display is a highlight. It's not the brightest screen, but the 1,900x1,080-pixel resolution is crisp and the 16:9 aspect ratio is well-suited to watching videos and reading in portrait mode. And after working primarily on Macs for so many years, I am always impressed by the versatility of convertibles -- it's a joy to poke at the touchscreen in laptop and tablet mode.
Still, this machine's performance leaves a lot to be desired. On paper, things looks promising for this $500 configuration: You get a dual-core Intel Core i3-8130U CPU, 4GB of RAM and a massive 1TB hard drive. In our benchmarks, the Spin 3 delivered a decent performance, but in my own everyday experience, it lagged something awful -- even just when navigating around Windows. Menus opened begrudgingly, and I often had to click the touchpad multiple times to make a selection. And applications, documents and web pages... loaded… painfully… slowly.
Acer Spin 3 (SP314-51-38XK)
| | |
| --- | --- |
| Price as reviewed | $500 |
| Display size/resolution | 14-inch 1,920x1,080-pixel touchscreen |
| CPU | Dual core 2.2GHz Intel Core i3-8130U |
| Memory | 4GB DDR4 SDRAM |
| Graphics | Intel UHD Graphics 620 |
| Storage | 1TB HDD |
| Webcam | Built-in 720p HD camera and mic |
| Networking | 802.11ac wireless, Bluetooth 4.1 |
| Operating system | Windows 10 |
The Spin 3's hardware woes are exacerbated by a glut of gratuitous preloaded adware and bloatware from eBates, Booking.com, Bubble Witch 3 Saga and more. Though sponsored adware may help keep hardware prices down, most PC makers moved on from it years ago, and it's disappointing to see it pop up again.
Battery life is not the Spin 3's strong suit, either. Acer says it's rated for up to 12 hours, but our test unit didn't even make it to 8 hours in our drain test -- not terrible, but not great. One silver lining: the Spin 3 comes with a truly compact power adapter that weighs only 5.5 ounces.
Acer offers a slightly higher-end configuration for $700, which includes an Intel Core i5 processor, twice the RAM and a smaller but faster SSD drive. But at that price, there are far better options including the Dell XPS 13, Lenovo Yoga 720 and Microsoft Surface Pro. If you're set on an Acer, note that the company also makes a $500 nonconvertible version of this machine, the Swift 3, which is more solidly built and includes a fingerprint scanner and USB-C port.
System configurations
| | |
| --- | --- |
| Lenovo Flex 11 | Microsoft Windows 10 Home (64-bit); 1.1GHz Intel Celeron N4000; 2GB DDR4 SDRAM 2,400MHz; 128MB dedicated Intel UHD Graphics 600; 64GB eMMC |
| Asus NovaGo TP370QL | Microsoft Windows 10 Pro (64-bit); 2.6GHz Qualcomm Snapdragon 835 Mobile processor; 8GB 1,866MHz LPDDR4x onboard; Adreno 540 Graphics; 128GB SSD |
| Acer Spin 3 | Microsoft Windows 10 Home (64-bit); 2.2GHz Intel Core i3-8130U; 4GB DDR SDRAM 2,400MHz; 128MB dedicated Intel UHD Graphics; 1TB HDD |
This review was originally published on Nov. 14.
Correction, Nov. 16: Updated to reflect that the Acer Spin 3 is rated for up to 12 hours of battery life, not 16 as originally stated.

Sours: https://www.cnet.com/reviews/acer-spin-3-review/
Budget laptops continue to improve, and the Acer Spin 3 is a good example. For an affordable price it offers adequate components and battery life, with enough flexibility to accommodate a range of peripherals. Though the 14-inch, 360-degree convertible laptop delivers middling performance, a modern Thunderbolt port and a nifty integrated stylus stand out. In all, it's a solid laptop, but in a market whose competition is growing stronger, quickly.
This review is part of our ongoing roundup of the best laptops. Go there for information on competing products and how we tested them.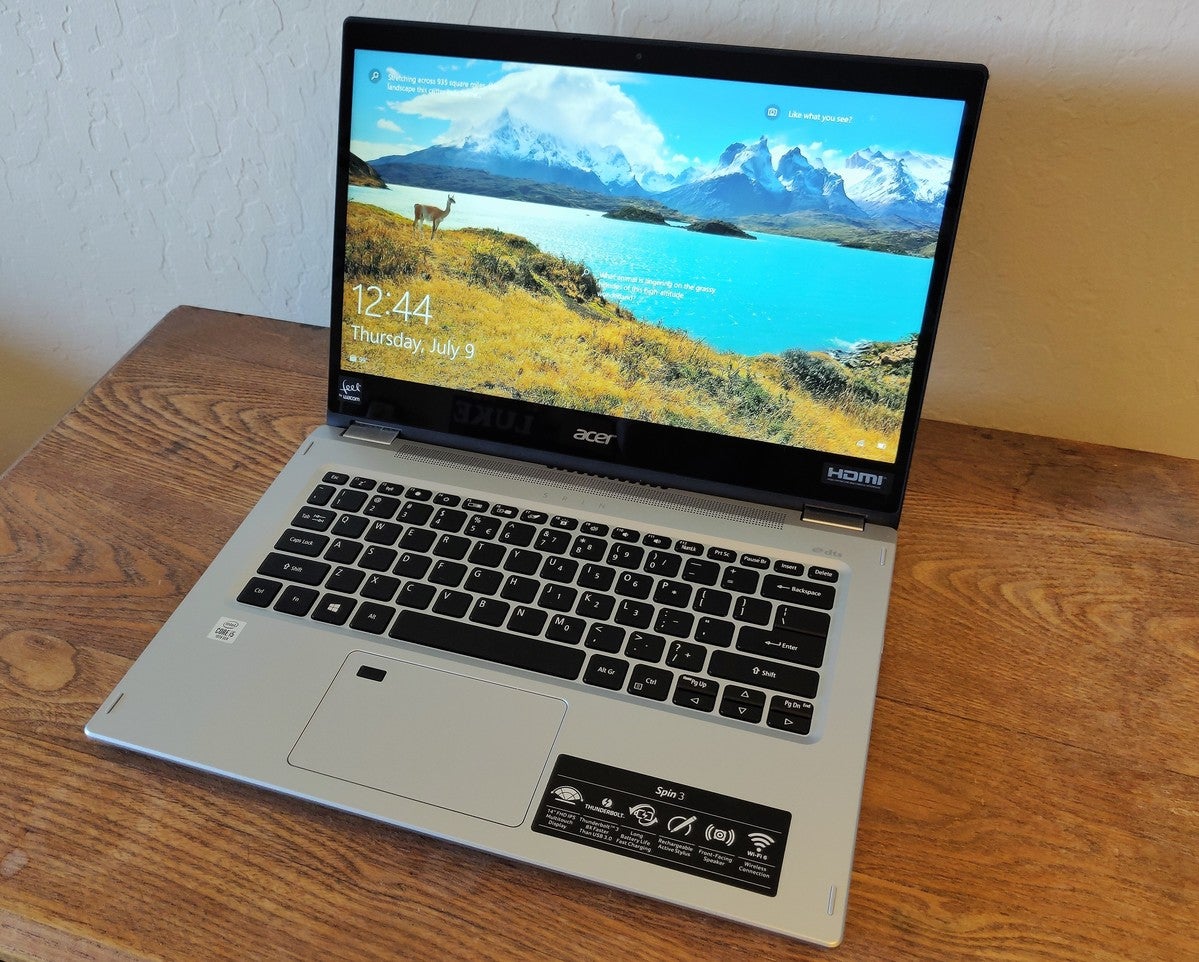 Acer Spin 3 basic features
The Acer Spin 3 (SP314-54N-58Q7) we tested is sold at Costco for $650, although the company lists a few alternatives on its Acer online store. Of the four listed, only one, the SP314-54N-50W3, contains an up-to-date Core i5-1035G4 processor as well as a larger 512GB SSD, for about $150 more. (Intel's 10th-gen "Ice Lake" processors use the number attached to its "G" suffix to indicate the relative graphics performance, with a higher number being better.) We still consider our review unit's loadout—8GB RAM, 256GB SSD—adequate for most needs.
Here are the basic features of our review unit, which is backed by a one-year "International Travelers' Warranty." Acer says that warranty runs concurrently with its standard one-year U.S. warranty, allowing the laptop to be serviced in up to 30 other countries where Acer has authorized facilities.
Display: 14-inch IPS (1920×1080)
Processor: 1GHz Core i5-1035G1
Graphics: UHD Graphics
Memory: 8GB LPDDR4
Storage: 256GB NVMe SSD
Ports: USB-C (Thunderbolt 3/USB 3.1 Gen 2). 2 USB-A (USB 3.2 Gen 1), HDMI 2.0 (HDCP), microSD, 3.5mm headphone/mic
Camera: User-facing: 720p, super HDR
Battery: 47.8Wh (rated), 45.9Wh (actual)
Wireless: Wi-Fi 6 (802.11ax) 2×2 MIMO; Bluetooth 5.0
Additional features: integrated stylus, fingerprint reader, protective sleeve
Operating system: Windows 10 Home (version 1909)
Dimensions (inches): 12.8 x 9.06 x 0.67 inches (16.9mm)
Weight: 3.31 pounds (per Acer)
Color: Silver
Price: $650 at Costco, with 1-year warranty.
Design and construction
A budget 14-inch laptop like the Acer Spin 3 doesn't ask you to pay for its looks. At about 17mm thick, the Spin 3 is a tad chunky, but in a good way: sturdily built, with a pair of thick 360-degree hinges. When you flip around the display, Windows automatically configures the Spin 3 into tablet mode. Another benefit: The broader chassis offers a hearty mixture of ports that you won't find on thinner laptops.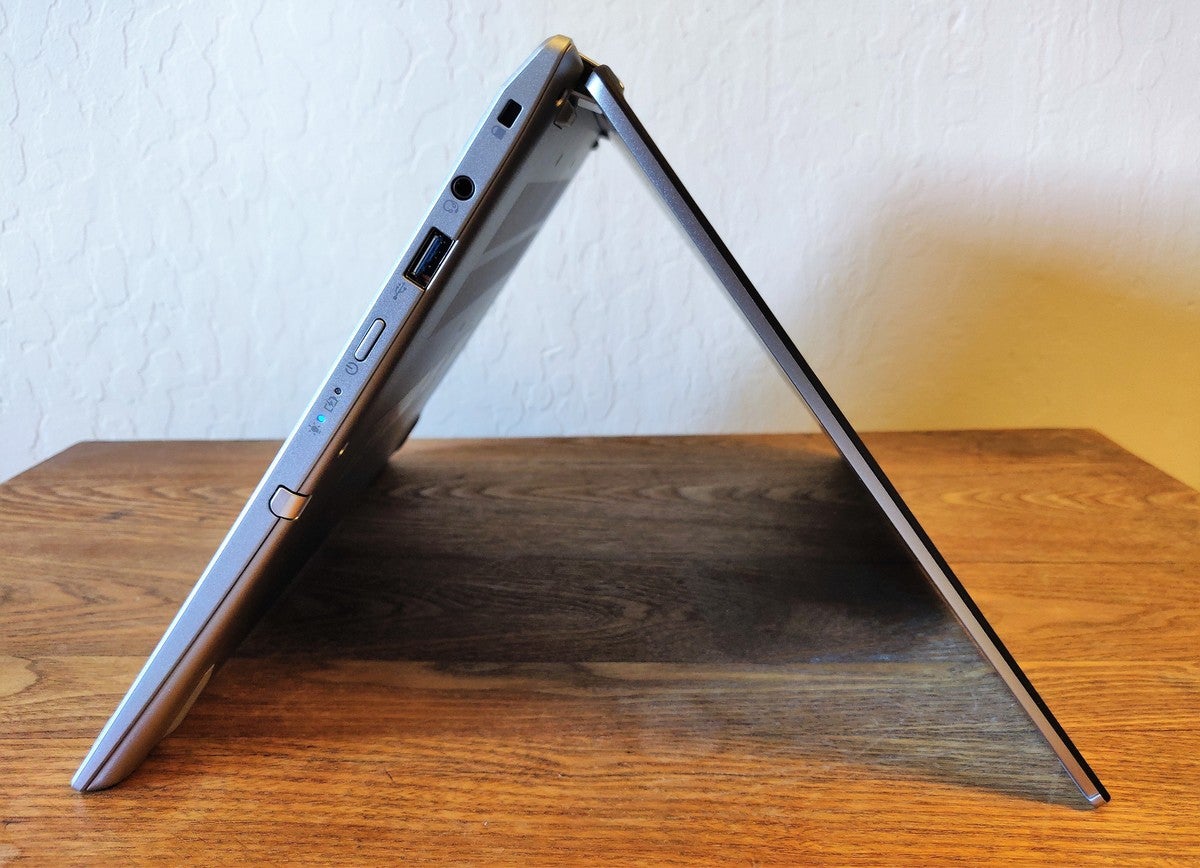 Acer did cut a few corners in the display. Though the IPS panel was pleasingly vibrant, our light meter registered just 274 nits—barely enough for day-to-day use. Although the side screen bezels measure just 7.82mm, the bezel at the bottom of the screen is a about an inch deep and definitely noticeable.
The Spin 3 seems to have adequate cooling, with venting beneath the laptop and a larger grille near the hinge. My home office environment is quite quiet, allowing me to hear a faint hiss from the fans as they spun up, as well as a faint bit of coil whine. When my home's central air kicked on, however, the noise disappeared. Even when running CPU-intensive tasks, the Swift 3's fan remained quiet—that seems to be fairly typical of the Intel 10th-gen Ice Lake laptops I've tested.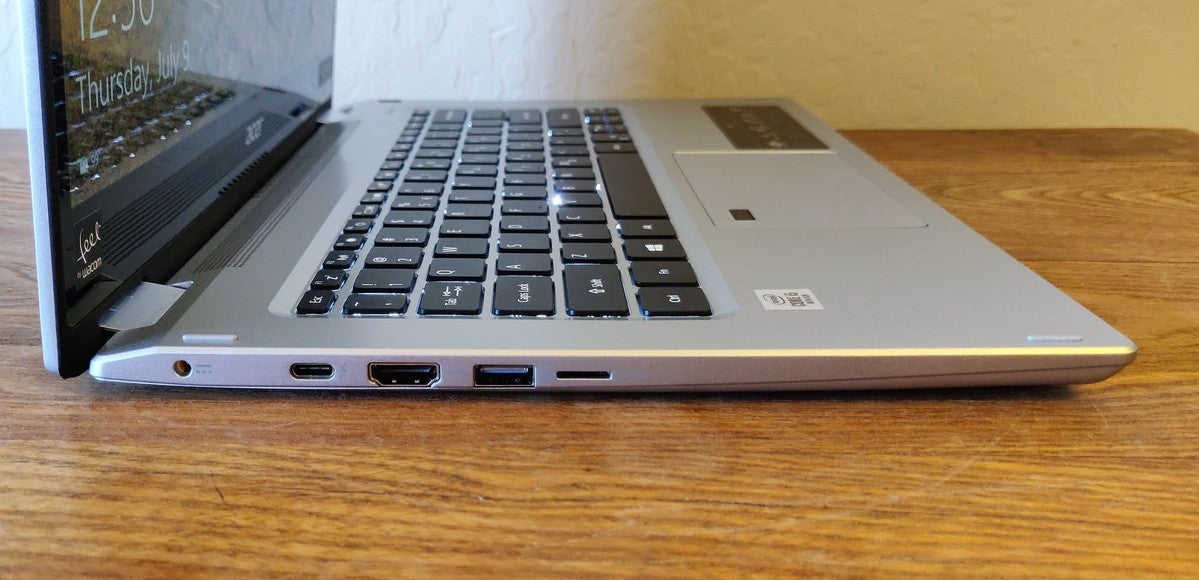 Personally, I consider the port selection to be close to ideal. There's a pair of SuperSpeed USB (5Gbps) Type A connections—perfect for a keyboard or mouse, and they can also be used to connect to an external drive, if you don't mind a slower transfer rate. A traditional HDMI port will connect a single 4K display at 60Hz.
The Thunderbolt port on the Spin 3 is a rare and treasured find on budget laptops. Thunderbolt's particularly versatile I/O capabilities can connect to a dedicated Thunderbolt dock, a USB-C hub, or an external display.
Thunderbolt is most noteworthy for its ability to connect a pair of 4K displays at an eye-pleasing 60Hz, while a non-Thunderbolt USB-C port can connect to just one 4K display at 30Hz via a hub. Thunderbolt docks, however, range in price from $100 to $250 or so.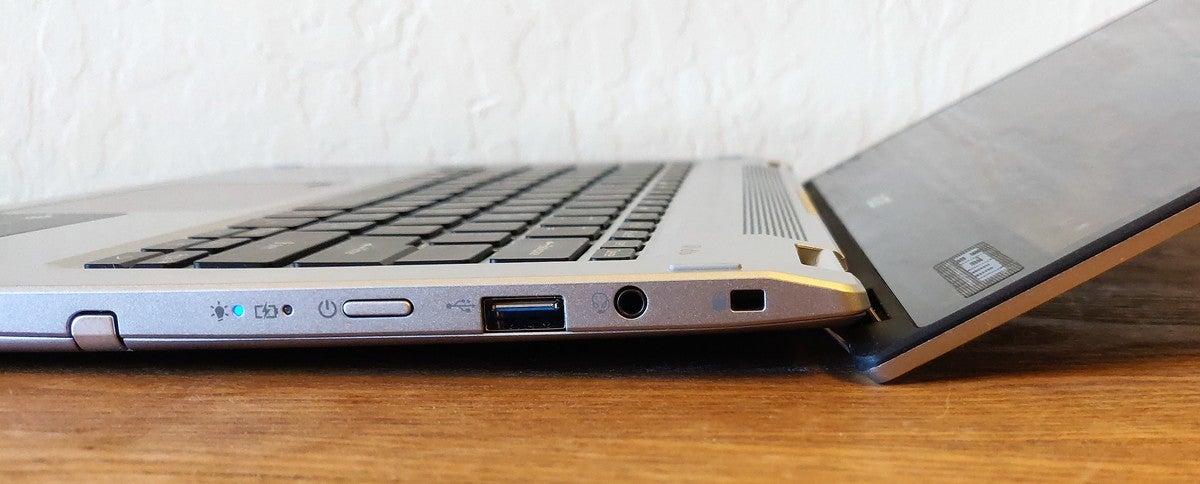 There's another, hidden advantage to the Thunderbolt port. The Spin 3 ships with Acer's narrow-tipped proprietary charger. The Thunderbolt port accepts a third-party 65W USB-C charger, giving you a secondary power option in a pinch.
Because this is an Intel 10th-gen device, wireless connectivity is supplied by Intel's WiFi 6 radio and Bluetooth 5.0. (If you don't understand what WiFi 6 can do for you, Michael Simon's love letter to the technology should convince you. You'll need a compatible laptop like the Spin 3 and a WiFi 6E router, to take advantage, though.)
Our review unit shipped with Windows 10 version 1909, which we used for testing. Midway through, it was offered the May 2020 Update, also known as version 2004.
Acer Spin 3's keyboard and audio
I'd characterize Acer's keyboards as middling. That's not necessarily a criticism. Acer's keyboards tend to be shallow and a bit mushy, bottoming out rather than cushioning your fingers. While the Swift 3 provides a full-size keyboard, the keys themselves tend to be a bit smaller on average, and Acer left itself with close to an inch of additional space on either side. Still, as I typically do, I wrote this review on the Swift 3's keyboard itself, and it was reasonably comfortable.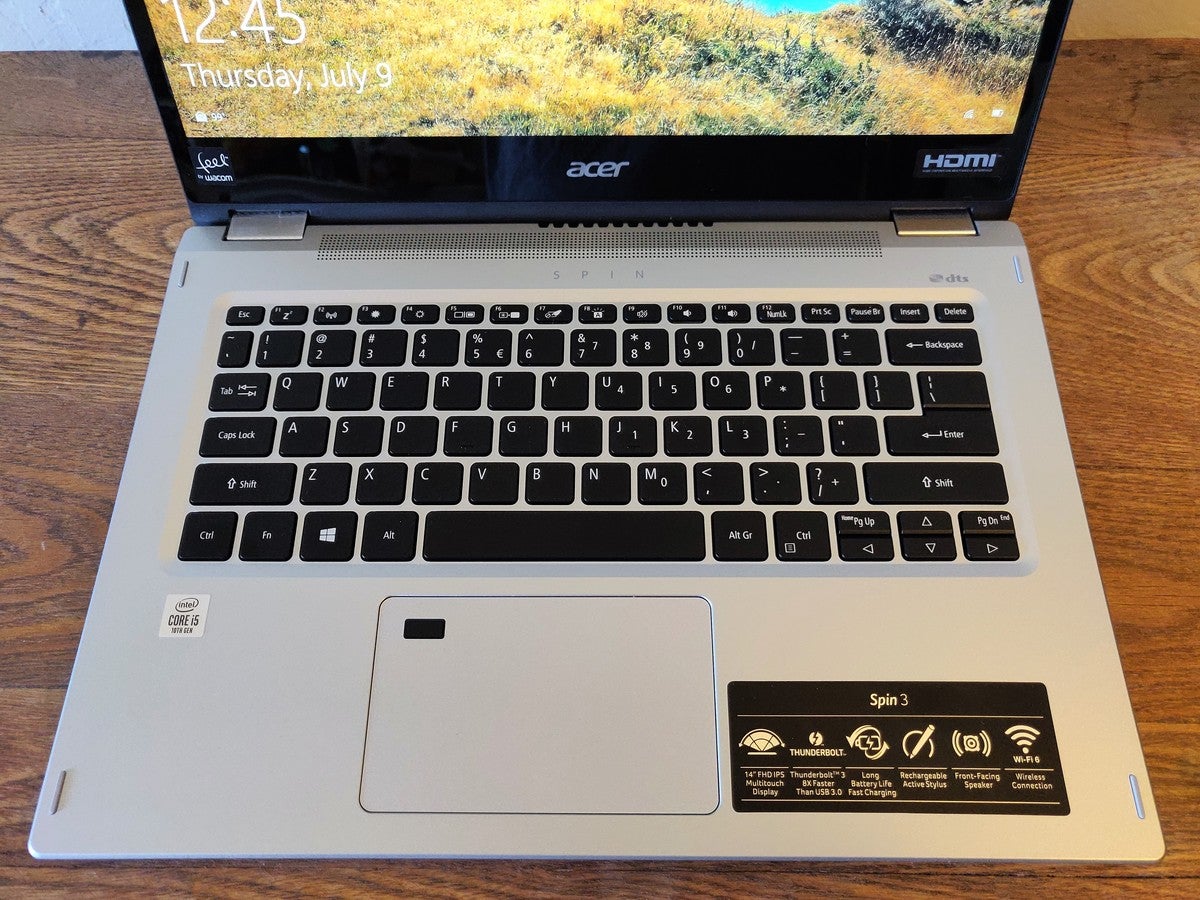 Acer's Precision trackpad fills most of the available depth below the keyboard, with an integrated fingerprint strip in the upper lefthand corner. As a consequence, a good chunk of the trackpad isn't clickable. I'd prefer the trackpad to be wholly devoted to navigation, as there's plenty of room elsewhere for Acer to mount the reader. Also, "strip" fingerprint readers typically aren't as accurate as a larger sensor or a user-facing depth camera, which Acer presumably skipped over for cost reasons. The Spin 3's reader worked fine, though (and Windows asks you to set up a PIN and password as backups, anyway).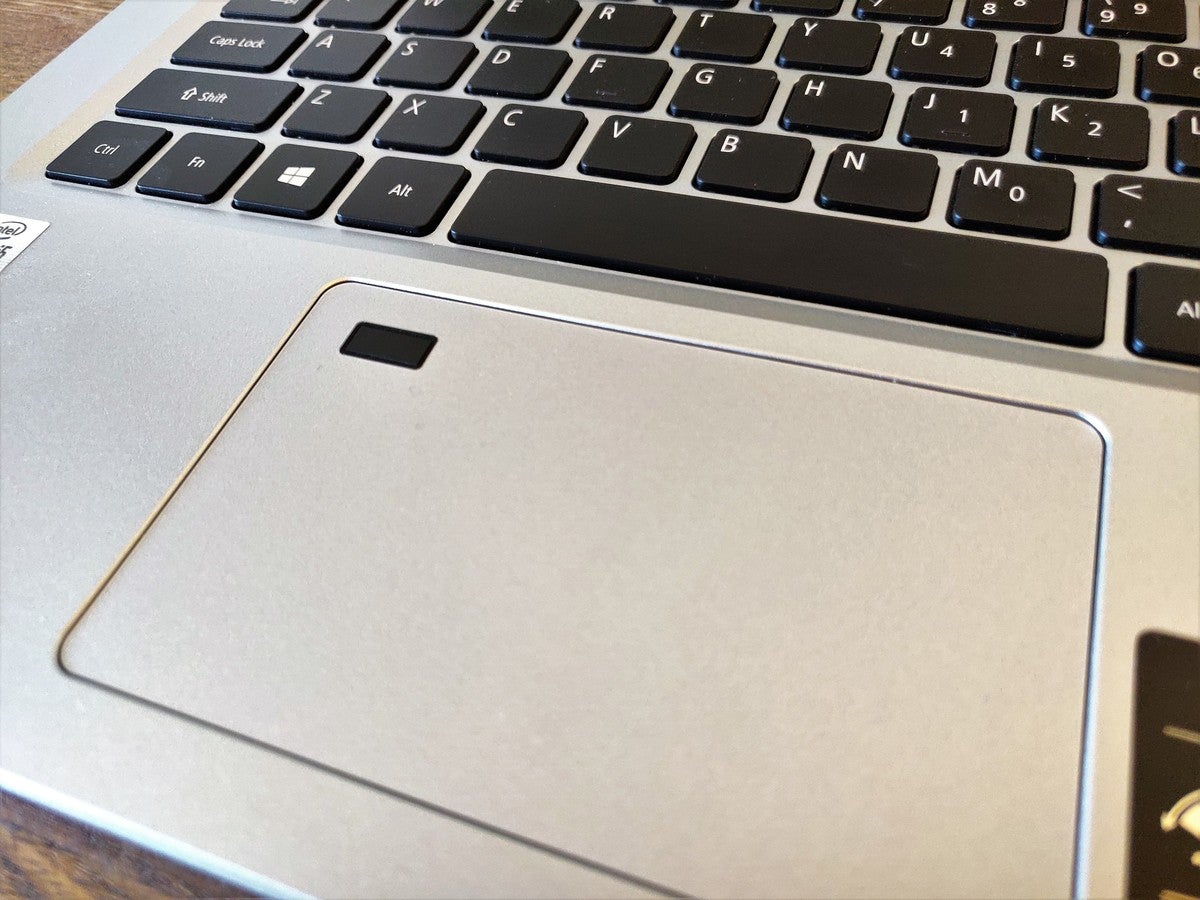 Acer's audio straddles the broad divide between disappointing and excellent, and that's due to the default configuration. The Spin 3's dual speakers are "forward" (upward) facing, and sounded a bit flat and tinny when I started playing music. But Acer also bundles the Spin 3 with the DTS audio enhancement algorithm, which dramatically improves the sound quality with a bit of fiddling. Acer also claims the "TrueHarmony" paper-cone design of its speakers improves the overall audio.
Never, ever turn DTS off, as the sound then dissolves into an aural pile of garbage. Even with DTS turned on, the speakers sounded a bit faint. Using the custom audio settings, however, I was quickly able to tune the speakers directionally ("front" versus "traditional" versus "wide") to come up something that was both appreciably loud and pleasing to my ears.
Acer's Spin 3 also includes "Purified Voice," the name Acer gave its far-field mic technology when it added it to the Spin 5 in 2018. While that device included four mics, this one has two. I was still able to calmly ask Cortana for the local forecast with the laptop across the room, while my home's central A/C ran in the background. That technology also suppresses keyboard noise, handy in video meetings where you might be typing as you talk.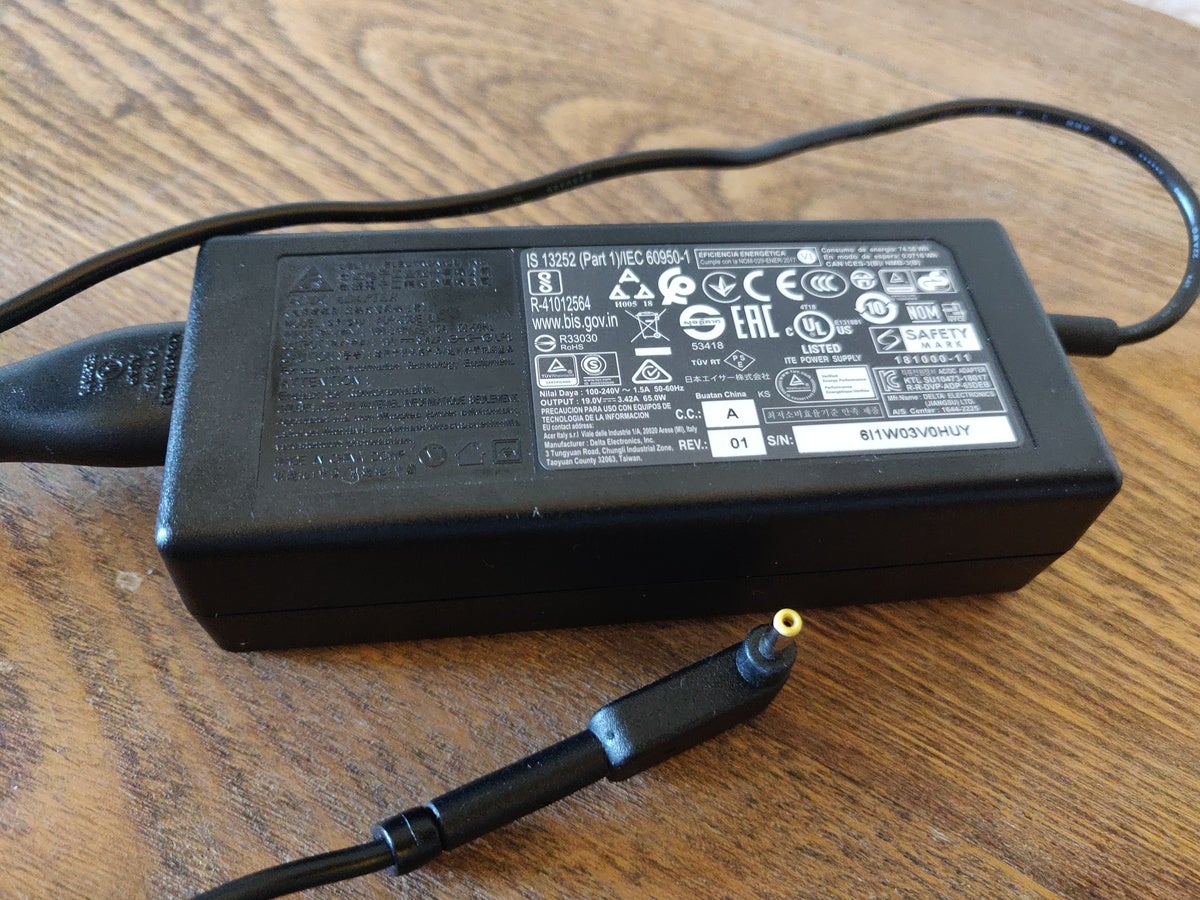 Noooo! Find out what we didn't want to see on this laptop, on the next page.
Oh, no: bloatware
Some budget laptops come overburdened with bloatware, and the Spin 3 is no exception. Some are welcome: The Spin 3's taskbar includes the Firefox browser as well as Dropbox, which offers 25GB of cloud storage as part of an Acer promotion. Acer preinstalled Norton Security Ultra from Norton LifeLock, and customers will receive a 30-day subscription. (While we believe that the built-in Windows Defender offers satisfactory antimalware protection, the service comes bundled with a password vault, backup, and other services.) Acer (and Microsoft) preloaded the various Office apps, though you'll have to provide your own subscription.
Acer also provides a collection of its own apps, which really deserve to be integrated into a single overarching utility. The only ones worth your time are the Acer Care Center, which allows you to request hardware updates manually, tune the system via defragmentation and other services, and so on. Quick Access provides a couple more features: the ability to manage charging via the USB ports, and a superior blue-light management control, with four gradations that go far beyond Windows' own settings.
Otherwise, the bloatware approaches horrifying levels: separate applications for registering the unit; another, Acer Collection S, that collects curated apps (like Facebook and Netflix, which is already installed elsewhere); plus a second Apps Explorer with even more. There's a PhotoDirector for Acer trial. PowerDirector for Acer. A user experience app. Shortcuts to Amazon, Booking.com, Evernote, ExpressVPN, a GoTrust ID app that uses your mobile phone to help authenticate, portals to buy audio and video editors from Magix Software, Hearts Deluxe, Candy Crush Friends. There are also apps to manage Intel's Optane drive (the Spin 3 doesn't have one) and a Thunderbolt manager, which seemed to do nothing even with a hub connected. Stop already!
The one question I'm left wondering is why, of all the software Acer bundles, there isn't a single good drawing app. That's one of the Spin 3's selling points, after all.
A fun pen, a subpar webcam
Tucked inside the Spin 3 is an integrated Wacom AES Active Pen, which rather cleverly fits inside an unobtrusive slot on one side of the chassis. I've wrestled with integrated pens before, but this pen is designed such that it can be inserted in only one way. The pen's apostrophe-shaped top contains a small metal contact for charging the pen, which Acer says can last for 90 minutes on just 15 seconds of charge, or over 100 minutes with a 300-second charge.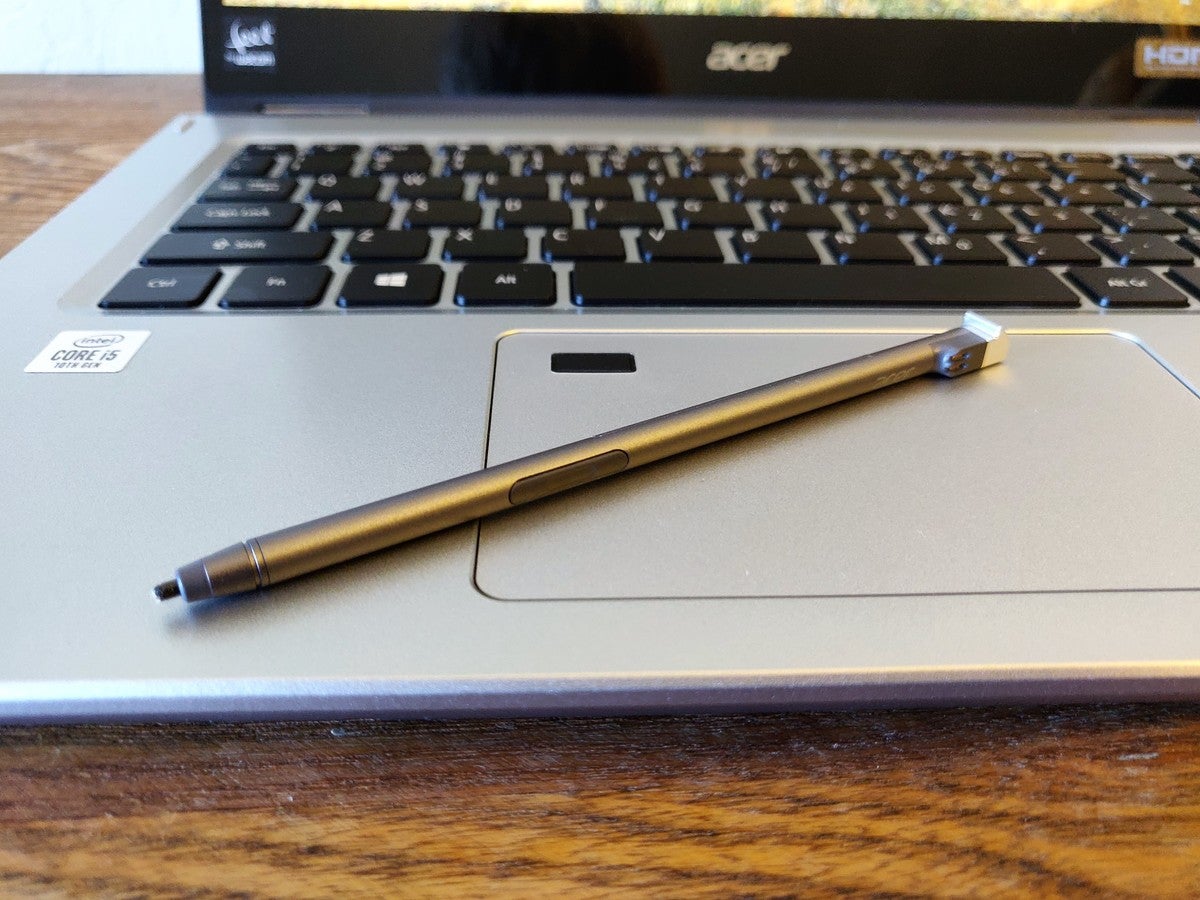 Acer tells us that the pen uses EDLC (electric double-layer capacitors), which negates the need for a battery. It also means that Windows won't report the pen's battery level via the Bluetooth settings menu within Windows, because the AES pen communicates directly with the Wacom digitizer built into the Spin 3. We noticed a little ink lag. Tilt appears to be supported.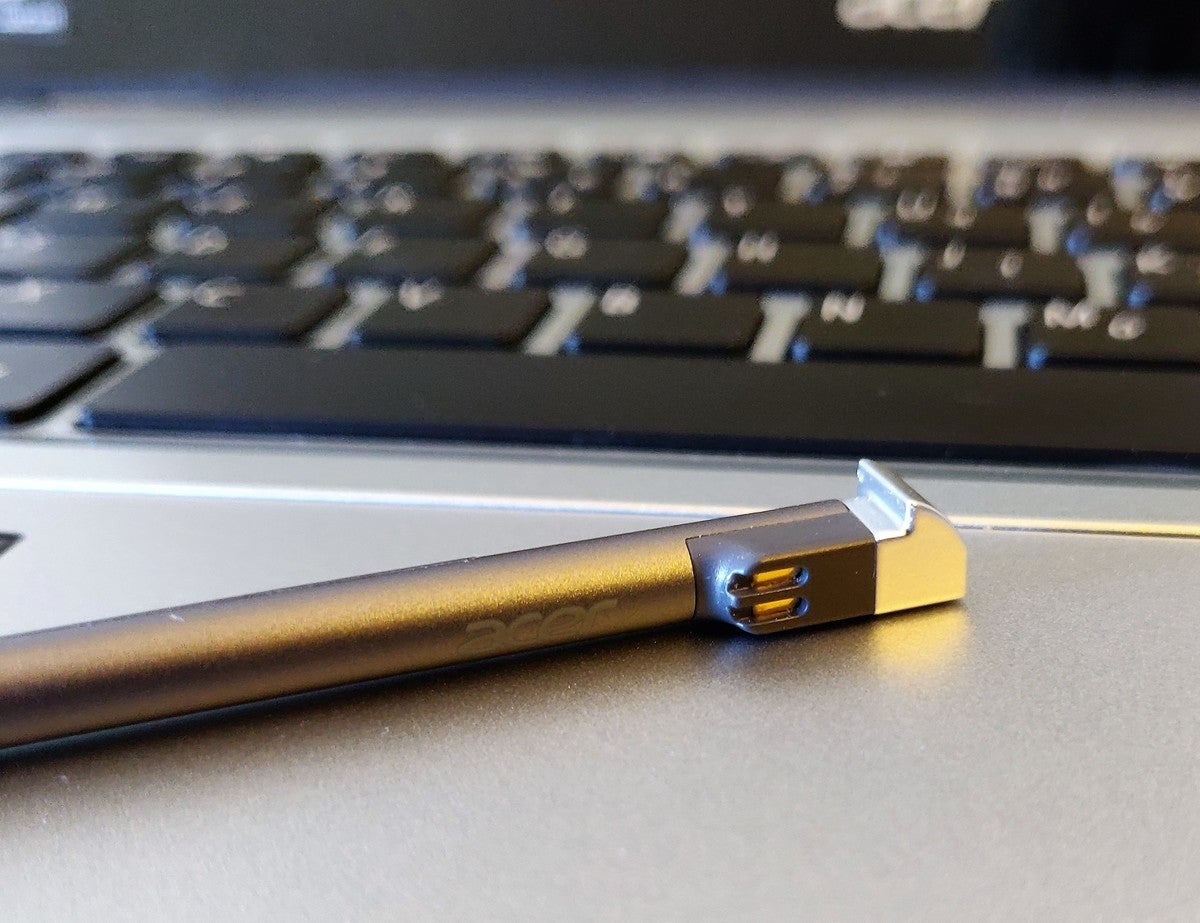 Though the pen's a bit on the skinny side (which can leave fingers feeling cramped after a while), I was able to enjoy a relaxing session of the Fresh Paint app. The battery held up just fine.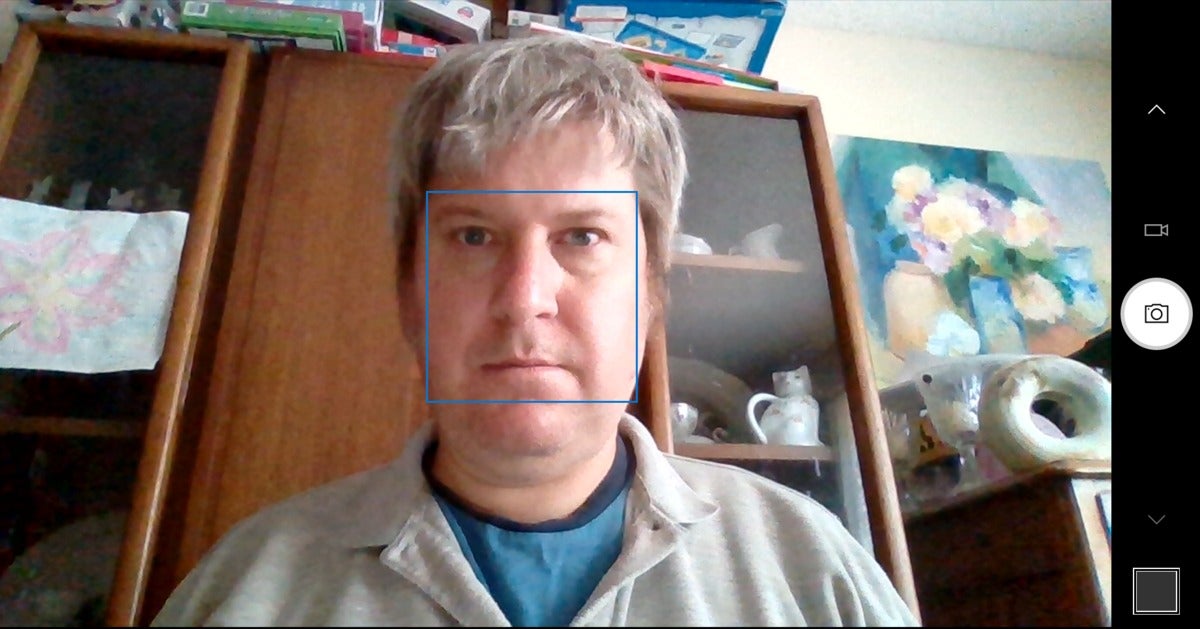 There's no reason to expect a budget laptop like the Spin 3 to have anything better than a 720p webcam—the same sort you'll find in the vast majority of laptops currently available. The webcam's color accuracy seems to be on point, but the image quality is flat and mushy. The integrated HDR controls within the Windows Camera app seem to have no effect, whether off or on.
Acer Spin 3 Performance
The Acer Spin 3's moderate performance reflects its budget roots, and there's no shame there. For web surfing, movie watching, Excel and other office work, as well as some light gaming, it will do the job. I was also surprised to discover that the Spin 3 played back my 4K/60 YouTube test video without dropping a single frame—other, more powerful laptops I've tested recently couldn't do that!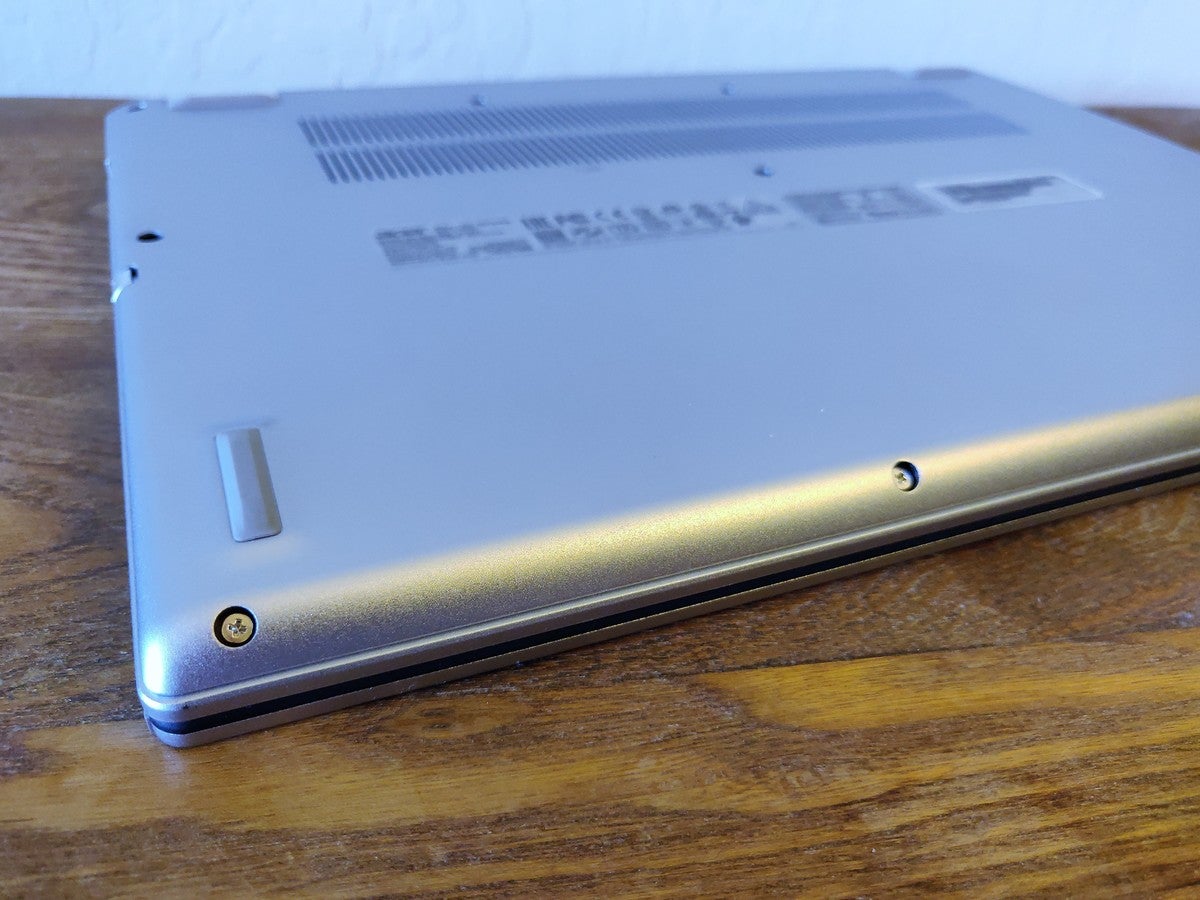 Below, you'll see a series of benchmarks where we compare the Spin 3 to other, mostly budget-level 14-inch laptops. Keep an eye on the Walmart Motile M142, a surprisingly decent $500 14-inch laptop, the insanely good $675 Acer Swift 3 SF314-42-R9YN and the Lenovo Yoga C740-14IML, a $790 14-inch convertible. We've compared it to last holiday's Acer Aspire 5 (now out of stock), and a couple of Microsoft devices. By and large, though, Acer owns a lot of the budget laptop category.
PCMark 8 is an older suite. We use the Work benchmark to evaluate the laptop on its ability to open and manipulate spreadsheets, hold video calls, and edit test documents, plus indulge in some light gaming. Creative's suite stresses the CPU and GPU a bit more with photo editing, video editing, and more intensive gaming tests. The Spin 3 did well here, posting one of the higher scores on both tests.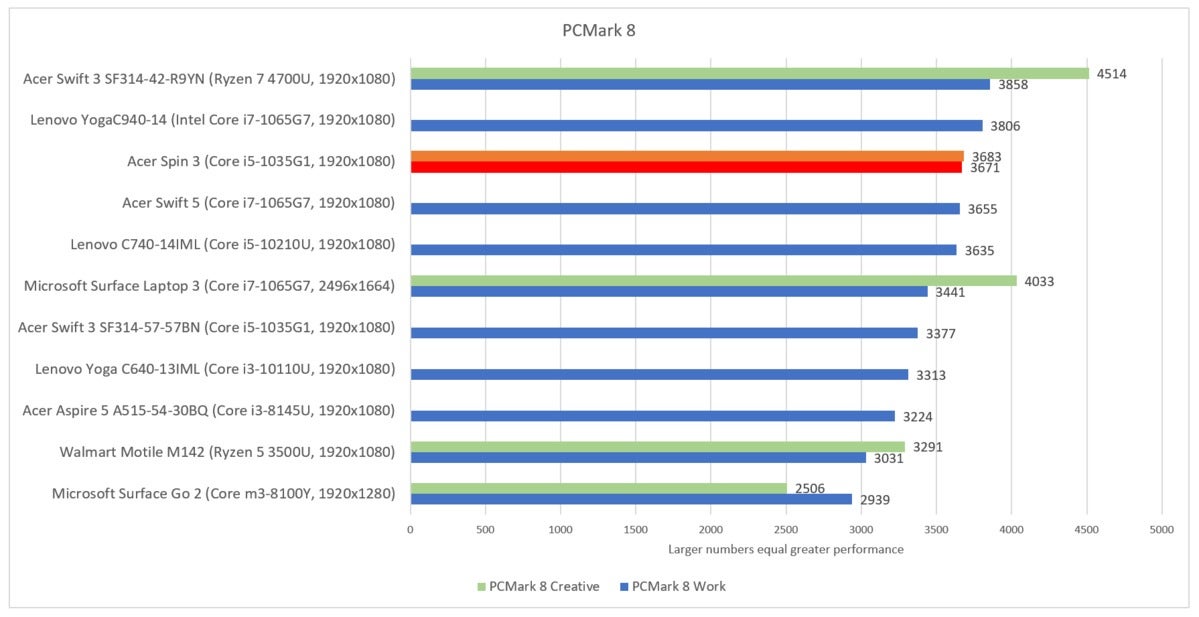 We use Cinebench to test the CPU capability, pushing all of its cores to the limit. We'd expect the Spin 3's 10th-gen "Ice Lake" Core chip to post midrange performance, and it does.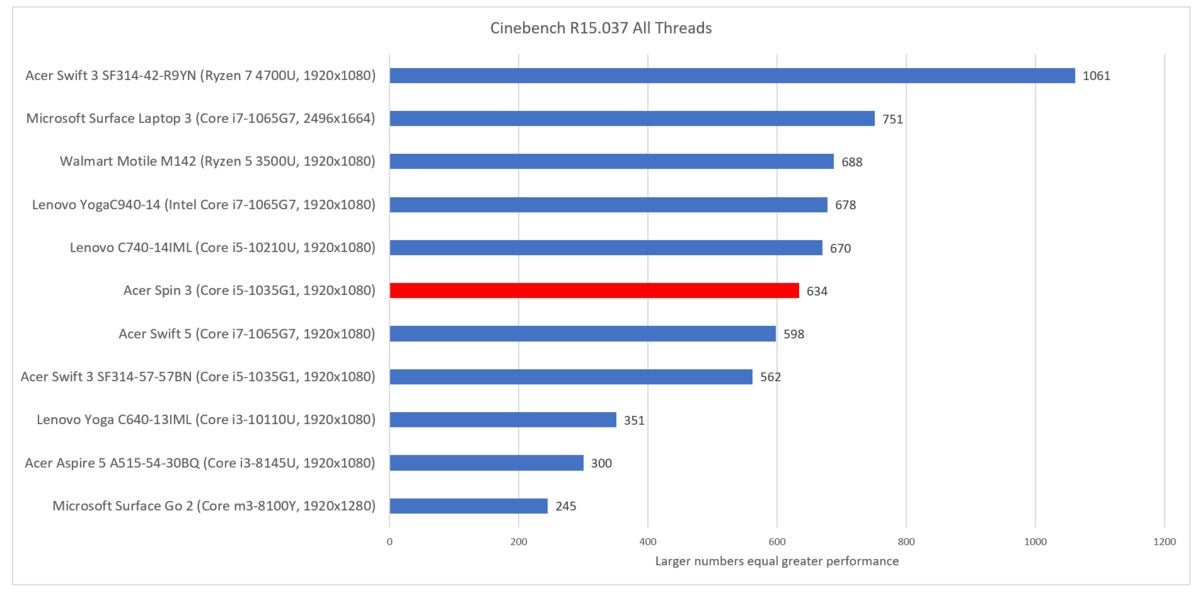 The HandBrake open-source transcoding tool takes a conventional Hollywood movie and transcodes it into a lower-resolution format appropriate for a tablet. It's a good test of a real-world task, and evaluates how well the laptop can work under stress for a prolonged period of time. The Spin 3 finished the task faster than most of its rivals.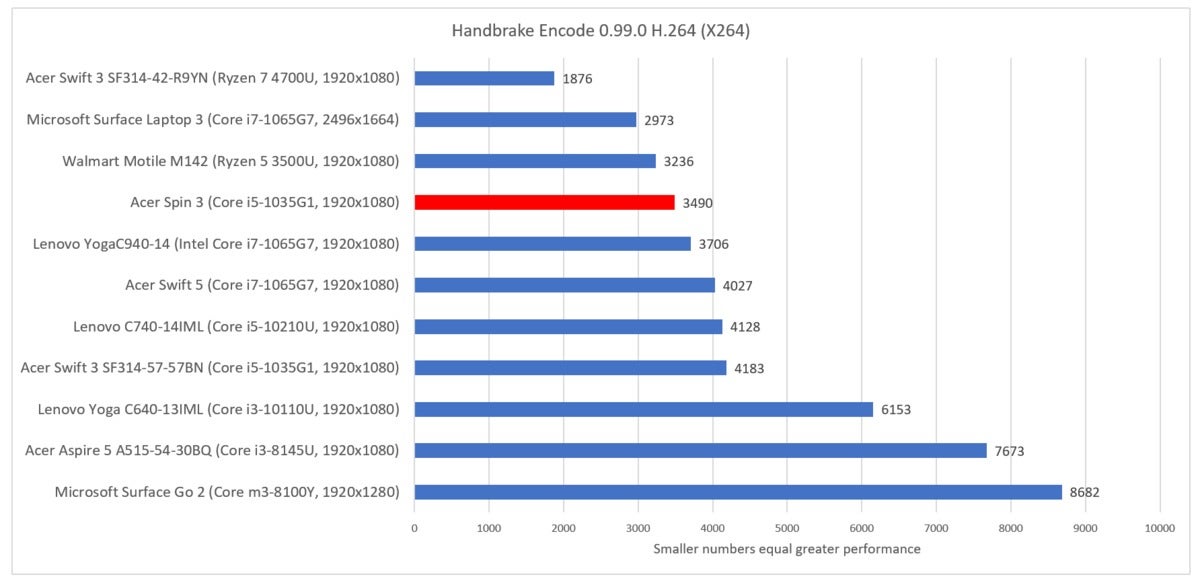 Next up is the 3DMark Sky Diver benchmark, an older test that's still applicable for laptops with integrated GPUs. The 10th-gen Core i5-1035G1 used in the Spin 3 includes a "G1" suffix, indicating the weakest graphics performance within Intel's 10th-gen lineup. As a result, some of the other Ice Lake CPUs outperform the Spin 3 in graphics performance.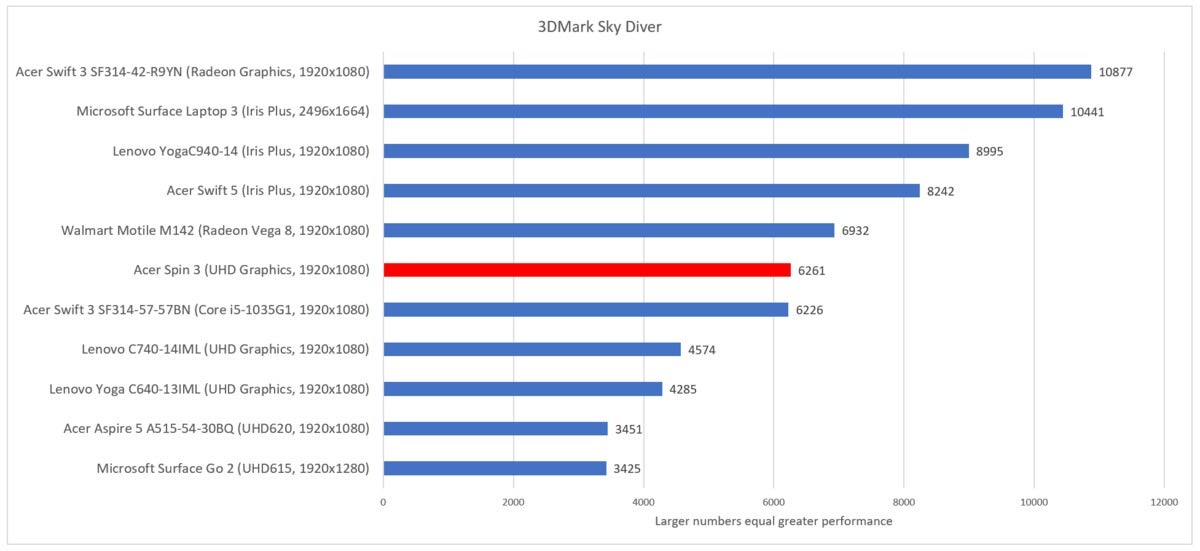 It's worth noting that the Spin 5 technically failed a 3DMark stress test, which loops a single benchmark over and over. "Failing" the test means that one or more results are inconsistent with the others, usually indicating that the laptop's performance has degraded due to power or thermal limits. In this case, this probably just signifies that you shouldn't expect consistent performance while playing games.
Finally, we take a look at battery life, where we set the display brightness to 250 nits, connect earbuds at medium volume, and loop a 4K video over and over until the battery expires. Though a slightly hefty laptop like the Spin 3 has room for a larger battery, the 47.9Wh capacity is average (and it stopped a bit short of full design capacity, charging to just 45.9W). Its battery life of just under nine hours will get you through a full day's work. However, other modern laptops are doing far better.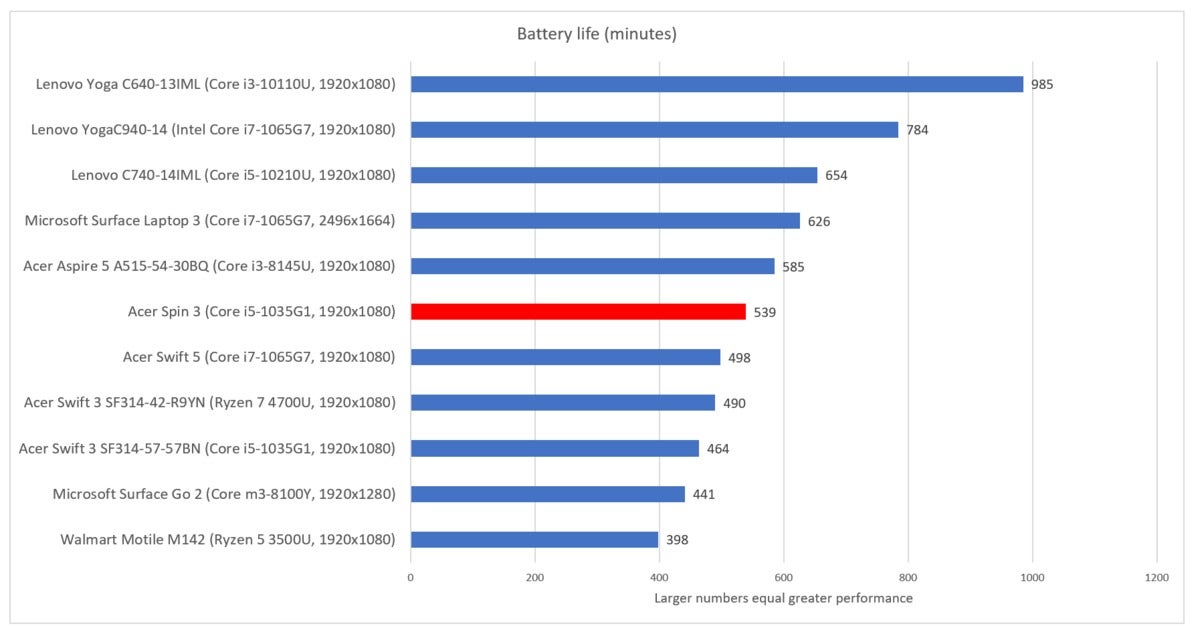 Should you buy the Acer Spin 3?
For a budget laptop that's largely middle-of-the-road, the Acer Spin 3 still manages to stand out because of several forward-looking features. The Thunderbolt port, the integrated stylus, and the Wi-Fi 6 antenna are things you won't find on many other models in its price range.
You do have options. You could pay $30 more to buy the Acer Swift 3 SF314-42-R9YN, which is both lighter and faster. (My gut says that AMD Ryzen 4000-powered laptops will be the budget laptop story of 2020.) Or if battery life is your priority, Lenovo's Yoga C740-14IML excels—and it's also more expensive. If you shop around and still end up with the Acer Spin 3, though, you shouldn't be disappointed.
Sours: https://www.pcworld.com/article/399312/acer-spin-3-review-a-solid-650-budget-laptop-with-nice-bonuses.html
Acer Spin 3 2020 specs
Price: $649.99
CPU: Intel Core i5-1035G1 CPU
GPU: Intel UHD Graphics
RAM: 8GB
Storage: 256GB
Display: 14-inch, 1080p
Battery: 7:56
Size: 13 x 9 x 7 inches
Weight: 3.3 pounds
The Acer Spin 3 (starting at $649.99), a snazzy-looking 2-in-1 laptop, is a shape-shifting ultraportable. It's a good sub-$1,000 notebook for budget-conscious content creators and students seeking a capable productivity machine. However, the Spin 3 is not a top-performing, industry-leading device — even among other mid-tier laptops in the same price range.
On the plus side, compared to its previous-gen model, the new Spin 3 has a smaller footprint, sports the latest 10th Gen Intel Core CPUs and has a Thunderbolt 3 port. Adding a sweet little cherry on top, Acer includes a stylus with the Spin 3, which is perfect for casual artsy hobbyists and students with an affinity for taking digital notes.
Of course, budget-friendly laptops do come with some trade-offs. With the Spin 3, you'll have to sacrifice with a dim display and average battery life. Despite its flaws, this Acer convertible is a decent pick for folks who don't have the wherewithal to splurge.
Acer Spin 3 price and configuration options
Our review unit costs $649.99. It's equipped with an Intel Core i5-1035G1 CPU, integrated Intel UHD graphics, 8GB of RAM, a 256GB SSD and a 1920 x 1080 display.
For an extra $150, you can upgrade your Spin 3 with an Intel Core i7-1065G7 processor, Intel Iris Plus graphics and a 512GB SSD.
Acer Spin 3 design
The Acer Spin 3 reminds me of a silver-coated, street performing mime. Like a statue, mimes can remain sneakily still, but with sudden, unexpected movements, they can startle and surprise unsuspecting passersby.
In the same way, the Spin 3 — a laptop wrapped in a chrome-colored aluminum chassis with a center-positioned silver Acer logo — seems humble and unassuming at first. But with its 360-degree hinge, this convertible will wow onlookers as it transitions into a tablet from its clamshell state.
Opening the lid, you'll find that the Spin 3 is equipped with slim-ish side bezels, but sports a thick top bezel to accommodate a 720p HD camera. On the large bottom bezel, you'll discover a reflective silver Acer Logo.
The keyboard deck sports more of that attractive silver motif. In small gray letters, the word "Spin" can be found between the speaker grill and the function keys. On the island-style, backlit keyboard, you'll find white letters superimposed on black chiclet keys. Beneath the spacebar lies a standard-sized touchpad that features a fingerprint scanner on the top-left corner.
I love that the Spin 3's chassis is fingerprint resistant. No matter how many times I tried to purposely sully the Spin 3 with my fingerprints, the chassis said, "Not today, Satan!"
The Spin 3 isn't the thinnest or the lightest laptop on the market (3.3 pounds, 0.7 inches thick), but it still has a portable form factor that would appeal to commuters and travelers seeking a decent 2-in-1 that won't weigh them down as they dart from A to B. The Spin 3's competitor, the HP Envy x360 13, is lighter (3 pounds, 0.7 inches thick). While the Asus VivoBook S15, another Spin 3 rival, is heavier and thinner (4 pounds, 0.6 inches thick).
Acer Spin 3 ports
If you prefer to spice up your life with a variety of ports, the Spin 3 is the laptop for you. This Acer 2-in-1 offers eight in total.
On the left side, you'll find a DC-in jack, an HDMI 2.0 port, a USB 3.2 Type-A port, a Thunderbolt 3 port, and a microSD reader. On the right side, you'll find another USB 3.2 Type-A port, as well as a headset jack, a stylus dock and a Kensington lock slot.
Acer Spin 3 display
The Spin 3's less-than-impressive, 14-inch screen evoked several facepalms as I tested it. I watched the Rogue trailer on the Spin 3's 1080p panel, and as the camera panned to an aerial view of a savanna landscape, trees and wetland grass lacked crisp detail and definition.
On close-up scenes of Megan Fox, the actress' stunning blue eyes seemed lackluster on the Spin 3's color-deprived display. On the Spin 3's screen, you can't spot subtle facial features such as pores, faint wrinkles and other muted details. Although the Spin 3 isn't the sharpest, brightest or most vivid display on the mid-tier laptop market, it does the job.
The Spin 3's display also has touchscreen capabilities, and as much as I didn't want to smudge the screen, I tested out several gestures, such as pinch-to-zoom, finger scrolling and swiping right to revisit previous pages — all of these gestures operated smoothly.
The Acer Spin 3's display is as dim as a romantic candlelit dinner with just 279 nits of brightness. It's dimmer than the 309-nit brightness score of the average mainstream laptop. But surprisingly, there is a Spin 3 rival that is far dimmer — the Asus VivoBook S15 (248 nits). However, the HP Envy x360 13 outshone the competition at 364 nits.
The Spin 3 and the VivoBook S15 both cover just 63% of the sRGB color gamut. Their displays are more lackluster than the category average (92%). The HP Envy x360 13 is far more colorful than the competition with a color-coverage score of 100%.
Acer Spin 3 stylus
The Acer Active Pen accompanies the Spin 3 in the box. The stylus has 4,096 levels of pressure sensitivity and it's equipped with Wacom's active electrostatic technology, which means the pen can get power from the display's electrostatic sensors.
To charge the pen, you can simply place it inside the stylus garage on the right side of the Spin 3. With just 15 seconds of charging, you can get one hour and 30 minutes of unfettered use with the stylus.

The Acer Active Pen is a useful tool for jotting quick notes and casual sketching. However, while experimenting with the stylus on Paint 3D and Inkscape, I found that the Spin 3's palm rejection isn't the best — you won't be able to rest your palm naturally on the display because this will create unwanted marks on your digital canvas.
The Acer Active pen isn't the most ergonomic, but the stylus was highly responsive to my quick strokes and there was virtually no lag.
Acer Spin 3 keyboard and touchpad
I typed on the Acer Spin 3's island-style keyboard as if I've had it for years. I reached 89 words per minute on the 10fastfingers.com typing test, which is higher than my typical 85 wpm average. With audible clicks and strong tactile feedback, typing on the Spin 3's keyboard was a satisfying and comfortable experience.
A fingerprint scanner is located on the top left of the 4.2 x 2.5-inch silver touchpad, but thankfully, it didn't get in the way — the touchpad successfully delivered quick and accurate responses to Windows 10 gestures, such as the pinch-to-zoom function, two-finger scrolling and three-finger flicks
Acer Spin 3 audio
I listened to The Weeknd's "Blinding Lights" on the Spin 3's well-placed, top-firing speakers. At max volume, the synthpop song filled my medium-sized testing room. However, when it comes to audio quality, the music lacked that lush, well-balanced sound you'd find on more premium speakers. The Weeknd's snappy tune sounded slightly flat and hollow on the Spin 3.
Still, with the Spin 3's front-facing speakers, you'd still enjoy the room-filling Spotify sessions while vibing to your favorite tunes.
Acer Spin 3 performance
Equipped with an Intel Core i5-1035G1 processor and 8GB of RAM, the Spin 3 endured a deluge of 30 Google Chrome tabs, four of which were playing 1080p YouTube videos, without breaking a single sweat.
On the Geekbench 5.0 overall performance test, the Spin 3 scored 3,600, which is slightly higher than the 3,507 score of the average mainstream laptop. The Spin 3 also outpaced the VivoBook S15 (Intel Core i5-10210U and 8GB of RAM), which output a score of 3,560. But the Acer convertible couldn't get past the Envy x360 13 (AMD Ryzen 5 4500U, 8GB of RAM) with a competition-conquering score of 4,617.

On our HandBrake benchmark, the Spin 3 took 22 minutes and 4 seconds to transcode a 4K video to 1080p, which is slower than the category average of 21 minutes and 30 seconds. The VivoBook S15 (17:22) and the Envy x360 13 (13:44) finished faster.
The Spin 3's 256GB SSD copied 25GB of data in one minute and 9 seconds, which translates to 389 MBps. This is faster than the category average (280 MBps). The Spin 3 is also speedier than the Envy x360 13's SSD (336 MBps), but the Acer laptop is slower than the VivoBook S15's SSD (480 MBps).
Acer Spin 3 graphics
The Spin 3 doesn't have a discrete chip, and it's not a gaming laptop, so even if you wanted to immerse yourself in some light, easygoing gaming, the Spin 3 may not be capable.
The Spin 3 played Sid Meier's Civilization VI: Gathering Storm at just 10 frames per second with the graphics set to 1080p on Very High. This falls short of the category average (15 fps). The VivoBook S15, also equipped with integrated Intel graphics, beat the Spin 3 by just one frame (11 fps). The Envy x360 13, sporting AMD Radeon graphics, outpaced the Spin 3 with 27 fps.
On the 3DMark Fire Strike graphics benchmark, the Spin 3's 1,637 score could not keep up with the category average (1,980), but the Acer laptop crushed the VivoBook S15 (1,119). The HP Envy x360 13, however, dominated with an impressive score of 2,569.
Acer Spin 3 battery life
The Spin 3 is just a hair short of our preferred 8-hour runtime.
The Acer convertible lasted 7 hours and 56 minutes on the Laptop Mag Battery Life Test, which involves continuous web surfing over Wi-Fi at 150 nits. This runtime is shorter than the average mainstream laptop (9:16). The VivoBook S15 and the Envy x360 13 also outlasted the Spin 3 with runtimes of 8:23 and 10:45 minutes, respectively.
Acer Spin 3 webcam
The Spin 3's 720p camera isn't half bad.
I noticed some visual noise while using the camera, but I was able to spot some muted details on my skin, such as faded scars and other blemishes. The camera also reproduces color well; it perfectly captured my rich peach walls and burgundy curtains.
Acer Spin 3 heat
After the Spin 3 streamed a 15-minute, 1080p video, the touchpad, keyboard center and underside remained cool with temperatures of 75 degrees Fahrenheit, 79 degrees, and 84 degrees, respectively. The hottest area on the Spin 3 — the bottom bezel — reached 96 degrees, which is slightly above our 95-degree comfort zone.
Acer Spin 3 software and warranty
The Spin 3 has a fair amount of Windows 10 bloatware, including Candy Crush Friends, Hearts Deluxe, FreeCell, Mahjong, Spades and Solitaire. You'll also discover some Acer-branded software, such as Acer Collection S, which encourages you to download more apps, such as Roblox, Asphalt 8 and Recipe Keeper Pro.
Because the Spin 3 comes with a stylus, I would have loved to see more note-taking apps or content creator-targeted software.
The Spin 3 ships with a one-year warranty. See how Acer did on our Tech Support Showdown and Best and Worst Brands ranking.
Bottom line
The Acer Spin 3 is a 2-in-1 laptop that struggles to overcome mediocrity — standing out of the crowd is not its forte. The Spin 3 doesn't have the best benchmark scores, but it's adequate enough for students and casual creators seeking a decent productivity machine.
Its battery life doesn't meet our minimum eight-hour runtime. Instead, the Acer laptop lasts over seven hours on a charge. The Spin 3's display is dim and washed out, but if you don't care about having a bright display, this laptop may not be a dealbreaker for you.
On the plus side, the Spin 3 is equipped with top-firing speakers that emit room-filling audio, its decent stock of ports will satisfy most users, and lastly, the Acer Active pen is a nice addition to the Spin 3 package — and it's included in the box. For its $650 price point, the Spin 3 is a decent pick. But if you want a better-performing laptop within the same price range, I'd recommend the HP Envy x360 13.
Acer Spin 3 Specs
| | |
| --- | --- |
| Bluetooth | Bluetooth 4.1 |
| Brand | Acer |
| CPU | Intel Core i3-8130U 2.2GHz |
| Card Slots | SD memory reader |
| Company Website | https://www.acer.com/ac/en/US/content/home |
| Display Size | 14 |
| Graphics Card | Intel UHD Graphics 620 |
| Hard Drive Size | 1 TB |
| Hard Drive Type | HDD |
| Highest Available Resolution | 1920 x 1080 |
| Native Resolution | 1920x1080 |
| Operating System | Windows 10 Home |
| Optical Drive | None |
| Ports (excluding USB) | Headphone/Mic, Noble Lock, SD card slot, USB 2.0, USB 3.0, HDMI |
| RAM | 4GB |
| Size | 13.2" x 9.1" x 0.8" |
| USB Ports | 3 |
| Warranty/Support | One-year limited warranty |
| Weight | 3.79 |
| Wi-Fi | 802.11ac |
Less
Kimberly Gedeon, holding a Master's degree in International Journalism, launched her career as a journalist for MadameNoire's business beat in 2013. She loved translating stuffy stories about the economy, personal finance and investing into digestible, easy-to-understand, entertaining stories for young women of color. During her time on the business beat, she discovered her passion for tech as she dove into articles about tech entrepreneurship, the Consumer Electronics Show (CES) and the latest tablets. After eight years of freelancing, dabbling in a myriad of beats, she's finally found a home at Laptop Mag that accepts her as the crypto-addicted, virtual reality-loving, investing-focused, tech-fascinated nerd she is. Woot!
Sours: https://www.laptopmag.com/reviews/acer-spin-3-2020-review
Acer spin 3 series Battery Change Guide
Acer Spin 3 SP313-51N convertible in review: A good all-rounder with weaknesses
Processor
Intel Core i5-1135G7 4 x 2.4 GHz, 64 W PL2 / Short Burst, 28 W PL1 / Sustained, Tiger Lake UP3
Memory
16384 MB , Quad-Channel
Display
13.30 inch 16:10, 2560 x 1600 pixel 226 PPI, 10-point capacitive, native pen support, AU Optronics AUOB493, IPS, glossy: yes, 60 Hz
Mainboard
Intel Tiger Lake-UP3 PCH-LP
Storage
Kingston OM8PCP3512F-AB, 512 GB , 470 GB free
Connections
2 USB 3.1 Gen2, 2 USB 4.0 40 Gbps, 2 Thunderbolt, USB-C Power Delivery (PD), 1 HDMI, 1 Kensington Lock, Audio Connections: 3,5 mm combo, Card Reader: 1, 1 Fingerprint Reader, Brightness Sensor
Networking
Killer Wi-Fi 6 AX1650i 160MHz Wireless Network Adapter (201NGW) (a/b/g/n = Wi-Fi 4/ac = Wi-Fi 5/ax = Wi-Fi 6), Bluetooth 5.1
Size
height x width x depth (in mm): 16 x 300 x 220 ( = 0.63 x 11.81 x 8.66 in)
Battery
48 Wh, 4800 mAh Lithium-Ion, Battery runtime (according to manufacturer): 12 h
Charging
fast charging / Quickcharge
Operating System
Microsoft Windows 10 Home 64 Bit
Additional features
Speakers: Dual speakers - Stereo, Keyboard: Chiclet, Keyboard Light: yes, 12 Months Warranty
Weight
1.407 kg ( = 49.63 oz / 3.1 pounds), Power Supply: 290 g ( = 10.23 oz / 0.64 pounds)
Note: The manufacturer may use components from different suppliers including display panels, drives or memory sticks with similar specifications.
see all specifications
Sours: https://www.notebookcheck.net/Acer-Spin-3-SP313-51N-convertible-in-review-A-good-all-rounder-with-weaknesses.548049.0.html
Life battery acer 3 spin
Acer Spin 3 Laptop Full Review
If you are looking for an affordable flexible laptop that looks good, has great display quality and sounds great, then the Acer Spin 3 might just be the laptop for you. With an awesome touchscreen display which flips 360 degrees to give you unmatched flexibility for its price, the Acer Spin 3 impresses without breaking the bank.
Overview
Here is an overview of the basic specs of the Acer Spin 3:
CPU: 2.2 GHz Intel Core i3-8139U
Graphics: Intel UHD Graphics 620
RAM: 4GB DDR4
Screen: 14-inch 1920×1080 Full HD multitouch screen
Storage: 1TB HDD
Design
The Acer Spin 3 has a simple minimalist design. It is light and thin, with an emphasis on portability and compactness. However, there are thinner and lighter laptops out there if you are willing to spend a little more cash.
What makes its design stand out, however, is the fact that its dark silver chassis with subtly brushed crosshatches looks very classy and sophisticated. It also has a pleasant finish that is soft to the touch, especially on the bottom. The lid of the Acer Spin 3 has "Acer" sprawled across it in bold letters. "Spin" is a little more subtly etched on the base below the speakers.
The Acer Spin 3 has a flexible 2 in 1 design. You can flip its display all the way around through 360 degrees and use it as a tablet or a laptop, depending on the functions you require it for. You can also set it up to tent mode, which allows you to view and flip through photos or watch videos without distractions.
At only 3.8 pounds and 15×9.9×0.9 inches overall size, the Acer Spin 3 is light and small enough to carry along with you wherever you go. It can comfortably fit in a backpack or any side bag.
Display
It has a satisfyingly bright 14-Inch 1920×1080 full HD display with multitouch capabilities that is comfortably sharp and has just enough saturation to make for an enjoyable viewing experience. Acer did not also cheap out when it came to viewing angles, you can view your content clearly from up to a 45-degree angle.
Its multitouch capabilities are also just as impressive. The display is 10 finger touch sensitive and very reactive to all input gestures.
Hardware
1. Ports and Slots
It has a good selection of ports and slots for its price range. To the left, there are two USB 3.0 ports, an HDMI port and the power port. To the right, there is a 3.5mm headphone hack, an SD card slot, a USB 2.0 slot, the power button and the Kensington lock. The right side also hosts the two LED light indicators that show the charging and the battery status.
2. Webcam
It has a 720px webcam that shows vivid colour and captures quite solid exposure. However, it fails in capturing much detail, just as you would expect from a low budget laptop webcam. The images can also be a little grainy. Consider buying a decent webcam if you use Skype or video conference a lot.
3. Keyboard and Touchpad
It has an island keyboard without a number pad. The keys are of an average size but very responsive. However, it has a travel of 1mm, a little short of the recommended 2mm.
The touchpad is a nice large enough size, but it can be a little loud when pressed. It is however responsive, registering all swipes, clicks and taps as you would expect.
Software
As you would expect from a laptop of this price range, it comes preloaded with several unnecessary software. A few examples are Ebates, Firefox, Norton and Netflix, which you have to uninstall if you do not have any use for them.
This is in addition to a few of Acer's default software, such as Acer Care Centre, which compiles Acer software updates, and Acer Collection. If you get the Acer Spin 3, just like any other budget laptop, the first thing you need to do immediately after booting up is to take your time and uninstall the software that you do not need.
Performance
The Acer Spin 3 comes with an 8th gen Intel Core i3 processor with 4GB of memory. It also has a 1TB HDD at 5400 rpm. Its performance is, however, a little disappointing. You will have to wait for a few seconds for the system to start responding after the lid is opened. Even then, when you open an app, it will take a noticeable amount of time to launch. Furthermore, when you rotate the display, the system takes a few seconds before registering that the display has been changed and therefore switching modes.
The Spin 3, however, performs impressively once basic tasks have been launched. Browsing on multiple tabs or streaming music and watching movies is a breeze. You will enjoy a lag-free experience for all your tasks, including checking your mail and playing a few light games. Plus, the fan will only kick in when you start performing heavy tasks.
Audio and video
The Acer Spin 3 comes with a set of strong speakers that can easily fill a large room with sound. They use Acer's TrueHarmony, giving them solid performance capabilities. Even at maximum volume, it does not distort the sound.
Battery Life
The manufacturer's claim about the Acer Spin 3's battery life is that it can last for up to 12 hours. However, if you use it for normal tasks such as watching movies or working on a few simple projects, expect up to 6 hours of battery life on continuous use. This should be enough to get you through a little more than half a normal workday or an intercontinental flight.
In summary, here is a list of the main pros and cons that you can expect from the Acer Spin 3:
Pros
1. Its battery life is decent enough at 6hours of continuous use
2. Its performance is decent. You will be able to carry out all the tasks that you would expect with this laptop
3. It has a good set of speakers
4. It does not easily heat up and stays cool even after prolonged use
5. It has a bright, clear and well-saturated display with vibrant colours
Cons
1. It comes loaded with bloatware that you will have to take your time and uninstall
2. The build could be better, it looks a little plastic and cheap
Final Thoughts
The modestly priced Acer Spin 3 is an awesome mid-range laptop packed full of interesting features. If you are on a tight budget and you need a laptop that looks good and works decently, this is it.
If you are not sure what laptop would suit your needs, check out our laptop choosing guide!
We have a 17-inch laptop list as well, check that out!
Sours: https://simplylaptop.com/acer-spin-3/
Why the Acer Spin 3 is a Perfect Device for Mobile Professionals?
She chuckled. I knew that she didnt mean to offend me, but said that to tease me. Now youll find out, I growled and climbed onto her. - Wait, - she pushed me a little with her hands, - I need to catch my breath a little more.
You will also be interested:
Mare alone instead of two hot stallions. Seeing the sweat on her forehead, the Colonel grinned, thinking, "Hey!" And he was not wrong. Zoya often threw him in bed almost to the ceiling, until he asked her to moderate her ardor. And most importantly, she knew the intricacies of sex.
3013
3014
3015
3016
3017