3 Tier Serving Trays Decorating Ideas
Surprisingly, today's article came from 2 readers' questions about 3 tier serving stands. Where to find 'em? Can they be DIYed? How to style 'em? 3 tier trays are popular and seen everywhere nowadays and I completely understand why!
Keep those questions coming and if there is something you would like to see on the blog, be sure to let me know with an email or in the comments.
These popular trays are very resourceful in practically any room of your choice. You can use them in your bathroom, kitchen, craft room, and office. They can also be used to serve your favorite foods on any special occasion. Here are some Beautiful ideas to decorate, DIY ,and get the best use out of your 3 tier stands.
3 Tiered Stand Decorating Ideas
Below are some of my favorite ways to decorate these stands for holidays, seasons, or organization. Aren't they just perfect?!
Running out of cabinet space? Use a 3 tiered stand to store small dishes like this stand from Vintage Farmhouse Finds
A personal favorite way to store craft supplies to keep them in arms reach like this stand from Mish Mash.
Want to DIY your own 3 tiered stand on the cheap? The Happy Housie has a Dollar Store Tutorial
How about an adorable coffee bar at Christmas or any time of year?
Photo: Elle Decor
Isn't this Christmas themed dessert stand gorgeous?
No counter space in the bathroom? No problem! From Garden Boys & Me.
If you are a fan of galvanized trays check out these beautiful ideas by Refresh Restyle
Create your own jewelry tray the DIY way from Making It In The Mountains
Display beautiful perfume or soap bottles like this from Sweet Parrish Place
3 tiered stands can be used seasonally (especially Christmas) to create beautiful decorations like this one by Creative Mammas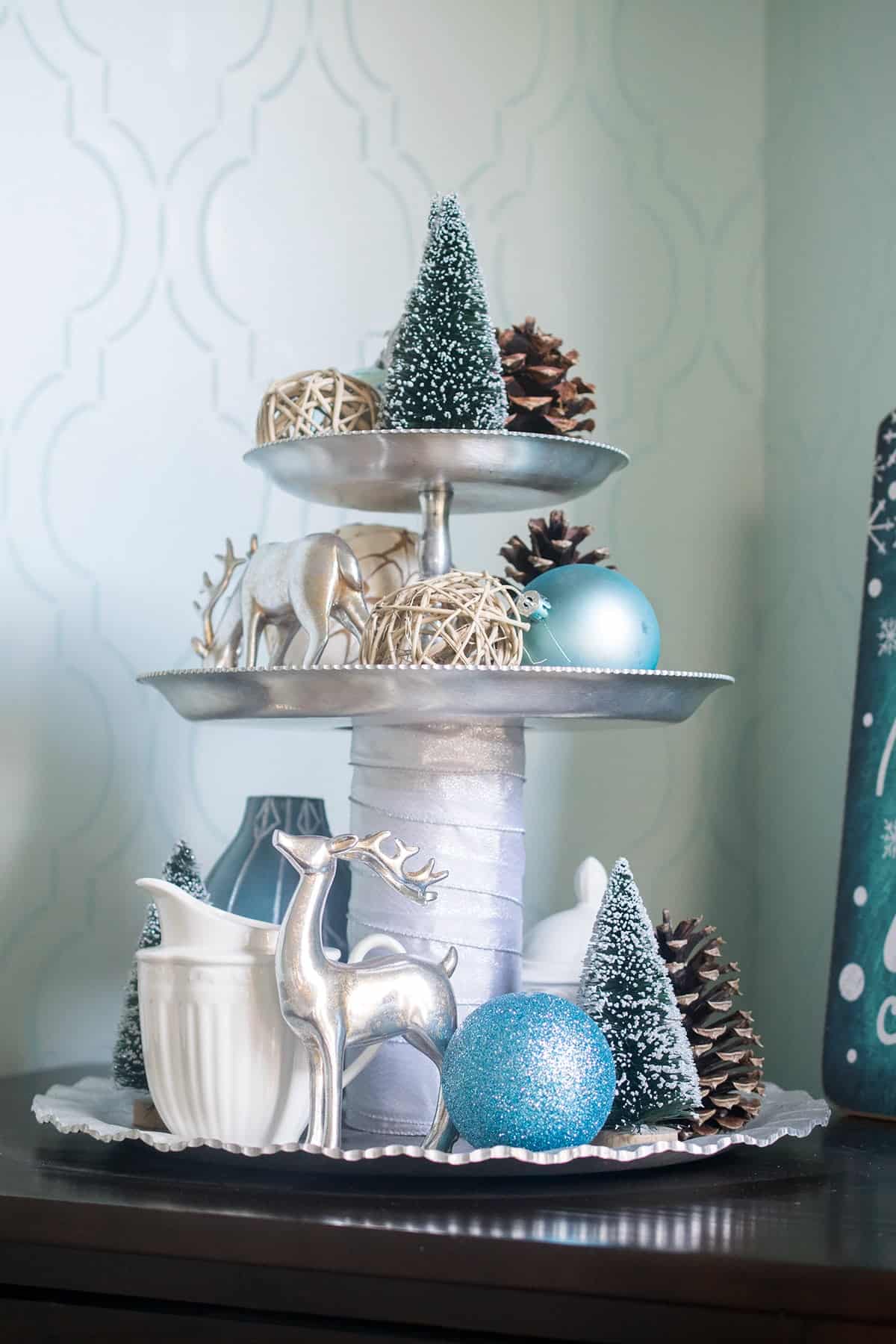 Or this winter wonderland theme from our Christmas Dining Room Home Tour
Use a galvanized tray to serve drinks and snacks outdoors! This tray from Pottery Barn
Looking for more ways to use these trays as display and organization? Check out these!
But what if you don't have a 3 tier server stand? Never Fear, shop our favorites!
Click Photo to See Product
Do you have a tiered serving tray? Do you style it or only use it for parties? I just bought one myself so I would love to hear your ideas!
Grab our free series "Weekend Home Projects that will Transform Your Life"
Sign up below to receive updates including free printables, organization tips, home improvement projects, recipes and more!
More Decorating Ideas
Sours: https://www.cravingsomecreativity.com/3-tier-tray-stands-beautiful-ideas-decorate-diy/
Hello friends! Welcome to another Friday Favorites, where I shop till I drop around the web for the best of the best things for your home for the best prices. Today we are talking about the BEST tiered stands. What's a tiered stand you ask? Think of stacked cupcake or candy trays. They also come in egg basket-style tiers. There are a huge variety available rustic tiered trays, wooden tiered stands, stands with an industrial look. They fit in any décor and add real impact to a table.
I LOVE tiered trays. They are so perfect for every room in your house. Use them in a bathroom with towels and pretty soaps piled in. Display them in the kitchen with coffee mugs, herbs and candles. Fill the trays with succulents, rocks and pretty shells and display them on a coffee table or sideboard. Of course, they're also perfect for any buffet table and really add height and variety to your tablescape.
There are endless ideas on how to use a tiered stand in your decorating. I've rounded up a variety of awesome finds in different finishes and styles. There's plenty of tiered tray inspiration for any home. You might even find two or three tiered stands you need for your house (and they're at great prices, so why not?!).  So, are you ready to check them out??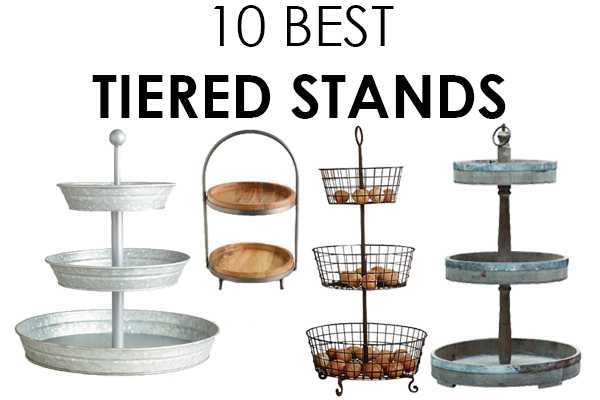 THIS POST CONTAINS SOME AFFILIATE LINKS
10 Best Tiered Stands:
1. Deco 79 Metal Galvanized Tray
I love these galvanized tiered stand trays, which take inspiration from classic farmhouse pieces. These would look absolutely gorgeous in a bathroom or kitchen. With the raised edge, you could easily plant small succulents or cacti in this gorgeous three-tiered tray.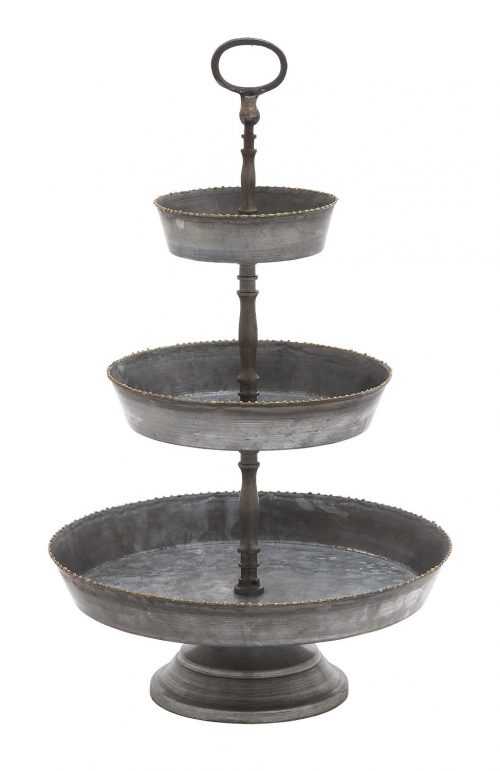 2. Metal 3-Tier Stand
Another, similar farmhouse tiered tray, this version comes in a lighter silver tone, which would look fantastic against white or light-colored furniture. These trays are wonderful for holding jewelry, little cosmetics and other items. I've even seen them used in baby rooms to hold all the various accessories for your little one.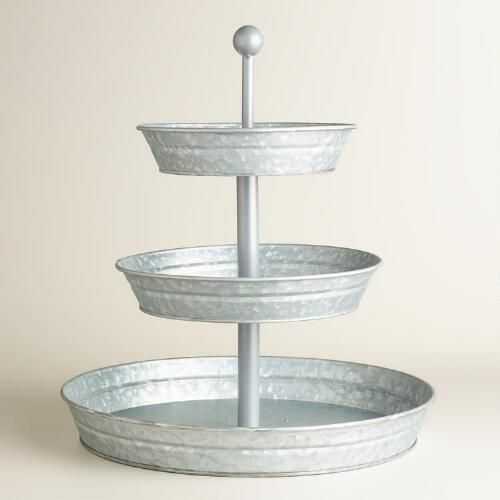 3. Grace 3 tier Tray
I adore the industrial look of this Grace 3 Tier Tray. It looks like it's has been made from reclaimed materials and it's got that perfect artsy feel. This one would be fabulous accent in your studio or office. It's a real eye-catching piece.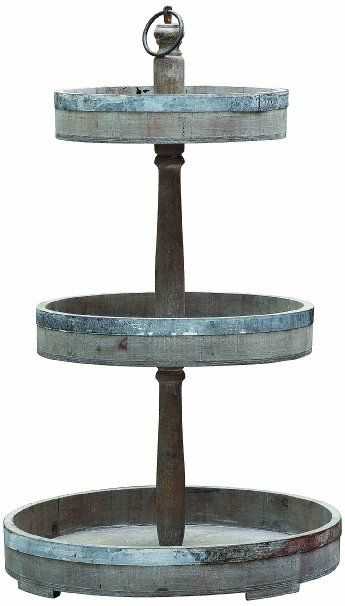 4. Edin Wood 2-Tiered Stand
The delicate woven metal details on this Edin Wood 2-Tiered Stand make it look perfectly sweet. It would be a great addition to a farmhouse table scape or sideboard buffet. Line the trays with colorful fabric napkins to hold bite-sized treats or small decorations.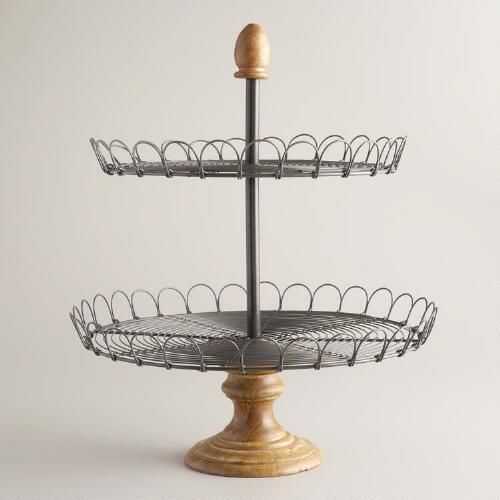 5. 3 Tier Fruit Basket
The tiered fruit basket is such a classic version of the tiered tray. These baskets are ready to hold fresh-from-the-farm produce and eggs. They would look great on a kitchen countertop, but could also work in a dining area, or used in a less-conventional way, like corralling hair accessories in your bathroom.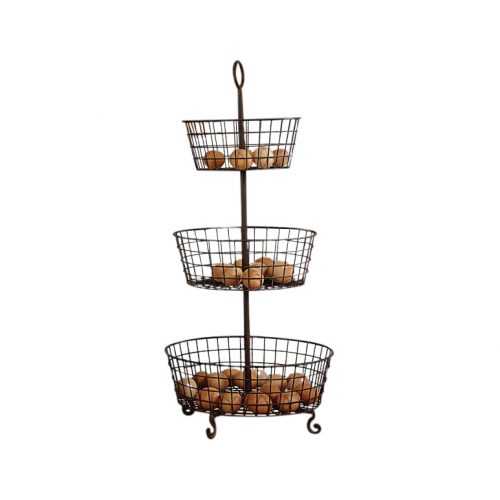 6. Great White Tiered Stand
This white ceramic tiered stand is the standard piece everyone needs with their serving dishes. Just imagine it filled with yummy appetizers or sweet desserts—perfect, right? It's a hardworking piece and would look perfectly at home in an elegant living room, dining room or bedroom.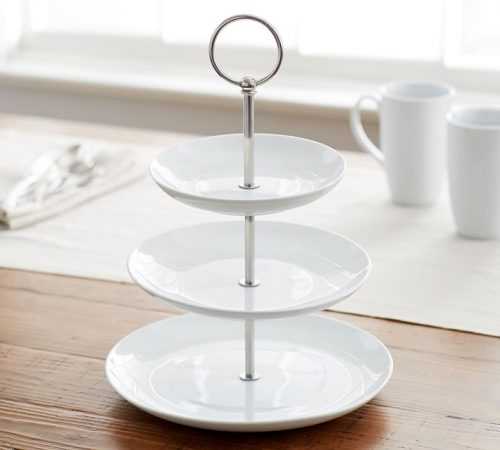 7. Wood and Metal 2-Tier Serving Stand
This may be one of my favorite tiered trays in the bunch! This 2-tier serving stand is sturdy and ready for a permanent job. It's indispensable on a countertop, holding fruit and snacks. It would look great in an entryway as the spot to hold your keys, mail and other items. This tiered tray would also look stunning filled with plants, moss or another fun collection of decorative items (seashells, perhaps?).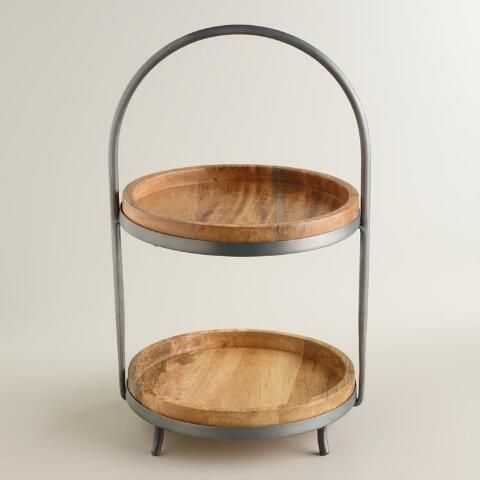 8. Three-Tier Zinc Dessert Stand
Straight from your classic cupcake shop, this three-tiered zinc dessert stand is so whimsical and cute! It would match any retro décor scheme and is just begging to be filled with yummy indulgences. Think beyond pastries and fill the trays with sweet scented soaps in your bathroom or tea lights tucked between little pots of flowers.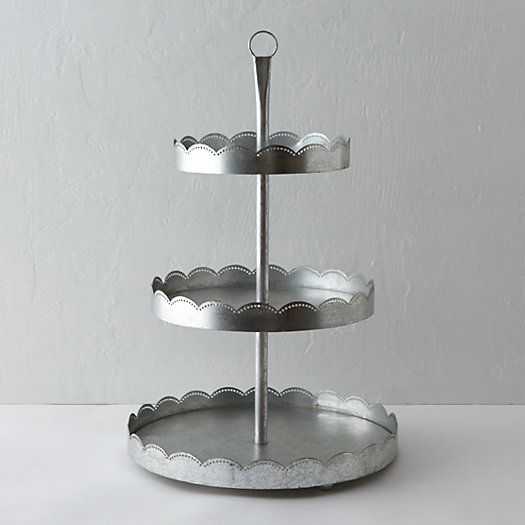 9. Creative Co-Op Grey Wood 3-Tier Tray
Another great option, this Creative Co-Op 3-Tiered Tray has a distinctly antique look. I love the square trays! This tiered stand feels truly unique and really stands out with its grey wood. Wouldn't this look great organizing sewing or craft supplies? This stand is ready to hold something colorful!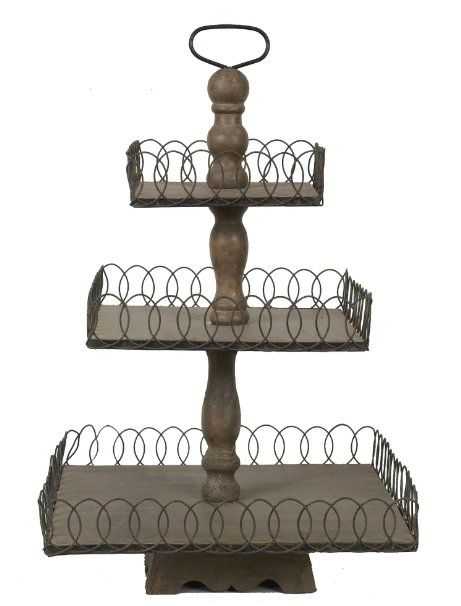 10. Beaded Tier Tray
I saved the most elegant tiered tray for last. The beaded detail on this mirrored tray is simply stunning. This graceful and elegant tiered stand is ready for any dining room, living room or bedroom. It looks much higher-end than the bargain price and is certainly a great find! Don't miss out on this beauty—it's gorgeous.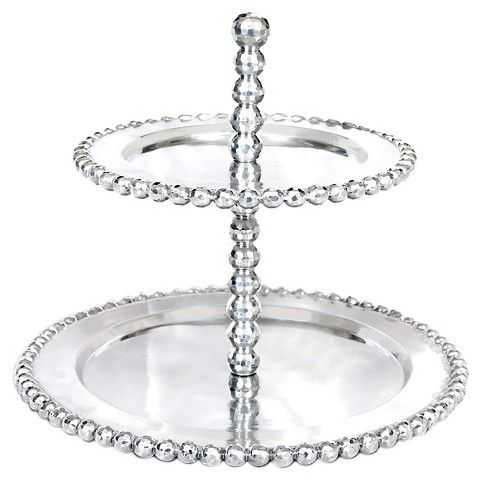 Did you find one you can't live without??! I have at least three tiered stands in my home and I keep finding different ways to use them (and reasons I might need a few more). They really are such a versatile item to own. You can use tiered trays to hold and display just about any item you can think of.  Want to see more of our Friday Favorites? Click HERE.
Need to bookmark this for later?
Pin Our Image:

Sours: https://ablissfulnest.com/friday-favorites-tiered-stands/
How To Style a Tiered Tray
Today's post is all about tips and tricks for styling a tiered tray!
If you've been here for awhile, you know I have a several tiered trays in my home that I like to decorate each season!  Many of you have purchased the trays I have, or similar trays, and then messaged me to say, "Love this tray….now, what the heck do I do with it?!?"
So today I am going to break down some easy tips for styling your tiered trays, and the method I use almost every time!  There is no right or wrong way, but these are just some steps that have worked for me!  I will also be sharing a few ideas for using your tiered tray for entertaining and where to find one if you don't own one already!
You can also watch me style a tray in video form HERE.
I have several tiered trays in my home, but this one is my favorite!  If you want to snag one for yourself, you can find this one here.
I always clear my tray totally off before styling each time.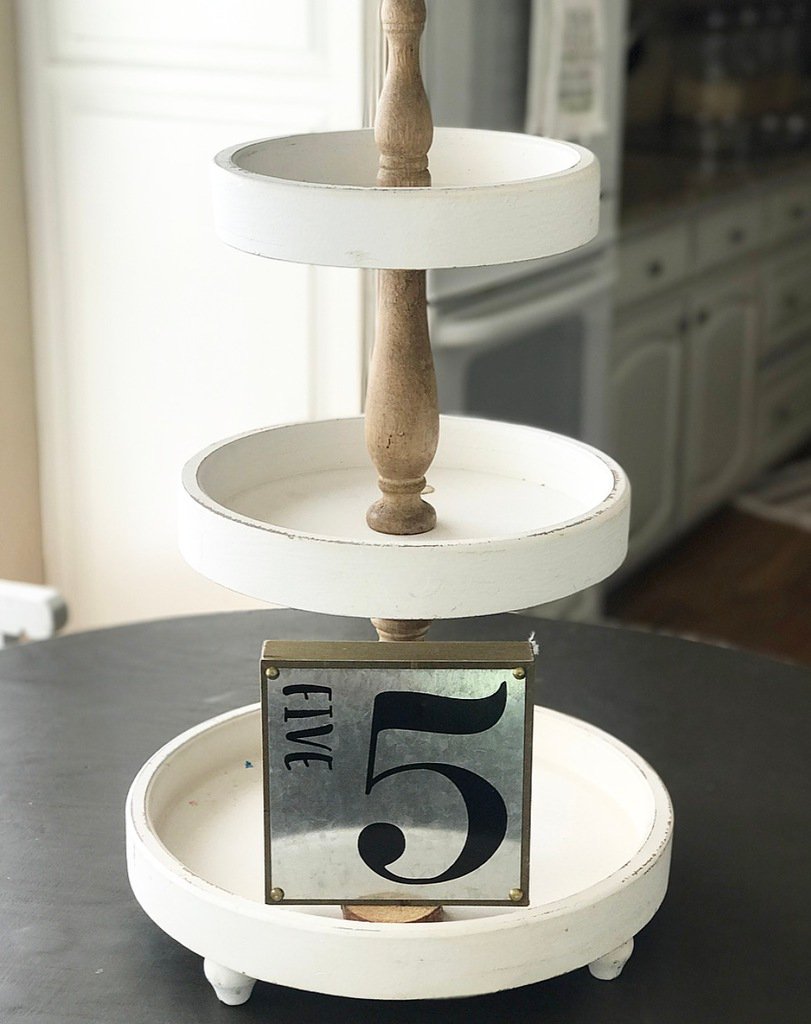 I almost always start with an anchor piece on the bottom level.  This might be a sign, a pitcher, canisters or a larger plant.
If your anchor piece is not exactly the right height, I often adjust it with these wood pieces I find here.  That way I can make items the right height, but the wood is hidden by the lip of the tray.  For signs, they are also good so that the bottom of the sign or wording is not hidden or cut off.
I like to add greenery to my tray every time to give it a little life!  I usually have it repeating in opposition on each tier.
This little cutie is from Ikea.  I find most of my small greenery at Ikea, Marshall's, TJ Maxx or Hobby Lobby.  You can also use real greenery, but watering plants is not a strength of mine, so I usually opt for the faux!
I like to use stackable items as a way to play with height.  In this tray I added these fun mugs, on opposing sides, and the small cupcake stands.   These stands are almost always available at the Target Dollar Spot, and I used my wood pieces to  make them just a little taller.
I always look for fun mini items to add to my trays!  These mini terra cotta pots come in a pack of six for a couple of dollars at Hobby Lobby and are stackable as well.  My five year old and I painted them white and distressed them a little.  These mini white pitchers are also a favorite I have used often.
I found these mini watering cans at Hobby Lobby.  They just make me giggle!  I have often caught my son using them to "water" my tray plants.  Hobby Lobby, Target Dollar Spot, Michaels, garden centers….all great places to keep your eye open for miniature items that add something creative and unique!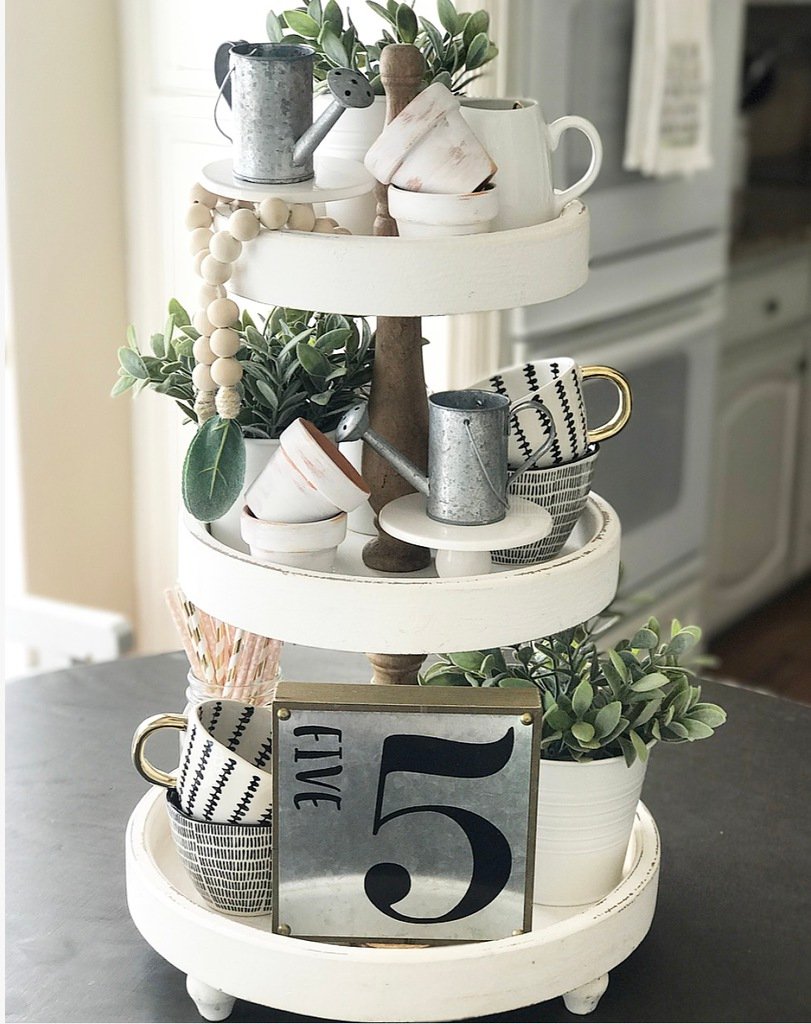 To me, what makes the tray most aesthetically pleasing is the repeating items on opposing sides and the overall balance of everything on the tray.  Having the same item, like the mugs or the watering cans or the greenery, on multiple tiers ties it all together for a more cohesive look instead of a bunch of randomness thrown on a tray.
Step back and look at the balance of all the items together.  Adjust heights if needed using your wood pieces, play, move things around and keep adjusting until it all works together.
As I said, this white tray is my favorite, so here are some ways I have decorated my tiered tray for each season!
I also have this rustic wood tray.  It has mixed reviews here, but I have never had any problems with mine!
And again with the watering cans!  Fruit is also a favorite of mine to use in these trays!  Decor you can eat….yes please!
Aside from being decorative, these tiered trays are also great for entertaining!
I have used these wood trays for cupcakes at almost all of my kids' parties and for showers I have hosted!
I used this tray to make a little ice cream bar last fourth of July!
Displaying food or utensils on these trays saves table space, adds height to your table and is just more fun!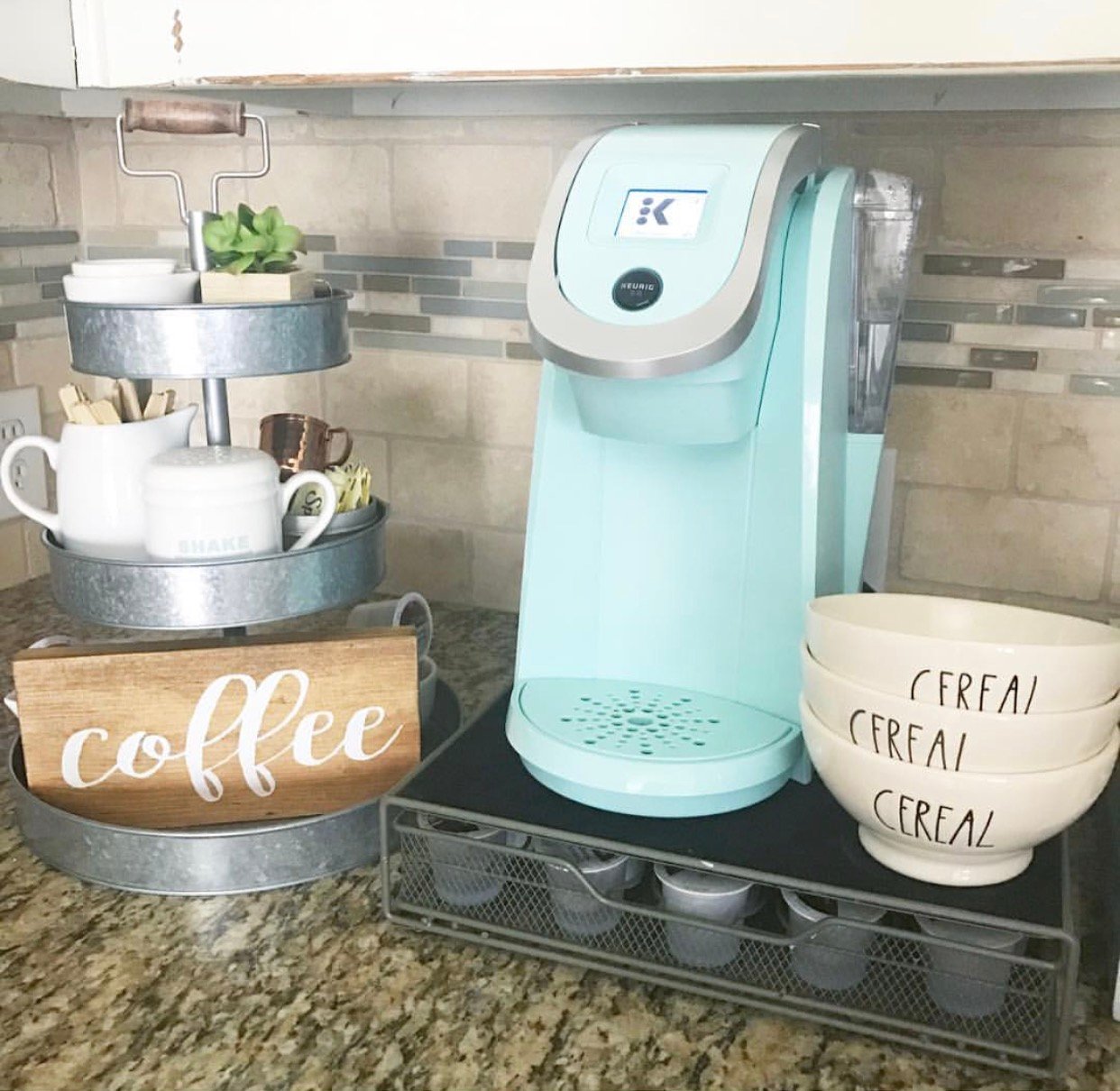 I keep this little tray by my coffee maker.  It holds sugar, marshmallows for hot cocoa in the winter, K cups, straws, etc. that are needed with coffee.
I have seen people use similar tiered trays to hold their essential oils, paint/art supplies, toiletries and makeup in the bathroom, soap and brushes by the kitchen sink….the list goes on and on of ways you can make these trays functional and save counter space!
My white tray sits on the bar in my kitchen, so I often put ingredients in mason jars on the opposite side of my tray:  sprinkles, chocolate chips, marshmallows, straws….you know, all those healthy essentials!  I also often store things we will use in the mini white pitchers, so that our tray is both decorative and functional.
If buying online, be sure to read the dimensions and check that the tray will work for your needed purpose.  For example, the tray by my coffee maker is VERY small!  It can hold K cups and essential oils, but it is not even large enough  to hold a coffee mug.  On the flip side, the rustic wood tray I have is VERY large!  I had a friend purchase it, and the base barely even fit on her counter.  Think about what you want to use it for and where you want to put it and measure before purchasing.  I know this sounds like common sense, but I can't tell you how many Amazon purchases I have returned over not carefully reading the dimensions!
Below are the trays I have and a few additional ones I have found online that have great reviews!
I hope you've found these tiered tray tips to be helpful!  Always feel free to send me your tray pics!  I love seeing your style and creativity!
2 CommentsLABELS ~ Decor
Sours: http://crispcollective.org/2018/06/20/style-tiered-tray/
FALL TIERED TRAY DECOR 2020 - HOW TO STYLE A TIERED TRAY - FALL DECORATE WITH ME
Sharing is caring!
Hey guys!!!  I have got an awesome round up for you today!  I have recently been redoing my den, we moved in 2 years ago and never touched it.  It is the first room you walk into and we just starting dumping our purses and bags in there and it was bad.  The walls were a flesh colored paneling and I could not stand it so we painted them white, wait I feel like this is a story for another blog post…. Back to tiered trays.
Sooo long story short I have a lot of surface and shelves that need decor in my den so I have been scouring the thrift stores and flea markets in such to build up a stash of decor for this room.  Thanks to Pinterest I have become obsessed with tiered trays, I own 3 now….
But they are naked, no styling to them whatsoever, they just are sitting there waiting to be filled with all sorts of perfectly arranged bits and pieces.  So back to Pinterest I went, it got me into this tiered tray mess, it needed to get me out lol.
Soo I have gathered for you (and myself) 20 Fabulous Ways To Style Tiered Trays.
These are gorgeous and I want all of them!!  But that required buying more trays and then my husband might cut me of lol.
Want to buy your own tiered tray to decorate?  I have found mine at Ross, Sam's Club and Save-on-Crafts but you can also find them on Amazon
and usually Zulily.
HGTV
Shady Oak Farms
Jenna Sue Designs
Buckets of Burlap
Home Stories A to Z
Eclectically Vintage
SF Gate
Dear Lillie
Priscillas 2000
Vintage Farmhouse Finds
Everyday Enchanting
Vintage Farmhouse Finds
Nested Sanctuary
Two Twenty One
Priscillas 2000
Dear Lillie
Pottery Barn
Painted Fox Home
Sours: https://lifewiththecrustcutoff.com/20-ways-style-tiered-tray/
Ideas stand decorating three tier
How to Decorate a 3 Tier Tray
T
Do you see all the pretty pictures on Pinterest of a decorated farmhouse 3 tier tray? I do and sometimes think that's super cute, I can do it. But just like most things on Pinterest they aren't always as easy as they seem. Decorating these stands can be pretty easy if you keep a few things in mind.
This post contains affiliate links which means if you end up making a purchase I may earn a small commission. Each item is handpicked by me and I promise you will love them.
Choose A Focal Point or Object
Most 3 tier trays have at least one object which anchors everything else together. This piece is usually your main focal point and the item you will first put into place. These objects might be your favorite thing or a seasoned item. For instance, if you are decorating for fall it may be a pumpkin. Or maybe for spring, it might be a big floral scented candle in a pastel color.
Pick a Color Scheme
Choosing a limited color palette would be my suggestion no more than 3 colors. I believe the more colors you choose to combine in your space, the trickier the decorating becomes.
Something to keep in mind when decorating with neutrals is to choose items with differing textures.
Add Natural Elements
If you were to grab one of your home decor catalogs or magazines, chances are very good that in every picture featuring a room you will find at least a sprig of greenery, a plant, a vase of flowers, fruit, or something living.
Bringing elements from the outdoors inside is a way to add a pop of color and complete the look. It can be as simple as a stem of cotton or a faux plant.
Shop Around
I like to go around my house and find new items when decorating my 3 tier stand. Adding things that match my color scheme. Then I will head outside and see if anything works too. Fresh clippings or something from my garden. This time around I used succulents the girls made me at daycare. The little glass jars they are in were super cute.
It is mid-July so I just went with a rustic theme and browns and greens. In a month or two I will change it over to fall items and post some more pictures.
If you like this post and want to learn more about how I decorated my essential oil shelf head over to this blog post. I would love to see how you style your 3 tier trays too. Tag me on Instagram @hudsonfarmhouse.
Buy 3 Tier Trays
Below are some of my favorite trays from Amazon, including the one I used in these photos. These are affiliate links so I may earn a small commission if you choose to make a purchase.
Take a look at these photos from Pinterest for some extra inspiration and shop some items to add to your trays below!
3 Tier Tray Styled for Seasons
Now finding inspiration for decorating the trays for different seasons or holidays is really fun! Take a look at these photos from Pinterest!
Thanks for stopping by and reading about how to decorate a 3 tiered tray. I appreciate all of my readers I would love to hear from you. Below I added an extra bonus video about decorating a 3 tier tray. Check it out!
Also if you liked this post take a look at my previous posts!

Thanks friend, I appreciate it!
Sours: https://www.hudsonfarmhouse.com/how-to-decorate-a-3-tier-tray/
SUMMER TIERED TRAY DECORATE WITH ME 2020 - SUMMER TIERED TRAY INSPIRATION - Modern Farmhouse Decor
There is no patience, the tightness of her vagina makes me do reciprocating movements, I gradually go crazy and start to cum like. A groom on their wedding night. The first shot fell on her raised dress, and the second I caught with my fist and almost screamed with pleasure. I sat down next to the stool, looked with annoyance at my wife, then at Svetka and thought, These are the same people, your grandson.
You will also be interested:
And feed the piglet with the chickens in the barn. said Tanya, who entered the hall, and after her came Nina. Both women were naked, but my mother had clothes in hands. I listen to my beloved hostess.
307
308
309
310
311