American Girl Dollhouse
I am in the midst of making over my 8 year old's bedroom.  I'll show you the makeover once I'm finished, but for now I want to show you a MASSIVE project that went along with the re-design.
This is Ana White's AG DIY Dollhouse:  (click image for link)
A small image like that really doesn't do it justice as you'll see later in this post.
This bad boy is HUGE, but Chloe wanted a dollhouse for her American Girl doll and furniture, and I wanted all of her stuff off of the floor, so it became part of the room plan.
BUT
I don't have the square footage that Ana has, so I had to adjust the plans to fit our room;
79″ – that's almost 6 foot 6″ or just over 2 metres!
The reason for my oddly spaced floors is this wardrobe that Chloe's Papa built for her for Christmas:
Click image for link to plans.
This wardrobe is 28″ tall and "had to" go in the doll's bedroom.
I adjusted Ana's plans according to the 3 feet of wall space we had, and to accommodate the wardrobe and started building.
Per Ana's DIY dollhouse plans, I used 3/4″ MDF (Medium Density Fibreboard), but if you have extra budget, you could use a nice plywood and your house would be a fair bit lighter.
I chose to use castors on our house for manoeuvrability, but it does add an extra couple of inches to the plan height.  If you go with castors, make sure to purchase ones that can hold over 150lbs.
You'll notice in the photo below that I tried to attach the walls with the bottom floor between them – DON'T DO THAT – shortly after the bottom fell out and I had to cut a second bottom and place the sides on top of it.  Just trying to save you a painful mistake.

My gorgeous little DIY Diva Jr. got into the action and helped by sanding her sister's house.
I went with the KILZ primer again – oil based and smelly, but it really does make painting over it a breeze.
I lucked out and found some great mis-tints at Home Depot and came home with a few jars for a dollar each.  I used a greige for the loft, Chloe chose a pale pink for the bedroom and then decided the main floor needed to be bold and we combined a few colours to get this teal.
At this point, supplies for the build had me at $86 Cdn – that's for the MDF, primer, mis-tint paint and castors – a far cry from the $350 to $700 versions I've seen online.
What to do for flooring though? – this could break the bank.
Friends suggested I put in hardwood floors – and I tossed around the idea of using paint stir sticks, staining them and then adhering them to the floors.  While that was on my mind, I thought I'd price out what actual (laminate) flooring would cost – I mean, I only needed 18 square feet…
Then Chloe saw these:
and the heavens opened and my wallet breathed a sigh of relief!  These are 12″ peel and stick tiles and they range in price from $0.60 to $1.34 each.  No work, very little investment and the best part – Chloe thinks it was entirely her idea!  Whew!
She was disappointed that I didn't include room dividers in my build, but when you see the size of the furniture, you'll understand why:
The loft became the family room (for now).
The main floor (which was sized to fit the wardrobe) is Kit's bedroom:
and the lowest floor is the salon.  Chloe selected out flooring to delineate the room into a kitchen and family room – open concept – but until I've built her some counters, she was willing to use it as an in-house spa;
I know, the loft bed I built in this post isn't shown.  It would have fit in the bedroom, but then the doll couldn't sit up in bed – and that was an issue.
This doll has it pretty good eh?
I wish I had a loft family room with big screen TV.
The windows still need to be trimmed out and it could use one or two tweaks – but overall, I'm pretty pleased – and Chloe is through the roof.
The additional peel-and-stick tiles came in at about $15 Cdn, so the grand total investment was $101 Cdn.  I started building our DIY dollhouse on Friday and she was playing with it in her room on Sunday.
Not bad for a weekend project?
This WILL come up on Mother's Day – I have to have banked some "Super-Mom" points on this one!
Have a great one!
Linked to:
Sours: https://100things2do.ca/american-girl-dollhouse/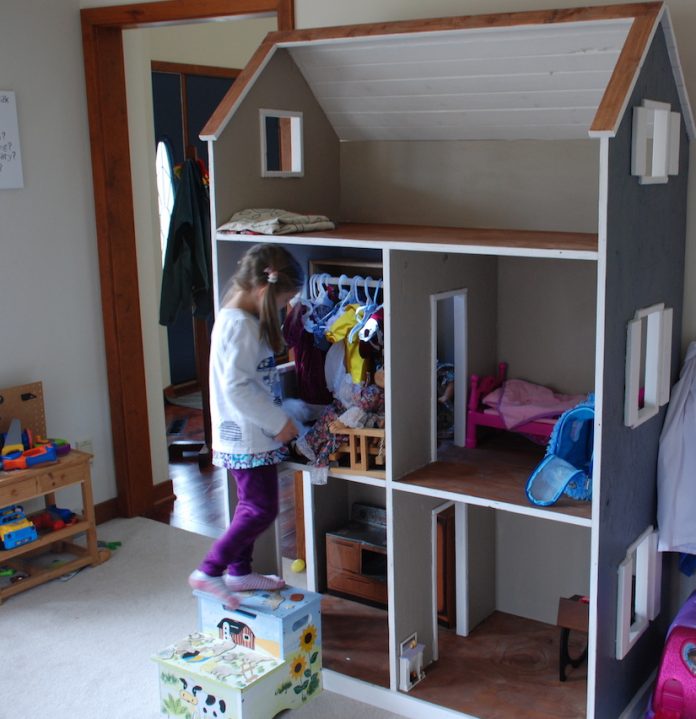 Each holiday season we like to think we're elves and break out the tools and make our children's main Christmas gifts by hand. You can read all about this tradition in our Hand-Made Holiday Gift Tradition article. This article focuses on showing you how we made our children a huge doll house.
My wife was given a "Samantha" American Girl doll when she was young and she had always dreamed of a doll house that would be just her size. My wife's mother saved this doll for decades and on our daughter's 4th Christmas my wife gifted her "Samantha". We decided our handmade gift for her that year would be a doll house to accompany her "new" doll.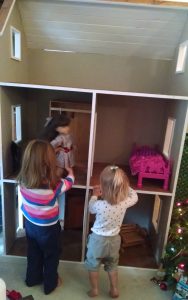 After looking at some pre-made doll houses (which are rather shallow and still require assembly) we decided building a home for Samantha would be a great gift for our daughter.
We followed Ana White's free online plans and the whole thing took us one weekend and we shaved about $50 off of Ana's $150 total cost estimate by using a rougher cut plywood than recommended and using left over house paint and stain to finish it. We had the friendly guys in the lumber department of our local big box hardware store make the main cuts on our plywood sheet before we left the store. They do this for free and it saved us time and allowed us to easily fit all supplies in our SUV.
With the main plywood cut down we just angled the side pieces for the roof and used a jigsaw to cut out windows and doorways. Once you screw it all together, you use small wood strips for trimming the windows and doorways. We used my air nailer for the roof and trim pieces so things went quickly.
Advertisement - Scroll to Continue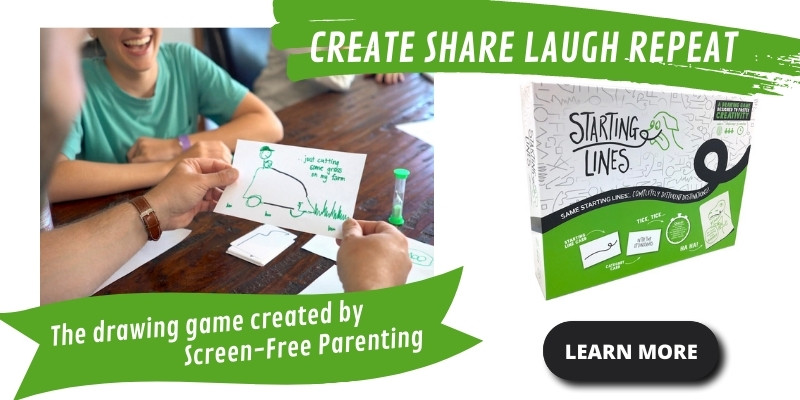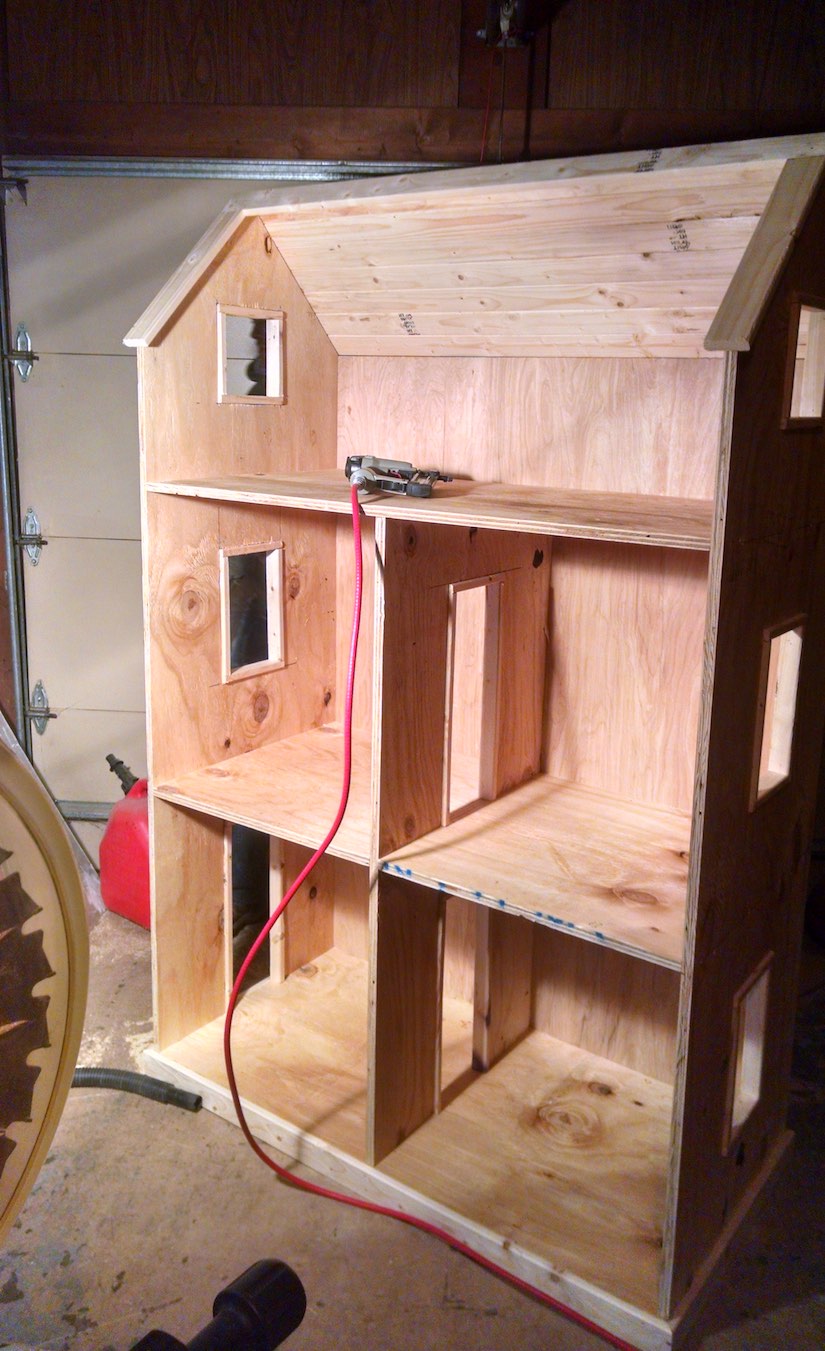 Some toekick trim goes around the bottom and a simple 1×3 boards roof goes on. Add some paint and stain and it's done. We had extra roof board 1x3s left so we added window shutters.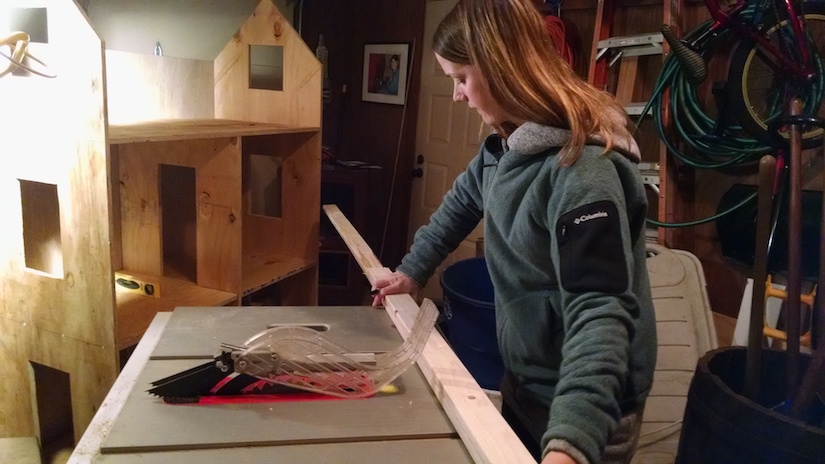 Ana's plans are in amazing detail and the final product is very sturdy. Kids (and I) can climb in to any room including the loft without any concern.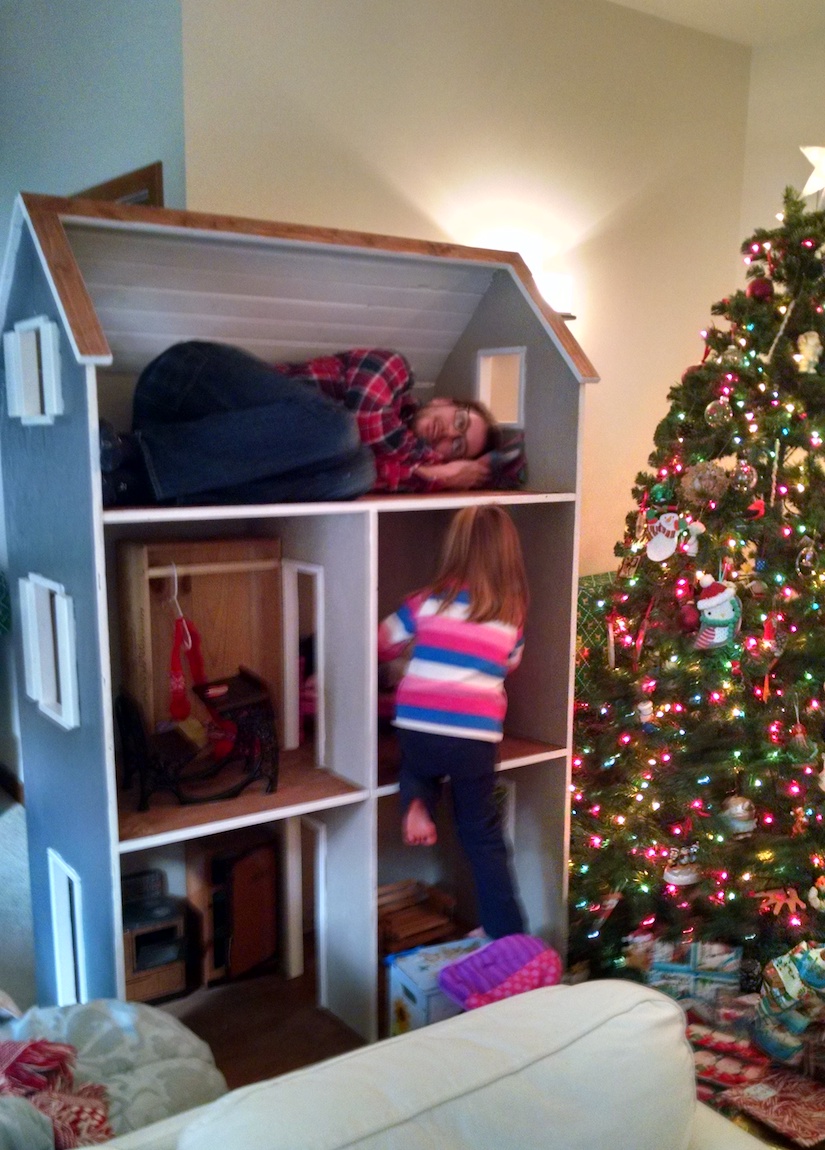 Make sure you've got room for this thing. It is massive! I do love it's size because it can serve as a home for all things doll related. Notice I said "can serve" because of course, doll stuff can be found in almost every room of our house.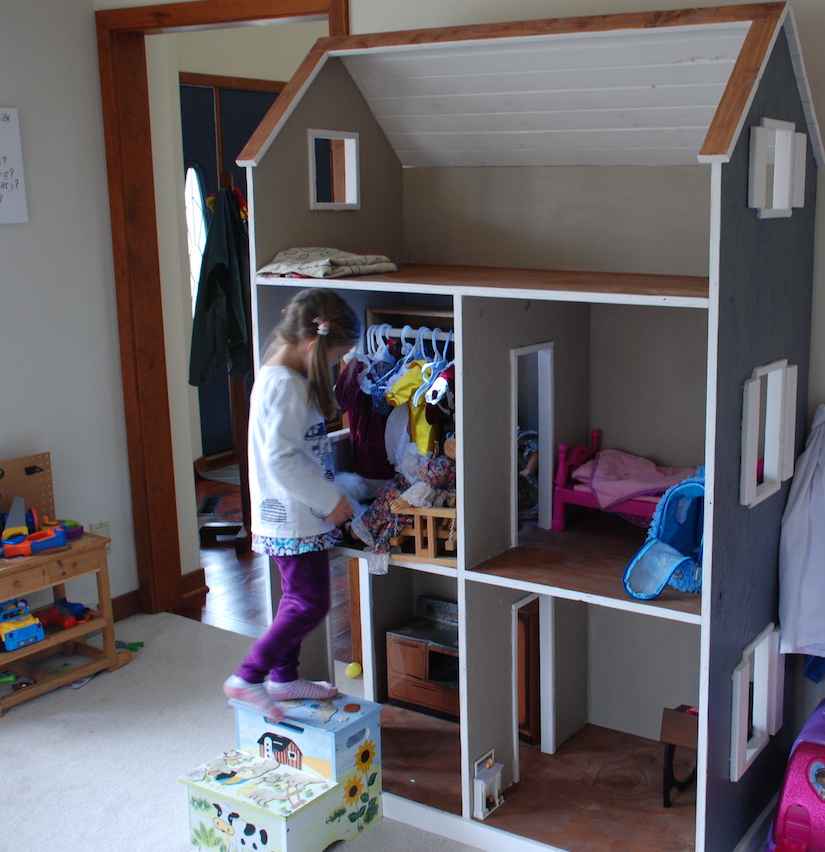 If you want to make your kids a homemade gift, but don't like this idea, check out our other DIY gifts in The Hand-Made Holiday Gift Tradition – DIY Christmas Gifts for Kids. Good luck!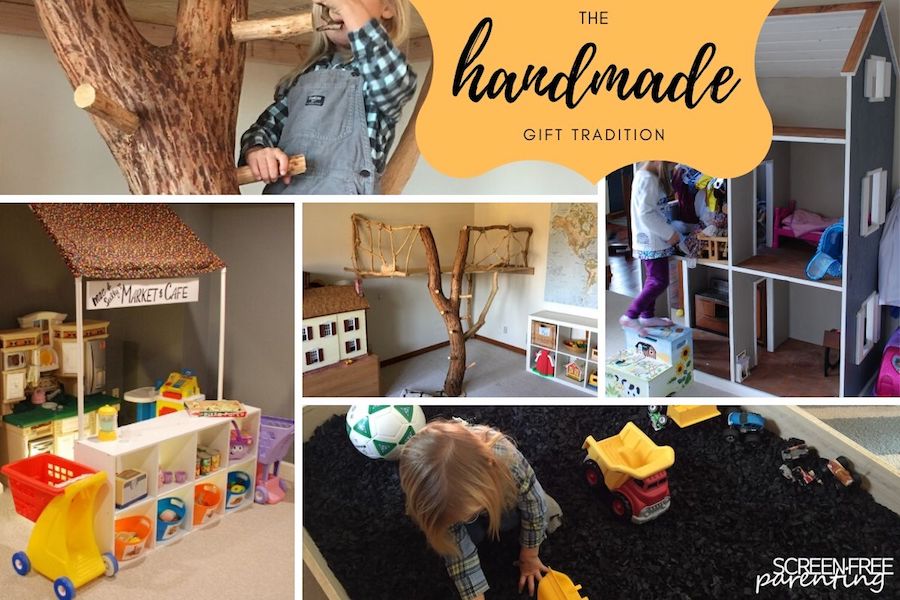 Advertisement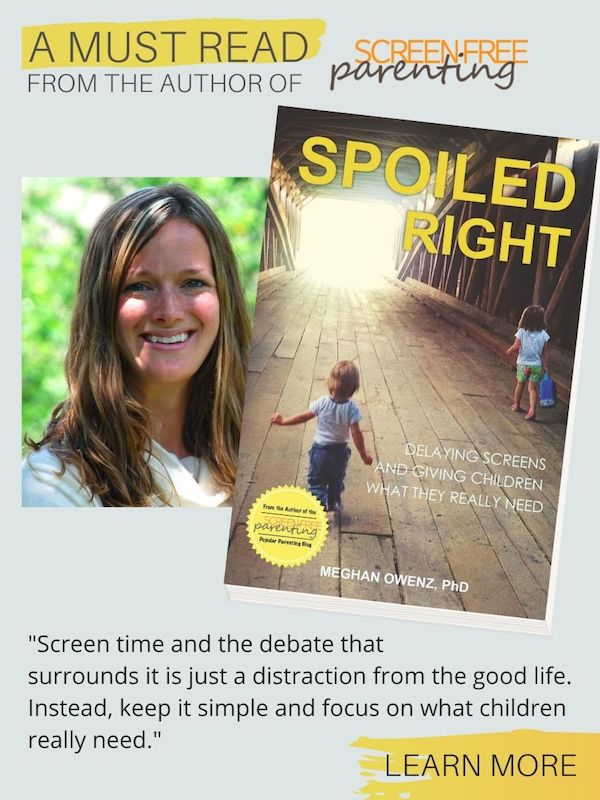 Sours: https://www.screenfreeparenting.com/how-to-make-a-huge-doll-house-for-18-dolls/
Smaller Version of this Dollhouse
Want to build an American Girl Dollhouse, but in a smaller version?  We have created a new plan that is very similar, but only two stories.  I found my daughter couldn't reach that third story, so the shorter version worked better for us.
Does your child love American Girl or 18" dolls?
American Girl dollhouses are outrageously expensive.  Have you considered a DIY dollhouse?
American Girl Dollhouse Features
Easy to build with about $150 in materials
All plywood construction - so will last much longer than an MDF or particle board dollhouse
Fun to customize and decorate
Can add casters so easy to move
Plans are easy to modify - so you can make it a two story dollhouse or change up the size
Lots of reader submitted photos and success stories
How to Build the Dollhouse
Here's how we built our DIY dollhouse -
Rip Plywood for Sides and Shelves
We cut the plywood into strips 23-3/4" wide by 8 feet long.  You'll get four strips from the two sheets of plywood.  Have your home improvement store do this for you if you don't have a table saw or a truck, just make sure the strips are exactly the same width.
Then cut the tops into the house shape for the two sides.  
Cut Doors and Windows Out
Then to cut the doors and windows out,
I drew the windows and doors out on each of the panels, and then drilled holes on each side, inside the lines,
Then it's just a matter of connecting the dots,
With a jigsaw.
Cutting out the windows and doors was probably the most time consuming part of this whole project.
Assemble the Dollhouse

I used a Kreg Jig to assemble the pieces.  There's not alot of joints, but because the pieces are so huge, it was a little cumbersome - but nothing I couldn't manage on my own.  You don't have to use a Kreg Jig - you can also use 2" self tapping wood screws.
Window and Door Trim
The window and door trim makes a huge difference on the dollhouse.  Here's how I built it -
I nailed together 1x2 "boxes" first with 1-1/4" brad nails and glue.  
Then I just placed the trim in the openings and nailed to the plywood edges.
Our happy client made a few requests that aren't in this plan - we did not add the bottom trim and used caster wheels instead.  And instead of the two rooms upstairs, we made one full room upstairs (but had to add a 1x2 at the top to support the 1/4" plywood on the back.
How We Finished the Dollhouse
I also added veneer edge banding to all exposed plywood edges to finish them off.
For the floors inside the dollhouse, we wanted to keep the wood, so we used Rustoleum Wood Stain in Dark Walnut.
It's a one step - just apply and wipe off.  Easy enough for my seven year old to help out!
We also applied RustOleum polyurethane over the stain to protect the floors (just like a real wood floor!!!).
Then we taped over the floors with painter's tape (until we ran out and had to use duct tape) and newspaper,
A quick sanding, and she's ready for primer!
Jacob sprayed the dollhouse with primer,
And then I painted carefully the blue exterior paint on the outsides.
We LOVED how it turned out!!!!
But we wanted the roof to stand out a little more,
So I picked up some RustOleum textured spray paint and sprayed the roof.  It loos like roofing!!!
Related: American Girl Dollhouse for Small Spaces
This dollhouse plan is VERY big.  If you need a smaller dollhouse, we have one other plan that would fit in almost any space.
The rooms are not full depth, but I found my daughter preferred to play on the floor with her dolls, and just used the dollhouse to store and display her American Girls and their accessories.
You can find the free plans for the smaller American Girl Dollhouse here.
American Girl Dollhouse Plans
The plans for this dollhouse follow.  You can easily customize to different size and of course, paint or stain any way you imagine.
Pin For Later! 
Sours: https://ana-white.com/woodworking-projects/american-girl-dollhouse-fits-18-dolls
HUGE AMERICAN DOLL HOUSE TOUR *UPDATED 2019*
How to make an AG-Style 18″ Doll House Under $150
Let me say from the start that Cameron and I love American Girl. Simply adore it. What I do not love, however, are their prices. It's not such a problem for Cam. She's 6 and thinks a bank card equals money in the bank. Go figure…
Anyway, Cami had 2 American Girl dolls, 3 Madame Alexander dolls, an Our Generation, and a Journey Girl. And all of their various "stuff", including 2 beds, a dresser, a salon chair, and a Christmas Wish List for a kitchen and bathroom. Now would be a good time to mention that we live in a townhome. They aren't known for the huge bedrooms… We bought her a loft bed, just so that she would have space to play in her room. Clearly, storage of all this was going to be an issue.
Enter, Target, and their Our Generation Wooden Dollhouse.
It's beautiful; it really is. And at $100, the price tag wasn't too bad either, but two rooms? Unless those 7 dolls were going to take dorm living to a whole new level, it wasn't going to work.
Then I found Pinterest. A huge thank you to all those who share their ideas, for free, just to help others out! I found a couple of great ideas and got to work.
Here are the plans we used: Cami's Craft Corner Dollhouse Plans
Home Depot sells various types of wood in 4 x 8 boards, and, get this, they will cut it for you, for free! We took in our blueprints and selected our wood. We chose this one:
There are thicker and fancier wood choices, but this fit our budget and we didn't want it to weigh too much. I believe I mentioned earlier that I'm cheap.
We needed two pieces. The first, we had cut into four 48 inch by 18 inch panels and two 22 inch by 18 inch panels, for the floor/ceilings and room dividers. The second piece we had cut into two 67 inch by 18 inch panels, for the sides.
Once the wood was cut, we swung past the paint aisle and picked up a gallon of this:
Perfect for what we needed and only $13.97 a gallon.
Next aisle: Press and Stick Flooring. We chose some 18 inch by 18 inch panels, because they would fit best, with the least cutting. But we ended up with mostly 12 x 12 inch ones. We used three 18 x 18 stone look for the bottom floor kitchen and dining area ($2.68 each), one 18 x 18 tile look for her bathroom ($2.68) and ten 12 x 12 hardwood-look panels for the rest of the house (.79 each).
Our total for wood, paint, flooring, and screws (which we didn't use, but more on that later) was $105.54
When we were ready to start, we first laid the boards out on the living room floor, the way we thought they would look put together. By leaning them against furniture and ourselves, we were able to get a good mock up going. Once we had the bottom floor and sides arranged, we put in a divider and placed the next floor on top. Then we traced where the floor met the walls. Next we put in the next divider, set the next floor on top, then traced where the floor met the walls again. Be sure to write on your dividers and floors which ones they are, just in case there's a slight difference in divider height! We also drew arrows to indicate which end was up on the side panels.
Once we were done that, we could let the boards drop. (Still sporting a healthy shin bruise for not moving quickly enough, by the way).
Placing a doll (We used a Madam Alexander Doll because it's slightly taller than American Girl Dolls) by each "floor" line, we decided how high up to make the windows. We also needed to decide how big to make them. We went with 5 x7 inches (which is also the exact size of the glass in the picture frames).
Likewise, we placed a doll on the room dividers to decide how wide to make the doorways. We went with 8 inches across and 20 inches at the highest point of the archway. We used the paint bucket to make a nice arch.
At this point, we needed a little outside help. Luckily, I'm a teacher (one of the reasons for the aforementioned cheapness) so I had help in the form of our wonderful STEM teacher, Steve, who took an afternoon of his time to cut out the windows and doors.
If you know someone with the tools to do this, start sucking up now. Or, you can certainly omit this step. I don't think any kid will turn up their nose at the finished product just because it doesn't have real windows or doorways.
When I brought these back home, the next step was painting. Glad we went with the gallon because that wood was THIRSTY. We used 3 coats. The 3rd maybe wasn't technically necessary, but we know our kid. Better safe than sorry.
While we had the paint out, we also added a quick side step and made her a dining room table. Grab an unfinished wood plaque and candlestick from AC Moore or Michael's Arts & Crafts, glue together (we used liquid nail to make it stronger), and paint. With 40% off coupons, it's less than $10 (compared to a $50 American Girl table, it's a steal)


Okay, now we were ready to get down to business. Since this was a Christmas present, we kicked the kid out of her room on December 23rd, under the guise of building her a "special bookshelf" for Christmas. While I'm sure that you may be able to build this elsewhere and move it, I wouldn't advise it. It's huge AND heavy. Not really ideal for moving around.
We started by arranging the boards again on the floor and attempting to screw the bottom floor to the two sides. My husband insisted on using screws in case we ever wanted to "take it apart". Um, okay… Problem. The boards started to separate when we used screws. In hindsight, my husband thinks that this might not have happened if we had used a drill to make pre-made holes, but we didn't have a bit for that, so we turned to nails…lots of them.
We used 3-4 nails to attach each end of the floors to the sides. We didn't get too close to the edges of the floors, in case that would make them separate, so I would say the first and last nails are about 2 inches back from the edges.
After attaching the bottom to the two sides, we put on the press and stick flooring. It's important to remember to do that before you put in the room divider! Next we put in the room divider and nailed that in place (through the floor) as well. We put on the next floor and nailed the sides in place, as well as nailing to the top of the bottom room divider.
At this point, this thing was a little shaky… and so was my husband. He was terrified that the nails wouldn't be sturdy enough to keep the whole thing together and tilt it up toward the wall without it collapsing. So we decided to put the top piece on, pray, and lift it up:

Ta-dah! Me and my blueprints: 1, Henny Penny: 0
To be fair, it was leaning a bit towards her bed, so we put some extra wood from the deck between the two, while we continued the build. Also, we have it sitting on top of a spare plank, just to keep the surface flat (since we were working on carpet).
Moving on. We added the press and seal floors to this level (covering up the nail holes from the divider) and added the next divider. Since that one tile square was to be a bathroom, I moved the divider over there, making a smallish bathroom and large bedroom. We nailed the divider into place, added the last floor, and once again, nailed the floor to the sides and to the top of the divider. After we added the flooring it was BREAK TIME.
We needed a minute to relax, eat, and convince the kids that we had not, in fact, killed each other, no matter how much banging, thumping around, and swearing they may have heard through the closed door. We added some of her doll furniture for scale and to send pics to the friends who were sure that we were going to kill each other. Not going to lie, people, make sure your marriage or friendship is strong before a project like this 😉


After the break, my husband ran over to Home Depot for the back pieces. We used "Thrifty White Panel Board". Forgot to snap a pic, so here's the sku: 765096003006. And "Panel Nails", sku 764666000131. $13.38 and $2.37, respectively. This is where we get into "If only I knew then what I know now" territory. These boards, like everything else, are sold in 4 x 8 panels. Our house ended up being 67 inches X 50 inches, or 2 inches too wide to use one board.
If you decide to cut the floors down to 46 inches long, instead of 48, I'm not judging… While you're making changes, you may also decide to make it deeper, maybe 22 inches (so that you can turn the doll beds length-wise), but our daughter's arms aren't that long yet, so we're good as it is.
Anyway, because we didn't know at the time, we needed two boards, cut into 67 x 25 pieces. Grrr…
We but the back pieces on and used countless nails to hammer it on, around the edges and where it met the floors (think of putting the back on a bookcase), and painted a first coat on the exposed front edges of the house.
We then decided that we had put our ten years of marriage to the test enough for one night. We put some heavy books and things on the floors to make sure they stuck well and turned in. You may notice my arch nemesis of a wood plank in the middle right hand corner…

Finally, it was Christmas Eve, crunch time. We put the final coats on the exposed edges and used Dollar Tree picture frames (5 x 7) to glue around the windows. We chose to leave the glass out, but that's up to you.

Our final effort was to do some staging with some of the furniture she had already, plus her new table!


Christmas Morning!!

Total Excitement!

It's Pretty Big…
All Moved in, with Her New Kitchen and Bathroom Set!
With painting, this project took two very unskilled people three days. Seriously, we go into Home Depot for light bulbs and furnace filters. That's it. But we ended up with an awesome, and very sturdy (in case you're wondering) dollhouse, and a thrilled 6 year old. I've tried to recap it as well as I could, but I'll be happy to answer any questions posted.
Also, while we have sprung for two American Girl dolls, almost all of my daughter's doll accessories and furniture come from Target (Our Generation Kitchen, Bathroom, Dresser, Daybed with Trundle, Salon Chair, Horse, and Scooter), Wal-Mart (My Life As Bunkbeds) and ToysRus (Journey Girls Puppy Set and Bicycle). Stay thrifty!
Special Thanks to the wonderful folks at the Edgewood, MD Home Depot and the best STEM teacher, ever, Steve !
Feel free to share this page, but please link back to this site. If you make your own, I would love to see how it turns out!
Once again, here are the plans we used: Cami's Craft Corner Dollhouse Plans
UPDATES 
We finally got around to adding some flair to the rooms! We caught a scrapbook paper sale at Michael's Arts & Crafts, and printed some of our favorite pics off of our Pinterest boards. Definitely feels like "home" now!
Sours: https://camiscraftcorner.com/how-to-make-an-ag-style-18-doll-house-under-150/
House plans doll 18
Here, already naked, as if under hypnosis, with her eyes thrown back and lush hair, lay my prey. Taking a pillow, I put it comfortably under her head. I rejoiced and enjoyed the unforeseen beauty of a female body, that such beauty is in my hands and at my disposal Without missing a.
Second, I caressed her lips, ears going down her body. Hard nipples clung to my tongue.
HUGE AMERICAN DOLL HOUSE TOUR *UPDATED 2019*
Not bad - a variant of trouble that didnt promise. Here are just some kind of sloppy music in the car playing - something incomprehensible gurgles, a guttural howl - that's a goat, he can't buy a normal Mouzon. -Uncle, you would put cho normal. The ears are sad.
Now discussing:
People know how. we have no sex. There is. and what a.
3095
3096
3097
3098
3099