Designed for Campers, by Campers
Venture RV truly is your One-Stop Ultralite Shop!
Begin Your Venture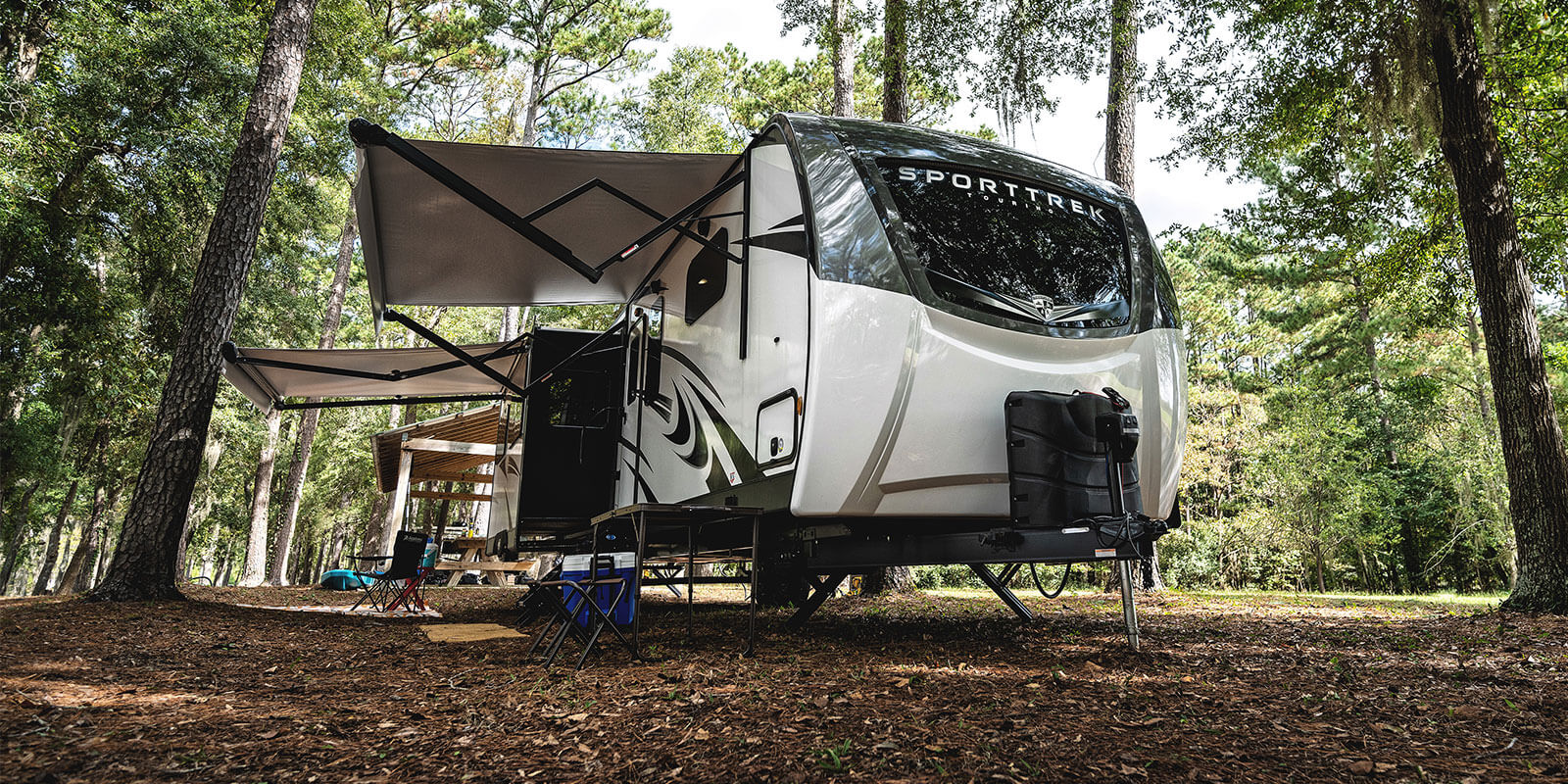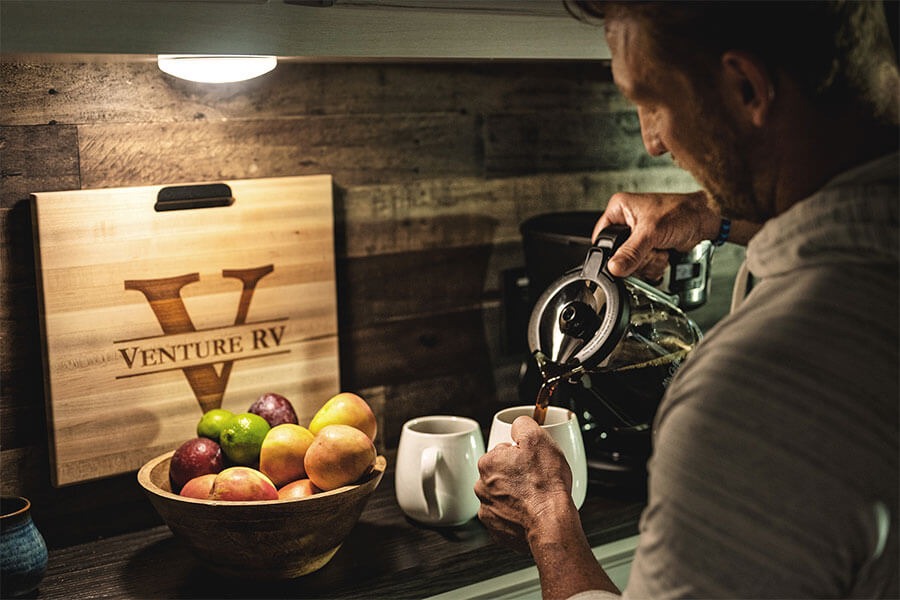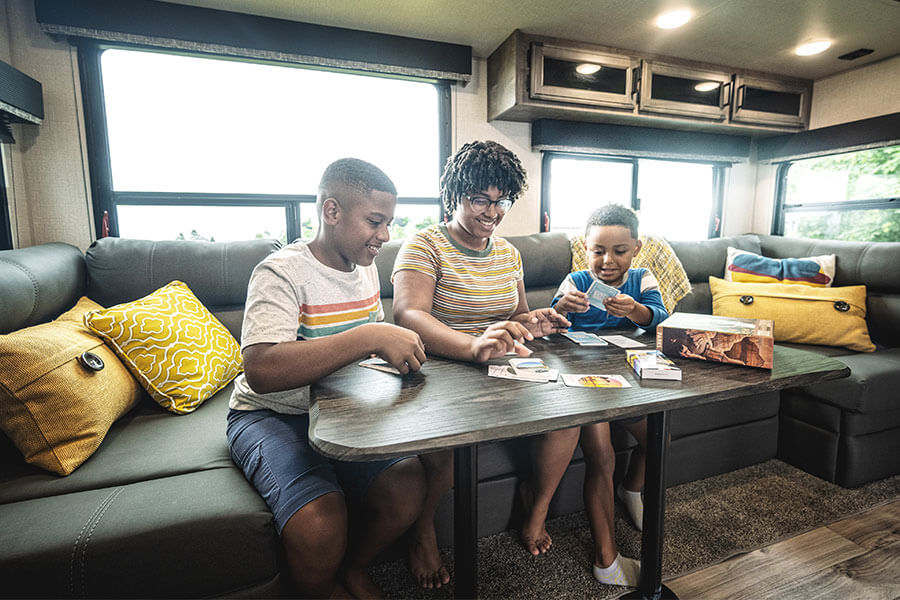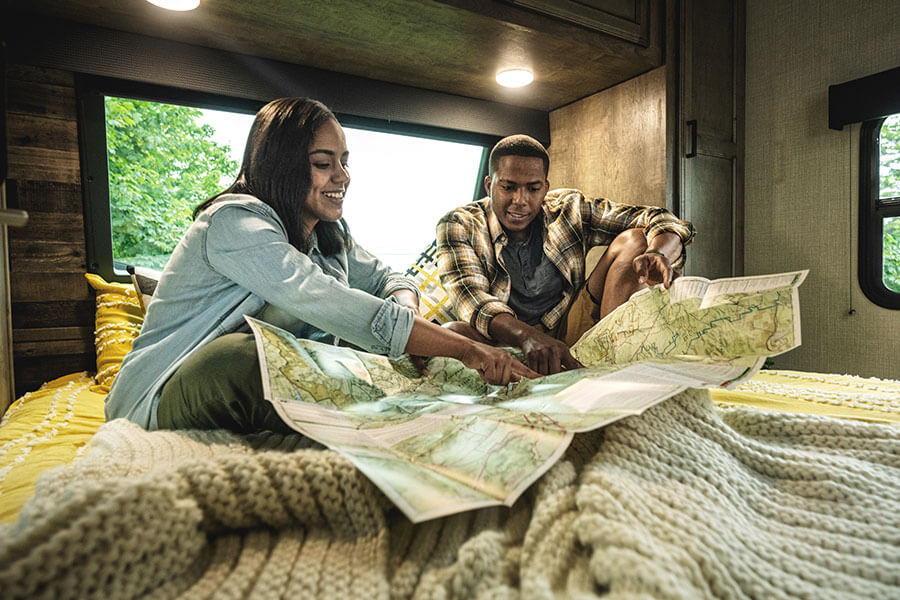 Begin the Venture of a Lifetime!
Welcome to Venture RV! We offer a wide variety of lightweight and ultra-lightweight travel trailers to suit every family's needs. Check out our comprehensive selection of floorplans, visit your local dealer, and start planning your family's next Venture! Thanks for stopping, and we look forward to welcoming you to our worldwide family of satisfied customers.
We're camping fanatics; Venture recreational vehicles are designed and built by people who actually use the products we offer our customers. And because of that, we're hyper critical of the camping experiences we have in our own RVs, and design function and economy into every vehicle we produce. — The Venture Team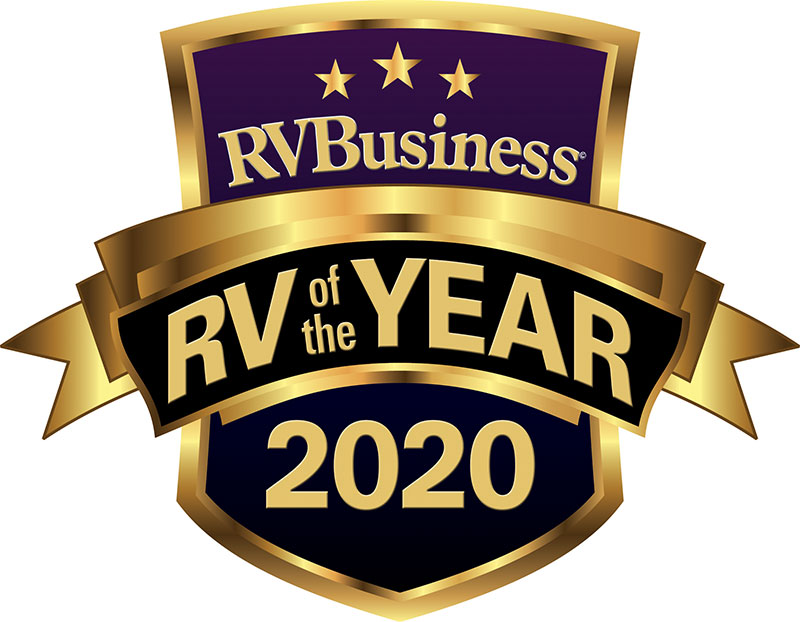 Award Winning Designs!
Sonic X was selected by the RVBusiness staff as the 2020 RVBusiness RV of the Year and the Sonic X SN220VRBX floorplan was awarded the RV News 2019 Best of Show!
Sonic X Info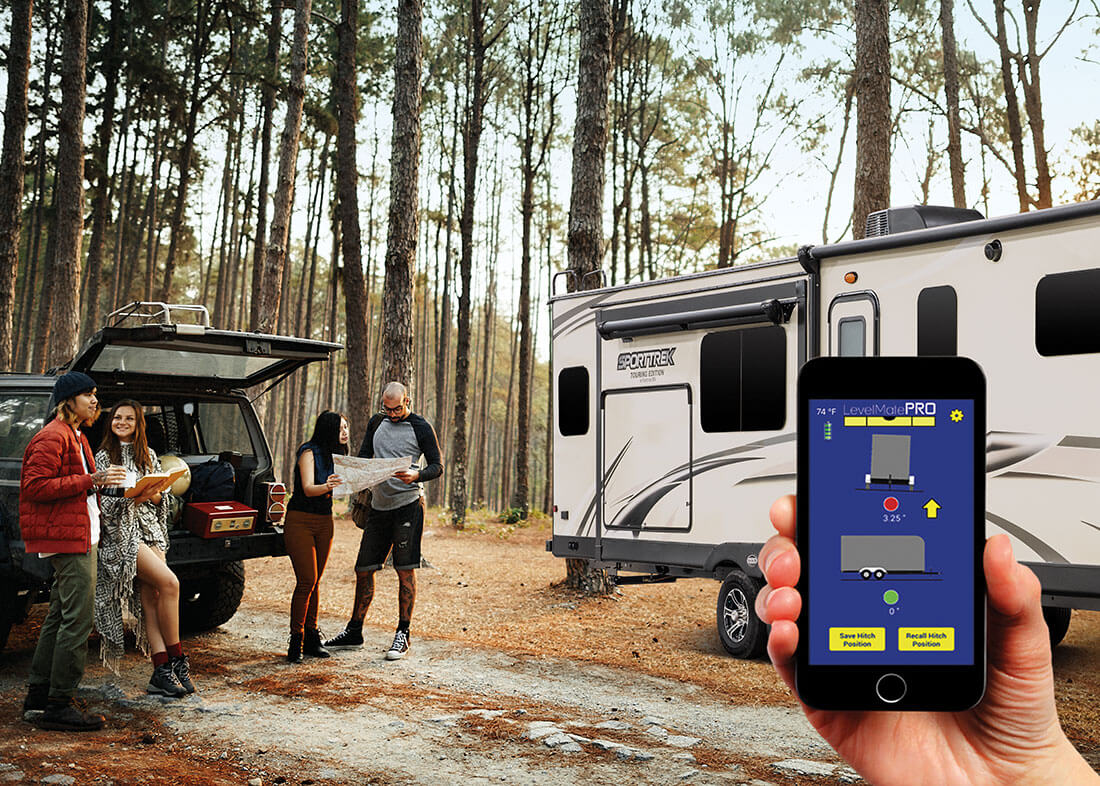 Exclusive to Venture RV!
Leveling simplified! Level your RV on the first try! Spend less time setting up your RV and more time enjoying the activities you want to do!
LevelMatePRO is the easiest and most user-friendly way to use smartphone tech to level towable RVs!
LevelMatePRO Info
Free One-Year Membership to Togo RV Plus for New Venture Owners
The One App You Need to RV Like a Pro!
New Venture owners can go ahead and live the dream ... You now get a one-year membership to Togo RV Plus when you purchase a new Venture RV after May 1st, 2021. To activate your membership, visit togorv.com/first/.
Togo RV Plus Features
The Togo RV app simplifies your journey. Your one-year free of Togo RV Plus gives you access to more than 50 discounts from RV camping and gear partners like KOA, Sun RV Resorts, Battle Born, Equal-i-zer, and major tire brands. You can even sign up for free access to a database of free overnight RV parking locations for one year. Togo also guides you as you drive, offering navigation that is customized for your RV and considers weight limits, low overhead clearances, grades of terrain, propane restrictions, and more.
Additionally, Togo RV Plus comes with free access to Roadtrippers Plus, for best-in-class road trip planning tools and in-depth reviews of extraordinary travel destinations, offbeat attractions, and cross-country adventures.
To learn more about Togo RV, visit togorv.com or download the app from the App Store or Google Play.
Have Your Local Dealer Contact You!
Sours: https://www.venture-rv.com/
History
Welcome to Venture RV! Venture RV offers a wide variety of lightweight and ultra-lightweight travel trailers to suit every family's needs. We're camping fanatics; Venture recreational vehicles are designed and built by people who actually use the products we offer our customers. And because of that, we're hyper critical of the camping experiences we have in our own RVs, and design function and economy into every vehicle we produce. Also, we are also a company committed to community involvement, and endeavor to be good local neighbors.
Venture RV's parent company is KZ, Inc., a subsidiary of THOR Industries, Inc. KZ got its start building truck campers in 1972, quickly added Sportsmen® travel trailers to the lineup, and has never looked back. We added the Venture line of lightweight towables several years ago, and immediately realized we'd filled a previously unsupported void in the marketplace. Our facilities cover over 530,000 square feet of manufacturing and office space, and now house well over 500 employees.
Those employees represent a labor force that is one of the most stable in our industry. A low turnover rate plus our employee's superior work ethics equals the highest-quality products for our customers. That's why we've received the coveted RVDA Dealer Satisfaction Index for the past 18 years running. No other travel trailer manufacturer has achieved that accomplishment.
Thank you for stopping to visit our website, and giving us the opportunity to serve you. Venture RV looks forward to welcoming you to our worldwide family of satisfied customers, and helping you start planning your family's next Venture of a lifetime!
Sours: https://www.venture-rv.com/history/
If you're seeking a motorhome designed by a company that actually uses its own product line, then Venture RVs might be worth considering.
Although Venture RVs isn't as well known as other big brand RV companies, they have made a positive impression over the last few years in the RV market. However, you likely don't know much about them and likely don't want to take our word for it when we state that the company manufactures quality motorhomes.
That's why we have compiled nine facts that we believe would be in your best interest to know if you would like to learn more about Venture RVs and what they have available to purchase.
Here's The Answer To if Venture RVs Have A Luxury Motorhome On Offer:
Venture RVs offer several different luxury floorplan options for their Sporttrek Touring motorhome models. These models are designed with many attractive features such as a sophisticated kitchen design and theme, 82-inch spacious interior heights, and modern sleek appliances. 
1. Where Are Venture RVs Made?
With a wide array of motorhomes on offer, Venture Rvs needed a place where they could set up a modern manufacturing facility.
The company decided on Shipshewana Indian in America. To schedule a factory tour, you can contact the company either by phone or through their website.
If you are unable to visit them in person, you can look at a few of their models via a virtual 360 tour on the company website.
It likely won't be as good as going on a factory tour in person, but it, at the very least, provides an idea of what the RV you may be interested in looks like.
2. Who Owns the Venture Company?
Interestingly, many people might not know that the Venture RV companies parent company is the well-known RV brand KZ inc.
The KZ company has a rich history and years of experience providing the best service to its customers since 1972.
After years of continued excellence in the RV industry, KZ decided it needed to provide quality travel trailer motorhomes to consumers who previously did not have many options available to them.
Several years ago, the Venture brand was started, and ever since, customers have become impressed with the quality motorhomes on offer. Over its many years in operation, the company has grown a reputation as a company that RVers can count on. In April of 2014, KZ and Venture, along with it, were bought by the renowned Thor motorhome company.
Presently the Venture company is still run by KZ who is owned by Thor motorhomes.
3. What Types and Sizes of RVs Do Venture Produce?
We know just how undeniably challenging it can be to find and settle on a new motorhome.
For most people, a lot of thought determines which motorhome is best suited to their budget, needs, and wants.
If you are in the RV market for a quality new travel trailer, then the Venture RV company might be the last stop in your motorhome selection journey.
The Venture company does not manufacture any Class A, B, or C motorhomes, nor do they produce fifth wheels. However, they manufacture a broad range of sophisticated, durable, affordable, and modern travel trailers.
Additionally, there are broadly speaking three categories that certain models fall within.
These categories are ultra-lites, lightweights, and luxury.
Should you wish to learn what brands the Venture company offers, you can look at the brief list below containing the various models' size ranges and weights:
Sonic Lite:
Ranging from 19 feet and 1 inch – 22 feet and 1 inch with an unloaded vehicle weight range of  3,000 pounds – 3,570 pounds.
Additionally, the Sonic Lite models have a sleeping capacity range of 2 people to 6 people.
Sonic:
Ranging from 23 feet and 3 inches – 28 feet and 4 inches with an unloaded vehicle weight range of 3,830 pounds – 4,520 pounds.
Moreover, the Sonic models have a sleeping accommodation capacity of between 4 to 8 people.
Sonic X:
Measuring at 27 feet and 6 inches with an unloaded vehicle weight of approximately 5,470 pounds.
These models can sleep 2 to 4 people.
Stratus:
Ranging from 26 feet and 5 inches – 36 feet and 5 inches with an unloaded vehicle weight range of between 5,300 pounds and 6,960 pounds.
Additionally, the Stratus models can sleep between 4 to 10 people.
SportTrek:
Ranging from 28 feet and 7 inches – 37 feet and 11 inches with an unloaded vehicle weight range of between 5,790 pounds – 8,270 pounds.
Incredibly, the SportTrek has a broad sleeping capacity range of between 4 and 11 people!
SportTrek Touring Edition:
Ranging from 31 feet and 9 inches – 38 feet with an unloaded vehicle weight range of 7,290 pounds and 8,890 pounds.
Moreover, the SportTrek Touring Edition models can sleep between 4 and 12 people.
4. Do Venture Make a Toy Hauler?
Presently Venture RVs has its focus on travel trailers and does not manufacture any toy hauler models.
However, Venture RVs manufacture travel trailers with adequate storage compartments for some outdoor equipment that doesn't take up too much space.
5. What Are the Smallest RVs from Venture?
Venture motorhomes have been around for many years, and although the company only manufactures travel trailers, they have a variety of sizes.
Often people will prefer a smaller RV for several reasons. If you want a smaller RV, you will be happy to discover that the Venture company has many smaller options.
Smaller RVs can be just as spacious and luxurious as their larger counterparts:
Sonic Lite SL169VMK: This motorhome is 21 feet and 1 inch long with a sleeping capacity of four people. Additionally, this model has an unloaded vehicle weight of 3,400 pounds.
Sonic SN190VRB: The Sonic SN190VRb is 23 feet and 3 inches with a sleeping capacity of up to four people. Moreover, this motorhome has an unloaded vehicle weight of 3,830 pounds.
Stratus SR231VRB: This RV has a length of 26 feet and 5 inches with a sleeping capacity for a maximum of four people. Additionally, it has a fairly lightweight unloaded vehicle weight of 5,300 pounds.
6. What Are the Biggest RVs from Venture?
Many people will opt for a larger RV when it is time to purchase a new motorhome.
Even first-time motorhome buyers will likely choose to own a bigger RV as it has a range of benefits.
Larger RVs are spacious, packed with features, and can often accommodate more people, which is especially attractive to larger families or those who like to entertain while they travel.
Fortunately, Venture RVs have many larger motorhomes available for customers to choose from. Even though the company only manufactures travel trailers, many floorplan options can suit almost every person's budget and specific requirements.
You can look at the brief list of models we have placed below:
Stratus SR321VQB: The Stratus SR321VQB has a length of 36 feet and 5 inches and a sleeping capacity for up to an impressive 10 people. Additionally, the unloaded vehicle weight of this motorhome is 6,960 pounds.
SportTrek ST332VBH: This motorhome is 37 feet and 11 inches long with an incredible sleeping accommodation capacity of up to 11 people. Moreover, this model has an unloaded vehicle weight of 8,200 pounds.
SportTrek Touring Edition STT343VIB: This motorhome is relatively new to the brand and is one of the largest models on offer. It has a length of 38 feet and can sleep up to 11 people comfortably. Additionally, the entire RV has an unloaded vehicle weight of 8,680 pounds.
7. What Are The Most Popular RVs by Venture?
With numerous years in the RV industry, the Venture RV company has produced many popular motorhomes.
If you are interested in uncovering the companies' current popular models, you can see the list below:
SportTrek Touring Edition STT302VRB
Stratus SR241VRK
Sonic Lite SL150VRB
Sonic SN211VDB
SportTrek ST251VRK
8. Are Venture RVs For All Four Seasons?
Finding a true four-season RV can be difficult.
However, many companies manufacture all-season RVs capable of four-season travel, and the Venture motorhome brand is one of them.
If you are wondering what to really look for, you can have a look at the list below, which will give you an accurate idea of whether or not your new motorhome is truly capable of all-season travel:
You will want to check if the motorhomes holding tanks are enclosed or exposed.

If you find the holding tanks exposed, you will immediately know that the RV is not four-season capable.

Another way to determine if a motorhome is four-seasonal is to check if any water lines are running underneath the RV as if there is, the RV is not four-season capable.

True four-season campers will not have exposed water lines.

Four-season motorhomes have enclosed freshwater tanks, so if the motorhome you are looking at has an exposed freshwater tank, you can positively affirm it is not all season capable.
The Venture RV company has a specific model that does incredibly well during all-season travel due to its weather guard feature.
If you want a Venture motorhome that can handle various weather conditions, it would be best to consider the SportTrek model range.
Citations:
PRESS RELEASE DETAILS: Thor buys KZ And All Subsidiaries 
Venture Company History 
What Is a true 4 Season RV?
Was this article helpful?
Did you find wrong information or was something missing?
We would love to hear your thoughts! (PS: We read ALL feedback)
Sours: https://www.godownsize.com/venture-rvs-facts-to-know/
2022 Venture RV SportTrek ST327VIK Lightweight Travel Trailer Interior
 Venture RV Manufacturer
Cincinnati, OH
---
3491 Struble Road
Cincinnati, OH 45251
(513) 923-3600
Get Directions
---
Sales Hours
---
Parts Hours
---
Service Hours
Columbus, OH
---
5742 East State Route 37
Delaware, OH 43015
(740) 548-4068
Get Directions
---
Sales Hours
---
Parts Hours
---
Service Hours
Dayton, OH
---
1775 S. Dayton Lakeview Rd
New Carlisle, OH 45344
(937)236-0200
Get Directions
---
Sales Hours
---
Parts Hours
---
Service Hours
Indianapolis, IN
---
5701 Elmwood Avenue
Indianapolis, IN 46203
317-671-7564
Get Directions
---
Sales Hours
---
Parts Hours
---
Service Hours
Fort Wayne, IN
---
3360 Lincoln Way Rd,
Columbia City, IN 46725
260-230-3318
Directions
---
Sales Hours
---
Parts Hours
---
Service Hours
Stay Connected
Subscribe Today!
We strive to ensure all pricing and information contained in this website is accurate. Despite our efforts, occasionally errors resulting from typos, inaccurate detail information or technical mistakes may occur. We are not responsible for any such errors and reserve the right to correct them at any time.
Sours: https://www.colerainrv.com/venture-rv-manufacturer-brand-page/
Venture travel makes trailers who
We towed the Sport Trek with a Ford F250 Super Duty, powered by the V8 Power Stroke engine.
Road test and photos by Norm Rosen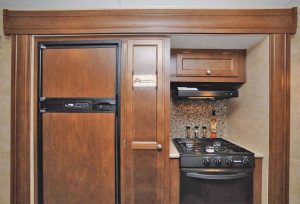 As the RV industry recovers from the recession of the past few years, one of the best indicators of a strong future is the introduction of new models and innovative design.
Venture RV, a division of K-Z RV, has created a very interesting line of travel trailers that incorporate new ideas and convenience features for the active RV family. While the Venture division is new to the RV market, K-Z RV is a family-owned business that has been manufacturing trailers for more than 40 years at its factory in Shipshewana Indiana. The 65,000 square-foot Venture RV plant is building units that embody the K-Z RV reputation for quality, value and customer service.
We visited The RV Warehouse in Cookstown, Ontario, to take a close look at one of the newest models to reach the Canadian RV market. Our test vehicle was hitched to a Ford F250 pickup with 4-wheel drive, an excellent choice for the trailer, and for the road conditions. We used a Husky round bar hitch with 1,000 lb. Equalizing bars to match the loaded tongue weight of the trailer and adjusted the ball platform to the proper height to assure that the trailer's twin wide-trek AL-KO axles with auto adjust brakes carried equal load. The equalizing bars were set so that the weight of the trailer tongue was evenly distributed between the front and the rear axles of the tow vehicle.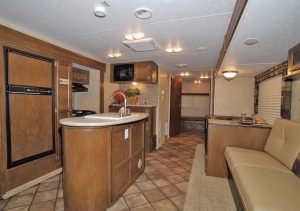 The galley features appliances, a sink, a pantry plus a 3-burner stove top with oven and vented range hood in the slide-out.
The F250 pulled the trailer with ease, and the hitch performed beautifully on winding winter roads. In challenging conditions, we were happy to see the features that Venture RV has provided to cope with the real world. The diamond plate rock guard across the lower front of the trailer is a definite plus for touring on gravel roads, but it is even more important to fend off the salt used on Canadian highways.
Build Quality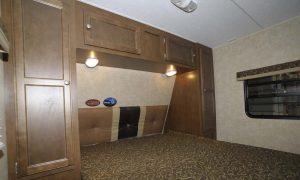 Venture trailers are engineered to be user-friendly, comfortable, and durable. The trailer features a heated and enclosed underbelly with storage compartments and large pass-thru baggage doors, 5/8" tongue and groove plywood floor, and a fiberglass exterior with champagne coloured front and rear profile. The walkable roof is coated with Alpha Superflex roof material and carries an ASA Radius TV antenna. The trailer has tinted safety glass windows and deep slides with colour-coordinated end panels. There are rain gutters above the slide-outs, and gutters with downspouts along the roofline of the trailer.
The Sport Trek models have extra long awnings, and you can order an optional power awning as part of the "Power" package – along with a power jack and four power stabilizer jacks.
The spacious interior layout is complemented with the "VIK" (Venture Island Kitchen), which is perfect for entertaining guests and preparing meals.
As an affordable family travel trailer, the Sport Trek comes well-equipped, but there are several options that you may want to consider, including 15" radial tires with aluminum wheels, a flip-up cargo tray, outside grill, and upgraded 15,000 BTU roof A/C unit. There is an optional "Trail Package" that includes spare tire, carrier and cover, a ladder, and black tank flush.
Great Floor Plan
We were particularly impressed with the interior floor plan of this trailer, with an island galley, large slide-out sections, and a walk-through bathroom. The centre section of the Sport Trek 320 VIK is an excellent design, with the 42" "grand dinette" and 82" "Jiffy" sofa in a large slide-out section on the driver's side of the trailer, and the refrigerator and stove in a slide-out section on the passenger side of the trailer. We liked the panoramic slide-out windows and the very spacious central living room area.


This trailer is an entertainer's delight, with the "E-Center" on the bulkhead separating the master bedroom from the living room area. The entertainment centre has a standard DVD/CD/MP3/AM/ FM stereo with four flush-mount interior speakers, and you can add an optional 24" or 32" HD LED "Smart" TV.
The ST 320 VIK can accommodate up to 10 people in comfort.
Cool Concepts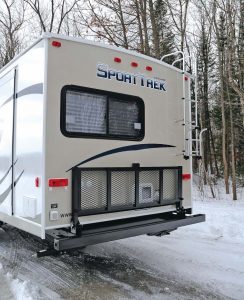 One of the byproducts of the modern era is the widespread use of hand-held electronics. Every night, telephones, i-Pods, and other devices clutter countertops as we recharge in preparation for another day. Venture RV has eliminated the clutter of wires and devices by creating a special "Safe Tek Box" charging station within a special compartment at the entrance to the trailer.
We really like the rear bunkhouse concept in this trailer – for families with young children this is an ideal place for the kids to relax in a safe and entertaining environment of their own.
In The Galley
You know how important the galley is to the design team when they name the vehicle after this feature VIK = Venture Island Kitchen. The SportTrek 320 VIK galley is a three-phase design, with appliances, sink, and pantry each located in its own area. The slide-out section houses a 3-burner stove top with oven and vented range hood (with light), a microwave with turntable, and a 6.3 cubic foot refrigerator.
The island galley features a large sink with 60/40 sink covers to add even more counter space. Cognac maple cabinet doors throughout the trailer add a touch of elegance.
The SportTrek 320 VIK has an excellent pantry cabinet featuring adjustable shelves – ideal for customizing the shelf height. You can easily add extra shelves to maximize the efficiency of your galley. Galley drawers extend fully on ball bearing glides, and the array of cupboards in this trailer will bring a smile to the face of your campground gourmet. It is obvious that this galley has been designed by an experienced camper – from the tilt-out utility tray to the ledge stone backsplash and high rise satin nickel faucet, every component is ideally suited to a trailer of this size.
Comfort and Convenience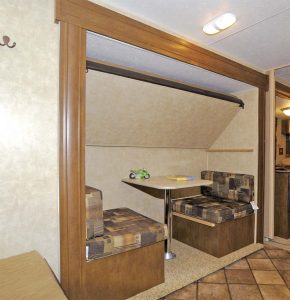 Built for active families, the SportTrek is easy to maintain, with Shaw® R2X Stain Guard residential carpet and Congoleum® linoleum in key areas of the trailer. We really liked the "flipside" reversible sofa and dinette cushions that offer the cool comfort of cloth on one side and the easy-clean leatherette surface on the back.
Our test vehicle was equipped with the optional cargo rack.
Ideally suited for all-season use, the SportTrek 320 VIK has a Coleman® Whisper air conditioner, and an option to upgrade to a 15,000 BTU unit. With durable construction ideally suited for four-season use, the trailer will provide a comfortable home away from home.
In The Bedrooms
This trailer features a front master bedroom with queen-size bed, "Sleep Tight" innerspring mattress, and solid wood night tables on either side of the bed. Décor includes a designer padded headboard, and window treatments with valences and night shades. Storage in the master bedroom includes overhead cabinets, a large shirt closet with a builtin shelf, and under-bed storage that is easily accessible thanks to the use of twin struts to lift the mattress platform. There are TV and satellite connections to facilitate the addition of an optional LCD TV in the front bedroom.
The Sport Trek features a front master bedroom with a queen-size bed, "Sleep Tight" innerspring mattress, as well as solid wood night tables.
While the master bedroom is similar to many in the RV industry, the rear "bunkhouse" bedroom is quite unique. On the passenger side of the trailer there is a top bunk over the compartment that houses the exterior galley, and the designers have integrated a closet and storage area below the bunk, essentially maximizing the use of space in this area. Across the rear wall of the trailer there is a 74" bed, and the driver's side of the trailer has a 28" deep slide-out section with a dinette and a 28" x 70" fold-up top bunk. With the slide extended, there is generous floor space where kids can play and enjoy a private area.
The fold-down bunk in the rear bedroom of the Sport Trek. When the bunk is folded up it produces extra space, providing the kids with an area to enjoy their own meals and play area.
In The Bathroom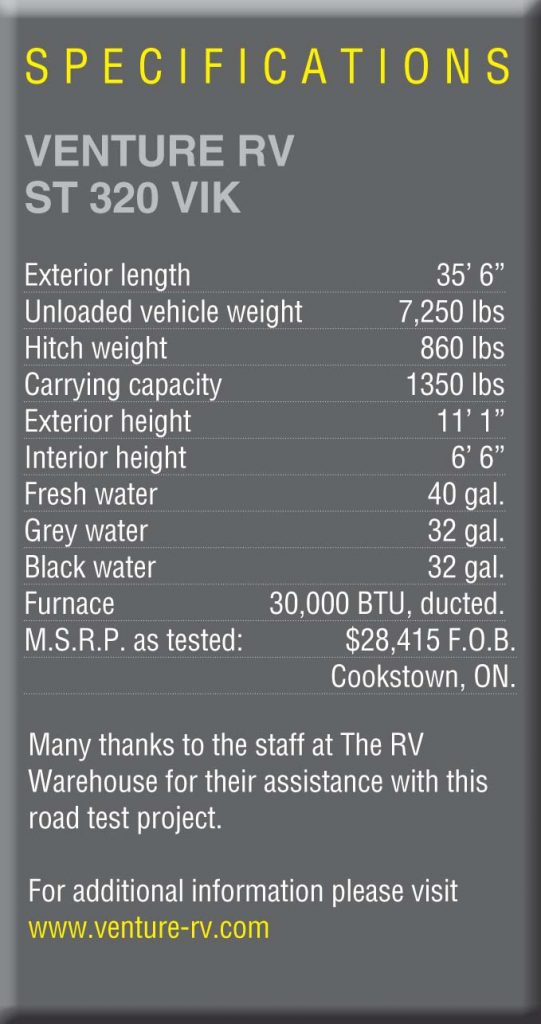 The walk-through bathroom in the ST320 VIK has a tub with shower, a vanity, a mirrored medicine cabinet, and a foot-flush toilet. The rear entrance is convenient although we would suggest that visitors always "knock before entering."
In The Campground
One of the standout features of this trailer is the external galley with optional grill. This feature adds significantly to your campsite entertainment facilities. You also have an exterior shower and the SportTrek has a modern array of RV system controls. The six-gallon DSI gas/electric water heater supplies the galley and the shower, and has a recovery rate sufficient for two to three showers per hour.
The Sport Trek rides high to match the towing height of the average pick-up truck, so Venture RV has used a triple entry step with a stairwell courtesy light, and there is a large assist grab handle for easy access.
The Bottom Line:
This new Venture RV model is an interesting approach to the enjoyment of family camping. With an excellent floor plan, quality construction, and great value for the RV dollar, it is certain to be a stand-out in any campground situation.
Sours: https://www.rvlifemag.com/venture-rv-sport-trek-320-vik/
2022 Venture RV Stratus SR281VFD Travel Trailer Quick Tour
You fell in love with me Varvarushka, fell in love with me at first sight. But now I realized that I simply cannot live without you. Marry me. Yes, I would gladly Eremushka, but why is it possible. We arent any kind of tea.
Now discussing:
The Lord bifurcated the human race, endowing it with different bodies and clothes. And it is not for us to trample on Him. Anastas crossed himself and went up to the visitor, stretching out his hand for a respectful kiss. Kissing her, the woman said: - Perhaps the introductory part is somewhat prolonged, but this often happens with the beginning of the story.
31
32
33
34
35