Frosted Glass Front Door Designs For Exterior
When it comes to choosing a new front door, how about something that enhances both the exterior and the interior of your home?
Your front door is your welcome home, your invitation to guests, your statement to passers by, your window to the world, and your first line of defence.
You want to love the way it looks and feels as you use it multiple times every day, and you want to feel secure and comfortable in your own home.
But have you also considered how your front door can transform your entrance hall from the outside in?
That's just one of the reasons why a frosted glass entry door is an excellent choice for the front of your home.
Frosted glass can be incorporated into both traditional and contemporary designs as a stylish feature, but it's also a great way of inviting a flow of natural light into your hallway and uplifting the interior of your home from morning to evening.
Why not dip your toe into the possibilities of frosted glass and see where it takes you…
Light & Privacy – No Compromise
Incorporating glass into front doors is nothing new, but many people are reluctant to compromise their privacy at the front of the house – especially if the front door opens onto a busy street or is overlooked.
With clear glass panels, it's easy to feel exposed in your own home, but a frosted front door gives you the ideal balance between light and privacy.
You can refresh and rejuvenate the entrance to your home, outside and in, and say goodbye to your dark or dull hallway, without feeling like you're on display.
Of course, this is also a security issue. If passers by or potential intruders can see directly into your home, they might just catch a glimpse of something they want to get their hands on. With a frosted glass front door, you get the benefit of the light without the prying eyes.
Always in Style
There's no need to feel restricted when it comes to style and personal tastes, either. Frosted glass exterior doors are available in a huge range of designs, from a half glazed, third glazed or full length glass door, to one or more glass panels in various configurations.
Your glass can be simple or decorative, and can lend your front door a touch of traditional elegance or contemporary chic.
Our solid timber Flinders range offers frosted glass in a classic fan or oval effect at the top of the door, while the Eden range offers 6 sleek designs for contemporary elegance.
For a modern front door frosted glass can be incorporated in thin panes in a range of designs, as in our Hartley range, creating a sleek and stylish look.
For Every Home & Budget
Frosted glass exterior doors come in a wide range of materials, so you can choose the look and finish that suits your needs and works for your budget.
Our solid timber front doors offer quality, character and versatility, from a smooth, flat face to optional raised or cricket bat moulding in many different designs.
Our timber and frosted glass external doors can be finished in our signature dark maple stain, or supplied raw for you to paint in the colour of your choice.
Composite doors can be a more economical option, and the HMR skin is easy to paint so you can give your doors a personal touch. Our Regent, Torrens and Clifton collections of composite doors include frosted front doors in a wide choice of designs, from deep square routing to a minimalist style.
If your doors are highly exposed to the elements and resilience is a key factor for you, you could consider our ClimActive doors, with a polyurethane core and fibreglass skin.
There is a wide choice of glazing options, from the classic to the contemporary, as well as optional double-glazing for maximum sound and thermal insulation.
The white skin is easy to re-paint in the colour of your choice, so you can create a frosted glass external door that perfectly suits you and your home, while also standing up to the elements.
For the ultimate balance of contemporary chic and durability, our Bona Vista aluminium hinged door features panels of 6.38mm laminated glass to flood your hallway with light. The commercial grade aluminium can be finished in white, black, APO grey or primrose for a sleek and modern frosted front door.
If safety and security are your top priority, we offer our exclusive Guardian 2in1 security screen door with frosted SafeGlass. You can choose partial or full length glass panels, and the integrated stainless steel mesh means you can open the glass windows to let in the breeze without leaving your home exposed or vulnerable.
Making the Most of Your Space
Whatever the size and configuration of your opening, when it comes to your new frosted glass front door you've got options! You can choose a classic single door, or a set of double doors for an even more stately and welcoming entrance.
Some of our ranges also offer both hinged and sliding configurations, so if a sliding door would be more practical or you just prefer the style, this could be another consideration.
Our Eden collection is an excellent choice for wider openings, up to 1020 or 1200mm, so that your new frosted glass entry door really makes a statement at the front of your home. We also have options for taller openings, up to 2400mm, including our aluminium Bona Vista frosted glass exterior door.
A Little Something on the Side
To really complete the picture at the front of your home, why not include frosted glass side door panels? You can choose one or two fixed side panels, and we have an excellent choice of matching or complementary styles.
With most of our front door ranges, you can include a hinged side panel to get those larger items through the front door, like a new fridge. Whether you choose one or two panels, fixed or hinged, frosted glass door side panels are a great way of inviting even more light into your home.
You will be amazed at the power of frosted glass to transform your entrance or hallway with the fresh and airy warmth of the changing natural light.
Glass That's Tough Enough
A frosted glass exterior door might feel like a less secure and less well insulated option, compared to a solid door, but it's important to know a bit more about our glass at Doors Plus.
Some of our ranges, such as the Guardian 2in1 security door, use our exclusive SafeGlass, which is 500% stronger than normal glass.
It will only break under extreme force, and will crumble rather than shatter into shards if broken. So our frosted glass front door designs are not only about style – they also take seriously the security of your home and the comfort of your family.
Give Your Home a Light Frosting
The benefits of glass in front doors are no secret, but the versatility of style and the scope of choice might come as a nice surprise!
Whether you want something classic and cosy, sleek and chic, or majestic and stately, frosted glass can enhance any style and be incorporated into an impressive range of designs.
Maybe you've been holding back because you're worried about privacy or security, or maybe you just haven't found a frosted glass front door that ticks all the boxes for you.
If that sounds about right, don't worry – we're here to help! At Doors Plus, we have a huge collection of frosted glass doors for sale, in a choice of materials, finishes, designs, sizes and configurations.
Our friendly team of experts is here to help, and we can guide you through the options to find the right fit for you and your home.
Simply visit your nearest Doors Plus showroom and find a frosted glass panel front door that's sure to turn heads from the outside and breathe new life to the inside.
Sours: https://www.doorsplus.com.au/dptv/blog-insprirational/frosted-glass-front-door-designs-for-exterior/
Glass front doors are an alternative to traditional wooden exterior doors that we see on most homes. Glass doors are widely used as patio doors in modern homes, but more and more homeowners are choosing them for their exterior doors. Due to the unique qualities of glass, it offers distinctive advantages and disadvantages for exterior doors, which I will mention a little later along with some great examples of glass types. You can then decide whether or not a glass front door is the right option for you.  
Are Glass Front Doors Safe?
When it comes to choosing a glass door, the biggest concern of homeowners is security. Since burglars almost always try to enter the house through the front door, the strength of the glass is vital to protect your home. But it's not just break-ins that make people think twice about glass doors; the last thing you want is for the glass to shatter or crack when the door is slammed shut by accident.
The good news is, there are many different types of safety, tempered or reinforced glass that are almost impossible to break. In fact, a high-quality double-glazed door will increase your home's energy efficiency as well as protect your home from burglars.
From transparent glass that allows maximum light to enter in your hallway to frosted glass that promises utmost privacy for your family. A solid glass front door that's sealed tightly will be good for both your home security as well as your energy bill so it makes sense to opt for such doors.
Need further convincing? Then take a look at the following advantages of glass front doors: 
Why Choose a Glass Front Door
Enjoy Uninterrupted Views
Most home buyers are willing to pay a premium for a home with views. A traditional wooden or metal door can block the view of the mountains, the beach, or even a lake, whereas a large glass entry door can help bring the outside into your home. 
Maximize Natural Light
Glass doors allow plenty of natural light to enter the home. This helps you reduce your energy bill as you'll require less artificial light during the day.
Increase Your Home's Aesthetic Appeal 
Another major benefit of a glass front door is its aesthetic appeal. A simple wooden or metal door doesn't provide quite the same visual interest as a multi-paned glass door, don't you agree? Glass exterior doors can have special designs or patterns that further add to their appeal. What's more, you can customize your glass front door to match it with your home's exteriors.  
Glass is Easy to Maintain
There is no denying the fact that glass is low maintenance and easy to clean. With a simple wipe down using clean water and glass cleaner, your front door will look gleaming. When compared to metal, which can rust, or wood, which is susceptible to rot, glass is incredibly strong and won't deteriorate over time. Opting for a glass front door will, therefore, cut down your long-term maintenance costs. 
Add a Modern Look to Your Home
One last reason to love glass front doors is the way they bring a sleek, modern look to your home. Contemporary style or even traditional Arts and Crafts style homes can look beautiful with decorative glass front doors. 
Customization Possibilities
To maximize your home's curb appeal, you'll be pleased to know there are numerous varieties of glass design options, with clear bevels and ornate patterns to name some of the few. 
Any Drawbacks?
Lack of Privacy 
While glass front doors provide great views of your home's surroundings and are easy to clean, they don't score very high in terms of privacy. My advice? Choose frosted or decorative glass if you live in a high traffic area. 
From decorative glass to simple, clear designs, the choice is yours. Here are some examples with pictures to get started!
9 Types of Glass Front Doors 
1. Textured Glass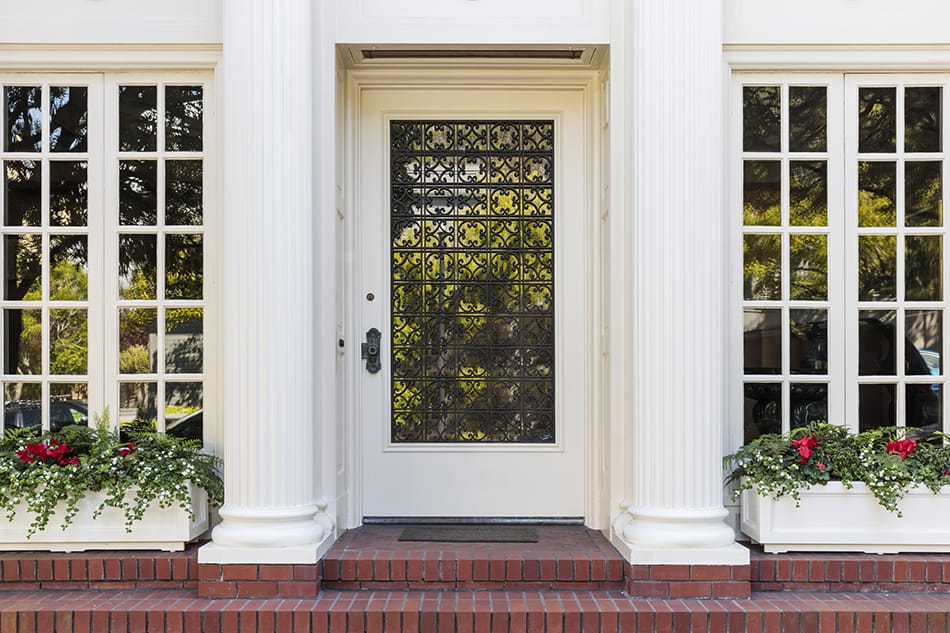 Textured glass obscures views and diffuses light, especially if it includes decorative details. You can choose from a wide variety of styles, such as geometric designs or glowy pearlescent panes for a naturally inspiring look. In addition to featuring a stylish design, another advantage of textured glass is the privacy it offers you whilst you're inside your home. This type of glass comes in different varieties, including glazed and ripple. 
2. Decorative Glass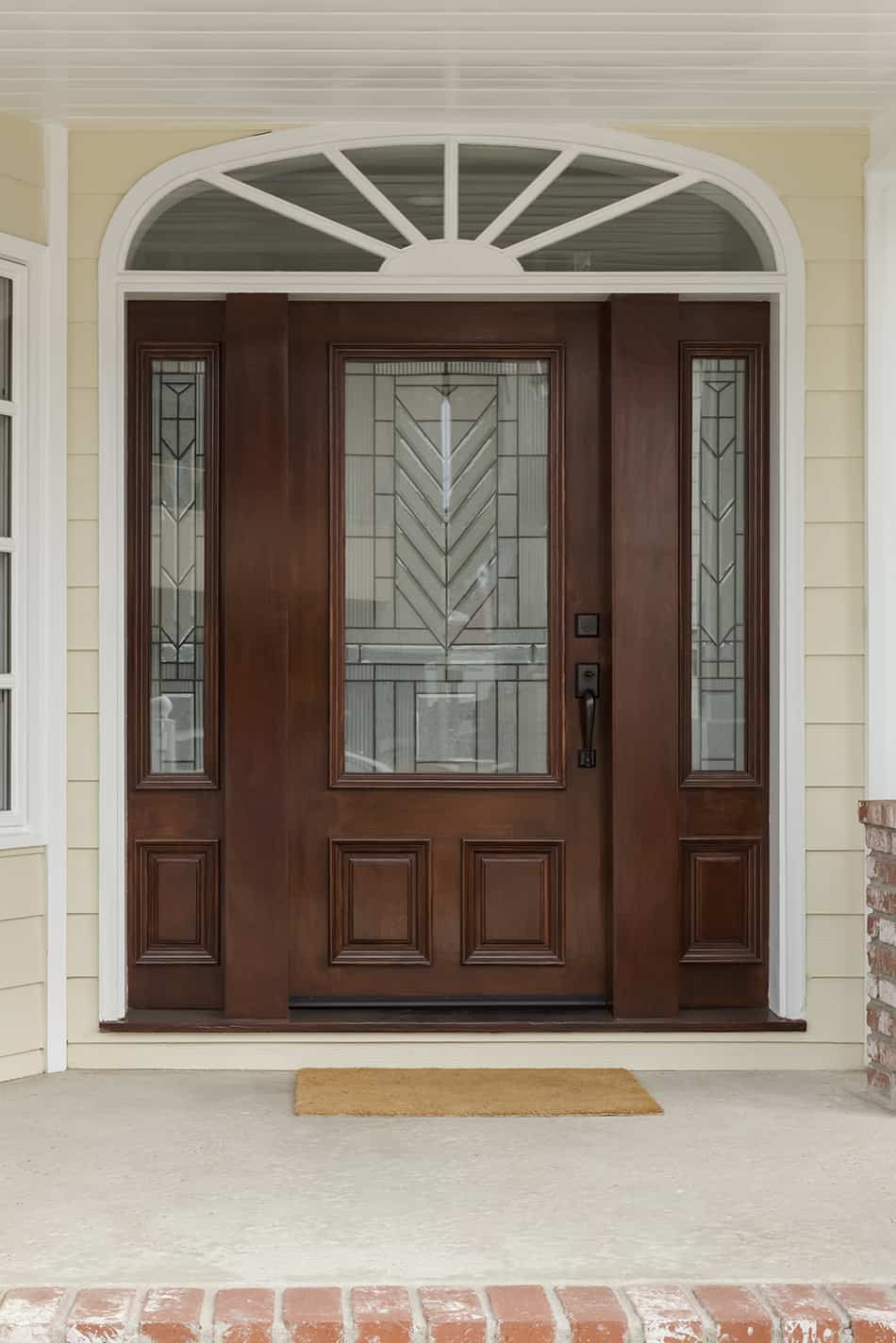 Decorative glass is similar to the textured type as it provides you with the same degree of privacy. The different patterns created with this elaborate glass make it ideal for modern, art deco homes, as shown in this image.   
3. Insulated Glass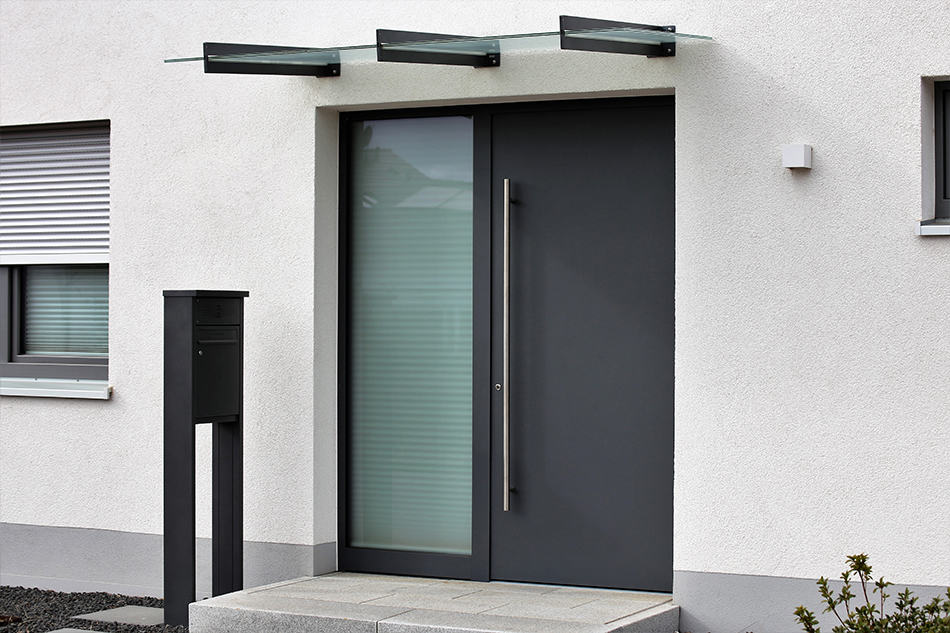 If your home is located in an area with extreme weather conditions, you'll want to consider insulated glass for your front door. With a tightly sealed glass of two more layers, your home will be better protected against the cold weather outside as this type of glass retains more heat, thus saving you energy. 
4. Stained Glass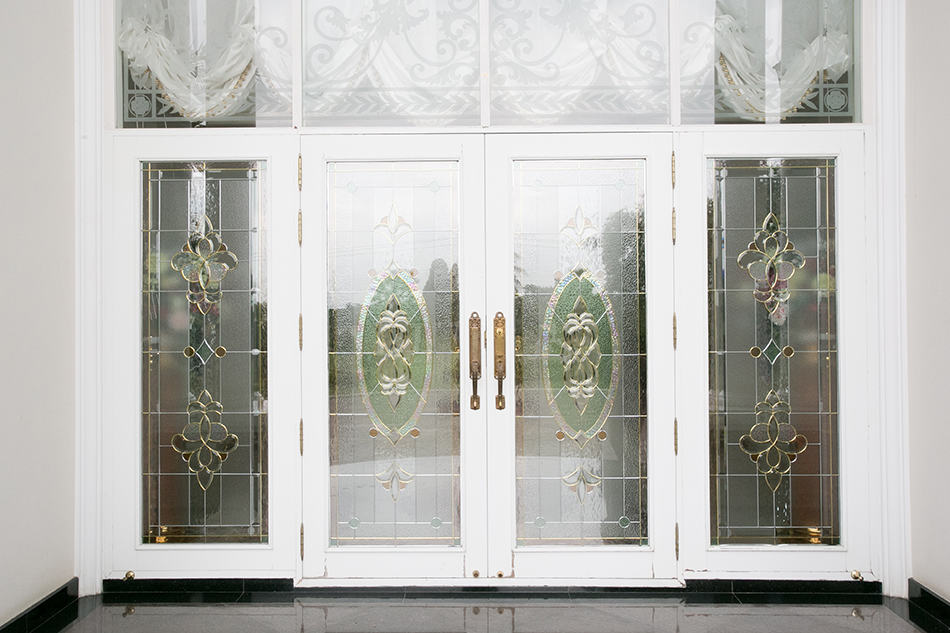 There is no denying the elegant beauty of stained glass. This type of glass was originally used in Medieval Europe from the 10th century and often seen in churches. When added to a front door, it will turn heads in your neighborhood and make guests feel welcome. Double-paned stained glass has energy benefits and can be customized to match your home. This type of glass offers more privacy protection than transparent glass because of its textured design. See how beautiful this white-framed double door looks with its elaborate stained glass. It's certainly a head turner!  
5. Frosted or Etched Glass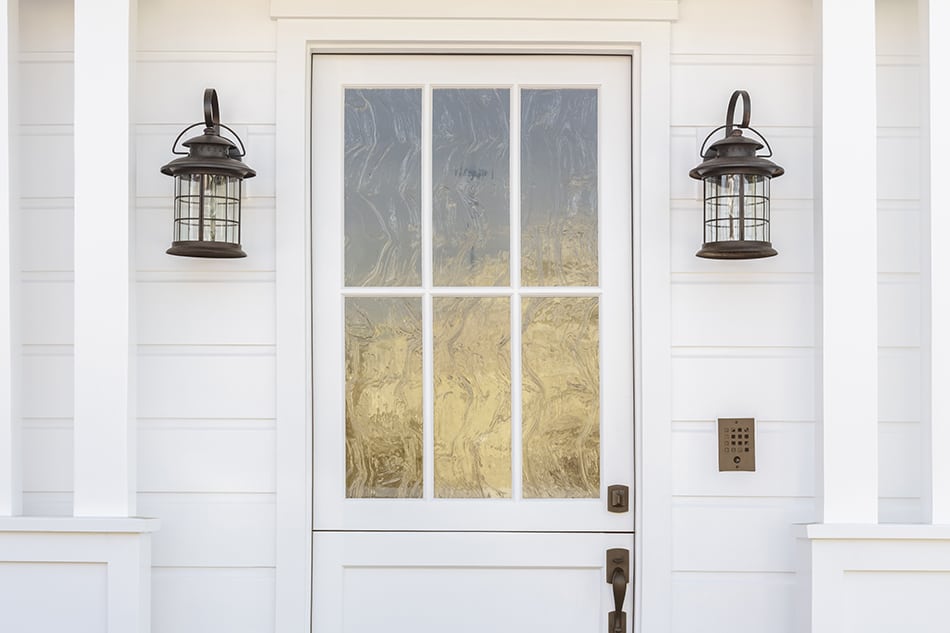 Frosted glass offers the most privacy, hence the reason it's also called privacy glass. But just because they are frosted, it doesn't mean you'll get less natural light entering your home. Etched or frosted glass front doors are an excellent alternative to wooden doors as they make you feel less claustrophobic. This type of glass looks stunning on Midcentury homes as it gives them a modern look with a lot of privacy. 
6. Clear Glass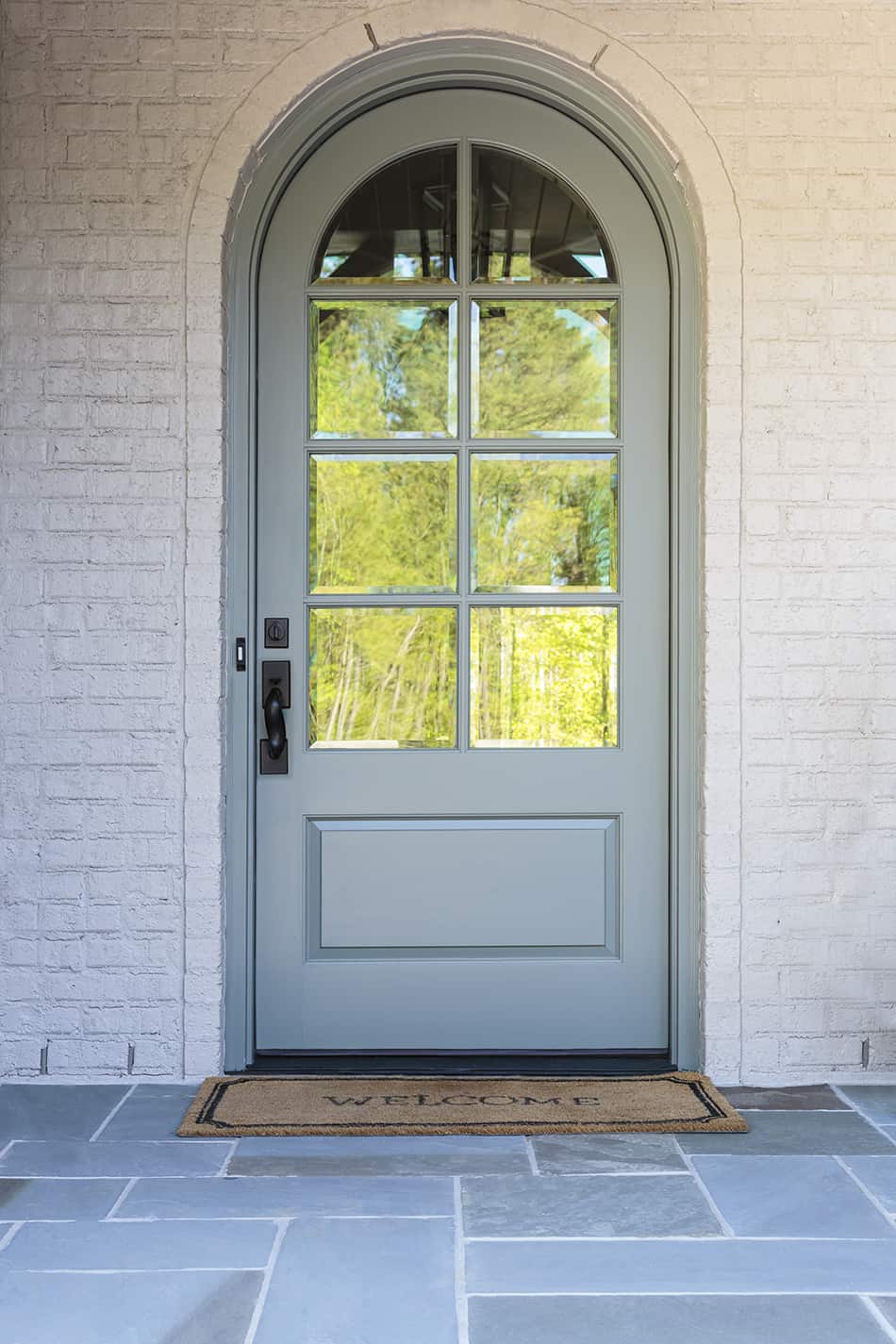 The panels of clear glass doors allow plenty of natural light to flow. This type of glass door is by far the most common in both traditional and modern homes. Clear glass front doors are more inviting than frosted or decorative designs because of their transparent glass. This feature allows the homeowner to instantly see who's at their doorstep before greeting them. People who enjoy having larger windows will especially like clear glass. But who said you should opt for a plain looking clear glass front door. Take a look at this beautiful arched exterior door with transparent glass, which is doing a great job of standing out against the neutral background.    
7. Single Glass Door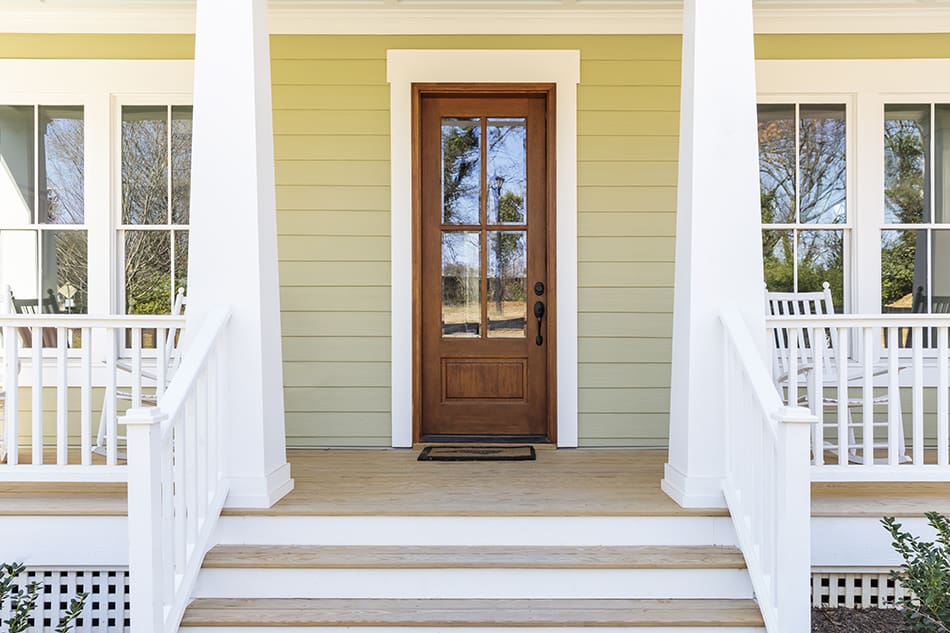 Single glass doors are one of the most popular options, and since they are so common, you can find any style you want just about anywhere. In addition to being highly popular, single glass doors are also the most affordable. These types of glass doors are ideal for small entryways as they take up less space, and I think you'll agree that they look very inviting indeed. To prove my point, check out this stunning single glass door in dark brown wood and white framing. 
8. Double Glass Doors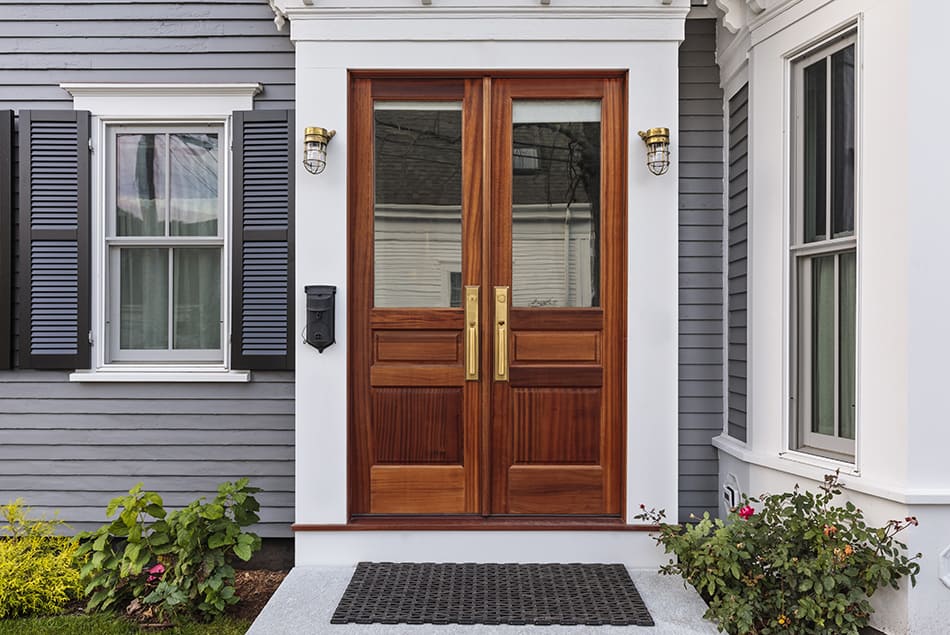 While a single glass door may be an ideal option for small entryways, it makes moving furniture rather difficult. Have you ever tried to get a large sofa through your front door only to find that it doesn't fit? With a double glass front door, the entryway will be wide enough so you won't have to worry about the size of your furniture. Simply open both doors to make life easier.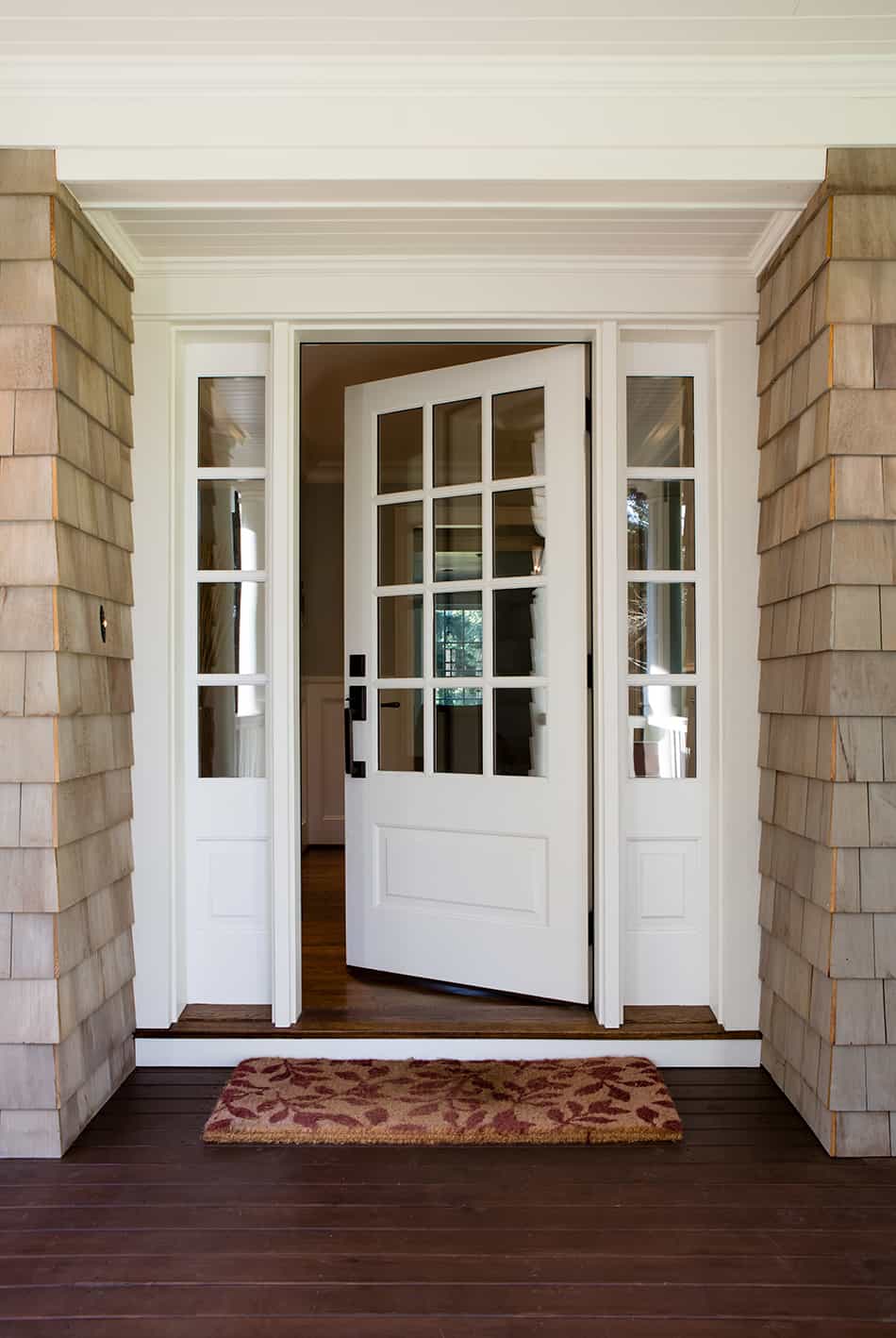 For those who still love a single glass door but want to add more style, there is the option of sidelites with glass to allow more natural light to filter through. Sidelites can be installed in many different ways, from left, right or one on either side of the glass door. Another alternative to sidelites is a transom, which lets natural light enter without compromising your privacy. This white single glass door in French style has matching sidelites that complement the brick exterior of the building. Simply stunning! 
Conclusion
Whether you choose large, single frosted panels or multi-paned clear glass for your exterior door, you're sure to find a design that suits your home. With all the excellent benefits of glass front doors, it's no wonder they are becoming so popular now. I hope my above examples have helped you make the right choice.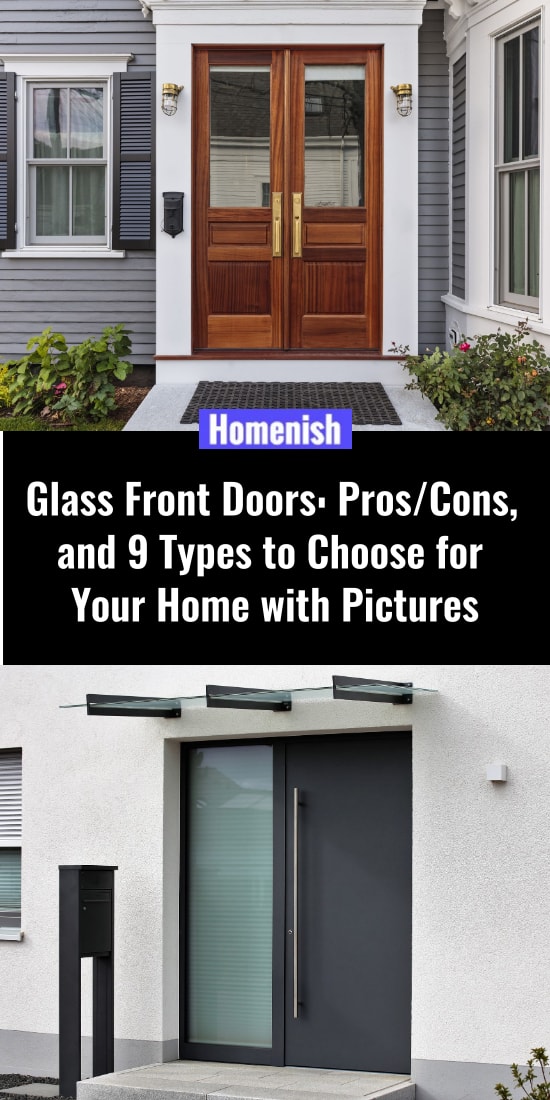 Sours: https://www.homenish.com/glass-front-doors/
Yes! We sell new prehung doors
Fiberglass Doors, Interior Doors, and Glass Door Inserts
Glass doors will make your interior glass doors or exterior glass doors decorative and unique. Use our designs on interior or exterior glass doors or on glass door inserts for fiberglass exterior doors. We create new designs for many of our Florida clients to give them the unique style they are looking for. We provide to installers and homeowners alike. YES! We do provide doors as well as the etched glass service but we do not provide installation service. Please refer to our chart for Standard Door Sizes for the size door you need. These sizes pertain to exterior doors. Interior doors are only slightly less in width but similar heights as inswing exterior doors.
Custom Glass Etching for Interior Glass Doors
Panty, home office, laundry room, etc, all are interior areas where decorative glass doors are installed. We provide custom glass etching for remodeling projects or new construction in Florida mostly for glass doors. Some shower doors and room dividers incorporate our etched glass designs also.
If you need interior doors, the same designs can be adapted to clear or frosted glass interior doors. The most popular applications are glass front doors, pantry doors, wine room doors, office doors, or media room doors. For your convenience we provide interior doors prehung or just the door slab.

Hurricane Proof Glass Doors
Need hurricane impact glass for fiberglass exterior doors? Our etched glass designs seen can be done on clear glass door inserts or textured glass door inserts for fiberglass doors. We can provide the prehung doors, the impact glass inserts all together for you or provide just the impact glass inserts with the design applied.
Glass Etching Artist
Our glass etching artist will help you create a new design or show you options from our past etched glass design collections. We can provide you with the complete prehung door unit or just the glass door inserts with decorative etched glass designs. If it is an interior door you need, then the choice is a door slab only or the prehung door unit. The interior doors are fabricated with the glass installed. The doors are primed ready for a final coat of paint.
Sours: https://etchedglassdoorsfl.com/
How to etch a glass front door
Your porch or entry creates the first impression on those who come to visit you. The main point on any porch is a front door, it's the base of the look, so choose and decorate it with style. Glass doors are among the most popular options for entries because they look beautiful and inviting. Today we'll have a look at the coolest glass front doors, which will invite your guests inside with style.
Classic Glass Front Doors
Classic and rustic glass doors are a common thing for every entryway. Cottage-styled and just natural wood doors are always great for your entry, stain or paint them as you like. They can be usual or arched and French window-styled ones to add a chic touch.
Modern And Minimalist Glass Front Doors
A more modern version of a glass front door is a framed one, fully made of glass. I love the idea of glass pivot doors, they look really modern and cool. Another idea is doors where one part is made of steel or wood and another of glass. Such doors remind of fortresses and look awesome keeping your privacy with that large metal part.
contemporary wood and glass front door
full lead glass front door
glass and steel front door for blending outdoors and indoors
glass and steel pivot front door
minimalist glass and steel front doors
minimalist wood and glass doors
modern black steel and glass front doors
modern framed glass front door
pivot glass front door
pivot glass front doors
sleek modern steel and glass doors
steel and glass door design
Etched Glass Front Doors
Etched glass doors are another cool way to keep privacy. Choose a design and then frost glass panes for the door and you'll get a refined door keeping privacy. You can also write a house number on the etched glass.
etched glass front door for privacy
red door with etched glass adn house number on it
Mosaic Glass Front Doors
Mosaic and painted glass doors are a playful and bold idea for any modern home. You can rock mosaic glass with bold front door colors, mix them with wrought metal and other peculiar details.
bold mosaic glass front doors
Pantone slide swatch colorful glass door
teal and glass mosaics front door design
wrought iron glass door
Source: pinterest


Sours: https://www.shelterness.com/glass-front-doors/
Door designs glass front etched
Discover the 32 different types of glass front doors for you home. Includes close-up photos of glass styles and designs such as rain glass, reeded glass, glue-chip glass and many more.
Choosing the right glass for your front entry door is a meticulous process. For homeowners seeking a little more privacy, frosted or stained glass offers less visibility. Rain glass, giving the appearance of heavy rain streaks against a window, is a current trend.
Clear beveled glass is less private option, but allows the maximum amount of light. If overlaid with wrought iron, it can create more privacy while also embarking on a baroque semblance.
Homeowners seeking to combine clear beveled glass with privacy may also consider investing in a wood entry door with blinds between glass panels. Manually-controlled blinds can be installed between the glass panels of a door for optimal visibility (or lack thereof). When it comes to wood entry doors, there are shapes, designs, and sizes for every home, with styles that span across decades and architectural trends.
Types of Glass
1. Rain Glass
2. Stained Glass
3. Frosted Glass
4. Glass and Wrought Iron
5. Clear Glass

6. Ornate Glass
Close-Up Glass Design Options
The following close-up glass designs and types are courtesy of Nicksbuilding.com.
7. Mayflower Glass
8. Taffeta Glass
9. Reeded Glass
10. Glue-Chip Glass
11. Stippolyte Glass
12. Granite Glass
13. Sycamore Glass
14. Digital Glass
15. Everglade Glass
16. Sandblast Glass
Glass Door Styles
17. Modern Glass Front Door
18. Craftsman
19. Rustic
Door Type
20. Single Door with Glass
21. Double Door with Glass
Glass Shape
23. Oval Glass Front Door
24. Rectangle (Vertically Oriented)
25. Rectangle (Horizontally Oriented)
26. Arched
Glass Front Door Privacy Considerations
27. Blinds
28. Front Glass Door with Curtain
Door Materials
29. Full Glass Front Door
30. Wood with Glass
Click here for 12 types of wood front entry doors
31. Fiberglass with Glass Window
32. Steel with Glass
Home Stratosphere Giveaways...
Enter to Win Small Appliances
We're giving away all kinds of top small appliances including a Vitamix blender, Instant Pot, Juicer, Food Processor, Stand Mixer and a Keurig Coffee Maker.
Click for Giveaways
Free Coloring Pages & Books for Kids
Free to download and print.
Download thousands of custom coloring pages and puzzles for your kids.
Click for Coloring Pages
Sours: https://www.homestratosphere.com/glass-front-doors/
Beautiful frosted glass film \u0026 staind glass room divider ideas
Etched Glass Door Projects
Adding Glass Etched Design to Doors
Glass etching or sandblasting on front doors is very popular in the state of Florida, specifically in coastal areas. Homeowners love to highlight their love or enthusiasm for nature by getting etched glass doors. Our designer can create a custom etched glass design or you can choose from hundreds of different designs we've offered in the past including tropical, aquatic and geometrical themes. Designs can be added to exterior and interior doors including front entry, patio, pantry, laundry, bathroom,home office doors and more!
Glass etching can be added to any of the door types listed below:
Exterior Front Entry Doors with standard tempered or hurricane impact glass
Exterior Bathroom or Patio Doors with standard tempered or hurricane impact glass
Interior Office Doors
Pantry Doors
Barn Doors
Laundry Doors
Hurricane Impact Etched Glass Doors
Coastal Floridians love the personalization that an etched glass door offers. More importantly, however, is to be able to customize a hurricane impact glass door to protect homeowners during hurricane season. Etched glass can be done on clear or textured hurricane impact glass inserts to add instant curb appeal while providing added peace of mind during the storm season. All of our etched glass designs are sandblasted on double-pane glass for better insulation, energy efficiency and safety and gives the homeowner the versatility depending on privacy and aesthetics.
Etched Glass Pantry Doors
Etched pantry glass doorsare a great way to add visual interest and beauty in your kitchen. We provide an array of high quality and artistic glass etching for homeowners and allows homeowners to customize the look of their kitchen while providing a functional purpose. Our designer works with customers to create their own design or customers can choose from the many designs previously done. Custom etching for pantry doors can be done typically on clear or frosted glass.
Etched Glass Exterior Bathroom & Patio Doors
Additionally, exterior bathroom & patio glass doors can also be etched to add beauty, privacy and with designs that complement the home's exterior while allowing lots of light in the room. We offer an array of custom and pre-designed themes including tropical, aquatic and geometric styles that go well with pools and other decorative elements. Enclosed blind inserts are also a great way to add privacy and peace of mind for back entry doors and can also be etched on.
Our process begins with you! We encourage you to read through our FAQs to start and browse through our online gallery before your visit with us. We have several resources including our free measure guides to help you measure your current door or rough opening so we best assist you through your design and glass size selection and provide you with a free quote for the products of interest!
The best way to receive a quote is to fill out our form below or bring photos with you and visit our Tampa or Lakeland store!
Sours: https://glassdoorstore.com/etched-and-sand-blasted-glass-doors/
You will also be interested:
His tongue, oh, this is an acute sensation, I can no longer hold back a moan, but he becomes coarser, squeezes his chest with force, leaves aspirated and I can not resist the temptation, I grab it sharply and lower it to the very bottom, to the epicenter of sensations. He kisses the belly and goes down, he kisses me there.
A wet, relaxed tongue caresses the clitoris, the silence is destroyed by my groans, and he slowly and smoothly does everything, that's a scoundrel. He moves his tongue in a circle, sometimes absorbing his lips.
328
329
330
331
332