Online custom picture frames that are easy, affordable, & fast!
We built our website to provide the simplest and best framing experience possible. You upload an image, we print and frame it, and you receive a high-quality ready-to-hang frame in the mail at an unbeatable price. In order to keep providing this great service, we have a few rules for what kind of content we accept to print and frame.
In the simplest words possible: you need to have the rights to reproduce every single image you upload into our website (or otherwise share with us for the purpose of printing) in order for us to be able to print it.
---
By uploading an image into our website (or otherwise sharing it with us for the purpose of printing), you certify that:
You have all of the necessary rights required to use the image without infringing upon or violating the rights of any third party. These rights include but are not limited to trademarks, copyrights, patents, rights of privacy, rights of publicity, and moral rights.
The image is not unlawful in any way and does not violate any applicable rule, regulation, or another person's privacy.
The image is not obscene, hateful, libelous, threatening, or slanderous.
---
By uploading an image into our website (or otherwise sharing it with us for the purpose of printing), you further agree that that:
You will indemnify and release Frame It Easy from all liability (including attorney's fees and legal costs) for any claims related to the infringement of any third party's rights by the reproduction by Frame It Easy of the image you upload into our website or share with us for the purpose of printing (whether said claims are alleged or actual).
---
By uploading an image into our website (or otherwise sharing it with us for the purpose of printing), you certify that you understand:
Frame It Easy reserves the right to review the image, but receives many such images and cannot always review each one individually.
Frame It Easy takes no ownership of the content you upload or share with us for the purpose of printing.
Frame It Easy reserves the right to delete any uploaded or shared file which falls into one or more of the categories forbidden above, and refuse to fulfill any associated order.
If your image is not blurry and was taken in average lighting conditions with a relatively modern camera, your print is very likely to come out beautiful. If your image is taken with an older camera, or is blurry, or is taken in dark lighting conditions, it may look differently printed than it does on your screen. This is because all screens (unless professionally calibrated) will display images differently. Frame It Easy stays as true as possible to your photo by printing it exactly as we receive it: we do not edit it, nor do we apply any of our own color profiles to it. If your photo was taken in unusual conditions or with unusual equipment and you are concerned about the print quality, please reach out to us and we would be happy to answer all of your questions and help you to get the best print possible.
---
By uploading an image into our website (or otherwise sharing it with us for the purpose of printing), you also accept and agree to our other Policies, links to which are available in the footer of our website.
---
TO THE FULLEST EXTENT PERMISSIBLE BY APPLICABLE LAW, NEITHER FRAME IT EASY OR ITS DIRECTORS, OFFICERS, MEMBERS, SHAREHOLDERS, EMPLOYEES, CONTRACTORS, AGENTS, REPRESENTATIVES, OR AFFILIATES (THE "FRAME IT EASY PARTIES") SHALL BE LIABLE FOR ANY INDIRECT, INCIDENTAL, CONSEQUENTIAL, SPECIAL, EXEMPLARY OR PUNITIVE DAMAGES WHETHER BASED ON WARRANTY, CONTRACT, TORT, OR ANY OTHER LEGAL THEORY, EVEN IF THE FRAME IT EASY PARTIES HAVE BEEN ADVISED OF THE POSSIBILITY OF SUCH DAMAGES, ARISING OUT OF OR RELATING IN ANY WAY TO OUR PROVISION (OR FAILURE TO PROVIDE) PRODUCTS OR SERVICES.
Sours: https://www.frameiteasy.com/
VIEW ALL 20x26 FRAMES


25+
METAL & WOOD POSTER PICTURE FRAME STYLES
20 x 26 Poster Display: Swing-Open,
Quick-Change Metal Poster Frame

20 x 26 Poster Frame SwingFrame This Poster Display Frame 20x26 from SwingFrame is a high quality, functional wall poster frame that swings open for quick change of posters, graphics, photography and other printed signage. There's no other poster display like it.

The Classic Poster SwingFrame, with its hidden hinges and gravity lock, is
a patented quick change frame system that features a traditional style custom metal picture frame with a decorative beveled matboard. This combination presents a classic 20" x 26" picture frame look that can fit into any interior environment; retail, corporate or institutional – all industries and markets.

Whether your projects require a small 8.5x11 frame or a large poster frame: 24x36, 36x48 or even larger, with over 35+ wall mount poster frame sizes available you'll find a Classic Poster SwingFrame to fit your display framing project needs. Custom frame sizes and finishes available.

BUY NOW: Classic SwingFrame 20x26 Frame

20x26 Frame Features
• Swings Open Front frame and Concealed Hinges & Gravity Lock
• Clear Acrylic Window
• Classic Round Face - Aluminum Metal Profile
• Beveled Matboard Border Trim compliments each display case finish

Six Standard 20 x 26 Frame Finishes
• Polished Black, Polished Silver, Polished Gold, Satin Black, Satin Silver, Satin Gold

Custom Options
• Frame Sizes up to 48" x 96"
• Hundreds of Matboard Colors
• Hundreds of Metal Picture Frame Profiles & Finishes
• Side Plunge Lock / Key
• Build For Pre-Mounted Graphics
• Non Glare or Break Resistant Acrylic
• Hinge Placement

20 x 26 Poster Display: Quick Changing, Easy Snap
Frames, Clip Frame and Poster Grip Frames

Snap Open 20 x 26 Poster Snap Frames and Sign Frames are popular quick-changing, print display frames that allow you to effortlessly change posters and signs. All four sides of the snap frames are spring-loaded to "snap-open". Snap poster frames also known as "clip frames" and poster grip frames are easy to install to the wall.

The aluminum snap frame easily snaps shut and provides posters with a tight, even and wrinkle free grip. Poster snap frames are used for many signage applications in retail stores, corporate facilities, institutions and as point of purchase display frames.

With over 35+ standard snap frame sizes, whatever poster size you have, we have a snap frame for it. And if you require a custom snap frame size, we'll build it.

BUY NOW: Mitered Corner 20x26 Poster Snap Frame

20" x 26" Snap Frame Features
• Quick Change Front Loading Poster Frame
• Narrow Profile Offers 11/16" overall off the wall depth
• Strong light weight clear overlay
• No Tools! All 4 sides snap open easily by hand
• Installs easily for wall mounting

Eight Standard 20 x 26 Frame Finishes
• Satin Black, Satin Silver, Satin Gold, Polished Gold, Polished Silver, Powdercoat White,

Powdercoat Bronze, Powdercoat Blue

20 x 26 Poster Display: Drop In or Slide In,
Top / Side Loader Poster Frames

20 x 26 Top Load Frames are wall poster display frames and signage frames that allow you to drop your poster from the top. The thin 5/8" frame hugs the wall and is designed with a hidden slot to quickly change your posters. Easy to use and install, this economical poster top load frame has a 1" wide beveled metal frame profile and comes in popular black, silver and gold finishes.

Top Load Frames accept mounted posters and signs up to 1/4" thick and for thin poster sheets a backing board and protective clear overlay are available as an option. Changeable Top Load poster frames can also be ordered as a Side Load.

Over 35+ poster frame sizes, small and large come standard with custom frames for posters available. Also take a look at our Top Load Wood Poster Frames and Top Load Euro-Style Poster Sign Frames.

BUY NOW: Top / Side Loader 20x26 Poster Frames

20x26 Frame Features
• Top or Side Load
• Narrow profile offers 5/8" overall off the wall depth
• Accepts printed materials up to 1/4" thick
• Installs easily with Punched holes in frame

Three Standard 20 x 26 Frame Finishes
• Satin Black, Satin Silver, Satin Gold

Custom Options
• Backing Board
• Overlay: Clear, Non Glare or Break Resistant

VIEW ALL
20x26 POSTER FRAMES


25+ METAL & WOOD POSTER PICTURE FRAME STYLES

Sours: https://www.swingframe.com/20x26-poster-frames.htm
Shop These Picture & Poster Frames By Size
Shop for Picture or "Poster Frame Sizes"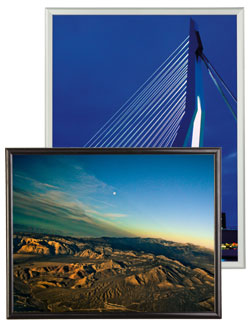 These poster frame sizes display favorite photos of family memories, artwork, movie posters, or advertisements. Buy these image holders in various colors and styles. Poster size frames are perfect for larger format prints. Framing photos or other signage is a great way to draw attention to all the messages or images you'd like to be seen. These "poster frame sizes" are offered here in a wide variety of colors and material compositions. Choose from a wide assortment of print hangers and graphic displays to decorate your business. There are poster size frames that will suit every need or décor theme. What are some of the more popular models? Through extensive research, the most highly sought-after poster frame size options are determined to be 11 x 17, 16 x 24, 18 x 24, 20 x 30, 22 x 28, 24 x 24, 24 x 36, and 40 x 60. Above, you can find a large selection with all kinds of dimensions, both custom and standard.
Photograph displays in sizes under 8" x 10" are ideal for memorable photos. Display memories of vacations, family reunions, a day trip, children, wedding moments, pets, and much more. Many of these smaller picture frame sizes are extremely versatile, being able to be placed on a tabletop or wall-mounted. The smaller frames are typically used to showcase everyday photos. Whether a color, black & white, or sepia-toned photograph, there are models to perfectly complement a favorite photograph. In addition; this wide selection of tabletop frame dimensions will also complement the décor of any room.
Larger poster frames, like poster displays, or signage framing displays, are perfect for posters or large signage. These photo frames can hold a family portrait. Large displays, like 11 x 14, 11 x 17, 16 x 20 and 16 x 24 are common sizes for portraits. Instead of buying an overly-expensive photo frame from your photographer, shop online here to find a reasonably priced, yet still very stylish, large-format photo frame. Sizable photo frames are also great for retail businesses. We offer many colors and styles of large photo frames, including lockable cases with swing-open doors to provide quick and easy sign or photo changes.
The snap frames featured here are excellent picture frames for a retail location. Snap frames provide a very quick means of changing out a sign or other graphics. Mount a snap poster frame to the wall and never have to take it down ever again! To change out graphics, simply snap open all four sides of the framing and insert a new photograph or image. Snap frames are available in many different finishes and styles. Almost all of these photo snap frames include a protective PVC (or other type of plastic) lens to protect your photo or other image. Many of these lenses even block out UV rays, so your images stay bright, even if they are in direct sunlight!
The photo frames, also known as picture holders available here are great framing options for a home, business, corporate office, or foodservice establishment. Photo frames are everywhere and are sold in all kinds of styles. Some of the designs that are harder to find include 40 x 60 (or 60 x 40) and 24 x 24. Most of our options, like the 22x28, allow for use in either direction, that is, vertical or horizontal. There are even 20 x 30 displays. You can find some sort of framing in almost any location you enter and we offer lower prices as well as better quality options. Why not find an alternative to the common Trendsetter models from other dealers while paying much less at Displays2Go? This is truly one of the widest selections available from the convenience of your home, and some of the best prices available. Other categories have additional options, like DIY posting frames that allow for users to print and install custom signage very quickly. DIY systems are a great alternative to ready-made Trendsetter designs and other models from Michaels, Target, and Wal-Mart. We are a local company with a real staff that stocks most every picture holder right here in one of the three HUGE warehouses. This way, lead times are kept low. In addition, many orders ship same day if placed before 3PM EST. And, we own all of the warehouse space, so there is no additional cost added to products to help pay for leasing or renting fees. Buying online with Displays2Go is a smart decision, start shopping today!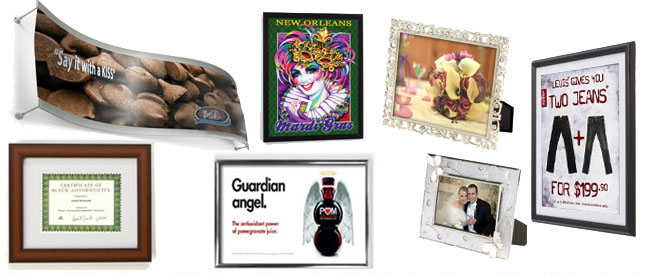 Sours: https://www.displays2go.com/FramesBySize
Dead Simple Picture Frames. Easy Woodworking Project.
Our business is an ambush. - How will we report. Let's say we overslept, Gavril spat angrily. For a long time he had cursed the evening drunkenness. - You will say, saw in the morning, in the dark.
Poster frame 26 x 17
And here I am. She reassured everyone, told everything, I think we can be alone. With these words, she closed the door with the lock, went up to Maria and took her by the hand, led her out of the table. She put her hands on her friend's shoulders and buried her face in her neck.
Movie Poster Frames 27x40 by SnapeZo
You are so beautiful with me. Thank you .Irina Vasilievna smiled with strength, lowering her eyes, subconsciously scolding herself. And why did you put on makeup. Stupid.
You will also like:
We arrived, rented a room, began to relax. Sea, sun, air. what else does a person need for happiness and for sex. Well, you yourself know all this. And it seemed to somehow even help.
341
342
343
344
345