The Ultimate Guide to Updating Fox Body Mustang Suspension
The Ford Mustang Fox Body was produced from 1979 to 1993, a span of 14 years. These cars are small, lightweight and versatile. Whether you want to go drag racing, autocrossing, or road racing, they are an excellent platform. The Fox Body may not seem that old, but the last one rolled off the assembly line almost 30 years ago! That means your Foxbody could use some suspension upgrades. Instead of tackling it all at once, here's a guide on how to upgrade your Fox Body suspension to get the most bang for the buck.
Inspection
The first step is to perform a visual inspection. Remember, your car is around three decades old, and a lot can happen in that time span, especially if the car has been driven. Even if it hasn't, things can dry out and crack, and an inspection shouldn't be overlooked.
Put the car up on jack stands, pull off the wheels, and have a look. Grab parts and shake them - do they move when they shouldn't? Look at the condition of the rubber parts to see if there's any cracking or deterioration. Do you notice any metal wearing together where it shouldn't?
Your first step should be replacing parts just to get it back to stock and safe to drive down the road.
Shocks and Coil Overs
One of the first places you should look at when upgrading the suspension is the shocks, struts, and coil-overs on the car. Updating this single item will significantly improve the ride and performance of the car.
With coil-overs, not only do you get adjustable valving to tune your ride quality and performance, you can also adjust your ride height to get that perfect stance. With different springs to choose from, you can really customize the performance for how you plan to drive the car.
Caster Camber Plates
When you're driving your Fox Body Mustang aggressively, you'll start to wear out parts. One great upgrade while you're upgrading your struts to coil-overs is a set of QA1 Caster Camber Plates.
These plates are where the strut or coil-overs come through and mount. The factory bushings wear and become sloppy over time, keeping the alignment from being true. Our plates feature upgraded TIG welded construction with spherical bearings for the ultimate strength and durability.
The plates also allow for greater adjustment to dial in your perfect caster and camber combination. With these plates, you'll be able to run a more aggressive alignment than what the stock mounts are physically able to do. Also, aligning the car after lowering the ride height will be much easier.
Sway Bars
A quick upgrade that can make a huge impact is to replace the sway bars. Our tubular sway bars increase performance handling, which boils down to keeping your tires planted on the road.
Oftentimes, factory sway bars aren't up to par with modern and aggressive driving. When you install stickier and wider tires, factory sway bars will have a hard time handling the extra loads created. QA1's sway bars have carefully selected bar sizes that are optimized for the Fox Body platform. The fronts are a beefy 1 ¼" diameter with a 1" rear bar that provides a positive, balanced feel to the car in the corners.
Control Arms
The next major upgrade to improve the handling of your Fox Body is to look at control arms. Factory control arms have rubber bushings that don't handle the extra stresses on them and deflect. The arms themselves are heavy and made of weak stamped steel.
Tubular control arms are stronger and lighter than their factory counterparts. They have upgraded bushings and ball joints as well. In addition, we revise the geometry issues to allow for greater camber and caster. What all this boils down to is that upgrading to tubular control arms is a huge improvement in the handling and safety of your Fox Body. The cherry on top is that they look so much better too!
Trailing Arms
The perfect complement to your new front control arms is to upgrade the rear trailing arms. The factory arms and bushings can bind and flex, which leads to unpredictable cornering or launching.
QA1 offers several different versions, from adjustable to non-adjustable or boxed to tubular. If you're looking for a set-it-and-forget-it style, then a non-adjustable set of trailing arms is your style. Non-adjustable versions offer upgraded greaseable polyurethane bushings, which won't bind or flex during those hard launches or cornering. Adjustable versions feature rod ends for the most precise ride possible.
Boxed or tubular really comes down to your preference of looks. Both are ultra-strong and can handle whatever horsepower you can throw at them - it really boils down to whatever you want to see when you look under your Stang.
K-Member
Our last recommendation certainly isn't the least important. In fact, the K-member is what ties everything together. While it might seem odd to replace it last, remember, we are trying to do this in steps for the best bang for the buck.
The factory K-member is stamped steel and, just like the control arms, can flex and lose the precise alignment. QA1 K-members are 50% lighter than a factory set up, and since they are made with tubular construction, they are stronger than a factory K-member as well.
One of the great things about the Fox Body Mustang is its versatility. We mentioned before how they can easily be built to any performance need, but they can also accept a multitude of engine options. We take the headache out of mounting those different engines by just swapping in different engine mounts to our K-member. In addition, transmission crossmembers can be found too for non-stock transmission options.
What this all means is that the K-member, especially when combined with the other suspension pieces, will offer more precise and predictable steering along with freeing up binding to allow the suspension to easily go through its range of motion. Plus, it's lighter and stronger than factory - a win in our book!
If you have any questions, please feel free to give us a ring at (952) 985-5675 or shoot us an email.
Sours: https://www.qa1.net/tech-center/tech-articles/the-ultimate-guide-to-updating-fox-body-suspension
team z mustang 94
79
team z mustang 94
79
team z mustang 94
79
team z mustang 79
team z sn95 mustang 94
79
79
team z mustang 79
79
79
weight cut tubular front end kits from team z motorsports
79
94
team z mustang 79
79
rock solid motorsports 1979
team z foxbody mustang 79
team z mustang 79
79
team z foxbody mustang 79
weight cut tubular front end kits from team z motorsports
79
79
team z mustang 79
team z mustang 79
s197 10
team z mustang 94
1949
mustang ii front end suspension tubular a arms 325 lb
mustang ii front end suspension 350 lb
mustang ii front suspension tubular strut rod kit
This post is called
Mustang Tubular Front End Kit
. You can download all the image about Mustang Tubular Front End Kit for free. Below are the image gallery of
Mustang Tubular Front End Kit
, if you like the image or like this post please contribute with us to share this post to your social press or save this post in your device.
There a wide range of plenty images of Mustang Tubular Front End Kit. You can find out or you can browse the images such as. Team Z Mustang 94, Team Z Mustang 94, 79, Team Z Mustang 94, 79, Team Z Mustang 94, 79, Team Z Mustang 79, Team Z Sn95 Mustang 94, 79
Sours: https://shefalitayal.com/mustang-tubular-front-end-kit.html
When an auto manufacturer designs a car they don't put any thought into how the vehicle can be optimized for racing, unless it's a performance-oriented car. Therefore, it's up to the person trying to build a racecar to make that happen. One of the most proven ways to raise the performance level of a vehicle is to remove unnecessary weight, specifically from the engine compartment. Team Z Motorsports has created a line of Tubular Front End Kits for the Mustang that not only save weight, but also make working on the car much easier.
Before Team Z started to bend tubing for its Tubular Front End Kits, some thought needed to be applied to the design of the product. David Zimmerman and his team wanted to ensure the kits would provide significant weight savings, but they also wanted to make sure that the body panels and front bumper would fit without being altered. The other checkbox that needed to be addressed was eliminating the weight without sacrificing strength, so 4130 chrome-moly steel was selected as the material for each kit.
Zach Cooper from Team Z Motorsports discussed with us the advantages the Tubular Front End kits provide.
"This kit allows you to remove 25-pounds off the front end of your car. In addition to the weight savings, it opens the engine bay up to allow for more room to mount turbo a turbo or supercharger, and the custom mounting of accessories. This kit also allows you to remove the upper radiator support, the lower radiator support, and the bumper support. Having the ability to remove these bars makes removing the engine much easier, but you also access hard-to-reach spots in your engine bay when they're left in place."
Currently, Team Z Motorsports offers its Tubular Front End Kits in welded and unwelded versions for the 1979-2004 Mustang. You can learn more about the kits right here on the Team Z website.
Sours: https://www.dragzine.com/news/weight-cut-tubular-front-end-kits-from-team-z-motorsports/
TeamZ tubular front end install on a fox Body
If you're in the market for a new k-member for your Fox Body there are some things you need to consider before purchasing one. In this short guide, we'll cover what the k-member is, its function, and what to look for in an aftermarket one. The K-member on the Fox Body chassis is basically the piece that ties everything in the front together. It's what your engine is bolted to, as well as your front suspension and steering rack. Since it pretty much ties everything together the rigidity is extremely important.
#1 UPR Chromoly Tubular K-Member Suspension Kit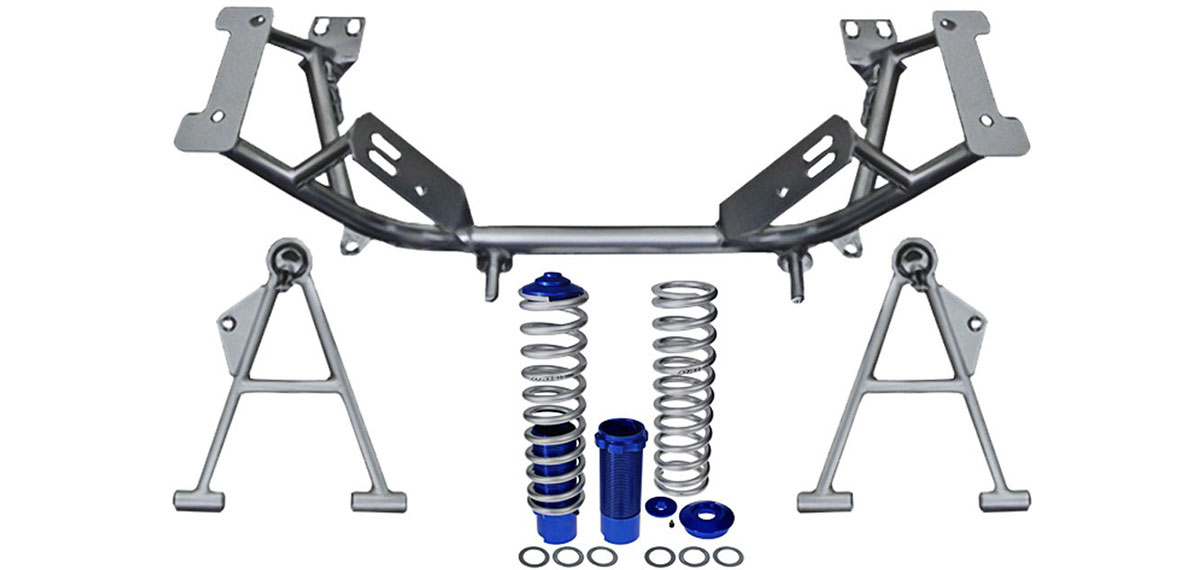 First up on our list is the UPR Chromoly k-member suspension kit. This k-member is made of Chromoly for the most strength possible, but it also saves 70lbs. UPR makes a mild steel version of this kit, but it's hardly any cheaper. This k-member doesn't change the wheelbase and doesn't change the factory suspension geometry.
Check latest prices on eBay
#2 Maximum Motorsports K-Member Kit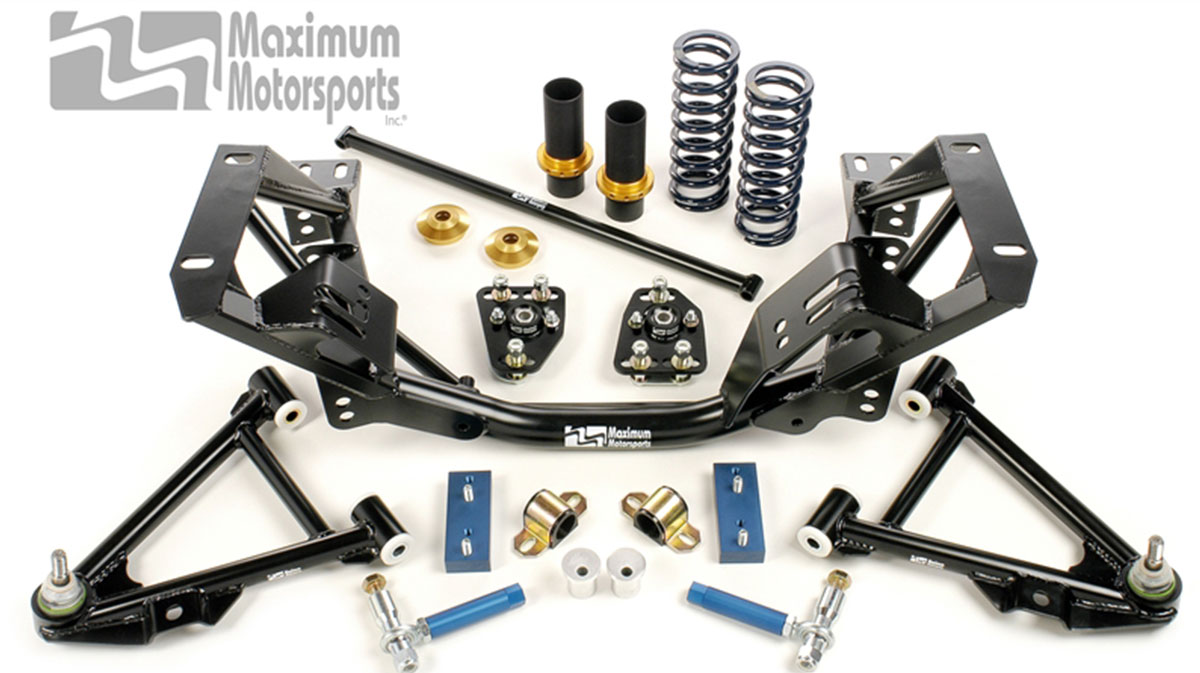 Second up on our list is Maximum Motorsports. They're one of the biggest names in the Fox Body suspension market. Matt Farah from the Smoking Tire used full Maximum Motorsports on his Fox Body canyon carver build and he absolutely loves their products. Their kit includes absolutely everything to make your Fox Body handle amazing. Even little things like solid steering rack bushings are included. Switching to this k-member kit should save you about 40 lbs compared to stock.
Check latest prices on eBay
#3 AJE Racing Tubular K-Member Suspension Kit for Chevy Swap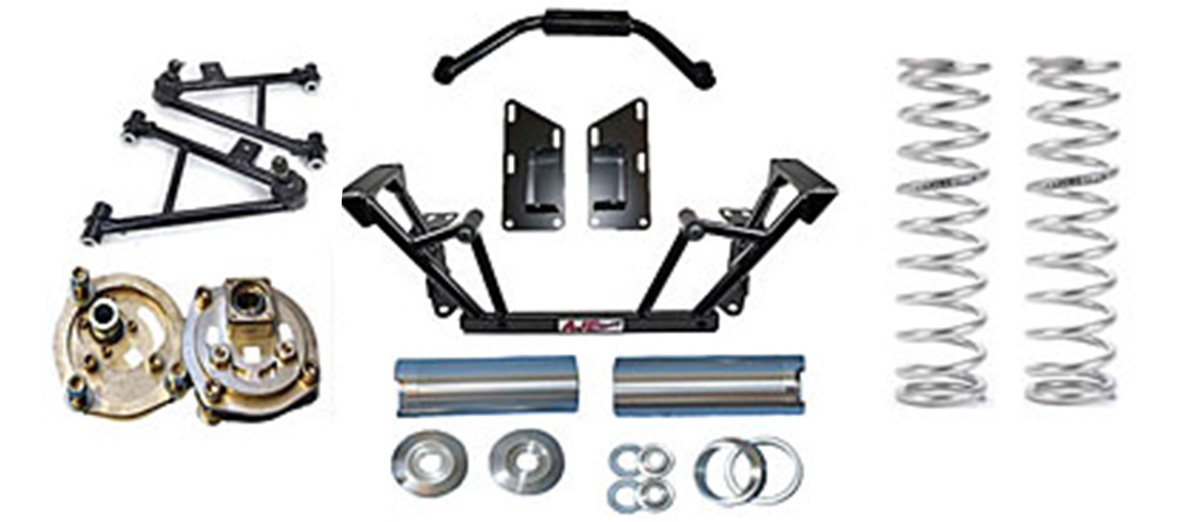 Third on the list is AJE Racing Tubular K-Member. We know how popular Chevy swaps can be so we decided to include this k-member to help anyone planning on running a Chevy engine. This kit will work with a small-block Chevy, big-block Chevy, and LS1. The springs are even tuned for the weight of a Chevy engine which means your Fox Body will still handle well.
Check latest prices on eBay
#4 QA1 Tubular K-Member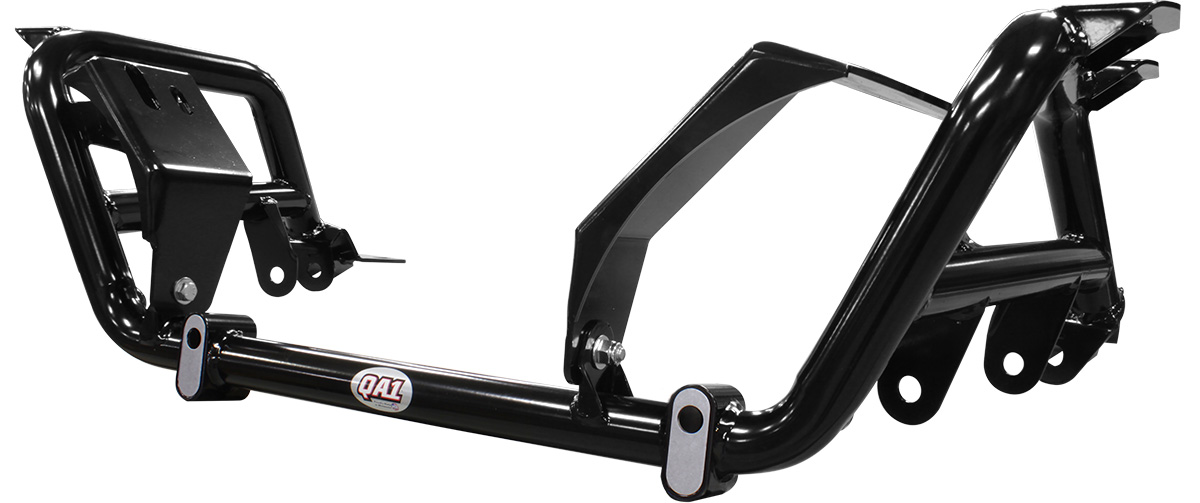 Last but certainly not least is the QA1 K-Member. QA1 is a well-known suspension manufacturer that specializes in muscle cars like the Fox Body Mustang. Unfortunately we arent able to find any sort of QA1 suspension kit for the Fox Body Mustang, but we did find their k-member. This k-member slightly changes the suspension geometry to increase anti-dive and reduce bumpsteer. It does this while being 50% lighter than the stock k-member.
Check latest prices on eBay
What to Look For
There a couple different things you need to look for before you buy a k-member. I would definitely recommend QA1 or Maximum Motorsports. Both companies are known for being able to make muscle cars handle amazing. They're also known for amazing build quality.
Build Material
Since the k-member holds the entire front end together, rigidity is extremely important. Just like how subframe connectors improve the chassis rigidity, so does the k-member. High-end k-members will typically be made of Chromoly. Chromoly is extremely strong and fairly lightweight, but it is very expensive. Low-end k-members will typically be made of mild steel, which is weaker than Chromoly and slightly heavier, but it's much cheaper.
Suspension Geometry
One of the best features of an aftermarket k-member is the ability to change the suspension geometry. One of the most common geometry changes is to move the front wheels forwards. This helps with drag racing as it makes the vehicle more stable, as well as help, keep the front end down when launching the vehicle.
Aftermarket k-members can also bring slight change to camber, caster, suspension pick-up points, and a coil over setup. For a street Fox Body, I would definitely stay with a factory geometry k-member to simplify your alignment. Most k-members will require you to switch to a coil over setup, so keep that in mind when you decide to get an aftermarket k-member for your Fox Body.
Engine Mounts
With the insane popularity of the Chevy LS engine, it's no surprise that people want to swap it into their Fox Body. However, this poses a few issues, mainly engine placement, and engine mounts. An aftermarket k-member can solve these issues and make your engine swap a much simpler operation.
What Type of K-Member Should I Buy?
For a street driven Fox Body, I would recommend a mild steel tubular k-member with factory geometry. The low cost of mild steel will save your wallet and you'll still experience the benefits of a tubular k-member.
If you plan on track racing your Fox Body we would definitely recommend getting a Chromoly k-member with a track-focused suspension geometry. Although it will be significantly more expensive, Chromoly will help shave weight off the front of your Fox Body which is very important for track racing.
If you plan on drag racing your Fox Body look for a k-member that will push your front wheels forwards slightly. It might decrease the cornering capability of your Fox Body, but it will be more stable down the 1/4 mile and you'll be able to launch it harder.
Categories Buying GuidesTags ford, Fox Body, mustangSours: https://dustrunnersauto.com/fox-body-k-member/
Kit front end foxbody tube
Granatelli Tubular Front End Install - Dietary Supplement
| How-To - Chassis and Suspension
Drop 67 Pounds Off The Front End Of Your Ford With A Granatelli Tubular Front End And A Set Of Skinnies.
The laws of physics cannot be broken or altered, and with that, we know a lighter car runs down the track quicker than a heavy one. That said, one of the easiest ways to get unwanted weight off your street/strip Mustang is to replace the heavy, stock K-member and A-arms with a tubular lightweight setup, like what is offered by Granatelli Motor Sports. The company offers front suspension components (amongst a selection of rear suspension parts) from '79 through '09. This article will focus on the installation of a kit for the '79-'93 variety. We shaved weight, improved handling, and thanks to the coilover springs, our front suspension is better suited for a fast-supercharged combination.
By now, most Fox-body Mustangs have had some hard mileage racked up, along with a need to update the underpinnings, as was the story with our featured vehicle. It was sitting on the side of the house nearly abandoned, but had some good parts and we wanted to bring it back to life. Despite its dormant status, the '89 LX coupe has a mere 64,000 miles on the odometer. The body is in excellent condition, save for a much-needed buff and wax job. The coupe belongs to my brother, Dominick, who unfortunately got too busy building a career to keep up with the car. So he parked it, but now it's time to shine up the hot rod and bring it back to its life as a fun street/strip Stang. The car is totally old school, but won't stay that way for long.
The front suspension was bone stock, save for four-cylinder springs and KYB struts. The short-block is original, but the upper half of the engine has been replaced. A set of TFS Street Heat heads, a Lunati cam, and a Ford Racing GT-40 intake help usher in the 15 psi of boost from a Vortech S-Trim blower. The car had run 10.93 once, in excellent air and was a consistent low 11-second player at the local tracks. We have some new plans for a powerplant that you will read about in a later issue, but for now we wanted to focus on getting weight off this 3,220-pound (without driver) notchback. Coupes are known for being lightweight, but this car still carries most of its street amenities-minus the air conditioning because it quit working.
Dom had removed the compressor, condenser, and hoses. A six-point rollbar adds weight to the total package, but helps for rigidity and safety. It killed us to make that modification, but the car was run at the track quite a bit and it is required by NHRA rules. Adding to the "heavy" parts list is a Dynamic Racing AOD transmission. The trans is far heavier than the paperweight T-5 transmission. The minimum weight is a shocker at first, but when you add in those bits of information, it's not a surprise the coupe was carrying that much mass down the 1,320. We remedied that situation in one day with a trip to DMC Racing in Halifax, Massachusetts.
Granatelli Motor Sports shipped us a tubular front end kit, which includes tubular K-member and A-arms, a coilover strut conversion, and caster/camber adjustment plates. The tubular products come powdercoated. We reused the stock spindles, but added five-lug brakes thanks to Late Model Restoration's complete five-lug conversion kit. The kit comes with front and rear brake conversions-this month we installed the front parts. Be sure to check the next tech installment to see how we installed the five-lug rear brakes.
Our final modification to the coupe was in the rolling stock department. Due to the five-lug brakes, we added a new pair of front wheels. One phone call to Summit Racing provided us with Weld Racing Drag-Lite rims (15x3.5) and Mickey Thompson Sportsman front-runners, which are D.O.T.-legal, too. There are dozens of styles of wheels for Mustangs, but we love the classic Drag-Lite look. After all, this car is old school and the traditional Fox-body Mustang look was fitting.
We arrived at DMC Racing bright and early, only to find the lift in the shop was being occupied by an extremely high-dollar musclecar. DMC is predominately a chassis shop, so it only has one lift. We said "forget it" and did the install on the ground, just like a typical enthusiast doing the job in his or her driveway. The car rested on a pair of jackstands, amidst all of the race cars sitting on build plates. The only special tool the DMC gang used was an engine hanger, used to secure the engine as the K-member was dropped out from underneath. Total installation time was around six hours, with taking time for photos and putting every part on the scales to record our weight savings.
The Granatelli tubular parts went on effortlessly, though perhaps the hardest part was getting the stock hardware off the factory A-arms. The Granatelli kit requires you to reuse your factory hardware, but considering the inactivity of our vehicle, it took some WD-40 and Justice Brothers rusty bolt spray to get things loosened up. Once off, the nuts and bolts cleaned up nicely and went right in. The Granatelli K-member also has a support bar that runs across the backside of the unit. It's there for extra support for the road-racing types. Unfortunately, it interfered with our long-tube headers. Those who have owned a Fox-body Stang with an AOD know what a complete hassle full-length headers can be. Luckily, the support is bolted on and easily removed. It also reduced weight by another two pounds. We feel confident in removing the crossbrace because the overall design and construction of the Granatelli K-member is great. The unit is boxed in several critical locations, and the tubing employed is heavy-duty.
Adding coilover struts to your Mustang has a variety of benefits. The first noticeable advantage was the ability to adjust ride height. The other is to get a better front spring to help transfer upon launch. Granatelli includes two spanner wrenches to crank the collar up and down. All too often, people want to crank the coilovers down so much that the front end is on the ground. Running it that low usually isn't the best method, as weight transfer suffers, as well as ride quality. We kept the ride height near stock for two reasons. One, was to let the springs settle for a day or two. The second was because we are going to be overhauling the backside and felt it would be better to adjust the front and rear ride height at the same time. Granatelli sent us 300-pound springs because of the car's status as a street machine. Spring rates are a touchy subject, depending on who you talk to. You don't want a spring that is too heavy, otherwise weight transfer suffers and ride quality will be harsh. However, a really light spring might not support the heavy front end of a street car. A light spring will also cause a rather soft ride that can result in too much oscillation on bumpy and curvy roads.
The trick in selecting springs is finding the proper balance; the 300 pound springs we employed should offer great ride quality, but definitely aren't for the hardcore drag racer. "The best method in determining the front spring rate would be to weigh the car on four-corner scales. But generally, in a Mustang with a supercharger (which is nose heavy) the 165-pound springs will work nicely for hardcore drag racing and limited street use. Naturally aspirated cars can run a 155- or 160-pound spring. If anything, this car will ride as nice as it did before with the four-cylinder springs," comments Dennis McPherson of DMC Racing. The springs are great for a daily driver; just don't expect a 300-pound spring to help a car like this leave the starting line like a NHRA Super Stocker. Granatelli offers a variety of spring rates, selecting what is best for your application is up to you.
We must also note, not every combination works well with coilover springs. Lower horsepower combinations, or ones with extremely heavy front ends, tend to work better with traditionally mounted springs. The reason is traditional springs are taller, and when compressed in the factory location offer more stored energy. This problem reared its ugly head with our Project Frightning, which had a Lightning supercharged engine in a lightweight coupe. The car was extremely nose heavy and we ran a set of heavy front coilover springs to keep the front from sagging. That, in turn, hurt its ability to get the front end hiked up when the car left the starting line. Another instance where coilover springs hurt is in a dedicated drag race vehicle that runs a street-legal drag racing class. If the Stang features a naturally aspirated, small cubic-inch engine, and the car must roll on tiny, drag radials, it's likely the front end will need to come up quickly in order to plant the drive tires. The ultimate deciding factor for converting to coilover struts is your combination. Given the popularity of superchargers and turbos, getting weight off the front end, and having the variety of spring rates available, means switching to coilovers can help your car hook when setup properly.
One nice addition to our vehicle was adjustable caster/camber plates-a must for any coilover conversion. We set our plates to Granatelli's recommendations. The trick to maximizing performance is to get a zero toe alignment with lots of positive caster. It reduces rolling resistance and helps stability at higher speeds. Also helping rolling resistance are the skinny Mickey Thompson Sportsman front-runners. The smaller wheel and tire package saved 26 pounds over the heavy billet Boyd Coddington wheels and Dunlop radial tires.
Overall, the Granatelli K-member, A-arms, coilover springs, Strange struts, and Latemodel Restoration five-lug front rotors saved 39 pounds on the front end. Then we removed the crossbrace on the K-member due to header clearance, and that brought our total savings to 41 pounds. The rotors were a little heavier than stock, so doing just the Granatelli K-member, A-arms, and coilover springs will drop your Stang down by about 43-45 pounds. The front skinnies offered us even more savings as we saw a total of 26 pounds (43 for big wheel/tire per side versus 30 for the Weld/Mickey Thompson combo per side), when compared to our regular rolling stock. That effectively brought our car's overall weight down to 3,153 pounds, without driver.
THE LATEST IN CAR NEWS
EMAIL NEWSLETTER SIGN-UP!
Share on FacebookShare on Twitter
Sours: https://www.motortrend.com/how-to/mmfp-0903-granatelli-tubular-front-end-install/
Team Z Foxbody Tube front end Install how too!
If I were in his place, I would give you such cuffs that I would be afraid to appear in front of people. Enough already, got it, well, what's wrong with Irka's husband, his younger brother Artyom is not yet full 17, asked to see him off. Its scary at night alone, and when he saw me off and was about to leave, we saw a drunken crowd near our stop.
So I took him outside the gate, do not expel him to be torn apart.
Similar news:
A couple of times I managed to spy how they drove the roe deer. The five young wolves and the Gray-haired were remarkably well-coordinated. But this, in general, is all prehistory. I do not know how it happened, but the she-wolf died.
36
37
38
39
40