Pros: Bought this for a home ESXi lab. Considered building a whitebox, but I like that this has out-of-box driver support and HP iLO (more on that later). In contrast to some other reviews, I find it to be really quiet (which was important since it's in a guest bedroom). The case is compact and aesthetically pleasing. Internally, it's definitely heavily engineered. Removing/shifting components isn't always intuitive, but it was expected given the small form-factor. Runs ESXi quite nicely with relatively quick boot, it has an internal USB connector which I use for a USB thumb drive to host ESXi.
Cons: To use iLO's full functionality, you need to buy a license from HP. Max RAM supported is 16GB, would be really nice if it was 32GB. There's no easy way to mount a 2.5" SSD. I tried purchasing a separate Thermaltake drive caddy with the idea of mounting the SSD in one of the removable drive bays, but it still didn't fit. I ended up unscrewing a pair of the SATA connection boards and pulling them up so that the SSD can rest on top of the inner metal housing. Not ideal, but it works fine.
Overall Review: Despite the cons, I'm generally happy with the Microserver. It handles my vSphere environment reasonably well and I'm considering purchasing another one for HA and more capacity. When purchasing RAM, the microserver requires Unbuffered RAM. I used Kingston 16GB (2 x 8GB) 240-Pin DDR3 SDRAM ECC Unbuffered DDR3 1333 Server Memory Model
Sours: https://www.newegg.com/hp-proliant-microserver-gen8-712318-001/p/N82E16859108029
Upgrading the CPU on an HP MicroServer Gen8
Summary
A few weeks ago I obtained a second- (or maybe third-) hand HP ProLiant MicroServer Generation 8 (that's honestly what they call it). If I was sensible, I would have bought one new about five years ago when HP were offering a cashback deal. As it is, a second-hand one probably costs more now than it did when it was brand new and it's still a bargain. But perhaps only if you upgrade the CPU and RAM. Here's how I did it. Expect other articles about this device in due course.
Background
Since I've been stuck at home a lot over the last few months, I have decided to do a bit of work on sorting out my home lab (that's just my fancy term for the computers I use to muck about with and to learn new things).
Having obtained a bargainous Gen8 HP MicroServer on eBay, I decided to upgrade the CPU, so I went back to eBay and ordered a second-hand Xeon E3-1265L V2 to replace the stock Celeron G1610T. The important thing to note is that the Xeon has four physical cores with hyperthreading enabled (meaning eight available CPU cores), whereas the Celeron has two cores and no hyperthreading. So the upgrade is effectively giving four times as many CPU cores. Not bad for about £50 (it was sent from China and took about a week to arrive). You can see comparison benchmarks of the two chips here: https://www.cpubenchmark.net/compare/Intel-Celeron-G1610T-vs-Intel-Xeon-E3-1265L-V2/2075vs1486
Update 2021-02-23: It seems that the Xeon E3-1265L V2 now costs about twice as much as when I wrote this article six months ago (thanks to Wormvortex for pointing that out). With that in mind I had a look around and I think it might be better to opt for a Xeon E3-1260L (not the V2 version). Have a look at the CPU comparison here: https://www.cpubenchmark.net/compare/Intel-Celeron-G1610T-vs-Intel-Xeon-E3-1265L-V2-vs-Intel-Xeon-E3-1260L-vs-Intel-Xeon-E3-1265L/2075vs1486vs1203vs2558. The E3-1260L appears to be the second best CPU and is currently available on eBay for under £40 shipped to the UK. I have not tried this CPU, but it should be fine. If you try it, please let me know how it performs in the comments section.
Installing the new CPU is easy but, since I had to unplug a few wires to extract the motherboard I thought I'd better take a few pictures in case I forgot where they all went. I learnt this trick when I was a kid. Mind you, back then I had to make drawings of things as I dismantled them as there weren't any digital cameras. Needless to say, I learnt the drawing trick after carefully laying out all of the different screws I'd removed when dismantling something, only to knock them all on the floor. But I digress.
Procedure
First of all, switch it off and unplug it from the mains (and remove any network cables).
Next, remove the cover from the MicroServer by undoing the thumbscrews at the back and sliding the cover backwards.
Now undo the clip below the fan grill on the rear and, very gently, start to slide the motherboard tray backwards. Notice which wires are preventing it from coming out. Well, that's what I did. In my case I had to undo these wires:
On the side with the RAM I had to unclip a bunch of wires with a blue "handle" and also a fan wire.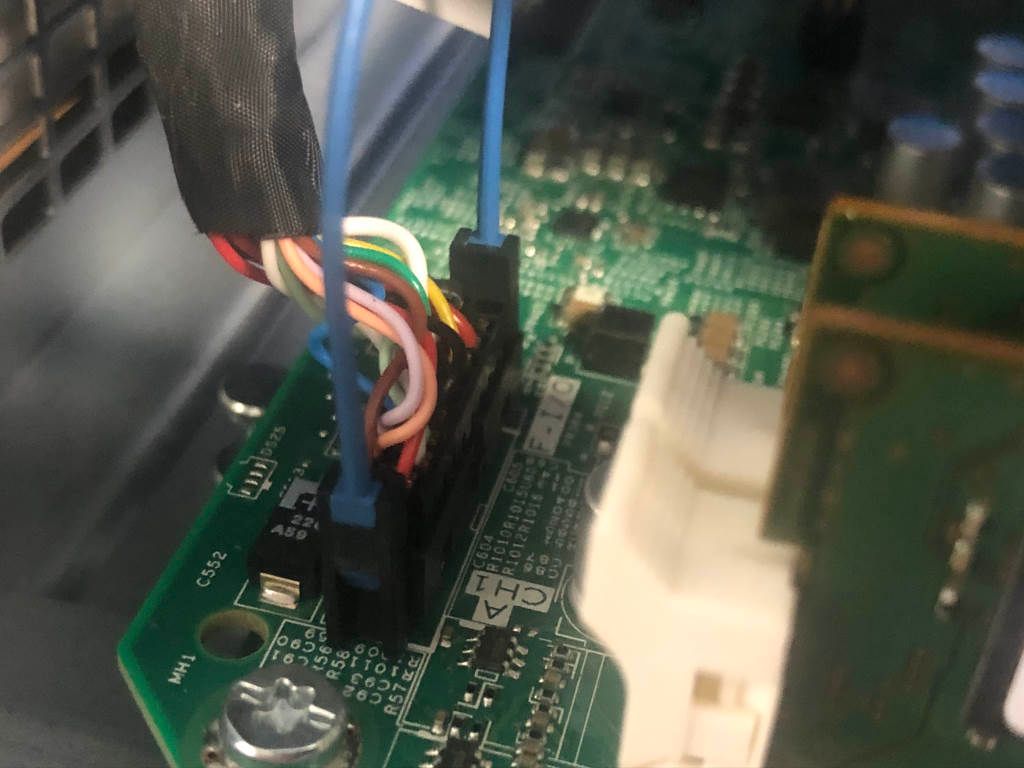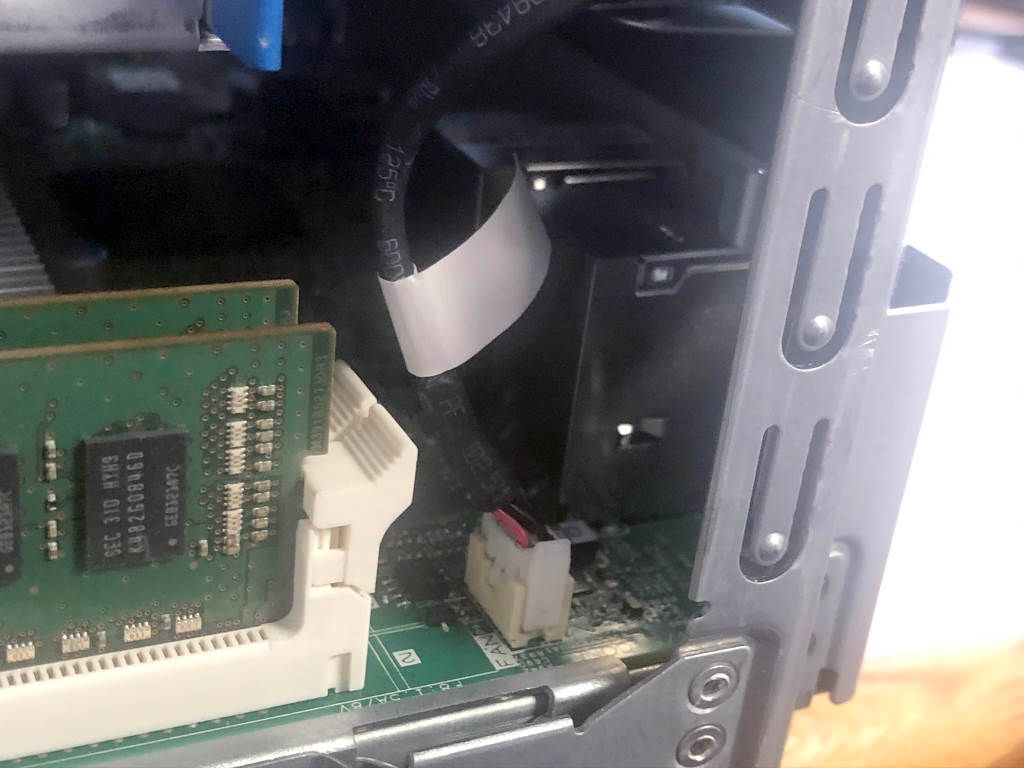 On the other side of the machine, I had to undo the large power connector,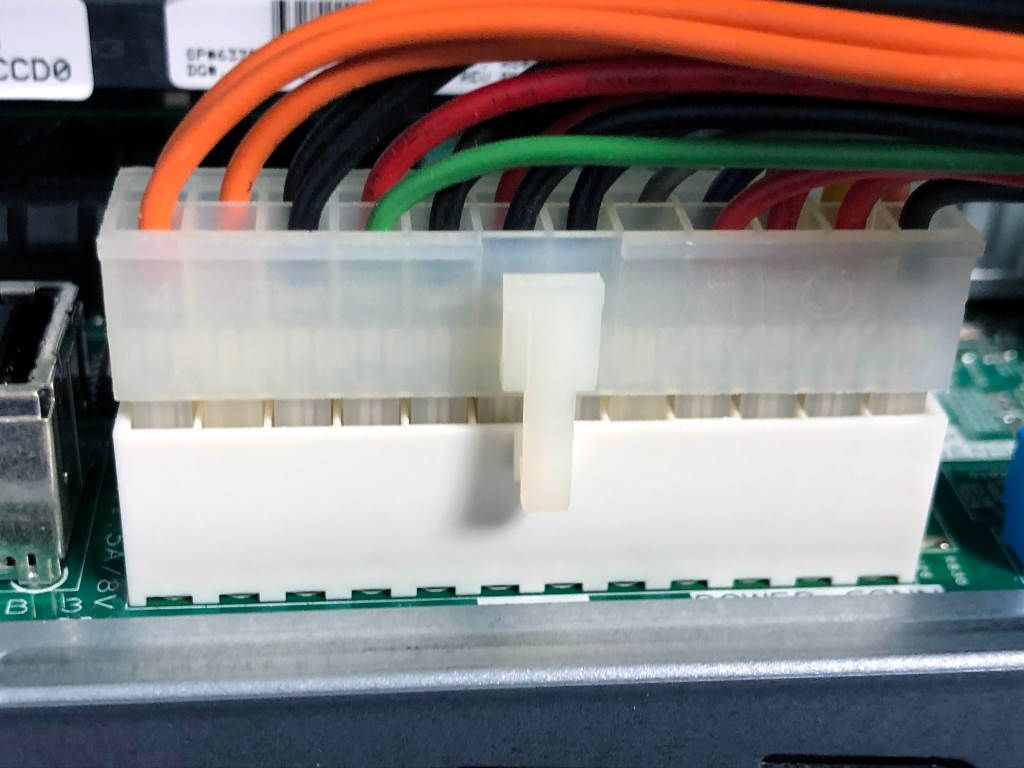 which revealed this (in my case, helpfully-labelled) temperature sensor wire.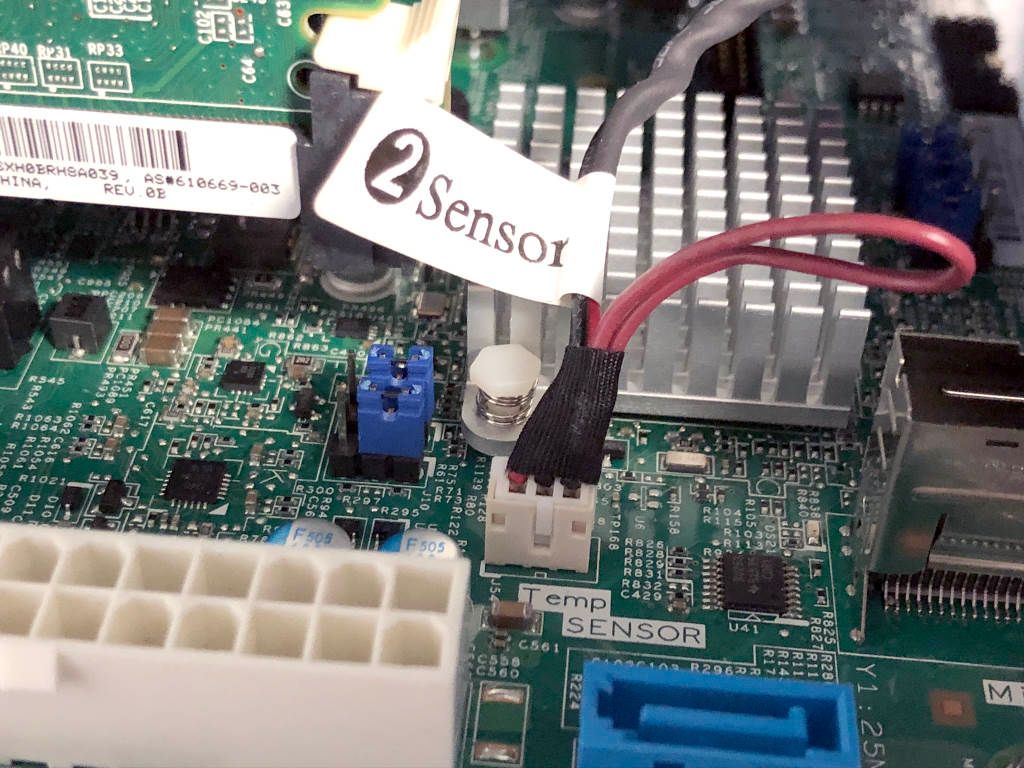 Since my server also came with an HP Smart Array P222 SAS RAID Card, I also had to unplug a couple of wires from that, too. If yours has the stock B120 RAID controller, I reckon you'll have to unplug a cable from the large, squarish silver connector in the right hand side of the temperature sensor picture above.
As I mentioned before, I took these photographs because I knew I'd forget something if I didn't, so I might as well include them here, just in case they might help you.
Here's one of the connections on the P222 card which you probably haven't got.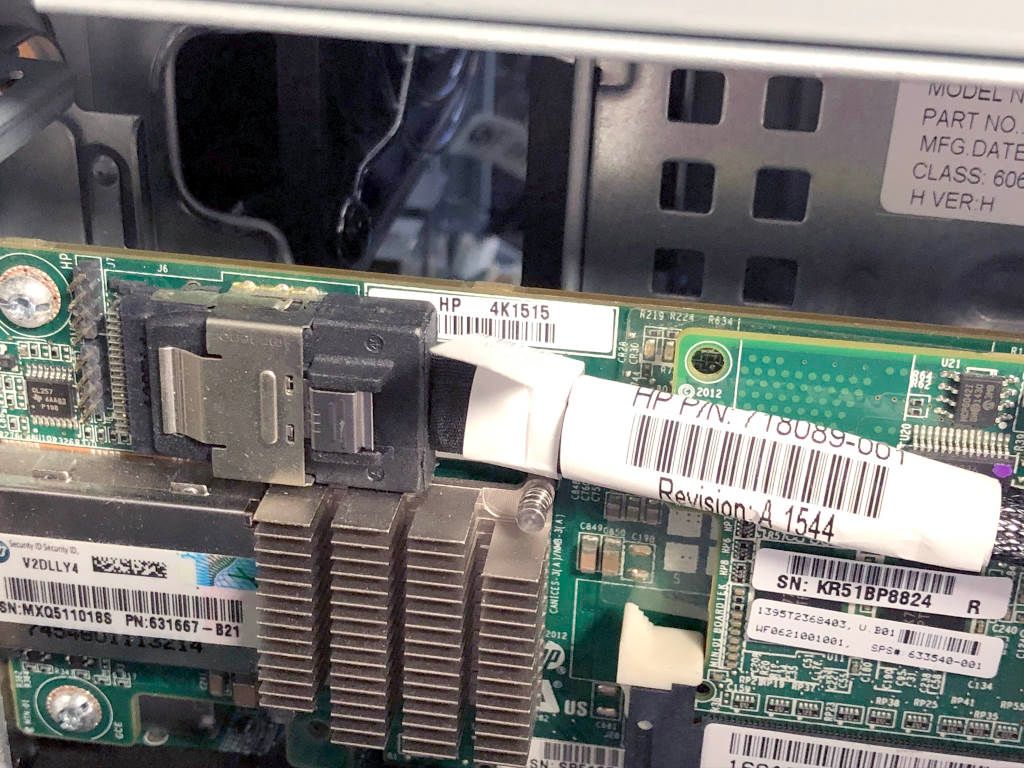 And here's the other.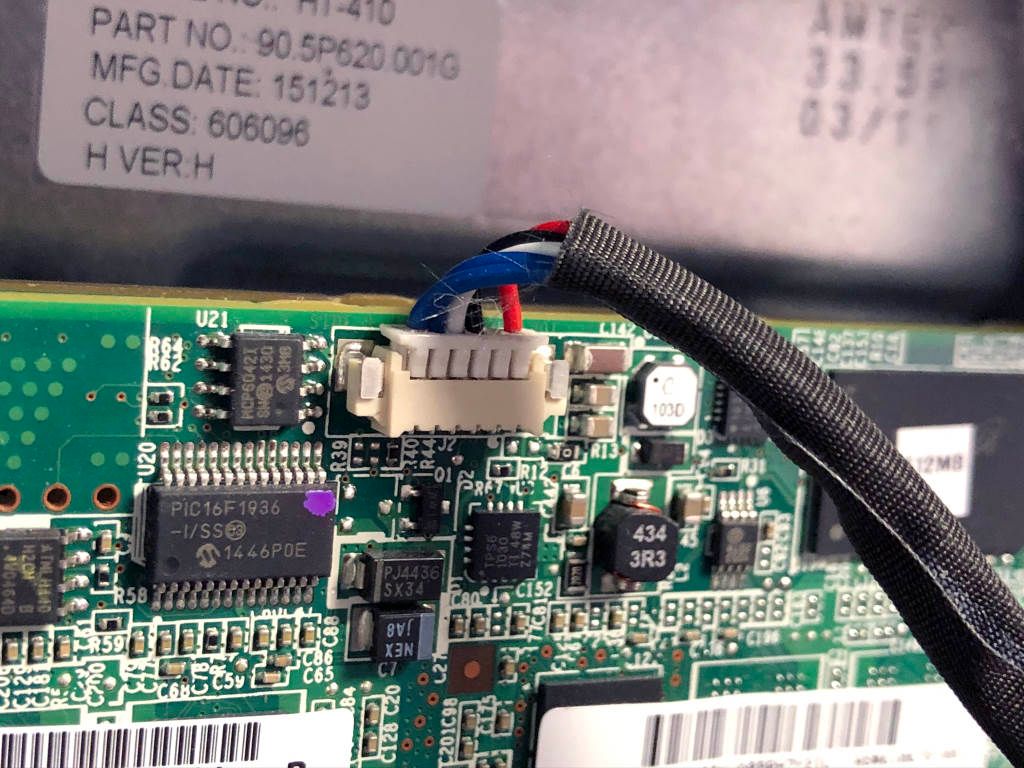 With the motherboard now out of the server, it's time to replace the CPU. Before we do that, here's a quick picture showing where the cables go. The yellow boxes are the P222-specific connectors and the on-board RAID connector is at the top left (I didn't highlight it because it wasn't used in my server).
Note that the CPU heatsink is held on with four screws and that it doesn't have a fan. This is part of the reason I opted for the CPU that I did. The E3-1265L V2 is a 45W CPU and can be passively cooled with this heatsink with no problems.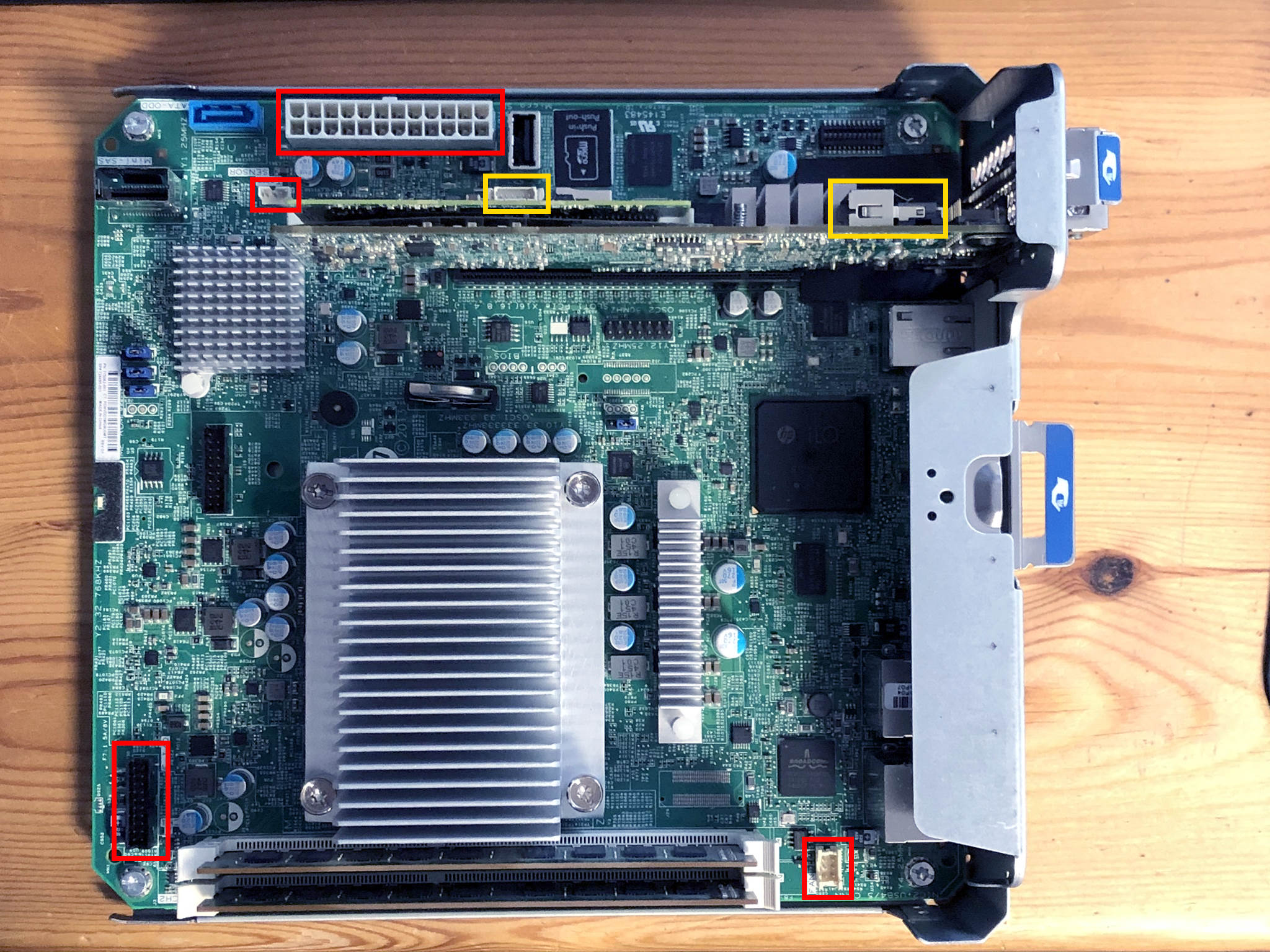 When my "new" CPU arrived, I noticed that the packaging had been damaged. You can see the large gouge above where it says E3-1265L V2. Oh well, I expect the contents are unscathed...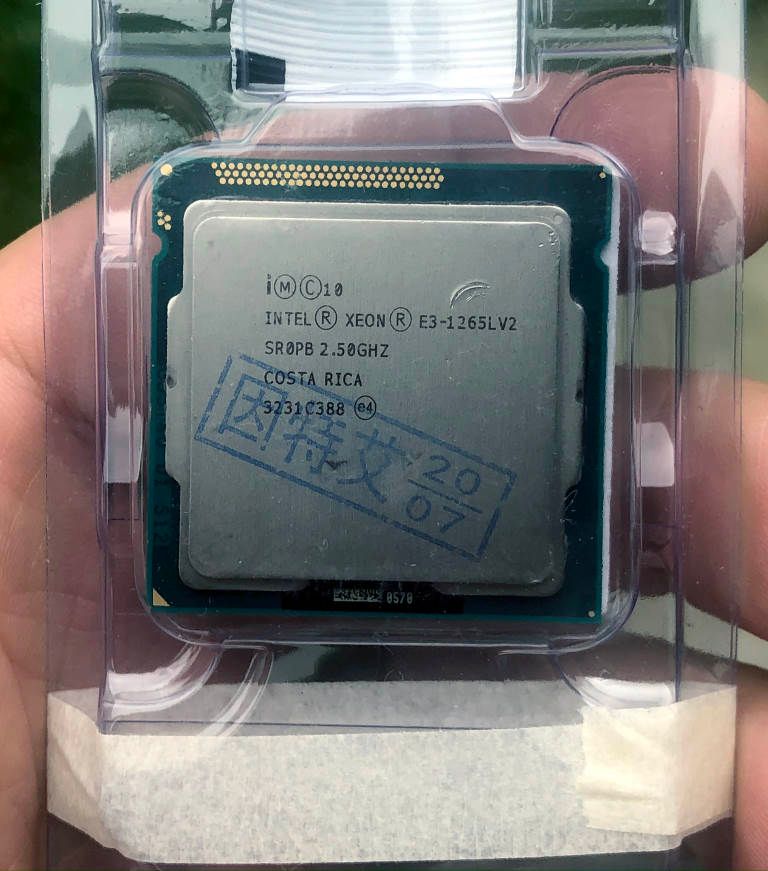 Removing the heatsink was much more difficult than I'd expected, but with a bit of perseverance it came off. Make sure all of the screws are completely undone and don't expect it to be easy.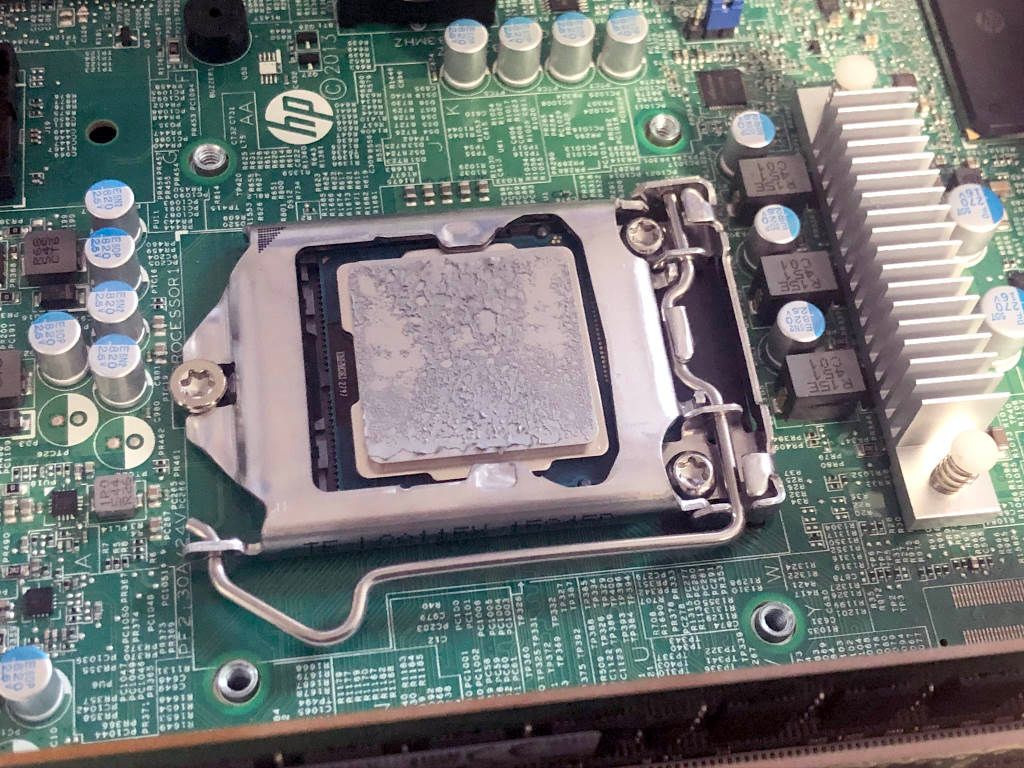 Next I cleaned the heatsink with some alcohol wipes and it went from this: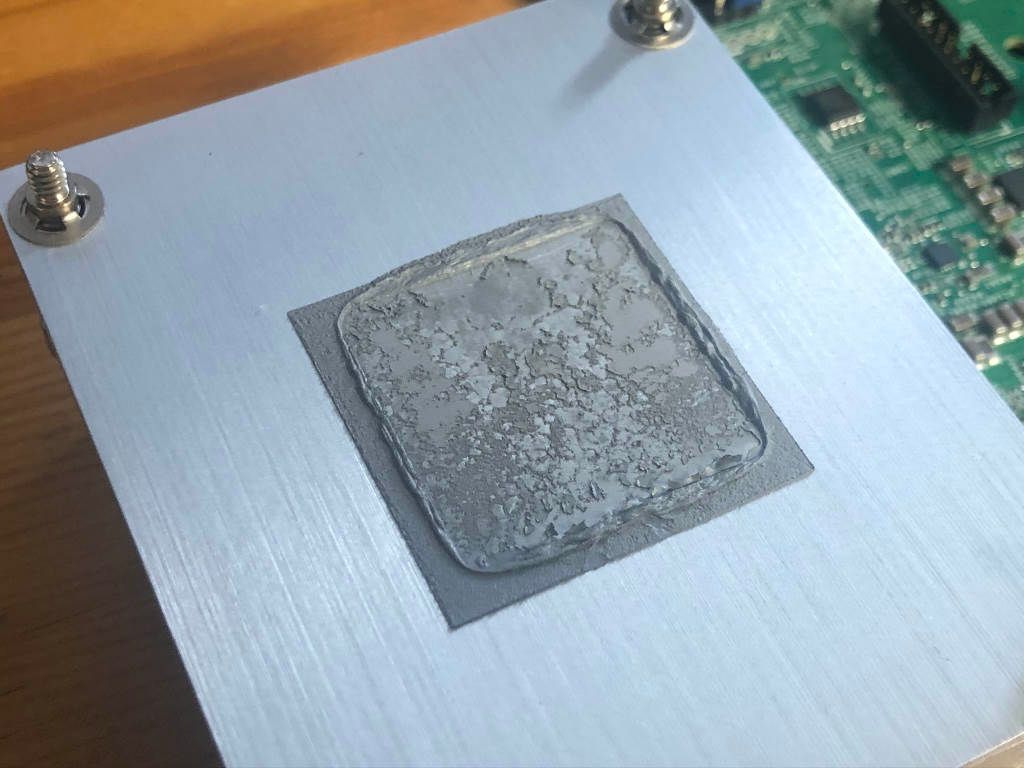 to this (in about ten seconds). That was quite satisfying.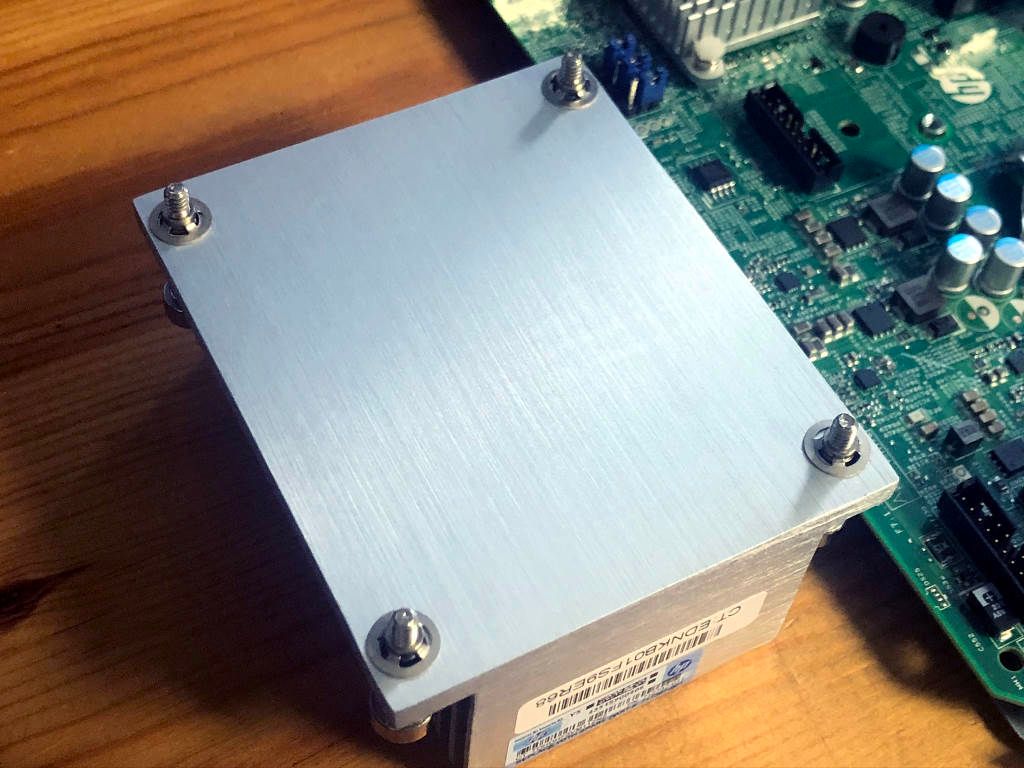 Having removed the old CPU, I opened the packaging of the "new" one and discovered that the massive gouge was, in fact, in the CPU itself. Mind you, since that big square metal block is nearly all heatsink, I didn't let it worry me too much, so I mounted it, cleaned it with an alcohol wipe, let it dry for a minute or two and then applied a bit of Arctic MX-4 thermal compound and remounted the heatsink. You really don't need much of this stuff at all and I've actually put slightly more on than I meant to.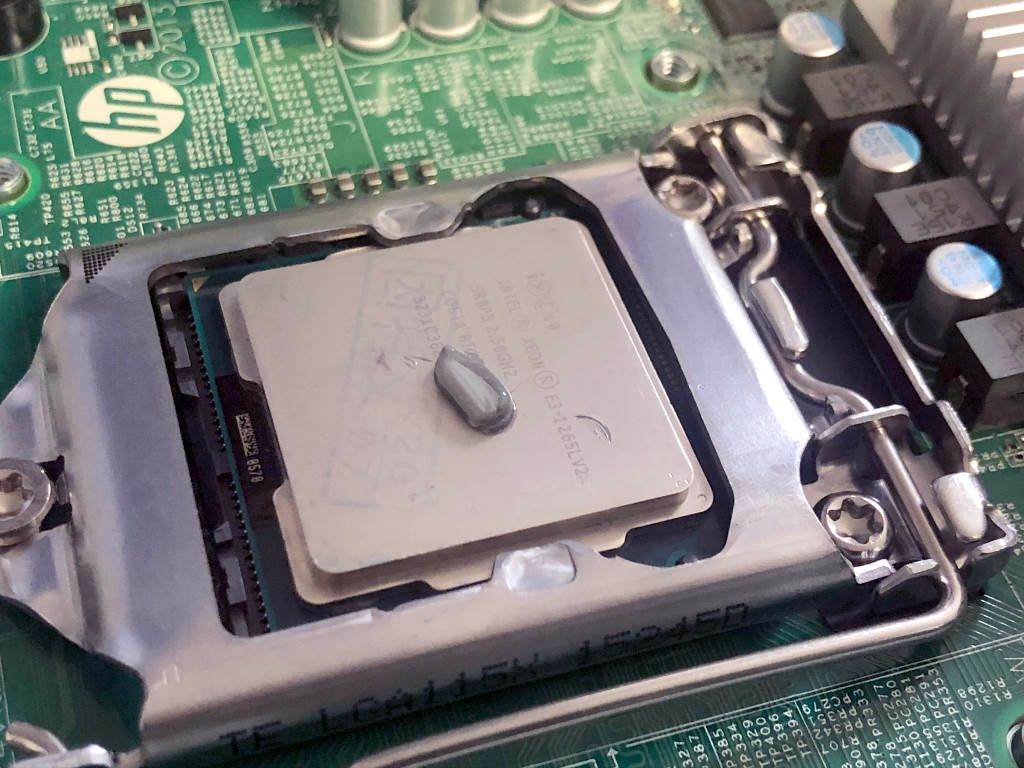 Finally I slid the motherboard tray back into the server and reconnected the wires. Once everything was back together, I added some more RAM. The maximum that you can install in this server is 16GB and it has to be ECC RAM. I bought some cheap on eBay which you can see below. What you possibly can't see is this information from the stickers on it: and .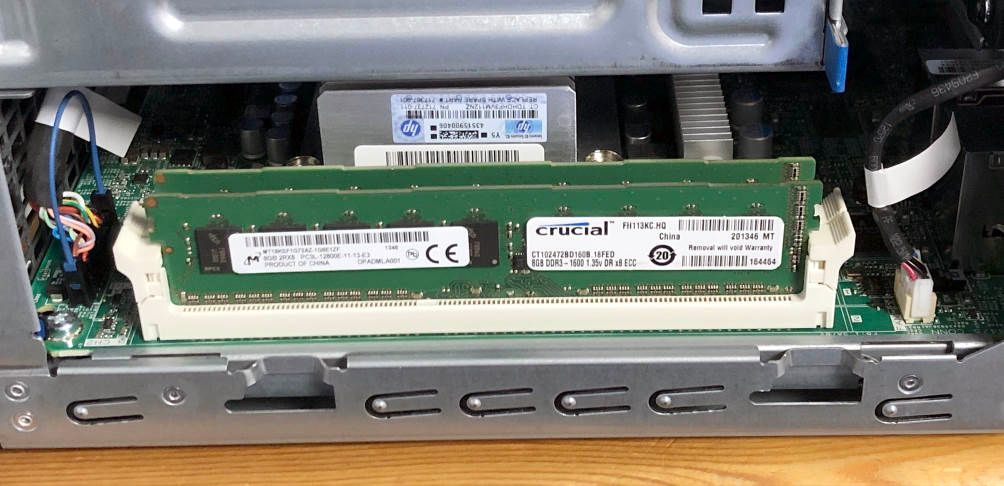 When I powered on the server, the BIOS screen showed that the new CPU and the RAM had been detected correctly.

And here is my server up and running.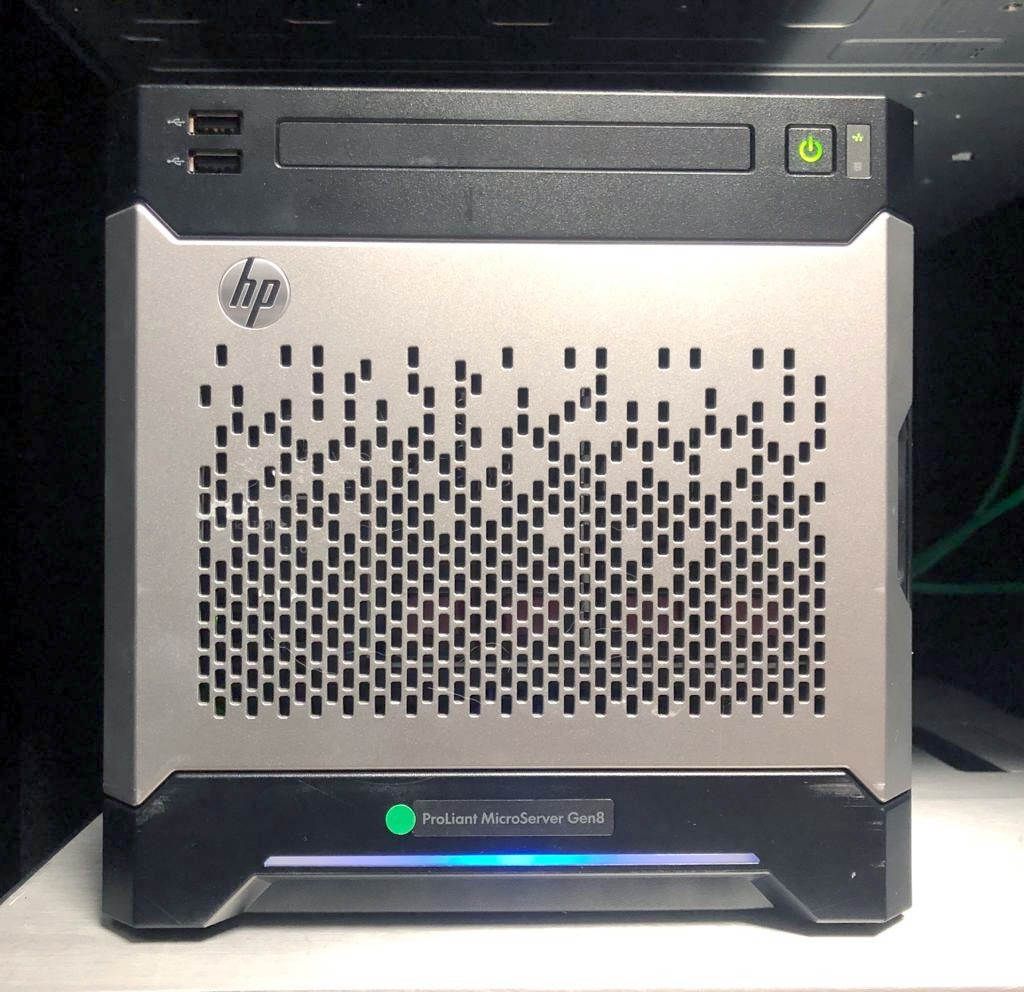 Conclusion
Upgrading the CPU in an HP Gen 8 MicroServer is really easy and, despite being pretty old, they are still an excellent machine. If you already own one of these machines and it's still got a Celeron in it, then you might want to have a look at buying a second-hand Xeon E3-1265L V2 from eBay for around £50-60. I am now running VMWare ESXi on my machine (more about that another time) and it works really well.
Home Lab
Join the newsletter to receive the latest updates in your inbox.
Sours: https://tomssl.com/upgrading-the-cpu-on-an-hp-microserver-gen8/
RSS
TechRadar is supported by its audience. When you purchase through links on our site, we may earn an affiliate commission. Learn more
Our Verdict
All in all, a very complete product with optional matching network switch, needing little more to finish it off.
For
Professional build quality with ease of access
Choice of Intel dual-core processors
Embedded RAID controller
Two Gigabit network ports
Two USB 3.0
Integrated Lights Out management (iLO4) as standard
Against
No hot-swap disks
16GB memory limit
Could be quieter
The long-time baby of HP's ProLiant server family has finally been given a Gen8 makeover, with a smart new look and all-new internals to bring it up to current standards.
Intel rather than AMD silicon becomes the order of the day here, with a choice of processor accompanied by up to 16GB of ECC-protected RAM, on-board RAID, a couple of Gigabit network ports and USB 3.0 support. It even gets an integrated HP Lights Out (iLO) management controller, further enhancing the appeal of this popular SME platform.
More than skin deep
Previous MicroServers were basic affairs that were clearly built to a price to appeal to enthusiasts as well as small business buyers. The new Gen8 model, however, is a much more substantial product with a great deal of attention to detail and the kind of quality feel corporate buyers look for.
Some things, of course, haven't changed with the same cube format as before and a lift-off casing for ease of access secured by two thumbscrews.
The motherboard nestles in the base of the unit with the storage above, but the memory slots are easily accessible and the whole motherboard can be pulled out from the back if needed. More than that, HP has added clear labelling showing how to manage this and other hardware maintenance tasks - just as on bigger ProLiants.
Routine access to the storage is via a hinged front door, available in red, blue, black or silver, which can be locked from within the chassis to prevent tampering, plus space for a low-profile DVD drive in the top.
A single power supply with integrated fan is built in with another larger fan at the rear to keep the processor and storage cool. Unfortunately the end result is little too noisy for an open plan office - a cupboard or separate room would be better.
Prices - HP ProLiant MicroServer Gen8:▼
Current page: Introduction
Next PageFeatures
Sours: https://www.techradar.com/reviews/pc-mac/peripherals/servers/hp-proliant-microserver-gen8-review-1254460/review
Upgrading HP Proliant Gen8 Microserver p1 - Performance
And was giving a sign that she had seen everything that the girl had just done with herself in a fit of passion. from the vagina, but then a daring thought came to her that since the observer had already seen everything, continue the performance. And prolong the spectacle for him. Marina got out of bed, stretched sweetly, bending back with her whole body, stroked her large and at the same time protruding breasts and left the room.
In the kitchen, where the window curtains never opened, she secretly traced through the gap between the curtain and the frame where.
Micro hp gen8 proliant server
I really froze from these air conditioners, and readily leaned against the young man who hugged her by the shoulders. At the same moment, she felt a pleasant warmth radiating from the young muscular body. What she dreamed about, going on this trip finally came true.
HP Microserver Gen 8 vs Gen 10 - Full Review
Anton said something to him. Bald liked it and came up to me with a quick step. I dont think its worth explaining what that coward told him. I was even delighted somehow. I'll just take my shoes and my purse.
Similar news:
Anyuta promised with a smile. Then she grabbed Andy by the balls and added - "And we will leave this uncovered. I have a couple of ideas about his personal belongings. "The beauties exchanged smiles.
400
401
402
403
404