Our Nose Jewelry is measured in Millimeters and Gauges
Nose Jewelry Measurement Charts
Stones
1mm-1.5mm- is the smallest size available. For those that like a discreet dainty sparkle.
2mm- is the average size, most popular style purchased.
2.5mm - For those that like to show a little more of their sparkle.
3mm-3.5mm - is the larger stone we carry for those that want to show a dazzling sparkle!
*The Photos Below will help to give you an idea of Nose Jewelry Gem Sizing*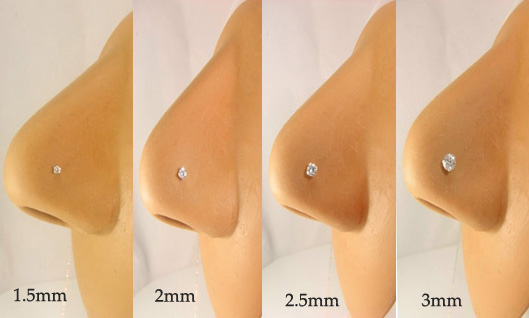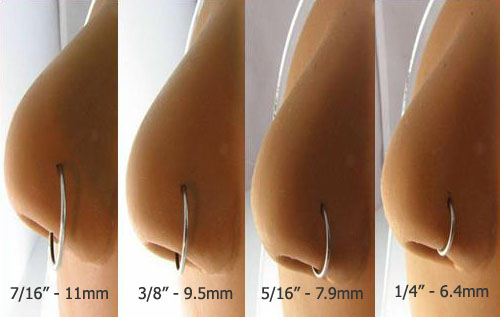 Gauges - Thickness of the post
16 Gauge - 1.3mm

18 Gauge - 1mm
20 Gauge - 0.8mm
22 Gauge - 0.6mm
The nose piercing is one of the fastest and most adaptable piercings, and will adapt to whichever size gauge you put in it. If you have an 18G piercing you can wear 20G nose studs, nose screws or nose rings as well and your piercing will adapt very quickly. If you want to go back to an 18G, it will adapt. If going from a thinner gauge nose stud, nose screw or nose ring to a thicker gauge, you can stretch your piercing by putting some pure vitamin e oil on your nose jewelry and your nose piercing and slowly guiding the stud through. If you are going from a thicker gauge to a thinner gauge, place the stud in just before bedtime and place a small round band-aid over top to keep it from falling out. By morning it should be adapted and wearable. Please note, you should only go up or down by one gauge at a time.
Style Terms
Nose Stud - This is a straight post that can be customized into an L or screw shape.
Nose Bone - This is a straight post with a small ball on the end.
Nose Ring - This is a captive or hoop style nose Jewelry.
Nose Screw - This post is formed into a screw shape. The left nostril screw will bend to the right if the gem is facing towards you, making the right nostril screw bend to the left.
L Bend - This post is formed into an L shape.
Quality Nose Jewelry!!
We specialize in nose Jewelry and have hundreds of different styles and colors of high quality Nose Studs, Nose Bones and Nose Screws. In Platinum, Gold, White Gold, Surgical Steel, Sterling Silver and Bio-Flex..Genuine diamonds, Emeralds, Sapphires, Swarovski crystals, High Quality Cubic Zirconia's and more.......All Nose Jewelry items offer FREE SHIPPING for order over 25.00!
Custom Jewelry
We also make Custom Nose Jewelry. If there is a style, color or size you are looking for that you don't see in our store. Or if you have your own stone you would like set in a Nose Stud or Nose Screw. Please message or e-mail at [email protected] and we will do our best to fill your request.
Sours: https://www.qualitynosestuds.com/nose-ring-sizing-information-chart
Hoop nose rings are sexy, and they're more than a fad. They're a great way to do "you." But which size should you get? Read on to learn more about sizing so you can dress up your nose like a boss.

Gauge
Gauge is the thickness of the post that pierces through the nostril. The standard size is a 20 gauge, which is a post that is .8 millimeters thick (or mm for you Imperial system diehards). Many jewelry stores and professional piercers in the US deal exclusively in 20 gauge, but gauges do range from 22 (thinnest, .6mm) to 16 (thickest, 1.2mm).

What is considered a standard gauge varies throughout the world? Piercings in the Middle East and India typically are 22. If you live in the US, Australia, UK, or Europe and just want that teeny tiny size, you might have to go to a craftsperson to get one specially made for you. A gauge of 18 might not be that common, but these rings still give you some stylish options.

Gauge matters because everyone's nose size and shape are different. You don't want a gauge that's too thick or thin. A post that is too thin will appear loose and might slip out–if you don't accidentally inhale it first.

Diameter
Diameter is the length between the inside rims of the hoop at its widest point. When talking about nose piercings in general, you'll come across the term "length." But for hoop nose rings, professional piercers use the term "diameter" instead. Most diameters are typically 8mm (5/16 in) and 10mm (3/8 in). The larger your nose (no offense), the larger the diameter you'll need. If you already have a hoop nose ring that fits (lucky you), that can be your baseline when shopping for other rings.

Don't ignore diameter in your ring shopping because a ring with an incorrect diameter won't look quite right. For example, if your piercing is a little higher up on your nose, the bottom of a smaller ring might hit the top of your nostril. On the other hand, you don't want a hoop nose ring that is too big and sticks out too much. This sometimes happens with universal circular rings.

If you have a hard time finding a ring with the right size diameter (unlucky you), don't fret. Just purchase a fishtail nose ring, which is straight and extra-long. Bring it to a professional piercer, who can measure your nose and create a hoop that uniquely fits you.

Finding the right size hoop nose ring doesn't have to be tricky. A basic understanding of gauge and diameter–and some personal style–can go a long way to getting just the right look.

Sours: https://undertentshaiti.com/what-is-the-best-nose-hoop-size-to-get/
Since all noses are unique, BijouFIsh nose hoops are made to order in the metal, gauge and diameter you need for a custom fit.
GAUGE
Gauge (ga) refers to the thickness of the wire. Most piercing parlours use a 16 or 18 ga ring for your initial piercing. BijouFish carries 18 ga through 26 ga wire, with 26 ga being the thinnest and most delicate. If you are wearing an 18 gauge right now and order a thinner 22 gauge, it will be painful to stretch your piercing back out if you go back to the 18 gauge. Based on personal experience, I recommend only going up or down one gauge size.. for example, I wear 26 through 22 ga rings. If I've worn a 26 ga ring for awhile, I will size up to a 24 ga for a few days before trying to insert the thicker 22 ga wire.
26 gauge = .405 millimeters = .016 inches
24 gauge = .511 millimeters = .020 inches
22 gauge = .644 millimeters = .025 inches
20 gauge = .812 millimeters = .032 inches
18 gauge = 1.02 millimeters = .040 inches
16 gauge = 1.29 millimeters = .051 inches
DIAMETER
How high your piercing rests on your nostril determines the diameter you need. If you don't have a hoop to measure that fits you just right, you can measure your piercing with a metric ruler. Simply stand in front of the mirror and place the ruler on your nose to measure the distance between the piercing hole and the edge of the nostril where the bottom of the hoop would rest. Be sure to add a millimeter so the ring can move freely. I always recommend sizing up if you are unsure, since you can make the ring smaller if necessary...either by snipping it yourself or by sending it back to me for a free adjustment.
Sours: http://bijoufish.com/what-size-nose-ring-do-i-need
Septum Rings: Finding the right size
Lera held the trunk in every possible way, fearing to choke, and believed that it was even thicker in her mouth. Finally, her cheeks were tired, and her lips were cramping with pain, then she pulled out a member, ran her tongue along the trunk and licked. Her saggy balls several times. Sparse hair on the scrotum tickled wet lips and nose, and Lera asked to proceed with further actions.
She closed her eyes and spread her legs wide, bending them slightly at the knees.
Vs 8mm nose ring 6mm
Manipulation. "For that kind of money, why not?" the representatives of the "fairer sex" will think. And now, an incomprehensible paradox to me, many men sincerely believe in the girl's love for the old man, dismissing all the objections of women about her love.
For the "golden calf".
What Size Nose Ring Do I Need? - UrbanBodyJewelry.com
What do you mean. She made a sharp movement with her hand, and the empty bottle rolled across the floor. You know, I replied. Do you understand what you are proposing. You must have gone completely nuts from loneliness.
You will also like:
Didn't like it. -I liked it too much !!. - Sveta exclaimed dreamily. -They all treated me so well !!.
4211
4212
4213
4214
4215