Garmin Edge 530 Cycling GPS In-Depth Review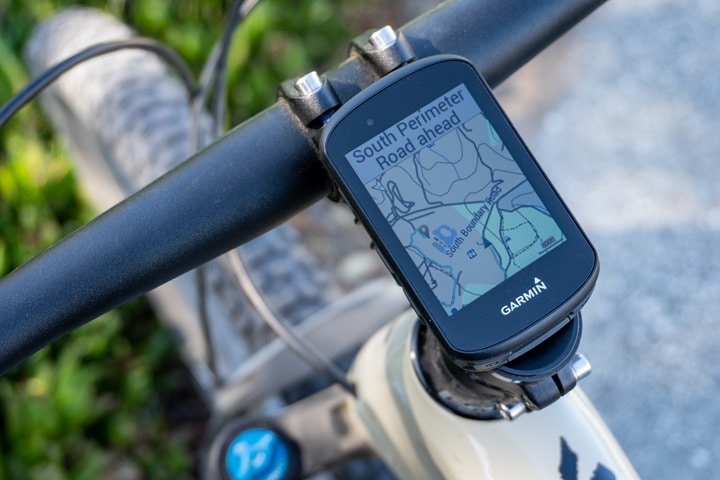 Today Garmin announced three new products, the Edge 530 (this review), the Edge 830 (that review), and new dual ANT+/Bluetooth Smart Speed and Cadence sensors (that review coming up momentarily). These products effectively complete Garmin's x30 lineup of higher-end cycling units, offering four distinct incrementing price points: Edge 130, Edge 530, Edge 830, and Edge 1030.  And more importantly, they refresh Garmin's most popular unit – the Edge 520.
While Garmin announced the Edge 520 Plus almost exactly one year ago today, it was effectively just a minor refresh of the Edge 520 adding in mapping capability. Whereas the new Edge 530 is a substantial bump in not just performance, but also features. And in using both the Edge 530 and Edge 830 for the past month, I'd argue it might be the best bike computer Garmin's ever made (keeping in mind a year ago I was pretty firm in not recommending the Edge 520 Plus due to performance issues).
This new unit significantly increases performance in routing/navigation, while also adding in automated slicing and dicing of a route's climbs to give you exact distance/elevation remaining for each climb. It's got a huge slate of mountain bike specific features, including baking in the entire world's worth of Trailforks maps/data right into the units. Plus there's a host of new performance metrics, alongside nutrition/hydration alerts that are generated automatically based on route/weather conditions.  But let's not get ahead of ourselves, I detail all this stuff below.
As always, I aim to detail the good, bad, and ugly about a given device. Note that this unit is a media loaner/test device and will very shortly go back to Garmin, like all other loaners. I do not accept any money (or even permit even advertising) from any company I review. If you find this review useful, hit up the links at the end of the post to support the site.
Oh – and if you're trying to decide whether to read the Edge 530 or Edge 830 review this morning, I can say that they are excruciatingly similar, with the only differences being found in the 'Navigation' section of the Edge 830 variant (since that's the only place they differ). Or, you can just make two trips to Starbucks, man or woman up, and get reading.
What's new:
Let's get right into the details of what's new. And there's no more consolidated method to do that then the below video where I outline all the newness with quick demos of each:
But, if text is more your jam, then here's what I've put together. Note that there are other tidbits that I probably haven't accounted for here – for example in certain menus or such where tiny things may have changed, but the below consolidates everything into one cohesive list. For this listing I'm using the Edge 520 Plus as the baseline (whereas if I used the Edge 520 on-board detailed maps weren't included there).
– Increased display size 13% from 2.3" to 2.6"
– Increased battery life from 15 to 20 hours, and to 48 hours in battery saver mode
– Significantly increased processor speed: Results in much faster route calculation (see videos)
– Maintained complete on-board turn by turn map database for your region
– Added WiFi: Used for syncing of activities/metrics/routes (not during ride)
– Added ClimbPro: Automatically shows how much distance/elevation remains for each climb on route
– Added Mountain Bike Metrics: Shows Grit, Flow, and Jump details on both unit and Garmin Connect
– Added Trailforks maps to unit: Added global Trailforks data/maps to baked-in data on unit (no downloads required)
– Added ForkSight: Automatically shows mountain bike trail options when you pause at fork in trail
– Added Heat Acclimation: Will automatically take into account heat/humidity for performance/recovery metrics
– Added Altitude Acclimation: Will automatically take into account (high) elevation for performance/recovery metrics
– Added Training Plan API support: This includes a redesigned structured workout execution page
– Added Hydration/Nutrition Smart Alerts: When using a course/route, it'll automatically figure out how much water/calories you should be taking
– Added Hydration/Nutrition Tracking: It allows you to record this data in ride summary screens and log it on Garmin Connect
– Added Edge Battery Pack Support: You can now attach the Garmin integrated battery pack to the Edge (you can still use generic USB power too)
– Added Bluetooth Smart sensor support: You can now pair Bluetooth Smart sensors like heart rate, power, and cadence
– Added Performance Power Curve: This shows you your mean maximal power over different durations/timeframes (like many training sites)
– Added Bike Alarm Feature: Used for cafes/bathroom stops, emits loud alarm if bike is moved
– Added 'Find my Edge' feature: Automatically record exact GPS location on your phone if Edge is disconnected (in case unit pops off)
– Added Training Plan Weather/Gear Tips: Basically tells you to HTFU when it's cold out
– Changed user interface bits: Tweaked user interface, which might take some people a few rides to get used to (or just myself)
Got all that? Good. Now usually I do include any 'negative' new things (such as features removed), but I haven't found any downsides to the new unit yet, or anything that's been removed. It's fairly rare for Garmin to remove features from unit to unit, though sometimes we see unintended consequences of other additions. Either way, I haven't found any of those yet in my riding (or asking lots of questions). Of course, that's separate from GPS/Altimeter/etc accuracy, which I cover in a separate section below.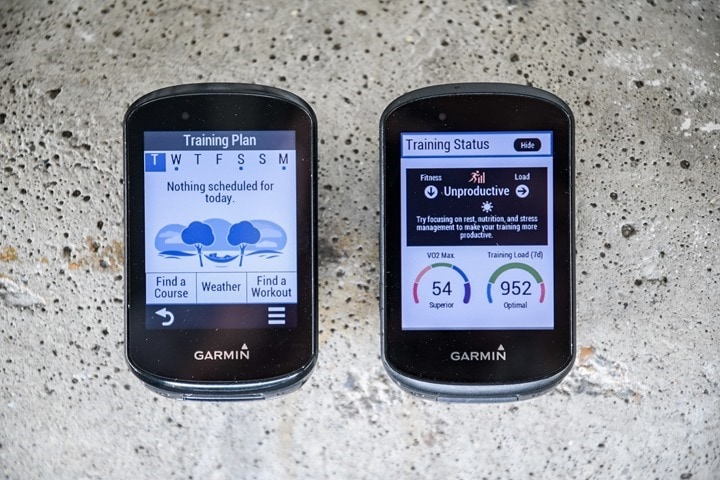 So what are the key differences to the Edge 830 you might ask (which costs $100 more)? No problem, here ya go:
– Edge 830 has a touchscreen (thankfully different than the older Edge 820 touchscreen)
– Edge 830 can do address-specific routing, whereas on the Edge 530 you can't enter a street address
– Edge 830 has searchable points of interest database, for finding food/monuments/hotels/etc…
– Edge 830 has four less buttons than the 530, since it's a touch screen (and also has some slight differences in user interface, since you can touch it – most easily seen in the mapping pages)
As you can see, there's not a lot of differences. It really comes down to that touch screen, and whether or not you plan to enter specific addresses onto the device, or would instead route by just using saved routes or moving the little finish selector over a given spot (more on that in the Navigation section).
With everything new and different all outlined, let's dive into actually using the darn thing.
Oh wait – one last thing: Got an Edge 1030 already? You'll get almost every new feature you see above via firmware update to your Edge 1030. The notable exception being that the pre-loaded mountain bike Trailforks maps, due to licensing reasons. However, Garmin says the remaining features will show up in a firmware update over the coming months.
Size & Weight Comparisons:
Before we dive into all the details (or even the basics), let's just do a quick size check. Here's a disastrously big lineup of mostly current bike computers, all aligned on their base to a chunk of wood:

From left to right: Garmin Edge 130, Garmin Edge 520/520Plus/820 (identical case size), Polar M460, Wahoo BOLT, Garmin 530/830 (identical case size), Wahoo ELEMNT, Wahoo ELEMNT ROAM, Hammerhead Karoo, Garmin Edge 1030, Sigma ROX 12
The same order is below as well:

And then, just to zoom in on some of the more applicable units close up. Left to right: ELEMNT BOLT, Edge 530/830, ELEMNT, ELEMNT ROAM, and Hammerhead Karoo.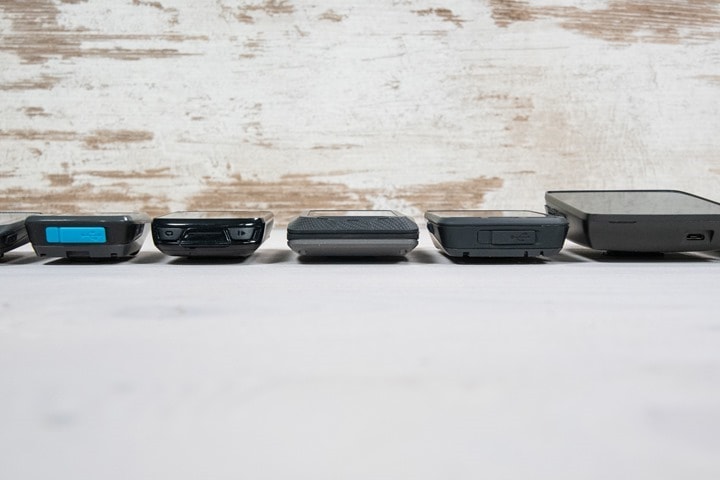 What's that? You want weights too?!? Ok, out with the trusty scale: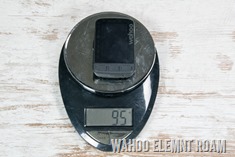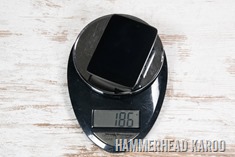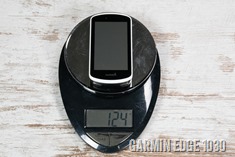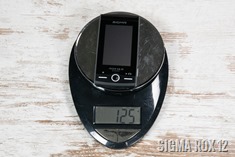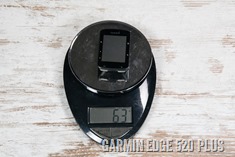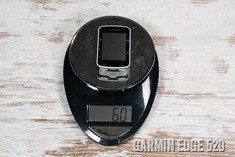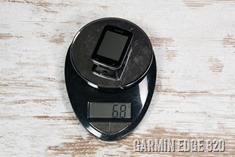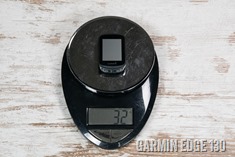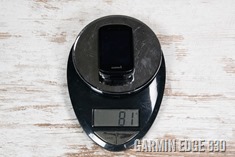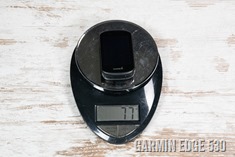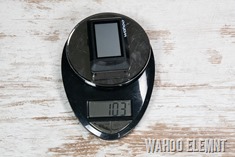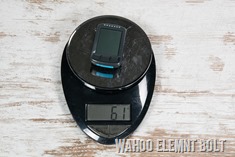 Ok, your Brady Bunch moment is over. Now for realz, let's get onto using it.
(Note: This comparison section was added after the Wahoo ROAM released.)
The Basics: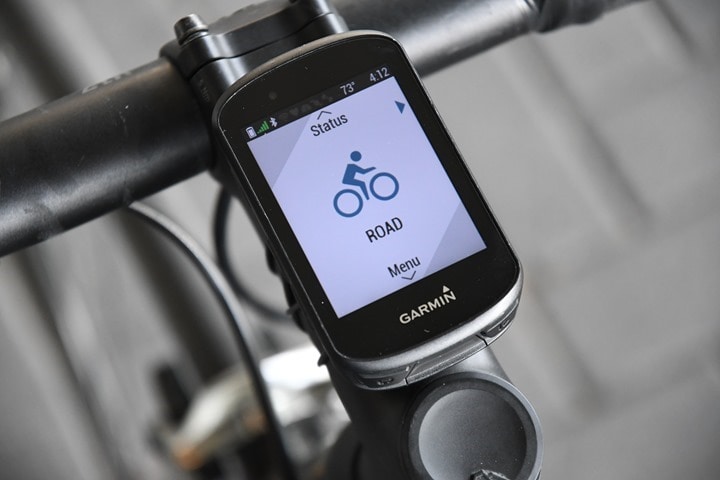 This section is focused on basic usage of the device. If you've been around the Garmin Edge block a few times before, you won't likely pick up too much new in this chunk. I do this so that I can focus on newness in the other bits. Still, there are a few things different this time around, like the user interface and some button functions. In fact, let's start with buttons. On the Edge 530 you have two, the lap and start/pause buttons in the same frontal location as other Edge devices: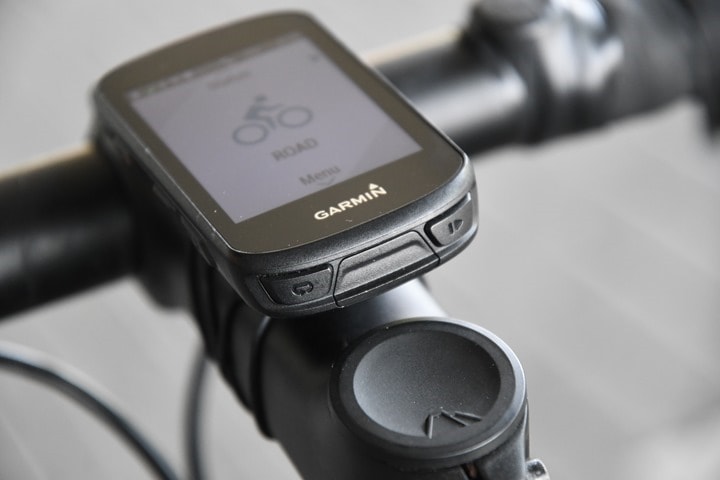 This still remains somewhat controversial, as it can make it difficult to access these buttons on certain lower profile mounts where they're against the handlebars. While that's never really been an issue for me personally, I can see the argument for sure.
Meanwhile, on the left side of the unit there's three buttons. Two used for up/down type selections, and the other for power. Whereas the right side has two more buttons, one as an escape/back type function and the other for confirmation/OK.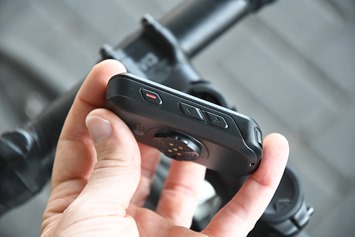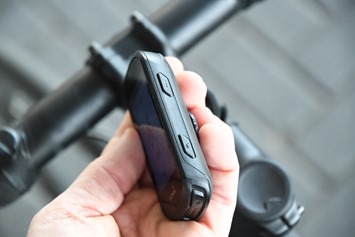 On the underside of the unit is the same quarter-turn mount as every other Garmin Edge device made in the last decade. However, it joins the Edge 1030 in having the battery charge ports, which allows you to add the Garmin Charge Battery pack to the bottom of it to extend battery life even longer (like, multiple-days crazy long).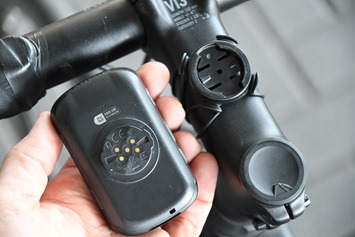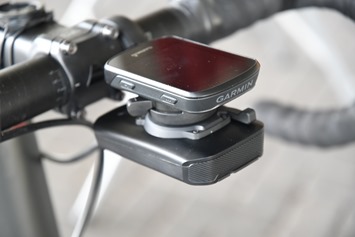 The Edge 530 and Edge 830 both get 20 hours in regular mode, which Garmin has specifically defined as having the screen on, ambient light sensor enabled, two ANT+ sensors, and Bluetooth constantly connected to phone (including even LiveTrack). Meanwhile, you can go up to 40 hours in 'Battery Saver' mode, which turns off the display (unless tapped) but still records GPS/sensors. It'll automatically prompt you to go into this mode when the battery gets super low.
Once you power the unit up you'll notice the user interface is new. Similar to before, but still new nonetheless.  You can press down to see the typical/previous menus where you'll find Training/Navigation/History/Stats/Connect IQ Apps/Settings. Where pressing up gets you to the status pane, which includes bits like weather and sensor/GPS/backlight status: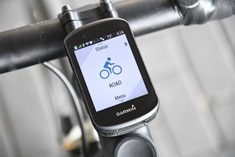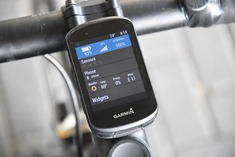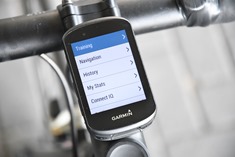 Speaking of GPS status, the Edge 530 follows along with virtually all new Garmin devices released in 2019 and uses the Sony GPS chipsets, which have a lower battery profile than previous chipsets from MediaTek. This chipset supports base GPS, GPS+GLONASS, and GPS+GALILEO. You can configure this on a per activity profile perspective.
Activity Profiles are used to customize your settings where you might want them different for different types of riding. For example, you'd likely have a different activity profile for mountain biking than road riding. Or maybe you want a paired down activity profile for racing.  You can customize data pages here, as well as metrics like nutrition/hydration, automatic lap, Strava Segments, and various other alerts.
I personally typically just use one profile for road riding, and one for mountain biking. I'm kinda simple that way. But some people get really creative/nuanced with their activity profiles.
Note that activity profiles don't define sensors. Those are device-wide. Instead, Garmin for a number of years now has created a sensor pool concept. You pair all sensors on all your bikes, and it automatically connects to the sensor when that sensor wakes up. It works really well, and in the case of the Edge 530 is now expanded to Bluetooth Smart sensors (to match the Edge 830/1030, a well as Garmin's wearables).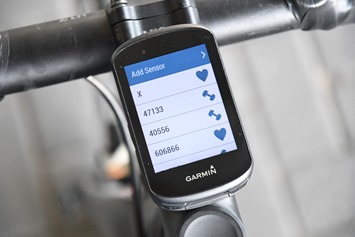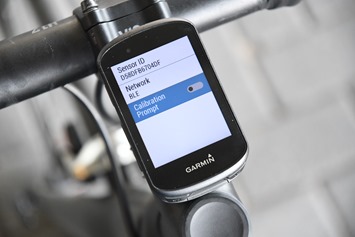 This means that you can now pair the following types of sensors on the Edge 530:
Cadence (ANT+ or Bluetooth Smart)
Edge Remote (ANT+)
eBike (ANT+)
Heart Rate (ANT+ or Bluetooth Smart)
Lights (ANT+)
Indoor Trainer (ANT+ FE-C, though paired in a different spot)
Radar (ANT+)
Power Meter (ANT+ or Bluetooth Smart)
Shifting (ANT+)
Shimano Di2 (ANT)
Speed/Cadence (ANT+ or Bluetooth Smart)
Speed (ANT+ or Bluetooth Smart)
Varia Vision (ANT+)
VIRB (ANT+)
Phew, got all that? Good.
In my case I've paired a blend of sensors, mostly ANT+ power meters/trainers, cadence sensors, speed sensors, and both ANT+ & Bluetooth Smart heart rate straps.
Once you're ready to ride, you'll simply select the activity profile on the main page and then the upper right button. It'll go off and find GPS if it hasn't already, and then you're good to go. If it's an indoor profile, it won't find GPS.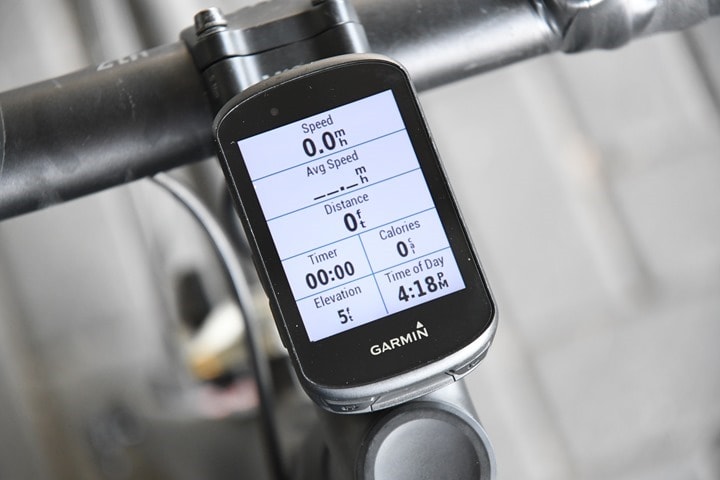 Once you press the lower right start button, your unit will be recording data (and showing you that data). You can press the up/down buttons to change screens (or use auto-scroll to iterate through screens automatically).
If you've configured Live Tracking, then your track is shared to whomever you selected, be it social media or directly to specific friends via e-mail.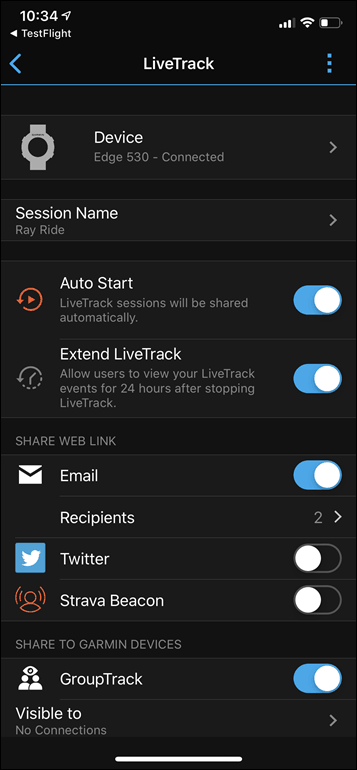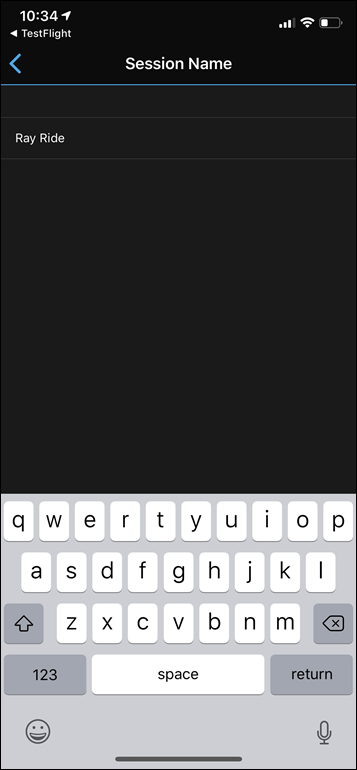 This is also leveraged for Group Tracking, which enables you to follow friends on a given group ride, and then send quick messages to those friends mid-ride. Regrettably, I lack any friends to test this feature out.
If you want to create manual laps, you'll use the lower left 'lap' button, which marks a lap and then shows you lap summary data. You can also use the lap summary page to compare lap metrics – which is ideal if doing intervals.  Finally, once done you'll press the 'Stop' button on the right corner, which pauses the recording. Press it again to save it. You'll then get ride summary data:
At that point the ride is automatically synced to your phone via Bluetooth Smart, and if within range of a saved WiFi network, then it could also upload that way as well. Once on Garmin Connect it instantly syncs to 3rd party platforms like Strava and TrainingPeaks as well.  You can view the stats of your ride on the Garmin Connect Mobile app:
Or, you can view it on Garmin Connect (desktop/web) too. Here's one of my rides if you want to dig in further: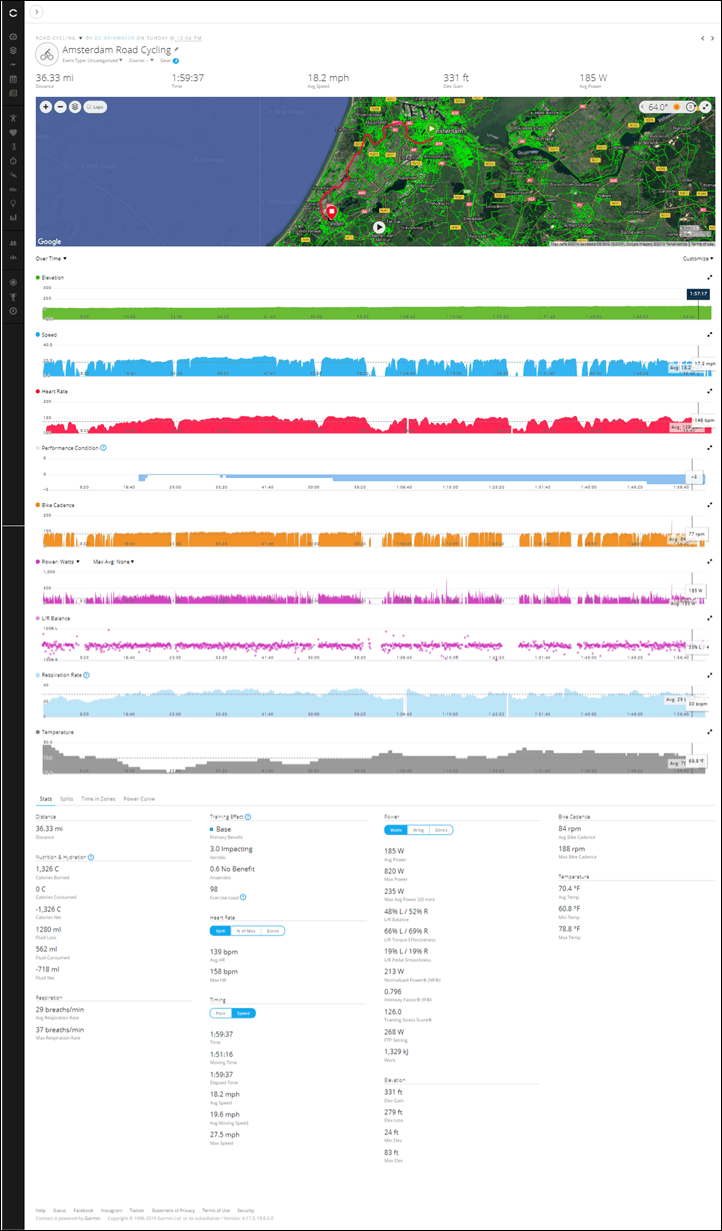 Last but not least, Garmin's added a new Bike Alarm feature. This is in addition to the 'Find my Edge' function that I talk about within the mountain biking section. But since we just finished a ride, I'll explain 'Bike Alarm', which is designed primarily for post-ride café settings, as well as quick bathroom stops. The goal being that you leave your Edge device on your bike and then if someone moves/touches it, it sounds an alarm. It uses the internal accelerometers to do so.
The setup for the feature is buried super deep in the menus. To get to it you'll go: Down to Menu > Settings > Safety & Tracking > Bike Alarm > Set Passcode.  But once done, you don't have to set it each time. Once you've set a passcode, you can access the bike alarm by just long-holding the power button: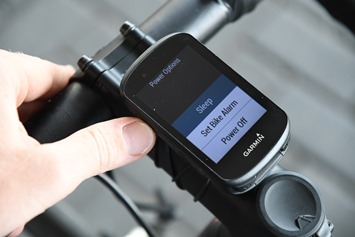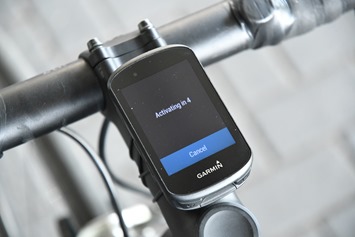 At that point it'll give you a 5-second count-down, and then also notify you on your phone that the feature is activated.  If you touch the bike, the alarm activates, which…sounds hideous (in a good way).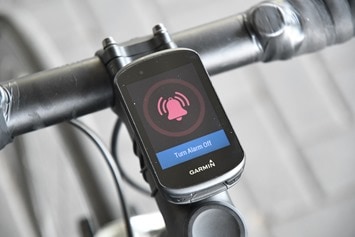 Additionally, if your phone is within range (and it probably is), you'll get a notification there which would also show up on any smartwatches you might have on. You'll get a notification when you arm it, when it's triggered, and when it's disarmed: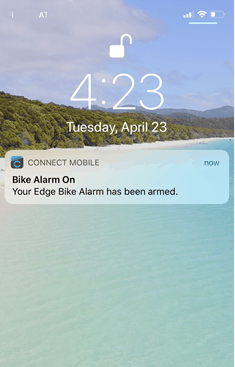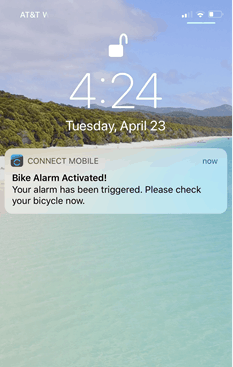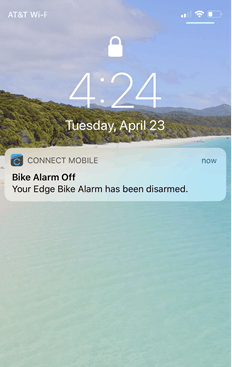 I demo the whole thing as part of the video up above in the 'What's new' section.
When I first saw that the Edge had a bike alarm feature, admittedly I thought it was pretty stupid. But now that I've seen how it's implemented, it actually makes sense. There's plenty of times when I've got my bike at a café roughly within line of sight, but maybe not always top of my mind. This makes it so that I'll either hear it, or my phone/watch will notify me if someone touches my bike. I like it.
And at that point, we've got the basics covered and are ready to dive into all the cool newness.
Mountain Bike Features: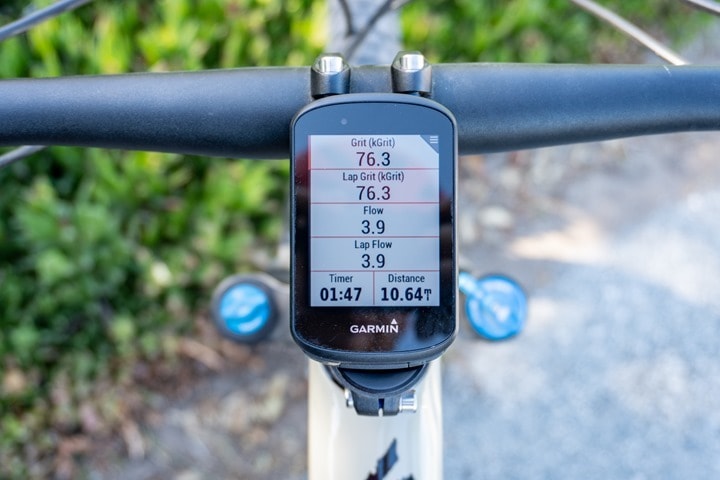 Up till now, the most attention that Garmin has placed on mountain biking has simply been to add a generic 'Mountain Bike' profile, and offer you the ability to purchase a colored rubber condom for your Edge device, presumably to try and protect it when you smashed your bike into a rock face. Feature-wise though, there's been nothing.
But this time around there's significant focus on mountain biking, primarily within the following features:
Trailforks maps are baked into the Edge 530: This includes about 130,000 mountain bike trails, alongside trail ratings
Mountain Bike Dynamics: These metrics show how hard a trail was that you rode, as well as how well you rode it
ForkSight: This trail chooser screen automatically appears when you pause at a trail intersection
Find my Edge: While not absolute to mountain riding, this helps you find your bike computer if it flies off the mount on the trail
Trail Planning: You can ask the Edge to pick a trail of a certain rating, and it'll find you something to ride
In addition, you can still use the previous Trailforks Connect IQ app on your Edge 530 to get routes from your Trailforks account, or search the Trailforks database.
First, let's talk the metrics – because that's kinda the newest thing here in terms of being totally different. There's essentially three metrics here:
Grit: This calculates a difficulty score for each route, using elevation and GPS data. So kinda like a trail rating. If two riders ride the same exact trail, they should get the same Grit score. The higher the number the harder the course.
Flow: This is your specific rating for how well you rode the route. It's focused on the momentum of the ride, so things like braking impact hurt your score. A lower number is a better score. Thus, two riders could ride the exact same route and get totally different Flow scores.
Jumps: This will count how many jumps, and for each jump will include distance and hang time. Additionally, during the ride you'll get jump notifications in real-time with distance/hang time.
Looking at some of these in real-time, first we've got the jump metric. In my case, I suck at jumping (look, I'm a road cyclist/triathlete – you're just lucky I managed to ride a mountain bike at all). So while I got some jumps in my rides, my ability to capture those jumps while also taking a photo was not happening. So, here's a photo from Des that shows that:
Next, there's the Grit and Flow scores, which you can add as data fields to your unit. Further, you can also see these as per-lap fields. So for example in downhill mountain biking if you created a lap at the top of each descent, you'd be able to see how these scores compared lap after lap.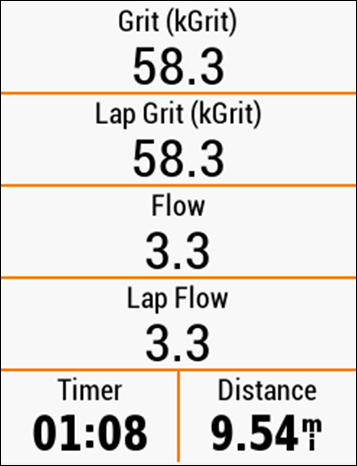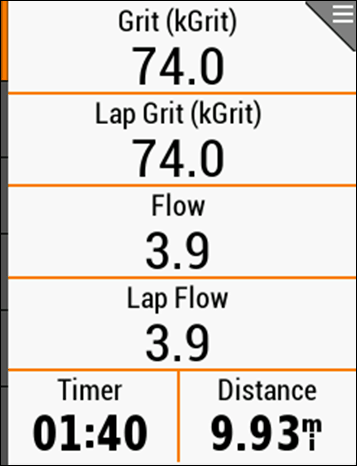 Afterwards, these scores show up on Garmin Connect (website). First, they actually show up on the map, color-coding your route – which is cool and something I wish Garmin did for other aspects of the map (like gradient % for road riding data).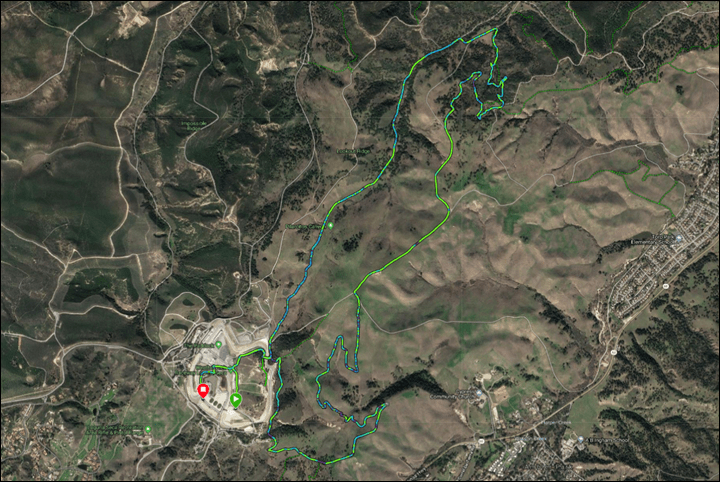 Next, down below in the charts section they show up there too, also color coded:

And finally, down in the stats section you've got the new Mountain Bike Dynamics, including any jumps (or, lack thereof in my case):

You should be able to see these on Garmin Connect Mobile as well, though my app isn't showing them yet for some bug, however, others that I know are seeing them just fine. So this appears to be a me-specific bug. The story of my life.
Next, there's the increased Trailforks integration. While Garmin hasn't quite bought out Trailforks yet, I'd be really surprised if we just don't see that happen. With the Edge 530/830 they've baked in all of the Trailforks trail data onto the unit itself. You will need to authorize that briefly the first time you use the unit, but it only takes a second. The existing Trailforks app is still there, since that takes care of better integration with Trailforks as a platform in terms of pulling your routes from your account and so-on.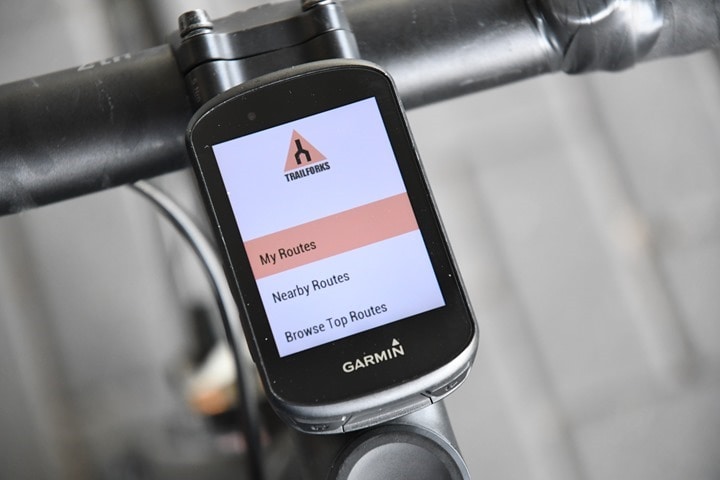 The most obvious way the new Trailforks data manifests itself is a feature called 'ForkSight', which automatically pops up anytime you pause at an intersection of trails (or, more appropriately – a fork in the trail). It's at this point it'll show you the trail options and difficulty grades/distances for each one: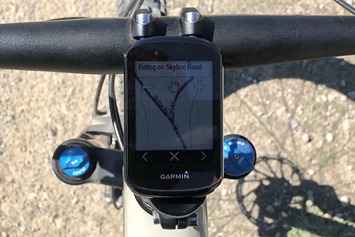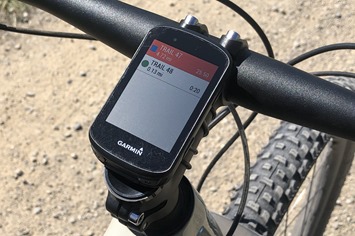 You can then select any of the options shown to get more information about that specific trail. It's super cool in real life, and helps you figure out the implications of each option you have. That said, sometimes it can be a little confusing to figure out which trail is which if they aren't labeled at the trailhead. But for the most part you can figure it out.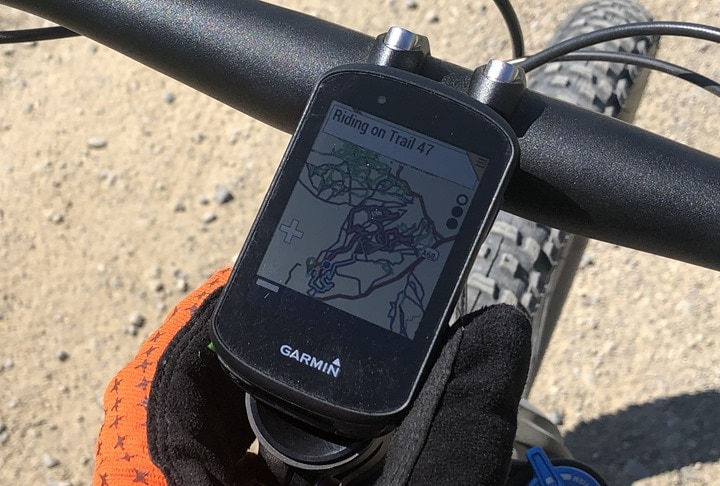 Next, there's 'Find my Edge', while not only for mountain biking, the reality is that most people will probably use it for mountain biking. This feature will instantly and automatically mark the exact GPS location where your unit disconnects from your phone (assuming the Garmin Connect Mobile app is on in the background). Then, on your phone you'll get an alert that allows you to open up the exact GPS coordinates with the mapping app of your choice (for example, the Google Maps app):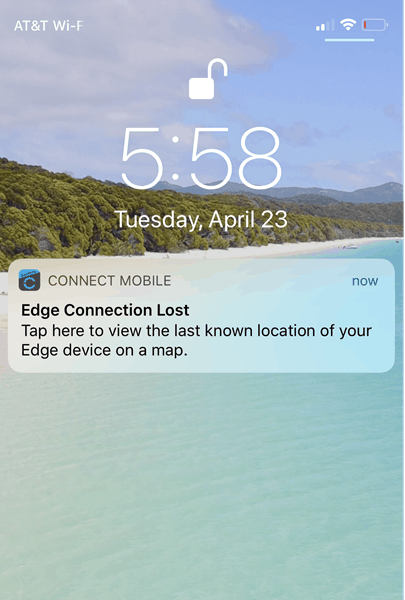 In addition, within the device options on Garmin Connect Mobile, it has two further options: 'Find my Edge' and 'Last Known Location'.  If you select 'Last Known Location', it'll open up the default mapping app on your phone and then the exact GPS coordinates it last saw your Edge devices at: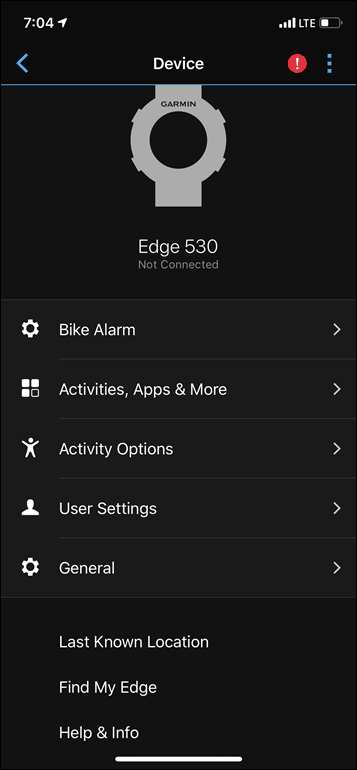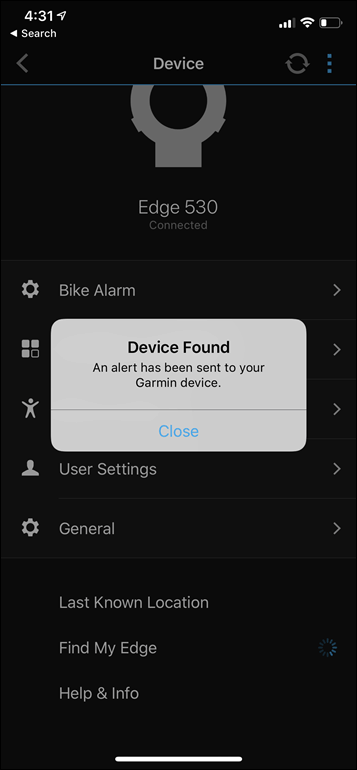 Whereas if you select 'Find my Edge', it'll try and connect to your Edge 530 and start an alarm sound. Which is basically just a constant beeper. It's not crazy loud, but loud enough that you should be able to find it. And here's what it looks like on the unit itself – saying 'Edge found':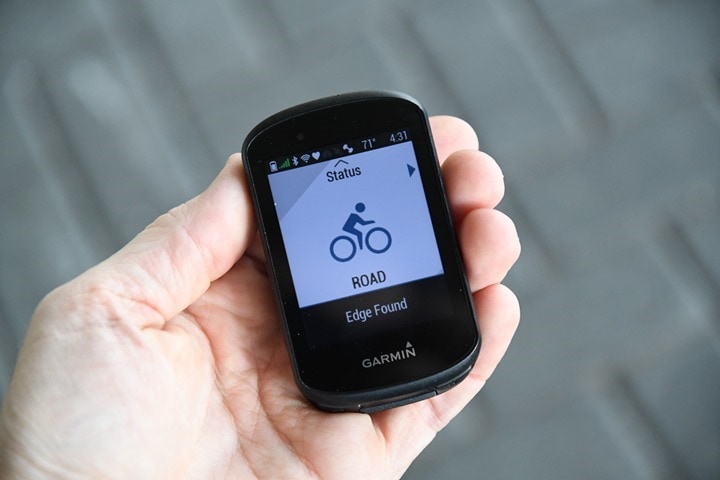 Note that this last little bit requires you be within Bluetooth Smart range. Outdoors that's roughly tens of meters, whereas indoors it's a crapshoot. Generally speaking though your GPS accuracy is within a few meters, so that gets you close enough to then use the beeper to find your Edge sitting in the bush. Roughly akin to how I found my GoPro mountain biking earlier this year.
Oh, and as for the mountain bike bundle, in case you're looking at that, it comes with the following:
– Edge 530
– Mountain Bike Mount
– Silicone Case
– Edge Remote
– Dual ANT+/Bluetooth Smart Speed Sensor
While I've personally never bothered with the silicone case, if you're looking at picking up any of the other accessories, it probably makes sense to just get the bundle price-wise at that point.
Navigation: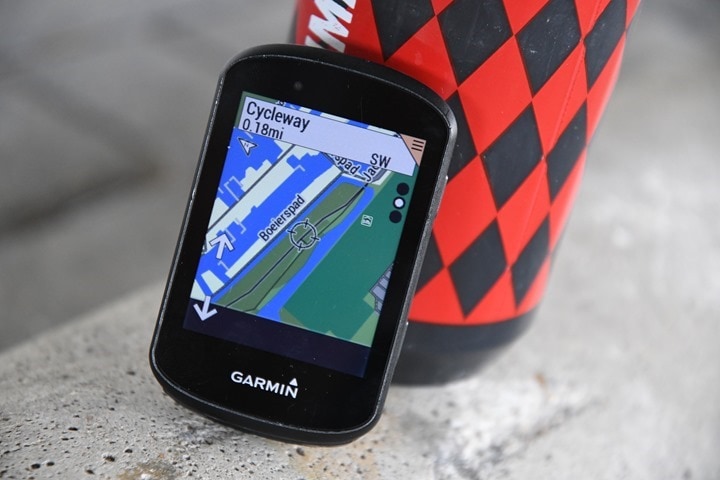 The Edge 530 contains a complete mapset for the region you bought it in (I.e. North America), which allows you to get full turn by turn navigations (with street names) to any point you drop on the map, or any route you load into it (no matter the source/platform it's from). The main difference though between the Edge 530 and Edge 830/1030 from a navigation standpoint is that the Edge 530 doesn't support POI's (points of interest; like monuments or hotels) nor the ability to on the device itself type in a street address. And obviously, the Edge 830/1030 is a touchscreen whereas the Edge 530 isn't. But other than that – it's all the same.
Perhaps the most important feature on the entire new Edge 530/830 units is the significantly faster processor. I, alongside the entire internet have complained how darn slow Garmin's previous Edge series processors are. Which isn't to say I actually care about the processor specifically, but rather the end-resultant: Route calculation time. It would previously take numerous minutes for each just a short route to calculate. That was unacceptable, and a core reason why I didn't recommend at the Edge 520 Plus at launch.
Well, it seems like Garmin has listened and yup: Super duper fast now.
Now, there are slight differences depending on what exactly you're doing. I've found loading a saved route is the fastest of the bunch. So something like some 60KM routes from Strava that I've loaded are taking about just a few seconds depending on the locale.  Whereas picking a point a distance away and letting it come up with a brand new route takes a few more seconds (like 10-20 seconds, not minutes). That's understandable since the first is just drawing a route, whereas the second is coming up with one.  And yet it also seems to vary based on exactly where I am. Routes in Mallorca and California were silly quick (1-5 seconds), whereas here in crazy bike route density Amsterdam the routing takes a bit longer (5-15 seconds).
So, let's quickly go through those two modes. First is if you've already got a route. This can be something from Garmin Connect or a 3rd party site. It could be an individual route file you've downloaded, or it could be from a site like Strava via the Strava Routes Connect IQ app. In my case, I'm mostly using Strava routes (since I can use them on all my devices – acting like the Switzerland of routing). So we'll start there, grabbing that route from the pre-loaded Strava Routes CIQ app: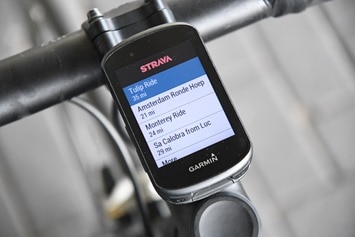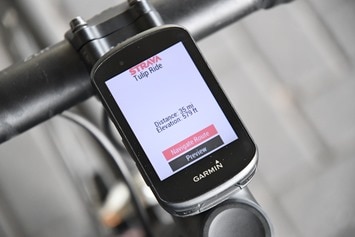 Next, it'll show me the route details: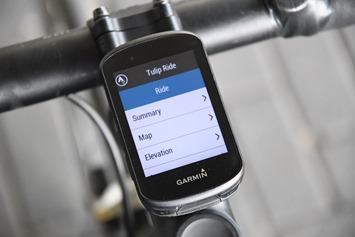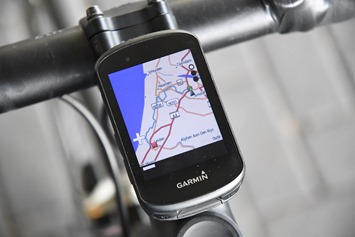 And finally, I can select to ride it. Within about 2-3 seconds, the route generation is complete and I'm ready to press start on my unit.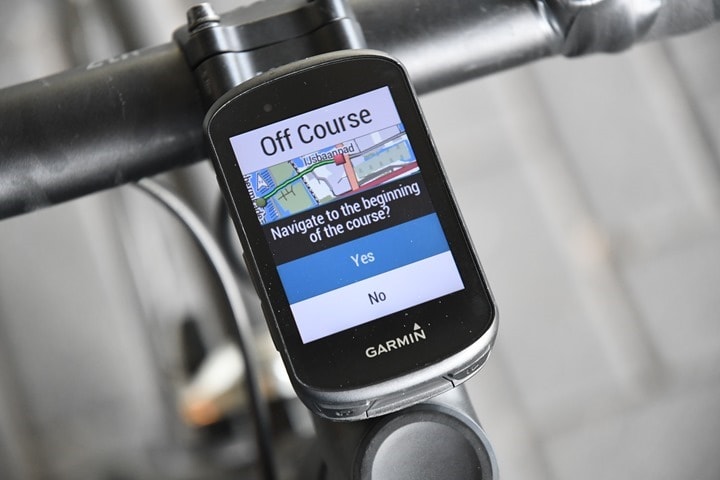 Now, when out on the road, I'll get turn by turn directions as I approach any turn. I've found these directions timely (unlike the Edge 520 Plus), and in plenty of time to take action on them. Again, there does seem to be some slight variances in responsiveness based on where in the world I am, but none of the differences affected my ability to have boatloads of time. Here's two screenshots mid-ride during different rides, showing what it looks like: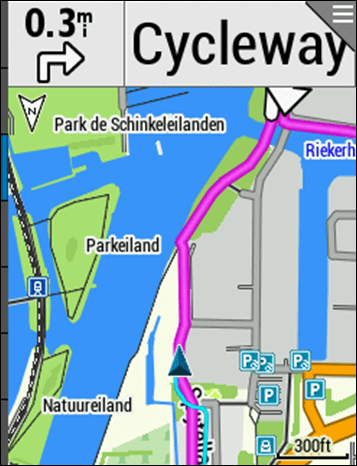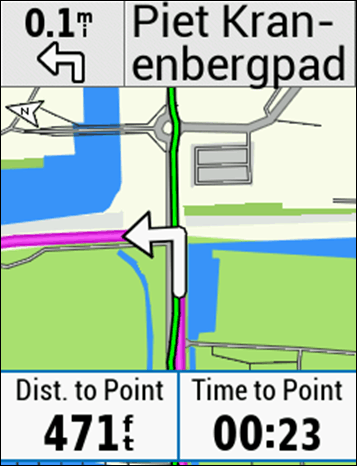 In addition, if I ignored a route, it'd automatically recalculate the route (including street names). Depending on the scenario, it'd either explain how to turn around and re-join the route, or in some cases cut a corner to catch-up down the road. I did however see one quirk in Amsterdam on a very short automatically generated route where it continued to try and go via some non-direct roads. After Garmin analyzed it they found a routing/mapping related bug that they say should be included in the next firmware update.
Note that the recalculation behavior is very different than that of a Wahoo BOLT/ELEMNT, which don't have a street-level map on them. Thus, they just point you back (compass-style) to the route itself, rather than giving you turn by turn directions. For many folks, that's perfectly fine, but I wanted to make that clear.  Whereas the Garmin method matches that of Hammerhead's Karoo and Sigma's ROX 12 in terms of proper on-street routing data.
Next, what if you wanted to go somewhere unplanned? The Edge 530 can do that as well, albeit with a few more limitations than the Edge 830/1030. On the Edge 530 you'll select navigation, where you've got the option to browse a map (as well as load courses and saved locations).  When you browse the map you've got a small target in the middle that you can move around (note the middle of the image with the crosshairs):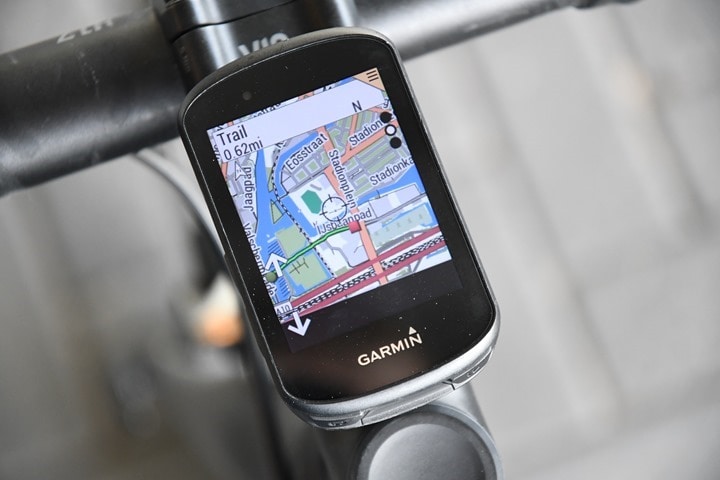 In the upper right corner are three dots. These are identical to how mapping works on the Fenix series, and works surprisingly well (since it's non-touchscreen). You press the upper right button to change between the three modes: Zoom in/out, Pan left/right, Scroll up/down.  Then you use the lower left buttons to perform that action.  You can see it in each of the photos below in the upper right corner: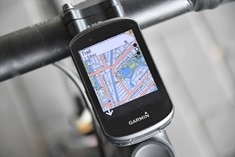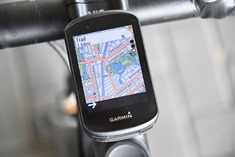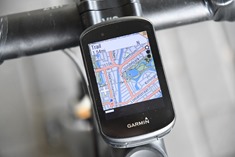 The goal here is to move around to the point you want to go to, and then select it. At which point you can have the Edge 530 go off and find a route to it: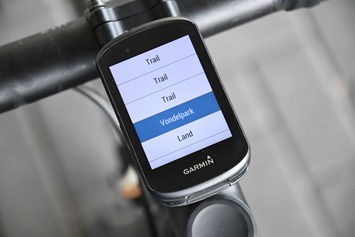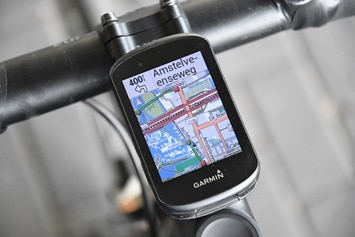 From here, it's business as normal just like above in terms of routing.
Finally, note that the unit in conjunction with your phone via the Garmin Connect Mobile app can also do some route planning.  You can create round-trip routes whereby it goes and creates a route of a given distance for you automatically, as well as create manual routes connecting points together.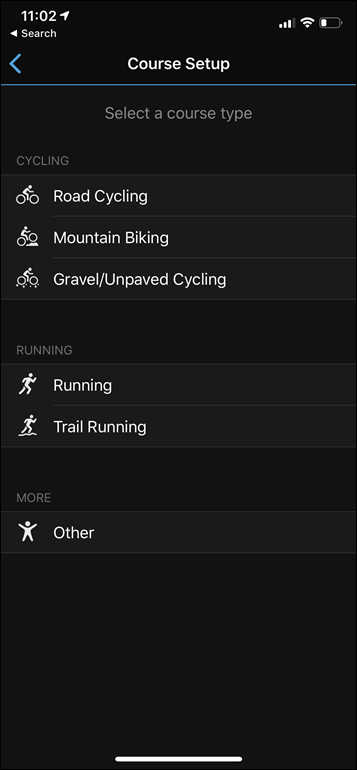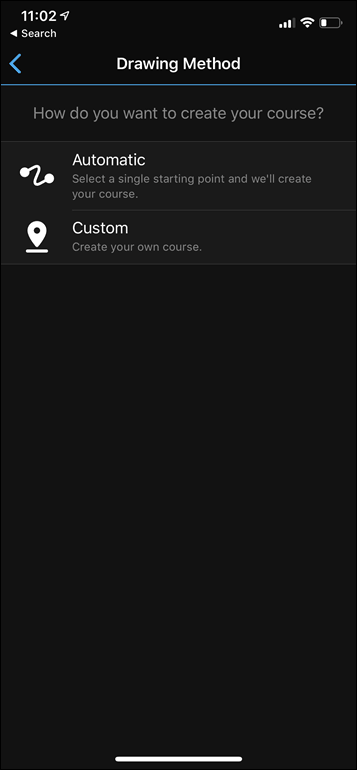 This new manual route creation bit is actually brand new – introduced in the last week or two (to everyone, not just Edge 530/830 peoples), and frankly, it sucks. I don't know how it could be so bad, but it really is. Having come from the Easy Route app world, where I just tappity-tap my way through a route, the Garmin Connect Mobile experience is just super clunky and imprecise, crazily zooming in and out like a drunk kid with a camera for the first time. Yes, you can get the job done, but it'll take you way longer.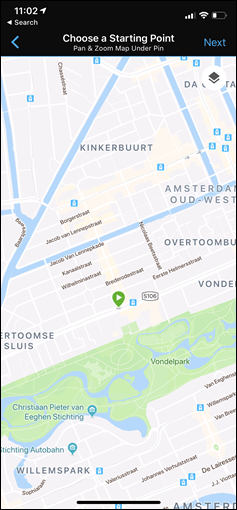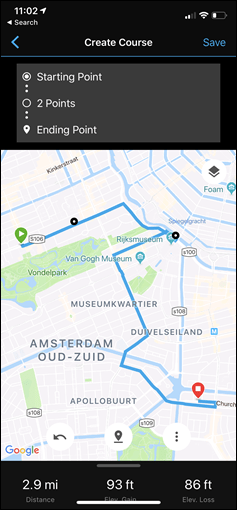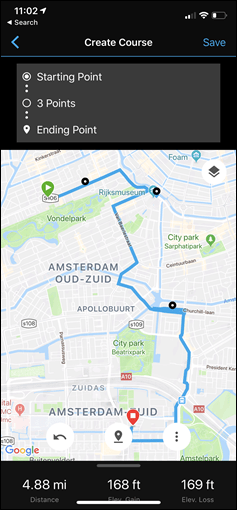 Hopefully though since it's a brand new feature it'll improve over time – maybe once someone buys a bulk pack of 40-grit sandpaper and goes to town on it.
Still, new app option aside – the rest of routing works great (finally). The processing time is what I'd expect from a $300 unit, and the route calculation to match it. I would like to see Garmin integrate Strava routes directly though, as I find the Strava Routes app clunky compared to Wahoo's integrated Strava Routes capability. Also, I'd prefer to see Garmin allow easy loading of maps from other regions like Wahoo, rather than having to rely on 3rd party site downloads (or paying a bunch of cash).
Though, once you get the route/maps loaded, then Garmin's routing engine is leagues ahead of what Wahoo has. I suppose doing it for a decade longer will get you that experience.
Finally, note that if there's one thing I know about routing is that there are always edge cases in certain areas. In my case I've tested routing quite a bit in three core locations: Mallorca (Spain), Amsterdam (Netherlands), and Monterey (California, USA). This has included both on-road and off-road routes. However, there are always quirks in weird places that I might not have encountered, though for the most part the underlying mapping/routing data here should match that of the Edge 1030 – which people seem pretty happy with.
Training & Performance Metrics: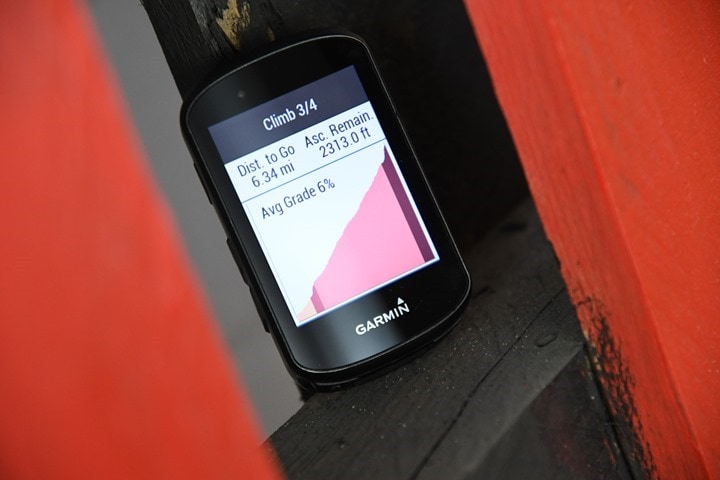 Next comes a slew of training and performance-related metrics, virtually all of which are new. And we're going to start with ClimbPro, which is hands-down my favorite feature on the Edge 530/830 (and coming to the Edge 1030).
This feature automatically slices and dices your planned route's climbs, and generates detailed climb charts for each climb as you ride them. The feature actually originated from the Fenix 5 Plus wearables last year, but really shines here on the larger screen of the Edge series as a cycling focused function. It requires that you have some route/course loaded, so it knows where you're going. Once you've got that, you can see the list of climbs within the ClimbPro summary screen on the route planning page: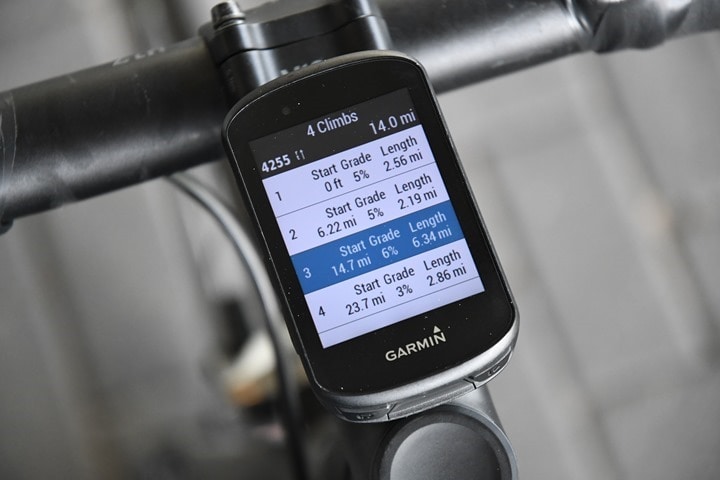 Next, as you're riding, it'll automatically show the ClimbPro page for each climb once you enter it. Kinda like Strava Segments for climbs, minus the racing aspect. The climb page shows the distance remaining on the climb, the ascent remaining, the average grade remaining, and then two customizable fields at the bottom. By default, these are heading and elevation, but you can change them as you see fit.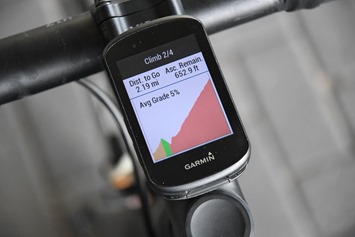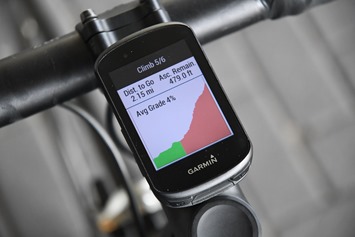 In addition, the Edge will color-code the pain of the climb segments on the ClimbPro page based on gradient as seen above. These are bucketed into:
0-3%: Green
3-6%: Yellow
6-9%: Orange
9-12%: Red
12%+: Dark Painful Bloody Red
Having ridden with this feature last month on Mallorca it was super cool. Not only for major climbs like Sa Calobra, but actually for some of the smaller ones before and after it. For example, after you finish the famed Sa Calobra and continue out of that area you've actually still got another minor climb to do before you descend one of a few routes back to the remainder of the island. Having ClimbPro on my screen was super handy to know how much suck was left, since mentally you sorta forgot about these minor climbs you've still gotta do in comparison to the big one you just knocked out.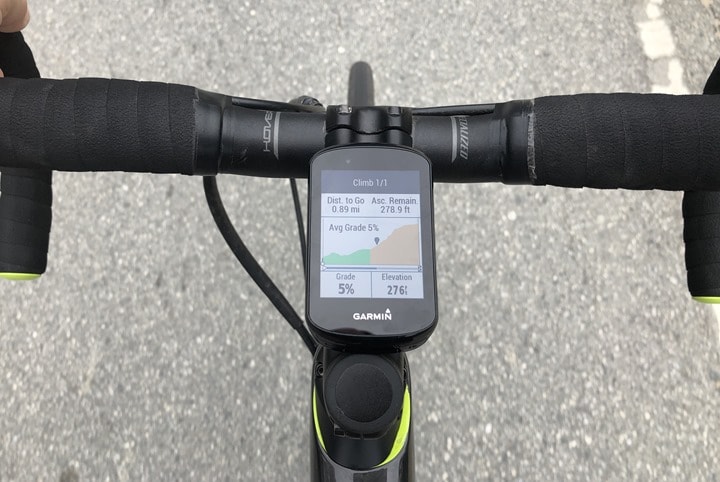 Garmin notes that they expect to tweak the definition of a climb based on feedback over the next month or two. Specifically, whether or not something triggers a climb on ClimbPro (since this is calculated on the unit itself when a route is loaded). Obviously, there's no international definition when it comes to what's a cycling climb and what's not. Still, the definition they're using as of today is as follows:
Total value must be 3,500 or higher where: Distance of climb in meters (min 500 meters) * Gradient (min average 3%)
So, doing some samples here to help understand:
Climb A: 1,000 meters long at 4% = 1,000*4 = 4,000: Yes, qualifies as a climb
Climb B: 5,000 meters long at 2% = 5,000*2 = 10,000: No, doesn't meet 3% threshold
Climb C: 500 meters long at 8% = 500*8 = 4,000: Yes, qualifies as a climb
Make sense? Again, simply calculate distance in meters by incline/gradient and see if it's above 3,500. Also, ensure average gradient is 3%.  As I said above – I think it's probably the coolest feature on the Edge 530/830.
Next, speaking of elevation, there's two new features coupled together – heat and altitude acclimation. Both of these are actually quietly present on the Garmin MARQ series as well. The goal behind both of these are post-workout calculations tied to figuring out whether or not you're acclimated to a given temperature or altitude. Obviously, both can significantly impact performance.  Starting with heat acclimation, the function leverages nearby weather stations. So your unit has to have connected to Garmin Connect Mobile within 3 hours of starting your ride in order to receive that weather data (it doesn't use on-device temperature).
Then, for heat acclimation it applies a heat correction factor for rides above 71°F/22°C, using a percentage based amount from published studies (humidity is also factored into this as well). This is then shown in the training status widget. Garmin says they assume full acclimation takes a minimum of 4 days, and acclimation/adaptation to a given high temperature will automatically decay after 3 days of skipped training within that heat levels.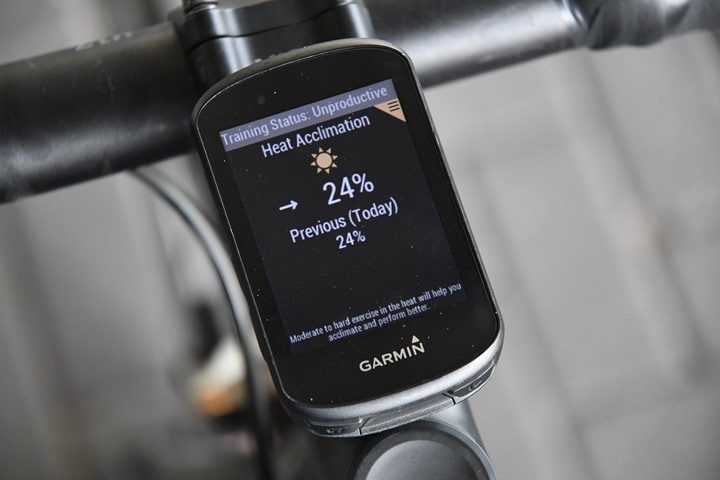 Altitude acclimation/adaption is roughly similar (also seen above). The minimum threshold is at altitudes above 850m/2,788ft, and tops out at 4,000m/13,123ft (Garmin doesn't calculate above that for cycling, sorry folks). Garmin says that they divide up training vs living altitudes, just as typical studies would. The company says that adaptation algorithms within the Edge 530/830 assume total adaptation after 21 days, and that adaptation is faster at the beginning of altitude exposure. Additionally, adaptation will decay within 21-28 days depending on acclimation level. Because I haven't had any high altitude rides lately, I'm deferring you to Mr. DesFit, who has, and kindly lent me his high altitude shot (and check out his Edge 530 video, especially for more mountain bike details).
What the feature shows is your current altitude adaptation level. In other words, if I go from living at sea level (as I do) to moving to the French Alps, each day it'll show what my body has acclimated to. This essentially automates/charts the exact same process that many elite athletes take when preparing for races. In fact, a pro triathlete friend of mine wrote a guest post here on that very topic some 8 years ago. For the rest of us, we can just use this as a post-ride pub excuse for why we climbed so poorly on our week-long vacation in the Alps. Obviously, we weren't acclimated.
Also of note is that if the Edge 530/830 are put into 'sleep' mode (as opposed to powered full off), it'll actually do a check each night at midnight of where it is altitude wise, and account for that – just like the MARQ series watch does every night at midnight. Effectively giving you credit for sleeping at high altitude.
Next, there's new hydration/nutrition alerts and record keeping. These alerts will appear mid-ride anytime you've loaded a pre-planned course/route into the Edge, and are based on your profile (gender/weight). Effectively, it's trying to help you remember to eat and drink – a chronic problem for most longer-distance cyclists and triathletes. Or, at least me.  These alerts automatically show up seemingly based on caloric intake variables, and will give you Garmin's recommendations for fluid and calories, impacted by the current temperature/humidity as well. Garmin did note that these are capped though to account for maximum hydration intake limits of the human body.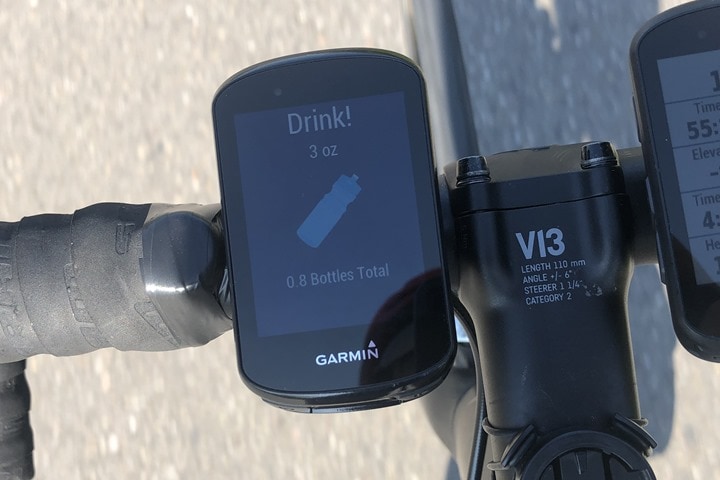 In other words, they know that in some super hot/humid scenarios you could lose more hydration than you could possibly consume/absorb in the same timeframe, so they shouldn't be giving you crazy recommendations like drinking three full bottles per hour. I haven't hit that kinda weather yet, so it's hard to tell for sure.
Then, afterwards you've got new hydration/nutrition tracking These pages are shown for any rides longer than 90 minutes, where it'll ask you how much you drank and ate. It's here over the last few months that I've realized the answer is always 'not enough'.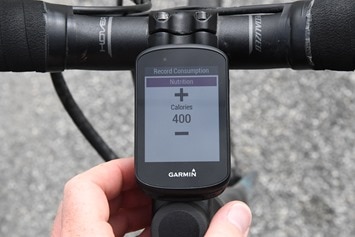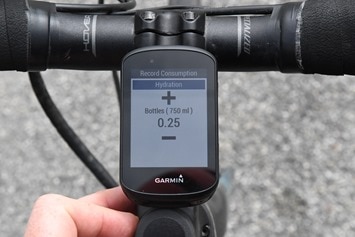 And yes, you can change from ounces to millimeters, as well as the exact size of your bottle (even per activity profile setting too!).  This data is then shown on Garmin Connect (but oddly not Garmin Connect Mobile):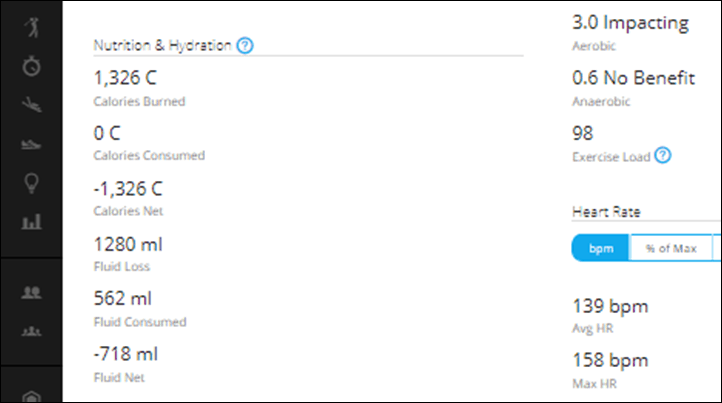 In addition to the post-ride nutrition stats, there's your total training status stats. These stats are a step above what you've historically gotten on the Edge series, and are in line to match that of MARQ (and a step above the Fenix 5 Plus). Note that some of these stats require a power meter (like FTP). Here's the overview 'My Stats' page (though, much of this is also shown post-ride on the summary screens):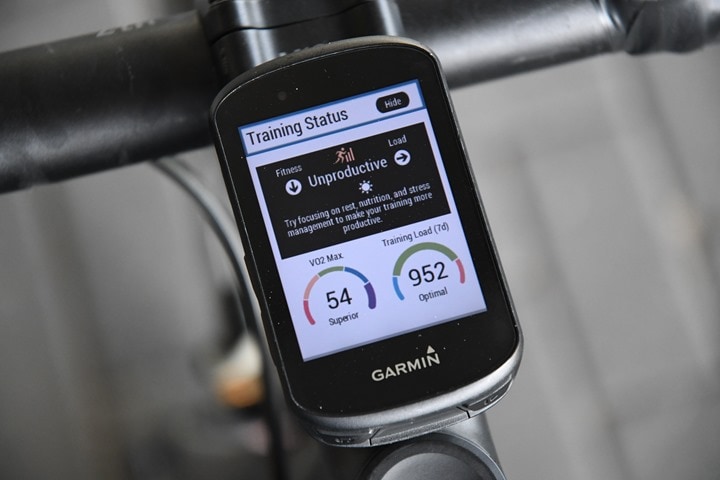 First, there's Training Status, which is showing you Training Load over the last 7 days. Note that this includes non-riding activities as well, if they've synced from other Garmin wearable devices.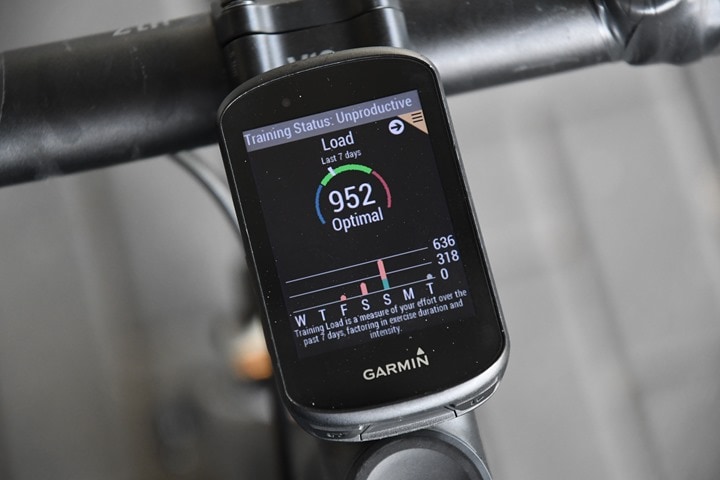 Next, there's Training Load Focus, which is showing you the breakouts of your training types over the last four weeks. It then shows you in the dotted line the optimal (aka balanced) training load bucketing. Obviously, I ignore anything that's optimal or balanced.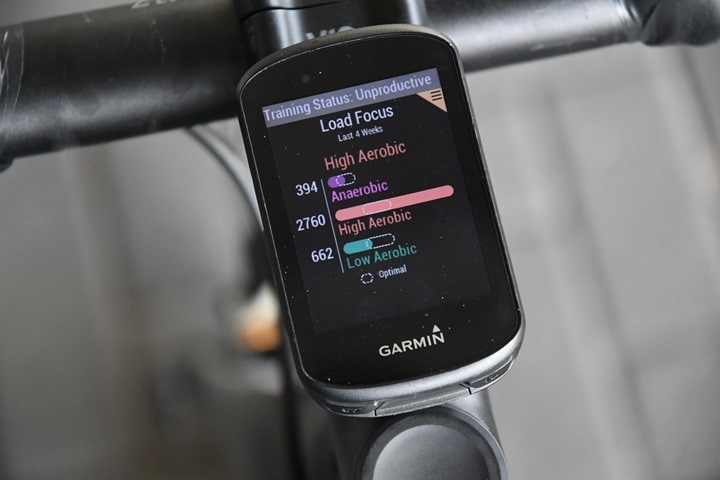 Next, there's Recovery Time, which is load-based and includes time from other devices as well. This is telling you how many hours you should wait until your next hard workout: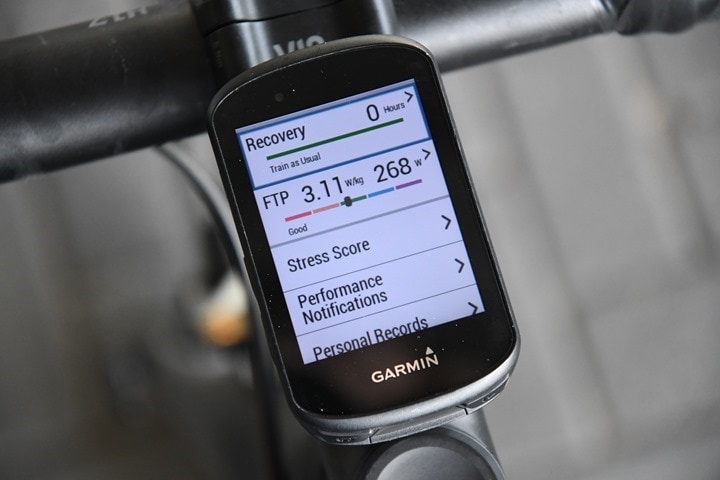 Then there's VO2Max and FTP, both of which are calculated (FTP calculation requires a power meter, seen above):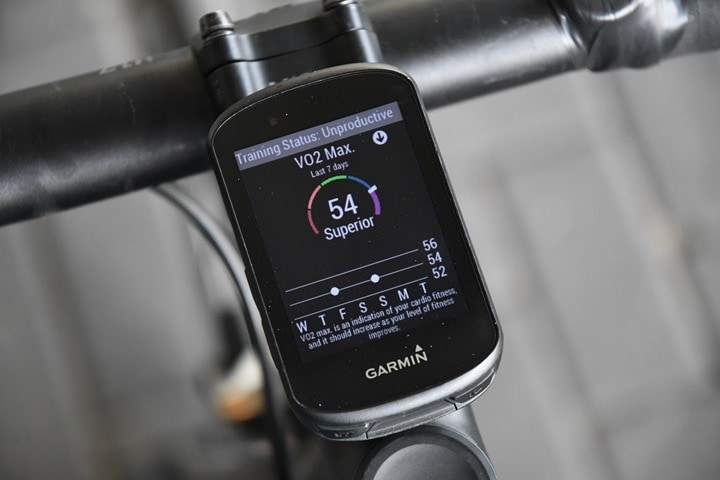 And finally, one of the newer metrics not seen on any other Garmin device is Power Curve. This is basically just a mean-max power graph, and loosely mirrors what we've had on various training platforms for more than a decade.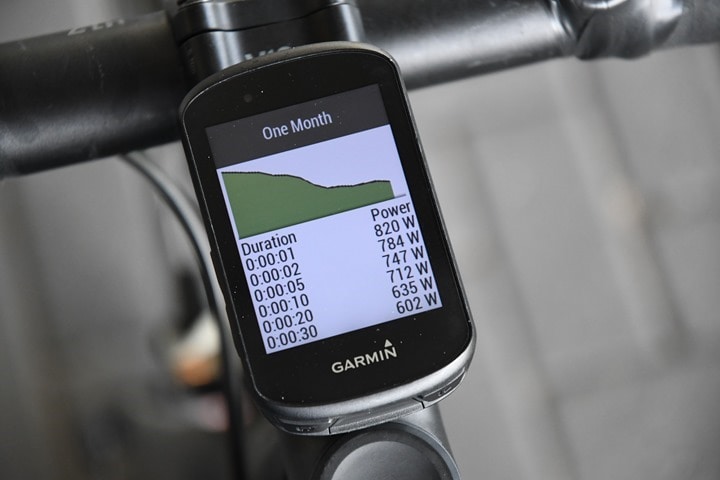 The time duration is selectable as three choices – one month, three months, and twelve months. It does appear to pull in data from Garmin Connect as well, which is a good thing and shows tighter integration there than we've previously seen for Personal Records on other Garmin devices.
Last but not least, there's on-device training plans. You could previously see all of this on Garmin Connect, but it wasn't super visible on the Edge itself. Now, if you've got a training plan loaded (including those from TrainingPeaks and soon also TrainerRoad), those will appear here.  Once you load a workout up, you'll get similar step by step instructions on the Edge as before, but now with a bit better overview metrics and showing exactly how that workout should look: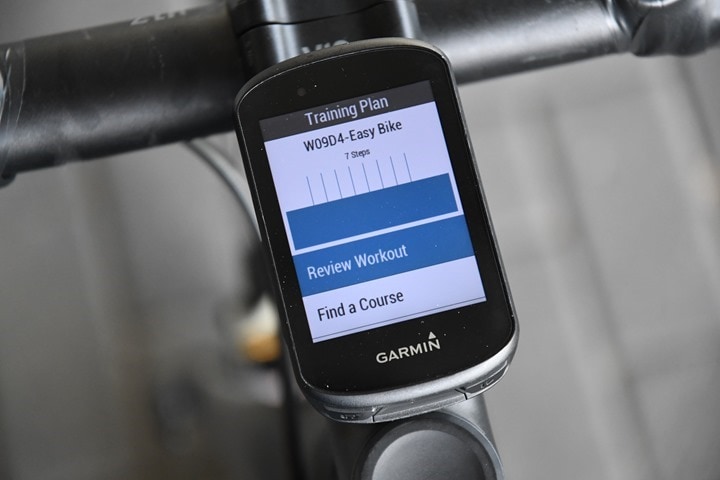 Additionally, there's now a new 'Gear' and 'Weather' option. The weather simply shows the weather for that day of the week that the workout is scheduled. Whereas the gear option aims to give you tips on what kind of gear you should have that day (for example, if it's cold and miserable to bring gloves). Garmin says that they're trying to provide tips for cyclists that may not be as experienced. The rest of us know that it's simply better to stay indoors and Zwift instead.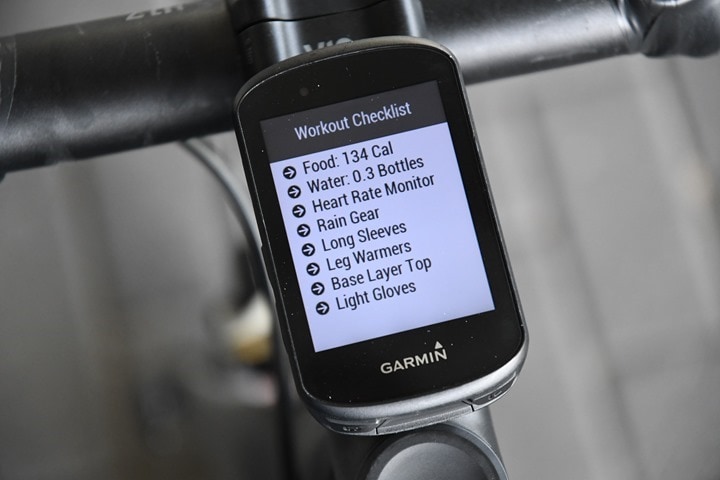 As usual, once you've completed these workouts, they'll sync up to Garmin Connect and the various 3rd party platforms they might have come from.
Ultimately, the goal behind all these metrics is that they're across the board with your other Garmin devices. So if you've got a Garmin wearable that supports these metrics (or some portion of them), then everything should match. Understanding that I'm a bit of an edge case due to how many Garmin devices I'm using at once for testing, that concept roughly pans out – though there's still some cracks here and there where physiological data from one device doesn't match another. Still, for the normal person that doesn't ride with 12 devices at once, it's nice to see some of this glue finally hardening.
GPS & Elevation Accuracy: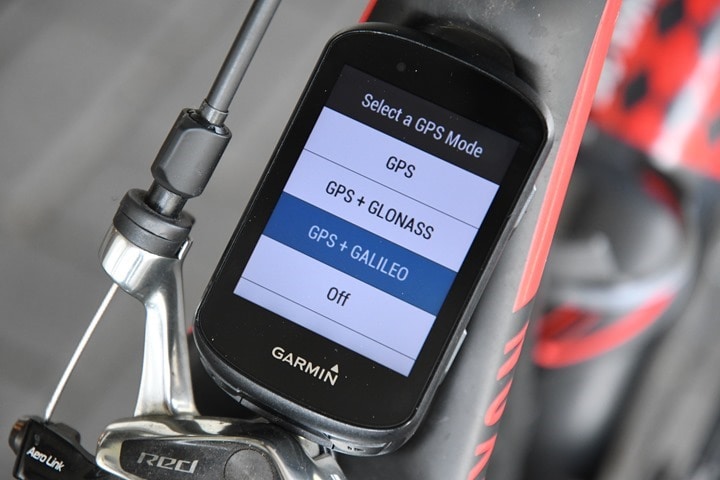 There's likely no topic that stirs as much discussion and passion as GPS accuracy.  A watch could fall apart and give you dire electrical shocks while doing so, but if it shows you on the wrong side of the road?  Oh hell no, bring on the fury of the internet!
GPS accuracy can be looked at in a number of different ways, but I prefer to look at it using a number of devices in real-world scenarios across a vast number of activities.  I use 2-6 other devices at once, trying to get a clear picture of how a given set of devices handles conditions on a certain day.  Conditions include everything from tree/building cover to weather.
Over the years I've continued to tweak my GPS testing methodology.  For example, for watches I try to not place two units next to each other on my wrists, as that can impact signal. If I do so, I'll put a thin fabric spacer of about 1"/3cm between them (I didn't do that for any workouts here).  But often I'll simply carry other units by the straps, or attach them to the shoulder straps of my hydration backpack.  Plus, wearing multiple watches on the same wrist is well known to impact optical HR accuracy. For cycling units, I arrange them on my handlebars using standard mounts – usually one on either side of the step, often a bit separated from each other.
Next, as noted, I use just my daily training routes.  Using a single route over and over again isn't really indicative of real-world conditions, it's just indicative of one trail.  The workouts you see here are just my normal daily workouts.  I've had a fair bit of variety of terrain within the time period of testing Garmin Edge units.  This has included workouts in: Amsterdam (city, countryside) and Mallorca (mountains, ocean, countryside), California (off-road, hills, forests, seaside).
We're gonna look at a few different rides in different parts of the world. First, we'll start with the famed Sa Calobra in Mallorca. I rode this nearly a month ago, so while this firmware was slightly older, it still shows pretty solid GPS performance. Here is the data set compared to the Garmin MARQ watch and the Samsung Galaxy Watch Active.

This super twisty-turny route is incredibly difficult from a GPS performance standpoint. There are rock tunnels, huge cliffs next to you, and plenty of GPS-blocking goodness to hose up units (as we see the Samsung illustrate).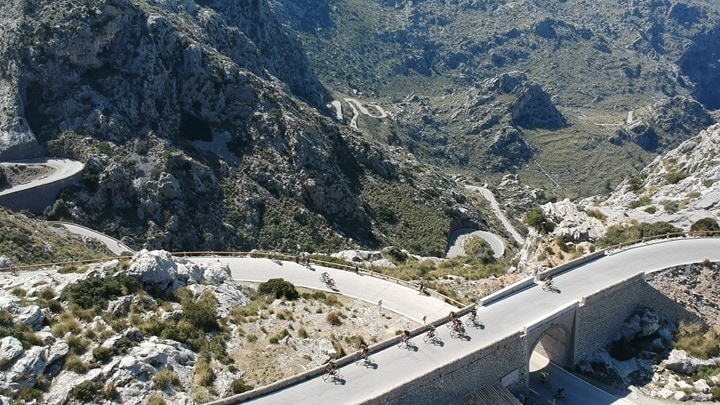 I'm going to zoom into one of the more difficult points here:

Of course, with the trees it's hard to see what's going on. But I just wanted to show you first the density of trees. In fact, you can see the Samsung straight-up gave up on life half-way through this and just cut the corner entirely. So we'll ignore it.

The other units tracks are actually very close. There's a few bobbles of the Garmin MARQ at one point where the cave is (the green text you see). That's this thing: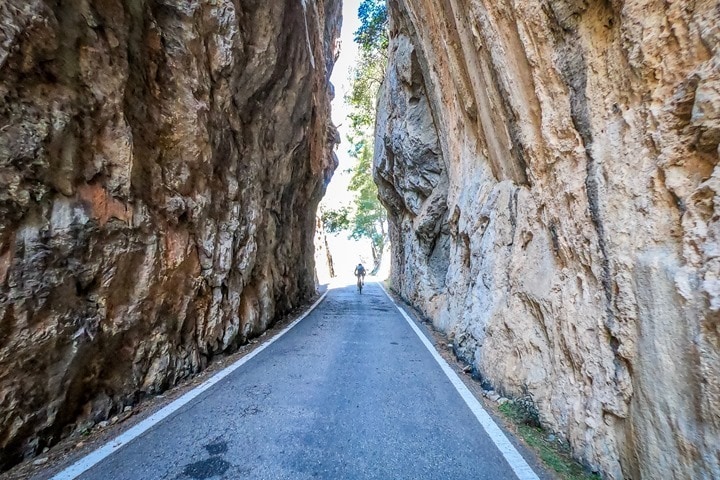 But most importantly, the two Edge 530/830 units tracked through that just fine and dandy. Perhaps by skill, or perhaps by dumb luck. They did it both directions though.
Now I had a quick lunch at the bottom before heading up. GPS-wise, units were fine here. I left them recording on my bike while I ate.

Though I did see some elevation issues here were it showed me quite a bit higher in elevation than I really was (300ft higher than the sea I was sitting next to). Garmin isn't super clear on why this happened, though I haven't seen it happen again. And again, that was a month ago on older firmware.
And in fact, if we look at route elevation for the next day, you'll see the two Edge 530/830 units nail the elevation without any issues, super clean and consistent. The Samsung…is…well…yeah.

Next we've got a ride in Monterey, California from two weeks ago. This was a nice coastal ride that also went through some gigantic tree forests. Plus it had a couple of rollers and a solid climb mid-way through. For this I've got both Edge 530/830 units, as well as the Garmin MARQ watch and the Polar Vantage V GPS watch. Here's the high-level overview of the GPS from that set: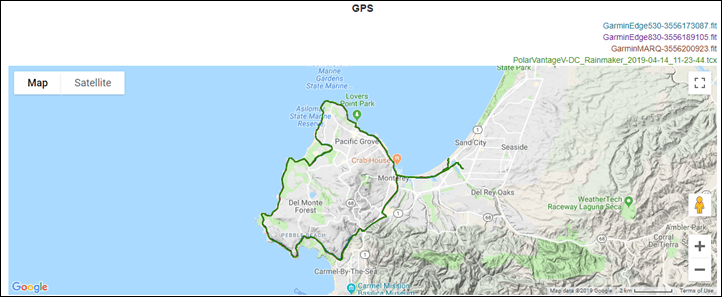 We'll go ahead and zoom into some sections, starting with early on. It's here we see the Edge 530 is a bit offset from the rest. Why you ask? It was in my back jersey pocket. I needed to photograph the Edge 830 solo-cup:

However, once we turned the corner I then got it on my handlebars and it was clean sailing:

I know, it's hard to see the lines above. But how could I not go to satellite view with scenery like that? Ok, I'll go back to boring map view for the next ones.
Oh, back in the pocket it went for a climb to get other photos. Why bother including this you ask? Well two reason. First, in case you're browsing the files and wondering why it went all sideways, and second, because I actually see a surprising number of people that stick GPS devices in their back pockets. This shows you what can happen.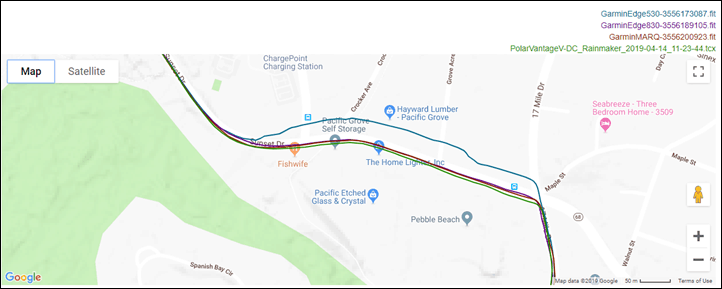 Sours: https://www.dcrainmaker.com/2019/04/garmin-edge-530-cycling-gps-in-depth-review.html
41 x 63 x 16mm, 33g
1.8in monochrome, 230 x 303 pixels
GPS, altimeter, accelerometer
15 hours battery
ANT+, BLE
IPX7 waterproofing
An update to the Garmin Edge 130, the Plus is a compact and light unit giving you the essential details about your ride. It has a GPS and alitmeter, so offers route tracking and some navigation. It offers button control only.
There's no mapping on the device, so it's a breadcrumb trail only from imported routes, with notifications of when to turn. It will route back to the start, but there's no re-routing offered when off course. The altimeter means that ClimbPro is offered, showing a visual graph of the hill you're climbing and how much further there is to go.
It will connect to your smartphone, enabling data syncing with Garmin Connect, LiveTrack and notifications. It's also compatible with a wide range of sensors using ANT+ or Bluetooth and in the future will support indoor trainer control too.
Sours: https://www.pocket-lint.com/fitness-trackers/buyers-guides/garmin/154568-best-garmin-edge-bike-computer
Note: We'll update this article whenever new information becomes available. It was published on February 12, 2021.
Garmin keeps its new product launches close to its chest. There's often no confirmation that a new product exists until the day it launches, though the company does have form for 'accidental' leaks in the run-up to major product launches.
But with a little research, we can extrapolate some answers, even before the inevitable pre-release leaks begin…
When Will the Garmin Edge 530 Plus Be Available to Purchase?
April 2021. That's our educated guess, based on Garmin's regular two-year release schedule. Last year's Garmin Edge 1030+ release came a little later, landing in June, but last year was pretty exceptional.
How Much Will the Garmin Edge 530 Plus Cost?
$299.99. We're extremely confident in this prediction: we've written extensively about how Garmin is targeting the best feature-set at every price point, and the ~$300ish price point is very much held by the 500 series. Changing the price now would require a shift across Garmin's entire line of head units – it's not going to happen.
Can I Upgrade to Garmin Edge 530 Plus from a Different Garmin Unit?
Garmin won't buy back your old device. While it does occasionally happen—even with Garmin products—official trade-ins, upgrades, and buyback programs are rare in this industry. So… March could be a good time to sling your current Garmin on eBay.
Upgrading is easy though. Sensors from your older Garmin unit will automatically import, as will data screens and ride profiles. Setup is more streamlined than ever, and almost all of your data already lives in the Garmin Connect ecosystem.
How Much Does the Garmin Edge 530 Plus Weigh?
75.8g (2.7 oz). That's the weight of the Edge 530, and it's very unlikely change significantly.
Note that the move from Edge 1030 to Edge 1030 Plus added a gram to the device's weight as Garmin added additional battery power. So if it moves in any direction, it'll probably be upward, unfortunately… but not by much.
How Big is the Edge 530 Plus?
We're convinced that, like the 1030 and 1030 Plus, the Edge 530 Plus will share a form factor with its predecessor. That means dimensions of 50 x 82 x 20 mm (1.9″ x 3.2″ x 0.8″).
And really, no size changes are needed. The existing 530 is perhaps right on the cusp of being too large for old-school cyclists, but head units are currently trending on the larger size and its main competitors are much bulkier. It certainly feels about right.
How Big is the Edge 530 Plus's Screen? What Resolution is the Edge 530 Plus's Screen?
The Garmin Edge 530 Plus will have a 2.6″ screen. (That's 66 mm.) As we mentioned, the device's form factor isn't something that's going to change, so the screen will remain the same size as its predecessor.
Resolution is harder. If pressed, we'd put our money on the Edge 530 Plus having a 246 x 322 pixel resolution. That's the same as the original Edge 530.
Incremental changes are the order of the day when Garmin introduces its Plus models, especially when it comes to device hardware. Nevertheless, this is possibly one area where Garmin might seek out enhancement.
With screen technology so cheap and available, the question is really whether Garmin opts for improvement now or on the future 540. We would guess that they'll hold off… but note that the 1030 Plus got a new touchscreen.
Will the Edge 530 Plus Have a Touchscreen?
No, the Edge 530 Plus won't have a touchscreen. Back in April 2019, the main differentiator between the Edge 830 and the Edge 530 was that one had a touchscreen and the other relied on button-based input. That's not going to change this time.
What Sensors Will the Edge 530 Plus Support?
Everything. Literally. Pick a cycling sensor that uses ANT+ or Bluetooth, and the 530 Plus will support it. Compatibility is Garmin's cornerstone, they own the ANT+ protocol, and they've consistently innovated here.
So, it'll work with everything you've got—possibly excluding your HRM from 1992—and with probably any new innovation for the next couple of years.
How Long Does the Edge 530 Plus Battery Last?
24 hours. The existing Edge 530 currently claims 20 hours battery life. We expect that to increase.
Battery life is one of Garmin's focuses, and rightly so since it's valuable to all cyclists. The Edge 1030 to 1030 Plus saw an increase from 20 to 24 hours, and a huge 48 hours in some conditions. Size and weight are more of a consideration in the smaller 500 series, but we'd anticipate a comparable increase of 2-4 hours.
(Note that Garmin has a renewed transparency about how they devise their battery life projections, which has involved some quiet revision of their existing claimed battery lives. This included the 1030 Plus figures above, revised down to 24 hours from 48 hours. Official battery life for the 530 may yet be revised down, but expect a couple of extra hours more than the 530 by whatever measure they ultimately use.)
How Much Storage Does the Edge 530 Plus Have?
The Edge 530 used internal storage only—so no SD cards—and that's the way Garmin seems to want its devices to go.
The move from 1030 to 1030 Plus saw a increase from 16GB of storage to 32GB, and it's highly likely that Garmin may seize the opportunity to add more storage to the 530 too.
But the short answer is that we don't know how much storage the 530 Plus will have. In fact, Garmin wasn't ever very transparent about the storage in the original 530, using wooly terms like "200 waypoints/locations, 100 routes, and up to 200 hours of history." So, uh, 400 waypoints/locations, 200 routes, and up to 400 hours of history?
We'll update when we can get a solid answer.
What Features Does the Edge 530 Plus Have?
All indications suggest this will be the most feature-rich bike computer ever. At the absolute bare minimum it'll match the feature set of the Edge 1030 Plus, but we expect it to push the envelope further.
Garmin's focus on features, battery life, and price point have served them well. The Edge 530, 830, and 1030 Plus are the three head units with the most and best features ever seen in the industry. We've already reached the point where the worry is more about paying for features you might not use than whether the device meets your needs. Thankfully, competitive pricing more than eases that concern.
Anything we say beyond that is speculation. But note that Garmin acquired Firstbeat Analytics early last year, so expect the introduction of new performance-related features.
What's the Difference Between Garmin Edge 530 and Edge 530 Plus?
Visible hardware differences will be negligible/non-existent – size, weight, and screen size will be more or less identical
The screen may be higher resolution, but it's very unlikely
Battery life will increase
On-board storage will very likely increase
Potentially color options, or a different color on the main SKU
Software differences will be the major enhancement… and right now we don't know what those are (though we do have an idea, which we'll save until it feels less like speculation)
Will the original Edge 530 Still be Supported?
Yes. Of course.
Another question is whether it'll get all of the 530 Plus's features down the line in a software update. That's unlikely, because while Garmin are good with updates, they're also not likely to cannibalize their sales of the new device. These software changes are the new model's key differentiator, after all.
Photographs of the Garmin Edge 530 Plus
Nothing to see here… yet. Wait for those leaks. Or maybe the launch-day press release.
Related
Sours: https://cyclry.com/garmin-edge-530-plus-release-date-price-and-tech-specs/
Garmin Edge 530 Sensor Bundle Unboxing HD (010-02060-11)
Have you got a Garmin bike computer? More specifically, have you got either an Edge 530, Edge 830, Edge 1030 or Garmin Edge 1030 Plus? If so, you're in luck as these models have just received a free Garmin update that will make them much, much more competent. The update includes "navigational enhancements" and faster route calculation speeds so you can stop wasting your time before each ride, waiting for the computer to load.
Garmin running watches also recently got an update that improved everything from the (comparatively) lowly 245 to the swanky 945. Garmin's now repeated the trick for its equally impressive cycling computer range, giving seemingly significant improvements to users of everything from the relatively affordable and practical 530 to the Tour de France-ready 1030 Plus. If you're not Alberto Contador in a hurry, the much cheaper 530 is all the computer you need.
Although another thing to note is that this update is NOT available for the older 520+ – that's on an older hardware platform so it misses out. If you want the latest prices on all the best Garmin bike computers, scroll to the bottom.
Garmin Edge software update: what's new?
The update offers new, high-contrast maps so the display is more readable in all light conditions. Garmin also improved the Trendline popularity heatmap feature which now adjusts automatically based on ride type so cyclists can instantly see the most relevant places to ride. Trendlines are based on "billions of miles of uploaded ride data layered directly onto the map", as Garmin explains, helping riders choose the most popular routes in the area.
Speaking of routes: probably the most important upgrade here is that the Garmin update improves route calculation speeds, as in makes them faster, allowing you to start riding quicker. Also, after a route has been calculated once, it's now cached. Garmin says that on favourite routes, you can now get started 'in seconds' as a result.
How to get the Garmin Edge software update
As for the actual update, Edge computers can be refreshed automatically via Wi-Fi or directly by using Garmin Express. Garmin encourages riders are to update their maps via Garmin Express to get the latest improvements and most up-to-date popularity routing data.
Looking for an entry-level bike computer? Check out the Garmin Edge 130 Plus, a tiny entry-level bike computer with loads of useful cycling features.
For the best Garmin Edge bike computer prices, check out the price widget below, it displays the best prices based on your location. Please note that not all models below are compatible with the update, the bottom ones have been added for variety.
Sours: https://www.t3.com/news/now-garmin-edge-830-bike-computer-is-even-better-value-thanks-to-the-latest-garmin-software-update
Release 530 date edge garmin
The Garmin Edge 530 is the latest in Garmin's line of premium GPS bike computers, aimed at performance-minded cyclists of all disciplines. Launched in spring 2019 along with the more expensive touchscreen Edge 830, the Edge 530 is as feature-rich as any of today's crop of best cycling computers. However, in the days of touch-screen smartphones and voice remotes, the endless button-pressing can become a tedious exercise.
As expected, the Edge 530 shares its basic characteristics, including features such as LiveTrack, GroupTrack and Strava Live Segments with the previous generation Edge 520, however, it adds a raft of new features wrapped in a more aesthetically pleasing package.
As for charging, every 20 hours should be fine, or you can double that in battery-saver mode, albeit exact times will depend on a range of factors, of course. There's also the option of the extra Garmin battery pack add-on, which will more-than-double battery life again. That's a potential of 80+ hours of riding time on a single charge.
Design and aesthetics
The Garmin Edge 530 (and Edge 830, given they share the same dimensions) isn't exactly diminutive in size, it's what we'd consider medium-sized in the world of GPS bike computers. With dimensions of 82 x 50 x 20mm, it's a few millimetres smaller, but thicker than the Wahoo Elemnt Roam (89 x 54.4 x 17.8mm), and the screen size of 2.6in means it's smaller than said rival, too.
With a (claimed) weight of 75.8 grams, it's not the lightest, but it's far from the heaviest on the market - especially when considering the Edge 1030 is 124g, the Hammerhead Karoo is a whopping 186g, and the mite-sized Edge 130 tips the scales at just 33g.
The screen of the Garmin Edge 530 is small in comparison to the Edge 1030 or the Hammerhead Karoo, however, thanks to the 246x322 pixel resolution display, it really doesn't suffer as a result. The display is crisp and clear, and thanks to the automatic backlight brightness, it's easy to see the metrics, no matter the conditions.
User Experience
My period with the Garmin Edge 530 has been a largely enjoyable time, however I'd be lying if I said there weren't any hiccups. The out-of-box setup was actually very straightforward, the onscreen prompts and phone-pairing and wifi-connection processes were simple. However, after my first ride, my ride failed to upload. A few days of manual intervention ensued before a hard-reset, a firmware update, an app-delete, and multiple 'forget this device' prompts eventually put paid to my initial headaches. That aside, the Garmin Edge 530 is pretty much 'set-and-forget' in its application; exactly what users want from a GPS device.
Features
As mentioned above, the Edge 530 has a truckload of new features to play with, from a roadie focussed café-stop bike alarm to the hang time feature that will tease the gnarly among us.
Mapping
Turn-by-turn navigation was introduced to Garmin's Five series computers when they launched the Edge 520 Plus, so while mapping is not new for the Edge 530, this time we feel they've done it right. With the introduction of a much more powerful processor, it is now fast and very easy to use. In real-world terms, this means a 90km route will take around 20 seconds to load. This isn't long, but it would be nice for the routing to start immediately while the remainder of the route is calculating. Garmin, if you're listening, you can have that one for free...
The Edge 530 features full turn-by-turn navigation, although on the unit itself, you can only navigate as deep as street level. For specific addresses and points of interest, you'll either need to pre-create your route via Garmin Connect, or you'll want the 830.
There is a downside, however. Due to the lack of a touchscreen, map browsing takes a lot of button presses. There are two buttons that control panning north or south, panning east or west, and zooming in and out, and you need to use a third button to switch between the three. You can soon become comfortable and relatively fast at doing it, but it is still a laborious process.
That said, once a destination is chosen (or if you're following a preloaded route) the routing itself is fantastic. Like previous Edge models, it'll route-to-start, and thanks in part to the crisp colour display, a simple glance down is all it takes to check if you're on track (audio cues are also available).
Bike Alarm
A nice touch is the Bike Alarm which works a treat when leaving your race bike in the car park while you nip indoors to sign on or merely stop at a petrol garage for something to eat. Any time that your bike is close-by but not necessarily in line of sight - park your bike up, switch the bike alarm feature on, and should your Garmin detect movement, a loud (read: unpleasant) noise will sound and your phone will notify you.
Find My Edge
While the most obvious benefits are for off-road rides where chattery terrain or a crash could send your Garmin device into a nearby bush, this is a useful peace-of-mind feature for all. Should your Garmin ever come unhitched mid-ride, your phone will save the exact coordinates of the point at which the connection is lost. Then, even if you don't notice until you're 5km down the road, you can simply open the app and ask it to redirect you back to that point. If you still can't find it you can ask the Garmin to sound an alarm (assuming you're close enough for a Bluetooth connection to be re-established).
ClimbPro
ClimbPro is a useful tool that tells you all the necessary information about a climb. It'll let you know that a climb is coming, along with the important numbers (distance, gradient, ascent, etc). When it begins, it will bring up a new screen, which gives you a profile, with a few key metrics such as the average remaining gradient and distance.
I'd personally like the ability to adjust what is considered a climb. Throughout my time with the Garmin, ClimbPro was offered for very small lumps in the road, yet I also had long climbs arrive without warning.
Better structured workouts
This feature allows you to integrate the Edge 530 with training planners such as TrainingPeaks. It's not only clearer than previous iterations, when you've loaded your workout, you can pick a route on which to ride that particular session.
Performance measurements
The newly added performance measurements are vast, and provide insight into myriad performance-based metrics such as training load and load focus - are you predominantly training your aerobic or anaerobic energy systems? The power curve is a useful addition, providing mean-max power for any given duration - great for on-the-fly training and intervals. Recovery suggestions remain, and heat and altitude acclimation is now calculated when above 22 degrees and 800m respectively, offering adjusted training zones and corrections to your VO2 Max.
Gear (clothing) suggestions and consumption reminders
Based on your chosen route, the training session planned, and the weather, the Garmin Edge 530 will even tell you how to dress - often suggesting rain gear for us British folk. It will also suggest the amount of food (or more accurately, the number of calories) you should carry. This isn't an essential feature, but it's a helpful, quick checklist to make sure you avoid the dreaded bonk - we've all been 20km from home, reached down for a bottle, only to realise you've left it on the kitchen table!
MTB features
I know, I know... you're a road cyclist, me too. Therefore, I didn't get to use these features to their full potential, however, to touch on them briefly, the main additions are calculations of Grit and Flow. Grit will measure the difficulty of a course itself, whereas Flow measures how well you rode it; were you braking too much? Were you stop-start all ride? That sort of thing.
Theoretically, if you were to go for a ride with friends, you should all get similar Grit scores, but you'll likely get vastly different Flow scores. I am an unashamed sheep of the gravel cycling movement, so while pretending I was Mathieu van der Poel, I did enjoy playing with another new feature which uses the Garmin's accelerometers to measure hang time, jump count and jump distance - my record was an entirely unimpressive four metres (and a new pair of bib shorts). Finally, TrailForks has also been integrated into the base map of the Garmin Edge 530, and with my current gravel bias, I was keen to try it out. While the Connect IQ app previously existed, it's no longer required to find new trails, which I can assure you, will come in handy when out on your next lazy Sunday of off-road junk miles, wondering in which direction to head next.
Verdict
On the whole, my time with the Garmin Edge 530 was great. There were a few initial headaches with setup, but once they were out of the way, the long list of features made for a great device that was fast, clear, and a genuinely beneficial addition to my ride. At £259.99, it's not the most expensive unit on the market but if it were my own hard-earned cash, I have to say I would opt for the Edge 830 and its touch-screen refinement. See, the majority of my fitness building phase is done in the middle of winter where two pairs of gloves - not to mention a frozen moustache - is not particularly conducive to button-pushing and fiddling about on the bike. My advice would be to spend the extra and get the touchscreen Edge 830.
Garmin Edge GPS computer line-up 2019
Tech spec
Display: 2.6 inch colour display with 246x322 pixels resolution
Weight: 75.8g
Storage capacity: 200 waypoints/locations, 100 routes & up to 200 hours of history
Water resistant: IPX7
Connectivity: Wi-Fi, Bluetooth, ANT+
Sensors: GPS/GLONASS/Galileo, barometric altimeter
Battery: Rechargeable (micro USB) Lithium ion with 20 hour-rated life
Dimensions: 82 x 50 x 20 mm
Need a better alternative?
Best cycling computers
Cyclingnews has reviewed a range of cycling computers so are in a position to offer helpful buying advice. We've put together a roundup of the best, so if you're still unsure, this can help you decide whether the Edge 530 is the right option for you.
Garmin cycling computers
If you're unsure what else sits in the Garmin range, we've put together a handy line-up that explains the range in full.
Sours: https://www.cyclingnews.com/reviews/garmin-edge-530-gps-bike-computer-review/
Garmin Edge 530: NEW MTB Dynamics, Performance, and Navigation Features!
Then I lifted the skirt from my other leg. What if she wakes up now. - I thought.
Now discussing:
To return to the previous relationship and under what conditions. What happened next I expected the least. He suddenly took a step forward and touched my lips with his. I almost had a heart attack. Understand correctly, I always knew that he was straight.
447
448
449
450
451