You may have thought initially, I don't need corner desk ideas, I'll put my desk in the center of the room. Unless you have a big house and plenty of space to waste in a room, you'll need to do some thoughtful organizing.
If you want to have a productive day for sure you need to have an organized workspace that will keep you focused.
This is why having an office environment that utilizes in a smart way your workspace is important.
A corner desk means that you can maximize the space of your office and offer a larger worktop area to yourself.

Image source: Interior Rejuvenations
A corner desk is needed in any office that doesn't want to lose much of its space. So, for sure in small spaces it becomes very useful but when you choose the one you go for you should still pay attention to some details
Why should you buy a corner desk?

Image source: REFINED LLC
Have you seen that sometimes corners in your house or at your friend's places tend to not get used? They are usually filled with plants or anything else just to cover it because empty it will look strange.
Probably this is when corner desks can become a real solution because if you use them you will be free to utilize your unoccupied space and it gives you a lot more space for other stuff.
Image source: WA Design
A corner desk also saves you from the troubles of putting some right in the corners just to fill some empty space. By using a corner office desk, you really maximize your space. What is great is that they are available in different styles and sizes so for sure you will be able to find the right one for you.
These are Some of Corner Desk Pros
They are flexible and can fit in difficult room layouts
Perfect for multi-purpose rooms like kitchens or living rooms
Everything is closer compare to a long desk of the same length
You will have faster access to your devices without moving around too much so you will save time
Best Corner Desk Ideas
If you want to make the most out of a small work area you really need to check some small corner desks. They can be a great solution and will also look good in the space you want to use yours.
In-Built Corner

Image source: Dura Supreme Cabinetry
A small working space means that you will have to adapt everything else that you bring to it. Can you check this modern idea that can help you make the most out of your room while making sure they don't become the main focus space in the area?
Wall Mounted (Hanging) L-Shaped Desk

Image source: Berghuis Construction LLC
Compared with another corner desk, the hanging one doesn't have any legs and it usually comes in two colors. It fits the corner perfectly and it is quite large and enough for more people to work at the same time. The desk will fit any corner and it has more use than the space it accommodates because you can put materials beneath it.
Get your free ebook!
Subscribe to receive an awesome ebook filled with interior design inspiration that you can use for your home.
Thank you!
One more step is needed. Please check your inbox for the newsletter confirmation email.
L-Shaped Wooden-Steel Corner Desk

Image source: MIG Furniture Design, Inc.
Usually speaking this type of L-shaped corner desks are made from steel or wooden materials.  They are great to become your own office corner desk because they are very useful and also very stable. If you like this type why not give it a try and see if is going to work for you.
U-Shaped Wrap Around Desk (Double Corner)

Image source: transFORM Home
What is cool about a corner desk is that you can always extend it in both directions. Maybe somebody joins the space, or you just need some extra length to put more stuff on your desk. No matter the reasons this type of built-in corner desk can be a great choice.
Standing or Sitting Desk

Image source: Bob Lancaster Designs
If you were searching for a solution for a small desk this model can be a real choice. It saves you space and fits quite easily any corner.
Dual Height Desk

Image source: Wharfside
This desk has a two-level setup that you can use. This means that you can use the desk both in a sitting or standing position. On the lower top you can install your desktop and on the upper level may be a laptop or a second screen. This type of desk gives more room for storage in your room and you should be able to feel that even from its first use.
Mini Corner

Image source: Twelve Chairs
This is a minimalist design corner desk that can fit your room and is perfect for somebody that just wants to install a computer some space to write and nothing else. You won't get distracted so easily when you choose to go for this design.
Ameriwood Home Dakota L-Shaped Desk with Bookshelves
Having a lot of room to install both a monitor and a laptop this L-shaped desk can be a great way of organizing your own office space. It has two open shelves on the side, and they can be reached easily. This desk fits easily in a corner and for sure can help you maximize your home office space.
Leick Corner Computer and Writing Desk, Chocolate Oak Finish
This is a solid construction that is going to resist a lot of years. You can even drop water on this desk, it will not have any problem at all. It also has a wire retaining grommet in the back that is going to help you manage cords from the drawer better.
Walker Edison Soreno Modern 3-Piece Corner Desk for Home Office
This is a polished desk that also has a tempered safety glass. It has a strong frame made from steel and it also includes a sliding keyboard tray perfect to use for work.
Ending Thoughts on Corner Desk Ideas
When choosing the right corner for you there are some things that you need to consider before. Your desk should always be the place where you are capable to focus and deliver the best work you can do depending on your activities.
This is why you need to take this seriously, you will get a lot of computer corner desk models, important is to choose the best for you. Productivity is connected with your office for sure. Imagine how would it be if you had to work 8/9 hours a day in an office that not only you don't like but also makes your body to feel uncomfortable.
Take all of the above into account when making your final decision and why not even try out some before you purchase your corner desk.
If you enjoyed reading this article about corner desk ideas, you should read these as well:
Sours: https://www.impressiveinteriordesign.com/corner-desk-ideas/
This post contains affiliate links. If you click and buy we may make a commission, at no additional charge to you. Please see our disclosure policy for more details.
An aesthetically pleasing workstation deems to be inspiring and leads to an increase in one's productivity and efficiency. Such an environment should be inculcated in both, one's office and homes, and hence a proper table for each is a must.
Space optimization is key to any creative project, and L-shaped tables are a great way for just that. However, buying such tables from the market can cause a hit to your pocket. As a result, you might resort to cheap ones that are not very durable and often have defects.
In order to avoid this, we have curated a list of 19 DIY L-shaped plans for desks that you can undertake with minimal experience and prerequisites. These provide you with a durable and cheap alternative while maintaining the integrity of a classic L-shaped design.
DIY L-Shaped Desk Plans & Ideas
1. DIY L-shaped Double X Desk
This table will immediately add an elegant feel to your workspace, with ample leg space, and it's easy to move structure. Create your own stylish leg frames with an X trim and then assemble the desk support structure. Finally, position your tabletop on this base and finish this DIY project to instantly upgrade your working experience.
The step-by-step guide also provides you with instructions to fill pocket holes for a clean look to the table.
2. DIY L-shaped Office Desk
Create this stylish L-shaped desk for your study and give it the professional feel you always wanted. Choosing crown molded legs with a thick base will bring exceptional sturdiness. Depending on how sleek you want the end product to be, perform calculated wood staining.
Your office study naturally gets a rustic vibe and you feel more productive while working on this new office desk.
3. DIY L-shaped Room Desk
This L shaped desk design is perfect for your room and will add a chic vibe to it. The process also includes instructions on installing drawers into the design which work towards enhancing its utility.
The details for this project are divided into subparts which make it easier to comprehend the manual. This table is big enough to occupy two vacant corners of your room. You could literally set up a mini workstation with enough space for 4 computers.
4. DIY L-shaped Modular Office Base
A thin-table desk made using a few tools and lumber, when joint together with a modular office themed narrow shelf base, produces this innovative L shaped design that fits perfectly into the corner of your room.
Supplies:
Clamps
Drill
Hand Saw
Lumber
Screws
Wood glue
There are a couple of more basic materials that you can access from the guide.
5. DIY L-shaped Desk (Using 1 Plywood Sheet)
This video will guide you through the entire process of making the entire desk using just one sheet of plywood. The final product will be sturdy and can be used for both office and home purposes. Even better, you get an extremely compact storage area packed closely to the tabletop.
Worried about cutting wood in such precise patterns? These 10 best cordless reciprocating saws could be a great addition to your woodworking arsenal.
6. DIY L-shaped Computer Desk
Make this DIY table without using any advanced tools for under $100, just by following this video instruction to the pinch of perfection. The final product is bulky and construction assures it is even resistant to vibrations. This makes it the perfect corner piece for your room. Small and compact!
Supplies:
Lumber (2×4's, 2×6)
Wood glue
Clamps
Drill
Circular saw
There are a couple of more basic materials that you can access from the guide.
7. DIY Butcher Block Desk
A desk that can serve its purpose positioned in the corner, or center of the room, this DIY project completely dominates your room. The pipe-structured table gives you a proper place for devices like printers and scanners.
Build a desk with a rugged design (complemented by the black spray-painted industrial pipes) and a striking contrast of the bright wood color.
8. DIY L-shaped Workflow Desk
If you need a large desk for a computer lab, to be used by multiple people simultaneously, you should try this DIY plan.
This plan makes use of slide over pipe fittings secured by set screws (instead of the conventional method), which makes it easier to use and more flexible as compared to threading pipe fittings.
9. DIY L-shaped Desk with Pipe Base
This classy table makes use of live edge slabs and can easily fit into a bay window. The heavy tabletop is supported by the pipe frame.
You can use flanges to connect the slabs into the pipe structure. Tee fittings can also be used to tie the supports for both desks together. This will help save on the number of fittings needed.
10. DIY L-shaped Dresser Desk
If you want a dresser-cum-table to liven up that dull corner of your room, this DIY project is what you need. With the framed-out drawer fronts, the molding, and beautiful legs, this dresser sure becomes the central attraction for your room.
Why not hit two birds with one stone? Solve the problem of storing the clutter in your room, while also getting a table work on.
11. DIY L-shaped Student Desk
Perfect for all the teens, this study desk with its minimal built and maximal utility will definitely enhance your productivity.
There are 3 main steps as a part of the plan, building the base, the top, and then attaching them together.
12. DIY L-shaped Drawer Desk
This plan provides you an easy schematic procedure to make your own L-shaped drawer desk that comes with storage units and drawers. To get strong joints and to hide the head of the screws, you should use a pocket hole system.
The middle piece merging the 2 drawer ends of the L-shaped table is what needs utmost attention too. Acquiring the perfect cut is a key element in attaining this exact design.
13. DIY L-shaped System Desk
Refer to this PDF instruction booklet to make yourself a desk for your entire computer system, which provides you ample room for leg space and technical accessories.
This design features a large lap drawer with a matching drawer cabinet, and a bulging section in the middle of the table. If required, more drawer cabinets can be attached to either of the sides.
14. DIY L-shaped Corner Desk
Despite being more of a makeover plan, a few existing drawers and wooden pallets could help build what you are seeing. The compactness and exemplary space-conscious design make it a must-try DIY project.
Use this cheap alternative to enhance your room décor and make working more enjoyable.
15. DIY Simple L-shaped Desk
Boasting a generous width, the ends of this table give it a breathable look. Installing some casters could prove handy.
This lightweight table can also be easily transported which makes it perfect for the parties you host, outdoors or indoors.
16. DIY L-shaped Farmhouse Desk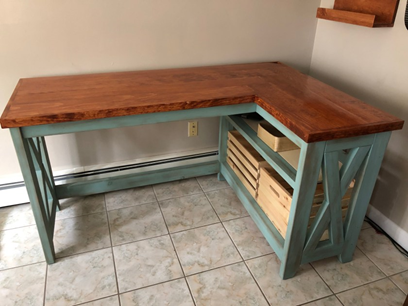 When you couple the ruggedness and dull color of the lower end of the table, along with the presence of 2 long shelves, this plan doesn't seem like a bad idea.
You will need a pocket hole jig for the proper execution of the plan.
17. DIY Modern L-shaped Desk
This table, though a little challenging, can be completed by using hand tools and giving the project its due effort. The end product will be a durable table that can be placed in your garage as a tools platform or even as a kitchen island. However, the instructions in the video do not include the finishing procedure, which has been left to your creativity.
If you're overwhelmed by the wood cutting specifics mentioned in the guide then check out these top-notch sliding compound miter saws.
18. DIY L-shaped Rustic Table
This rustic table serves as the perfect spot for all your mementos and paperweights. Place it in your study for personal use, or in the hall as a display for your guests.
Drilling the pocket holes will be the most difficult part of the project. However intimidating the legs may seem, carefully following the instructions will help you succeed in conquering the complex built.
19. DIY L-shaped Craft Desk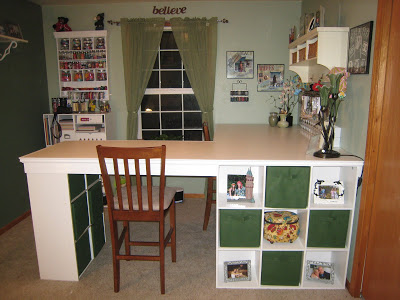 A craft desk is a must for a DIYer, and what better way to do that than to DIY? Nothing beats the squared boxes on the front end. Literally anything you place there will add to the visuals of the entire L-shaped desk.
The guide provides you with separate instructions for the cubicles, main desk, and side desk, and then later arranging it all together.
Verdict
L-shaped tables are the perfect means to fill up vacant corners in homes. A little creativity, open-mindedness to trying new designs, and wood assembling skills could go a long way in building a visually pleasing DIY L-shaped desk.
by Emily FloateCategories DIY ProjectsSours: https://www.protoolguide.com/amazing-diy-l-shaped-desk-plans/
21 Inspiring Ideas for a DIY L-Shaped Desk
These days, it's common to work from home. Having an efficient workspace that allows you to fully utilize an available area is essential.
Having a workplace that reflects your personality and style will inspire and energize you creatively.
Creating your own DIY L-shaped desk makes the most of the area and offers more surface space while placing everything in reach. Combining two L-shaped desks makes for a perfect two-person workspace.
Ready-built corner desks from retailers are expensive and won't always fit your room. It can also be hard to find one that suits your style and needs.
Creating an efficient but personal workspace isn't as hard as you think.
Have a look at the 21 ideas below and see if any spark your interest.
1. Fun and Functional
This design is easy to build to your own specifications for use in any room.
It's a fun little design that you can brighten up with the right color.
See the pin from Paul Steward that also includes the plans from Ana White to build this desk.
2. Curved Corner Desk with Shelves
These L-shaped desks with shelves are easy to make from wood and offer a curved top, cabinet shelf, and corners set in two tones.
You can add details and personal touches.
You can also easily make cheap L-shaped desks by selecting cheaper wood such as pine.
3. DIY L-shaped Recycled Desk
These sturdy and eye-catching DIY L-shaped workstation desks have an industrial look with a modern twist.
The creation of this masterpiece involves welding the frame and cutting the recycled wood to size.
The frame and wood can also be purchased and assembled. You can then stain the wood and paint the frame to taste.
4. The Classic Look
This very novel and highly functional design allows the L-shaped desk to be in the middle of the room.
It offers a lot of space and freedom of movement.
You can recycle old kitchen tables to create a funky but classic look.
5. Dark Walnut Computer Desks with Keyboard Tray
This desk is available at Homedepot and will require assembly.
These L-shaped desks with storage are by Welwick Designs. L-shaped desks with file cabinets like these are eye-catching and come with a keyboard tray.
6. The Rustic look
Rustic L-shaped desks for home offices are DIY projects begging to happen.
This classic design by The Rustic Barn is detailed in the homemade L-shaped desk plans available on their website.
You can build this country Style L-Shaped Computer Desk or similar quickly and make it your own.
7. Sleek Bedroom Space
Use the corner in your bedroom to create a private and modern workspace.
This easy-to-create look can be complemented by your style in décor to complete your bedroom design.
Visit Shanty-2-chic.com for more ideas.
8. Transform Your Desk
This fantastic L-shaped desk with drawers involves selecting and joining two suitable tables in a corner.
Cover them with the surface of your choice and you can even slide matching drawers under the ends.
9. Practical and Fabulous
Mount wooden or granite kitchen countertops to the wall and use shelving or drawers underneath.
Kitchen countertops come in all designs, are easy to clean and durable.
10. Lots of Storage Space
Use drawers as desk legs with kitchen countertops to create a functional and affordable desk.
Add shelves to the walls above for a professional look while increasing your storage and filing space.
11. DIY L-Shaped Desk for a Budget Office
This idea is entirely dependent on the size of your wallet.
Put your puzzle building to the test to create a desk from pipes and joiners.
You then select your desktop and mount it to the wall.
12. Farmhouse DIY L-Shaped Computer Desk
These easy to create DIY L-shaped computer desks offer a farmhouse look and feel.
The entire desk is built out of 2x4s and 2x6s and is ideal for experienced and aspiring DIY practitioners.
It's cost-effective and sturdy but also modern—the perfect combination.
13. Spacious and Functional
The exciting use of pipes to create the desk legs makes for a light but sturdy desk that complements most décor.
Any desktop can be utilized from glass to wood to match your taste.
14. Brighten the Room
Use two tables and a countertop to create this great look in any room.
Incorporate color and detailing to make it your own.
15. Classic Wood
Create this classic design by using a sleeper or other recycled wood.
Use sturdy logs for the legs, finish the design with wooden stools, or modernize it with office chairs.
16. Pallet Design
Use pallets to create this interesting L-shaped desk.
This simple design can be very cost-effective and allows for extra storage space underneath.
17. Build a Wood Plank Desktop
This makeover by prettyhandygirl.com involved ripping off the old and damaged desktop and replacing it with newly stained wooden planks.
Repaint the desk and add decorative handles to finish the look.
18. Light and White
Thistle Wood Farms do some incredible makeovers.
Their latest offers fantastic ideas on incorporating a countertop attached to the wall next to a bookshelf to create L-shaped desks with a hutch.
19. Window Facing
See more about this idea here.
If your only open space is in front of a window, don't despair.
Creating an L-shaped desk mounted to only one wall will solve your dilemma.
Leave enough space to enjoy the view and maneuver the curtains if you use them.
20. Floating L-Shaped Desk
Creating an L-Shaped desk without legs creates an open, modern look.
The pipe supports are mounted under the desk.
This desk can be used for gaming, office work, or as a workbench.
Idea by Christopher as shared by Simplified Building.
21. Split level L-shaped desk
These DIY L-shaped gaming desks promoted on Etsy feature a split-level design that allows you to sit or stand while playing your favorite games.
Avoid backache during those long campaigns by standing for a while without having to interrupt your gameplay.
Making your own L-shaped desk is ideal for all DIY workspaces from your home office to your hobby room.
Purchasing the ideal desk is not always feasible, and often the hardest part is finding the perfect idea to create your own DIY project.
We hope you found some ideas and inspiration here.
Filed Under: Blog, DIY
DIY Geometric Pendant LightSherwin-Williams Taupe Collection – The Calm and ContentSours: https://knockoffdecor.com/diy-l-shaped-desk-ideas/
NEW BEAUTY ROOM / OFFICE DESK - AMAZON TRIBE SIGNS L SHAPED DESK
30 Corner Office Designs and Space Saving Furniture Placement Ideas
Home offices become ideas work spaces for those who enjoy work from home. Many people decide to change their lifestyle and add a home office to their apartments and houses, creating functional and comfortable rooms for work from home. Designing a home office is not a simple task, especially if you live in a small apartment or home. Here is a great collection of creative and practical ideas that may inspire you and help select the perfect corner office design for your home.
30 beautiful home office designs with corner desks and space saving storage furniture pieces show various arrangements and give great inspirations for making your working space effective, comfortable and stylish. These interior design and decorating ideas show how to make a home office beautiful and productive without taking too much space.
Here are large and small home office designs and furniture arrangement ideas suitable for decorating small apartments and spacious rooms. Corner furniture and space saving storage ideas for your documents, professional books, magazines and papers, are important elements of creating pleasant, well organized and aesthetically appealing working space.
Modern corner office designs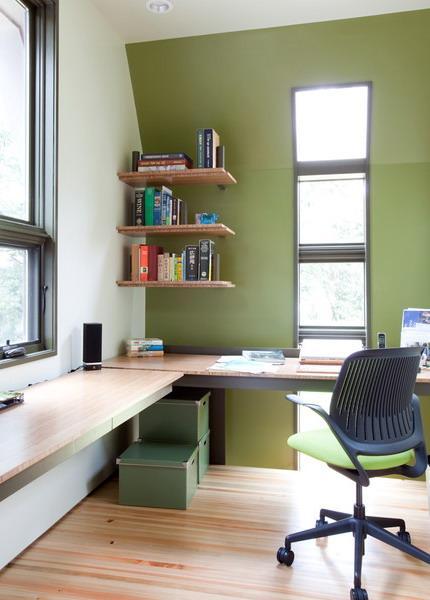 There are a few reasons to select a corner office design for your working space at home. Corner desks and storage shelves look wonderful, placed in an empty corner, allowing to create multifunctional rooms. Corner furniture efficiently use available space and is ideal for decorating small apartments and homes.
Also corner furniture items, especially built-in wall shelves and office desks, create very cozy working spaces and make home office designs feel comfortable and personal, like miniature private suites.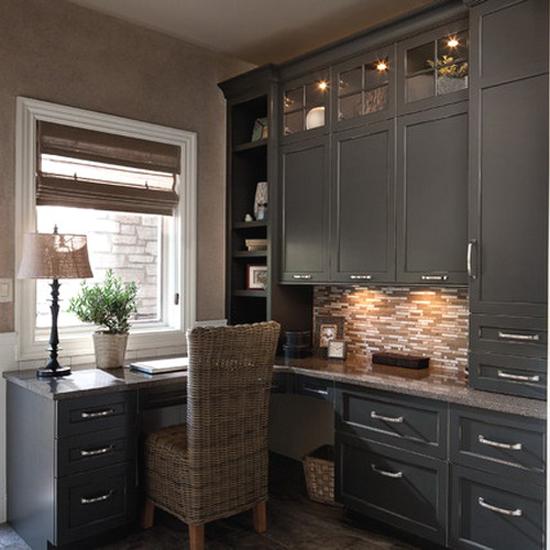 Before you start your home office design think of hoa much space your have for your office desk and storage. Think about the size of your desk that you need and if your office design should include a large storage space. Decide if you want to have your office in a separate room or want create multifunctional room with a corner office. The main thing if to create personal and comfortable working space for yourself and add decor items that are pleasant and cheerful.
Feng Shui for corner office and study areas in room corners
Small home office cabinets enhancing space saving interior design
L-shaped office desks
L-shaped corner office designs are convenient and space saving. L-shaped office desks are ideal for decorating small apartments and homes. These office furniture pieces help maximize available spaces and create productive and comfortable home office designs in small rooms.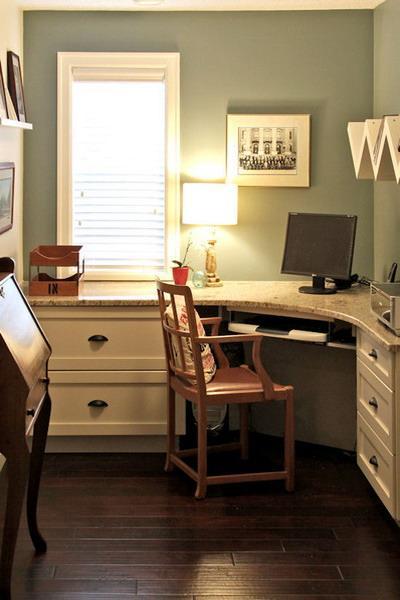 Storage units on casters
Easy to move, storage units on casters are excellent for small home office designs. These storage furniture items allow flexibility and improve home office designs, offering quick changes in furniture placement. Small movable storage units make rooms look more spacious and airy while providing enough storage space for small home office designs.
20 built-in home office designs maximizing small spaces
Home office designs in small spaces
Space saving furniture for corner office designs
Folding and sliding elements are wonderful space saving ideas for small home office designs. These creative furniture pieces allow to stretch office designs and hide additional surfaces when you do not need them. Stackable boxes and sliding working surfaces can create a large office for two in a small room, improving functionality of interior design and creating convenient different zones for short tasks.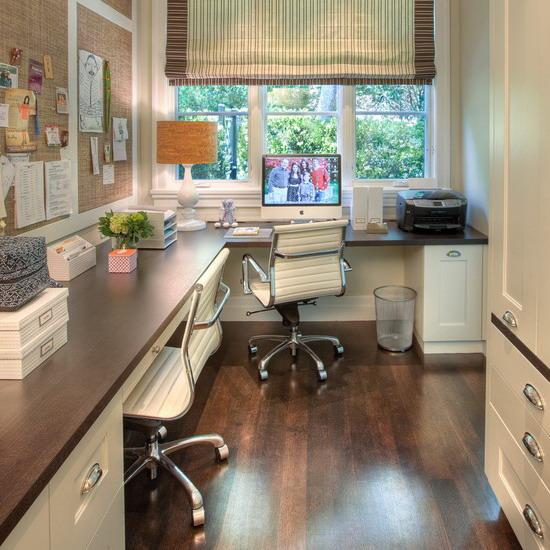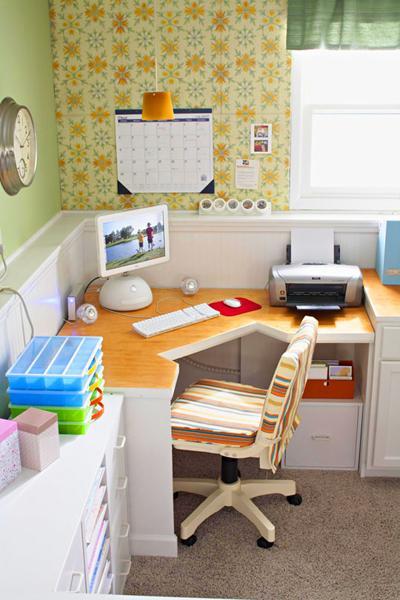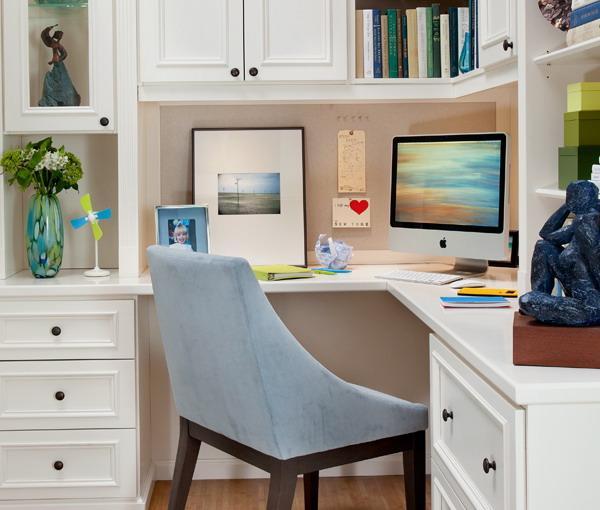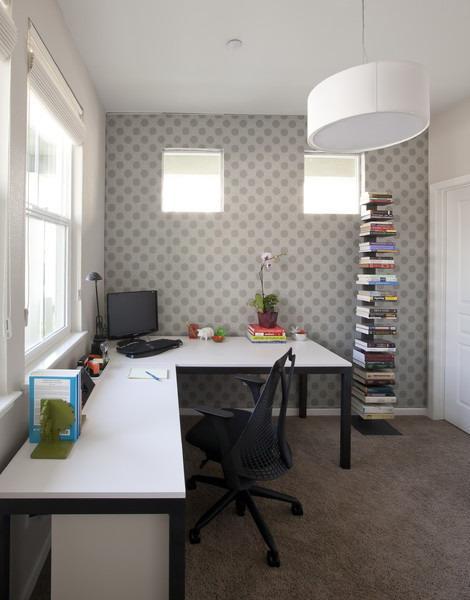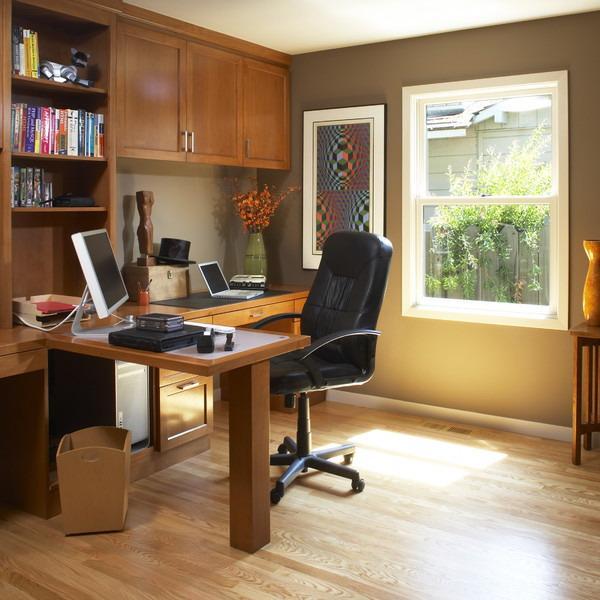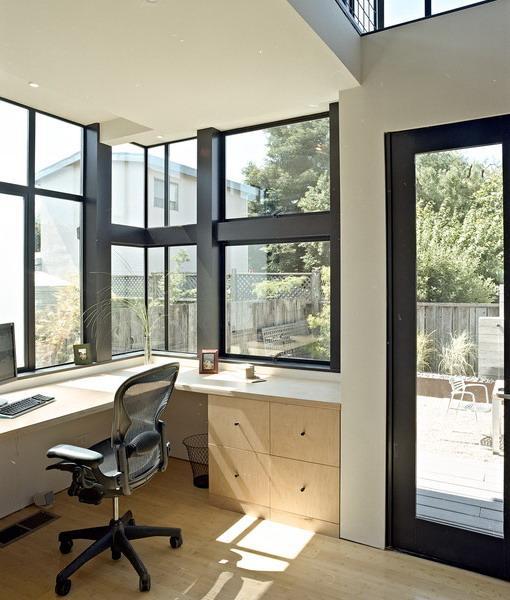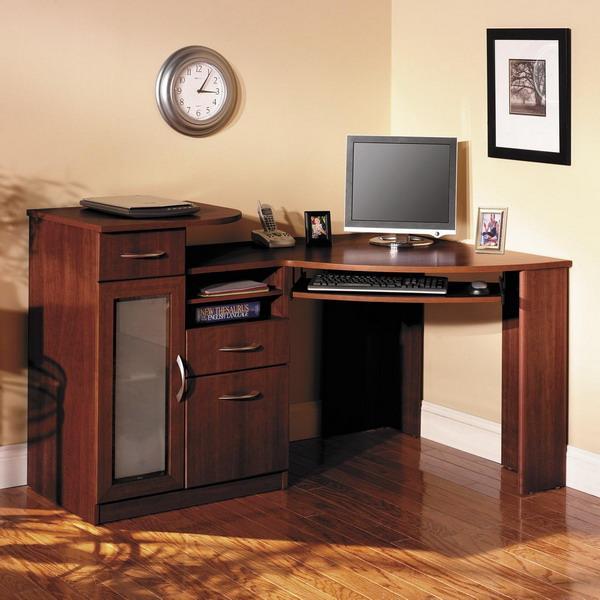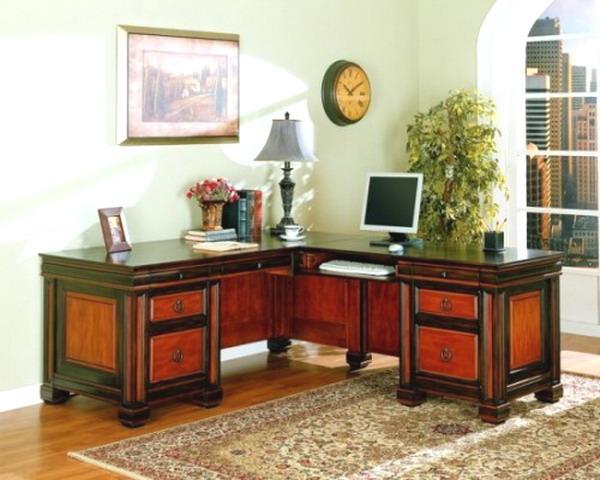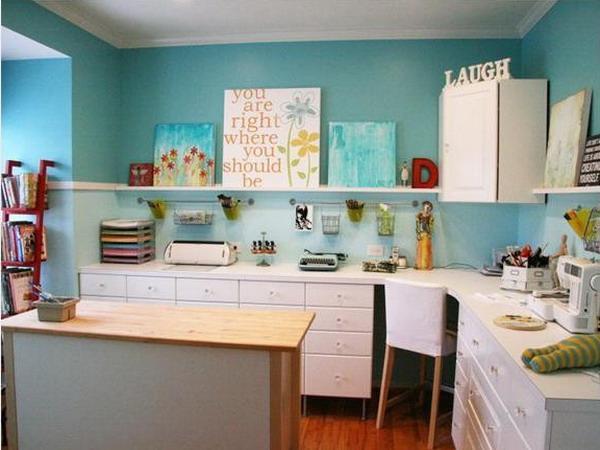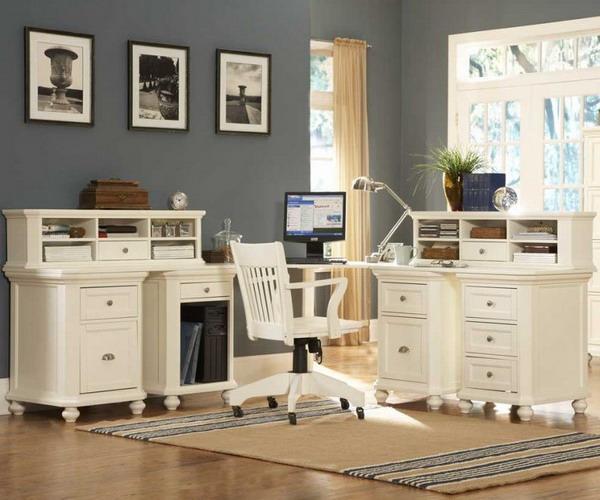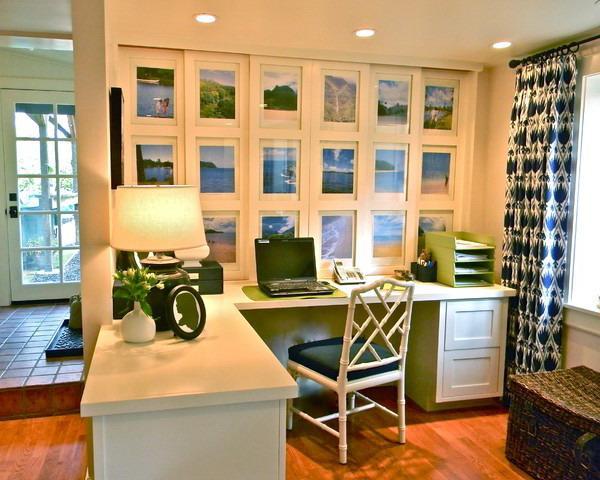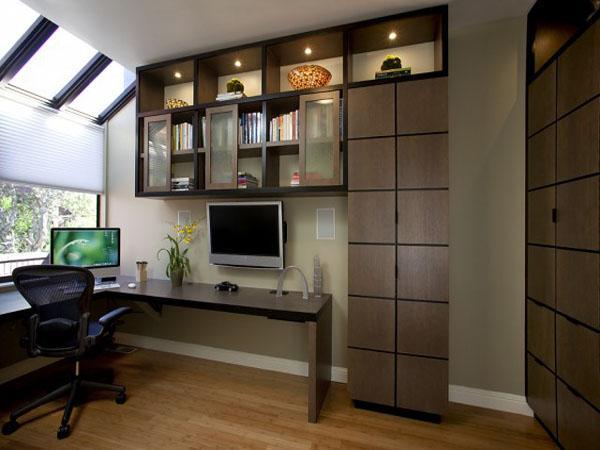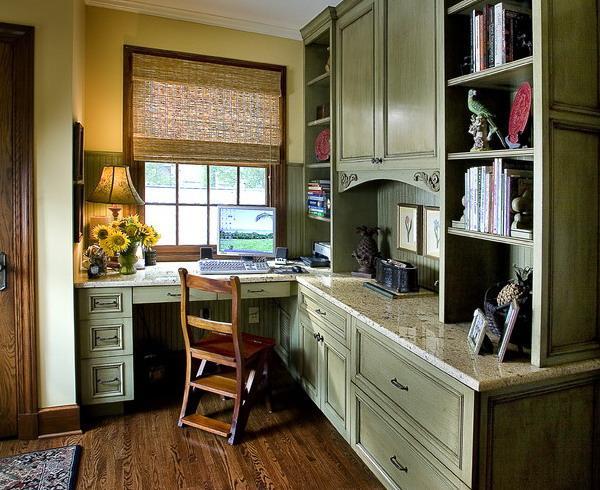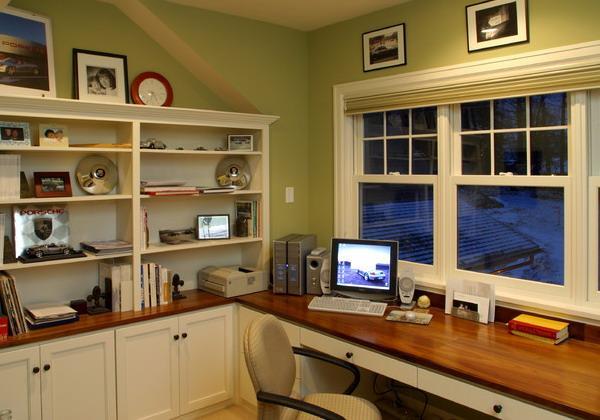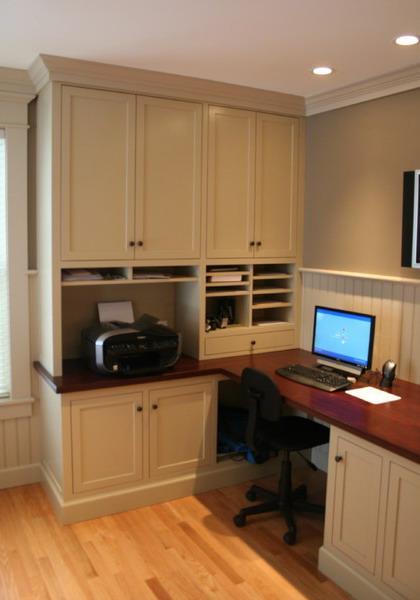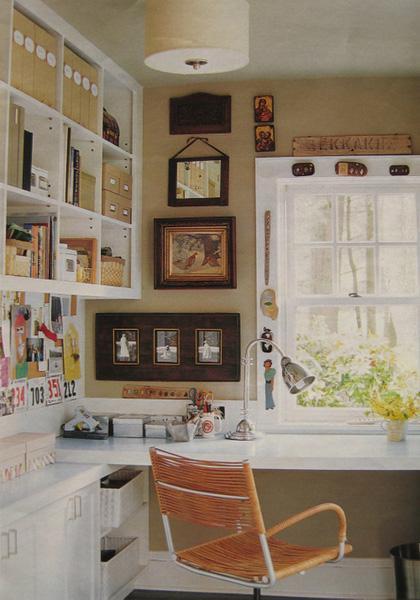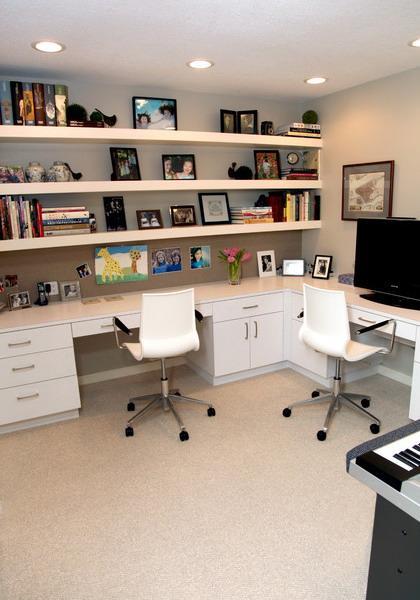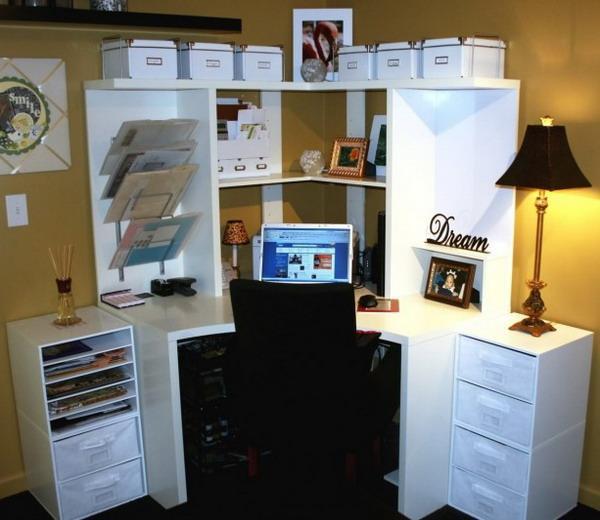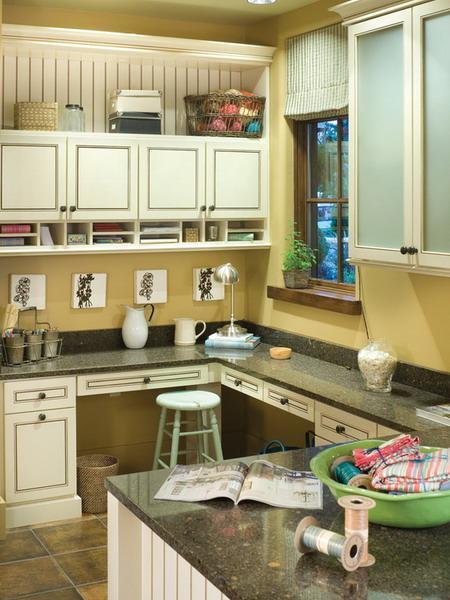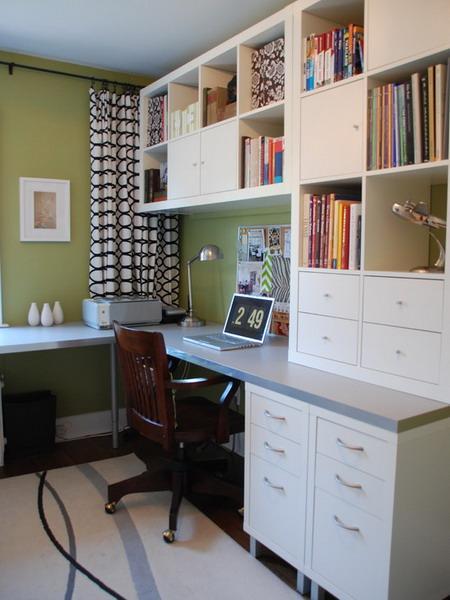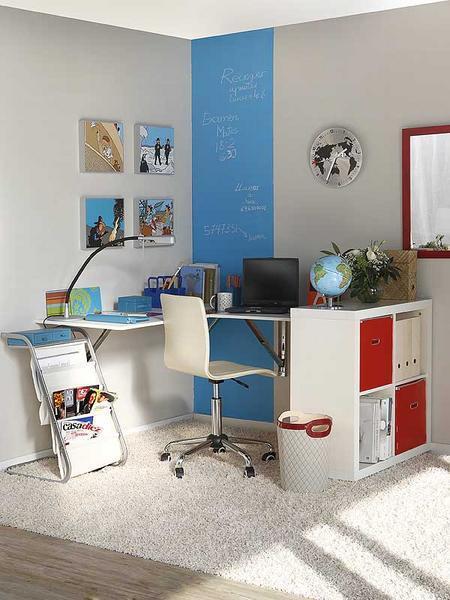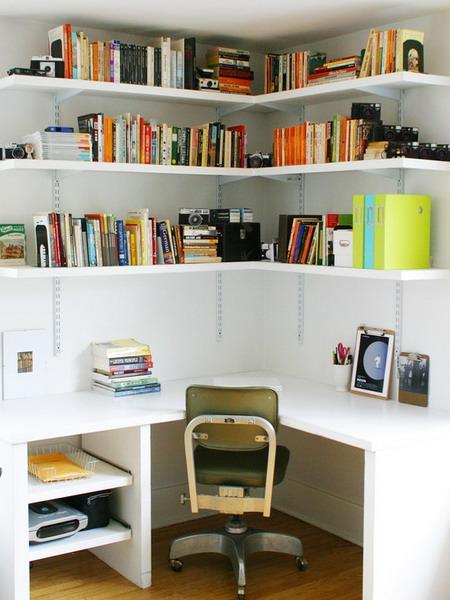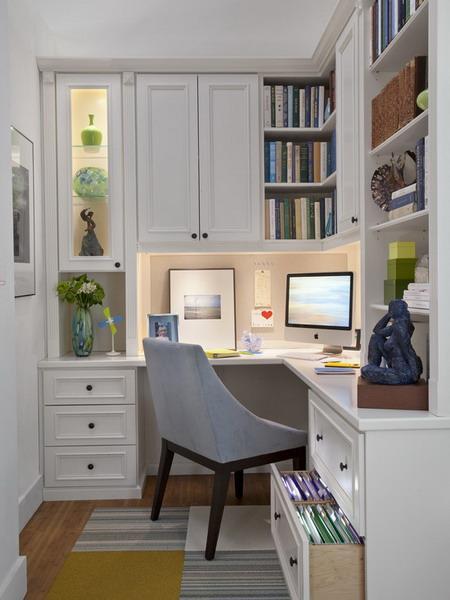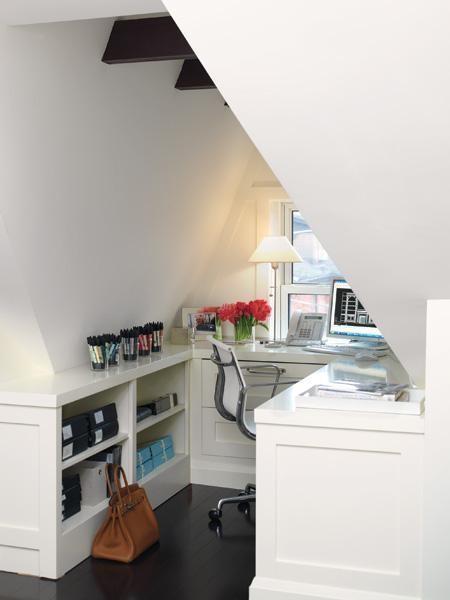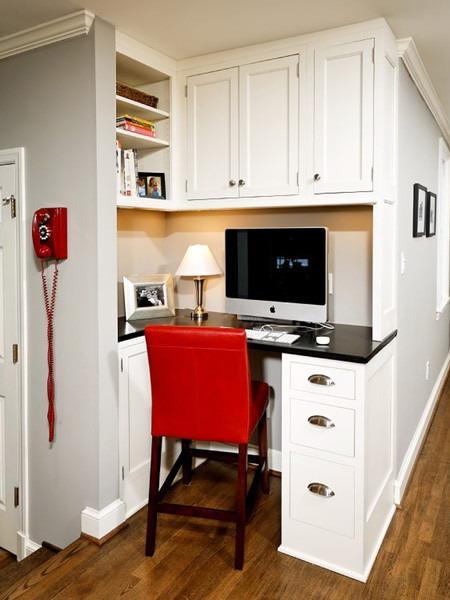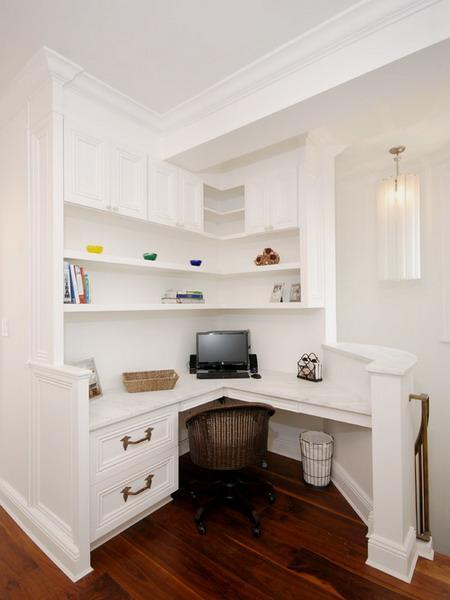 by Ena Russ
19.10.2013
Related articles and sponsored content
Sours: https://www.lushome.com/30-corner-office-designs-space-saving-furniture-placement-ideas/123828
Shaped desk ideas l decor
Home Office Designs and Desk Considerations
Rumor has it that Mary Kay started her business on her kitchen table. Many home business owners get started in a tiny corner of the home with furniture and equipment they already have. While this allows for a quick, affordable startup, over time, it can impact business growth. The reality is, your home office design plays a role in your productivity and energy.
If your home office is still on the kitchen table or the corner of the dining room, or you're feeling uninspired in your space, it's time for a home office makeover. Here are some things to consider when selecting the location and design of your home office as well as ideas for layouts.
Things to Consider in Your Home Office Design
While you may not have many home office options when you first start, it's important to consider a permanent home office that maximizes productivity. But even the ideal home office space can lose its oomph. Periodic redesign of your home office can re-energize and inspire you. Below are things to consider when setting up or redesigning your home office.
Office Space
Your kitchen table or a desk tucked into a corner of a bedroom is a good place to get started on your home business journey, but as you grow, you'll want to design an office that supports your work. Having to pack up to move off the dining room table each night can get old quickly. The ideal space in your home is free from work-time distractions and has a door, both of which make it easy to divide work time and space with your personal time and space to create greater work/life balance.
Along with being away from high traffic areas, you want to think about other distractions, such as how loud is the outdoor activity, TV or appliances. Make sure the temperature of the room is conducive to working. If you're meeting clients in your home, you want a place that is close to where they enter and that can be away from your regular living space.
Lighting
Many people put their home office in a basement, which isn't bad, but there are many benefits to natural lighting. If you have to be in a dark area without windows, get good quality lighting that not only lights the room but your work area as well. Light can help you avoid eye strain, and boost your mood.
Comfortable Chair
Along with eyestrain, back issues are another risk that comes from working at home especially if you work on your computer all day. There are home office items you can skimp on, but a chair isn't one of them.
Clutter Control​
Research suggests that messy people are geniuses. However, a messy desk can increase stress, sap energy, and lower productivity. Your desk doesn't need to look like Martha Stewart organized it, but it should have some measure of a tidy organization so that you can find what you need easily. Corral your pens, paperclips, and other office tools into a cup or other desk organization tool.
Develop a filing system to manage paper. Consider switching to digital tools to decrease the amount of paper and other desktop items you need.
Set Up for Function 
While getting up and moving is a good thing healthwise, it can interrupt your focus and workflow, thereby slowing you down. For items that you use a lot, you'll want to design your home office in a way that you can access them easily and quickly. For example, if you use the phone often, you'll want it on your desk. Other resources you might need to keep close include specific files, reference books, planner, and printer.
If your home office requires a lot of technology, you want to set up your furniture so that outlets are within easy reach of your equipment. While extension cords can give you some flexibility, they can get in the way and cause a tripping hazard. All your furniture and tools should serve to help, not hinder, you in your home business. It includes your desk, bookcases, file cabinets, and anything else you need.
Decorate to Inspire and Motivate
Even working at home can get tedious and dull. A drab home office can sap your energy making it hard to work. Paint your home office in a color you like. Hang pictures, posters, and décor on the walls. Surround yourself with items that motivate such as pictures of your family, inspiring quotes, a vision board, and other items that bring you joy.
Be Green
Designing an environmentally-friendly home office isn't just about being kind to the earth. It can also reduce clutter and your expenses. Reuse and recycle paper and other items whenever possible. Switch to digital tools over planners and other paper items. Use energy-saving light bulbs and power strips, and weather seal your windows, which will save on your power bill.
Consider Your Budget
It can be fun to decorate a home office, but you don't want to waste money on unneeded items. While you don't want to sacrifice your comfort (i.e., you should buy a good chair), you do want to be frugal, at least in the beginning. Take inventory of your home and see what items you already have that can be moved to your home office.
The budget includes your tech needs as well. Hold off on buying new computers, printers, and software unless you need it. If you need new furniture, check out your local thrift shops, which often have durable furniture for less than you can get make-yourself-particle board items at other stores.
Where to Place Your Desk
Along with the other office space issues already mentioned, don't forget about a crucial piece of your office. Your work desk will need to suit your work, fit your budget, and complement your office space. Some considerations in choosing your desk include the location of the office in your home, and whether or not you need space for multiple monitors, monitor stand(s) and a keyboard drawer. 
Traditional Desk
A simple straight-forward desk is ideal for small spaces, if you prefer a minimalist design, or if you're just starting and don't have the budget for office furniture. A table can even work, although a desk with drawers offers storage to keep your desk clutter-free.
While you can put your desk against a wall, in many cases, regular desks can be placed almost anywhere, including in the middle of the room, perpendicular to a wall, or in front of a window. If your home office is in a bedroom, you can put the desk in the closet.
Desk With Hutch or Shelves
If you don't have a lot of room, but still need something to keep all your tools and resources close, a desk with a hutch or bookshelves is a good option. Like the traditional straight desk, a desk with a hutch can take up little space, while offering more function.
Because desks with hutches take up vertical space, they're usually placed against a wall. If you need the features of a hutch but can't afford a new one, consider buying an inexpensive bookshelf to set on your desk, or hang shelves over your desk.
L-Shaped Desk
If you like to spread out or need many resources within reach, an L-shaped desk is a good option. An L-Shaped desk can sit in the corner to use up just a little space, or you can be creative, placing the desk like a V in the room. Or you can set the desk perpendicular to the wall, in which case you can have a bookcase or shelves along on the wall, creating a U-shaped work area.
If you can't afford to buy an L-shaped desk, you can create your own using a table and an existing desk, or buying two desks from the thrift shop. 
T-Shaped Desk
T-shaped desks are ideal if you have a partner or spouse you're building your home business with, or need two work stations. A T-shaped desk can also have bookshelves or a hutch at the top of the T, giving you even more storage.
While you can create your own, using two desks at the top of the T, and two desks along the stem of the T, this can take up more room, and be more costly. 
U-Shaped Desk
If you want a complete command center, a U-Shaped desk is a great option. A U-shaped desk takes up a lot of space, so it's best in a larger room. The benefit is that you essentially get three work areas. If you need multiple monitors, but also, space to work on non-computer activities, a U-shaped desk can provide that. With a simple turn of your chair, you can switch your workstation. U-shaped desks can be expensive, but you can create your own buy putting desks and tables you already have or found at the local thrift store together in a U-pattern. 
Galley Design
The galley design is essentially two desks laid out parallel to each other. It offers similar benefits that the U-shaped desk does in that you can swivel to work at one station or the other. It's easy to create a galley design with two desks or a desk and regular table or buffet table.
Standup Desk
Research suggests that a sedentary lifestyle is detrimental to your health. One solution to sitting all day is to get a standing desk. A standing desk often has all the features of a traditional desk, such as keyword drawer and monitor stand, but it's at a height that has you standing to work. With that said, other research suggests that standing all day isn't necessarily good either. In that case, you can get an adjustable desk-top stand, which allows you to work sitting or standing. 
Sours: https://www.thebalancesmb.com/best-layout-designs-for-home-office-makeovers-4157805
Modern L Shaped Glass Desk Design Ideas For Modern Home Office Decorations
L-Shaped Desk
When you think about choosing L-shaped desk design?
The L-shaped Desk design one of the practical Office desks designs that suitable for small and large spaces.
Especially the home office room often has a particular character. Because it always contains files and important items that must be organized and arranged nicely. Browse the best desks for small spaces for more space-saving.
This l-shaped desk design is very suitable for children that studying or for adults during their works from home "Freelancer" always need Office room, or workspace is arranged to help them to complete their work in an atmosphere of calm.
L-shaped desk design ideas are multiple, including modern and classic designs can be implemented in more ways than one. In this article, we review 10 design ideas for the L-shaped desk suitable for children and adults, including appropriate designs for ladies with modern colors and other designs in classic colors suitable for men and here L-shaped desk designs with a mixed style between modern & classic fit into everyone.
When you choosing the L-shaped desk for office room, you must take into consideration some things:
1. the place, you must choose the appropriate area of the workspace or choose a suitable room to be the office room. And study this area regarding size and ways of organizing furniture neatly. When choosing Office furniture is not always necessary to use wood, but we must recognize that it is a choice that is timeless, with recent onset other types of furniture such as metal and leather.
2. choose the right desk design that suitable for the place, if space is small, you can select a workspace in one of home corners into small to be practical and suitable for Office space at the same time.
3. choose the right desk design, ladies and girls often prefer light colors like white, pink or purple. But men often prefer Brown and Wood is an appropriate color for men and how to use it, so you don't spill easily reverse white and light colors in General.
4. you must know who will use the desk, if we are in the process of children desk there are desk designs suitable for children differ from the adult classic desk models.
Modern L-Shaped Desk
We present the following best tips of office room decor that enhance the flow of positive energy in the workplace according to Feng Shui:
1. Get rid of clutter: stimulate negative chaos energy, so try disposed to allow positive energy to flow smoothly. Remove the leaves and stuff and leave only what is necessary. The Overstock above uses the Office creates a sort of chaos that adversely affect your mood and make you feel frustration and fatigue before starting work, either remove it makes you enjoy the activity and optimism.
2. choose to form the appropriate Office: the Office format affects your productivity at work.
3. Select the location of the desk: to locate the desk very basic in its effect on the proceedings. According to Feng Shui, your desk should be a leading site which must be positioned opposite the door and not the other way around, giving you a feeling of control over your surroundings and help you solve your problems.
4. choose the appropriate direction for the desk: try the Office so as not to face any other person to avoid creating an atmosphere of tension between you and your colleagues at work, avoid sitting in front of the bathroom or drawer or under a region at risk. Also, try to avoid sitting and face against the wall, if your desk at work against the wall of the heart.
5. avoid placing sharp objects against your face: make sure the absence of corners or sharp or broken things directly opposite your face, they lead to a flow of negative energy and cause you to fail in your profession in addition to diseases and other ills.
6. decorating your desk with green plants: plants symbol of nature, growth, as it gives life and produce oxygen.
7. place the phone in the right way: make sure you put the phone in the bottom corner desk table and preferably placed to the right of that affect the reactions of people who contact them on the telephone making them offer you help and support. According to the rules of Feng Shui.
8-choose bright colors and accessories: decorating your desk with the accessories of the splendid and bright colors such as red, yellow, and you can put on the Office desk lamp or a vase filled with a brightly colored floral condition to keep fresh at all times.
9. use natural light: natural light is always better, so we advise you to put your desk near the window. Exposure to a lot of bright light might cause you some discomfort and fatigue in addition to very bad mood.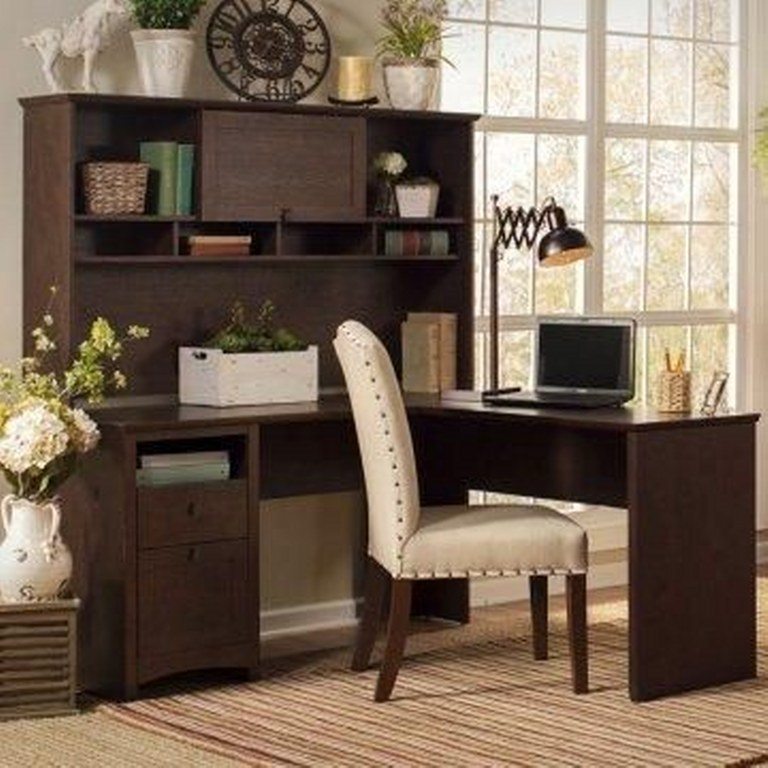 10. decorating your desk in a small Aquarium: place the glass container in which eight fish red or golden color and a black one, but make sure to feed and provide it with oxygen and get rid of the dead eating fish, and replacing them with others to bring good luck.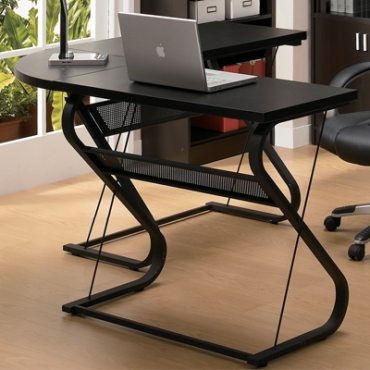 Rojy
Sours: https://www.decorordesign.com/l-shaped-desk-ideas/
Now discussing:
Then take off your clothes. We took off our clothes. I sat down on a chair, and he came up to me. I bent down and took it in my mouth again. But he said.
458
459
460
461
462