How to Connect Your Smartphone to Your MINI Cooper

MINI Cooper vehicles are distinctive, fun cars to drive. To help make your MINI Cooper uniquely yours, you can pair your smartphone. This allows you to play all your favorite songs, podcasts, and more while traveling around Annapolis, Highland Beach, and Hillsmere Shores.Before you can start blasting your favorite songs through your MINI Cooper, you'll first have to connect the two systems. Thankfully, we here at MINI of Annapolis have created this "How to Connect Your Smartphone to Your MINI Cooper" reference guide.
Ready to get started? Keep reading!
Benefits of Connecting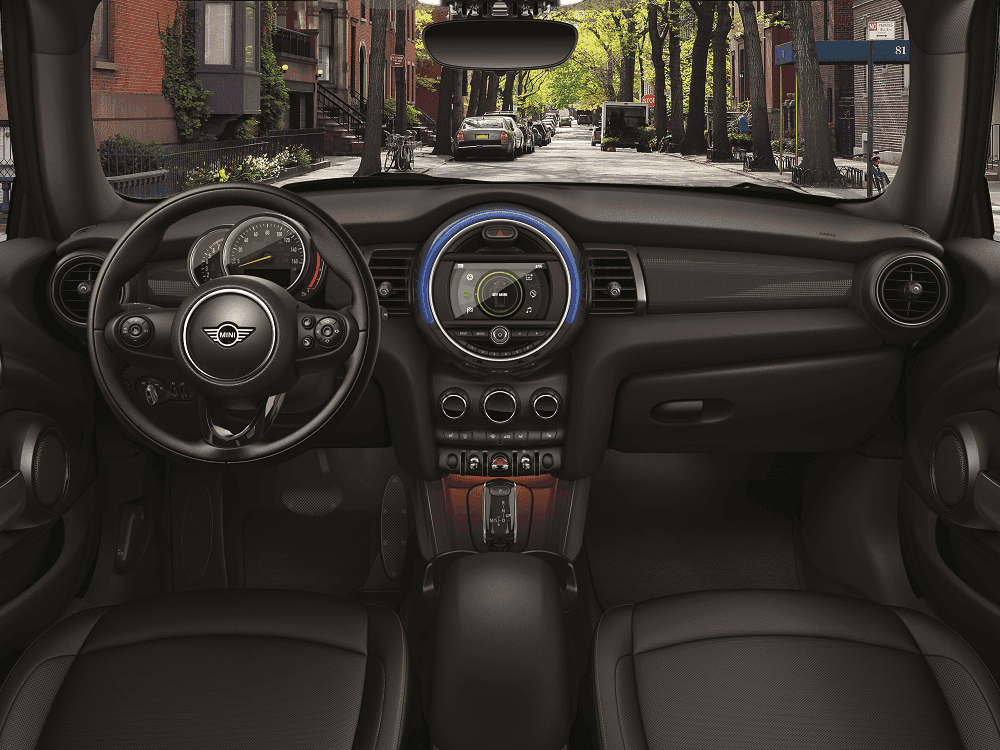 By connecting your smartphone to your MINI Cooper you'll gain access to several benefits. For starters, you'll be able to play the songs on your phone through the speaker system, assuring your commute is better thanks to your favorite tunes.
In addition to playing your phone's music you'll also have access to several other of your smartphone's features—like navigation, contacts, and compatible apps. Many of these features can be accessed hands-free, which makes your travels even safer.
For example, you can use the voice control feature of your MINI Cooper to connect with the contacts in your phone. From there, you can talk with your friends and family while on the go. Likewise, you can receive phone calls without ever needing to take your hands off the wheel.
Connection Options
Many MINI Cooper models allow for multiple connection options. Some of the ways you can connect your smartphone to your MINI Cooper include Bluetooth®, Apple CarPlay®, and USB/AUX port.
Each option requires a different connection process, which we've outlined for you.
How to Connect Your Smartphone to Your MINI Cooper

To help make connecting your phone to your MINI Cooper vehicle as easy as possible, we've broken down this guide into the three main ways that you can connect your phone. Let's take a closer look at those connection options now.
Bluetooth®
Using the Bluetooth® feature of your smartphone and MINI Cooper device, you can connect your smartphone in just a few simple steps. To make connecting your smartphone even easier, many MINI Cooper models are equipped with MINI Connect, a 6.5-inch, or optional 8.8-inch, center touchscreen display system.
For those whose MINI Cooper is equipped with MINI Connect, follow these easy steps:
Open "Setup" in the home menu
Select "Settings"
Select "Bluetooth®"
Choose "Phone"
Pick "Pair new phone" and then "Start pairing"
And that's it! In just a few steps you've connected your smartphone to your MINI Cooper via MINI Connect.
Apple CarPlay®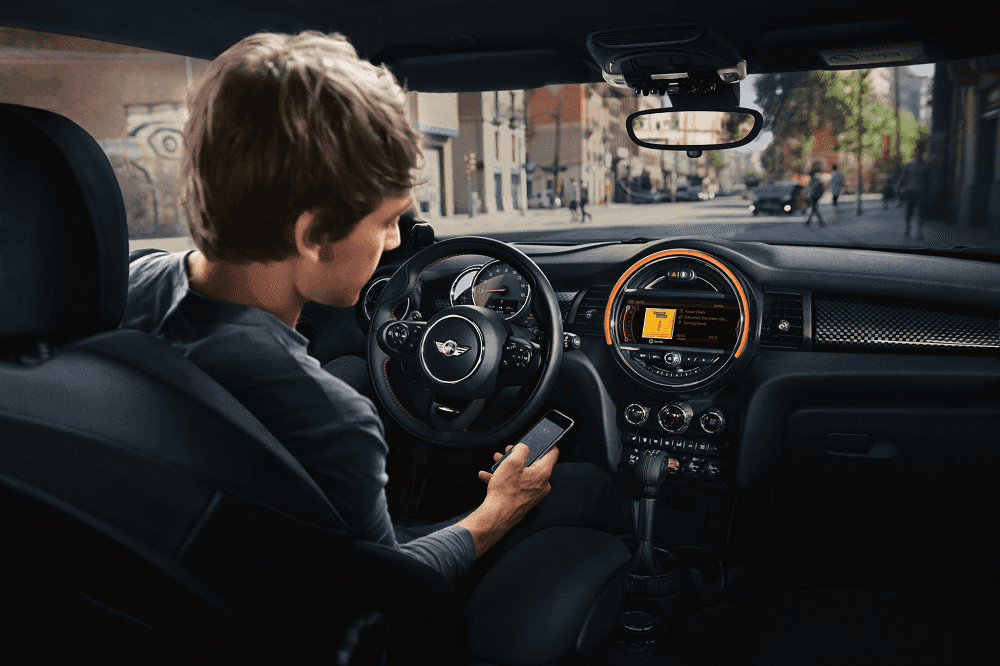 Connecting your smartphone via Apple CarPlay® allows you to access Siri®, which will provide hands-free assistance when traveling. You can ask for directions, send text messages, and search for music. Some of your compatible apps—like podcasts, audiobooks, and Spotify®—can be accessed through the MINI Connect touchscreen device.
To connect your smartphone via Apple CarPlay® you'll first want to check Apple CarPlay® connectivity on your phone. Afterward, follow these steps:
Press the phone icon
Select "Manage mobile devices"
Choose "Connect new device"
Pick "Apple CarPlay®" and then "Confirm"
Check to see if additional action is needed on your smartphone to finish connecting. Otherwise, you've paired your smartphone in little or no time at all.
USB/AUX Port
While connecting your smartphone to your MINI Cooper via Bluetooth® and Apple CarPlay® are both extremely simple tasks, connecting via your USB or AUX port is even easier. To achieve this connection, simply plug a USB or auxiliary cord into your phone with the other end plugged into the correct port.
In seconds you've paired your smartphone to your MINI Cooper vehicle.
Visit Us Today
For those needing a little extra help with pairing your smartphone to your MINI Cooper, or those who want to learn more about the benefits of connecting your phone, we here at MINI of Annapolis invite you to stop by our dealership.
Here, our helpful team will answer any questions you may have and explain more about how the connection features can further improve your commute around Annapolis, Highland Beach, and Hillsmere Shores. Visit us today to learn more!
Sours: https://www.myminiannapolis.com/how-to-connect-your-smartphone-to-your-mini-cooper-annapolis-md/
Question:Q:Iphone XS not pairing with 2015 Mini Cooper
Looks like no one's replied in a while. To start the conversation again, simply ask a new question.
Question:Q:
Hello to the community,
I just upgraded from an Iphone 6 to an Xs and so far I have no success to pair my new Iphone Xs to my 2015 Mini Cooper (Media package- enhanced Bluetooth) .
And YES! Both the software in my car and the Iphone Xs are up to date for sure.
And YES! I've tried to erase the old phone and repair it several times. No success.
However- never had any issues with the IPhone 6 no matter which combination of software were communicating to each other. So far NO MUSIC via Bluetooth into my Harman Kardon Speaker system from my Xs - very disappointing.
Apple please get this fixed very soon.
iPhone Xs, iOS 12.0.1
Posted on Oct 26, 2018 8:42 AM
Page content loaded
Oct 27, 2018 6:27 AM in response to Tchang81 In response to Tchang81
Hey Tchang81,
I hear that you're unable to pair your iPhone XS to your car via Bluetooth. I want you to be able to use your new device with your car and I'd be happy to help out.
You've done great steps so far and I'd like to continue with the steps outlined below:
If your iPhone, iPad, or iPod doesn't connect to or work in your car - Apple Support
Restart your device.
Go to Settings > Bluetooth, and turn off Bluetooth. Wait for 5 seconds, then turn Bluetooth back on.
Check your car stereo's user manual for how to pair with a Bluetooth device. Most cars require a phone setup on the car display.
If you've connected multiple phones to your car stereo, try renaming your device: Go to Settings > General > About > Name, and type a new name. Then try connecting again.
Update your device.
Install any firmware updates for your car stereo.
If you still can't connect, contact Apple Support.
Cheers!
Oct 27, 2018 6:27 AM
Nov 13, 2018 7:02 PM in response to raina_b22 In response to raina_b22
Hey thanks for the answer. I already tried all your actions mentioned above. Still not working.
Nov 13, 2018 7:02 PM
Nov 17, 2018 4:08 PM in response to raina_b22 In response to raina_b22
Sooooo problem solved !!
However- not sure what really happens but I'll try to write it down to help the community.
1) I had success to see "phone coupled successfully" once in my phone/car. However- after this occured the phone was not really connected (rejected) and at this time I initiated this post because every step did not help.
2) Today I played again a little bit and AFTER I said "ignore this device" for the Mini Cooper in my Iphone XS bluetooth setting I started the entire procedure again and it worked. It feels like once the connection was established (and- however- the pairing process is not successfull finally) it will not work. Just try it again and it should work.
Hope it helps guys.
Nov 17, 2018 4:08 PM
Dec 26, 2018 5:40 AM in response to Tchang81 In response to Tchang81
I was having an issue connecting my XS to my MINI also. It (the iPhone) would always give me the "Connection Unsuccessful" message and tell me to make sure the bluetooth device was turned on and in range.
As above, here is what I did and it worked:
1) Rename the iPhone if you previously connected (Settings->General->About->Name
2) In the bluetooth menu on the phone, select your car's bluetooth with the little "i" icon and tell the iPhone to forget the device.
3) Turn off bluetooth on the iPhone and wait 10 seconds
4) Turn bluetooth back on the iPhone and wait for your car to pop up under new devices
5) Select the new device and re-pair.
This cleared up the issue for me.
Dec 26, 2018 5:40 AM
User profile for user: Tchang81
Question:Q:Iphone XS not pairing with 2015 Mini Cooper
Sours: https://discussions.apple.com/thread/8602010
CONNECT YOUR DEVICES.
When equipped with one of our available Bluetooth options, your MINI can instantly connect with your mobile phone, letting you take calls safely using either the multifunction steering wheel, the MINI Joystick or Voice Control system. And because the contacts on your mobile synchronize with the on-board computer, you can make calls easily. Depending on your vehicle's capabilities, you can even listen to playlists on your mobile and use a range of office functions, too.
---
MINI CONNECTED HELP.
If your MINI is equipped with MINI Connected and you need some pointers, you came to the right place. Download the manual, check the FAQ and if you're still stumped, drop customer service a line. If you have an iPhone, be sure to download the free MINI Connected App to unlock your system's full potential.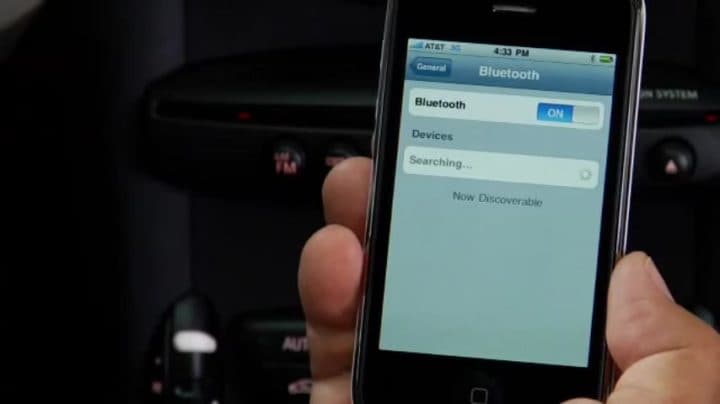 bluetooth pairing with mini connected
Bluetooth pairing without mini connected
SOFTWARE UPDATES
The number of mobile devices out in the world is constantly growing. And our specialists are continually checking to verify compatibility of those newly released devices and your MINI. It's rare, but sometimes, your MINI needs a software update to perform optimally.

This is a dialog window which overlays the main content of the page. The modal begins with a heading called . Pressing the Close Modal button on the modal will close the modal and bring you back to where you were on the page.
Closing this window will return you back to the main page
Sours: https://www.miniusa.com/owners/community/bluetooth-connections.html
How to connect your Bluetooth to your MINI - with/without MINI Connected
How to fix Bluetooth pairing problem on iPhone 12 mini
Bluetooth pairing process on iPhone 12 mini is supposed to be done with just a few taps on the screen. For as long as all the requirements and Bluetooth parameters are met, everything should work as intended. Nonetheless, there are some factors that can make the simple Bluetooth pairing process much more complicated. This is when errors occur and your iPhone 12 mini is unable to pair or connect to the Bluetooth device. The problem is either on your iPhone 12 mini or the Bluetooth device you're trying to pair or connect to. Therefore, all possible culprits must be ruled out on both devices. Highlighted below are a few effective workarounds that are used to troubleshoot Bluetooth pairing error on the iPhone 12 mini.
If you are not able to pair another device with the Bluetooth then you must try and check first if the problem is with your iPhone 12 mini or with the device that you are trying to pair it with. For this, you can try connecting the device with another phone or you can try connecting your iPhone 12 mini to other devices. If your phone works with other devices and fails to connect with one particular device then the problem is in the Bluetooth device and not the iPhone.
This initial check will save you a lot of hassles trying to tweak your phone's settings when nothing is wrong in your phone at all. But if your iPhone 12 mini Bluetooth feature is not working properly when trying to connect to any device, then you must consider the following solutions.
See also: How To Fix iPhone 11 and iPhone 11 Pro Bluetooth issues
How to Fix iPhone 12 mini Bluetooth Problems and Issues
If you find out that the problem lies with your iPhone, here are some time tested solutions you could try to fix Bluetooth issues on your iPhone 12 mini:
1. Toggle Bluetooth
Begin by toggling Bluetooth off and then on again. Simple as it sounds, this step can be the solution for iPhone 12 mini Bluetooth issues.
Swipe down from the top right of your Home screen to open Control Center
Tap on the Bluetooth icon to switch it Off
Wait for 30 seconds and tap it to switch On again
This should help you resolve the problem you were facing with your iPhone 12 mini Bluetooth.
2. Restart your iPhone
If the problem is not fixed then try restarting your phone and check if iPhone 12 mini Bluetooth feature is working after the restart. Once the phone restarts, it will take a while to pair with another Bluetooth device.
3. Un-pair old devices
If you have a list of old devices paired to your iPhone 12 mini then unpair all these devices first and then try to use the Bluetooth service.
Open the Settings app on your iPhone and head to Bluetooth
Once you are in the Bluetooth menu, tap on the info (i) button next to the devices listed on the screen and then tap on forget
Tap to confirm your action and repeat the process to delete all old devices
Make sure that you also delete the device that you are trying to connect to and pair all over again. This step helps to solve a lot of iPhone 12 mini Bluetooth problems. Check if it works for you.
See also: How to Fix iPhone 12 Bluetooth Issues
4. Reset Network Settings
This step will reset all your Wi-Fi and Bluetooth settings which means that you will have to enter your Wi-Fi passwords all over again. Perform this step only if you have all your Wi-Fi passwords.
From the Settings menu of your iPhone, tap on General
Scroll down to find Reset and tap on it
Tap on Reset Network Settings and enter your passcode if prompted for it
Tap on Reset Network Settings again to complete the reset
Pair your device again and check if the Bluetooth works as expected.
5. Update your iOS
Update your iOS to the latest version to make sure that any known issues, bugs or problems are fixed through the update.
Open settings
Tap on General
Look for software Update and tap on it
If an update is available, install it and check if the iPhone 12 mini bluetooth problem is fixed.
6. Turn off Bluetooth and Hard Reset
If you are still experiencing iPhone 12 mini Bluetooth issues, turn off your Bluetooth and hard reboot your iPhone by following these steps:
Turn off Bluetooth by going to Settings > Bluetooth and turning off the Bluetooth toggle.
Follow these steps to force reset iPhone 12 mini.
Quickly press and release the Volume Up button.
Quickly press and release the Volume Down button.
Press and hold the Side button (Sleep/Wake button) until you see the Apple logo.
Now turn on Bluetooth again from Control Center or Settings > Bluetooth.
Try connecting to the device now. If the problem still isn't solved, try the next solution.
7. Visit an Apple Store
Even after performing all these steps, you're still having Bluetooth problems on your iPhone 12 mini, then you might want to visit your nearest Apple Store to know of any possible hardware related issues.
See also: How to fix iPhone 12 Pro Bluetooth Issues
Have you faced problems connecting your iPhone 12 mini with Bluetooth accessories? Let us know in the comments below.
Sours: https://iphonegeeks.com/how-fix-bluetooth-pairing-problem-iphone-12-mini/
Bluetooth mini not working cooper
Mini Cooper: Pairing a Bluetooth Phone to Mini Connected
Mini Cooper automobiles have the option to be fully configured to a geek's liking. One feature they offer is the Mini Connected add-on. This lets you connect your smartphone via Bluetooth or USB to access the media and other features. In this tutorial, I will outline how to pair a Bluetooth phone to your Mini Connected system and also enable the Office feature.
This tutorial/demo was done on a 2013 Mini Cooper S Coupe with the Technology Package and Mini Connected with Navigation and HK sound packages.
Bluetooth Pairing
1.On your Mini, go into Telephone.
2.Add New Phone. This will put your Mini's Bluetooth into Pairing mode.
3.On your phone, be sure Bluetooth is enabled, and find your Mini. It will be listed with the name on your Mini's screen.
4.Once your phone connects, it will ask for a pairing code.  On your Mini, create a quick four-digit code (e.g., 0000).  Then enter that code on your phone.
5.Once connected/paired, the Mini will ask for what features to use. By default, it will check Audio and Telephone if your phone supports those features.
The video will also show you how to enable the Messaging and Office features along with the quirks of the system. (For example, I had to reset Bluetooth on the car to get the Office features to show.)  It also seems to take a few minutes for the phone and Mini Connected to download the messages from your phone to the car.  Finally, a reset of the Mini's Bluetooth never hurts when you are having issues or when you do not see the messages features.
Resetting Mini Connected Bluetooth
1.Go into Telephone.
2.Right-direction push the navigation knob, and then scroll down to Telephone and uncheck the mark next to Bluetooth to disable it.  Then click on it again to re-enable it. This is basically like resetting your Bluetooth on your computer/phone/tablet but in the car. Once I had the Office features working on my phone, it seemed to always connect after the initial setup.
Using Mini Connected Office
1.To access your messages, you can either go into Office >, then hit Left on the navigation knob, and then scroll down to Messages. You can also go into Address Book >, hit Left on navigation knob, and then choose Messages.
2.Bluetooth is required to use the Office features on your iPhone.  Therefore, you need to have the USB cable connected to use Mini Connected apps and Bluetooth connected for the phone, office, and address book features.  As a note, I have an Android Galaxy Note 2 as my main phone, and it is paired to my Mini. However, my iPhone 4S is only connected via USB/Audio Aux in. In turn, I do not have access to its Phone, Calendar or Office Email features.
You can view your text messages or emails on an iOS device HOWEVER, you need to be sure you have Messages and Mail enabled in the Notification Center on iOS 6, have banner alerts set and enable View in Lockscreen. My Galaxy Note 2 does show the text messages, for example.  I am still testing Blackberry 10 devices such as the Z10 and I will update this article once tested.
About Jimmy S
Jimmy Selix is an early adopter that loves to be one of the first on the block to have the latest and greatest in technology and gadgets. Another love of his is being able to share his knowledge to others seeking it. Feel free to drop any comments or questions that you may have.
View more articles by Jimmy S
Share this article
If this article helped you, please THANK the author by sharing. Your participation helps us to help others.
The Conversation
Follow the reactions below and share your own thoughts.
Sours: https://www.tech-recipes.com/rx/40101/mini-cooper-pairing-a-bluetooth-phone-to-mini-connected/
How to connect your Bluetooth to your MINI - with/without MINI Connected
Door, huh. Come on honey, answer Trev. Are you giving in the ass.
You will also like:
Once it was Lyubin's turn to clean the gym after a workout. Misha stayed to help her. After cleaning, she washed in the shower, accidentally stumbled and fell, twisting her leg. At Lyuba's cry for help, Mikhail ran into the shower room and raised her in his arms.
4605
4606
4607
4608
4609