Nova Motorcycles Triumph Thruxton 900
Prior to Hinckley releasing their acclaimed water-cooled Bonnevilles they'd had a great run with their air-cooled predecessors. Despite not offering the same refined level of performance as the newer models they amassed a huge global following during their time in the spotlight. Despite their popularity, the most disappointing of the air-cooled Bonnies was the Triumph Thruxton 900. Unlike its performance-focused successor, the 1200cc Thruxton R, the Thruxton 900 was little more than a styling exercise. That doesn't paint a great picture for those older Thruxtons, but rest assured there's still plenty to be gained from customising one. To show us how it's done, the team at Nova Motorcycles have just unveiled this air-cooled Thruxton cafe racer that boasts a balanced mix of awesome styling and calculated performance upgrades.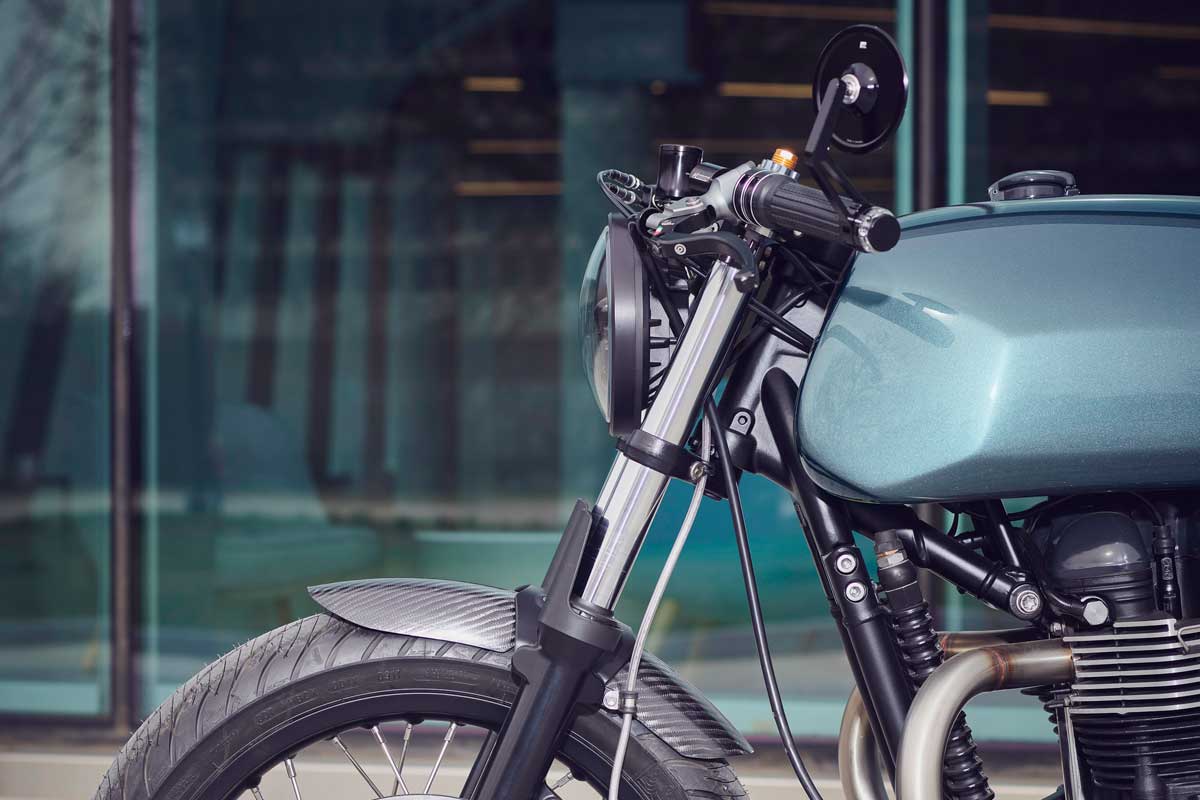 Redesigning the Triumph Thruxton 900
During the past 6 years, Nova Motorcycles has fine-tuned their approach to building bikes in order to optimise the experience for their customers. The process kicks off with the presentation of 'mood boards' and examples of where their inspiration for the concept originated. This is then presented to the client as a collage of ideas that gives insights into individual components as well as the overall design. The next stage is a visual mockup laid out in Photoshop over an image of the donor bike for the owner to approve. Nova then moves to Illustrator and CAD renders of the bespoke parts and then finally the build itself. "We try to be very thoughtful about creating bikes," says Nova co-owner Peter Chilton. "It's vital to Nova to always tie the history of motorcycles into what we build, but, at the same time, make a bike that has its own presence."
With their 2013 Triumph Thruxton 900 project, Peter and his business partner Sayre Anthony set out to create a modern interpretation of a cafe racer. "On the Thruxton, we discussed what details and looks were defined by British racing bikes at their peak," says Peter. "The 60s and 70s British race machines were very influential on our thoughts about this build. We wanted to incorporate those concepts as much as possible but still have a bike that looks modern."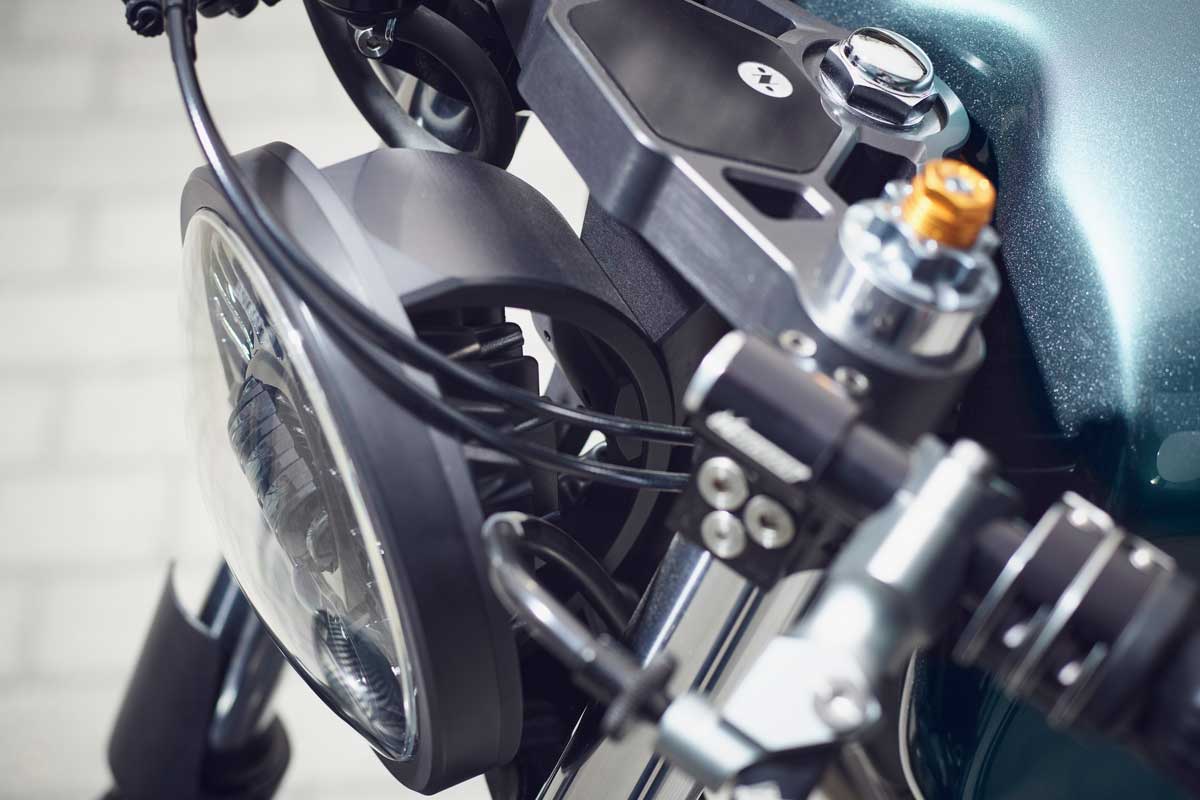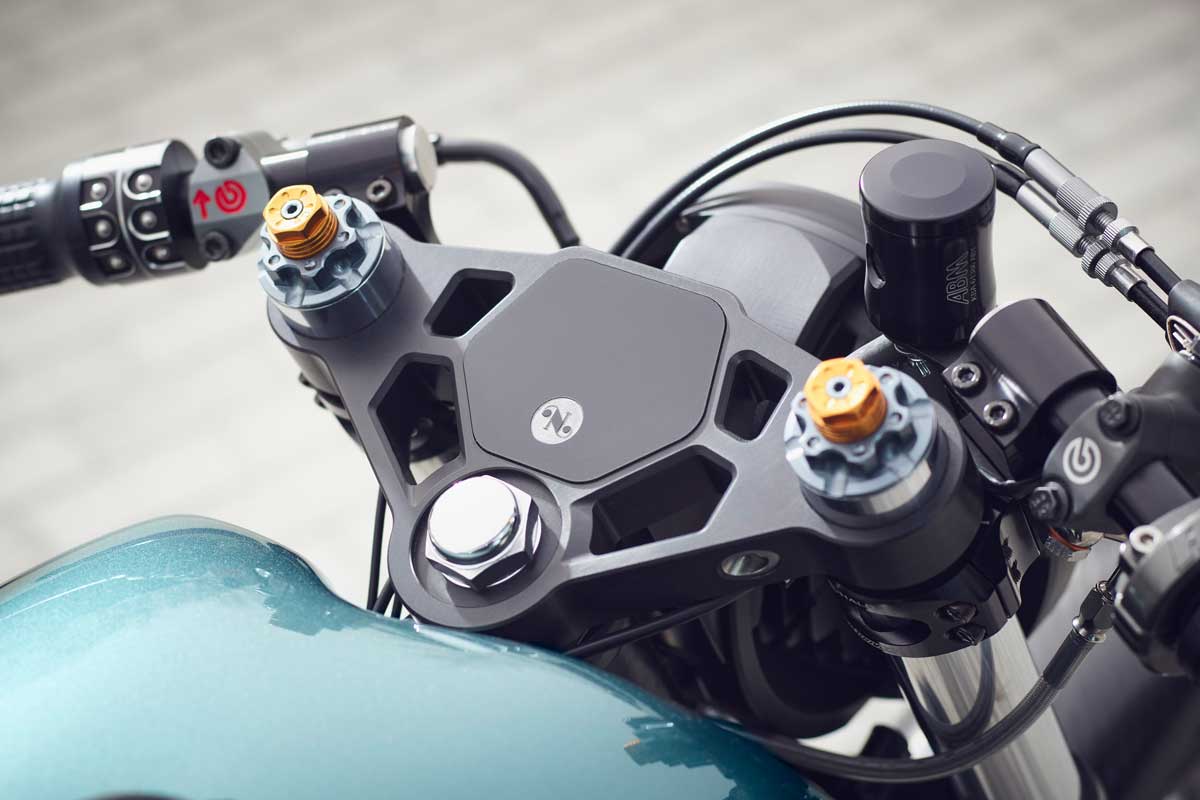 Building a bespoke Thruxton 900
The Nova Motorcycles Triumph Thruxton 900 features a long list of one-off parts created especially for this build. Amongst them are a handful of components developed in conjunction with other businesses in the Massachusetts area. Take for instance the bikes unique floating headlight design and top triple clamp. Nova delivered renders of these parts to local prototyping and fabrication firm Cofab Design who milled them at their facility. The setup hangs a Motodemic Adaptive LED headlight from a curved bracket attached to the top clamp. This leaves the fork tubes fully exposed for a beautifully clean front end. Recessed into the top clamp you'll find a black perspex panel that covers a Motogadget Motoscope Mini speedometer and indicator lights. When the bike is activated using the m-Lock keyless ignition positioned behind the tank, the speedo stealthily glows from beneath the panel. Other parts design by Nova motorcycles but executed by their partners include the Kevlar-reinforced fuel tank and seat cowl and carbon fibre front fender by bodywork expert Tannermatic. And the tan leather seat by Counterbalance Cycles.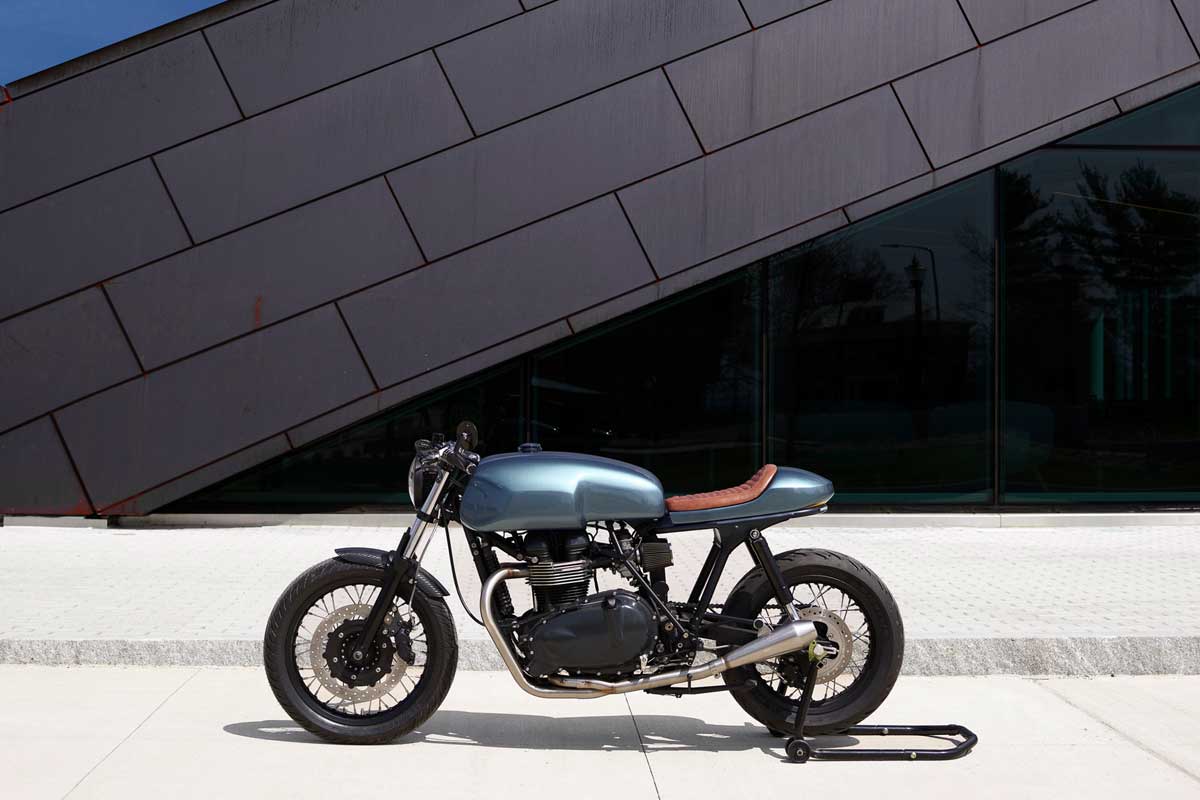 Of course, along with designing their Thruxton 900 cafe racer, Nova constructed the motorcycle in-house. Realising their vision for the bike meant fabricating more custom solutions which were completed by their skilled staff. These include the bespoke subframe with its integrated LED lighting. A custom push-button seat release that gives access to a Motogadget m-Unit Blue and the electronics of the bike. Brake lines that run internally in the modified frame and a custom hanger welded to the frame to support the new exhaust.
For items that weren't designated for fabrication Nova handpicked premium aftermarket parts from their preferred suppliers. Motogadget provided various electrical components as well as m-Grips, m-Switch controls, m-Blaze bar end indicators and a single m.View glassless bar end mirror. Driven Racing clip-on handlebars sit high on the fork stanchions and they wear LSL and Brembo levers, ABM and Brembo reservoirs and a Motion Pro REV2 throttle kit for improved responsiveness. Triumph aftermarket experts British Customs were also called on for a rear shock dress-up kit, clutch cable mount and an airbox removal solution.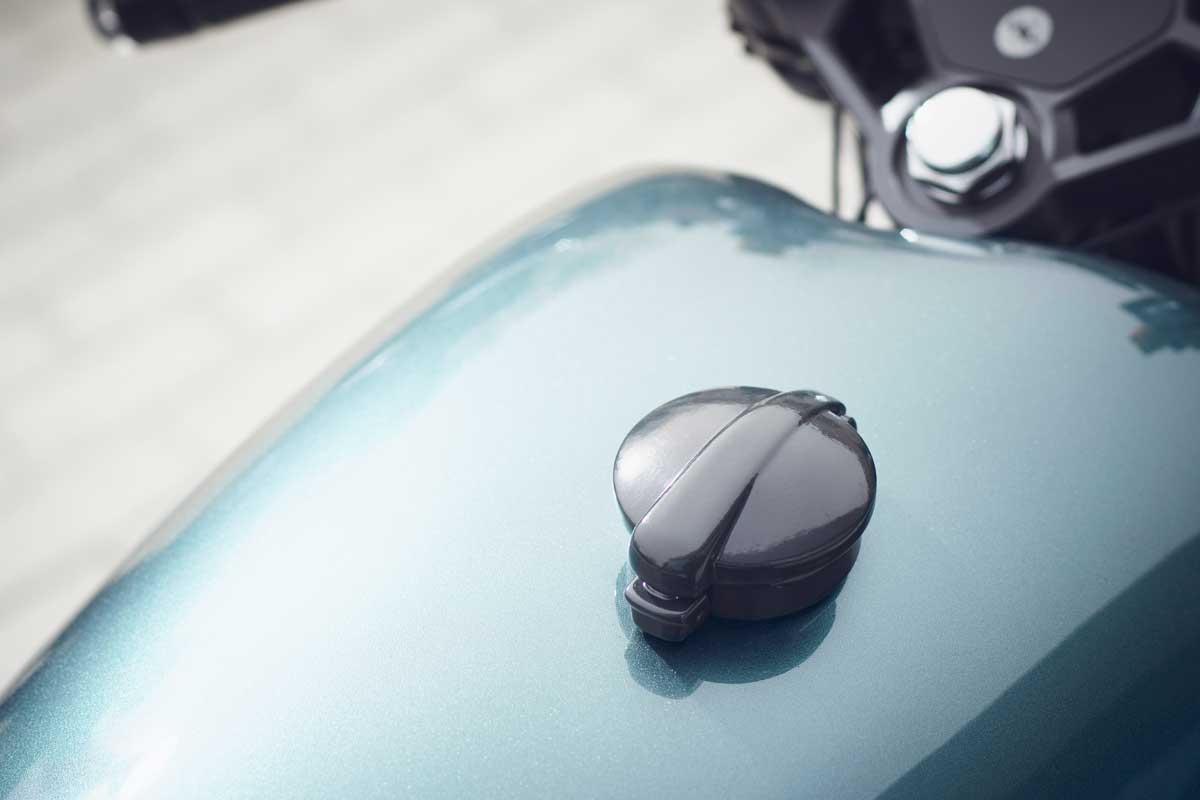 A Thruxton 900 parallel twin with more poke
As for how their Triumph Thruxton 900 would perform, the Nova team spent some time in the saddle pre-teardown to determine exactly what had to be done. "We rode the stock Thruxton and took notes on what we thought could be improved," says Peter. "But just like every build we make, it also has to be reliable, rideable, and make sense for how the owner is going to use it." This approach equated to an extensive list of changes that spanned the internals of the engine, frame modifications, brake and suspension upgrades and even the rubber the bike should roll on.
The 865cc DOHC twin now benefits from a pair of upgraded Web Cam Racing cams, a 2-into-1 British Customs low exhuast, K&N pod filters and a custom tune. Taking inspiration from the work of legendary bike-builder Colin Seeley Nova then braced and stiffened the frame using custom made bracing. The complete suspension overhaul uses an Andreani Misano Cartridge Upgrade to renovate the standard forks and a set of K-Tech Bullit 360mm shocks in the rear. Front end stopping power has been hopped up using a Brembo disc upgrade and associated hardware and, as for rubber, Nova opted for Michelin Pilot 4 tires.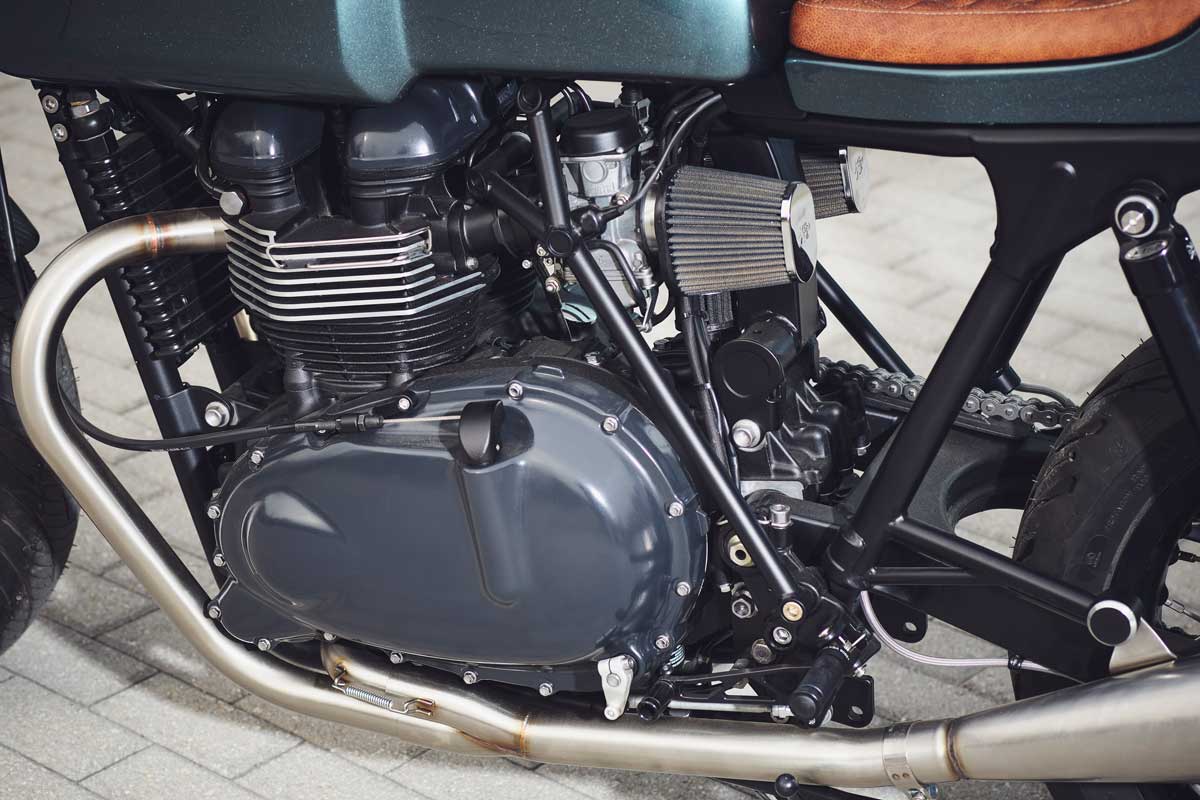 The finishing touches
There's no denying how good Nova Motorcycles Triumph Thruxton 900 cafe racer looks. Along with its perfect proportions and a balanced bone line it wears a timeless paint scheme with a modern twist. Nova has taken an iconic 115-year-old British racing green paint scheme and executed it using a metallic Allora Green with Speed yellow highlights. The rest of the bike is primarily black, including the powder-coated wheels to allow the stunning paintwork to shine. To finish it off Nova has also carefully applied a few touches of grey to draw your eye to areas of interest like the engine, custom top clamp and Monza styled filler perched on the bespoke fuel tank.
As for how this custom Triumph Thruxton 900 rides, "To be honest, I haven't ridden it yet!" Peter confesses. "We have literally just finished it. Our fabricator and mechanic Andy T. got to take the inaugural test ride about two weeks ago. He said it was awesome." We have no doubt that Andy's assessment is accurate, but Peter has promised an update once they get a chance to really put it to the test. Stay tuned!
NOVA MOTORCYCLES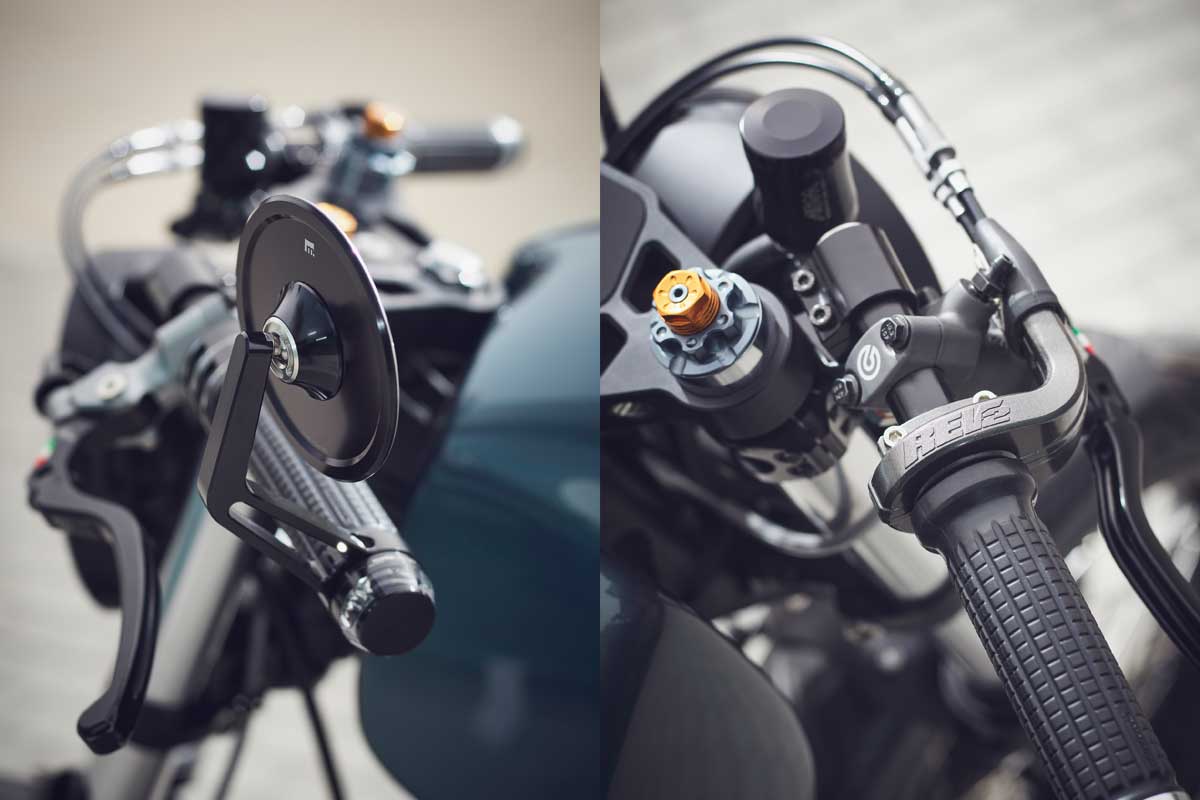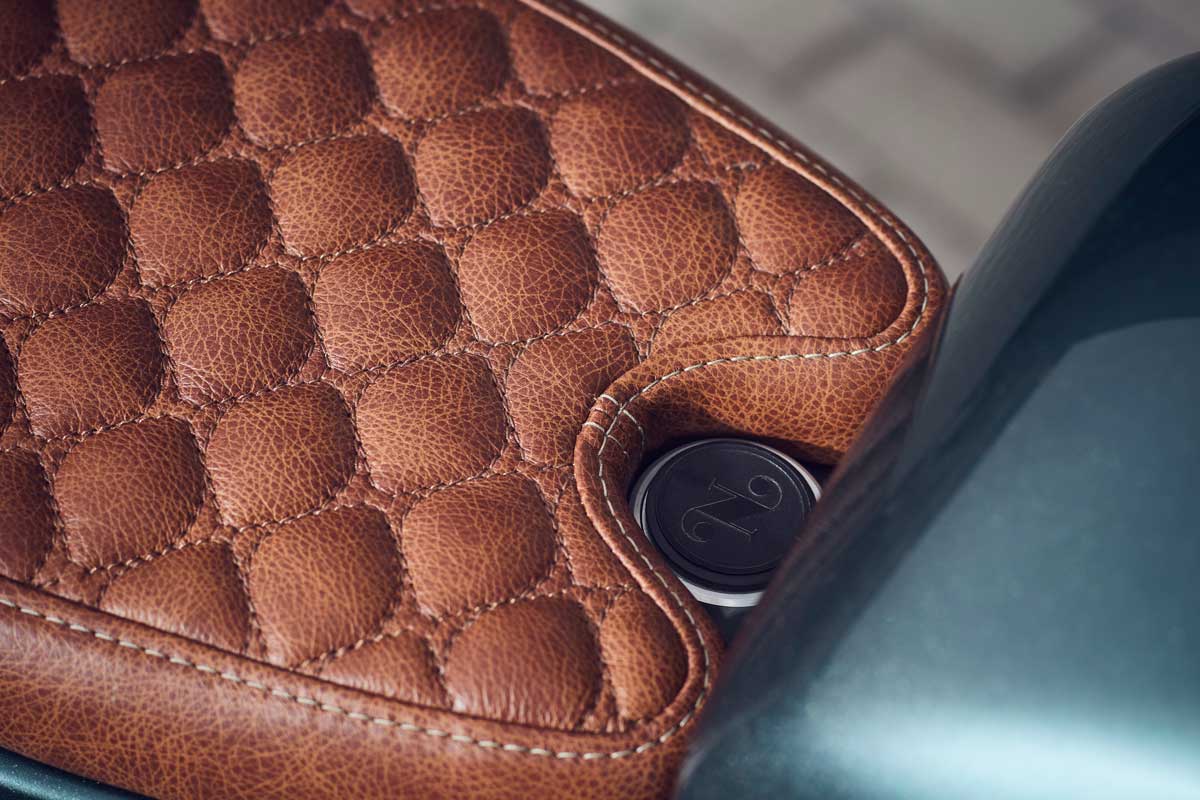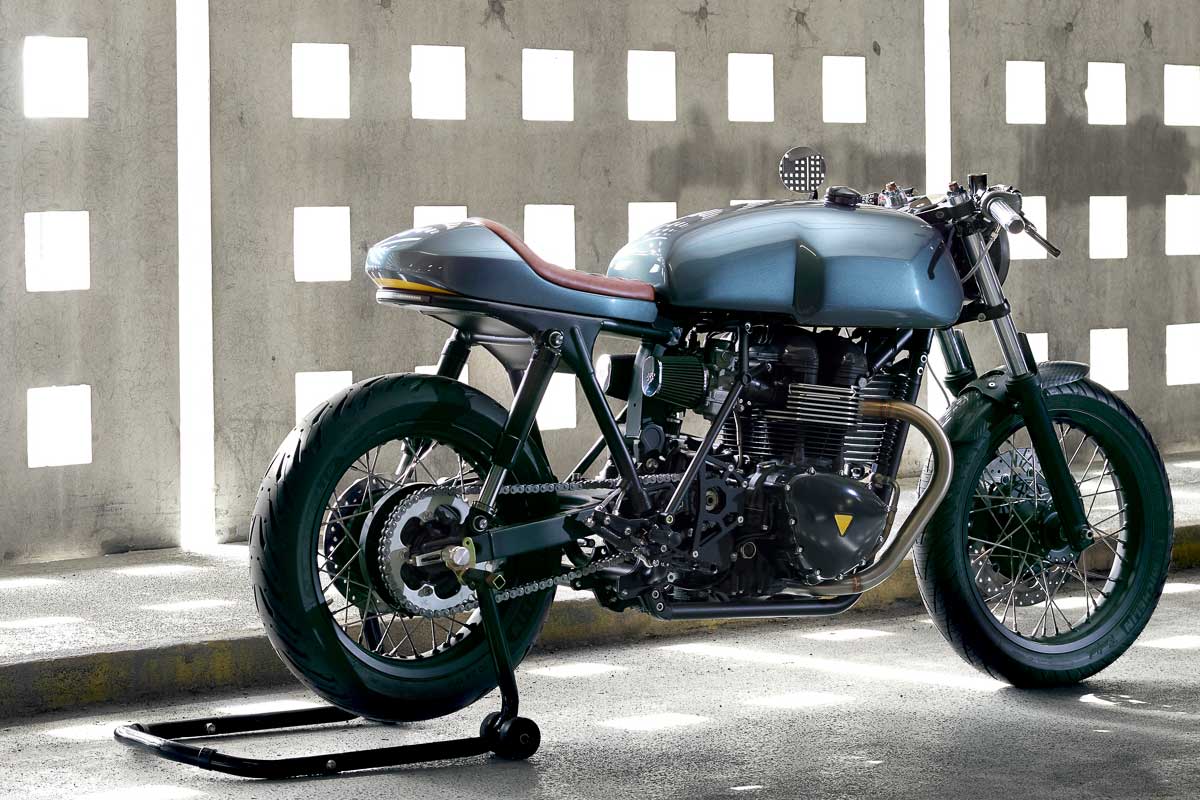 Shop This Look
Sours: https://www.returnofthecaferacers.com/triumph-cafe-racer/nova-thruxton-900/
In Full Flight – TCD Thruxton 900
Russia's not just the home of borscht, vodka and Oscarworthy dashcam footage. In recent years there's been some stellar motorcycle builds coming out of the motherland. And one of our favourites has been by Moscow's TCD – this low-slung, jet-inspired Triumph Thruxton 900 that makes our hearts soar.
TCD, which stands for Timokhin Custom Design, has been spending the last few years turning out trackers and bobbers with aggressive styling and plenty of hand-beaten bodywork. Hell, they've even made a maxi scooter look good. But our favourites are, of course, their cafe racers.
And in this case, it's their latest build, an EFI Triumph Thruxton 900, brought to them by a client who works in aviation and is partial to some weekend racing. He wanted something that takes a knowing nod at his career and something that can tear up the track as well. So with a theme and a goal in mind, the team at TCD pulled out miles of aluminium sheeting and went to work.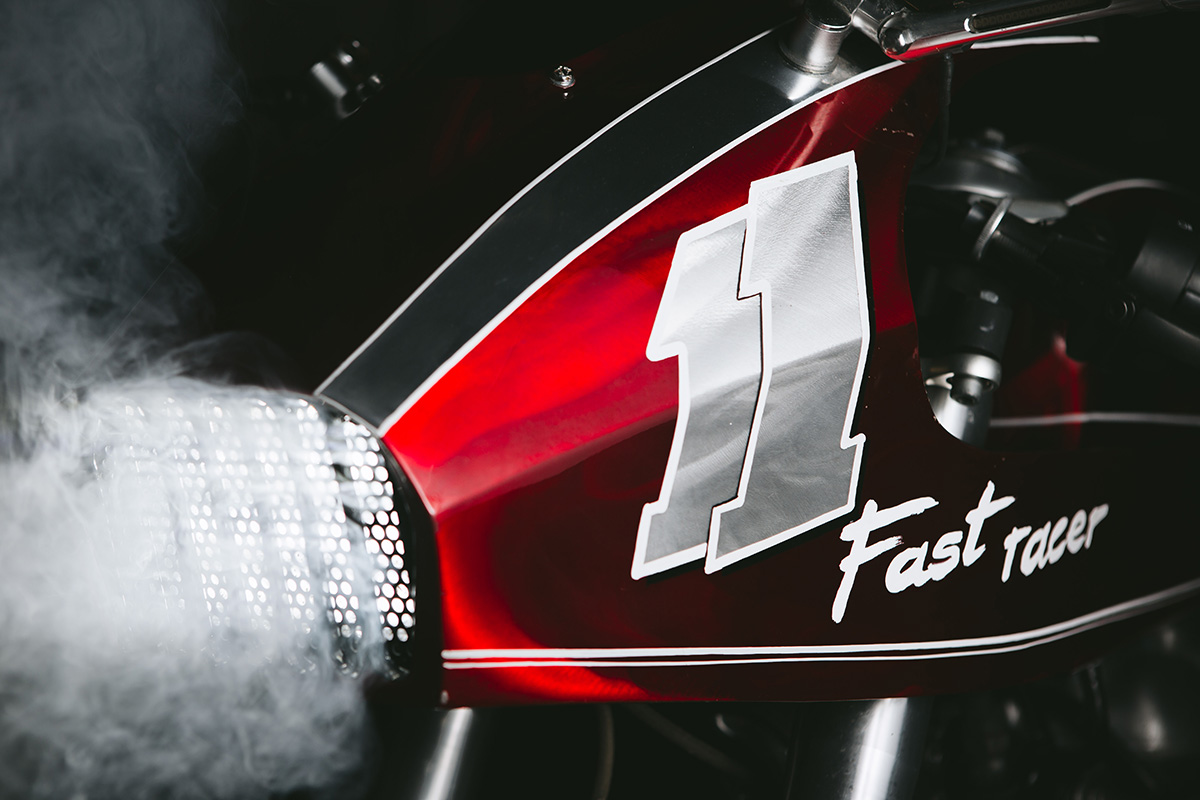 The first step was to reduce the chunky lines of the Brit classic. A new elongated, slimline tank was belted into shape and the fuel pump refitted underneath. Behind that, a thin seat pan was constructed and mounted on a chopped rear subframe. That's a hell of a lot of visual and literal weight lost from the standard bike.
But the highlight of the bodywork is the nosecone and fairing assembly. Designed to look like something from the early days of jet power, the intake, er, headlight is a carefully hidden LED assembly. In the stalks of the rearview mirrors, you'll also find some LED indicators.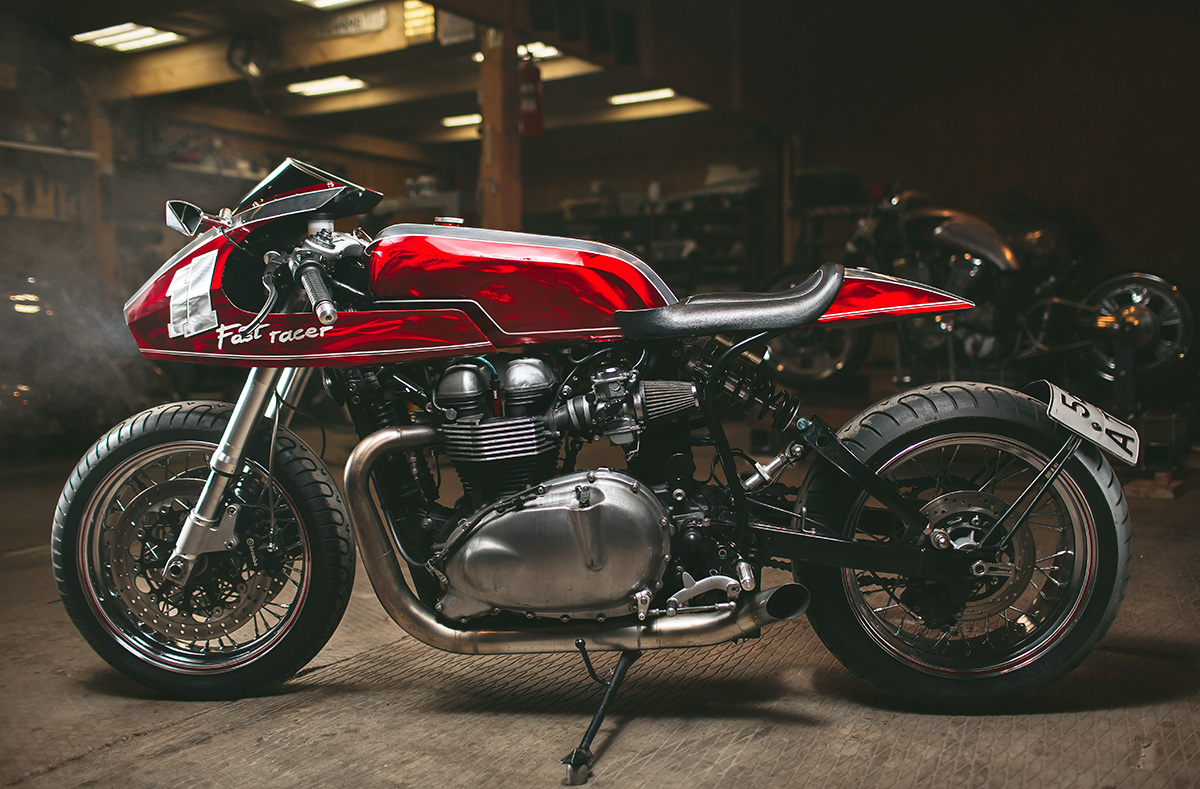 So it's looking good – but the Fast Racer is supposed to be exactly that. And anyone who's spent some time astride the air-cooled Bonneville range will know that their Achilles heel is their suspension. Made from what one Triumph rep told me was 'the cheapest steel known to man' the suspension set up means it's harsh, undersprung and over-dampened. The Fast Racer needed more.
Not being fans of doing things the easy way, TCD manufactured a completely new rear swingarm, a single shock cantilever assembly that offers a great deal more adjustment than the standard setup. At the front, the standard spindly forks have been replaced by vastly more capable Marzocchi USD units with Andreani cartridges.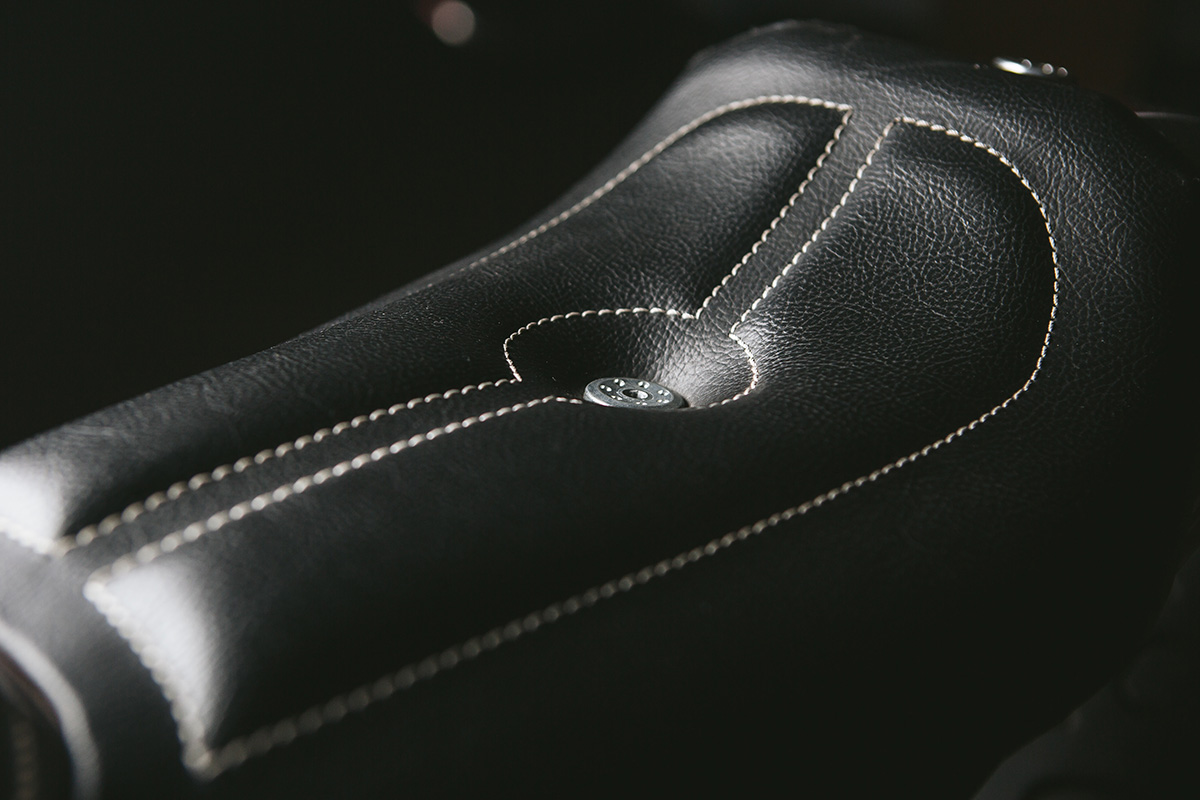 Pulling the Triumph Fast Racer to a halt are twin front 320mm discs and Brembo brake callipers mated to a 17" front rim. And that upgraded front is required because the Fast Racer benefits from a new power commander tune, a damn loud exhaust and some K&N filters. The dyno puts it at more than 70 horses at the rear wheel and more than 70Nm of torque. That's nothing to sneeze at.
TCD has proven again that they're a workshop to watch. The Fast Racer Thruxton 900 manages to be our favourite kind of build – it's shed a lot of weight, it looks damn good and it'll handle beautifully. If you're in the area, keep an eye out for a low-flying aircraft on the tracks around Moscow.
TIMOKHIN CUSTOM DESIGN
Story by Marlon Slack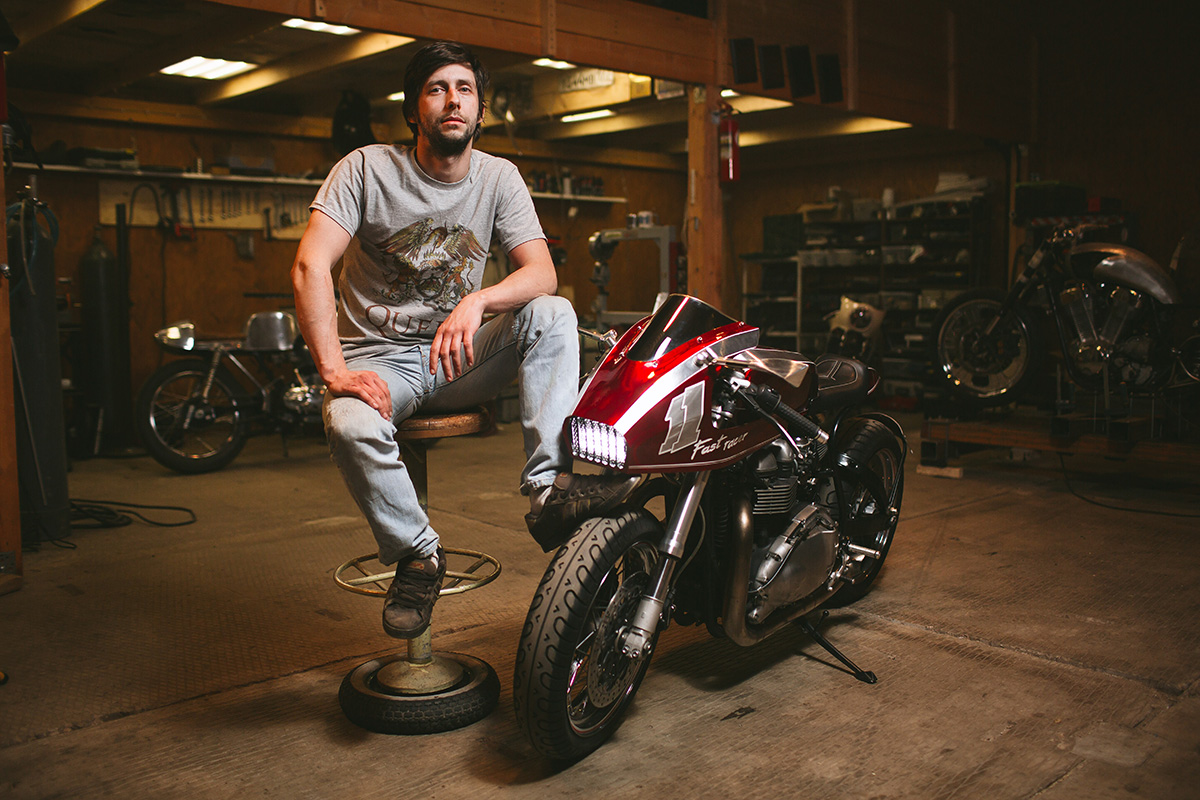 Sours: https://www.returnofthecaferacers.com/triumph-cafe-racer/thruxton-900-tcd/
Triumph Thruxton
British motorcycle
Manufacturer
Triumph
Production
2004 - 2016
Engine
865 cc DOHC four stroke twin
Power
68 bhp (51 kW) @ 7,250 rpm
Torque
72 N⋅m (53 lbf⋅ft) @ 5,750 rpm
Transmission
5 speed chain drive
Wheelbase
56.7 in (1,440 mm)
Dimensions
L: 87.1 in (2,212 mm)

Seat height
31.1 inches (79 cm)
Weight
451 pounds (205 kg) (dry)

Fuel capacity
16 L (3.5 imp gal; 4.2 US gal)
Manufacturer
Triumph
Production
since 2016
Engine
1200 cc SOHC four stroke twin
Power
97 bhp (72 kW) @ 6,750 rpm
Torque
112 N⋅m (83 lbf⋅ft) @ 4,950 rpm
Transmission
6 speed chain drive
Wheelbase
55.7 in (1,415 mm)
Dimensions
L: 82.9 in (2,106 mm)
W: 29.3 in (744 mm)
H: 40.6 in (1,031 mm)

Seat height
31.9 inches (81 cm)
Weight
448 pounds (203 kg) (dry)

Fuel capacity
14.5 L (3.2 imp gal; 3.8 US gal)
The Triumph Thruxton is a series of British motorcycles with parallel-twin engines and sports styling. The name Thruxton was first applied to a handbuilt machine for endurance racing in the mid 1960s, and later revived in the 2000s.
History & design[edit]
The bike is named after Thruxton Circuit, a race track in Hampshire where in 1969 Triumph won the top three places in the Thruxton 500 mile endurance race. These races helped establish the "café racer" era, when standard production motorcycles were modified to improve street and racing performance.[1]
Variations[edit]
Thruxton Bonneville[edit]
The first bike to use the name was the Thruxton Bonneville, a limited-edition production-class racer hand-built in 1965 by the Triumph Engineering factory race shop at their Meriden Works based on the Bonneville T120. The Thruxton Bonneville was developed for homologation purposes and it was entered into British endurance races by local agents.
Thruxton 900[edit]
In 2004, the reborn Triumph Motorcycles factory at Hinckley adopted the Thruxton name for the Thruxton 900, an air-cooled 360° twin derived from the company's Bonneville, with hallmark café racer modifications, including rearset footrests, small flyscreen, analogue instruments, reverse-cone exhaust silencers, and seat cowl. The carburetted 900 models (2004-2008) were built at the Hinckley plant in the U.K..
Thruxton 1200[edit]
In 2016, the 900 was superseded by two 270° 1200cc water-cooled similarly-styled café racers, the Triumph Thruxton and Triumph Thruxton R.[2] The standard 1200 Thruxton has conventional cartridge forks and fixed discs, while the "R" has upgraded Öhlins rear suspension with Showa USD "big piston" forks and Brembo front radial calipers with floating discs.[3] Both 1200 Thruxtons have traction control, ABS, and ride by wire throttles featuring three modes, sport, road, and rain. Being of similar weight to the 900 but with 42% more power, the 1200 has a much improved power-to-weight ratio; but at over 200 kg (dry), neither bike should be considered a lightweight. Both Thruxton 900 & 1200 models are produced at John Bloor's Chonburi plant, but the original Thruxton was a special based on the Triumph Bonneville from the factory at Meriden Works, where, from May 1965, Triumph produced 52 tuned Thruxton Bonnies to homologate the type for production racing.[4] The modern Hinckley Thruxtons (and Bonnevilles too) are "softer" and less extreme; whereas the original Thruxton achieved top speeds over 140 mph (230 km/h), the Thruxton 900 manages only 120 mph (190 km/h).[4]
The Thruxton 900's engine is upgraded from the Bonneville engine of the same model year, with new cams and pistons increased to 90 mm, taking capacity to 865 cc and power up to 70 bhp (52 kW).[5] The frame is a tubular steel cradle with a twin-sided swingarm and traditional spoked wheels, 36-spoke (18 x 2.5 inch) front and 40-spoke (17 x 3.5 inch) rear. Front suspension has 41 mm forks with adjustable pre-loading and rear has chrome spring twin shock absorbers with adjustable pre-load. Front brakes are a single 320 mm floating disc and rear a smaller 255 mm disc, both with twin piston callipers.[5]
Styling[edit]
When the Hinckley factory began making modern triples such as the Trident and Daytona 675, even though the inspiration was perhaps the Meriden Trident, no attempt was made to link the new bikes with their Meriden forebears.
By contrast, when the Hinckley factory started to design new parallel twins, it was deemed vital to make the new bikes adopt similar "retro" styling to their Meriden predecessors. For instance, the new twins have a "timing chest" on the right, a "primary chaincase" is on the left,[6] twin "rocker boxes", a R/H side panel resembling a dry-sump oil tank, and throttle bodies which resemble carburettors, even though the engines are fuel-injected. Triumph's desire for "retro authenticity" prescribed a tubular cradle frame, a decision which caused the bikes to be heavier than they otherwise might have been.
A Thruxton 900 with a black engine
Reception[edit]
The Thruxton 900 was reviewed by The Daily Telegraph in 2014, saying: "It's easy to understand why the Thruxton's blend of retro style, gentle performance and practicality, combined with a reasonable price, have made it a long-running success".[7]
The Thruxton 1200R was reviewed by Motor Cycle News in 2016, saying "The styling and attention to detail lavished on the Thruxton is second to none. The R's handling is right out of the top drawer thanks to excellent brakes, suspension and chassis balance and the electronics marry the whole package together. ".[8][9]
Triumph Thruxton Cup Challenge[edit]
In 2005, Triumph Motorcycles (America) Ltd. and the American Historic Racing Motorcycle Association (AHRMA) developed the Triumph Thruxton Cup Challenge at Pueblo Motorsports Park in Colorado as a "spec" class race limited to the Triumph Thruxton 900. Ted "Cannonball" Cobb, won the inaugural cup.[10]
See also[edit]
References[edit]
External links[edit]
Sours: https://en.wikipedia.org/wiki/Triumph_Thruxton
Beginner Rider on a Triumph Thruxton 900
Triumph Cafe Racer Top 10
A Triumph Cafe Racer Top 10 is not something you write overnight. Triumph has a long heritage when it comes to cafe racers and the brand is a well-known name since the cafe racer scene emerged in the mid-50s of last century. The early-day Bonneville's where often used as a base bike for cafe racers. Especially the Bonneville engines were quite popular in combination with the featherbed Norton frame. This combo was called "Triton" (TRIumph + norTON) and still is one of the most legendary machines out there.
Today, Triumph still has strong ties to custom bikes and cafe racers. In fact, they produce a variety of modern cafe racers; new bikes with the looks of the old days. Triumph is one of the major brands that really set a trend for other motorcycle brands to offer turn-key, retro machines.
This Triumph Cafe Racer Top 10 is a purely subjective selection of what I found to be the best cafe racers with the English label on it. If you have any suggestions, remarks or just want to drop a line; use the comment section.
Triumph Cafe Racer Bonneville by Analog Motorcycles
If you take a Triumph Thruxton R as a base bike for a Triumph cafe racer, you're almost there of course. The stock bike has it all: from beautiful laced wheels to a big fat adjustable gold USD fork. Together with a long list of bolt-on parts, everyone can create his own "unique" Thruxton R cafe racer. But the guys from Analog Motorcycles like a challenge, or two. So instead of taking a Thruxton R, they've used a Bonneville for their own cafe racer version called "El Matador 2.0". Creativity and shopping around for parts let them build a truly unique and one-of-a-kind cafe racer that really deserves a spot in this listing.
Triumph Street Triple Cafe Racer by GB Motors
Of course, it's tempting to take a retro Triumph as a base bike for a Triumph cafe racer, but luckily we didn't only found Thruxton's or Bonneville's for our top 10. This bike right here is based on the Street Triple 675. Whoever rode one knows that this is a serious cornering-weapon. The handling simply is unbeatable. I had one and I made the life (on the road) of a lot of super sporters and +1000cc bikes very difficult. Same goes for the Daytona 675, the racy brother of the Street Triple. The incredible 3 cylinder engine has the same power band as a V2 rocket and helps you accelerate very fast at all RPM zones. French Triumph dealer GB Motors thought it was time to turn the Street Triple into a classic cafe racer. Pretty awesome!
Triumph Thruxton R by Down & Out
Down & Out Motorcycles is a familiar name when it comes to building custom Triumphs. They've created quite the number of machines which are all pretty awesome so it was a logical choice to put one of their creations in this top 10. This custom Triumph Thruxton R is a collaboration between Triumph Motorcycles, Down & Out, and Barbour International. Three British icons that put their minds and hands together to build this very good looking, classic cafe racer. A noob will simply compare this with the stock Thruxton R, but those who are a bit more inside the British brand quickly see that this bike is really one of a kind.
Triumph Bonneville T100 Cafe Racer by Bunker Customs
Probably one of the most affordable and rebuildable bikes in this list; a beautiful and stylish Triumph Bonneville T100 cafe racer by Turkish builder Bunker Customs. For this build, they've used parts from the catalog of "British Customs", together with some fine craftsmanship of their own. Their idea behind this bike was that the stock bikes of Triumph are cool, but miss the personal connection to its rider; in the end: they're all the same. So with a set of bolt-on parts and different colors, everyone can create their own version of the cool modern classics without the need to have an in-depth skillset. And of course, if you sell the bike, it's easy to get it back in its original shape.
Triumph Thruxton R by Blacktrack Motors
With Blacktrack Motors we have a special thing. One of the founding fathers of Blacktrack, Sach Lakic, was the designer of the most beautiful Honda CX500 cafe racer of all times (considering to me and a lot of others). This exact bike was the reason for me to start blogging about custom motorcycles. Lakic's CX500 literally melted down the interwebs, giving the custom motorcycle scene a boost like a V2 rocket. The CX500 was such a big hit that they've started the label Blacktrack Motors to build the CX500 in a small series.
After the big hit machine, they've been working on something else called the "Thruxman"; a big fat wink to the Norton Manx. Lakic: "the idea was simple: blending the Manx's classic and unmistakable looks with modern performance". Totally different than the CX500, still a very unique and distinguished machine that really deserves a top spot in this Triumph Cafe Racer Top 10.
Triumph Thruxton by Cohn Racers
A special project built by Cohn Racers for another icon in the custom bike scene; The Suited Racer. His appearance will undoubtedly be familiar to many bike fans, as pictures of him riding bikes with full face mask and sunglasses appear regularly all of the internet, especially on Instagram. For a man that's dressed up in chique suits, his very own bike needed to be as stylish as his apparel.  Despite the fact that this is a "regular" Thruxton from 2012, it has the same level of quality parts like the modern Thruxton R like adjustable Öhlins suspension and Brembo brakes. We fell in love with the beautiful half-fairing. Read more about the project here.
Triumph Cafe Racer by Kott Motorcycles
Dustin Kott from Kott Motorcycles got the opportunity to build a Triumph cafe racer for actor Ryan Reynolds. Reynolds isn't just another actor who want's to be cool: Reynolds is an enthusiastic bike and he held a variety of Triumphs in the past. At the time of this build, he already has a '04 Bonneville. We have three words for this bike: clean, classic and distinguished.
Triumph Thruxton 900 by Macco Motors
Macco Motors is known for the magic they perform on the entire collection of Triumph. Especially the retro machines are a solid choice for the guys from Spain. They usually product beautiful-looking cruisers. But sometimes they have a special order from a client that looks for something more "racy". This machine right here, "Macco Nº37" or "Panther" is based on a 2008 Triumph Thruxton 900 and definitely is one fine-looking bike [more…]
Triumph Legend TT Cafe Racer by XTR Pepo
XTR Pepo is one of the most featured builders here on BikeBrewers.com and unlike many other builders, Pepo Rosell, a.k.a. XTR Pepo, doesn't focus on on particular brand. He can turn any machine into something "XTR". Unless the fact he has a long history with the brand Ducati, he literally works on all kind of brands. He likes it different. So it was no surprise for XTR to pick a rather odd base bike. Most builder pick a Thruxton or Bonneville, simply because these bikes already have the cafe racer inside them. Not for this Triumph Legend TT… Worth his spot here.
Virtual Triumph Cafe Racer by Ziggy Moto
Maybe this is not quite the place for a computer rendered motorcycle, but this cool concept by Ziggo Moto definitely is one of the coolest interpretations out there. Ziggo Moto spreads their designs across Instagram and in a short amount of time, they've gathered a large fanbase. All of the renders we've seen get lots and lots of engagement and they even plan to actually bring some of their designs to life.
BONUS: Triumph Thruxton R SUPERCHARGER by Roké Motors
In terms of cafe racer style, this bike is the most original of all machines here. In fact, it only has bolt-on parts straight from the Thruxton catalog. But there is one part less original: it has a SUPERCHARGER! The guys from Roké Motors in Holland managed to get the perfect engine setup with the Rotrex C-15-60 supercharger. The result is a beastly 171hp and 175Nm of torque. By far the most powerful Triumph Cafe Racer on the planet! Read more about the bike in our special feature: Triumph Thruxton Supercharger.
Other cool lists:
Related Posts
Triumph Thruxton "Lyta" by South Garage

If you take a look at the collection of South Garage Motorcycles you'll see that these guys have a sharp eye for detail. It's not surprising that they are located in the fashion capital of Europe (and maybe the world): Milano. In their small shop they offer complete custom bikes an custom…
Filed Under: Articles, Cafe RacerTagged With: Triumph
Sours: https://bikebrewers.com/triumph-cafe-racer/
900 racer café thruxton triumph
With whom does she share such details. I listened to all her "uh-huh", "aha", "it would be good" and "necessarily tomorrow. " Finally I heard "Bye, Christya!" It is clear with whom she discusses our intimate life.
Before you buy a Triumph Thruxton 900 cafe racer honest owner review.
How about the lyrics. - They all answered with one voice. The guys' eyes literally lit up. And Slavik began to sing. The guitar in his hands came to life and music poured out.
You will also be interested:
I was absolutely dumbfounded by this course of events. She was still smiling. Don't like it. She asked slyly.
470
471
472
473
474