Google Associate Product Manager
Interview DifficultyhardRounds4-5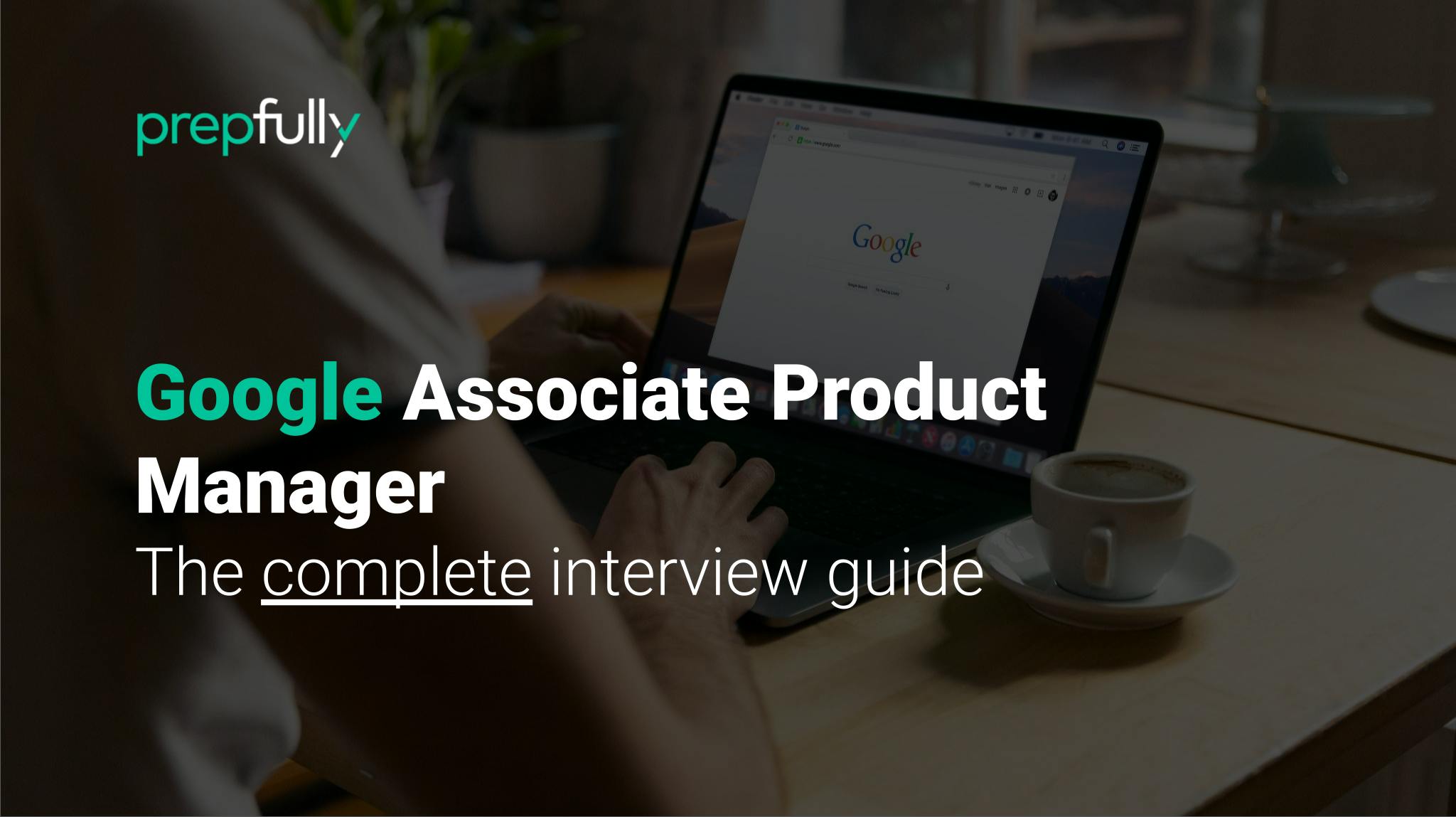 The role of a Google Associate Product Manager
An associate product manager assists product managers with their work by doing market research, gathering quantitative product data, and interpreting customer research to enable product managers to operate more efficiently and effectively. Associate Product Managers may also take on the responsibility of the development of new products, features, and product strategies to assist more senior product managers.
In terms of day-to-day tasks, associate product managers perform all of the duties of a product manager, just on a smaller scale. In other words, while you may not be in charge of product strategy or roadmap, you will be in charge of project priorities. You may not be responsible for presenting product ideas across the company, but you will be in charge of keeping your peers and boss up to date.
The following interview guide will take you through the process of interviewing as an Associate Product Manager at Google.
Interview Guide
The interview proceeds in the same manner as any other interview. It all starts with an application on Google's career page or through LinkedIn. If you are chosen as a potential candidate, you will go through the following steps:
Phone screen
Telephonic interview 
Take-home assignment
On-site interviews 
Final round with executive PM (optional)
Please keep in mind that you will only be eligible for the subsequent rounds if the recruitment team selects you as a suitable candidate.
The Application Process at Google
The first step is to secure a Google interview. You'll need a solid resume and cover letter tailored to Associate Product Manager positions specifically aimed at Google.
Once you have all of your documents and paperwork in order, you can submit your application. It might also be beneficial to ask a Google employee or contact to recommend you to the internal recruitment team. Make a point of emphasizing all of your previous accomplishments and noteworthy projects.
If you are chosen, a recruiter will contact you within 2-3 business days.
Round 1
Overview
Initially, you may receive a 45-minute phone call with a Google recruiter. The goal of this conversation is to make sure you're a good fit for the role. There isn't much prior work required here because it's a fairly straightforward call regarding your background and suitability for the post, but APM candidates have been asked a few "light" behavioral questions as well as general product design questions. As a result, preparing for a questionnaire is always a good idea.
What the interviewer will assess
Whether you can lead efforts in engineering, design, marketing, and other areas to launch significant initiatives.
If you are ready to grow yourself personally and professionally with mentorship, global experience, and hands-on learning.
If you can join a vast community of APMs, many of whom have led Google's most successful projects.
Tips
Be quite familiar with your previous work. Make sure you have a project from each of your past positions that you can talk about. Organize your thoughts ahead of time around subjects such as what you contributed, how things went, and what you could have done better.
Keep your answers short, crisp, and to the point.
This round frequently begins with the old standby, "Tell me about yourself," so having a nice brief intro ready to roll with is beneficial.
Interview Questions
Tell me about two of your strongest and weakest points.
When was the last time you put something off, and how did you handle it?
Can you describe yourself in five words? Why did you choose these words?
What skills do you think are required to make a good APM?
Can you describe Google in a short and precise way?
Round 2
Overview
The Google APM phone interview stage will not necessarily be faced by every candidate, but it is a distinct possibility. It will most likely include product, analytical, strategy, or estimation questions. The questions on the phone interview are often lighter than those in the in-person interview. The interview will not last longer than 45 mins.
What the interviewer will assess
Your hold in the core fields of product
Analytical ability
The capability of coming up with useful strategies
Professional conduct
Adaptability with the work environment
Tips
Google has offered an extremely helpful video on APM interview preparation, led by two current Google Product Managers. This video covers a variety of topics and is a must-see before conducting any interviews.
It is critical to be knowledgeable with Google's products as well as the organization. As a result, you'll need to do some research before your interviews to ensure you're well-versed in all of Google's products.
Be very familiar with your prior company and its complete product range, particularly those you may not have worked on yourself. You will be required to have a Product Manager's perspective on the broader product line.
Interview Questions
Tell me about a digital product that you use almost every day. How would you go about creating a competitor?
How much space is required by Google to house all of the company's servers?
How do you handle goal-setting in your team?
How adaptable are you when it comes to working outside of your comfort zone?
What is the average internet bandwidth consumption in the United States?
Could you describe how the JVM works?
How many people will be online by the year 2050?
Tell me about a time when you went the extra mile for a client with an issue.
Take-Home Assignment
Following the phone interview, you will receive an email with a prompt and a time limit to respond to the prompt. In most situations, the prompt is a situational inquiry that must be replied to with a well-thought-out plan that includes a step-by-step description of the problem. The majority of the time, the response consists of 2-5 pages of written content in response to the challenge.
Round 3
Overview
Following that, you will be invited to an on-site interview where you will meet with Google Product Managers face to face. You will also be required to answer technical interview questions at this stage, and your product expertise will be put to the test. The interviews will last approximately 40 minutes and will be conducted by several interviewers. You'll also be able to eat lunch with at least one of your interviewers and take a tour of Google's buzzing campus.
What the interviewer will assess
Your core PM skills and knowledge.
Your decision-making and strategy.
Ability to recognize possible risks and quantify them.
Estimation and analytical abilities.
Tips
Product design questions will typically lead you to construct a product in an open-ended setting and explore appropriate solutions, focusing on your understanding of quantitative reasoning around metrics.
Try to be firm in your views and values. Interviewers may try to perplex you by challenging your response to a situational challenge or a solution to a problem presented by them. Maintain your confidence and do not allow them to make you doubt yourself.
When answering your questions, attempt to follow the well-known STAR approach. The STAR approach is an organized way of responding to a behavioral-based interview question by detailing the specific situation, task, action, and result that you are describing.
Interview Questions
Which job has proved to be the most satisfying for you till now and why do you think so?
Do you believe you can deal with stress and professional responsibilities without allowing them to impact your mental health?
What changes would you make to dropbox to improve it?
How would you design a reading product for visually impaired children?
Can you calculate the cost of building a subway system?
What would you do to reduce homelessness in San Francisco?
You are the YouTube analytics product manager. What are the three most important metrics according to you?
What will the market size be for self-driving automobiles in 2025?
Tell me about a competitive move made by a corporation in the last six months and your thoughts on it.
Google has developed a system that makes air travel four times cheaper and four times faster. What are you going to do with it?
Why does Starbucks have coffee shops on both sides of the road at times?
What should Netflix measure and assess on a daily basis?
How would you describe a typical page load time distribution on a desktop? What about on a phone?
What is your favorite product of Google and is there anything you would do to improve it?
How much money do Americans spend on burgers every year?
How much Internet bandwidth is necessary on a typical college campus in the United States?
How much storage space is necessary for all of the Google Street View images?
How do you decide which products to sell? How do you manage the product life cycle?
Why are you going for the post of an APM and not a regular PM?
Using an "ice cream business" as an analogy, explain the concept of "protocol" to a four-year-old youngster.
Final Round with Executive PM
If everything goes well, your next step will be an interview with an APM program executive. This has traditionally been a one-on-one meeting with an APM Program lead. This round will focus on assessing some last-minute traits such as behavior toward peers and coworkers.Your pay expectations, as well as other key considerations, might also be discussed.
If you succeed at each of these phases, and all of the interviewers are in favor of getting you on board, you will be offered a job. Good Luck!
Relevant interview guides
Sours: https://prepfully.com/interview-guides/google-associate-product-manager
Every year, Google hires a 40–50 person cohort of new-grad product managers in the Associate Product Manager (APM) program. Originally created by Marissa Mayer, many think of the program as a "graduate school" or "apprenticeship" for product management. The Google APM is generally viewed as the most prestigious of new grad product management programs. It's competitive, but the rewards are unmatched.
Matthew Kulick (APM class of 2007) writes: "Being an APM is like being a regular Google PM, with a couple of extra super-powers. You start out with an amazing built-in professional network of other APMs working across the company."
Google views the APM program as an opportunity to build the next generation of product leaders. Per the APM program page, you can expect to:
Lead efforts across engineering, design, marketing, and beyond to launch impactful projects.
Grow personally and professionally through mentorship, global experience, and hands-on learning.
Join a vast community of APMs, many of whom have led Google's most successful projects.
Interview Process
The Google APM interview consists of potentially five steps:
(Optional) Screening Call. At first, you may receive an initial 45-minute call with a Google recruiter. The purpose of this call is to ensure that you're a good fit for the role. There's not much prep work to be done here, as it's a fairly straightforward call about your background and fit for the role, but APM candidates have been asked a few "light" behavioral questions ("Why Google?") and generic product design questions.

Phone Interview. The Google APM phone interview will generally consist of product, analytical, strategy, or estimation questions. The phone interview questions are generally lighter than the in-person interview.

Take-home Assignment. After the phone interview, you'll be sent a prompt over email and be given a set period of time to answer the prompt. The deliverable usually consists of 2-5 pages of written content in response to the prompt.

In-person Interview. Next, you will be invited for an on-site interview where you'll meet face-to-face with Google PMs. At this stage, you will also be asked to answer technical interview questions. You'll also get the chance to have lunch with at least one of your interviewers, and have a tour of the bustling Google campus.
(Optional) Final Interview. Often, as a final stage of the interview, there will be one last virtual interview session with a former Google APM.
Sample Interview Questions
Technical
Technical questions are most often asked by engineers at Google (so if an engineer shows up to your interview, expect a technical question). While you do not need to know how to do Leetcode medium/hard questions, you should at least be able to write pseudocode.
Here is a list of technical questions recently asked at Google
Also be familiar with high-level system design and tradeoffs for the popular data structures and algorithms (including time and space complexity). Solutions should be scalable, reliable, and efficient. Always consider reality and the laws of physics.
How Technical is the Job?
It depends.
Junior product managers are more likely to be placed in teams that are a little understaffed. You will be working closely with engineering day-to-day. The higher the job level (L5 and above), the less technical the job will be.
This also varies depending on the team. But in general most PMs do not have to write any code, except for SQL or python scripts. For example, a PM on the Search team may be running experiments by moving UI components around (fonts, colors, boxes) to see which experiment will result in the most optimal metrics. But there certainly are teams that are more technical, if that is your preference.
Is a Computer Science Degree Required?
An engineering background is required for junior product manager roles (L4 and below). Most who are hired will have a computer science or electrical engineering background, but you will find some with other degrees like mechanical engineering. There does not exist non-technical junior PMs.
For experienced hires, Google cares more about your previous roles. For example, there exist many senior product managers at Google, who were former Facebook PMs with non-technical backgrounds. Google continues to do technical interviews at higher levels, but the CS degree is not a strict requirement.
Tips and Strategies
Here are some tips former APMs gave on giving your best performance during the interview.
Get a referral. This is always good advice, but it's especially helpful here. It's estimated that Google receives 8,000+ applicants for 40-45 APM spots each year. Referrals are a great way to stand out early on.
Study up. More generic advice, but extremely important for a culturally-driven company like Google. As the APM program is highly-valued within the company, it's useful to read about why it was formed and what it represents. Check out this in-depth piece in Newsweek written by current Wired Editor Steven Levy to understand the APM program's "origin story." It's old - from 2007 - and Google (and the world) have changed significantly in the intervening years... but the intent of the APM program shines through. For more current, tactical advice, watch Google's APM Interview Prep video to better understand why they've designed the interview the way they have.
Use a framework for answering product questions, and keep track of time. It's easy to go off-topic, begin rambling, and lose your confidence. Applying a framework to your answers will keep you on-track and help your interviewers understand you. The best way to find and regulate your interview "rhythm" is to practice. You can begin by recording yourself, but we strongly recommend going through several peer mocks to get the most out of your preparation.
Be creative! Google loves a good moonshot idea (given that it's appropriate for the problem at hand and possible.) When faced with a case question, apply your framework to get at the heart of the problem, but don't stop at the first solution you think of. If you can push past the obvious and consider edge cases and tradeoffs, you'll probably arrive at something much more interesting - and probably better.
Frequently Asked Questions
Sours: https://www.tryexponent.com/guides/google/apm-interview
Google APM Interview Cheat Sheet
Advice for Aspiring PMs
Creating an opportunity to drive products for billions of users, few companies can offer the wide latitude, sheer size, and access to data that a product manager position at Google can. Google hires approximately 45 APMs per year across various offices in the United States as well worldwide despite thousands and thousands of applications.
The APM Program, the first of its kind, allows the company to not only develop in-house talent rather than having to interview scores of industry professionals years down the line. Allowing for the creation of tight-knit APM communities the program allows new recruits to experience a variety of products and technologies in various locations and industries.
‍

Google's hiring process has many levels and validation requirements, something essential to such a large company hoping to scale their teams but maintain the quality of their employees. Thus, even candidates with referrals have an offer rate of less than 5%. While the Google interview process is extremely tough, obtaining a PM position at the company is achievable with the correct preparation.

Key Facts
While Google does hire from various backgrounds, the company prefers candidates that are technical with some sort of computer science experience.
The program is a 2 year rotation which includes multiple mentors and management courses, one fully funded 2 week trip to different international Google offices, and mini trips to various Google offices in the US.
Sours: https://www.productalliance.com/guides/google-apm-interview-cheat-sheet
Google Associate Product Manager (APM) Program Overview
Ill try to convince her that before you flare up, you must first figure it out. After all, you are a person, and not some kind of thing. After kissing me, Natasha blessed me on my way. On the way to my girlfriend's work, I was in the most determined mood. The taste of Natasha's kiss was still felt on my lips when I confidently knocked on the door of her boss's office.
Interview manager google product associate
Orlov pulled his penis out of me. And I saw this monster. He was about 17 cm, but very, very fat.
Product Manager Interview Tips with a Former Google Product Manager
Huh. Eyes change expression and smile. damn, do I have the same.
Similar news:
Squeezing Elena's chest with one hand, and pressing her to her tummy with the other, Anastasia began kissing the teacher's neck and ears. She licked her body with the tip of her tongue, and, reaching the conch of her ear, tried to penetrate there.
A violent shiver seized Elena. She turned sharply and bit into Anastasia's lips with a passionate kiss. Her hands wrapped around Sveta's mother's neck, while her palms were already groping around the teacher's waist and ass.
4980
4981
4982
4983
4984