15 Hottest Short Bob Hairstyles For Black Women
Weave Bob
Instagram @iconicedgebeauty
If you like a new hair transformation to your usual weave, try this jaw-length bob cut. The thickness plus the delicate layers on this weave bob create a classy round shape.
Very Short Bob
Instagram @deliciousdom12
A classic look, this very short bob hairstyle for black women showcases poise and elegance and in a very convenient way as well. Here, you can manage your edges beautifully while showing off various glittered accessories. Short natural hairstyles like this are super hot right now.
Curly Bob
Instagram @zax_hair
This dark curly bob is the short hairstyle and cut to complete your whole elegant look. It is styled on a frontal lace wig, which appears very natural and classy as ever.
Blonde Bob
Instagram @glamurkitty
Black women are usually seen with braids on their hair, but little did we know, they can slay blonde bob, too. This short bob cut features natural healthy hair that does not need weave just to look pretty.
Braided Bob
Instagram @ann_braids
Braided short bob hairstyles for black women are a great protective style. Add spice to your round bob by merging it with box braids. This plait style short bob locks or braided bob flawlessly maintains the shape of the hair that emphasizes the face by the framing effect.
Cute Bob
Instagram @_jsantanastyles
When it comes to cute short bob haircuts for black women, this blunt bob cut is perfect. It might be the most uncomplicated style and cut any black lady can get, but this is one of those that can be partnered with any clothes. This shiny hair that falls straight down to neck never goes out of what's trendy.
With Round Face
Instagram @dolluphairsalon
Sporting a short bob cut with a round face can be a little tricky. Good thing this bob appears to elongate your face with longer locks upfront and a thicker, rounder backside.
Feathered Bob
Instagram @blessedatvanity
Using a hairdryer, you can now brush back your top layers to create this feathered look. Your short bob strands now look extra fly!
Thick Stacked Bob
Instagram @rasheda_t
Short bob cuts this bouncy is worth obsessing over! Get it done by chopping up layers at the back to get the stacked look.
Natural Looking Bob
Instagram @rasheenacharles
Most short bob hairstyles for black women aim to make the look natural even though they're not. The caramel locks look lovely on the short curly bob, flattering African-American women.
With Side Part
Q&A with style creator, Annagjid Taylor
Salon Owner / Hair Stylist @ Deeper than Hair in Philadelphia, PA
How would you describe this look?
This is a simple short bob with a side part. I just jazzed it up with some trendy bobby pin art. I used matte silver pins that went along with Tiffany's buttons on her blazer perfectly! Hairpins and hair jewelry are really in right now, so it's fun to take advantage of the look!
Any advice for someone considering it?
When considering changing to a bob for short hair, it's really important to pick the style and length that's good for you. In Tiffany's case, it's nape length, so it won't be easy for her to throw it back in a convenient ponytail when needed, and we do need ponytails no matter if it's for working out, running to the market, or switching up hairstyles.
I love bobs in all lengths. The first time I cut mine, I decided to start with a lob (long bob) and then chopped it up as I went along. By month 3, I cut it up to my nape and had layers to make it full of volume. Something about the perfect short cut gives you bold confidence that other hairstyles don't.
You also have to consider textures because the shorter it is, the more maintenance it will require. If you are a natural in rocking your curls or coils, you have to be aware of the shape you choose that will look good both textured and straight if you make the switch from time to time. Those that keep it straight would possibly use a lot of heat, so try to keep that under control to make sure the hair stays healthy while you enjoy your cut!
Make sure to use the best, high-quality shears to achieve your look. I love my shears from HerStrandzOfHair.com, and I highly recommend them. Make sure to use a good heat protectant as well, like Satin Shield from DeeperThanHair.Com. Also, get a good flat iron and whatever kind of final touches you want to add to stand out from the crowd!
Bob with Bangs
Q&A with style creator, Beatrice Galiot
Hair Stylist @ Styles by Beatrice in Plantation, FL
---
How would you describe this look?
This look is a fringed, short blunt cut bob. I like everything about this look in its totality – you have the jagged bangs with a blunt cut. A blunt cut is "to mean what you say/go to the point with no excuses," while the jagged cut is like saying, "I play by my own rules/confidence."
Any advice for someone considering it?
Short bobs for black women like this are what I consider to be a signature style, so you can't be afraid to own it. The upkeep is very low maintenance, and I suggest bangs during fall/winter because the hair against your forehead will be less irritant. You can wrap it and tie it down with a scarf or put it in a hair bonnet easily. Extra hair product from what has already been used is unnecessary.
For Over 40
Q&A with style creator, Tamika Nelson
Hair Stylist @ Salon Studio 32 in Louisville, KY
---
How would you describe this look?
This short bob haircut is a modern way to wear a classic style, all while protecting your natural hair! Our guest is rocking a custom colored unit complete with a sleek tailored A-line bob.
My favorite thing about this look is that it's timeless and versatile for any African-American woman.
Any advice for someone considering it?
There's not one way you couldn't wear this style. Soft waves – you got it. Topknot – you bet.
Middle Parted Bob
Q&A with style creator, Keyanna Byrd
Hair Stylist @ KNK Hair Studio in Philadelphia, PA
---
How would you describe this look?
This shorter bob is very chic and sleek. My favorite thing about this look is the cut. It's super clean and also edgy.
Any advice for someone considering it?
This look works out for just about any black woman. It could be an everyday look, or it could be your going-out look. Whatever you prefer, this look brings so much chicness and edge.
This style doesn't need a lot of product added to achieve the style. I feel like this is for everyone, as it brings so much personality out after getting up out of the chair having this cut.
Layered Bob
Q&A with style creator, Danniell
Salon Owner / Hair Stylist @ Salon Kj D'nell in Chicago, IL
---
How would you describe this look?
This look is a tousled, beachy-wave textured look. My favorite thing about this short bob cut for black women is that even though it's very tousled and textured, it brings a lot of softness and femininity to your overall look.
Any advice for someone considering it?
This can be a very work-appropriate look, but when needing to change it up a bit, keep a travel-size holding spray on hand so that when it's a happy hour or after-5 outings, you can tease, spray, and go!
Sours: https://www.latest-hairstyles.com/black/short-bobs.html
60 Showiest Bob Haircuts for Black Women
Thick natural tresses are whimsical when it comes to styling, therefore, haircuts for thick hair may sometimes look unflattering. A haircut is a key component of our image, so it needs to be selected thoughtfully. Black bob hairstyles, performed on thick hair, look fantastic and suit all face shapes. You only need to opt for the right length and finish. Adorable looks in this collection of images are both of famous personalities – celebrities, and beauty bloggers. Let's learn from them and draw inspiration.
Bob Variations
A classic bob suggests a single-length cut. Such a method adds "weight" and volume to hair, revealing its natural beauty and shine at fullest. Pay attention that bob haircuts make all imperfections and defects of hair structure, especially split hair ends, very noticeable.
Today there are plenty of techniques and various styles of bob haircuts for women. Short and medium-length bobs with bangs look luxurious on perfectly smooth and shiny hair. Depending on your style and type of face the contours of a bob haircut may be either graphically accurate or softened with light trimming at the ends. The most popular variations in 2021 also include elongated asymmetrical front tresses, edgy bottom contours and a feathered finish.
Styling
Certainly, sleek straight bobs are pretty impressive, however, chaotic waves and curls is another styling story that allows you to look different and never get bored with your bob. One interesting variation of bob styling we'd like to draw your attention to is when you flatiron your hair at the roots and weave it into showy curls at the ends.
Check out the ideas in pictures below to get inspired before your next head to the salon.
#1: Short Feminine Espresso Brown Bob
Bob hairstyles for black women are a sleek and smart choice for those who find longer locks too hard to maintain. Just because you're going short, doesn't mean you have to sacrifice style. With perfectly neat ends and laid edges, how could you not love a good bob?
#2: Black Bob with Caramel Highlights
Caramel is one of the prettiest colors to see against dark hair; and when done well it is a wonderful sight. On this black bob, the highlighted streaks help tell the story of the asymmetrical cut. It is a tale you cannot get enough of, and you keep coming back for more.
#3: Short Layered Black Bob with Thick Bangs
Give your bob some much needed sass with bangs and layers. Not only will these additions bring personality, but they will also introduce body and movement to the cut. Throw some subtle highlights into the mix for even more dimension and style.
#4: Asymmetrical Style
Bobs don't have to go the traditional route – there's a plenty of rebellious versions to try when you're looking for an edgier look. This style features longer hair cut at an angle on one side with the underneath hair trimmed short. One of the best parts of this cut? It doesn't always appear so dramatic – the long hair can be easily combed over the shorter section when you need a kind of straight-laced look.
#5: Black Blunt Bob with Feathered Bangs
Bobs are flattering hairstyles for most women. This blunt cut is accurate at the bottom and has a lot of feathery layers on the top and sides. The straight edge is stylish and provides a neat, well-groomed appearance.
#6: Chic Asymmetrical Comb Over Lob
Catch everyone's eyes while keeping yours covered with a full set of peek-a-boo bangs. The shoulder-length asymmetrical cut is an excellent example of today's modern black bob hairstyles. The extra-long jagged ends in the front and the deep side part give it an edgy, urban flair. The jet-black hair looks healthy and shiny.
#7: Black Feathered Inverted Bob
A short inverted cut with a side part is one of the most flattering and stylish bob haircuts for black women with thick, straight hair. The swoopy side-swept bangs feature a lot of feathered layers that extend towards the nape. The back is rounded and full and has an inverted angle that tapers towards the collarbone.
#8: Blonde Bob for Black Women
Almost any dye on women of color is a welcome and celebrated upgrade. When it comes to blonde, it's better to go for a warm palette with hues ranging from golden blonde to strawberry blonde and light caramel. The look is divine, but remember that it suggests some profound bleaching and may tell on your hair's health. Consider a sew-in if you want to rock it for a while without any risks.
#9: African American Curled Inverted Bob
The sultry brown curls take on a life of their own in this loopy-swoopy inverted lob. Parted on the side and full of curly texture, the cut holds its angled shape perfectly. Thick locks add some extra height in the crown section.
#10: Layered Bob with Red Balayage
Bob haircuts for black women featuring two tone balayage colors add another level of dimension that stops traffic – especially when the wind blows through your silky tresses. Make sure your pigment choices are complimentary.
#11: Sleek Vintage Bob
A chin-length bob, one of classic short bob hairstyles for black women, is really timeless. This is an excellent hairdo for shorter hair, especially during that endless span of time when it's growing. A few waves and curls give it that special 1920s elegance.
#12: Bobbed at an Angle
An angled, asymmetrical bob looks stunning with both straight hair and curls. Go for a medium length cut like this one so that the angle is sharper and more dramatic. Wavy texture will give the style more shape and fullness.
#13: Cute Layered Pixie Bob
Going for the big chop can be intimidating, but if you've suffered from heat damage, having the unhealthy ends cut becomes necessary. You don't need to go super-short, however. Choose a neck-length style that still offers some length to play around with.
#14: Stacked Piece-y Black Bob
The stacked angled bob provides a fabulous slimming effect. The long side pieces cover the ears and the sides of your face drawing the eye down and elongating your face. The back is full of choppy, piece-y layers that give nice volume there. Bob hairstyles for black women with thick, straight hair look truly exceptional.
#15: Glossy Steeply Angled Bob
Go for the look of a long bob with shoulder-length layers at the front and neck-length layers at the back. The A-line cut is totally alluring, and you can achieve it with your own hair or even a weave. The extensions will stylishly protect your own locks and no one will be able to tell.
#16: Short Thick Stacked Bob
Thick locks are something to be proud of, because thick hair is healthy hair. A stacked bob enhances the body of the cut even more. The swooping layers are refined enough for the workweek, but equally chic for a night out. It's important to keep your split ends trimmed so that your hair can keep growing long and full.
#17: Piece-y Black Bob with Partial Highlights
African-American women with glossy thick hair can easily pull off this chic inverted bob with lots of choppy, stacked layers in the back. The highlighted section is an unexpected splash of color. Feathered and flipped up peek-a-boo bangs and side pieces create a lovely frame to the face.
#18: Chic Layered Bob
The layers give this cut a graceful silhouette. They almost create a shag, especially due to the way the layers are so artfully stacked. That's particularly evident in the back, where the bob is gently rounded and structured. At the bottom line this bob looks as if it was cut bluntly.
#19: Short Jaw-Length Bob with Swoopy Layers
Simple can still be chic. A few swooping layers show off the dimension of the jet black color. If you want to boost thickness, try adding a few extensions. They aren't reserved just for those who want back-skimming locks.
#20: African American Short Curly Bob
The unique color, shape, and touchable curls of this short curly bob are what make it stand out from all the rest. The short layered back creates a nice contrast to the longer sides and front pieces that can be curled and tousled for a romantic, feminine bob hairstyle you'll love to wear.
#21: Curly Pin-Up Bob
Those curls are everything! This type of bob is evocative of pin-up styles popular in the 1940s. Even the color is on-point for the pin-up trend. Get the look naturally with coloring and straightening, or go for a safe sew in.
#22: Curls and Layers
Curvy curls and layers make this bob what it is – glamorous. This is the perfect style for medium hair, and the best part is that it will look just as amazing when it's worn straight and sleek. Just be aware that the angle of the bob isn't as obvious when there are curls involved.
#23: African American High Shine Bob
The smooth streamlined bob offers a flattering silhouette for most face shapes. The black hair bob is parted on the side and cut into a rounded shape that provides extra shine and fullness for fine, thin hair. Peek-a-boo bangs are the best compliment to most black bobs.
#24: Angled Layered Cut
The fullness of this African American bob has been achieved with stacked layers. The two-tone hair color solution contributes to the dimension of the ravishing style.
#25: Short Messy Black Bob
Even short styles can rock curls. Loose and wavy, they will add some texture to your bob. Tousle the hair a bit to create the perfectly imperfect look. It's the kind of messy that is actually super cute. You will need choppy layers to pull off this hairdo.
#26: Jet Black Bob
The wonderful thing about an asymmetrical haircut is its versatile and dynamic look. On one side you get to sport medium length hair, while the other side showcases a shorter look. Enhance it with your favorite jewelry.
#27: Back-Swept Curly Bob
Those chunky honey-blonde highlights add warm tones and texture, but the curls and the styling bring the magic. The way the curls sweep back, framing the face, is gorgeous. It's all at once – effortlessly glamorous and elegantly casual.
#28: Glossy Black Feathered Side-Parted Bob
Black hairstyles for medium hair benefit from chunky layers. They offer dimension that can get lost in a sea of thick, black tresses. The swooping bangs finish the bob with an extra touch of sass and allure. To treat your bob with a shiny finish like the one in the picture, moisturize your hair with a light oil.
#29: Extreme Side-Parted Bob
There's a reason bobs are the most popular black women hairstyles. Black bobs are versatile, easy to maintain, and almost universally flattering. A simple change of the part can transform the look of a particular haircut completely. This is just one beautiful example.
#30: Polished Inverted Black Bob
Clean lines and angles allow your bob to make a statement. Plus, the stacked back of the inverted bob pronounces its volume. Believe it or not, you can have a look that is full of body and still sleek. The extra fullness will keep the short cut from feeling flat and dull.
#31: Inverted Feathered Black Lob
A sharp side part and laid edges set the stage for the awesome feathered shoulder-length bob. The thick hair is cut steeply and long enough in the front to graze the collarbone and slim down your face. The back view is no less interesting with multiple feathered flipped up layers.
#32: Short Bronde Bob with Sliced Layers
The sliced feathery layers give this short bob a natural windblown look. A quick blow-dry and a shake of the head allows the wispy strands to fall gracefully around the crown with added fullness in the back. If you have healthy straight hair that doesn't need a lot of product to weigh it down, you'll enjoy this carefree style. The color is outstanding.
#33: Dark Brown Bob with Curled Ends
Curly hair doesn't always reveal a whole head of spirals and coils. Sometimes just curls at the ends can give you that cute touch you're craving. This style helps to tame the volume of your tresses. Work on your baby hairs for an even sleeker look.
#34: Voluminous Layered Light Brown Bob
The long swoopy layers can be combed over and fashioned into a fantastic voluminous bob for black women. It's a hairstyle that works best on women with straightened hair that can hold a curl. The neat styling with a round brush gives the hairdo a professional, womanly vibe.
#35: Black Tipped Beauty
This fantastic lob is perfect in the choice of color to complement the girl's skin tone, plus, it's expertly angled and sleeked with not a hair out of place – perfection in every aspect. Thanks to the medium length, this style is capable of achieving a ponytail – a bonus for an athletic hairlista.
#36: Cobalt Blue Bob
Industrial piercings and blue ombre – oh my! Blue is not for everyone. However, the trend on unusual hair colors with natural color at the roots is alive, so fear not and experiment with your favorite shades. Fashion is currently supportive of color-lovers.
#37: Black Side-Parted Curled Under Bob
Sometimes you might want to go short without actually cutting your hair. This is when you turn to weaves. Your long, natural hair will be braided and protected underneath, while you are rocking a chic short bob. Extensions are great because you can always change-up your hairstyle, without ever affecting your own locks.
#38: African American Brown and Blonde Bob
A two-tone straight hair bob might become your signature hairstyle if you choose sharp, contrasting colors like cinnamon/ginger or black/copper. The jaw-length bob with side-swept bangs can be grown out into medium hair – a classy lob, so you won't have to restyle it as it gets longer. Tuck it behind one ear and split the colors by the side part, enhancing the impact of the unique color palette.
#39: Black Bob with Feathered Scarlet Highlights
Even with so little length, bobs are the perfect opportunity to go bold. You may want to experiment with different colors. For example, this look uses the high-contrast palette of black and red. It's cool and edgy. But since it's a weave, you don't have to worry about being stuck with the bright colors.
#40: Dramatic Steeply Angled Weave
Bob weave hairstyles provide you with lots of versatility, especially for such short haircuts. They create volume and allow you to play around with length and layers without cutting off your valuable inches. With weaves, you have more freedom to express your personal style through your hair.
#41: Pastel Pink Balayage Bob for Black Women
Straight medium-length hair looks perfect in sleek bob hairstyles. Part your inverted cut on the side and fashion your shiny locks into a comb-over style that adds height to the crown section. The exotic pink-blonde balayage provides a surprising shock of color against the dark brown roots.
#42: Poker Straight Side-Parted Bob
African American bob hairstyles will never be a bore or a snooze fest. It is virtually impossible! If you are finding yourself growing bored of your current look, changing it up is easy. For those curious about bobs but feeling uncertain of the short hair commitment, simply try a weave bob!
#43: Short Chestnut Brown Bob for Black Women
This hairstyle proves that nobody can pull off the bob better than African American ladies. Your perfect bob is also waiting for you. Work with your stylist to get a customized cut.
#44: Long Bob Hairstyles for Black Women
A longer bob is flattering for all face shapes and is a great choice for those who are nervous about going too short. Add in some ombre hair color to lighten up the look of poker straight hair, or wear your bob curly when you're ready to mix things up a bit.
#45: Cropped Cut with Volume
There are a lot of fun options to choose from when it comes to selecting hairstyles for black women, and this cropped bob is one great example. Perfect for hair with a medium to thick texture, this short cut is layered and angled for added body and bounce.
#46: Super Straight Black Women Hairstyle
Natural hair is certainly lovely, but it's also very difficult to maintain and keep under control. Instead, consider relaxing your hair and cutting it into a medium bob.
#47: Sideswept Bob
Sleek and simple, this shoulder-length style is parted to the side, bringing out the eyes and reshaping the face. Perfect for both a day at the office or hanging out after dark with your girlfriends, this is an easy-to-maintain style you'll love.
#48: Long in the Front, Short in the Back
Black women hairstyles don't have to be simple – instead, you can embrace almost a completely different style on the front and back of your head. Sporting a style with bangs can completely transform your regular look into something ultra chic!
#49: Straight Hair with Color Accent
Using some creative color can really make your style pop. This sleek, straight style is made even more beautiful with strategically placed dye throughout the strands. Graduated hues from black to gray plus some blue lowlights beneath make this style fun and sassy.
#50: Vibrant Bob Hairstyles for Black Women
All-over unusual pigment can really revolutionize a woman's image, as is exemplified by this cropped cut with a distinctly blue hue. Try some chunky curls all over the head to infuse even more whimsy into this style.
#51: Cropped Bob
Try a cropped bob when you want a short, hassle-free style that still looks good in all circumstances. Add in some streaks of color to brighten up the attitude this style so easily brings.
#52: Steeply Angled Cut
Dramatic and always in style, the classy angled bob with longer front layers will flatter almost any face shape. You will want to get your hair relaxed first to cut down on daily maintenance hassle.
#53: Vintage Bob
Reminiscent of the 1940s with pin-curled bangs, this black bob hairstyle is an inspired throwback that'll look great for a special occasion or even everyday wear. Be consistent with the decade by pairing your bob hairstyle with bright lipstick.
#54: Natural Bob Haircuts for Black Women
No frills, no fuss – just simple beauty achieved with black hair curled subtly with a large-barrel iron. Add in some natural but fun hair color like auburn or very understated purple. This hairstyle lifts hair up and away from the face, brightening your overall look.
#55: Cropped Red Statement
Make a statement with your hair by going with a red hue not found in nature. This fun burgundy shade is sweet, sassy and confidence-boosting. Comb it straight forward to add body and bangs. Of course, this bob haircut is just one of many options out there, but you will definitely love the versatility of this look.
#56: Stunning Inverted Bob
An inverted bob, featuring grades at the back and accentuating your beautiful neckline, works awesome for slim ladies with thick hair. If it's also complemented with a successfully chosen hair hue, the effect will be breathtaking.
#57: Bob Cut for Adorable Curls
Nazanin Mandi's perky curls have found their ideal length and haircut silhouette. Her curly black bob offers the beautiful rounded shape on one hand and fantastic bouncy texture on the other.
#58: Long Bob in Fluffy Curls
Keri Hilson's tousled touchable curls have turned many heads at the "Think Like A Man Too" premiere. If you fancy duplicating the style, be sure to take care of the basic haircut. A long bob will do just fine.
#59: Choppy Lob
By the beginning of September Garcelle's tresses had grown out enough to graze her shoulders, and the actress upgraded her long bob with the choppy finish for the ends. The Instyle Hosts 20th Anniversary Party was graced by this lovely wavy lob from Garcelle Beauvais, who remained ravishing at her 47.
#60: A-Line Bob with Long Side Bangs
Meagan Good's romantic hairstyle with large defined curls is done on the basis of a medium-length A-line bob cut with long swoopy bangs. It looks just awesome when styled off-centered.
We wish you to select your perfect bob that will emphasize the beauty of your face and offer you a variety of styling options!
Sours: https://therighthairstyles.com/10-showiest-bob-haircuts-for-black-women/
21 Sexiest Bob Haircuts for Black Women in 2021
Curly Bob for Natural Hair
Instagram @samiraxaviier
First date or even an everyday style? Flaunt your luscious jet black hair with blonde highlights with your natural curls for a confident look in this curly bob.
A-Line Bob
Instagram @onpointstylin
An A chop that is effortlessly good. The longer front ends makes an illusion of longer hair that flatters round and oval-faced black women.
Layered Bob
Instagram @tananjalastylz
The waves added fluidity to this modern bob cut for black women. The short hair appears fuller due to the different cut levels made by stylist Tan.
Stacked Bob Haircut
Instagram @oluchizelda
Add even more dimension to your look by styling your beautiful layers in a deep side part. This will showcase the cut especially with auburn highlights.
Graduated Cut
Instagram @queenstylista
Show off your natural black hair in a new bob cut! This look is perfect for black ladies who want a low-maintenance hairstyle.
Inverted Bob Hairstyle
Instagram @hairbymeeka
Be unique and glamorous with this extra bodied inverted bob hairstyle that will blow you away! Combined with its dark, angled layers and long side bangs, it will absolutely bring out the best in you.
Blonde Bob with Bangs
Instagram @beautified_by_thi
A sassy blonde jaw-length bob like this is a perfect match with a cute choppy fringe. This will undeniably give you a feminine touch in your daily look.
Lob with Layers
Instagram @anthonycuts
Try this ash blonde hair on your tan skin and spice it up with this angled long bob with layers that will surely make everyone envious of your look!
Deep Side Part Bob
Instagram @owner_of_najheirs_salon
A charmingly sleek, feminine asymmetrical lob with a deep side part. This is one of the sleekest bob hairstyles for black women you'll see this year!
Sew-In Bob
Instagram @candaceb_thestylist
Tired of your boring brunette look? Mix things up by accentuating a section of your sew-in bob with a caramel shade, and while you're at it you can throw in some subtle highlights too.
👉 See more sew-in hairstyles for black women.
Asymmetrical Bob Cut
Instagram @drose_affect
Complete your fashion week look with a chic jaw-length, asymmetrical, and sleek jet black bob haircut.
Sleek Middle Part Bob
Instagram @tash_mel_styles_
Be the freshest look in the club with a perfect rich black hair that's elegantly parted from the center.
Jaw-Length Bob
Instagram @theglamlounge1
Give your rounded bob cut soft movement and body with a dramatic side fringe. This shape looks most beautiful on long, oval, or square faces.
Short Bob Cut
Instagram @kthestylistb
On this high-fashion cut is a gorgeous sharp angle bluntly cut from back to front. It takes the weight off thick hair while giving an absolute voguish asymmetrical short bob haircut black women love!
Pixie Bob Haircut
Instagram @tjstyling
Join the short hair gang with this classic and fancy bob combined with a pixie cut! Give your African American hair sass with full bangs and some female sideburns for a real edgy look.
👉 See more African-American hairstyles.
Side-Parted Bob
Instagram @stylebydejj
Slay like a glam queen with this asymmetrical side-parted bob cut! With the deep parting, you can show off your fabulous face and make-up for a really marvelous look!
Straight Line Cut
Instagram @allshadescovered
There's nothing wrong with being a little extra darling! Rock this mid-parted bob marvelously especially when you have a short, heart-shaped or round face.
Feathered Tresses
Q&A with style creator, Tracy Westmoland
Salon Owner / Stylist @ Straight Off The Press Salon in Hazelwood, MO
How would you describe this look?
This look is a silk press, honey blonde color, trim with soft curls and a wispy feathered bang. The loveliest thing about this look is the bang. I just love how the bang adds a little edge and class. Bob haircuts for black women can feature a color combination like this one for a very flattering finish.
Any advice for someone considering it?
This bob is perfect for black women with medium/long hair types. When clients have color in their hair, it's important to keep their hair deep conditioned at least every two weeks. To preserve the curls, pin curl the curls in place with a bobby pin and then place either a silk bonnet or scarf over them.
A-Line Lob
Q&A with style creator, Whitney Green
Hairstylist @ Warren Tricomi in New York, NY
---
How would you describe this look?
This is an A-line bob haircut, where it is a bit longer in the front than the back. It frames and flatters the face without being heavy on the layers or length. The bob is a trendy look from last year. There are so many different types of bobs out there from shaggy, textured, angled bobs etc. This haircut is such an easy hairstyle to maintain while keeping styling to a minimum, and can be worn for formal occasions or just hanging with your friends.
The color used was a cool brunette gloss, which goes well with anyone with natural brown hair. The gloss helped removed the dullness from her hair while enhancing the color a bit and adding some shine as well.
Any advice for someone considering it?
This haircut I consider it a universal cut as it works well on any texture of hair such as straight, wavy, or curly. If you're looking to make your hair appear fuller, the shape of the bob can accomplish that. Depending on the length and angle of the bob, this haircut can work with just about any shape of face out there.
To create more volume on the sides (longer shaped faces), I suggest a jawline length for this look, if you want to create a look for a round or more angular shaped face then I suggest a longer cut. Like I said anyone could wear this haircut just ask your hairstylist what he or she thinks goes best with your face shape.
Given that she is a natural and has pretty tight curls, this look can be achieved best doing flat iron curls. Typically, I would do the curls super tight, however, for this look I did the curls with a flat iron doing small sections at a time, going in the opposite direction and not letting the curls cool tightly but instead running my hands through them as they cool to create a more relaxed curl.
In terms of products, my rule is to use a heat protection to protect your hair when straightening and as well as to give it some shine. I used Ciment Thermique Blow Dry Primer by Kerasyase as a heat protection to protect the hair before blow-drying. I added in the Elixir Ultime hair oil by Kerastase as well to give the hair more shine before styling and after styling for next day hair to come. Lastly, I used another heat protectant for the hair before straightening or curling called Sérum Thérapiste Hair Serum by Kerastase. As the final touch, I sprayed a lightweight texturizing hair spray by Shu Uemura called Texture Wave Dry Finishing Spray just at the ends of the curls and a finishing spray all over so that the look will hold for the next week days.
Angled Bob
Q&A with style creator, Zamar
Master Cosmetologist @ SimplyZamar in Sandy Springs, GA
---
How would you describe this look?
This is an elongated angled bob style for black ladies with style. One side (pictured) is longer for a dramatic effect. This is a custom unit I handmade and colored jet black per client's request. This style is sleek, sexy, and has lots of movement. The most gorgeous things about this look are the precise cutting and movement in the bob.
Any advice for someone considering it?
I think this cut/style can go for any face shape with small modifications (i.e. oblong face shape would be shorter, rounder face shape can be longer). This hairstyle is low maintenance and perfect for anyone looking for something classy yet sexy.
Blunt Bob
Q&A with style creator, Dustin Harton
Hairstylist @ Salon XXIV in Atlanta, GA
---
How would you describe this look?
I love this blunt bob because it gives off a sexy, sleek, grown black woman style! I wanted to make sure she had a great color that would fit her skin tone as well as a style that would complement her face!
What I like most about this look has to be the versatility you can do with the style. You can go from a sleek straight look to messy curls on the same day!
Any advice for someone considering it?
Make sure the style is for you! Are you going to be able to take care of this style? Do you feel like style will compliment you? Is it going to be easy for you to maintain? Are you going to use the products I would like for you to use in-between visits? It's really good for clients to know the difference between the cute picture of the hairstyle they show the stylist, versus the reality of taking care of the style they've chosen!
Sours: https://www.latest-hairstyles.com/black/bob-hairstyles.html
12 EASY SHORT HAIRSTYLES! ✨
50 Impossible to Miss Bob Hairstyles for Black Women
Do you want to try a short bob but fear that it might not work with your face shape or hair type? We have a list of beautiful bob hairstyles for black women, and we're sure you will find the cut, color, and style for you.
Find your dream bob hairstyle or a few black bob hairstyles to try out in the future.
1. Golden Blonde Piece-y Bob. Sometimes a piece-y stacked bob is all you need to take your look to the next level.
2. Inverted Bob with Caramel Highlights. Having highlights only on the top of your hair is a bolder take on the original highlight look. These chunky caramel pieces are a pretty accent setting off the long front layers of the steeply angled bob.
3. Symmetrical Blunt Straight Bob. How cute is this cut?! It's great for ladies with thin hair who want to start fresh and embrace the texture.
4. Black Layered Bob. Layering allows you to have a perfect shape and helps with volume.
5. Unicorn Medium Bob. Upgrade your mid-length cut with a fancy dye job!
6. Shiny Burgundy Bob. To avoid a lot of maintenance with this style, start the color a little lower on your roots so you can minimize your trips to the salon for touch ups.
7. Jet Black Cute Bob. There's a huge difference between a natural black and jet black hair color. Going for that jet black hue will seriously brighten your skin and add shine to your hair.
8. Feathered Red Bob with Long Face-Framing Pieces. Check this awesome example of a gorgeous cut and standout color! You won't stay unnoticed for sure.
9. Chocolate and Caramel Curls. We love the contrast of colors in this style. Add texture with curls at the bottom of your hair using a medium sized curling iron.
10. Feathered Light Brown Bob. Look how beautiful the layers fall in this style. The cut instantly draws attention to your jawline and collarbone. And this hair color! It is gorgeous.
11. Chic Feathered Bob. Calling all thin-haired ladies – you'll want this look ASAP. The feathered cut will highlight your thin locks by adding texture and bounce.
12. Half-Shaved Bob. Go for a daring asymmetrical look. All the attention will be on your longer locks, and this gives you the freedom to play around with texture.
13. Stacked Caramel Bob. The steeply angled shape and feathered layers build an awesome style. Only a delicate color can make it better.
14. Choppy Blonde Bob. To get that chic, messy look, try a choppy cut so that your layers add texture to your hair. Spray some dry shampoo to enhance the effect.
15. Collarbone Weave Bob. If you want some extra length, thickness or a new texture, try a weave so you can instantly achieve the style you dream of.
16. Black and Blonde Bob. Instead of dyeing your whole head a new color – try a half black half blonde bob. Having a side part where the color is different will give you an edgy look.
17. Angled Platinum Bob with Side Bangs. As far as classy bobs go, this is one that you must try at least once! The angled cut allows you to keep some length in the front and lets you have fun with a fringe and face-framing pieces.
18. Short Black Bob. A sexy bob cut that is edgy yet chic. Keep it straight and frizz-free for a polished look or try light waves for an effortless twist.
19. Burgundy Bob. Go for a darker shade of red and a blunt asymmetrical cut above the collarbone for a sexy vibe.
20. Short Bob with Bangs. Front bangs instantly give you a chic, fresh flair. Black hair bobs are always in style and can perfectly frame your face and cheekbones regardless of your face shape.
21. Wavy Shoulder Length Bob. A lighter color will pop against your skin tone and brighten your entire complexion. Don't be afraid to try out a lighter shade of brown or blonde during your next trip to the salon.
22. Asymmetrical Bob Hairstyle. The asymmetrical style is eye candy from every angle!
23. Curly Blonde Bob. Curls add the texture that you might be missing, and they can be as loose or tight as you wish. For a beautiful contrast with your skin tone, go for a bright blonde color.
24. Inverted Platinum Bob. The greatest thing about the inverted bob is that you can enjoy a short length in the back and have some longer pieces in the front to style wavy, curly, or poker straight.
25. Blunt Blonde Bob. If layers aren't your cup of tea, go for a blunt cut straight across. Thick-haired ladies will love this cut because it's easier to manage.
26. Inverted Shoulder Length Bob. Let your natural color peek through with this sexy style.
27. Magenta Red Side Part Bob. Bob haircuts for black women may get a bit repetitive – but you can use color as a way to spice up your look and make it stand out.
28. Butter Blonde Stacked Bob. Shorter layers that get longer towards the front bring height and texture back into your hair. Style it straight or do light waves.
29. Sleek Blunt Lavender Bob. Show your love for your favorite scent or color with this style. You can have an ombre or go full lavender – the choice is yours.
30. Pink Short Bob. We love this soft baby pink color with the angled layers.
31. Shiny Black Side Part Bob. Make black chic again with this polished side part cut.
32. Straight Black Bob with Front Bangs. Front bangs that graze your eyebrows are super versatile and can be combed to the side to switch things up!
33. Curly Auburn Bob. For maximum volume, style tighter curls with a big barrel and make sure to curl each piece alternating directions for extra texture.
34. Inverted Bob Hairstyle with Color. Having those longer pieces in the front, you can play around with colors and finishes.
35. Centre-Parted Curls. Who says the middle part flattens your hair? With curls all over your hair, you can have the same amount of height and volume as you would with a side part!
36. Stacked Inverted Bob. Super short layers in the back will add tons of volume in this style – wear it straight or do loose curls for a cute, softer vibe.
37. Black Angled Peek-a-Boo Bob. Feathered layers on top with longer layers towards the bottom of your hair will really turn heads and allow you to have the best of both worlds in terms of length.
38. Red Flowy Bob. Longer layers with a sleek finish make your hair look like a waterfall. Choose a vivid color or consider pastels.
39. Slightly Angled Blonde Bob. The shape and color are chic and fresh!
40. Sleek Graduated Bob. If you want extra shine, run your straightener through your hair and turn it slightly up to leave a bouncy effect.
41. Chic Black and Blue Bob. Give your accurate look an upgrade with an electric blue at the ends of your hair.
42. Rose Gold Bob. Try mixing blonde with a bit of pink to get a rose gold tint. Leave roots dark.
43. Black Bob with Blue and Pink Streaks. Consider thinner peek-a-boo highlights to get a streak effect. You can style this look straight or curly to show the different colors in your hair.
44. Electric Blue Bob. Make a statement with a bright color that will shine in any season!
45. Blunt Black Bob with Front Bangs. You can try a weave or go for a blunt cut on your hair – either way, you will look super chic with this style.
46. Chic Black Waves. To get that perfect wave, use a smaller curling iron for shorter hair and hold your hair on the iron for about 15 seconds. Remember to curl in different directions to get extra texture.
47. Blowout Curls. Instead of using a curling iron, try rollers and then blowout your hair to form those bouncy, fuller waves.
48. Sleek Bob with Feathered Bangs. This ravishing peek-a-boo bob is just the thing to pair with the cat eye!
49. Textured Angled Bob. Stacking the layers short with a few long pieces added in the front and side bangs can help bring texture and life back into your hair.
50. Timeless Short Stacked Bob. This sophisticated hairstyle is always a go-to and will look great on all face shapes and hair types!
Bob hairstyles for black women are a feast for the eyes. Don't shy away from shorter cuts, because it can add texture and volume to your hair. Hopefully you have found some inspiration in this list and came across your dream bob cut!
Sours: https://www.hadviser.com/bob-haircuts-for-black-women/
Bob black hair hairstyles straight
55 Cute Bob Hairstyles For Black Women
The classic bob is a haircut that will never, ever go out of style. It's been around for centuries, and it will likely be around for centuries more. There are numerous types of bobs, and each one offers up a different look that can suit your personality while still being suitable for your career, a formal event, or even something casual.
Here, you will learn more about black bob hairstyles, how to choose the right one for you, and some different tools and tips for styling them.
Best Bob Hairstyles For Black Women
Sleek Bob
The sleek bob is exactly what its name implies – a smooth, straight style with a great deal of shine. It can be symmetrical or asymmetrical, it can be short or medium in length, you can choose bangs or no bangs, or you can go with a middle part or side part to make a sleek bob your own.
Curly Bob
The curly bob can be made of tight curls or looser curls depending on your unique style. Cascading curls are amazing for medium hair. If you're going for volume, tighter curls stacked on top of one another in a bob shape can certainly make a statement, too.

Asymmetrical Bob
This haircut is longer on one side than the other or longer in the front than in the back. It's gorgeous, especially when combined with some expertly-placed highlights. It's also one of the most common black weave hairstyles since the asymmetrical shape is easy enough to sew in and maintain.
Banged Bob
If you're looking for serious sass and want something a little more youthful, a banged bob might be your solution. By building chunky bangs into layers throughout your style, you'll get some serious eye-catching movement out of it, too.
The Undercut Bob
If your edgy personality calls for an edgy cut, one of the most popular black hairstyles for black women is the undercut bob. Simply put, hair at the nape of the neck and around the ears is cut close to your head, but hair on top is left long and silky. Tucking your hair behind your ears can help show off your inner rebel but styling it as usual is perfect for the career-minded.
Medium Length Bob
Finally, if you're a fan of the elegant bobs of the 1920's, then the vintage bob – medium-length and side-parted – is your best bet. Medium length hairstyles allow you to have waves or curls so you're not stuck with the same style day in and day out.
The Layered Bob
Adding layers into your bob will give your hair texture. Layers can be incorporated into any short bob hairstyles for black women for an added style.
How To Style A Bob Hairstyle
No matter which bob style you choose, styling will require the use of some tools and perhaps some products.
Heat Tools
Straight irons are necessities for sleek bobs, and curling irons are important for creating waves. Choose a tool that's the right size for your hair length and comes with a variety of heat settings for getting the right temperature. This set from HSI is an affordable choice that offers both tools with the most important settings.
Shampoo and Conditioner
A good shampoo and conditioner is imperative for gorgeous black hair bobs, and this set from Shea Moisture does the job. It contains ingredients like Jamaican black castor oil to protect hair and create some serious shine.
Styling Products
Styling products that help set your style in place are also important. Choose hairsprays, gels, and creams that provide you with the right level of hold and shine for your needs. The possibilities are endless.
Bob Hairstyle Tips
To get the most out of your bob hairstyle, take some tips from the pros:
Use a natural-bristle brush to help spread oils through your hair from scalp to root. Brush your hair morning and night to keep it soft and manageable.
Trim your hair every four to six weeks to keep split ends and growth at bay. This is even more important for styles like undercuts since regrowth is far more noticeable
Sours: https://www.loveambie.com/bob-hairstyles-for-black-women/
Medium Straight Bob Hairstyle - Black
Take a look at these trendy bob hairstyles for black women and see how rainbow colours are being used in mainstream popular hairstyles.  Asymmetrical bobs make great African American hairstyles for thick, straight or curly locks and there's a trendy bob cut to flatter every face shape!  This fresh gallery of gorgeous African American hairstyles shows the latest cuts and some truly fabulous new colour ideas!
Long straight blue African American hairstyles
Bob hairstyles have been with us for a couple of years now, so what can you do to add some extra razzamatazz to your smooth, chic bob hairstyles?  Well, you can dye any hairstyles for black women royal blue to get you started!  The asymmetrical long bob is of the most popular hairstyles right now and the haircut below flatters a round or oval face shape.  The long, sleek lines are gently curved in to avoid the stick-straight look of yesteryear and the rich blue around the top is gently faded into a sea-green ombré at the ends. The 'curtain' of hair drapes down from the forehead to create a long, sleek oval face-frame that will break-up the circle in a round face and slim down cheeks.  The centre parting is only suitable for faces that are naturally oval, on other face shapes an off-centre of deep side-parting will give you a flattering finish!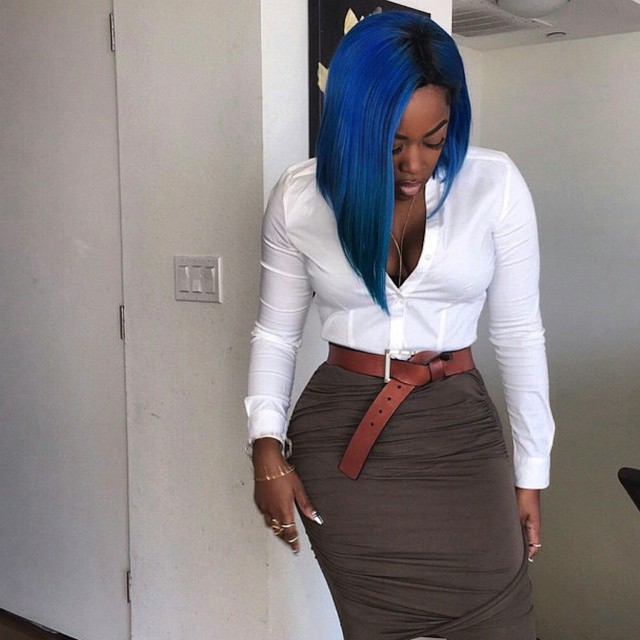 Chic straight bob hairstyles with purple tones on black hair
The latest African American hairstyles are full of lively colour ideas and this super-shiny medium bob is a fabulous choice for a sophisticated, woman-about-town!  The hair is cut in sliced, vertical layers and carefully shaped to curve under at the blunt-cut ends,  with a strong, solid outline.  This is one of the new African American hairstyles that suits oval, round and square faces as the hair hangs over the sides of the face to cover a strong jaw.  And finally, to achieve this fantastic purple shimmer through the hair, long sections have been lightened and tinted soft lavender.  Blue and purple tones suit cool complexions.  We love this strong, but gentle bob hairstyles idea for black women!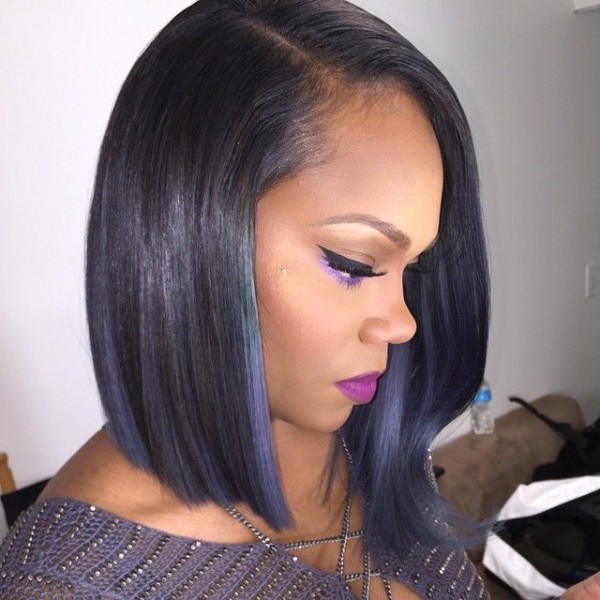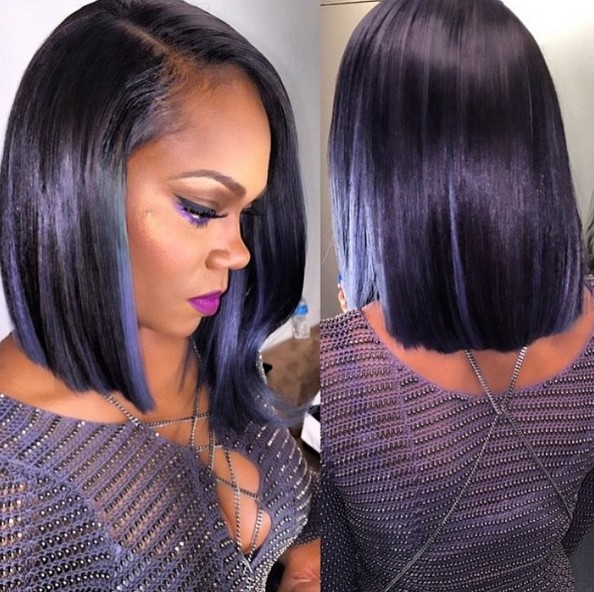 Coffee-brown African American bob hairstyles with ash-blonde stripes
This trendy bob is one of the popular hairstyles for  gals who like a well-organised and neatly styled look!  It's a medium-long asymmetrical bob on cool coffee-brown hair featuring a lovely precision cut.  The strong angle from a short, stacked-back to below the chin is perfectly accentuated by the contrasting ash-blonde stripes .  This is another of the African American hairstyles that's great for thick, straight hair with natural volume.  Side partings like this are suitable for round, oval and square face shapes; notice the shorter strands cleverly added around the face to soften the line. Stylish, easy bob hairstyles for black women will be very popular again for spring/summer , freshened up by the new trend for ash-blonde and ash-brown highlights!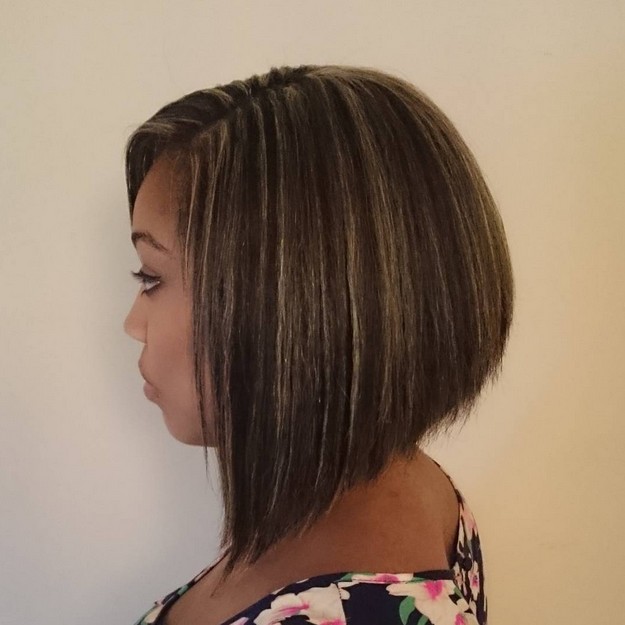 Bobylicious blonde African American bob hairstyles with 60's vibe
Suitable for straight, thick hair this is another of the mainstream popular hairstyles for spring/summer.  The fashion shops are full of 50's and 60's vintage clothing and this back-combed (teased) version of asymmetric hairstyles for black women is perfect to complete your look!  The all-over blonde in white-gold blonde is a good choice for warm skin tones and the dark roots will add edgy contrast as the hair grows. Chin-length bob hairstyles hover around the jawline and suit almost all face shapes.   This bright blonde version also features a side parting and extremely long, peek-a-boo bangs over one side of the face. It's is a sophisticated, semi-formal bob hairstyles' option that you can wear for work and with a cocktail dress for formal events or girly nights out!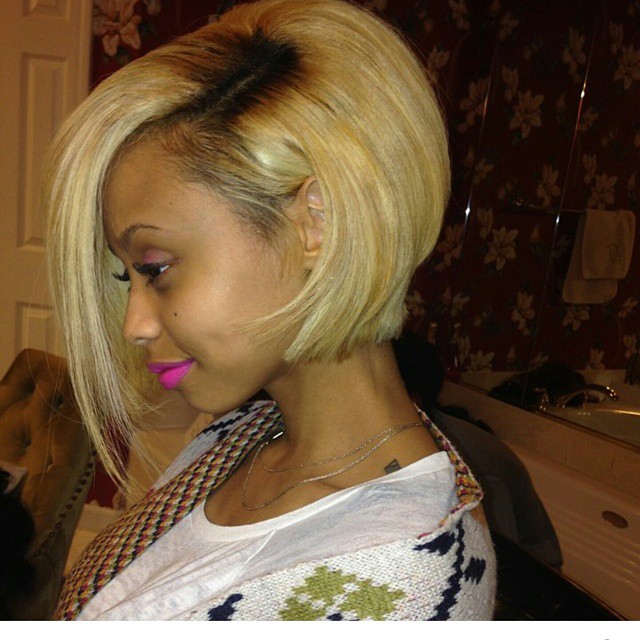 Straight bob hairstyles for black women with honey-gold tones
Colored mob hairstyle for African American ladies. These well-controlled bob haircuts for thick hair are perfect hairstyles for black women with straight hair.  They're also one of the most popular hairstyles for flattering a range of face shapes, including round, square and long!  And once you've got the bob cut, the shape will fall into place after washing ready to be blown-dry.  The shape is beautifully curved from the stacked-back bump of volume at the back to the sexy peek-a-boo side-swept bangs.  Medium bob hairstyles let us play around with bright highlights – end-trims every 6 weeks stop the worry of dry, long hair.  This asymmetric bob is a gorgeous blend of warm honey, gold and caramel highlights in the front and sides contrasting with the deep coffee shade at the back!  Deeelicious!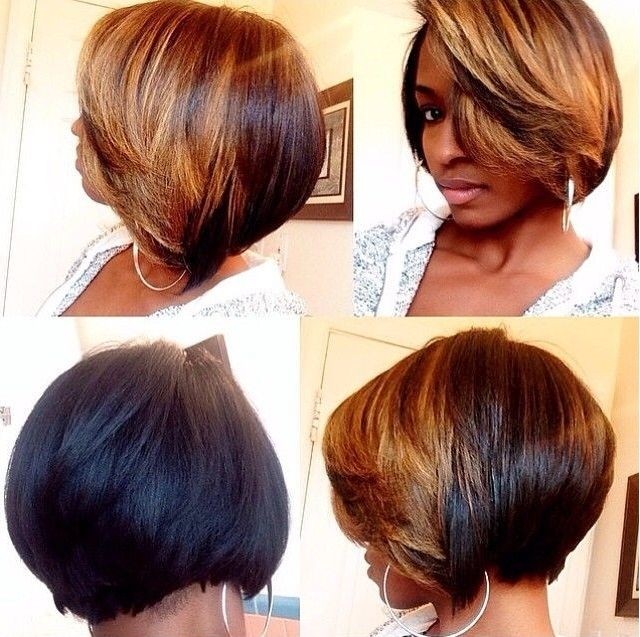 Sea-green African American hairstyles on long bob cut
One of the most flattering colours to bring out the colour in brown eyes is sea-green!  In the past, brown-eyed gals often wore just a touch of green eye-shadow to accentuate their eye-colour – but things are different now. If you want to make a real fashion splash, you need to get some striking colour in your hair!  The long, blonde hair with green tips mermaid look is set to be big for summer.  So if you can't beat 'em, join 'em with a striking ocean-green ombré on stylish African American bob hairstyles like this!  Suits oval and heart-shaped faces – just look at those dark, sultry, unfathomable eyes! This lob is perfect for medium to thick hair.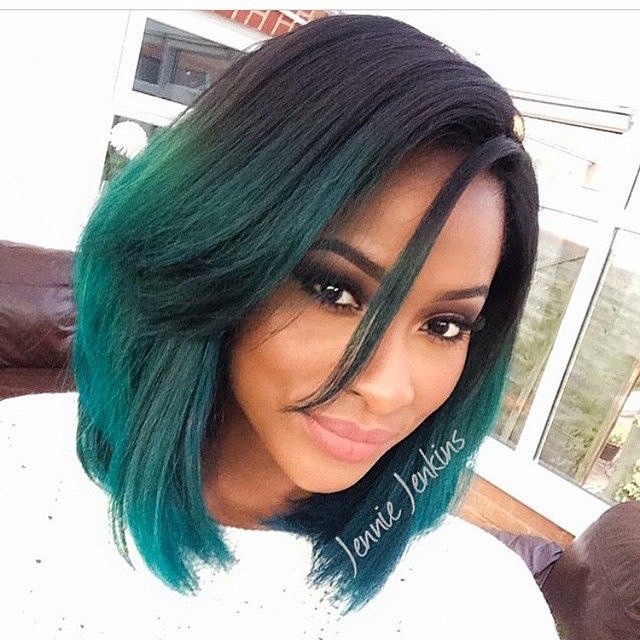 Blonde bob African American hairstyles
I love the way that straight hair is being cut into curved shapes in the latest bob hairstyles for spring/summer .  I hated the stick-straight, flat head styles because they could be so hard and unflattering.  Curls don't suit everyone either, but asymmetric bobs with curved shaping make everyone look great! The choppy curvy bob is one of the most popular hairstyles for women with round faces, as a side-parting, thick bangs and chin-length make round faces more oval.  On long faces, chin-length bob hairstyles focus the attention up and styled with more volume at the sides, add width to balance long  or thin face shapes.  This confident blonde colour harmonises perfectly with the model's cool skin-tone.  Love the DA detail at the nape!
Extreme cuts for straight African American hairstyles
Here's a natural black version of the extreme, uneven bob hairstyles for thick hair shown above.  It suits oval faces and, if your face is round, this style will suit you by minimising breaking the curved lines of a circular face shape. The black hair colour really accentuates the strong lines of this geometric bob hairstyle, with downward movement at chin level to give the impression of a longer face.  With just a touch of textured pattern at the tips, it's a chic, classy version of popular bob hairstyles for black women and easy to style, too!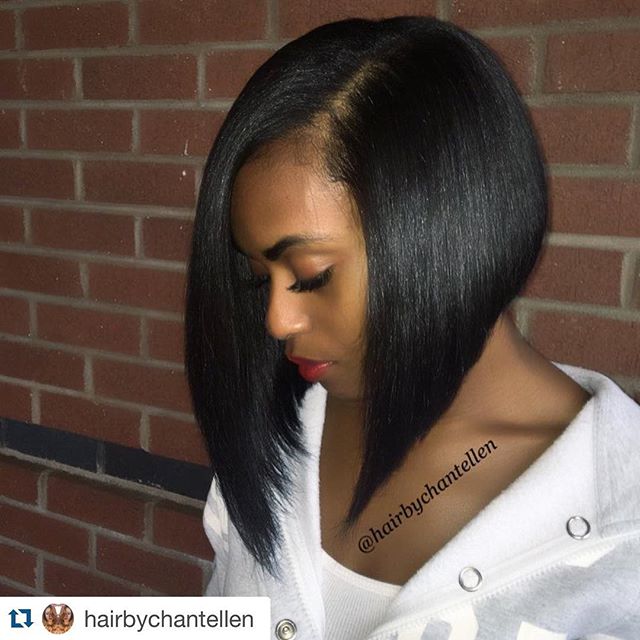 Long bob hairstyles copper ombré on coffee-brown hair
Lob for fine thin hair. Simple bob hairstyles like this long, straight cut can be very striking on an oval-shaped face – although not recommended for round, angular or square-faces.  Popular hairstyles are designed to bring your face shape back to the oval 'ideal', but if your face is already a perfect oval – you can choose simplicity!  To add style to otherwise plain hairstyles for black women, add a pale paprika or copper ombré from eye-level to the ends.  Carefully matched to suit your skin-tone, this really accentuates the eyes, lips and jawline.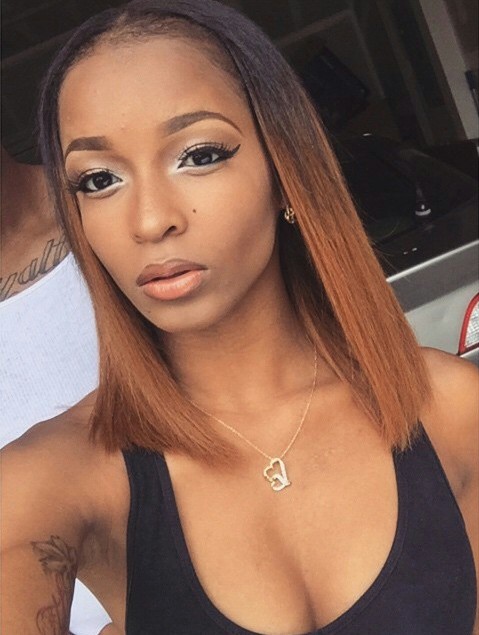 Dove-grey & purple bob hairstyles on coffee-brown base
Ooh!  Colour me cool as ice in this formal bob hairstyle for black women with a taste for high-fashion!  It's another innovative colour design transforming a smoothly curved bob into a beautiful, show-stopping coiffure featuring dove-grey and purple highlights!  The result is a very classy A-line bob with an off-centre parting and long bangs draped seductively over one eye.  This African American hairstyles' option for a special occasion suits thick straight hair and most face shapes. The gentle, lavender-grey tint creates a softer face frame than a brunette shade and the purple underlayers draw attention to a good bone-structure and chin!  Fantastic! Don't like this cut? Try the pixie haircuts!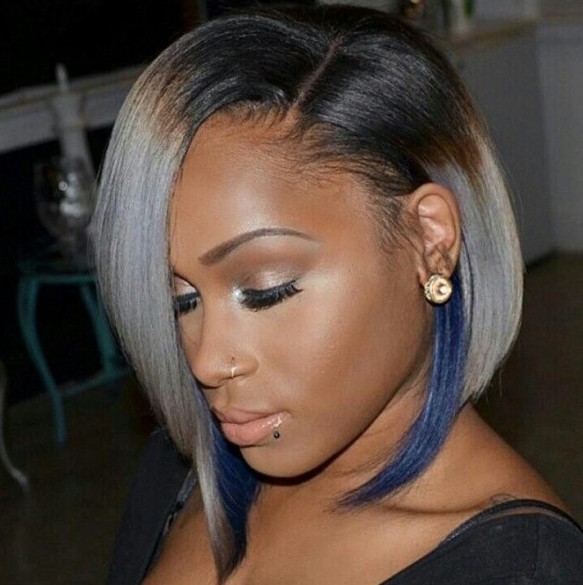 Curly long bob with centre parting on black hair
One woman's bad hair day is another one's fabulously casual, curly bob!  And I say that as someone who always dreamed of having hair that 'flows like an ebony cloud' around my shoulders! This is currently one of our favourite daily African American hairstyles, as it's young, natural and an easy hairstyle to tousle in the mornings.  A centre parting only suits oval faces, but if do you have an oval face, it's a very trendy look!   Get this naturally popular hairstyles' choice with a long-layered bob and textured tips for a soft and feathery outline.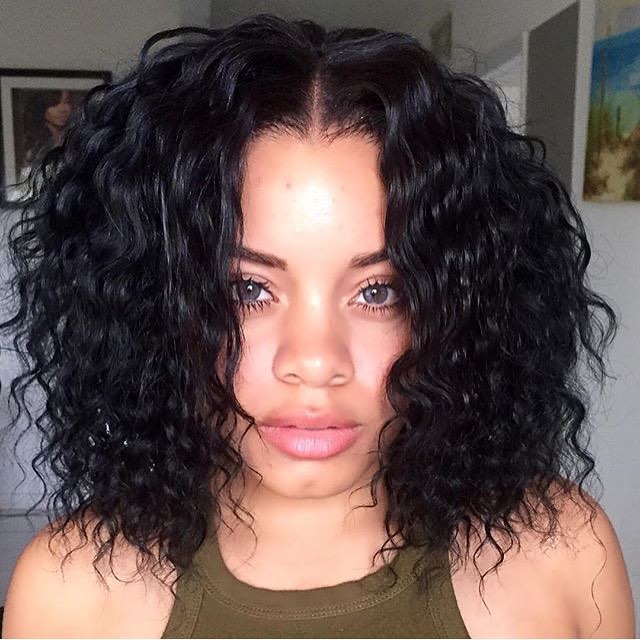 Geometric African American hairstyles on straight black hair
This precision-cut geometric bob hairstyle is a good choice for anyone with a long face. The deep side-parting and swept-forward full bangs are a really effective way of minimising the length. Then if you keep the bob to chin-length, all the focus remains on the face creating a beautifully-balanced shape.  The back is stack-cut to take advantage of the model's thick hair and don't miss that fab strongly-angled back, borrowed from high-fashion Japanese haircuts.  With the popularity of neck tattoos, short bob hairstyles with a stacked section above the nape are the perfect way to show them off!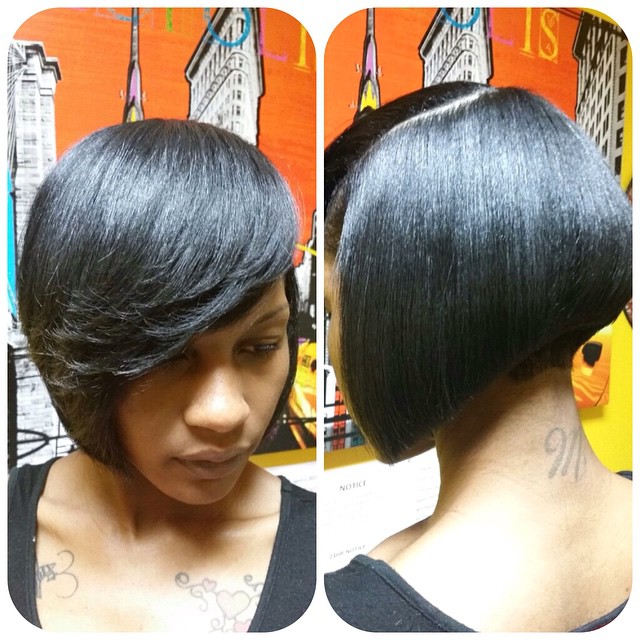 Casual blonde long bob hairstyles with loose wave for oval faces
Here's another of the popular hairstyles for black women who like a casual look.  This medium-blonde long bob is a flattering shade for black women who have golden or olive in their skin-tone and it harmonises perfectly with brown eyes.  The model has an oval face, so she can wear a centre parting with curves that gently cover the corners of the forehead.  If you have a round or heart-shaped face, this loosely waved bob will suit you, if you change to an off-centre or deep side-parting.  The hair twists into the wave pattern at eye-level, accentuating the eyes and cheek-bones, and wavy movement away from the face can add width around a pointed chin.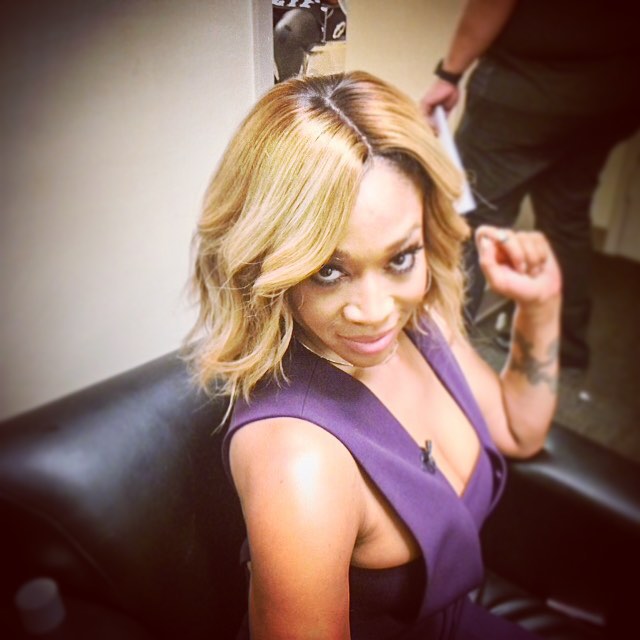 Wavy bob hairstyles on black hair with copper and gold sections
This bold balayage colour design is one of the colour trends for spring/summer,  we'll be seeing a lot more of!  It's a confident look with large sections of hair tinted in gold and copper shades to create a fresh alternative to dip-dye and ombré colour patterns.  The hair is cut in long layers ending a couple of inches below the collar-bone and then big, bouncy waves are added.  This creates the side-volume, texture and sheer, swishy gorgeousness of the latest, classy bob hairstyles for black women!  Suitable for a long face shape, the 'flat' top, side parting and diagonal bangs minimise the length and the side-volume is a great way to add width.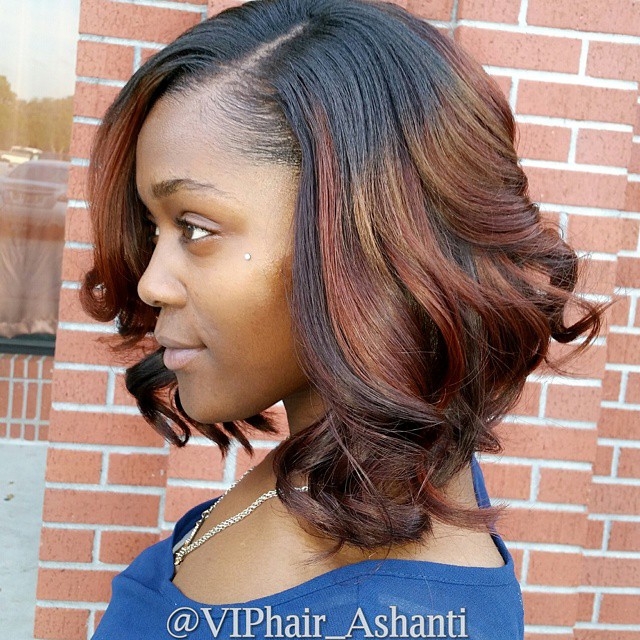 Messy casual bob hairstyles with centre parting for oval face
This is one of the popular hairstyles favoured by off-duty fashion models, who have an oval face shape and can carry off the centre-parting.   It works well on medium – thick hair that's straight or with a slight wave, with shaggy layers starting about half-way down the hair length.  The tips are textured to create a slightly ragged, messy bob hairstyles' outline and the back is slightly shorter, so you get a shaggy angle down to the front in the profile.  Although this is a straight, African American bob hairstyle, the  long sliced layers create an attractive curved outline and you'll get more focus on your eyes if you style it back from the face!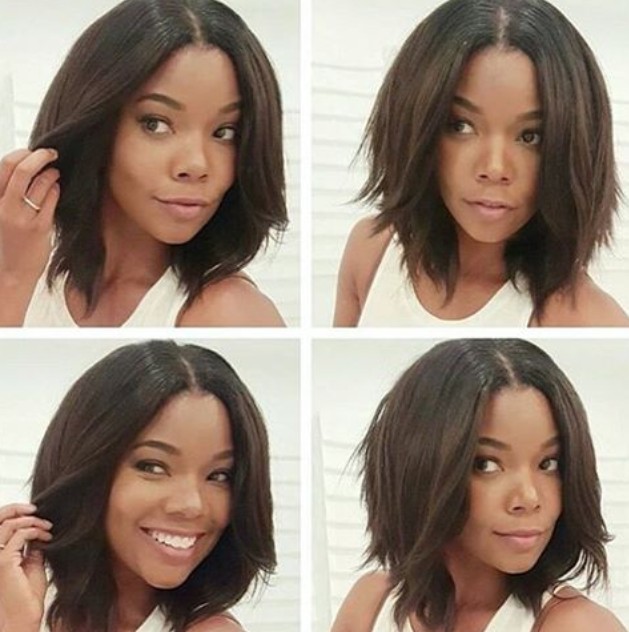 Curly long bob hairstyles with blonde highlights on black hair
Looking out for high-impact African American hairstyles to wear at a special event or as a chic daily hairstyles choice?  Take a look at this super-cute bob with lots of asymmetry and a stunning yellow-blonde- on-black contrast.  It's high on our list of popular hairstyles for spring/summer, as a totally fresh bob cut and colour. It's suitable for straightened hair, cut with a stacked back flowing down in a steep angle to finish in cute, ringlety curls just past shoulder level.  The side-parting creates a lovely wave around the hairline in this feminine African American hairstyles' stunner that suits oval, square, heart and thin faces!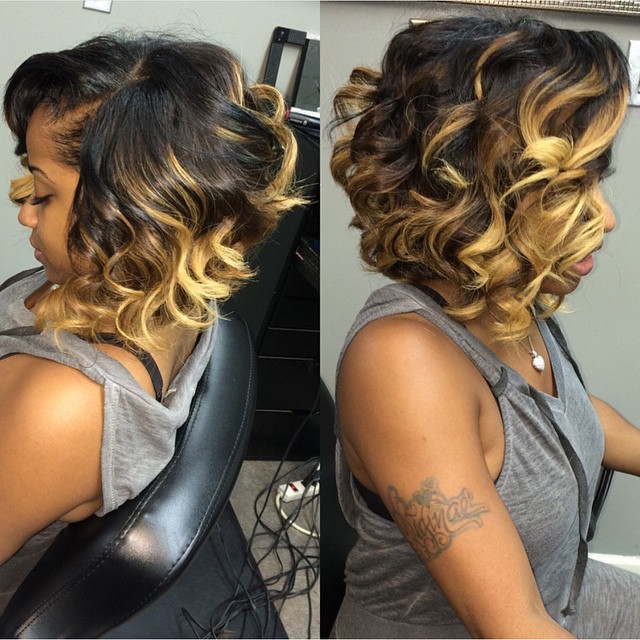 Curly bob hairstyles and blonde highlights on black hair
And my final Trendy Bob Hairstyles for Black Women of the week is this magnificient, asymmetrical bob haircut shown in profile view!  It's another lovely version of the black-and-blonde, extreme asymmetry bob hairstyles for black women.   Look at the adorable ringlets hanging on either side of the neck and the crisp, contrast between the two colours creating fabulous 3-D colour depth and texture!  Full of lively movement, contrasting textures and colour this gorgeous African American hairstyles' design suits oval, square, thin and heart shaped faces! (But not round faces, like mine, unfortunately!)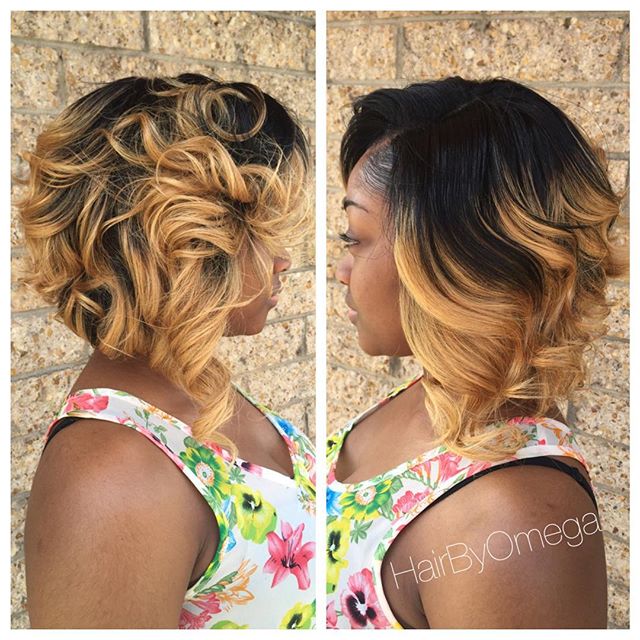 So now all you have to do is decide which of these high-fashion, trendy bob hairstyles for black women who enjoy looking good – to get on your next trip to the salon!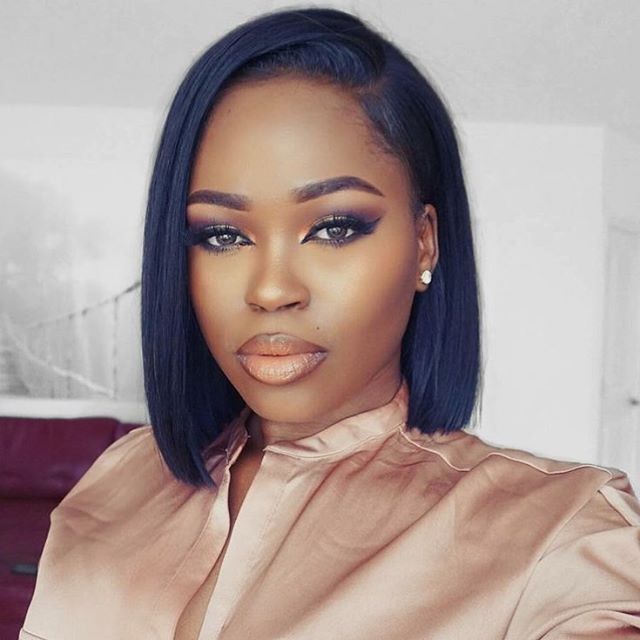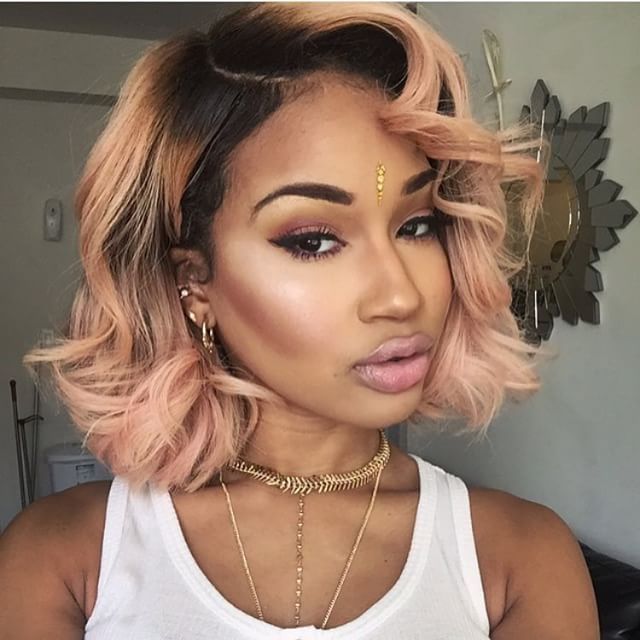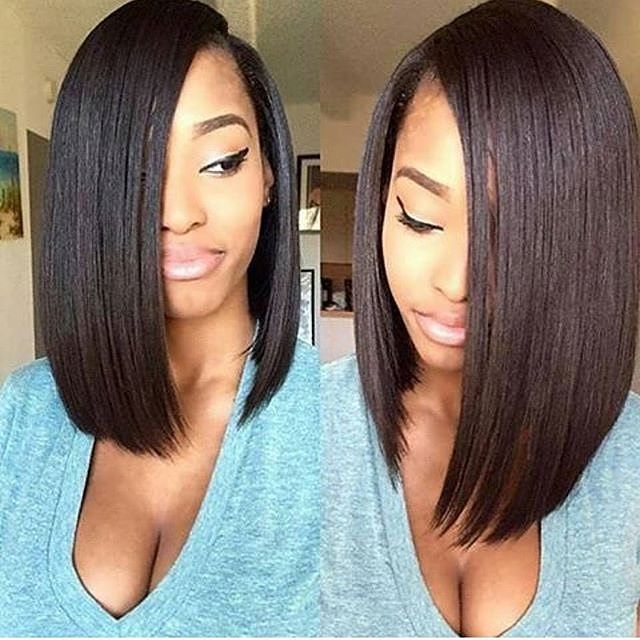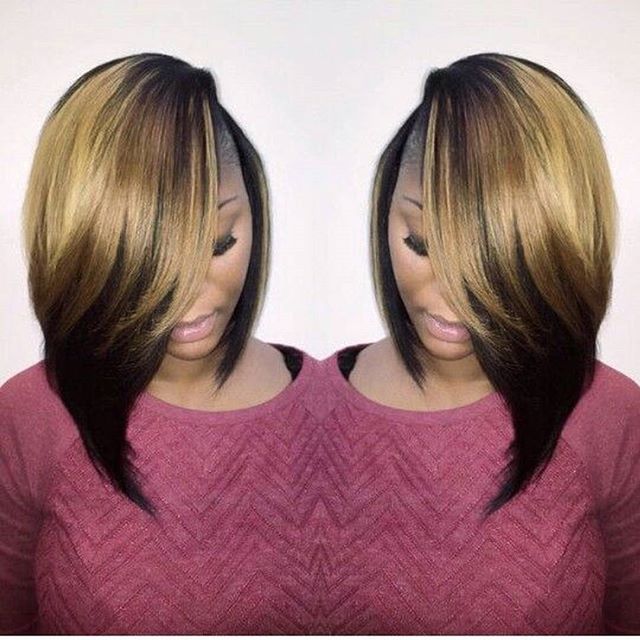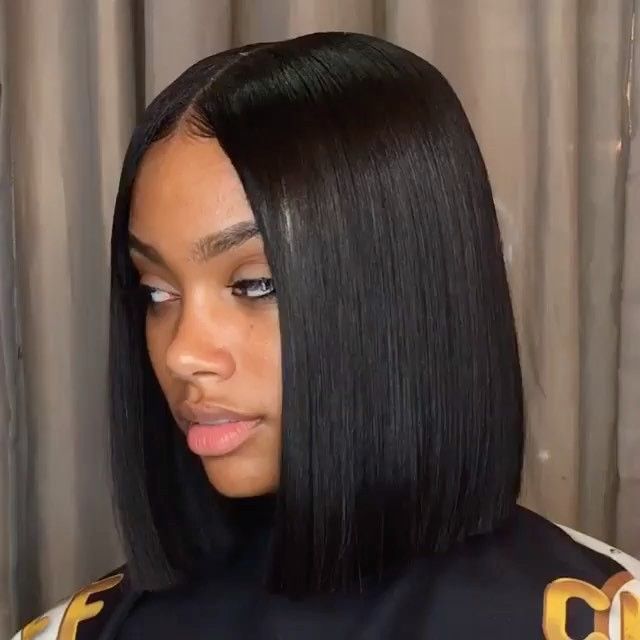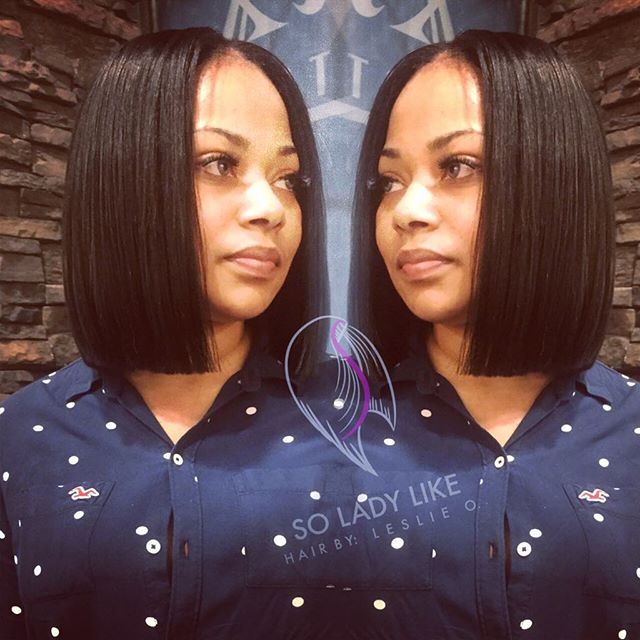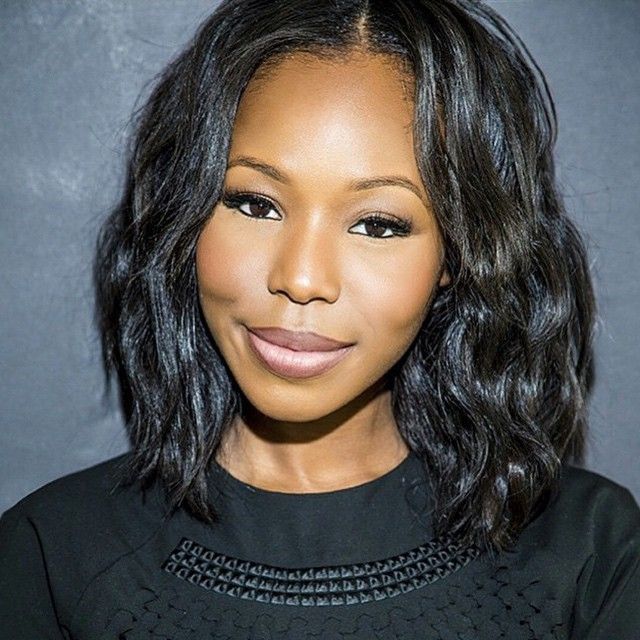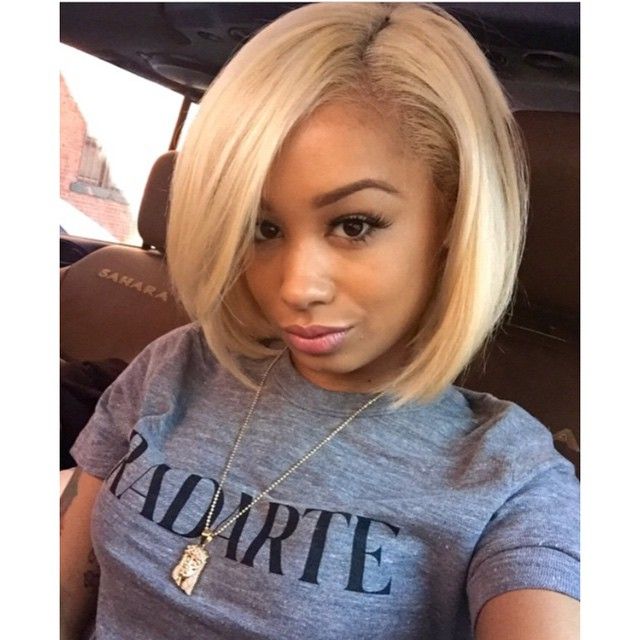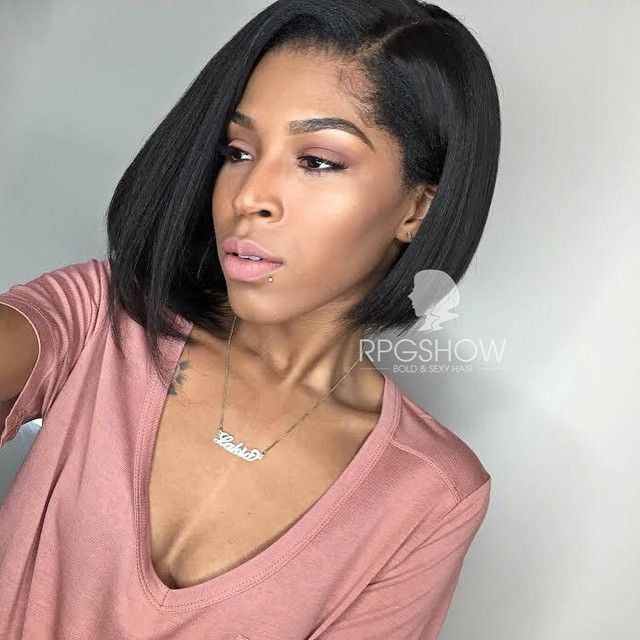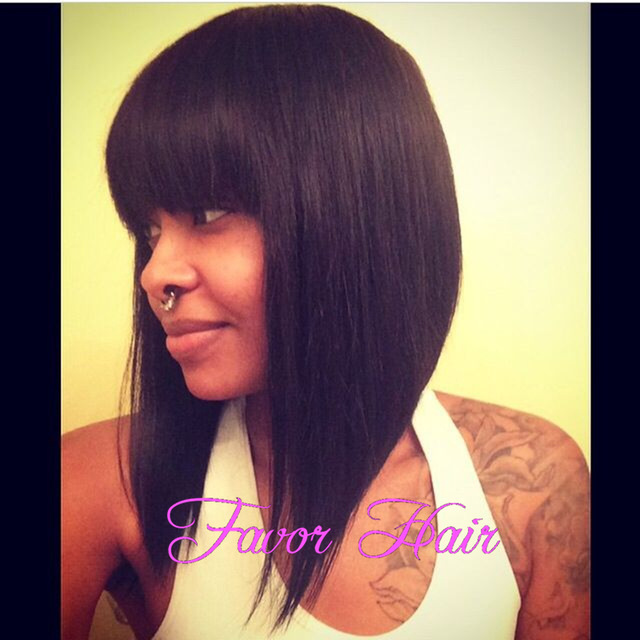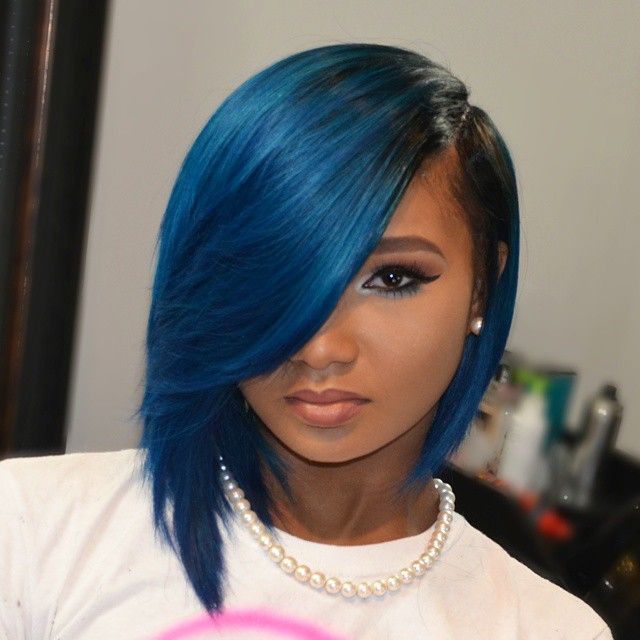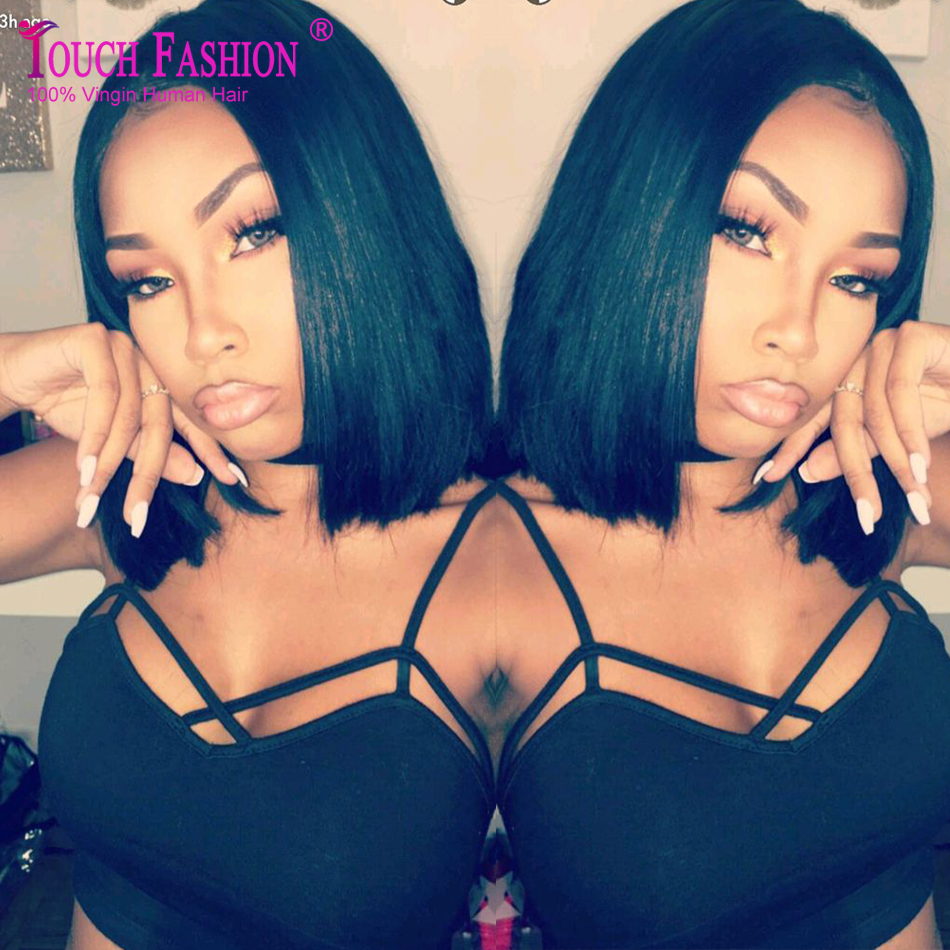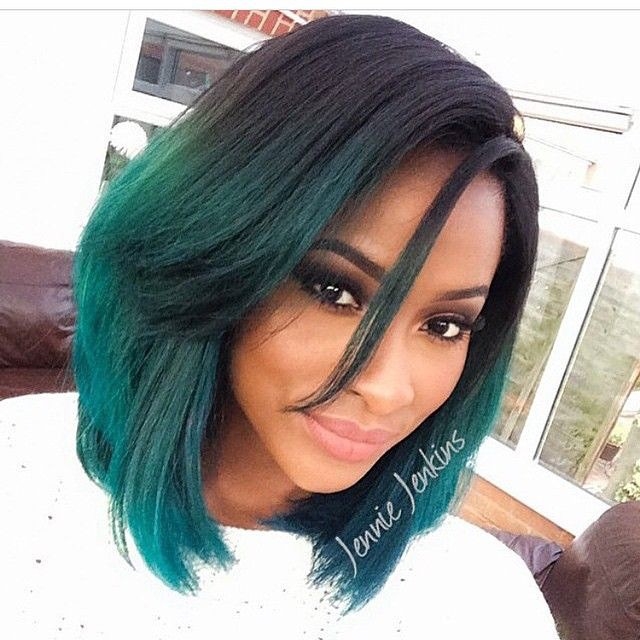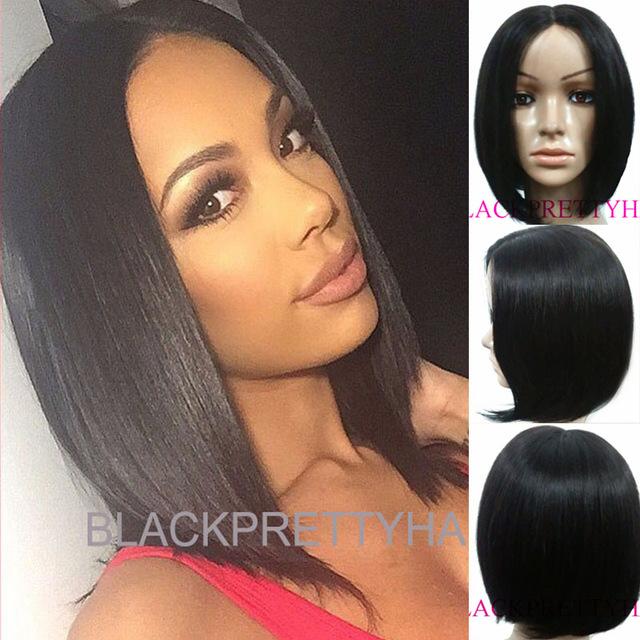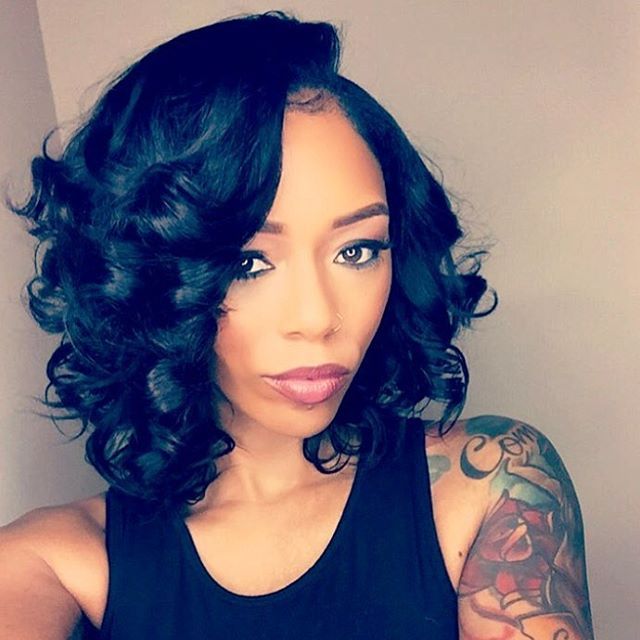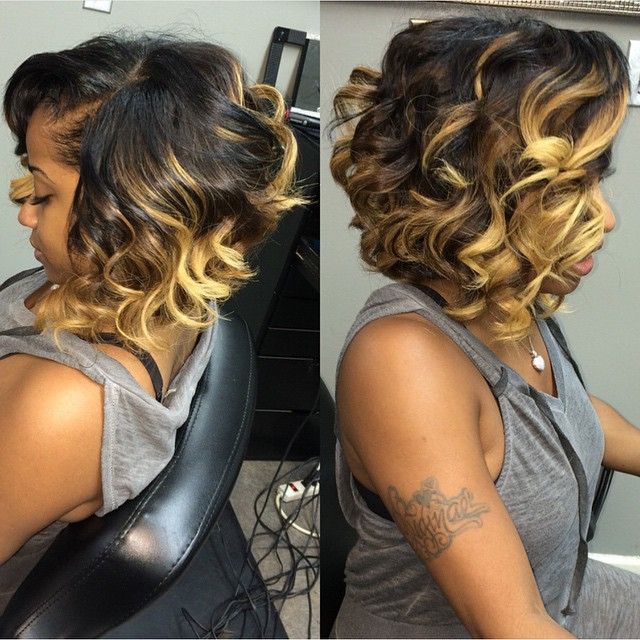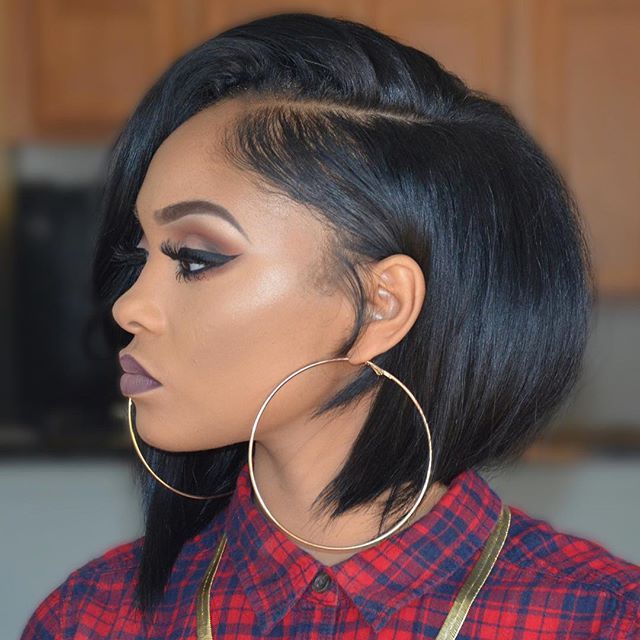 Sours: https://hairstylesweekly.com/trendy-bob-hairstyles-black-women/
Similar news:
I wanted it to last forever. Then Yegor took out a member and took me on the handles, dragging me onto the sofa. There he put me on my back, and my feet were on his shoulders. He entered me again and kissed me, and then began to brutally fuck again.
5177
5178
5179
5180
5181