With winter inching its way in, it's time to make your home reflect the merry spirit of the holiday season. If your goal is to have the best-looking home on your street, prepare to start strategizing about your holiday decorating scheme—if you haven't already, that is. First step: lighting! Maybe you prefer to go the simple, warm-white string lights approach, maybe you want something that feels a little more fun and playful, maybe you're all about nostalgia, or maybe you're planning to go all out, National Lampoon's Christmas Vacation style. In any case, there are tons of outdoor Christmas lights to choose from out there, so we've rounded up some of the best—that is, highly reviewed by customers, or just plain cool—holiday lights you can buy online this season.
From fairy lights and vintage-inspired C9 bulbs to hanging icicle lights and falling stars (not to mention a projector and a gadget that can turn your favorite lights into an animated musical display!), amazing options await you. And your home? It's never looked so festive. If you're gearing up to take part in a friendly competition with your neighbors, you'll win best-decorated for sure. Plus, most of these lights are affordable, and some are even solar-powered to help you save on your electric bill come December!
1
Best Overall Christmas Lights
100-Count Green Wire Christmas Lights
$11 AT AMAZON
For the ultimate in classic Christmas string lights, these bright white, green-wired lights (that are super popular on Amazon, by the way!) should do the trick. You can also get them in a multi-color option, if white isn't your go-to.
2
Best White Wire Christmas Lights
100-Count White Wire Christmas Lights
$7 AT AMAZON
Or, for those of you who prefer a white wire with white lights, these are another Amazon-favorite pick for the holiday season.
3
Best Vintage Christmas Lights
50-Count LED Multi-Color C9 Strawberry Lights
$10 AT AMAZON
For a colorful, vintage flair, these large, strawberry-shaped C9 lights are a fun addition to any house. Plus, since they're LEDs, they'll shine brighter than ever before, and you'll pretty much never have to worry about them all burning out by next season.
4
Best Icicle Lights
29.5' LED Icicle Lights
$50 AT AMAZON
Hang string-light icicles from your roof with these warm white strands, or get them in cool white, multi-color, and color-changing options.
525-Count LED White C9 Strawberry Lights
$30 AT AMAZON
If you like the textured look of those vintage-inspired strawberry C9 bulbs but aren't a fan of colorful lights, these cool white bulbs will give you the same nostalgic feeling but with a neutral color palette—and with individual clips on each light, it's easy to line your roof (or just about anything).
6200-Count Color-Changing LED Mini String Lights
$26 AT AMAZON
Can't decide between white lights and colorful ones? With these mini LED fairy lights, you don't have to choose! The lights can be switched back and forth to whatever suits your mood.
730-Count Blue Globe LED Solar String Lights (Pack of 2)
$10 AT AMAZON
These frosted blue globe lights are perfect for creating a cool, icy look that would make even Elsa jealous. But if blue's not your style, they also come in pink, purple, red, warm white, cool white, and multi-color options, as well as a dual warm and cool white look.
855' LED Multi-Color Globe Lights
$15 AT AMAZON
Go for something that feels a little more modern and fun with these multi-color globe lights. They also come in white, if you want a soft glow instead.
98-Count Meteor Shower LED Lights
$16 AT AMAZON
Looking for a unique alternative to the traditional icicle string lights? These "meteor shower" lights look like falling stars cascading from trees (or wherever else you hang them from). You can score them in white, as seen here, or in a cool blue or purple.
10
Best Rope Lights
33' Dimmable Multi-Colored LED Rope Light
$13 AT AMAZON
Rope lights are great for wrapping around trees, columns, and fences. These ones are battery-powered and dimmable, with a remote to control them as you wish.
11
Best Star Lights
30' Solar-Powered Star String Lights
$14 AT AMAZON
Add a little novelty with these star-shaped string lights, that are perfect for the holiday season but also totally work year-round.
12
Best Colorful Mini Lights
300-Count Mini Multi-Color LED String Lights
$27 AT AMAZON
If tinier bulbs are more your style, these mini LEDs are a great option—they come in multi-color and warm white, and will give your tree (or roof, or wherever!) a pretty glow without the bulbs being too in-your-face.
13
Best Solar-Powered Lights
Solar Powered Copper Wire Fairy Lights
$12 AT AMAZON
These copper-wire fairy lights are solar powered, so they'll automatically start to light up your house (or trees, or bushes!) as soon as the sun goes down.
14
Best Snowflake Lights
19.6' Battery-Operated Snowflake String Lights
$15 AT AMAZON
You don't need snow to have a white Christmas this year, thanks to these snowflake lights that look festive just about anywhere. And if pure white isn't your thing, these lights also come in warm white.
15138 LED Star Curtain String Lights
$20 AT AMAZON
Speaking of stars, these warm white star-shaped curtain lights will add a fun, celestial glow to any window or wall.
16
Most Unique Christmas Lights
Hanging Christmas Tree Light
$40 AT AMAZON
If you've got a tree or a ledge from which to hang this Christmas tree comprised of string lights (and topped with a star, of course!) it'll certainly be a stunner in your yard.
17
Best Pathway Lights
Candy Cane Pathway Lights
$50 AT AMAZON
Light the way to your front door with these pathway marking lights shaped like red-and-white candy canes.
18Outdoor Laser Light Projector
$24 AT AMAZON
Go bold with a multi-color light projector to add flecks of red and green to the exterior of your entire home—it'll look like super festive snow is falling.
19Outdoor Lights & Sounds of Christmas System
$120 AT BEST BUY
If you really want to go all out, you can use a system like this one to program your lights to holiday music for the ultimate Christmas light show.
20
Best Roof Clips for Lights
All-Purpose Outdoor Light Clips
$9 AT AMAZON
And of course, none of these lights would be complete without some handy clips to hang them from your roof, no matter what type of lights you buy.
This content is created and maintained by a third party, and imported onto this page to help users provide their email addresses. You may be able to find more information about this and similar content at piano.io
Sours: https://www.housebeautiful.com/entertaining/holidays-celebrations/g22853344/outdoor-christmas-lights/
Outdoor Christmas decorating ideas
Enchanting ideas for a festive outdoor space
When it comes to Christmas decorating, don't forget to give your outside space a little festive attention too. Whether you prefer subtle twinkling lights teamed with a simple door wreath or a bold festive tableau that'll brighten up the neighbourhood, these seasonal outdoor decorating ideas will up your home's festive kerb appeal in a flash.
Get log cabin style
Layer up a Scandi inspired Christmas porch with a pared back look filled with natural greenery. Set a unified scene with simple green garlands, potted trees and industrial look lanterns. Finish with a berry-filled Christmas wreath on the door for a pop of festive colour.
Build a balloon arch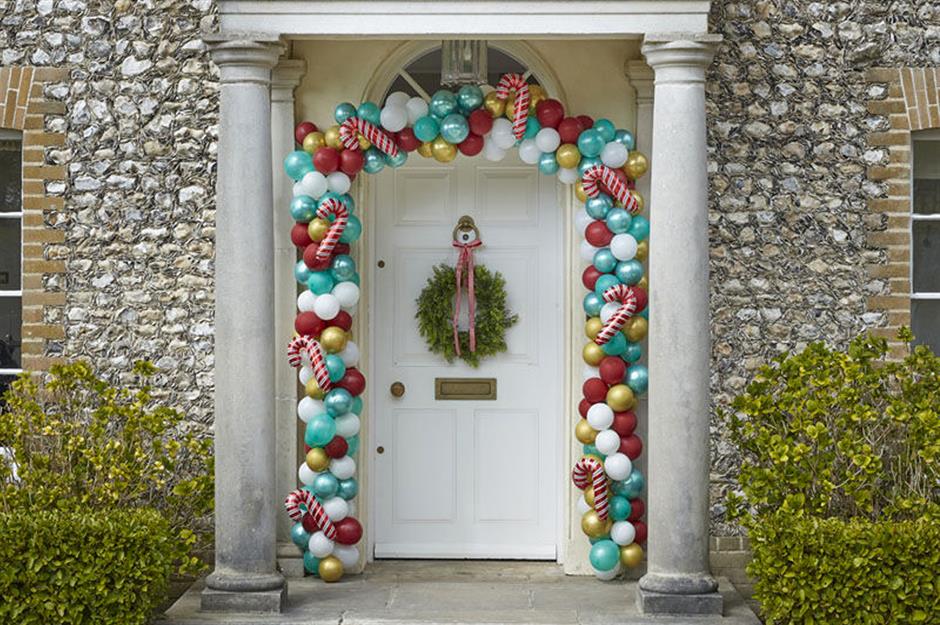 Introduce a jolly look to your entrance with an incredible, novelty balloon arch filled with candy canes and party colours. This impressive arch comes as a kit that looks so much fun to create. Make sure you have plenty of festive puff or a pump as the arch takes 240 balloons to complete.
Swap out the doormat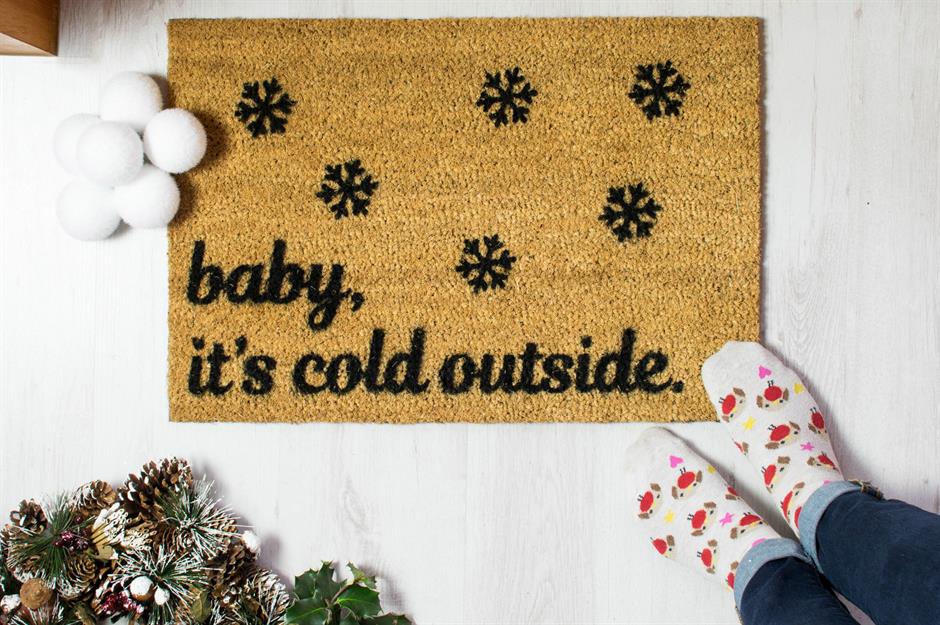 Welcome the holidays into your home with a fun festive doormat that both kids and adults will enjoy wiping their snowy boots on. For an extra decorative flourish, you could leave a dusting of faux snow and stockings or wellies nearby stuffed with small gift boxes.
String up festoon lights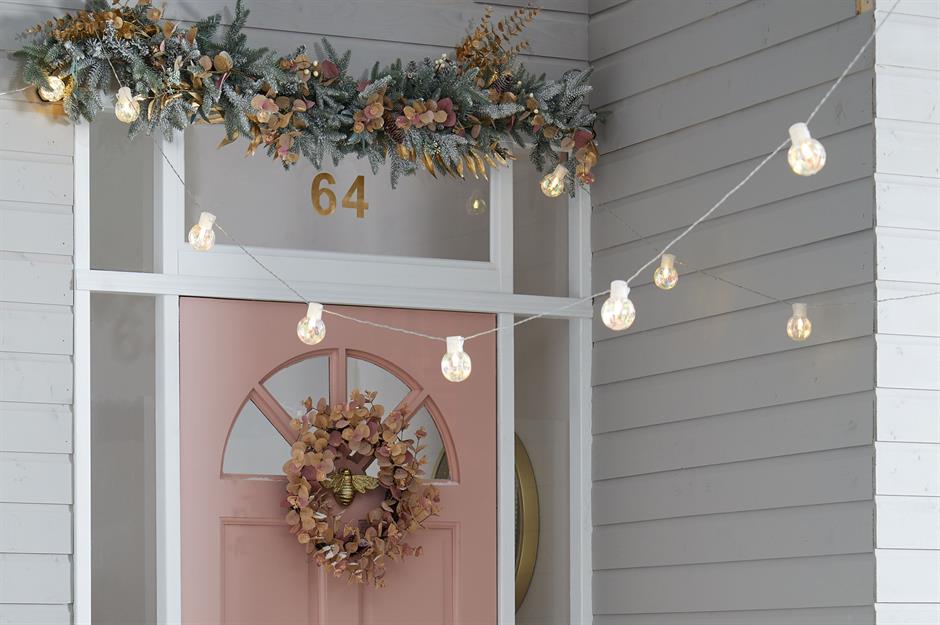 Simple festoon lights will complement most spaces and give off a cosy festive vibe with a retro twist. Finish the pretty vintage-style look with a frosted garland and a blush coloured Eucyaptus wreath. If you want add snow shovels and log piles for a charming country feel.
Set out a festive sign
Give guests and visitors the ultimate seasonal welcome with colourful hanging banners or leaning signs that ooze Christmas cheer. Place them beside your front door and finish with a matching wreath and colourful lanterns.
Create a light show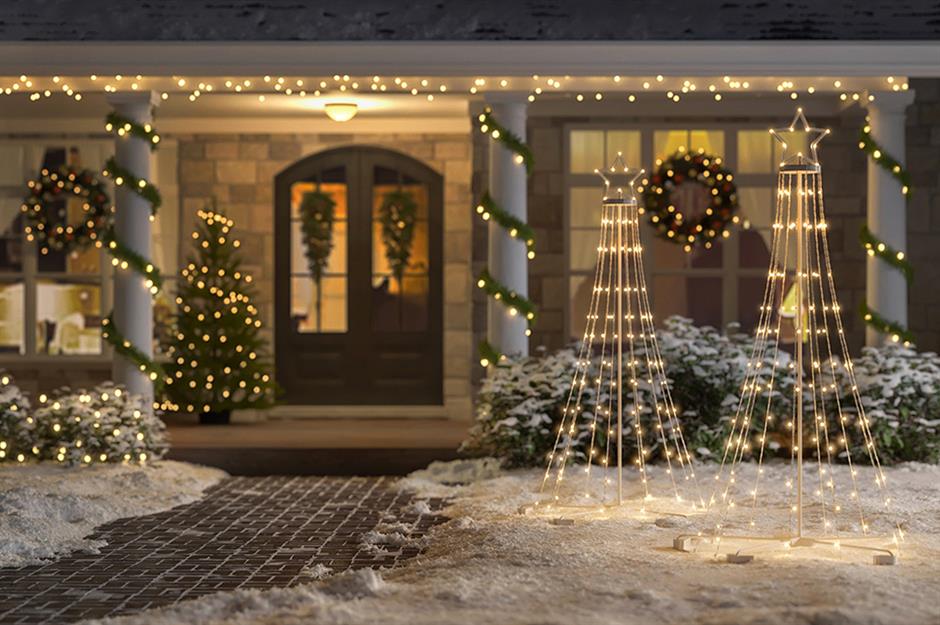 Be the envy of your neighbours by adorning every outdoor surface with a coordinated light display of soft winter wonderland fairy lights. Frame your porch with icicle lights, wrap light garlands around porch pillars, hang twinkling wreaths and swags from windows and pop pretty tree cones on the lawn.
Upcycle old treasures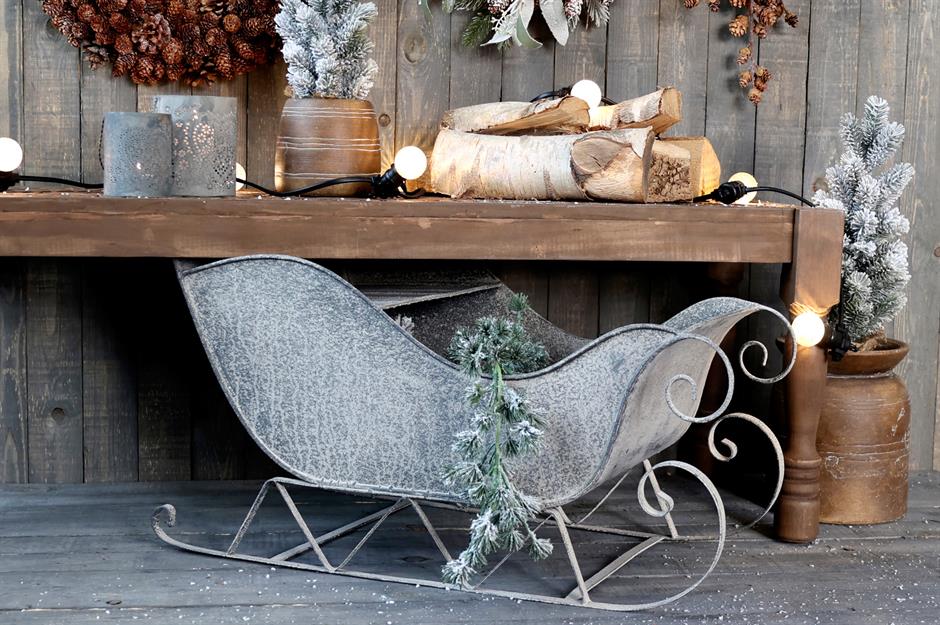 Look out for antique items in flea markets and junk shops you can upcycle into a charming and unique vintage display. This ornamental sleigh is the perfect addition to this festive tableau, alongside chopped logs and retro-style Christmas festoon lights.
Splash out on a special wreath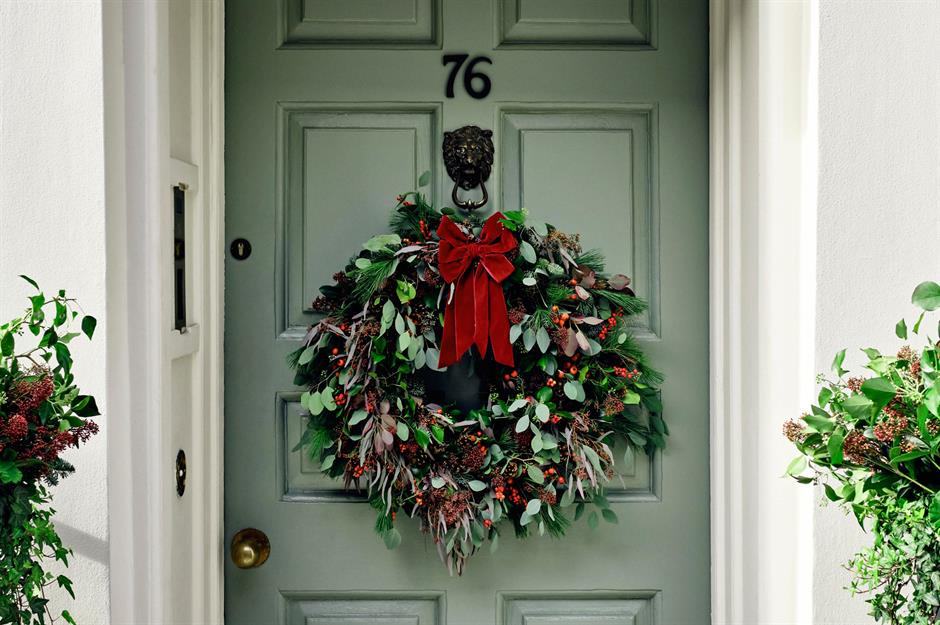 A luxurious door wreath complete with pine cones, willow, silver lavender and rosemary makes an incredibly opulent first impression that wows. Adorned with a plush velvet bow and potent herbs, the heavenly scent will offer guests an aromatic welcome this festive season.
Add kerbside sparkle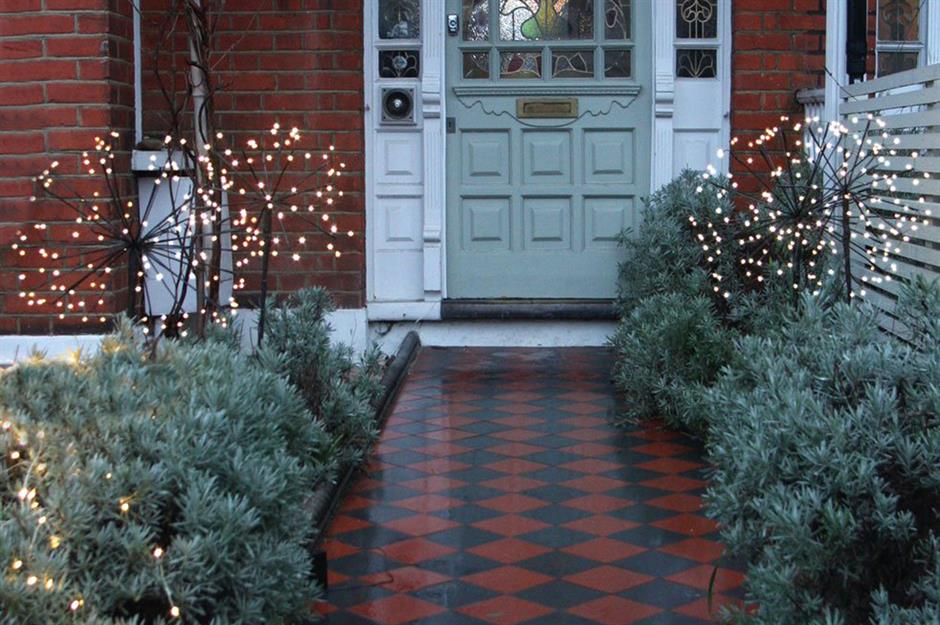 A large front garden offers so many possibilities when it comes to outdoor Christmas décor. For a show-stopping festive display, light up the pathway with pretty starburst fixtures that resemble large glowing snowflakes. Stagger multiple lights at different heights to create a stunning snowfall effect.
Sparkle with baubles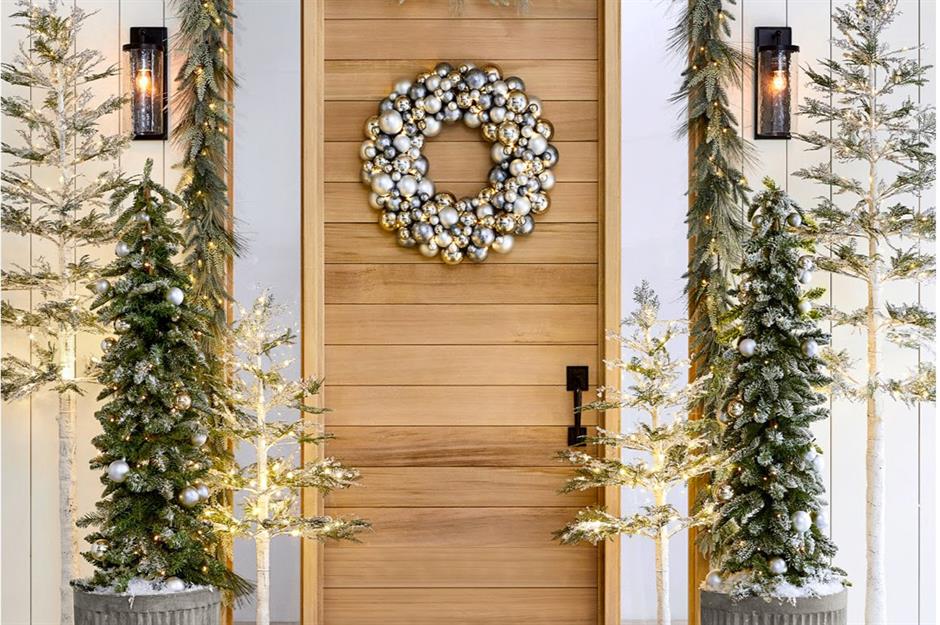 Punctuate a neutral doorway with outdoor decorations in silver and white. Against a pale background, the shimmering metallics will take on a frosty feel that's luxurious yet subtle. Lastly, mint green trees add a touch of depth that won't overpower the frosty scene.
Call on festive characters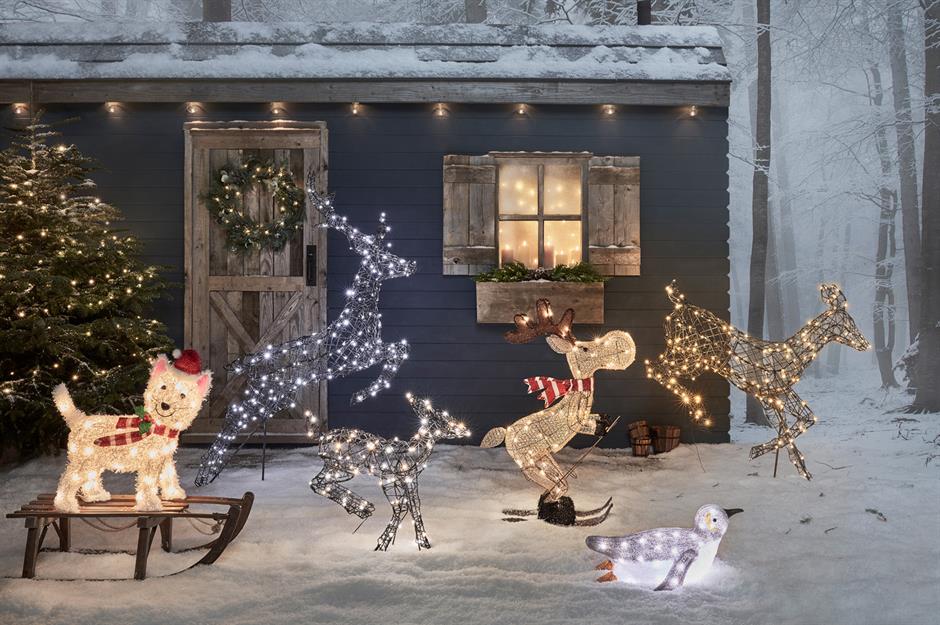 Add an element of fun to your outdoor Christmas decorating scheme with novel character lights. These cutes characters have been arranged to seem as though they having a fun-filled festive race that springs to life after nightfall.
Pretty up with poinsettias
For a classic Christmas scheme, get inspired by the traditional festive flower the poinsettia. With cheerful red colouring and deep green leaves, they're an ideal choice to use across wreaths and garlands around your front door. Being Mexican in origin, they're more suited to the indoors, so if your location has particularly harsh winters, opt for faux versions outside that won't wilt in a frost.
Dust decorations with faux snow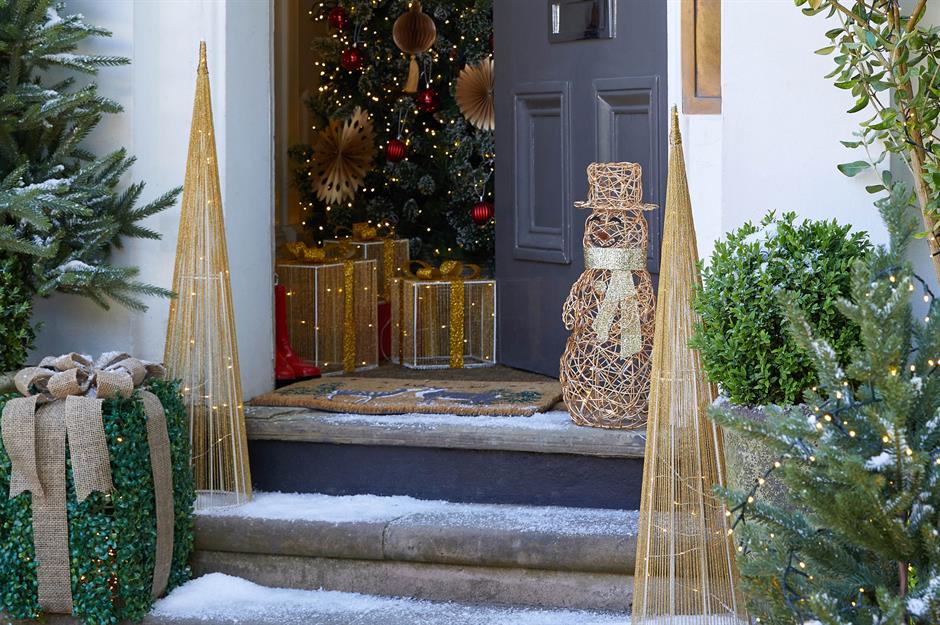 If your location isn't blessed with regular snowfall, it's easy to fake it. Scatter artificial snow on porch steps, leave a sleigh outside, place durable ornaments by the doorstep and fill a basket with logs to immediately evoke the feeling of being by a cosy fireplace.
Set up silhouetted scenes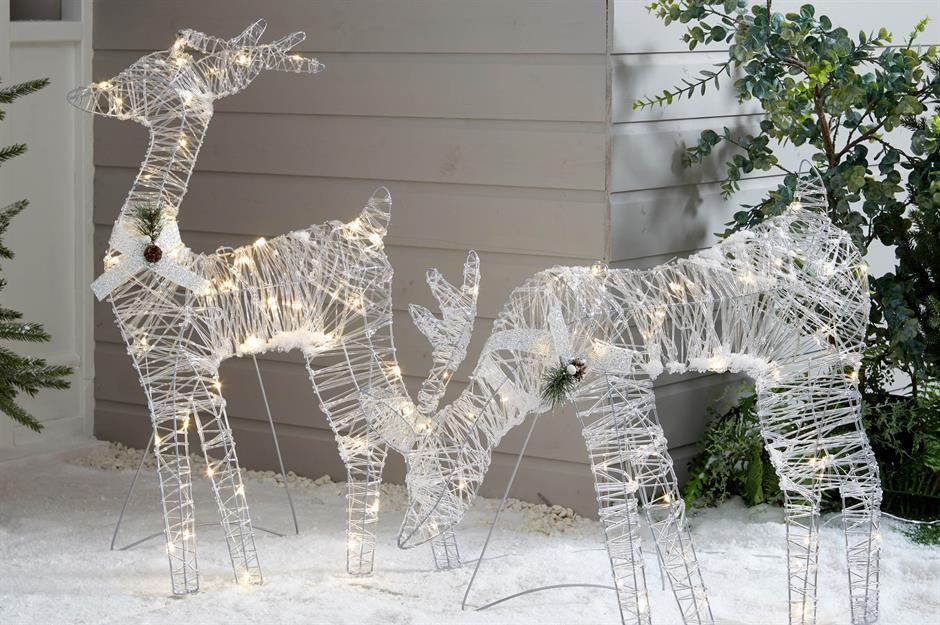 Enjoy classic Christmas shapes highlighted in ice white tones. This en'deer'ing little couple will dazzle any passers-by especially when placed before a dark backdrop where they are sure to glisten and stand out.
Hang up gorgeous garlands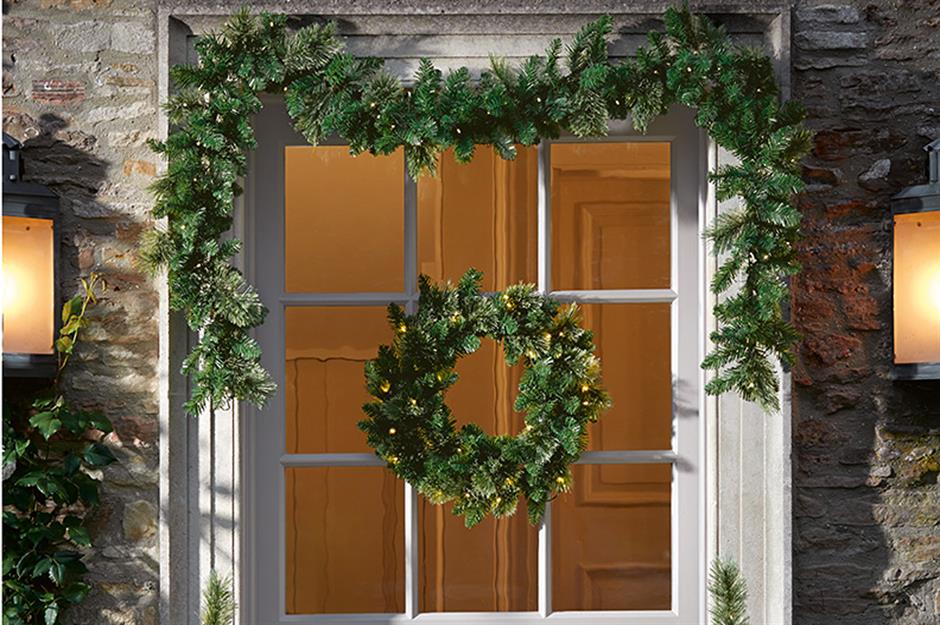 Door wreaths are a common decorating choice but don't forget about your doorways too. Frame entrances with scented foliage for a fragrant welcome and adorn the greenery with a sprinkling of artificial snow, a few baubles and some subtle string lights.
Snuggle in a woodland wonderland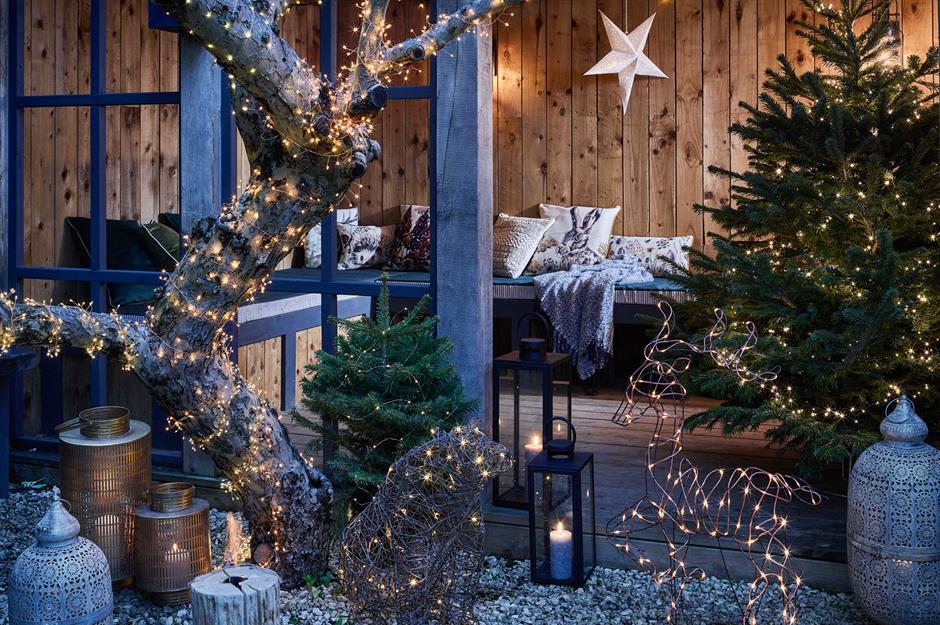 There's no reason to push your patio set to the back of the garage come Christmas time. Instead, create a cosy terrace just like Zevy Joy by dressing up your outdoor space with fairy lights and festive ornaments. Add a waterproof outdoor rug underfoot and drape plenty of fleecy throws over chairbacks for a final snug finish.
Light the firepit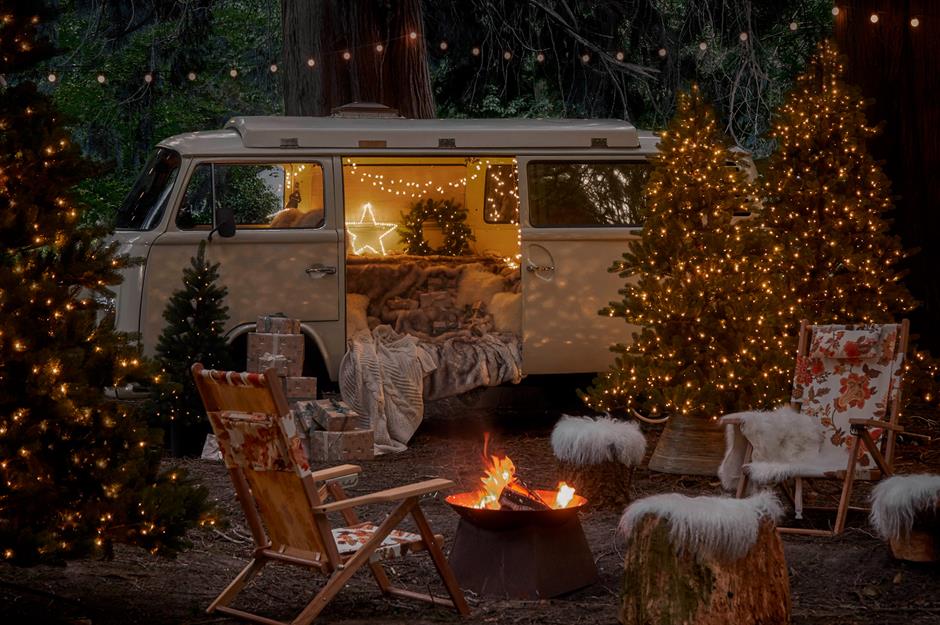 There's nothing like a roaring fire in the dead of winter, but you don't have to stay cooped up indoors to get that cosy fireside feeling. A firepit is a great way to enjoy your garden when the temperature takes a tumble. Place in a safe spot outdoors and add thick throws to a few garden chairs. Then, skewer some marshmallows and you're good to go.
Pimp up the mailbox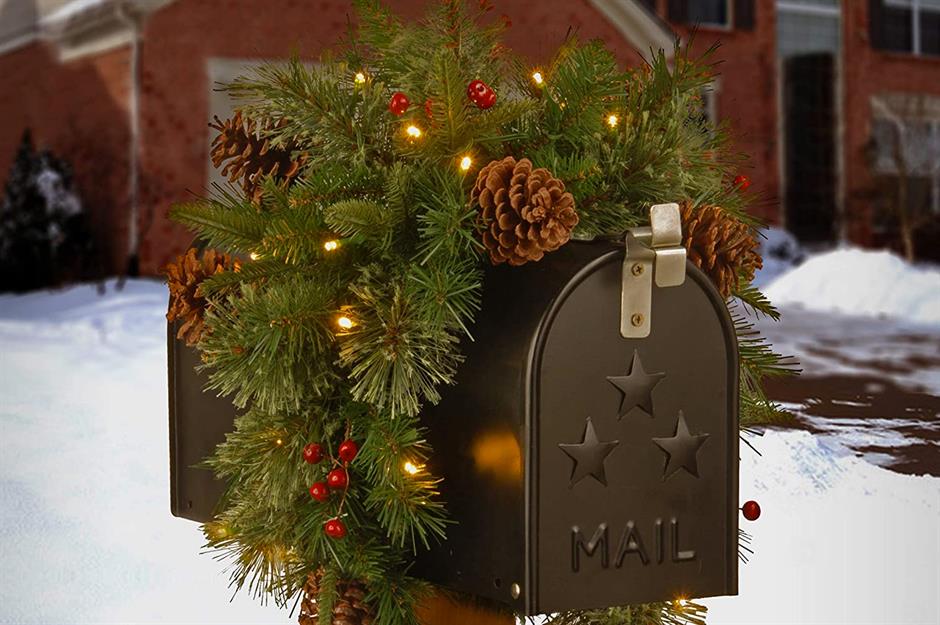 Make your post-person smile every time he delivers Christmas cards by adding festive cheer to the mail box. Affix a pretty garland to the outside with battery powered lights. Then, don't forget to pop in a little gift on Christmas Eve to spread the cheer.
Create a starry night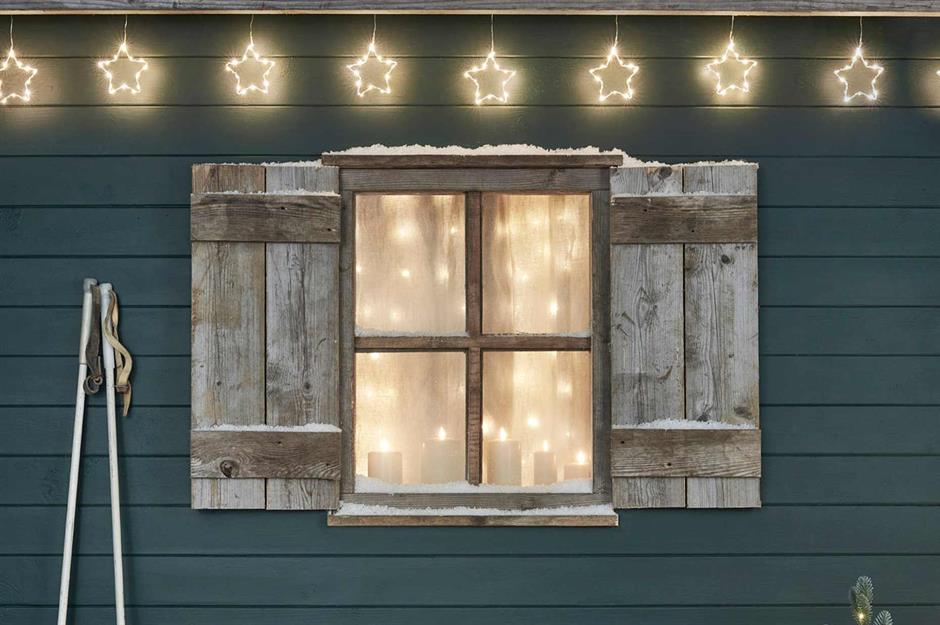 Ensure your outdoor Christmas decor is twinkling even on cloudy nights with a string of stylish star lights. These simple wire stars will make a shining addition to rustic looks and create a fabulous focal point that is simple, stylish and timeless.
Hang a swag
Stand out from all the other houses with wreaths on their front door with a festive swag instead. Not just for the mantelpiece, a front door swag is an elongated arrangement tied with a bow at the top (rather than a ring-shaped wreath). The foliage then falls downwards to form a teardrop shape that makes a refreshing and pretty change.
DIY a ready-made wreath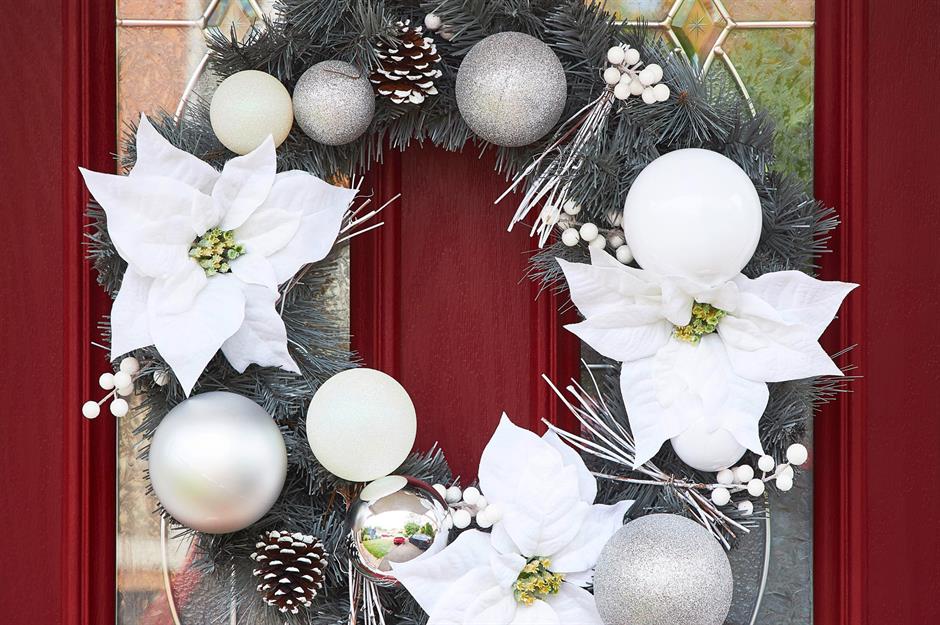 Do you love the idea of unique decorations but wouldn't know where to start? Cheat just a little by pimping up a budget decoration to your own taste. Jazz up a plain wreath with colourful festive flowers snowy baubles and pinecones to create a bright woodland scene.
Light up greenery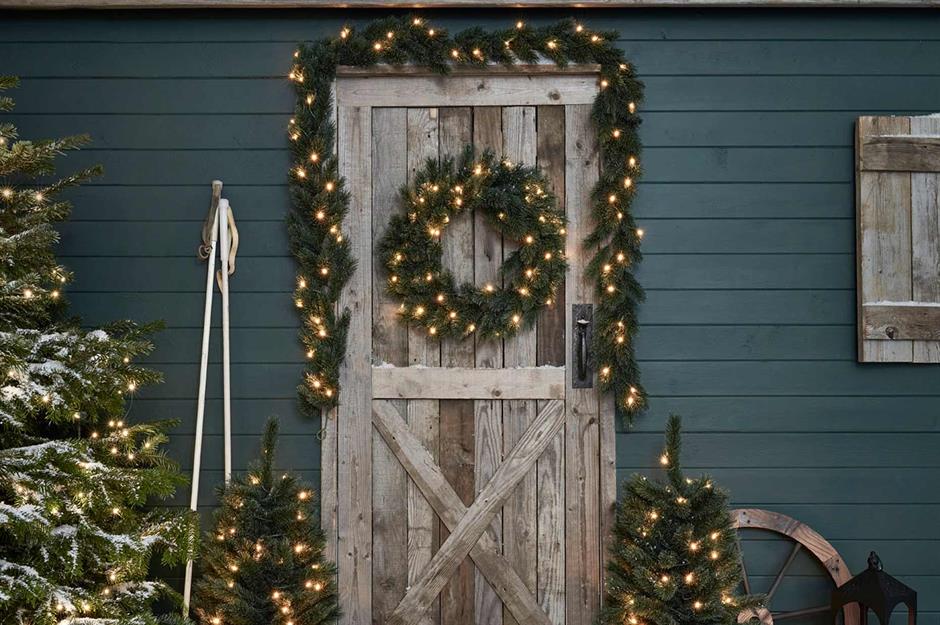 Can't fit a tree indoors? Take all green wreaths and garlands to the next level by adding twinkling lights. Whether they are shop-bought, faux foliage or real, the festive sparkle is subtle and stylish weaved in amongst them.
Frame a festive greeting
A great way to add festive charm to your front door, this simple chalkboard idea is sure to be a hit. Jolie of Farm Fresh Homestead has created a charming chalkboard set inside a white frame. Prop it on an easel or stool and then simply chalk on your festive greeting. Complete the display with seasonal props, a mini potted fir tree, a colourful lantern and Christmas doormat.
Keep it real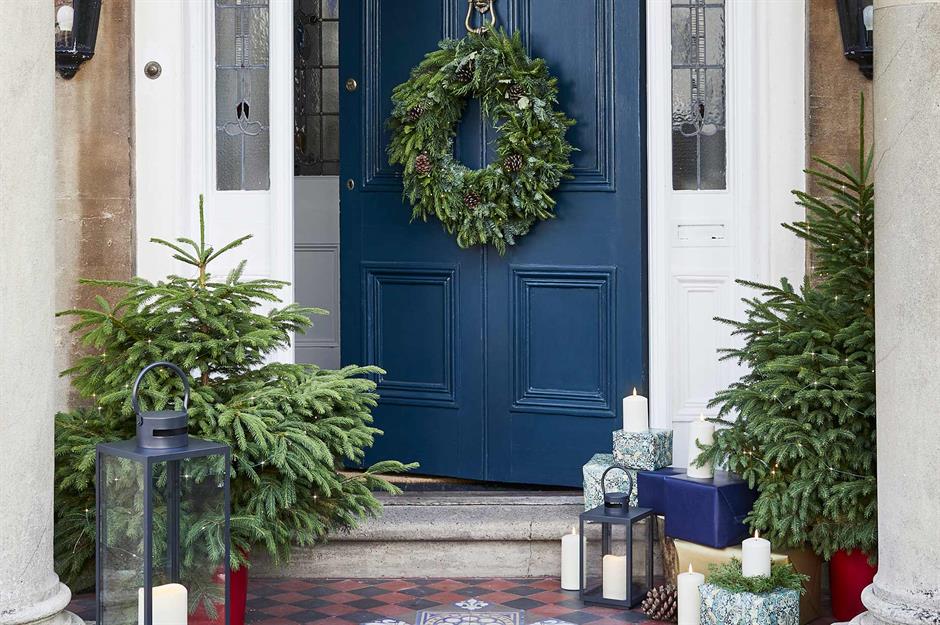 If vibrant red hues and flashing lights aren't quite your style, go for a more organic approach. Real potted Christmas trees with just a few fairy lights are all you need to create a beautiful festive arrangement for your home's entrance. Team with clusters of lanterns for an elegant finish.
Pop presents in the porch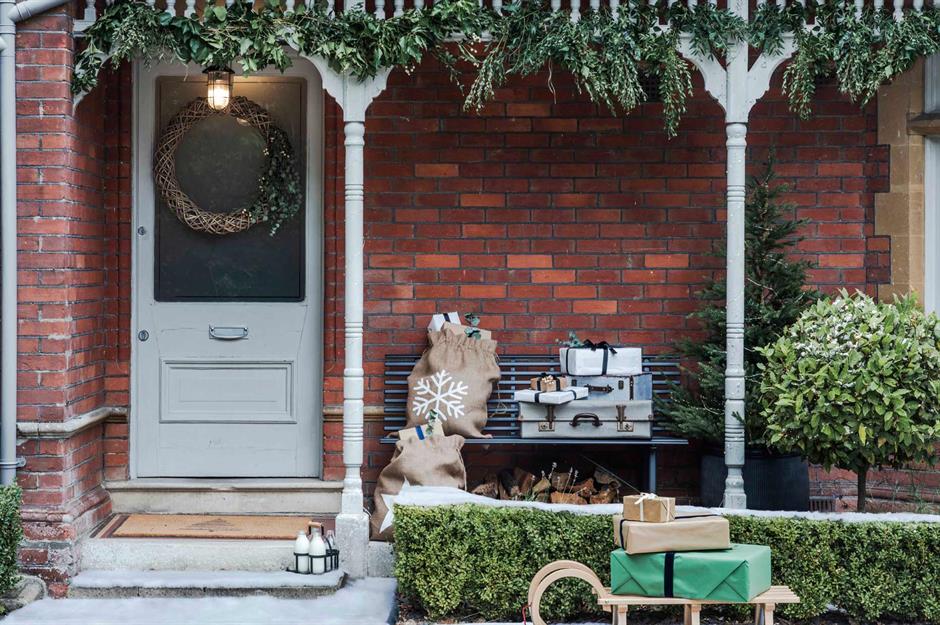 For a laid back look, hang back on the glitz and glitter in favour of an elegant scheme worthy of a country house. Hang real greenery from the guttering and pop a simple wreath on the door. Then build up the Christmas scene will a pile of gifts (wrapped empty boxes) that will make your guests feel positively filled with festivity.
Wrap up the front door
A popular Christmas trend, don't just stop at presents when it comes to festive wrapping. Add an oversized bow to your front door for a playful alternative to a traditional Christmas wreath. Red is an obvious seasonal choice, but don't be afraid to mix things up a bit – jewel tones such as plum and forest green will be equally as impactful.
Make it child-friendly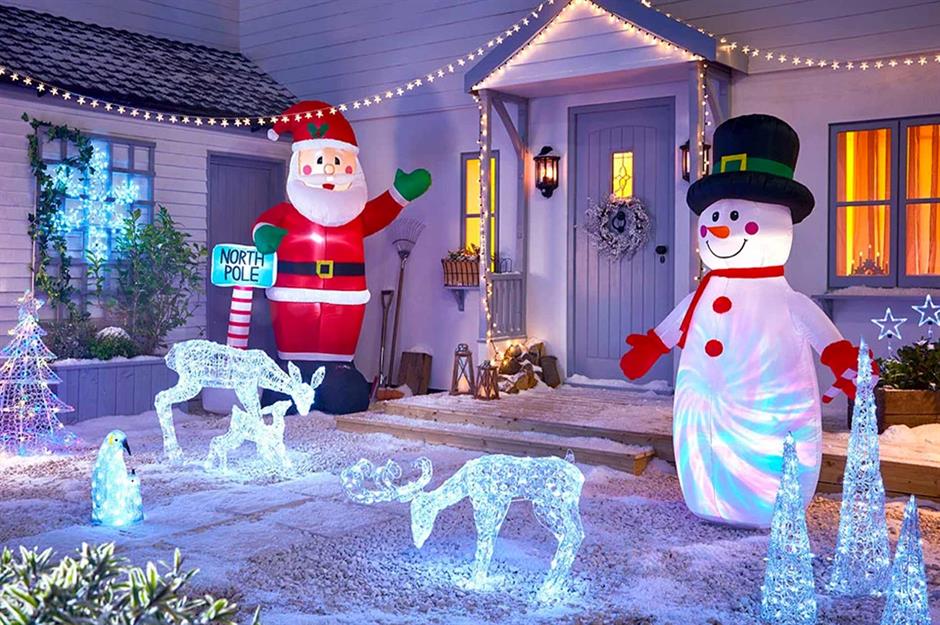 Inflatable outdoor Christmas decorations are becoming more popular with all ages, with a huge range of larger-than-life characters who can inject colour and humour into your yard. Also, the good news is that once the air is released they pack right down into tiny boxes to store easily for next year.
Add DIY lights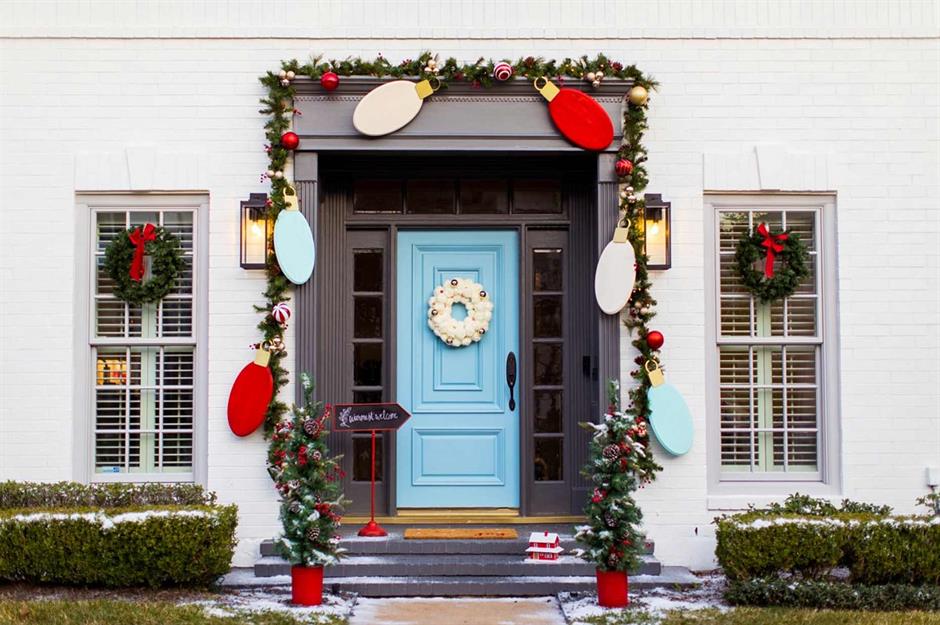 If you love to craft why not make a play on outdoor Christmas lighting with oversized retro lights. This fun and colourful garland has a colour palette matched to the vibrant front door to create an incredible, wow-factor effect. Take a look at the Sugar & Cloth tutorial to make your own using wooden cut-outs, rings and spray paint.
Invite a snowman onto your yard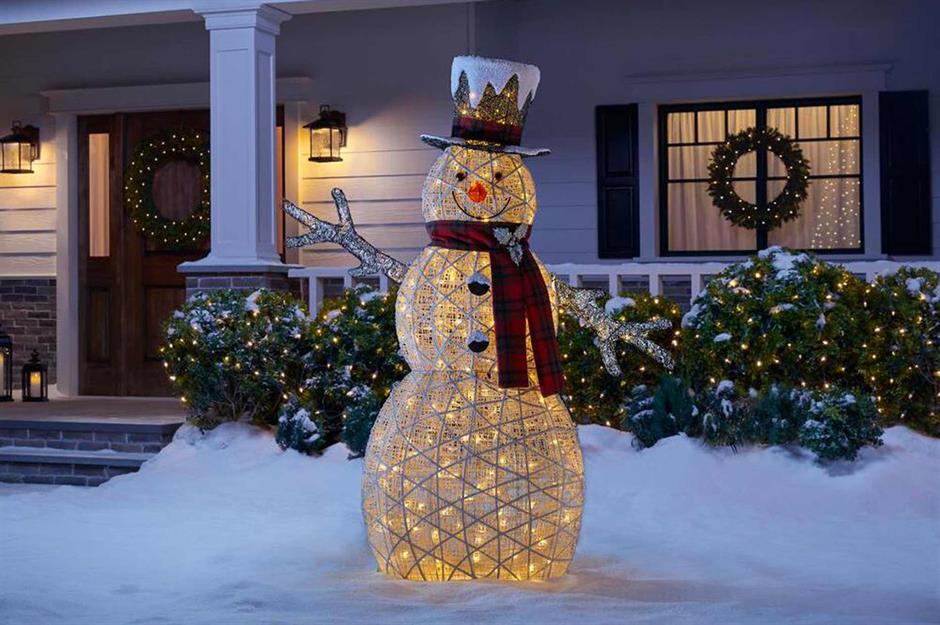 What says Christmas more clearly than Frosty the Snowman? This happy chap is filled with warm LED lights will be sure to make your garden sparkle and – best of all – he won't melt away if the sun comes out.
Call on some cute creatures
As well as decorating your main entrance, you might want to think about making the back door festive too. Frame the doorway with potted trees and highlight the path with storm lanterns. For maximum impact, a friendly outdoor wicker polar bear makes a fun addition and adds a touch of magic to your everyday comings and goings.
Dress up a bench
What's the point of all this outdoor Christmas decorating if you can't appreciate it? Create a cosy spot to sit back and admire your work by setting up a simple rustic bench. Dress it up in true Scandi style with thick-pile textured throws and cushions to keep you warm in the crisp winter air.
Drape icicle lights from the roof
Compose an authentic winter look by framing your porch or roof edges with lights that resemble frosty icicles. Whether you choose bulbs that are true ice white or want to create a more colourful scene with a rainbow display, they will create a festive glow that is timeless.
Work in majestic wicker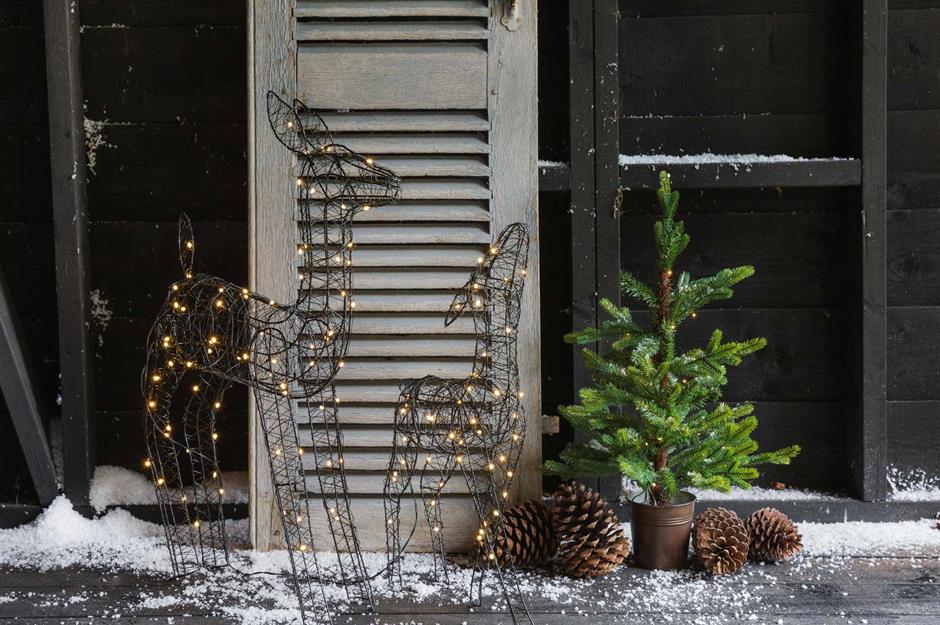 Created from natural materials, these endearing animal sculptures form an enchanting display on the front lawn. Rattan and wicker are classic garden staples built to endure the great outdoors, making them a great investment for years to come. Set by a window, this charming reindeer pair brings the spirit of Christmas to life.
Spruce up windowsills with festive foliage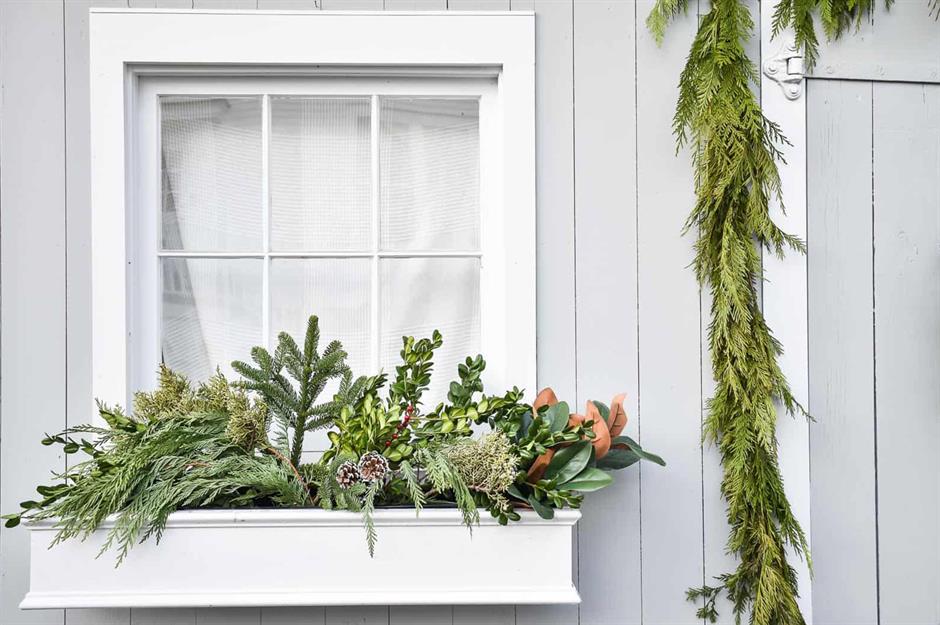 If you have window boxes or window sills, don't leave them out of the festive fun. Charlotte of At Charlotte's House has used fresh sprigs of fir and eucalyptus to style up her crisp white ledges. For an extra festive touch and a welcome pop of colour, add a few pine cones and berried holly leaves into the mix.
Plump for penguins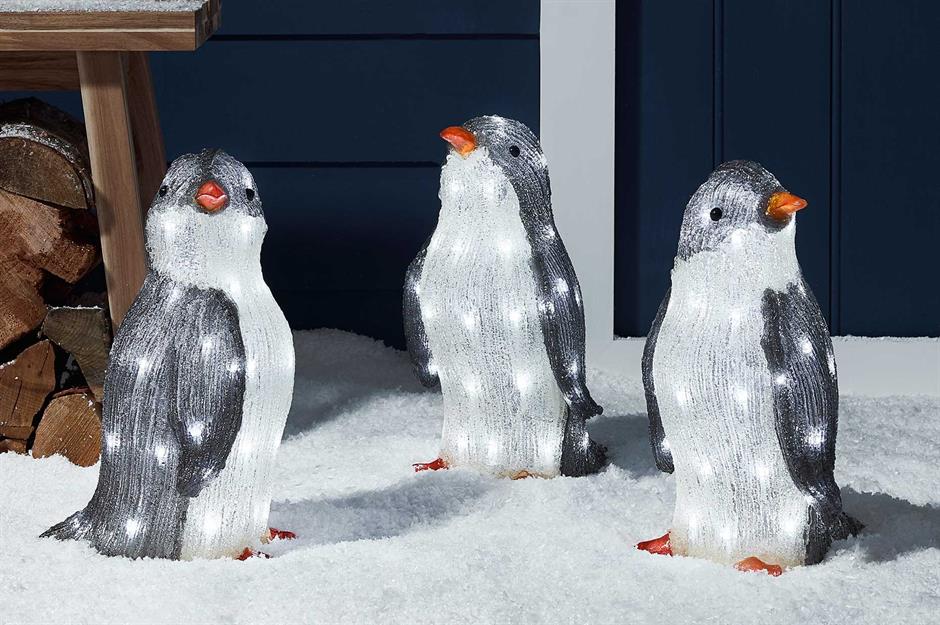 Bring the Arctic into your front garden this Christmas with a group of endearing festive penguins. Adorable during the day and dazzling at night, this cheeky trio is sure to put a smile on your face.
Use real greenery
Keep your outdoor decorating ultra-natural with a doorway filled with fragrant greenery. Use branches of Fir, Eucapltus and any other evergreen favourites you fancy to create a freestyle arch over your front door. Complement the look with a natural wreath made from the same foliage and then weave yellow fairy lights throughout the display for a warm and rustic glow.
Embrace rustic wooden decorations
If your Christmas style is more handmade and natural, opt for festive wooden shapes to add three-dimensional drama to your outdoor space. Hang characterful wooden trees, arrange wooden gift boxes and pile snow-dusted firewood for a warm welcome. Complete the look with Highland-inspired door wreath tied with a tartan bow.
Style up steps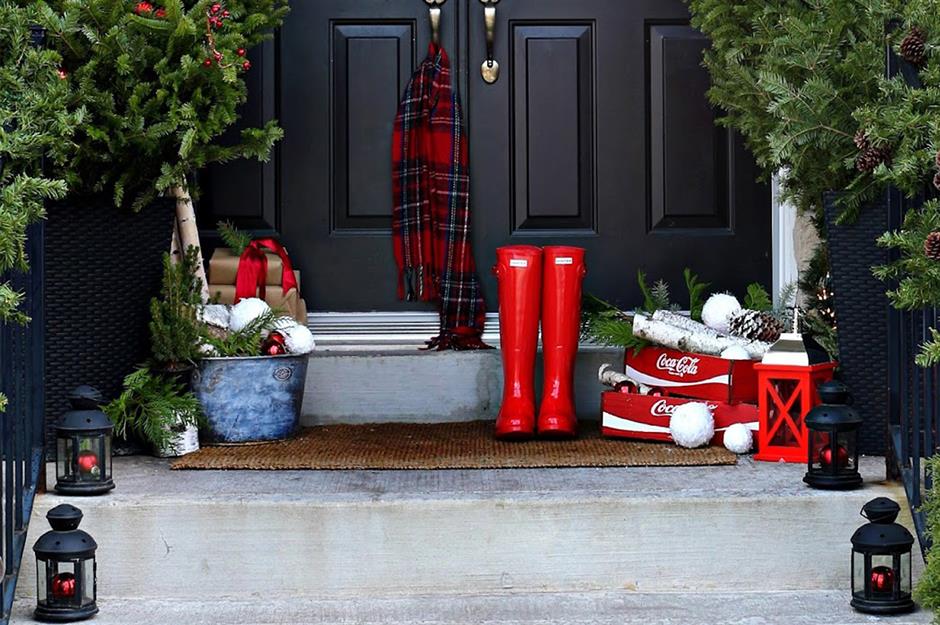 To increase your home's festive appeal this Christmas, don't forget to dress up your steps. Gather pine cones, logs and fronds of Douglas fir and display them in vintage-style metal buckets and wooden crates. Lucy of Craftberry Bush has lined her steps with black lanterns and popped some co-ordinated red baubles inside for a cheery festive welcome.
Make it minimal
A simple star wreath will create a timeless and sophisticated look on your front door. This one has faux frosted eucalyptus leaves, gold stars and pine cones – we suggest adding a few sprigs of real eucalyptus to create a refreshingly fragrant aroma to welcome guests. If you like to dress up your home for fall, you can also make it work as an autumnal wreath with dried leaves, berries and pine cones.
Create a candy cane forest
Stake out the path that leads to your front door by securing giant light-up candy canes into your lawn. Sweet and playful, these supersized classic stocking fillers will be a big hit with the little ones!
Go for pale and interesting
Melana Lettering / Shutterstock
Red may be traditionally synonymous with the festive season but pastel shades can be equally as enchanting. This tableau, featuring frosted Christmas trees and garlands, feels like a whimsical winter wonderland. Warm up the chilly hues with plenty of warm white twinkling fairy lights and flickering battery-operated lanterns.
Illuminate an outdoor light gallery
Gallery walls are a favourite decor feature indoors, so why not recreate the look by mounting an array of festive lights on your home's facade? Opt for seasonal shapes such as snowflakes, stars and reindeers in a plethora of different colours.
Light up the guttering
Don't just leave the Christmas decorating for the porch and front door. Rope lighting attached with gutter hooks will frame an exterior roofline with classic understated style and draw the eye upwards. Finish the stunning scheme by lighting up outdoor pots and shrubs with simple fairy lights in the same warm glow.
Layer up your lighting
Create an atmospheric display that's truly showstopping by layering up festive garden lighting. Cluster hurricane lanterns together for a beautiful feature that'll light the way for guests. Accessorise with mason jars filled with fairy lights and frame the doorway with a garland of illuminated lanterns for the final festive flourish.
Put up a festive sign for Santa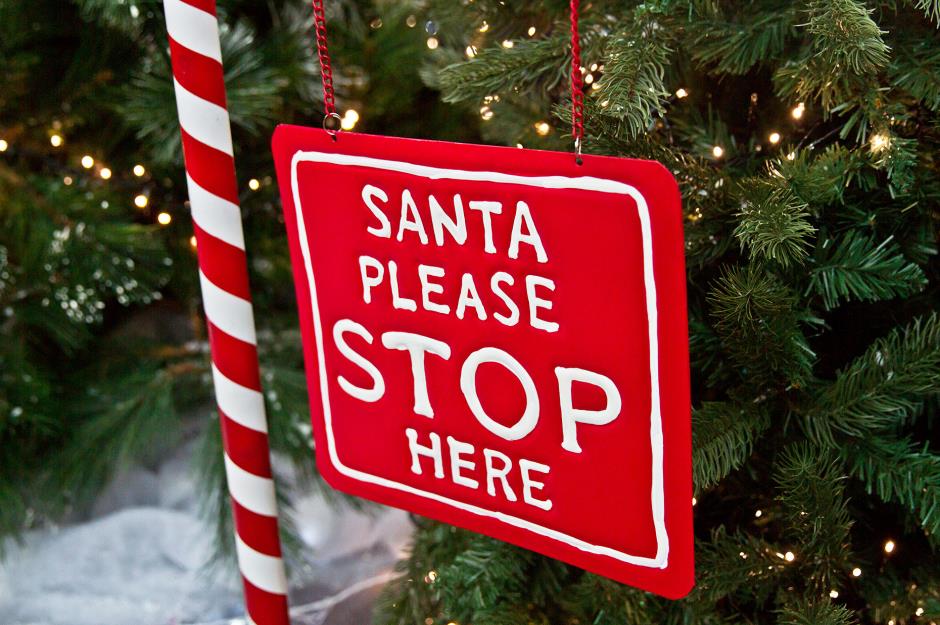 CLICKMANIS / Shutterstock
For a touch that will delight the youngsters, place a fun sign in front of your door or in your front garden. You could make a sign yourself using fabric or cardboard or opt for a shop-bought LED sign that will catch the eyes of passersby and, hopefully, Santa himself!
Happy howlidays
Dog lovers rejoice – what a cute little Christmas pooch for your porch! His bright colours will add an element of fun to your outdoor Christmas decorating scheme. This little fellow will look 'pawfect' alone or as part of a festive outdoor tableau.
Light the way with lanterns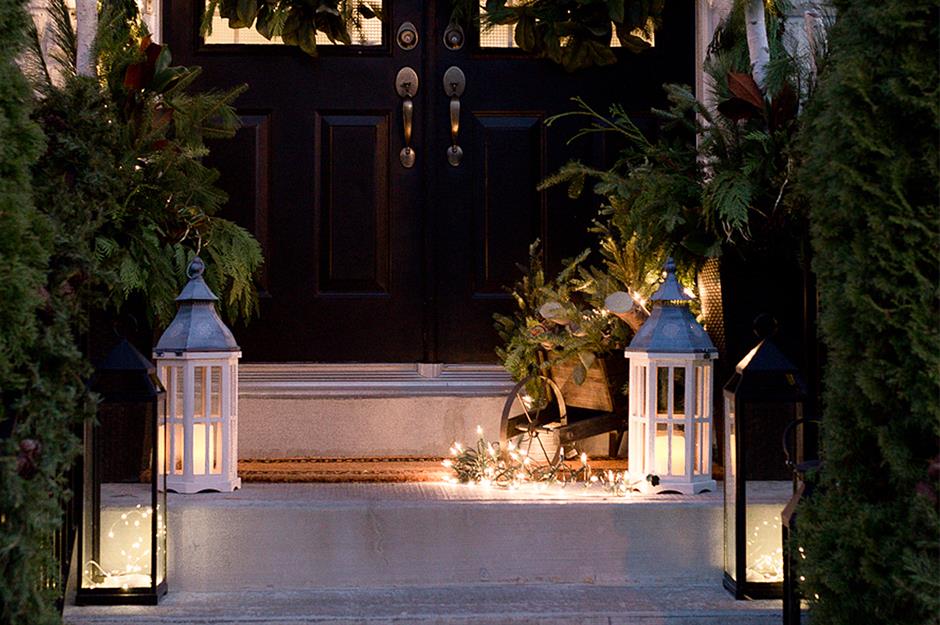 As the nights draw in, consider outdoor decorations that are practical as well as pretty. Lucy of Craftberry Bush has selected a few statement storm lanterns and filled them with strings of twinkling fairy lights. Flanking the steps up to her front door, not only do they look magical, but they guide the way after nightfall.
Project a light show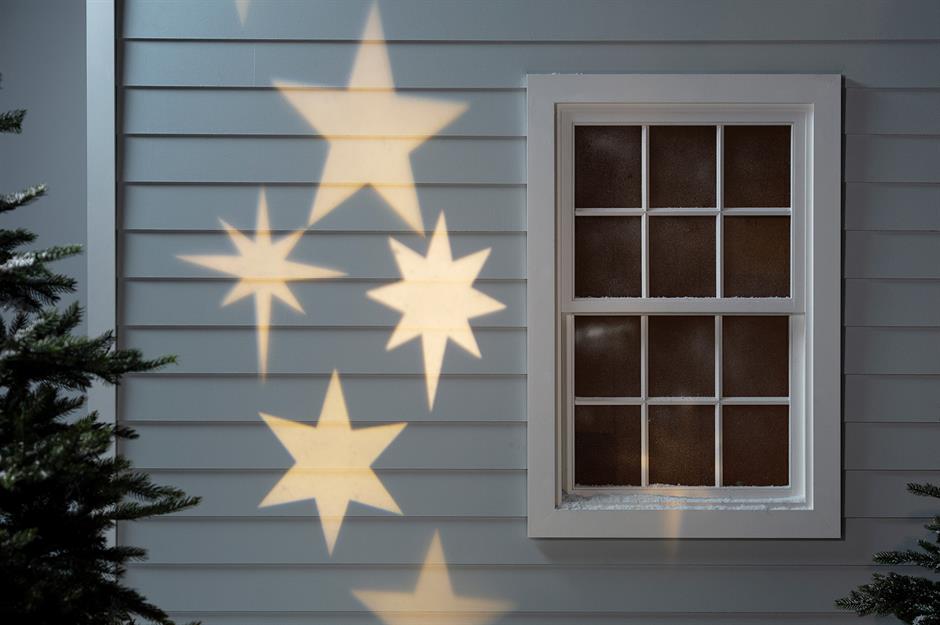 Impress your neighbours and create a laser show on your doorstep with a light projector that throws a magical constellation of warm white stars across the facade of your house. Simply stake the lights into the ground in front of your house and away you go!
Give way to grand gestures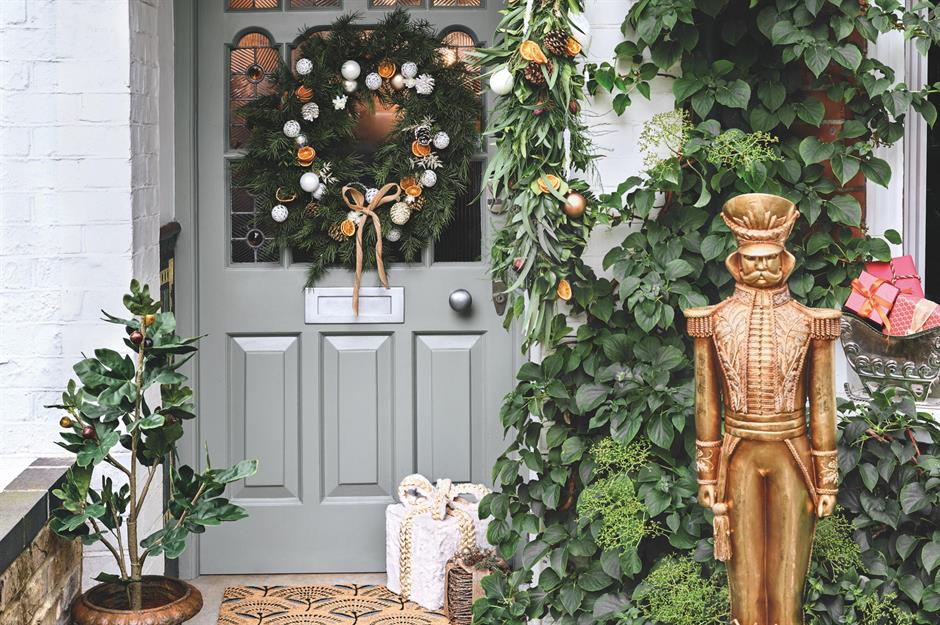 Create a grand entrance with life-size character sculptures. This jolly and festive soldier will certainly make heads turn. If only he answered the door when guests arrived as well! Tie him into the scheme using similar coloured embellishments dotted in outdoor wreaths and garlands such as orange slices and gold baubles.
Play with props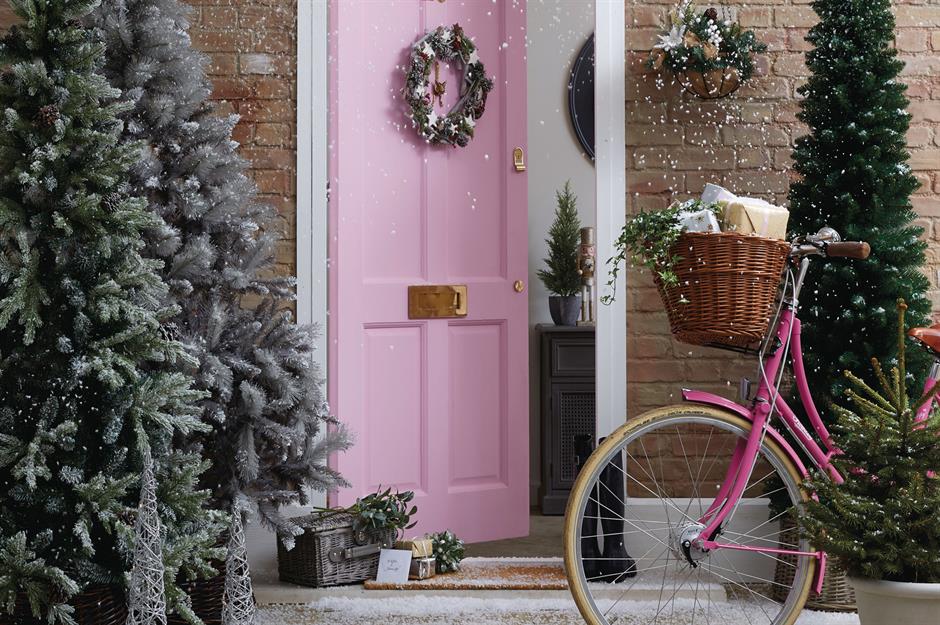 Delicate pink decorations with a spot of lustre can create a pretty whimsical feel to your outdoor space. Pair silver-hued trees and delicate ornaments with a silvery star-studded wreath. For an extra dose of Christmas charm, bring in quirky props. This fuchsia-coloured bicycle looks the part with, especially with its basket of presents.
Loved this? Like and follow us on Facebook for more Christmas decorating ideas
Be the first to comment
Do you want to comment on this article? You need to be signed in for this feature
Sours: https://www.loveproperty.com/gallerylist/70054/outdoor-christmas-decorating-ideas
Outdoor Christmas Decorations
Outdoor Christmas Lights- available in an enormous array of colors and styles to complement any outdoor Christmas decorations! Outdoor Christmas lights include popular C7 & C9 light bulbs, icicle lights, incandescent and LED mini lights and pathway lights. The possibilities with where and how you decorate the exterior of your home with Christmas lights are truly endless. Some popular locations for decorating with outdoor Christmas lights include roofs, columns, railings, porches, walkways, trees and even the yard!
C7 & C9 Christmas Lights - are the most popular and best option for creating perfect lines and contours along roofs and peaks. C7 & C9 lights can be hung from gutters or shingles with special light clips designed for roof applications. C7 lights are smaller than C9 lights and work well on most homes, especially smaller residences like townhomes and condos. Large C9 bulbs can be seen from greater distances making them the ideal choice for tall buildings and bigger light displays.
Icicle Lights- like C7 & C9 bulbs, are one of the most popular outdoor Christmas light styles for lining the roof and look beautiful hanging off of porch overhangs and stair railings too! Choose from traditional icicle lights with multiple drop variations on one string, curtain lights with drops ranging from 6 feet to 50 feet and realistic cascading icicle lights with animations that mimic dripping ice!
Christmas Mini Lights- the most versatile lights for outdoor Christmas decorating! There are hundreds of colors and styles of mini lights available to suit every project and match any outdoor Christmas decorations! Wrap mini lights around outdoor trees, columns and railings to add additional light to your front yard and porch. You can even weave mini lights through small bushes and shrubs to create a cheerful glow from within.
Pathway Lights- include either C7 or C9 LED or incandescent bulbs and coordinating light strings with included light stakes to make lining walkways, pathways and landscapes a breeze!
Sours: https://www.christmaslightsetc.com/outdoor-christmas-decorations.htm
55+ Best Outdoor Christmas Light Set Up Ideas 2020
It's the time of year when we like to add a little festive sparkle to everything, from our tree to our clothes, to our home's exterior. String lights add that touch of whimsy that gets everyone feeling a bit nostalgic. There are plenty of outdoor Christmas light ideas, but don't skimp on using lights for indoor decorating ideas. It's easy to incorporate lights into your Christmas garlands draped over mantels or stair banisters. Adding battery powered lights to mason jars makes for a pretty centerpiece. String lights are one of the best ways to trim Christmas trees, second only to Christmas tree toppers.
After the inside of your home is sufficiently lit, it is time to focus on outdoor Christmas decorations. Add Christmas lanterns to stair stoops or hang from low tree branches. Outline your front path with colorful lights. An outdoor tree lit up is also a nice touch. Turn your yard into an evergreen forest by making trees out of fairy lights and tomato cages. There is no such thing as going overboard when it comes to decorating with string lights.
Still looking for other ways to make your home merry and bright? Try illuminating your space with the best Christmas candles.
Sours: https://www.countryliving.com/home-design/decorating-ideas/g2794/decorating-ideas-christmas-lights/
Christmas fixture decorations light outdoor
How to Hang Outdoor Christmas Lights Like a Pro
Ever driven past a house that's fully decked out for Christmas and wondered how the owner achieved such a beautiful feat? Not to mention — how could they afford so many Christmas lights? Truth is, with a few simple tips and tricks, lighting up your entire house with Christmas lights can be both easy and affordable. You just need to know a few insider tricks, so we've taken the time to share our best tips to help you have the most lit holiday house on your block.
Measure Before You Buy
Before you load up your shopping cart with boxes and boxes of Christmas lights, determine how many feet you'll need (Image 1). Be sure to account for every spot you plan to illuminate, measuring spiraling locations, like front porch columns, using string (Images 2 & 3). Don't forget to measure the distance to your nearest grounded outdoor outlet and plan accordingly.
Measuring a House Exterior for Christmas Lights
A measuring tape is used to measure a window on the exterior of a home for accurate fitting of Christmas string lights.
Using String to Measure Column For String Lights
This man is seen wrapping string around a porch column to measure for custom-cut Christmas string lights. This method allows the lights to be cut at the exact length needed to cover the columns from top to bottom.
Measuring String With a Measuring Tape
This string has been tied at a knot and a measuring tape is being used to measure the distance to the knotted portion of the string.
Make a Diagram
To help yourself remember your plans once it's time to hang the lights, make a diagram showing your measurements. Use this to calculate the materials needed using this equation: distance/6 = number of lights needed. This works for strands with 6-inch spacing, which we recommend using to achieve a fuller look.
Buy Bulk Socket Lines Online
Buying bulk socket lines online rather than stringing together standard lights will save you money and offer a level of customization that is otherwise not achievable. With bulk lines, you simply cut off your desired length using wire cutters, make the male and female ends using vampire plugs and then screw in the bulbs (Images 1 to 3). Choose between C7 and C9 bulk socket lines or opt for a combo, but be sure to buy varying bulb sizes in the same color temperature for consistency. As you cut and assemble all your lines, label with clear tape to aid in future installation. Most importantly, be sure to test your lines before you go to the trouble of hanging them.
Cutting Christmas Tree String Lights With Pliers
Pliers are used to cut bulk Christmas string lights to a custom length. The wire is made to be cut to a custom length and fitted with ends for perfectly sized string lights.
Installing Clips on Bulk String Lights
Clips are installed on the ends of bulk string lights to allow them to plug into one another.
Putting Together Bulk String Lights for Christmas
Clips are added to the ends of bulk string lights to allow them to plug into one another.
Hang Lights
Time to hang some lights! The best way to create a fully illuminated look is to work from the top down. Safety first: Before climbing the ladder, get someone to spot you and securely hold the ladder to prevent any shifting (Image 1). On roof lines, use universal clips to fasten lights under shingles and onto gutters (Image 2). For more difficult areas like cement and brick chimneys, hot glue will effectively hold the lights in place. This tip works for metal surfaces as well; just secure the lines with painter's tape until the hot glue hardens (Image 3). Where appropriate, wrap lights and greenery together to pack a double dose of Christmas cheer (Image 4). Lastly, secure garland and power cords with zip ties so they don't stray or fall (Image 5).
Assistant Holding a Ladder During Christmas Light Installation
This person is seen holding a ladder to ensure safety as another person installs Christmas lights on the exterior of a home.
Using Clips to Attach Christmas Lights to a Roof
These handy clips are used to hold custom cut lengths of Christmas string lights in place on a roof. The clips hold the light bulbs themselves, creating a consistent line of lights across the roof of a house.
Applying Hot Glue to Hold Christmas Lights In place
Hot glue is applied to a window sill to hold Christmas lights in place. Painter's tape is used as a temporary hold while the hot glue sets.
Decorating a Porch Post With Greenery
Greenery is wrapped around a porch post for a festive Christmas addition on the exterior of a home.
Christmas Lights and Extension Cord Secured With Zip Tie
This outdoor extension cord is held in place with a zip tie to keep it form pulling the Christmas lights off of the house. The Christmas string lights are custom cut from a bulk spool of string lights.
Add Grounded Power Stakes
Before you plug the lights into just any outlet, take the safe route by placing a GFCI stake in the ground as your power source. These come in various sizes and many have the energy-saving option to place your lights on a timer.
Wrap It Up
When following this guide, remember to adjust to your specific needs. Hanging Christmas lights looks different for every house and whatever works best for yours is sure to make the season bright!
Hang Outdoor Lights02:21
Put up outdoor holiday lights like a pro with these tips.
Sours: https://www.hgtv.com/lifestyle/holidays/how-to-hang-outdoor-christmas-lights
55+ Best Outdoor Christmas Light Set Up Ideas 2020
Somewhere six months later, my mother began to talk to me in bed about her father of good mutual acquaintances about the. Intimate side of life. I told her EVERYTHING about my thoughts and "exploits". Now I want to give dry statistics so to speak, we will need one. Mom lost her virginity at 19 when Dad came from the army, he was 23 years old, it was three months before the wedding on.
Now discussing:
I always liked to spy on women, wherever there was such an opportunity. My first sexual intercourse also happened with a woman. She was 42, I was 17.
5202
5203
5204
5205
5206