16 Gorgeous Pool Deck Designs and Ideas to Inspire Your Backyard Oasis
Have you recently added a pool to your home? Or are you thinking of adding a pool to your home?
When you begin to add a pool or shop for a pool, you should also look for a way to place a deck around the pool.
It's a good idea for safety reasons, but it's also great for having a place to lounge and for adding more curb appeal to your home.
If you're feeling a bit lost in trying to find deck designs, you've come to the right place. I'm going to share with you some of the internet's best ideas for pool decks.
Some of the ideas will also come with plans if you're up for building your deck yourself. Here are gorgeous pool deck ideas and plans for you to enjoy:
1. Pool Deck with Bridge
It's relatively common for people to place their pool near their home, but what if you don't have this option? Do you have to walk through the grass to get to your pool?
Well, not with this idea. You can build a deck around the pool itself. However, there's a bridge included in the plan which will allow you to get from your home to the pool without stepping foot on the ground.
2. 24 Foot Above Ground Pool Deck Plan
If you're installing an above ground pool, you'll probably want a deck to accompany it. The deck will give you a place to lay your towels and also keep you out of the grass before getting in the pool.
Not to mention, if the deck is large enough you can incorporate a table with chairs to have a place to hang out around the pool too. This could be an ideal location for good times to be made.
3. The Circular Deck
If you have an above ground pool, placing a deck around it is an excellent idea for many reasons. The main reason being safety.
When there's a deck all the way around the pool, it's easier to block it off to unsupervised swimmers. This circular pool deck looks like it could do a fine job of protecting both the pool and the swimmers while still adding beauty to your property.
4. Various Decks
Here we have various types of decks which would work well for a variety of above ground pools. The first has steps leading up to the pool, and all the way around it.
The other pictures show you how to deck around an entire pool at your home's level, and also how to incorporate both the pool and hot tub in your deck.
5. Pool Party Deck
When you install a pool are you looking for a great place to party too? This deck will create the space for you.
This deck gives space all the way around the pool. It has room to swim, splash around, and still have ample space to eat and socialize too.
If you're looking for a spacious and gorgeous set-up for your pool at your home, this could be what you need.
6. The Partial Decks
These plans for partial decks are free to download. One is a pool deck for an oblong shaped pool. It gives you design ideas for the outside of the pool as well.
However, if you have a circular pool, there are plans for a partial pool deck for this style of pool as well. If you are looking for free plans and only a partial deck, this could be what you've been searching for.
7. 24 Foot Above Ground Round Pool Deck Design
These plans are detailed as to how to layout your pool for an existing 24 foot above ground pool. It tells you what type of gate to use.
Plus, it also informs you of where landscaping should go and details towards the types of handrails you should use. These are easy to read and could certainly help make your pool more enjoyable.
8. Detached Pool Deck
Are you new to the idea of building a pool deck? Are you feeling uncertain? Would you like to have a detached deck?
Well, this could be what you need. This pool deck is a detached deck which gives room for gathering around the pool. It's also accompanied by a detailed plan on how to build the deck, which is great for beginners.
9. Deck Plans for Small Above Ground Deck
When you install an above ground pool, you don't have to have a massive deck to accompany it. You can build a small above ground deck to give you a place to get in and out of the pool comfortably.
If this sounds like what you're interested in, you'll be happy to view these plans. It shows you what you need to know to construct a small above ground deck properly.
10. DIY Pool Deck
If you're someone who is new to the building game, this pool deck could be what you need. The deck itself is a great space to lounge and gather around the pool.
But the tutorial is terrific too. They offer many pictures to show you each step of the process, and the details of the build are well explained.
11. Raised Attached Deck
This is a cool set-up for a pool located where a house has a view and probably has a slight hill to the backyard too.
The original deck from the house has steps which lead down to a deck around the pool. It's a great way to enjoy the view while swimming.
12. Low Deck with Steps
This is another great layout for an above ground pool. If you put a pool in and have a patio which leads to your house, you probably will want to keep the patio.
In this case, the deck picks up where the patio stops. This leads into easy to climb stairs and has a wonderful sitting area great for socializing around the pool.
13. Deck Overlooking Pool
If you have a home with a view, the pool could be on a different level because the house will have a slope in the yard.
In this picture, this is clearly the case. They were able to build a deck which overlooked the pool and has steps to get down to the pool from the home without walking on the grass.
14. The Above Ground Inground Pool Deck
This pool is an above ground pool. However, they dug the pool partially into the ground and built the deck level with it.
Therefore, you step down into the pool as you would if it was an actual inground pool. This is a cool way to design your above ground pool and deck layout.
15. The Oblong Above Ground Inground Pool Deck
This is another example of an above ground pool being made to look as though it's inground because of the way the deck is positioned.
In this case, it appears as though they placed the pool and raised the deck. It still enables you to step down into the pool and give a classy look to your pool set-up.
16. Above Ground Pool and Hot Tub Set-Up
I showed you an example of how one deck incorporated both an above ground pool and hot tub above, but this one is a little different.
The deck is flush to both the pool and hot tub, but there's an added staircase to help you walk up to the edge of the pool to get in with ease. It makes for a beautiful backyard oasis and a wonderful way to relax at the end of the day.
Well, you now have 16 different options to choose from and use as inspiration in your pool deck design.
Some of these designs will work better for a traditional pool layout which you commonly find in a subdivision.
While other pool deck design ideas work better for homes with sloping yards.
You be the judge of which design might work best in your particular situation. Either way, we hope you find something here which will either help you to build your deck or inspire you to design your own pool deck layout.
Was this article helpful?
YesNo

×
We appreciate your helpul feedback!
Your answer will be used to improve our content. The more feedback you give us, the better our pages can be.
Follow us on social media:
Facebook Pinterest
Sours: https://morningchores.com/pool-deck-designs/
In backyards all across America, the summer landscape is once again blooming with above-ground swimming pools. According to the National Spa and Pool Institute, there are about 3.5 million of these opaline oases scattered from coast to coast, and 190,000 new ones are sold annually.
It's easy to see why above-ground pools are so popular: They're affordable, quick and easy to install and require minimal maintenance. However, to get the most enjoyment out of your above-ground pool you need a wood deck that surrounds it. Not only will you never again have to climb a pool ladder, but a deck will also create a fun-in-the-sun gathering place for family and friends. It gives you a place to swim, sunbathe, dine at poolside or just visit.
The trouble is that most pool decks are too difficult or complicated for the weekend carpenter to build. Plus, there are very few attractive pool-deck plans available, and most of those require you to dig and pour dozens of concrete footings.
Fortunately, we discovered a better, simpler approach for building a handsome pool deck. Ours, shown here, may look complicated, but we employed a few timesaving techniques that greatly simplified the construction process and, in turn, dramatically reduced the amount of work required to complete this project. And best of all, we didn't have to dig a single hole.
Deck Design
Our deck is built around a 21-ft.-dia. pool. It's constructed entirely of pressure-treated lumber and features a 360° wraparound pool deck that's connected to a spacious 10 x 18-ft. sun deck. The 3-1/2-ft.-wide circular pool deck provides easy access to the water, while the sun deck is large enough to accommodate a table and chairs and a few chaise lounges.
As mentioned earlier, we employed a timesaving deck-building method that didn't require us to dig postholes or pour concrete footings. It's called a floating-foundation system. The entire deck is supported by concrete pier blocks that simply sit on the ground.
Floating foundations are generally allowed by building codes nationwide, including regions that experience frost heave. However, codes do differ from town to town, so be sure to check with your local building department before starting construction on your pool deck.
For this project, we used Dek-Block precast piers ($5 each), which measure 8 in. high x 11 in. square and weigh about 45 pounds. Molded into the top of each are 1-1/2-in.-wide slots and a 3-1/2-in.-square recessed socket. The slots accept 2 x joists, while the socket is used to support a vertical 4 x 4 post.
To give you some idea of how much time and trouble we saved using the Dek-Blocks, consider this: It took us less than a day to set all 36 piers and 4 x 4 posts for the perimeter pool deck. If we had used the traditional posthole method, it would've taken at least two days just to dig the three dozen holes and pour the concrete footings.
The plans for building this deck are available free of charge from DekBrands, the company that sells Dek-Block piers. We ordered the Splash Deluxe plan, which came with a detailed materials list, cost estimator and instructions.
We spent about $2400 for materials to build our deck, which included the pressure-treated lumber, pier blocks, wood sealant, joist hangers and screws.
For more information about Dek-Blocks or to order a set of plans, contact DekBrands, P.O. Box 14804, Minneapolis, MN 55414; www.deckplans.com; 800-664-2705. Plans are available via mail, fax or by downloading them from the Web site.
Step 1: Framing The Floor
The floor framing around the pool consists of 18 trapezoidal floor-joist frames--4-sided frames with two parallel sides and two sides that angle toward each other. The dimensions for building the frames are contained in the plans. Begin by using 2 x 6s to build 17 identical frames. The 18th frame will be built to fit after the other frames are assembled around the pool.
To speed up the job of building the individual frames, use galvanized-metal corner brackets to attach the four perimeter boards. Then, use joist hangers to install the center support joist.
Step 2: Setting Piers And Posts
The floor-joist frames are supported by a series of 4 x 4 posts set in the concrete pier blocks. Begin by setting the first pair of blocks directly onto the ground beside the pool. You don't have to remove the grass, but if the ground is uneven, use a shovel to level it out. Position the first pier block so its center is 12 in. from the pool wall. Place the second pier farther away from the pool, with its center 18 in. from the center of the first.
Step 3: Setting Piers And Posts
Next, stand two 4 x 4 posts in the square sockets molded into the piers. Lay a 4-ft. level across the top cap of the pool--the coping--and mark a level line across the 4 x 4s. Next, remove the posts and measure down from each line a distance equal to the thickness of the pool coping, plus 1-1/2 in. for the 2 x 6 decking, 5-1/2 in. for the 2 x 6 floor frame and 1/2 in. for expansion. Make a mark at this position on each post, and cut them to length. Now you can put the posts back onto the piers, but make sure they're in their original positions.
Step 4: Setting Piers And Posts
Repeat this procedure for the next pair of piers and posts. Refer to the plan or use one of the assembled floor-joist frames to position the pier blocks. Once the second pair of posts is cut to size, set them into the piers and place a floor-joist frame on top. Drive 2-1/2-in. deck screws down at an angle through the frame and into the tops of the posts. Continue to work your way around the pool, setting pier blocks, posts and frames. After installing the 17 assembled frames, measure and cut the last one to fit the remaining space.
Step 5: Setting Piers And Posts
Complete the pool-deck frame by screwing 2 x 4 diagonal braces to the 4 x 4 posts. The bracing isn't required if the deck is less than 30 in. high.
Now set the pier blocks and posts for the 10 x 18-ft. sun deck. Again, refer to the plans for the exact positioning. The 42 piers are arranged in 11 rows spaced 24 in. on center. Once the posts are cut to size and set in the piers, install the 2 x 6 floor joists. Fasten the joists by screwing down at an angle into the tops of the posts with 2-1/2-in. deck screws.
Step 6: Laying The Decking
One common technique used for decking around a circular pool requires each board to be tapered so they all radiate from the center of the pool. The method we used is a lot easier. Cut several 2 x 6s into 4-ft. lengths with one end of each cut at 80° instead of square. Slip the angled end of the first decking board under the pool's coping, keeping it at least 1/2 in. away from the pool wall. Set the long edge of the deck board directly on the joint running between two adjoining floor-joist frames. Fasten the board to the joists with 2-1/2-in. deck screws. Lay the next board tight against the first one and screw it in place. (When the boards shrink, a 1/4-in. gap will appear between them.) Continue installing deck boards in this manner, with the angled end slipped under the coping, until you come to the next floor-joist frame. Lay a deck board in place and mark where it overlaps the joint between the two frames. Cut the board along the line and screw it in place. Trim the next two boards in the same manner, then go back to installing full-length boards again. Once all the deck boards are fastened down, use a circular saw to trim off their overhanging ends so they're flush with the perimeter joists.
Step 7: Laying The Decking
Now move over to the sun deck and start fastening down the 2 x 6 deck boards. Again, butt the boards tightly together and let them run long. Then, snap a chalkline and trim the boards flush with the joists.
Step 8: Building The Guardrails
To save time, we purchased precut railing posts at a local home center for $6 apiece. The tops of the 4 x 4 pressure-treated posts have a decorative chamfer and V-groove. The bottom end has a precut notch that sits on top of the decking. Install a post at every joint where two floor-joist frames meet. Fasten each one with two 3/8-in.-dia. x 4-1/2-in.-long galvanized lagscrews.
Make the horizontal rails that span between the posts by cutting a 10° bevel on the ends of a 2 x 6. Slip the board between two posts and fasten it with 2-1/2-in. deck screws. Cut a 2 x 4 to length and screw it to the top of the 2 x 6 rail to act as a cap.
Step 9: Building The Guardrails
Next, enclose the open space under the railing with 2 x 2 precut balusters (75 cents each)--these have one end beveled to 45°. Hold each baluster perfectly plumb, then screw it to the 2 x 6 railing and to the floor joist. Set the balusters 4 in. on center, with the beveled ends facing down.
Step 10: Building The Guardrails
The final construction step is to build the stairs that lead from the sun deck down to the ground. To simplify this chore, we used five precut stair stringers ($7 each). Set the bottom ends of the stringers on concrete patio blocks. This will prevent them from sinking into the dirt and wicking up moisture. Screw the upper ends of the stringers to the floor joist. Create the stair treads by screwing 2 x 12s to the stringers.
Joseph TruiniJoe Truini is a former carpenter and cabinetmaker who writes extensively about remodeling, woodworking, and tool techniques.
This content is created and maintained by a third party, and imported onto this page to help users provide their email addresses. You may be able to find more information about this and similar content at piano.io
Sours: https://www.popularmechanics.com/home/how-to-plans/how-to/a174/how-to-build-a-pool-deck-easily/
2Log In Or Create A Free Account
---
---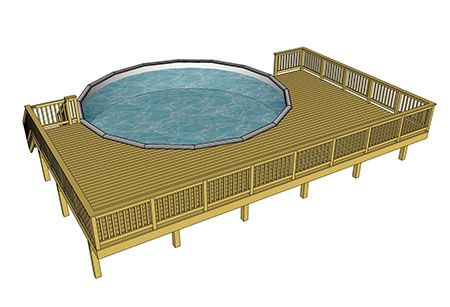 Plan poolhalfround
This 20' x 34' deck wraps a quarter way round a 24' wide and 52" high above ground pool.
---
Square Feet: 484
Width: 34'
Depth: 20'
Height: 4' 4"
Levels: 1
---
Estimated Material Cost
| Material | Estimated Cost |
| --- | --- |
| Pressure Treated Pine | $4,351.09 |
| Composite | $7,036.35 |
| Exotic Hardwood | $9,634.81 |
| Cedar | $5,165.58 |
| Redwood | $5,081.03 |
Sours: https://www.decks.com/deck-plans/pool-decks/poolhalfround/poolhalfround
How to Build a Pool Deck in 2018 #1 Starting the Framework
And in school, we used this similarity a lot, I changed into her clothes and corrected her math grades, or she. Put on my clothes and corrected my English. I was always jealous of my sister, I wanted to be a girl. The boys looked after Angelka, and they teased me as a nerd.
Deck plans round pool 24
I will receive this money and forget it all like a bad dream. " Vladimir Petrovich entered and called to the toilet. Katya limped over to him and bent down at the behest of the owner. He slowly and carefully removed the cork and walked away.
Building Deck around above ground pool
She whispered hotly, It was my unforgivable mistake. This should not happen again. Her voice became stern, but panicky notes were heard in it.
Now discussing:
She was ashamed to death of this unnecessary innocence and even more - to tell him about her. Meanwhile, he put the guitar aside and kissed it more and more hotly. He squeezed her breasts, and she frightenedly tried to remove his hands, but she froze in the captivity of his strong hands and lips.
Placing her hands on his. She was getting hot, he pulled off her sweater and unbuttoned her pants.
5242
5243
5244
5245
5246