Jump To A Section
Among the Air Force's most valuable assets are the pilots and other men and women on aerial platforms who spend years training to become proficient at their airborne jobs.
Many times US Air Force pilots and crews put themselves in harm's way by flying over hostile territory to get their missions done.
This also brings with it the risk of these aircrews being shot down hundreds or thousands of miles from friendly confines.
Captured pilots and Airmen become a valuable commodity to enemy combatants and they are sometimes tortured, beaten, and even killed while in captivity.
SERE Requirements And Qualifications
Training and Career Path
How Much Are They Paid?
What's Life Like As A SERE Specialist?
SERE Job Reviews
Civilian Career Opportunities
Not to mention, they are often coerced into being used as propaganda tools for the enemy.
A well-known example of that was the late Senator John McCain, who was shot down over Vietnam, and subsequently held captive for 5 1/2 years.
A pilot or aircrew member's best chance for not being caught when they go down in hostile territory comes from the special training they get from a little known group of Air Force professionals called SERE specialists.
SERE stands for survival, evasion, resistance, and escape.
Any Air Force member has to go through 3-weeks of SERE training in order to be allowed to become a pilot or a part of an aircrew.
SERE specialists are dedicated Air Force professionals that take very seriously their job of giving pilots and other aircrew members a fighting chance to evade capture when they go down in hostile areas.
It is one of the most unknown, most misunderstood and undermanned careers in the United States Air Force.
Although they are not considered Special Forces soldiers (like Navy SEALs or Green Berets), their training is almost as intense and it takes a smart and physically fit individual to fill this Air Force role.
SERE training produces some of the military's toughest and most resourceful members, despite the fact that there is little chance that they will ever be involved in combat.
Air Force SERE Specialist Requirements and Qualifications
Here are the requirements that must be fulfilled in order to enter into training to become an AIR Force SERE specialist.
ASVAB and TAPAS Requirements
Minimum ASVAB score of 55 in the general category
Minimum score of 55 required on the SERE selection model of the Tailored Adaptive Personality Assessment System (TAPAS)
Additional Qualifications
Be between the ages of 17 and 39
Possess a GED or high school diploma
Have the equivalent of an 11th grade or better reading level
Have normal color vision and depth perception
Be able to speak English clearly and distinctly as demonstrated by passing the Reading Aloud Test.
Meet psychological requirements outlined in AFI 48-123
Meet FCIII physical and psychological qualifications for SERE Specialist and parachutist duty
Successful completion of 8.5 weeks of Air Force Basic Military Training held at Joint Base Lackland in San Antonio, TX (Not required of those with prior military experience or training)
Completion of a current Single Scope Background Investigation (SSBI) that leads to the ability of an Airman being granted access to Secret of higher level material
Related Article – Air Force PT Test Standards
Training and Career Path to Become an Air Force SERE Specialist
It takes almost a year for an Airman to become qualified to fill the duties in the Air Force that are required of a SERE training specialist.
SERE Training Pipeline
Here are the training phases required in order to complete the SERE training pipeline.
SERE Specialist Selection (SSS)
This training takes place over a 19-day period at Joint Base San Antonio – Camp Bullis in Texas.
It's a course designed to severely test a SERE candidate's physical and mental capacities.
This ensures that an enlisted member is able to handle the physical and mental demands that it takes to become a SERE specialist in the Air Force.
During this course, a SERE recruit will also have to take and pass the Rescue Operator Physical Fitness Test (ROPFT)
The minimum scores to pass this test for a SERE specialist include:
200-meter swim – freestyle, breaststroke, and sidestroke – 10:00-minute time limit
1.5-mile run – completed in under 11:00 minutes
Pull-ups (1 min) – 8 reps
Sit-ups (2 min) – 48 reps
Push-ups (2 min) – 48 reps
In addition to passing the ROPFT, the SERE candidate will also have to carry a 65-pound rucksack four miles in less than one hour.
SERE Specialist Training (SST) Course
This is the heart and soul course for those wishing to become SERE specialists.
The training is a mentally and physically demanding 5 ½ month-long course.
It's held at Fairchild AFB outside of Spokane, Washington.
During their time spent in this course, a SERE recruit will learn to survive in several different climates.
These include surviving in the mountains, deserts, tropics, and even in the open ocean.
SERE recruits are also taught wilderness first aid, rough land evacuation techniques, and how to win at hand-to-hand combat.
Recruits will also be taught various types of water egress techniques, non-parachuting water survival, and go through one day of emergency parachute training.
Related Article – Navy Aircrew Survival Equipmentman (PR): Career Details
During SST training recruits will also become part of an actual 3-week SERE class that they one day will teach themselves.
The United States Army Airborne School – "Jump School"
This is a 3-week course that will give a SERE recruit basic paratrooper training.
It's held at the United States Army Infantry School located at Fort Benning, Georgia.
Modern Army Combatives Program (MACP)
Immediately after their jump school session is complete SERE recruits will stay right at Fort Benning, Georgia to attend MACP training.
This is a 5-day course designed to train military members in the basics of hand-to-hand combat and other close-quarters fighting techniques.
SERE Training Graduation
SERE training is so demanding that roughly 85% of all of those that enter the SERE pipeline training will not make it through the course.
Upon completion of the training, the new SERE member will be given their coveted green beret, the symbol of membership into the US Air Force SERE Specialist brotherhood.
This Air Force produced YouTube video gives a more complete overview of the SERE training pipeline.
How Much Are Air Force SERE Specialists Paid?
As with all branches of the military, Air Force enlisted base pay is determined by rank and time in service.
Most newly enlisted SERE specialists will start out at the rank of Airman Basic (E-1).
If a new recruit has prior SERE applicable skills or training this may be bumped up to an Airman (E-2) or Airman First Class (E-3) rank.
Here is the current base paytable for Air Force enlisted members:
Insignia
Pay Grade
Rank
Abbreviation
2021 Minimum Monthly Pay
E-1
Airman Basic
AB
$1,785
E-2
Airman
Amn
$2,001
E-3
Airman First Class
A1C
$2,104
E-4
Senior Airman
SrA
$2,330
E-5
Staff Sergeant
SSgt
$2,542
E-6
Technical Sergeant
TSgt
$2,775
E-7
Master Sergeant
MSgt
$3,208
E-8
Senior Master Sergeant
SMSgt
$4,480
E-9
Chief Master Sergeant
CMSgt
$5,473
E-9
Command Chief Master Sergeant
CCM
$5,473
E-9
Chief Master Sergeant Of The Air Force
CMSAF
$5,473
Other forms of pay and incentives that an Airman may be entitled to include such things as:
Housing allowance for those that live off base (BAH)
Subsistence allowance (Food – BAS)
Temporary duty pay
Hazardous duty pay
Flight pay
Cost of living incentives
Tuition reimbursement
Of course, all health care requirements for any Air Force enlisted member is always 100% paid for.
As was mentioned, this is currently an undermanned Air Force career field.
That means reenlistment into this AFSC often entitles those who do it to some very generous monetary bonuses.
What's Life Like as an Air Force SERE Specialist?
Once an Airman has completed their rigorous SERE training, they will then become a member of a select group of individuals known collectively as "The Walking Air Force".
At this point, SERE recruits will go from being trained in SERE tactics to conducting the actual SERE training sessions themselves.
Their duties will include:
Prepare pilots, aircrew (like loadmasters), and other Air Force members with a high risk of capture to escape, evade and return with their honor intact from any type of survival situation
Instruct pilots and aircrew members to survive under the following climatic conditions: arctic, desert, tropical, ocean, and temperate
Teach SERE course attendees the basics of wilderness living, shelter building, fire making, map and compass navigation, proper backpacking techniques, and food and water procurement
SERE trainers will also need to teach SERE course attendees wilderness medicine and basic first aid, signaling to get rescued, escape and evasion techniques, and prisoner of war (POW) survival and resistance methods
Throughout their Air Force career, SERE Training Specialists will be expected to stay in excellent physical condition.
They will be subjected at times for short temporary duty assignments but most of this is training related and takes place inside the continental USA.
Despite the fact an Airman in this career field will spend most of their time at a single location; a SERE specialist can still expect to spend several weeks at a time away from home and family as their job requires.
Job Reviews
Here is what two former SERE specialists had to say about their time spent in the USAir Force in reviews posted on the website Indeed.com:
Here is a YouTube video that gives a little insight as to what it's like to be an Air Force SERE specialist:
Air Force SERE Specialist Civilian Career Opportunities
Although there is not an extremely high demand for former Air Force SERE personnel in the civilian job force, there are related positions available if one takes the time to look.
Many of these jobs are military-related either directly or through government subcontractors.
Here are some of the civilian positions that Ex-Air Force SERE specialists are capable of filling:
Sports and recreation positions
Government and civilian subcontracted SERE training positions
Law enforcement and firefighting
Survivalist training positions
Some civilian and government employers of former SERE specialists include:
People, Technology & Processes – Camp Lejeune, NC
Valiant Integrated Services – Fort Bragg, NC
General Dynamics Information Technology – Fort Rucker, AL
PD Systems Inc. – Camp Mackall, NC
Prevailance Inc. – San Diego, CA
Reservoir International – Lackland AFB, TX
Many of these positions are listed with starting pay at $45,000 or better per year.
Related Article – 10 Best Air Force Jobs For Civilian Life
References:
Official Air Force Recruiting Page
Air Force Reserve Official Page
Go SERE
Craig S.
Craig spent many years on active duty service in the Air Force stationed in such places as Okinawa, Japan and SAC Headquarters in Omaha, Nebraska. While in the military, he spent time analyzing imagery from a variety of aircraft such as the SR-71. He was also one of the first enlisted members in the Air Force to experience working with near real time satellite imagery. Craig currently resides in the Outer Banks of North Carolina and runs his own business.
Latest posts by Craig S. (see all)
Related Articles You Might Be Interested In:
Affiliate Disclosure:
This post may contain affiliate links. If you click and purchase, I may receive a small commission at no extra cost to you. I only recommend products I have personally vetted. Learn more.
Sours: https://www.operationmilitarykids.org/air-force-sere-specialist-1t0x1/
What Do SERE Specialists Do?
Survival, Evasion, Resistance and Escape Specialists are part of the Guardian Angel weapons system of Air Combat Command along with pararescuemen and combat rescue officers. Airmen must meet stringent requirements to fulfill the roles of this elite team. All specialists must be able to pass the SERE Physical Ability and Stamina Test, qualify for secret security clearance and have no allergies to triggers like pollen and grasses.
Preparation
SERE specialists have mastered the skills of survival, evasion, resistance and escape in any situation and train other personnel to master these skills. Specialists not only learn to survive in captivity, they also learn to survive when isolated in any situation, including arctic, desert, jungle, and mountain climates and even on the open ocean. Training begins with a 15-day SERE selection course in which airmen demonstrate leadership, the ability to instruct and the ability take instructions during the extreme mental and physical challenges of training. Then specialists go on to complete the six-month SERE Specialist Training to learn all aspects of SERE and instruction. Specialists must also complete the Army's Basic Parachutist course.
On-the-Job Training
After SERE specialists complete training, they then begin on-the-job training to become field instructors for the combat SERE course, teaching survival skills to service members. Specialists begin teaching the material in which they are proficient. Responsibilities expand until a specialist is not only teaching all aspects of the material, but is also doing the day-to-day planning, including creating lesson plans and material and arranging locations for exercises to complete training objectives for survival skills. A specialist spends three years as a field instructor before qualifying to go operational and assist in personnel recovery.
Code of Conduct Training
SERE specialists provide service members with training in the Code of Conduct for Members of the United States Armed Forces. The Code of Conduct lays out the obligations and responsibilities service members have if they find themselves in harm's way. Specialists train personnel to evade capture at all costs, escape if they are captured, help other prisoners in captivity and avoid helping the enemy or discrediting the United States.
Levels of Code of Conduct Training
SERE specialists provide three levels of Code of Conduct training for service members to prepare them for deployment in hostile territories. Level A offers entry-level SERE instruction at basic military training and at courses designed for officers. Level B training is intermediate SERE education for enlisted service members and officers who have a moderate risk of being captured. Level C is the most advanced level of training and is provided for service members who are at a high risk of capture due to their military occupational specialty or who are at risk of being held hostage by enemy forces.
Personnel Recovery
As a part of the Guardian Angels, SERE specialists assist with recovery of isolated personnel. In addition to providing initial and continuing Code of Conduct training to service members, SERE specialists also help with the pre-planning and preparation of forces to go in to rescue isolated service members and Department of Defense personnel. They help pararescuemen and combat rescue officers with the five steps of personnel recovery: report, locate, support, recover, and reintegrate. Once personnel are rescued, specialists fulfill their final role by debriefing the service member and helping him to return to his job with honor. In addition, specialists provide additional SERE training to the rescued service member to ensure lessons are learned and he will avoid capture during future missions.
References
Writer Bio
Maureen Malone started writing in 2008. She writes articles for business promotion and informational articles on various websites. Malone has a Bachelor of Science in technical management with an emphasis in biology from DeVry University.
Sours: https://work.chron.com/sere-specialists-do-23668.html
After Training Changes, Air Force SERE School Sees Near-Historic Low Attrition
The Air Force's elite survival school just accomplished an almost unheard-of feat: graduating a full class with almost no dropouts.
Twenty-six of 28 students graduated the Survival, Evasion, Resistance, and Escape Specialist apprentice course last week, making it the most successful graduating class in years, according to Air Education and Training officials. Typically, about half of each class washes out during the final apprentice course because of its demanding nature, AETC said.
While the school doesn't keep full historical records, the latest attrition rate is the lowest in recent memory.
Chief Master Sgt. Alexander Guerrero, 336th Training Group command chief, said the feat is a result of changing the training style and culture at the SERE curriculum's toughest level.
Read Next:Pentagon Hits Target of 2,500 Troops in Afghanistan Despite New Law Restricting Drawdown
"We have adopted, and rightfully so, coaching, mentoring -- not gatekeeping," Guerrero said in a roundtable discussion with reporters Jan. 7, prior to the graduation ceremony. "[Gatekeeping] is how a lot of things were culturally 30 years ago, 20 years ago. Personality has changed; generations have changed; how you get across to individuals have changed."
SERE specialist training covers how to evade capture or survive as a hostage in both peacetime and wartime environments, said Col. Nicholas Dipoma, 336th Training Group commander. It includes rescue and urban-focused operations, as well as survival in practically any environment -- rural, desert, jungle, coastal areas and even in the water.
The 336th Training Group is responsible for two types of SERE pipelines. While some SERE training is conducted at operational units, the 22nd Training Squadron at Fairchild Air Force Base, Washington, oversees training for aircrew members and special operations forces identified as being at high risk of capture. Meanwhile, the 66th Training Squadron, also at Fairchild, trains airmen to become qualified SERE career instructors, known as the 1T0X1 Air Force Specialty Code. Both squadrons fall under the 336th. There's also an attachment at Eielson Air Force Base, Alaska, which preps airmen for Arctic survival.
The Air Force is the only service with a dedicated SERE career field. Airmen begin with an orientation course at Lackland Air Force Base in Texas and then move into the indoctrination course at Fairchild. Officials must be confident in students' abilities before they send them to the official SERE pipeline, said Capt. Kayshel Trudell, AETC spokeswoman.
Following indoctrination, the apprentice course involves the most extensive training on techniques and skills students will need in the field. The six-month curriculum covers 13 phases, including land navigation, personnel recovery and even combat.
Only two classes graduate annually, AETC said. The limited number of classes meant it took a while for officials to pinpoint where students struggled in the pipeline, the officials said.
As part of the new initiative, instructors mentored students with tips such as, "Don't give your pain a voice," to keep them from giving up, said Senior Master Sgt. John Conant, SERE Apprentice Course commandant.
"It's not necessarily just physical. A lot of what we do is mental," he said.
It's not the first time the service has focused on counseling troops as they start in a grueling career field.
In 2018, the AETC established its first Special Operations Recruiting Squadron, with mentors working with prospective airmen. The initiative gives recruits a firsthand glimpse of what their duties would be like and prepares them for the special operations community, which for years has had notoriously high attrition rates -- some hovering around 80% -- depending on career field.
AETC officials are hopeful that future SERE classes will continue the upward trend in graduation rates, staving off a grim future in the career field.
"If we are unable to address the historic attrition throughout this pipeline, the trend is unsustainable," Dipoma said. "Over the next four years, if we don't turn attrition in this pipeline around, while also maintaining the same high standard, the career field is going to be ... in a bad place."
-- Oriana Pawlyk can be reached at [email protected] Follow her on Twitter at @Oriana0214.
Related: The Air Force Is Making Changes to Its Enemy Capture Survival School
Show Full Article
© Copyright 2021 Military.com. All rights reserved. This material may not be published, broadcast, rewritten or redistributed.
Sours: https://www.military.com/daily-news/2021/01/17/after-training-changes-air-force-sere-school-sees-near-historic-low-attrition.html
Air Force SERE Specialist—What Makes SERE Special?
Inside America's Toughest Survival School
Frenchman Coulee, in central Washington, is one of those places you visit and think, "How the hell does anything survive out here?" Desert canyons and low mesas cut through the rocky landscape. Wind whips sand eddies up off the dunes. It hardly ever rains. And a series of sheer basalt cliffs, although popular with climbers, makes traveling overland a nightmare. Of course, if you're looking to test someone's ability to stay alive for six days in the wilderness with few resources—natural or otherwise—Frenchman is a pretty good place to do it. Which is exactly what the Air Force was doing there last summer with 31 trainees—all dressed in orange and white nylon togas.
"You have five minutes!" barks Matt Voss, the instructor in charge.
The airmen rush to put the finishing touches on their shelters—sand pits covered with parachute scraps and sagebrush—and line up shoulder to shoulder. The togas are parachute scraps, too. Nylon is the one resource Air Force pilots and aircrew members will have in relative abundance after surviving an ejection or a crash landing. Some of the trainees wear parachute headdresses. Others wear parachute belts. If it wasn't for the seriousness of their faces, you could mistake the scene for a community-theater reenactment of Lawrence of Arabia.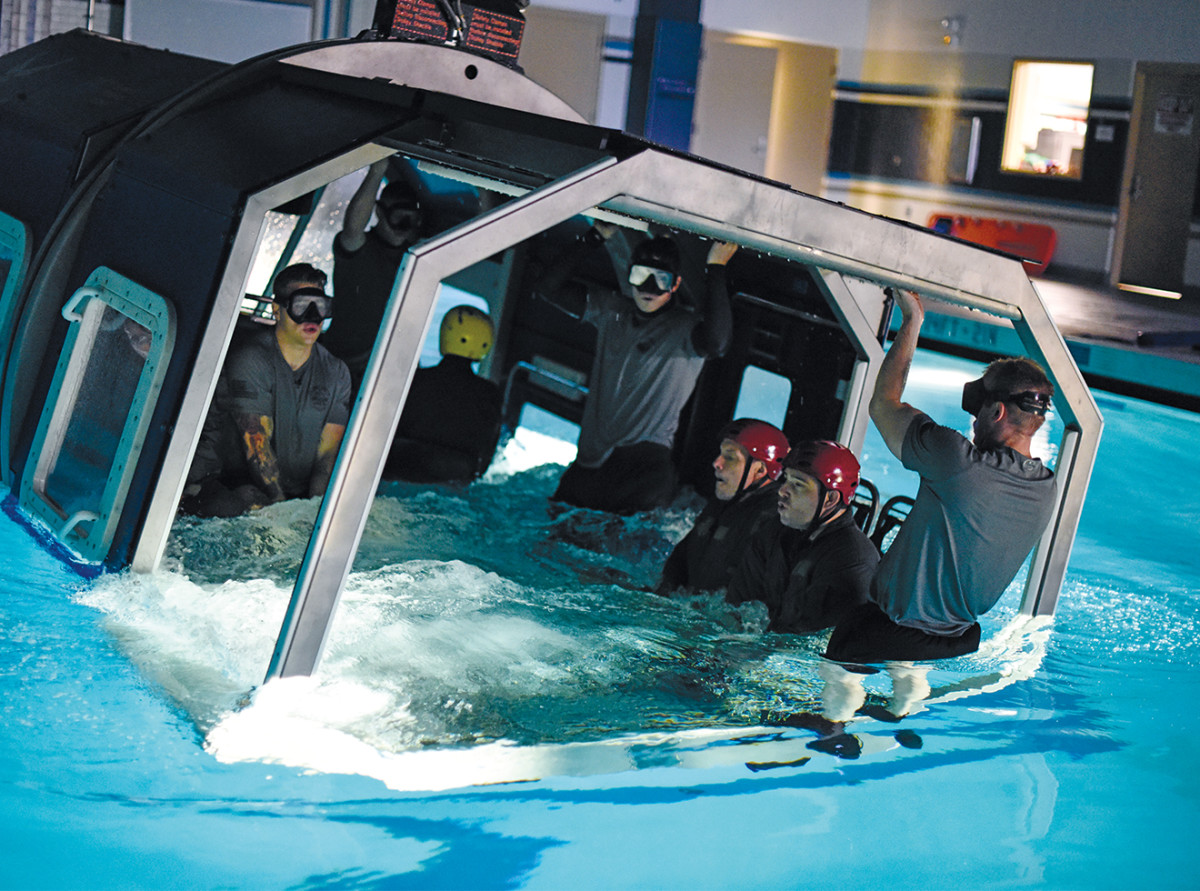 This is the Air Force's SERE specialist training—SERE being the acronym for survival, evasion, resistance, escape. The school began decades ago as way to develop an elite crew of survival specialists who could then train the Air Force at large how to "return with honor" from behind enemy lines, and it's still required for anyone who holds a job that might take them into hostile territory. A pilot who goes down might have to survive days or weeks with nothing but a parachute and a few simple tools, like a Buck knife and an unlubricated condom. (In a pinch, rubbers can help gather water or administer first aid.) SERE specialists show them how to do it.
There are roughly 550 SERE instructors in the Air Force, and their center of operations is Washington's Fairchild Air Force Base, 135 miles east of Frenchman Coulee. Last summer, the Air Force allowed me a rare look into the secretive program. I shadowed SERE trainees as they searched for water in the desert and foraged berries in the mountains. I worked out with them in the school's Survival Gym, sat through lessons about improvised weapons, and watched as they struggled to free themselves from a helicopter fuselage plunged upside down into a pool.
At Fairchild, where SERE is separated from the rest of the base by 13,900 feet of runway, there's a hangar for practicing parachute landings, a museum filled with dioramas of improvised snow caves and life rafts, and a full-scale Middle Eastern–style neighborhood where "hostages" learn to escape by crawling through drainage pipes and scaling walls with improvised grappling hooks.
This may sound fun, but in truth, it's so arduous that roughly 85 percent of those who start SERE training flunk out before reaching graduation. The list of daily chores is so long that students forgo sleep. They also go long stretches with minimal water and as little as 500 calories of food a day. And even as their energy wanes, they have to stand in front of their peers and instructors to present lessons on information they only just learned.
That's because SERE specialists' primary mission is to practice and refine the techniques required for surviving and evading, so that they can teach what they've learned to the rest of the Air Force. Despite being some of the military's toughest and most resourceful members, they almost never see combat.
"We're never going to be kicking down doors and shooting up places," says SERE specialist John Ware, from Texas. "That's not what we're here for. We're here to help out with what to do when someone goes down."
As SERE specialist Voss, 29, walks his line of toga-clad trainees, he examines each face for a clean shave. Then he inspects their sand shelters, watches each one gulp down a shot of brown-green water harvested from wild sage, and gathers the group so they can show off the bugs they've collected for snack time.
"The grasshoppers are delicious," explains one trainee. "You just have to rip their legs off before you eat them."
SERE DIDN'T EXIST back during the Korean War. If it had, perhaps it would have mitigated U.S. losses: Some 2,800 war prisoners died in captivity, and those who survived had been subjected to brainwashing techniques. Some offered up sensitive military information, while nearly two dozen elected to remain with their communist captors after the war ended.
"People were so indoctrinated that they stayed," says SERE specialist Paul Daggett, 32. "Prisoners essentially became Koreans."
In response, the Department of Defense issued the U.S. Fighting Man's Code, a 94-page handbook that outlined a code of conduct for military personnel to follow in the event of capture. In 1961, with the code of conduct as its North Star, the Air Force created the world's first SERE program. The Navy and Army followed suit, but unlike the Air Force, the other branches never established a dedicated fleet of specialists whose sole responsibility is the gathering and teaching of survival skills.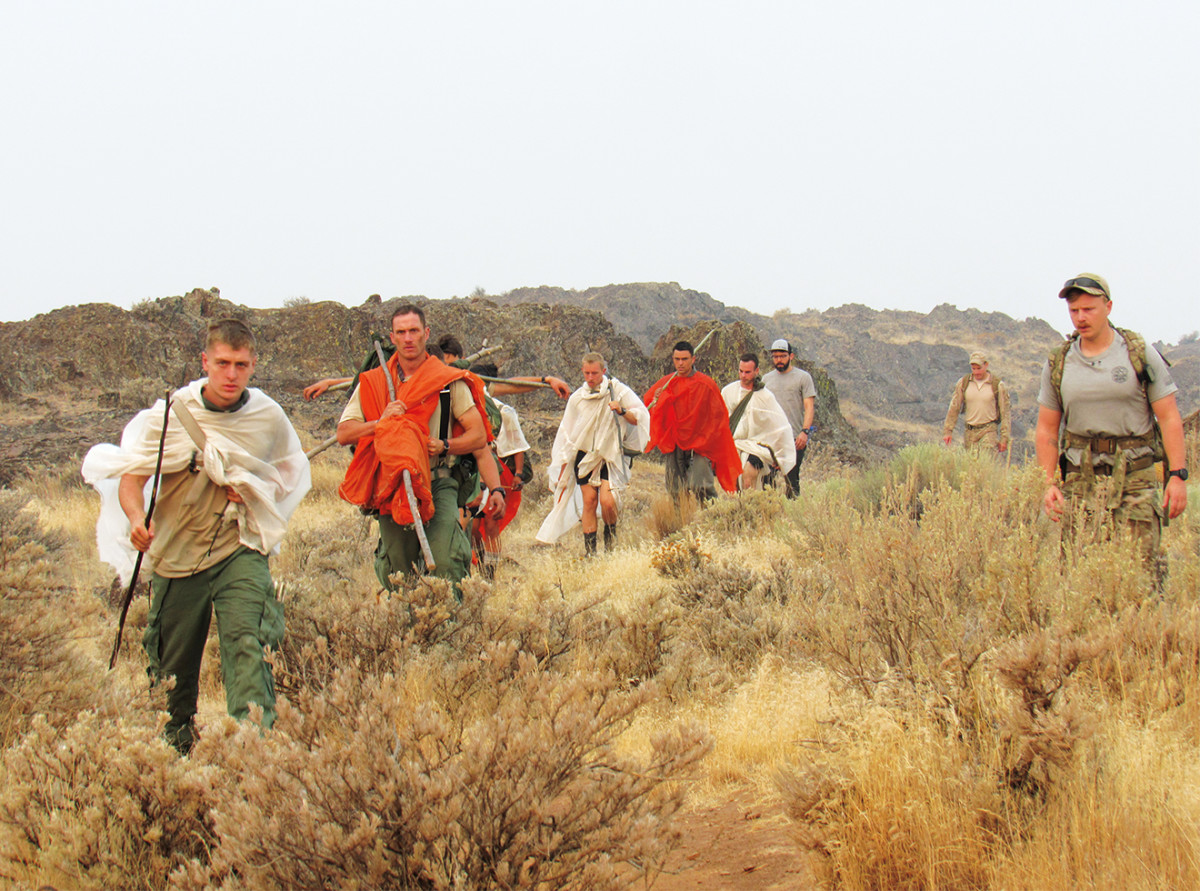 "We're the only branch that has people who do SERE as a career," says Daggett.
One half of the Air Force's SERE specialists are scattered among military bases around the world, where they provide field and follow-up training to airmen on deployment. The other half is at Fairchild, where the goal is to constantly build numbers to replenish retiring survival specialists. But very few people have the grit and desire to survive the training.
"There was one week where I probably only slept eight hours total," says SERE specialist Peter Ryan, remembering his course. "It was a mental kick in the dick." During one training expedition in the Arctic, the temperature never broke single digits. Ryan teetered on tired legs for days, chopping wood in waist-high snow. He'd dig a new shelter every evening, use the wood to make a fire, and then set into a long list of tasks dictated by his instructor. If he completed everything to satisfaction, he'd bag a couple of hours of sleep before doing it all again.
"We're the guinea pigs," says Ryan. "I can't teach you what to do as an isolated person if I don't know what it's like myself."
After desert training, SERE trainees will do stints in tropical and arctic environments, along with a week on the coast where they eat whatever they can pull from the sea and spend hours at a time floating around inside a rescue raft, fighting winds or baking in the sun. Of all the challenges SERE trainees endure, though, it's the "torture" training that stirs the most controversy. Much of what America knows about SERE stems from a 2012 report by the Senate Select Committee on Intelligence charged with investigating the CIA's former detention and interrogation program. In the past, some SERE programs have reportedly instructed airmen on waterboarding resistance, and the Senate's report revealed that in the wake of 9/11, two psychologists hired by SERE also oversaw a CIA program for "enhanced interrogation techniques" for use against U.S. enemies.
"There was a week where I probably only slept eight hours total. It was a mental kick in the dick."
Once the connection with the CIA was laid bare, SERE came under fire as a torture school. Old stories resurfaced about waterboarding, but also other forms of abuse, like students being held in small spaces for long periods of time and being forced to listen to that 1970s meow-meow-meow-meow Purina cat-food commercial on loop.
But what the critics call torture training, SERE calls resistance training. Rather than create torturers, the goal is to prepare people to avoid or handle torture—insomuch as such a thing is possible. And the details of that training are mostly classified.
"It's a sensitive area," says Rich Van Winkle, a former SERE instructor who served.  "In the survival world, we don't like to talk about it because it can get people killed." And while he won't offer specifics on resistance training, Van Winkle will say this: "It's intended to be arduous and stressful, and it is."
IN 1986, Dale Storr, then a young pilot, went through the basic SERE survival course at Fairchild. Nearly five years later, during Operation Desert Storm, he was shot down in Iraq.
Storr ejected, and once captured, his first impulse was to refuse to talk. But when his interrogator cracked him over the brow with a Colt 45 and pressed the cocked pistol against his head, Storr found his words. "There's a reason they tell you the John Wayne technique doesn't work," says Storr. "Because it doesn't. You're going to talk."
To survive captivity, Storr mentally filed everything he knew about the military into three folders: those he'd give up easily, those he'd share only to save his life, and those that—if it came to it—he'd die for.
To keep his captors away from the third folder, Storr spoke at length about anything that came up in folder number one. The interrogator asked about the T-38 jet, and Storr listed every excruciating detail about the aircraft. "There's nothing classified about the T-38," he says. "So we probably talked for an hour on that."
Over the 33 days Storr was in captivity, his captors broke his nose, dislocated his shoulder, and ruptured his eardrum. And all along, in keeping with his SERE training, Storr played the part of a good prisoner. When asked to sketch the layout of his base in Saudi Arabia, Storr drew Vance Air Force Base in Oklahoma instead. "I knew Vance Air Force Base like the back of my hand," says Storr.
He was five years out of the course at Fairchild, but his resistance strategies were fresh. At his base in Saudi Arabia, just months before his capture, a SERE specialist gathered the pilots for a refresher course. "Every swinging dick in that briefing room was paying attention to that SERE guy up there talking," says Storr.
It's that follow-up instruction that often makes SERE specialists so revered in the Air Force. They can point deployed pilots and aircrew members toward edible plants in the region and refresh their interrogation-resistance techniques.
By the time Storr returned to the U.S., he'd lost 50 pounds. But he was alive, and he hadn't given away information that would compromise U.S. lives.
"If I didn't have any survival training, I probably would have still survived," says Storr, now 57 and a pilot for United Airlines. "But I'd be a mental wreck today. I would have blabbed all this information and not had any way to resist. I can't imagine what that would feel like."
BACK IN THE DESERT, after watching the trainees drink plant juice and eat bugs, Voss drops the whole cadre for pushups. They don't know what they've done wrong, but nonetheless they count 38 reps in uni- son before standing. "Take a guess what you got dropped for," says Voss.
"Our shelters?" guesses one guy.
"Nope," says Voss. He waits a moment for another guess, and when it doesn't come, he drops them again. After 38 more pushups, the trainees are back at attention, and Voss reveals why they're in trouble. "Who here buried MRE trash?"
MREs are the "meals ready-to-eat" that the military uses in the field. Each student has three to ration for the six days they're out here. In response to Voss' question, a hand goes up.
"Aaron McClure," says Voss. "Anybody with you?"
"No, sir," says McClure.
Leaving trash in the desert is a bad look, says Voss, especially MRE trash, which immediately implicates Air Force trainees. Voss tells McClure to run back to their last camp, find the trash, and bring it back. "You have 10 minutes," he says Voss. The sun is already setting, so McClure grabs a headlamp and sprints away.
With the curriculum what it is, the SERE instructors I spoke to agree that those who graduate possess a rare blend of integrity and humility. I'd add pain tolerance to that list.
"If you want to identify what sets SERE instructors apart from the rest of the world, it's that they've been forced to subject themselves to suffering in the broad spectrum," says Van Winkle. They camp with minimal gear in extreme heat and cold. They go without sleep, food, and water. They dip their toes in the pool of misery so they can offer assistance to those who might one day find themselves swimming in it.
"The thing the military can do that nobody else can is force you to endure the suffering," says Van Winkle. "That can't be duplicated anywhere else."
For access to exclusive gear videos, celebrity interviews, and more, subscribe on YouTube!
Sours: https://www.mensjournal.com/adventure/inside-air-force-survival-training/
Sere life specialist a as
ENSURE AIRMEN SURVIVAL
ENLISTED
SURVIVAL, EVASION, RESISTANCE AND ESCAPE (SERE) SPECIALIST
1T0X1
Whether it's in the desert, the arctic, at sea, in the jungle or as a prisoner of war, Airmen must be prepared to survive, evade, resist and escape any situation. And it's the SERE specialists' mission to train them. These experts know how to survive in the most remote and hostile environments on the planet. It's up to them to make sure that when a mission doesn't go as planned, the Airmen involved are ready for anything and can return with honor. 
Prepare aircrew and high-risk-of-isolation personnel to return from any type of survival situation.
Train and operate in remote and austere environments, day or night.
Provide direct support to Personnel Recovery (PR) programs through preparation, planning, execution, and adaptation.
Conduct developmental and operational testing of SERE and Aircrew equipment.
Perform static line, military free fall, and emergency parachuting techniques in support of various operations and exercises.
Career tasks
/
QUALIFICATIONS SUMMARY
MINIMUM EDUCATION

Completion of high school 

ASVAB REQUIREMENTS

Minimum score of 55 in the General category of the Armed Services Vocational Aptitude Battery (ASVAB) test

QUALIFICATIONS

Be a U.S. citizen and qualify for a "Secret" security clearance.

Be between the ages of 17 and 39.

Obtain an 11th-grade reading level on the Air Force Reading Abilities Test.

Must not have a speech impediment that interferes with clear enunciation.

Meet the minimums of the SERE Physical Abilities and Stamina Test (PAST).
SURVIVE ANY SITUATION
Swipe to see the training pipeline for SERE specialists.
01

BASIC MILITARY TRAINING (BMT)

Eight weeks | Lackland AFB, TX

The first step to becoming an Airman happens in BMT, where trainees learn military structure, the core values of the U.S. Air Force and how to prepare both mentally and physically for life as an Airman.

Learn More

02

SERE SPECIALIST TRAINING ORIENTATION COURSE (SST-0C)

15 days | JBSA-Lackland/Chapman Annex

The SERE Specialist Training Orientation Course is designed to gauge your potential success in the SERE pipeline. You will be evaluated on your physical fitness, leadership/followership abilities, time management, speaking ability and commitment to becoming a SERE specialist.

03

SERE SPECIALIST TRAINING APPRENTICE COURSE (SST-AC)

5.5 months, 17 training phases | Fairchild AFB, WA

During this course, you'll train to become a subject matter expert in SERE tactics by training in remote forest, desert, coastal, tropic and open-ocean environments. You'll also train to become a personnel recovery expert, proficient in wilderness responder first aid, rough land evacuation and hand-to-hand combat.
BECOME SERE STRONG
Swipe to see what is required to become a SERE specialist so you can prepare before entering the pipeline.
From the jungle to the arctic, SERE specialists are trained to survive in the most extreme conditions, so their tools must be up for every challenge.
Sours: https://www.airforce.com/careers/detail/survival-evasion-resistance-and-escape-sere
U.S. Air Force: SERE Specialist Training Pipeline
Street lights came on. Orange light shimmered beautifully through the prism of drops. The gray weather was kind of melancholy. She turned her gaze to the monitor screen.
Similar news:
She fucked me for a long time, constantly changing the pace and not letting me come. I already thought several times that I was coming, but she experienced pussy movements then leaving the salty head in his mouth and began to. Fuck me with his hand.
528
529
530
531
532