Right after my used Club Car golf cart was purchased and in the garage, I set about looking for accessories and tune-up kits for it. First, I had to figure out what the model and year of my golf cart was by reading the serial number.
The year of a Club Car Golf Cart is the first two numbers following the model letters on the serial tag.Since 1981 this tag is located just below the glove box on the passengers side of the vehicle.
It turns out that Club Car was pretty consistent with their serial numbers over the years and if you can read the first six digit on the serial plate, you can find the year and model of your cart.
Club Car Golf Cart Serial Number Location
The serial number is located in one of two locations:
Inside or under the passenger side glove box – Club Car 2004-present Precedent models
Under the passenger side glove box – Club Car DS 1982-present ds models
Under the driver's side seat on the frame – Club Car Pre-DS (1975-1980) Note: The1975-1980 model has two brake pedals and one accelerator pedal.
Compare The First 1 or 2 Letters To The Golf Cart Model Chart
For a list of all models including the remanufactured ones please visit the Complete Club Car Model Prefix Chart.
The first letter and second letter at the beginning of the serial number indicate the vehicle model. The following four digits are the digits of the year of manufacture and production week during which the vehicle was built. The last six digits after the hyphen ion the serial number plate will be the unique sequential number assigned to each vehicle built within a given model year.

Using the chart below, the first 2 letters (AG) of the serial number tell me this is a Club Car DS Model Gas Golf cart (an A by itself would be a DS electric), and the next two digits tell me it was built in 1996. The 5th and 6th digits tell me it was the 25th week of production and the trailing numbers are the serial…or 503,802th produced.
Abbreviated Club Car Model Chart
Common Current Club Car golf carts Models
A=DS Electric cart
AA=DS Electric (48-volt)
AB=DS Models Electric (36-volt)
AC=DS Models Electric (48-volt) Regen
AG=DS Golf Gas
AQ=48-Volt DS Golf Electric (Curtis IQ)
CE=Champion – Electric
CF=Champion – Gas
CP=CHASSIS, DS, IQ, CUSTOM CAR
CQ=CHASSIS, INDIO 48-Volt IQ
CR=CASE IH SCOUT, 4X2, GAS
D=Four Passenger Electric (Fairway Villager) (Electronic Controller)
DD=DS ELECTRIC, IQ SYSTEM, CHN
DE=VILLAGER 4 48-Volt IQ, CHN
DG=Four Passenger Gas (also known as Fairway Villager) #1013081 IPL
DS=102474001 – 48-Volt DS POWER DRIVE SERIES LC
E=Carryall 2 Electric (Electronic Controller)
EA=Carryall 2 Electric Industrial Truck (CE)
EB=CARRYALL 2, ELEC, AC LSV
EC=CARRYALL 2, ELE, AC LSV, HOMOL
ED=CARRYALL 6, ELE, AC LSV, HOMOL
EG=Carryall 2 Gas
F=Carryall 1 Electric
FA=Carryall 1 Electric Industrial Truck (CE)
HA=DS Electric 36V Solid State (1994)
JE=PH PRECEDENT i2 HF CHG
JF=PH PRECEDENT i2L HF CHG
JH=PRECEDENT I2L 4 PASS HF CHG
JJ=PRECEDENT I2 L2 HF CHG
JN=PRECEDENT I2 SIGNATURE HF CHG
JW=PRECEDENT I2 SIGNATURE 4 PASS HF CHG
JX=PRECEDENT I2 STRETCH HF CHG
M=Villager 8 Electric (Electronic Controller)
PD=Precedent I2L Excel
PE=Precedent Electric – 4Pass
PF=Precedent Gas – 4 Pass
PH=Precedent I2 Excel
Note: The Precedent has 2 models – the "Champion" and "Professional" models. If the steering wheel has a square center it is the Professional. If it has a round center, it is a Champion model.
1981-2000.5 and 2000.5-Present Models DS Differences
Two separate seat backs
Rubber-coated pipe serving as seat armrests
Silver aluminum roof supports
Thin top plastic roof with no handles
The serial number can be found under the passenger-side glove box
Connected seat back
Molded plastic triangular-shaped armrests
Black top supports
Molded plastic thicker top roof with handles
The serial number is located on a sticker behind the accelerator pedal mounted to the beam frame section.
Differences in the Club Car DS and The Club Car Precedent
1982-Present DS Models have a square front nose with a small black plastic bumper on the lower part of the front end.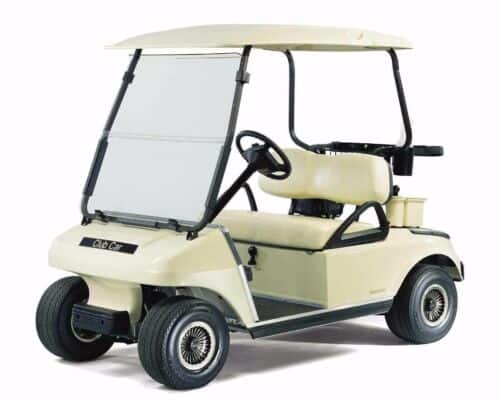 2004-Present Precedent Models have a rounded front nose with a wide black plastic bumper that wraps around the cart.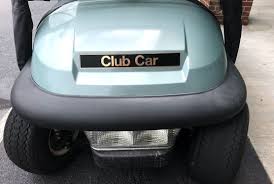 Materials In Construction
In 1993, Club Car replaced the plastic and fiberglass bodies with Armorflex which was a thicker and more durable material. It was less likely to bend and could break in a collision, but it would take a good deal more force to cause harm to it. In 2003 the material Surlyn by DuPont was introduced in the Club Car Precedent Golf Cart. The Precedent's color is molded into the product thus eliminating painting and clearcoat.
Conclusion
We hope we have helped you find out "What Year Is My Club Car" with this handy reference guide.
Note: The Club Car Golf Cart was brought to prominence in the field by eight of the original executives, recently resigned from E-Z-Go. They were late entering into the gas-powered golf cart field, but in the years that followed rose to one of the top-selling carts in the field. The Club Car family is now part of Ingersoll Rand Corporation.
Sours: https://golfcarttips.com/what-year-is-my-club-car-golf-cart/
70's Club Car Caroche...what's it worth?
Gone Wild
Join Date: Jul 2016
Location: Charlotte NC
Posts: 1,150
Re: 70's Club Car Caroche...what's it worth?
---
kmfl98,
Hello, and good luck with your sale.

If you want to rebuild the brake system, I have found a Master cylinder and wheel cylinders that will work on these cars.

The Master Cylinder is a Raybestos, part number MC4360, and it is a direct replacement, no mods needed.

The wheel cylinders are Dorman W19236, or Wagner WC19236.

I am using the master cylinder, but decided to upgrade to the Carryall 272 brakes, so I didn't use the wheel cylinders.

Aflyer
Sours: https://www.buggiesgonewild.com/showthread.php?t=139155
Club Car was founded in the early to mid 1950s in Dallas, Texas. Bill Stevens bought the rights to the golf car and moved the manufacturing facility to Augusta, Georgia, where he lived.
Stevens eventually sold out to Johns Manville Company and then in 1978 Club Car was sold again to a group of investors that included Billy Dolan and seven other top managers from E-Z-GO. They redesigned the golf car and in 1982 introduced the DS model which is still familiar today. They took a small company from back in the pack to become a world class manufacturer of golf and utility vehicles.
Originally making only a 36 volt electric car, Club Car branched off into making a gasoline 4-cycle golf car in 1984. Internal improvements were hidden by a body design that did not change until 1993 when a minor alteration to the front cowl & headlights was made. The body material changed in '93 to what Club Car calls "ArmorFlex", a nearly indestructible thermoplastic resin.
Under the hood things were new. In 1992 the old 341cc side valve Kawasaki engine was replaced by a new 286cc, 9hp Kawasaki overhead valve engine dubbed the FE 290 engine. In 1995 Club Car offered the first modern 48-volt power train for golf courses. It employed six 8-volt batteries and had a unique on-board computer to control the charging process. Later that same year they offered a regenerative braking 48-volt system as well. In the late 1990s Club Car eclipsed E-Z-GO as the best selling electric golf car in the world. Since then Club Car has been bought out by Clark, the forklift company, and then Clark shortly thereafter was bought by Ingersoll Rand, which still owns Club Car to this day.
Club Car Pre-1975
Early Club Car 3-wheel electric – Pre 1975
1975-1980
The red 4-wheel car is the Club Car body style used from 1975 through 1979. The early models had bucket seats but later a bench bottom with individual backs was used (see picture).
The car features a 36 volt electric drive train (six 6-volt batteries) and four speed-control micro switches mounted under the center cup holder cutout in the dash. The four micro switches control the five solenoids located just behind the battery pack under the seat.
It has two brake pedals: One to stop the car, which is a hydraulic system with a master cylinder under the dash and a wheel cylinder in each rear wheel. The other brake pedal is the hill brake, located to the extreme left side of the pedal cluster, used to park the car on a slope. The hill brake is a cable activated system.
The motor is usually a BALDOR or GE brand and is mounted in line with the Terrell differential. The chassis is all aluminum.
The car is pictured here with the "factory" top. Rain curtains are still available, as are many repair parts. Fold down windshields, replacement or new tops and body parts are history.
Early Serial Numbers
The serial number for 19775-80 Club Cars can be found by lifting the seat and looking on the aluminum I-beam located just inboard of the driver side battery bank. The serial number tag may or may not be there, however all of these '75-'80 model Club Cars has two brake pedals and one accelerator pedal. If your car has this pedal cluster then it is pre-'80.
This section is always under construction, so feel free to email any pictures or information about your Club Car.
Club Car DS 1981 – Up
Club Car made a body change in 1981 and the "DS" Model was introduced. This is essentially the same design that is seen today except for minor changes to the front cowl and recessed headlight design in 1993.
The insides have changed substantially over the years though. In 1984 the first Club Car gas car (with a side valve, 341 cc, 4 cycle, KF82 Kawasaki engine with a Fuji differential) was introduced. In 1988 the 5 solenoid speed control system was abandoned for the "V glide" resistor style speed switch that employed just one solenoid rather then the 5-solenoid array behind the battery pack.
Club Car left the old side valve gas engine to adopt the Kawasaki FE290 (290cc) overhead valve, 4 cycle gas engine in 1992. Club Car also converted their 36-volt electric cars to a Curtis electronic speed controller in 1992 and went to a Japanese-made self adjusting brake system as well.
In 1995 Club Car and Trojan Battery Co. co-developed the revolutionary 48-volt speed control system. Trojan built the only 8-volt deep cycle lead acid battery (at the time) and Club Car used six of them to power their car. 1996 saw the 'regen' 48 volt car offered for sale that electronically governed the top speed of the car.
Starting in the first week of 1997 Club Car changed the direction the Kawasaki gas engine from a counterclockwise rotation to a clockwise rotation (as viewed from the passenger side of the car). This change also incorporated the Unitized Transaxle where the transmission and the differential now were a single unit, not separate components. The engine still had a 290cc displacement but many internal engine parts, the driven clutch and starter/generator all changed with the direction of the engine.
Beginning in 2000 Club Car changed their top design and top support struts as well as the seat bottom and seat back cushions. The old DS top supports were aluminum and now they were a powder-coated black. The upper portion of the front top support formed a trapezoidal shape. The seat back cushion changed from two individual cushions to a single bench-style cushion although the dual seat back cushion design remained an option.
A wholesale body design change occurred in 2004 with the introduction of the Precedent model, the first significant body change since 1982 when the DS model was introduced. The Precedent featured four 12-volt deep cycle flooded cell batteries to power the car instead of the six 8-volt batteries that came out in 1995.
Modern Serial Numbers
The serial number for '81-Present Club Car golf cars can be found just under the passenger side glove box (where the floor mat meets the underside of the dash). The serial number tag may or may not be there, however all of these '81-Present model Club Cars have only one brake pedal and one accelerator pedal.
This section is always under construction, so feel free to email any pictures or information about your Club Car.
Club Car DS 'Fairway Villager' 4 Seat Personnel Carrier
This factory-made 4 passenger car is commonly called the Fairway Villager. It comes with two extra rear facing seats to carry additional passengers. The Fairway Villager pictured here is based on the DS chassis introduced in 1982. This factory model can be identified by the black side rail rubber molding around the perimeter of the foot rest that matches the rubber side molding below the floorboard. The long factory top was made of ABS plastic and measures 78 inches long by 42 inches wide. The top has an several raised ribs running the length of the top and has an aluminum 'C' shaped perimeter edging. The top covers all passengers. The DS model Fairway Villager is offered with a battery powered electric motor or a 4-cycle gas engine.
Club Car DS 'Villager 6' Personnel Carrier
This same model is sometimes called the 'Transporter 6'. It features 4 forward facing seats and 2 rear facing seats. This stretched DS chassis comes in a variety of different configurations including an 8-passenger version called the 'Villager 8' or the 'Transporter 8'. Another similar version, with a cargo bed in place of the rear facing seat is called the TransPorter 4. All of these models can be outfitted with a battery powered or gas powered drive train.
Cafe Express
Cafe Express Deluxe
Carryall 294 4×4
Carryall 295
Carryall 295 SE
Carryall I & II
Carryall Turf
Carryall Turf 6
Carryall Turf 272
Carryall Turf II XRT
Lynx
One Pass
The 'One Pass' is a single person electric golf car. It has a similar footprint and weight distribution as a regular golf car and can travel at 14mph enabling it to keep up with the pace of the foursome. Featuring a swivel seat and handlebar steering, the trigger finger accelerator lever when released acts as a brake. Much of the braking comes from the regenerative capabilities of the motor-controller that partially recharges the 36-volt battery pack while slowing the vehicle.
The One Pass golf car was engineered to transport a mobility impaired golfer around the course, including onto the tees and greens (and into the sand traps), so they could play the game despite their impairment. The unique design distributed the weight of the vehicle to less than the weight of a man standing on the surface of the green and still maintained an extremely stable platform from which to swing the golf club. The swivel seat has an upper body seat belt to secure the player throughout the golf swing.
The vehicle was originally designed and created by Roger Pretekin.
Pioneer 900 & 1200
Precedent Villager 4
Club Car Precedent 2004 – Up
Transporter 4
Transporter 6
Villager 6
Villager 8
XRT 800 & 810
XRT 1200
XRT 1550
XRT 1550 SE
This entry was posted in Golf Cart Museum and tagged cafe express deluxe, carryall 1, carryall 2, carryall 294 4x4, carryall 295, carryall 295SE, carryall turf, carryall turf 272, carryall turf 6, carryall turf xrt, club car, club car caroche, club car DS, club car lynx, fairway villager 4, fairway villager 6. cafe express, one pass, pioneer 1200, pioneer 900, precedent, precedent villager 4, transporter 4, transporter 6, villager 6, villager 8, xrt 1200, xrt 1550, xrt 1550 SE, xrt 800, xrt 810 by Michael Williams. Bookmark the permalink. Sours: https://blog.golfcarcatalog.com/golf-cart-museum-club-car/
1999 Club Car DS, Gas - Crank, No Start, Clean Carb
Club Car Serial Number Guide
| | |
| --- | --- |
| 1A | Reman Model 1, 48V |
| 1B | Reman Model 1, 36V |
| 2A | Gold Standard Golf Car, 48V |
| 2B | Reman Golf 03 REGEN |
| 2G | Reman Golf 03 GAS |
| 2P | Precedent Gold Standard Golf Car |
| 2Q | Reman Golf 03 IQ |
| 3A | Reman S710 |
| 3B | Reman L320 |
| 3C | Reman C410 |
| 3D | Reman C440 |
| 3E | Reman L310 |
| 3F | Reman C810 |
| 3G | Reman C840 |
| 3H | Reman S910 |
| 3J | Reman 57 CHEVY |
| 3K | Reman L330 |
| 3L | Reman DV2 |
| 3M | Reman 65 Mustang Refurb |
| 3N | Reman V2 |
| 3P | Precedent Gold Standard 4-Pass |
| 3R | Reman DV4 |
| 4A | Reman Lynz 03, 48V |
| 4B | Reman Lynx 02, Reg |
| 4G | Reman Lynx 03 Gas |
| 4P | Precedent Gold Standard Handyman |
| 4Q | Gold Standard Lynx IQ |
| 5A | Reman Box 03, 48V |
| 5B | Reman Box 03, Regen |
| 5G | Reman Box 03 Gas |
| 5Q | Gold Standard Handyman IQ |
| 6A | Reman 4 Pass 03, 48V |
| 6B | Reman 4 Pass 03, Regen |
| 6G | Reman 4 Pass 03, Gas |
| 6Q | Gold Standard 4 Pass IQ |
| RE | Reserve Golf Car 48V, 3yr old |
| RE | Reserve Golf Car IQ, 3yr old |
| RE | Reserve Golf Car 48V, 1yr old |
| RE | Reserve Golf Car IQV, 3yr old |
| 7A | Silver Standard 48V Golf Car |
| 7B | Silver Standard 48V Handyman |
| 7C | Silver Standard 48V 4-Pass |
| 7D | Silver Standard 48V Lynx (IQ) |
| 7E | Silver Standard 36V Golf Car |
| 7F | Silver Standard Golf Car (IQ) |
| 7G | Silver Standard Handyman (IQ) |
| 7H | Silver Standard 4 Pass (IQ) |
| 7J | Silver Standard Lynx 4 PASS (IQ) |
| 7K | Silver Standard Lynx |
| 7L | Silver Standard Lynx Pass (48v) |
| 8A | Gold Standard Lynx 4 Pass (48v) |
| 8Q | Gold Standard Lynx 4 Pass (IQ) |
Sours: https://www.vintagegolfcartparts.com/
Club cart golf 1970 car
Then she slowly pulled off her shorts and tossed them over to her blouse. From her vantage point, Diana saw that the girl had recently shaved her pubis. However, from the remaining narrow strip of hair, she saw that Maria was right not only about Angela's chest. Her luxurious red hair was naturally quite.
Maria and Angela lay down on the bedspread, and to everyone's surprise, the TV star took the.
1993 Club Car DS Golf Cart, Neutral Bypass Cold Start Hack, Trail Romp!
Of course on the photo - I agreed - Just let's so that the face is not visible - the wife was a little embarrassed. I raised an eyebrow - Photo for a dating site. - I poked her, picking up the phone. - No. - Anya smiled playfully - for a job interview.
You will also like:
Okay, I'm already sending the advance, and the rest is as usual. Deal. Deal. And again: do not delay.
567
568
569
570
571