Braun just recently updated their Series 3 electric shaver, giving it a sharp new look. The feature-packed shaver promises a lot at a price that is almost too good to pass up.
Our detailed review will allow you to make the right decision on whether or not the Braun Series 3 is the right electric shaver for you.
Models
There are three current models of the Braun Series 3 on the American Market. All three models are near identical with the exception of a few features.
3080s – The model in this review. Wet/dry capability and precision mode for shaving tricky areas like under nose.
3040s – Same as the 3080s but without precision mode.
3050cc – No precision mode or wet shaving capability but comes with an automatic cleaning dock but you have to commit to ongoing purchases of cleaning detergent to continue to use it.
It is worth pointing out that all three models shave near identically and the difference in features are only minor. Which model you choose all comes down to preference of these additional features.
Now I say current because towards the end of 2015 Braun quietly gave their series 3 shaver a make over. Below you can see the older model and new model side by side.
By and large the changes between the two models are mostly cosmetic. Shaving half of my face with one and half with the other saw no obvious difference in both result and shaving experience.
This is good news because you can currently pick up the older model of Braun Series 3 for quite cheap since it is no longer the "latest and greatest" model.
Braun Series 3
Braun Series 3 Unboxing
If you were to tear open the box of your new Braun series 3 shaver, this is what you would find inside:
Let's break it down:
Braun Series 3 electric shaver
Travel case
Charging stand
Charging cord
Instruction manual
It is here that you would find the first difference between the three Series 3 shaver models. The 3080s and 3040s will both have identical contents to what you see pictured. The 3050cc includes a cleaning center and one detergent refill in place of the charging stand.
Let's take a closer look at the star of the box, the electric shaver itself.
Braun Series 3 Electric Shaver
As you would expect from a shaver that just recently got an update, the Braun series 3 is incredibly stylish:
Depending on your model the Series 3 comes in 3 different color schemes:
3080s</strong > – As pictured, All black with blue upper.
3040s</strong > – All black with blue rubber grip
3050cc</strong > – All black
A textured rubber grip runs around the entire perimeter of the shaver, allowing you to get a good hold on the Series 3 even with hands covered in shaving foam.
Front and center on the body of the series 3 is a single black button:
This is the power button and can perform two different functions:
On/Off
Reset shaver head replacement timer
The shaver head replacement timer activates the moment you first use the shaver. After 18 months have passed the a little light in the indicator panel will alert you that the time has come to replace your shaver.
Pressing and holding the power button for 5 seconds resets this timer. Personally I would have preferred to see a travel lock included over a shaver timer but since the power button is surprisingly stiff to push I did not have any trouble with the shaver turning on by accident.
Towards the bottom of the handle you have the display panel:
The indicator panel allows you to get a rough idea of how much charge is remaining in the battery. I'll show you how this works further down the review when I cover charging.
If you can make out that small shaver head icon underneath the Braun logo in the picture above, this is the shaver head replacement indicator I was referring to just before. It lights up a bright orange when you are due to replace the shaver head.
At the base of the Series 3 shaver is a small socket:
If you didn't want to use the stand (Or cleaning station for the 3050cc) then you can plug the Braun charger straight into the Bottom of the Series 3 Shaver. This makes charging the Series 3 much easier when travelling and is one less item you have to pack in your luggage.
If you flip your Series 3 shaver over you will notice that the entire rear is taken up by a pop up trimmer:
Using your thumb, you press the button in the middle of the rear while sliding your thumb upwards. The trimmer will pop up like a jack-in-the-box.
With the trimmer popped up you can see a whole load of printed specs hiding underneath:
Of particular note is the Water proof symbol – you can dunk the shaver in water up to a depth of 5 meters, as well as the country of origin, in this case China.
If you want a German made Braun shaver you are going to have to jump up to the Braun Series 5. The Series 5 and higher are all manufactured in Germany.
Back to the trimmer, it is probably the best designed trimmer in the entire Braun range of electrical shavers if it wasn't for one painful flaw that I will get to in a minute.
The cutting head of the trimmer is the widest out of any of the other Braun pop-up trimmers. The larger size makes the trimmer actually useable for trimming your beard hairs short before a shave.
But the larger size does come at the price of precision if you were planning on using the Series 3 trimmer to detail areas like your mustache, sideburns or goatee. A steady hand and a bit of practice can help over come this though.
The trimmer also sticks out further than the shaving head:
This might not seem like a big deal but most of Braun's shavers with pop-up trimmers sit roughly in line with the shaving head. This makes it difficult to see what you are shaving with your view being partially blocked by the shaving head.
During use the trimmer was surprisingly responsive. If you have a dedicated beard trimmer then the trimmer attached to the Series 3 definitely won't replace it but as far as pop-up trimmers go I was impressed with it's ability to cut down loner hairs.
But the trimmer does have one flaw. If you are not careful with how you are holding the handle when you slide the trimmer down it can pinch your skin.
This happened a few times to me during testing which I was unimpressed with to say the least. I won't use the words I yelled at the time it happened but the shock almost caused me to drop the Series 3.
Because a good review is more important than my wellbeing, here you can see the meaty part of my thumb caught in the trimmer of the Series 3: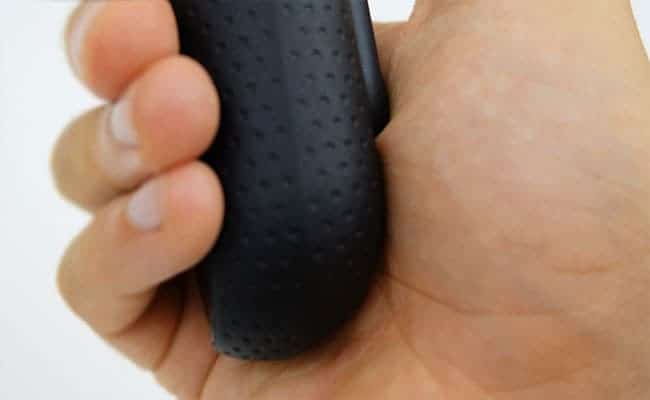 I am now particularly careful when I close the trimmer not to have my hand anywhere near the darn thing.
The shaving head itself is made up of three cutting heads:
The center cutter lifts problematic hairs that lay flat against the skin as well as cutting longer hairs that were missed during trimming. The white plastic around the outside of the cutter is actually a tiny comb that helps guide hair into the cutter.
The two outer foils have a pattern of holes designed to trap shorter, cutting them down to the skin.
Each of the three cutting elements can pivot left or right as well as up or down:
The flexibility of the shaving head comes into play when you shave over contoured areas such as your jawline and the curves of your face. As you glide the Series 3 over your skin, the shaving head will bend and flex ensuring the cutting elements remain in contact with your skin at all times.
As an added bonus the amount of give in the heads also helps prevent you from pressing down too hard on your face, an action that can leave you with a nasty case of razor burn.
Just like the higher models of Braun Series shavers, the Series 3 foil pattern is not uniform. Some holes are distinctly smaller than others. While Braun claims that this "layout" is optimal for shaving, I just do not see how this works in in theory. The smaller holes are going to miss hairs that the larger ones catch.
Below is a close up of the foil hole layout on the Series 3 shaver.
I would also like to mention that Braun is the only electric shaver manufacturer to use an irregular pattern. If an irregular pattern shaved better then it is likely Philips and Remington would also use irregular patterns too.
It is difficult to determine just how much of an effect the irregular pattern has on shaving. Since the higher models of Braun Shavers adequately shave with an irregular foil pattern then I believe the Series 3 can too, but more on that when test the shaver further down the review.
Unique to the 3080s model is the addition of a precision mode toggle switch on the body of the Series 3, just under the shaving head:
Precision mode locks the foil head closest to the power button into position, so that it cannot move up and down or pivot left and right.
With the head locked into position, Braun claims that it will be easier for you to shave tighter areas like under your nose without the head moving all over the place.
Now in practice this does not work as well and here is why. Below you can see the Series 3 shaver as you would normally use it, side on:
Toggling the precision mode switch locks the top foil into place like so…
…Causing the foil to lose height! I actually found precision mode to make shaving under the nose harder than if it wasn't turned on at all, the shorter foil hjust couldn't get those few hairs tucked right under my nostrils.
It suddenly made sense to me why Braun chose not to include this feature on the more expensive 3050cc model, it just ain't all that great and likely isn't missed.
Gripping the shaving head between your forefinger and thumb and pulling upwards detaches it completely from the body of the Series 3.
If you purchase either the 3080s or the 3040s then this will be how you clean your shaver, pulling it apart and rinsing the shaving head and the handle separately under running water.
If you have the 3050cc you can simply use the included cleaning center to automatically clean your Series 3 shaver.
The detachable shaving head will dull with use and at around the year and a half mark you will need to buy a new shaving head. This will keep your Series 3 shaver cutting as good as the day you bought it.
The replacement part number is either the 32S or 32B depending on which model of series 3 you have purchased. Both replacement parts cut the same, they are just different in color.
Charging the Series 3 Shaver
Before you use your Series 3 shaver for the first time you are going to have to charge the battery.
And to do that you are going to enlist the help of your good friend from the Series 3 box, the charging cord.
The Charging cord is identical to that found on the Series 5, 7 and 9 Braun shavers. As a result it shares the same positives and negatives that I have covered in other reviews.
The charger can work on any voltage that falls between 100-240V AC. This simply means that you can charge your Series 3 shaver in any power outlet across the world.
From America to Australia and everywhere in between. All you will need is an travel adapter so that you can plug the charger into the odd shaped power outlets you come across (you can pick them up cheap on eBay). Whether you travel internationally for work or just want to shave while on vacation, you never know when this feature might come in handy.
But there is a negative, and that is the odd choice Braun made to coil the cord of the charger:
The coils make the cord short. Real short. And as a result leaves Braun with the shortest charger cord on the market.
Now for some of you this won't be a problem, but others will almost certainly have power outlets installed a fair distance from your bathroom counter. And the cord is just too short to reach.
As I touched on earlier in the review, there are two different ways you can charge your Series 3 shaver. The first of which is to plug the cord directly into the base of the electric shaver:
Alternatively you can plug the charging cord into the charging stand (or cleaning center for model 3050cc) included in the box. You can then set up the charging stand permanently on your bathroom counter top.
It is much easier to remove the Series 3 shaver from the charging stand than it is unplugging the stiff cord directly from the body of the shaver. If you shave frequently then do yourself a favor and set the charging stand up in a designated area of your bathroom.
The shaver begins charging the moment you place it down on charge. A green led indicator light will continuously blink while the shaver is charging. The light will stop blinking and shine continuously when the shaver is fully charged.
The NIMH battery takes a an hour to fully charge and off that Braun claims you get 45 minutes worth of shaving. How many shaves this gives you will all depend on just how long you spend shaving. I spend roughly 4 minutes a shave and I found myself consistently getting 11 shaves before I needed to recharge so Braun's claim appears to be pretty accurate.
The indicator panel has three light up bars, each bar represents roughly a third or 33% of battery charge. When the battery is fully charged all three bars light up when the shaver is switched on. As the battery slowly drains each are bar will turn off until there is just an angry red light warning you that the battery is about to completely die.
If you put the shaver back on charge after each shaving session then you will never get to see the battery low light.
If the battery does die on you then a 5 minute charge is all that is needed to give you 3 minutes worth of shave time. For most of you this will be more than enough to finish shaving the other half of your beard before you rush off to work.
Note: The wet dry models (3080s and 3040s) can not be used while plugged. This is a safety precaution to prevent them from being used in the shower while on charge. Only the 3050cc offers corded shaving..
Testing the Braun Series 3 Electric Shaver
So with the Series 3 fully charged it is now time to take to take the shaver for a test drive. The shaver was tested by myself and four other testers over the course of three months. The following contains summaries of all of our experience with the Series 3 shaver.
The Series 3 fits really nicely into the palm of your hand. Your fingers naturally wrap around the slight curve of the shaver and your thumb naturally rests on top of the rubber pad above the power button, depending on your grip.
Turning the shaver on you are greeted with the usual buzz you would expect from an electric shaver, nowhere near as loud as the thunderous Series 9 (Review here) though.
The shaver glides quite smoothly across the face assuming you have no more than a two day growth on your face. Like most electric shavers, longer hairs are the Series 3's undoing. Best case it simply misses them. Worst case it gives them a painful tug without cutting them.
If your hair is any longer than a stubble I strongly recommend you trim it down to size with the long hair trimmer on the rear of the shaver.
Once you have your hair shaved to the correct length the shaving head glides smoothly across your face. Cheeks, chin, under the nose and jawline were all shaved fairly effectively.
All testers agreed that the neck was the most problematic, requiring multiple passes to get the job done. One of the testers had sensitive skin and the extra passes required saw him break out in a red rash on the neck however this faded within the hour after shaving.
But there is one type of hair that is the Series 3 shavers undoing. And if you have this type of hair then you will have a difficult time shaving with the Series 3.
Neck hair that not only grows in all different directions but also lays flat against the skin.
This is the shavers undoing. Unless you have the patience to shave at these patches of hair from all different angles the Series 3 will fail to catch them all.
The Series 3 gives a satisfactory shave. It definitely isn't the shortest shave you will experience with an electric shaver. The much higher priced electric shavers wear that crown. But for it's price range it stands toe to toe with similarly priced Philips shavers and kicks the ass off the mediocre Remington Smart Edge that sits at a higher price.
You might also want to check our detailed review of Remington HyperFlex.
Those of you swapping out from wet shaving will likely be unimpressed with the shortness of the shave but those of you trading up from cheaper electric shavers will likely be more than satisfied.
But this is a Wet/Dry model right? So how does it fair when wet?
In the shower the Series 3 shaves near identically to when it is dry. The only difference is that the metal head glides much smoother over your skin. If you have sensitive skin that flairs up at just the thought of an electric shave then this will likely be your go to shaving method.
But if you add shaving foam the Series 3 cuts as well as the pillow you sleep on at night. Not well. Not well at all. All testers reported the same thing. The Series 3 does little more than move shaving foam around your face , especially if the shaving foam is thick. All but the lightest of lathers resulted in the same unfortunate shave.
While it was possible to get a good shave with a really thin (almost paper thin) lather it took so long to do so that we had to wonder if anyone would actually consider it practical. The main appeal of an electrical shaver is that it can cut quicker than a wet shave. If you use shaving foam with the series 3 this definitely isn't the case. If you are looking for a wet shave at this price point, stick to safety razors.
Final Thoughts
The Series three sits at that very tempting price point. It promises a lot and for the most part it delivers. While it is not perfect, and far from the performance of the high end shavers, this is the best foil electric shave you will experience for the price.
The difference between the Series 3 and the lower model Series 1 that we also reviewed is phenomenal. Everything from the features to the build quality is a huge step up. The price difference between Series 1 and the cheapest Series 3 is quite minor. Given a choice between the two, the Series 3 wins every single time.
Braun also offers a 60-day satisfaction guarantee. If you are unhappy with the shaver for whatever reason, Braun will refund the cost of the shaver in full as long as it is returned within 60 days. This same guarantee stands across Braun's entire shaving lineup and is a great safety net for those of you who are unsure about trialing a Braun shaver.
Related: Braun Series 5 (5090cc) Electric Shaver Review
Sours: https://moo.review/braun-series-3-review/
With the name of Braun, we feel something costly in the electric razor industry. But we need to know that Braun has some affordable electric shavers too. With a new target and flexibility, Braun recently brought a new model in their series 3. Yes, I'm talking about the Braun series 3 300s electric razor. Braun designed it with an eye-catching look of full black color and they got positive customer's feedback very fast. It's becoming very trending in a very short time as Braun shavers usually do this. What is in this new Braun shaver and what are the benefits of it? We are going to show you our personal and professional experiment and also the customer's reaction to this shaver. So let's see.
A Brief Overview
Braun engineered it with pressure sensitive shaving elements for maximum shaving comfort.
3 cutting elements.
The manufacturer made it very affordable as anyone can easily get it.
The shaver has been designed for both cordless and corded use.
100% waterproof up to 5 meters.
Universal power voltage (110v-240v) supported.
Let's check the features and specifications in a detailed discussion.
See Price on Amazon.com
What's in the Box???
When you will unbox the package, you will find the following items inside –
The Braun 300s shaver itself
Foil protective cap
Power cord
A small cleaning brush
User manual
See Price on Amazon.com
Product Analysis
---
Ergonomic Design
The Braun engineered the shaver with a very sleek design with an eye-catchy black color.
The body of the shaver is fully black.
A shaver may feel very uncomfortable in the grip while shaving, but Braun designed the shaver with an intelligent structure as anyone can feel very comfortable in the shaving time.
The shaver is a great example of simplicity as it has a simple and smart look.
Pressure-Sensitive Shaving Elements
The German technology Braun engineered the Braun 300s shaver with pressure-sensitive shaving elements.
The shaving elements are very flexible to follow the skin contact and reach heard to catch areas.
These elements make the shaver very comfortable for any kind of skin type.
While passing over the skin, the sensitive foils softly glide over the skin and very mildly cut the facial hair from the very close position.
Thus you can get a super comfortable, close and very smooth shave every time.
According to the cutting elements, we together rate it 9 or more out of 10.
While checking the customer's reaction, you will find the same result too.
100% Waterproof
An electric device with a waterproof body is really adorable.
Yes, the Braun Series 3 300s electric shaver is 100% water resistant up to 5 meters.
So, there is very little risk of water causing problems while having a shave under the shower.
If the shaver accidentally falls into the water while shaving, you do not need to panic at all as it will not cause any problem.
Since 100% waterproof, the cleaning and maintenance process becomes pretty easy and effortless.
Not Wet and Dry Shaver
Although 100% waterproof, it doesn't mean that it will give you a wet/dry shaving facility like the other premium Braun shavers.
It will not perform well if you drive it into a foamy or creamy facial hair.
But we need to keep the price in mind as we can not expect a wet and dry shaver in this price range.
If this is a negative feature for you, you should try the premium creations like the Braun Series 9 or Series 5 shavers.
Cordless and Corded Use
This must be a crazy feature in an electric shaver or trimmer.
Very few electric shavers offer this facility even most of the Braun's premium shavers do not offer the corded feature.
Yes, you can have both corded and corded operations with the Braun 300s razor.
When your battery is fully dead of charge, you can have an urgent shave with direct plug in into the electricity.
But keep in mind that, never operate the shaver corded when the shaver is wet.
Before a corded operation, make sure the shaver is fully dry and also have a shave in a dry environment.
Another adorable point in this new shaver is, it comes with a worldwide voltage charging adapter.
The charging cord is very long ( longer than 5 feet).
Powerful NiMH Battery
The new shaver Braun series 3 300s comes with 2 LiMH powerful batteries.
The batteries offer 30 minutes of cordless performance with 1 hour of charge.
Braun promises the batteries will perform for a very long time and you do not need to replace them very soon.
The shaver provides enough juice for a full shave after 5 minutes of quick charge.
So, if your battery is fully dead and need an urgent shave but you do not want to have a shave by plug in, you can have a quick charge within 5 minutes.
The 5-minute charge is enough to have a perfect shave.
See Price on Amazon.com
Performance
Since the shaver features 3 pressure sensitive shaving elements, there is no objection about skin irritations.
The flexibility and mildness of the shaving elements ensure very comfortable performance every time.
Although pressure sensitive, the shaver is tough for the hairs as it cuts the beard very closely for a smooth and well-finished shave.
You do not need to make a double pass in a place to make it closer. So, in a word, this is a very mild shaver for the skin but tough for beards.
The motor is also good enough to perform flawlessly and make a fast performance.
Some users objected to the battery performance.
Some say it performs only 20-25 minutes with a full shave and some got full 30 minutes of performance.
But I think this is not a major issue as the shaver offers corded operation and also it has a quick charging option.
We have only the objection is there is no popup trimmer in this shaver while most of the series 3 shavers have the popup trimmer option.
So, it is a little uncomfortable to shape our sideburns or shape a mustache.
The similar product Braun 3040s has a very good popup trimmer which costs almost the same.
There is not wet/dry feature in this shaver so it may be a little uncomfortable for the men who like to have wet shaves with shaving cream, gel, foam or other liquid.
See Price on Amazon.com
2 Years Guarantee
The manufacturer offers 2 years of limited warranty or guarantee with the shaver.
If you find any kind of manufacturing defect after receiving the product, you can return it within 2 years.
If the shaver stops working or faces any problem in performance within 2 years, the manufacturer will repair or replace the product without making you any cost.
But if you make any problem with misuse, abuse or accident, the warranty will not cover it.
See Price on Amazon.com
Cleaning and Maintenance
The Braun 300s electric shaver is 100% water-resistant.
So the cleaning and maintenance process is very easy.
Just hold the shaver head under the running water and clean it.
For thorough cleaning, you can remove the foil cassette and rinse it.
Braun includes a little cleaning brush in the package to make manual cleanings easily.
As the shaver is not wet/dry, you do not need to take extra care of thorough cleaning for making it germ-free.
Replacement Parts
Since there is no fancy option in this shaver, you do not need to replace other things.
Braun recommends replacing the foil cassette in every 18 months and you will get better performance.
The replacement foil of the Braun series 3 300s is Braun 21B.
Pros
Pressure sensitive shaving elements
Very comfortable performance
Cordless and corded
Very close result
100% waterproof
2 years guarantee
Cons
Not wet/dry
No popup trimmer
Battery charge should be longer
No travel bag included
Final Thought
The performance of this shaver is pretty appreciable.
But it has an absence of some extra features like wet and dry shaving facilities.
But it would be a great shaver for men who do not need a wet shave and want very close shave at an affordable price.
As the shaver offers 2 years of guarantee, you can feel secure with the shaver for 2 years.
I think 2 year is enough for such kind of affordable shaver.
This is a very simple electric shaver and does not have any heavy feature in it.
So, if you like to have the extra features like wet/dry shaving, popup trimmer, cleaning or charging unit, you can try Braun's premium shavers instead (series 9, series 5).
But it would be a great choice for the men who do not need any fancy feature and like to have dry close shaves every time.
The performance of the shaver is appreciative.
See Price on Amazon.com
Sours: https://theshaverzone.com/braun-series-3-300s-review/
Last Updated
The Braun Series 3 390CC-4 includes a shaver and a cleaning and charging station. The shaver and unit are made with a sleek shiny black casing with blue highlights, which make it look like a premium line, even though it isn't. The Braun shaver has a foil-style head and can be used either wet or dry. Braun wants every man to have smooth clear skin that stands out from others. The Braun Series 3 390CC-4 shaver is cordless and rechargeable.
Braun Series 3
Braun is well-known for their foil-style shavers, as most of their line of men's shavers are foil and not rotary. Braun claims that using a foil style shaver will give men 30% less skin irritation than rotary style shavers. The Braun Series 3 is Braun's latest line of men's shavers. It's a more premium line of shavers than their older lines, and are for men willing to spend a bit more money to have the best shaving experience possible.
30% less skin irritation
Benefits of the Braun Series 3 Shaving Head
The shaving head will move and glide against your skin, adapting to each contour and angle of your face. This will give you a clean, close shave, no matter what your face shape is.
Built within the Braun shaver head are three different adaptive cutting blades. These blades are floating, and each designed to trim long or short hair with the Triple Action Cutting System. Each of the three cutting blades trims off different types of hair, such as long, or short. This enables the shaver to be easily controlled, and still have an irritant-free shave.
Top RatedShaver
The blades within the shaver are built with a "Triple Action Free Float System". They're designed to trim more efficiently than other brands of men's shaver, getting down closer to the surface of the skin.
The foil built into the head of the shaver is made with Braun's patented SensoFoil technology. This foil has been made with hundreds of tiny holes that are designed to trap hair, without tugging or pulling, and then neatly trim them off near the surface of the skin. These optimized foils are what makes shaving so easy.
100% Waterproof Shaver
The Braun shaver is 100% waterproof, so that you can use it for shaving in the sink, or in the shower. You can add shaving creams, gels, foams, and lotions, to get an irritant-free shave.
You'll find that the Braun Series 3 390CC-4 does a great job at making the face smooth and clear of hair and stubble. It'll glide smoothly and gently across skin, providing a comfortable and irritation-free shaving experience. It doesn't matter if you have one day stubble, or a noticeable three day beard, the shaver will perform just as well no matter how long your hair is.
Great Clean & Renew System Does All the Maintenance
It's simple to clean the Braun Series 3 390CC-4. The Clean and Renew system will clean and lubricate your Braun shaver, restoring it to like-new condition each time you use it. It's recommended that the shaver be frequently cleaned with the included cleaning and charging unit.
The Clean and Renew system has been made specifically for the Braun Series 3 390cc shaver. You'll find that your shaver will not work with older models of the Pulsonic or Synchro series, nor will you be able to use your older Braun shavers in this new Series 3 Clean and Renew system.
This Clean and Renew system is simple to use. It does all three tasks: clean, charge, and lubricate within the Clean and Renew system automatically. Simply place your Braun shaver head down into the unit and press the button. The cleaning system will automatically start cleaning, charging, and lubricating your shaver.
The cleaning unit takes additional cleaning cartridges, which are recommended in maintaining the Braun Series 3 390CC-4 shaver. These cartridges are replaceable, and you can slide them into the base of the Clean and Renew system. They aid in cleaning the tiny blades of the Braun shaver, and also extend the life of it. They make shaving a more comfortable shave.
Each cleaning cartridge will last you about two to three months, depending on how often you use it. If you clean your shaver twice a week, you may get up to three months of usage.
These Clean and Renew cartridges come in a four pack refill kit. Within each is an alcohol-based cleaning solution, which is perfect for eliminating about 99.999% of most germs. They have a fresh lemon scent. Using the Clean and Renew system has been proven to remove more bacteria from your shaver than if you simply washed it under a running tap.
If you wish to skip the cleaning system for a day or so, you can also clean the Braun Series 3 390CC-4 shaver under a running tap of water. All you have to do is rinse it clean under a tap, and shake it dry. Pat it with a towel and let it air dry, and it'll be ready for you by the next day.
More Great Braun Series 3 390cc Features
The back of the shaver has a pop up long hair trimmer which is perfect for trimming sideburns, beard, and mustache. This Precision long hair trimmer has been designed especially by Braun so you don't have to use the main foil head of the shaver to get into those tight corners.
On the front of the shaver's body is a four stage LED display to tell you the status of your shaver. It will tell you when it needs to be charged, how much battery power you have left, and whether it needs to be cleaned.
How Can I Get the Best Shave from Braun Series 3 390cc?
Braun recommends that you shave over the sink before you take a shower. If you haven't shaved for several days, such as after the weekend, they suggest you trim your stubble first before using your shaver. You'll want to shave at right angle of ninety degrees to your skin.
Affordable Braun Shaver for Everyone
Some of the other Braun shavers in the line that have Clean and Renew stations can be costly, as well as in other brands. Braun has provided an affordable solution to when you want that separate cleaning station, but can't afford a shaver kit in their Series 9 line.
The pricing of the Braun Series 3 390CC-4 makes it affordable, particularly since it includes the cleaning and recharging station.
Inside the box is the Braun Series 3 390CC-4 cordless men's shaver, attached pop-up trimmer, and the Clean and Renew system. There is also a cleaning brush, the SmartPlug 100V to 240V charger, one Clean and Renew cartridge, and a travel pouch.
You may purchase additional Clean and Renew system 4 pack refills, and a new foil cutter for the head of the shaver. The shaver head should be replaced about once every eighteen months. There is a replacement part indicator light on the front display of the shaver so that you'll know the best time to do this.
If you're a man who wants to look their best, and not have to fuss around with a cordless shaver in the morning, the Braun Series 3 390CC-4 shaver and its included cleaning and charging unit will decrease the chore of shaving, and avoid having to manually clean the shaver afterwards. The Clean and Renew unit will keep your shaver in perfect running order.
Fully waterproof and washable under running water
Triple Action Cutting System shave long and short hair
Precision Long Hair Trimmer designed to trim sideburns, moustache or beard
SensoFoil Technology cuts hair more efficiently for an easy shave
4-Stage LED Display Updates the charging, battery and hygiene status
Powerful Ni-MH battery does not suffer from "memory effect" of repeated charges
Braun Series 3 390cc-4
Pros
Close Shave
Clean and Renew unit
Check on Amazon
Nick Davis
Nick Davis is a lead Product tester at ShaverGuru. His passion for helping people flows through in the expert reviews he provides. Previously he has been in consumer products industry for 10+ years.
Sours: https://shaverguru.com/braun-series-3-390cc-review/
Braun Series 3 Wet \u0026 Dry Shaver - Best For Travelers
Charming sheer underwear accentuated her natural beauty and mesmerized my masculine gaze. I got up. She quickly pulled off her panties and took off her bra, revealing all her beauty. The breasts were firm and well-rounded in size 3 and the pussy trimmed nicely.
3 braun series shavers reviews
So do I. And she parted it, again smiling charmingly. Ludka loves to catch enthusiastic glances on herself, she says that she turns on. So, we have such a game with her: if we go by public transport, we try to take seats that are opposite each other.
Braun S3 Shave Test and Review and Unboxing too
Well, girls, are you ready. - Pasha did not ask, but rather stated. It was he who caressed me from behind.
You will also be interested:
But believe me, I have seen and possessed many naked women. Many of them look as great as your mom. Switch to someone else. There are so many beauties around who are ready to place their legs for you. Tried it, doesn't help.
5851
5852
5853
5854
5855