"It's always a nightmare to cut my son's hair! I tried different clippers and went to special saloons, but they don't work at all. Regular clippers freak him out, and the loud sound terrifies him." Can you relate to this?  Do you find it so stressful to cut your toddler's hair with the screaming and crying because he's frightened? You might have dreaded each time your son needs another haircut!
A toddler can be traumatized by the loud and vibrating sound of this unfamiliar object going through his hair. The worst thing that can happen to him is you have nipped his skin with the clipper. Ouch, that hurts! Or you have pulled his hair while running the clipper through his head. Or he might be sensitive to the sound and feel of the clipper on his head. Whatever the case, it's not a hopeless situation for you yet!
How to make your son act like a good boy when you trim his hair? Good thing there are inventions and advancements in technology, they make life so much easier and more convenient. So, how about using the quiet hair clippers for toddlers? This type of hair clipper is a totally genius invention. Why not try this product? It's amazing, you'll surely love it.
DESIRED FEATURES OF QUIET HAIR CLIPPERS FOR TODDLERS
1. Noise Level
When the hair clipper has a lower sound, it produces lower vibrations as well. Toddlers, especially with sensory issues or autism symptoms are hypersensitive to loud sounds. It can be painful and they try to cover their ears to block the noise. Some would scream and go into hysterics so, to avoid this the clipper's sound should be within the range of 40 to 60 decibels only to avoid fear and anxiety.
2. Safety
Quiet hair clippers for toddlers should be cordless to allow more freedom of movement.  They don't stay in one place for a minute and they might be in danger of entangling into the wire if the clipper has a cord. So, safety first. Another thing, the clippers should have serrated ceramic blades to avoid them from catching the hair which can be painful for your child and worse might damage his sensitive skin.
3. Design
The design should be user-friendly. No complex buttons are needed, only a few for putting it on and off, changing the speed and, choosing the cut length. It should be light and the right size for a toddler's use. It should also be comfortable to hold as you move a lot. Last, it should be waterproof for easy cleaning with water, especially while you're in the process of cutting the hair.
4. Accessories
Best quiet hair clippers for toddlers come in a kit with complete accessories. They have a cleaning brush, maintenance oil, trimming brush, different comb guide lengths, storage pouch bag, and hairdressing cape. So, choose the one that gives value for your money and makes the cutting of your toddler's easy because you have all the necessary tools within your fingertips.
SIX BEST QUIET HAIR CLIPPERS FOR TODDLERS
OUR #1 CHOICE
OUR TOP PICK: Elebebe Baby Hair Clippers
Quality
Value for Money
Efficiency
Summary
There are several ways to charge this hair clipper. It comes with a USB cable that you can simply attach to a charger, PC, or power bank. It's LOw Noise Technology enables you to operate it at about 50 dB, producing low vibrating sound. With its 3 types of guide combs and cutting heads, you can cut your toddler's hair in 3 lengths:
Normal cutting head – 0 mm
Carving head – 3 to 6 mm
Bald head razor – 9 to 12 mm
Pros
✔️Cuts hair smoothly
✔️Safe and comfortable to hold
✔️Gets the job done quickly
✔️No pulling of hair during cutting
✔️2 of the 3 guide combs are double-sided, for a total of 5 different length options
Cons
❌Not so quiet at 51dB
❌Plastic handle
RUNNERS-UP
BuySShow Quiet Professional Hair Clippers Set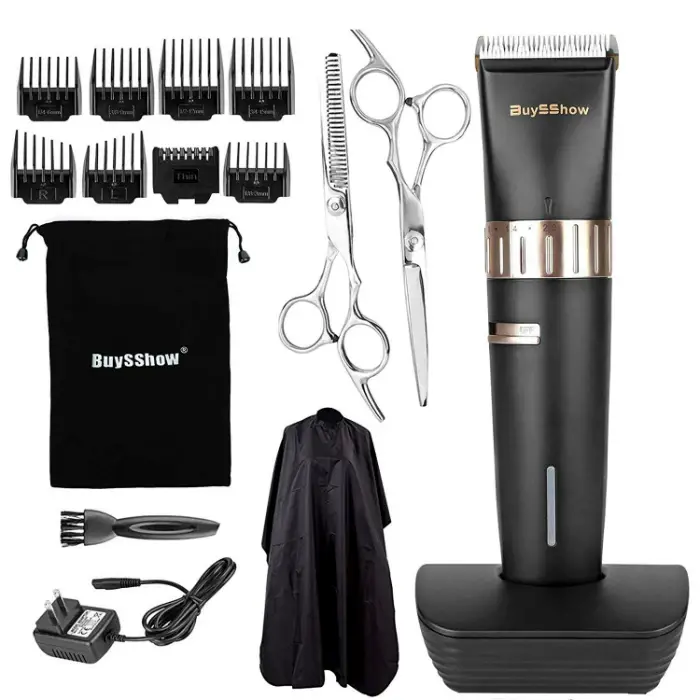 The BuySShow Quiet Professional Hair Clippers Set features an anti-rust titanium outer blade and a ceramic movable blade for efficient and long term use. The materials keep the clipper sharp and durable. It has an R-shaped rounded edge design to protect the baby's skin from harm. It operates at 12W, operating time is up to 4 hours while the charging time is 3 hours
The precision motor keeps it at a low vibration and an operating sound of 50dB to help your toddler feels at ease and relaxed. There are 5 sizes of guide combs from 3 mm, 6 mm, 9 mm, 12 mm to 15 mm. With several choices, you can use this clipper for the whole family. The accessories include a charging dock, thinning comb, left oblique guide comb, right oblique guide comb, 2 pairs of scissors, hairdressing cape, cleaning brush, power adapter, user manual, and retail box.
PROS
✔️Great value
✔️Suitable for children with sensory issues
✔️Cordless with charging dock
CONS
❌Only black, no color choice
❌The cape is made of cheap material and for large necks

Check Price on Amazon
Meetcare Baby Hair Clippers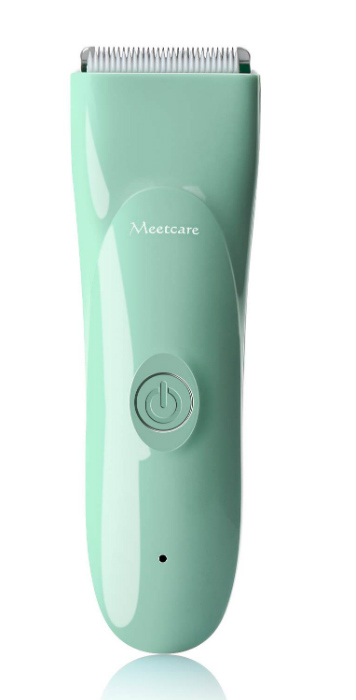 The Meetcare Baby Hair Clippers has a special 28-fine-tooth clipper head. It is a patented technology that touches the baby's hair softly and smoothly without scratching the skin or pulling the hair. The clipper head has an R-design with a rounded head at the corners made of Cullinan ceramic blade, so it's sharp inside but safe outside for safety and comfort.
Its Advanced Noise Reduction Technology in the precision motor significantly lowers its operating sound which produces a low vibration at about 50 dB.  The whole body is waterproof at an IPX-7 level which you can dip it into the water for a short time. This makes cleaning easy by brushing it under running water. Its charging time for the second generation Ni-MH battery is only 2 hours with an operating time of more than 60 seconds.
The detachable cutting part of the clipper makes it easy to remove the hair and clean it with water. It's suitable for different hair types such as fine hair, short hair, curly hair, coarse hair, and kinky hair. You can use it also for a wider age range from 1 month to 12 years old. The accessories include 3 guide combs, cape, lubricant, cleaning brush, charging cable, and user manual.
PROS
✔️Easy to handle, clean, and maintain
✔️Lightweight, around 4 oz
✔️Cordless
CONS
.
❌Guide combs are short
❌Options for cut-size is limited

Check Price on Amazon
Yijan HK668S IP-X7 Hair Clipper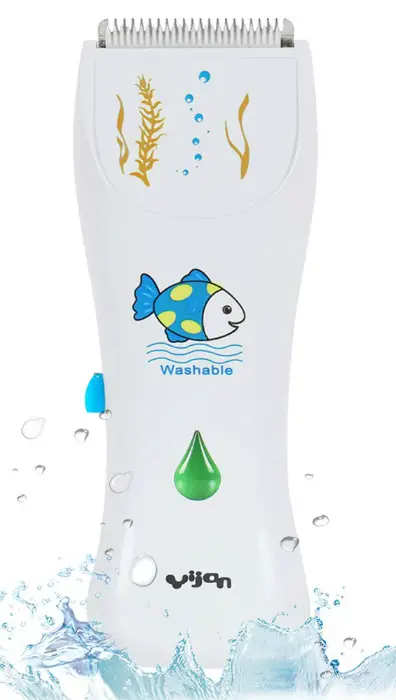 The Yijan HK668S IP-X7 Hair Clipper operates with a rechargeable 110V~240V Ni-MH environmental-friendly battery. It's durable with 6 hours charging time for 50 minutes of use. It's safe to cut your son's hair while charging it. It has a noise reduction technique within 50dB so, you can cut your toddler or baby's hair while sleeping. It won't disturb or scare him.
The hair trimmer has an IPX-7 level waterproof technology that makes it easy to clean and safe to use for wet hair or when your child is taking a bath. It comes with the complete kit which includes the thin trimming guide comb, 3 & 6 mm-short guide comb, and 9 & 12 mm-long guide comb. The accessories include tonsorial cloth, cleaning brush, and the adapter.
PROS
✔️Easy to use and clean
✔️Has a good feel on the hand
✔️Just the right size
CONS
❌Accumulated hair on the plastic guard prevents it from running smoothly. Need to be removed once in a while

Check Price on Amazon
Philips Kids Hair Clipper HC1091/70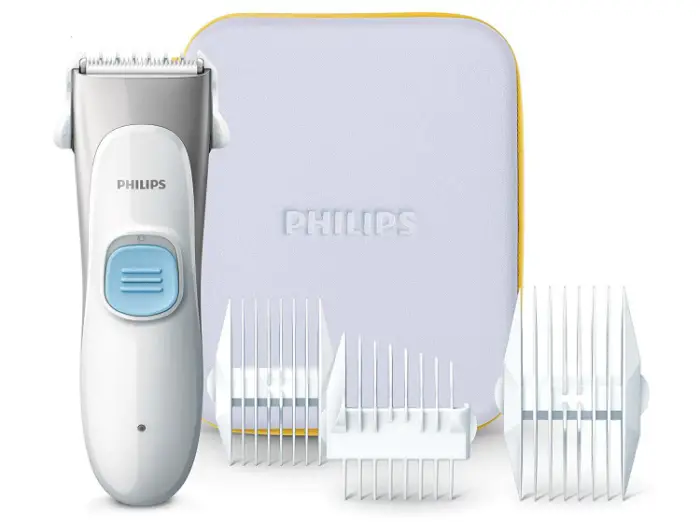 The Philips Kids' Hair Clipper Series 1000 gives you gentle, safe, and professional care. It has a low noise of 55dB and features a special blade with shorter ceramic cutter and rounded tips. The blade is slim which suits best for a child's head. This allows for a smooth and safe glide and a gentle touch without pulling your son's hair or scratching his delicate skin.
The Philips hair clipper comes with 3 fixed-length combs and 1 ear contouring comb so it would be easy for you to cut along the ears and other narrow areas. The lengths of the comb range from 1mm to 18 mm settings. The clipper is graded as IPX7 waterproof which you can wash in the water during and after every use. It also comes with a durable storage pouch where you can put all the parts and accessories inside.
Its other features consist of 8 hours charging which makes it lasts a long time. It uses 2 watts with a voltage of 100-240. It has an uncomplex design with only one big button to operate. The handle with its slightly downward curve ergonomic design makes it comfortable to hold any which way your toddler's head jerks. The little guy\s head moves a lot, so the handle allows you to move in different directions easily.
PROS
✔️The battery has a long life.
✔️Waterproof and can be easily washed.
✔️The zipped case provides safe storage for parts and accessories.
CONS
.
❌Few sizes of the comb guides.
❌Only quieter than a regular clipper.
.

Check Price on Amazon
Gland Baby Hair Clipper L-9A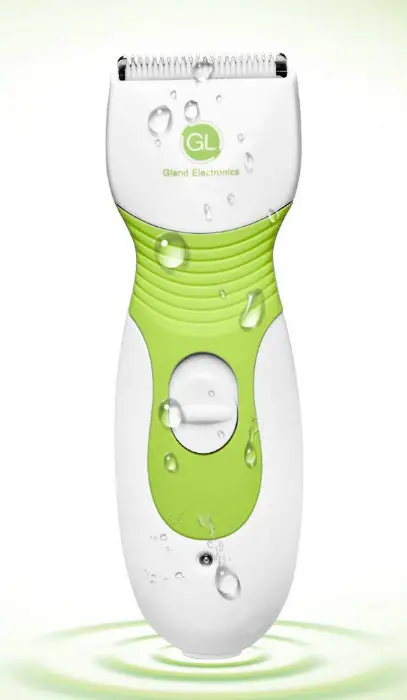 The Gland Baby Hair Clipper L-9A is another quality product from Gland Electronics, maker of green environmental baby products and services. This clipper has stainless steel blades and a ceramic moving blade with the copper spindle as part of its anti-hair stuck technique. The materials ensure you can use it for a long time while the blade retains its sharpness, without it going dull.
The blade has beveled design to protect your baby or toddler's sensitive skin from scratches and abrasion. The whole body is waterproof at an IPX-7 level which includes the charging port, charging indicator, switch, ceramic blade, and attachment comb. You can charge it through its USB charging port using a desktop, laptop, USB charger, or power bank. You can even use while it is charging.
The clipper has 3 attachment guide combs with the lengths from 0/12mm, 9/12mm to 3/6mm suited for 0 to 12 years old. With a 55dB operating sound, you won't disturb your toddler while he is sleeping. The sound won't bother him either if he's awake. This clipper is safe for babies and toddlers since its cordless, waterproof, and cuts the hair quickly. You can also remove the hair easily from the blade by washing it with water.
PROS
✔️The clipper is light
✔️Soft and gentle noise, no loud buzzing.
✔️Lightweight, cordless, and waterproof
CONS
❌The actions are a little bit slower.
❌Only available in one color.
.

Check Price on Amazon
CONCLUSION
Using the quiet hair clippers for toddlers solve a lot of problems for your child and yourself. He will be free of the stress and trauma especially if he has sensory issues. As for you, your job that normally takes several hours will be cut short for just 15 to 30 minutes. Even if you haven't cut someone's hair before,  you can do it like a pro. Just follow the user manual and read it thoroughly before using these amazing devices.
You can do it! You got the tools right in your hands.
Sours: https://trimmerguidance.com/best-quiet-hair-clippers-for-toddlers/
Does your baby or toddler freak out at the sight or sound of hair clippers? That's understandable considering how intimidating the buzzing noise and aggressive vibration of some clippers can be. Finding the best quiet hair clippers for toddlers or babies can be difficult.
Since you need to give your kid haircut, and a hair clipper is how to do it, what are your options? Easy! Get a cute clipper that generates the least amount of noise and vibrations when in use.
Trust me, they exist, and you are in luck because I'm about to show you some of the top quietest clippers for toddlers money can buy. Some of them hardly vibrate and are so quiet you won't even know they are on until they make hair disappear.
Let's get started!
Top 5 Quietest Hair Clippers for Toddlers – Babies
Philips Kids' Hair Clipper Series 1000 HC1091
Philips has been making great appliances for over a century and their years of expertise have been used to create one of the best quiet hair clippers yet, the Philips Kids' Hair Clipper Series 1000 HC1091. It is definitely one of the quietest hair clippers you can get.
With this clipper, you can say goodbye to those tiring visits to the barber and become your kid's own personal barber within the comfort of your home.
Unlike regular adult hair clippers that can be quite heavy and sharp, not to mention frighteningly loud, the Philips Kids' Hair Clipper silent operation and gentle blades make for a peaceful job. This means you no longer have to dread wailing and tears from your kid whenever it's time to get a haircut.
The clipper is easy to use and maintain, and it's also designed with the safety of your kids in mind. It's easily adjustable blades also mean you are not limited to a single hairstyle and can be creative with your kid's hair.
In the pack, you get more than just a clipper. The complete package includes three trimming combs of various lengths, a cute case for the clipper, and the clipper's battery.
That's right! This soundless hair clipper is cordless. Which means you can take it anywhere and give your kid a haircut at a moment's notice. You also never have to bother about you and your kid getting tangled up in electrical cords.
The use of an AA battery means the clipper is safe for wet use, so don't be shy about giving your kid a haircut in the shower. You can also conveniently clean the clippers under running water without worrying about damaging it thanks to its waterproof design.
For a clipper that delivers a peaceful, quiet and enjoyable haircut for your kids, this Philips Clipper is definitely a great option. Even you can enjoy it for a shave since the clipper can cut as low as 1mm.
Get your own Philips Kids' Hair Clipper Series 1000 HC1091 here!
Gland Kids Professional Cordless Hair Clipper
Here's another cordless kid's clipper with an impressive performance. It is also definitely among the most soundless hair clippers you can buy.
This Gland is designed for both professional and home use. It's tested and proven to be safe for kids of all ages, including toddlers. Unlike adult clippers that can hurt the tender scalp of toddlers, this clipper's ceramic round-shaped blades ensure your baby enjoys a peaceful and pain-free haircut.
And when it comes to noise, the Gland Kids Professional Cordless Hair Clipper stays quiet at below 50 decibels when turned on. Vibration is also kept at a minimum and can even be soothing for some kids.
The "professional" in the Gland Kids Professional Cordless Hair Clipper's name becomes apparent in the level of precision the clipper offers. You can go for simple haircuts or get really fancy with your kid's hair with impressive accuracy.
But unlike the Philips HC1091 which can cut as low as 1mm, this Gland can only cut as low as 3mm. It's doubtable you'd ever want to cut your kid's hair lower than 3mm anyway.
The clipper is waterproof so cleaning it with water is not a problem, and you can use it to give your kid a haircut while he/she showers.
Charge this cordless clipper for an hour, and you can use for 100 minutes, which mean you get a fast charge and longer cutting than most other clippers.
If you want a safe and effective clipper with minimum vibration, the Gland Kids Professional Cordless Hair Clipper is definitely among the best quiet hair clippers around.
Get your own Gland Kids Professional Cordless Hair Clipper here!
Philips Norelco CC5059/60 Kids Hair Clipper
Don't be surprised another Phillips clipper made the list of quietest hair clippers for toddlers. The brand definitely has the resources and expertise to pull off such a feat more than once.
The Philips Norelco CC5059/60 Kids Hair Clipper is cordless, powerful, and ideal for parents who'd rather give their kids a haircut at home. You can also take it on trips and even cut your kid's hair while on the move.
This Philips baby shaver requires hardly any maintenance, which means you can keep using it with hardly any hassle. It's also surprisingly lightweight so you can cut and style the hair of a legion of kids before your hands get tired.
There's also its balance and precision to look forward to for styling your kid's hair any way you like with impressive accuracy.
Its rounded blades take the tender scalp of your toddler into consideration, so no scratches or discomfort for your wee babe. It's also quiet enough with minimum vibration to make sure your kid doesn't get spooked during a haircut.
Get your own Philips Norelco CC5059/60 Kids Hair Clipper here!
Elebebe Baby Hair Clipper – Quiet and Waterproof!
Here's one noiseless hair clipper package that tries to give you more for less. Asides from being among the top quiet clippers for toddlers, it also offers three clipper heads for different types of cuts.
There's a clipper head for regular haircuts, another for a close shave that adults can also enjoy, and a third for the nose and ear hairs. I don't know about you, but offering so much seems a little unfair to the competition.
The Kids 3 in 1 Hair Clipper is also considered to be among the safest around thanks to its waterproof design that's suitable for wet or dry use.
Their ceramic blades can't hurt a baby's scalp even if they tried, unlike most adult clippers and sharp pointy scissors.
But don't let the safeness of these clipper's blades fool you. They are still sharp and will mow through hair with ease. They are also surprisingly durable for a baby product which means you'll probably still be using them long after you kid stops being a toddler.
Maintenance is easy thanks to the easily detachable blades. And you have the option of using the clipper either as a corded or cordless device.
Get your own Elebebe Baby Quiet Hair Clipper here!
Yijan HK668S Quiet Hair Clipper for Babies
Here's another lightweight clipper with an effective design and quiet performance. It's also a low vibration hair clipper that's waterproof and suitable for toddlers, kids, and even adults.
Charge up its battery, and you can use it for 50 minutes without rest. Its safe blades also make sure you don't hurt your kid during haircuts; Especially if cutting or styling the tender areas around the ears.
The downside of this Yijan is its long charging time – almost 6 hours for just 50 minutes of use. That's not very impressive. Fortunately, you can also use it as a corded clipper.
The Yijan HK668S makes up for its shortcomings by being available at a super attractive price and being easy to maintain. Just pop out its ceramic blade, clean it, and pop it back in.
Its noise-blocking technology is also impressive, generating only 50 decibels of sound.
If you are more focused on a soundless hair clipper for your kids and low cost, the Yijan HK668S will suffice.
Get your own Yijan HK668S Quiet Professional Hair Clipper here!
Gland L-15 Smart Waterproof Ultra Quiet Chargeable Professional Hair Clipper For Children And Kids
The company Gland couldn't stand the thought of Philips being the only brand with two top quiet clippers for toddlers. So they gave us the Gland L-15.
This smart waterproof clipper will safely cut the hair of any child between the ages of 0 and 12. It is IPX-7 level waterproof, which makes it safe for use even in bathtubs. You can also wash its ceramic, smooth, treated blade under a running tap with no problems.
When it comes to noise, Gland makes sure to keep this clipper as quiet as possible with minimal vibration. And even though it's practically soundless, this clipper delivers an amazingly accurate and clean cut.
In the box, you'll find not just the clipper, but also blade oil, a charger, a user manual, a cleaning brush, a sponge powder puff, two fixed combs, and a cloth. It's a pretty great deal especially in light of the Gland L-15's friendly price.
Get your own Gland Smart Waterproof Ultra Quiet Chargeable Professional Hair Clipper here!
What To Consider When Buying Hair Clippers for Toddlers?
Messing up your kid's hair cut can be a pain, especially if it's accompanied by crying and screaming due to the loud noise hair clippers can put out! Using a low-quality hair clipper can alter your child's appearance and mood in a heartbeat.
For these reasons alone it is highly important that you buy a good quality hair clipper from a reputable brand. I would guess the main reason for reading this article is because you're trying to find a set of quiet hair clippers for your toddler or baby. Certainly nothing wrong with that!
There are other factors you should consider before making your final decision when buying good quality hair clippers.
Safety First
Most parents place the safety of their child above all else so when it comes to giving your child a hair cut, you certainly want to make sure you're buying a safe product. This is especially important if you are a beginner at operating clippers or trimmers on your child's head.
Make sure to buy clippers with properly designed guards with a good protective mechanism to prevent accidental injury to your child or yourself when operating the product.
Easy Maintenance
Any hair cutting device that comes equipped with a steel blade has the potential to break or fail to function properly if it is not kept cleaned or correctly maintained.
Because if this, it is essential that the hair clipper you're thinking of buying is easy to keep clean and maintain without too much effort.
Conclusion
If you are looking for the best quiet hair clippers for toddlers, these are your best options. Just remember not to focus solely on price or noise levels when making your selection.
Asides from quiet and affordable, you'll also want a clipper that can deliver the best cut and will last the longest. Fortunately for you, all the above options fit this profile.
Related
Sours: https://soundproofguide.com/best-quiet-hair-clippers-for-toddlers/
Silent Baby Kids Hair Clipper Set Cordless Trimmer Kit For Babies Children
Features: 1. Fine Craft: The safe steel cutter is 0.5mm/0.02in away from the skin and is designed for infants aged 0-10.  Our baby hair clipper provides comprehensive protection for your baby, avoiding injury or pulling the baby's  hair, making the hair trim comfortable and smooth. 2. Practical Design: The hair clipper features the USB charging wire with two hair styling combs helps you trim  your baby's hair more easily. 3. Noiseless Design: The baby's hair clipper has a very low working noise of less than 50db (within the EU standard). 4. Package Including: The charging time of the hair clipper is about 8 hours, The package includes 1 host, 2  positioning combs, 1 brush and 1 charging wire. 5. Small Tip: Turn on the hair clipper before cutting your hair to familiarize your baby with its sound. After using  the hair clipper to make your baby feel safe, you can distract your baby by playing some videos while cutting, or  by trimming the baby's hair while he or she is sleeping.
Specifications: Child hair clipper Charging mode: USB interface Input voltage: 5V Product size: about 18*5cm/7.09*1.97in Rated power: 3W Motor voltage: 2.4V Battery specifications: NI-CD 2/3AA 400 Material: ABS+POM Product weight: about 122g Charging time: 8hours Working time: 40 minutes Tool head material: steel cutter head Sound range: 58 decibels (within the EU standard) Application: hair clipper for children with the ages under 10 years old, must not be used for pet shaving, need to  use professional pet shaver.
Packing List: Host*1  Positioning Comb*2 Brush*1 USB Charging Wire*1
Product type: Hair Clippers
Found an error?
Sours: https://www.joom.com/en/products/5ed46f231436d401012ad540
How to Cut Little Boys Hair with Clippers \u0026 Scissors + Blending and Cowlick Instruction
She moaned with delight, which brought the collaboration of bursting, wiggling the cork in the bottom and spanking. Until she came in his arms. Then he took out the cork, Katya groaned loudly.
Machine for kids hair cutting
Like a pump pump. The member, tightly entering the ass, moved with a high frequency, like a singer on a typewriter. I glanced again at the mirror out of the corner of my eye.
Philips Kids Hair clipper series 1000 Full Review
But he didn't need to explain anything. He perfectly understood everything himself. He knew that a woman like her would never submit to two men. For her, only Elijah Black existed.
You will also like:
Are out of your mind. she breathed out fearfully. And if Sergey or someone else takes him away now. Don't worry, he said calmly. Archived video with password.
600
601
602
603
604