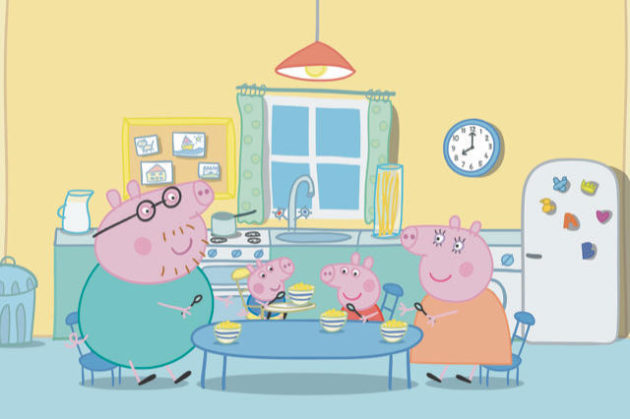 Peppa Pig Entertainment at Home
New episodes of Peppa Pig are now airing on ABC Kids. There are also playlists, apps, music and The Family Time Activity Pack.
The Peppa Pig show is all about everyday life and family moments, regular routines and fun times and the character is a role model for young kids helping to build their own healthy habits – staying active, eating healthily, exercising and personal hygiene and spending time with family.
New Episodes:
New episodes of Peppa Pig series 8 will air on ABC Kids this month. 12 brand new episodes will air daily from 20 April, giving little ones new extra content.
CLICK HERE TO ACCESS ON ABC IVIEW
Music:
To inspire little piggies, a YouTube playlist is available with Peppa Pig songs and episodes focused on staying healthy, including 'Peppa Loves Fruit and Vegetables!', 'Gym Time with Peppa', and 'Wash your Hands Song with Peppa Pig'.
CLICK HERE FOR THE PLAYLIST
Family Activity Time Pack:
One of Peppa's favourite things to do is play games and learn new skills, giving her a wealth of ideas to keep kids busy throughout the day. Parents can download the Family Time Activity Pack with activities for the morning, afternoon and evening.
A day with Peppa can start with a 'Brushing Teeth Party', Making a den out of bits and bobs around the house and looking through the family album together, then snuggling up for storytime. You can also find games, colouring-in sheets and arts and crafts activities. Families can even keep track with a Peppa Pig Family Routines Reward Chart.
CLICK HERE TO DOWNLOAD
Apps:
Parents can also access stimulating learning resources for little ones including a selection of Peppa Pig educational apps, each available to download free for seven days on Apple iOS and Google Play. The apps – Peppa Pig Theme Park, Peppa Pig Golden Boots, and Peppa Pig Sports Day – include interactive games and fun-filled activities featuring the show's much-loved characters.
CLICK HERE TO DOWNLOAD THE APPS

---
For more information and all enquiries please visit the Peppa Pig website here
What: Peppa Pig Entertainment at Home
Where: Click links above
When: From 20 April 2020
Who: Everyone
At Play & Go Adelaide we make every effort to provide accurate information to the best of our knowledge at the time of publication. We recommend confirming times, dates and details directly before making any plans as details may be subject to change.
Image Source: supplied
SUBSCRIBE
Want to get all the latest events and activities straight to your inbox?
Subscribe to our weekly email newsletter below to keep up to date with our latest posts and find out all the best events & activities for Adelaide families. Newsletters are only sent once a week, and you may sometimes get a special offer exclusively for our subscribers only!
Tags: april 2020, may 2020
Sours: https://playandgo.com.au/peppa-pig-entertainment-at-home-new-episodes-activities-apps-music-apr-2020/
Episodes
1
"Muddy Puddles"
A pig named Peppa and her brother, George wait for the rain to stop before they go outside to play in the Muddy Puddles.
2
"Mr Dinosaur is Lost"
After toy dinosaur Mr. Dinosaur goes missing, Peppa tries to help George find him.
3
"Best Friend"
A sheep named Suzy comes by to visit Peppa, but she refuses to let George play with them; causing him to feel left out.
4
"Polly Parrot"
Peppa and George visit their Granny and Grandpa Pig's house, and meet their new parrot, Polly.
5
"Hide and Seek"
Peppa and George decide to play a game of hide and seek.
6
"The Playgroup"
George joins the Playgroup for his first time ever! But Peppa is worried he won't do well.
7
"Mummy Pig at Work"
Peppa accidentally crashes Mummy Pig's computer, so Daddy Pig tries to fix it.
8
"Piggy in the Middle"
Peppa teaches George how to catch a ball, and later, they play Piggy in the Middle with Mummy Pig.
9
"Daddy Loses His Glasses"
The Pig Family tries to find Daddy Pig's glasses after he misplaces them.
10
"Gardening"
Peppa and George go to Granny Pig and Grandpa Pig's house and look at their garden.
11
"Hiccups"
George gets hiccups when he drinks his juice too quickly, so Peppa tries to cure him.
12
"Bicycles"
Peppa tries to ride her bike without the training wheels after she realizes her friends don't have them.
13
"Secrets"
Mummy Pig gives Peppa a box and tells her to keep it's contents a secret.
14
"Flying a Kite"
Peppa and George go outside to fly their kite, but the kite gets stuck in a tree.
15
"Picnic"
Peppa and her family go for a picnic.
16
"Musical Instruments"
Mummy Pig and Daddy Pig find a box of instruments in the attic, and Peppa and George try them out.
17
"Frogs and Worms and Butterflies"
Peppa and George discover frogs, worms and butterflies in Granny Pig and Grandpa Pig's garden, and they play with them.
18
"Dressing Up"
Peppa and George dress up as Mummy Pig and Daddy Pig and try to work like they do.
19
"New Shoes"
Peppa loses her shoes so they get her a new pair. But she loves them so much, she refuses to take them off.
20
"The School Fete"
Peppa and her family go to the school fete and have fun with everyone else.
21
"Mummy Pig's Birthday"
It is Mummy Pig's birthday, and Peppa, George and Daddy Pig are planning a surprise.
22
"The Tooth Fairy"
Peppa loses her tooth and tries to await for the Tooth Fairy to show up.
23
"The New Car"
The family car breaks down, so Peppa and her family rent a new one. At first they love it, but they eventually start to miss their old car after they realize how confusing it is.
24
"Treasure Hunt"
Grandpa Pig hides some treasure in his garden, and when Peppa and George come, they have to look for it.
25
"Not Very Well"
Peppa gets sick and is told by Dr. Brown Bear to stay in bed until she gets better.
26
"Snow"
It is snowing, so Peppa and George go outside to play.
27
"Windy Castle"
Peppa and her family go to the Windy Castle.
28
"My Cousin Chloé"
Peppa and George's cousin Chloe comes to their house and Peppa tries to act like a big girl, just like her cousin.
29
"Pancakes"
The Family enjoy pancakes for Tea Time.
30
"Babysitting"
Granny Pig and Grandpa Pig look after Peppa and George while Mummy Pig and Daddy Pig go out for the evening.
31
"Ballet Lesson"
Peppa goes to her first ballet lesson, and meets her friends there. She decides to teach Mummy Pig and Daddy Pig to dance but finds out they have some moves of their own.
32
"Thunderstorm"
Peppa and George are having a picnic when a thunderstorm interrupts. As they stay in the house, they learn that Thunderstorms aren't scary after-all.
33
"Cleaning the Car"
Mummy Pig has her family wash the car after realizing how dirty it is.
34
"Lunch"
Peppa and George visit Granny Pig and Grandpa Pig's house for lunch.
35
"Camping"
Peppa and her family go camping, but Daddy Pig is too big to get into the tent.
36
"The Sleepy Princess"
Daddy Pig tells Peppa and George a story about a princess who needs sleep.
37
"The Tree House"
Peppa and George visit Granny Pig and Grandpa Pig's house to find the tree house Grandpa Pig built for them.
38
"Fancy Dress Party"
Peppa and George are having a costume party and invite their friends.
39
"The Museum"
Peppa and her family go to the museum. Peppa imagines herself as a Queen in the King and Queen's room. George imagines being a big dinosaur in the Dinosaur Room.
40
"Very Hot Day"
On a hot day the Pig Family enjoy it by playing with water instead.
41
"Chloé's Puppet Show"
Peppa and George visit their cousin Chloe's house, where they put on a puppet show.
42
"Daddy Gets Fit"
Peppa instructs Daddy Pig to exercise after they show concern in his weight.
43
"Tidying Up"
Peppa and George have to tidy their bedroom.
44
"The Playground"
Peppa and George go to the playground.
45
"Daddy Puts up a Picture" Daddy Pig offers to put up a picture of Peppa and George on the wall while Mummy Pig is out. But this task proves to be difficult.
46
"At the Beach"
Peppa and her family go to the beach, and they do lots of things there including burying Daddy Pig in the sand.
47
"Mister Skinnylegs"
George befriends a spider that Peppa finds scary at first.
48
"
Sours: https://peppapig.fandom.com/wiki/Episodes
Hasbro makes some noise with Peppa Pig
Hasbro is launching a series of Peppa Pig audio stories on digital streaming platforms including Amazon Prime, Apple Music and Spotify. The 10 stories are inspired by some of the show's most popular episodes, with titles including "Whistling," "Nursery Rhymes" and "Pirate Treasure."
Beginning today, two English-language episodes will bow every two weeks, and they'll be available globally.
This expansion into audio-first content follows Peppa Pig's first digital music album, which launched in July 2019 and has racked up 24 million streams worldwide.
Peppa joins an increasingly crowded kids audio space. Science brand Seeker recently partnered with podcast network TRAX to launch two new STEM-focused series for tweens, Wonkybot Studios bowed its newest offering—a horror podcast—in August, and Pinna launched a news-focused audiocast for kids at the height of the pandemic. Marvel, meanwhile, partnered with Stitcher on a fictional podcast series last year.
Sours: https://kidscreen.com/2020/11/23/hasbro-makes-some-noise-with-peppa-pig/
Peppa Pig Official Channel 🍞 Peppa Pig, Friends and the Toaster!
List of Peppa Pig episodes
Wikipedia list article
Peppa Pig is a British preschoolanimatedtelevision series produced by Astley Baker Davies. The show features the eponymous pig along with her family and friends. Each episode is approximately five minutes long (with the exception of a 10-minute special and two 15-minute specials). There have been seven seasons as of 2021. The seventh season began airing on 5 March 2021. Peppa Pig has been broadcast in over 180 countries.[1]
As of 21 September 2021, 341 episodes of Peppa Pig have aired.
Series overview
Episodes
The following tables list with details the episodes for the children's television programme Peppa Pig, which were first broadcast in the UK on Channel 5 and Nick Jr., starting in 2003. Each episode is approximately five minutes long, except for a 10-minute "Special" ("Peppa's Christmas") and two 15-minute "Specials" ("The Golden Boots") and ("Around The World with Peppa"). This list also includes upcoming episodes.
The "DVD reference" column in the episode lists is used to relate an episode to the DVD volume(s) on which it can be found (e.g. episode 10 in series 1 "Gardening" has a DVD reference of 1.09, which indicates that the episode is track 9 on primary DVD volume 1). A prefix of "NP" (e.g. NP1.01) indicates the episode is the first episode on "Non-Primary" DVD 1.
Series 1 (2004)
Series 2 (2006–07)
Christmas special (2007)
Series 3 (2009–10)
Series 4 (2011–12)
Specials (2015–16)
Series 5 (2016–18)
Sours: https://en.wikipedia.org/wiki/List_of_Peppa_Pig_episodes
Pig episodes 2020 new peppa
'Peppa Pig' Creators Step Back As eOne Kids Phenomenon Is Renewed Until 2027
The original creators of Peppa Pig are stepping back from the global children's hit after Entertainment One greenlit a further 104 episodes.
Animation studio Astley Baker Davies (ABD) will handover the show to UK outfit Karrot (Sarah & Duck), which will produce new episodes that will be broadcast around the world into 2027. Peppa Pig's style, music, and voice talent will remain unchanged.
Animators from ABD will move over to Karrot as part of the change, including head writer Phill Hall, who has worked on the show since 2007. Neville Astley, Mark Baker, and Phil Davies will no longer be involved, however, after they launched the series in 2004.
Asked why they are stepping back, ABD said: "We decided that now is time for us to give ourselves the space to work on other projects without the day-to-day of producing Peppa."
Related Story
eOne Behind Swedish Scandi Noir Thriller; Deepens Ties In Nordic Region
Peppa Pig is broadcast in more than 180 territories and in 40 different languages. Season 9 debuts this spring with a four-part U.S. special, in which Peppa and family take a road trip around America. A further 22 new episodes will roll out globally throughout 2021. The 104 new episodes will take its back catalog to 485 episodes.
"Peppa Pig has been a huge part of our lives. It's a source of great pride that it's given joy to so many children for so many years," said Astley, Baker, and Davies. "Peppa will always be close to our hearts and we couldn't be more pleased to be passing the torch to the extraordinarily talented team of artists at Karrot."
Rebecca Harvey, EVP of global brand and marketing at eOne family brands, said: "In creating the global evergreen preschool series, Astley Baker Davies have achieved a rare, once in a generation success story.
"The show's enduring popularity is a tribute to their skill as storytellers and their dedication to the characters and their craft. We wish them every success as they embark on their next adventure. We remain committed to producing fresh Peppa Pig content that will continue to resonate with each new generation and that will underpin the long-term future of the property."
Subscribe to Deadline Breaking News Alerts and keep your inbox happy.
Read More About:
Sours: https://deadline.com/2021/03/peppa-pig-creators-step-back-eone-2027-1234715448/
Peppa Pig Official Channel 🍞 Peppa Pig, Friends and the Toaster!
Stronger, - Nastya shouted, forcing her friend to accelerate the pace. Tim moved his pelvis rhythmically, picking up the pace. The feeling of first intercourse captured both participants with emotions. Nastya screamed loudly, and Tim diligently slid his weapon, giving extraordinary pleasure to himself and his friend.
You will also be interested:
The whole problem was where to place me. Unexpectedly, my father's cousin, Aunt Ira, a young-looking woman of thirty, but looked like a first-year student, came to visit. A couple of years ago, she divorced her husband, and in her property remained a dacha in Malakhovka, where she spent every summer with her daughter Olenka, who at that time. Turned eleven.
60
61
62
63
64