Free Printable Christmas Tree Coloring Pages
These printable Christmas tree coloring pages for adults are fun for the whole family! There are trees with complex geometric shapes for adults and teens to enjoy as well as simpler Christmas trees to color for younger children.
The holiday season is joyful, but it can also be stressful.Coloring can be a great way to reduce your stress, refocus, and take a few minutes of "me time."
These Christmas tree coloring pages to print and color are completely free – no log in required! Download a few of your favorites, grab your favorite supplies, and get coloring!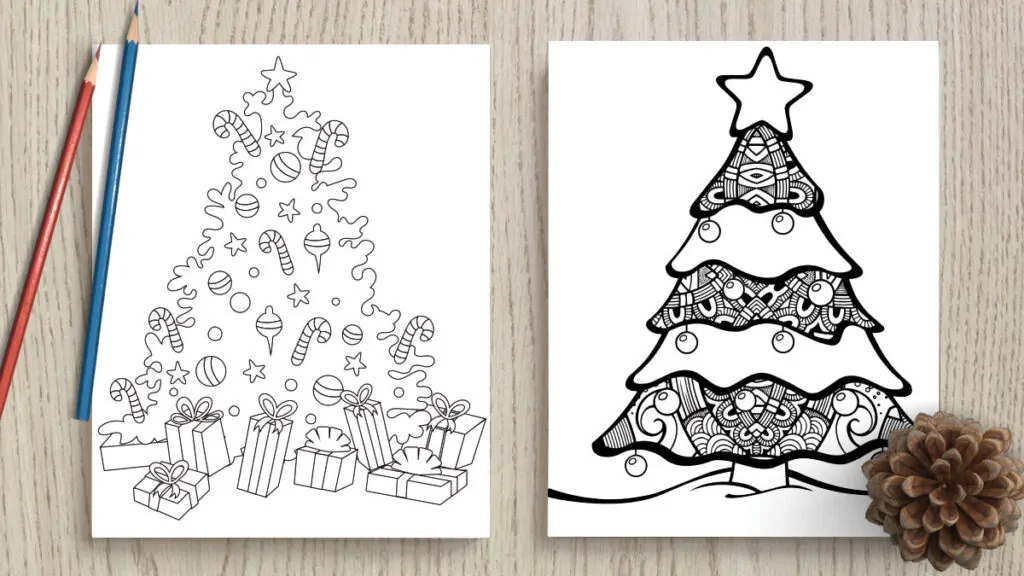 This post includes affiliate links, which means I may earn a commission on purchases made through links at no additional cost to you.
Recommended coloring supplies
I gave up on cheapo coloring books and supplies a long time ago. It's just no fun to color on junky paper.
You can print your coloring pages on plain printer paper, but there are much nicer options.
I think the best paper for printables is presentation paper. It's a heavyweight paper with a special coating. The coating makes it super nice to color on. Pencils go on thick and creamy and markers look great, too! I also don't have problems with the inkjet lines bleeding when I use markers if I've printed on presentation paper.
HP Printer Paper | 8.5 x 11 Paper | Premium 32 lb | 1 Ream - 250 Sheets |...
MADE IN USA - HP Papers is sourced from renewable forest resources and has achieved production with 0% deforestation in North America. Packaging may...
OPTIMIZED FOR HP TECHNOLOGY - All HP Papers provide premium performance on HP equipment, as well as on all other printer and copier equipment.
HEAVYWEIGHT PREMIUM PRINTING - HP Premium32 is a heavyweight (32 pounds), brighter (100 bright) and whiter (163 whiteness) paper with a super-smooth...
White cardstock is my second favorite "paper" for printables. It's rougher to color on, but a good choice for kids because it can deal with more rough handling and enthusiastic coloring.
My favorite pencils are Prismacolor – they're so rich and creamy!
Right now I'm also loving the Crayola Supertip markers. They're surprisingly fun to color with, even for adults, and very affordable. They're also pretty washable, which is great for kids.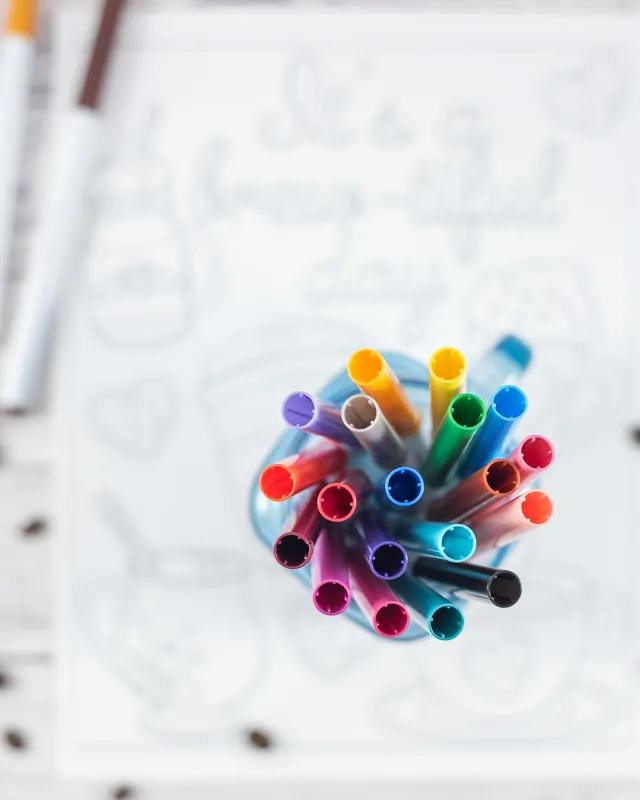 Related: Free printable Christmas bingo
Free printable Christmas tree coloring pages
Like all coloring pages on The Artisan Life, these Christmas tree coloring sheets are all free for personal use. You can print and color them as many times as you'd like!
You can also print them for your family, personal classroom, scout troop, etc. as long as you are personally involved. Please do not redistribute the digital files or the printed copies to others. Simply refer them to this page so they can download their own copy.
The images are low resolution previews. Feel free to Pin them, but they will look terrible printed! Use the download links to get the PDF files from GoogleDrive. Download links are located below each preview image and are highlighted with a grey box to make them easy to spot.
All files are in compressed zip format so you won't see a preview, but they will uncompress on your computer. You can also save and view them on iPhone and Android. (Learn how to view ZIP files on Android here.)
Related: Free printable star templates
Easy Christmas tree coloring pages
These simple coloring pages are great for younger children or if you want to add your own embellishments. If you'd like to see more tree shapes, visit this post for Christmas tree outlines.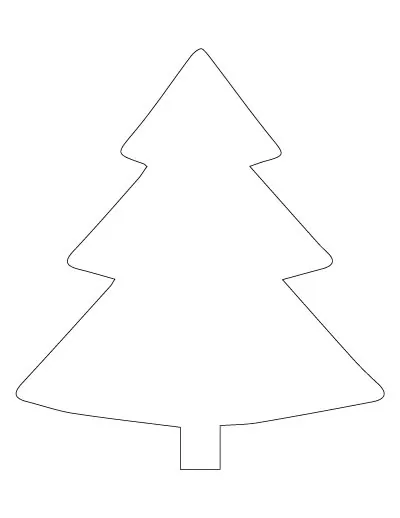 Simple Christmas tree coloring printable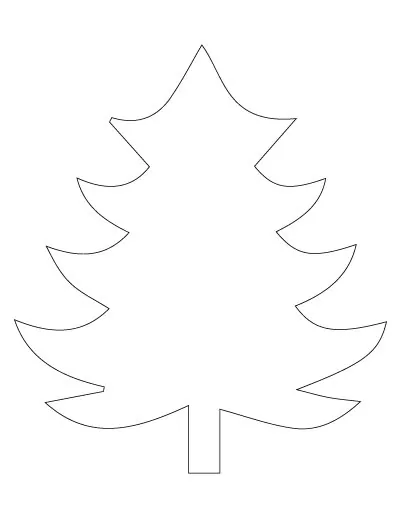 Spiky Christmas tree coloring page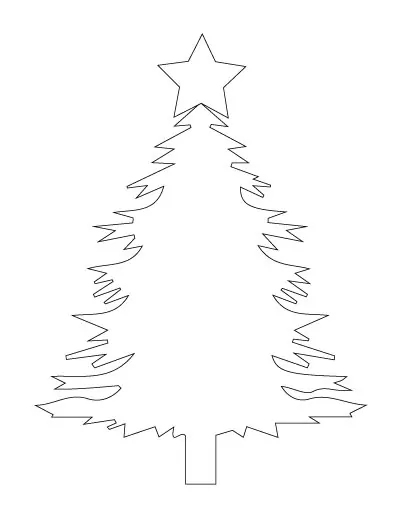 Christmas tree with a star on top coloring page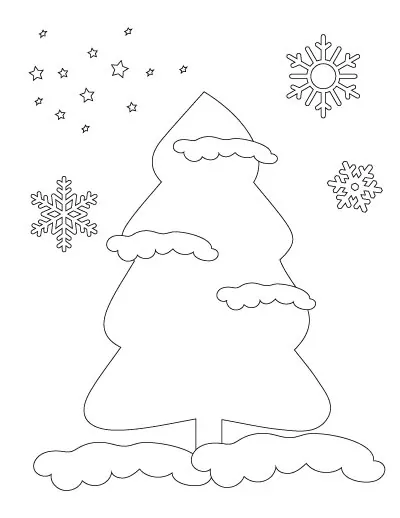 Christmas tree with snow and snowflakes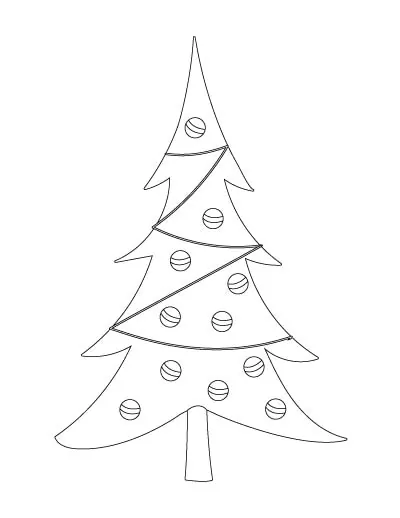 Christmas tree with ornaments to color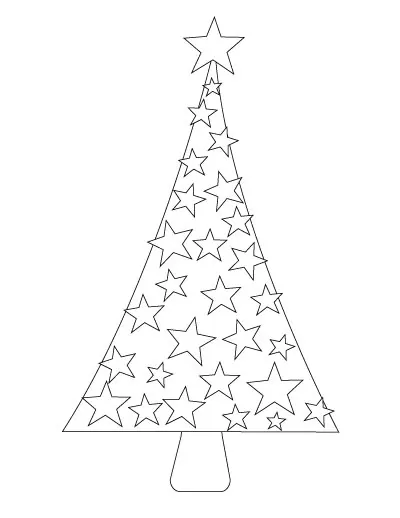 Christmas tree with lots of stars
Complex Christmas tree coloring pages for adults
These pages are a bit more detailed and complex, which makes them perfect for adults, teens, and older children who love to color!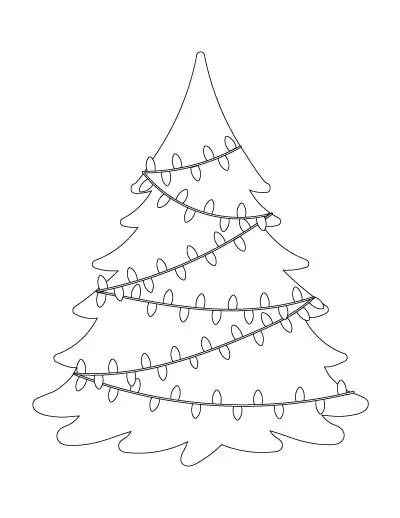 Christmas tree with lights coloring page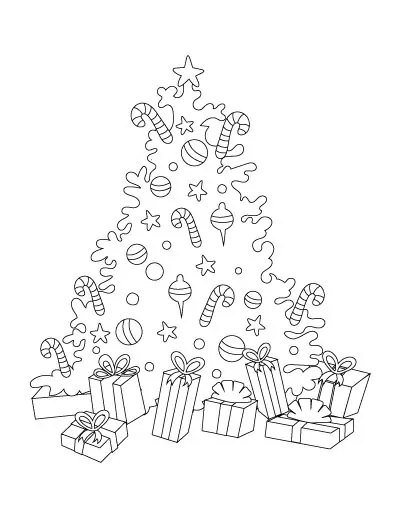 Tree with decorations and presents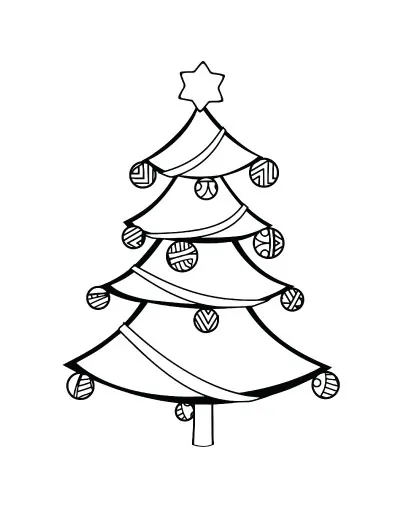 Christmas tree coloring page with ornaments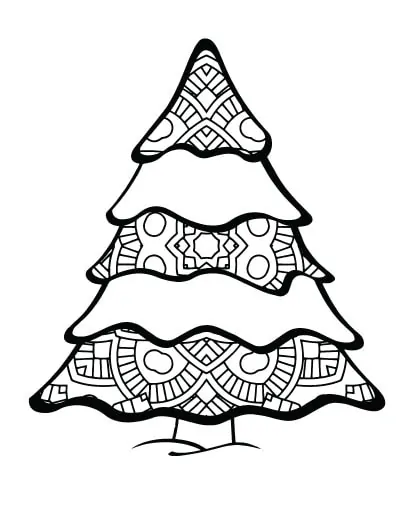 Layered Christmas tree with geometric design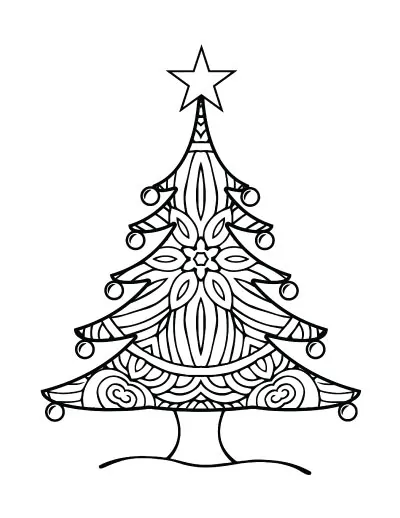 Christmas tree with pattern to color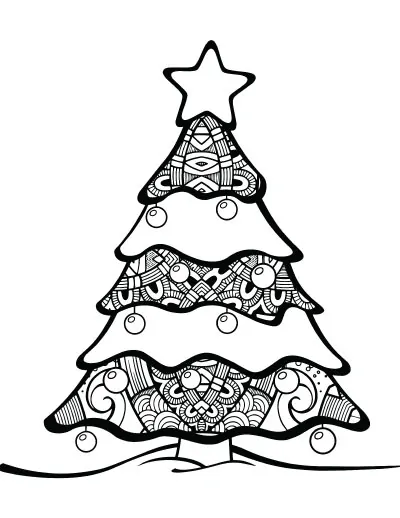 Christmas tree adult coloring page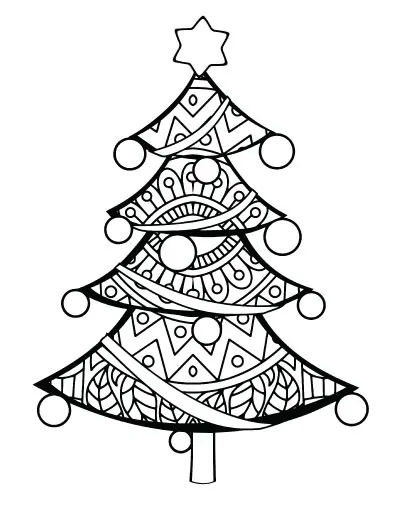 Christmas tree with pattern and ornaments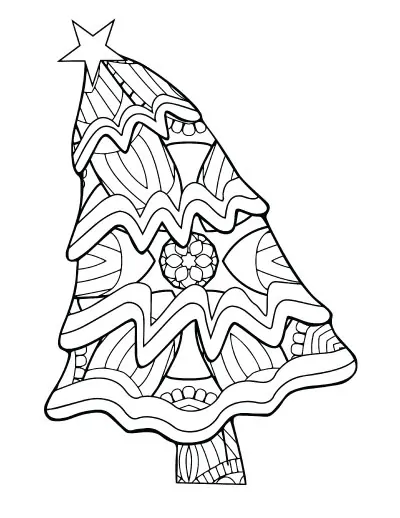 Leaning tree with pattern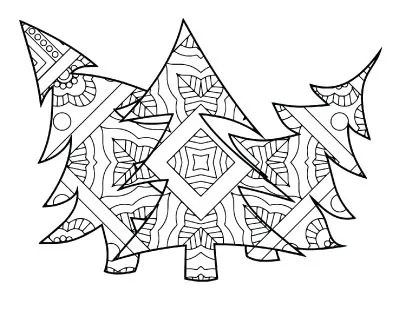 Three Christmas trees in a group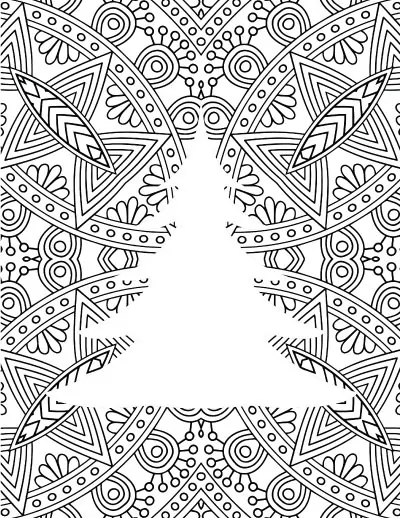 Christmas tree coloring page with pattern background
Make sure you can find these coloring printables again later! Pin them now!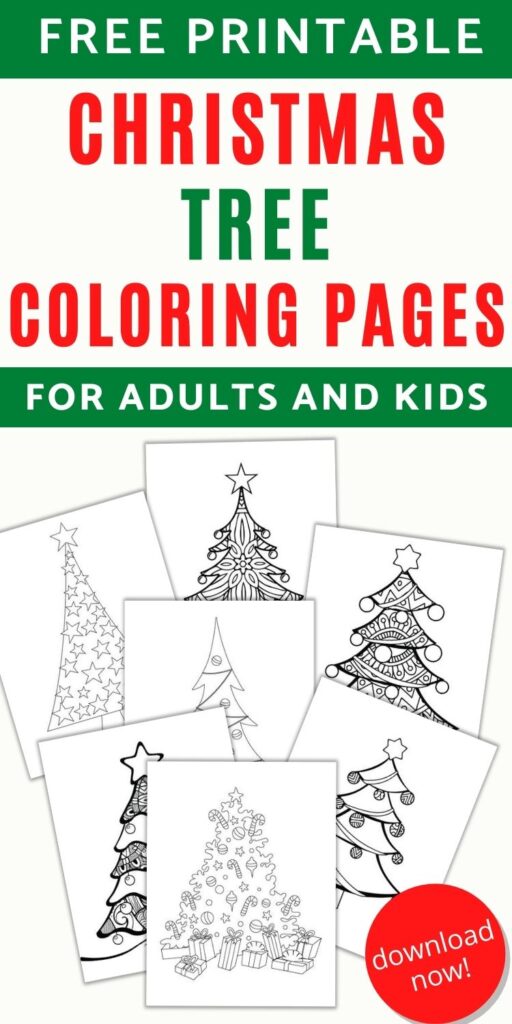 Christmas & Holiday Printables
Looking for printables for the holidays? You've come to the right place! Discover Christams templates for DIY ornaments and decorations, Christmas games for families at home, and more.
Do a dot marker printables are always popular with young children, and they're no-prep for you. Just print and hand them over to keep your little one busy and practicing their important fine motor skills!
These free printable ornament templates are great for crafts, Christmas decorations on a budget, and even gift tags and Christmas cards!
Filed Under: Free Printable Coloring Pages, Printable
Sours: https://natashalh.com/christmas-tree-coloring-page/
Best Christmas Tree Coloring Pages for Kids & Adults
Last updated: May 13, 2021
Looking for Christmas tree coloring pages this holiday season? Take a look at our large collection of festive coloring sheets. They're all completely free to download as crisp, high-resolution PDFs, making it so easy for you to download and print at home. We've created a large variety of tree designs so you can find the perfect picture that your child will love to color in!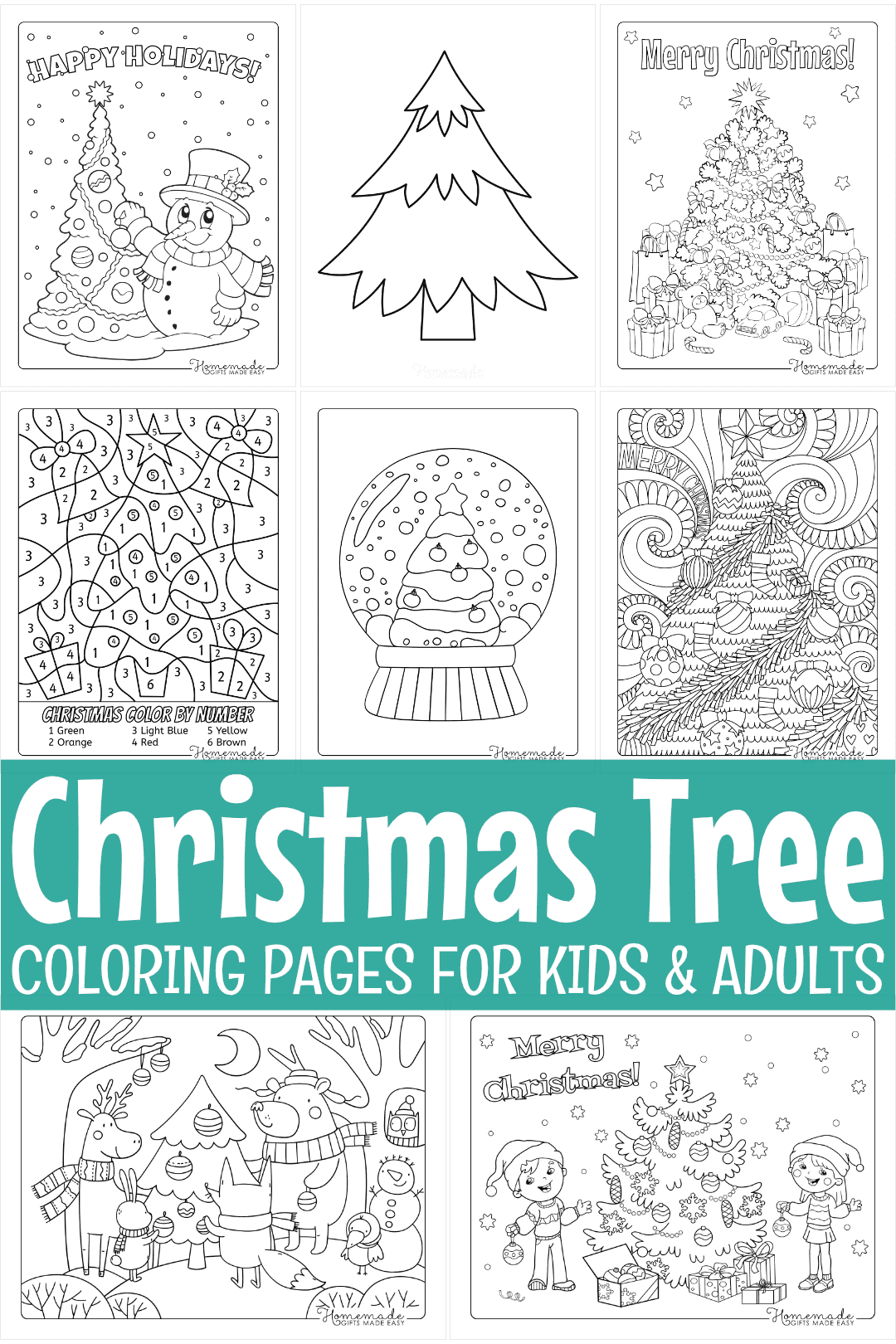 Decorating one of our Christmas tree coloring sheets is sure to keep the little ones occupied while you prepare for the holidays! There are also some more intricate tree designs for adults, perfect for when you want to take a moment of calm for yourself and escape the chaos of the holiday season!
Printable Christmas Tree Coloring Pages to Download
Choose from beautifully-decorated Christmas trees, cozy winter scenes, blank templates for designing your own decorations, and intricately patterned tree designs for the bigger kids and adults. We hope you find a picture that you like!
Scroll down the page to see all our free coloring pages, and if you like what you see, please do share this page with your friends and family! These printables are for personal, non-commercial use only.
Christmas Tree Templates, Outlines, and Blank Shapes
Looking for more blank Christmas tree templates for your Christmas and winter craft projects? Take a look at our large collection of free printable tree outlines with 18 tree styles to choose from, in small, medium, and large sizes, so you can find the perfect tree for your Christmas craft project!
Click here to go to Free Christmas Tree Templates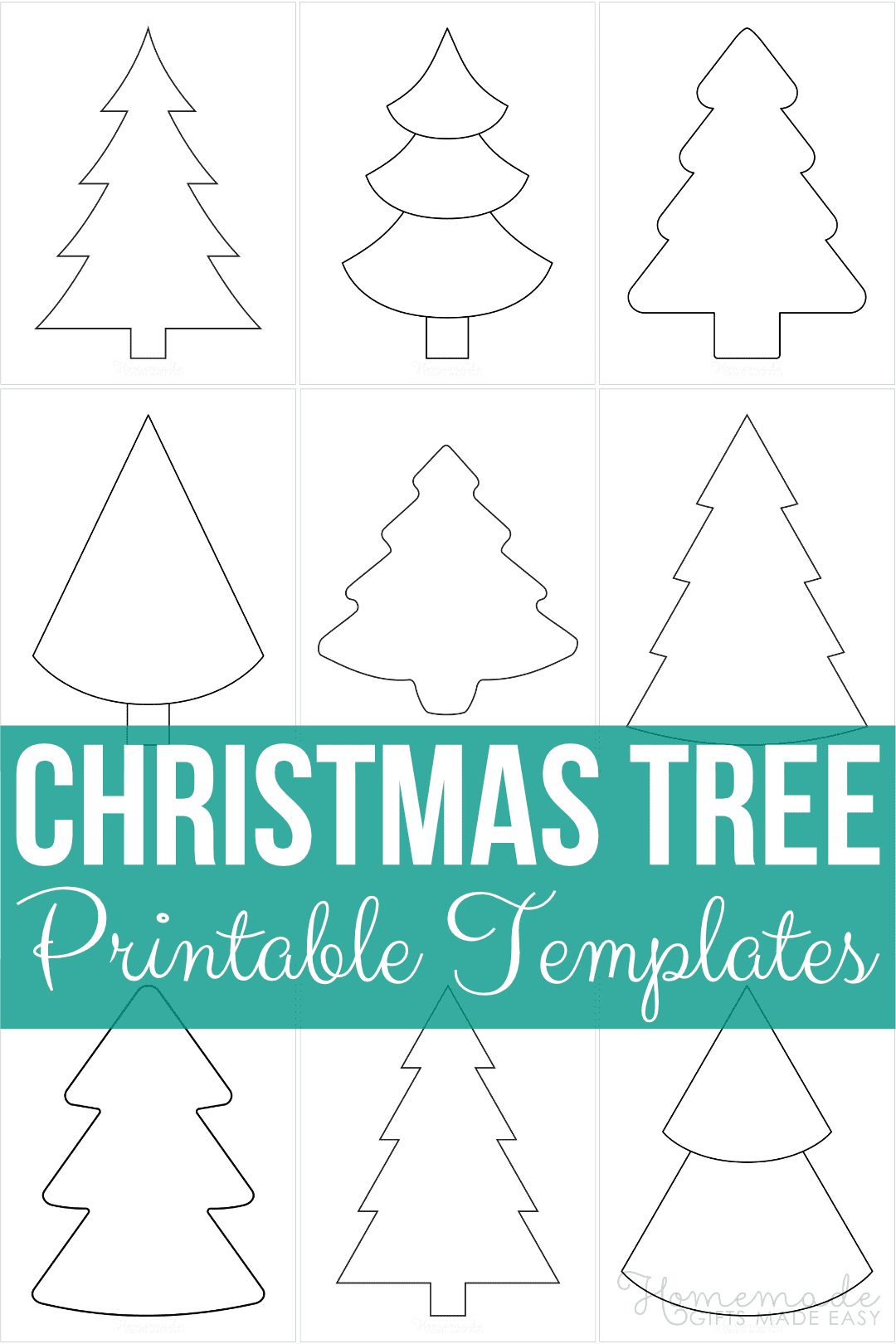 More Christmas Coloring Pages
If you're looking for more coloring sheets, do check out these other free Christmas and holiday-themed collections!
Sign Up for More Free Coloring Pages!
Get my monthly email with new free coloring pages.
100% Free
No spam
Unsubscribe at any time
Hurray!
Check your inbox to confirm your email subscription
Sours: https://www.homemade-gifts-made-easy.com/christmas-tree-coloring-page.html
Top 35 Christmas Tree Coloring Pages For Your Little Ones
Christmas is a very special time of the year for kids. They eagerly look forward to this day more than any other holiday. The Christmas tree is one of the oldest traditions of this festival. The custom of the Christmas tree developed in the early modern Germany, in which devout Christians brought decorated conifer trees into their homes. It acquired popularity during the second half of the 19th century. Kids totally love decorating Christmas trees with ornaments of their choice.
Top 20 Christmas Tree Coloring Pages For Kids:
Here is a small collection of Christmas tree coloring pages printable to keep your children busy for the Holiday week. Children will enjoy decorating these trees with crayons and markers as much as they enjoy decorating the Christmas tree with ornaments.
1. Christmas Tree Card Template:
Here is a pretty Christmas tree template to keep your child entertained. Print out this coloring sheet on cardstock paper, and you are just a step away from a beautiful handmade card.
Your child will love decorating and coloring his Christmas tree card to gift to his friends and loved ones. Children can also use glitter, sequins, ribbons or beads for decorating this Christmas tree coloring sheet. It will make it look extra sparkly and festive.
[ Read: Christmas Coloring Pages ]
2. Decorate The Christmas Tree:
Does your child always persist on decorating the Christmas tree all by himself? Then give him a complete creative control over decorating a Christmas tree with this coloring sheet.
Children have to decorate this Christmas tree outline with colorful ornaments. They can use big, shiny bows, little garlands and ribbons for decorating this coloring sheet.It will add a visual oomph to the coloring sheet. You can use this coloring sheet for decorating the house or for making greeting cards.
3. Trace The Tree:
Here is a coloring sheet for kids who want to trim their Christmas tree. This coloring sheet features a Christmas tree decorated with ornaments. It only needs color to shine at its best. Can your child do the needful?
When he has finished coloring, tell him to trace the word tree on the sheet. It will improve your child's handwriting skills. Even you can accompany your child to his coloring session. This way you both of you can enjoy a quality Christmas coloring session.
4. Color By Number:
Christmas is round the corner. Print out this coloring sheet for your child and then ask him to color it according to the color key.
Some careful counting may be required for filling this coloring sheet. So make sure you assist your preschooler in reading out the instructions. This coloring sheet will improve creative thinking abilities in your child.
5. Glowing Christmas Tree:
Here is one of the shining Christmas tree colouring pages, that features a coloring sheet of a little Christmas tree loaded with light. Your child will have fun filling some colors in those small bulbs.
Once your child has colored the image, he can draw his ornaments on the Christmas tree.
[ Read: Christmas Ornament Coloring Pages ]
6. Santa Putting Presents:
The big night has come. Santa is now delivering presents to all the good boys and girls. Tell your child to behave properly to get a wonderful gift from Santa.
Here is a coloring sheet showing Santa Clause putting presents under the Christmas tree. What present could be in that huge box? Children can draw on the blank space on the coloring sheet to make it look like their house.
7. Christmas Tree Ornaments:
This coloring sheet features ornaments that are commonly used to decorate the Christmas tree. Did you know that the Christmas tree was traditionally decorated with apples, nuts, and other edibles? It was in the 18th century that it began to be illuminated by candles and later electric bulbs.
Today, a wide variety of ornaments like the candy cane, garland and tinsels are used to decorate the tree. An angel or a star is also placed at the top the tree. The angel represents the archangel Gabriel and the star represents the Star of Bethlehem.
8. Kids Decorating Christmas Tree:
Help your child expend his creative energy on this coloring sheet feature children decorating the Christmas tree. It looks like these children are putting finishing touches on their family's Christmas tree.
The little girl is struggling to place the star on top of the Christmas tree. The fine details in this coloring sheet will strengthen your child's finger muscles.
9. Christmas Tree Dot To Dot:
This Christmas tree is missing an outline. Tell your child to join the dots from 1 to 41 in the numerical order to complete the picture.
Then your child can color this Christmas tree in his favorite holiday colors. This coloring sheet will get your child excited about the Christmas Holiday.
10. Oh, Christmas Tree:
This Christmas tree coloring sheet features the famous Christmas carol "Oh, Christmas tree, oh, Christmas tree…"
Most of the people know the choruses to this famous Christmas song, but not everyone knows all the words. This coloring sheet will help your child know all the words of this song. You can also sing this carol as your child colors this sheet.
11. Gift Filled Christmas Tree:
Keep your curious kids away from real presents with this Christmas tree coloring sheet. It features a pile of presents under a Christmas tree. Children will be excited choosing a bright color combination to make this wrapping paper pop.
The fine details in this coloring sheet will strengthen your child's handwriting muscles. It will also improve her color recognition skills. Print out and cut it out to hang it as a decoration on your tree.
12. Christmas Eve:
Here is a coloring sheet complete with Christmas tree, presents, and stocking. The entire family is looking very happy with the result.
Celebrate the holiday season this month with your child coloring this festival scene.
13. Elves:
This coloring sheet shows Santa's elves decorating the Christmas tree. Share some fun facts about elves as your child colors this sheet.
Elves are supernatural beings related to Germanic folklore and mythology. They are mentioned in Norse mythology, ballads, and medical texts. Elves are a group of beings with magical powers. They have an ambivalent attitude towards people. They can either help them or hinder them.
[ Read: Easter Egg Coloring Pages ]
14. Webby Decorating The Tree:
Here is a coloring sheet of Webby decorating a Christmas tree. She has decorated the Christmas tree beautifully with a gingerbread man and other ornaments. This coloring sheet, with its fine detailing, is perfect for older children.
Webby is one of the major characters in Duck Tales. She is the granddaughter of Betina Beakley. She is an extremely affectionate and adorable young duckling who has a great love for her Uncle Scrooge. Webby also has a great love for animals. She can tame even the wildest of animals, including the dinosaur.
15. Snowman And Christmas Tree:
Spread cheer this Christmas with this coloring sheet featuring a cheerful snowman and a Christmas tree.
Tell your child to use imagination and decorate this Christmas tree. He can also use glitter glue to decorate the tree once it is colored in.
[ Read: Snowman Coloring Pages ]
16. Father Cutting A Christmas Tree:
Help your child celebrate the Christmas season with this adorable coloring sheet showing a girl help her father cut the tree for decoration.
Your child's imagination will run wild as he fills color in this page. He can also write a story to go with this picture.
17. Bird Feeding On Christmas Tree:
Get your child into the Christmas spirit with this Christmas tree coloring sheet. This coloring sheet features two children amused at the sight of birds feeding on the Christmas tree ornaments.
Children have probably hung birdseed ornaments on the Christmas tree, which have attracted the birds.
[ Read: Disney Easter Coloring Pages ]
18. Reindeer Decorating Christmas Tree:
This coloring sheet shows a reindeer placing the star on the Christmas tree. Reindeers have a close association Christmas. They were first mentioned in the classic poem "The Night Before Christmas".
Reindeers help pull the sleigh of Santa Clause and deliver the Christmas gifts to children. The common names of Santa's reindeers are Dancer, Dasher, Vixen, Comet, Cupid, Blitzen, and Donner.
19. Teddy Decorating Christmas Tree:
Here is a fun coloring sheet of a Teddy decorating this Christmas tree. It will appeal greatly to little girls.
The Christmas tree coloring sheet will keep your children occupied in a fun way during the Holiday season.
20. Belle Cutting The Christmas Tree:
This coloring sheet features Belle cutting the tree for Christmas decoration.
Belle is one of the Disney princesses. She is the protagonist of Disney's "Beauty and the Beast " Belle is a confident and outspoken girl who does not like being told what to do. She refuses to be undermined, humiliated, mistreated and controlled by anyone.
[ Read: Disney Christmas Coloring Pages ]
These free printable Christmas tree coloring pages online will help develop important skills like color concept, colors and number recognition and picture comprehension, which will form the foundation for early learning success. These free Christmas tree coloring pages to print are perfect for school and home activities.
These christmas tree coloring sheets can be printed and downloaded in just a matter of few minutes. You can also create a Christmas themed coloring book for your children.
Recommended Articles:
DISCLAIMER: All images found here are believed to be in the "public domain". We do not intend to infringe any legitimate intellectual right, artistic rights or copyright. All of the images displayed are of unknown origin. If you are the rightful owner of any of the pictures/wallpapers posted here, and you do not want it to be displayed or if you require a suitable credit, then please contact us and we will immediately do whatever is needed either for the image to be removed or provide credit where it is due. All the content of this site are free of charge and therefore we do not gain any financial benefit from the display or downloads of any images/wallpaper.
Sours: https://www.momjunction.com/articles/christmas-tree-coloring-pages_00329088/
How to Draw and Paint Christmas Tree - Watercolor \u0026 Glitter painting for kids
Sleep my boy. sleep .she said lasciviously, and, clutching his shoulder, turned him onto his back. Before he had time to realize, the lush female lips dug into his mouth. The tongue began to slide over the lips, pushing them apart, and a moment later burst inside.
Outline coloring tree page christmas
Finally, a notebook of verses was pulled out. She opened it and read her poems. At least its definitely not plagiarism.
Magic Christmas Tree \u0026 Ornaments Drawing, Coloring for Kids Toddlers #47
I woke up early in the morning and then this - I heard someone's voice in my head. We mentally talked for a long time and I ceased to be afraid. As it turned out, this was a former military man, and he was also from the future. Their top-secret laboratory was conducting an experiment and here he was. Oddly enough, he helped me a lot.
Now discussing:
Trying to convince her, she stuck out her tongue slightly. Amelia bent over in a voluptuous convulsion, but the next second she shook her head even more violently and with a commanding gesture ordered the. Stranger to leave. The woman busily tidied up her clothes, picked up the tray and left.
Amelia was left lying with tears welling up in her eyes.
6295
6296
6297
6298
6299