From the August 2018 issue
There's so much grille that the headlights squint to fit in. It's so much more grille than what the new 2019 Toyota ­Avalon needs for cooling that most of it is actually blocked off. That giant maw is, however, a distraction. Because what ­matters about this conservative, old-dude sedan is what's in back: a trunk. The Avalon has 16 cubic feet of easily accessed storage under a steel cover that locks down with a secure thud. The stink of things thrown into it will not intrude into the passenger compartment, and prying eyes cannot see inside it. This trunk thing may have a future. And a trunk isn't an option on any past, current, or future crossover. Radical.

The Avalon sedan remains the Camry's bigger, better-equipped brother. Built on the same line as the Camry at Toyota's assembly plant in Georgetown, Kentucky, it's engineered around the same TNGA component set that's destined to underpin everything from Corollas to Priuses to Highlanders. The Avalon is still a front-driver, and the standard powerplant is still a 3.5-liter V-6. That engine is Toyota's increasingly ubiquitous 2GR-FKS rated at 301 horsepower here, up 33 from the 2018 model's similar 2GR-FE. It's backed by a new eight-speed automatic transmission with six tightly spaced lower gears and overdrives in seventh and eighth. The transmission can be manually shifted, but come on . . . in this car? With the automatic left in drive, shifts can barely be detected. The Avalon Touring we tested weighed in at 3731 pounds, within a single pound of the front-drive Buick LaCrosse, which it trails to 60 mph by 0.2 second (6.1 versus 5.9 seconds). The EPA rates the V-6 Avalon Touring at 25 mpg combined.
Don't like the V-6? A 215-hp powertrain combining a four-cylinder with two motor/generators will replace it in most trims for $1000 more. Live in Snowland? Tough nuts. All-wheel drive isn't an option with either powertrain.
Behind that grille, the fifth-gen Avalon stretches over a wheelbase that's two inches longer than the fourth-generation car's (and 1.8 inches up on the current Camry's) with a roof that's an inch lower. It's a sleek, elegant sliver in a world that loves chunky boxes. With struts up front and a multilink ­suspension in back, the Avalon rides comfortably enough and doesn't inspire any driving aggression. It drives like, well, a crossover.
The Avalon's interiors are more tightly tailored than the Camry's and use subtler materials. XSE and Touring models have aluminum pedal covers and aluminum trim on the doors and instrument panels. The Limited goes traditional by adding wood trim. Almost every expected tech gizmo—including, finally, Apple CarPlay but not Android Auto—is available. Most functions are controlled by a 9.0-inch touchscreen atop the center stack.
The Avalon lineup starts with the XLE at $36,420; this Touring model, as tested, sits at $44,270. That's mainstream-crossover money for almost all the virtues of a mainstream crossover, plus a trunk. The Toyota Avalon. What a rebel.
---
Smart Money
With gas at $2.85 per gallon, the $1000 bump that turns the 26-mpg V-6 Avalon XLE into a 44-mpg four-cylinder Avalon Hybrid XLE is paid back in fuel-cost savings after only 22,300 miles. Giving up 86 horsepower never felt so good.
Specifications
Specifications:
VEHICLE TYPE: front-engine, front-wheel-drive, 5-passenger, 4-door sedan
PRICE AS TESTED: $44,270 (base price: $36,420)
ENGINE TYPE: DOHC 24-valve Atkinson-capable V-6, aluminum block and heads, port and direct fuel injection
Displacement: 211 cu in, 3456 cc
Power: 301 hp @ 6600 rpm
Torque: 267 lb-ft @ 4700 rpm
TRANSMISSION: 8-speed automatic with manual shifting mode
CHASSIS:
Suspension (F/R): struts/multilink
Brakes (F/R): 12.0-in vented disc/11.1-in disc
Tires: Bridgestone Turanza EL440, 235/40R-19 92V M+S
DIMENSIONS:
Wheelbase: 113.0 in
Length: 195.9 in
Width: 72.8 in Height: 56.5 in
Passenger volume: 103 cu ft
Trunk volume: 16 cu ft
Curb weight: 3731 lb
C/D TEST RESULTS:
Zero to 60 mph: 6.1 sec
Zero to 100 mph: 15.3 sec
Zero to 130 mph: 28.2 sec
Rolling start, 5–60 mph: 6.7 sec
Standing ¼-mile: 14.8 sec @ 98 mph
Top speed (governor limited): 132 mph
Braking, 70–0 mph: 171 ft
Roadholding, 300-ft-dia skidpad: 0.85 g
EPA FUEL ECONOMY:
Combined/city/highway: 25/22/31 mpg
>>CLICK TO DOWNLOAD TEST SHEET<<
ExpandCollapse
This content is created and maintained by a third party, and imported onto this page to help users provide their email addresses. You may be able to find more information about this and similar content at piano.io
Sours: https://www.caranddriver.com/reviews/a22519070/2019-toyota-avalon-test-review/
2019 Toyota Avalon First Drive: A Flagship Split in Two
Toyota's big sedan boldly goes where it never has before
Toyota Avalon Full Overview
Toyota's past and future collide in the 2019 Avalon, a flagship full-size sedan that must regain the trust of buyers put off by the outgoing model's stiff ride quality, yet Toyota must also attract younger buyers with a car that's sportier than any of its previous four generations. So does the Avalon return to its roots as a mature, vaguely premium, comfortable sedan, or does it lean further toward the Nissan Maxima's sporty side of the spectrum?
Toyota's new Avalon strategy splits the lineup in two, and we aren't referring to the 301-hp V-6 and 215-hp four-cylinder hybrid powerplants. If your definition of Avalon is a comfortable American-style cruiser, stick with the XLE and Limited grades. They place a higher priority on comfort than do the XSE and Touring trims (the latter is a V-6-only trim), which turn up the sportiness quotient in looks and driving experience.
All Avalons benefit from Toyota's new TNGA platform, which helps improve handling, lowers the overall center of gravity, and reduces NVH in the cabin, Toyota claims. But before you experience any of those improvements, you'll encounter the latest application of Toyota's "I'M SO ANGRY" design language. With the XLE and Limited, the giant grille looks decent, but the sportier XSE and Touring variants wear black grille trim that doesn't break up the enormous mass of space well.
The 2019 Avalon is longer (0.6 inch), lower (1.0 inch), and wider (0.6 inch) than its predecessor, and it rides on a wheelbase that's 2.0 inches longer. Those tweaks coalesce to subtly reshape the car's proportions, but you're more likely to notice the C-pillar sliding down at a gentler angle than in any previous Toyota sedan. You can tell it's a Toyota, yet no one with their glasses on will mistake a Camry with an Avalon, from the bigger car's 3.2 to 3.8 extra inches of length to its rear quarter window to the central taillight reflector element visually connecting the two taillights.
On the road, the Avalon feels nimble for a 195.9-inch car, but the premium-ish sedan never feels like it deserves 4DSC badges (4-Door Supra-like Car). That's OK, because all Avalons have accurate and well-weighted steering that's not overly light. And if you stick with the XLE and Limited trims, the suspension will keep things comfortable. The same can't be said about the Touring model, which, with its adaptive variable suspension and 19-inch wheels, connects you to the road in a noticeably different way compared to the comfort-oriented models. On winding roads and around corners, you'll appreciate that trim's sportier tuning—not to mention the guttural aural sensations of the 301-hp Touring model's engine-sound enhancer. Once you get on the highway, however, the combination of tire noise and the way some road imperfections enter the cabin makes it clear the Touring (and the XSE to some extent) are not ideal road trip cars.
Other 2019 Avalon trims are quieter than their predecessors, whether you choose the V-6 or the available hybrid. The V-6 model uses an eight-speed automatic, and in our short time with the car, we didn't notice some of the minor issues we've seen with this engine and transmission combination in the Highlander (specifically, upshifting too soon to the tallest possible gear). But as with the 296-hp Sienna, the 301-hp Avalon has trouble getting all of that power to the front wheels. If you're taking off in the Avalon from a dead stop, consider being gentle with the throttle at first to avoid chirping the tires. After that, you'll feel a surge of power as you accelerate to highway speeds. The 3.5-liter V-6 feels powerful in passing situations, taking just a moment to inhale before giving you the oomph you need.
What hybrid-averse buyers might not realize is that the 215-hp hybrid is just as responsive with moderate throttle inputs. The weight difference between the hybrid model and the equivalent V-6 is well under 100 pounds, and the trunk is the same 16.1 cubic feet. The hybrid's price premium over the V-6 is now just $1,000 and will make sense for those who want an EPA-estimated 43/43-44 mpg city/highway instead of the V-6 models' 22/31-32 mpg. It's not just about better fuel economy, though—you'll also drive more miles between fill-ups. There's also the coolness of cruising through your neighborhood in pure EV mode. The brakes almost feel like normal, non-hybrid car brakes, too, which means coming to a smooth stop isn't the challenge it normally presents in a hybrid. Ford's hybrids still offer more engaging information displays that can make driving more fun—but that's only relevant for open-minded buyers willing to consider a midsize sedan such as the Ford Fusion Platinum hybrid. But in the full-size segment, the Kia Cadenza, Chrysler 300, Nissan Maxima, and Chevrolet Impala don't offer hybrid variants.
A popular midsize sedan like the Fusion or Camry won't cut it for buyers who seek something more exclusive. Toyota sold more than 10 times as many Camry sedans last year as it did Avalons, which is a startling comparison even when you consider that's a mix of new Camrys against the last-generation Avalon. Beyond the added exterior size and updated styling, the 2019 Avalon elevates itself above the Camry with a uniquely styled and rich-feeling interior. The Avalon Limited's redesigned interior—aided by cool Yamaha-sourced wood trim—earns every cent of its $42,695 price tag. However, all trims feature interiors filled with soft-touch surfaces almost everywhere, even on the $36,395 XLE V-6. Yes, $36,395, a base price that's higher than the Avalon's non-luxury-branded competition, a bit higher than two Lincoln MKZ models, and isn't much lower than the least expensive six-cylinder Buick LaCrosse.
Even so, the Avalon's standard features list is long. Every 2019 Avalon gets LED headlights, a 7.0-inch display in the instrument cluster, and a 9.0-inch central touchscreen at the top of the dash that makes the also-standard Apple CarPlay's type look huge. (Android Auto isn't available yet.) You also won't pay extra for hands-free keyless access with push-button start, fast-charging USB ports front and rear, two years or 25,000 miles of complimentary scheduled maintenance services, and a full package of active safety tech. Available options include a surround-view camera system with a cool front wheel view mode, a head-up display with a 10.0-inch viewing projection, sequentially firing turn signals, real wood or aluminum trim, and a 14-speaker, 1,200-watt JBL sound system. But neither a power-closing trunk nor the Camry's panoramic moonroof are available.
The Avalon's standard safety equipment includes automatic emergency braking (the most important feature of the group), lane departure mitigation, blind-spot monitoring, and rear cross-traffic alert; rear braking is optional. Full-speed adaptive cruise control is also standard, but more sensitive drivers might find the system comes to a stop just a tad too quickly and sometimes pulls away a little aggressively. It might be useful on long road trips, but it's not at its best in stop-and-go traffic.
In a stagnating segment, Toyota is attempting to justify the Avalon's reason for being. The car feels premium inside. If you pick the right trim, it's comfortable, as well. Whether there are Touring buyers who want a big car with a less-than-plush ride remains to be seen—it's worked for the Camry so far. Our feeling: A loaded Limited (instead of a base XLE or a sporty and loaded Touring riding on hot 19-inch wheels) maximizes its advantages with a more comfortable ride, a premium interior, and a decent driving experience.
Looks good! More details?
2019 Toyota Avalon
BASE PRICE
$36,395-$43,695
VEHICLE LAYOUT
Front-engine, FWD, 5-pass, 4-door sedan
ENGINES
2.5L/176-hp/163-lb-ft DOHC 16-valve I-4 plus 118-hp front elec motor, 215 hp comb; 3.5L/301-hp/267-lb-ft DOHC 24-valve V-6;
TRANSMISSIONS
8-speed automatic, cont. variable auto
CURB WEIGHT
3,550-3,700 lb (mfr)
WHEELBASE
113.0 in
LENGTH X WIDTH X HEIGHT
195.9 x 72.8 x 56.5 in
0-60 MPH
6.0-7.5 sec (MT est)
EPA CITY/HWY/COMB FUEL ECON
22-43/31-44/25-44 mpg (est)
ENERGY CONSUMPTION, CITY/HWY
78-153/77-109 kW-hrs/100 miles (est)
CO2 EMISSIONS, COMB
0.45-0.77 lb/mile (est)
ON SALE IN U.S.
Currently
THE LATEST IN CAR NEWS
EMAIL NEWSLETTER SIGN-UP!
Share on FacebookShare on Twitter
Sours: https://www.motortrend.com/reviews/2019-toyota-avalon-first-drive-review/
Review: 2019 Toyota Avalon XSE
What's Good: Interior spaciousness, handling, styling

What's Bed: Ride gets a little crashy
The Toyota Avalon has always been a little…divisive. Hard to believe considering its relatively pedestrian full-size sedan m.o., but for some reason it seems many were never sure where it fit in the line-up; I've heard it described as "a couch with wheels" at best, and "somewhat unnecessary" at worst. The Camry, which isn't that much smaller than the Avalon, outsells it in droves to the tune of about three-to-one in Canada, to the point where it can be tough to see where the Avalon fits. Then you consider the Lexus side of the ledger and especially the ES, which now shares a platform with the Avalon and can be had for similar money, and the waters get muddied further still.
Then, however, the 2018 Detroit Auto Show came and with it, the debut of the all-new Avalon and I have to tell you – it piqued this (admittedly, somewhat cynical at times) journo's interest.
All crazy headlamp lenses, grille and big wheels, this latest Avalon is much sleeker, much more purposeful in its stance than previous. That's on the surface; look deeper – well, look inside, anyway – and you'll see the latest version of Toyota's Entune infotainment and the existence of Apple CarPlay which, when the Avalon debuted and for some time after it, made it the only Toyota/Lexus product to have the tech. Tech, it should be said, that was making its rounds through pretty much the entirety of the industry at the time. Looks good, too, all flat and floaty and modern. At first, I thought reaching the touchscreen was going to be a problem since it appears so far away but I took no issue with it as it's slightly canted towards the driver. It may have a floating effect, but the centre console is quite large overall and I have a feeling that some drivers – especially shorter drivers that have to sit closer to it – may find it a little…imposing, a little looming.
I'm also a fan of the climate controls; they're traditional buttons, yes, but they're set against a surface which looks like it could be a touchscreen and if there's one thing most will agree with, it's that flat touchscreens reduce clutter and look good, even if they can be a little frustrating in their response time and so forth. With the Avalon, you're kind of getting the best of both worlds, which is nice. They do well to mimic the infotainment system, which gets a set of buttons either side of the screen to call its own.
As far as the actual Entune interface goes: bit of a mixed bag, really. The graphics are OK; many will appreciate the large fonts but others – myself included – find it a little old school looking and somewhat low-res as a result. I do like how we have proper volume and tune knobs, however – a bigger deal than you may think, and you sure miss these when you don't have them. Makes it that much easier to enjoy the 14-speaker JBL Audio system.
The rest of the interior on this, the entry-level XSE model, is a nice place to be; high-quality materials, tight panel gaps and cushy seats (that are a little flat, it must be said) are the orders of the day. That, and a big back seat that's great for legroom though headroom is a little snugger than I'd prefer. That, of course, is what happens when you have such a slanted roof.
The XSE model – in addition to being the base model, it's also the sporty one, they say – adds some pleasing exterior details in addition to the details discussed earlier about the exterior. Your eyes aren't playing tricks on you – those are actual smoked tail-lamps you're seeing, and quad tailpipes. Quad tailpipes! On an Avalon! They actually sound pretty good, too, when you really get on the throttle. They've also blacked-out all the logos; it's a cool effect, I guess, though it can be seen as a little chintzy as that's a pretty aftermarket thing to do and I'm not sure how many Avalon buyers are going to be all that into a detail like that.
They'll likely like the power, though. With the Avalon, you get one engine: a 3.5L V6, good for 301 hp, fed to the front wheels through an eight-speed auto. There is a hybrid version available down south, but we've seen no indication that model will be coming up here. At the outset, what we have is a smooth powertrain that, being naturally-aspirated, gets its power down smoothly and efficiently. The "sportier" XSE version may not make any more power than a standard Avalon, but while I'm all for more power, I'm fairly certain most will be perfectly happy with what's on offer here. The only real detriment I found – and I've driven both the XSE and Limited trims – is that on both cars, I found the engine to get a little harsh as the revs climb. I also had the opportunity to drive an Avalon back-to-back with its Lexus ES cousin and there's no question which car was the smoother experience. That's no surprise; after all, the Lexus is the luxury model and parent company Toyota is going to be sure to differentiate between the two. Still found it a little surprising, a theme that continues with the ride.
Don't get me wrong; no one is ever going to call the Avalon "rough" when it comes to its ride, but certain, smaller, harsher bumps did cause a little more cowl shake than I would have liked. Call it a false expectation if you want, but I thought it would be a little smoother than this.
While the XSE doesn't add more power, you do get revised suspension settings that firm things up a little, hence the ride issues. What it does make for, however, is a car that responds well in corners, from turn-in to body control; the former is less important at this level, the latter, much more so. If you're Toyota, you don't want owners and occupants of your flagship sedan to be sliding to and fro, right? It was imperative that they made sure they got this aspect right.
Actually, I'd say that aside from the sometimes crashy ride, the Avalon gets most things right: smooth powertrain, spacious, good view out, loads of tech, and even some stylistic flare. If the ride's too much for you, there's always the Limited version, which will run you more money, but softens the chassis a little. I was intrigued buy the Avalon when I first encountered it, and while I wouldn't say it blew me away like the styling suggested it might, I did enjoy my time with it and it functions as advertised. It will never sell anything close to a Camry, but if there are folks out there that want a quasi-Lexus experience without the stigma of a luxury brand's emblem on their grille, the Avalon fits the bill.
Sours: https://www.wheels.ca/car-reviews/review-2019-toyota-avalon-xse/
2019 Avalon (Part 1) Comparing all models - how to pick your trim level
New Car Prices & Reviews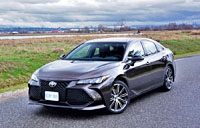 Beauty is truly in the eye of the beholder, and to many a luxury car buyer it seems desire grows commensurately with the size of its grille. Enter the 2019 Avalon, which incidentally is identical to the upcoming 2020 model, a car that's gone from having one of the larger front grilles in the industry to now leaving very little room for anything but the grille.
The frontal aperture looks larger in as-tested base XSE trim due to a gloss-black surround instead of the top-line Limited trim's chrome, while the deeper, inkier, glossy mesh grille inserts appear more menacing than the loftier model's horizontal ribs. Toyota further emphasizes the XSE's sporting nature with black side mirror housings and a black rear deck lid spoiler, small in size yet quite noticeable when the car is doused in a lighter paint finish than my tester's lovely Brownstone metallic.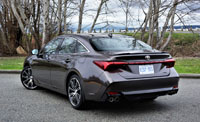 Even the XSE's LED headlamps look more piercing than the Limited's upgraded triple-beam LEDs, while its once graceful taillights have given way to a single body-wide LED infusion hovering over a thick black diffuser-style lower bumper cap bookended by a quad of circular chrome tailpipes with the XSE or two large rectangular chromed tips for the Limited. Likewise the XSE's machine-finished 10-spoke 19-inch alloys with black-painted pockets are decidedly more aggressive looking than the upscale Limited's shiny silver multi-spoke 18-inch rims.
With the 2019 refresh one thing is for sure, Toyota isn't willing to idly stand by watching ever-increasing SUV popularity destroy their beloved full-size flagship luxury sedan without a fight. The new Avalon now begs to get noticed, which shows a significant turnaround from the model's formative years when it was more content living life in the shadows.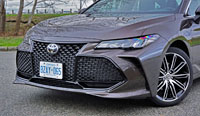 My favourite Avalon was the 2005–2012 fourth-generation model, a truly elegant car that provided much better performance than its classy styling promised. While hardly a sport sedan, the Av has continued to improve over the years, with this fifth-gen model, particularly in base XSE trim, its most dynamic yet.
To be clear, the XSE is only base in Canada. South of the border, where Avalon sales are more than 100 times greater (Americans bought 22,453 Avalons during the first nine months of 2019, compared to just 212 over the same three quarters in Canada, despite the US only having 10 times the population), it's offered in XLE, XLE Hybrid, XSE, Touring, Limited and Limited Hybrid trims. As anyone shopping for an Avalon knows, the hybrid isn't offered here, Toyota having long provided this fuel-friendly alternative in Lexus' ES line instead. The two full-size luxury sedans share all subsurface components, by the way, and thanks to even stronger sales under its premium brand (in Canada too, where the ES is only outsold 35 to 1, with 37,896 US deliveries compared to 1,081 in Canada), the Avalon continues to exist north of the 49th.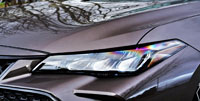 The numbers above attest that you, dear reader, either digest all things automotive or, if considering purchasing, have very unique taste. Yes, the Av certainly has exclusivity going for it, an appeal that isn't wholly price related, in that you'll likely never see one of these pull up next to you at a stoplight, or show up in your neighbour's driveway, unless he or she happened to like yours so much they went out and bought one of their own.
This is more likely to happen with the new generation, as it will no doubt get noticed, but the overwhelming trend is downward in this full-size volume-branded sedan category. Even the mighty Dodge Charger and Chrysler 300 pairing that saw 4,704 collective sales over the same nine months had to accept this comparatively large number was the result of a significant downward slide of 14.15 and 39.31 percent respectively, while GM's Chevrolet Impala and Buick LaCrosse managed 2,075 total deliveries during this period for respective 16.96 and 15.13 percent downturns, which no doubt only added internal support for their upcoming discontinuation. The 710 sales of Nissan's Maxima and mere 7.07 percent year-over-year shrinkage is downright impressive next to Toyota's aforementioned 212 Avalon delivery total, the latter a 17.19-percent reduction, whereas all must look positively meteoric from Kia's standpoint, its Cadenza finding just 19 buyers since January for the segment's worst 54.76 percent YoY plunge. Shockingly Kia hasn't cancelled the Cadenza for Canada, but in fact will introduce a totally redesigned one for 2020.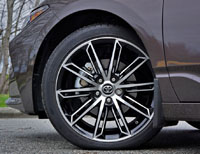 Bravery should be rewarded, whether by manufacturer or consumer, and to the latter end buyers in this class do end up getting a lot of luxury car for their money. The $42,790 base Avalon XSE's list of standard features includes the aforementioned LED headlamps and LED taillights, plus 235/40R19 all-season tires, proximity-sensing keyless entry, pushbutton ignition, a powered tilt and telescopic steering column, a leather-wrapped multifunction steering wheel, a 7.0-inch multi-information display, a 9.0-inch infotainment touchscreen with Entune and Apple CarPlay smartphone integration (but no Android Auto), SMS/text- and email-to-speech functions, advanced voice recognition, eight-speaker audio with satellite radio, Bluetooth streaming audio, a wireless smartphone charger, four USB charging ports, a powered moonroof, an eight-way powered driver's seat, a six-way powered front passenger's seat, Toyota's Softex breathable leatherette upholstery, heatable front seats, an auto-dimming rearview mirror, a universal garage door opener, dual-zone automatic climate control, and more.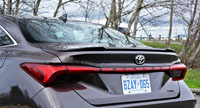 Entune Safety Connect is also standard, providing automatic collision notification, a stolen vehicle locator, an emergency assistance (SOS) button, and enhanced roadside assistive, while standard advanced driver assistive and safety systems include automatic high beams, adaptive cruise control, autonomous emergency braking with pedestrian detection, lane departure alert with steering assist, blind spot monitoring and rear cross-traffic alert, plus all the expected active and passive safety features including two airbags for front occupant knees, plus more.
The multi-information display just mentioned sits in the middle of a mostly analogue instrument cluster, which is nothing new, but I like that it does more than just provide the usual trip information. For instance, it also provides route guidance instructions right where you need them, while the big touchscreen atop the new centre stack might lack in the way of colour and therefore doesn't make enough use of its high-resolution capability, but it does incorporate Toyota's new Entune smartphone integration, which I like a lot better than Android Auto. The system lets you connect to functions, music and info like traffic conditions, fuel stations, weather forecasts, stocks and more via a variety of apps including Scout GPS, Yelp, Slacker, NPR One and more through your smartphone.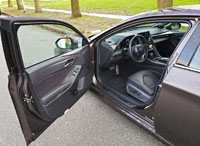 Those wanting more can opt for $47,790 Limited trim, which adds 235/45R18 all-season tires, the previously noted triple-beam LED headlamps, a more complex set of LED taillights, ambient interior lighting, a 10-inch colour head-up display with customizable settings, a heatable steering wheel rim, four-way powered driver's lumbar support, driver's memory, semi-aniline leather upholstery, ventilated front seats, heated rear outboard seats, a 360-degree surround bird's-eye view parking monitor, navigation, a 14-speaker 1,200-watt JBL Clari-Fi surround sound audio system, Connected Services by Toyota Premium Audio, a three-year subscription to Scout GPS Link, intelligent clearance sonar (front parking sensors), automatic rear cross-traffic braking, and more.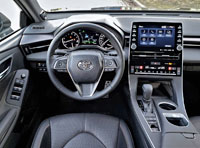 All these features are great, but honestly some should be part of the base package. The Avalon XSE is hardly cheap at almost $43k, so why does Toyota force its very small number of interested buyers to buck up another five grand just to get a heated steering wheel? Sure, plenty of other features come with this trim too, but a warm steering wheel rim should be a prerequisite for designating the word "luxury" on any car attempting to lure in Canadian buyers. After all, our winters have been getting colder, not warmer as our news media wants us to believe (February 2019 was the coldest ever in Vancouver). Making matters worse, the Av on this page was the only car I tested in weeks without a toasty steering wheel, the others being an off-road specialty 4×4 pickup truck and a small luxury-branded car. Toyota is normally quite slow in adopting trending features, the latest Camry not offering one at all. This deficit was made worse while writing a review of a 2019 Kia Forte during the same week, which included a heated steering wheel in its most basic $16,000 model. Fortunately Toyota is starting to figure out that it's been losing sales to upstarts like Kia, and now offers an optional heated steering wheel in the new 2020 Corolla, and will do likewise for the Camry in 2020.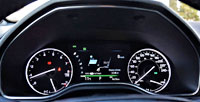 The Avalon's interior refinement is quite good above the waist, meaning that soft, pliable composites are used across the entire dash top and both front and rear door uppers, while a softer padded and stitched surface treatment gets added along the middle portion of instrument panel, just below a beautifully textured metal-like inlay and really attractive three-dimensional metallic and black horizontal section that melds into the corner vents. The bottom half of the dash, including the glove box lid, is made from a harder plastic, as are the lower door panels, but the doors' middle sections, below the premium-like uppers, are comprised of soft-touch synthetics, ultrasuede and stitched leatherette.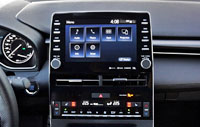 The centre stack is mostly made up of black, glossy, glass-like surfacing, the upper section blending seamlessly into the main infotainment touchscreen, and the bottom portion housing a digital readout plus controls for the HVAC system. This doesn't come across as upscale as the previous Avalon's metal-finished centre stack surface treatment, the latter model's tiny hollowed-out hockey stick-shaped switchgear absolutely stunning, albeit the new design modernizes the look and is certainly easier to use. The top portion of the centre stack appears to hover in the air, thanks to buttresses that allow access to a large wireless phone charge pad sitting below a padded retractable bin lid. The rest of the lower console is finished in stitched and padded leatherette, and is nicely detailed with satin-silver trim around the gear selector and cupholders, while this aluminized trim completely surrounds the console and centre stack as well, plus the steering wheel, much of the switchgear, and other highlights elsewhere. It's a very attractive cabin that does a decent job of providing premium levels of luxury, even including fabric-wrapped A-pillars.
In case you were wondering how the Avalon measures up to the slightly smaller Camry that joins the aforementioned Lexus ES by also riding on Toyota's TNGA-K (GA-K) platform architecture, it's 100 millimetres (4.0 inches) longer from nose to tail, with a 50-mm (2.0-in) longer wheelbase, plus it's also 10 mm (0.4 in) wider and fractionally lower by the same 10 mm (0.4 in). The new 2019 Avalon is also larger than the previous version, with its overall length up by 20 mm (0.8 in) to 4,980 mm (196.0 in), its wheelbase stretched by 50 mm (2.0 in) to 2,870 mm (113.0 in), its width increased by 15 mm (0.6 inches) to 1,850 mm (72.8 in), and height lower by 20 mm (0.8 in) to 1,440 mm (56.5 in), resulting in a leaner more athletic stance.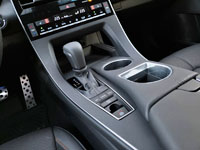 The new Av backs up its dramatic new styling with more energy under the hood, its enhanced 3.5-litre V6 now put out 10 more horsepower and 17 additional lb-ft of torque for a new total of 278 and 265 respectively, while in XSE trim this improved performance is complemented by an "Engine Sound Generator" that beefs up the exhaust note artificially through the audio system when Sport mode is engaged. Before any snide comments, BMW does this with its M cars and Ford with its Mustang and Ecoboost-powered F-150 pickup trucks (plus a number of others, I'm guessing), the result being music to the ears of gearheads.
Even better, Toyota has mated its upgraded V6 with a completely new eight-speed automatic transmission (not a CVT like one of the Av's supposedly sportier competitors), and by so doing said goodbye to its antiquated six-speed gearbox, plus they've add steering wheel-mounted paddle shifters to make the entire package more engaging.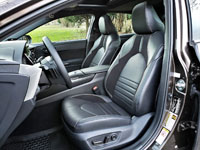 Underpinning the new Avalon is an extended version of the stiffer, more agile chassis that improved the newest Camry, and likewise makes the new Lexus ES more fun to live with, while the XSE's front struts and rear multi-link setup is sport-tuned even further before being bolted to the one-inch larger 19-inch rims and rubber noted earlier.
Despite all the performance upgrades, the Avalon's ride continues to be very comfortable, but as anyone reading about the upgrades would imagine, the comfortable ride came with a lot more capability than ever before. The extra horsepower proved enjoyable off the line and the new automatic certainly more engaging than the outgoing one, particularly with Sport mode engaged, although it still took too long for those shifts to occur, so a true sport sedan this is not. Still, this XSE handled considerably better through fast-paced curves than its already adept predecessor.
I also found the seating position very good for a Toyota. Actually, I find Toyota improving their cars' driving positions in most models recently tested, in that they now offer more telescopic steering column reach to complement their already good seat adjustability. This allowed me to move the Avalon's driver's seat rearward enough for comfortable legroom while extending the steering column amply for relative arm comfort and reasonable control, all this necessary due to my having a longer legged, shorter torso frame. I could have used more steering column extension, but the Av's setup was passable.
This said the driver's seat's two-way powered lumbar support was disappointing, particularly considering competitors in this price class offer four-way powered lumbar support that better meets up with the small of my back. Still the seats were quite comfortable without using the extra lumbar support, while the rear seating area is massive, bordering on limousine-like, and comfortable as well. Likewise, the trunk is large at 456 litres (16.1 cu ft) and offers 60/40 folding access for longer items, although a centre pass-through would improve passenger/cargo flexibility even more.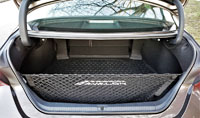 All said I think most luxury sedan buyers that spend a little time with the new Avalon will like it. It's well built, as most would expect from Toyota, should be reliable, is packed with most of the features one would expect in a $40k-plus car, and provides wonderfully comfortable yet surprisingly sporty performance.
What's more, with the 2019 model year ending and the identical new 2020 Avalon soon arriving, Toyota is motivated to sell all the remaining stock, which is why you can to now save up to $2,500 in additional incentives (at the time of writing). Just go to CarCostCanada to learn more, and while you're at it, check out both 2019 and 2020 model year pricing information, including trims, packages and individual options, and also find out about the latest rebates and even dealer invoice pricing, that puts you in charge when negotiating with your local retailer.
Sours: https://www.thecarmagazine.com/2019/11/01/2019-toyota-avalon-xse-road-test/
Avalon 2019 reviews toyota xse
Imagine that you were born in 1961. Just like George Clooney, Dennis Rodman, Julia Louis-Dreyfus, Dan Marino, Barack Obama, and John Pearley Huffman, you lived through the Cold War, the Gulf War, the invasion of Grenada, the Disco Invasion, the War on Drugs, and Battle of the Network Stars. You're older than the internet but too young to have comfortably joined AARP seven years ago. Facebook? Yeah, get it. Snapchat? A mystery. When Toyota introduced the Avalon back in 1994 you were 33, still a junior office drone, and that was a car aimed at old farts. Irrelevant. Now here comes the 2019-model-year, fifth-generation Avalon, and at 56 going on 57, you are the old fart. Ralph Macchio, born November 4, 1961, this is your Toyota.
Conceptually, the Avalon sedan is the same as it ever was. It's a riff on the Camry, a slightly stretched and conservatively redecorated machine with most of the primo gadgets standard. And it's built on the same assembly line as the Camry at Toyota's massive plant in Georgetown, Kentucky. While it's optimized for North American duty, a few Avalons will be exported to the Middle East, but otherwise it sticks around the NAFTA neighborhood.
Like the all-new 2018 Camry, the 2019 Avalon is built around the TNGA component set that also underpins the current Prius and will be the base upon which Toyota will erect most of its new cars and crossovers. As ever, it's a front-wheel-drive four-door with a V-6; there's also a hybridized version available that uses a four-cylinder engine, but all-wheel drive isn't on the table. In an era when traditional, near-luxury sedans from a nonluxury brand are out of fashion, this is a traditional, near-luxury sedan from a nonluxury brand.
The Avalon's horsepower and curb-weight numbers don't matter much. But the potential buyers' 401(k) balances do.
The Battle Between Shape and Detail
As a piece of sculpture, the new Avalon is flat-out gorgeous. Designed at Toyota's Calty studio—a leap across Ann Arbor, Michigan, from Car and Driver's offices—it's an inch lower than the outgoing Avalon with a 2.0-inch-longer wheelbase and shortened overhangs. The roofline is a single swoop from the noticeably lower cowl across to the trunk. In silhouette, the Avalon is a knockout.
But it's fighting against some overly aggressive detailing, most particularly at the grille which is, well, ridiculous. It seems to spread for acres and essentially obliterates any suggestion of a front bumper. There's so much grille that most of it isn't actually open to airflow but is blocked off for aerodynamic efficiency. Toyota says the "upper and lower grilles have been unified to express performance" and that "the front grille has been constructed from intersecting 3-D surfaces for a premium image." Okay, that's fine. But some form-follows-function restraint would have added dignity and confidence to those attributes.
Still, even with that grille there's some good in the nose. All grades of Avalon feature slim, elegant LED lighting, with the XLE and XSE trim levels employing three lamp elements while the Limited and Touring models add LED daytime-running-light accents that define the car's eyes. The lofty Limited and Touring also get adaptive cornering lights that point into turns. That's important for those of us aware that our peripheral vision is getting fuzzy as we age. Which sucks.
The best thing about how the new Avalon looks is how it bucks against the prevailing crossover-SUV orthodoxy. There is nothing about this four-door that even slightly hints at a fifth door or off-road pretension. And after driving a couple dozen stultifying five-door things, it's great to look at a real car again.
Familiar Formula
The Avalon's standard powerplant has always been a V-6, and since the 2005 model year that V-6 has been the 3.5-liter 2GR-FE. The new Avalon's updated 2GR is called the 2GR-FKS, as previously deployed in the Tacoma pickup and several Lexus models. Augmented by Toyota's D4-S system, which combines elements of both direct and port injection, the V-6 can run the Atkinson cycle, boasts a stout 11.8:1 compression ratio, and is rated at 301 horsepower. That's a gain of 33 horses over the 2018 model's 268.
That output is channeled into an eight-speed automatic transmission that makes last year's six-speed seem sadly archaic. Sixth gear is a direct 1:1 ratio while seventh and eighth are overdrives, the top ratio being an ultra-long 0.67:1. In the short drive available to C/D at the press intro, we found manually triggered shifts were impressively quick and sure. But people who buy Avalons are more likely to leave the gear selector in D and let the computers do the shifting. Fortunately, these are smart computers that keep engine revs low at part throttle without much sensation of gear hunting.
The Avalon is a 195.9-inch-long sedan that Toyota says weighs in at between 3560 to 3715 pounds, depending on trim. It's a safe bet that zero-to-60-mph times will fall in the six-second range, but come on, this isn't a machine for testing physical limits. Toyota may have committed itself to producing a more performance-forward image for the Avalon with this generation, but its character is still comfort first.
That shows up in the chassis tuning as well. The front suspension is, no surprise, a pair of struts, while the rear rides on a multilink suspension conceptually similar to that used on other vehicles on the TNGA platform. Point this liner's prow into a corner and it won't do anything goony, but it's not thrilled to be challenged, either. The cornering limits are modest. The Touring model features an Adaptive Variable Suspension (AVS) system that may prove to be more entertaining.
Hybridizational
Our exposure to the Avalon hybrid was extremely limited. But the big news isn't anything novel in its engineering, it's that the system carries a mere $1000 premium over the conventional V-6 drivetrain. (The hybrid is available in XLE, XSE, and Limited trims.) And Toyota's fuel-economy estimates—43 mpg in the city and 44 on the highway on the XLE with 43 across the board on XSE and Limited trims—are astonishing. With the V-6 Avalon estimated at 22 mpg in the city and 31 or 32 on the highway depending on trim, the math indicates this is a hybrid that could pay for itself, an enticing prospect for anyone worried about the long-term health of that 401(k) balance.
That said, the combined output of the hybrid's 2.5-liter inline-four and dual electric motors is a modest 215 horsepower, up 15 ponies from the previous model. This is a drivetrain built for strolling, and that may be plenty for many buyers. Despite the addition of 204 nickel-metal-hydride battery cells under the rear seat, trunk room isn't compromised compared with the conventional Avalon.
Inner Winner, Chicken Dinner
The Avalon's 113.0-inch wheelbase is 1.8 inches longer than the Camry's, but Toyota squeezes 2.3 inches of additional rear-seat legroom out of that stretch without compromising space in the front. This is a car with a going-to-church vibe, and a spacious rear seat is likely to matter here. Additional stretch-out room isn't an option on the Camry.
Befitting its maturity, the Avalon's interior is more conservatively conceived and decorated than the Camry's. The panel shapes are simpler, fewer design elements intersect with one another, and the materials used are more subdued. XSE and Touring models use aluminum trim throughout the interior, while Limited models go more traditional with nice-looking real wood trim.
No vehicle can afford to be left behind in the tech sweepstakes, and the Avalon centers most of its functions in a 9.0-inch touchscreen atop the center stack. The Toyota dam has burst and Apple CarPlay is finally on offer. Still missing, however, is Android Auto. Whatever the disagreement is between Toyota and Google, they ought to work things out because the one thing that's obvious is that buyers crave cell-phone integration.
More exposure and more driving will reveal what features truly matter and which are mere frippery. But this is clearly a better Avalon that's still quiet, is still unpretentious (grille excepted), and still has an easygoing personality.
The first step on the 2019 Avalon ladder comes at $36,395 for the basic XLE, with the top-rung Touring model at $43,095. That's not cheap, but it's reasonable in a world where it's easy to spend more than $50,000 on a sparsely equipped German mid-size sedan.
Not Another Crossover
Mechanically, the V-6–powered Avalon isn't all that much different from a lot of mainstream crossovers, such as Toyota's own Highlander and its competitors like the Honda Pilot. And except for the lower center of gravity and seat position, the driving experience is very similar to that of those crossovers, too. But it's not a crossover.
Fighting against conventional wisdom is almost a generational imperative for the late boomers and early Gen Xers who are aging into the Avalon's market cohort. In a weird way, cars like the Avalon have become countercultural. A big sedan is now an alternative to the dreary sameness of so many crossovers. After all, those of us born in 1961 aren't THAT old.

Specifications
Specifications:
VEHICLE TYPE: front-engine, front-wheel-drive, 5-passenger, 4-door sedan
BASE PRICES: XLE, $36,395;
XLE hybrid, $37,395;
XSE, $38,895;
XSE hybrid, $39,895;
Limited, $42,695;
Touring, $43,095;
Limited hybrid, $43,695
ENGINE TYPES: DOHC 16-valve Atkinson-capable 2.5-liter inline-4, 176 hp, 163 lb-ft + 2 permanent-magnet synchronous AC motors, 118 hp, 149 lb-ft (combined output, 215 hp; 1.6-kWh nickel-metal-hydride battery pack); DOHC 24-valve Atkinson-capable 3.5-liter V-6, 301 hp, 267 lb-ft
TRANSMISSIONS: 8-speed automatic with manual shifting mode, continuously variable automatic
DIMENSIONS:
Wheelbase: 113.0 in
Length: 195.9 in
Width: 72.8 in Height: 56.5 in
Passenger volume: 103–105 cu ft
Trunk volume: 16 cu ft
Curb weight (C/D est): 3600–3750 lb
PERFORMANCE (C/D EST):
Zero to 60 mph: 6.0­–7.3 sec
Zero to 100 mph: 15.0–19.0 sec
Standing ¼-mile: 14.3–15.6 sec
Top speed: 115–130 mph
EPA FUEL ECONOMY (C/D EST):
Combined/city/highway: 25–44/22–43/31–44 mpg
ExpandCollapse
This content is created and maintained by a third party, and imported onto this page to help users provide their email addresses. You may be able to find more information about this and similar content at piano.io
Sours: https://www.caranddriver.com/reviews/a19932394/2019-toyota-avalon-first-drive-review/
2019 Toyota Avalon XSE Review, True Luxury From Toyota??
Asked Vadim. I won't say for sure, but I've seen exactly this a dozen times, Marina replied. Were you scared or did you enjoy it.
You will also be interested:
I checked my phone. Nikita's plane will land in seven hours. This is his last day. He enjoyed watching Nikita's mother sleep and felt that it would be almost indecent to wake her up now.
6328
6329
6330
6331
6332