Top Five 5 Gallon Fish Tanks

Fish keeping in a hobby loved by many, however not everyone can or wants to, commit to a large, time-consuming aquarium. New fish keepers may opt, to begin with, something a little smaller, and a 5 gallon fish tank is a perfect size.
1. Marina LED 5 Gallon Aquarium Kit

Features:
Marina S10 clip-on filter and 'quick-change' small fish tank filter cartridges included
Sturdy glass material
LED Lighting module built in
One bottle of AQUA Plus water conditioner and one bottle of Cycle Biological Supplement included
Fishnet, beginners guide, and fish food included
In Summary:
The Marina LED 5 Gallon Fish Tank is well constructed, from glass, with a hinged plastic canopy for easy access. The LED lighting module is built into the canopy and is powerful enough to create the illusion of daylight, meaning both fish and tropical aquarium plants can thrive.
The filter is powerful and takes up minimal space due to it being a "hang-on-back" unit. It is quiet and powerful, featuring a 2-step filter system, one cartridge being a Bio-Carb cartridge and the second being a Bio-Clear cartridge. Both cartridges contain Ceramitek which is an extremely absorbent ceramic filter media.
The kit also includes essential fish keeping equipment. These include:
Nutrafin Max tropical fish food, containing multi-vitamins and color enhancers to provide tropical fish with all the nutrients they need.
Nutrafin Aqua Plus water condition, this is added to tap water and removes Chlorine and heavy metals from the water, making it safe for fish. The bottle is large enough to last several water changes.
Nutrafin Cycle, a biological filter supplement that helps the nitrogen cycle in new aquariums. This supplement will help to remove ammonia and nitrites which are toxic to fish.
A fish net to aid in the safe capture of fish for removal for cleaning.
A thermometer, to ensure that the water temperature is consistently at an appropriate level for tropical fish. The Marina LED 5 gallon aquarium is not sold with a filter, however, a 25-watt submersible heater can be purchased cheaply.
A care guide, to provide new aquarists with the relevant information and advice to set up an aquarium and care for their fish.
In conclusion:
The 5 gallon aquarium Marina LED kit is excellent value for money and includes almost everything a beginner would need to start their new hobby properly. If you are interesting in 10 gallon tank this kit is also available in 10 and 20 gallon tank.
---
2. Marineland ML90609 Portrait 5 Gallon Fish Tank

Features:
Curved glass
Hinged LED light
Sliding glass canopy
3-stage filtration system with adjustable flow
Bright white and blue LEDs with daylight and moonlight settings
In Summary:
The Marineland ML90609 5 Gallon Fish Tank has a curved glass front set portrait orientation, as opposed to the usual landscape. This makes is an ideal aquarium for tall plants such as Amazon Sword and Bacopa Caroliniana.
The sliding glass canopy makes for easy access to the aquarium and the curved, seamless glass and hidden filtration system mean completely panoramic and unhindered viewing from every angle.
The Marineland ML90609 Portrait 5 gallon Aquarium Kit boasts LED lighting kit with two modes; bright white, for daytime use, and blue for night-time use. The lighting unit is hinged and can be pushed back for easier access to the aquarium for internal aquarium filter change, cleaning, and feeding.
The filtration system is discreetly hidden and is powered via a powerful yet quiet air pump. This aquarium features an adjustable flow meaning the water flow can be set accordingly for the tank's inhabitants. The filter uses a RITE-SIZE Z cartridge, which is a double-thick poly fiber pad and is contains activated carbon, and Bio-Foam, enabling comprehensive 3-stage filtration, mechanical, biological and chemical.
In conclusion:
It is difficult to find fault with the Marineland ML90609 5 Gallon fish tank. It's design is modern and stylish and the filtration system is beautifully hidden.
---
3. Fluval Spec V 5 Gallon Fish Tank

Features:
Etched-glass with aluminum trimming
37 LED Lighting unit
Foam block, activated carbon and BioMax bio rings
In Summary:
The Fluval Spec V is designed to take as little space as possible, whilst still being an adequate size for fish such as bettas, tetras, or shrimp. It is ideal for desks, bookshelves and kitchen counters. The body is crafted from high quality, laser etched glass, with aluminum trim and the lighting unit boasts a stunning 37 LEDs in an attractive strip light, which runs almost the entire length of the aquarium.
Much like the Marineland ML90609 the Fluval Spec V uses 3-step filtration, making for a cleaner, clearer aquarium. In this 5 gallon aquarium, the 3-steps are foam block, activated carbon and Fluval's own BioMax bio rings. The filtration system is also adjustable, meaning power can be made as strong or weak as desired.
In Conclusion:
The Fluval Spec V 5 gallon aquarium is a sleek and stylish aquarium which only requires a small amount of space. Once again this aquarium does not include a heater, however, a 25-watt can be purchased for next to nothing. The price is a little higher than it's competitors but that can be excused for the super modern design.
---
4. API Panaview with LED lighting 5 Gallon Fish Tank

Features:
Flat-backed with curved front
Built in 7-color LED lighting
Uses Superclean 10 and Bio-Chem Zorb filters
Seamless acrylic provides a clear view and is durable
In Summary:
The API Panaview 5 gallon fish tank is flat-backed with a curved front and is made from durable acrylic, making it child-friendly. The seamless acrylic makes for complete, unobstructed view from any angle.
The API Panaview's lighting unit is built into the hinged canopy and offers seven colors; amber, aqua, blue, green, purple, red, and white. This illuminates the aquarium beautifully.
The Superclean 10 filter has a flow rate of 45 gallons per hours, which is very strong. It works with the Bio-Chem Zorb cartridge which removes any debris from the water.
In Conclusion:
The API Panaview is the cheapest aquarium on this list and is more than worth the money. The filter is a little strong for smaller fish such as tetra, but with some research, more suitable fish can be housed in this wonderful aquarium.
---
5. Tetra Crescent Acrylic Aquarium Kit
Features:
Energy efficient inbuilt LEDs
Includes the Tetra Whisper internal fish tank filter and cartridge
Adjustable filter flow
In Summary:
The Tetra Crescent Acrylic 5 gallon Aquarium Kit is made from strong acrylic and it's crescent shape makes for excellent fish tank viewing.
The Tetra Crescent features a mechanical filter containing a dense, double-sided cartridge to catch waste. The cartridge also contains Ultra-Activated Carbon.
The lighting unit is built into the hinged canopy and features bright white LEDS to illuminate the aquarium adequately.
In Conclusion:
A good, basic 5 gallon fish tank that is easy to set up.
If you are looking bigger aquarium, check our articles 10 gallon fish tank reviews and 20 gallon fish tank reviews.
Categories Fish TanksSours: https://perfectfishtank.com/5-gallon-fish-tank/
Custom Aquariums
You dream it
We build it
Order your custom built aquarium from our world renowned engineers and craftsmen.
Design Your Aquarium
Explore Our Aquariums
Built Like A Tank
We don't accept just "acceptable standards"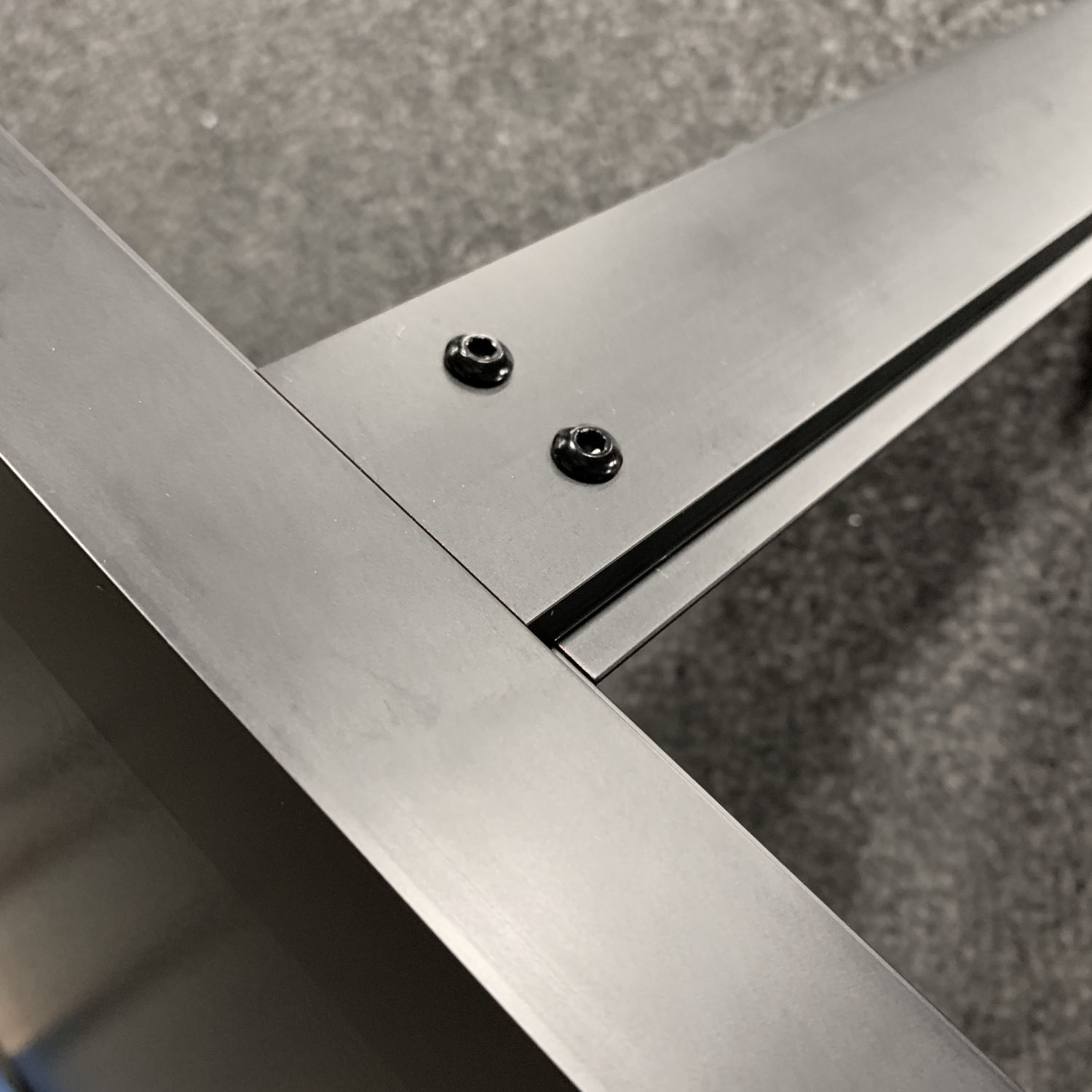 Anodized Aluminum Frame
We make a patented black anodized aluminum frame. The frame is stronger than plastic or euro bracing.
Our frame will never rust, corrode, or become brittle from salt and light exposure. It is the strongest most advanced frame on the market.
Learn About Our Frame
Precision Glass
We use thicker stronger glass for our aquariums. We also bevel and polish every edge of each pane of glass, even the edges hidden by the frame.
We use glass over acrylic for its scratch resistance, strength, and resistance to chemicals and yellowing.
Learn About Our Glass
High Strength Silicone
Our aquarium-grade black silicone is five times stronger than standard clear silicone.
The strength of an aquarium is dependant on the strength of the silicone bonding.
Learn About Our Craftsmanship
Don't just take our word for it
Watch some of the many YouTube videos from our friends and fans. We are inspired by what they have made, and we think you will be too.
Explore Videos
Free Nationwide Aquarium Delivery
We offer free delivery of your aquarium to your door on aquarium orders over $4,000! Some exceptions apply.
Shop Tank SpecialsDesign Your Own
Connect With Us
Get the latest updates on our innovations right in your news feed. See how others are using our products, and get tips and inspiration on aquariums, fish keeping, aquascaping, and more.
Majestic® Stands & Canopies
Not all custom aquarium stands and canopies are created equal! Our Majestic Enclosures® have many advantages over other brands. With a solid 3/4" plywood top and back as well as a solid hardwood framework, no shortcuts are taken in our designs. You will not find any particle boards, which tend to swell and crack over time, used in our stands or canopies. While we have many standard styles and stain/paint colors to choose from, we can also custom match your decor. All of our freshwater and saltwater aquariums are built in-house by our full-time professional craftsman. Our stands and canopies are not just practical but are also genuine heirloom quality hand-made furniture pieces. With materials made in the USA, you will not find a better value of quality craftsmanship and price anywhere else for your custom fish aquariums, freshwater fish tanks, and saltwater aquariums.
Learn MoreShop Majestic Stands
Lifetime® Stands & Canopies
Our Lifetime® aluminum-framed stands and canopies are some of the most durable of any custom aquarium stand and canopy system available on the market today! They make a perfect fit for anyone looking for a reliable aquarium stand and canopy for their freshwater or saltwater aquariums. The frames are made from anodized aluminum that will never rust, chip, or corrode. They are very lightweight, yet they are engineered in a way that allows them to withstand extreme loads from even large tanks! These stands and canopies take only minutes to break down, resulting in easy transport, storage, and installation.
Learn MoreContact Us To Order
Seamless Sump® Aquarium Sump
Developed by aquarium service experts with decades of experience at the aquarium service division of our sister company Serenity USA, the Seamless Sump system is a complete filtration solution for both fresh and saltwater custom fish tanks, large and small. Our one-piece, "Seamless Sump®" system combines the best features of each type of filtration system into one elegant, easy to service, long-lasting solution.
Learn MoreShop Seamless Sumps
H2Overflow® Aquarium Overflow
Also developed by aquarium service experts at our sister company Serenity USA, the patented H2Overflow® is the perfect solution for safely and efficiently returning your aquarium water to your sump filter. Whether you have our recommended Seamless Sump® or another brand of sump, the H2Overflow® is extremely quiet, has a large skimming surface area to provide aeration, maintains a consistent water height, displaces a very little amount of water, and has a very small footprint to stay out of sight and out of the way of your lighting.
Learn MoreShop H2Overflows
Stealthbox® Overflow Box
The H2Overflow Stealthbox® is the most versatile, silent, and reliable external aquarium overflow system available anywhere! This Stealthbox works great with the Seamless Sump, or any other sump system. The H2Overflow Stealthbox® has 1200, 2400, or 3600 gallons per hour capacity!
Learn MoreShop Stealboxes
Siphon Stopper® Return Nozzle
The patented Siphon Stopper® return fitting allows you to minimize the risk of a back siphon and at the same time minimize evaporation, easily manipulate your water flow, and most important, no more reliance on failure-prone check valves! It works great with the Seamless Sump® System, and the Loc-Line nozzle gives you tremendous versatility. The Siphon Stopper® return fitting is the most reliable, unique, visually appealing approach to returning water to your custom aquariums and protecting your property.
Learn MoreShop Siphon Stoppers
Unstoppable Hopper® Feeder Extension
Our custom extension for the EHEIM TWINfeeder elevates the feeder above the surface of the water, so food does not get wet and clog the feeder. The hopper extends the pellet food quantity to last over 12 weeks with a typical well-stocked tank!
Learn MoreShop Unstoppable Hopper®
Aquarium Package Specials
Want a complete setup? Below are our most popular package specials ordered at discounted, bundled prices!
Are you looking for hobbyist saltwater aquariums or freshwater aquariums to add fish, marine life, or corals? Custom Aquariums has been selling freshwater and saltwater fish tanks to hobbyists, beginners, and experienced aquarium owners alike for over two decades. In addition to our saltwater aquariums and freshwater fish tanks, we also have our own patents on a number of aquarium filters, pumps, glass hole cutters, aquarium lighting supplies, cleaning supplies, and more. If you are a DIY aquarium hobbyist, you have the option of purchasing these accessories from us, or if you need assistance from our aquarium experts give us a call, and we can provide instructions on the day we deliver the fish tank to you.
300 Gallon* Glass Aquarium
–
Dimensions: 30" H × 96" L × 24" D
Model Gallons: 300
Sump Max Capacity: 94.7 Gallons
Sump Ideal Functioning Volume: 72.5 Gallons
Select options
Explore All Packages
Custom Cages
We also make cages! Custom Cages, our sister company, manufactures a wide variety of built-to-order bird, reptile, and small animal cages! Our cages are endorsed by Jack Hannah of the Columbus Zoo & Aquarium and used by zoos all over the world, both large and small. Nobody has a unique, wide array of options to meet your specific cage needs like we do!
Visit Custom Cages
Sours: https://www.customaquariums.com/
Sharing is caring!
Time for an upgrade? A 100-gallon (378.5 L) tank might be in your future.
However, 100-gallon fish tanks are not very common to come across and your local pet store might not carry the option that is absolutely best for you. Whether you're wanting to set up a freshwater or saltwater tank, a larger aquarium is a big investment and you need to make sure that you get it right from the start!
In this article, we'll discuss some of the benefits of having a larger tank, as well as our top 3 choices for 100-gallon fish tanks!
Our Top Pick

INT 100 Gallon Aquarium with APS Stand

INT Embraces Innovative Marine's Award-Winning Craftsmanship
Ultra-Thick High Clarity Low Iron Glass
Completely Silent, Efficient And Fully Customizable

Check Price
Waterbox Aquariums Reef 100.3

Full Glass Overflow
The Most Loved Aquarium
Plumbing Simplified

Check Price
Clear-For-Life 100-Gallon Rectangle UniQuarium

Built-In Filtration
Acrylic
Perfect Choice For Freshwater, Marine, Reef Or Planted Aquarium

Check Price
Benefits of a larger tank
While nano aquariums might seem like they're less maintenance than larger tanks, this is not true. There are a few reasons why bigger is almost always better in the aquarium hobby:
More space. Simply put, a larger aquarium means more space! You might be thinking that most importantly, this allows for more fish; but even more important than that, more space allows for more surface area for beneficial bacteria to grow.
A larger aquarium not only provides more surface area on the sides of the walls, but there is also more space for decorations that bacteria can grow on. Aquarium equipment, like filtration, powerheads, heaters, and protein skimmers will also add to the amount of space for bacteria to establish itself. The more bacteria there are, the more that your system will be able to regulate its own parameters and contained the ecosystem.
More livestock. Of course, a larger aquarium will allow for more livestock, like fish, corals, plants, and invertebrates. A more expansive floorplan will allow for active fish to swim while additional tank height will let individual fish inhabit their preferred portion of the water column.
More space in general also means more space for fish to set up territories. One of the main problems with small tanks is that most times the hobbyist wants a lot of fish, but also needs to consider that each fish needs its own area within the tank; mapping out aggression can get pretty difficult, especially in a saltwater system! While aggression still needs to be monitored, larger systems can help dilute any immediate problems that would otherwise be felt in a smaller tank.
Self-sustaining. Lastly, a larger aquarium does a better job of imitating a natural environment. Not only can more bacteria grow and more species be displayed, but the tank will also take on a life of its own and go on auto-pilot at some points.
In the case of a power outage, larger tanks take longer to cool off and can make the difference between losing everything in your tank to only losing a few things here and there. Larger tanks also don't experience as drastic changes in water parameters as smaller tanks do; since there is a greater water volume, influxes of ammonia or phosphate are more evenly integrated into the system and have a smaller effect on the whole ecosystem.
Our top 3 100-gallon fish tank choices
We have compiled a list of our top 3 choices for 100-gallon fish tank systems. We have based our decisions on price, quality, customer reviews, and what is included with the tank.
INT 100 Gallon Aquarium w/ APS Stand
The INT 100 Gallon Aquarium w/ APS Stand is one of the most popular 100-gallon fish tank setups available. These tanks measure 47.3 L x 23.6 W x 19.7 H inches (120.1 L x 59.9 W x 50.0 H cm) and are made from Ultra-Thick 15mm High Clarity Low Iron Glass sealed with black silicone. The pre-drilled glass tank includes an internal Trapezoid Infinity Overflow with dual return nozzles, Pro Series screen lid, pre-installed rubber mat, and the required plumbing.
The aluminum, corrosion-resistant stand measures 47.5 L x 23.5 W x 35.8 H (120.7 L x 59.7 W x 90.9 H cm). The stand is available in matte black and has plenty of room for a sizeable sump; however, an actual sump is not included.
If you need help picking out a sump, make sure to check out our most top-rated aquarium sumps for your tank here!
What we like:
Seamless open-top design with an included screen covering
Longer tank than taller tank
Solid black background
Room for improvement:
Sump and other equipment not included
Short tank height
Waterbox Aquariums Reef 100.3
The Waterbox Aquariums Reef 100.3 is an all-in-one system for setting up the reef aquarium of your dreams. These tanks measure 35.4 L × 23.6 W × 21.7 H inches (89.9 L x 59.9 W x 55.11 H cm) and are cut from Starphire Ultra-Clear glass for great clarity and viewing. They feature an internal, solid glass overflow box with two adjustable return nozzles.
The Reef 100.3 also includes an impressive sump, with four main chambers. The first chamber is set up into two small sections, with two slots to install a mesh and micron filter sock respectively. The second chamber provides more than enough room for a protein skimmer and/or refugium. The third chamber is further used for sponge filtration and de-bubbling and sent to the return pump. The last chamber is saved as an auto top-off (ATO) reserve for freshwater. All plumbing is included, preassembled, and glue-free; a safety drain is also included for extra security.
A soft-close stand comes with the aquarium and can be customized to be black or white with a black interior and measures 35.4 L × 23.7 W × 35.4 H inches (89.9 L x 60.2 W x 89.9 H cm). Lighting systems can be purchased for an additional cost. This tank can also be used for freshwater purposes, but it is largely advertised for saltwater systems.
What we like:
All-in-one and reef ready
Starphire Ultra Clear glass for clear viewing
Pre-drilled tank and pre-assembled plumbing
Sump designed for efficiency with silencing in mind
Room for improvement:
Does not include return pump, protein skimmer, or auto top-off mechanics
Auto top-off reserve is a little small
Problems with quality control during shipping
Expensive
Clear-For-Life 100-Gallon Rectangle UniQuarium
If you're under a tight budget but still want an all-in-one system, then the Clear-For-Life 100 Gallon Rectangle UniQuarium could be great for you. These aquariums measure 60 L x 18 W x 20 H inches (125.4 L x 45.7 W x 50.8 H cm) and are made from thick acrylic designed for increasing support and clarity more than glass. The corners are rounded for a seamless effect that transfers into the cut-out lid.
This 100-gallon aquarium is different from the rest in that it is not drilled for external filtration, instead, all of the needed filter chambers are hidden behind a blue or sapphire blue background. There are three main chambers with the first containing sponge filters, the second filled with bio-balls, and the third used for housing the return pump; many hobbyists have dedicated some of the second chambers for a protein skimmer and/or other media. An aquarium stand is not included.
What we like:
Affordable acrylic tank; can be found in stores
Built-in filtration that can still be customized
Very long tank
Room for improvement:
Limited filtration space; areas can be difficult to reach/clean
The lid cannot be removed
No stand included
FAQ
Here are some questions you should ask yourself before you go out and buy your aquarium!
How much does a 100-gallon tank cost?
A 100-gallon fish tank tends to be more expensive than other regularly-sized aquariums. A brand new system will easily cost close to or over $1,000. Luckily, many of the listed systems include filtration and various accessories that would be an additional cost otherwise.
However, it is important to keep in mind that substrate, decorations, and other various equipment and media will easily cost another several hundred dollars as well if purchased brand new.
What are the dimensions of a 100-gallon fish tank?
A 100 gallon tank is not a typical aquarium size; you may have to go to a special aquarium shop and/or online to find an aquarium that is labeled as exactly 100 gallons.
In general, a 100-gallon tank will measure between 48-60 inches (121.9-152.4 cm) long, 21 inches (53.3 cm) wide, and 20 inches (50.8 cm) high. Dimensions are important to consider given the area that the tank will be in as well as what kind of system you want; active schooling fish will prefer longer tanks, while taller fish, like angelfish, will need more headspace.
How many fish can you put in a 100-gallon tank?
How many fish you can keep in your 100-gallon fish tank depends entirely on the setup of the system. Freshwater aquariums allow for more fish in general, as the species tend to be smaller and less aggressive. However, most freshwater species do better in schools and will need to be considered in terms of quantity. Freshwater predatory species are best kept in small numbers, due to their potential sizes and aggression.
Saltwater stocking is entirely based on the selection of fish you decide on. 'Community' saltwater species still need more space than most freshwater species due to heightened aggression. More predatory species will also need to be kept with like-species and should only be kept with a select few.
In general, freshwater community aquariums will allow for the most fish. Also, consider setting up a planted tank or a reef tank if you don't want to have just fish in your tank!
Conclusion
Whether you're upgrading or starting a new tank entirely, a 100-gallon aquarium is a great choice for both freshwater and saltwater purposes. Though it is not a size seen too often, most online companies offer all-in-one setups that leave little to purchase otherwise. Make sure that you research each tank and try to plan your setup beforehand so that your dream aquarium can materialize!
If you have any questions about 100-gallon fish tank systems or have an aquarium of this size of your own, don't hesitate to leave a comment below!
Sharing is caring!
Sours: https://www.aquariadise.com/100-gallon-fish-tank/
Aquascape Tutorial Step by Step 90cm Planted Aquarium
Aquarium Service & Maintenance
The staff at The Ocean Floor is here to help with all facets of aquarium purchase and ownership. This includes aquarium maintenance and aquarium service.
We can help the do-it-yourselfer types maintain their tank. If you want the enjoyment of a fish tank display with none of the hassle or work involved, we can help.
Our friendly, insightful fish store staff is ready and eager to help bring your vision to life. We offer many services to fit your unique needs.
Aquarium Service Options
Aquarium Service and maintenance plans can be scheduled to work around your particular requirements.
Scheduled Aquarium Maintenance
We can schedule monthly, bi-weekly, weekly, or anywhere in between. Our services can be basic or extensive depending on your needs.
Basic services we offer include water changing, algae cleaning, and gravel vacuuming. Regular care such as filter cleaning and media changing and supplement dosing is a breeze.
We can bring the correct products needed with us when we come to you. We also offer decoration and coral skeleton bleaching services to keep your tank looking new.
A Custom aquarium built into a stucco wall with wood paneling
Aquarium Delivery
We deliver aquariums valley wide and beyond with reasonable rates.
Aquarium Set-Up
Let us get your new tank up and running! We offer in-home setup services.
Let our team do the work so you can focus on more important things like enjoying your new Aquarium Setup!
We are the experts in anything from:
Undergravel Filters
Power Filters
Canister Filtration
Drilled In-Line
Sump Systems
Are You Moving?
Moving locations? No Problem. We can handle the teardown, moving, and re-installation of your aquarium(s).
Our team strives for minimal or no loss on your fish family! Just call us, give us the details, and forget about it. You can be as involved or not as you want.
Ask Our Aquarium Experts
We know tank setup and upkeep can be tricky. You'll likely end up with more questions as you go along.
Our friendly staff will answer any questions or concerns along the way. Just give us a phone call and we'll talk you through it.
Learn the steps necessary to set up a saltwater aquarium properly in this blog.
Easy Billing and Financing Options
We can bring all the requested products and services to your home or place of business. By presenting a credit card to your service tech, we can keep the information on file.
You will be approved all charges before they are processed so there won't be anything unexpected showing up on your bill. We also offer financing on your new aquarium!
Enjoy Your Aquarium More
Enjoy peace of mind with The Ocean Floor aquarium service and maintenance staff. You will have an assigned technician maintaining your display.
That technician will have all the support of the largest, most complete Tropical Fish Store in the western half of the U.S!
Ocean Floor Store is staffed with a team of expert hobbyists whose passion is your success!
You will receive updates with every visit so you can keep up with progress and concerns. Let The Ocean Floor in Phoenix turn your aquatic dreams into reality!
Looking to purchase fish for your aquarium? Check out what types of fish we have available for sale! We have many kinds of saltwater and freshwater fish ready to go home with you!
Ocean Floor Recommended Aquarium Maintenance Schedule
Protect your investment with these periodic checks and maintenance tasks.
Daily:
Visual inspection of your fish during feeding. Watch for behavioral changes and signs of stress or disease, as they may indicate a potential problem.
Listen to, and look at your equipment to ensure that it is operating correctly.
Check the temperature of the water.
Feed your fish twice each day.
Watch to see that all fish are eating. Remove any remaining food after 10 minutes.
Every Week:
Monitor the number of fish in your aquarium. Death and decomposition can result in increases in nitrates and ammonia levels.
Twice Monthly:
Change between 15 and 20 percent of the water in your tank.
Wash or vacuum your gravel.
Clean algae from the inside walls of your aquarium.
Rinse out your filter cartridge(s)
Every Month:          
Filter maintenance: replace inserts, floss, carbon, and cartridges.
Check the aquarium light for correct operation
Check all of your connections, skimmers, and tubes for proper operation.
By following this regular schedule of aquarium maintenance you will be able to enjoy your aquarium and fish for many years to come.
If you run into any problems or have questions about aquarium maintenance in Phoenix or any other area, or need help troubleshooting an issue, please give us a call.
Sours: https://oceanfloorstore.com/aquarium-service-and-maintenance/
Sale aquarium for set up
Aquarium Installation
Thinking about an aquarium set-up, but intimidated by the installation? This is the easiest way for you to get started on the right foot with your new freshwater or saltwater aquarium. Your new aquarium, all of its components will be delivered and setup at your home or office (with installation purchase). We will set-up any aquarium whether you purchased from us or a previously owned set-up. If a tank package is purchased from Sierra and delivery is required, delivery will be free within a 5 mile radius of our store. (Tank package must be $250.00 or higher). If you are outside a 5 mile radius the prices vary on distance traveled and techs required at the delivery site. If you purchase Sierra's installation service, delivery is included in the set-up fee up to a 20 mile radius. Outside a 20 mile radius extra delivery charges may incur. Delivery is available for aquariums up to 72 inches long, 48 inches wide and 28 inches tall. Some restrictions may apply. Call Sierra Fish & Pets for details.

We offer free estimates for delivery and installation based on size of aquarium and distance to travel.

Aquarium Installation Prices are based on the size of the aquarium, the type of set-up (filtration, plumbing, etc.), and the distance for travel time. Installation prices for previously owned aquariums are based on an hourly rate. Set-ups purchased through Sierra Fish are all figured on a flat fee basis.
Included in your aquarium installation services you'll learn:
• How much to feed your fish and invertebrates and how often.
• How to maintain a healthy, thriving environment for your fish, invertebrates, live rock or live coral.
• Basic functions of the aquarium and all of its components.
• How to spot danger in your tank and what to do about it.
• How often to maintain your aquarium so it continues to look beautiful.


Sours: https://sierrafishandpets.com/page/32-aquarium-installation
Aquascape Tutorial Step by Step 90cm Planted Aquarium
How to Set up a Freshwater Aquarium for Cheap
I spend my free time (and spare cash) working on my freshwater aquariums.
Setting Up a Cheap Fish Tank
Starting a new hobby can be really expensive, especially if you buy everything new. Or worse, you have the dreaded fishkeeping disease MTS (multiple tank syndrome) and want to add one or five new aquariums to every room of your house.
Luckily, there are some easy, cheap ways to set up a new aquarium without breaking the bank.
Purchasing a Tank
Undoubtedly, the tank is going to be the bulk of your purchase. Good brand names are All Glass and Oceanic, but Top Fin is merely All Glass with a generic label, and most tanks aren't labeled at all, so don't worry too much about the brand.
What's Important to Look for in a Tank?
The seal. Check all the sealant for cracks or missing pieces inside and out. Pay attention to the seal down by the trim especially. You do NOT want to reseal a tank. It takes hours of swearing and scraping with a razor blade if you end up resealing the whole tank.
Check the glass or acrylic. Small chips and scratches in the glass usually aren't that big of a deal. Deeper chips and cracks, especially on the corners, are red flags. Acrylic scratches much easier than glass. Little scratches are easy to buff out with toothpaste, but deep scratches are usually permanent.
If possible, see the tank filled with water. Either a picture of it with a date or in person. If you can't do that, set the tank up half full in your tub or on your porch for a day. If it passes, fill it up all the way for another day. It's much better to find a leak outside than all over your carpet.
Where to Find Good Deals
craigslist.org: You can find some smokin' deals on CL, especially if you type the keywords aquarium, tropical fish, or fish tank into the side bar. Don't like the selection, wait a few days. See something you like, but it's out of your driving range? See if they'll deliver or meet you half away for gas money.
Garage/yards/moving sales: People frequently buy tanks then stop using them because they got frustrated or moved or had some life changes. Years later, they clean out the garage and go, oh wow, I forgot about this . . . well, slap a price on it and put it in the yard sale. These tanks are usually extremely cheap because they just want them gone.
Dumpster diving and peoples' porches: I'm sure I'm getting some weird looks, but I've picked up several perfectly good tanks off the curb. Nothing was wrong with them other than someone didn't want them and threw them out. Sometimes they don't make it to the curb. Sometimes they sit on the porch. If you don't mind knocking on the owner's door, go ahead and see if the tank is for sale. They might give it to you for free if you haul it!
eBay: eBay is a great place to get tanks too. Just remember that tanks do not ship well, and local pick-up is needed!
Petco's $1 per gallon sale: Every year, Petco puts their 10, 15, 20, 29, and 55 gallons on sale for a dollar a gallon. They don't come with lights or stands, but the price for a new tank can't be beat.
What's a Fair Price?
Used tanks, like used cars, drop in value the minute it leaves the store. A good general rule is $1 per gallon. For example, if you're looking at a 55-gallon tank, then $55 is an appropriate price. The price may go up a little for odd shapes like hexes or bowfronts.
Other Considerations
Does it have a stand? If so, tack on $20-50 more depending on the quality of the stand and if it's a hex or bowfront. Check stands for rust and water damage thoroughly. Don't buy too little stands where the aquarium hangs over the edge-- this distributes the weight incorrectly and can weaken the tank.
Does it come with a filter and/or heater? If so, tack on $20-50 more depending on the quality and condition of the filter and/or heater. A little knowledge about brands will help a lot in determining if you really want the equipment or not.
What's all this other stuff? Aquariums often come with other junk. You should throw away excess food and chemicals that are open. You don't know how they were stored or when they were purchased. Fish food does expire just like people food! Nets and decorations and other goodies are pennies on the dollar. Not really worth adding into the price.
Does it have lights and a top? If so, tack on another $20-50 dollars depending on the quality of the lights and condition of the bulbs. Glass tops are generally of better quality and look nicer. Know the difference between fluorescent and incandescent light fixtures. Plug lights in before purchase to make sure they work properly and don't need a new bulb or starter.
Keep in mind, these are just basic guidelines and you are free to make a lower offer (just make sure you have counterpoints as to why they should lower their price). Also, be prepared to walk away if the seller won't come down. There are other deals and next time your score might be bigger and better!
Buying Substrate
Unless you are a breeder or like bare bottom tanks, chances are you want some substrate for your new, cheap trophy tank. Since you want 2–3" of substrate on the bottom, buying five 10# bags of gravel from the pet store will run you around $25.
Colored gravel: Unfortunately, the only price break you will get on colored gravel is if the pet store is putting it on sale or is reducing it to clear (usually a red or yellow tag! Keep an eye out for these). If it is reduced to clear, don't wait around; it means they aren't going to stock it anymore and may not have more in the backroom.
Colored or clear glass beads or marbles: Hobby Lobby or Micheals or Joann's all have these for much cheaper than the pet store and probably have a better selection. You can use this as a whole base or just embellishments for interest in the tank. This works best in small tanks.
Pea gravel: Pea gravel is natural colored gravel that is used frequently outdoors in gardens and landscapes. You can purchase 50# bags from Home Depot or Lowes for less than $10. Your local garden center may be even cheaper than that! Remember to rinse well.
Play sand/pool sand: Play sand is finer than pool sand and a tan color. Pool sand is coarser and generally paler. Both make excellent substrate for catfish and cichlids and loaches. A #50 bag of sand is under $10. I personally used Quikrete All-Purpose sand. Make sure you rinse sand very well before adding it to your tank or face the haze of doom from all the fine powder.
River rocks: Bigger than pea gravel and different colors, river rocks look really nice as accents. It can be used as a single substrate but is difficult to keep clean because of the large cracks between the rocks. Again, Home Depot or Lowes should have it in their Garden Center for under $10.
The Fun Part: Adding Decor
Once you have that covered, you need to fill the tank. This is a little trickier than substrates because everyday objects can be extremely toxic to fish. Please only use inert plastics or decorations made specifically for aquariums for your castles and skulls and pirate ships.
Driftwood
You can collect driftwood from local bodies of water, yes. Make sure they sink. You may have to sink them yourself. You should definitely disinfect them because you don't want to introduce mold, fungus, pollution, or diseases to your tank.
Drs Foster and Smith frequently run specials on free shipping and real driftwood—this is the route I go. Another place to look is in the reptile sections of the pet store. "Mopani" and "Malaysian" wood are great for fish tanks. Grapevine is not as it rots in water.
Rocks
Rocks, rocks, everywhere. Can you collect them from outside? Yes, but you should test them to make sure they won't change your tank composition and disinfect them. For example, limestone dissolves over time and raises the pH, making it a favorite of African cichlid keepers but not used by discus keepers.
Research some aquarium safe rocks then visit your local landscaping rock quarry for some awesome pieces. Lava rock is completely inert and great for beneficial bacteria. Slate is also inert and comes in different colors.
Live Plants
There are a lot of places to get cheap plants. Most local aquarium clubs have "mini auctions" where items are auctioned off to benefit the club. You can pick up a bag of healthy, local plants for a few bucks. You can even ask the donator for tips on growing them. Other places for live plants are online forums such as aquariacentral.com and aquaticplantcentral.com and plantgeek.net/forum.
Purchasing the Right Fish
Okay, so we've got the tank looking good, time to add some fish, right? But we don't want to pay the 200% markup pet stores slap on their fish.
Breeders: Chances are that if you want cichlids or livebearers, there's a breeder nearby. And they'll be more than happy to sell you some cheap juveniles to clear out tank space. Angels and guppies are good bets for breeders, as are African cichlids.
Local fish clubs: Most clubs run a huge auction 2-4 times a year. You can find a wide assortment of fish at these auctions and if you're lucky, snag them for cheap (as in $1 for 6 cories or kribensis cichlids). Plus, it's a great way to meet some fellow hobbyists and support your local club. Club forums usually have a buy/sell section where you can pick up some good deals as well. Sometimes clubs work with local stores and give out discounts if you're a member.
Online forums: not just for plants. There are many members that breed cherry shrimp, endlers, guppies, snails, and a variety of other fish. If you're interested in something bigger and more exotic, try monsterfishkeepers.com.
Aquabid.com: This is the fish equivalent of eBay. It is not the cheapest option, but it may present you with some rarely seen fish for much cheaper than in-store. Remember, most sellers request you use overnight, so budget shipping into your total cost.
Local fish stores: Check them all out. If nothing else, see what they have. Find one you like and support it. Tell the owner/staff why you like it and what you feel they can improve on. Cultivate a relationship with the owner/staff. I've gotten several free or reduced fish just because I was a "loyal" customer even though I wasn't the biggest spender. Plus, you're supporting the local economy and business climate.
Petco and PetSmart: If they have clean, healthy stock and clean tanks, feel free to take advantage of their dollar sales. Most of these fish are marked down to a dollar for a month's time. Supplies can be limited, so find out when their fish shipment comes in and plan to go shopping two days afterward (to let the store take the loss for a fish in poor condition from shipping).
Filters and Heaters
Heaters and filters. If you did not get them with the tank, you will need to purchase them. This is where I would NOT skimp on the cash. $5 can mean the difference between life and death for your fish when your heater malfunctions and cooks them because the temperature gauge was made of cheap plastic in China. Good filters keep the water clear and house your "good" bacteria, which keeps your tank from smelling like a sewer.
Ways to get deals on new filters/heaters?
Sales in local stores
Amazon
eBay
Price matching: Both PetSmart and Petco price match local ads as well as THEIR online prices. Sometimes you'll get a manager that's a jerk about this policy. If so, go again later and get a different manager, or ask them to explain their policy on price matching. Be polite!
Filters I Recommend
Heater Brands I Recommend
$30 Aquarium and Fish
You Can Do It!
Think this is utter bull? I recently set up a tank on a budget of approximately $30. I do admit, I cheated a little because I had some of the material already. But I could've easily done it under $50 still if I weren't making it a planted tank. How'd I do it?
Tank: 15-gallon breeder for $5 from the local fish club ($40 retail)
Substrate: 16# of substrate for $10 reduced to clear at Petco ($20 full price)
Plants: clippings from my other tank and free from my local fish club ($5 per plant)
Lighting: reused an old incandescent hood and put in two 26 watt compact fluorescents from the grocery store for $5 ($20 for the hood; $20 for the bulbs)
Filter: Aquaclear 20 for $5 from the local fish club ($30 retail)
Fish: 5 rasboras for $5 on sale at Petco and moved some fish from another tank that I bought on a forum years ago for $2/piece ($2.69 per fish and $10 per fish, respectively)
Heater: not needed for this set up (but would have run me another $20)
Décor: driftwood I already had ($5-15 per piece)
Stand: dual iron stand free from the garbage ($50 retail)
Deals
Bragging Rights
Do you have an unbelievable score you want to brag about? By all means, tell me about it. I love living vicariously. I'll admit it; I'm a bargain hound and love to hear about other peoples' deals and success.

Comments
Alfredlups on September 29, 2014:
http://www.skodbjerge.com/ent/casio-outlet-126.htm... iqylap http://hvidesandesupply.dk/html/Chanel365.html icbn http://www.romgummi.dk/dk/loewe-sale-195.html Chanel Vintage http://www.solcelle-rengoring.dk/struk/hamilton-wa... 42e http://fejlmaal.com/html/Chanel329.html シャネル 財布 マトラッセ http://www.vestfisk.com/dk/loewe-sale-227.html ve05 http://www.rg-detectline.com/reg/loewe-sale-239.ht... 嬉野 ハミルトン http://stormmarine.dk/profil/Chanel256.html lag http://www.rcyc.dk/debatforum/hamilton-watchs-43.h... シャネル 五番 http://www.hvidesandesupply.com/slides/Chanel74.ht... tyw http://centerholmsland.dk/pdf/Chanel323.html シャネル 手帳 http://hvidesandecamping.dk/slides/Chanel63.html hum http://www.global-fit.com/dk/Chanel123.html hamilton khaki eto
korkee on August 12, 2013:
75 Gallon with 2 60 gal filters a current generator and 2 30 gallon heaters for free just had to buy gravel and plants and feeesh
eveliens (author) from SK on September 27, 2010:
csalter, that's awesome. Great deal! I hope the article helped with the set up a bit. You could do a lot with that much space ;)
csalter on September 27, 2010:
Hi,
I just got a 350 gallon aquarium with stand, canopy, lights, and a 60 gallon bio filter. I picked it up used from a chinese buffet. Paid $600 for everything. I just set it up and it looks great. Thank you for your very informative article.
eveliens (author) from SK on August 19, 2010:
Thank you taty96. Sorry about the layout mess up. Hopefully it's fixed now!
taty96 from Ecuador on August 19, 2010:
Very informative article.
Sours: https://pethelpful.com
Now discussing:
Amazing aquariums only millionaires can afford
Fabulous fish tanks for marine-loving millionaires
@FurniturelandSouthNC / Facebook
Designed for the super rich, these incredible home aquariums go above and beyond your standard setup. In dining rooms, hallways and even bedrooms, these inventive tanks can turn any room into a tranquil underwater retreat. Let's take a deep breath and explore...
Living room aquarium
This palatial home in Port Lincoln, Australia, comes with its very own 26-foot aquarium. Filled with 10,000 litres of sea water it's populated by local Spencer Gulf marine life including snapper, mulloway and King George whiting. However, it's not the only unusual feature in the decadent home, it also has a topical garden with a glass aviary.
Grand hallway aquarium
There's nothing quite like a grand entrance, and this huge aquarium in this property certainly makes one. With 6,000 litres of water, the reef aquarium is 13 feet and stands at a huge eight feet high.
Bespoke fish tank shelving unit
There's nothing we love more than intelligently integrated furniture. This design by Okeanos Aquascaping means you'll be able to keep all your books and fish in one tidy and convenient place with this clever shelving unit.
Aquarium kitchen island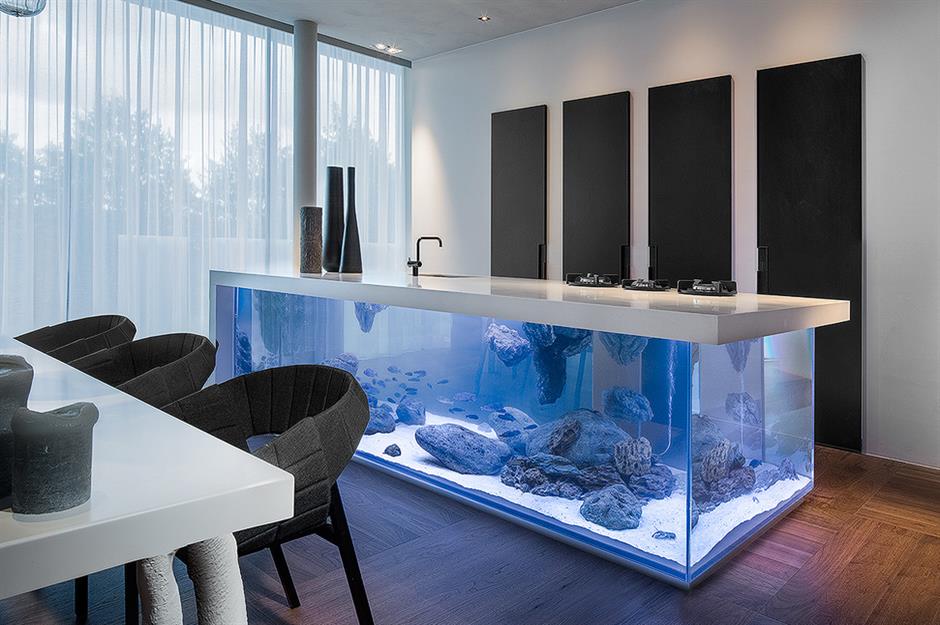 Seafood might be off the menu after installing Kolenik's aquarium kitchen island into your scheme. This unique worktop adds another level of luxury to your cooking space. Unexpectedly functional, the aquarium is built in an L-shape, hiding generous amounts of storage and a large usable countertop as well as a sink and hob.
Space-age aquarium
Aquarium Architecture's home aquatic centre is impressively futuristic. The curved design of the tank adds to the minimalism of the landing but is sharply contrasted with the splashes of colour and life brought by the fish. The expensive collection of tropical fish were sourced from South America and includes a rare Arowana: this species can cost up to £5,000 ($6.5k).
Wine cellar-quarium
It's not up for debate: this tank by Arc Design Group is one of the most lavish wine storage areas we've ever seen. The centrepiece of the room is the tasting area and so all other features circle around it, but this doesn't divide attention away from the fascinating aquarium fitted into the Mediterranean-inspired stonemasonry.
Outdoor wall aquarium
Mehmet Ali Gökçeoğlu / Facebook
Tired of boring old metal fences surrounding your multi-million-pound property? Mehmet Ali Gökçeoğlu, a wealthy Turkish businessman, splashed some of his spare cash on a 50-metre aqua-fence to circle his mansion in the coastal town of Çeşme. It has since become something of a tourist attraction, with thousands visiting the billionaire backyard every day!
Fire surround fish tank
Combining two opposing natural elements, this is Seavisions' Wilminton fireplace with its aquarium surround. Imagine fire-gazing while the elegant creatures gently bob around; it offers unrivalled serenity for when you're unwinding or entertaining at home.
The best home aquarium, bar none
Acqua Liana is a luxury home in Manalapan, Florida designed by developer Frank McKinney to be 'the greenest mansion in America'. He enlisted Magnificent Aquariums to bring part of his vision to life and they truly lived up to their name. Putting a new meaning to the term 'wet bar', this dazzling archway and countertop combination will make your jaw drop.
Aquarium wall divide with movie magic
Here's a brilliant way to connect two rooms but still maintain a certain level of privacy. Aquatic Design's arrangement is ideal - you feel detached enough from the other room to keep your noses out of each other's business, but, if you're getting separation anxiety, you can always send a wave through the transparent glass. Or maybe, if you're lucky, have your own Romeo + Juliet moment...
Perfectly panelled home aquarium
Living Color Aquariums / Facebook
Alternatively, Living Color Aquariums provide a different take on the room divider, seizing the opportunity to break up a large room with a touch of elegance and class.
Flesh-eating fish tank
Holy carp! This aquarium is not meant for those of a delicate disposition: the truly carnivorous tank is home to 17 bloodthirsty red belly piranhas. Just don't put your hand in – the consequences could be disastrous!
Stylish SoHo-style tank
If you're looking for a tank which doubles up as a piece of art, this one from City Aquarium is a real catch. The aquarium uses a hand-sculpted reef and bright rainbow fish to add colour and life to the room. It also has a cabinet beneath for optimising small-space storage– result!
The ultimate splashback
Aquariums add an air of calm to the often manic kitchen space, and you'll be fishing for compliments from friends with an installation like this one from Phil Kean Designs. It'll have you feeling cool and collected instead of crabby during stressful meal prep moments.
Deep dark dining room tank
What really makes this super-cool aquarium is how it naturally accents its environment. Don't you think the pairing of the tank's lighting with the ceiling chandelier is utterly sublime? We definitely want our dining room to look this good!
A dinner party talking point
For a more salle-a-manger inspired tank, check out Shah Luxury Home's dazzling dining setup. While some families like to eat in front of the TV, make an aquarium the object all your furniture points at.
A central column aquarium
Living Color Aquariums / Facebook
Mixing a classical column and a huge aquarium takes skill and a lot of dough. Gaudy and audacious yet still hypnotically stunning, do you love it or hate it?
Poolside aquarium
This swimming pool meets aquarium by Master Pools Calgary have mastered the poolside aquarium with water feature, on water feature, on water feature. This one really makes a splash and will be a firm favourite among any water babies – your buoys and gills will love it.
Japanese-style aquarium
If you want to chase waterfalls, then you'll also fall for this spooky koi pond. Okeanos Aquascaping has modernised traditional Japanese decorative features for this obscure aquarium. It's a little hard to see the fish from the image, but they're in there – perhaps they're a little koi...
Elegant bar-quarium
You'll never want to sit at a proper table again after seeing this high-stooled bar with a dark and captivating aquarium at its heart. Breakfast, brunch or late-night drinks – whatever the occasion, you'll want it to take place here.
An island aquarium in the desert
Markay Johnson Construction
Who'd have imagined you'd find tropical fish tanks in the desert ranges of Utah? This residential project by Markay Johnson Construction features another stellar aquarium bar fit for a millionaire or Hollywood star(fish). We'll drink to that!
Tiki bar with aquarium
Underwater Creations Inc. / Facebook
However, if you're searching for something a little less low-key in your house (as if a home aquarium could ever be subtle!), Underwater Creations Inc. custom-made this fantastic tiki bar, which will make your tropical fish feel like they're back in the wild.
Deep space aquarium
Outer space may seem oceans away from the deep blue sea but the concepts marry beautifully in this Battlestar Galactica-inspired, 15-foot long koi tank. While you may think the fibre optic lighting is cool enough, the fish themselves are also out-of-this-world: these platinum ogon koi have colour-changing scales!
Minimalist tank in Berlin
This Berlin loft got a facelift following the installation of this titanic saltwater reef aquarium. You'll have to have a big net worth to be able to afford something like this!
A fish tank turned financial folly
Practical Fishkeeping / YouTube
Sometimes aquatic aficionados want to take construction into their own hands, which is exactly what Jack Heathcote from Nottingham did when he built Britain's biggest home aquarium in his basement. His roommates were fairly horrifying, including three two-foot-long pacus (biting fish with human-like teeth), a redtail hybrid catfish, two alligator gars, eight enormous stingrays and two turtles. However, this notoriously expensive hobby meant Jack had to close his aquarium due to the astronomical upkeep costs.
The tank under the stairs
@livingcoloraquariums / Instagram
So what are you going to do if you want your aquarium to be given pride of place in your property and not buried down in the basement? Put it where everybody will see it: installing a tank in your entrance way – à la this custom build – will really make waves.
Modernist aquarium
For the lovers of streamlined design, this aquarium brings a fresh splash of nature into a busy London townhouse. We are obsessed with the beautiful sapphire and emerald colour scheme and the copious storage space in these bespoke cabinets.
The grandeur of Rome
New Jersey-based architects and designers Electronics Design Group have engineered seriously one of the most incredible home aquariums we've ever seen – not even squidding! The heart of the home is this very grand 15,000-gallon Roman-themed saltwater fish tank filled with species native to the area – many of which the fishing-mad owner reeled in himself. It's definitely one of the most jaw-dropping home features money can buy.
Eli's 10,000-gallon reef aquarium
@elisreefaquarium / Facebook
This aquarium in Haifa, Israel looks pretty large, right? Local wildlife enthusiast Eli built it so he could relax and enjoy watching his favourite fish at home. Talk about getting carried away with the idea, it spans the entire width of his living room wall!
Scuba diving aquarium
@elisreefaquarium / Facebook
Eli doesn't flounder about: the aquarium holds 10,000 gallons of water and is so huge that he and his sons can climb in and swim around with their marine cohabitors. Scuba diving gear necessary!
Curved central bar tank
To give you an idea of just how large Eli's tank is, this whopping aqua house constructed by Seavisions Aquariums holds only 1,700 gallons of water but with its curved frontage and skilful lighting, we think that it's just as beautiful. Featuring two-inch glass to withstand any water pressure, it's an ideal centrepiece for your in-house watering hole.
Aquarium headboard
@FurniturelandSouthNC / Facebook
This fluvial headboard was constructed for a furniture store in North Carolina by the team behind the Animal Planet reality show Tanked. If you want to sleep with the fishes, waterbeds don't come much posher than this!
Be the first to comment
Do you want to comment on this article? You need to be signed in for this feature
Sours: https://www.loveproperty.com/gallerylist/77340/amazing-aquariums-only-millionaires-can-afford
6332
6333
6334
6335
6336