5 Apps Every Yoga Teacher Should Use
Today's yoga teachers and studios are operating in an increasingly digital world. So, like any other business, we can use the tech available to us to streamline our businesses and make things simpler for ourselves and our yogis.
As a busy yoga teacher, I'm a big fan of apps that allow me to spend less time managing lists, writing emails and crunching numbers, and more time creating and teaching yoga classes.
Every teacher I know came to this profession because they genuinely want to help people improve their sense of wellbeing; physically, emotionally and spiritually. But we all get caught up in the day-to-day running of our businesses, and find ourselves devoting a lot of time to behind-the-scenes stuff.
Along with Momoyoga (of course!) here are my top five apps to help you cut down admin time and inspire class planning, so that your classes can be more fulfilling for both your students and for you.
Tummee Yoga Sequence Builder
I'll be honest: sequence builders are not my thing. I'm a firm believer in your own mat, and your own practice, being the best place to explore postures and sequences to use in your classes. But I know not everyone feels that way, and sequence building apps can be really useful tools to inspire class ideas.
So here's my favourite of the moment. It allows you to plan classes using a library of over 4000 postures and exercises, and includes over 500,000 (!) existing class plans to use and/or adapt. Unlike many sequencing apps, it also highlights how important it is to cue postures and transitions effectively, and includes ideas to help you build your cueing vocabulary.
Available for desktop, iOS and Android
MailerLite
Email marketing may not be as shiny as social media, but it's a really valuable way for yoga teachers and studios to connect with their yogis. Your email list is made up of people who have actively expressed an interest in your classes — so they're the first people you should turn to when you're marketing new classes, workshops, and retreats.
There are lots of mailing list providers out there, but MailerLite is my service of choice this year. It's quick and simple to set up, easy to customise and organise, and the customer service is great too. You can have a list of up to 1000 subscribers for free, making it perfect for independent yoga teachers and small studios that are just starting out.
Available on desktop and iOS
Toggl
You probably know how many hours each week you spend actually teaching yoga classes. But do you know how much time you spend on the other tasks you do for your business?
Toggl is a time-tracking app that allows you to keep track of exactly how much time you spend on each task — from replying to emails to social media, planning classes, or managing bookings and payments.
Getting clear on where you use your time is a good thing to do as a business owner or self-employed professional. You'll be able to calculate how much you really earn per hour of work, and adjust your pricing accordingly; and it'll empower you to change your work processes so you spend less time on tasks that could be automated, or managed by another service (like Momoyoga, for example).
Available on desktop, iOS and Android
Canva
If you need to make social media posts, or graphics for your emails or website without having to hire a graphic designer, Canva is for you. It gives yoga teachers a simple way to edit images, add text, and even create logos and animations. And you can do it all from your smartphone.
Full disclosure: the graphics you produce on Canva are never going to be as good as the work a real, human graphic designer could create for you. But for low-budget businesses and independent teachers, this app is a bit of a lifesaver.
Like Momoyoga, this app is all about making complicated things as simple as possible. You can create flyers and business cards using a drag-and-drop builder, and then get them printed. And you can use customisable templates to add your own branding to all your social media posts.
Available on desktop, iOS and Android
QuickBooks
Accounting isn't necessarily fun — but it doesn't have to be stressful. QuickBooks is the top accounting software for the Self-Employed, and when it comes to dreaded tax return time, it'll save you hours of digging up numbers and calculating deductibles.
The app allows you to snap photos of receipts, automatically attaching them to your expenses — as well as providing an easy and trackable way to manage your invoicing. If you're someone (like me) who doesn't love making spreadsheets and who loses receipts 15 minutes after putting them in your pocket, this one's a must! And it's much cheaper than hiring an accountant.
Available for iOS and Android
And one for luck….
I know I said five, but there's one more app I want to add before I sign off! I've found it hard to commit time to my meditation practice lately, and I'm sure I'm not alone in that. Things have been strange, to say the least — and the stresses of pandemic times have made it difficult to dedicate time to get quiet and find stillness.
So check out InsightTimer. It's a free meditation app that you can download onto your phone, with over 95,000 guided meditation practices to fit into your day. You could even weave it into your pre-class rituals to help you get centred, and feel ready to hold space for others.
Sours: https://www.momoyoga.com/en/blog/5-apps-every-yoga-teacher-should-use
Best Yoga Sequencing Apps and Free Sites to Plan your Classes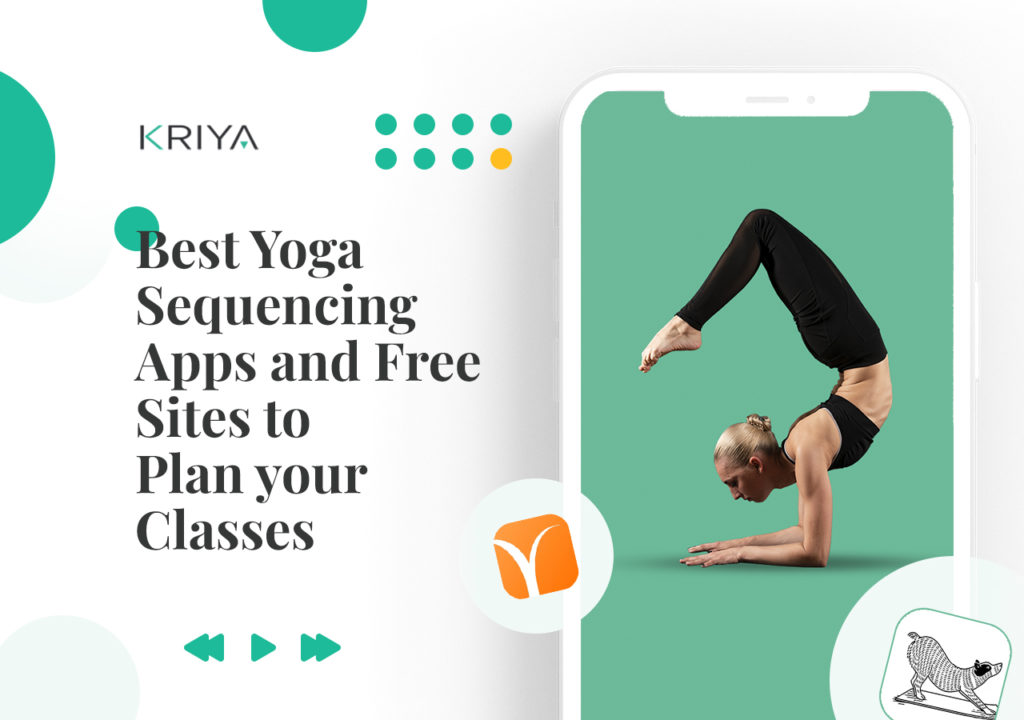 While doing my Bachelors's in Education, I practically experienced how to build a sequence or a lesson plan to teach a class. Yoga is also a kind of subject to teach. With so many branches or types of Yoga, you need to have a proper sequence for each one of them. This means you need to plan a way or create a road map for your class so that you can teach yoga poses in a particular order. This is called a 'Sequence'. This structure or flow has to be maintained to get the class go all smooth and the students learn in a proper manner.
Will you teach 'Pranayam' at the end of the yoga class? I don't think so. The order to begin a yoga class is with 'Pranayam' or 'Sun Salutation'. To end a yoga session like any other fitness exercise you need to have a relaxation pose or 'Shavasana'.
Many yoga instructors follow a yoga tradition sequence. As a Kundalini yoga sequence will be different from a Bikram class, and Bikram yoga sequence will be way apart from a Vinyasa class.
All the yoga sequences may vary according to complexity and variety of poses and are designed to benefit particularly on the type of yoga you teach to students.
But what's common is the general yoga sequence that is covered in all types of yoga classes. This is warming up your body to start a yoga class, followed by standing poses, peak poses, floor poses and finally the savasana or relaxation.
Click here to find how to build a yoga sequence for your yoga class
Yoga Sequencing App for Teachers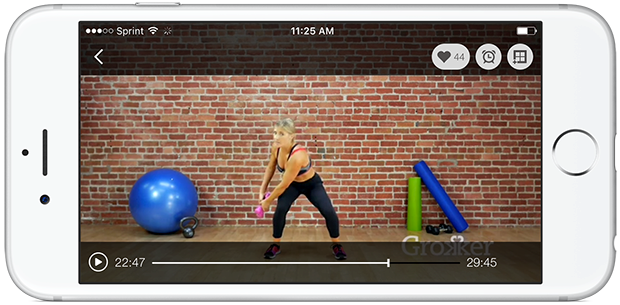 I have seen many yoga teachers fret and fume and look at ways as to how to sequence a yoga class. With so many apps out there to use and it's not a much deal these days to go out asking others to build a yoga sequence unless you are pro in it and do it yourself all good. Many apps at the app stores are useful for yoga teachers. Among these are yoga sequencing appsfor teachers which save time and help you in building a proper yoga sequence. Some of the apps are free to use and many are paid apps which you need to download on your mobile.
Here is the list of yoga apps that you can use as a guide to training your students. All these are paid apps and offer wonderful yoga sequences for your class. You can download these apps on your Android or iPhone that's your choice.
Yoga International:Presents a wealth of classes, articles, videos, tutorials, and workshops
Grokker:Provides yoga, fitness, meditation, and healthy cooking video classes and guides, with more than 70 goal-oriented programs
Find what feels good: Delivers a rich variety of yoga workout videos, with more than 100 hours of yoga videos streamed in HD quality to your phone or Chromecast and Airplay enabled devices
Pocket Yoga: This app comes with detailed voice and video instructions for hundreds of poses, complete with descriptions of each one's proper execution and health benefits.
Alo Moves: More than 2,500 video classes from its stable of world-class yoga instructors, offering everything from the traditional styles such as Vinyasa and Ashtanga to more modern focused takes designed to build strength, flexibility, and wellness.
Yoga Studio: Create own video classes from the app's library of yoga poses and "pose blocks".
Few other paid apps you can find are Glo, Yoga wake up. Asana Rebel, and others.
Best Yoga Sequence Builder App
Besides the above apps, there are many yoga sequence builder apps that are specifically designed to build a yoga sequence. Here are the best yoga sequence builder apps that seem worthy to use.
1. Tummee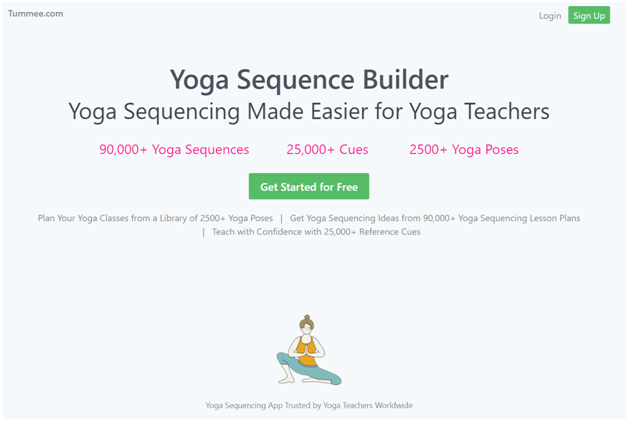 There are about 90000 yoga sequences for you here at Tummee. You can use Tummee.com yoga sequencing app just as a mobile app on your iPhone, Android phone and iPad. With easy to use mobile interface you can create, view, and share your yoga sequences on-the-go.
Also, the app offers 2500+ yoga poses, daily reference yoga sequences, and yoga sequencing guides which will really help you in your lesson plans.
There is a 15-day free trial to use this app and later on, you will pay $69.95 per year or $8.95 per month to use this app.
Click here to join now
2. Yoga Class Plan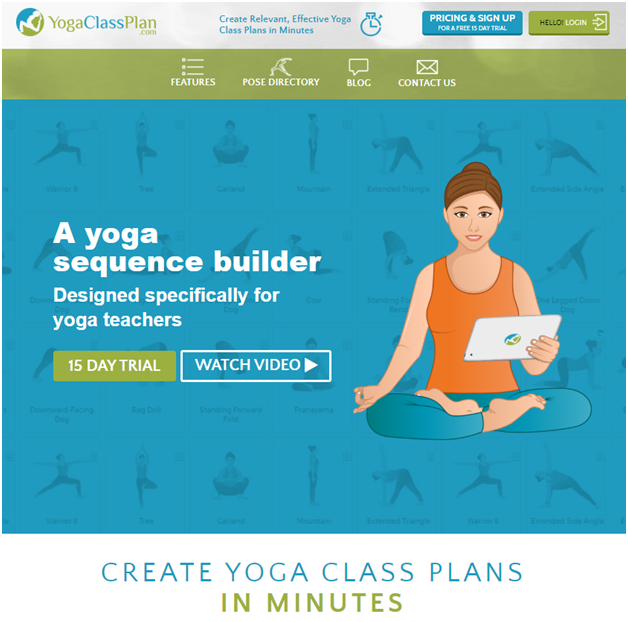 With this app, you can get access to use over 6000 shared class plans or create your own poses and plans and share with others. After 15 days of free trial, yoga class plan that cost you $109 per year.
Click here to join now
3. Sequence Wiz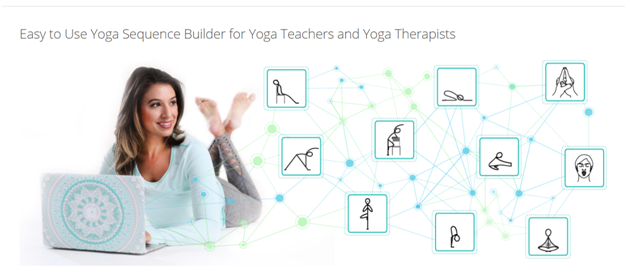 In this Sequence Wiz app, every sequence in their shared library has been carefully crafted according to the best sequencing principles to be safe and effective. Many sequences come with practice videos. You don't need to recreate the same vinyasas or re-type breathing instructions every time. Just go to the favorites section and drag the one you want straight into the sequence. Also, you can disassemble any pose, delete the parts you don't want and replace them with new ones. You can also resize the pose, flip it, add props or anything you can imagine.
After 14 days of free trial this app costs you $120 per year or $12/month
Click here to join now
Yoga Sequence Builder App Free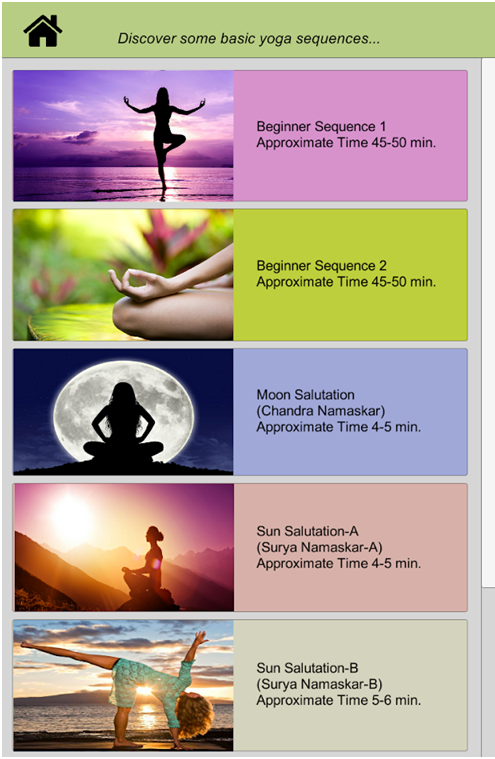 If you are looking for a yoga sequence builder app free to use online, then there are a handful of them you can take advantage of.
5 Minute Yoga: Effective yoga sessions all designed to be done in 5 minutes or less.
Simply Yoga: Video demonstrates how to get into each pose which you can use to build a sequence.
Down Dog: Helps you create new vinyasa yoga sequences each time you want to exercise.
Yoga Poses and Classes: The app comes with a guide to 100-plus yoga poses, complete with descriptions and a helpful video guide that shows you how to execute each pose properly.
Daily Yoga: A variety of yoga plans are available for free with a number of exercise focuses, as well as different intensities and durations.
Yoga Sequencing Assistant: The most useful feature of this yoga sequence builder app free is to give users the flexibility to create their own yoga sequencing, just by drag and drop from a list of poses. The app designed for amateur and professional users. It can also be used by Yoga teacher training program students and yoga teachers for creating yoga workshops and yoga lessons. You can create Ashtanga primary, Hatha Yoga and Vinyasa Yoga series yourselves with this app.
3D Yoga Anatomy: The app offers a 360-degree view of over 40 key poses and variations, illustrations of muscle movements, and detailed alignment instructions.
Yoga Online Class Planner: This is another free yoga sequence builder app where you have 100+ Yoga Poses and you can simply Drag & Drop to build your plan. Also, you can reuse your existing class plans or create and Publish Handouts and even Publish Class Plans on Twitter and Facebook. If you want more from this app you can use its paid version
Yoga Sequence Builder Software
There are many online yoga sequence builder software also available to build your yoga sequence. Here are a few of the best ones.
Yogidia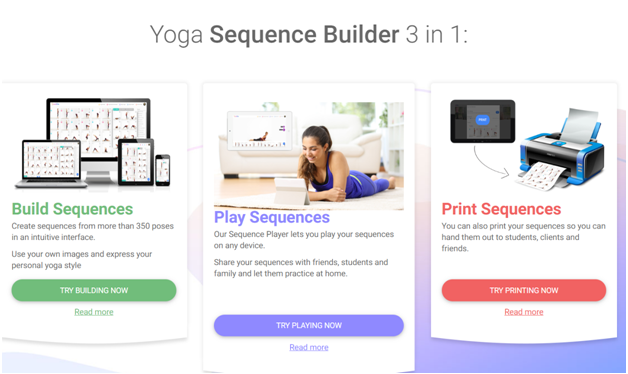 With this yoga sequence builder software, you can create custom classes for your clients. Create sequences that reflect your personal style – or experiment with new styles, asanas, and composition. Also, you can easily print sequences and use them in class or as handouts for your students. Or share sequences online with anyone you like – either custom made or for a general-purpose – and have them practice at home like breathing, pranayama, alignment or meditation or nay yoga class you want.
Click here to visit now
Work Out Labs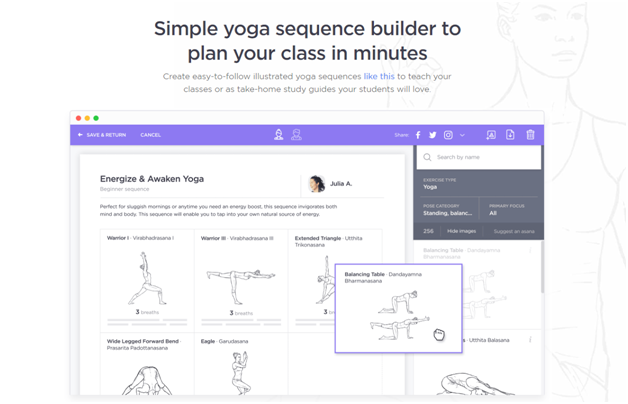 You can create custom routines using workout builder software. Make full use of their professionally-illustrated library of yoga poses and pranayamas with female and male versions, with more being added monthly or explore the full list of poses or quickly find the right asana via search or by filtering available poses by any type that you want. Also, you can print or download your yoga sequence whenever you want on any of your device be it PC or mobile.
Click here to visit now
Daily Burn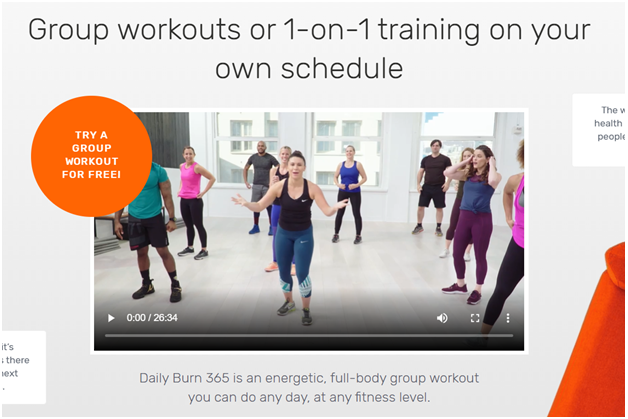 Daily burn is another online tool where you can have tailor programs for your level and goals—including a schedule of workout videos to follow, nutrition plans, even rest days.
Click here to visit now
George Watts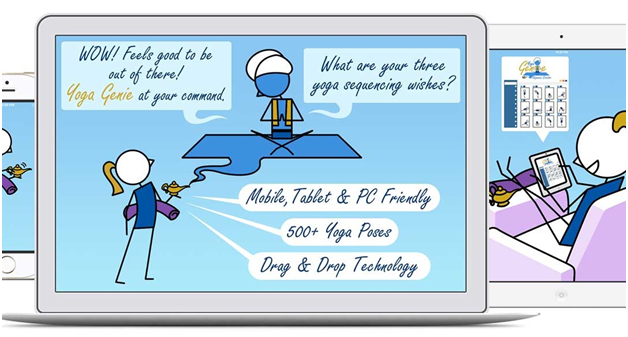 With this online software, you can create a yoga lesson plan in less than 5 minutes. Choose from 1000+ poses. Access 10,000 lesson plans. Create your own plans. Share plans with your students. Request poses. 24/7 support. 1000+ pose tutorial videos. Print, or take your tablet to class.
Click here to visit now
Besides these best yoga sequence builder software, you can find many others online but you have to look at their feedback from other yoga instructors and find out which serves your purpose.
Yoga Poses Software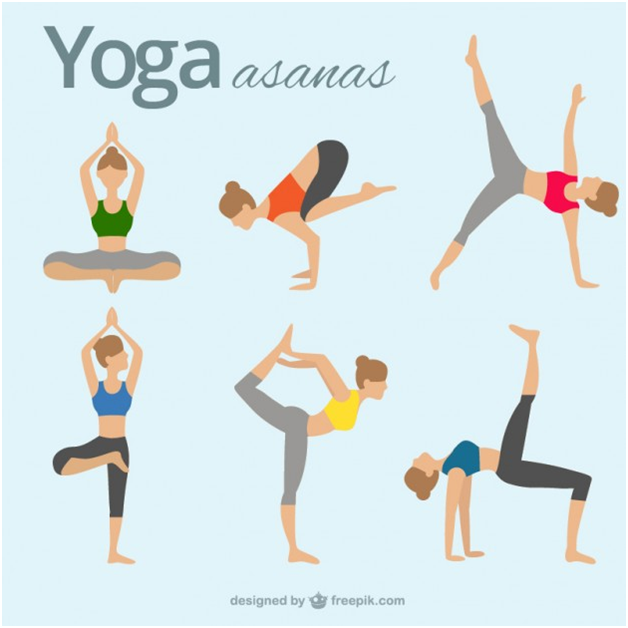 For specific yoga poses sequence builder the above apps and software also come in handy like Yoga Class Plan, Daily Yoga and others. There are though particular yoga poses software as well to use. Here are a few of them to use for yoga poses.
Muscle and Motion: With this software, you can build a balanced vinyasa to improve lesson results and get precise anatomical analysis of classical asanas. You can see all the muscles in 3D and get knowledge of body movement so that your yoga poses sequence does not cause any harm to your student.
Click here to join now
Freepik: With this free software you can get the best high-quality content: illustrations, photos, icons, mockups, and presentations templates for various yoga poses.
Click here to join now
iYoga Premium: With this software, you can get yoga's amazing motion technology that captures the delicate movements, correct posture and positioning for over 190 different poses (over 80 poses included within this app and a further 110 advanced poses available as an in-app purchase).
Click here to join now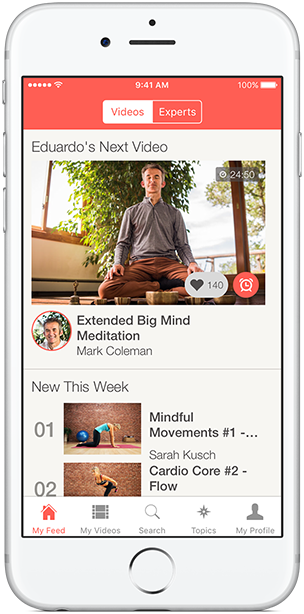 Click here to get the Yoga poses Flashcard software
For another yoga freeware software for yoga poses click here to download now
Yoga Point offers various software for yoga poses to learn
Click here to get yoga download programs
There are many other free and paid yoga poses software you can have and make use of it.
Finally, if you ask me which Yoga sequencing app is best then I would say that app which creates a sequence that I want and I am able to print it and distribute or share it with my customers. For my own particular way of teaching a certain yoga pose or yoga type especially mediation which is quite unique with every yoga instructor and varies in technique at yoga studios, I would be a bit creative myself and build my class plan. But when it comes to other types of Yoga, Yoga sequence apps can be handy saving my time and energy to build one for my class.
Sours: https://software.kriya.com.au/yoga-sequencing-app/
Which is the Best Time-Saving, Yoga Sequencing App?
A Yoga Teacher's Review of Sequencing Apps and Programs 
The most frequently asked questions I get from yoga teachers are about how to sequence a yoga class. Yoga teachers are constantly looking for sequencing inspiration and ways to make their vinyasa flows creative, juicy, and so not time-consuming to create. I decided to give three a test run and compare their cost, efficiency, and ease of use. I tried three online sequencing options:
Yoga Class Plan
Sequence Wiz
All of the sequencing programs I tried offered a two-week free trial as an incentive. The annual pricing of each program was comparable. costs $69.95 per year (or $8.95/month), Yoga Class Plan is $109, and Sequence Wiz is $120 per year (or $12/month) with all pricing in USD. [prices as of Feb. 2019]
My first impression was that Tummee and Yoga Class Plan were similar to each other with color picture graphics and functionality. Both allowed you to build your sequence with 'drag and drop' options from a full page of postures.
Sequence Wiz had a lot of great information on HOW to build a sequence including an encyclopedia of blog posts on the topic. The actual drag and drop development of the sequences seemed secondary to the focus of supporting yoga teachers in all aspects of teaching. The part where you actually build your sequence wasn't as aesthetically pleasing and felt less user-friendly than both Tummee and Yoga Class Plan. The images were black and white stick figures and it took me a while to get clear on how to use the system.
Methodology for Testing Sequencing Apps
Using my free trials, I created a prenatal sequence on all three platforms in order to truly compare them against each other. Across the board, one thing's for sure, it took me forever to create a single sequence and I got really frustrated trying to find postures and variations on postures. Sometimes the names I would know for certain postures wouldn't match the names of the postures in each website's database. This tested my patience just a little but certainly was not surprising.
Final Review of Tummee Yoga Sequencing App
was initially easier for me to use. The process was clear, simple, and I was impressed by the sheer quantity of postures and variations on postures available. There were many variations I'd never seen which provided some inspiration in building my sequence.
Final Review of Sequence Wiz App
Sequence Wiz was harder to navigate (which may have something to do with me skipping the 'how to' intro video). It has both a sequence builder and a pose editor which seemed like a lot of work when I realized it was up to me to edit the actual postures.
Final Review of Yoga Class Plan App
I liked that in Yoga Class Plan I could change the names of the postures to fit what I was familiar with (and to match what I use in class). I also liked that I could view over 5000 shared plans on the website if I was feeling stuck. What I didn't like was that a credit card was required to start my free trial whereas the other companies didn't require a credit card.
My Opinion
Overall, my favorite platform to use was Tummee and my least favorite was Sequence Wiz. That being said, I still think that nothing beats getting on my mat, moving how my body instinctively wants to and then using a pen and paper to write down the sequence!
I can see myself using one of these sequence builders for my private clients, though. It would be great to create a sequence for a client, print it out and give it to them to practice. Nevertheless, as a yoga instructor who spends way too much time working on her computer, having another task that requires me to sit down and stare at a screen is so not my jam. So, peace out, sequencing apps. Maybe I'm old-fashioned but I'm channeling my own stores of creativity and intuition to create my class plans from now on.
Sours: http://yogateacherprep.com/best-yoga-sequencing-app/
3 ways to create a yoga class sequence printable PDF
10 Mobile Apps Every Yogi Should Have
Imagine having a resource that tells you all about that yoga pose you were wondering about, shows you sequences involving that pose, recordings that talk you through it, timers, muscle group indicators and more? Well, a quick look through a few applications available for your mobile phone will show you this is a definite reality!
Here's a round-up of the best yoga apps around for both Android, iOS devices (both iPhone and iPad), Amazon Kindle Fire, Mac and Windows Phone. Some common features that many of them have include:
The ability to build your own timed sequences (known in different apps as classes, or sessions!)
A pose dictionary (sometimes with translation between Sanskrit and English)
The ability to schedule reminders for your yoga practice sessions
Muscle groups that are used are made visible
1. iYoga Premium
An incredibly detailed yoga app, showing muscle usage and multiple angles! This app from 3D4Medical for the iOS devices (iPhone, iPad) is quite amazing! Not only does it allow you to see which muscles are being used, it also has a library of poses, built-in sequences, and a sequence builder to create your own.

A cool feature of this app is the ability to see the active muscle groups for each pose. It also provides written and verbal instructions as well as a timer for your practice. Poses and other details can be shared through social media or email.
This app is part of a series using 3D visualization of the human body in action, with a focus on anatomy and muscular/skeletal engagement. iYoga is a well thought-out app, containing everything you need for yoga on the move, or to look at your practice in more detail!
Platform: iOS (iPhone and iPad)
Price: Comes as a premium version (£4.49) ,with add on advanced pose sets (in-app purchase £1.49)
2. Yoga Studio
This app features a clear design that is easy to navigate, with the added advantage of syncing yoga sessions to your calendar! Yoga Studio allows you to build your own yoga sequences, save them as classes, and schedule your practices using the built-in calendar. The library contains 280 poses with detailed instructions and, if you prefer, you can follow one of the 65 classes that come with the app rather than starting from scratch.
Platform: iOS (iPhone, iPad, iPad Mini)
Price: £2.99
3. Yoga.com Studio
This app is simple and easy to use, and has some great features for beginners to yoga. It contains 300 poses and 45 predefined yoga sequences complete with breathing exercises and 3D muscle images, and the option to create your own sequences. What sets this app apart is the four levels of difficulty you can choose from: Beginner, Intermediate, Advanced and Guru!
You can share your exploits with this app via social media or email and it also has its own community called Inspire that you can join.
Platform: iOS (iPhone, iPad), Android, Amazon Kindle Fire
Price: £2.99
4. Daily Yoga
This app is great for regular use and has a wide range of yoga sessions and sequences. It even has a reminder for you to do your next practice! Daily Yoga has over 300 poses and 40 built-in sessions, combined with 18 background music soundscapes for your yoga class. The videos are high-definition complete with voice over instructions. You can also choose from one of three levels of difficulty. Combine that with customisable class lengths (5, 10, 15, 20, 30 or 45 minutes) this app is one of the most versatile on the market.
The pre-installed programmes include "Daily Yoga For Abs," "Yoga for Weight Loss," or "Seated Yoga Routine." The sequences in this app are drawn from various schools, most notably: Ashtanga, Hatha and Vinyasa.
Platform: iOS (iPhone and iPad), Android, Windows Phone
Price: £2.99
5. Pocket Yoga
Pocket Yoga boasts integration with the Apple Health App, so all data from your sessions can be recorded and logged. This includes calories burned, time spent doing yoga, and even your heartbeat. The app guides you through each pose with voice instruction, including breath work. The poses are illustrated rather than HD video, which allows for a much smaller app in your device.

The app logs your activity, and as you progress you can unlock new environments, a bit like badges of achievement. You can also choose to practice to your own music playlists, which is a nice touch!
Platform: iOS (iPhone, iPad), Mac, Android, Windows Phone
Price: £2.29
6. Pocket Yoga Practice Builder

Building on the success of the Pocket Yoga, this app takes the idea one step further. On top of all the features available in the basic version, you can also build your own sequences and send them to friends. You can share your sequences in several ways, using email, messaging, AirDrop (iOS) or converting the programme to a PDF. There are 200 poses in the dictionary, and you can set the duration for each pose independently. Even the voice over can be tweaked!
Platform: iOS (iPhone and iPad)
Price: £2.29
7. My Five-Minute Yoga Practice
For the person who needs yoga anywhere and any time! The idea behind this app is to build quick and regular yoga sessions into your schedule. It has 11 five-minute sessions built in, as well as some longer options for when you have more time.

The programs fall under several categories, such as "Energising When Getting Up," "Meditation Time," and "Calming Down Before Sleep." It even gives you the option to categorise your homemade sequences as well.
Platform: iOS (iPhone and iPad)
Price: £2.29
8. Kids Yogaverse: I am Sun, I am Moon
Kids Yogaverse is an amazing series of apps for kids of different age groups. It's very colourful and attractive with hand painted backdrops and carefully crafted stories that introduce 19 different yoga poses.

There are some built in games as well, such as "Find Ha," the Sun Warrior character from the main story, who hides among the artwork on the pages! Ha joins Tha, the moon princess, in a story which brings together the sun and moon salutations.
Platform: iOS (iPhone and iPad)
Price: £3.99
9. Flying Therapeutics
You'll enjoy this app if you're interested in partner yoga or acro-yoga. This app comes in two versions, beginner and advanced, with each forming a complete course.
The beginner's version comes with three flows: First Steps, Front Flow, and Back Flow. The poses and sequences are illustrated with full HD video, resulting in a hefty 400MB application! Every move is also accompanied by a text description.
Platform: iOS (iPhone and iPad)
Price: £4.99
10. Yogify
This app was developed by Electronic Arts and is completely free! It app contains over 30 hours of yoga classes, which range in difficulty from beginner to advanced. There are over 275 poses built-in with photo illustrations, audio and help tips. You can purchase add-on classes with varying degrees of difficulty, and focusing on particular aspects such as strength or flexibility.

Despite some slight bugs (images cut off on the main screen, sound fading out a little early at times) it has a very clear design and is easy to use for your own home sessions or for mobile sessions at work.
Platform: iOS (iPhone and iPad)
Price: Free
Let's Get Downloading!
As you can see, there's a diverse and imaginative range of yoga apps to inspire and inform you and that's just for āsana! Feel free to check out my other article about some great meditation apps. The hardest part is actually looking through the ones available to see which works for you. Keep in mind, some of these apps can be quite high in memory and data usage, especially if using HD video rather than animation. Keep in mind the limits of your mobile device and phone plan while checking out these apps.
Did any of these apps work for you? Did I miss one of your favourites? I'd love to hear about your experiences with yoga apps on your phone in the comments below!
Sours: https://yogalondon.net/monkey/10-mobile-apps-every-yogi-should-have/
App builder yoga free sequence
Screenshots
Description
Creating your custom yoga sequence has never been easier! Pocket Yoga Teacher allows you to build, edit and share complete yoga practices.

Make a practice in minutes: select your desired poses, adjust their order and duration, add music, and you're done! Try your practice by following along with the voice guidance, or share it with the Pocket Yoga Community and see what they think. Perfect for yoga teachers or intermediate to advanced level yogis.

Create
• Choose from over 400 poses, including variations and transitional poses.
• Follow suggestions on which pose to add next or choose from a complete list.
• Move poses around to your desired order.
• Add loops to repeat a set of poses, like a Sun Salutation.

Edit
• Set the duration to hold each pose.
• Adjust the voice guidance.
• Adjust the side and direction of each pose.
• Add music from Spotify, your music library, or our built-in selection.

Share
• Share your practice with the Pocket Yoga Community and spread well-being to the world.
• Email, Message or AirDrop a practice to your friends directly.
• Import your practices into our companion app, Pocket Yoga, to use its additional features.
• Create beautiful printouts for yourself or your students.
• Convert your practices to PDF documents.
• Play your practices on your Apple TV.

Pocket Yoga Community
Discover inspiring practices from yoga teachers around the world and share your own sequences! Download a practice, try it out, and see how other yoga teachers are sequencing their flows. The Pocket Yoga Community allows you to explore different yoga styles, get feedback on your practices, see full practice previews, and much more.
• Full support for iOS 15
• Support for the new iPhone 13 and iPad mini (6th Generation)
• Improved printing
• Technical fixes

If you're enjoying Pocket Yoga Teacher, please leave us a review or rating in the App Store. It really helps us. Namaste!
Ratings and Reviews
Screen Mirroring is not mirrored
This is a decent app, and is helped by the fact that it is not subscription based.

I can see where they were going with this; when one uses the app with a smart TV to 'mirror' one's screen, the screen doing the mirroring will only show the 'preview,' being the lady in the selected environment. You can not show a scrollable version of one's sequences on a monitor, which would be most useful for helping teach in a home/online setup, for example. It would be nice to be able to just have plain mirroring, too, for group collaboration.

The app would be much improved by giving options of what can be shown on a mirrored screen and a choice of background color, to help protect eyes.
User Friendly, Seamless Integration - Need Watch App
This is the only app worthy of spending $10. Considering it's much cheaper than all of the other subscription yoga apps, it's a winner for me. Great for all spans of knowledge of yoga practice; you can access a community of teachers that create workouts you can download. Also, when crating workouts, they are very customizable with breath counts, timers, adding music, repeats and holds for poses. They have a TON of moves available with very soothing and helpful voice guiding (optional). Using this app on the iPad is much better than the phone because it'll give you pose names and descriptions for each. My favorite feature when creating workouts is the Suggestions tab that gives you options for next poses based on the previous pose. This can be very helpful to someone with little knowledge of yoga flow especially vinyasa. I've already recommended this to all of my yogi friends! My only complaint is that it doesn't have a watch app yet🤞🏼
Bravo
These folks designed a fine pair of Yoga applications. The drawings are simple and provide a clear picture of the asana. The voice is pleasant. The spoken instructions are well-timed, concise, clear, and instructive. I am sure I could say the same about any number of other Yoga applications.

So what brings me to this rave review of 'Pocket Yoga Teacher?' I wanted to construct a series of poses in 'Pocket Yoga Teacher,' and it balked at doing them in the order I proposed. Suspecting a bug in the program, I contacted support and got a prompt reply from support. Let me repeat that. I GOT A PROMPT REPLY FROM SUPPORT. The folks supporting the application pointed out problems with the series of asanas I had in mind and offered improvements. The problem was an operator failure (me) and they corrected it.

These folks know a lot about Yoga and programmed it into their applications. It may not be blatantly obvious, but it was there lurking beneath the surface to help me.
The developer, Rainfrog, LLC, indicated that the app's privacy practices may include handling of data as described below. For more information, see the developer's privacy policy.
Data Not Linked to You
The following data may be collected but it is not linked to your identity:
Privacy practices may vary, for example, based on the features you use or your age. Learn More
Information
Seller

Rainfrog, LLC

Size

237 MB

Category

Health & Fitness

Compatibility

iPhone

Requires iOS 13.0 or later.

iPad

Requires iPadOS 13.0 or later.

iPod touch

Requires iOS 13.0 or later.

Age Rating

4+

Copyright

© 2009-2021 Rainfrog, LLC

Price

$4.99
Supports
Family Sharing

With Family Sharing set up, up to six family members can use this app.
More By This Developer
You Might Also Like
Sours: https://apps.apple.com/us/app/pocket-yoga-teacher/id471786434
Yoga Sequence Builder - Tutorial
A sequence is like a road map for your 30, 60, or 90 minute yoga class. Without it, you lose focus and momentum.
Many yoga teachers follow traditional sequences like Sun Salutations, Bikram, Kundalini, or Vinyasa. Others have visions in their head or flows from their own mat that they want to bring to their classes. But how do you get those sequencing ideas into concrete form as a paper or digital reference?
Thankfully there are dozens of yoga sequencing apps designed to help yoga teachers solve this problem.
Here we'll review the best yoga apps for sequencing your classes and explore the pros and cons of each, as well as some valuable tips for designing the perfect asana sequences that will best benefit your students.
The Bell Curve of Yoga Sequences
Most yoga classes follow the same general sequence:
Warm up the body
Standing poses
Peak strength/challenge poses
Floor poses
Savasana and relaxation
As you can see, this "base sequence" looks a lot like a bell curve in terms of intensity. You start off gentle, warm up, slowly move into more challenging asanas, then settle down and eventually return to relaxation.
Obviously this leaves a lot of room for personal interpretation and creativity. Teaching yoga gets fun when you infuse a sequence with your unique style.
A little improvisation and inspiration ensure that classes aren't robotic. But you definitely don't want to wing it!
Planning in advance with a yoga sequencing app will help you clarify your vision and goals for a specific yoga class, and be sure that it flows naturally for your students.
How to Sequence a Yoga Class for Your Target Student
Whether teaching online or in person, you probably know by now how important it is to have a yoga niche. Your yoga niche defines exactly who your target student is and what you offer them as a teacher.
As you design your students, think about your target student and their unique goals.
For example:
Pregnant yoga students probably have a lot of back pain and are looking for stress relief
If your students are athletes they are probably seeking strength-building and greater flexibility
Elderly students likely need gentle stretches and poses that are easy to modify
Yin yoga students may want deep relaxation and hip opening
Fitness-focused yoga students want a nice raise in heart rate and enough challenge to break a sweat
Regardless of who your target demographic is, be sure that you know what they are looking for. Design your sequences with one or two specific goals in mind. Focus on specific body parts, breathing practices, spiritual goals, or general achievements like stress relief. The below apps will help you search for poses that meet the specific needs of your target student. 
| | | | | | |
| --- | --- | --- | --- | --- | --- |
| Yoga Sequence App | Best for | Pose Library | Reference Sequences | Styles | Price |
| Tummee | Best Overall | 4,000+ | 500,000+ | Hatha, Yin, Restorative, Chair, Prenatal, Power, Therapeutic, and more | $69.95/year or $8.95/month |
| Yoga Class Plan | Best for Computer Use | n/a | 5,000+ shared | n/a | $109/year |
| Sequence Wiz | Best for Premade Sequence | n/a | n/a | n/a | $120/year or $12/month |
| George Watts Yoga Genie Lesson Planner | Best for Online Courses | 3,000+ | 10,000+ | Hatha, Partner, Ashtanga, Bandhas, Bolster, Chair, Kundalini, and more | $99/year |
Top 4 Yoga Sequence Builder Apps
These days there's an app for everything, but that doesn't mean they're all functional and well-designed! The best yoga sequence building apps must be created specifically with us yoga teachers in mind. We sorted through the top yoga applications to find the best programs for Yoga Nomads.
When selecting a yoga sequence building app, here are a few questions you may want to ask as you peruse the available features:
How many yoga poses are already in the program?
Are cues included in the sequence builder?
How much customization do you have?
Can you add/delete props or flip poses to show different sides?
Is there a library of pre-made sequences to build off of?
Can you enter notes for yourself?
What is the pricing of the app? Is it a subscription or flat fee?
What platforms it's available on (phone, laptop, tablet, etc.)
How intuitive is the sequence builder?
1. Best Overall: Tummee
Tummee.com is one of the best rated yoga sequencing apps thanks to its massive library of poses, cues, and sequences. It is available as a mobile app for iPhone and Android, or for use on a tablet.
The Tummee interface makes it super easy to create, view, edit, and share yoga sequences on-the-go. Each pose has its own clear cartoon drawing with the associated Sanskrit name. There are also lots of built-in variations using blocks, bolsters, straps, and more.
I particularly love that Tummee offers free Sanskrit learning content. There are audio pronunciation guides to help you properly pronounce the Sanskrit names of your favorite asanas, as well as quizzes to solidify the information. You can dive deeper into the meaning of root Sanskrit words that will help you be more knowledgeable and with your students.
Perhaps the coolest thing about Tummee are the customization features. You can add YouTube videos or music from Spotify, Apple Music, and Pandora to your sequences. You can also add breath type, counts, the duration of holding a pose, and custom titles to take your classes to another level.
As you build a sequence, you can search through the asana library by body part (eg. back), position (eg. standing), level (eg. beginner), and type of pose (eg. restorative). Tummee will definitely make you feel prepared and educated for your yoga classes, regardless of your teaching experience.
Pros
Accurate cartoon pose drawings
Intuitive sequence builder
Thousands of poses, cues, and pre-made sequences
Easy to organize your sequences
Sanskrit names and pronunciation
Customizable pose duration, breath type, etc.
Printable and shareable sequences for yourself, your students or private clients
Post yoga lessons on social media
Cons
Overload of features could get confusing
Best for Computer Use: Yoga Class Plan
Yoga Class Plan is an intuitive drag-and-drop sequence builder with customizable poses and easily printable class plans. The free trial is available for 15 days and lets you explore the sequence builder to its full capacity. You can modify existing plans and create new routines very quickly. The tech support is also very helpful.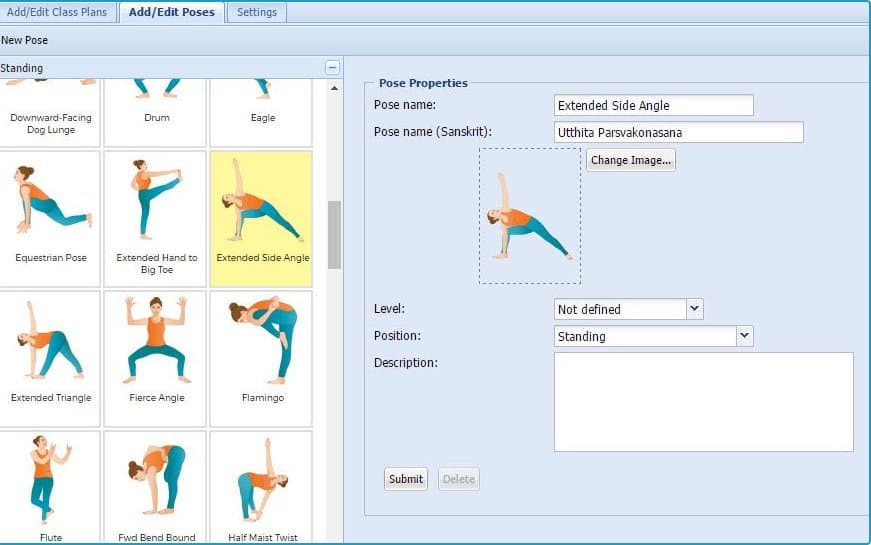 They also have a nice yoga directory with real human photos for teachers and students to reference online for free. Yoga Class Plan is primarily a computer-based platform and does not have a specific app for mobile devices.
Pros
Drag-and-drop builder
Clear pose drawings
Edit your poses with names, movement notes, analogies, experience level, etc.
Your specific poses are saved for future use in your personalized pose library
Easy to print lesson plans
Easily organize lists of class plans
Look at class plans from other teachers in the community
Search by experience level, class length, etc.
Cons
No specific app for mobile devices
Less customization available for variations and props
Less social media shareability
Higher price point
3. Best for Premade Sequences: Sequence Wiz
In the Sequence Wiz app, you can access a shared library that has been carefully reviewed for safety and effectiveness of different yoga flows. There are even practice videos included with many of the sequences.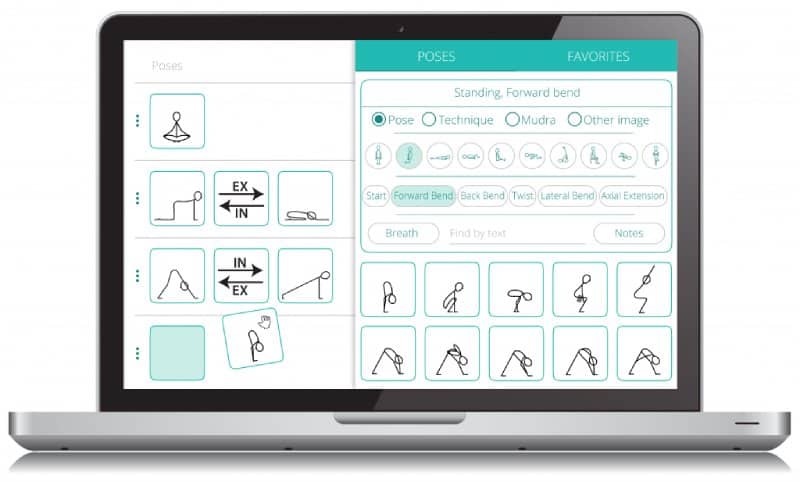 A few of the cool Sequence Wiz features include the ability to add breathing techniques and mudras into a lesson plan, ability to customize poses, easily printable pose libraries, built-in pose editor, and quickly swap between different versions of a pose.
You can also insert transitions and exit strategies for certain poses, and spotlight specific muscle groups you hope to focus on during a flow. Membership gives you access to professionally designed handouts that you can customize with your logo, as well as regular yoga content and integration with the Sequence Wiz Student Management System.
Pros
Drag-and-drop sequence builder
Save lines and text from sequences in your Favorites
Add breathing techniques and mudras
Professional looking handouts you can customize with your logo
Cons
Stick figure drawings
No mobile app integration
Higher price point
4. Best for Online Courses: George Watts Yoga Genie Lesson Planner
The Yoga Genie Lesson Planner is the most community-oriented sequencing app. It includes a thriving Facebook community and access to over 10,000 existing lesson plans, some of which can be streamed and shared. You can copy, edit, modify, and create sequences specifically for your classes. It is compatible across devices and offers quick PDF downloads for offline reference.
George Watts also offers the ability to organize lesson plans into an online course. You also get loads of bonuses (like marketing plans, business kits, etc.) and access to the exclusive online community.
Pros
Organize lessons into online course
10,000+ existing sequences to copy or modify
Easy downloads
Easy-to-search poses in 83 categories (yoga style, therapy needs, anatomy, drishti, etc.)
500+ pose cues
Add and customize your own poses
Sanskrit names included
Compatible across mobile devices
Tons of bonus flyers and templates
Cons
Free Yoga Sequence Builder Apps
If you're looking for something cheaper or more temporary, there are also plenty of free sequence building apps. While they don't have all the features of paid apps, these options are still super valuable tools for any yoga teacher.
5. Yogidia
Yogidia has a lovely online community that you can join for free and access their sequence builder. They have over 350 asanas in their library and the ability to upload your own poses to use in the builder. You can add breathing cues, lengths, alignment cues, and meditations. Plus, the sequences can be shared, played, and printed across all devices.
6. 5 Minute Yoga Workouts
This simple iOS app offers quick poses for beginners with clear photos and descriptions. You can use the built-in timer to track the sequence time and create quick, effective flows.
7. Yoga Sequencing Assistant
This free app includes over 120 poses and series for beginner, intermediate and advanced. You can build from existing sequences or drag-and-drop poses to create new ones. This app is designed for amateurs and professionals, so it can easily be modified for online yoga teachers.
Top 7 Tips for Sequencing a Yoga Class
Focus on what you know. Don't try to insert overcomplicated new poses that you aren't familiar with. A well-cued simple flow will always be more beneficial than a complicated sloppy one.
When in doubt, follow the standard format of sitting poses, standing poses, prone poses (belly down), and then supine poses (back down).
Ease into peak poses like intense hip or back openers. Always start soft and easy to ensure your students are thoroughly warmed up.
Time yourself performing a sequence to make sure that you aren't holding poses for too long or too short of a time.
Practice cues aloud in the mirror, or ideally with a trusted friend. If you want to offer hands-on adjustments, be sure to practice these on a fellow teacher before trying with students.
Set one or two central goals for each sequence. For example, hip-opening and stress relief would be two easily accomplished focus goals for a 30 minute class.
Sketch out a general idea of your sequence before inputting into an app. It's nice to know where you're going
Sequence building is a rewarding and creative effort that I sincerely hope you learn to enjoy! It is one of the greatest forms of expression for a yoga teacher. Make it your own!
Namaste!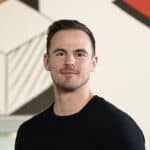 About Julien
Julien Raby has been in the web marketing industry for 15 years. An avid yoga practitioner himself, he's now the full-time owner of The Yoga Nomads where he helps yoga teachers earn more from their passion.
Sours: https://www.theyoganomads.com/yoga-sequence-builder/
You will also be interested:
Yoga Sequence Builder
Yoga Sequencing Made Easier for Yoga Teachers
Plan Your Yoga Classes from a Library of 4000+ Yoga Poses
| Get Yoga Sequencing Ideas from 500K+ Yoga Sequencing Lesson Plans
| Teach with Confidence with 1M+ Reference Cues
Yoga Sequencing App Trusted by Yoga Teachers Worldwide
Highest Rated Yoga Sequence Builder

Looove this platform!! As a new yoga teacher, I find the sequence builder very very helpful! I can create classes within minutes, with literally EVERYTHING customized exactly the way I see fit. Every tool up here is designed with the sole purpose of helping yoga teachers elevate and that is so vital in our line of work. Tummee definitely has our back. Whatever you need, you can find, design and create here!
Tori Nilaja, Yoga Teacher, RYT-200

"I am a 71 year old yoga teacher. I have been teaching yoga for more than 40 years, and been a practicing yogi for 50 years. I have used Tummee for almost 5 years now, and I can tell you this site is better than any other I have used. I use the sequences and poses to create my own sequence and modify the poses for the seniors I now teach. I love the information they provide. I teach four different classes, with different levels of flexibility, including chair yoga".
Sandy Schafer, Yoga Teacher, RYT-500
5 out of 5 stars on Facebook
Read 200+ 5 Star Reviews by Yoga Teachers
Grow & Learn
500K+ Yoga Sequences
Perfect the art of yoga sequencing with 500,000+ yoga sequences covering different styles of yoga - Hatha including peak poses, Yin, Restorative, Chair, Prenatal, Power, Therapeutic and more.
All these yoga sequences are designed by yoga teachers from around the world using our yoga sequence builder.
Easily add and edit shared yoga sequences
| Get cuing ideas for 4000+ yoga poses
| Learn from yoga teachers around the world
Teach creative yoga classes & attract more students
Discover variations of different yoga poses to teach in your yoga classes with blocks, straps, chairs, bolsters, and more. Attract yoga students of all levels and abilities.
Signup today to discover new yoga poses and variations.
Use Sanskrit with confidence in your yoga classes
Learn Sanskrit titles of yoga poses and their meanings. Listen to audio pronunciation. Take quizzes to ensure you are learning.
Create & Influence
Teach impactful yoga classes efficiently
Sequence your yoga classes using our intuitive yoga sequencing app. Keep all your yoga sequences organized in one place.
Personalize your yoga sequences and poses
Add YouTube videos and Spotify/Apple Music/Pandora playlists to your yoga sequences. Rename yoga pose titles in your own language. Add breath type, count, duration and more for each yoga pose.
Become an influencer
Easily share your yoga sequences and cues in your yoga class plans online with your private clients. Post your yoga lesson plans on your blog, Facebook page, Instagram, Pinterest, and more.
And More ...
Improve with insights on yoga lesson plans
Stats for your yoga sequences help you stay on track and create targeted yoga sequences.
Get beautiful yoga class plan templates
25+ print templates for your yoga lesson plans portfolio and to share with your yoga students.
Yoga wisdom
Easily reference lists of yoga poses to plan and design your yoga classes using our intuitive yoga sequence builder and yoga class planning app.
Yoga Sequencing App
You can use Tummee.com yoga sequencing app just as a mobile app on your iPhone, Android phone and iPad.
With our easy to use mobile interface you can create, view, and share your yoga sequences on-the-go.
Our 4000+ yoga poses, daily reference yoga sequences, and yoga sequencing guides are conveniently available to you in the palm of your hand with our yoga sequencing app!
Our Yoga Sequence Builder & Yoga Class Planning Software is Trusted by Yoga Teachers Worldwide
15 Days Free Trial
| Build Yoga Sequencing Foundation with Sequence Guides
| Get New Yoga Sequences and Cues Daily
Join Thousands of Yoga Teachers and Growing
"I have to say that your yoga sequence builder site is INCREDIBLE - I absolutely love it!! I've recommended it to all of my classmates and instructors. I'm getting preparing to graduate my RYTT in about 6 weeks and your sequence builder has proved invaluable. It's taken away all the fear and reservations I had about putting my yoga sequence together - which is an amazing feeling (:

Thank you so much for the outstanding customer service and for creating such a wonderful sequence builder!!"
Stacey Kelly, RYTT-200
"I think your yoga sequence builder website is one of the best existing tools. I recommended it to my yoga teacher colleagues."
Monika Zameta, Yoga Teacher
"I ultimately decided tummee.com yoga sequence builder is the platform for me because of two main things: I was able to save and share all my yoga sequences in my own library and the great support and customer service for adding new yoga poses and dealing with any questions. Thank you!"
Coral Del Mar, Sound Method Yoga, RYT-200
"Thank you! Your yoga sequence builder has been a wonderful tool for me, as it has enabled me to provide additional assistance to private yoga clients with specialized sequences tailored to them and a place to save favorite yoga sequences for my group classes."
Francine M. Gausch, YogaLife Institute RYT-200
"I am quite excited about your yoga sequence builder. I recently was certified and I find that it is much easier to sequence and teach using pictures than a script!"
Samantha Seidenberg, Blue Sun Yoga, RYT-200
"I have been telling everybody about your yoga sequence builder. Two of my instructors seemed very impressed with it. It's so much easier to glance at a yoga pose rather than write them out. I really like the statistics and the ability to narrow poses down by type and skill level. It also keeps all my yoga classes stored in one place for easy reference and modification.

I'm a student but will be graduating in two weeks and I only have four classmates but I will definitely spread the word! Thanks for your hard work! "
Anne Vandehey, Yoga Teacher in Training, Radiance Yoga Health
15 Days Free Trial
| Build Yoga Sequencing Foundation with Sequence Guides
| Get New Yoga Sequences and Cues Daily
Learn. Grow. Create. Influence. Inspire.
Sours: https://www.tummee.com/
634
635
636
637
638