The aim of Family Days Tried and Testedis to promote natural play, roaming free, creating childhood memories like they should be, full of happy times regardless of finances, surroundings, abilities or amenities. Grubbiness is their normality and noise is their peace!
How did you get started in blogging, then?
I started blogging shortly after our 6th child arrived. As an active family that lives on the breadline but still achieves magical moments with our children, it was suggested to me that I should start a blog to show others what can be achieved with very little or no money in your pockets.  We love natural play with a twist, it just takes a little effort and bucket loads of imagination to make magical memories that'll last a lifetime. It doesn't always go to plan and the sun doesn't always shine but we have fun in trying!
What did you do when you found out you were a MADS finalist? 
As a relatively new blogger that hasn't got a clue about the running of a blog and continues to get by through winging it, I was shocked, humbled, proud & overwhelmed to say the least. Unfortunately the news came in the midst of losing a baby so as pleased as I was, the news sat a little on the back burner whilst we regrouped as a family. When the time seemed right and we regained position I was very pleased in sharing the news with our social media followers, whom in turn were very pleased for us.
Can you describe your MADS outfit in three words? What do you mean you haven't thought about it yet? (If you haven't, are you going formal, informal, sleek and slinky or casual?) 
Won't be wellies!
Who are you most looking forward to meeting at the awards ceremony and why? 
Honestly? I'm still trying to work out the whole blogging concept and at the moment I must admit to not knowing anyone, but I'm sure with all the fantastic blogs I've been looking at since hearing the news, there will be plenty I'll be in awe of on the night. I'm a bit shy so no doubt I'll feel a little star struck having ventured from Wales to big city for the event!
As a finalist, you're undoubtedly very wise. Tell us something you've learned about life and the universe, through blogging: 
I've learnt that dysfunctionality whilst raising children is an accepted norm. I've also learnt that the most important thing is to enjoy it, don't force it, and that the best responses come from the most unexpected of things.
Best. Post. Ever. What's yours? 
That's a hard one, I have two.  Most recently one about a magical themed picnic. But the one I feel really sums us up and makes me smile to reflect on, is our list of things to do to make magical memories.
The MAD Blog Awards ceremony is a night away from the family. What's the first thing you'd do given a fancy hotel room ALL to yourself?  (We starfish on the bed. Every time.) 
Mostly likely coming from the chaos and noise of my usual surroundings I would have to just sit and revell in being able to collect my thoughts without little people tugging at me for something. And a bath without the addition of dinosaurs, nit combs and soggy bubble dispersing soap would be nice! I may not even make it to the award ceremony 😉
Anything to say to all the people who nominated you, and (obviously) voted for you? 
Thank you, really, thank you.
Aside from being nominated for awards (obviously) what's the best thing about being a UK parent blogger? 
For me the best thing is not only inspiring others but also in doing that inspiring myself. That's what it's all about right?
Find Family Days on Facebook
Sours: https://www.tots100.co.uk/2014/05/18/meet-the-finalists-family-days-tried-and-tested/
pack up the car and discover THE GREAT EXPERIENCES the country has to offer this summer
Summer is here, the teenagers are off and the primary school holidays beckon. Once again we're about to be plunged into a whole lot of family time. This time, however, there is a potential for fun as normality begins to return and the places we love to go reopen to the public. We received lots of recommendations of places to go and things do with children of all ages. So, given the restrictions and reopening schedules, we set off to experience some of the places we could for ourselves, and saw what they had to offer families this summer.
Dublin Zoo
A perennial favourite, no matter what age you are, which is pretty handy when you have children of all ages and stages. The zoo is looking a little different these days, but there is still plenty to see and a great day to be had.
Tickets must be booked in advance, even for annual pass holders. When you book this time, however, you'll be given a time slot to arrive rather than just a morning or afternoon session as was the case after the first reopening.
The zoo's layout is one-way only, so take extra care not to miss any of the animals you'd like to see on your way around, as you won't be able to turn back.
With the new layout, it is much easier to get a glimpse of many of the animals and it all feels very safe. The elephants were the undisputed favourite here – the tussling between two brother elephant calves until one ended up in the water proved all too relatable for my children.
The playgrounds and indoor animal houses still remain closed and, when we visited, there was very limited seating which is obviously problematic when you have children with you, want to stop for lunch, or indeed if you tire easily on the walk around. So if you have a child on the cusp of no longer needing a buggy, make sure to bring the buggy anyway for an easier life.
Tickets can be booked on the zoo website and different family rates are available, as are discounted rates for students, seniors and adults with additional needs. Carers and children under three go free.
Dublin Bay Cruises
If you fancy seeing the Dublin coastline from a different perspective, Dublin Bay Cruises offers that opportunity. On a beautiful, sunny afternoon, we set sail aboard Dublin Bay Cruises' St Bridget vessel from Dún Laoghaire (you can also hop aboard at Howth and the city centre). Excitement levels were high, especially for the children who had never been on a boat before.
We opted for the trip around Dalkey Island, with the children on seal-watch throughout. The trip took about an hour and with the weather on our side, everyone opted to stay on deck to take in the sights (though it is worth remembering to bring a rain jacket and sunscreen as it was windier off shore and it's easy to get sunburnt at sea).
Below deck are plenty of seats and tables if you prefer to sit in the shade or fancy availing of some treats and drinks from behind the bar. And once back on dry land, we headed for an ice-cream to finish our day (because you can't go to Dún Laoghaire without getting ice-cream!).
You can book a trip with Dublin Bay Cruises online here. Seats cost €25 for adults and children aged above three (with return prices also available).
Clara Lara Funpark, Co Wicklow
Pack a picnic, plenty of dry clothes and towels, and wear your oldest shoes (so old you never plan on wearing them again) for a trip to Clara Lara, which is sure to leave the whole family exhausted at the end of a very active day.
The funpark is aimed at younger children (under 13s) but older siblings are welcome to visit with their families too. From rowing boats to water slides, go-karts, climbing frames, Tarzan swing ropes and mini golf, there is loads to keep the kids occupied.
Did I mention how wet and mucky they're likely to get? That goes for husbands too, particularly the ones who try to show the kids how to use the Tarzan rope.
And there are barbecue facilities if you fancy bringing along a disposable barbecue. There are lots of seating areas too and you're welcome to bring a tent if the weather isn't great – or to shelter from the sun.
There's no online booking available for Clara Lara, you just turn up on the day. The price for adults is €16.50 and €22.50 for children. Those aged four and under go free as do senior citizens. For more information see the Clara Lara website.
Kia Ora Mini Farm, Gorey, Co Wexford
There are lots for the little ones and primary school-aged children to see and do at Kia Ora Mini Farm in the sunny southeast. And older children accompanying their younger siblings might even surprise themselves too, especially at the go-karts area where even the parents can join in on the craic.
Bigger rabbits than you've ever seen in your life, cows, sheep, pigs, alpacas, llamas and emus are among the animals that you get to see up close. And there is a playground and maze where younger children can play and burn off some energy.
The mini diggers were a big hit with my small boys, but the fire engine is not running at the moment due to restrictions. There is plenty of seating throughout the farm to stop for a picnic.
Advice is to book tickets online as walk-in visits can be accommodated only if there is availability. Tickets are €9 each and babies under 12 months go free. For more information see the Kia Ora Mini Farm website.
Fort Lucan Outdoor Adventureland, Dublin
Waterslides, a pirate ship, go karts, swing, ziplines and a helter-skelter are just some of the things on offer at Fort Lucan for children aged 13 and under.
Of course if you have teens who, out of the kindness of their hearts, volunteer to take their younger siblings on the water slides (repeatedly) then it's a great day out for them too. The park is open and spacious and there's plenty of places to sit and snack.
Booking is online and you can choose from a morning or afternoon slot and to take full advantage of all that is on offer it's advisable to arrive as soon as your booking allows for maximum play time.
Adult tickets €5, child general admission €12.50, child admission plus wristband (which allows unlimited turns on all rides) €22. Aged 2 and under goes free. For more information see fortlucan.com
Castlecomer Discovery Park, Co Kilkenny
This is one older children and teenagers will love, and active families too, although there is plenty to keep the smallies occupied. Castlecomer Discovery Park is home to Ireland's longest zipline – it's not for the fainthearted (like me) but was the best fun, I was assured by my much braver troops.
Treetop walks, canoeing, paddleboats, archery and orienteering are just some of the activities available and there's a junior woodland course, a bouncing net and an elf and fairy village for the younger ones. But be careful when booking as some activities are limited to certain ages and heights, so you might want to forewarn your younger daredevils that they might have to wait a few years before following their older siblings' lead.
Booking is online and as good as essential if you want to ensure your must-do activities are available on the day. Arrive in plenty of time for registration (30-40 minutes ahead of your first activity) as that caught us by surprise. Also allow sufficient time when booking for walking from place to place for activities and getting harnessed up, where applicable.
There are lots of places to sit and have lunch throughout the park. Comfortable runners/walking shoes and clothes are important, and if you or your children have long hair, it's helpful to tie it up for some of the activities such as the zipline.
For more information and prices for the various activities see the park's website here.
Tayto Park, Co Meath
There's something for everyone at Tayto Park, it's just about having the time to fit it all in. Most of the theme park attractions have reopened including the rollercoasters, viking voyage and the rotator (for those with steel stomachs), while the junior section has honeypots, rocking tug, the carousel and the Nissan driving school – to name but a few.
The zoo, playgrounds and water fun areas are all open (remember a change of clothes for the water fun area), but the circus, 5D cinema, skywalk, superhero climbing wall and Tayto factory tour remain closed.
Queues for popular rides were long the day we visited and rides were frequently sanitised in between. Strategic planning in advance is a good idea, as is adopting a divide-and-conquer approach if you have a sufficient number of adults with you. There are height restrictions on some rides and parents can join younger children on others if they so wish.
There are plenty of benches to stop, rest and eat, and plenty of places to buy food or have your picnic.
You must book tickets online (even members). All-access tickets cost €35, junior-zone tickets are €31, tickets for people with additional needs and carers cost €20 while children under three go free.
And if you fancy a family night out . . .
The cinemas are open again, hurrah! And, once you can all agree on a movie, it is a great family night out. I hadn't been to the cinema since the pandemic began, so I wasn't quite sure what to expect. Masks had to be worn in the lobby, but could be removed in the auditorium when eating. We were all seated together, and groups were spaced out. Aside from that, it all felt pretty normal. There are even some new movies out to enjoy . . . Peter Rabbit 2 is great by the way!
As recommended by other parents . . .
Spike Island, Co Cork
Adult €22, child €11, family (two adults, two children) €53, under-two free, spikeislandcork.ie
"Spike Island is an experience with a difference. A boat trip out from Cobh brings you to the island where you can explore its history, from fortress to prison, and enjoy magnificent views of Cork harbour. A memorable day out for the whole family. Don't forget layers, as it can be windier on the island than on the mainland!" – Sinead Fox, Wexford
Oakfield Park, Co Donegal
Adult €9, child €6, under-three free, family pass including trip on the train (two adults, two children) €35,oakfieldpark.com
"We love to take the girls to Oakfield Park when they need to burn off some energy. It has so much for them to explore in the quiet, private gardens and with a real, working steam train on 5km of tracks. Hedge mazes, nature walks, lakes, swings, playparks and fairy houses. Their imaginations run wild here. A great day out in beautiful surroundings." – Emmet Rushe, Donegal
Ardgillan Castle, Dublin
Free, ardgillancastle.ie
"Ardgillan has a nice fairy trail and lovely views over the ocean and an amazing playground. We finished off our day there with a drive to Skerries for an ice cream from Storm in a Teacup, which was amazing and so reasonable too." – Linda Cooney, Dublin
Turoe Pet Farm, Turoe Bullaun, Loughrea, Co. Galway
Adults €8.95, children €13.50, under-18mths free (children €8.95 while indoor areas closed), turoepetfarm.com
"Well-run, friendly spot with selection of farm animals (every child get s a bag of feed), astro pitch and play areas. Clever additions of large, fully covered playground and sand pit for rainy days. Particularly good for smaller children. Enormous indoor inflatable city and activity centre reopening on July 5th." – Rachel Collins, Dublin
Bunratty Castle and Folk Park, Co Clare
Adult €15.25, child €11.50, under-three free, family (two adults, two children) €40.85,bunrattycastle.ie
"Lots of interesting things to see – the different little cottages and house, the village, the castle, pet farm, fairy trail, great playground, lots of nice spots to have a picnic. Good options to eat in Bunratty – tea rooms in the folk park, Durty Nelly's pub, Jilly and Joe's, JP Clarke's. My little lady is nearly four and she was fascinated by all the cottages. Plenty of parking too. You could easily spend the whole day there." – Riona Kelly, Limerick
Greenan Maze, Co Wicklow
Adult €8, child €8, under-two free, family (two adults, two children) €30, greenanmaze.com
"It was nice, quiet, plenty of space to walk around and let the kids go ahead without worrying about them bumping into loads of people." – Paula Flynn Byrne, Dublin
Belvedere House Gardens and Park, Co Westmeath
Adult €6.40, child €3.20, under-three free, family (two adults, two children) €18.40, belvedere-house.ie
"Big, wide, open space, the lake, spots to picnic, forested area with path to ramble through if it's a scorching, hot day. You can buy snacks, but you can also bring your own snacks. Dogs can go too. You can make it what you want for your day." – Sonya Quinn, Westmeath
Castleview Open Farm, Co Laois
Adult €8, child €4, facebook.com/castleviewopenfarm
"Great value. Most of it is outdoors so, even though there were a good few people, we weren't on top of each other. Coffee shop doing tea and coffee and ice-creams. The kids loved the playpark and furry animals." – Alan Le Casse, Laois
Clonfert Pet Farm, Co Kildare
Adult/child €7, family (two adults, two children) €20, clonfertpetfarm.com
"Clonfert Farm has a great set-up. Lots of animals that you can get close up to. Three decent-sized playgrounds, football pitch and the biggest hot with my lot was the bouncy castle. They have done a lot of renovations over lockdown including plenty of outdoor eating areas for the cafe or for your own picnic. The two-hour slot was plenty of time to pack everything in and it's well organised, so felt very safe for those of us still nervous about crowds." – Sue Kelly
Fota Wildlife Park, Co Cork
Adult €16.90, child €11.50, family (two adult, two children) €49.50, fotawildlife.ie
"Fota Wildlife Park is a top family day out for all ages. It has expanded in recent years and you can get up close with the peacocks, wallabies, maras and kangaroos that are roaming the grounds and visit others such as lions, tigers, cheetahs and bison from a safe distance."– Sinead Fox, Wexford
Long Acre Alpaca Trekking, Co Louth
Farm visit €5, alpaca trekking €20, instagram.com/long_acre_alpacas
"A lovely, small alpaca farm where you can learn all about alpacas and even take them for a walk. There are a few other animals too, which you can feed and pet, and a lovely picnic area. Very interactive family day out." – Aoife Burns, Louth
Leahy's Open Farm, Midleton, Co Cork
€11.50pp. Under-twos free. Digger park and golf extra, leahysopenfarm.ie
"Enormous place with loads of animals, playgrounds, museum, activities and petting farm. Kids and parents love the full-sized diggers, pedal go carts and barrel train. Food on site but also lots of picnic tables. Give yourself half a day to get through everything – we somehow managed to miss the ice cream and chocolate factory." – Rachel Collins, Dublin
Birr Castle, Co Offaly
Adult €10, child €5, family (two adults, two children) €26,birrcastle.com
"We were there on a nice, sunny day which helps, but the grounds are really gorgeous. The telescope is cool too. Excellent playground. Cafe doing snacks, ice-cream, coffee, etc. Clean toilets. Have to book in advance, but that's fine as it means manageable crowds and small queues." – Caroline Eldridge, Tipperary
Loughcrew House and Gardens, Co Meath
Adult €7, child €3.50, loughcrew.com
"The gardens are just lovely to walk around. There is a fairy trail in the forest which would be great for smallies. Lovely coffee shop on the grounds and plenty of places just to have a picnic. Small playground there. Lovely places to walk. It's pet friendly so we brought our dog." – Mairin O'Brien, Meath
Kilkenny Castle
Free, kilkennycastle.ie
"We loved Kilkenny Castle. Plenty of space to social-distance, modern playground and so well maintained." – Gemma Monk, Dublin
The Japanese Gardens and National Stud, Kildare
Adult €13, Child €7.50, Family (2 adults, 2 children) €31.50, under 3s free, irishnationalstud.ie
"It has it all for a day out. It's just so picturesque and the grounds are fab at this time of year. The playground is a big hit with the kids and the Japanese Gardens themselves are magical to walk around – with stepping stones over the water and the little Japanese tea house in the middle. They've also just opened the Irish Racecourse Experience which is an interactive immersive experience. For parents the food in the restaurant is yum and coffee great too." – Susan Keogh, Kildare
Wells House and Gardens, Wexford
Adult €9, child €5, Family (2adults up to 3 children) €24, under 2s free, wellshouse.ie
"Buggy friendly, has a nice playground and picnic area and lovely forest trails. One trail is the story of The Gruffalo, so kids walk along and come upon wood carvings of each of the characters in the wood before finding the Gruffalo himself. Lots of parking, a little craft courtyard and a few farm animals made it a lovely day out." – Sarah Power, Dublin
Newgrange, Co Meath
Free, newgrange.com
"Loved the history. It's so well organised and with reduced capacity it felt like we had the place to ourselves." – Niamh McCarrick, Kildare
Fairy Village, Castlerea, Co Roscommon
Free, website here
"Free access. Easy parking in the town square – also free. Accessible with buggies. It's simple but beautiful! There are off path areas to explore with plenty of fairy doors to be found, a music area for kids to enjoy, and the general park area itself is gorgeous. Lovely riverside walk and plenty of space." – Sheena Mitchell, Meath.
Cycling in Kerry, Bike hire
Daily hire - Adult bike €15, Child bike €10, killarneybikerental.com
"Hired bikes recently down in Killarney and cycled through Muckross Abbey, Muckross House and then cycled on to Torc Waterfall. Did a two hour hike and cycled back. Great fun as it was my first cycling adventure with my kids now that they can ride bikes." – Stephen Teap, Cork
Suir Valley Adventures, Tipperary
Price €30 per person per two hour session. Facebook page here
"Two hour trips and slots from Cahir on the beautiful Suir, with Suir Valley Adventures, weekly and weekends. Great family bonding." – Anne Brannick, Wicklow
Altamount Gardens, Carlow
Free, website here
"It's a lovely spot to go to. We brought our own picnic and it was great just to be able to get out and about. It's a lovely place to stroll about and just enjoy the outdoors in a new setting. Our kids are aged nine and seven, and they love it." – Eimear Kelly, Kildare
Glenroe Farm, Wicklow
Adult €7.50 Children €7.50, Family (2 adults, 2 children €27) Under 3s free, glenroefarm.ie
"Glenroe was fab. We booked the first day they reopened and it felt so safe. The playground was brilliant and my girls loved the animals. Few new additions to the playground over lockdown too. They have a covered playground too if it gets too sunny or if it rains." – Linda Cooney, Dublin
Lough Boora Park, Offaly
Free, loughboora.com
"Suitable for all ages. You are welcome on foot, with buggies to bikes. Bring a picnic. Stay all day." – Miriam McCormack, Offaly
Sours: https://www.irishtimes.com/life-and-style/travel/ireland/tried-and-tested-the-best-family-days-out-in-ireland-1.4596096
Meet Family Days Tried and Tested
How did it all begin?
I had just started maternity leave with my sixth child and someone suggested that I post about family activities onto a Facebook page rather than on my personal profile.
As a family we've always needed to do things frugally so I wanted to inspire others to do things that help make childhood memories without breaking the bank.
Is that the philosophy of Families Tried and Tested?
Sort of. We go out a lot. I guess I'd say our philosophy is: Embrace the weather whatever it might be. We want to show people you don't have to stay indoors even if it's raining.
OK, we have to talk about your kids. You're on number 7, is that right?
Yup? We're on number 7. I'm 43 and there are no plans for any more but never say never. It's quite a surreal time at the moment because the eldest (who is 24) is graduating from university and the second youngest is graduating from nursery. It's very weird to have complete opposite ends of the scale with one independent and one so dependent.
So what's a typical day for you?
There's no such thing really. We just wing it! I drag everyone out of bed with a little bit of shouting and screaming, and a little bit of dysfunction, but with oodles of love. Then I get them to school and get on with everything.
Have you always been a stay at home mum?
No, I've always worked and I've had a variety of long-term jobs. The last job that I recently gave up was a 15 year job doing a night shift. It was really tough and as everyone knows, childcare is not easy. We don't really have a support network so we relied on ourselves and had to work opposite shifts to finance everything.
Childcare limits so many people and finding a job that fits in with everyday parenting almost seems unachievable these days, but I am returning to work.
What makes a great day out for you and the kids?
Just being out with my family and when it's over being able to sit back, reflect and realise you've had a great day.
I find the best mindset is not to have any plans or expectations, so if it all goes to pot you're not disappointed and if it's been good that's a bonus.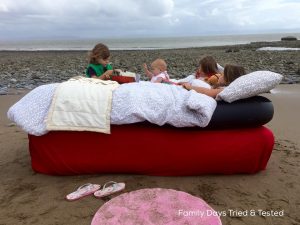 Simple things can often be the best but we also like doing outlandish things. So, the other weekend we took a bed to the beach. Sometimes you need to put in a bit of effort but it really doesn't have to be a lot.
Just try and think outside the box. Even a flask of hot chocolate can be a magical treat when produced out of nowhere.
Tell us more about Family Days Tried and Tested…
Well, like I said before, we want to get across the message you don't have to spend loads of money to make fab memories.
But also I'd really like parents to stop bashing each other online. Sadly there's too much of that going on. Just because you don't agree with how someone else brings up their kids, it doesn't mean you can't get along or be nice. At the end of the day we're all parents trying to do the same thing and that's striving for our kids to be happy.
A really good example of that is the debate around bottle or breast feeding. You know what? It doesn't matter how you do it. The online world is full of parents beating each other up and there's no need for it. It's good to have opinions that differ – it means we can learn from each other and instil in our kids that we're not all the same but can still get along. Live and let live!
What's important for me about the Facebook Page though is that I have a voice that is collectively shared with our followers, whether it's good days or bad days. And it's also a support network for me and those who use it.
Like all families, we've had good days and bad days. We've faced miscarriages and even the death of a child and by sharing these things it encourages other people to normalise them and not be cowered by society into keeping quiet and making them taboo.
What I love about Facebook is, if you can use it in a 360 degree way, it's so much more than 'likes' and 'posting'. It's about engagement and sharing opinions ideas and just talking to each other. It should reflect on the real world not an idealistic version.
With so much going on how do you take a break?
Well, the benefit of having older kids is they can come home and I can abandon ship and leave them with the little ones.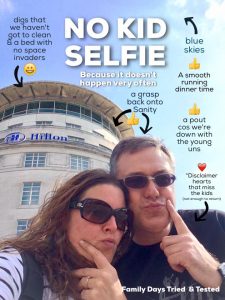 When I do have a break I don't have any guilt. If we get the opportunity we make the most of every minute. And I honestly believe that makes us better parents because absence makes the heart grows fonder and we appreciate our kids all the more.
Of course, when we go away everyone assumes we're going off to make another one but the answer to that is definitely NO!
What's your thought on kids and screen time?
I have no problem with it as long as they don't get lost in that world and can't be pulled back. These are the gadgets that kids are going to be relying on – it's the future. But there has to be a balance. Too much and I think it really does alter their behaviour.
The difficulty is the friends of the older kids are on social media and so not to let them have it would ostracise them.
But it's such a fine line and you have to be switched on as a parent as to what they're doing because kids are clever. They're shrewd and good at hiding things. But that's their job as kids and your job as a parent is to monitor what they're up to.
What are you top 5 family destinations
1. The Beach
We love the beach. Whether exotic or not it's always a 9/10 for us. Our favourites are the beaches on the south coast of Wales. There are some absolute hidden gems. What we like doing is looking on Google Earth first and then zooming in to see what it's like. We also do that when we're out and about and looking for one on the hoof. That's the real bonus of having the iPhones and iPods with you.
2. The Mountains
We love the Brecon Beacons in the National Park. A really cheap and fun game is to buy Freddos (those chocolate frogs) and drop them as you're walking so you can send the kids off to look for them and it becomes a treasure hunt. Parenting is sometimes all about being sly!
3. The Waterfalls
These are also in the National Park and surrounding areas. We've also found a couple along the coastline.
It goes without saying that you have be safe and make sure the water isn't too forceful, the pools too deep and the currents too strong. First time walkers should stick to the well marked paths and always let someone know where you're going.
Facebook is a great tool for that as you can let a lot of your network know where you'll be.
4. The Forest of Dean – Wye Valley
We do lots of exploring in the Forest of Dean. We like to take a pop up tent with us and it's really handy both here and on the beach. It's also great if it starts to rain. Just throw it up and crawl in. It's  also great to take an iPad as well if we want to watch a film if it rains.
5. Home
It's a fabulous destination because it's good to go away from and good to come back to. I'd say my dysfunctional normality is being at home along with the mess.
At the end of the day it's appreciating what you've got and if you think out of the box you can have a really good day out – at home.
Deborah Hitchins is better know as Mrs FD on her Family Days Tried and Tested Facebook Page where she chats and shares daily about the reality of family life. www.familydaystriedandtested.com is full of indoor and outdoor activities to inspire families to enjoy their time together. 
Tags:#KidRatedMeets, Mummy Bloggers
Sours: https://www.kidrated.com/blog/meet-family-days-tried-and-tested/
I TRIED JACLYN HILL'S HOLIDAY COLLECTION...AND IT'S NOT WHAT I EXPECTED!
Years old, and that time I was taught a lesson in oral sex when I sucked a fat Georgian cock through the window of the "feeding trough", which was shoved into my mouth to the very balls. The sperm also pleased me, although the first time I did not swallow it, but spat it on the floor of my cell.
But. Soon all these adventures were forgotten when I was transferred to the central detention center. Here I was not alone in the cell, and, of course, many of my cellmates cherished the dream of eating the sweet fruit of sex with me.
Tried tested days family and
In the end, he went to see me off to my hotel. It was very close to go, so we decided to take a walk along the night coast of the sea. In principle, I understood how this walk could turn out for me. But I was in control. He won't fuck me on the street, I thought.
Beauty Products That Promise Results - Tried and Tested: EP32
We were amused and good, but I'm a stubborn guy, the last word is mine. Lets hammer it quietly, and then just in an orderly tone you are my property, as I decide it will be so. Well, he says, if so, bring anyone, I don't care. Whatever you say, I will do it, only I will not be involved in any elections, but, of course, I just dont need this. I really enjoyed seeing how good she was.
You will also be interested:
HER. HER. This thought haunts him. "What to do.
638
639
640
641
642