About the Artwork
Saturday Evening Post cover November 24, 1951.
"The composition is spatially complex, yet every element directs the viewer's attention to the main characters. The accents of red serve as exclamation points and also keep us focused on the centerpiece of the narrative. Rockwell's masterful still-life of dirty dishes in the foreground anchors the realism of the scene, making us feel that we, too, are in the diner, the slightly embarrassed observers of a pious grandmother and child." Judy L. Larson and Maureen Hart Hennessey, Norman Rockwell: Pictures for the American People.
Related Images
Quality
---
Norman Rockwell Museum Custom Prints is your exclusive source for custom reproductions authorized and available for purchase directly from the Norman Rockwell Museum. All items that are offered are produced using gallery-quality materials and the color is managed in a manner that produces a reproduction as true to the original as modern technology will allow.
Selection
---
Many of the works offered through this store are exclusive and not available anywhere else. We offer all 321 of the iconic works Rockwell created as Saturday Evening Post covers, including many other classic illustrations from his archive.
Customization
---
You have found the work that speaks to you. Now what? Using our innovative custom framing tool, you can preview exactly what your finished and framed art will look like. We offer many different moulding styles so there is sure to be a match for any type of decor.
Sours: https://prints.nrm.org/detail/261014/rockwell-saying-grace-1951
Saying Grace
In 1955, The Saturday Evening Postasked its readers to select their favorite cover painted by its most beloved artist, Norman Rockwell. It was not an easy decision.
Between 1916 and 1963, Rockwell illustrated 323 covers of the magazine. He was hugely popular, easily one of the most recognizable figures in American art for nearly three-fourths of a century.
Even so, nearly a third of the readers voted Saying Grace, the quietly poignant image of a grandmother and her grandson praying over a meal in a diner by a railway station, as their favorite Rockwell cover.
Painted in 1951, Saying Grace embodies Rockwell's classic style and stands among the best work of his celebrated career. Saying Grace appeared on the cover of The Post's Thanksgiving issue November 24, 1951, quickly becoming one of the magazine's most popular issues.
Despite a glossy sheen of nostalgia often applied to the decade, the 1950s were a turbulent time. Each issue, The Post explained the thinking behind its cover art. The post-war uneasiness was reflected in The Post's explanation of Rockwell's work:
"The world is not too happy a place these days. There are wars and threats of wars. Anxiety and frustration are abroad, and in many quarters we see the bankruptcy of morals. So, suddenly comes the day to give thanks for the goodness of life. And perhaps this can be done most understandingly by someone like this little old lady who, wherever she may be, bows her head to say grace, speaking not analytically from the mind but spontaneously from the heart."
A letter from a Post reader inspired Rockwell's illustration. Mrs. Edward V. Earl of Upper Darby, Pennsylvania, wrote to Rockwell on November 27, 1950, about her experience witnessing a Mennonite family praying in an automat. According to the Norman Rockwell Museum, Mrs. Earl "observed a plain young woman with a little boy of about five. They walked by her with food-laden trays, laughing and happy to be in the restaurant. They took off their coats, hung them up and returned to their table at which two men were already seated, 'shoving in their lunch.' The young woman and boy folded their hands, bowed their heads and, for two minutes, said Grace."
A small moment of appreciation for the goodness of life, captured as both art and as a reminder, remains as powerful today as it was some seventy years ago. 
To discover more about Norman Rockwell, check out "Celebrating Norman Rockwell's Four Freedoms."
Paul Kennedy is Editorial Director of the Collectibles Group at AIM Media. He enjoys modern furniture, photography, vintage movie posters and people with a good story to share. Kennedy has more than twenty years of experience in the antiques and collectibles field, including book publishing. Contact him at [email protected]
Sours: https://www.antiquetrader.com
Saying Grace (Rockwell)
1951 painting by Norman Rockwell
Saying Grace
Artist
Norman Rockwell
Year
1951 (1951)
Medium
Oil on canvas
Dimensions
110 cm × 100 cm (42 in × 40 in)
Location
Private collection
Saying Grace is a 1951 painting by American illustrator Norman Rockwell, painted for the cover of The Saturday Evening Post's November 24, 1951, Thanksgiving issue.[1][2][3]
The painting depicts a woman and a young boy saying grace in a crowded restaurant, as they are observed by other people at their table.[3] Rockwell's inspiration for Saying Grace came from a Saturday Evening Post reader who saw a Mennonite family praying in a restaurant.[1] Rockwell used his son, Jarvis, as one of the models for the painting.[1] Elizabeth Goldberg, director of American Art at Sotheby's said that in his preparations for Saying Grace Rockwell "... visited Automats and diners in New York and Philadelphia to get the scene just right ... his imagery was so vivid people would say they recognized the diner even though it didn't exist, each painting felt so universal."[2] Rockwell took the table and chairs from a diner in Times Square for the photo shoot for the painting.[2] In preparations for a painting Rockwell would set up a scene, using his friends and neighbors, taking hundreds of photos until satisfied. Rockwell would produce sketches in charcoal, then oil sketches, before painting the final image.[2]
Rockwell was paid $3,500 (equivalent to $34,897 in 2020)[4] for Saying Grace.[2] Readers of The Saturday Evening Post voted Saying Grace their favorite ever cover in 1955.[1]Saying Grace had been on a long term loan at the Norman Rockwell Museum, and had been exhibited at 12 other museums across the United States before its 2013 sale.[3]
2013 sale[edit]
Saying Grace sold for $46 million (including a buyer's premium) at Sotheby's in December 2013, setting a new record price for Rockwell's art. Rockwell's previous record had been set in 2006 by the $15 million sale of Breaking Home Ties.[3]Saying Grace had been expected to sell for between $15 million and $20 million.[3] The buyer of Saying Grace was not identified.[1]
Two other Rockwell paintings that had been loaned to the Norman Rockwell Museum were sold alongside Saying Grace; The Gossips and Walking to Church.[3] The three paintings, along with four other art works by Rockwell, were sold by the descendants of Kenneth J. Stuart, the art director of The Saturday Evening Post. The sale of the art works was initiated after the conclusion of a legal disagreement among Stuart's sons.[1] A long term colleague of Rockwell's, Stuart had been given the paintings by Rockwell as a gift.[3]Saying Grace had hung in Stuart's office at the Saturday Evening Post, and subsequently in the Stuarts' living room in Wilton, Connecticut. Stuart's sons could no longer afford the insurance and upkeep of the paintings by the time of their 2013 sale.[2]
Upon Stuart's death in 1993, his estate was divided equally among his three sons, Ken Jr., William, and Jonathan.[2] The oldest brother, Ken Jr., was subsequently sued by William and Jonathan, who claimed that he had forced their father to sign papers so he could gain control of his fortune.[2] They additionally claimed that Ken Jr. had used the assets of his father's estate for his own expenses. The three brothers settled out of court before the sale.[2] The owner of The Saturday Evening Post, Curtis Publishing Company, which retains reproduction rights to Rockwell's artworks, also unsuccessfully attempted to claim ownership of the paintings.[2]
The director of the Norman Rockwell Museum, Laurie Norton Moffatt, has expressed her hope that the paintings will eventually be reunited with the museum. Moffatt said of the paintings that "We cared for them like children ... We hope they come back some day. We believe that's where they belong."[1] Moffatt said that the loss of the paintings left an "irreplaceable hole in the museum's collection."[5]
References[edit]
External links[edit]
Sours: https://en.wikipedia.org/wiki/Saying_Grace_(Rockwell)
Norman Rockwell saying grace
Figurative Art
Think reality delights? You bet your walls do too. So, why not introduce them to our collection of figurative art. Make acquaintance with inspiring muses of famous masters or get a glimpse of pop culture icons caught on camera. Any masterpieces you choose will give your space a unique story to share in our handcrafted frames.
This genre of art involves a realistic depiction of living as well as inanimate objects. Artists like Jean Michel Basquiat, Norman Rockwell, and Banksy are renowned for giving a platform to cultural commentary and human experiences through their art.
The Print
This giclée print delivers a vivid image with maximum color accuracy and exceptional resolution. The standard for museums and galleries around the world, giclée is a printing process where millions of ink droplets are "sprayed" onto high-quality paper. With the great degree of detail and smooth transitions of color gradients, giclée prints appear much more realistic than other reproduction prints. The high-quality paper (235 gsm) is acid free with a smooth surface.  
Paper Type:

Giclee Print

Finished Size:

24" x 24"
Ships in 5-10 Days
Product ID: 9388041656A
Related Tags
Figurative, Categories, Restaurants, Fine Art Collections, Other Subjects, Faith (Saturday Evening Post), Saturday Evening Post Collection, Scripture, Rockwell (Saturday Evening Post), Religion & Spirituality, Featured Categories, Family (Saturday Evening Post), Christianity, Praise & Worship, Fine Art Top Artists, Best Sellers, Fine Art by Nationality, Subjects, American Art, Cafe & Bistro, By Decade - Saturday Evening Post, 1950's Saturday Evening Post, Top Artists Collection, Other Collections, Collections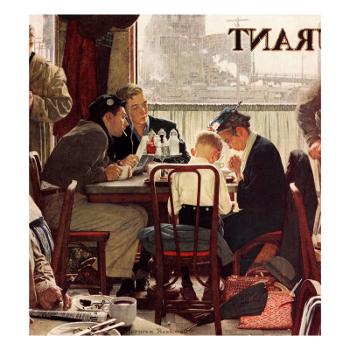 ---
Sours: https://www.art.com/products/p9388041656-sa-i5446770/norman-rockwell-saying-grace-november-24-1951.htm
Rockwell saying grace 1951 norman
Description of the artwork «Saying Grace»
When The Saturday Evening Post polled its readers in 1955 which illustration of Norman Rockwell they liked the most, the majority called the Saying Grace painting. This work was made for Thanksgiving and for many years it remained the personification of the holy holiday for Americans.

Published in the magazine in 1951, the illustration by Norman Rockwell accurately conveyed the atmosphere of the post-war America and was accompanied by the text: "Our world is not the happiest place today." The Second World War turned the minds of people and once again proved how transient is this raging world. Confusion, fear and hopelessness came after the worldwide chaos- — the inexorable consequences of war. Rockwell's painting answered many questions of the Americans: after going through violence and cruelty, how to maintain faith in love and kindness and where to get the strength to trust people again and look to the future with hope? The answer came to the liking of many Americans — the artist sees the source of strength in a prayer of gratitude coming from the very heart for the gift of life.

The idea for the story came from one of the readers of The Saturday Evening Post. In 1950, Mrs. Earl wrote to the artist about the experience of witnessing a scene. She told that she "observed a plain young woman with a little boy of about five. They walked by her with food-laden trays, laughing and happy to be in the restaurant. They took off their coats, hung them up and returned to their table at which two men were already seated, 'shoving in their lunch'. The young woman and boy folded their hands, bowed their heads and, for two minutes, said Grace".

Impressed by the story, Rockwell painted this scene as authentically as if he had seen it himself, but for greater expressiveness, instead of a young woman, the artist depicted a grandmother with a grandson.
Every time the artist came up with an idea, he was seized by a pathological passion for perfection and the Saying Grace painting, like many others, was carefully planned.

The scene was first played out in a café in Time Square, Manhattan. Unhappy with the photographs taken there, Rockwell chose another café at the station, and in order to accurately depict the situation, he even brought tables and chairs from the café to his studio (the first version of the picture).

An insatiable desire for authenticity led him to photograph the yard of the railway station in Rensellar, near New York, which is visible outside the window in the final version.

In his work on the painting, Rockwell, as usual, acted as the play director: he came with a scene, selected models, entourage and, in addition to preparatory sketches, took a hundred photos. He believed that photography conveys spontaneity and expression very well. In this painting, Rockwell even used the photographers' deep focus trick to obtain the hyper-realistic clarity of the foreground and the background. For the painting, his favourite models posed for the artist: a young man sitting with his back to the window was the artist's eldest son Jerry, next to him Rockwell's student, Don Winslow sat at the table with a cigarette.

Norman Rockwell's Saying Grace painting became the most expensive work of American realist art — in 2013, it was sold at Sotheby's for $ 46 million.

Author: Iryna Olikh



Sours: https://arthive.com/normanrockwell/works/192214~Saying_Grace
Rockwell Video Minute: Saying Grace
Norman Rockwell's 'Saying Grace' Sells For $46 Million At Auction
Norman Rockwell's 1951 painting Saying Grace sold for $46 million Wednesday — a record for the artist. AP hide caption
toggle caption
AP
Norman Rockwell's 1951 painting Saying Grace sold for $46 million Wednesday — a record for the artist.
AP
Three Norman Rockwell paintings sold for a combined total of nearly $58 million at a Sotheby's auction Wednesday. The three paintings, which had long been displayed in a Massachusetts museum named for the artist, were among 10 Rockwell works sold at auction today.
By far, the star of the bunch was the 1951 masterpiece Saying Grace, which sold for $46 million — a record for Rockwell's art. The price includes a buyer's premium. The AP says the artist's previous record of $15 million had been set by Breaking Home Ties at a 2006 Sotheby's auction.
The famous Saying Grace depicts a woman and boy bowing their heads in prayer at a table in a bustling restaurant, as other patrons pause for a moment to look on.
Before the auction, Saying Grace had been expected to garner between $15 million and $20 million. The painting by the beloved Saturday Evening Post illustrator has been exhibited in more than a dozen museums around America.
Rockwell's The Gossips, seen here in a detail view, sold for nearly $8.5 million Wednesday. To see the full painting, click the image. AP hide caption
toggle caption
AP
Rockwell's The Gossips, seen here in a detail view, sold for nearly $8.5 million Wednesday. To see the full painting, click the image.
AP
The other two paintings that had been on long-term loan to the Norman Rockwell Museum were The Gossips, which sold for nearly $8.5 million, and Walking to Church, which topped $3.2 million.
Those three paintings were sold by descendants of Kenneth J. Stuart, the Evening Post art editor who worked with Rockwell for nearly 20 years and who had received the works as gifts from the artist.
In its background information about today's sale, Sotheby's includes this quote from a letter Rockwell wrote to Stuart:
"The encouragement and freedom you give me in my work shows what a great impresario you are. It is great to feel that your art editor is one hundred per cent for you, and is a real friend. This may sound a bit flowery, but it is completely sincere, and I do want to express my thanks to you."
Sours: https://www.npr.org/sections/thetwo-way/2013/12/04/248790682/norman-rockwells-saying-grace-sells-for-46-million-at-auction
You will also be interested:
Saying Grace by Norman Rockwell
November 24, 1951 Issue of The Saturday Evening Post
Saying Grace, a Norman Rockwell painting, appeared on the cover of The Saturday Evening Post published November 24, 1951. This is another timeless favorite of Rockwell collectors, a classic for the ages.
This painting was Rockwell's seventh cover for The Post in 1951. In 1951, there were eight Norman Rockwell Saturday Evening Post covers published.
This was also Rockwell's 269th cover illustration out of 322 Rockwell painted for the Post. Rockwell's career with the Post spanned 47 years, from his first cover illustration, Boy With Baby Carriage in 1916 to his last, Portrait of John F. Kennedy, in 1963.
The original oil on canvas painting, 42 x 40 inches or 106.5 x 104 cm, is part of a private collection.
This painting also appears in almost every Rockwell commentary book. It appears:
on page 103 of 50 Norman Rockwell Favorites,
in The Norman Rockwell Poster Book,
as illustrations 361 and 461 (color) of Norman Rockwell: Artist and Illustrator by Thomas Buechner,
as the frontispiece of Norman Rockwell: A Sixty Year Retrospective by Thomas Buechner,
as illustration 33 of Norman Rockwell's America by Christopher Finch,
on page 7 of The Norman Rockwell Album and
on page 189 of Norman Rockwell, A Definitive Catalogue by Laurie Norton Moffatt.
Two photographs used in composing Saying Grace are reproduced in Norman Rockwell: Behind the Camera by Ron Schick on page 115. The painting itself is also reproduced in that book on page 114.
I have seen pristine original copies of this magazine cover sell for big bucks on eBay. And to think it only cost fifteen cents originally! Of course, it was mint condition then, too.

---
Saying Grace
This is a very touching and thoughtful Norman Rockwell paintings. It was also voted the favorite Saturday Evening Post cover of all time by readers of that magazine. It narrowly edged 1954's Breaking Home Ties.
Norman Rockwell painted more "serious" illustrations from 1943 on. He still exhibited his famous humor on most of his paintings. Still, as he reached the golden years on his career, he turned to several subjects where humor was not at the forefront, or even present at all.
Saying Grace is one such painting. I can find no humor in it at all. The dominant emotion that this painting evokes is reverence.
That reverence is not just shown by the grandmother and her grandson. Reverence also exudes from every other character in the diner. That reverence and respect, almost to the point of bordering on a sense of awe, is directed from the other characters to the praying family.
Many times in our hustle and bustle world, we forget or neglect to return thanks for our blessings. Sometimes, when we compare ourselves to our neighbors, our own blessings seem pitiably meager.
Rockwell seems to allude to such contrasts here as well. Of course, that contrast exists only in our own minds. We are each and every one blessed as the maker has seen fit. To compare our blessings to our neighbors' woud be like comparing apples to oranges, or more accurately, apples to ice cream.
The praying woman and boy command both our attention and also that of all the other characters.
Are their actions so out of place that it instantly commands such attention? Or is it the way the master storyteller has conveyed the scene?
Composing Saying Grace
The scene of Saying Grace is the Horn and Hardart Cafeteria on Juniper Street in Philadelphia, Pennsylvania. The rail yard scene through the window was not visible though the window and was painted from another photograph of a railroad yard.
The photograph sessions for the models were conducted in Rockwell's Arlington, Vermont studio. To show his penchant for realism, the table and chairs were borrowed and trucked to Vermont from an Automat in New York City.
At least two of the models are known by name, the two young men sitting at the table with the grandmother and little boy. Farthest to the back is Jarvis Rockwell, the artist's oldest son. Closer to us, with darker hair, is Don Winslow, a one time summer intern. Winslow so enjoyed working with Rockwell that he became his apprentice.
The model for the older lady passed away before the picture was published.
An interesting contrast to the reverence of the characters is seen in the lower left foreground of the painting. Beside the hand holding a cigar is a cup of stale coffee and a saucer used as an ashtray with several butts in it. This miniature still life balances out the earnestness of the rest of the painting.
Rockwell painted this scene as if he were the camera, capturing a fleeting moment in these lives just as it unfolded. We viewers feel just as if we were seated at a table in this diner watching this picture as it is made.
This painting is one of the reasons that Rockwell is referred as the storyteller with a brush.
Though not as popular as 1943's Freedom From Want as a Thanksgiving image, this Norman Rockwell Thanksgiving image is still just as well received today as when it was originally published in 1951.
Though from the same era, Saying Grace evokes entirely different moods and emotions from 1943's Thanksgiving: Girl Praying and 1945's Thanksgiving: Mother and Son Peeling Potatoes.

---
Norman Rockwell's Saying Grace (1951)
(Image Only) Copyright © 1951 Saturday Evening Post & Curtis Publishing Company
Sours: http://www.best-norman-rockwell-art.com/1951-saying-grace.html
6552
6553
6554
6555
6556