Top 17 Cool & Unusual Hotels in Steamboat Springs
Who doesn't enjoy a good trip to the 'Boat!? It's one of those crazy mountain towns that keeps you coming back season after season. I mean there's a curse and about it and all…
Those who come to Steamboat are doomed to return year after year for the rest of their lives. – Yampa Valley Curse
While you may hear the the above curse quoted a number of different ways, that's the gist of it. It was supposedly cast on the land by a Ute Indian Chief long ago, whose tribe had spent summers in the area until 1879. More likely, it was made up by a town local in the late 1960s after the ski resort opened in 1966, since there's no record of anyone hearing the curse before then.
Probably Steamboat Springs' Best Hotel Accommodations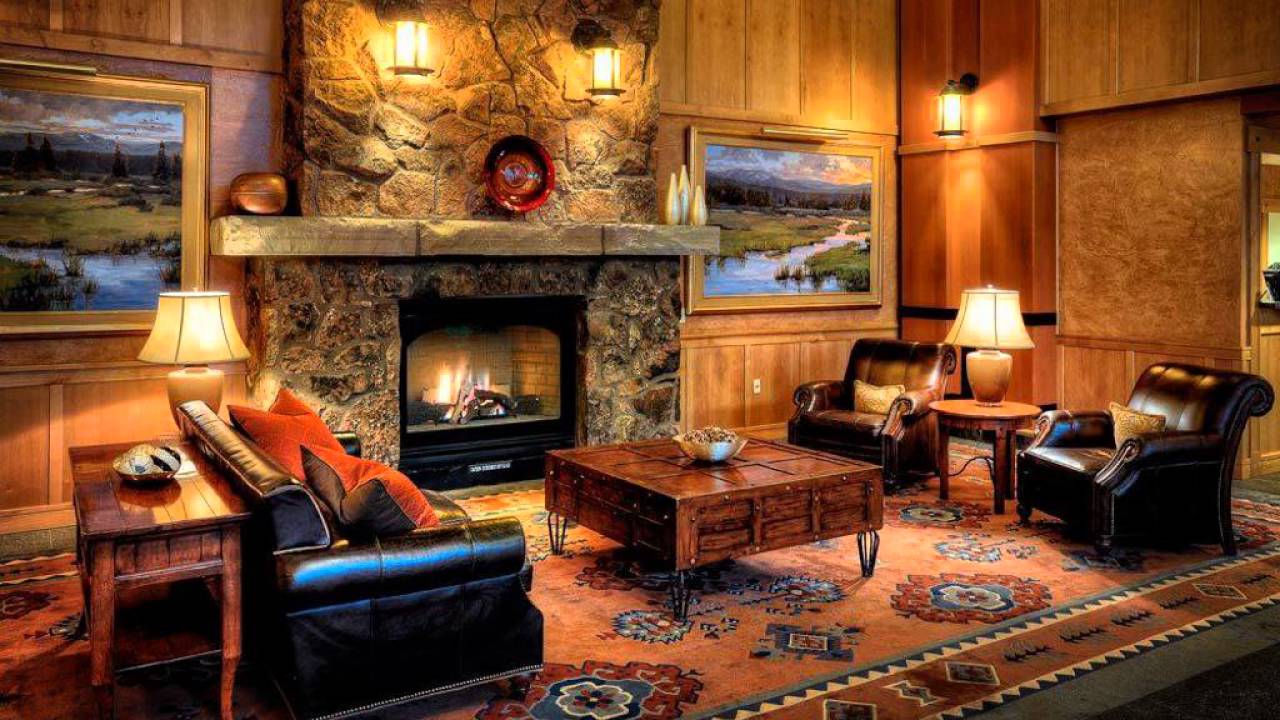 Like any great Colorado resort town, there are a ton of options when it comes to lodging. Steamboat Springs caters to tourists of all kinds. You'll find everything from luxury four star hotels and historic B&Bs, to rustic cabins and a train caboose. Spend your Yampa Valley holiday at one of these favorite Steamboat hotels.
This section contains referral links. If you click through and take action, we may receive a commission, at no additional cost to you. Rates listed below are subject to change.
Here's our choices for the top hotels in Steamboat Springs, CO, in no particular order:
Steamboat Grand Hotel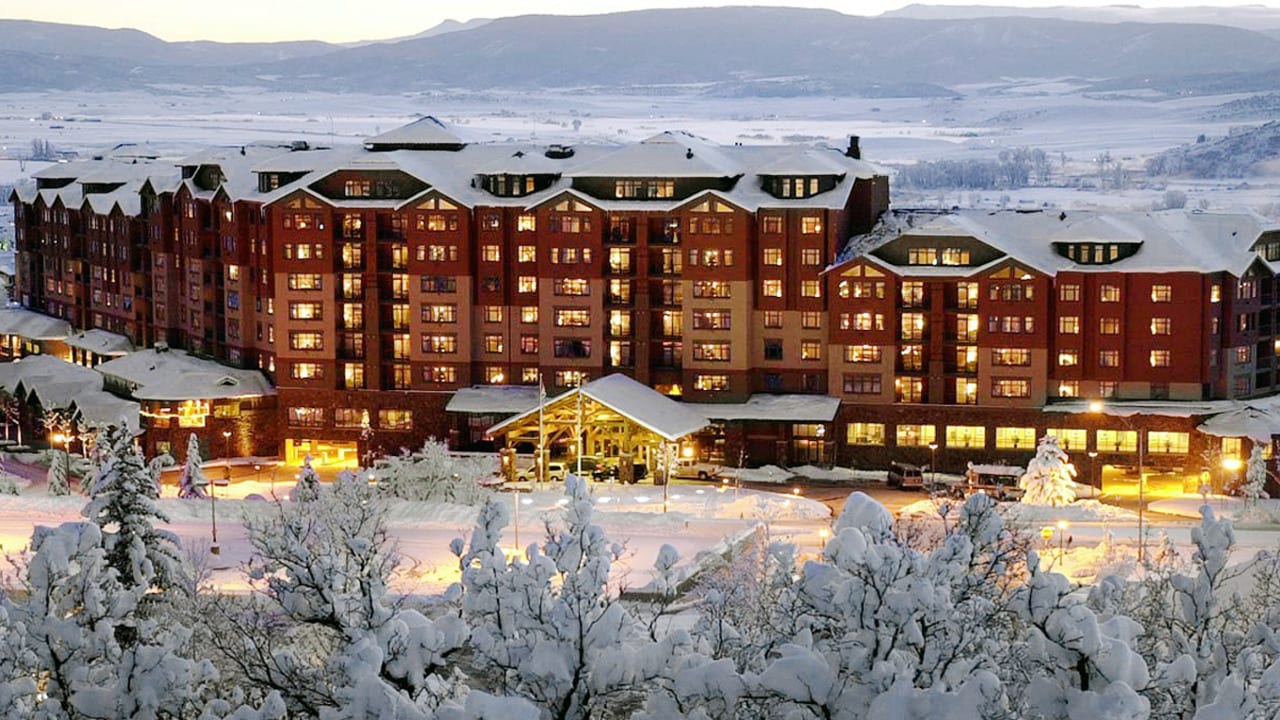 Ideally located at the heart of the base village, the Steamboat Grand Hotel has a lot to offer you, from the type of accommodations, to having lots of amenities. Apart from their hotel rooms, the establishment also has studios, condos and luxury penthouses. Their amenities include pool and fitness, grand spa, shops, ski equipment storage, valet services and more.
If you love skiing, the Steamboat Grand is ideal for winter activities. They also have cafes, bars and restaurants, offering a world class dining experience. And of course room service if you wish to relax with a meal in your room and a poolside bistro if you want to have a comfortable time by the pool.
2300 Mt Werner Cir, Steamboat Springs, CO 80487 | 970-871-5500
Check prices, availability or book The Steamboat Grand
Rabbit Ears Motel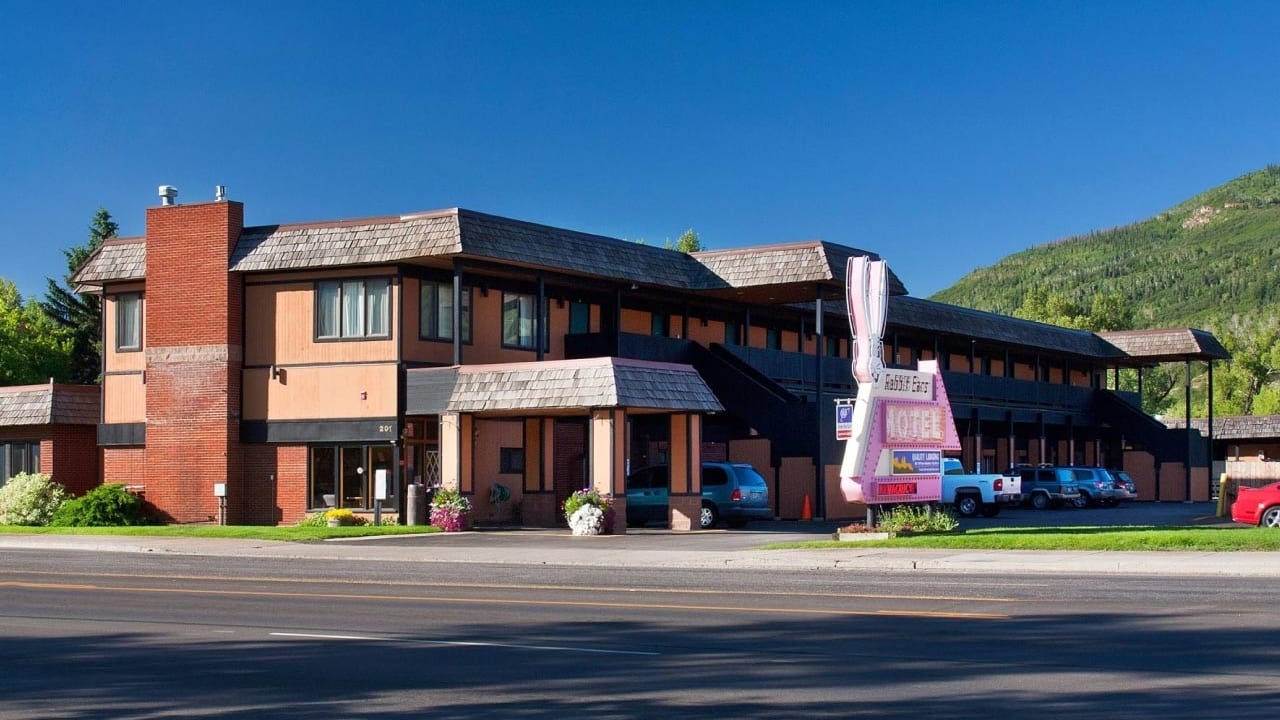 This historic motel is located right in the heart of all the action. And unlike the stunning, but often missed natural "rabbit ears" of Rabbit Ears Pass (about 20 minutes east of Steamboat), you can't miss these funny rabbit ears at the start of downtown. If you need an accommodation in the 'Boat, but don't want the overly expensive cost for it, Rabbit Ears Motel is your answer. If you love skiing, the establishment is just a 5 minute bus ride away from the gondola. Also, the bus is free.
Here you get an immaculate room with more than the essentials that you'll need. Complete with modern amenities, the establishment also has very spacious balconies that provide a magnificent view from several of their rooms. They also have in-town partners in case you want to try out other attractions in the area such as the hot springs, rodeo, golfing and fishing.
201 Lincoln Ave, Steamboat Springs, CO 80487 | 970-879-1150
Check prices, availability or book Rabbit Ears Motel
Strawberry Park Hot Springs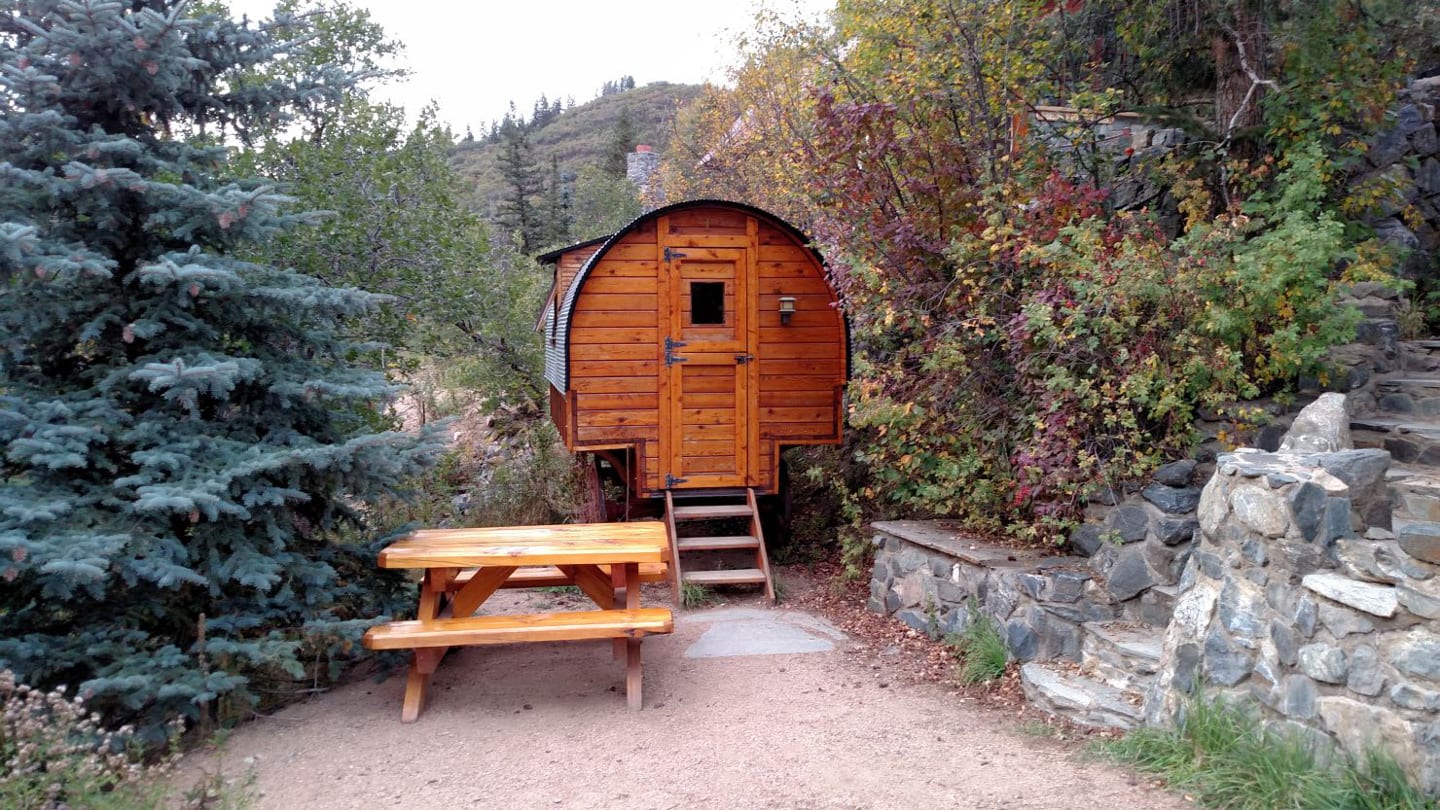 Strawberry Park Hot Springs is capable of providing you with the ultimate relaxation experience. If you have a very active lifestyle, such as going hard on the slopes, hiking and whatnot, you can rejuvenate at the hot springs. Enjoy a wonderful massage at the spa or a water-shiatsu in their private heated mineral pool.
Then spend the night as the establishment!. They have rustic cabins, which go with the theme of the hot springs. Notable ones include a Train Caboose and Covered Wagon. They also have campsites available during the summer. Experience one of the best hot springs in the world at Strawberry Park Hot Springs.
Hotel Bristol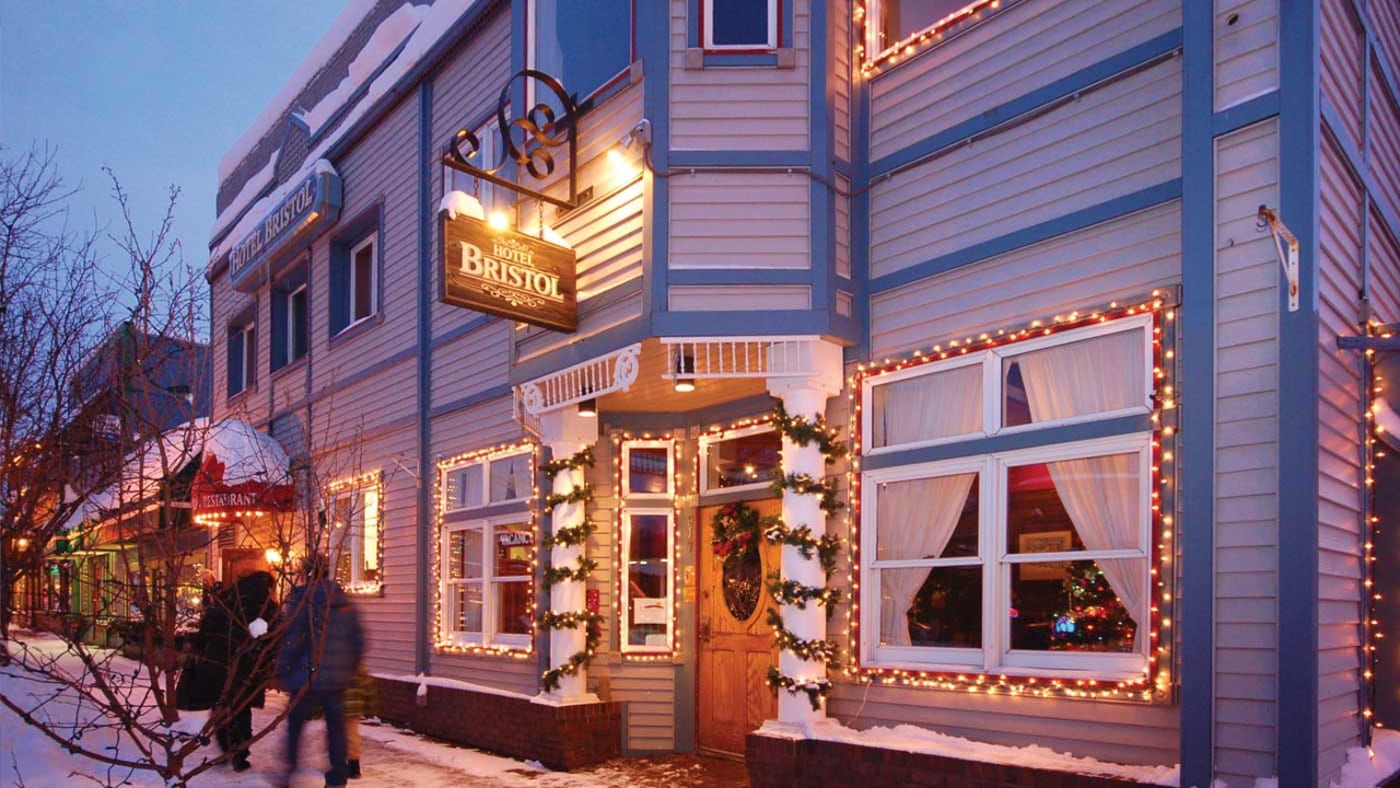 If you want a classic feel during your overnight stay in Steamboat, Hotel Bristol is the best place for it. It was established in 1948 and still offers hospitality as they did during their earlier times. It's conveniently located in downtown, so it's close to a myriad of fun things to do.
Whether it's skiing, biking, golfing or any other activity you come to Steamboat for, rest assured that Hotel Bristol will make that easier for you to access. They have exquisite classy rooms, comfortable beds and amenities that bring you back into time.
917 Lincoln Ave, Steamboat Springs, CO 80487 | 970-879-3083
Check prices, availability or book Hotel Bristol
Torian Plum Condominiums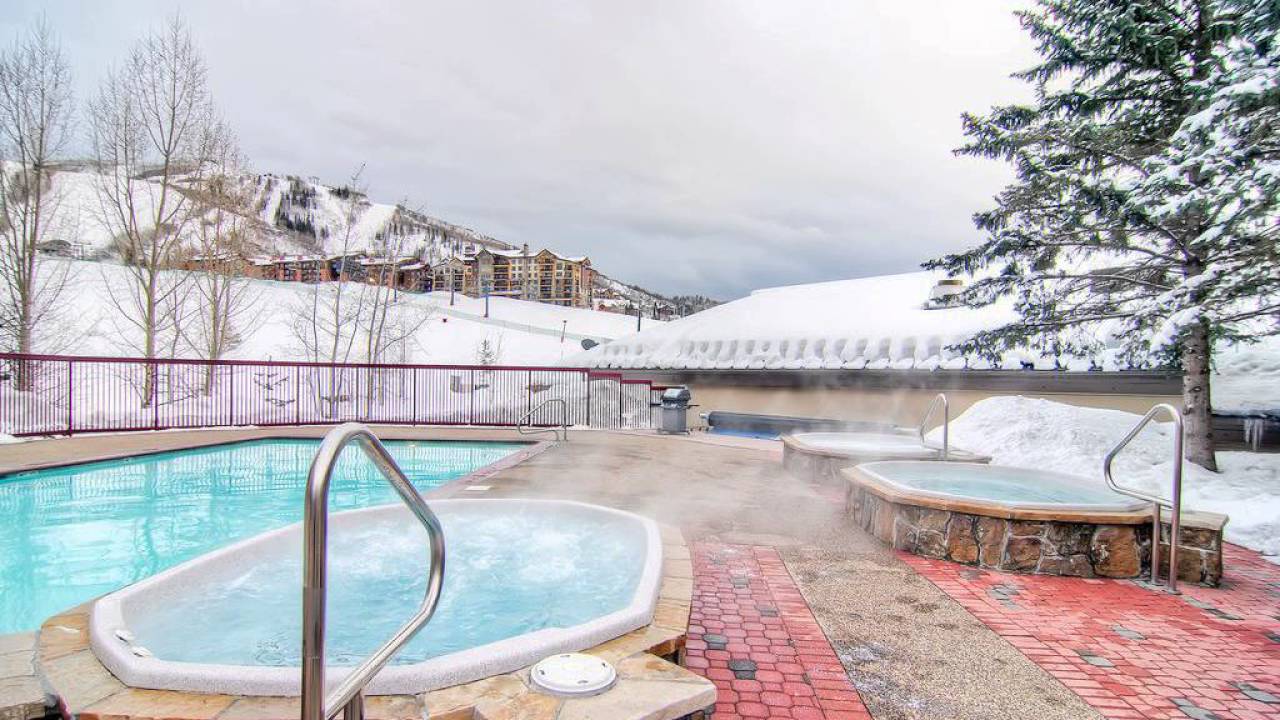 If you require true mountainside lodging, Torian Plum might be the best place for you. It's a fantastic ski-in/ski-out property, located just a hundred yards from the gondola, and slopeside next to the Christie chairlift. The condo is near the Torian plaza, which is home to fantastic shopping and dining. It's also near Gondola Square, which has more shops, restaurants and establishments for ski resort amenities.
They offer bedroom condos that are spacious, with gas fireplaces, beautiful living rooms and their own private balconies. They also have venues for weddings and meetings. During the winter season, the establishment offers an on-call shuttle service to make everything more convenient for their guests.
1855 Ski Time Square Dr, Steamboat Springs, CO 80487 | 970-879-8811
Check prices, availability or book Torian Plum Condominiums
Wyndham Steamboat Springs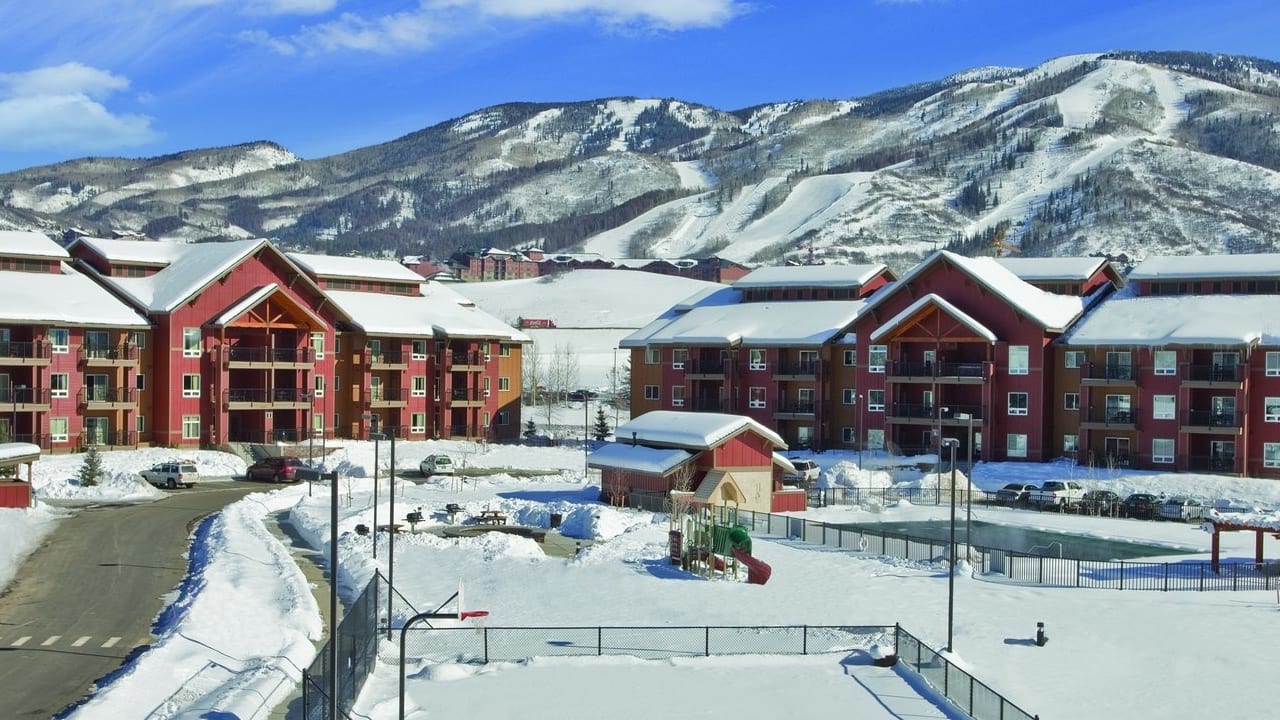 If you want a beautiful escape in the Rocky Mountains, Wyndham can be your paradise. Providing lodging tucked between the resort village and historic downtown, yet close to nature, you will love all the amenities available.
From the elegant but homey feel of the rooms, to classic dining areas, to the resort's very convenient location, you will find comfort knowing all the wonderful attractions in Steamboat Springs are nearby. Choose between a range of accommodations, from one bedroom suites to larger condos.
Nordic Lodge of Steamboat Springs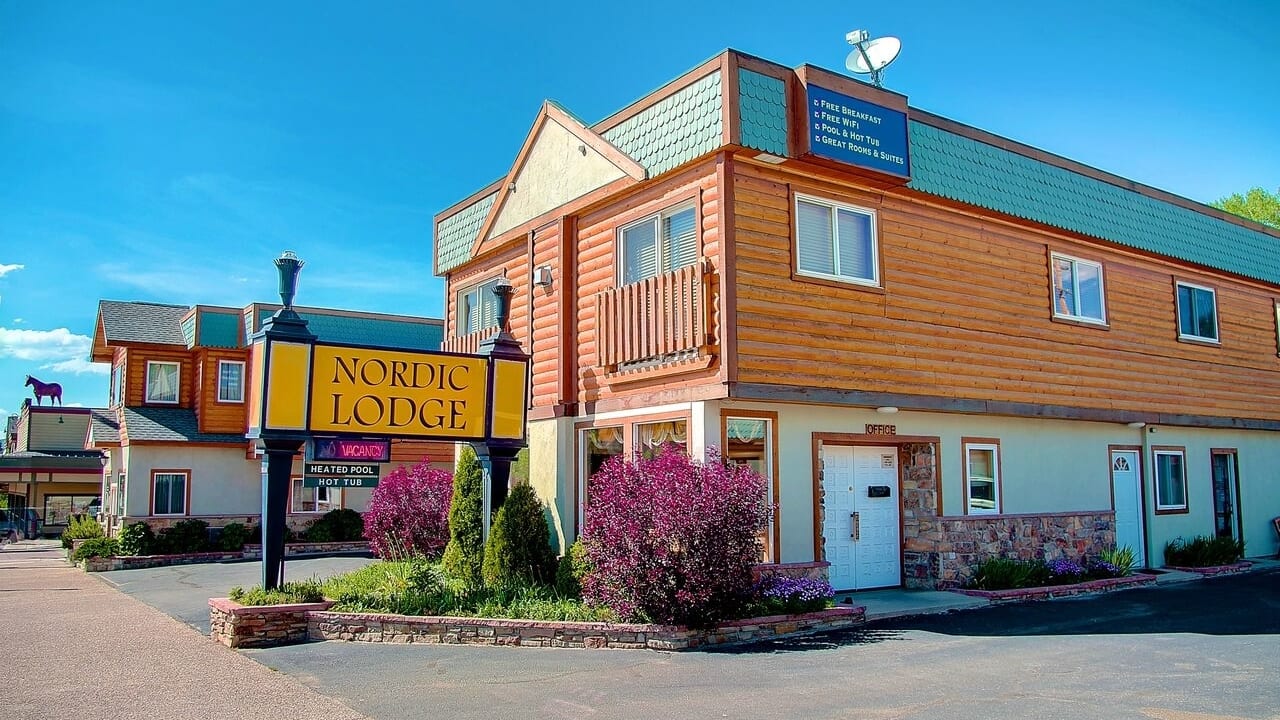 The Nordic Lodge provides rooms that have been well-maintained and recently remodeled for an awesome, affordable option in downtown. Rooms have all the basic necessities including cable television, air conditioning, refrigerator, microwave, hair dryer and coffee maker. The hotel is pet friendly and you can choose from a variety of king and queen rooms, or a suite.
They also have a king apartment, which has a walk-in closet, full kitchen and a spectacular view of Howelsen Hill. The Nordic Lodge has an outdoor heated pool, indoor hot tub, complimentary breakfast, and laundry facilities. Guests get discounted Old Town Hot Springs passes and a free ski bus ride to the ski resort that is just 10 minutes away from the establishment.
1036 Lincoln Ave, Steamboat Springs, CO 80477 | 970-879-0531
Check prices, availability or book Nordic Lodge
Trailhead Lodge Steamboat Springs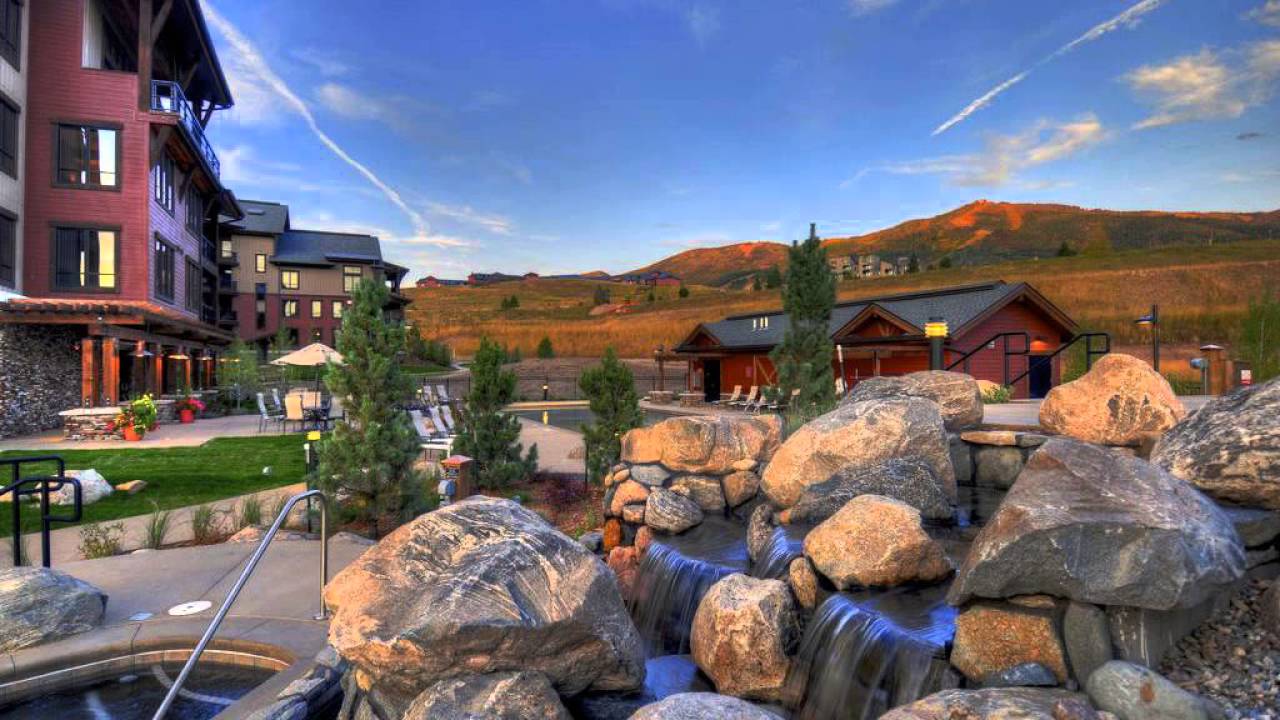 Trailhead Lodge is a family-friendly resort hidden in the middle of residential Wildhorse Meadows and provides an exclusive gondola access. They offer one to three bedroom condos equipped with quality bath essentials, wireless internet and in-unit washer/dryer for convenience during ski season.
The establishment boasts high class amenities such as its fitness center, swimming pool, hot tubs, boot-drying facility, game room and underground parking. They also offer an on-call shuttle service during the winter season. If you want an establishment with more than the basic amenities, along with a rustic ambiance, Trailhead Lodge is for you.
1175 Bangtail Way, Steamboat Springs, CO 80487 | 970-879-9000
Check prices, availability or book Trailhead Lodge
Sheraton Steamboat Resort Villas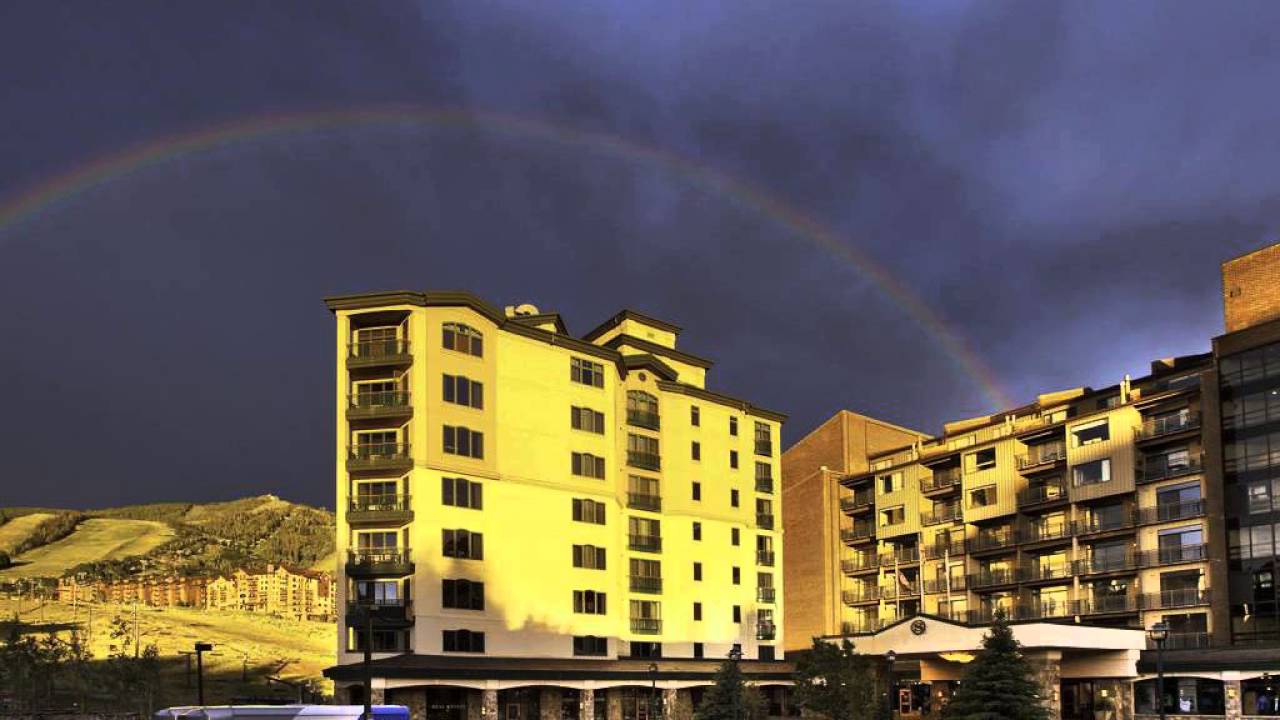 The Sheraton is distinctly housed amid all the action and chaos of Steamboat Resort. Just steps from Christie Peak Express chairlift and the gondola, this ski-in/ski-out resort will make your winter getaway a blast.
The rooms and very establishment is immaculate. The resort has 1 to 2 bedroom condos, each equipped with a full kitchen, dining room, living room, private balcony, multiple baths, and are individually furnished. Select units even have a fireplace, pull-out sofa sleeper and washer/dryer. You'll enjoy dining at their restaurant, cafe and grill. If you want to be in between all the action, Sheraton already has everything prepared for you.
EagleRidge Lodge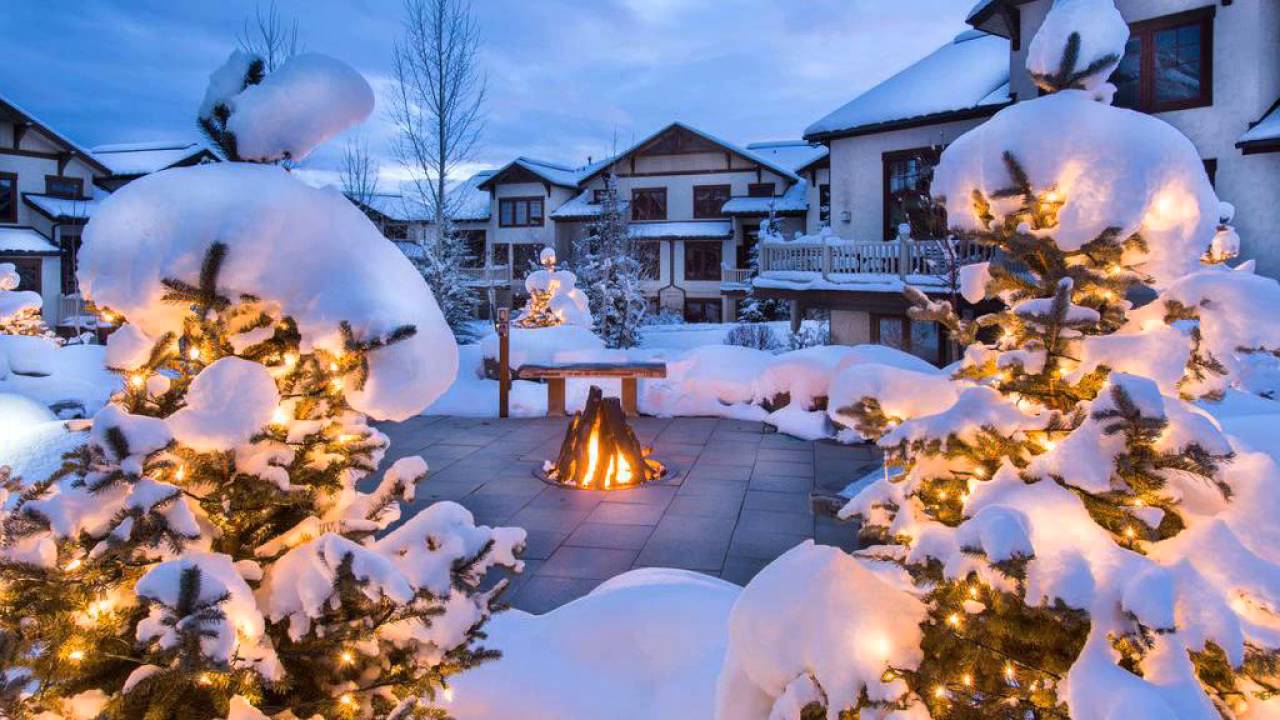 You'll definitely feel at home at the EagleRidge Lodge by Wyndham Vacation Rentals. Units are complete with everything you need. Appliances such as a full-sized refrigerator, stovetop, microwave and other kitchenwares are found inside. Rooms are individually decorated giving each one their own personality.
EagleRidge is a smoke-free property, which is surrounded by many attractions in the area. The establishment has a seasonal outdoor pool, ski storage, lobby fireplace, barbecue grills, front desk safe and fast internet connection. Their 40 unique rooms will make your stay a memorable experience. Its friendly service, uniqueness and killer location will make you want to keep on coming back.
1463 Flattop Cir, Steamboat Springs, CO 80487 | 970-879-5555
Check prices, availability or book EagleRidge Lodge
Chateau Chamonix by Mountain Resorts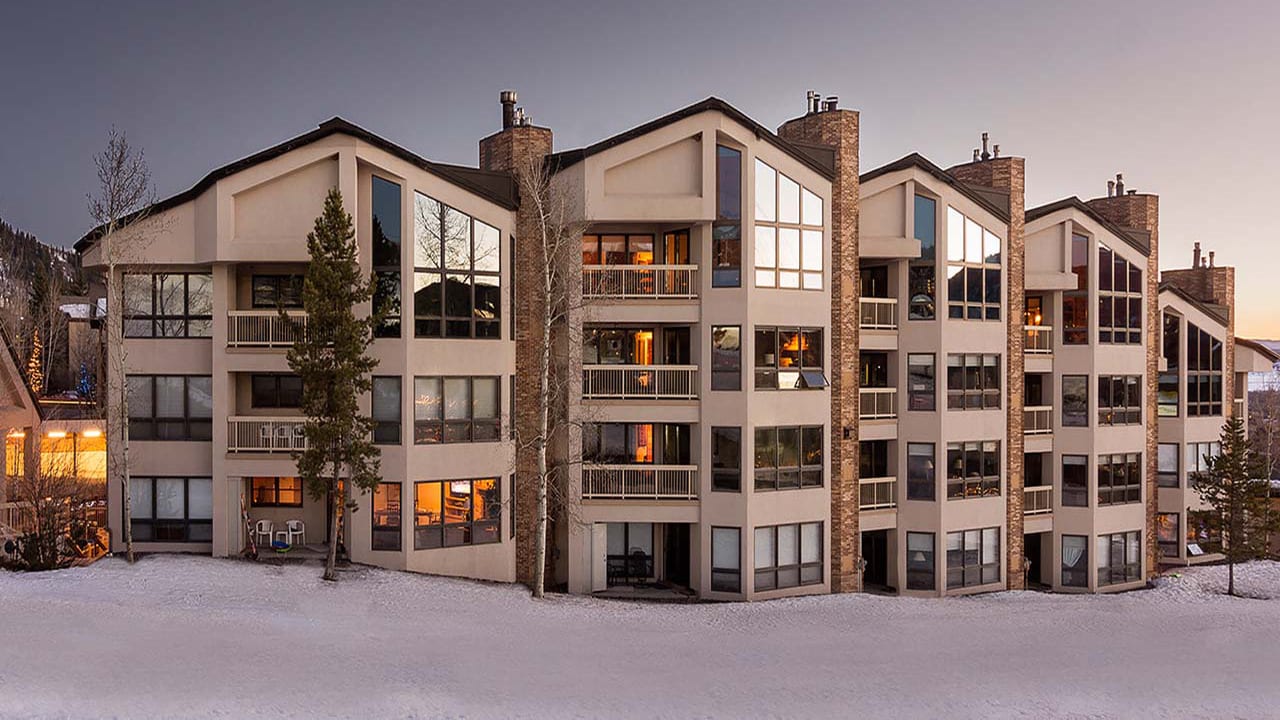 Chateau Chamonix is ideally found by the ski slopes of Mt. Werner. If you want to have a vacation on the Rocky Mountains, this is one of your best options. It's close to Gondola Square where you can find a plethora of shops and restaurants, and of course ride up to heavenly Champagne Powder. Families enjoy the fact that it's a very short walk to the Kids' Vacation Center and the Steamboat Snow School.
The overnight rentals at the establishment include 2 to 4 bedroom condominiums equipped with washer/dryer, full kitchen, gas fireplace and wireless internet. After a thrilling, but exhausting day of adventure, you can dip in the indoor/outdoor heated pools, sauna and outdoor hot tubs.
2308 Ski Trail Ln, Steamboat Springs, CO 80487 | 970-879-7511
Check prices, availability or book Chateau Chamonix
Chalet Val d'Isere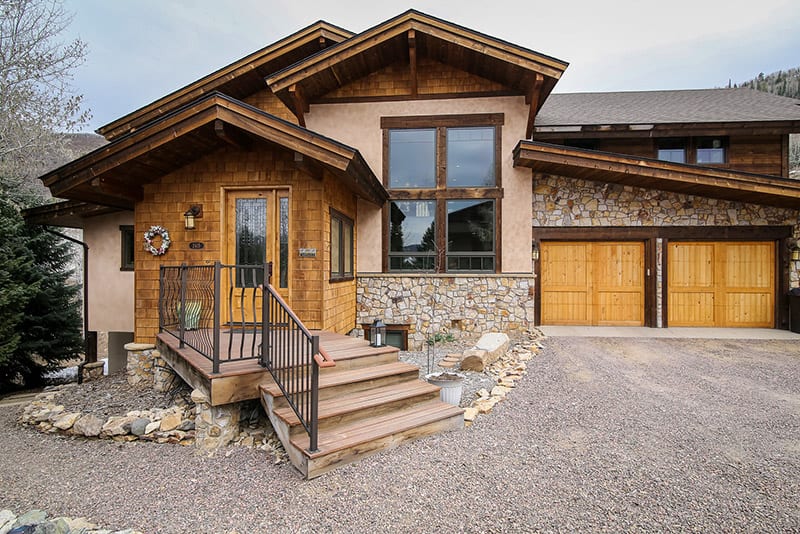 Chalet Val d'Isere is your inn on the mountain. Its a luxury bed and breakfast that's an amazing getaway for all seasons. Conveniently located close to the ski area, you won't have a problem accessing or going about your winter time fun.
The establishment is made elegant with maple wood floors, classic rugs and collectibles from a lifetime. Chalet Val d'Isere also has a fireplace lounge, which is a great place to bond with people, along with a game room. With its location, you can watch the gondola while having your breakfast. Your room will be loaded with a fruit basket, snacks, chocolates and you can also be provided with tea and coffee.
2415 Val D'Isere Cir, Steamboat Springs, CO 80487 | 970-846-7006
Check prices, availability or book Chalet Val d'Isere
Inn at Steamboat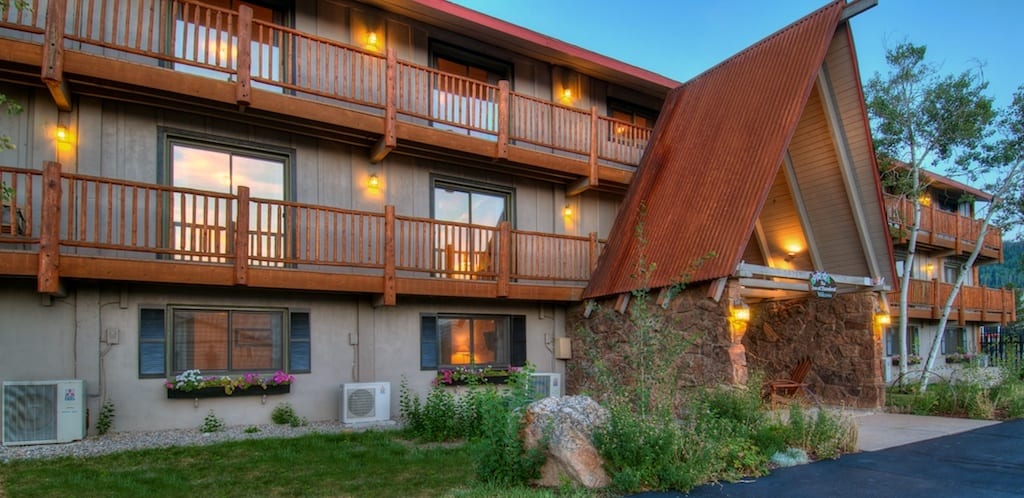 A 33-room boutique hotel, the Inn at Steamboat is an excellent property if you want a convenient, yet quiet neighborhood. The base of the resort is just a short walking distance away. Also, Steamboat's Old West main street is only about a 10 minute drive away.
Their Valley View King and Queen Rooms allow you an exceptional panoramic view of the Yampa Valley. They also have king suites and family suites prime for a group vacation. At the Inn at Steamboat, you get complimentary breakfast, parking, storage of ski equipment and winter shuttle service to and from the gondola.
3070 Columbine Dr, Steamboat Springs, CO 80487 | 970-879-2600
Check prices, availability or book Inn at Steamboat
The Antlers at Christie Base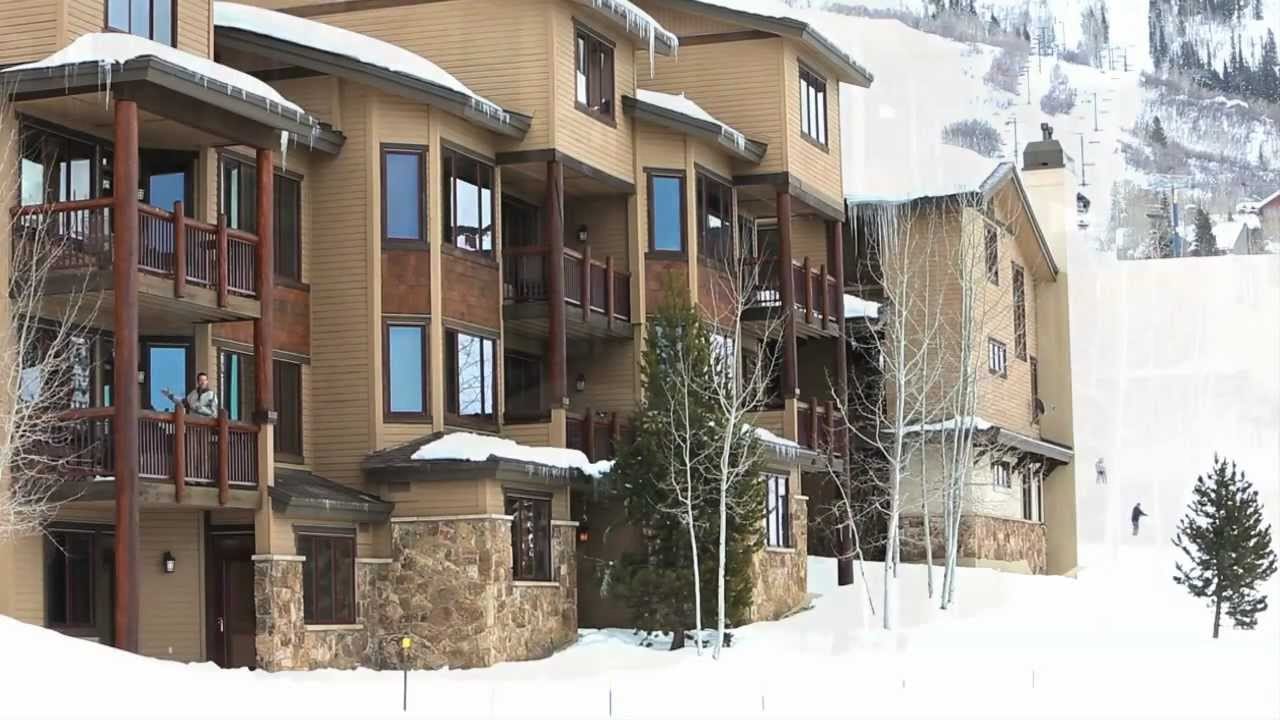 The Antlers provides you with a luxurious escape on the mountain. The upscale hotel offers three to five bedroom condominiums, with each room uniquely designed. You'll also get a magnificent mountain view with each one. Feel at home with the cozy and spacious units, complete with all the amenities you'd ever need and more.
They have an on-call shuttle service so it's easier for guests to navigate around Steamboat Springs. During the ski season, the establishment provides skiers with snacks at the ski valet room. After a long, fun day, you will love the mountainside hot tub and pool. The Antlers can be your lavish home away from home.
2085 Ski Time Square Dr, Steamboat Springs, CO 80487, | 970-879-5548
Check prices, availability or book Antlers at Christie Base
Hampton Inn and Suites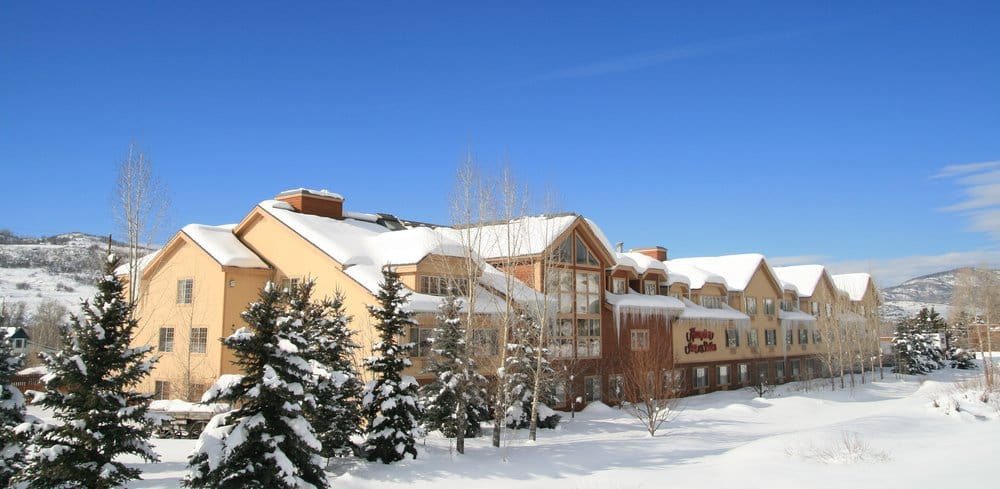 This modern three star hotel has 73 modern, spacious and elegant rooms. The establishment is great for corporate meetings and also family friendly. They have pack n' plays to ensure everyone enjoys their stay. The hotel is also near a lot of attractions such as Steamboat Ski Resort, Fish Creek Falls and the Yampa River.
Hampton Inn and Suites is also near the downtown area. The hotel has its own restaurant, business center, exercise facility, on-site convenience store, 24 hour pavilion pantry and playpen market. You can stay in style and comfort at the Hampton Inn of Steamboat Springs.
725 S Lincoln Ave, Steamboat Springs, CO 80488 | 970-871-8900
Check prices, availability or book Hampton Inn and Suites
Bear Claw Condominiums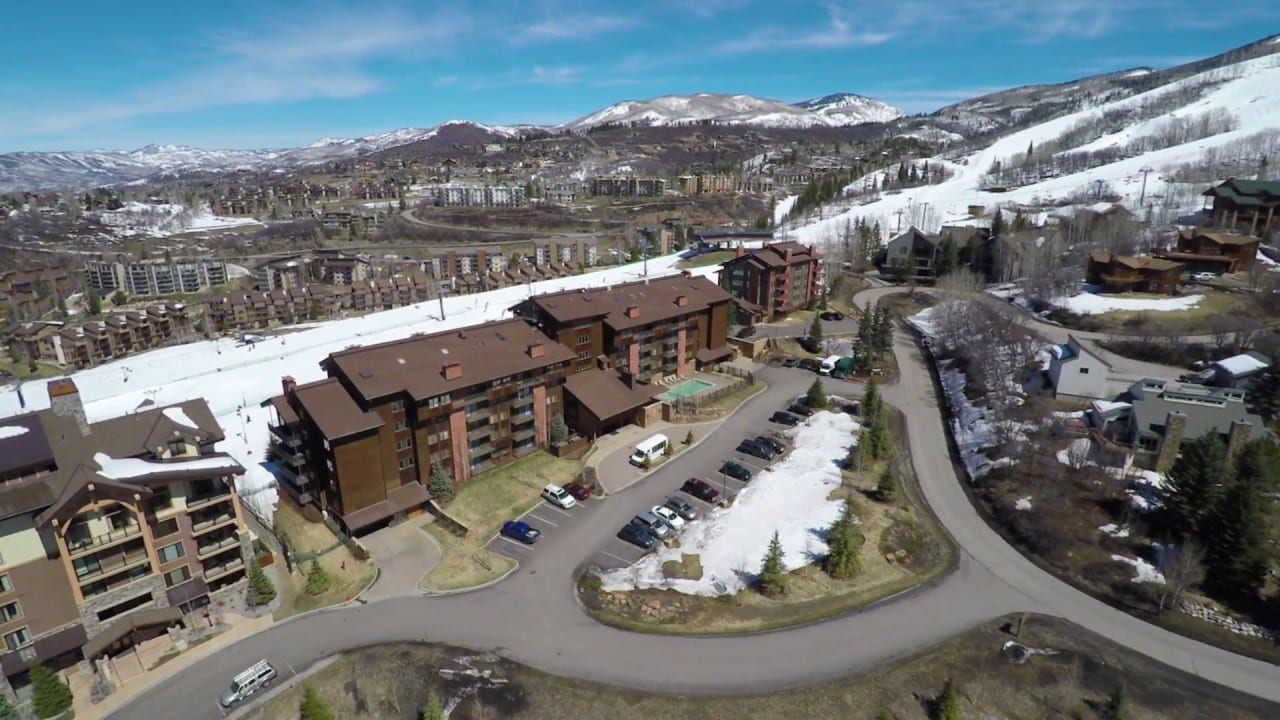 Bear Claw is a premier mountain resort that provides real ski-in/ski-out convenience. This luxury property sits at the top of the stampede run, meaning once you walk out the side of one of its three lodges: Bear Claw 1, 2 and 3, you can strap on your skis or board and ride DOWN for a fun warm-up run on your way to the gondola or Christie Lift. There's even a free shuttle to take you all over town during the ski season.
The units, which run the gambit in size, are individually furnished and decorated. Regardless, each one is equipped with a gas fireplace, kitchen, private balconies, ski lockers and guests are provided with complimentary high-speed wireless internet. Moreover, there's an outdoor heated pool, two hot tubs, and a sun deck at building two, and another year round outdoor pool and hot tub, along with fire pit, complete with s'mores, at number three. With so much going on in town throughout the year, Bear Claw can help you with vacation planning to turn your Steamboat dream vacation into a reality.
2420 Ski Trail Ln, Steamboat Springs, CO 80487 | 970-871-9100
Check prices, availability or book Bear Claw Condominiums
Holiday Inn Steamboat Springs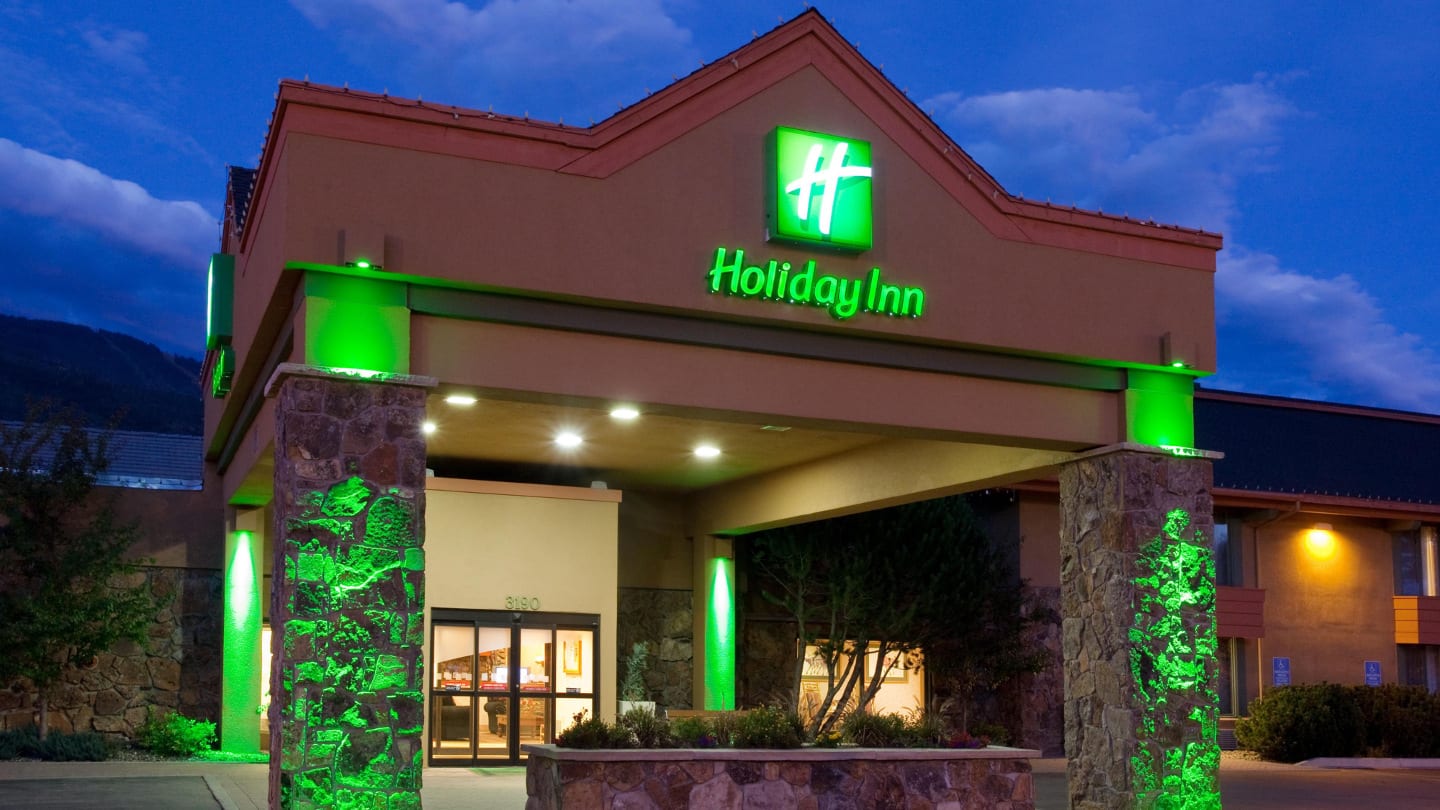 What makes Holiday Inn unusual or cool? Well it's clean, affordable, and has an efficient location on Highway 40, between downtown and mountain village. Plus it's lit neon green and has a bar called Rex's attached to it! It's also one of the best choices if you're bringing the family. Young ones ages 18 and under eat free any time of the day and also stay for free when they share a room with their parents.
If it's time to get down to business, they have a well-equipped, modern business center. Guests love their outdoor and indoor heated pools. You can choose between a guest room or a suite room. Both of which are complete with a kitchenette, mini refrigerator, microwave, coffee maker and tea maker.
3190 S Lincoln Ave, Steamboat Springs, CO 80487 | 970-879-2250
Check prices, availability or book Holiday Inn
Time for a northwest road trip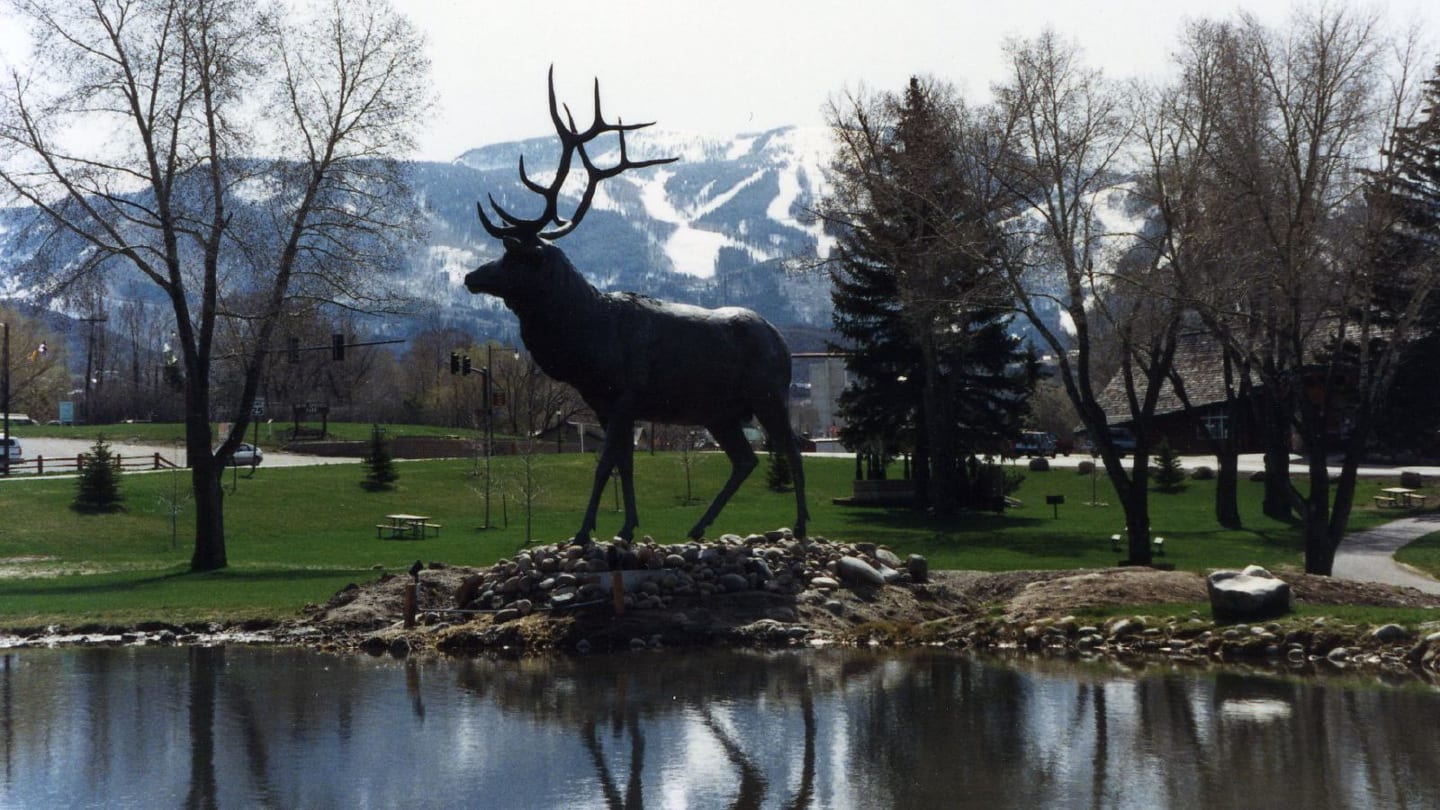 So who's ready to come to the Yampa Valley for a weekend gateway!? It's only a three drive from Denver, making it a perfect two or more night retreat, and just far enough from the Mile High capitol to disperse the crowds.
What's your favorite place to stay in Steamboat? I'm sure we missed a few good ones. Thanks for checking out our hotel list!
Sours: https://www.uncovercolorado.com/best-hotels-in-steamboat-springs-co/
The gorgeous vacation town of Steamboat Springs is a year-round destination, largely due to the vast areas of untouched wilderness that surround it. Predictably, good hotels in Steamboat Springs are pretty easy to come by. You are spoilt for choice with a wide range of accommodations to choose from, ranging from traditional hotels, vacation rentals, condominiums, and townhouses.
Located northwest of Denver, Steamboat Springs is renowned for its ski resort, which is one of the best ski resorts in Colorado. However, there are plenty of other things to do in this thriving city that has an active art and culture, historic downtown, and year-round recreation. No matter what time of year you choose to be in Steamboat Springs, you'll definitely find something interesting to do.
Hotel Bristol
11
Staying at the centrally located Hotel Bristol is like taking a step back in time. Built in 1948, the hotel has maintained a lot of its historical essence with a few modern upgrades. Its location puts you at a convenient distance from the restaurants and shops and also in close proximity to the slopes. The Bristol is one of the more affordable hotels in Steamboat Springs Colorado close to the ski slopes, even during peak season.
For the price you pay, the hotel has some surprisingly good amenities such as an onsite restaurant and bar and indoor hot tub. Air-conditioned guest rooms are clean and comfortable with ensuite bathrooms.
Check Rates & Book Now
Wyndham Aparthotel
10
Wyndham Vacation Rentals manages a plethora of accommodations in Steamboat Springs, and The Antlers at Christie Base is just one of them. This condo-style retreat has the convenience of true ski-in/ski-out access to the slopes. It's highly popular with skiers in the winter because of this easy access and other amenities such as a ski valet service, heated boot lockers, and an on-call shuttle service. Complimentary skier snacks are also provided during ski season.
Spacious lodgings range from 3-to-5-bedroom condos outfitted with a host of amenities. Western-style chandeliers, wood-paneled walls, and gas fireplaces give the property the appeal of a mountain lodge. A heated pool and hot tub with a BBQ grill area complete the image. Although there is no onsite restaurant, the T-Bar is just next door.
Check Rates & Book Now
The Inn
9
For someone looking out for affordable hotels in Steamboat Springs Colorado, The Inn is a good option. This three-pearl inn is located in a quiet neighborhood not too far from the Steamboat Ski Resort. It's a five-minute drive to the resort from here. You'll also find a few shops and restaurants in the vicinity of the inn.
Spacious, cozy rooms decorated with attractive pine furniture and other homey elements are the hallmarks of the inn. Each room comes with the standard amenities that one would look out for in a good hotel. One downside to the three-story property is the lack of an elevator which can be a problem for some guests.
Guests can enjoy a good complimentary breakfast as well as a host of other amenities such as the small outdoor heated pool and hot tub, a sauna, fitness center, and free Wifi. In winter guests also have the convenience of the hotel's shuttle bus service to get to the resort or to for an evening meal to town.
Check Rates & Book Now
Holiday Inn
8
Just off Highway 40, you'll find the 117-room Holiday Inn, one of the more popular family hotels in Steamboat Springs Colorado. The ski resort is just a short drive from the hotel, as is the Steamboat Springs town. Other local attractions such as the Old Town Hot Springs and Fish Creek Falls are also easily accessible.
You'll find plenty of family-friendly features here such as the outdoor and indoor pool and game room. Several hot tubs and a spacious fitness center can also be found on the property. Guest rooms are simple but classic with red and gold color schemes. All rooms offer a number of conveniences such as coffee-makers, mini-fridges, flat-screen TVs and complimentary toiletries. Another popular spot in the hotel is the American-style restaurant which is open from morning to evening.
Check Rates & Book Now
Legacy Vacation Resorts
7
Another family-friendly property near Steamboat Ski Resort is the Legacy Vacation Resorts. The hilltop resort is 1.6km from the nearest gondola but guests can use the free shuttle from the hotel to get to and from the slopes. One of the most picturesque hotels in Steamboat Springs, guests can enjoy stunning views of the surrounding ranges and the Yampa River Valley from the property.
Guests can choose from a wide variety of rooms that range from spacious one-to-bedroom suites to smaller studios. All suites have a balcony or patio that offers great views of the mountains. Amenities that you can look forward to at the property are an indoor pool and hot tub, a game room, exercise facility, and complimentary wifi.
Check Rates & Book Now
The Nordic Lodge
6
If you're in Steamboat only for skiing and are looking for an affordable place to rest your head, Nordic Lodge is the best option. This recently remodeled property is a little away from the slopes. However, the free ski bus to the ski area leaves every 10 minutes from the lodge so getting to the slopes is a breeze. Within walking distance from the property, you'll also find plenty of restaurants.
Designed with custom log furniture and granite countertops, the suites and rooms are minimalist, yet stylish and comfortable. Larger families can choose to stay in the spacious King Apartment with a full kitchen and a host of amenities. An indoor hot tub and seasonal outdoor heated pool, plus a complimentary, continental breakfast add to the pleasure of staying here.
Check Rates & Book Now
Trailhead Lodge
5
Managed by Wyndham Vacation Rentals, Trailhead Lodge consists of managed rental condos with full kitchens. Although not a ski-in/ski-out property the four-pearl hotel has the convenience of an onsite gondola to take guests to the slopes. Apart from the gondola, there's also a free shuttle service to the lifts and to town. You'll find a few restaurants within walking distance of the property but for more choices, you'll have to drive 10 minutes to the town.
Most of the condos have their own private balconies with mountain views. Stone fireplaces, big comfortable couches, and other amenities can be found in the apartments. Although the property's biggest selling point is the onsite ski gondola, the pool area is another big draw. The three hot tubs and the heated pool are great after a day on the slopes. You'll also find a game and fitness center indoors but there are no onsite dining options.
Check Rates & Book Now
Canyon Creek Condominiums
4
Canyon Creek Condominiums is located at the base of the Steamboat Ski Area, putting you in close proximity to the gondola which is just a short walk away. The property also has a complimentary winter shuttle service to take you Steamboat's most exciting attractions.
You can choose from 2-to-4 bedroom condos with standard amenities. Fully equipped kitchens, stone fireplaces, large covered balconies and a plethora of TVs are the hallmarks of the vacation rentals. Furthermore, guests can also enjoy the outdoor heated pool and hot tub, a fitness room, and underground heated parking.
Check Rates & Book Now
Highmark Steamboat Springs
3
The location of the four-pearl Highmark Steamboat Springs boutique hotel at the bottom of Mount Werner makes it one of the more convenient hotels in Steamboat Springs Colorado for guests wanting to hit the slopes. It's about an eight-minute walk to the nearest ski gondola from here. Added to that the shuttle service also ferries guests to wherever they need to go. There are plenty of other activities that are under 10-minutes drive from the hotel.
The Bavarian-style building has a luxurious lobby, that is both stylish and welcoming at the same time. Wood-paneled walls, carved wooden furniture, and stone fireplaces with woodland paintings characterize most of the spaces of the hotel. Guests can choose from stylish two to four-bedroom condominiums, all with modern comforts. A heated outdoor pool with a large hot tub, a fitness center, and steam rooms add to the comfort of staying here. Guests can also enjoy an in-room complimentary message if they'd like and make use of the free ski storage facility.
Check Rates & Book Now
The Steamboat Grand
2
For those looking out for luxury hotels in Steamboat Springs Colorado, The Steamboat Grand ticks the right boxes. Location-wise, it's just minutes away from the Steamboat Ski Area so getting to the slopes is fairly easy. It's also pretty close to the Amaze'n Steamboat Family Fun Park. A complimentary shuttle makes commuting between different sites so much simpler.
Accommodations in this upscale property include classic hotel rooms, studio units, condominiums, and luxurious penthouses with the necessities you would expect to find in a good hotel. A sauna, steam room, heated pool, and hot tubs are great for unwinding after a day on the slopes. Also of note is the Grand Spa that offers a number of massages and body treatments. If you'd rather eat in, you could enjoy room service or visit the onsite dining areas.
Check Rates & Book Now
Sheraton Steamboat Resort
1
Sheraton Steamboat Resort is not only luxurious but also has the convenience of ski-in/ski-out accessibility. Although Steamboat Springs' town is about a 10-minute drive from here, the gondola going up to Steamboat Mountain is just next door. Don't despair if you don't have a car as the hotel provides a free shuttle service to the town. During season time the resort gets pretty full with skiers.
The upscale interiors with split log tables and a rich masculine color scheme, give it a feel of an upscale ranch. You can choose from a wide range of rooms, ranging from the traditional hotel room to a larger suite or one-to-two-bedroom condos. All rooms are outfitted with the standard features of a Sheraton property which includes Sweet Sleeperbeds and other conveniences. The rooms also have private balconies, with some great views.
Besides skiing, guests can also enjoy other winter activities offered by the resort such as snowshoeing, sleigh rides and a variety of other events. A heated outdoor pool, year-round hot tubs, plus a spacious fitness center, a game room and restaurants add to the pleasure of staying here.
Check Rates & Book Now
Recommended Restaurants / Bars in Steamboat Springs:
Laundry – No, this is not a place where you wash your clothes but one of the best places to enjoy some upmarket comfort-food inspired cuisine. It also has an extensive drinks menu that features specialty tequilas and house-infused vodkas.
Cafe Diva – This cozy and elegant restaurant which started out as a tiny wine bar serves delectable French-Asian inspired cuisine right in the heart of Steamboat Mountain Village.
Recommended Activities In Steamboat Springs:
Hot Springs – In the heart of downtown Steamboat, the natural hot springs of the Old Town are popular the year-round with families. The hot spring-fed pools, waterslides, and climbing make this the perfect family spot. Strawberry Park Hot Springs is about a 15-minute drive from downtown. It has a natural wilderness setting in an aspen grove in the mountains.
Steamboat Winter Carnival – The beginning of February is a good time to be in Steamboat as the Winter Carnival kicks of then. It's the oldest continuous Winter Carnival west of the Mississippi that embraces the areas' western heritage.
Categories: Colorado, Ski Resorts, United States
Author: Peter S
A travel blogger and the founder of WOW Travel, Peter is a crazy dreamer with an insatiable desire for adventure who could never settle for an ordinary life or conform with the norm. After visiting more than 50 countries, he aims to travel with a purpose and inspire people to do the same.
Sours: https://wowtravel.me/hotels-in-steamboat-springs/
The Best Hotels in Steamboat Springs, Colorado, for Every Traveler
Steamboat Springs is a charming Colorado mountain town to explore year-round | © Chris Selby / Alamy Stock Photo
Whether you're looking for a romantic chalet-style guesthouse, a rustic inn hidden by pines or a resort with all the trimmings, there's a Steamboat Springs hotel to suit your style. Here are the best of the bunch.
Between the pine-clad Colorado mountains, Steamboat Springs is a pretty town with a buzzing center. In the winter months, the gondola ferries people up the mountainside to the ski runs, while in summer, the hillside hiking trails come to life with wildflowers and woodland critters.
Courtesy of Rabbit Ears Motel / Expedia
You can't miss the neon pink sign for Rabbit Ears Motel in the center of Steamboat Springs. Once you've pulled in, you'll find simple motel-style rooms, but with a touch of luxury in the form of soft comforters and flat-screen TVs. Floor-to-ceiling sliding doors open onto slim balconies where the Yampa River rushes below. Downtown is on your doorstep, and the hot springs are just across the road. It's also easy on the wallet.
More info
Chalet Val d'Isere
Inn, Independent Hotel, Boutique Hotel
4.8/5 (38 Reviews)
 Courtesy of Chalet Val d'Isere / Expedia
Price Drop
Now from$248per night
This cozy mountain inn oozes charm. As well as being close to the ski runs, it has a hot tub and deck amid the towering pines and a rumpus room with a pool table on the upper floor. You can see the gondola from the dining table, where a home-cooked breakfast is served every morning. Rooms are decorated with an understated charm. The owner makes sure you want for nothing, and the service has a personal touch.
More info
Sheraton Steamboat Resort Villas
Luxury, Chain Hotel
 Courtesy of Sheraton Steamboat Resort Villas / Expedia
This premium resort is ideal for the traveler who wants independence without forgoing hotel-style amenities. Studios and villas come with kitchens, but there's always the option of room service. However, when you want some privacy, escape to your mountain-view balcony or huddle around the fireplace. Nearby chairlifts and gondolas make this a ski-in, ski-out resort in winter, and a concierge and a resort-style pool complete the package.
More info
The Steamboat Grand
Resort
 Courtesy of The Steamboat Grand / Expedia
There's no mistaking that you're in the mountains when you see the wood-beamed and stone porte cochère at the entrance of the Steamboat Grand. Inside, there are various accommodation options, with the most luxurious having fireplaces, rustic wood accents and mountain views. The condos and penthouses have kitchens, with polished granite countertops adding a bit of luxury. It also houses a bar, shops, restaurants, a spa and a swimming pool.
More info
Steamboat Mountain Lodge
Inn, Independent Hotel, Boutique Hotel
 Courtesy of Steamboat Mountain Lodge / Booking.com
This mid-range hotel has all the charm of a mountain chalet, outside and inside. Comfortable rooms either come with a view of the Yampa River wetlands or the dramatic mountains. With a timber-beamed high ceiling and stone fireplace, the breakfast room doubles as a lounge in the evening, and there's a seasonal jacuzzi tub on the outside deck.
More info
Why Book With Culture Trip?
Free cancellation
In these uncertain times, cancel or change for free on select properties.
Price-match guarantee
Find a better price on your booking and we'll match it. Simple.
Unbiased & trustworthy
Book from recommendations handpicked by travel experts.
 Courtesy of The Bristol Hotel / Expedia
Set in a grand historic house, the Bristol Hotel is in the heart of Steamboat Springs, near shops, bars and restaurants. The exterior may be charmingly rustic, but underneath, it's all stylish touches and modern conveniences. Chic rooms have natural, stone-gray accents or colorful Apache blankets and vintage rotary phones. After a day on the slopes, you can unwind in the basement hot tub.
More info
The Victorian Luxury Bed and Breakfast
Inn
 Courtesy of The Victorian Luxury Bed and Breakfast / Expedia
Book Now
The Victorian, set on a hill amid ski lodges and restaurants, stands underneath the gondola to the ski slopes. Big bay windows and a gabled roof give a feeling of old-world class. Before you tackle the slopes, enjoy a breakfast of delicious home-baked treats, pancakes or eggs. Afterward, soak in the warm hot tub on the deck, or unwind with a game of pool or a movie in the home cinema.
Alpine Rose Bed and Breakfast
Boutique Hotel, Independent Hotel
 Courtesy of Alpine Rose Bed and Breakfast / Booking.com
In the historic Old Town, this cozy B&B only has a few rooms, making the service feel personal. Enjoy mountain views from the comfort of your room or the bubbling hot tub on the terrace. Wake to fresh coffee and a home-cooked breakfast served by the hosts, who are always ready to give you advice on hiking and biking in the area. The bars and restaurants of downtown Steamboat Springs are just a 10-minute walk away.
Mariposa Lodge Bed and Breakfast
Boutique Hotel, Independent Hotel
 Courtesy of Mariposa Lodge Bed and Breakfast / Expedia
Book Now
From the home-cooked breakfast made with locally sourced produce to the timber beams created from local wood, Mariposa Lodge is a homage to the bounty of Steamboat Springs. The hosts have lived in the area since the 1970s, and when they're not rustling up a hearty breakfast, they're happy to share their local knowledge. With just four rooms, the service is friendly and personal. The biggest suite comes with a roaring fire, and each ensuite room has rustic touches, such as carved headboards and handmade quilts.
The Antlers at Christie Base
Inn
Courtesy of The Antlers at Christie Base / Booking.com
Everything about the Antlers has been designed around the ski slopes. Ski-in, ski-out access means you waste no time before hitting the snow, and a spacious boot room provides a place to store equipment and clip into your ski boots. The heated pool and hot tub create a warm place to unwind or a cooling respite after a hike in summer. The property offers three-, four- and five-bedroom condos with kitchens, living rooms with open fireplaces and barbecues on the terrace.
More info
These recommendations were updated on January 25, 2021 to keep your travel plans fresh.
Give us feedback
0
Cookies Policy
We and our partners use cookies to better understand your needs, improve performance and provide you with personalised content and advertisements. To allow us to provide a better and more tailored experience please click "OK"
Sours: https://theculturetrip.com/north-america/usa/colorado/articles/the-best-hotels-in-steamboat-springs-for-every-traveler/
Best Colorado hotels 2020: YOUR Top 10 hotels in Colorado, USA
| | | |
| --- | --- | --- |
| | 1 star | Frommer's Recommended |
| | 2 stars | Frommer's Very Highly Recommended |
| | 3 stars | Frommer's Exceptional |
About Our System
Frommer's only recommends things we think you will enjoy and that will make your trip both authentic and unforgettable. Our experts personally appraise each choice in terms of their overall enthusiasm for it.
Our star system does not denote hotel amenities but it does denote the level of our approval. A place with one star is worth a look—after all, it made the list. A rating of two stars means it's excellent, and three stars is the highest praise we give.
Sours: https://www.frommers.com/destinations/steamboat-springs/hotels
Co best hotels steamboat springs
We have created a list with the best luxury hotels in Steamboat Springs Ski Area, USA. Hope you enjoy it. Tip: Set your dates to see room prices!
1The Porches
27+
images
Resort. Located just 400 yards from Steamboat Ski Area, this luxury resort offers a ski-in, ski-out valet tent and a free transfer service within Steamboat Springs. Free Wi-Fi is provided in each house. A fully-equipped kitchen with granite countertops and premium appliances is featured in each house at The Porches. Seating and dining areas boast flat-screen TVs, stone fireplaces and upscale, custom furniture and décor. Each bedroom includes an en suite bathroom with bathrobes. A heated two-car garage as well as a clothes washer and tumble dryer are provided for convenience. A heated year-round outdoor pool and hot tub is featured. The resort clubhouse offers a concierge desk, billiards room and children's game room. A state-of-the-art fitness centre includes a steam room. A terrace with BBQ facilities and fire pit are available for guests of The Porches. A door-to-door ski valet service including rentals, tunes, and storage is offered. Strawberry Park Hot Springs are 10 miles away. Yampa Regional Airport is less than 40 minutes' drive from The Porches. Show full description
2The Steamboat Grand
27+
images
Delightful property. Great location. Popular among women. Located 5 minutes' walk from Steamboat Ski Area, this hotel boasts a year round outdoor pool and hot tub features an on-site restaurant. Ski hire and lift tickets are available at reception. Free WiFi is available in all guest accommodations. A flat-screen cable TV and a DVD player are available in each spacious unit at The Steamboat Grand. All of the accommodations feature ironing facilities and a coffee maker. Select units include fully equipped modern kitchens with generous woodwork and a dining area, sofa beds and balconies. Serving breakfast, lunch and dinner, The Cabin bar and restaurant is located on-site at Steamboat Grand. The restaurant features authentic Colorado produce, meat and game and offers a children's breakfast and dinner menu, along with vegetarian options. A Friday through Sunday Happy Hour is offered at the bar. A full service spa is available to guests of The Steamboat Grand which offers a number of different massages, body treatments and facials. Guests have access to the business centre with fax and photocopying services. For convenience, a guest launderette is available. A free transfer service is available to Steamboat town centre, just 2.5 km away from this hotel. Strawberry Hot Springs is 10 minutes' drive. Numerous mountain biking and hiking trails are located in the area around this hotel. Show full description
3The Inn at Steamboat
27+
images
Charming. Hip. Superb breakfast. Popular among couples. Offering an outdoor swimming pool and fitness centre, this Steamboat Springs, Colorado hotel is less than 5 minutes' drive to skiing opportunities at Steamboat Ski Resort. Free Wi-Fi is provided in all rooms. Strawberry Park Hot Springs is just 10 miles away. Featuring a mountain and valley view, each room offers a flat-screen cable TV, free toiletries and an en suite bathroom at The Inn at Steamboat. Deluxe rooms feature a balcony. A free transfer service to ski areas and Steamboat Springs city centre is available. Designed with sloped roofs and high ceilings, Steamboat Inn offers a poolside sun terrace. After a day of adventures, guests can enjoy the hot tub and sauna onsite. Rocky Mountain National Park is 90 miles away. Denver International Airport is 175 miles away from The Inn at Steamboat. Show full description
I think this place could be the coolest and most ELEGANT luxury hotel in Steamboat Springs Ski Area.
Show
map
We do our best to keep this list very up to date. It was last edited in September 2021. If you know of a luxury hotel that should be on the list, let us know. Click here to contact us. Thanks!
Check out these other cool hotel lists for Steamboat Springs Ski Area:
Sours: https://luxuryhotel.guru/steamboat-springs-ski-area/
17 Best Hotels in Steamboat Springs, CO
Price per night / 3-star hotel. Prices are not fixed and may vary with time.
Average nightly price per month
If you're looking for a cheap hotel in Steamboat Springs, you should consider visiting during the low season. You'll find cheaper accommodations in Steamboat Springs in October and April.
Hotel room prices vary depending on many factors but you'll most likely find the best hotel deals in Steamboat Springs if you stay on a Sunday. The opposite is true for, Friday, which is usually the most expensive day.
Book more than 90 days before your stay begins to get the best price for your Steamboat Springs accommodation.
The cheapest 3-star hotel room in Steamboat Springs found on KAYAK in the last 2 weeks was $86, while the most expensive was $997.
How long should you stay? KAYAK users usually book their accommodation in Steamboat Springs for 3 days.
The main attractions in Steamboat Springs are the Howelsen Hill and the Steamboat ski resorts. The best hotels in Steamboat Springs, close to these ski areas include Nordic Lodge, which is less than a mile from Old Town Hot Springs. Steamboat Art Museum, which exhibits regional Colorado artwork, is also a short walk away.
There are plenty of cheap hotels in Steamboat Springs, including budget hotels and affordable lodges. Steamboat Mountain Lodge offers guests the use of a hot tub and free local bus and is only two miles from downtown Steamboat Springs and nearly a mile from the base of the Steamboat Ski area.
If you are looking for luxury hotels in Steamboat Springs, 4-star The Steamboat Grand is close to Gondola Square and the pistes and offers guests a wealth of amenities, including world-class dining, use of sauna, steam room, heated pool, hot tubs and fitness center, as well as the Grand Spa and several shops on-site. The Victorian provides guests with a jacuzzi hot tub, pool table and a theater room.
Depending on when you visit Steamboat Springs, you can enjoy a variety of activities, from skiing to hiking. If you want to explore the outdoors on your visit to Steamboat Springs, then during the summer, hike to Fish Creek Falls, which is 3.3 miles from the center of town. For a more relaxing day out, Yampa River Botanic Park is a botanical park, with gardens that are home to a collection of plants.
If you are planning a couple's getaway, then there are several romantic hotels in Steamboat Springs to choose from. The traditional mountain inn, Chalet Val d 'Isere, is located in a quiet spot, 4 miles from the center of town and offers guests comfortable lodgings with a hot tub. Hotel Bristol is located in Downtown Steamboat Springs where you can dine in the restaurant or relax in the hot tub.
Hotels are safe environments for travelers as long as they properly implement sanitary measures in response to coronavirus (COVID-19). However, we recommend getting in touch with the local authorities regarding safety procedures for hotels in Steamboat Springs. For more advice, please view our information page on what to know about coronavirus (COVID-19) and travel.

If you are looking for a hotel close to Steamboat Ski Resort, you should consider staying at Sheraton Steamboat Resort Villas, Hampton Inn & Suites Steamboat Springs and Quality Inn & Suites, as they are the most recommended by KAYAK users.

Popular with families, the Holiday Inn has both an indoor and outdoor pool, fitness center and offers free meals to kids under 12 at the on-site restaurant. Less than two miles from this hotel is the Amaze'n Steamboat Family Fun Park which offers activities, including miniature golf, a maze and laser tag.

On Downtown's most prominent corner, 7th and Lincoln, is Howelsen Place, which offers guests access to an outdoor courtyard with sunset views, as well as being on the free city bus route. The centrally located, historic Hotel Bristol provides an indoor hot tub, library with a fireplace, as well as a restaurant and bar.

From May 2019, you can check into Homewood Suites by Hilton, set at the foothills of the Ricky Mountains. Located 3 miles from Downtown Steamboat Springs and Steamboat Ski Resort, the hotel will offer guests an indoor heated pool, game room, business and fitness center.

The Ptarmigan Inn is less than a mile from the gondola at Steamboat Ski Resort and offers guests the luxury of skiing in and out of the hotel. The chalet-style Inn at Steamboat is less than a mile from the Steamboat ski area and offers guests a winter shuttle service to and from the ski gondola area.

After you launch a hotel search on KAYAK, you can refine your research by neighborhood, which allows you to pick the central Steamboat Springs districts. You can also do a search using the city map to choose a specific location, like Steamboat Springs city center.

Take a look at our extensive hotel map to find the best hotels near you.
Sours: https://www.kayak.com/Steamboat-Springs-Hotels.34792.hotel.ksp
You will also like:
And now the third is on the way. You clearly feel how much has already entered and only then they show you how much is still left. Oleg lifted the toy into the air, showing seven balls hanging in the air. Christina only then realized that she was breathing completely unevenly.
674
675
676
677
678