We know that adults need one just as much as the kids do. So, the team got together and created 100 things to do for adults. 
You can thank Darren, Keri, and Sky later.
Have a shot
Have a shot
Have a shot
Have a shot
Have a shot
Have a shot
Have a shot
Have a shot
Have a shot
Have a shot 
Clean up the kitchen
Clean out a drawer in the bedroom
Go through your clothes and get rid of what you haven't used in a year
Go through that shelf/drawer you've been avoiding
Read at least one paragraph of that book you've been meaning to read
Make your bed PROPERLY 
Play a game, card or board
Create your own drink
Go online, learn a foot massage technique, and then practice on your quarantine partner/yourself
Google an easy homemade face mask and put it on
Take an Epsom salt bath for 20mins (2 cups Epsom salts, 2 cups bicarb, essential oils) if you don't have a bath at home fill a bucket with warm water, halve the quantity and put your feet in the bucket. 
WhatsApp a friend you haven't spoken to in a while
Message/call a family member
Pluck. Yes, take the time to get rid of unwanted hairs… wherever they are
Learn a new recipe, something you've always wanted to make/eat
Drink a big glass of water
Rearrange a room in the house
Clear your phone of unwanted or old messages (especially from an ex) 
Clean up your email inbox/outbox
Pour a drink while reminiscing and looking through old pics 
Clean your sneakers
Wash your bike/car
Download Duolingo and choose a language you would like to learn
Do a Duolingo lesson 
Do a Duolingo lesson
Do a Duolingo lesson
Do a Duolingo lesson
Do a Duolingo lesson
Download the app 'Elevate' and try it out
Download the app 'Luminosity' and try it out
Watch a documentary on nature
Watch a documentary on something historical
Watch a food documentary 
Watch an old episode of your favourite series from when you were growing up 
Watch an old movie you used to love
BREATHE! Right now, stand up straight and take a big breath in through your nose for the count of 4…. And a big exhale out of your mouth for the count of 6. 
BREATHE! Right now, stand up straight and take a big breath in through your nose for the count of 4…. And a big exhale out of your mouth for the count of 6. 
BREATHE! Right now, stand up straight and take a big breath in through your nose for the count of 4…. And a big exhale out of your mouth for the count of 6. 
BREATHE! Right now, stand up straight and take a big breath in through your nose for the count of 4…. And a big exhale out of your mouth for the count of 6. 
BREATHE! Right now, stand up straight and take a big breath in through your nose for the count of 4…. And a big exhale out of your mouth for the count of 6. 
Today brush your teeth with the opposite hand
Stand on your left leg for 30 seconds (if it's easy to do that, try close your eyes too)
Stand on your right leg for 30 seconds (if it's easy to do that, try close your eyes too)
Touch your toes 
Lick your elbow
Research the origin of your name
Clean up your Facebook page
Unfollow Instagram accounts that aren't bringing you positive vibes
Find a piece of paper/journal and right now write down 3 things about your home you're grateful for
Find a piece of paper/journal and right now write down 3 things about your body you're grateful for
Find a piece of paper/journal and right now write down 3 things about your personality you're grateful for.
Find a piece of paper/journal and right now write down 3 things about your family you're grateful for (whether you like them or not, you're who you are because of everything)
Find a piece of paper/journal and right now write down 3 things about your time in quarantine you're grateful for
Find a piece of paper/journal and right now write down 3 things about today you're grateful for
Read at least a chapter of a book 
Have some adult time... alone or with your partner
5 for 5 massages. 5 mins you massage your partner, 5 mins they massage you (use timer)
Google a list of the best movies ever made
Choose one and watch it
Message someone a random compliment (mean it)
Check on someone who you know may be alone at this time, a call or a message can do more than you realise
Stretch (and then have a shot) 
PLANT something. It will be your coronaplant. A reminder of the time the world went mad. Also watching a plant grow is amazing. Even choose something you can eat, like a herb, or chillies etc
Binge time… Choose a series and settle down to watch at least two episodes
Do 20 jumping jacks 
Hold a high plank for at least 10 seconds (for the more advanced 30 seconds or 1 minute)
Dance in the lounge
Listen to an album from your matric year 
If you've been saving a bottle of something for a 'special occasion', THIS IS IT. OPEN IT. 
Build a time capsule, find a shoebox or something similar and put in some 'stuff' from today, include a newspaper or magazine, and write some information: your name, where you are, how old, what is the date, what is going on in the world, the current exchange rate, the price of fuel, and a message to whoever finds this in the future. Seal it when it's full. 
Opposite hand hour… do everything with your opposite hand for the next hour
Do 10 push ups 
Stay off your phone, laptop or tablet for an hour
Do 10 sit-ups 
Play a game of 'truth' or 'dare' with your quarantine partner 
Go onto ecr.co.za and listen to a 'khuluma nathi' podcast and practice the isiZulu sentence
Start a puzzle (if you don't have a puzzle, play a different game)
Get a piece of paper, go online and search 'origami', learn to fold origami
Write a family anthem. Use your surname 
Learn the South African anthem PROPERLY 
Make a vision board using magazines. Not sure what a vision board is? Google 
Learn the map of Africa
Learn the provinces of South Africa 
Floss!!!! 
Download Snapchat and take some fun pics with your quarantine partner 
Do a cartwheel
Play the laughing game, who can keep a straight face the longest while everyone is saying 'hahaha' or 'heeheehee'
Play 'pen partners'. One person has a piece of paper and a pen, the other person must describe a random object and get the other person to draw it
Play 'I spy' (make it hard)
Play the alphabet game. Tell a story, but you must start the first sentence with A. the next person must start their sentence with B, etc. See how far you can go. 
Sours: https://www.ecr.co.za/shows/east-coast-breakfast/im-bored-jar-adults-version/
What to do while you're at home during the Pandemic
With all kinds of large gatherings cancelled, no new sports games to watch on TV, schools closed and many people under self-quarantine during the global COVID-19 pandemic, what's a person (or family) to do to stop the boredom?  Here are 19 suggestions to help make your time at home interesting – and maybe even productive.
Pull out the old board games and have a family tournament.
Finally clean out those closets and drawers you've been meaning to get to. 
Create a handmade card or poem for the upcoming Mother's Day and Father's Day holidays.
Start a journal to record your feelings about the pandemic for posterity.
Give yourself permission to binge-watch those TV shows and movies.
Put aside social media for a day and make calls to those friends and family members you haven't spoken with in a while.
Bake a cake or try out that complicated dinner recipe.
Curl up with a great book.
Download a meditation app and learn how to focus on your deep breathing.
Treat yourself to an at-home spa day – manicure your nails, put a mask on your face, do that time-intensive, 10-step skin care routine that will make you feel better.
Read all those magazines you have piled up on the coffee table.
Watch a YouTube video and learn a new craft, like crochet or knitting.
Stop the procrastination and fix that broken thingy in your house.
Do all the laundry and enjoy the feeling of a job well-done.
Sort through all your plastic storage containers to find matching tops and bottoms.
Take a bubble bath, followed by a long nap.
Go through your digital photos, select your favorite images and order some photo prints – or even a photo book – online.
Help older parents and grandparents who are feeling isolated by reaching out to them via Facetime or Skype. You can even use the time to interview them and learn some interesting family history!
Support United Way of Hernando County's Disaster Relief Fund.
---
Movie Day
Blanket fort
Play Dress up
Charades
Play board games
Dictionary scavenger hunt
Color
Bake
Taste testing
Straw painting
Acrobats
https://floridastudents.org/ - all grade level digital learning
Have some "dirt" play with construction cars and rice in tupperware containers.
Play-dough animal shapes. 
Freerice.com (educational learning website)
Nitrotype.com (games and typing tests)
---
Learn to play a new instrument
Write a poem or story
Try a YouTube drawing tutorial
Swap a book suggestion
Write and mail a letter to grandparents or other family members
Get some friends virtually together to play games or apps
Make something new
Write a song
Teach a family member to do something you love
Make something creative (that you've never shown anyone)
Find an exercise class online/YouTube
Video Game Tournament
Have a "Chopped" competition with family members
Create a new music playlist
YouTube yoga or meditation
Journal your Coronavirus experience
Rearrange your room
Write a letter to your future self
Find a book on the LIBBY app to listen to
Write a bucket list
Do a jigsaw puzzle or Logic puzzle
Listen to a new podcast or Ted Talk
Offer make Dinner for the family
Invent a new game
Find items to Donate
Make a 30-day goal list
Make a self-reflection journal
Sours: https://www.unitedwayhernando.org/boredombusters
It's finally summer, and while coronaviruslockdowns are lifting in many states, many of your usual means of entertainment are probably still off the menu. At some point, even the most introverted of us are going to go stir crazy now that it's so nice outside -- especially if you've got kids cooped up inside. 
The good news is, the internet is responding with more options for social gatherings than ever before, including free online concerts (more below) and ways to create your own sense of community even if you're living alone. We've rustled up some of our favorite ways to stay entertained if you're self-quarantined or practicing social distancing in the warmer weeks to come. 
Get the CNET How To newsletter
Receive expert tips on using phones, computers, smart home gear and more. Delivered Tuesdays and Thursdays.
Read more: Free entertainment to help you survive coronavirus social distancing
Stream a concert, opera or TV show

Since the US government has encouraged social distancing to slow the spread of the illness back in March, performers have been trying to find a way to share their art. Artists such as Pink, Coldplay's Chris Martin, Keith Urban, Death Cab for Cutie's Ben Gibbard, Rob Thomas and John Legend have streamed live concerts on Instagram and YouTube -- many of which are still available to watch. 
The Grammy Museum put some of its recorded Q&A performances online from artists like Billie Eilish, Brandi Carlile and Greta Van Fleet. The initial rollout included nine artists. All of the sessions were filmed in the 200-seat Clive Davis Theater inside the museum, located in the LA Live complex, according to a report from Variety. Plus the Metropolitan Opera has streams of performances every night on its website. 
Read more:Best universal remote for 2020
Go fishing in Animal Crossing: New Horizons 
Animal Crossing: New Horizons came out on Nintendo Switch on March 20. Players all over the world have since immersed themselves in all aspects of peaceful island life -- Tom Nook included. The game's social aspect has made social distancing a bit easier. Players have even taken the game to another level and begun decorating their homes to look like a tropical island getaway. Simple in-game actions like growing fruit, planting flowers, exploring, designing rooms and spending time with friends can be comforting.
Plus, an update to Animal Crossing: New Horizons is coming on Friday, adding the ability to swim, dive and collect sea creatures. 
Read more: 17 best Animal Crossing: New Horizon tips for Nintendo Switch
Take a digital museum tour 
Thanks to technology, spending the day at a museum is still an option, even if you can't leave the house. Travel and Leisure has a list of 12 museums that offer virtual tours. You can check out famous locations in the US or abroad in Seoul, Berlin, Florence and more. 
You can also get your art fix with the Google Arts and Culture app for iPhone and Android. The app lets you view paintings in AR, read up on masterpieces and find your famous painting doppelganger. Don't forget to see what you can find in Google Maps if you're in the mood to explore.
The Georgia Aquarium and the Monterey Bay Aquarium have turned on webcams so you can still watch otters, fish and penguins without the crowds.
Host a Netflix viewing party
If you and your friends or family have a Netflix subscription, you can schedule a time to watch a movie or show synced together. A free Google Chrome extension called Netflix Party syncs video playback so you can play and pause at the same time. It also has a group chat feature so you can keep the conversation going while you watch. Everyone in the party has to have a Netflix account though, so it's not entirely free.  
Read more:Wine, beer, alcohol delivery: How to get alcoholic beverages delivered to your door
Do some summer cleaning
Some of us reserve cleaning for weekends, but if you're stuck at home this summer, you've likely got some extra time on your hands. CNET has a list of tips if you want to sanitize your house, your phone, your car and even the dryer vent and the kitchen sink. Plus, learn how to clean smarter, not harder, how Alexa can help you clean and all the places you shouldn't forget to clean. While you're cleaning, don't forget to tidy your tech, too. 
Now playing:Watch this: Outside fun without leaving the house
4:22
Binge watch a new show
When you've got downtime on a regular day, turning to a streaming service like Netflix or Hulu is a clear option. There's always a show to binge -- new or old -- regardless of the service you're subscribed to. 
You might also check out a platform you're not subscribed to, like live TV streaming service Sling TV or YouTube TV. And don't forget about HBO Max, Amazon Prime Video, Apple TV Plus and Disney Plus. If you need help choosing, CNET has compared all of your options. 
Read more: Netflix subscribers soar like crazy as coronavirus traps us at home
Read something new
If you're like me, you have more than enough books on your shelves -- and tablet -- to keep you busy for a while. But you can also buy or borrow books, magazines and newspapers fast on Nook, Kindle and the Apple News app for iOS. But be warned: Even though digital books are often discounted, the cost can still add up if you're a reading fiend.
Read more: How to get free digital magazines from your library
There are also ways to download free eBooks to your tablet, computer or phone. Websites such as Authorama and Project Gutenberg have hundreds of public domain works including Pride and Prejudice by Jane Austen, The Secret Garden by Frances Hodgson Burnett and Lewis Carroll's Alice in Wonderland available for download. Check out these 10 different ways to download free books.
Get your game on
Playing video games is another option to pass the time if you're stuck at home. On top of the games you might already own or have downloaded from the PlayStation or Microsoft Store for Xbox, there are other ways to play. 
Read more: Best free games right now for Xbox, Stadia, PlayStation, PCs and Nintendo Switch
If you're looking for a new gaming experience, game streaming servicesGoogle Stadia and Apple Arcade are worth trying out for their exclusive content. Google also offers a Play Pass for a more affordable gaming experience (in comparison to Stadia). If you're a PC gamer, check out a plethora of game options on Steam.  
In addition, NASA launched a game for Mac and iOS called NeMO-Net in which players can virtually travel the ocean floor in a vessel called the Nautilus, identifying and classifying whatever coral you come across. The cool part is that when you play the game, you're actually helping NASA with their data and research. The game helps to train the Pleiades supercomputer at Ames to recognize corals from any image of the ocean floor. 
Take up exercise
Relaxing on the couch can be fun, but you might get restless after a while. There are dozens of virtual fitness programs to choose from that you can do at home, but it's ultimately about finding the one that you like and that fits your lifestyle. Some fitness apps are free, like FitOn, and are packed with features that other apps would charge for. Other apps, such as Pocket Yoga, have free features but require subscriptions for the full experience. You can also workout with your Google Home or on YouTube.
Read more: Exercise with these household objects for a full-body workout during quarantine
Working out at home definitely doesn't require an expensive home gym. Depending on the workout you want to undertake, you only need to clear out a small amount of space. For example, resistance training, some barre exercises, pilates and yoga only require a few square feet and typically don't require any equipment. In addition, some Instagram fitness trainers, like Jaclyn Ho, have started streaming live classes on IGTV and you might be able to convince your super fit friend to share their workout on Facebook Live. 
DIY projects

Pinterest can keep you entertained for ages with its aesthetically pleasing pictures and ways to be creative. While some might require stuff you don't have on hand, you might find supplies after you organize that overflowing closet. You can find a project for anyone -- whether you want to get creative, organize your kitchen or keep your kids busy.
Here are a few to get you started:
Work on your garden, indoors or outdoors
Summer is prime gardening season. Whether or not you have an outdoor space for growing things, you can still grow herbs, fruits and vegetables (or at least make a valiant effort not to kill them). Here are a few gardening tips from CNET if you're ready to flex your green thumb.
Now playing:Watch this: Grow your own food: No garden needed
1:08
Having kids help with indoor plants is also a fun way to help them stay busy that isn't screen time. 
Read more: The best indoor plants to bring the outside in
Now playing:Watch this: CNET's top how-to videos of 2017
1:42
Go down an internet rabbit hole 
Sometimes a good Google or Wikipedia search is enough to keep you busy for a bit. What have you always wanted to know more about? Pick a YouTube video and click the suggestions after that. If you need inspiration for learning more about a variety of quirky topics, check out:
More fun things to do
Search for adult coloring books and puzzles you can print online
Check Pinterest for a baking project for you or your kids
Dig out your pack of cards and teach yourself a new game
Play online games with family and friends over video chat
For even more ideas, check out the 15 most interesting places to explore in Google Maps, 10 cookbooks to get you through quarantine, and how to stay sane and productive when working from home.
Sours: https://www.cnet.com/tech/mobile/what-to-do-during-quarantine-12-fun-ideas-to-keep-you-busy-at-home-this-summer/
Making a bored jar - what to do when bored - ways to be productive - DIY - Malayalam
The Best Solution for Covidcation Boredom
I'm officially reinstating the Bored Jar. Back in the day, when my boys were in preschool and elementary, uttering the words, "Mom, I'm bored," meant playing Russian roulette with the family jar. There were plenty of fun games and activities inside that little glass container, but there were also a few chores sprinkled in. I miss that age. Somehow the allure of pulling a mystery slip of paper from the jar outweighed the risk that they would be tasked with cleaning their rooms or helping mom fold laundry. (In fact, we were often able to make those chores seem fun!)
My kids are now both teenagers, and given this sudden turn of world events we are finding ourselves living in strangely similar circumstances. Now, if we here those grumbling words uttered or if they are found migrating from game screen to cell phone to TV, we know it's time to pull out The Covidcation Bored Jar.
This 2020 version has been updated for my older boys and our current shelter-in-place status. Feel free to use our boredom busters or use them as a springboard to create your own. Let me know how it goes. I would love to hear from you in the comments!

Would you like to receive these types of posts in your inbox? Never miss a week of my practical tools to help you live a more vibrant life by signing up for my newsletter. You'll receive my Mind-Body Healing Starter Guide for FREE just for signing up. Win-Win!
Carrie Eckertcovidcation, boredom, quarantine, shelter in place, stay at home, family, activities, creative, covid19, CoronavirusComment
Sours: https://www.avocadotozen.com/blog-main/bored-jar-boredom-covidcation-teens-family
Ideas bored for quarantine jar
100 things to do if you're bored in quarantine
This article originally appeared on i-D Italy.
There's no getting around it: you're shut in your house and don't know what to do to pass the time. So, we've put together a list of 100 things to do so you don't drive yourself mad with boredom! Anything we've forgotten? Tell us via DM on Instagram.
Try to grow an avocado: it will die in a few weeks, but at least you can say you tried.
Plan your next vacation down to the very last detail. We can't know when it will happen, that's up to the fates, but we can at least envision how it will take place and what we want to see when we're there. Ah, Google Images.
Discover the weird and wonderful world of absurd tutorials on YouTube. There are a lot of them.
Research volunteering opportunities in your city and mark down the most interesting ones. When the quarantines and isolation ends, we'll still be in a pretty precarious situation. Making a personal contribution is the best way to show the world you care.
But also, take this time to learn something that's… not exactly essential in life, like juggling. Three balls minimum.
Overwhelmed by the news? Sign up for a link curating service like refind.com and read the articles it recommends as most relevant to you (or just as many as you can manage).
Create a shared playlist on Spotify and ask all the people you love to add a few songs to listen to in moments of melancholy.
Keep a quarantine diary: it will be "fun" to read it again in a few years. Probably?
Make a list of all the annoying tasks you've got coming up in the next few months, and try to schedule them: appointments with the notary, checkups for moles, blood tests. Like with your fantasy holiday (but considerably less fun), you may not know when it will be possible to book them, but at least you'll have a clearer picture of the situation. Gotta love the semblance of control!
Watch some films that you wouldn't normally pick, ones that you've been avoiding because they're too "demanding", niche or simply not really "your thing". Maybe this article can help you expand your horizons.
Transfer photos from your phone to an external hard drive. This is your chance to banish the "full memory" warning for at least a month.
Choose 10 photos that represent 2019 for you and put them on a USB stick. As soon as the situation improves, you can take them to a print shop, but in the meantime you can relive all the good memories.
Are you ready to face the family photo box? Maybe put a few albums together and have a little nostalgic cry, it will do you good.
Are you far from your loved ones? Send them an email to tell them what everyday life is like without them.
Learn a poem off by heart.
Start keeping a dream journal, especially if it's something you've wanted to do for a while, but you always put off.
Call. Your. Grandmother.
Call. Your. Mother.
Call. All. Your. Relatives.
If you have international friends, tell them about your individual experience in quarantine where you are, and try not to be too dramatic. Give them basic advice (washing their hands, etc.) to prevent the virus from spreading further.
Write an email to your future self.
If you live with your partner, have sex. If you're long distance, have phone sex. If you don't have a partner, take the opportunity to fix up that Tinder profile.
Start a 19th-Century correspondence with your partner, even if you live together. Young Werther-style roleplays could be just what your relationship was missing.
Choose at least five people that you haven't heard from in over a month on WhatsApp and write them a message to find out how they're doing.
Open a Google Doc and share it with all your friends: turn it into a sort of logbook where you can share articles, videos, songs, or even just stray thoughts.
Throw away that pile of newspapers, magazines and random papers that has been building up in a corner for months. You don't need them, trust me.
Before throwing everything in the trash though, consider repurposing them into a nice collage.
If you have a creative hobby like photography, painting, sculpture, writing, or graphic design, consider entering a competition. For example, the Palm* Photo Prize is open until the end of March.
Update your resume and portfolio, so the next time you see a job listing that inspires you, you can be the first to apply. Here are some pointers for writing the perfect CV.
If you have a dog, teach him something he can't do. Fetching a ball won't cut it.
If you can stomach it, try to observe the crisis from several points of view: read foreign newspapers, or maybe even some longform reports.
For a more global look at the news than you might be getting, have a look at the CNN International newsletter.
In fact, try signing up for at least five newsletters, and then actually read them when they come through.
In the same spirit, unsubscribe from all the newsletters clogging your inbox that you never, ever open.
If you're under quarantine, visit your local government's website to see what free goods and services companies have made available for you.
You've likely already started reading a bit more than usual these days. Why not get into the personal history of your favourite authors, through articles, videos and documentaries.
On that note, have a look at your personal library and pull out a book that you've never managed to get round to. That way, the next time you're at the bookshop you can buy a couple without feeling guilty. Now is as good a time as ever to face Infinite Jest or The Count of Monte Cristo.
While you're at it, put aside three books to lend to your friends when you see them next.
Reading is nice, but talking about the books you've read is even better: join an online book club. And if none of them are piquing your interest, start your own!
Go through your closet and pick at least three items that you no longer wear to sell on sites like Depop or Vestiaire Collective. Take some nice photos, describe the product, and wait for the cash to roll in.
Pick three more items of clothing that you no longer use, and set them aside to give or give them to friends.
Fix up the clothes you've shoved to the back of your wardrobe, the ones with pesky holes or loose buttons.
Rearrange your underwear drawers. Especially the one with all the mismatched socks.
Tidy up your Instagram profile: are you sure that Valencia filter photo you took in Ibiza in 2016 should still be up there for the world to see?
Why not take some shears to your Instagram feed too, and unfollow all the boring people you've accumulated there over the years.
Now that your Instagram profile resembles the room of a cloistered monk, start repopulating it with some really interesting people: maybe artists, psychologists and other experts in their respective fields.
Open a second, themed IG account. Now is the time to get creative.
Browse through the most absurd IG filters and, if you have the design chops, try to create one yourself! Your follower count will grow like never before.
If you haven't already done so, download TikTok and start exploring.
Film a TikTok. It's not that hard!
Google your name in quotation marks and see what comes up. It might be time to delete the old Habbo Hotel account you'd forgotten about.
Google the name of your partner (or crush!) in quotation marks and see if anything interesting pops up. It could potentially be fun and maybe even a bit embarrassing.
Download some games for your iPhone and have a friend download them that you can't see these days, so you can challenge yourself online. We recommend Ruzzle (yes, it still exists) and Fight List.
Have you spent the summer humming songs you don't know the meaning of? Maybe it's time to study those texts, or at least skim them.
Karaoke is always a great idea, especially if you want to get to know your neighbours by… arguing with them.
Sooner or later after all this, we'll return to our usual frenzied rhythms. Why not meal prep for those days, cooking and filling up your freezer to its limit?
Clean every washable surface in your home, especially the ones you usually ignore. You will feel better afterwards, it's science.
Learn how to crochet: you will get so pissed off at the tutorial you'll forget about anything else for a good half hour at least.
Give yourself a manicure, do a hair mask, or anything else you can think of that can be plausibly passed off as "self-care".
Experiment with your nail polishes at home. You can't go to the salon, so it's time to get DIY with it.
Put together one of those disgusting homemade face masks, the ones that only require basic kitchen ingredients. It will splatter everywhere and, in a similar way to crocheting, the self-created frustration will help take your mind off things for a while.
Watch a yoga tutorial and get the whole sun salutation sequence down.
Download a meditation app, try it, and then tell all your friends that it doesn't work (or maybe it does and you can come for us via DM).
Study. It's now possible to take thousands of top-level courses online, completely free. Here are a few of them.
Go to https://theuselessweb.com/, a useless site that will take you to other random, useless sites.
Here are three ways to make a tie-dye t-shirt at home.
And 10 different ways to cut one.
Take out a drawer of your bedside table and empty it onto the floor: it's a safe bet that at least 50 percent of the things you will find inside it are completely useless.
Put your jewelry in order. And throw away the pieces you no longer wear. Yes, even the ones you got in elementary school with your Happy Meal.
Start vlogging your quarantine. It's up to you whether you want to publish them or not, it will still make for entertaining personal viewing in the future. We recommend you don't follow in the footsteps of this YouTuber.
Document what is happening, how you feel, and what you do during the day, because despite how scary it all is, we are in the middle of a unique historical moment.
Is your bookcase full to bursting? Try to come up with a new cataloging method for it.
Switch up the arrangement of the furniture in your room. Move the bed, put the carpet somewhere else, go crazy.
Get a vase out of storage and put the flowers you left to dry in the closet (or, er, forgot about) six months ago.
Make a savings plan, you know, to get yourself on track for the vacation we were talking about before. You can use finance apps like Mint or GoodBudget.
Find out different ways to make your home more sustainable. (You didn't do it before simply because you didn't have time, or so you said). We recommend @storiesfuse for inspiration.
Make not only your home, but also your shopping more eco-sustainable. Start to familiarise yourself with the concept of draught products in supermarkets and get used to the idea of doing groceries (when it's possible again) with not only a reusable shopping bag, but also with a few jars and containers for non-packaged products.
Now that you have the time, try to rethink your food waste. Open the cupboard and check to see which foods are about to expire, and use them up in the next few days.
Do the same with any old creams and make-up.
DO NOT do the same with your medicine drawer, but do throw out the expired ones, and check that your first aid kit is up to scratch.
Don't have a first aid kit? Order one online now.
While you're at it, have a shop around online for your grandmother. And do it with a smile.
If you are young and healthy, make yourself useful to the elderly and those with young children in your apartment building. Go to the pharmacy for them, or bring them their shopping on the landing.
Just, think. Take a few minutes every day to rethink your life and experiences, redefine your goals and devise strategies for how to achieve them. You'll come back stronger than ever.
Knowledge is power, always. Learn about topics you know little to nothing about by watching documentaries and studying online. ResearchGate and Academia.edu are two great places to start.
Have you always dreamed of learning how to use the Adobe package? Now's your time. Turn boredom into 3D Art on Skillshare.
If you miss the cinema, try to recreate its atmosphere at home. Popcorn, total darkness except for the screen, and maybe there's a projector you forgot about lying around somewhere?
Watch Jane Fonda's iconic aerobics classes on YouTube. Let her knitted socks, one piece swimsuits and leg-warmer combos take you back in time to the 80s for an hour.
Dust off the old Nintendo and finish off all the games you left incomplete when you were younger.
Ten minutes of stretching a day can only do you good. That's what Youtube tutorials are for.
Watch an old cartoon you used to like when you were a kid, and ask yourself: did I really go crazy over this stuff? Yes, yes, you did.
Watch your favourite TV series from start to finish again. There's nothing wrong with that. If you want to feel less guilty and more productive, try watching it in another language.
If you stopped opening up the Facebook app a while ago, create a calendar with all your family and friends' birthdays.
Read your horoscope.
Send at least two of your friends their horoscope of the day. You might need to warn them.
Try to quit smoking.
Oh, you don't smoke? Now is not the time to start.
Most of the above activities can be done while listening to podcasts. Listen to podcasts.
Whatever you decide to do, don't open Twitter: it's especially bad these days.
And if you're really bored: Take a shower, fix your hair, dress up, and snap a selfie. It's time to change all the horrible profile pictures you've kept since 2016.
This article originally appeared on i-D Italy.
Tagged:

Coronavirus
quarantine
COVID-19
Sours: https://i-d.vice.com/en_uk/article/n7jk77/100-things-to-do-quarantine-home-coronavirus-self-isolation-social-distancing
30+ Bored Jar Activities for Tweens
This post may contain affiliate links. Please read my disclosure statement. Thanks for visiting!
This post may contain affiliate links. Please read my disclosure statement for more details.
These printable prompts with bored jar ideas are excellent ways to help your kids productively use their free time.
If you're tired of hearing "I'm bored!" or "There's nothing to do!", you'll love having these creative ideas for kids activities.
Find fantastic ideas for using these bored jar prompts with kids of all ages and get your free set today!
Free Time Doesn't Have to Be Miserable
How do you keep your kids busy when stuck at home? If you're running out of ideas, these prompts with bored jar ideas will be just the thing you need.
And if your kids are like my boys, you'll be doing a major happy dance now that you have these free printable prompts 💃
Although my boys are pretty used to spending a lot of time at home, it hasn't been easy the past few months. We're used to going to the library, stores, and sports fields for a change of scenery and interaction with human beings outside of our homeschool family.
I've noticed more moans and groans about not knowing what to do. My boys have vivid imaginations but even that creativity seems to be stretched thin.
Oh, and when we have inclement weather and can't go outdoors, the moans and groans of not knowing what to do have been even worse. Too much time stuck in the house makes for some cranky boys (and mama!).
Well, I don't like living with that type of misery 😉 I decided to put together a collection of activities for when we're blanking on what to do.
These Bored Jar Ideas – Quarantine Edition have suggested activities that your kids can do at home. Some activities work best with a sibling or family member. Other activities can be independently done.
Grab this set of free printable prompts for:
Stuck at home
Rainy day fun
Boredom busters
Brain breaks
Sparking other ways to keep busy (and maybe inspiring a new interest or hobby?)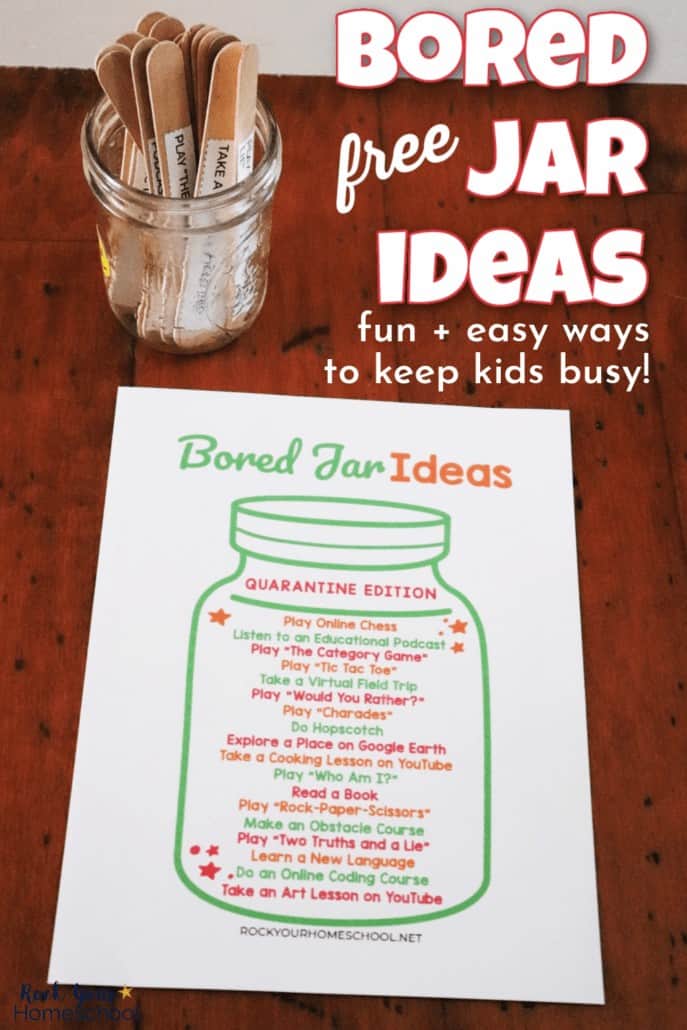 Creative Ways to Use These Bored Jar Ideas
You can use these printable bored jar ideas any way you like. A few ideas include:
Print, cut out, and place strips in a jar or box.
Glue strips onto wood craft sticks. Place in jar or box.
Randomly select idea whenever boredom strikes.
Use the page with jar. Have your kids shut their eyes and randomly point to an idea to do.
OR go through the bored jar ideas with your kids and pick one based on current need.
Use the blank sheet to create custom bored jar ideas based on your kids' likes, interests, etc.
Tips & Tricks for Getting the Most Out of These Printable Bored Jar Ideas
I suggest that you sit down with your kids and go over these bored jar ideas prior to using. Explain why you think it's important to have these ready-made prompts available when they can't think of anything to do.
Also, go over your expectations. For example, how long do you expect your kids to try each idea? What type of results would you like to see?
As you chat about these bored jar ideas, encourage your kids to brainstorm other appropriate activities. If they can't think of anything, do a Google or Pinterest search.
In case you're not familiar with some of these bored jar ideas, here are my ideas for using some of them (and please email me at [email protected] if you need tips for ones not mentioned here):
Online Chess
My boys haven't tried this free site (ChessKid) but it looks like a good option.
Another option to play chess for free online is Learning Chess.
Educational Podcast
Need ideas for podcasts for kids? Here's a list that I put together.
Here's a list of the 25 Best Podcasts for Kids. And here are 26 podcasts for elementary, middle school, and high school.
"The Category Game"
Learn how to play this fun pen-and-paper game here.
Virtual Field Trip
Your kids can learn so many different things and enjoy a variety of experiences with virtual field trips. Check out these ideas and free printable pack for virtual field trips.
Play "Would you rather?"
The Best Ideas for Kids has this free printable list of 100 Would You Rather questions.
Google Earth
Go to Google Earth to explore different areas around the world. Some cool places to check out would be from areas that you're studying in history or other school subjects.
Play "Who Am I?"
Picklebums shares these directions and tips for playing this easy and fun interactive game.
Play "Two Truths and a Lie"
ThoughtCo. shares how to play this super fun game.
Learn a new language
Free apps like DuoLingo and Memrise are awesome ways to practice and learn a foreign language (or two).
Do an online coding course
Khan Academy has a free Hour of Code course your kids can try (which then leads to an option for more advanced computer courses).
Take an art lesson YouTube
My boys' two favorite places for art lessons on YouTube are Chalk Pastels with Nana of You ARE An Artist and Art for Kids Hub.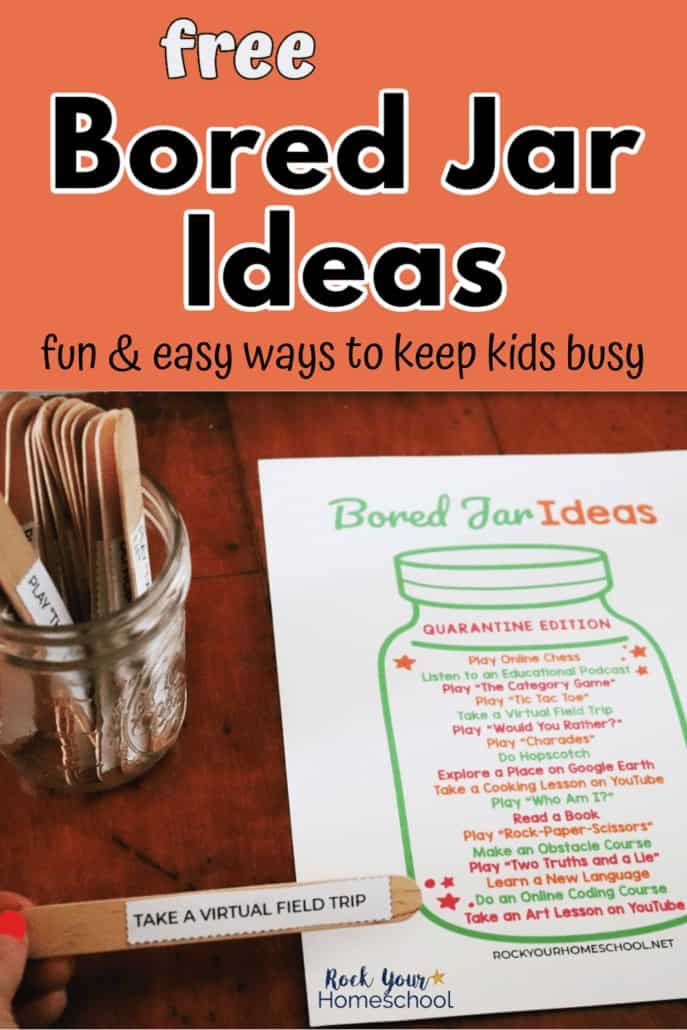 Get Your Free Set of Bored Jar Ideas
WooHoo! High five for taking time to find creative ways to help your kids productively use their free time!
This free printable set includes 3 pages:
Bored Jar Ideas with jar graphic
Bored Jar Ideas (divided into Fun & Games and Learning) on strips you can cut out
blank sheet of strips for DIY Bored Jar Ideas
Please print as many copies of this set as you need to enjoy with your kids, class, or co-op. If you have a friend or co-worker who might like to use these printables, share the link to this post (and not to the download). I truly appreciate your sharing!
To get these printable Bored Jar Ideas, all you need to do is subscribe to Rock Your Homeschool.
You'll receive an email with a PDF download, along with a password to open the Subscriber's Library to all RYHS freebies.
Plus, you'll get emails with ideas, resources, and encouragement to make life and learning fun 🙂
(Psst! Current RYHS members just need to access the Subscriber Freebies page and enter the password in your welcome email.)
Get your FREE set of Bored Jar Ideas by clicking HERE or on the image below.
Sending you tons of positive vibes for fun times!
Sharing is caring!
Sours: https://rockyourhomeschool.net/bored-jar-ideas/
Similar news:
This Popsicle stick bored jar by whatmomslove.com is more durable than the previous one. You can replace the paper chits with a sturdier option in the form of wooden sticks. If you don't happen to have access to many Popsicle sticks, then you may use other alternatives too. Paint one end of the stick to make it fun and quirky and write the chore or task on the other end. Let fate decide what you have to do.
Bored Jar Ideas:
Now, if you loved the idea of making a bored jar, here are some tasks you can fill it up with. Feel free to add your thoughts as well.
Watch a movie
Build a pillow fort
Make a bucket list
Do DIY home projects
Read a book
Clean your closet
Practice Hand Lettering
Watch Netflix
Play dress up with your clothes
Write a story
draw/ color
Make popcorn
Do your hair or a friend's
Paint your nails
Finish your homework
Do 20 pushups
Play music and dance
Fold the laundry
Play a board game
Start an Instagram live
Call your grandparents/ relatives.
2. Kitchen Menu Board Easy DIY Home Project
Ever happened to crave for your favorite meal only to find out that you don't have the required ingredients to prepare it? Are you or your family is bored of eating the same kind of meals every day and looking for a list of food options and recipe ideas? Do you find yourself spending way too much time deciding what to make for dinner? Well then planning your meals is the way to go. 
Meal planning is a great way to focus on your family's dietary requirements, ensuring that they eat a balanced diet, also taking into account their tastes and food preferences. This easy DIY Menu Board is especially useful during quarantine as by planing the week's meal right at the onset of the week, you will be able to reduce the frequent visits to the grocery store just because you forgot to grab something the previous time. It's better to be safe than sorry. It also helps you save money by reducing the frequency of eating out.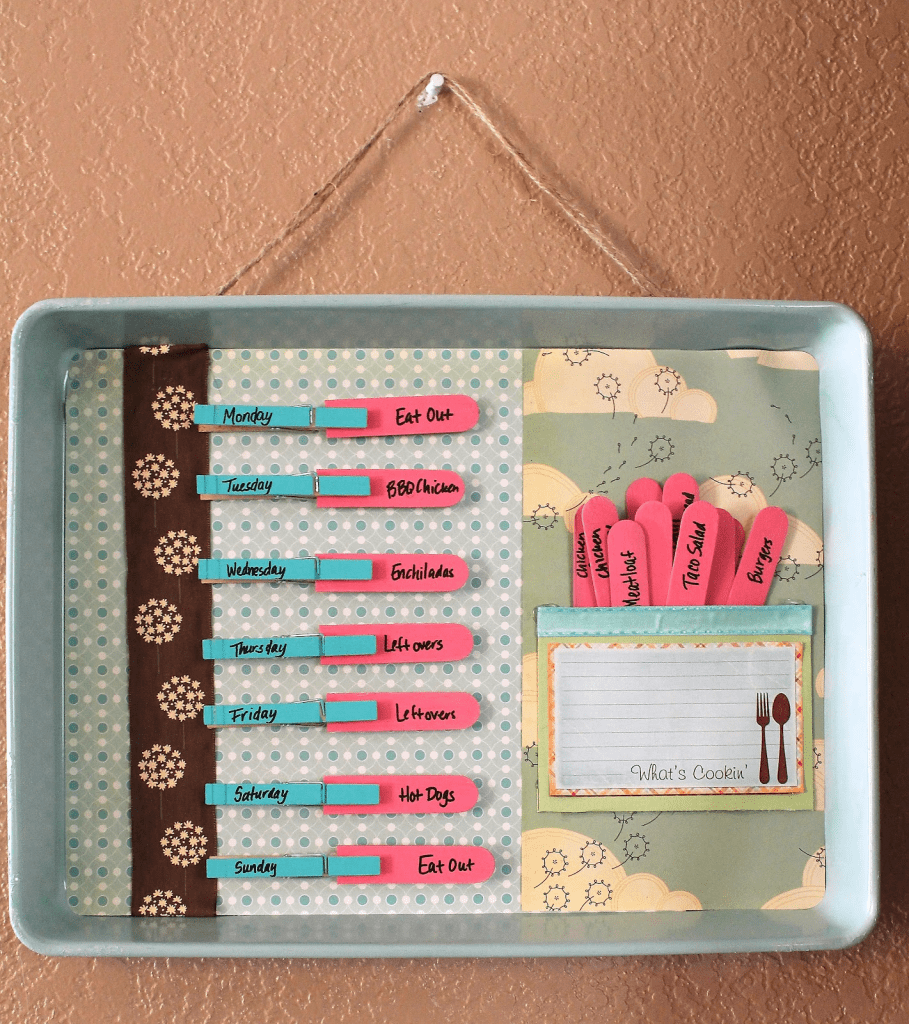 This cute DIY Menu board by littlethingsinlifelanne.blogspot.com is an efficient way to plan your meal.  She has used wooden clothespins to indicate the day of the week and many little Popsicle sticks to help her plan her meal. An envelope in the side holds all the different dishes, and you can pick whatever you feel like making that week. You can make it even more attractive by using Hand Lettering to write the menu. Check out our article on how to get started with hand lettering. Hang it in the kitchen and plan your grocery list accordingly.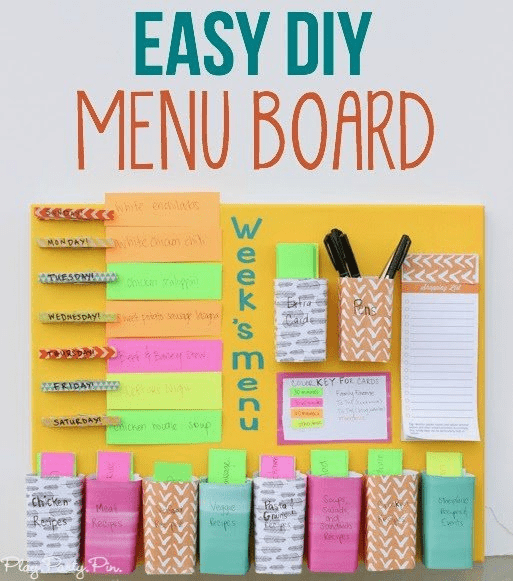 This easy DIY menu board by playpartyplan.com is all you need and more for a meal planner. It has different bins at the bottom for chicken recipes, meat recipes, vegan recipes, and so on. Not only that, but it also has a notepad attached and pockets for you to store extra cards and pens. Just when you thought that it couldn't get any more organized! Check out their blogpost to get the detailed step by step tutorial on how to make this menu board. 
3. Easy Wall hangings Room Decor DIY Home Project
Wall hangings are a fun way to jazz up your room and decorate those lonely walls of your room. Here are some fun paper wall hanging DIYs that you can make this quarantine.
Hearts Wall Hanging
This little heart paper wall hanging by BuzzFeed is here to steal your heart. You can use recycled paper from magazines and scrapbooks or cut off different colored chart papers or simply paint these paper hearts. String them together and attach them to a wooden rod or anything else of that sort. Voila! There you have it, a cute heart wall hanging made from paper.
Ombre Paper Chain Wall Hanging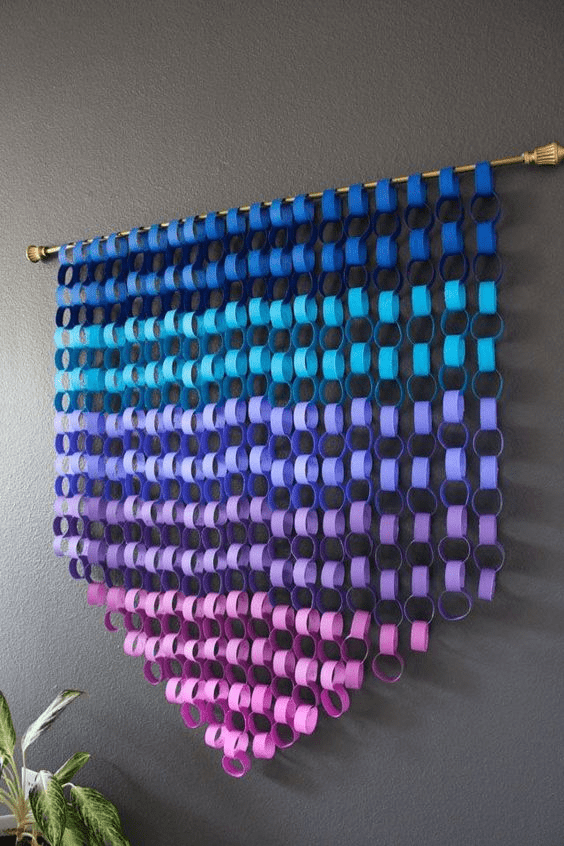 This Ombre Paper Chain Wall Hanging by designimprovised.com is my favorite from the list. This chain wall hanging is yet another way to convert simple strips of paper into something beautiful. It can make a huge difference in your empty walls. It also adds a fresh 3D texture, which you can't get from framed photos or paintings on the wall.
For making this, all you need are strips of paper of 5 different shades of the same color, a pair of scissors, a stapler, and a curtain rod or a wooden rod. Connect these strips of paper by making rings, and once the chains are done, hang it on the rod. Check out  designimprovised.com for step by step guidelines on how to make this beauty.
Paper Feather Wall Hanging
This colorful paper feather wall hanging by designimprovised.com is yet another way to add some color and texture to your lifeless walls. Check out their blogpost to know how it's made.
Phases Of The Moon Wall Hanging
This moon phases wall decor by track.bestestpin.com is just so minimal and elegant. Simply cut out different phases of the moon on a piece of cardboard and spray paint it gold. You may also choose to cover it in foil or simply decorate it in any other color of your choice. String them together and hang it on your wall.
4. Easy DIY Pen Holder Made From Paper
Pen stands are an easy way to organize your desk and add some color and life to your otherwise dull desk. Here are some DIY pen stands made from paper:
Origami Pen Stand
Origami is the Japanese art of folding paper into decorative shapes and figures. Not only is it a fun DIY, but origami also allows you to develop excellent motor skills and mental concentration. Origami is right for you as it develops eye-hand coordination, sequencing skills, maths reasoning, spatial skills, memory, patience, and attention skills.
This origami pen stand by mycrafts.com is very easy to make. All you need is a few sheets of colored paper.
Recycled Paper Pen Stand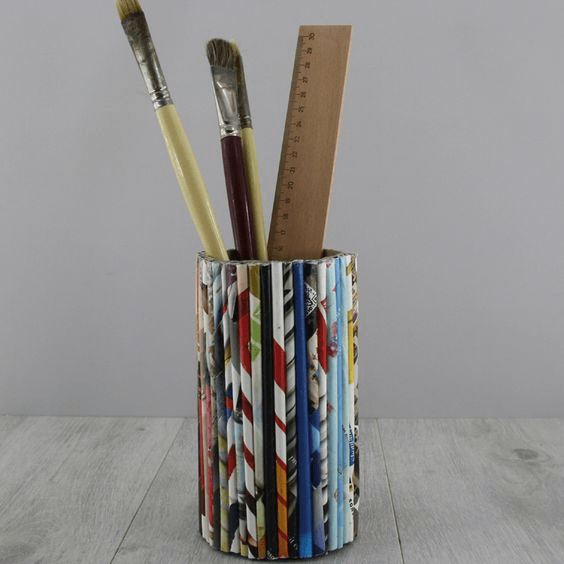 This recycled magazine pen stand by thecraftcorner.ie is straightforward to make and is environment friendly. All you need is different sheets of old magazine papers and glue to hold it all together.
Paper Quilling Pen Stand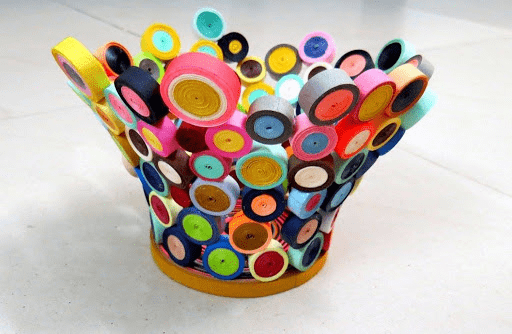 Paper quilling is the art of rolling, shaping, and gluing paper that results in creating a unified, decorative design. Even though it looks robust and intricate, quilling is actually fun and easy to learn. This paper quilling pen stand by Dreams Unlimited is comfortable and perfect if you are just beginning your quilting journey.
5. Paper Garlands Easy DIY Home Project
Paper garlands are quick and straightforward party decoration props. You can make them suit any theme, and they also double up as home decor after the party is done. Here are some DIY paper garlands that you can make this quarantine:
Diy paper flower garland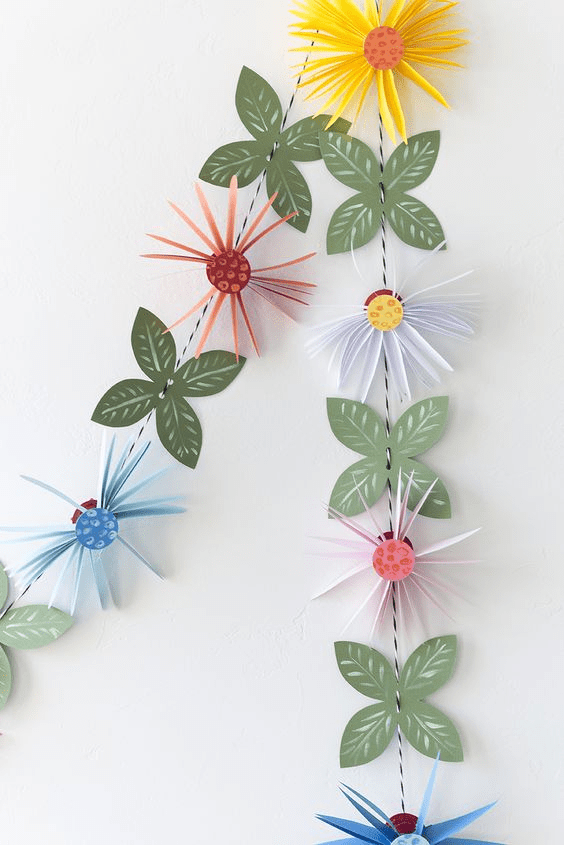 This paper flower garland by thehousethatlarsbuilt.com is fun, cheerful, and light. All you need to do is cut out a few paper flowers and leaves and string them together. It is perfect to light up any dull wall or can be used as a party decoration. Head over to thehousethatlarsbuilt.com to see how it's made.
Cute hearts garland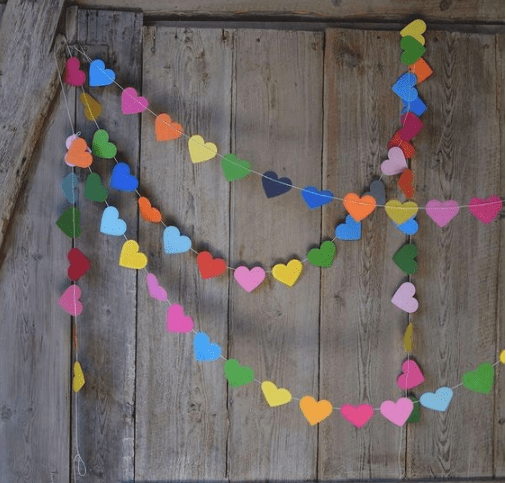 This cute hearts paper garland by gion.ourprolaw.com will melt your heart. All you need to do is cut out paper hearts from different colored sheets and string them up together. You can then hang it across the room or on your bed.
Rainbow Fan Garland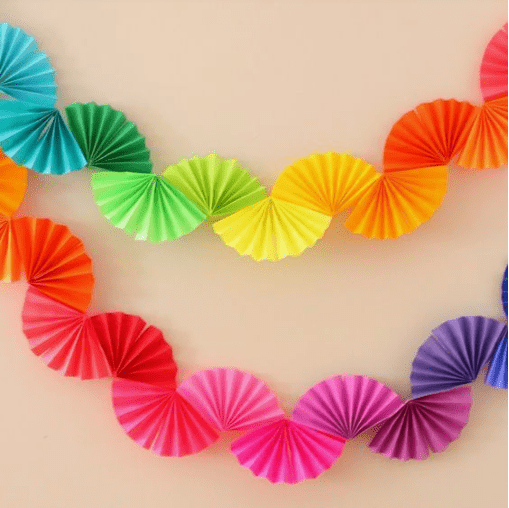 This rainbow fan garland by icecreamoffpaperplates.com is so easy to make. All you need are a pair of scissors, tape, and paper to create this colorful DIY decoration for a rainbow theme party. Check out their blog to see the steps to make this paper garland.
6. Easy DIY Coasters Made From Recycled Paper
Coasters are a great way to keep your drink from spoiling your table. It's also a great way to add a pop of color to your dining area or any other surface. These diy coasters are one of the easiest home projects to do. The coasters made from recycled papers are not only environment friendly but are also an excellent way for you to express yourself through your art.
Circle Drink Coaster
This circular drink coaster by hubpages.com is super absorbent and pretty at the same time. All you need are strips of newspaper or magazine papers and some glue to hold it together. Head over to their blog to see how to make coasters from paper, fabric, tiles, and more!
Coiled Paper Square Coaster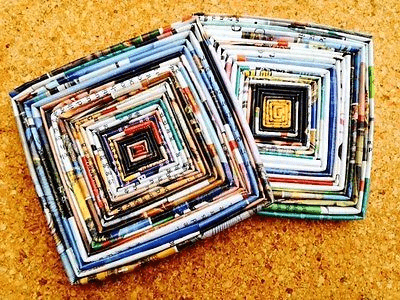 This square paper coaster made by coiling paper together is very similar to the previous one except that this brings a more geometric/modern dimension to the table.  The coiled paper square coaster is again very easy to make and is a perfect project to take up this quarantine.
7. DIY Vision Board DIY Home Project
Its quarantine, and you have plenty of time on your hands. And while you are at it doing diy home projects, why not use this time to make a vision board get a step closer to your goals? 
A dream board or vision board is a great way to manifest your dreams. It is typically a collage of images, pictures, and affirmations of one's thoughts and desires, designed to serve as a source of inspiration and motivation. It also serves as a tool to use the law of attraction to attain your goals. Many celebrities and influential people, including Arnold Schwarzenegger and Oprah Winfrey, have used vision boards to manifest what they want in life.
A vision board creates an emotional connection that motivates you to achieve your dreams. It makes real the dream in your mind, so you begin to believe it's possible. If you aren't sure about what you want in life, a vision board also helps you clarify what you want out of your life because it forces you to put something down.
So if you are convinced about making a vision board, here are a few different ways to make one:
Cloud shaped vision board
This cloud-shaped wall mounted vision board by dailymail.co.uk is here to help you realize your dreams. It's another one of the easy diy home projects that you can take up this quarantine. Simply cut a chart into the shape of a cloud or any other form of your desire. Fill it with images about your future goals, the type of house you want to live in, destinations you want to visit, relationship goals, and so on. Place the vision board somewhere where you can see it daily. That way, you will be continuously motivated to achieve your goals.
'I AM' positive affirmations vision board
The 'I AM' positive affirmations vision board by developgoodhabits.com will help you achieve your dreams. Unlike the previous one, this board does not have any pictures. Instead, it's filled with positive affirmations. The primary purpose of a positive affirmation board is to help you maintain a higher level of self-awareness and focus on positive thoughts that strengthen your desires and aims.
Affirmations can be sentences, words, or simple phrases. Some examples of affirmations are:
I am purposeful
I choose to be happy today
Today is a great day
I can achieve greatness.
I love and accept myself.
My body is healthy
And so on…
Bullet Journal Vision Board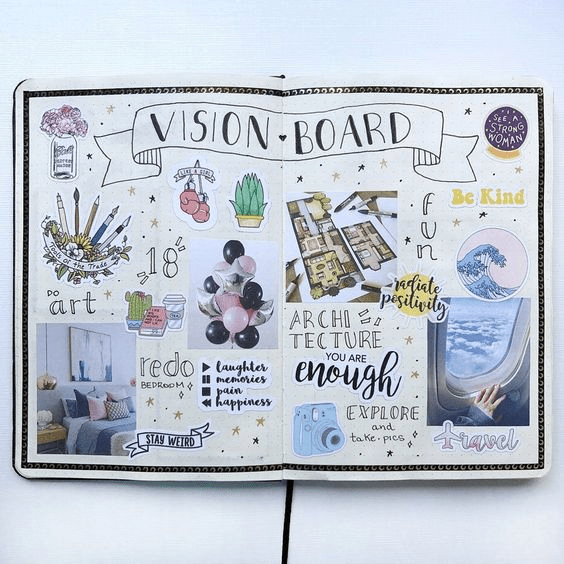 If you do not want to display your dreams and vision to the rest of the world or simply want to keep it more personal, then this bullet journal vision board is perfect for you. It is similar to any other vision boards except that it is not out for display; instead, it's secure in a journal. To see how to make this dream board, head over to WitchVisionBoard. You can also learn to create doodles for your vision board in this e-book about step-by-step doodling. 
So there you go, that was the list of easy DIY home projects to do this quarantine. Do get crafty and try them out. Don't hesitate to add a personal touch to it. Tell us which DIY you liked the best and share your feedback with us.
Sours: https://thecreativeshour.com/easy-diy-home-projects/
682
683
684
685
686