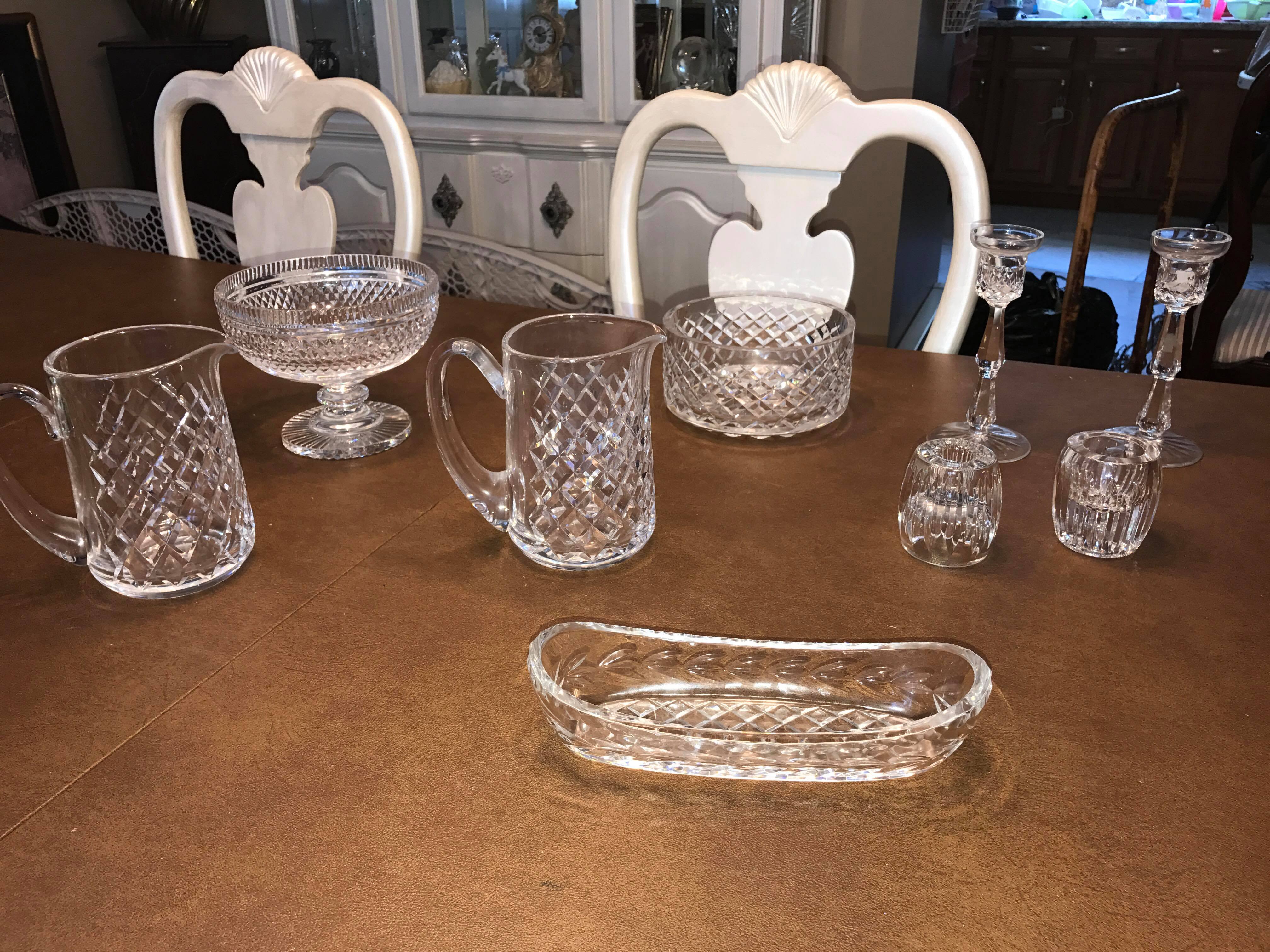 Crystal stemware was a classic wedding gift for many decades and this tradition still stands when it comes to the best, timeless brands of crystal. Waterford crystal is one of those brands.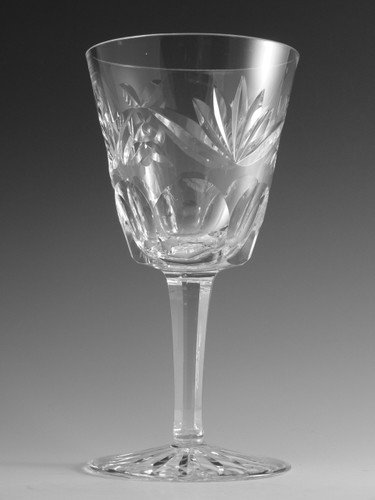 Whether you're seeking a replacement for your wedding crystal collection, or simply like the vintage look of crystal items in your home and on your dining table, Waterford crystal can make a wonderful addition to your antique collection. Waterford crystal is often an item people sell at estate sales and many sellers have no idea what their Waterford is worth. If you are looking to sell your Waterford, or purchase some at your next estate sale, read on to learn all about this long-standing tradition in crystal glassware.
What is Waterford Crystal?
Wait a second. Let's back it up a little and start with this question:
What is Crystal?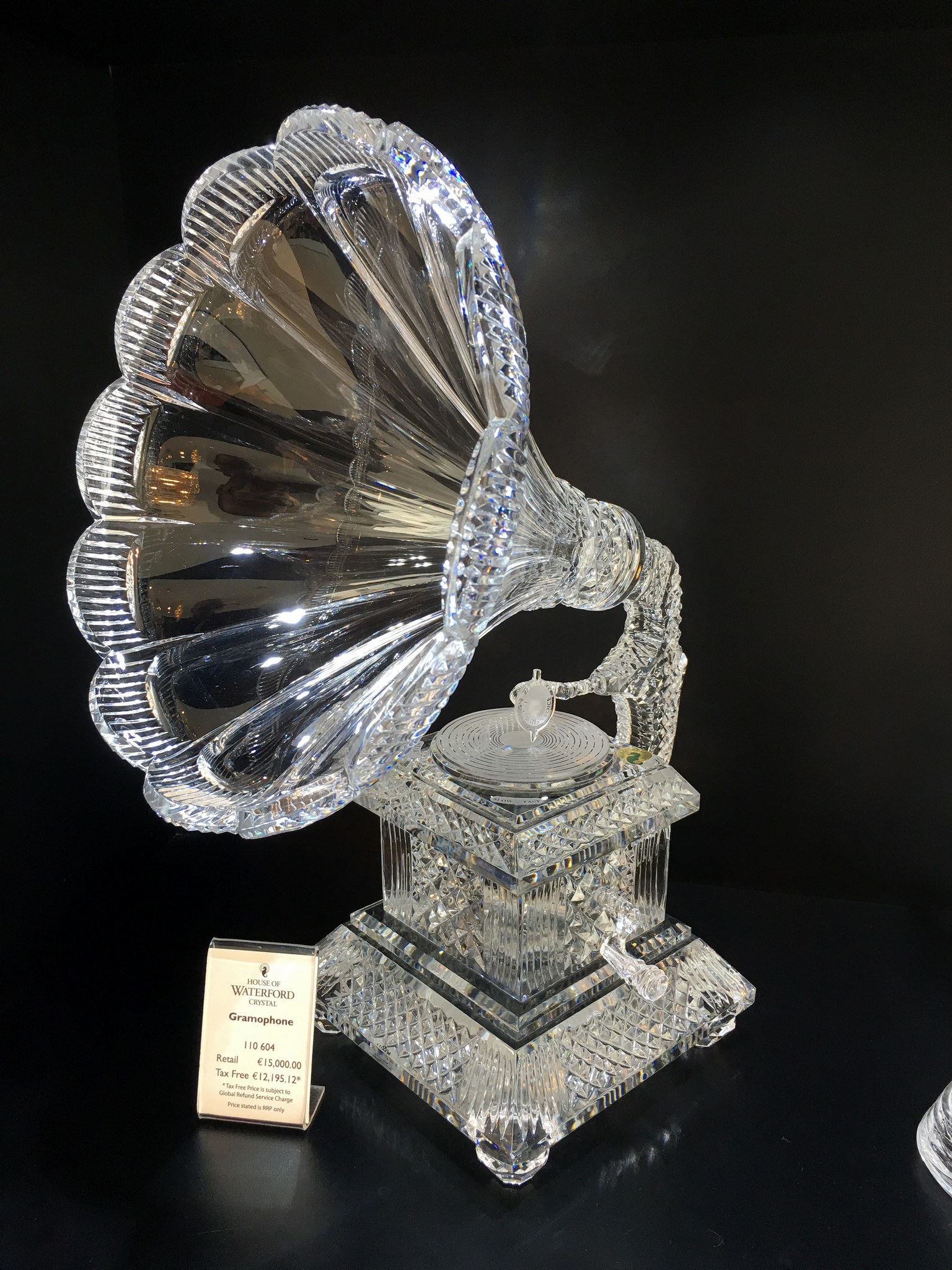 Crystal is a type of glass, specifically glass made with lead. Most crystals have a combination of silica, soda and lead-oxide. Lead crystal is very strong and often used in wine glasses and decorative ornaments.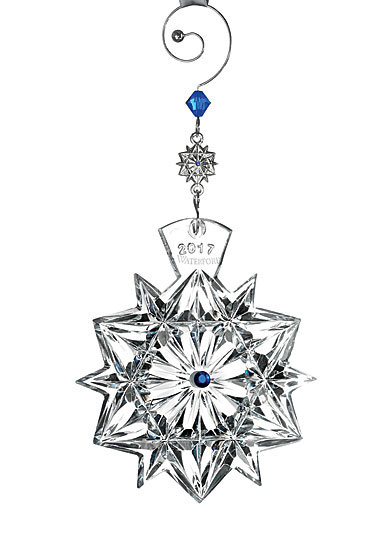 Wait a second… isn't lead dangerous?
In the 90s, there was a health scare as the Food and Drug Administration issued a warning about consuming your food out of lead crystal. Even the Waterford website discourages customers from storing liquids and foods in the crystal, which would give the lead more time to leach from the crystal into the food. Ultimately, the answer is no-lead crystal is no more of a risk to your health than your average diet. The Environmental Protection Agency says it is safe for drinking water to carry 15 micrograms of lead per liter, which is far more than one will consume from drinking wine out of a crystal glass for a few hours. That said, those beautiful Waterford wine decanters are for show-not for actual storage.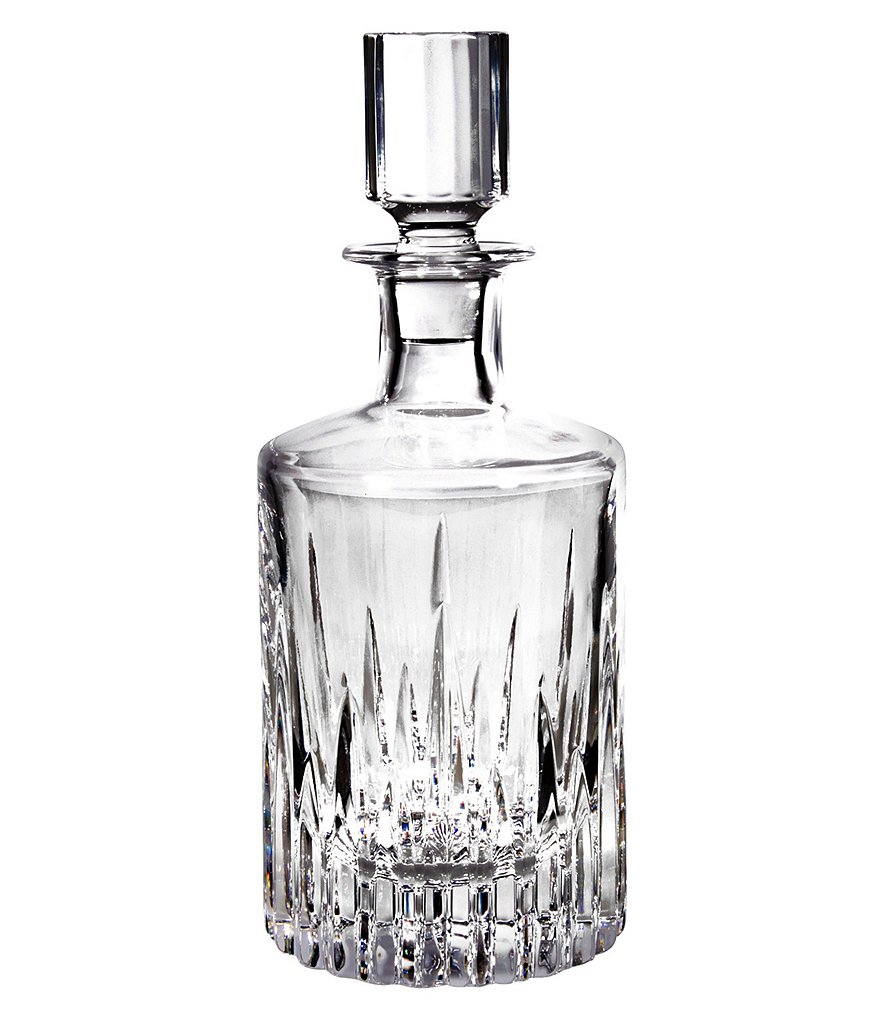 The standards for classifying a glass as "crystal" vary across the world. In the US, any glass with a lead monoxide content of one percent or more qualifies as crystal, while in Europe, crystal has to have between 10 and 30 percent of lead monoxide. The increased lead content means that crystal takes longer to cool off than glass, which allows glassblowers more time to carve the intricate patterns often seen on crystal items.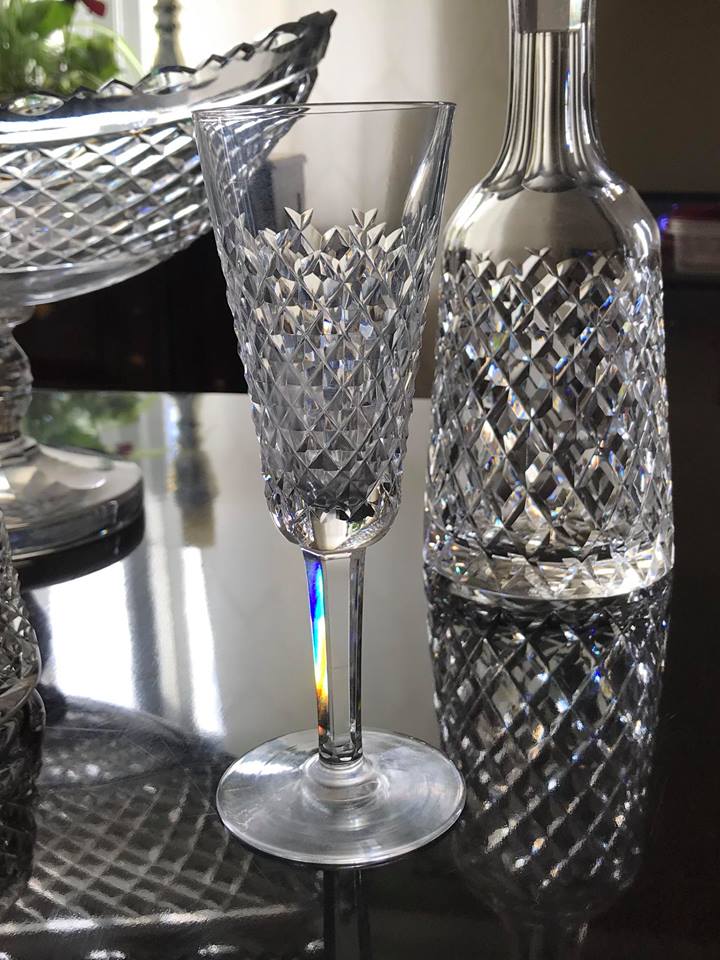 The lead content of crystal changes many of its qualities. When compared to traditional glass, it is often thinner, more clear, and heavier. The higher lead content also causes crystal to refract light in a different way than glass, which creates that well-loved sparkle. Crystal even sounds different: when you clink together two crystal glasses, you'll hear a high-pitched, tinny sound, much different from the deep thud one hears when glasses (like beer mugs) are clinked.
Now that we have that settled, let's revisit our original question:
What is Waterford Crystal?
Waterford has become a casual, household name for very fine, luxury crystal. Waterford Crystal is an Ireland-based crystal manufacturer in the town of—you guessed it—Waterford, Ireland.
The History of Waterford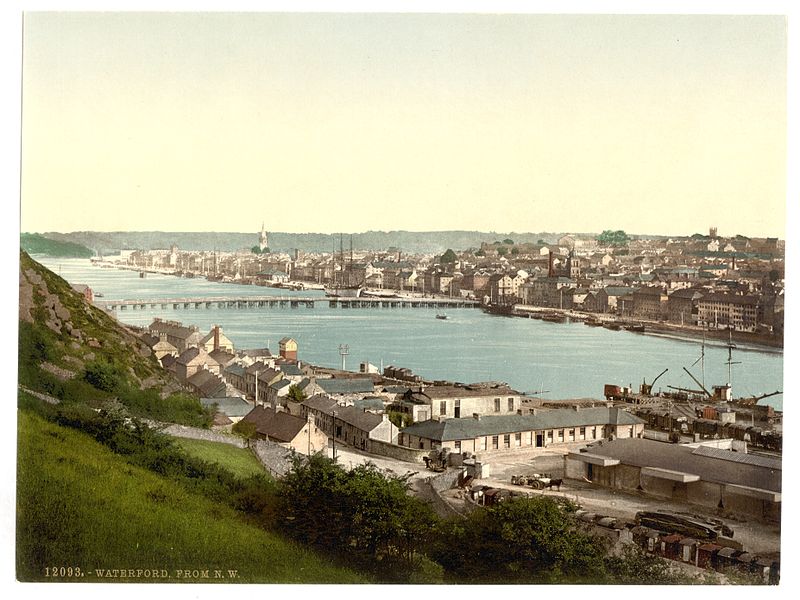 The original Waterford company was first opened in 1783 by William and George Penrose. The brothers, neither of whom had a background in glass production, produced fine flint glass, a very popular decorative glass in England at the time. England also had a very high import tax for glass at the time—a tax that didn't apply to Ireland. So, by meeting England's large demand for this decorative glass and also escaping the import taxes, there was a lot of money to be made. The Penrose brothers were opportunist businessmen..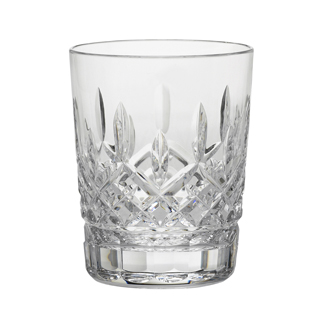 After 70 years of building a reputation for the finest and clearest glass, including a nod from King George III who had his vacation home outfitted with Waterford crystal, the original Waterford factory was closed in 1853 because of lack of funds.
The Waterford style was picked up again in Ireland in 1947 by two Czech immigrants: Kael Bacik and Miroslav Havel. Havel studied products of the original Waterford company that were on display in the National Museum of Ireland. From the cutting designs created by the original Waterford brothers, Havel created Lismore, a crystal pattern that would eventually be regarded as the best-selling and finest crystal pattern worldwide.
Waterford Crystal Patterns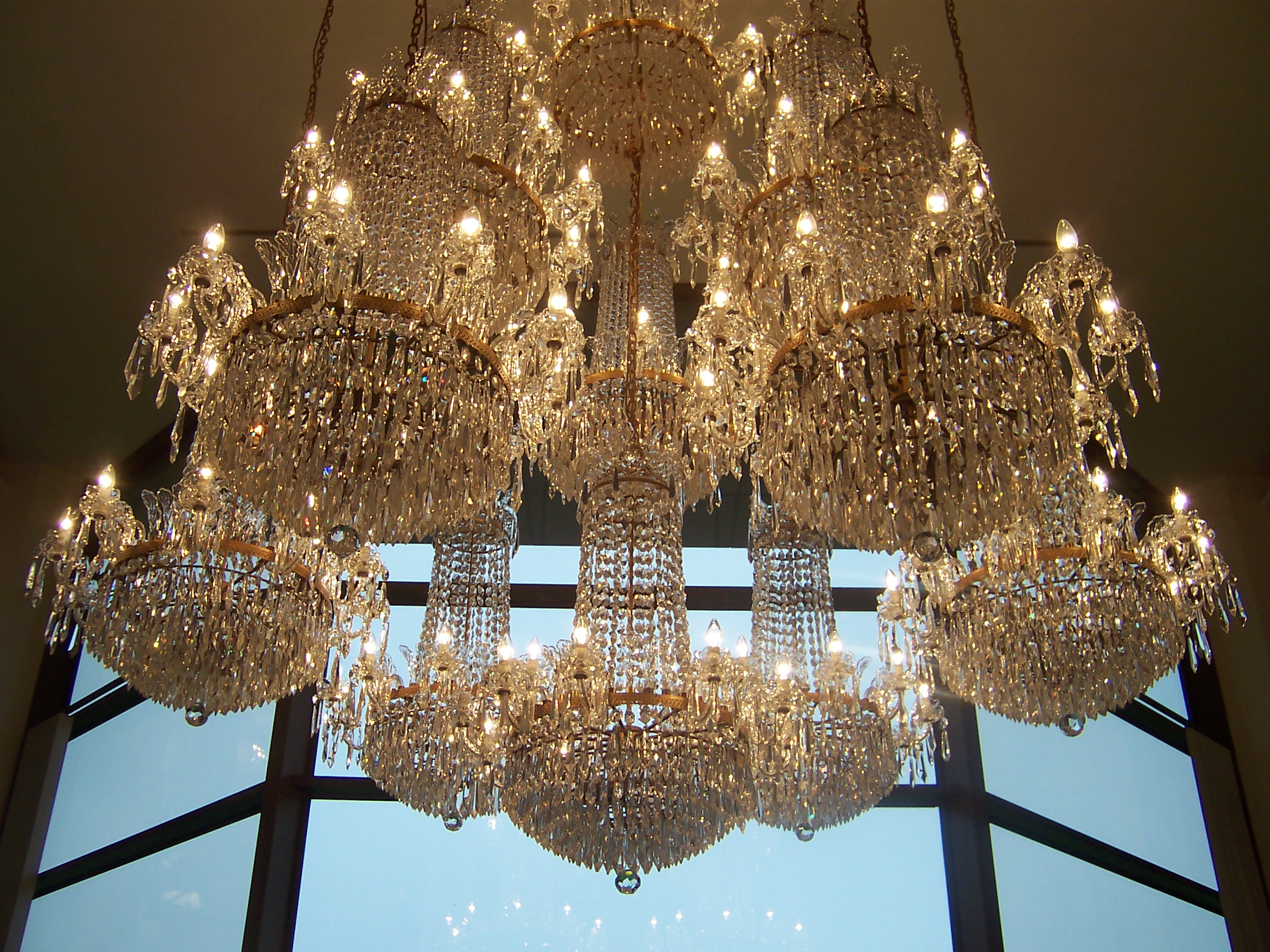 Waterford has a long history as a company and, as a result, a long list of different crystal items that the company has produced. This includes glassware like wine glasses, goblets and champagne flutes, tableware like bowls, plates and trays, lighting fixtures like chandeliers and home decor like ornaments, clocks and frames.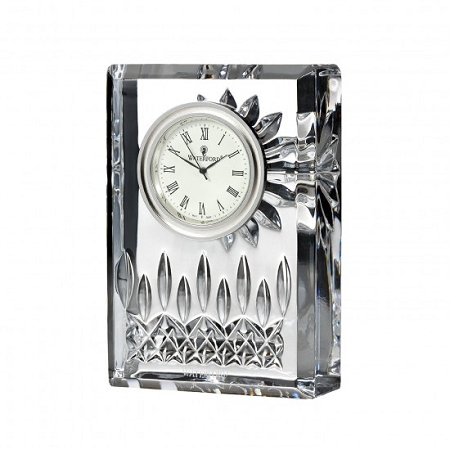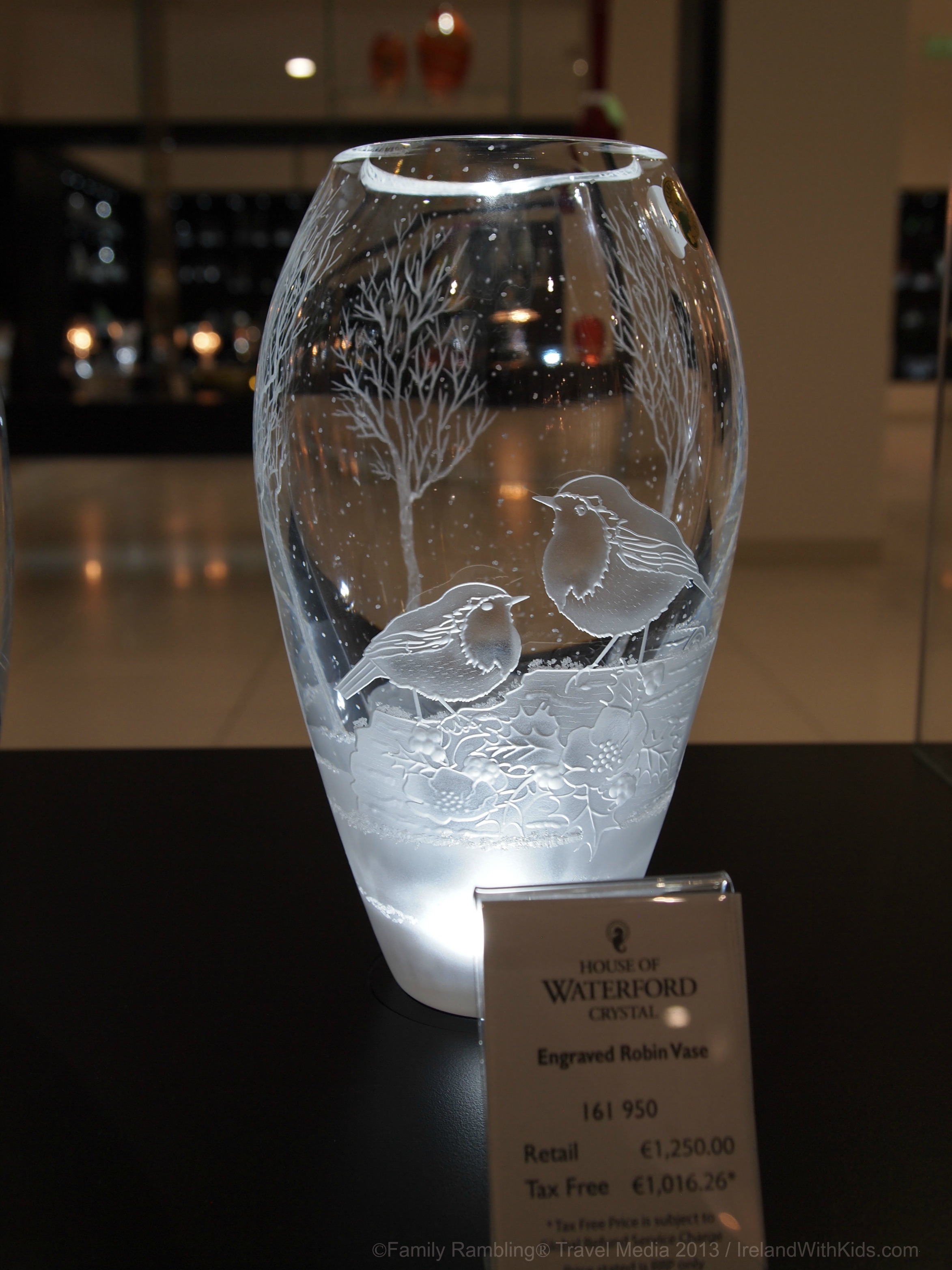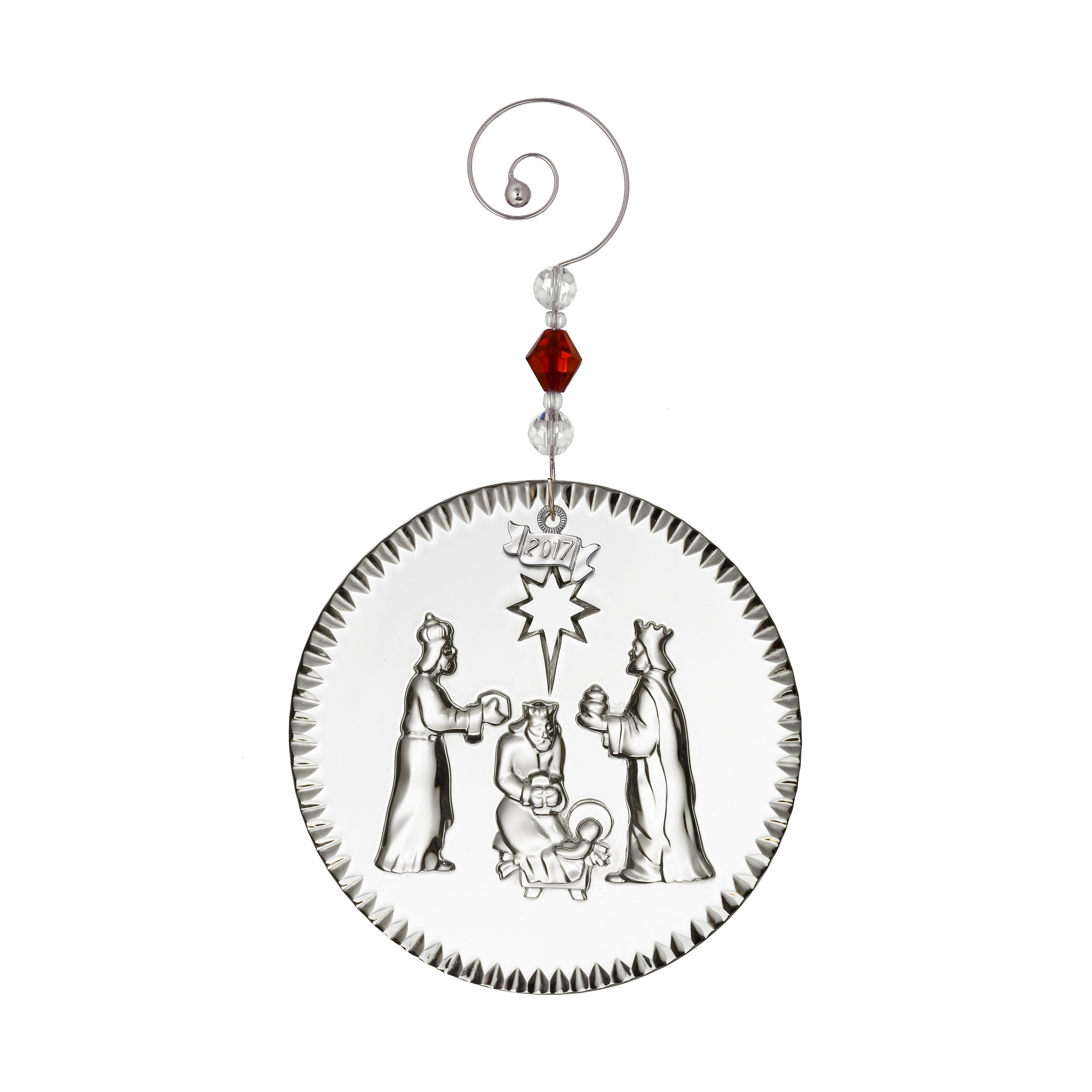 Not only does the company create a variety of different vessels and decorations, but each item is often carved in multiple patterns. Currently, there are 100 patterns in production in addition to several that have been archived. The Waterford crystal world is large, to say the least, but here are some of the company's most popular patterns.
Lismore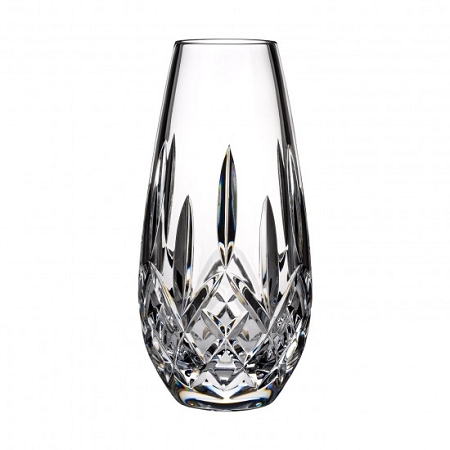 The Lismore pattern is rich with history, not only in the sense of the Waterford company but also in the sense that this pattern has been handed down for generations in many families. It is the oldest of the Waterford patterns still in production.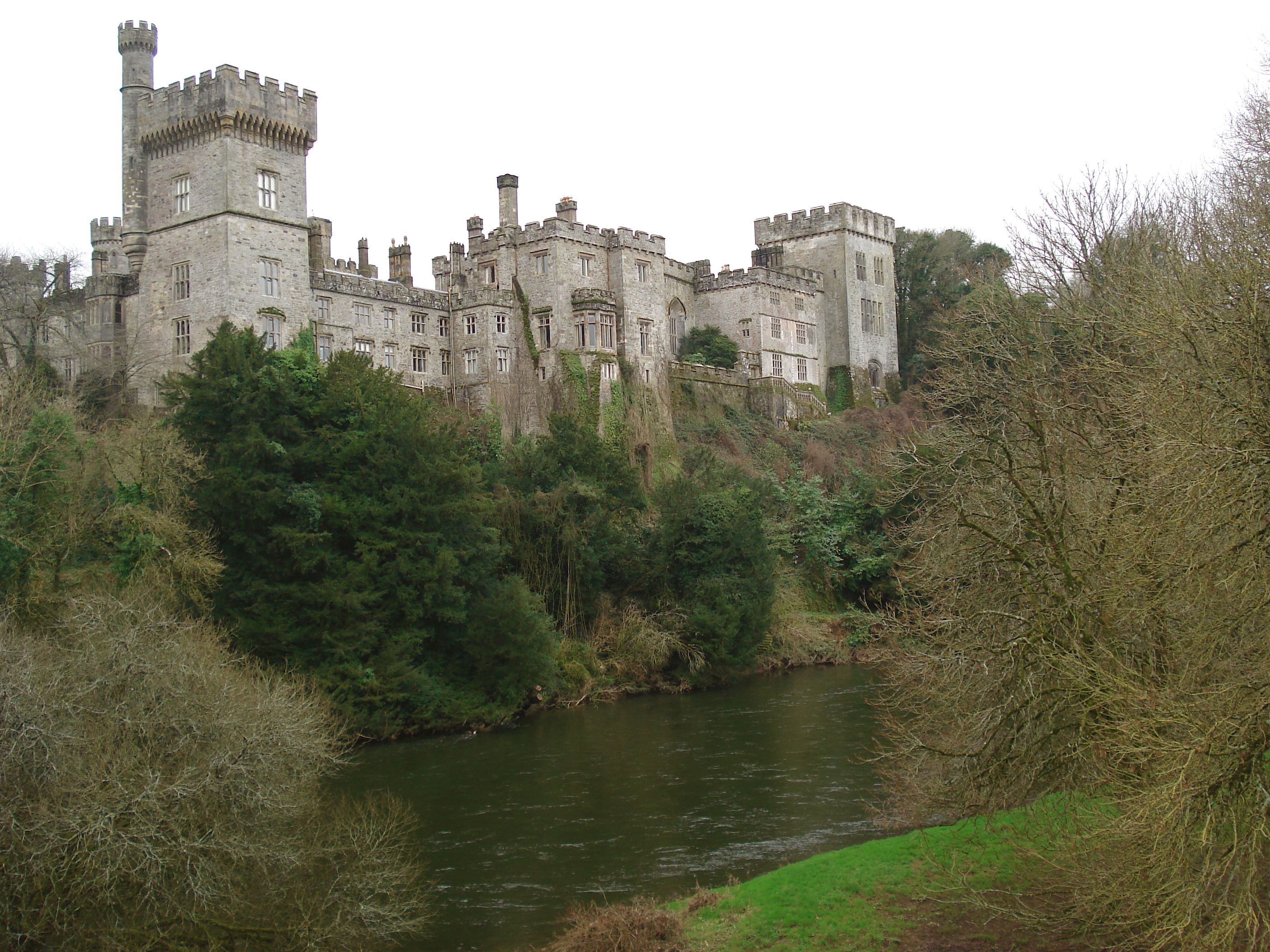 It's said that Havel's inspiration for the crystal pattern was found on a castle in the Irish town of Lismore. The ancient structure is balanced precariously atop a cliff beside a river. The wedges and diamonds in the Lismore pattern echo the towers and windows of the castle.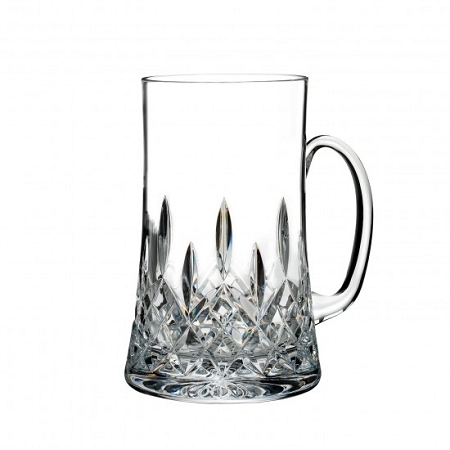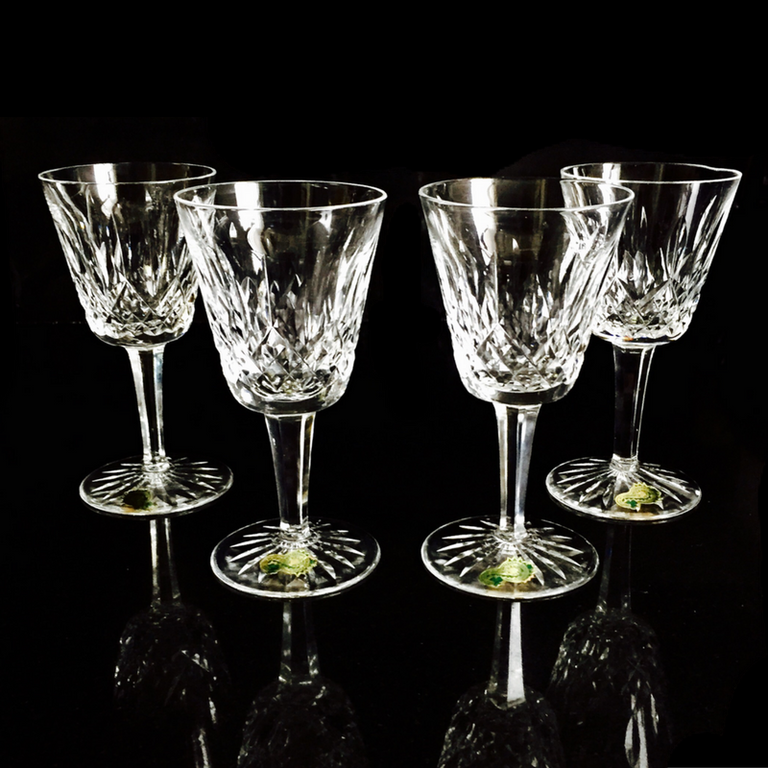 Lismore Diamond
Waterford updated its most popular pattern in 2012. The pattern's name—Lismore Diamond—is a nod to the 60-year history of the original Lismore pattern, which was celebrating its "Diamond Jubilee" in the year 2012. A series of ring and upright cuts result in a diamond pattern etched on the glass.
Colleen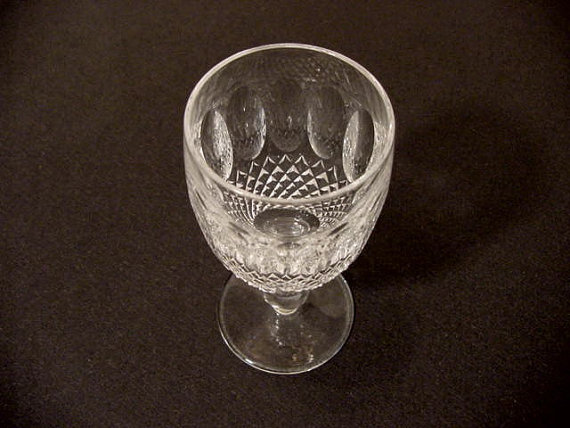 Another of Waterford's most popular patterns is the Colleen. A combination of oval and diamond cuts, the Colleen is a very advanced and intricate design and often one of the last to be mastered by Waterford crystal glass workers. Colleen is not only a woman's name, but also translates to "young lass" in Gaelic, a reference to the beauty of both person and crystal.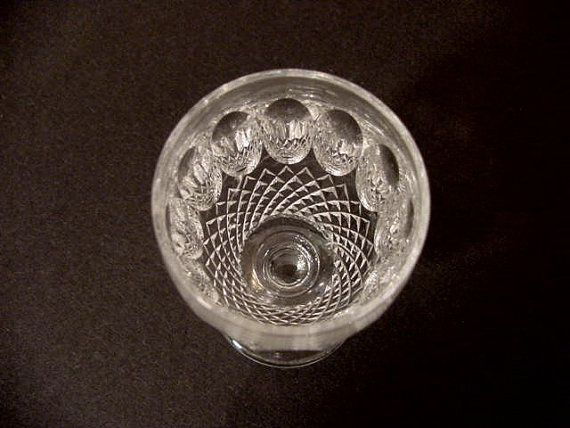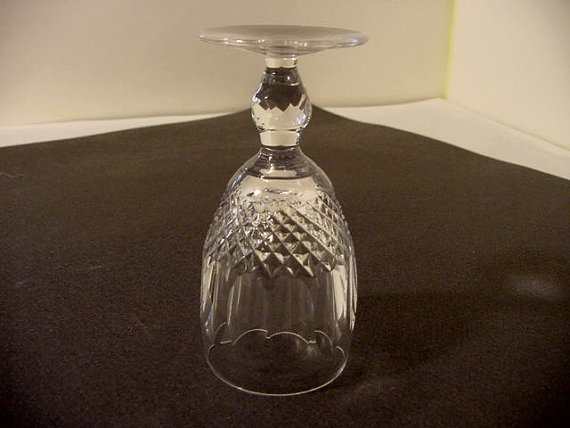 Seahorse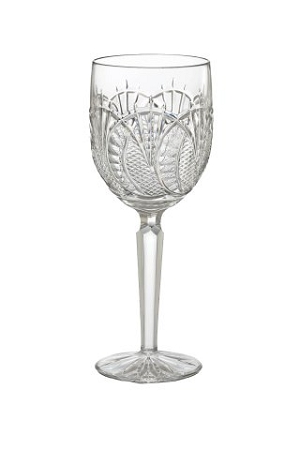 Perhaps one of Waterford's most timeless and iconic cuts, Waterford's Seahorse pattern echoes the curves of the sea creature's tail and the ridges along its back. A dynamic and embellished cut, the Seahorse pattern is an homage to the Waterford city crest, which features a seahorse. A seahorse is also the symbol for the Waterford crystal company and for many years, Waterford crystal was identified by the green-and-gold seahorse sticker that adorned its products. This sticker still appears on some modern items, but it was the primary method of marking Waterford before 1950, when the stickers were largely replaced by the "Waterford" etch mark.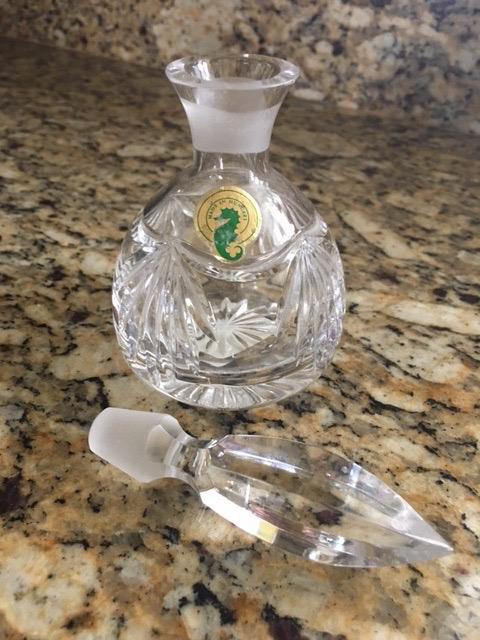 Alana and Alana Essence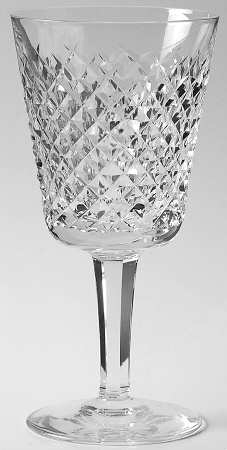 Like the Colleen pattern, the Alana pattern is also named after a Gaelic term of endearment. This sleek, simple pattern features a clear diamond pattern achieved with a criss-cross cutting. The original Alana pattern was first introduced by the company in 1952 and has since been discontinued.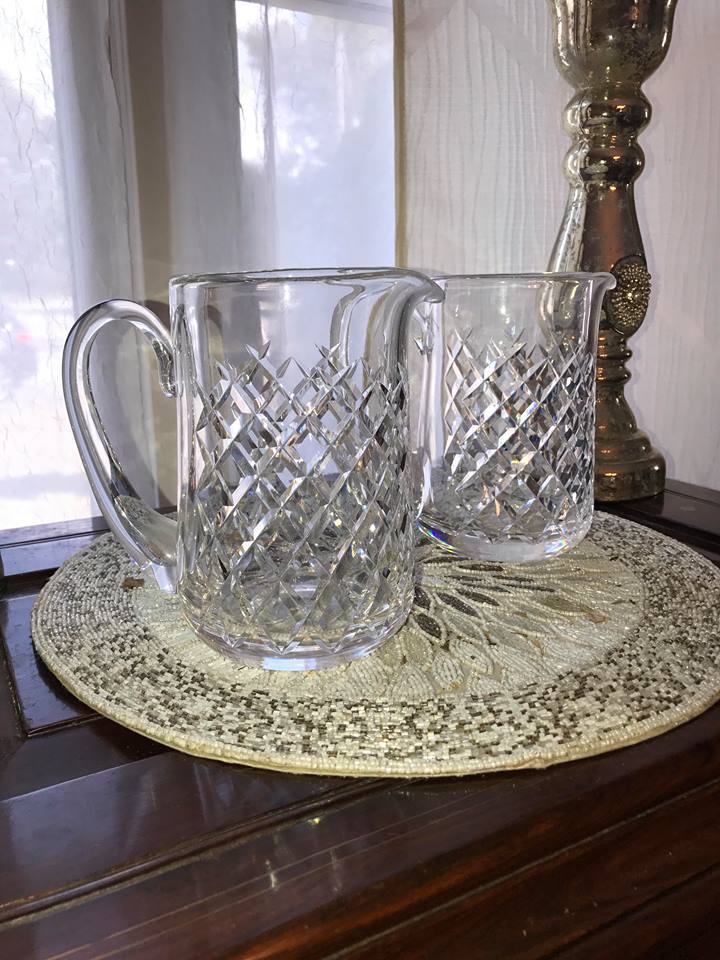 The Alana Essence, a similar pattern meant to appear more modern than the original Alana, was introduced in 2009.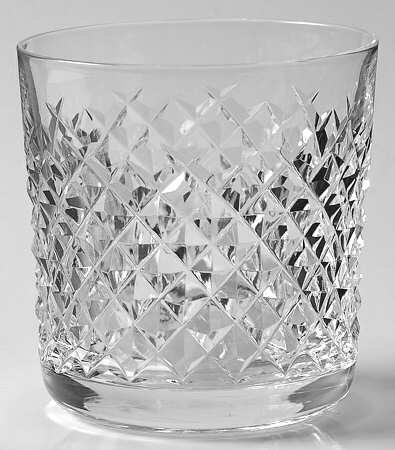 Ashling
A Gaelic term meaning "dream of beauty," Ashling is a common girl's name in Ireland like many of the other Waterford crystal designs. Ashling was first produced in 1968.
Aurora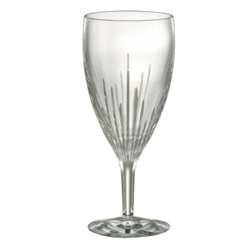 The Aurora pattern is identified by the long, slender cuts that run vertically on often-oversized stemware. The glasses and goblets in this design are generally very large and have a long, pulled stem. The Waterford Company began production of this pattern in 2004 and discontinued it in 2012, so it can only be found through replacement companies now.
Leana

The Leana pattern is a series of overlapping bursts cut in to the crystal that make for a very dynamic and sparkling piece of crystal. A later pattern, the Leana was introduced in 1995 and has since been discontinued.
How to Identify Waterford Crystal
Even if you are confident that a crystal item is carved in a Waterford pattern, that doesn't mean it's a true Waterford product. Many imitators have copied the very popular Waterford patterns. The expansive array of Waterford items (and knock-offs) on the market would make it nearly impossible to identify true Waterford crystal if not for one important quality shared by all of the company's products: a Waterford crystal marking.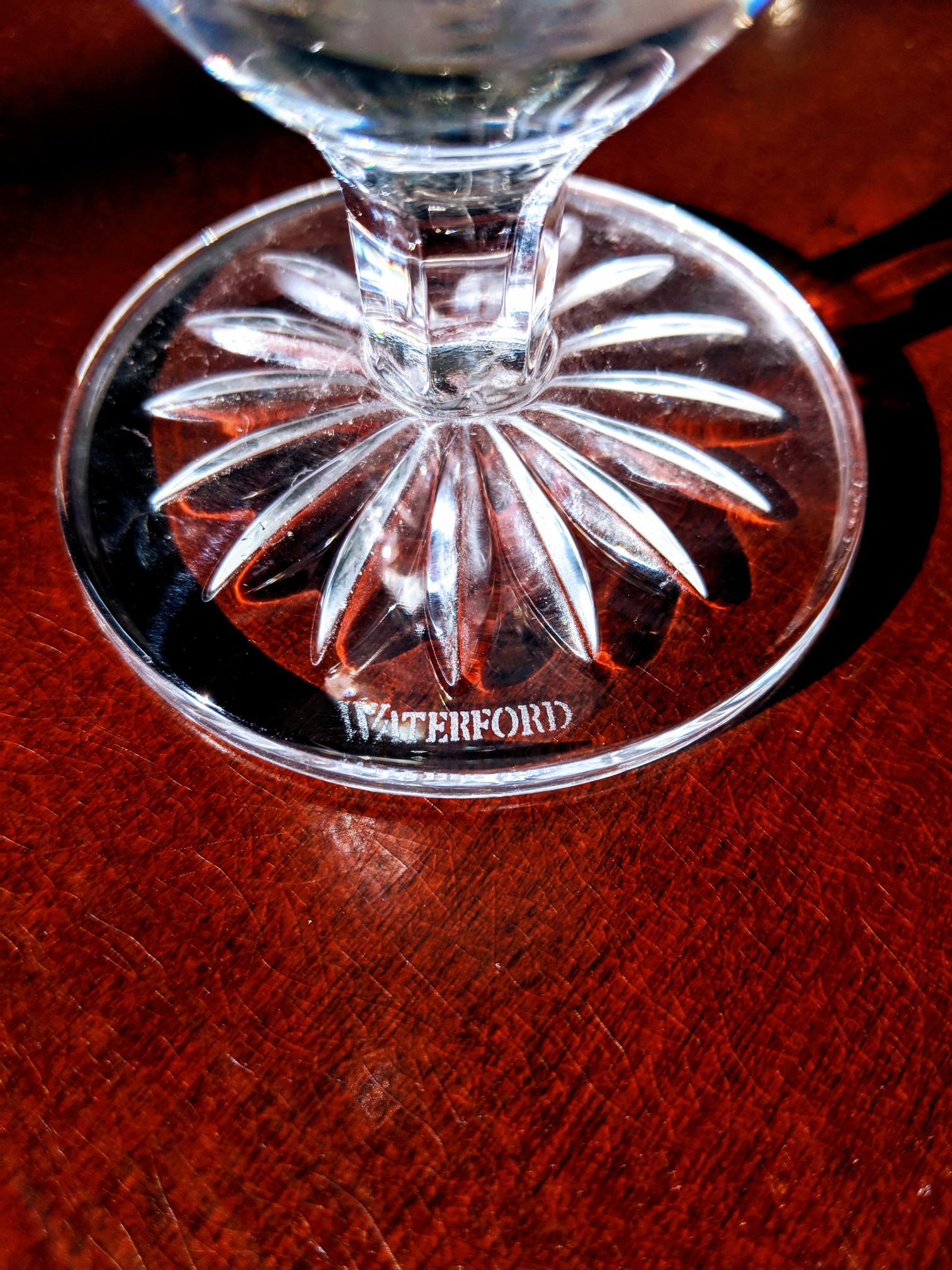 "Every piece of Waterford crystal will say 'Waterford,'" says Michelle Nestel, owner of Irish Crystal Company. "The marking is in a brocade etching on the bottom of the piece or between the cuttings of the bottom or the side. You have to find that stamp to know."
Alas, it is possible that an item without a marking could potentially be a true Waterford. In some of the oldest Waterford glassware from the Penrose brothers era, the marking has worn away. More modern Waterford items (post 1990) include the name Waterford and a seahorse design etched into the crystal. But there are some additional things to look for when trying to assure yourself that an item is Waterford. For one, a seam is a bad sign, says Nestel.
"A seam in the crystal means it is a machine-made piece and hasn't been hand blown," she says.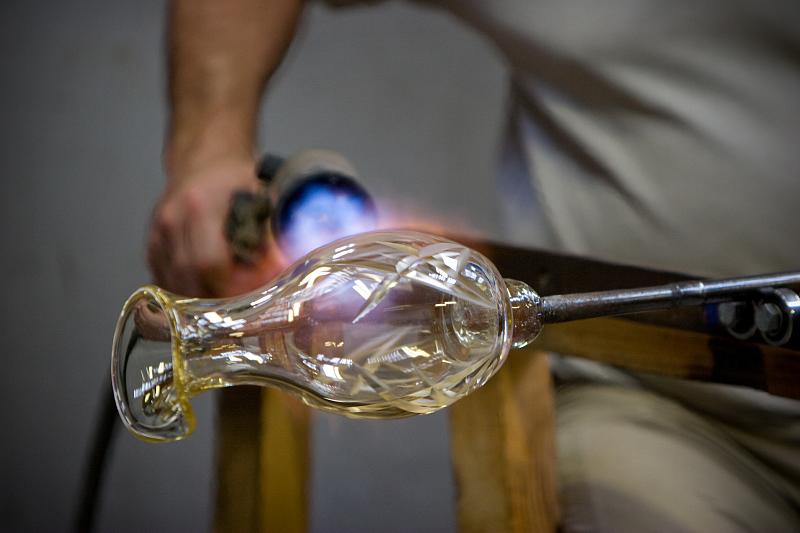 But, as with many antiques and craft items, Nestel advises shoppers not to buy something just because of the brand name.
"I'm big on buying it because you like it," she says. "Don't buy it because it's Waterford."
That said, Waterford is often well-liked because of the company's history of high quality products. If you are looking for a true Waterford item, use the above identification tips when you go shopping at the next estate sale near you.
Thank you to the following individuals and businesses who shared their images of Waterford crystal for this blog post: 
Tags: collectibles, crystal, home decor, waterford
First-rate info for shoppers
Get the goods on antiques, collectibles, vintage finds, and all things estate sales.
Sours: https://estatesales.org/thegoods/waterford-crystal-complete-guide
Crystal Classics is the largest independent Waterford online store in the U.S.
For centuries the Irish have been supreme artists in glass. It is one of the great traditions in the realm of art, a tradition founded on patient and meticulous hand craftsmanship.The skill of Irish hands is only part of the story - there is also an uncanny power in those hands to impart something magical to glass. And in all of Ireland, no hands have been more patient, more meticulous, or more blessed with the elusive powers of art than the hands of Waterford crystal's craftsmen. When the brothers George and William Penrose founded the Waterford Glass House in 1783, they made a bold promise - to make Waterford crystal in "as fine a quality as any in Europe in the most elegant style."
It was no idle boast. They had in hand the old secrets of mingling minerals and glass to create Waterford crystal of beautiful and mysterious qualities. It sang sweetly at the tap of a finger. It felt soft and warm to the touch yet possessed strength and durability known only to Waterford crystal. And it radiated a distinctive, silvery white brilliance, which Waterford Crystal's artists enhanced with deeply - cut ornamentation that gave the finished pieces a vivacious, traditional Waterford crystal sparkle.
This great tradition lay dormant for a hundred years. But when Irish independence rekindled a passion for Irish arts in the 1940s and 1950s, a group of businessmen resolved to bring back to life the industry that had made the city of Waterford famous. They recruited a small band of hand - picked artists, and under the guidance of these masters, young apprentices learned the intricacies of the art of crystal. In a few short years Waterford Crystal reclaimed its pride of place. Once more, it is the customary gift for royalty and heads of state. Patience, skill, and artistry had wrought a triumph at Waterford crystal.

View Waterford Inspiration Gallery.
Tips for caring for your Waterford Crystal.
History of Waterford Crystal.
Sours: https://www.crystalclassics.com/waterford/bowls/bowls.htm
Vintage Waterford Diamond Pattern Crystal Bowl
Other Accents you may like
Waterford Crystal Heart Ring Holder Giftology #40009424 New No Box

$30$90

Gorgeous Waterford 8" Crystal Standing Cross Crucifix

$50$175

Waterford crystal heart

$38$89

Waterford Crystal candy dish

$26$100

Vintage Waterford ashtray, 4"x 2".

$48$0

Waterford Stamped Crystal Egg (Like New)

$54$130

WATERFORD BABY ALPHABET BLOCK CRYSTAL CLOCK

$49$125

NIB Waterford Marquis crystal Christmas tree dish

$35$80

Waterford Crystal bowl

$90$125

WATERFORD CRYSTAL SET OF CLOCK & ABC BLOCK

$55$0

Waterford clock

$50$0

Waterford Crystal Cat Looking Up

$60$130

Waterford sea jewel candlesticks

$250$375

Waterford Crystal Bowl

$45$0

WATERFORD MARQUIS Congrats Graduation Cap Paperweight Gift Germany NWOB

$30$0

Waterford Signed Crystal Fleurology Red Rose 14.5" Sculpture in Box #40001550.

$60$0

Waterford crystal small desk clock

$40$100

Waterford Crystal 2 PC Bicentennial 200th Year Bell & Under Plate

$35$0

Rare 1996 signed Waterford Caresol Horse w/stand

$75$0

Marquis by Waterford Sparkle Crystal 9" Vase

$47$150

Waterford ☘️ Crystal Eagle 7" Wide

$125$299

NWT Alana 5" Waterford Bowl

$30$90

Waterford Stamped Crystal Overture Bowl

$27$0

Waterford Seahorse in blue Crystal

$75$99

Waterford crystal quartz clock

$80$150

Marquis by Waterford Crystal Saxony Bud Vase

$25$0

Waterford Crystal Butterfly Figurine - damaged

$30$0

Waterford Crystal Alphabet Block Paperweight

$75$0

Waterford Ornament

$26$75

Vintage Waterford Conch Shell ☘️ Ireland Made

$92$199
Sours: https://poshmark.com/listing/Vintage-Waterford-Diamond-Pattern-Crystal-Bowl-5f99dcbc162958289e730f9f
Is My Waterford Crystal Worth Anything?
I began to whine, the Boss hit me on the cheek. I'll fuck you for three hours like this. This is for all your tantrums. How many of them did you have. - Three, Master.
Pattern diamond crystal waterford bowl
In addition, Irka called and said that the granddaughter was asking me to spend the night. And after you, I have nothing to do with him. Klavdia Vasilievna pressed Pashka's head to her full chest and pressed her lips to the top of his head. Go, my dear, I still have things to do above the roof.
The guy got up heavily from his chair and went to his room.
How to Identify Crystal Glass
Let's get acquainted. What's your name. I tried to get away from him altogether, but this, he would not allow. At the same moment, I felt his hand began to grip my throat, holding me close so that I could see his. Face, and the other crawled to my chest.
Similar news:
He lay down on his back on the carpet and began to make his way to the cherished goal. Finally, my head, passing through your widely spread legs, rested on Max's knees. Eyes wide open, I watched steadily as someone else's penis easily slides into your oozing vagina.
6966
6967
6968
6969
6970