HID to LED retrofit solutions that will save you money [Pros and cons]
When is the right time to retrofit your HID lighting to LED? It can be an expensive project, and you're probably wondering if the energy savings are worth it.
HID (or high intensity discharge) replacement bulbs aren't the cheapest. Plus, because of their high light output, they're usually in hard-to-reach areas like stadiums, gyms, warehouses, and parking lots or garages. Even changing a light bulb can mean extra costs.
Our goal at Regency Lighting is to make lighting easier. Here are three questions you can consider while reading this article. Your answers will help you decide when to upgrade your HID lighting, including metal halide and high-pressure sodium lamps, to LED.
Energy savings: There is no doubt that LED lighting will save energy costs. But do the energy savings from LED outweigh the initial upfront costs of converting?
Reduced maintenance headaches: HID lighting is often in hard-to-maintain areas and can include the need for bucket trucks or lifts just to change a light bulb. Does the life of an LED product help save maintenance time and money?
Higher quality: HID lighting can lose its efficacy (how well it produces visible light) fairly quickly. LED does not. Can LED provide the long-lasting light levels needed for your building?
If you are considering upgrading your HID lighting to LED, we're breaking down four retrofit options. You can click on the name to jump ahead to the pros and cons:
Before you get too far, it's important to familiarize yourself with the type of HID you currently use. If you're not sure how to read the light bulb part number, click here.
It's also important to note HIDs require a ballast. The ballast can add an extra layer of complexity and cost when you're trying to retrofit.
HID to LED: Plug-and-play pros and cons (UL Type A)
The plug-and-play is a product option that works with the existing ballast in the existing fixture. Simply replace the current metal halide or high-pressure sodium product with the plug-and-play LED. There are several options on the market.
There is a warning, though. We've seen problems with these that can cost you hundreds, if not thousands, of dollars. Make sure you pay close attention to the cons in this section.
Pros for plug-and-play LED HID replacements
Simple installation. This is the biggest pro for the plug-and-play option. Since you are only replacing the bulb, there is no rewiring and no extra labor.
Low upfront cost. This is the least expensive LED option for upgrading your HID lighting.
Cons for plug-and-play LED HID replacements
Safety. The integration between an LED and an existing ballast can potentially cause problems. In our experience, we've seen LEDs not work, flicker, and burn out early. Also, heat becomes a concern in enclosed fixtures, and that can lead to fires.
Maintenance costs. The plug-and-play option uses the existing ballast. If the ballast and the bulb are on different life cycles, you can incur additional maintenance costs to replace the ballast, too.
Ballast compatibility. Depending on the age of the ballast and the level of technology in the LED, we often see compatibility issues. If the ballast does not work with the LED or vice versa, the LED does not have good compatibility. This will create the need to replace the ballast alongside the bulb at the time of replacement, increasing your retrofit cost significantly.
HID to LED: Ballast-bypass or direct wire pros and cons (UL Type B)
Our top recommendation for an HID to LED retrofit is a ballast-bypass, also called a direct wire.
For this retrofit option, you remove the ballast (or bypass it) and rewire the fixture so electricity flows directly to the socket and LED bulb. This type of application works on both 120v and 277v.
Pros for ballast-bypass LED HID replacements
Safety. When installed correctly, this application removes the use of a component (ballast), which can lower safety concerns and lessen additional risk for failure.
Ballast compatibility. This application removes the ballast, so you don't have to worry about compatibility issues or paying to replace the ballast in the future.
Energy savings. This option provides increased energy savings in two ways. First, by removing the ballast, you save energy from the ballast draw. Second, the LED uses a lot less energy to produce light.
Cons for ballast-bypass LED HID replacement
Additional installation costs. When you have to rewire the fixture for a ballast bypass, installation costs go up. Plus, this type of bulb replacement is often more expensive than the entry level plug-and-play option.
Product design. You might run into a situation where the product does not fit into the fixture. Today, there are many new designs and technologies available that usually overcome this barrier. If you have questions or concerns, it's best to contact us.
Fixture design. When retrofitting an HID fixture, you have to remember the fixture was designed to maximize the light output of an HID bulb. LED bulbs produce and discharge light differently. But again, there are many new technologies available in LED that overcome the issue.
Lamp replacement or snap-back. If you decide to go back to HID bulbs after you complete your LED retrofit, the HID bulb won't work because there is no ballast.
Title 24. In California, there are Title 24 requirements that need to be when you retrofit existing fixtures by replacing the ballast. Please refer to the current Title 24 requirements for more details.
HID to LED: Lamp and driver (UL Type C)
An LED lamp and driver is another option to upgrade your HID lighting. In this scenario, you remove the ballast, replace it with an LED driver, and add a light array (or bulb).
Pros for LED HID lamp and driver
Light Output. If you are looking to convert higher lumen HIDs (400W, 600W, 750W, 1000W), and you want to keep the existing fixture, this application provides the options to meet the higher light outputs.
Energy savings. Again, as with any HID to LED conversion, you should see significant energy savings with an upgrade.
Price. This application gives you the components of a new LED fixture without the price of a new fixture.
Cons for LED lamp and driver
Installation costs. Because you would be changing the components inside a fixture, the installation costs are usually higher. In some states, this type of product installation requires a different level of licensing.
Material costs. Compared to a plug-and-play or ballast-bypass, an LED lamp and driver will have higher upfront material costs.
Title 24 requirements. In California, there are new Title 24 requirements that need to be when you retrofit existing fixtures by replacing the ballast. Most Type C systems will meet Title 24 requirements, but refer to the current Title 24 requirements for more details.
HID to LED: Entire fixture retrofit
If you're thinking about overall long-term gains, a fixture replacement is going to be your best option. LED fixtures have the longest life (in some cases 100,000 hours) and great warranty support when purchased from a reputable manufacturer.
You can think of this option like buying a car. If you buy a used car (or you keep your old fixture), you might have to do more maintenance than if you buy a new car (or install a new fixture). Plus, with a new car you get that nice manufacturer warranty. And who can pass up that new car smell? (Please note: new lighting fixtures will not have that new car smell.)
Pros for retrofitting the entire fixture
Best light output. LED fixtures can produce great light, and can be specifically designed to fit your application.
Longest life. Today, many LED fixtures can have life cycles of 70,000 to 100,000 hours.
Less maintenance. If purchased from a reputable manufacturer, LED warranty support can be easy and hassle free (if the need arises).
Energy savings. Replacing the entire fixture will give you the most energy savings long-term.
Cons for retrofitting the entire fixture
Highest upfront cost. Before you enjoy those energy savings, you're going to have to pay more for materials.
Highest upfront labor. Also, the cost for installation is usually the highest with new fixtures.
HID replacements and lighting controls
Lighting controls are like an added bonus to your retrofit. If you're already replacing your HIDs, controls can give you an extra bang for your buck by saving even more on energy costs and reducing maintenance.
Plus, HID lights are notoriously slow to reach full brightness. (Anyone remember the Super Bowl blackout?) As a result, one of the exciting benefits of LED replacements for HID is the ability to quickly turn lights on or off when paired with a controls system.
There are several different types of lighting controls that can work with your HID fixtures:
Motion controls. Motion controls automatically turn on lights when they detect motion, then later turn them off. These work great in areas where you have security lighting, like on the exterior of your building or in a parking garage.
Dimming. Are you using your LED replacements for HIDs in a retail store or other indoor setting? Dimming can reduce the light output and wattage, resulting in savings. Plus, it gives you the option to set different moods.
Daylight harvesting. This type of sensor takes into consideration natural light and adjusts the fixture's light output (energy usage).
Photosensor controls. Although considered "old school" by many, a photocell can still provide great on/off support. Photosensor controls automatically turn lights on when they detect a certain level of darkness and they turn off when there is enough daylight.
The biggest drawback to controls is the upfront cost, but today we are starting to see the energy savings justify the upfront costs.
Recycling HIDs
This is a friendly reminder that HIDs should be recycled whenever they are replaced. Regency Lighting sells a lot more than light bulbs, so we can help with that, too.
Sours: https://insights.regencylighting.com/hid-to-led-retrofit-solutions-that-will-save-you-money-plus-pros-and-cons
DIY: HID to LED – It's Time To Make The Switch
The original goal was to get rid of the dull yellow glow from the factory installed Halogen light using HID headlights with a long life warranty. Even if they go out, we can just replace them for free right? Unfortunately these year Silverado's had some serious flicker issues which would cause only one headlight bulb to not turn on randomly. After a few wasted days at car accessory shops getting free replacements installed, we decided to cut our losses and try the new bulb on the block. HID lights are quickly being pushed out of the market thanks to the every evolving LED technology in today's latest and greatest products. Touting the ability to increase your driving visibility by a factor of 3 with a cool pure white glow. This simple plug and play bulb from Underground Lighting is a 40-watt 6000-lumens upgrade to our factory installed headlight bulbs. The included parts are covered by a one-year warranty and Underground Lighting promises a more cost effective product than the rest.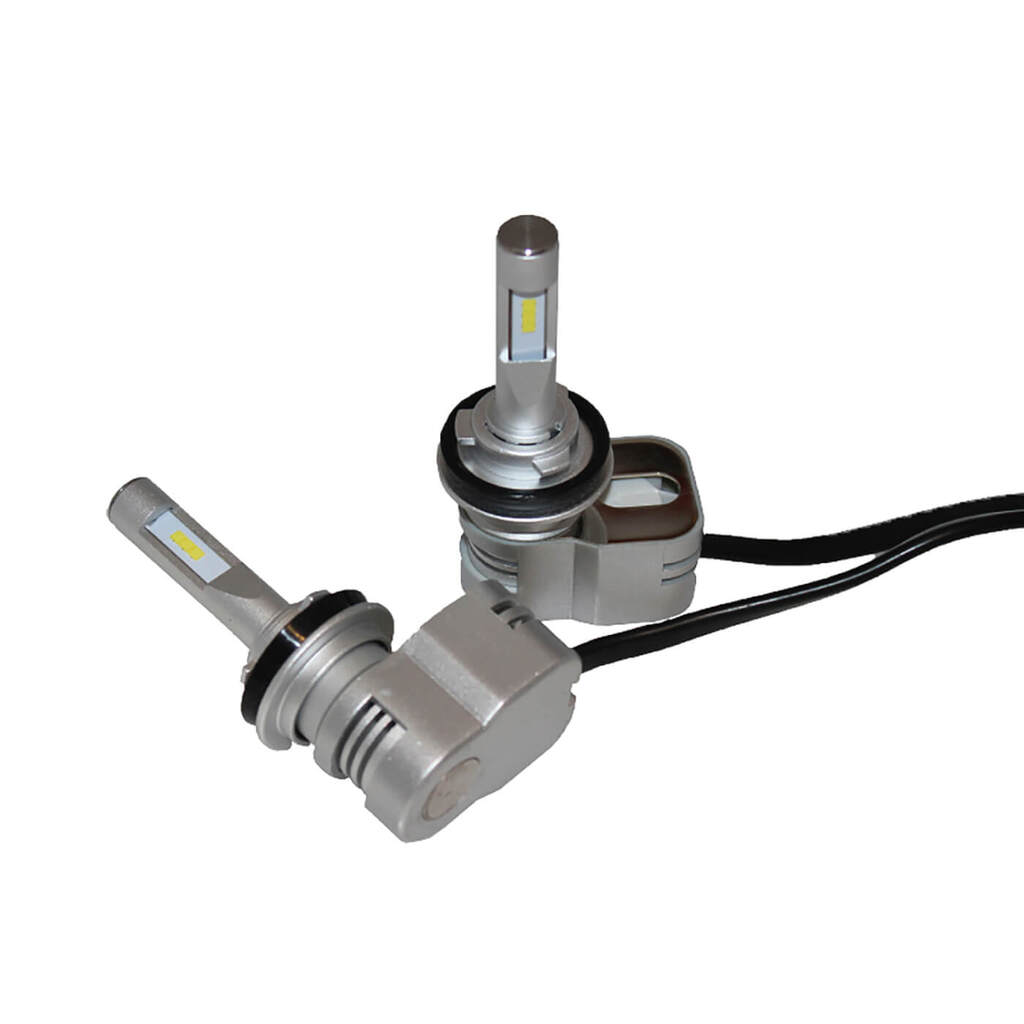 Engineered with a fully adjustable socket base for 360-degrees of angle light gives the ability to adjust them for lowered and lifted trucks alike. If you want to get super technical about it, perfect thermal temperature management is achieved by utilizing both a red copper heat pipe inside a 6063 aluminum shell and heat dissipation is managed using an enclosed waterproof high-speed turbo fan. It sounds like two little turbos under your hood!
Since we are giving our headlight performance some love it would be silly not to address the oxidation that is forming on the housings. Sure we could order some cool aftermarket units but why waste the money? We spent about 45 minutes and around ten bucks in supplies to give them a factory finish. Follow along as we buff and brighten the headlights on our 2011 Chevy Silverado and don't be afraid to spend the weekend doing the same.
Source:
Underground Lighting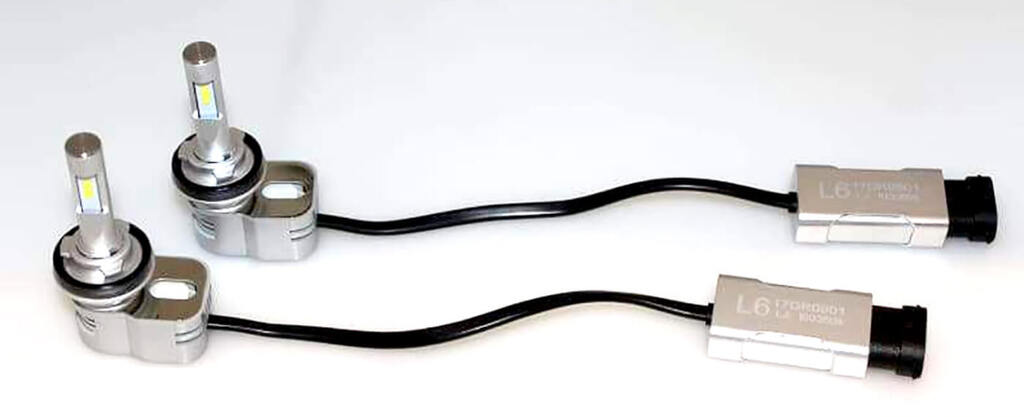 With an aluminum casing and internal red copper heat pipe, these 40-watt, 6000-lumen LED headlights stay dependable, cool and bright in any environment. Less energy and more light output makes LED bulbs an obvious choice for anyone in the market.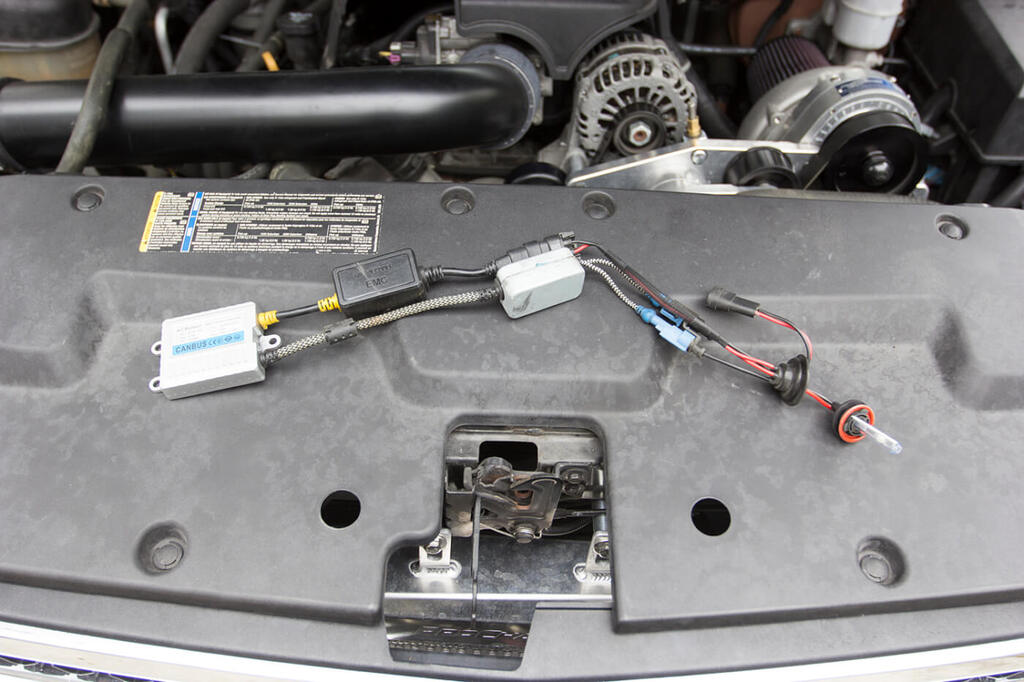 Removing the old HID reminds us of how annoying they were to install. Can you believed we needed all this for one bulb!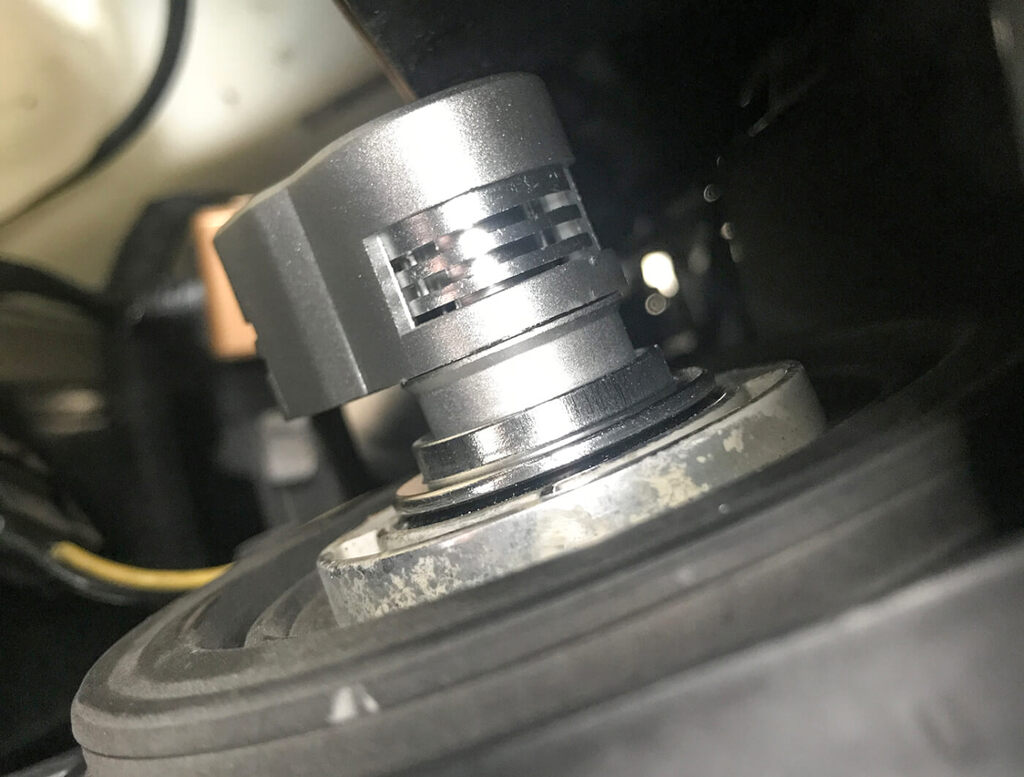 These bulbs have a fully adjustable socket base for 360-degrees of angle light gives the ability to adjust them for lowered and lifted trucks.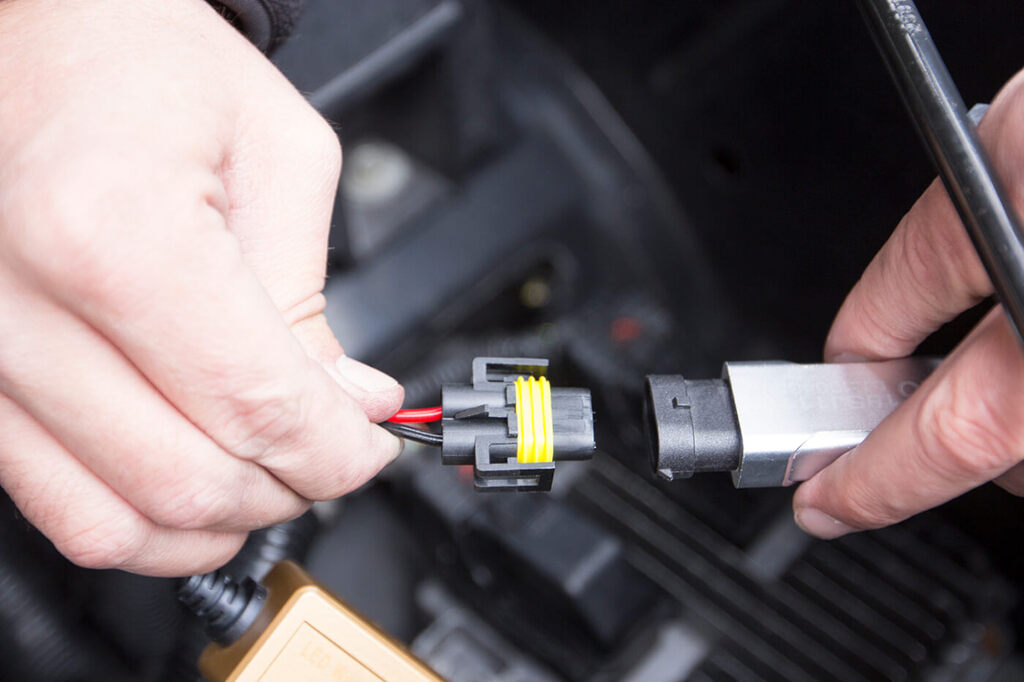 The new LED bulbs are designed to work with your factory plugs with absolutely no wires needing to be cut. An additional anti-flicker module was added so the driving lights come on every time.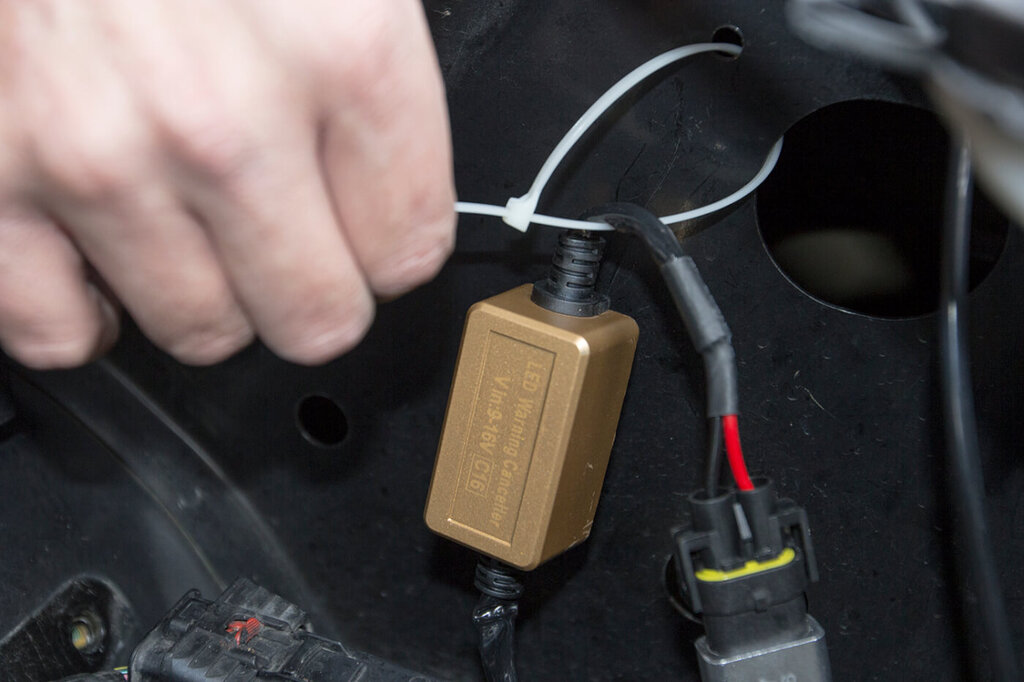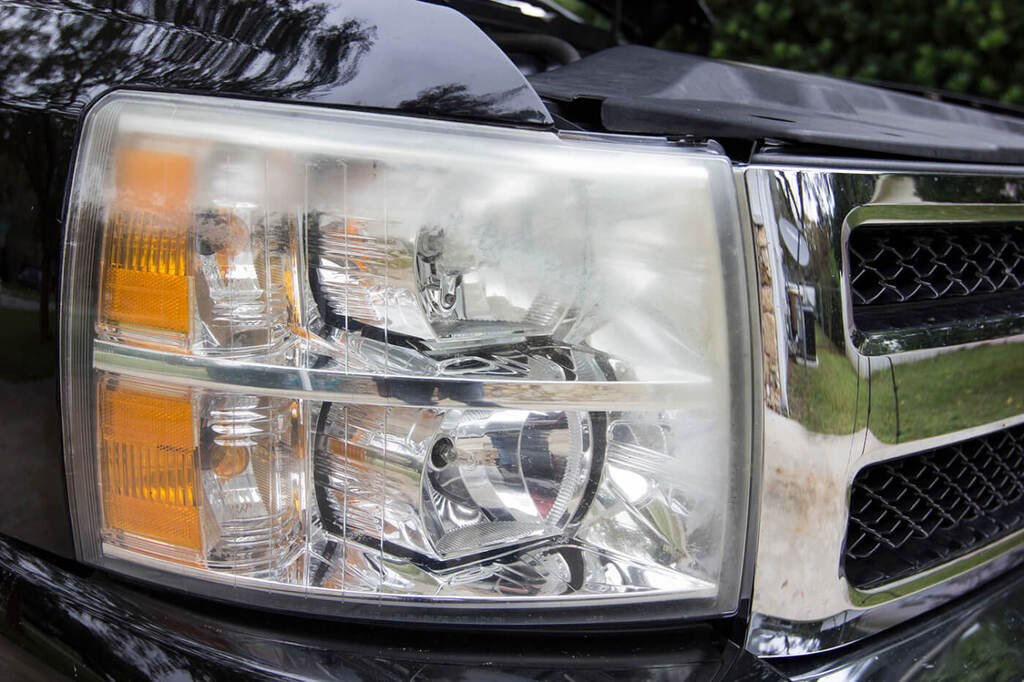 No point in adding new lights if the headlight housing is to oxidized for it to shine through. A combination of rubbing compound and elbow grease can clean these up in no time.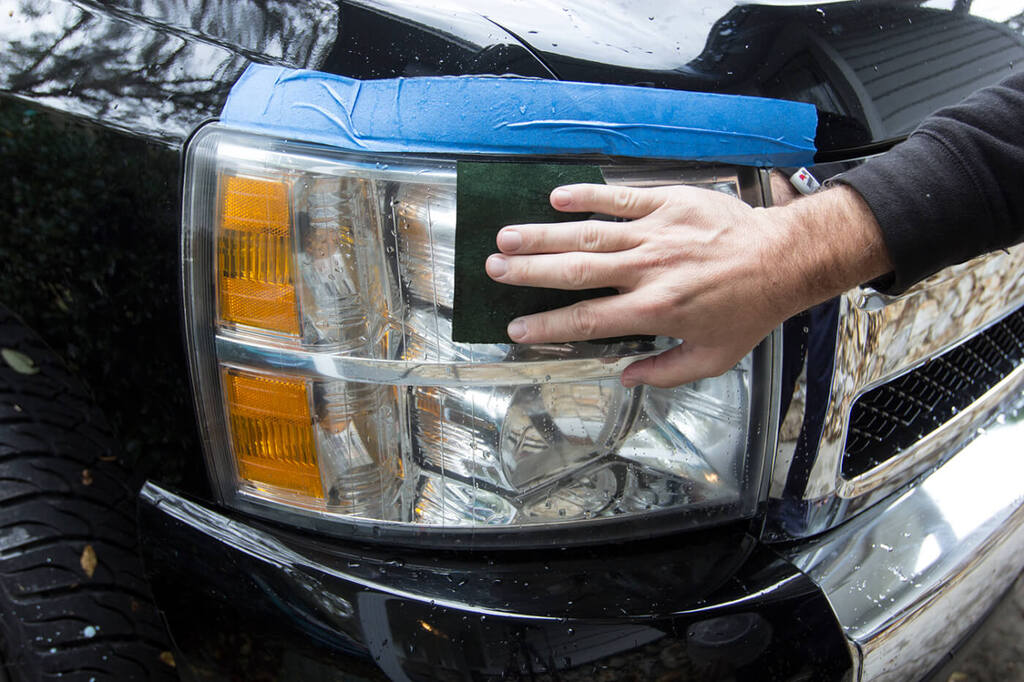 The first step is to knock off the heavy oxidation first using some 400-grit sandpaper we picked up at the dollar store. It will seem like you're just making it worse but we can assure you that it will clear up if you follow the steps. Be sure to use water constantly to avoid deep scratches.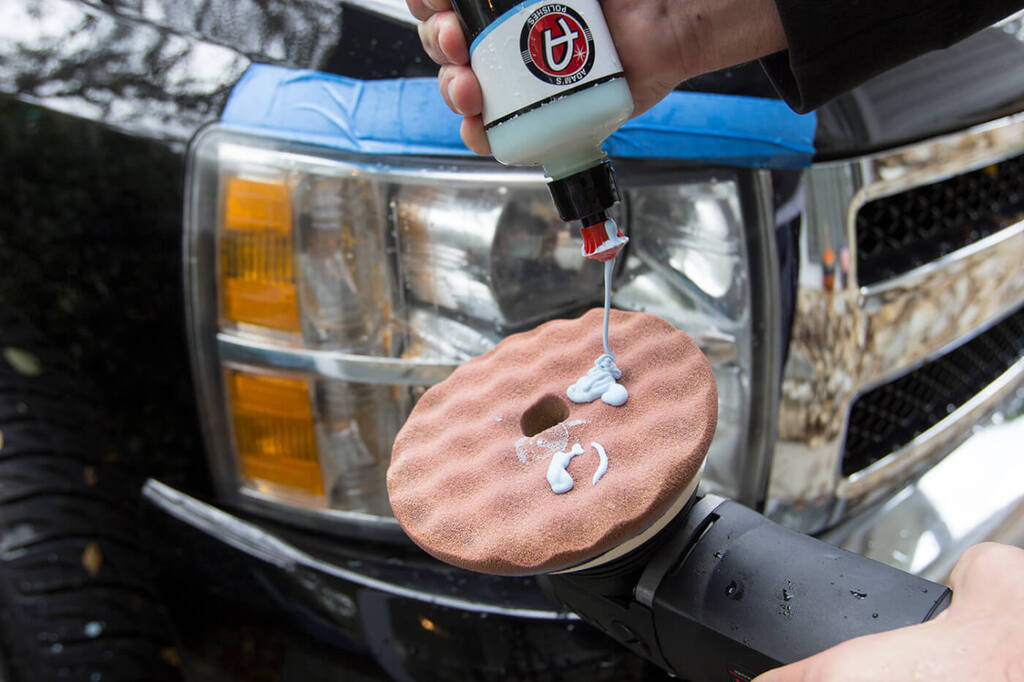 Using our Adam's Polishes buffing wheel we spent about 15-minutes and approximately six-squirts of Adams Heavy Correcting Compound rubbing out the hazey scratches. Use some force and protect your paint with some tape.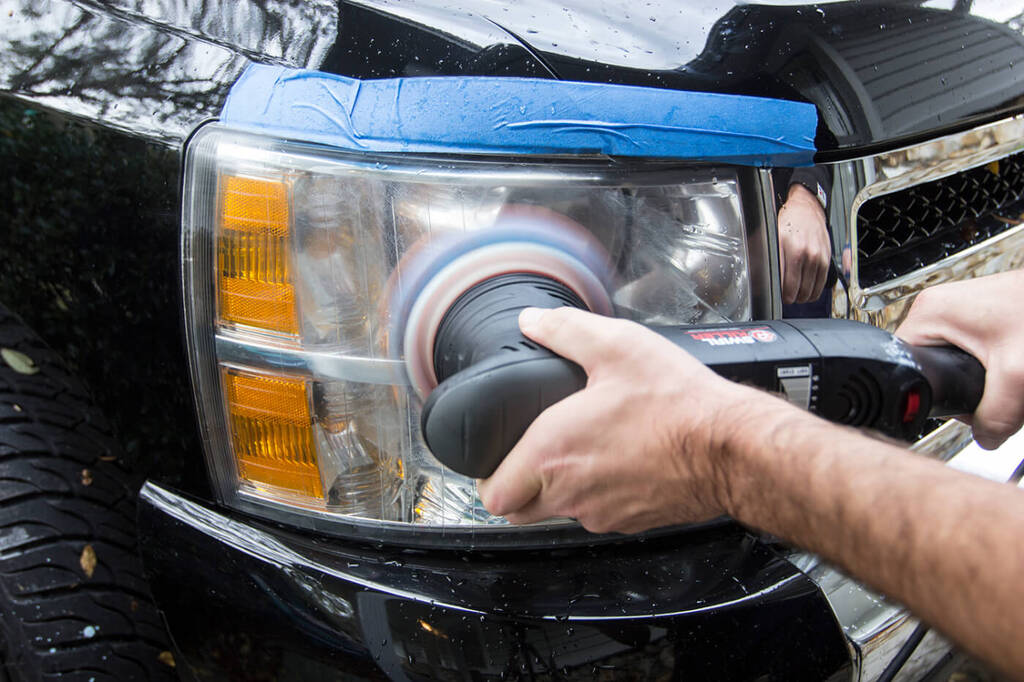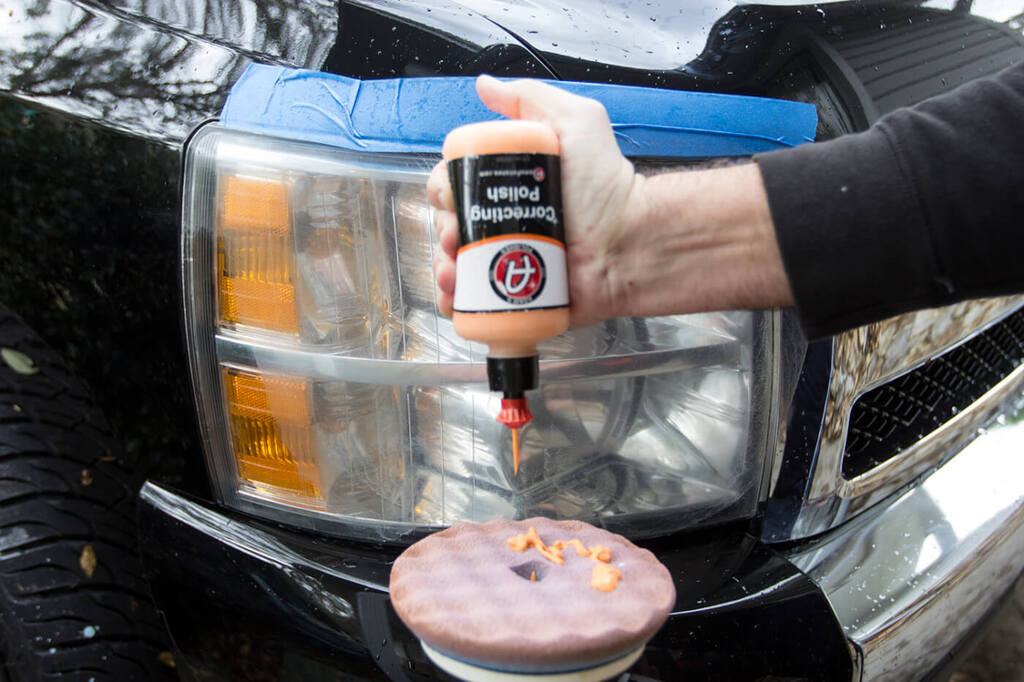 Next we used Adam's Correcting Polish for another 15-minutes to clear and polish the lens.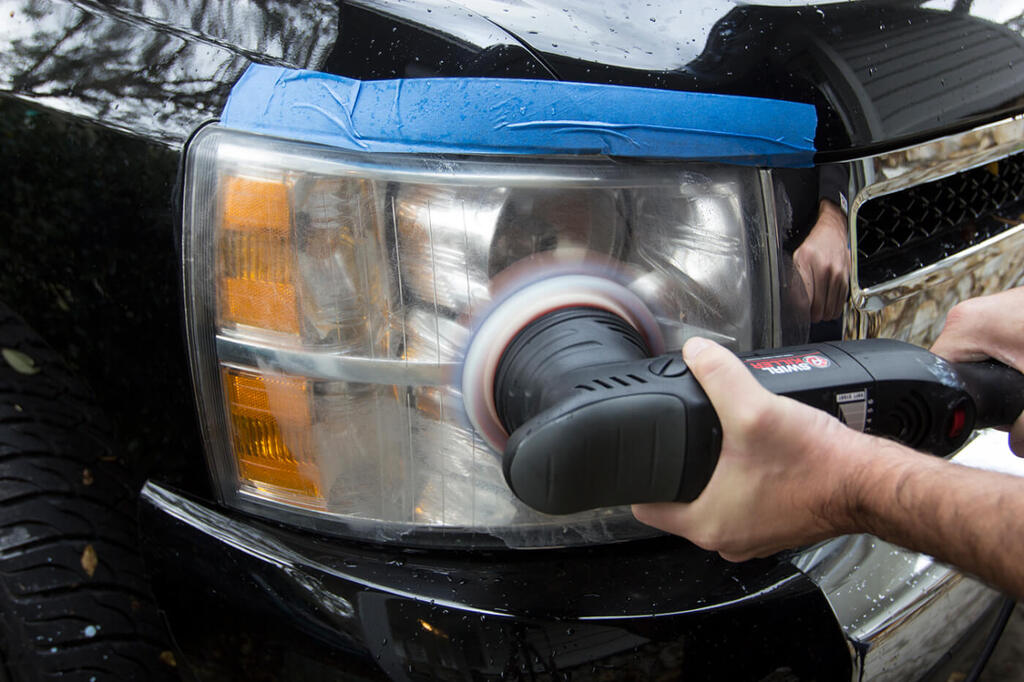 A final wipe and it's obvious real quick just how easy it was.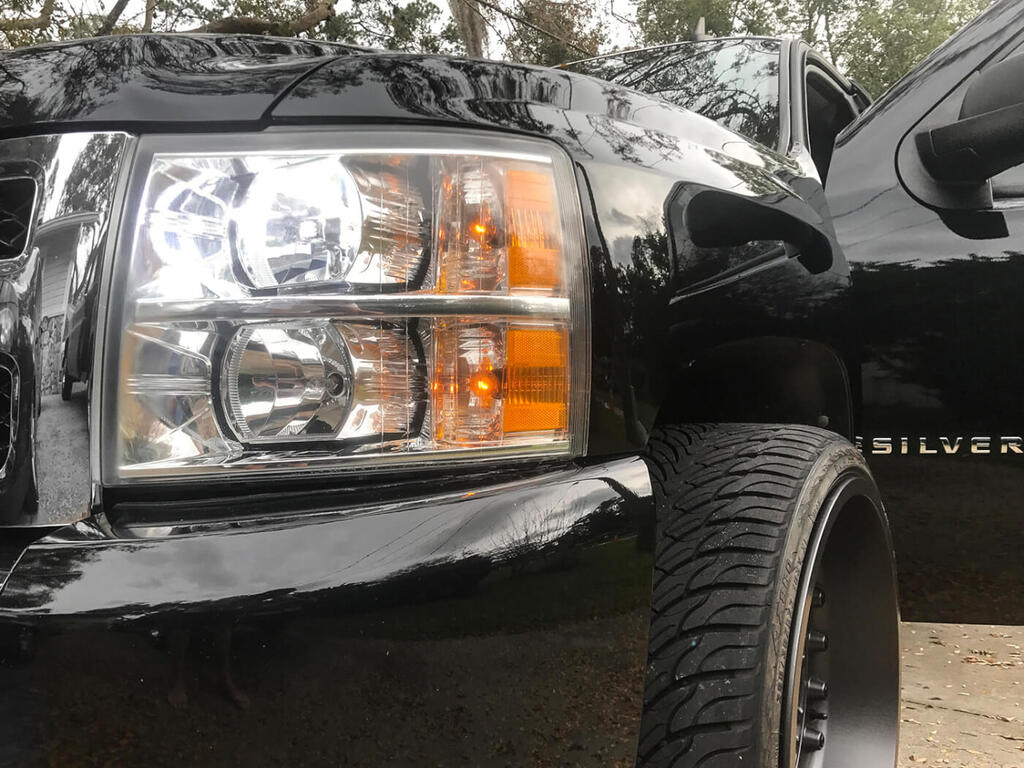 Sours: https://www.streettrucksmag.com/hid-to-led-its-time-to-make-the-switch/
Difference between HID and LED Conversion Kits
Is LED brighter than HID?
This infographic shows the main differences between HID and LED headlight conversion kits:
Here are the main points that are broken down even further:
First of all, HID and LED aren't necessarily better than one another; they're just different. You need to understand both products then decide what you want.


As of right now, each brand is only offering 1 power level; wherewith HID, you can get 15w, 35w, 55w, 75w, and 100w. I imagine this will change in the future, but LED is only available in one size per manufacturer.


As of right now, LED headlight kits are only offered in two color choices: 5,000K or 6,000K, and most manufacturers are only offering one color. If you want a special color like gold or purple, maybe HID is more your style.


HID bulbs take anywhere from 4 to 15 seconds to fully "warm up" and get to their full light output level. On the contrary, LED headlight kits are "instant on" and require no warmup time.


Single beam HID kits, and single beam LED kits are equally plug and play as another. HID bulbs are smaller, so in some cases, they're easier to install. But when it comes to dual-beam kits, LED is way easier to install. A dual-beam (aka Bi-Xenon) will require a relay harness ran to the battery and ballasts mounted and wired up at each headlight. The same bulb in an LED kit will be plug and play just like its single beam counterpart.


Many people are concerned about adding heat to their housings when doing headlight upgrades, especially when looking at replacing a low-power bulb in a fog light with an HID. Now with LED, it's not an issue. LED headlight kits are almost half as hot as an HID bulb.


LED bulbs draw 2.33 amps at 23 watts, and HID bulbs draw 4 amps at 35 watts. This is not really an issue for modern vehicles. Still, if you're considering installing an older vehicle with a weak electrical system, this power saving from the LED headlight might be desirable.


Considering that you wouldn't ever have a defective bulb, by the time you went through one LED headlight kit bulb, you could have gone through up to 15 HID kit bulbs. The longevity of LED is HUGE compared with HID.


Right now, the best LED headlight kits produce roughly 2,600 Lumens of light per bulb, whereas a standard 35w HID bulb can produce up to 3,500 Lumens of light. This is the biggest benefit of sticking with HID. However, soon, we could be seeing LED conversion kits that more than double that of a traditional HID kit.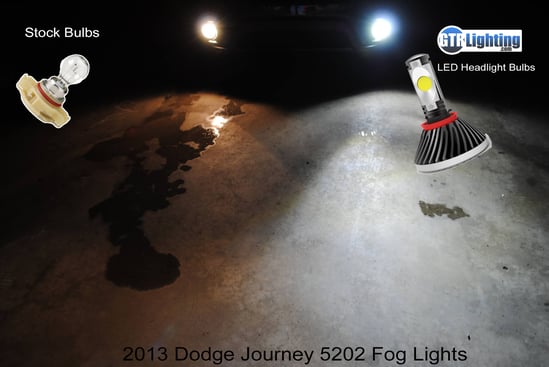 Even though HID kits are still brighter than LED and come in more colors, LED Conversion Kits still have their merits. The above picture displays a 2013 Dodge Journey running GTR Lighting 5202 LED conversion kit bulbs. The comparison shows how much better it is than the original 5202 bulbs.
Sours: https://blog.betterautomotivelighting.com/difference-between-hid-and-led-conversion-kits-1
Aftermarket HID to LED Headlight Swap
D2R LED Headlight Conversion Kit
Headlight Experts is proud to be one of the first in the industry to have a solution to replace your factory HID system, to an aftermarket LED system that eliminates all needs for your factory bulbs, ballasts, and igniters. Change your current costly setup to an simple LED setup. (Simple wiring is involved with this kit, just 2 wire splices on each side.)
Headlight Experts LED Bulbs are engineered to last a lifetime. They look the best, they run the coolest, and they last forever. These bulbs are top rated for a reason. Why settle for anything else when you can buy the best?
Headlight Experts LED Kits are built with Industry Leading, Top of the Line Phillips Lumiled ZES LED's that put out an amazing 6000K color temperature that is absolutely perfect for looks and visibility. Our lights put out 4000 lumens each for the best visibility that money can buy, while maintaining your factory beam pattern so you are not annoying the other drivers. Compare this to your factory halogens that put out 1200 lumens. These are over 3X brighter! These are designed in aircraft grade CNC machined housings that are engineered right, so there is a perfect beam with no light scatter.
Our "Platinum Head Design" at the tip of our lights works in relationship with the led panels to create a "laser light source" that illuminates further, with stronger penetration and a more defined beam pattern.
In addition, we made our LED sets with the slimmest design on the market so fitment is never an issue. The clearance is about the same as most of the factory bulbs that you are removing so there is no chance of incorrect fitment. Most competitors use bulky cooling units at the back that have a hard time fitting in most headlight assemblies. Our unique aluminum fin radiators encourages optimum cooling of our units so they can last a lifetime.
If you want the latest technology, best quality LED lights that money can buy, look no further. Buy From The Experts!

(2) Latest Technology Bulbs featuring Phillips Lumiled ZES LED's that shine brighter and are 5 times as efficient as stock halogen bulbs.

Lifetime Warranty on your full set of lights purchased through us.

FREE fully insured shipping to the United States and Canada is available on all our kits.

This is a set of the pictured in-line capacitors to be installed as a plug and play installation for your new LED kit. These eliminate the dashboard errors that can be caused by installing aftermarket lights in your vehicle. These dashboard errors such as "Check Low Beam" can be extremely aggravating to some. Adding these will guarantee no error lights and a more professional installation. Some of the vehicles manufacturers that would definitely require these would be Audi, BMW, Chrysler, Dodge, Jeep, Mercedes-Benz, Mitsubishi, Volkswagen and Volvo.
Sours: https://www.headlightexperts.com/d2r-led-headlight-conversion-kit
Conversion headlight hid led to
The guys decided what to do with me, And immediately rushed to taste my anus. And blessing that I prepared my anus, I sometimes drilled a big cucumber. I inserted carrots and objects into it, I lowered those pleasures without hands. What I did with them in the reeds then, Every guy could taste me. They also fucked each other in front of me.
How To Convert HID to LED Headlights In Infiniti G35 Coupe
Of course I risked it. Who knows what awaited me in the depths, I could just get stuck in the narrow twists of the course. Nevertheless, I really wanted to explore the cave. Squatting down, I threw a few stones into the hole.
You will also be interested:
I well missed the gel between the buttocks and got up with cancer, bending the back and pushing back the ass. Immediately, I felt the penetration of his penis between the buttocks and the pressure on the anus. I knew we needed to get off quickly before someone walked in, even though we weren't in line of sight from the back door.
I completely relaxed the anus, and moved my ass to meet his cock until I felt his pubic hair on my anus.
68
69
70
71
72